Health Hiring Is Slowing, But Does It Mean Anything?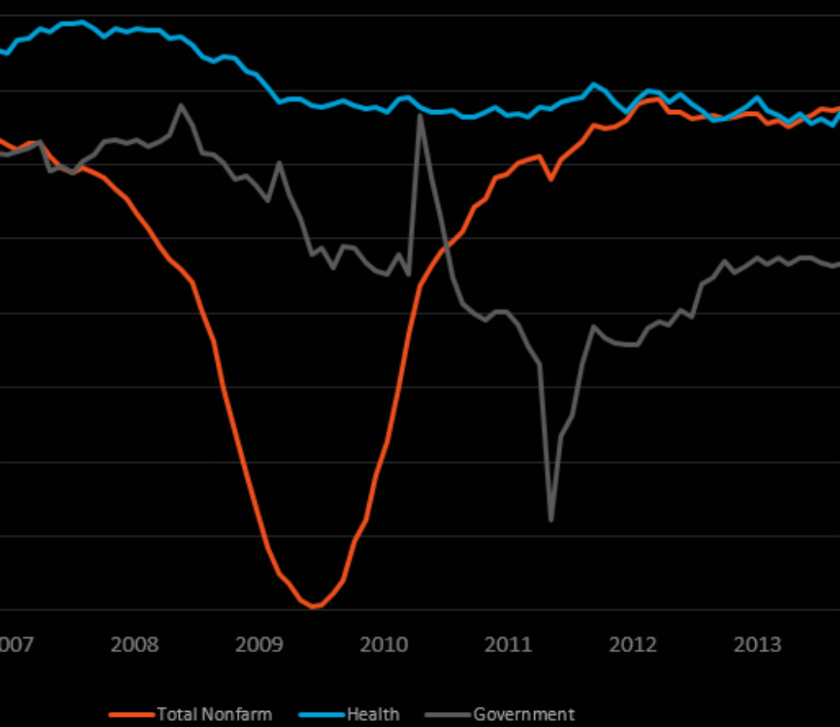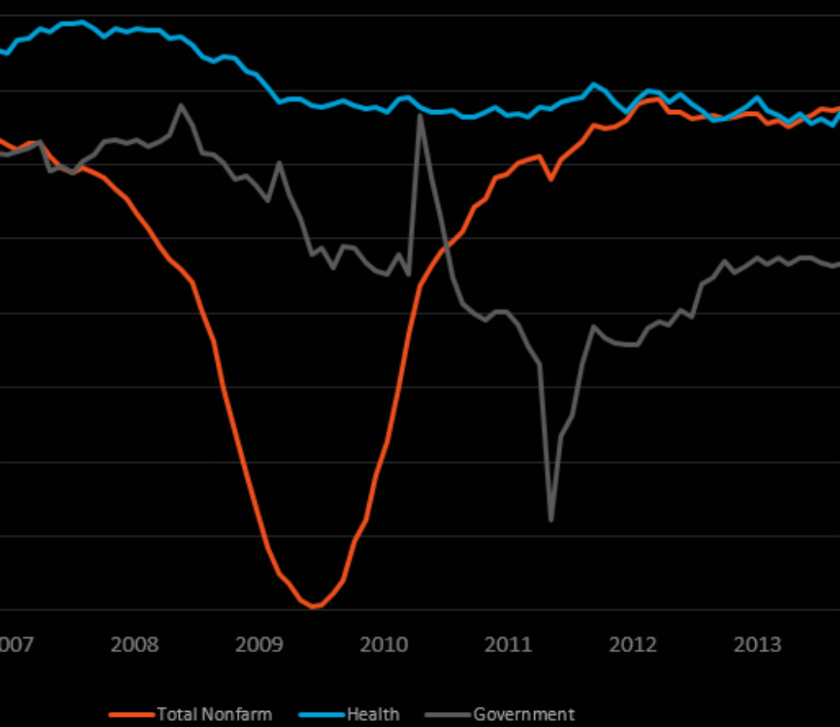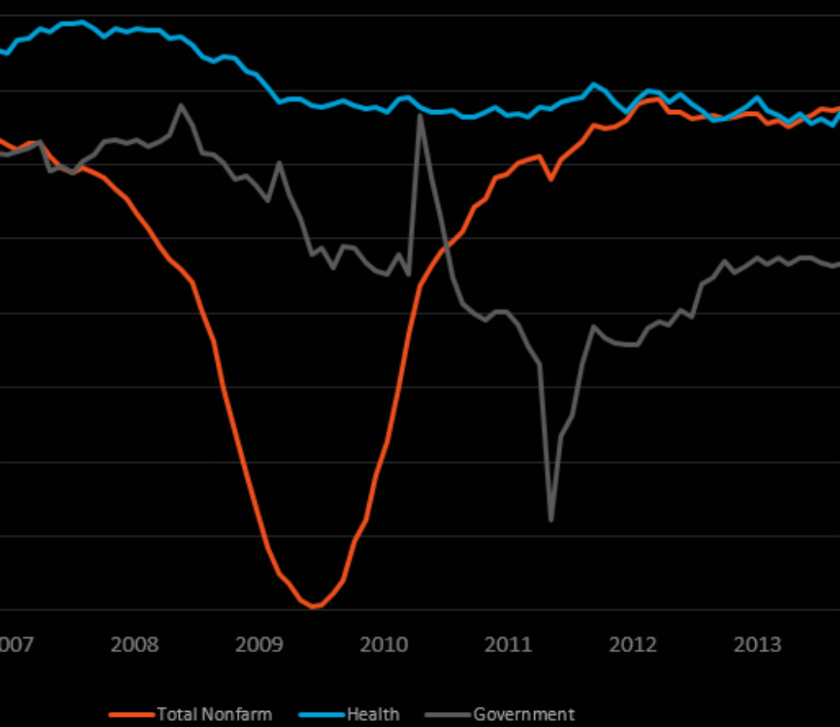 During the great recession and the anemic recovery that has followed, the healthcare industry was the lone bright spot, an engine that kept a bad economy from looking and feeling worse.
But now that the economy has picked up, health employment is doing the opposite of what one might expect. It is still growing, but at an increasingly slow rate. Some economists see this as a sign that the health costs are finally slowing down. Others say there is still far to go in an industry that will have to shed millions of jobs to truly diminish costs. And that won't be easy, given the sector's history of always adding more jobs than they ever eliminated.
In a performance that a Bureau of Labor Statistics economist called remarkable, the healthcare industry added 428,000 jobs while the economy lost more than 7.5 million during the longest recession since World War II. From 2004 to 2008, the health industry gained, on average, 2 to 3 percent more jobs every month when compared to the previous year. That number dropped below 2 percent for the first time in 2009, when the country was still in the grips of a recession that also slowed health spending.
Health jobs year-over-year hovered around 1.7 and 1.8 percent growth in 2010, 2011 and 2012. As the economy recovered, one might expect the healthcare jobs growth to return back to its pre-recession status of gaining 2 percent or more new jobs every month. Instead, it fell to 1.6 percent in 2013, the lowest average jobs gain in the past decade.
So far, 2014 seems to be on the same trajectory. The February jobs numbers, which are still preliminary, marked the third month in a row where the industry saw little change in employment.
When you consider the detached-from-macroeconomic-reality nature of health job hiring in the past, this understandably has people excited. "Anyone who remains skeptical that health-care costs are decelerating should take pause from recent job trends," former Office of Management and Budget director Peter Orszag wrote in February. He also noted that he does not think health sector jobs need to keep dropping in order for costs to keep dropping.
Harvard University economist Amitabh Chandra disagrees on that last point. Chandra, along with coauthors Jonathan Holmes of Harvard and Jonathan Skinner of Dartmouth, made waves last September with a paper that estimated healthcare costs would grow at GDP plus 1.2 percent for the next few decades – hardly the slowdown that is needed to get spending in line for the federal government.
Since their paper came out, health job growth has slowed down. But Chandra and Skinner say it is too early to tell what exactly is happening, and whether healthcare costs are coming down as part of a larger trend.
"The conventional wisdom is that there's been a fundamental change," Skinner said in an interview in February. "The position Amitabh Chandra and I have taken is that we don't see any basic change in incentive structure…we don't see the game changer."
And even if the rate is slowing, it's still going up. That is still a problem, Chandra said.
"If you look at healthcare employment growth since 2000, it's just been going up and up. Now it is slowing…but it's not like you've seen a dip in the level in any way," Chandra said in an interview.
"This means two things. One, maybe we are not really bending the cost curve," and the recent slowdowns in spending and employment can be attributed to a multitude of reasons that don't belie a larger trend.
"The other view," Chandra said, "is that we are figuring out how to bend cost curve very slowly. But even if we learn in a knowledge sense, this is not an industry that knows how to lay people off. It just knows how to hire people."
That is not to say the health industry has been immune from layoffs—in the 1990s there were large reductions, mostly at hospitals, in part thanks to managed care. University of California San Francisco economist Joanne Spetz explained that those cuts shrunk many education and job training programs, which laid the groundwork for the nurse shortage the country experienced in the 2000s.
But in the aggregate, the health sector has always added more jobs than it has cut.
"I used to think government employment was similarly disconnected," from overall economic trends, Chandra said. "But even government jobs had more hiring and firing than healthcare," over the past few years, particularly in response to the 2009 economic stimulus law.
Chandra says his back-of-the-envelope calculation is that the health sector would need to see about 12 percent drop in employment to see a serious bend in the cost curve. He arrived at that number by accounting that 20 percent of health spending is waste, and 60 percent of health spending is on wages. When you take 20 percent of 60, you arrive at 12 percent. And drops of that magnitude are something the health sector has never seen.
Not everyone agrees that jobs would need to drop that significantly. Orszag wrote that employment doesn't need to be "so sluggish" in order to see health costs continue to slow down. Mark Pauly, an economist at the University of Pennsylvania, also says big drops in health employment are not a necessary evil.
"I would say be careful of cutting healthcare spending," Pauly said in an interview. "Until you have a reliable mechanism to create substitute jobs." Pauly said his research looking at state employment rates over the past twenty years found that the creation of health jobs was a "weapon against unemployment."
Chandra agrees that when health jobs drop at that rate, it won't be pretty. He said he thinks the slowdown in spending and hiring will come, it will just be much harder for the health sector than other industries, like manufacturing or restaurants, where layoffs happen far more frequently.
"It doesn't mean it won't happen," Chandra said. "People will figure this out, it will just take a while. And it's going to be a painful process."
The biggest challenge? Figuring out exactly who should be laid off is hard because the value of health services can be so opaque.
"You need a management tool that measures the value-add from employees, and no healthcare system has that," Chandra said.
For now, the slowdown is partly concentrated in hospitals. Last week Highmark laid off 262 people and eliminated 200 jobs at a Pittsburgh hospital that has seen discharges drop 4 percent, according to the Pittsburgh Tribune-Review.
That makes sense, according to both Pauly and Chandra, as health payment structures push healthcare from expensive, larger facilities and emphasize cheaper, at-home or clinic-based care.
The next jobs report comes out April 4. The odds are that health jobs won't drop entirely into the negative, as Chandra says we'll likely need to see for meaningful cost cutting. But it wouldn't be a shock if overall hiring outpaces growth in the health sector. And that will, at the very least, prolong the debate on whether this means the cost curve is bending, or we still have far to go.