Former Adversaries, Now On The Same Team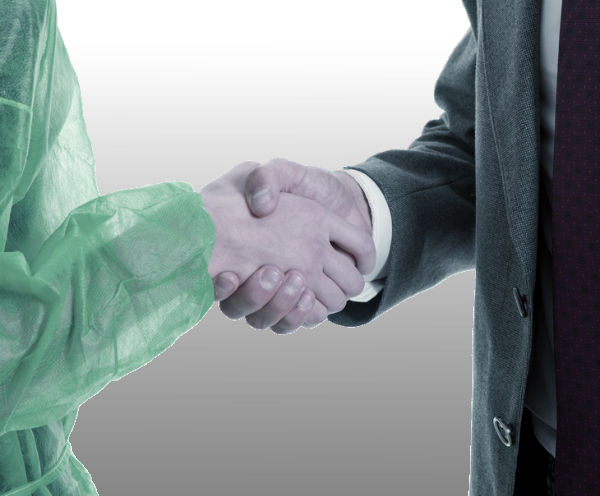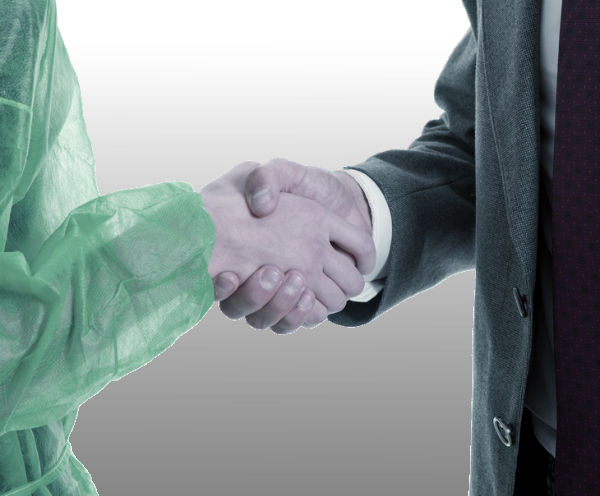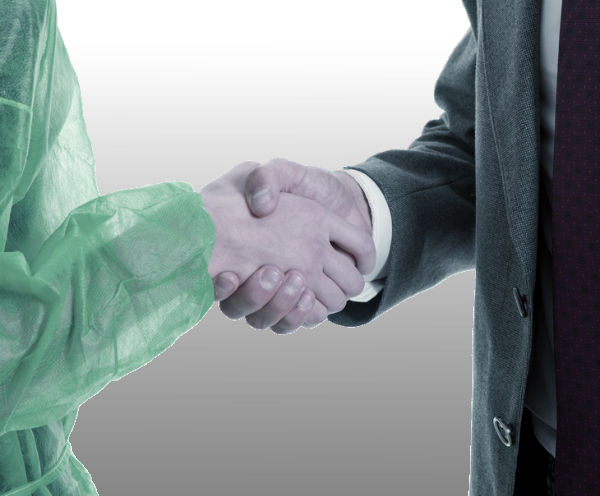 Open enrollment on the Affordable Care Act's insurance exchanges is, for the most part, officially over. Now comes the question of whether the millions of Americans with new health insurance coverage will actually get affordable health care. Much of that work is up to the insurance companies the newly enrolled people signed up with. But in a growing number of cases, doctors and hospitals are joining forces with their former adversaries—insurance companies—in an effort to bring down costs.
There was a lot of excitement around payers and providers teaming up to create what are most often called accountable care organizations, or ACOs, after Obamacare became law. That is in large part because the ACA moved millions into setting up Medicare pilot programs. And while the market often follows Medicare, it also seemed possible that ACOs could be another health cost containment fad.
But in the four years since the law passed, teams of insurers and health care providers appear to have staying power. At the start of the year, consulting firm Leavitt Partners estimated there were 606 accountable care organizations covering an estimated 18 million Americans. And according to major health consulting firms, they aren't going anywhere soon.
"Our perspective is that it is a powerful trend that's likely to continue," Dale Stafford, a partner in the healthcare practice at Bain & Company, said in an interview. "If you look to the marketplace of organizations that have done exactly that, you see they are putting really significant multi-billion dollars of capital into it."
Stafford pointed to examples like Wellpoint acquiring CareMore Health Group in 2011, Humana purchasing Metropolitan Health in 2012 and Cigna buying Alegis Care in 2013 as examples of insurers putting millions, if not billions, of dollars into buying companies that help coordinate care among providers.
Ceci Connolly, the managing director of PwC's Health Research Institute also said the business model of insurers and providers joining forces, to some extent, has lasting power.
"I think that this is definitely a trend and an approach that is here to stay, but it won't be successful in every instance. The broad theme of better integration and coordination of care with all of the key players involved absolutely has to be our future," Connolly said in an interview. "If it's not, we're doomed."
And while the ACA may have considerable financial penalties for providers that don't decrease costs, Connolly and Stafford agree that it's not the sole reason the health sector is seeing this shift. But it is speeding things up.
"The ACA accentuates and accelerates this trend," Connolly said. "It is certainly not the only reason that we're seeing this sort of blending in the health world, but it certainly helps in pushing it along."
McKinsey & Company director Paul Mango also pointed to the insurance plans offered on the Affordable Care Act's exchanges as potentially moving payers and providers closer together at a conference last month in Washington.
McKinsey presented data on insurance exchange enrollment and plans, and found that insurers often teamed-up with one hospital system or provider group in a region within the "narrow" coverage networks that have gotten a lot of attention within plans sold on the ACA's exchanges. That creates what Mango called a "winner-take-all environment" when an individual enrolls in a plan.
"If you lose out on a member, you lose that member for the whole year," Mango said. "Providers and plans should be moving more collaboratively…we think that's where the point of competition is moving."
Of course, market trends that aim to help bring down health care costs can bring back memories of the rise and fall of health maintenance organizations in the 1990s. Some insurance companies tried to rein in costs by refusing to cover some doctor prescribed care, prompting a backlash from the public. But the ACO world is different, with doctors and hospitals often sharing some responsibility to keep costs low. And that might make it more acceptable to consumers.
"We know from our own survey work, looking at other data out there, that insurance companies are not popular, but physicians are," Connolly said. "It makes a big difference to consumers if they are being given guidance and advice and options from a trusted caregiver, or they feel it is an anonymous profit-driven company who they don't know and historically have not trusted."
Stafford said better data analytics now versus twenty years ago have made it easier for insurers and providers to predict how much a patient population will cost them.
"What we are seeing in the second time around is a lot more thoughtfulness around risk," Stafford said. Providers are far more empowered than they were in the days before electronic health records. But all of that information has helped everyone play the health cost guessing game better.
Stafford also said the Center for Medicare and Medicaid Services' methodology for calculating how expensive (or cheap) an individual Medicare Advantage enrollee will be has made the health sector more comfortable with risk. "CMS kind of cleared a path for the industry," Stafford said.
Undeniably, the biggest staying factor for payers and providers teaming up is whether they make money. And to do that, they have to save money on the care they are providing or paying for.
One of Medicare's first ACO pilot programs saw cost increase 0.3 percent in 2012 for the nearly 700,000 Medicare beneficiaries enrolled in the program, while a similar population of enrollees not in the program saw costs increase at nearly three times that rate over the same time period, according to the federal government. More evidence on whether ACOs can save money, particularly in private markets, is expected this year.
But if deal-making is a barometer, insurers and providers seem confident that this is a path worth exploring. Becker's Hospital Review tallied 32 new ACO (or ACO-like) agreements in February 2014 alone.
Charles Kennedy, the head of Aetna's accountable care practice, said the insurer was aiming to double its 32 ACO practices this year.
"I think we've moved into a different phase," Kennedy said in an interview last month. "Over the past few years we worked with early adopters. But we are now in the wave of organizations which are being economically driven. They look at value-based care not so much as a strategy, but as a necessary economic model that has to make good sense to them."