Energy in 2014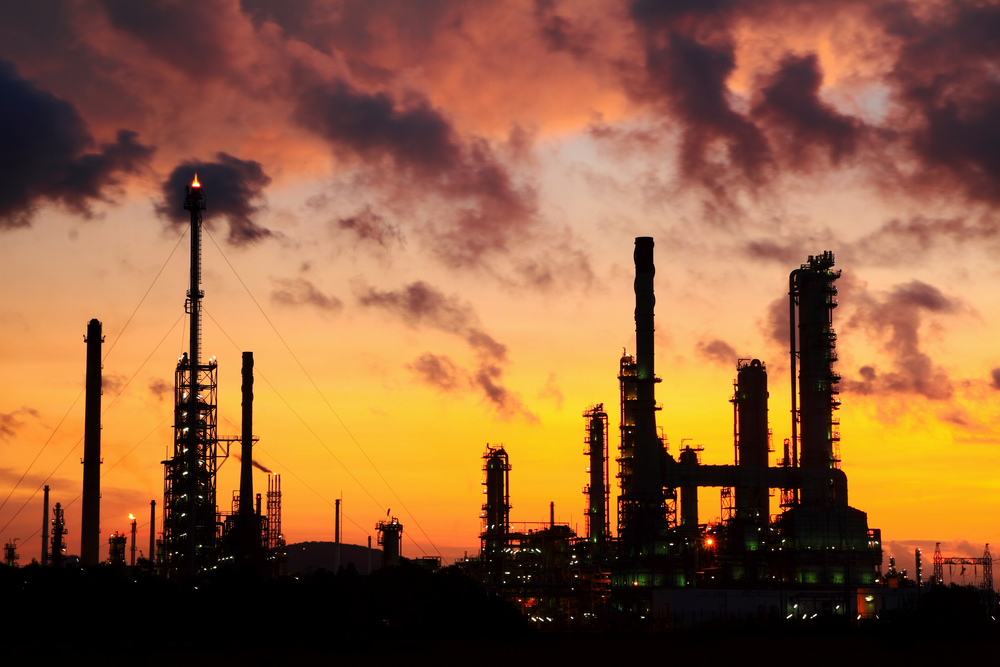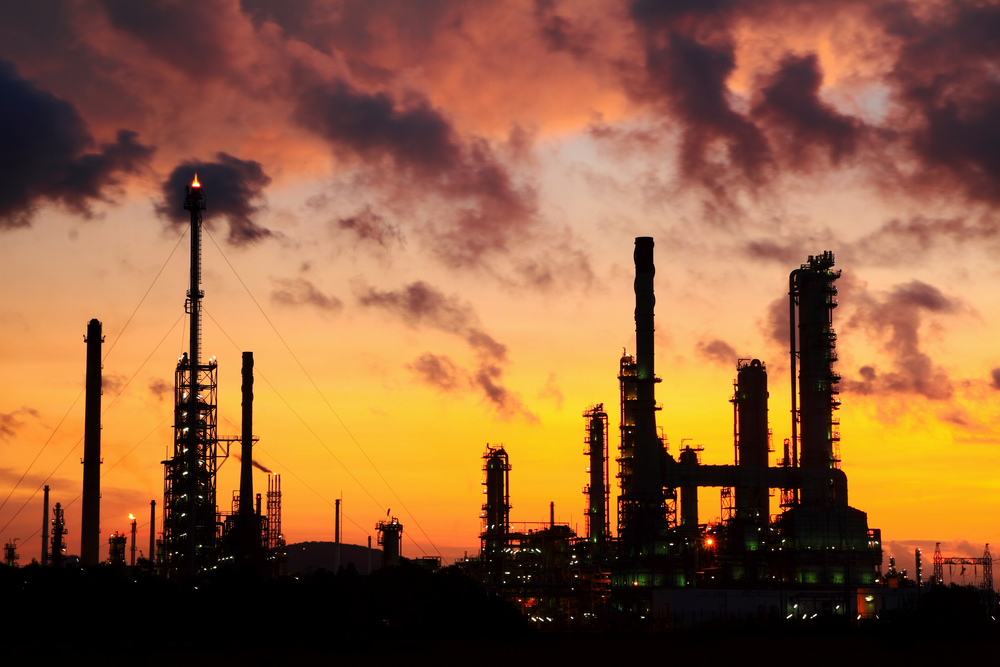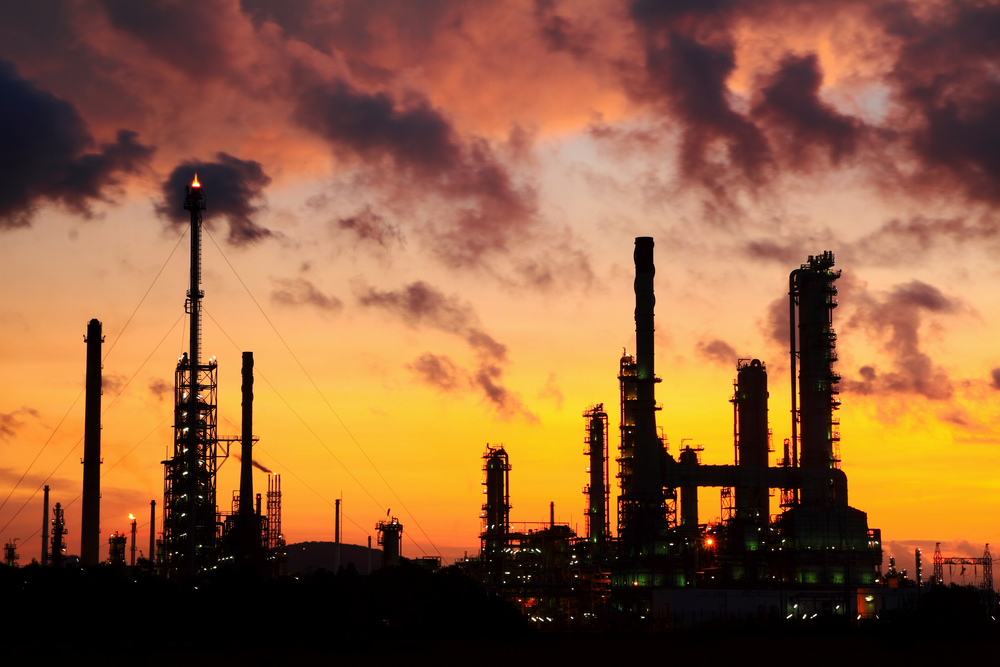 Although Congress didn't accomplish much of anything when it comes to energy legislation in 2014, it was still a big year thanks to the Obama administration's landmark carbon emissions regulations and the historic slide in oil prices. Below we recap the most important developments in energy policy in 2014, as well as links to some of the most-read stories on each topic.
10) Ozone Rules Announced
EPA's draft rules for ozone emissions, released in November, just added to this year's onslaught of environmental policies Republicans loathe.
Environmentalists say the rule doesn't go far enough to prevent smog-creating ozone from rising to unhealthy levels. But Republicans have called it the most expensive environmental regulation ever.
The proposal lowers the amount of ground-level ozone that is considered healthy to breathe, and studies show that could prevent thousands of premature deaths, thereby outweighing any economic costs.
But industry advocates maintain the rule will eventually cost millions of jobs by limiting industrial activity in areas with ozone-levels that are above the EPA thresholds.
Top Stories:
—CRS: Too soon to know costs of tighter ozone limit
from Politico Pro by Erica Martinson 
—States, enviros slam ozone limits in contentious court hearing
from E&E by Jeremy Jacobs 
—Obama to Introduce Sweeping New Controls on Smog-Causing Ozone Emissions
from the New York Times by Coral Davenport 
—'Emboldened' Obama faces promising odds on ozone
from Politico Pro by Darren Goode and Erica Martinson
9) EPA Punts Decision on Renewable Fuel Standard
In November, EPA announced it would not make a decision on RFS requirements for 2014. The decision is now more than a year late, and the delay gave opponents reason to call for reform.  Environmentalists don't like the amount of land farmed and chemicals used by the corn industry.  Fuel groups say they've reached the "blend wall" where volume requirements for biofuels exceed the percentage that cars can safely use in gasoline. The oil industry argues the law hurts the economy and raises diesel and gas prices. And food groups don't like using arable land to grow fuel instead of food.
Despite mounting opposition, the ethanol lobby has several allies in Congress. Democrats like Maria Cantwell (D–Wa.) strongly support the RFS because it promotes a transition to biofuels.  Other lawmakers, especially Republicans, are tied down by the corn and ethanol lobby. "Twenty-four of the 34 Senators who are up for re-election in 2016 are Republicans. Those Republicans represent 69 percent of U.S. corn production and 67 percent of ethanol production capacity," Tim Cheung, an energy analyst for ClearView Energy, said in an interview.
So while RFS reformers will look to the Republican-controlled senate for reform opportunities, the law is likely to remain in the hands of the EPA.
EPA is expected to announce rules for 2014, 2015 and 2016 early next year.
Top Stories:
—EPA Delay Opens Window for RFS Reform
from Morning Consult by Davis Burroughs 
—The fight over the Renewable Fuel Standard, explained
from Vox by Brad Plumer 
—US biofuels advocates urge stronger RFS support after 2014 setbacks
from Platts by Jordan Godwin
8) Oil Export Ban Critics Speak Up
The expected incoming chair of the Senate Energy Committee, Sen. Lisa Murkowski (R–Ak), has made it clear that a top priority will be lifting a 1970s era ban on exporting oil to other countries in the 114th Congress.
Opponents of the oil export ban gained steam this year following the release of two reports by the Brookings Institution and the Government Accountability Office, which were largely interpreted to support ending the trade barrier.
But reaching a consensus on oil exports is still an uphill battle. Morning Consult polling figures reveal that a plurality of Americans oppose lifting the ban on oil exports, while a majority, 52 percent, think that doing so would raise gasoline prices. And while most Republicans want to overhaul oil trade laws, party leaders will have to weigh the costs of bringing up an issue that splits their caucus ahead of the 2016 presidential elections.
Murkowski could find an unexpected ally in President Obama. She has repeatedly argued that the president has executive authority to remove barriers to trading oil overseas without congressional approval, and if the White House's amenability to LNG exports is any indicator, that tactic could be her best shot.
Top Stories:
—Economic Opportunities from Lifting the U.S. Ban on Crude Oil Exports
from the Brookings Institution by Charles Ebinger and Heather Greenley 
—Changing Crude Oil Markets: Allowing Exports Could Reduce Consumer Fuel Prices
from the U.S. Government Accountability Office
—Ending U.S. oil export ban would not raise gasoline prices: study
from Reuters by Timothy Gardner
—The Pocketbook Politics of the Oil Export Ban
from Morning Consult by Davis Burroughs
—U.S. oil export battle heats up as drillers group to fight ban
from Reuters by Timothy Gardner 
—Sticking with the Facts: GAO's Recent Report Does Not Support Crude Oil Exports
from Morning Consult by Jeffrey Peck 
—Congressman to introduce bill to lift U.S. oil export ban
from Reuters by Timothy Gardner
7) GOP Congress to Prioritize Energy Policies
From approving the Keystone pipeline to fighting EPA regulations, few doubt that newly empowered Republicans will give more attention to energy policy over the next two years.
But internal rifts over specific policies, like renewable tax credits and the renewable fuel standard, could derail efforts on any major legislation.  There are also two forces working against energy legislation: An increased ideological divide on energy/environment issues between Republicans and Democrats, and the 2016 presidential elections.
On the partisan divide, the Democrat's loss of Senators Mary Landrieu (La.), Mark Begich (Ak.), Tim Johnson (S.D.) and John Walsh (Mt.) means there are noticeably less pro-fossil fuel Democrats in the chamber.  That means Republicans, who will hold 54 Senate seats, will have to scrape to find the remaining six votes needed to pass bipartisan energy bills.
Energy lobbyists also see a short window for advancing legislation in the 114th Congress.  In 2016, 24 Republican Senators are up for re-election.  The GOP also has its sights set on the White House, which might have an even greater power to regulate energy, as evidenced by the President's sweeping rules on curbing carbon emissions.
Still, approving the Keystone pipeline, a long-held priority for the GOP, seems inevitable. Attempts to attach riders to legislation to fight new EPA pollution rules are also a safe bet, though the Obama administration could veto any such efforts. And there could even be room for a revenue sharing agreement for drilling on federal offshore sites, a bipartisan energy efficiency bill, and/or laws that promote nuclear power. The hopes for compromise on policy items like a climate bill or lifting the oil export ban, however, are dim.
Top Stories:
—Landrieu Might Be Last of Senate's Oil Friendly Dems
from Morning Consult by Davis Burroughs
—Energy Policy in the New Congress
from Morning Consult by Davis Burroughs
—GOP Congress: 5 energy priorities
from the Christian Science Monitor by Jared Gilmour
—Energy Policy Seen Ripe for Compromise in GOP Congress
from Bloomberg News by Jim Snyder and Mark Drajem
6) Fate of Wind Production Tax Credit Uncertain
A heavy-hitting fight over the wind production tax credit ended in more uncertainty when Congress decided to extend the incentive only through 2014. That means the 114th Congress will need to re-hash the same arguments again as they consider whether to extend the credit through 2015.
Though it's expired eight times, the PTC has been around for two decades and has undoubtedly contributed to the success of the wind industry. Developers who began construction in 2014 or earlier will be able to use the credit for the first 10 years of a wind farm's life. But without the assurance of a tax benefit, historical data shows that wind installments dramatically drop off, potentially leading to drop-off in wind market share if the PTC isn't extended.
Warren Buffett, who has invested heavily in wind projects, said earlier this year that wind energy doesn't make sense without the tax credit. Opponents have seized on that statement to argue that wind energy is an inadequate source of electricity fully reliant on taxpayer funds.
But the drop-offs seen in years the PTC has lapsed don't provide the whole story, according to Kevin Haley, director of communications for the American Council On Renewable Energy. "Financiers and developers have to find a new way to play ball together," Haley said at a solar energy event in December. So if the PTC isn't renewed, it may simply be a matter of a time before wind installations return to levels seen when the PTC was in effect.
Despite support from some Republicans like Iowa Sen. Chuck Grassley, extending the PTC may be a policy bargain the GOP isn't willing to make.
Top Stories:
—Senate approves tax extenders package without Ron Wyden
from Politico by Kelsey Snell 
—PTC, EPA Fights Simmer as Congress Returns
from CQ Roll Call by Geof Koss
—Wind Tax Credit Awaits Fate in Lame Duck
from Morning Consult by Davis Burroughs
—Utility CEOs to Congress: No new tax credits for wind energy
from Utility Dive by Herman Trabish
—No steam behind wind energy tax credits
from the Denver Post by the Editorial Board
5) LNG Exports Take-Off
The shale-gas boom showed few signs of tapering in 2014. America continues to tap record levels of natural gas and is now the world's largest producer.
Gas interest groups have lobbied for years to allow American producers to sell liquefied natural gas (LNG) on the global market, where LNG trade is expected to rise by 40 percent by 2019, according to the International Energy Agency.
In 2014, the gas industry's export lobbying efforts began to pay off when the Federal Energy Regulatory Commission authorized the first of four proposed LNG export projects in the country.  And even though the White House has moved slower than the gas industry would like, the administration has shown itself to be open to the idea of expanding LNG exports.
Gas export advocates also have an ally in Sen. Lisa Murkowski (R–Ak.) who will take the gavel of the Senate's top energy committee. Murkowski said the benefits of exporting LNG are "irrefutable" in a September statement. But while most experts agree that LNG exports will boost production and create jobs, skeptics point out that it could end up increasing prices at home, as it did in Australia. Environmental groups also generally oppose increasing exports, because it inevitably leads to more production by the controversial drilling method known as fracking.
Top Stories:
—U.S. Gas Boom Turns Global as LNG Exports to Shake Up Market
from Bloomberg News by Christine Burma and Chou Hui Hong 
—Australians' Gas Bills Soar Amid Export Boom
from the Wall Street Journal by Ross Kelly
—Why the Debate Over U.S. LNG Exports Has Been Won
from OilPrice.com by Nick Cunningham
—Feds: Natural gas exports would boost economy, raise prices
from The Hill by Laura Barron-Lopez
4) Solar To Reach Grid Parity in 47 States
The U.S. solar industry enjoyed its second-largest quarter of all time in the third quarter of 2014. The amount of solar power installed – 1,354 MW  – is up 41 percent from the same period a year earlier. New U.S. solar capacity is on track to exceed the record it set last year on how much power the sector can generate versus traditional energy sources.
According to Deustche Bank, this growth is also helping customer's pocketbooks. Solar power is expected to be as cheap or cheaper than average utility bill prices in 47 states by 2016.
Solar's success has as much due to with plummeting equipment and installation costs as it is does with state and federal incentives, like the solar investment tax credit (ITC). Those policies, however, will likely be scrutinized in a Republican-controlled Congress. The ITC, for example, is set to end in 2016, and extending it will be a tough hurdle for the GOP. But even if the tax credit falls from 30 percent to 10 percent, as it is scheduled to do, solar would still be on pace to match electricity prices in 36 states.
Regardless of U.S. policies, a report from International Energy Agency found that solar energy could be the biggest source of electricity in the world by 2050.
Top Stories:
—While You Were Getting Worked Up Over Oil Prices, This Just Happened to Solar
from Bloomberg News by Tom Randall 
—U.S. Imposes Steep Tariffs on Chinese Solar Panels
from the New York Times by Diane Cardwell 
—Solar energy could dominate electricity by 2050: IEA
from Reuters by Sarah McFarlane
—Solar Investment Tax Credit: Does Republican Win Increase Uncertainty On Extension?
from Forbes by Trefis Team
—New Report Shows U.S. Solar Industry Tops 1 GW of Installed Capacity for Third Straight Quarter
from the Solar Energy Industries Association
3) EPA Announces Clean Power Plan
The EPA announced its long-awaited proposal to regulate pollution from power plants in June. Six months and more than 1.6 million comments later, the final regulatory landscape is still uncertain.
Utilities, the oil and gas industry, and coal companies have pummeled the proposal, which seeks to cut emissions from power plants 30 percent from 2005 levels by 2030. Some state regulators, green groups, and a group of 221 companies—including Nike and Ikea—have teamed up to support the EPA.
Some oil, gas, and utility groups and states like Montana and Texas are potentially gearing up to file suit against the rules, which could be upended should the case make its way to the U.S. Supreme Court. The proposed rules alone prompted a dozen states, including Nebraska and West Virginia, to challenge them in Court.
Several members of the Republican-led 114th Congress have sworn to do anything they can to dismantle the regulations because of their potential negative effects on the coal industry, consumer energy bills, and electric grid reliability.
For its part, EPA could issue a final rule that looks significantly different from the proposal, to help bridge the interests of industry and climate initiatives.
Top Stories:
—Carbon Emissions Rules May Be Decided By Courts, Not Congress
from Morning Consult by Davis Burroughs
—ERCOT Analysis of the Impacts of the Clean Power Plan
from The Electric Reliability Council of Texas (ERCOT)
—Obama's Clean Power Plan Getting Dirtied But It Has Key Business Support
from Forbes by Ken Silverstein 
—EPA power-plant proposal draws 1.6 million comments
from the Washington Examiner by Zack Colman
2) Keystone XL Oil Pipeline
The fight over Keystone still gets people riled up both sides of the argument. But in light of collapsing oil prices and increased oil production, the urgency over approving or not approving the pipeline, which would transport Canada's oil sands to Gulf refineries,  has diminished.
Additionally, TransCanada, the company behind Keystone, proposed Energy East in October, a pipeline to transfer oil from Alberta to the Atlantic where it would eventually reach Gulf refiners by boat.  It effectively means the Canadians can ship their oil reserves with or without Keystone.
Still, TransCanada hasn't given up, despite the project being held up in the State Department for over six years. And newly elected Republicans have vowed to make the pipeline an early priority in the 114th Congress, where they'll likely have the votes needed to pass a bill overriding the requirement that the president issuing an executive permit.
But would President Obama sign such a bill? At this point, no one is sure.
Top Stories: 
—Protests Slow Pipeline Projects Across U.S., Canada
from the Wall Street Journal by Amy Harder 
—Support for Congress Getting Involved with Keystone Strong
from Morning Consult by Davis Burroughs 
—Christie gives greens a helping hand on Keystone
from Politico Pro by Elana Schor 
—Planned TransCanada Pipeline Would Allow Gulf Access, CEO Says
from the Wall Street Journal by Chester Dawson and Amy Harder 
—Why Keystone is a Canard
from Politico Magazine by Zachary Karabell 
—Beyond Senate defeat, ill omens for Keystone
from Politico by Andrew Restuccia
—P.R. Firm Urges TransCanada to Target Opponents of Its Energy East Pipeline
from the New York Times by Ian Austen 
—GOP oil titan: Keystone's irrelevant
from Politico Pro by Darren Goode
—Voters Think Pipelines are Safe
from Morning Consult by Davis Burroughs
1) 

Oil Prices Collapse

Roughly six months ago, Brent crude ­– the international benchmark for oil prices – hovered around $115. They had been around that mark since 2011, when prices stabilized in the aftermath of the Great Recession. Then suddenly, the three year streak was over. Prices have been on a downward spiral, eventually breaking the symbolic threshold of $60 a barrel for the first time since 2009. That news has dominated energy headlines in the second half of 2014.

Experts have called the collapse the biggest shock to the global economy this year, and speculate that it will have serious and long-lasting impacts.  Overall, low prices are largely considered an international stimulus.  But as shown in the chart produced by the Financial Times below, there are winners and losers in this price environment.  Advanced economies like the U.S. and E.U., and emerging oil-importers such as India stand to benefit the most. Oil-exporters like Russia and Venezuela, however, are taking a hit from prices that have fallen well below the level needed for those countries to break even.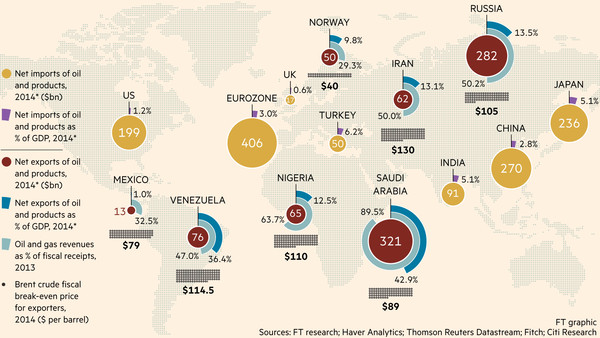 Weaker-than-expected-demand, surging global production, and OPEC's decision not to cut output, are largely considered the main factors behind the crash.
The U.S. oil industry has also taken a hit, but at the same time oil producers are drilling more than they have in thirty years, according to data from the U.S. Energy Information Administration. Big companies like Halliburton and BP have had to tighten their workforce, and M&A activity in the industry is picking up. Some smaller producers are also struggling to stay afloat at current price-levels, but analysts don't expect the shale boom to slow down anytime soon.
The impact of low oil prices is perhaps best felt at the pump: consumers have saved roughly $75 billion on gasoline this year, according to a Goldman Sachs analysis.
Top Stories:
—IEA releases Oil Market Report for December
from the International Energy Agency
—Hedge Funds Bet That OPEC-Led Oil Rout Is Near End
from Bloomberg News by Morning Zhou 
—US crude settles below $60 a barrel for the first time in 5 years
from CNBC by Reuters and CNBC.com staff
—AAA: Consumers now saving $100 per month on gasoline
from Fuel Fix by Ryan Holeywell