Arizona Republicans Planning Redistricting Push After SCOTUS Decision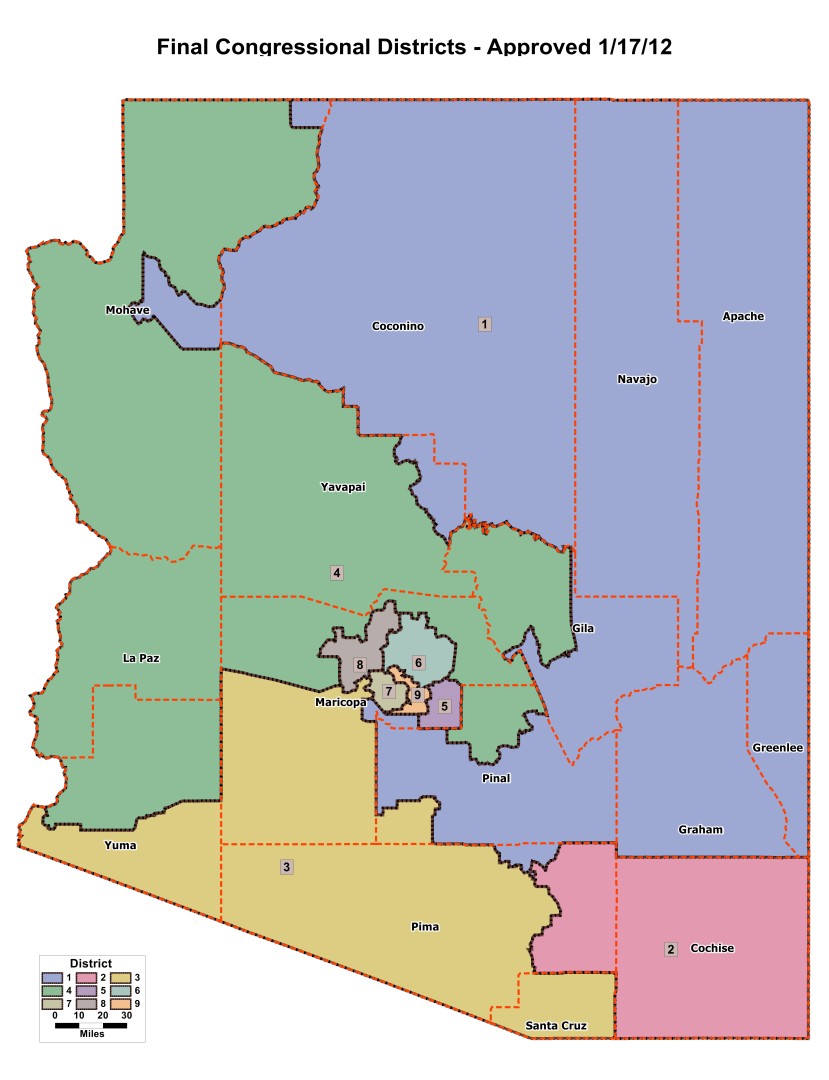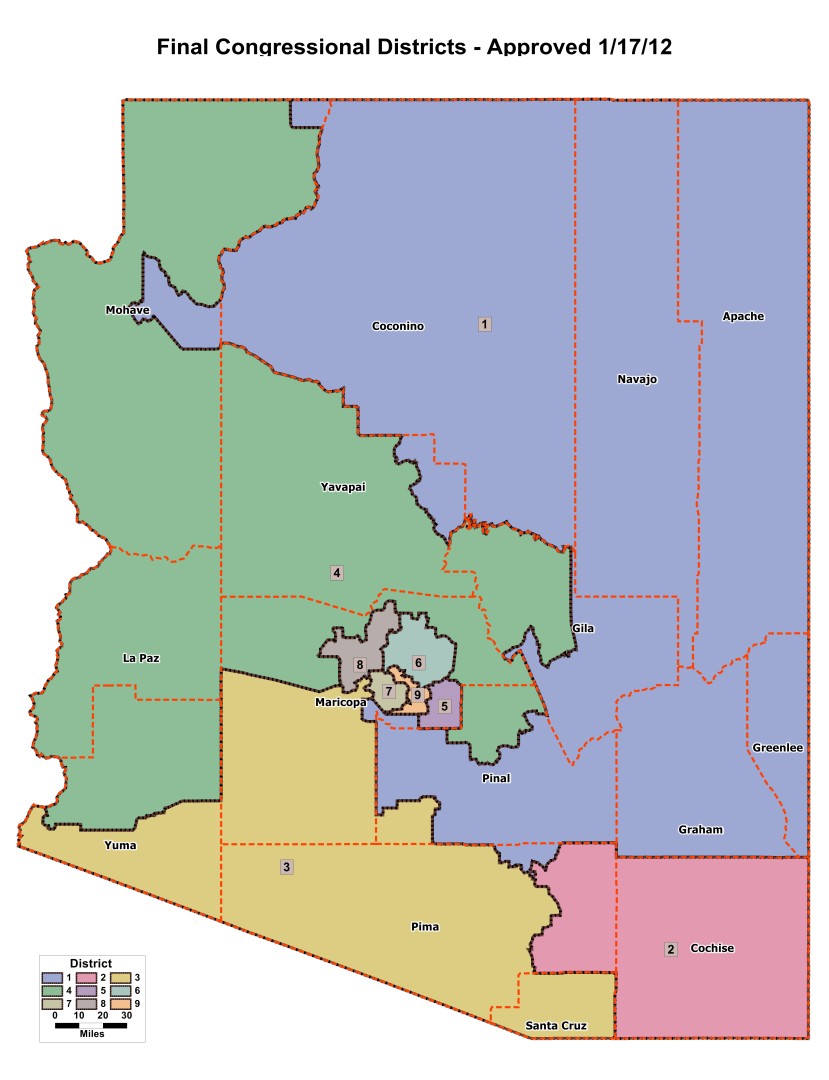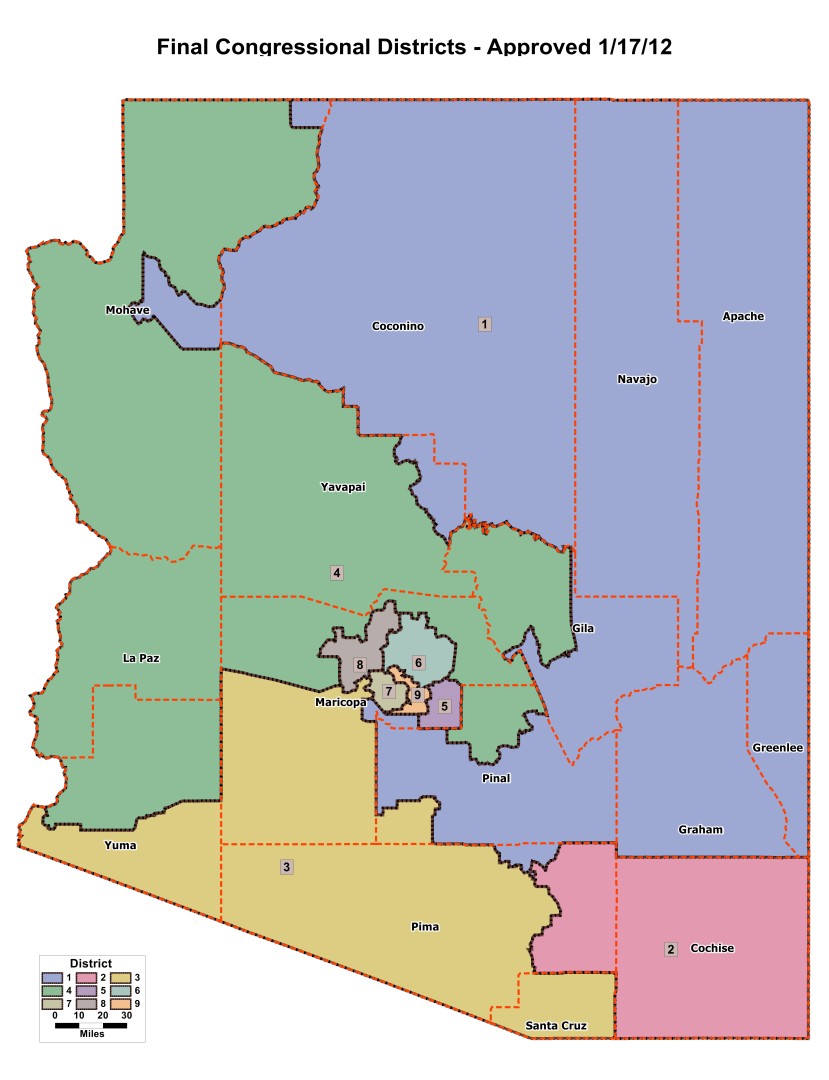 The U.S. Supreme Court is nearing a decision over the constitutionality of independent commissions created to draw district lines, but lawmakers in Arizona aren't waiting for the outcome to start radically redrawing the state's political boundaries — for their own gain.
House and Senate leaders have already begun discussing how and where to redraw lines, and they are likely to come to some sort of agreement over the summer, sources close to Republican leaders in both chambers said. Once an agreement is close, Gov. Doug Ducey (R) would call a special legislative session to dispense with the new maps.
Those sources also said Reps. Martha McSally (R) and Matt Salmon (R) have held discussions with national Republicans on new district lines. McSally, who won her seat over an incumbent Democrat in 2014 by just 167 votes, wants to add more Republicans to her swing district. Salmon holds a safer district in southeastern Maricopa County.
Legislative Republicans have signed a contract with a national mapping data firm, National Demographics Corporation, in advance of what they see as a likely favorable ruling, which would take control of the mapping process away from the Arizona Independent Redistricting Commission and hand it to legislators.
Stephanie Grisham, a spokeswoman for the Arizona House of Representative's Republican caucus, said the chamber had hired the mapping firm "to begin updating the voter database so that if the Supreme Court rules in our favor, we are ready to begin."
"We have a small window of time to get things done once (if) the opinion comes down," Grisham said in an email.
Neither McSally's nor Salmon's offices responded to requests for comment. A spokeswoman for the National Republican Congressional Committee said her group is not in the process of drawing new maps in Arizona.
The case stems from a lawsuit filed by the state legislature against the Arizona Independent Redistricting Commission, which drew district lines after the 2000 and 2010 Census without the legislature's input. Lawyers for the state legislature contend Article One, Section Four of the Constitution gives legislatures the sole power to set rules for elections, including political boundaries.
In March, when the Supreme Court heard arguments in Arizona State Legislature v. Arizona Independent Redistricting Commission, observers on both sides agreed a narrow majority of the Court appeared to lean toward the legislature's case.
Though Republicans say they are fighting to reclaim power given to the legislature, privately party strategists admit their goal is to win back several contested House seats.
Republicans making initial plans in anticipation of the court's ruling say they hope to shore up McSally in her Tucson-based 2nd District, and to add Republican voters to Arizona's 1st Congressional District, which stretches from the Four Corners south to the Phoenix area. Republicans are also considering ways to make the Phoenix-based 9th District, held by Rep. Kyrsten Sinema (D), more competitive.
Several senior state legislators advocating for new maps are driven by self-interest. State House Speaker David Gowan (R), who faces term limits at the end of his current term, is likely to take a step this week toward running in the 1st Congressional District, which Rep. Ann Kirkpatrick (D) is vacating to run for U.S. Senate. At least five other state senators are considering running for that seat.
Redistricting "is the most self-serving function of government," said one Republican operative involved in the planning process, who asked for anonymity to candidly discuss the situation.
But Democrats, even those who believe the Supreme Court will rule against the independent commission, are readying a two-pronged response. They say it could protect their seats in Arizona and allow them to fight back by targeting Republicans in California.
In Arizona, Democrats are considering collecting signatures to force any new maps onto the ballot in 2016. Low voter turnout in 2014 reduced the number of signatures required to force a measure onto the ballot to about 75,000, a relatively easy lift for Democratic operatives. By collecting enough signatures, Democrats could delay implementation of the new maps until after voters have their say, at the very least until the 2018 elections.
And Democrats hope to exact some measure of revenge in California, where an independent commission modeled on Arizona's draws the state's political boundaries. The boundaries drawn after the 2010 Census were already good for Democrats, who hold 39 of the state's 53 House seats. But a few rejiggered lines here and there could put a handful of Republican incumbents in jeopardy.
There is no guarantee, however, that a Supreme Court ruling would necessarily strike down California's commission at the same time as Arizona's. Strategists on both sides cautioned the Court could write a narrow opinion that applied to one state but not the other, or that the high court could remand the case to a lower court, which would extend the amount of time it takes for either side's post-decision maneuvering.
The Supreme Court's ultimate decision will come by the end of this term, which ends later this month.