Western Lawmakers Seek Wildfire Funding as Blaze Season Draws Near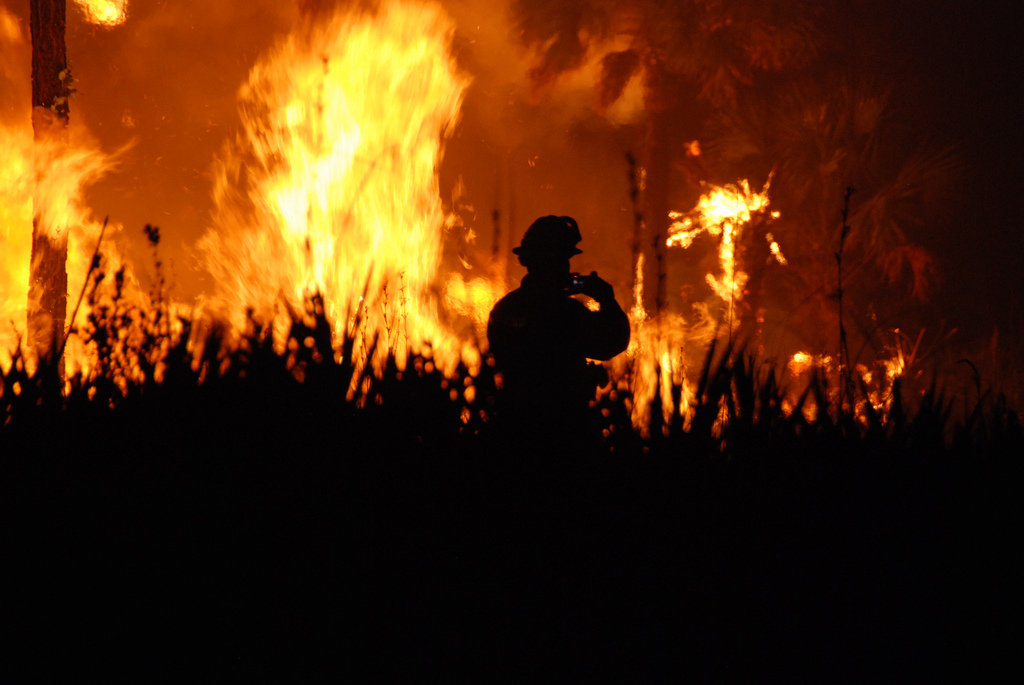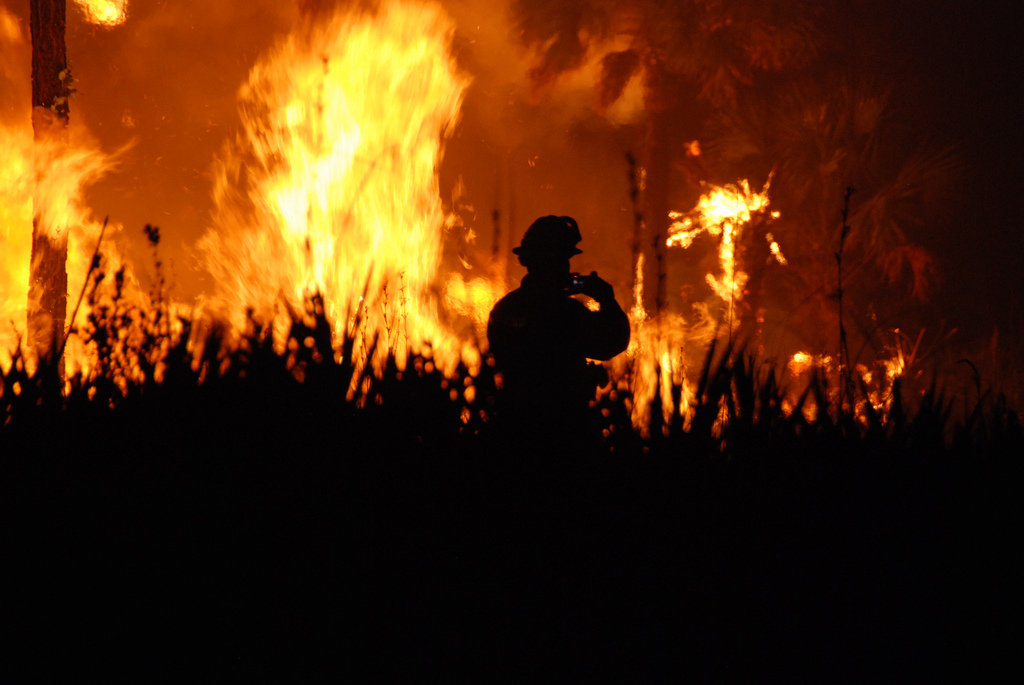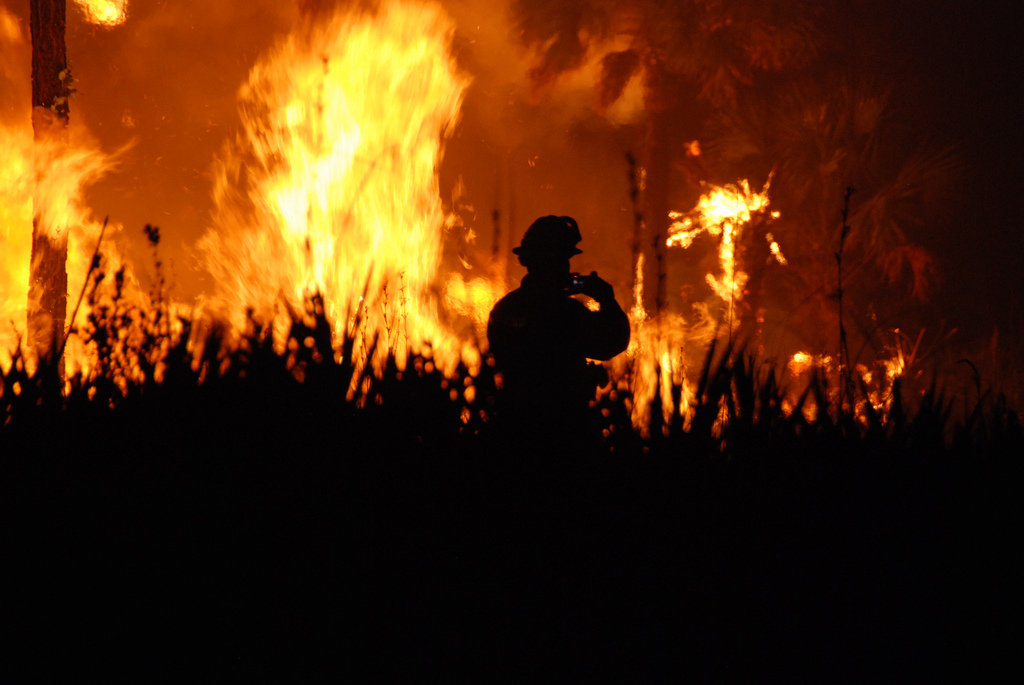 A coalition of largely Western lawmakers is pushing to change how the federal government funds efforts to combat wildfires. But an ongoing appropriations battle in the Senate and procedural disagreements in the House may push the proposal beyond this year's fire season.Wildfires have become more intense over the last 15 years as higher temperatures and the rapid spread of highly flammable weeds like cheatgrass create favorable fire conditions throughout the Western states. That combination has sent costs skyrocketing for federal agencies tasked with fighting wildfire outbreaks.
[visualizer id="13546″]
Data from the National Interagency Fire Center.
Wildfire-fighting funding is determined, by law, based on the average of annual spending from the past several years. But because costs are rising, that equation has routinely yielded inadequate funds. According to a Congressional Research Service report this month, "the budget formulation process…has underestimated suppression spending 8 out of the last 10 years by nearly 50% annually on average."
These funding woes have a group of Western lawmakers advocating for a change to wildfire budgeting practices.
Supporters of H.R. 167 and S. 235, similar bills introduced by Rep. Mike Simpson (R-Idaho) and Sen. Ron Wyden (D-Ore.), want to enable wildfire-fighting to qualify for disaster-relief funding. The White House included similar language in its fiscal year 2016 budget request for the Interior Department.
Due to stringent spending caps instituted by the Budget Control Act, simply diverting more money to fire suppression accounts would come at the expense of other programs, such as forest management and other fire prevention initiatives. Critics of the current system have pointed out that boosting fire suppression accounts is only half the battle.
"Congress must also ensure that enough funds are available to get out ahead of the problem and prevent wildfires from raging out of control in the first place," Wyden said in an emailed statement Wednesday.
Both proposals would instead permit lawmakers to appropriate funds to combat the most serious wildfires outside of existing caps, thus preserving funding for things like fire prevention.
Advocates like Rep. Kurt Schrader (D-Ore.), one of 111 cosponsors of Simpson's bill, say it's not right that disasters like hurricanes and earthquakes can qualify for this type of spending while wildfires do not.
"Frankly it's a big discrimination issue and everyone West of the Mississippi is pretty irritated about that," Schrader said in an interview Thursday.
However, there's no clear sign that either of these efforts will bear fruit in time for this year's fire season, already underway in Alaska and drawing near in drought-stricken California.
In the Senate, a provision similar to Wyden's bill, which has 15 cosponsors, was included in the Interior appropriations bill last week. But with the appropriations process stalled in the chamber over disagreements about sequester-level spending limits, the budget process is unlikely to yield more money for wildfire fighting anytime soon.
On the other side of the Capitol, intra-coalition disputes over procedural issues kept a similar provision from being attached to the House version of the Interior spending bill.
Democrats on the Interior, Environment and Related Agencies Appropriations Subcommittee wanted to add an amendment to the spending bill that would have included Simpson's legislation in the funding measure.
However, subcommittee Republicans, including Simpson himself, voted the amendment down over concerns that the proposal hadn't received the blessing of another powerful House panel.
"I couldn't go along with the amendment that they offered…because we didn't have it OK'd with the Budget Committee," Simpson told reporters Thursday.
Instead, House Republicans are aiming to pass Simpson's bill as a stand-alone measure.
"We're trying to get through regular order the Simpson bill and deal with it that way," Rep. Ken Calvert (R-Calif.), who chairs the Interior Appropriations subcommittee, said in an interview Wednesday.
Simpson said the next best chance for his legislation to make it into law is when the House Committee on Natural Resources marks up a forestry bill, which he said could include wildfire language.
With no immediate path foreseeable, it's unlikely that wildfire legislation will get to the president's desk in time to address U.S. officials' concerns about the fire season that's already underway.
Jessica Gardetto, a public affairs official at the National Interagency Fire Center, said those concerns weren't limited to California and Alaska.
"We are also expecting triple digit temperatures throughout much of the Great Basin, which is most of Nevada, parts of eastern California, southeastern Oregon, south Idaho, and western Utah," she wrote in an email Tuesday. "Because we are concerned about a storm that has potential to bring a lot of lighting through these states this weekend, fire season could pick up throughout the West."
Still, even if his bill doesn't advance quickly, Simpson said he's optimistic about the prospects of Congress passing something along the lines of his proposal.
"We'll get it done, I'm pretty sure," he said. "John [Boehner] knows it's important to get it done."