Governors Tout Records, But Luck Is a Factor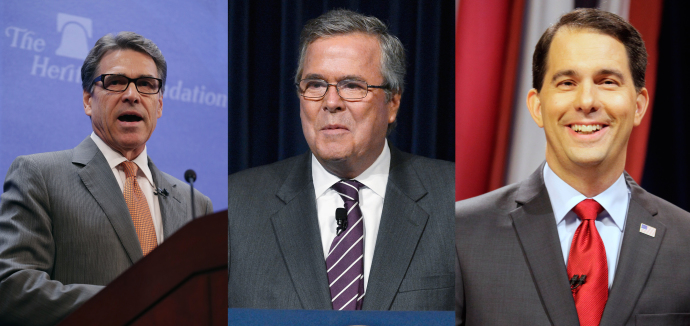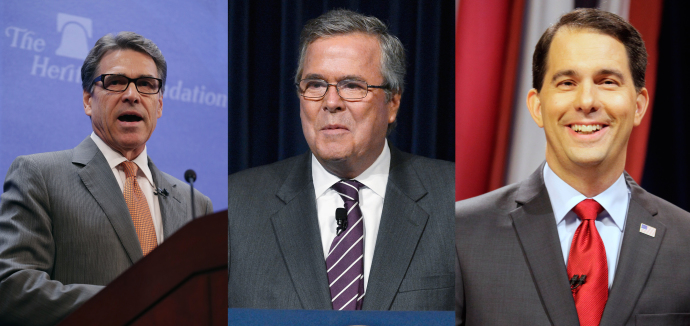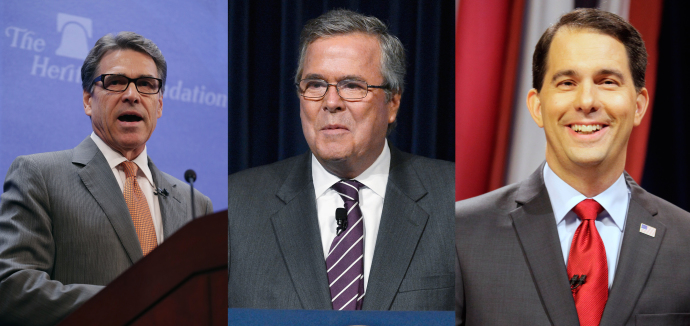 Presidential campaigns, the old saying goes, are about the future. But the 12 current or former governors who are, or will, seek their party's presidential nomination will use a bit of the past to convince voters they have the skills necessary to occupy the Oval Office.
As he makes a second bid for the Republican presidential nomination, former Texas Gov. Rick Perry can tell voters that his state's gross domestic product more than doubled on his watch. In his own speech announcing his candidacy, former Florida Gov. Jeb Bush (R) cited the 1.3 million jobs created during his tenure. Louisiana Gov. Bobby Jindal (R) can say he's the only governor who actually reduced the tax burden for his constituents.
The detailed statistics maintained by federal agencies can give a governor's presidential campaign something their rivals in the Senate don't enjoy: actual metrics that illustrate just how successful they are in public office.
But even those statistics, unimpeachable though they may be, come with a major caveat: The actions any one governor takes may not make any difference, especially in a globalized economy where a state's fiscal health can rise or fall on a bank in Greece or a slumping Chinese stock market.
The governors seeking the White House in 2016 demonstrate that sometimes, being in the right place at the right time is better for one's record than any individual action taken.
Bush, who occupied the governor's mansion from 1999 to 2007, is a prime case in point: The majority of his tenure coincided with strong national economic growth years. Had he been in office during the recession, which began in December 2007 and ended in June 2009, he wouldn't have been able to do much: Hundreds of thousands of the 1.5 million jobs Florida added when Bush was governor – 200,000 more than he gave himself credit for during his announcement speech – vanished during the great recession, just after he left office.
The governors who were sworn in just before the economic downturn weren't as lucky as Bush. Former Maryland Gov. Martin O'Malley (D) saw the unemployment rate rise 1.8 percentage points during his two terms in office. The unemployment rate in Jindal's Louisiana rose 2.3 percentage points. Even Perry, whose state added a million jobs, left office with an unemployment rate 0.4 percentage points higher than when he took over.
On the other hand, governors who took over after the recession benefited from the recovery. The unemployment rate in Ohio has fallen 5.8 percentage points since John Kasich (R) won the governor's office. Former Rhode Island Gov. Lincoln Chafee (D) presided over an unemployment rate that plunged 4.7 percentage points. In New Jersey, it's down 3.3 percentage points under Gov. Chris Christie (R). And Wisconsin Gov. Scott Walker (R) has seen his state's unemployment rate tick down 3.4 percentage points. All four governors took office in 2010 or 2011, after the recovery was underway.
Every governor has something to run on, and each will have the opportunity to cherry-pick from a number of statistics and across a range of issues.
"Governors get to run on a specific issue – 'I'm the education governor. I'm the anti-crime governor. I'm the anti-tax governor,'" said Saladin Ambar, a political scientist at Lehigh University. "All these guys running now can strap themselves to a specific policy in ways that is less viable if you're running as a senator."
Bush, for instance, has sought to bill himself as an education reformer. During his tenure, per-pupil spending in Florida public schools — elementary through high school — grew by 51 percent, the third most of any governor running for president, according to U.S. Census figures.
But he's not alone: Per-pupil spending rose nearly 90 percent during former New York Gov. George Pataki's (R) 12 years in office. It rose more than 80 percent in Arkansas while Mike Huckabee (R) was governor.
Only one governor running for president – Wisconsin's Walker – saw per-pupil spending shrink, by about 6 percent.
Walker may choose to highlight his fiscal frugality instead. During his five-and-a-half years in office, state spending has fallen by 4.6 percent, more than any of his rivals except Jindal.
Some fiscal conservatives look askance at Huckabee, who saw state spending more than double during his tenure. State spending rose 72 percent in Florida under Bush, 93 percent in Texas under Perry and by more than 75 percent in New York when Pataki was governor.
Huckabee and Pataki can make the case that while spending rose, so too did personal incomes. Median household income in Arkansas rose about 50 percent under Huckabee, and New York's shot up 48 percent under Pataki. Contrast those numbers with New Jersey, where the median household income has fallen 1.9 percent while Christie was in office as the state struggled to recover from the recession and Super Storm Sandy.
Seventeen of 43 presidents have previously served as governor, including four of the last six.
Governors have a built-in advantage in national elections because they've acted in the capacity of chief executive, much like the president, said John Weingart, director of the Center on the American Governor at Rutgers University.
Ambar added that governors don't have to take sides on topics of national familiarity such as the Iraq War, the issue that haunted then-Sen. Hillary Clinton in the 2008 Democratic primary.
"Anybody who gets anything done in the Senate is going to have to swallow some bills they don't want," said Ambar, author of "How Governors Built the Modern American Presidency." "It's the nature of the beast."
A gubernatorial record, on the other hand, is much harder to pin down.
Few voters outside of a governor's state are keyed into the issues that consumed their time in office. And it's not at all clear that economic indicators are representative of how effectively a governor ran the state.
A prime example is the oft-repeated claim of having passed balanced budgets. In his announcement speech, Bush boasted that he'd passed eight balanced budgets. Perry took credit for 14. But the brag is an empty one: Every state but Vermont has a law on the books mandating a balanced budget. It's misleading, too: States get billions of dollars from the federal government every year, money that helps balance those budgets.
Further complicating matters, governors in different states have different amounts of constitutional and legal power, Weingart said. For instance, Perry in Texas had much less authority vested in him by the state constitution than does Christie in New Jersey.
But those nuances may not matter as governors attempt to sell their records to Americans. The average voter isn't likely to personally fact check a governor's economic record, said Lara M. Brown, a George Washington University political science professor who studies national elections.
"No voter is going to literally go do a comparative analysis and investigate a governor's economic success rate – that is going to be something that the campaigns are going to put out there," she said.
Candidates are able to shape both their own record and that of their opponents, Brown said. In 1988, Vice President George H.W. Bush's campaign called into question Michael Dukakis's (D) record as governor of Massachusetts, effectively casting doubts on his accomplishments. President Obama's campaign assailed Mitt Romney's (R) record as governor, when Massachusetts ranked 47th in the nation in job growth.
Which part of a governor's tenure gets talked about is largely up to the campaign – and its opponents.
"The most important part about these records is not their objective reality," Brown said. "It's how they're used, both by the governors' campaign and their opponents."
See all the data here: