Amputees Protest HHS Proposal on Lower-Limb Prosthetics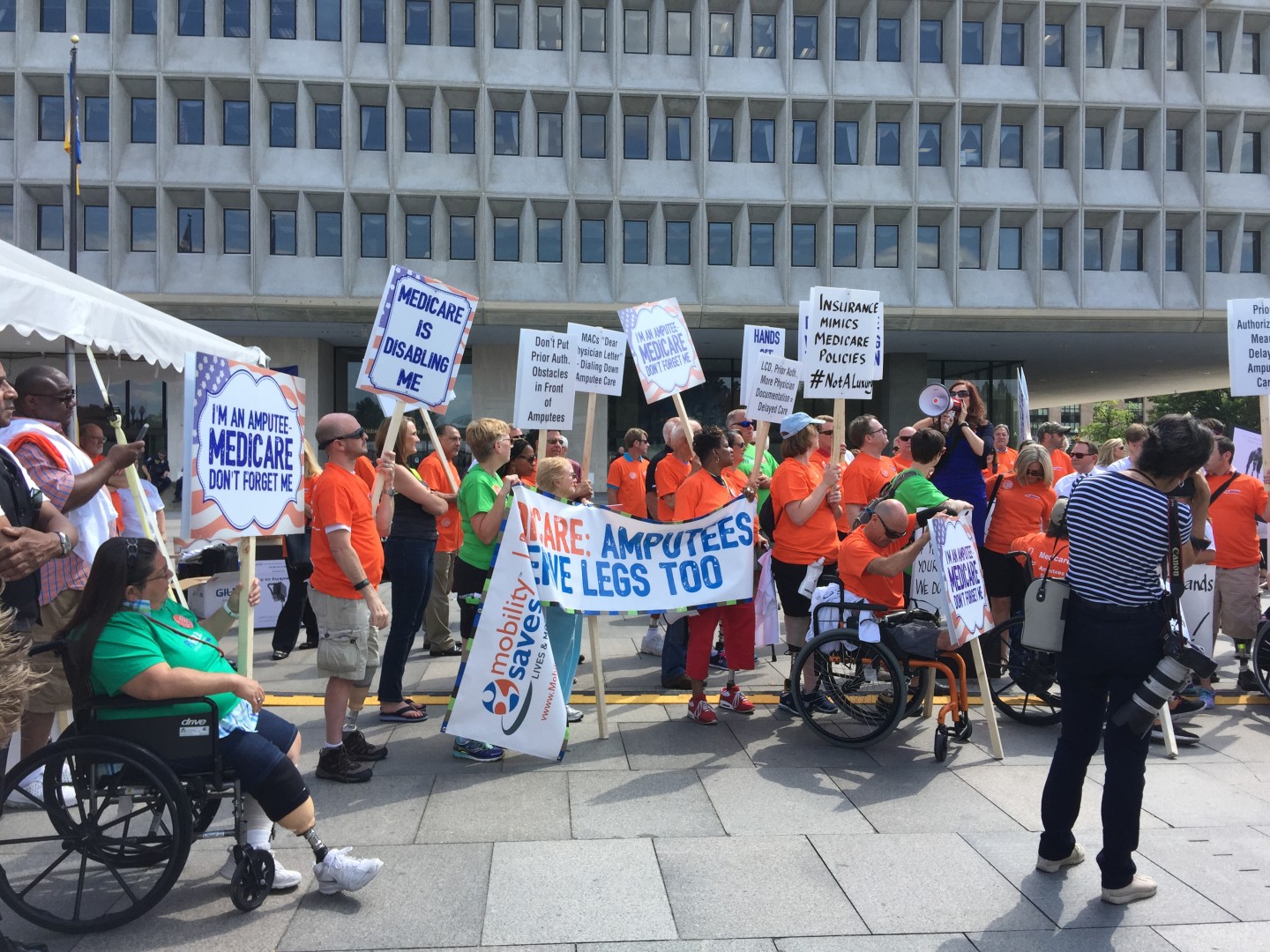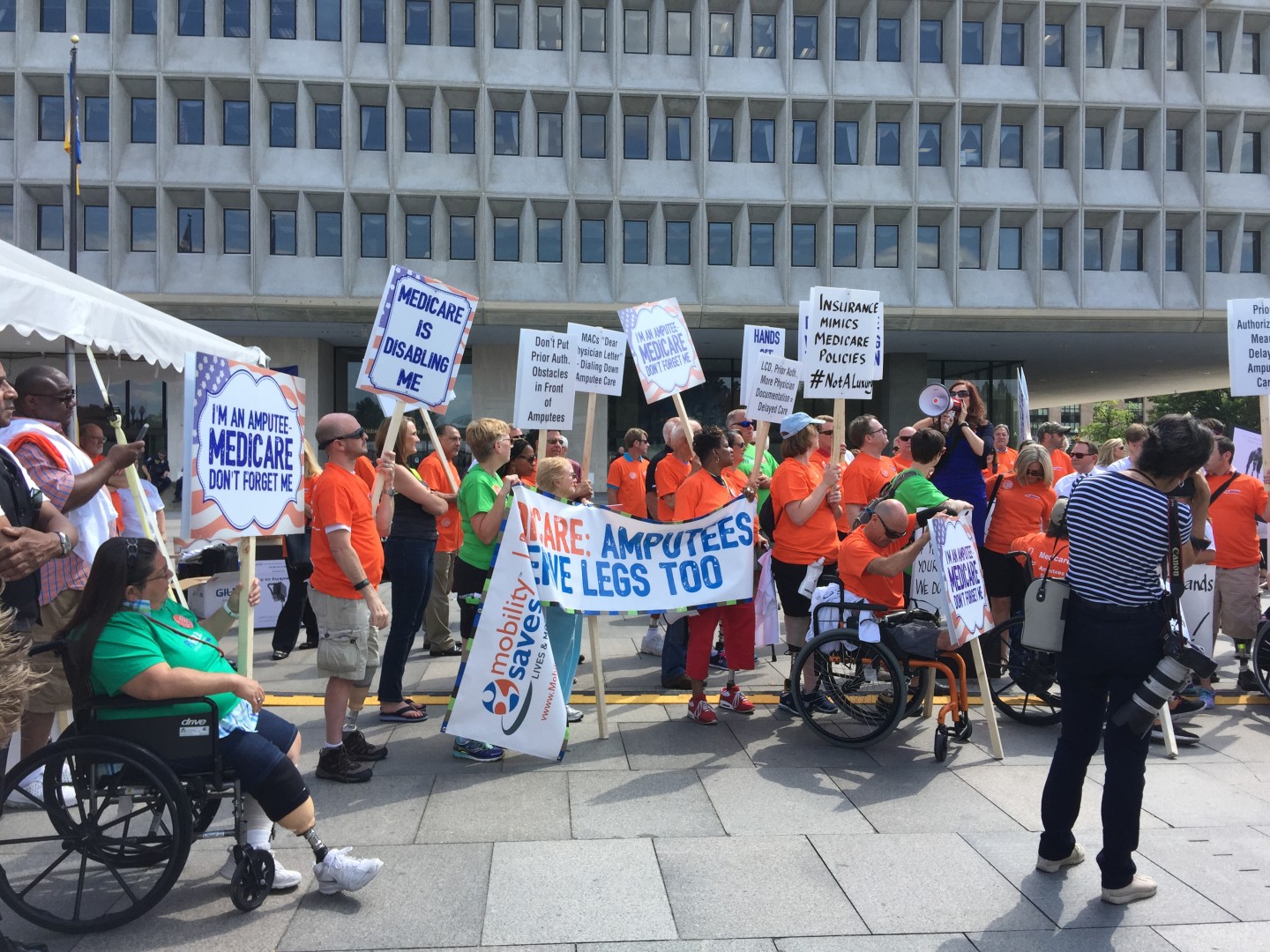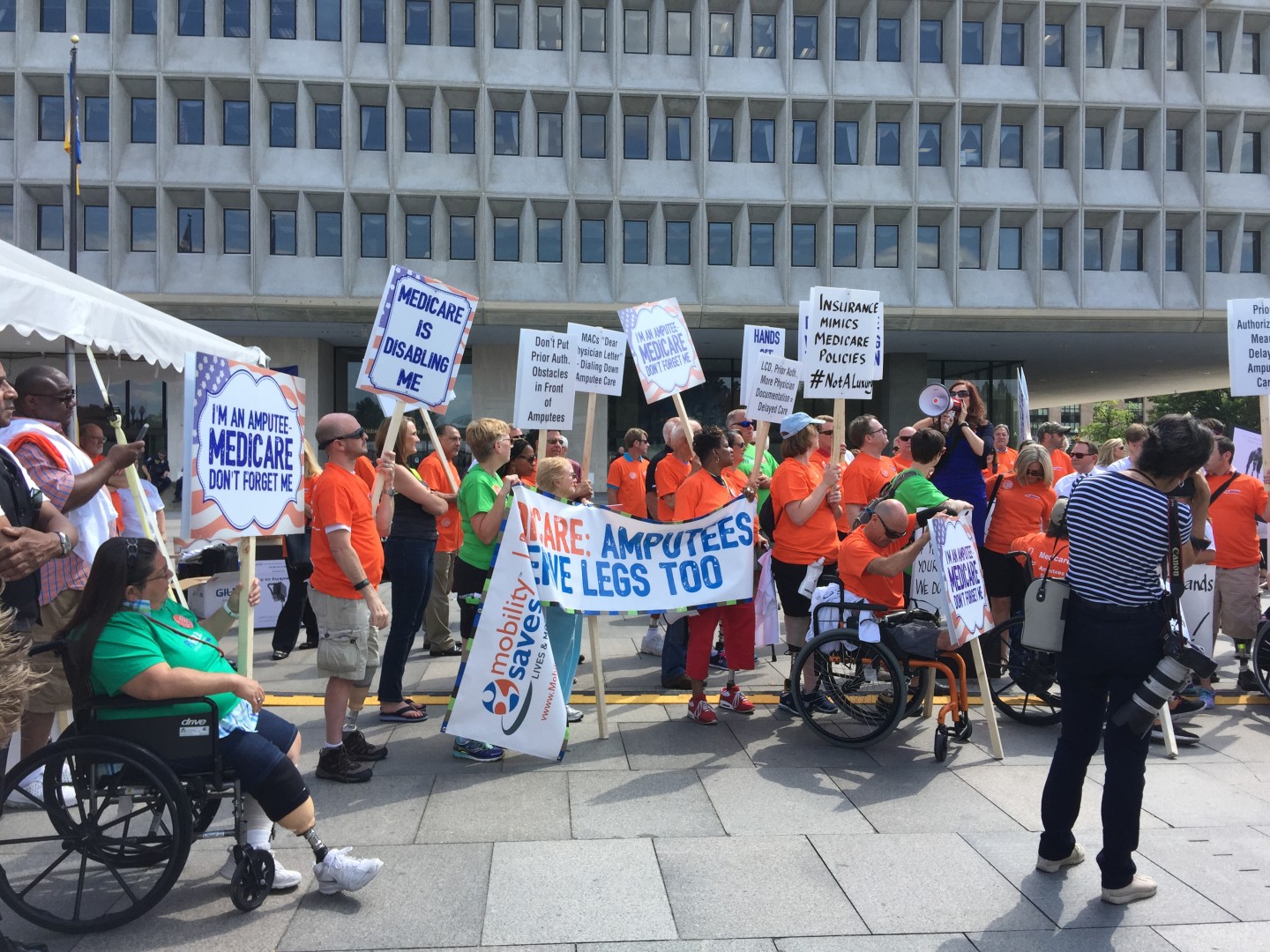 More than a hundred amputees on Wednesday rallied outside the Department of Health and Human Services headquarters against a proposed Medicare policy they say would restrict coverage for lower-limb prosthetics.
The Centers for Medicare and Medicaid Services has proposed sweeping changes to reimbursements for lower-limb prosthetics under Medicare. The changes were announced after a 2011 report found that while the number of amputee patients decreased by 2.5 percent between 2005 and 2009, Medicare spending for leg prostheses increased by 27 percent. Amputee advocacy groups say the changes would restrict coverage for leg prosthetics and could increase out-of-pocket costs for patients.
"They needed scissors and they pulled out a chainsaw," said Jordan Thomas, who lost both of his legs in a boating accident. "It is a comprehensive rewrite of the current policy that exists."
Thomas, who operates a foundation that provides prosthetics for children, was among the activists who gathered outside the HHS headquarters to protest the rule. Earlier in the day, Thomas and other advocates attended the only public hearing held by CMS to discuss the rule. The comment period for the proposal ends on Aug. 31.
CMS Acting Administrator Andy Slavitt and other CMS and HHS officials held a private meeting with amputee advocates about the rule. The government officials "expressed the critical importance of Medicare beneficiaries' access to appropriate and medically necessary lower-limb prosthetics," according to CMS.
A CMS official who spoke on background questioned the activists' claims that the rule would restrict access to lower-limb prosthetics.
"CMS believes that Medicare beneficiaries will continue to have access to lower-limb prosthetics that are appropriate, and the intent of this proposed local coverage determination is not meant to restrict any medically necessary prosthesis," the official said in an email.
Activists are worried that the policy, which is aimed at Medicare patients, would also indirectly restrict coverage for other amputees.
"Every private payer, the VA, all of them draw on that code set that's determined by Medicare. So it will really have an impact on every amputee, which is about 1.7 million people," Thomas said in an interview. Only about 150,000 amputees are covered under Medicare.
Activists say the policy would also change how prosthetics are determined for patients. Currently, patients are matched with a prosthetic based on their functional potential in the future. But under the proposed rule, the determination would be based on a patient's current functionality.
"If you use a cane or a walker or wheelchair at any time during your recovery, you will not get a prosthetic leg because you have proven to the doctors that you are able to use another assistant device," said Adrianne Haslet-Davis, who lost one of her legs in the Boston Marathon bombings. Amputees would get "just one time snapshot,  and they decide whether you will get a leg."
The appropriate prosthetic would be determined in a "comprehensive medical assessment" by a medical professional with no financial interest under the proposed changes. Currently, prosthetists with a financial stake can work with a patient to make the prosthetic. Furthermore, only prosthetics that enable patients to walk without a cane and have the "appearance of a natural gait" would be covered by Medicare.
William Bray, 52, an amputee and prosthetist for 30 years, said if those changes go into effect, it is likely that he would only get coverage for prosthetics that use 1980s technology.
"A wooden leg with leather straps and belts around my waist," Bray said in an interview. "Anything above that is going to be a luxury and I would have to pay for that out of my pocket."
UPDATE: This article was updated to clarify that the CMS proposal affects lower-limb prosthetics and to note that CMS officials met with amputees about the issue.