Climate Rally Turnout Falls Flat, But Happiness Abounds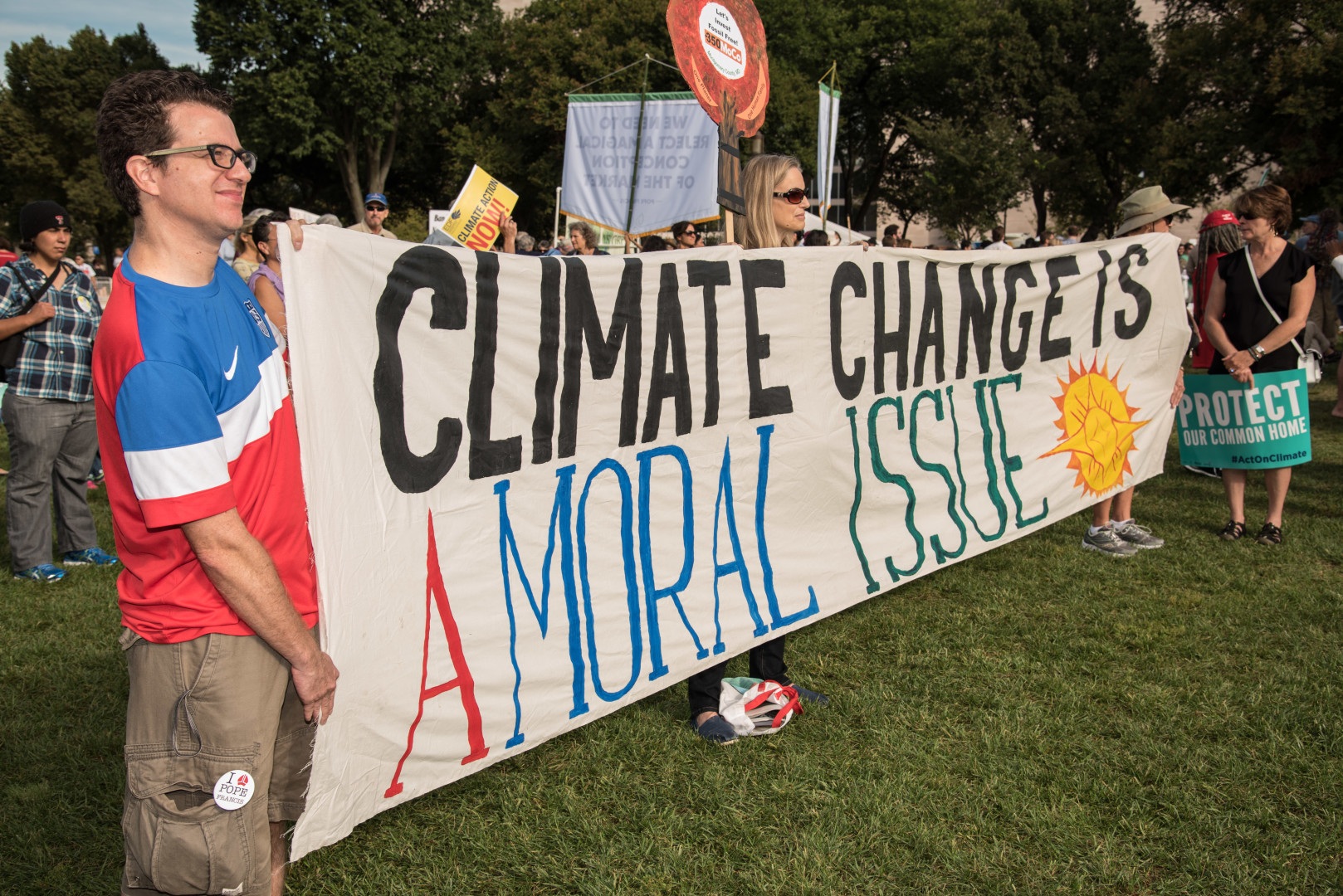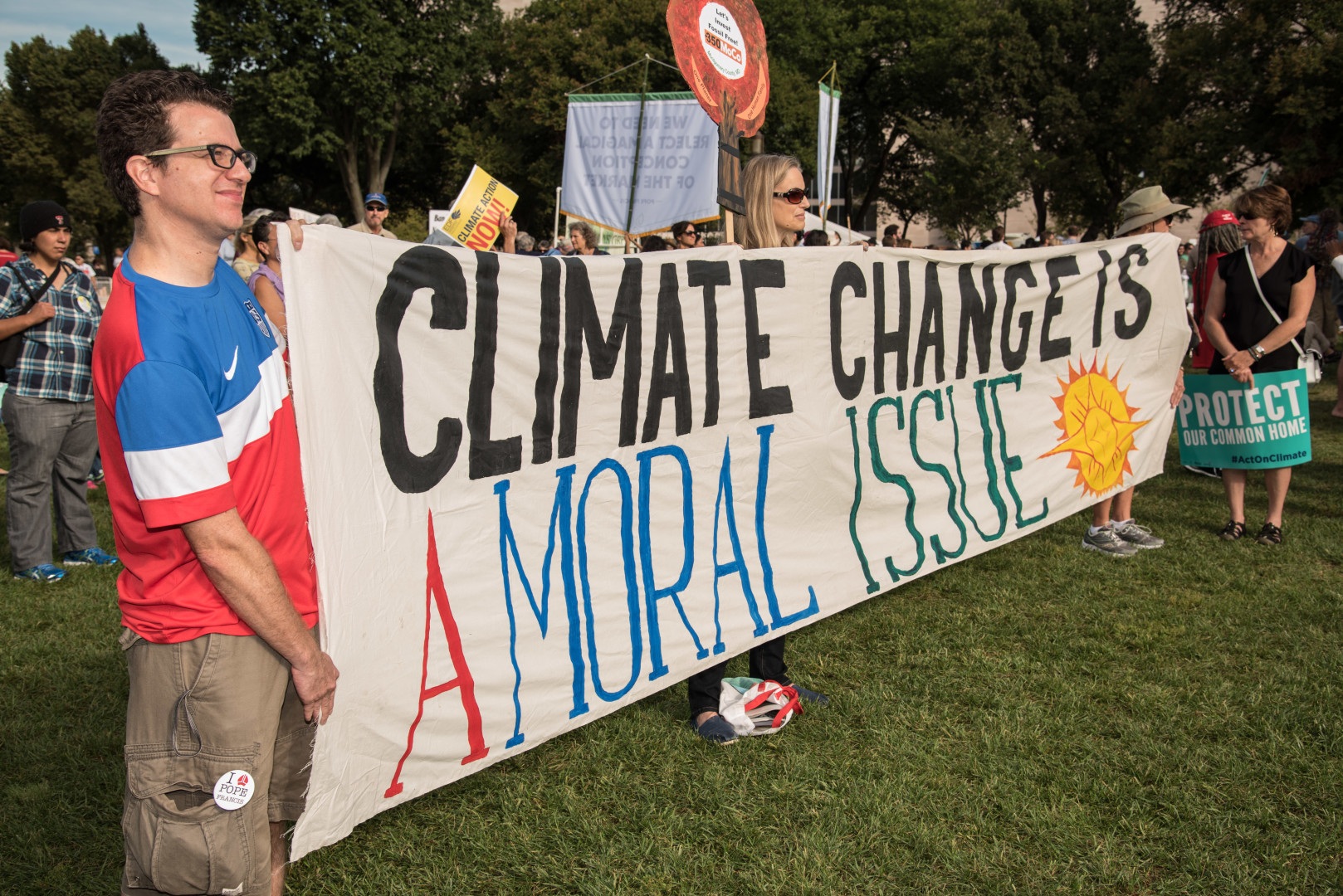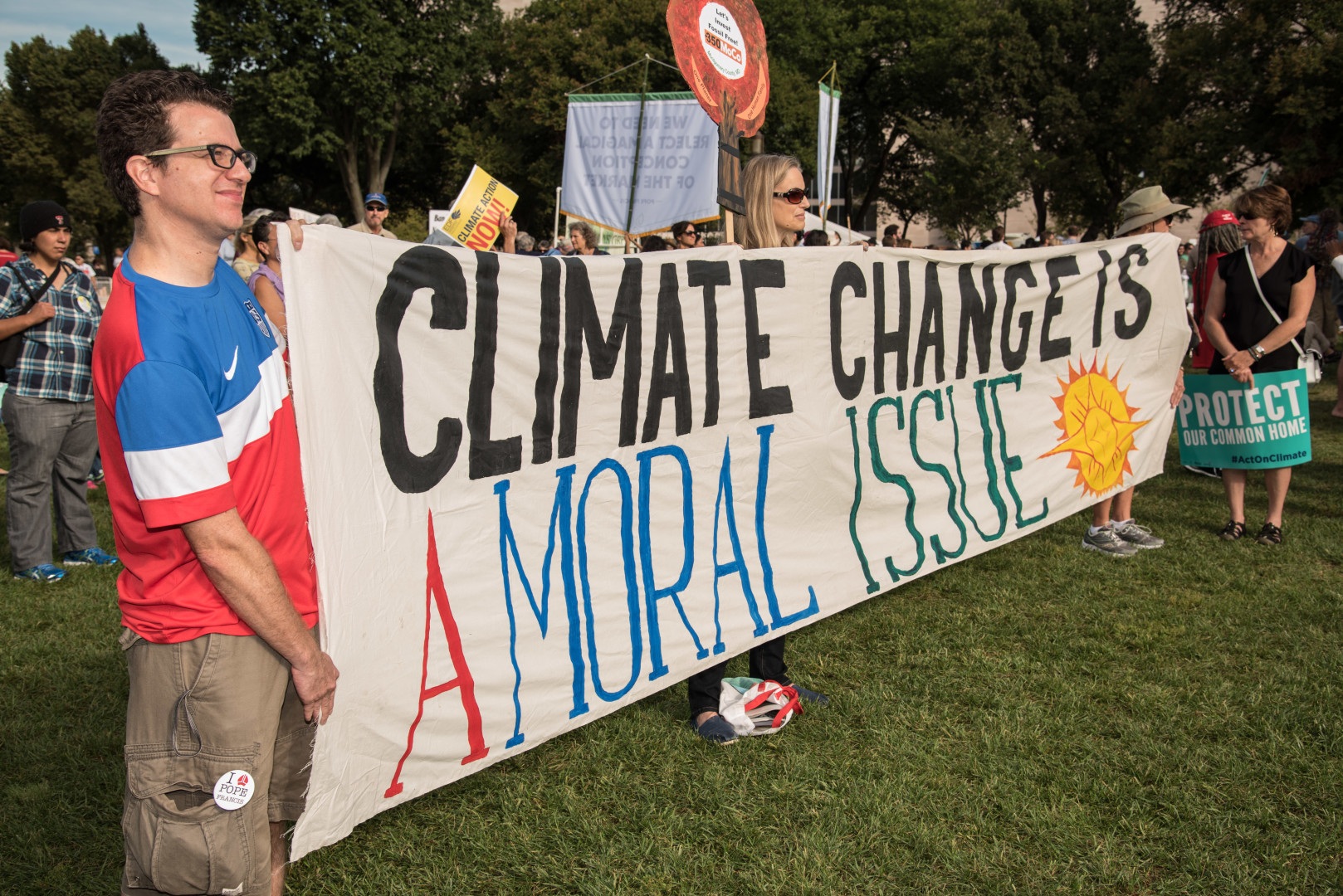 "Disappointing," "scant," and "probably not as big as they would have hoped for," were a few ways activists gathered on the National Mall for a climate change protest described the turnout.
Never mind the turnout, though. Thursday's "Call to Moral Action for Climate Justice," which took place during Pope Francis' address to a joint-session of Congress, was buzzing with musical messages of love, peace, and hope. Rather than angrily chaining themselves to fences, hanging from bridges, or getting arrested in front of the White House, the diverse crowd of climate activists were content to celebrate their presence at the U.S. Capitol at a historic moment.
"There's a real push for positivity, which I think the climate movement needs, because the message of, 'It's already too late' isn't really going to get us anywhere," said Emily Walz, a freelance cultural reporter for Washington City Paper and graduate student at Johns Hopkins.
The rally, spearheaded by the Earth Day Network, featured music artists like Sean Paul and Natasha Beddingfield, and speakers such as civil rights activist Dolores Huerta and actor Chevy Chase. It was expected to draw up to 200,000 people. But the crowd barely occupied a quarter of the roughly half square mile organizers had blocked off on the west side of the Capitol building. Some said it was because people were spooked out of commuting downtown during the Pope's visit. Others suggested that maybe turning up wasn't worth it for most people.
Hank Helman, a commercial airline pilot from Charlottesville, Virginia, attributed the poor attendance to the day of the week. "People have to work for a living," he said.
Not discouraged by the turnout, Helman said, "I think the wind is starting to blow in our direction,"  as the fall breeze spun the blades of his handmade model wind turbine. "I think there's a real sense of a change in the climate, if you will, of environmentalism," he continued. Helman isn't religious, but said he had a new respect for the Pope after the speech concluded. "I felt it," he proclaimed while pounding his heart. "I thought it was great."
"When you see how many Jumbotrons they set up it's a little disappointing," said Daryl Domming, a paleontologist living in Silver Spring, Maryland. A practicing Catholic, Domming carried a picket-sign that read "At least some Catholics want an end to population growth."
But like many others, Domming, a climate rally veteran, didn't show up to point fingers and get mad. Rather, as Christie Grimmie performed Love Song to the Earth, he talked about how the human race was "one family." As someone who knows a lot about extinction, he spoke fluently on the connection between overpopulation and climate change. His hope is that people will take overpopulation seriously enough to justify the use of birth control on a massive scale "for the sake of the whole human family, not just that the individual family that the church wants to confine the vision to."
The Pope was less verbose about his views on the environment, referring to his encyclical earlier this year that called on developed countries to do more to protect the Earth from climate change. "I call for a courageous and responsible effort to "redirect our steps" (ibid., 61), and to avert the most serious effects of the environmental deterioration caused by human activity. I am convinced that we can make a difference and I have no doubt that the United States – and this Congress – have an important role to play," the Pope said.
That statement was cause for celebration outside the Capitol. But inside the chamber, Congress' biggest climate-change critic was unmoved. "He wouldn't say you should do something legislatively on climate change and recognize that CO2 is causing it," said Sen. Jim Inhofe (R-Okla.) after the speech. "He didn't do that. So in a way I thought it was less forceful…than I thought it would be."
Lawmakers generally praised Pope Francis for not delving into divisive issues in his speech. His mere mention of the environment, meanwhile, has galvanized the green movement.
He's got the cute little old man thing going on.
– Gilbert Ruiz, student, American University's Washington Semester Program
The Pope is "like a lightning rod," said Gilbert Ruiz, who is studying sustainable development this semester in Washington. "He's bringing not just Catholics together but people from all over… Anyone that cares about the environment, anyone that cares about human rights, he's an actor for change. He's important."
Asked why he thought the Pope was popular, Ruiz smiled and said, "He's got the cute little old man thing going on."
But despite the enthusiasm, Ruiz and others were disheartened by the blocks of empty spaces. "I think everyone here is a little disappointed in how this turned out… I think there were a lot of assumptions about how much people cared," he said, positing that poor marketing and hesitation with the Metro system as probable causes.
While organizers put hundreds of thousands of dollars into the event, the disorganization was hard to miss. An emblematic example: workers were handing out posters made of wildflower seeds with instructions that said "plant this poster and watch a garden grow as a reminder of our growing commitment to live in a world run on 100% renewable energy."
But no one could say which organization made the sign. And the signs themselves didn't note where recipients could get more information on renewable energy or climate change. To make matters worse, dozens of boxes of the posters were left behind when the crowd cleared.
Another group brought pine tree seedlings and left boxes of them on pathways, too. "Ridiculous," one attendee said of the mess.
People from different walks of life — Buddhists, Quakers, development workers, southerners, westerners, and animal rights activists, to name a few — brought different messages to the rally. They generally concurred that the smaller-than-expected event was still a positive action.
"We were expecting the whole Mall to be filled, but it's a good amount of people," said Mia Kelly, who came to perform with the Washington, D.C. based Urban H.I.P. H.O.P. Choir. "Everyone's really motivated and happy for the cause, and they all have good attitudes, which I love," she said.
Kelly was far from alone in feeling the love. "I feel so much love, and I don't know if it's because of [my dog]" said Susan Kiehm, who brought her dog Arlo from Tennessee to attend the rally. "You're in a group setting and all of a sudden you're having fabulous conversations with people you've never met before and you feel like you're best friends when you walk away."
As singer-songwriter Moby sang his hit tune Troubles So Hard, Kiehm, a practicing Catholic, conceded that she didn't think the Pope was going to change many lawmakers' minds when it comes to addressing climate change, at least not among those who fill their pockets with donations from fossil fuel companies. But that did not dishearten her; she said the Pope could do more than "our Congress ever could."
"Not that the Pope rules our country, but he is a force of wonder and joy and love in this world," Kiehm said.
Karl Grindal of Washington, D.C., called the Pope's 192-page encyclical on climate change, released in June, an "inspiring piece of work in terms of how it approached the issue." A member of the Universalist church, Grindal came to the rally in a multi-faith capacity. He said that the Pope's influence as the leader of a community of about 1 billion strong was infiltrating all religious institutions, turning climate change into a moral rather than political problem.
Many t-shirts follow the same theme, but they're different colors. There are red ones, there are blue ones… That's kind of inspiring, this rainbow of colors of people working together. – Joe Morris, retired professor of child psychology
Joe Morris, a retired professor of child psychology, flew in from California after taking a six-week course on the encyclical. "It's the first one directed to all people, not just Catholics. That's cool," he said.
He added that the Pope's moral call for people to work together to curb climate change could be felt in the crowd. "It seems to be very peaceful, very reflective… It's not an angry or confrontational message."
The former psychologist spent a few minutes analyzing the crowd. He pointed to the many t-shirts and signs that promoted ideas of oneness and a common cause. He noted the blobs of activists gathered in groups wearing the same shirts. "Many t-shirts follow the same theme, but they're different colors," Morris said. "There are red ones, there are blue ones… That's kind of inspiring, this rainbow of colors of people working together."
"I'm more optimistic now, partly because we have to do it," Morris concluded. "Climate change gradually sneaks up on you, its not like a war or a big pollution problem. It sneaks up on you so we get used to it… But that's the drama of having somebody saying this is not business as usual."
EA Dyson, communications director for Friends of the Earth, an environmental advocacy group, offered a similarly artistic interpretation of the crowd.
 "All around us there are gates and barriers," Dyson said, pointing to the many officers of several police departments and security checkpoints that surrounded the space. "But in here its peace… The gates and barriers are indicative of how we as a nation approach these situations. We think there's going to be trouble, there's going to be violence, there's going to be security threats. But I haven't seen one. What I see here is love. I see people coming together to share a common message."
Ruiz perhaps summed up the rally best. "It's a beautiful thing, there's a lot of good information here and good things happening…. But not enough attention was brought to it."