House GOP Stunned by McCarthy Exit, Next Steps Unclear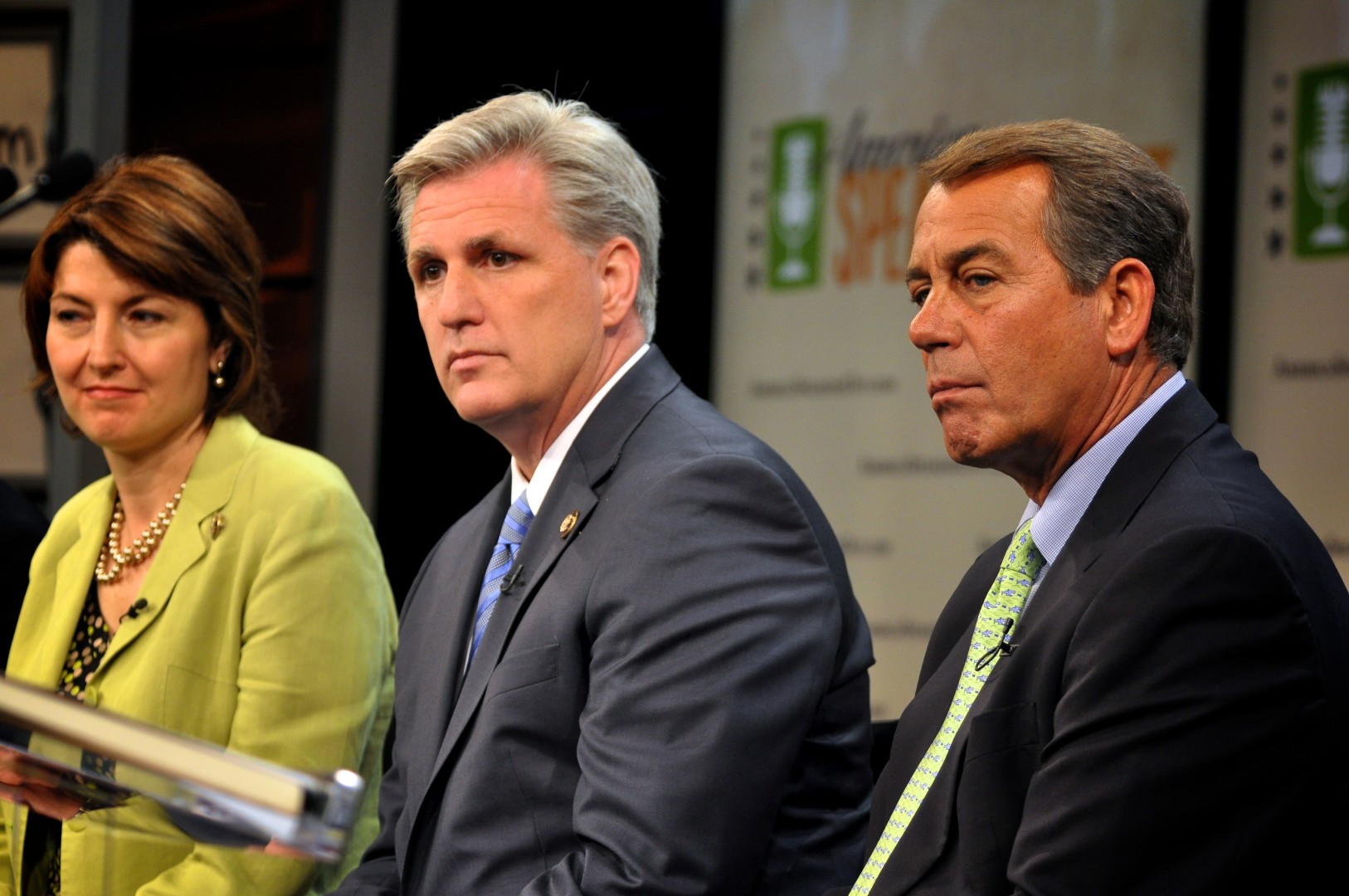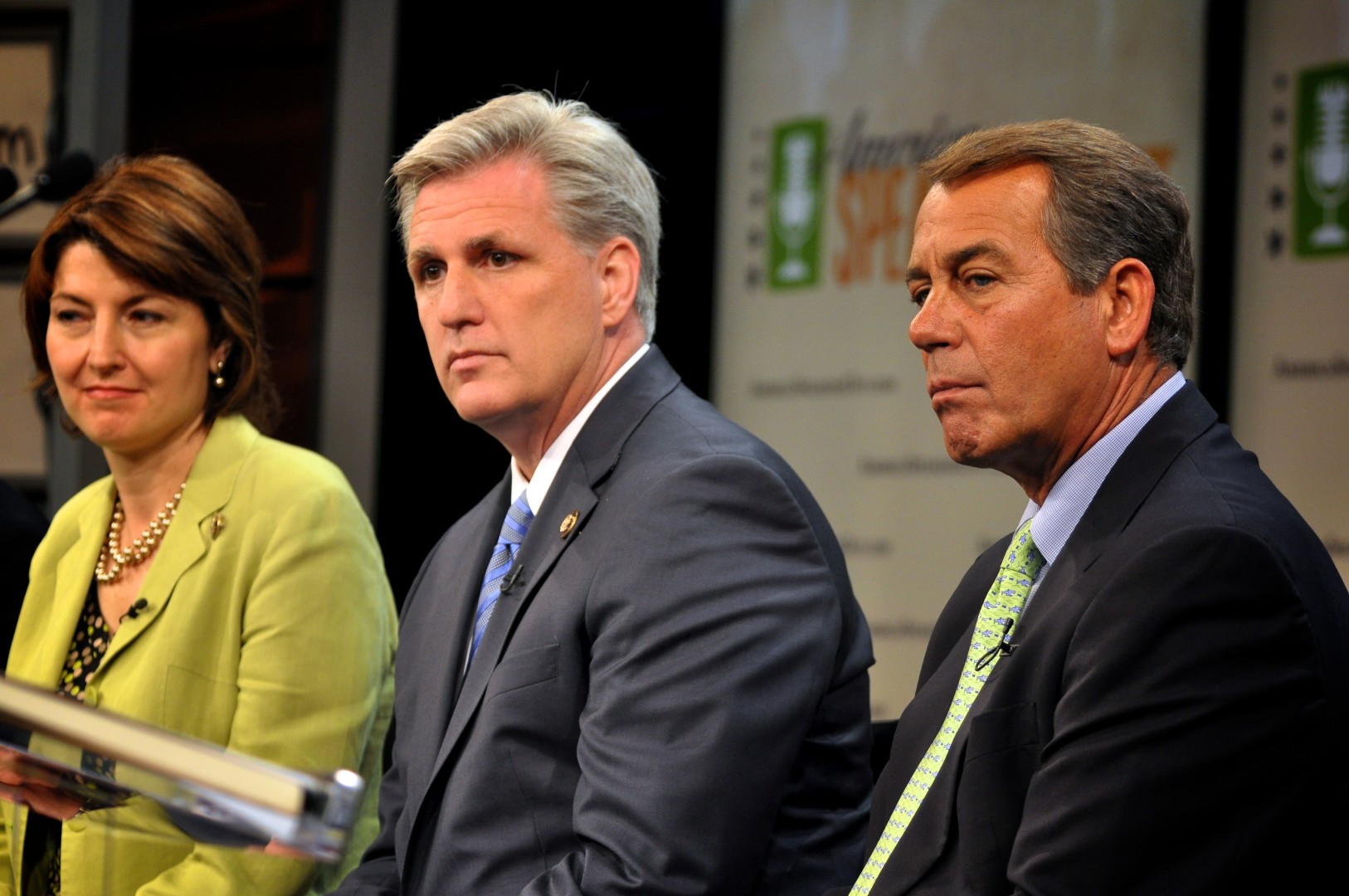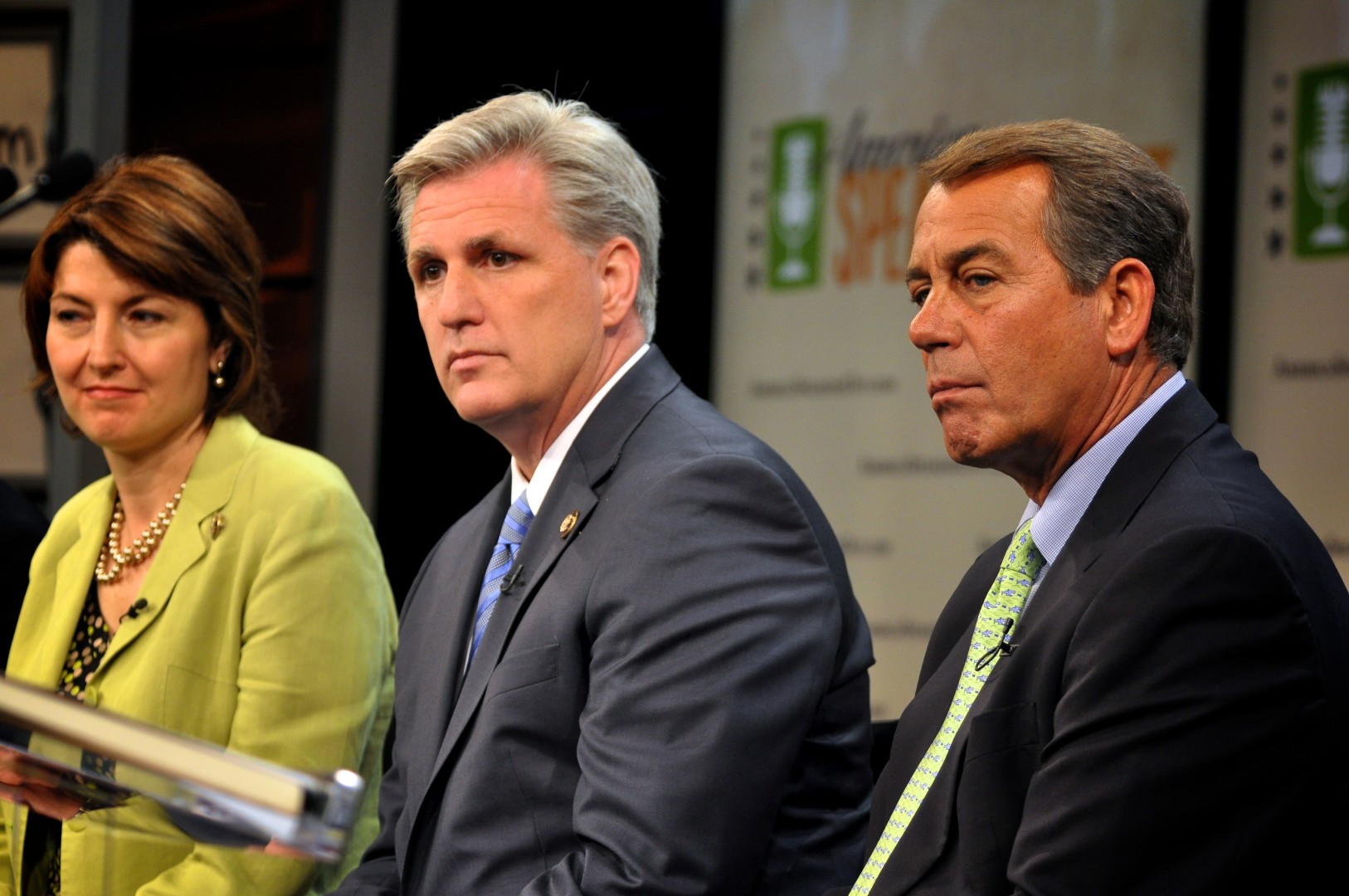 House Majority Leader Kevin McCarthy's sudden exit from the race to replace Speaker John Boehner on Thursday threw into chaos an already-unmanageable Republican Conference — and no one's quite sure what comes next.
At a Republican Conference meeting Thursday in the Longworth House Office Building, McCarthy asked to speak first, an unusual request to make before election procedures were reviewed. McCarthy stunned friends and rivals alike with his announcement. Some members in the back of the room, straining to hear through bad acoustics, didn't understand what had just happened, several sources said.
McCarthy gave Boehner just a few minutes' heads up before dropping out of the race.
"Over the last week it has become clear to me that our Conference is deeply divided and needs to unite behind one leader. I have always put this Conference ahead of myself," McCarthy said in a statement. He told several reporters that Republican members had reported pressure from constituents to vote against him.
Boehner postponed the speaker's election, though his office did not say when that election would be held. In a statement, Boehner said he would stay on as Speaker until a new leader is elected.
McCarthy had been widely expected to win the support of most of his colleagues on Thursday, though probably not enough to guarantee him the 218 votes he would need to win a floor vote later this month. Speaking to reporters after his announcement, McCarthy said he did not want to win with a bare majority of Republican votes.
"Kevin would have won the conference vote today, he would have had a strong majority of Republicans supporting him, I don't believe he would have had 218 votes today supporting him," said Rep. Charlie Dent (R-Pa.). "So, had this gone to the House floor, I suspect it might have be uncertain as to whether or not Kevin could get 218 Republican votes on the floor. I suspect that entered his thinking."
Yet Rep. Mark Meadows (R-N.C.), a member of the House Freedom Caucus, insisted that he thought there had been a "path to victory for Mr. McCarthy."
"It really, again, boils down to rules and process, not personality," he added, repeating the conservative group's mantra in the run-up to Thursday's expected election.
McCarthy's two rivals for Speaker, Rep. Daniel Webster (R-Fla.) and House Oversight and Reform Chairman Jason Chaffetz (R-Utah), remain in the race. Speculation over other candidates who could join the race centered on members like Reps. Patrick McHenry (R-N.C.), Peter Roskam (R-Ill.) and Steve Scalise (R-La.), currently the majority whip.
But Rep. Bill Flores (R-Texas), who leads the conservative Republican Study Committee, said he thought "it's probably difficult" for anyone associated with recent leadership teams to do any better than McCarthy.
Members are reportedly still urging House Ways and Means Chairman Paul Ryan (R-Wis.) to jump in the race, even after the former vice presidential candidate sent a tweet immediately following McCarthy's announcement saying he would not run and that he "can best serve the country & this conference as Chairman of the Ways & Means."
Ryan again demurred to comment on a speakership bid late Thursday afternoon as he walked towards the Ways and Means suite right off the House floor with House Financial Services Chairman Jeb Hensarling (R-Texas), who had toyed with the idea of challenging McCarthy when Boehner first said he would be stepping down.
Hensarling too, declined to tip his hand.
"It's time to take a deep breath," he said.
Other Republicans, such as Rep. Dana Rohrabacher (R-Calif.), have floated the possibility of choosing an elder statesmen-type to take up the gavel on an interim basis.
"I've been advocating that we have a caretaker speaker for 14, 15 months," he told reporters, suggesting the likes of retiring Rep. John Kline (R-Minn.), Rep. Joe Barton (R-Texas) or House Appropriations Chairman Hal Rogers (R-Ky.). "And then we can all focus on winning the next election."
Dent, fed up with what he called the "rejectionist wing" of Republican conference, even proposed a coalition government, arguing that the next speaker might need to win over a handful of Democratic votes to win the job.
"I think you could start talking now about a caretaker. You could start talking about someone in the center who might be acceptable to both sides, or you might talk about somebody who is truly an institutionalist, like Webster," said Rep. Mick Mulvaney (R-S.C.), among the conservatives who helped force Boehner's retirement.
Boehner said in a statement he would remain Speaker himself until the House elects a replacement.
Around him, the chaotic campaign continued, though with the added certainty that the field is now unsettled. Members of the Texas delegation met privately in the Cannon House Office Building. The conservative House Freedom Caucus, of which Mulvaney is a member, also met and decided to remain firmly behind Webster, at least until other candidates step forward.
Asked whether his shot to take the House's leading role is better now that McCarthy is out, Webster said: "Well I don't know, It's a whole different dynamic."
"The message stays the same, and I think my message is selling," he added.
Chaffetz, briefly appearing before the cameras as he exited the conference room, said he was "absolutely stunned" that McCarthy had dropped out of the race, but that he intended to continue his campaign.
"We need to find somebody that our whole body can unite behind and do what we were elected to do."
What's more, picking a new speaker isn't the only thing on the House's agenda. Before the end of the year, Congress will have to take action on a highway bill, try and negotiate a budget deal, raise the debt ceiling and possibly extend a number of tax provisions.
"It does make it more difficult," Rogers said of the ongoing GOP turmoil in relation to all the work lawmakers have ahead of them. "Time is of the essence."
Perhaps the sagest advice of the day came from Rep. Trent Franks (R-Ariz.).
"Today is living proof that there are three kinds of people that make predictions about politics," he told reporters, "those who don't know, those who don't know they don't know, and those who know they don't know."