McConnell: Debt Limit Hike Must Start in House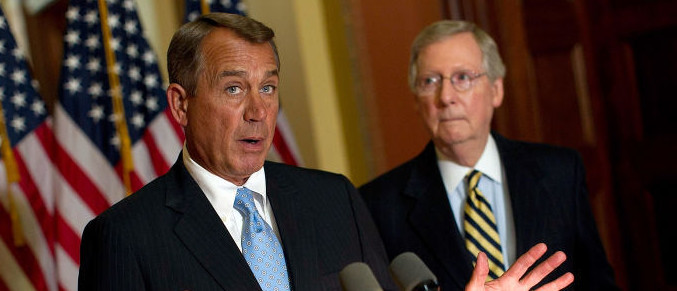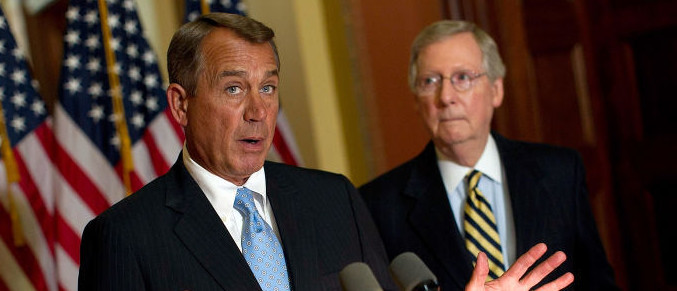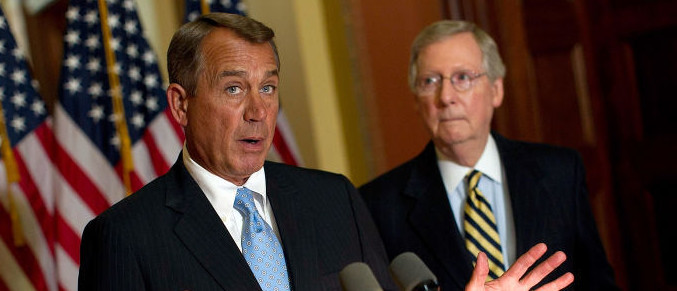 The chances of raising the nation's debt limit before a Nov. 3 deadline rest with the House, Senate Majority Leader Mitch McConnell said Tuesday, despite continued uncertainty over who will succeed outgoing Speaker John Boehner.
Speaking to reporters after the Republican conference's weekly lunch, McConnell did not rule out passing a "clean" debt ceiling bill, one that does not include entitlement cuts that he and other Republican leaders had hoped could pass in conjunction with hiking the debt limit.
"Obviously we don't prefer a clean debt bill," he said. "We'll see what the House brings over, and we'll act accordingly."
The White House and congressional Democrats have repeatedly said that they will not negotiate on the issue, citing the risk of default as too grave a concern to allow for political negotiations.
"We have all said debt ceiling should be issue-free," Sen. Chuck Schumer (D-N.Y.) told reporters Tuesday. "Once you open that door, you'll be playing around with the full faith and credit of the United States for a generation."
But many Republicans are far from thrilled with the idea of allowing a must-pass deadline to go by without using it as an opportunity to win concessions on deficit reduction or mandatory spending cuts.
"History has demonstrated that by far the most effective tool that Congress has to rein in a recalcitrant president is the debt ceiling," Sen. Ted Cruz (R-Texas) told reporters Tuesday. "Of the last 55 times Congress has raised the debt ceiling, 28 times it has attached meaningful conditions."
The Senate appears to be in wait-and-see mode, as uncertain as anyone else about how the Republican succession drama in the House will unfold.
Boehner had planned on leaving at the end of October. But after Majority Leader Kevin McCarthy's (R-Calif.) decision to drop out of the speaker's race, Boehner said he will stay on until the House GOP conference names a new member to take the gavel.
Washington is waiting for Ways and Means Chairman Paul Ryan (R-Wis.) to decide whether he wants to pursue the position, but the 2012 vice-presidential candidate has yet to signal he has overcome his initial reluctance to lead a fractious chamber and give up his beloved tax-writing position.
Sen. John Thune (R-S.D.) said Tuesday that the House will presumably pass a debt bill that has some fiscal reforms, which the Senate would then consider.
Still, he told reporters that in an ideal world, the Senate would be able to pass it's own version of a debt limit hike, just in case the House doesn't move in time for the more deliberative Senate to meet the Nov. 3 deadline.
"I'd be game for the Senate jump starting this thing if necessary, but I think as of right now the House has ball control on this," he said. "We want to see what can pass there, what they send us."
Senate Democrats agreed that the prospects of a debt limit hike depend largely on what happens over the next few days on the other side of the Capitol building.
"The only hope is that Boehner takes a small number of Republicans that get to 218 [a majority in the House] with the vast majority of Democrats," Schumer said. "Whether he is willing to do that, and even whether he is able to do that, are two big questions."
Raising the debt limit does not authorize additional federal spending. Rather, it allows the Treasury Department to borrow the money it needs to pay down obligations that Congress has already approved.
The Treasury Department has said it will need additional legal authority to continue paying the government's bills by Nov. 3.
Fawn Johnson contributed to this report.