Democratic Votes Will Secure Budget, Debt Deal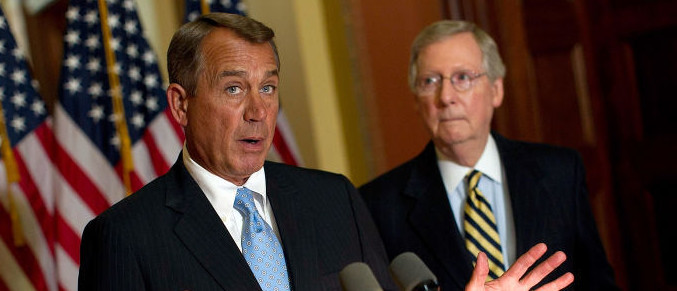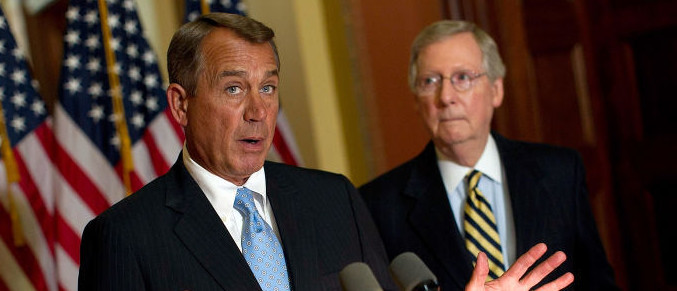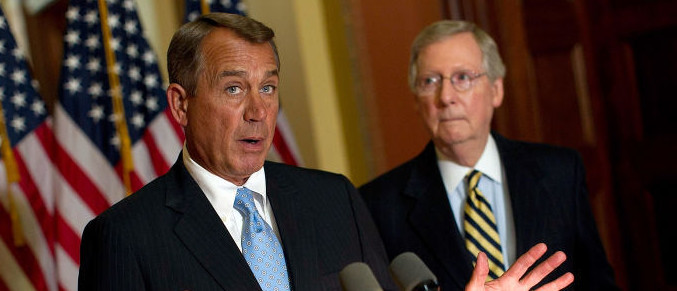 For Republican leaders to get their proposed budget and debt-ceiling agreement through the House, they will almost certainly need to rely on Democratic support. They had to do much the same thing in passing a government funding extension last month.
Rep. Tom Cole (R-Okla.) said Tuesday that as many as half of the GOP conference members could vote against the budget deal over protests that it trims Social Security benefits 15 years from now or that it doesn't stick to the across-the-board budget cuts agreed to four years ago.
But Cole pointed out that if the 105 members who publicly stated that they support an increase in defense spending hop on board — or even just the 91 Republicans who voted for the current stopgap spending bill — House leadership will be well on its way to sealing the deal.
"Most appropriators will vote for this deal," Cole said. "Most members of Ways and Means will vote for this deal because of the entitlement reforms. The entire leadership team is on board."
Rep. Mac Thornberry (R-Texas), the chairman of the House Armed Services Committee and a bellwether for how other defense hawks might lean, told reporters he thought he would support the deal. "It provides two years of certainty of defense at a decent level," he said.
But conservatives in the House are upset, both with the deal's content and the way in which their leaders negotiated the deal behind closed doors with Democrats and the White House.
"A number of the issues are problematic for me," Rep. Mark Meadows (R-N.C.), a founding member of the House Freedom Caucus, said in an interview. "It would be very difficult to support. Certainly the process and the way we arrived at it is not something I support."
"It's a $1.5 trillion dollar gift to Barack Obama, and what we get in exchange for it is an $80 billion spending increase," said Rep. Tim Huelskamp (R-Kans.), another Freedom Caucus member.
Still, even some of the most stringent opponents to the budget framework conceded that with Democratic support, the plan will probably go through.
When asked whether he thought the deal would be approved, Rep. Matt Salmon said, "Yeah, I do. I think every Democrat will vote for it, and there will be enough Republicans in the conference."
House Democrats appeared broadly supportive. Both House Minority Leader Nancy Pelosi (D-Calif.) and Minority Whip Steny Hoyer (D-Md.) said they would vote for the joint deal. "Most of our members see this not as a compromise that they want but a compromise they can probably support," Hoyer told reporters Tuesday.
Some progressive Democrats could have concerns about provisions in the deal that, at least on paper, trim Social Security benefits. The logic behind that pay-for is that by 2030 the Social Security trust fund will start to be replenished because of the large swath of millennial workers. But that doesn't compute under current congressional scoring rules.
Democrats could also object to language in the deal that adds more scrutiny to people who receive disability benefits. Still, they haven't had much time to review it. Rep. Barbara Lee (D-Calif.), a prominent progressive Democrat, said at a press conference Tuesday morning that the Congressional Progressive Caucus was "cautiously optimistic" about the agreement.
The Bipartisan Budget Act of 2015, posted online late Monday night, would lift existing spending caps by $80 billion — $50 billion in fiscal year 2016 and $30 billion in fiscal year 2017. It would also provide $16 billion each year from emergency contingency funds, equally divided between defense and non-defense priorities.
The legislation also would suspend the debt ceiling until March 2017, safely putting off another fiscal showdown until the first months of the next presidency. It would transfer money to the soon-to-be insolvent Social Security Disability Insurance fund and prevent imminent Medicare premium spikes.
Rep. Mick Mulvaney (R-S.C.), an outspoken member of the House Freedom Caucus, said the Social Security language in the deal is unacceptable to the group's members because it cuts from retiree benefits, which he sees as the wrong place, in order to shore up disability payments that many of his group have concerns about. "When people find out about that, they may decide to change their votes on this, some of them Democrats," he said.
Hoyer disputed Mulvaney's description. "This bill doesn't cut Social Security benefits," he said. Still, the narrative floating through the conservative opponents could cause at least some Democrats to ask questions that make their leaders squirm.
The legislative package, if it becomes law, would clear the most controversial legislation off of presumptive Speaker Paul Ryan's plate before the Wisconsin Republican takes the helm of the House. Of the multitude of must-pass legislative items facing Congress this fall, a Ryan speakership will now have to deal with writing an omnibus spending bill, replenishing highway accounts and retroactively renewing a series of tax provisions known as "extenders."