Debates Put Ted Cruz in the Top Tier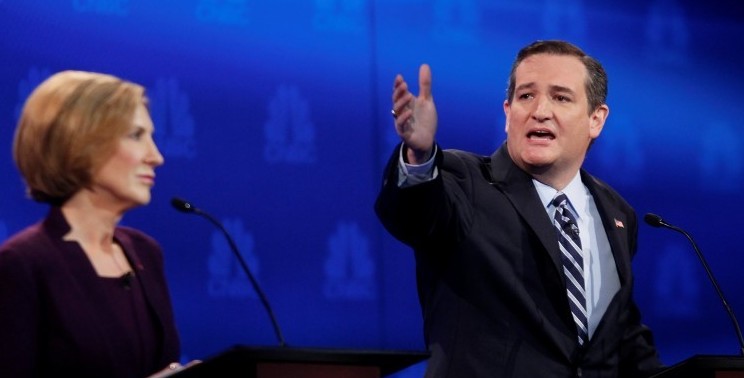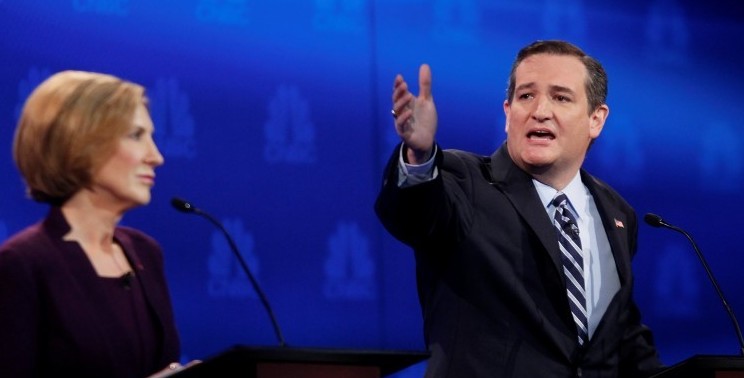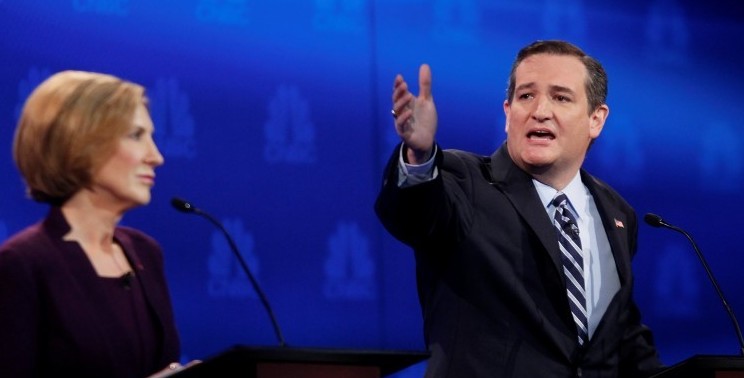 During his long-shot bid for a U.S. Senate seat, Ted Cruz captured the affections of conservatives through his unmatched ability to reach a right-leaning audience. His presence on stage catapulted a novice politician above several more seasoned candidates.
Now, four years later, Cruz's skills on the debate stage have vaulted him into the top tier of the Republican presidential nominating contest. After scoring the single biggest applause line of the evening at last week's debate on CNBC — blasting the moderators while repeating their assaults on his fellow candidates — new surveys show Cruz's support ballooning, and his popularity surging.
The rookie senator still trails retired neurosurgeon Ben Carson and real estate mogul Donald Trump, but several polls out this week show Cruz leading, or virtually tied with, every other elected official in the field.
A Morning Consult tracking poll released Tuesday shows Cruz in third place, with 9 percent of the vote, up six points from the week before and just ahead of Sen. Marco Rubio (R-Fla.) and former Florida Gov. Jeb Bush (R), each of whom take 7 percent. An NBC/Wall Street Journal poll also out Tuesday shows Cruz at 10 percent, twice the support he registered in September and just behind Rubio's 11 percent.
[visualizer id="17762″]
Rubio's performance at all three Republican debates have landed him a spot in the top tier as well. The NBC/Wall Street Journal survey shows Rubio's support growing from 5 percent in July, before the first televised debate on Fox News, to 11 percent today.
But a deeper look at recent polls suggests Cruz's rise isn't over yet — and may even be understated. He receives 16 percent of the vote nationally among voters who describe themselves as very conservative, and 22 percent among voters who identify as Tea Party supporters, according to the NBC/Wall Street Journal poll. Those two cohorts are disproportionately likely to show up to vote in nominating contests, said Fred Yang, one half of the bipartisan pair of pollsters who conducted the survey.
"I think our polling shows Carson and Trump have real support across an impressive swath of the GOP electorate," Yang said. "But if we are looking for the next man up, it is likely to be Ted Cruz."
Cruz's standing is improving in states, too: In New Hampshire, Monmouth University found Cruz in fifth place, at 9 percent, three times higher than in a July poll by Monmouth. Only Rubio and Carson saw a greater increase in support. In Iowa, a Public Policy Polling automated call survey showed Cruz in third place, at 14 percent, almost double the 8 percent he notched in mid-September.
Cruz's improving standing are evident below the surface, too: In the NBC/Wall Street Journal poll, 57 percent of Republican voters said they could see themselves supporting Cruz in a primary, up 12 points from September. Rubio, by contrast, has seen his percentage of possible supporters drop, from a high of 74 percent in April to 59 percent today.
Among Republican voters, 54 percent say they view Cruz favorably, tied with Rubio and higher than any other Republican contender except Carson and Trump.
Cruz's polling bumps appear tied most directly to his performance on the debate stage, rather than to paid advertising. Cruz's campaign and its affiliated super PACs have raised hefty amounts of money, but they have yet to begin a sustained advertising blitz on television or radio.
On Tuesday, one of the three big PACs backing Cruz released eight new radio ads, backed by about $1 million, to air in early primary states and on national conservative programs hosted by Rush Limbaugh and Laura Ingraham.