Whither the Year of the Governor?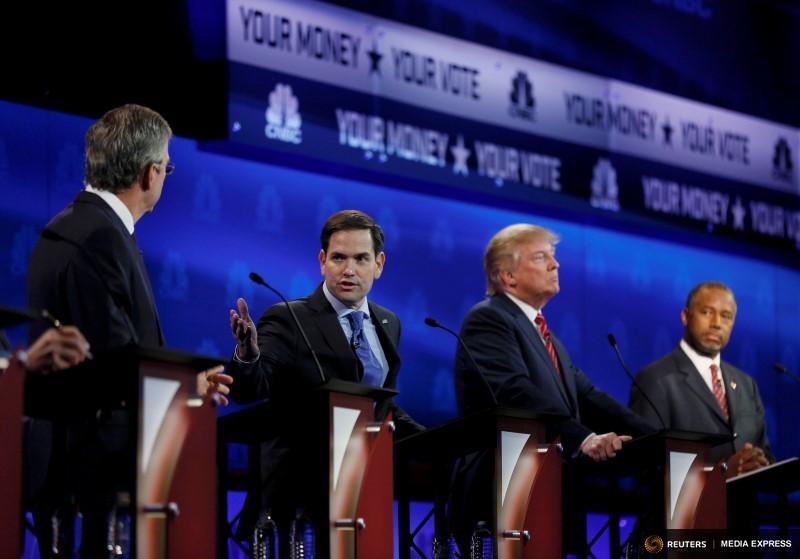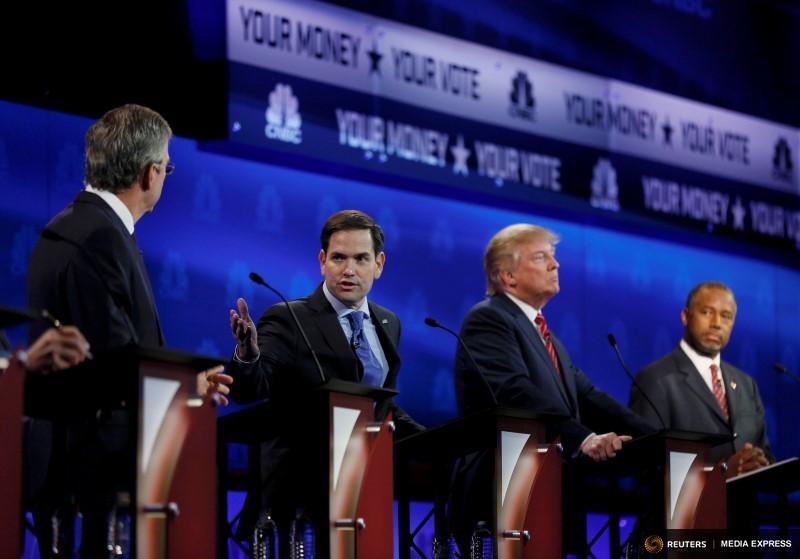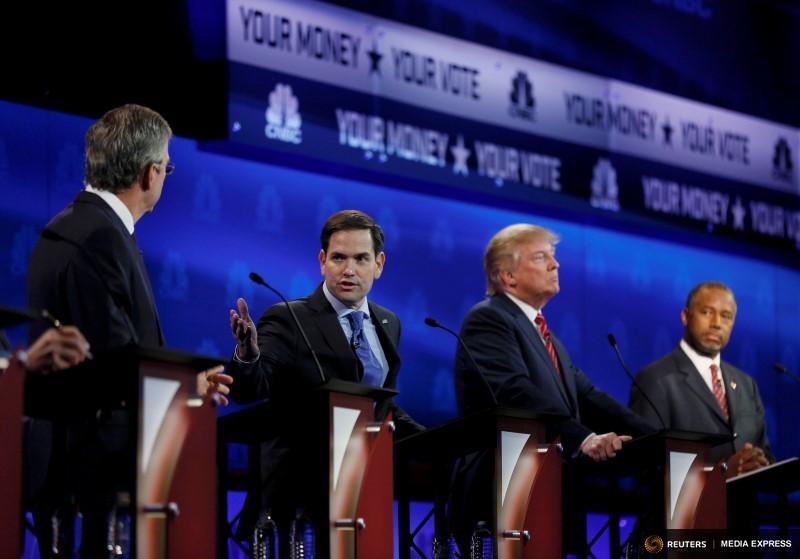 In today's edition: What happened to the Year of the Governor? Why Donald Trump is sticking around. How Trump voters fall out of love with their candidate. O'Malley running on fumes. And who's spending on TV this week.
A year ago, as former Florida Gov. Jeb Bush (R) began his first overt flirtations with a bid, the Republican field looked like it would be dominated by governors. Wisconsin Gov. Scott Walker jumped to the lead in early polls with strong performances in Iowa; Louisiana Gov. Bobby Jindal, former Texas Gov. Rick Perry and former Arkansas Gov. Mike Huckabee all had their own niches; even Ohio Gov. John Kasich had the potential to stake out his own John McCain-like maverick credentials.
Today, the race looks very different. As unpopular as Washington is, especially with Republican voters who see their own leaders in a negative light, the campaign is a fight for supremacy among four candidates — two political outsiders (Donald Trump and Ben Carson) and two United States senators (Marco Rubio and Ted Cruz). Bush is the only governor left with significant financial resources, but he's struggling to keep his poll numbers above 5 percent.
Why, at a moment when Republicans hold more governorships than at any time in recent memory, are chief executives being boxed out? Here are a few theories:
1) Republican voters aren't into nuance. Outrage at President Obama, and their own leaders' inability to stop parts of his agenda, has conservative voters demanding a complete 180-degree turn. As much as Republican politicians want to stress the second half of their efforts to repeal and replace the Affordable Care Act, their voters don't care so much about the replace part. Witness Jindal, who offered an actual alternative, which didn't give him any kind of boost.
Governors are creatures of compromise and middle ground, even in states where Republicans dominate. Negotiating with a legislature, no matter how conservative, means seeing the world in shades of grey. The Republican electorate is interested only in black and white. Cruz, Rubio, Trump and Carson have never had to compromise, which frees them to dish out the rhetorical red meat that governors abhor.
Cases in point: The one time in his Senate career when Rubio compromised, on immigration reform during talks with the Gang of Eight, represents the clearest line of attack against him. Bush and Kasich have spent the last two debates virtually pleading viewers to choose a candidate who can win in November, staking themselves to the middle far more than the front four; those pleas fell as fast as their poll numbers. Nuance and compromise just aren't in this season.
2) Republican voters are sick of politician-speak. A few months ago, we called dozens of people who supported Trump in one of our weekly tracking polls. What was it, we wanted to know, that attracts you to Trump? Every single person said the same two things: One, that he's not a typical politician, and two, that he's not politically correct.
Two new CBS News/YouGov polls that show Trump leading in Iowa and New Hampshire underscore those opinions: 56 percent of Trump backers in New Hampshire and 40 percent in Iowa say their favorite thing about him is that he "says things others are afraid to say." (Carson backers are more likely to cite either his faith and religious beliefs or the fact that he's not a typical politician.)
Contrast Bush's answer on whether to allow Syrian refugees into the U.S. with Trump's: After initially suggesting that only Christians should be allowed in, Bush on Thursday warned that "we need to be careful about not trampling over the values that are important in our country." Trump has suggested creating a database to monitor refugees and surveiling mosques — and on Sunday he refused to rule out creating a database to track all Muslims in the U.S.
3) Republicans want a generational change. Trump (69) and Carson (64) aside, what stands out about Rubio and Cruz is the fact that they are a generation younger than most governors in the field. If elections are about the future, a talking point strategist types love trot out, two one-term senators who landed in the limelight in the Tea Party era are going to be a lot more appealing than a governor whose first term began in 1999 (Bush), another who recalls balancing the budget under Bill Clinton (Kasich), and a third who just finished 15 years in office (Perry).
Even Bobby Jindal, 44, isn't exactly a new face. His first major foray onto the national stage, responding to President Obama's first address to Congress, was all the way back in 2009 — a proverbial lifetime in modern presidential politics.
At least one governor has been on a presidential ticket in every election since 1964. A former governor has been elected president in nine of the last twelve elections. Whether because of its hunger for red meat, its distaste for politics as usual or its interest in a new generation of leaders, this year's Republican electorate doesn't seem interested in continuing that trend.

A Message from Bring the Vote Home:
Bring The Vote Home is a national initiative designed to collect senior opinions on a wide range of issues while simultaneously empowering senior citizens, disabled Americans, their caregivers, and skilled clinicians to engage fully in America's electoral democratic process via information distribution, voter registration, and absentee ballots. Learn more at our new website, bringthevotehome.org.
Trump Isn't Going Away
Speaking of the bombastic billionaire, remember when the Summer of Trump appeared at an end in September? Polls showed Carson rising to challenge Trump's supremacy, and all that was left was the crying.
But no more: Carson's high-profile policy flubs have taken the wind out of his sails. While Rubio and Cruz are ticking toward the top tier — for the first time all year, four candidates are in double digits in the Real Clear Politics average — Trump's numbers have rebounded from their low.
Nate Silver makes the case today that the media focuses too much on polls when evaluating Trump's chances (it's hard not to, when he holds clear leads in Iowa, New Hampshire, South Carolina and nationally). But here are four more reasons it's fair to declare Trump the clear leader of the GOP field:
1) Other Republicans are worried. GOP strategist Liz Mair is leading a new "guerrilla campaign" to undermine Trump's support, the Wall Street Journal reported last week, and Kasich's super PAC is paying for its own advertising directly criticizing Trump. Mair has solicited donors backing most of Trump's main rivals, including Kasich, Cruz and Bush, and Florida-based strategist Rick Wilson is ready to make the ads (One need only check Wilson's Twitter feed to get a hint at what's to come).
2) Trump is hugely popular among Republican voters. About two-thirds of Republicans have a favorable view of Trump, better than any candidate other than Carson, who scores about the same rating. The CBS/YouGov polls show about half of primary voters in Iowa and New Hampshire say Trump is ready to be Commander in Chief; Cruz and Rubio score better in Iowa, but Trump does best in New Hampshire.
3) Momentum matters. If Trump wins in Iowa or New Hampshire, he is certain to get a bounce in later states, even if other candidates coalesce around an anti-Trump. Consider South Carolina, where then-Sen. Barack Obama trailed Hillary Clinton through all of 2007. Once Obama won the Iowa caucuses, he shot to a double-digit lead in South Carolina, where he eventually won by 29 points. Sure, it's a different party with different demographics, but how does a Rubio or Cruz break out in SEC Primary states without a win under their belts?
In the modern primary era, the Republican who wins the nomination has won two of the three early primary states all but once, in 2012, when Rick Santorum, Mitt Romney and Newt Gingrich divided up Iowa, New Hampshire and South Carolina. Every candidate who has promised to claim a first win in a later state — almost always Florida — has faded away, swamped by the coverage the early winners receive.
4) Trump is serious. Our biggest question about Trump's campaign has always been whether it turns into a vanity project. In the first weeks, his rallies in non-early voting states seemed to hint that was the case. But under the radar, Trump is running a real race, staffing up in SEC states and gaining ballot spots even in places with the most arduous access laws. In Virginia, the state with the most onerous requirements for ballot access, Trump was the first candidate to qualify.
Trump's chances of being the Republican nominee still aren't great. But smart Republicans in other camps realize the Summer of Trump is becoming the winter of their discontents.
But If He Slips
Speaking of Trump, we asked Mair what she thought the anti-Trump campaign needs to succeed. Here's what she said, edited for brevity:
"First, Trump-inclined voters are going to need to hear a lot more about his business failures. … Second, they're going to need to understand that he is not independent of the politics-as-usual that they hate, in fact, he is part and parcel of it, using government to enrich himself and advance his business interests wherever possible, acting as a de facto special interest, donating to and palling around with all the people they distrust."
"Third, they're going to need to understand that he really is favorable to full-on socialized medicine— when Trump voters learn that, they don't like it. Fourth, we may need to see a lot more Trump gaffes of the sort we saw with Megyn Kelly and Carly Fiorina."
"And fifth, yes, some other Republican candidate or candidates are going to need to make more of a mark than they currently are. Trump's rise isn't just about Trump, it is also to some degree about the other candidates."
A Message from Bring the Vote Home:
Bring The Vote Home is a national initiative designed to collect senior opinions on a wide range of issues while simultaneously empowering senior citizens, disabled Americans, their caregivers, and skilled clinicians to engage fully in America's electoral democratic process via information distribution, voter registration, and absentee ballots. Learn more at our new website, bringthevotehome.org.
O'Malley's March
How long can former Maryland Gov. Martin O'Malley stick it out? As if the poll numbers weren't bad enough, it looks like his campaign is running on financial fumes. About 30 staffers have been asked to relocate from Baltimore to early voting states, and his campaign has received matching funds that severely limit his fundraising ability down the road.
O'Malley has always had Iowa at the top of his wish list. He's spent 45 days in the Hawkeye State this year, the Des Moines Register says, more than either Clinton or Sen. Bernie Sanders (I). But he's little more than an asterisk there.
On The Air This Week
Jeb Bush: Bush's super PAC, Right to Rise, is spending $239,000 this week in Iowa, $1 million in New Hampshire and $389,000 on spots in South Carolina.
Ben Carson: Carson's campaign will spend $61,000 in Iowa, $52,000 in New Hampshire, $34,000 in Nevada and $53,000 in South Carolina this week. A pro-Carson super PAC, Win Ben Win, is on air with $24,000 in Cedar Rapids and Des Moines.
Chris Christie: Christie's America Leads super PAC will drop $11,000 on Iowa radio and $321,000 on TV and radio in New Hampshire this week. That amounts to a slight spending reduction in Iowa and a boost in New Hampshire over last week.
Ted Cruz: Cruz's campaign is laying out $108,000 in Iowa this week. Pro-Cruz super PACs are spending a total of $110,000 on Iowa TV and radio and $97,000 on national radio, too.
Lindsey Graham: Graham's campaign will spend about $52,000 on ads in New Hampshire, about two-fifths of it on radio spots.
John Kasich: Kasich's campaign keeps up its aggressive spending in New Hampshire this week, dropping $326,000 on broadcast and cable ads.
Marco Rubio: Rubio's campaign will spend $52,000 on Iowa TV and $183,000 on the New Hampshire airwaves this week. That's a prelude to the big spending that begins next week, when Rubio's campaign has about $940,000 in booked airtime. Pro-Rubio super PACs are spending about $115,000 this week, most of it on national radio spots. Rubio's campaign and the super PAC have bought 1,900 spots on Manchester's WMUR beginning Dec. 1.
Donald Trump: Trump's campaign is spending $36,000 in Iowa, $9,000 in New Hampshire and $22,000 in South Carolina this week.
Hillary Clinton: The Clinton campaign is up with $427,000 in airtime in Iowa and $332,000 in New Hampshire this week.
Bernie Sanders: The Sanders campaign is outspending Clinton in New Hampshire, where he's dropping $445,000 this week. But his $373,000 is less than what Clinton is spending in Iowa. Sanders's team is also running small buys of $9,000 on Las Vegas radio and $28,000 on South Carolina radio.