GOP Congress Year in Review: Fight Now or Fight Later?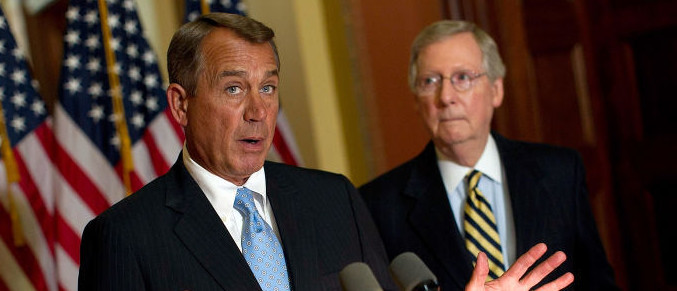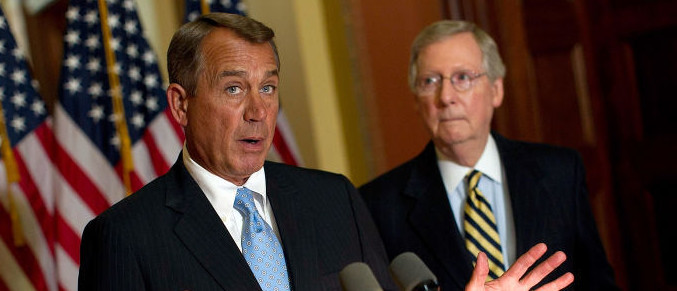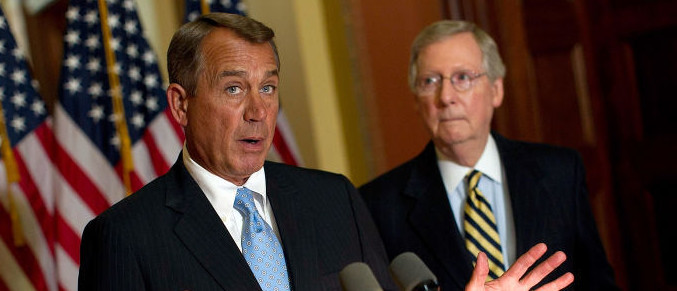 Republicans were in charge of both chambers of Congress this year for the first time since 2006. For the previous four years, the Democrat-controlled Senate was effectively shuttered to serious legislating because Democrats refused to let Republicans turn every debate into a referendum on the Affordable Care Act. As such, no amendments were allowed and debate was squelched. Everyone was frustrated. 
When Sen. Mitch McConnell (R-Ky.) became majority leader of the Senate this year, he and then House Speaker John Boehner (R-Ohio) pledged a new and different Congress of lawmakers dedicated to hard-core legislating.
Now, at the end if the year, Morning Consult looks back at the accomplishments, or lack thereof, of the GOP-controlled Congress in health, energy, finance, tech, and the GOP leadership.
The internal Republican turmoil that consumed Capitol Hill for much of this year can be best explained by a simple, if bitter, truth. Despite a new Republican Senate majority and the largest GOP House conference since before the Great Depression, Washington is still governed from 1600 Pennsylvania Avenue.
"When I say this to Republicans, I think they think I'm nuts: Republicans really are out of power," said Sarah Binder, a George Washington University professor of political science. "The response I'm always given is, 'No we're not. We control the Congress.' But if you don't control the White House, you are the opposition party."
Nothing illustrates this dynamic better than the steep Republican opposition this year to a bipartisan budget deal and funding for the Department of Homeland Security.
First came the DHS fight. In late 2014, irritation with President Obama's executive orders on immigration led GOP lawmakers to leave the agency out of a year-end spending bill. The hope was that a short-term funding extension for DHS would allow the new Republican Congress to cajole Democrats into rolling back the administration's immigration actions.
But by late February, it became clear Senate Democrats weren't going to budge. Senate Majority Leader Mitch McConnell (R-Ky.), already eyeing a competitive 2016 map, decided he was unwilling to let his newly-won GOP majority shoulder even partial blame for shuttering a key national security department. He dropped provisions blocking the president's executive actions. Democrats voted en masse for the bill. Meanwhile, 31 members of the 54-senator strong GOP conference voted against it.
Boehner eventually also gave up on targeting the executive actions and took up the Senate's clean DHS funding bill. Only 75 House Republicans voted for that measure, less than half the number, 167, who opposed it. Once again, rock-solid Democratic support carried the day.
The pattern repeated itself in late October on a budget agreement. Already on his way out of the door, a retiring Speaker John Boehner negotiated a closed-door deal with McConnell, their Democratic counterparts, and the White House to raise the debt ceiling and boost spending limits. Until then, lack of agreement on those issues had stymied the federal appropriations process.
The brisk floor consideration of the budget deal in both chambers saw the exact same number of House Republicans, 167, vote against it as on the DHS appropriations bill. This time, even more GOP senators, 35, broke ranks with their leaders to vote against it, including McConnell's conference vice-chair, Sen. Roy Blunt (R-Mo.).
In the end, a minority of Republicans ended up voting for the biggest pieces of legislation coming out of the chambers they control.
That's an understandably hard pill to swallow for Republicans who came to Washington in 2010 or later, swept into office on anti-Obama platforms. For them, the 2014 midterm elections that handed them control of Congress signaled a firm mandate that GOP legislating should quickly follow.
"I think probably the biggest disappointment is the lack of being able to move things through the Senate, with a majority in both the House and the Senate," said Rep. Mark Meadows (R-N.C.). Meadows is the two-term lawmaker whose public admonishment from House GOP leaders this spring helped spur the conservative revolt to oust Boehner.
Without the White House or the ability to stop filibusters in the Senate, GOP control of Congress doesn't mean as much as many members had hoped. They struggle with how to respond. Should the GOP take Senate Democrats and the White House to the mat over conservative policy priorities now? Or should they wait, legislate where they can, and try to maximize the chance for a Republican president in 2016?
For the party's old hands and legislative leaders, playing the long game comes easier and makes a good deal of sense. Run Congress with an eye towards keeping the Senate and winning the White House. Then put Democrats squarely on the defensive in 2017. That means preserving the party's brand and demonstrating that Republicans can govern. No shutdowns. No dying on ideological hills.
Former Senate Majority Leader Trent Lott (R-Miss.) said this "governance" view requires unruly House conservatives – whom he refers to as the "Hell No Caucus" – to fall in line. "You can't have good leadership without good followership," he said.
But from the perspective of non-establishment Republicans who rode waves of voter discontent to Congress, they've already given following a chance, and it bore little fruit.
"The American people were told, 'You know, the problem is the Senate. If only we get a Republican majority in the Senate and retire Harry Reid as majority leader, then things will be different,'" presidential candidate Sen. Ted Cruz (R-Texas) said during a fiery floor speech in July. "Well, in 2014, the American people rose up in enormous numbers, voted to do exactly that. We've had a Republican majority in both houses of Congress now for about six months. What has that majority done?"
The party's base also appears to be rejecting the political views of veteran Washington leaders. Meadows said he and his House Freedom Caucus colleagues draw inspiration from the presidential nominating contest, where unconventional politicians like Donald Trump and Ben Carson dominate the polls.
"Because of the presidential nomination process on the Republican side being so non-traditional, it's made a number of us look with a fresh eye at how we listen and respond to the American people," he said. "Americans are losing trust in their representatives that anything will ever be different. And so I was sensing that and feeling that."
Perhaps nothing encapsulates how these two philosophies have collided better than the GOP's attempt to repeal the Affordable Care Act through the budget reconciliation process.
All year, Republicans lawmakers have been eyeing a complex budget tool as their best shot at landing an Obamacare repeal on the president's desk, something they have yet to achieve. The fast-track budget process doesn't allow filibusters, meaning Republicans can circumvent Senate Democrats who have proven adept at holding the line on big votes.
The goal, though symbolic, is important: Demonstrate that the party has a viable legislative path towards dismantling the healthcare law, where repeated lawsuits have previously failed. An Obama veto would catapult the issue into the center of the 2016 presidential race, providing the party's nominee with a powerful issue just as Republicans hope rising premiums will spark widespread voter discontent.
But the effort, designed to help Republicans win the White House, has run into a number of roadblocks. The problems are put up by Republican lawmakers who aren't content to let policy fights slide until 2017.
Sens. Mike Lee (R-Utah), Marco Rubio (R-Fla.) and Cruz said they wouldn't support the Obamacare repeal bill after House leaders revealed it would only target limited portions of the Affordable Care Act. The leaders made the change because they knew that a full ACA repeal would violate Senate guidelines.
With 54 Senate Republicans, McConnell could have weathered losing those three votes. But then House leaders also added a last-minute provision that would strip Planned Parenthood of its federal funding. That was a bid to divert far-right frustration over Planned Parenthood away from a stopgap government-funding bill. But now, with the Planned Parenthood provision attached to the ACA repeal, GOP moderates are also likely to oppose it.
That leaves McConnell at least two votes short of the majority he needs to get the bill to the president's desk. And it's all because congressional Republicans can't agree on whether to fight now or fight later.
Recalling when Democrats found themselves in charge of both legislative chambers during the final two years of George W. Bush's presidency, former Sen. Byron Dorgan (D-N.D.) said the dynamic fosters almost inevitable consternation.
"I think it creates a lot of frustration, in and from a majority party that doesn't have the capability of prevailing on some of their significant issues," said Dorgan, who served as the No. 3 ranking Senate Democrat for over a decade. "You can see the frustration and sense it. [Lawmakers] ramp up the language pretty significantly, because they know they aren't going to get a vote. Or if they do get a vote, they won't prevail."
In divided government, Dorgan concluded, "Legislators become more messengers than they are legislators."
In a hopeful sign for House Republicans, that is a reality Speaker Paul Ryan (R-Wis.), appears to understand. "We need to move from being an opposition party to a proposition party," Ryan said as he announced his candidacy for the speakership. "Because we think the nation is on the wrong path, we have a duty to show the right one. Our next speaker needs to be a visionary one."