WH'16: Cruz vs. Rubio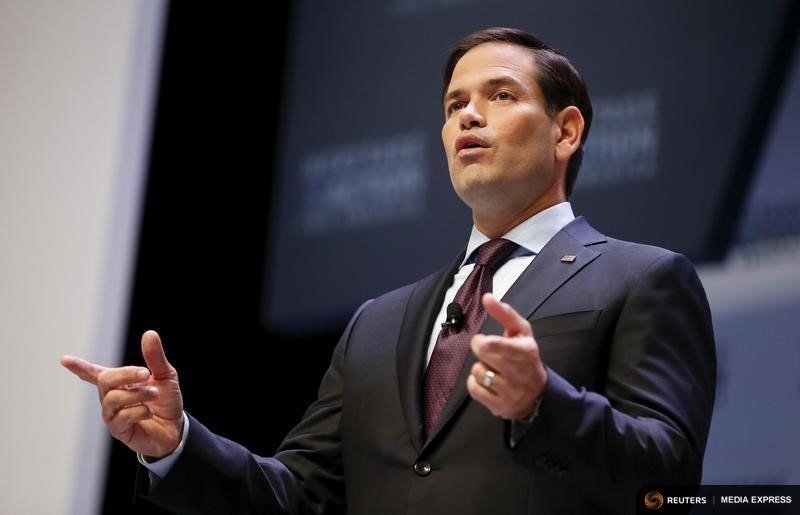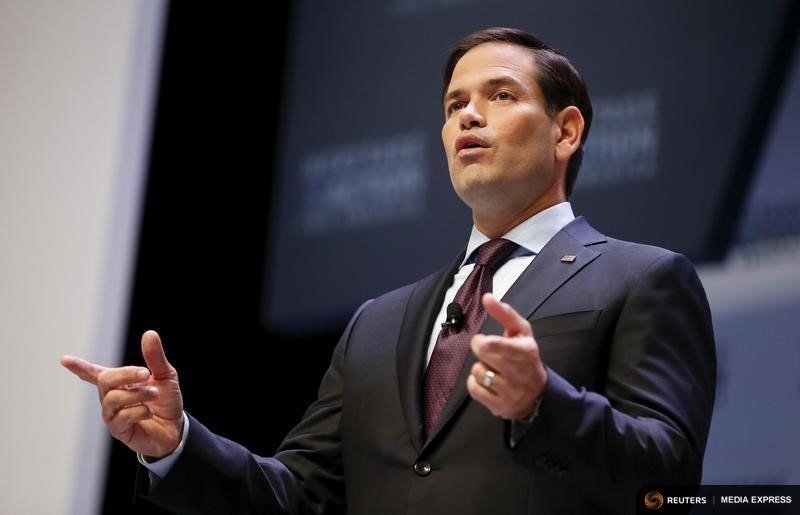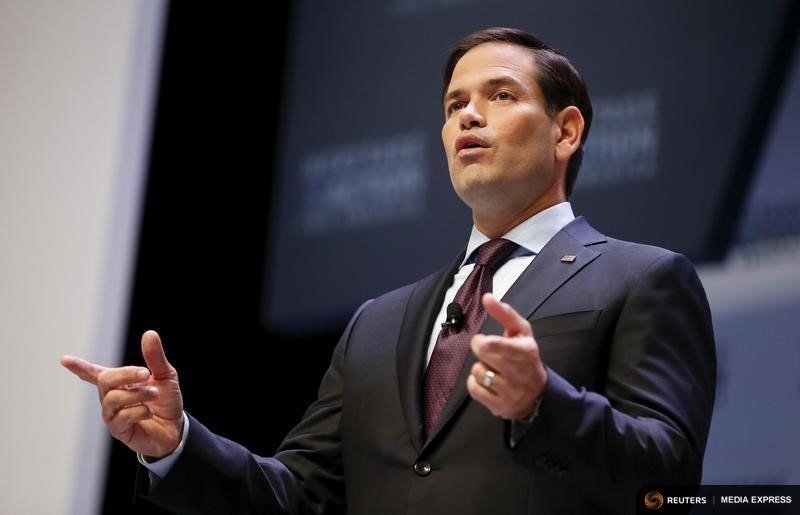 In today's edition: Rubio vs. Cruz, what happened to TV spending, WH'16 travel log, and the most Instagrammed sites in all 50 states.
Why Rubio Should Fear Cruz
The Jeb Bush meteor appears to be burning itself out. The Ben Carson bump is flat. Even Ohio Gov. John Kasich's (R) moment in the sun is fading. Aside from Donald Trump, the two Republican candidates whose fortunes are rising are the two who have focused most on a slow and steady build, Sens. Marco Rubio (R-Fla.) and Ted Cruz (R-Texas).
It should come as little wonder that the two senators, so similar in biography and so dissimilar in temperament, are now turning on each other. Rubio has targeted Cruz's stands on immigration and national security, while Cruz paints himself as the conservative standard-bearer rallying the base — and paints Rubio as the establishment favorite.
(We've always been struck by how prepared Rubio, in particular, has been when confronted with an attack on his record, from his great parry to Bush's critique on his Senate attendance record to his contrast with Cruz on immigration.)
Their respective strategies were laid bare in this weekend's New York Times take on their rivalry, in two stark quotes: "The campaign that we are consciously emulating is Barack Obama's 2008 primary campaign against Hillary Clinton," Cruz said. Rubio campaign manager Terry Sullivan: "More people in Iowa see Marco on 'Fox and Friends' than see Marco when he is in Iowa."
The battle for the Republican nomination is, in a sense, a balance between running Cruz's hyper-local campaign and Rubio's more nationally-focused race (We're oversimplifying, we know, but stick with us). Historically, the eventual Republican nominee has won two of the three early voting states (2012 being the lone exception, when Mitt Romney won only New Hampshire).
Cruz has a path to win in Iowa, where conservatives dominate the caucus. Cruz and Rubio are both running just about even in New Hampshire, behind Trump, where the libertarian-conservative faction doesn't hold as much sway as the establishment-business faction. And they're running virtually even in South Carolina, where the conservative and business establishment wings are about evenly matched.
But in Super Tuesday states, Cruz is best positioned to rack up big delegate counts. He's made the SEC states holding primaries that day — Alabama, Arkansas, Georgia, Oklahoma, Tennessee, Virginia and home-state Texas — a major priority. Conservative Kansas, Kentucky and Louisiana hold their contests the following Saturday, March 5. Rubio is hoping for a big infusion of delegates in Florida's winner-take-all March 15 primary, but that's a political lifetime after Super Tuesday.
The power of political momentum is going to decide who wins the Republican nomination. Any hiccup, by Cruz or Rubio, threatens to derail their carefully laid plans. Just remember what happened to candidates like Rudy Giuliani who planned to make later states their must-win firewalls.
At the moment, it's easier to see Cruz scoring a big early win, in Iowa, than it is to see Rubio winning New Hampshire, where more candidates — Bush, Kasich, Carly Fiorina and Chris Christie — are competing. Rubio's campaign needs a big win of its own, and preferrably earlier in the calendar than Florida. No wonder, then, that Rubio's campaign is turning its attention to his fellow senator.
Whither TV?
No candidate has had more ads run on his behalf than Jeb Bush. Through today, Bush's super PAC has dumped about $14 million on radio and TV ads in New Hampshire alone, another $4.6 million in South Carolina and almost $6 million in Iowa. And what's it gotten him? Not much: A new Monmouth poll out today shows Bush at 6 percent in Iowa, and the latest Boston Globe/Suffolk survey in New Hampshire has him at 8 percent, good enough for sixth place.
An early influx of ad spending helped Kasich rise in New Hampshire, but he's sunk back to earth, too. Bobby Jindal's super PAC helped him get a bump — a small one — in Iowa, but that ended when the money dried up.
Ad dollars used to equal poll movement. Now, some observers are beginning to conclude that we've reached a tipping point in the best way to communicate with voters, given Americans' rapidly-changing television-viewing habits. Blame streaming services like Hulu or Netflix, or the rise of the DVR — among voters watching television at any given moment, it's estimated just one in five are watching live television.
"The evidence suggests that the impact of early state TV buys is quite limited, if it in fact even exists," one Republican tracking media spending says. "At the margins, you could argue that in New Hampshire it's made John Kasich relevant, or helped Jeb Bush by a couple of points in October. But there's virtually no evidence anywhere that TV has had — or is going to have — a game changing impact on who wins any of these states."
In a world of ever-fragmenting television audiences, though, one option is becoming increasingly appealing to Republican campaigns: A huge percent of the GOP base, strategists say, still consume Fox News on a regular basis.
"I think this is more about media consultants misjudging where the primary audience is, and less about whether TV still works or not. For the primary campaign, it does — as long as it's on the right channel," says Sean Noble, who ran an under-funded independent expenditure campaign on behalf of Arizona Gov. Doug Ducey (R) in last year's primary. Noble bought only Fox News, and though another candidate outspent Ducey on television, her campaign spent big on more expensive broadcast airtime.
That strategy won't work in a general election, though. Campaigns on both sides, Noble says, are going to have to rely on data to find niche audiences — and they're going to have to craft unique advertisements that match those individual audiences.
"There will need to be dozens of different ads focused on various issues targeted at a variety of voter segments. TV will become as diverse as direct mail," Noble said.
Who's Spending This Week?
Notwithstanding the above, campaigns and super PACs are spending $9.8 million on television and radio ads this week. Here's a look at who's on air, including both super PAC and campaign dollars:
Jeb Bush: Bush's campaign is up with $242,000 across all four markets that reach New Hampshire voters. His super PAC is spending $733,000 in Iowa, $1.5 million in New Hampshire, $100,000 in Ohio and $325,000 in South Carolina — along with $1.1 million on national cable (Trying to boost those national poll numbers?)
Ben Carson: A pro-Carson super PAC is on air with a paltry $34,000 TV buy on Cedar Rapids and Des Moines cable. The campaign itself has gone off air after small buys in early states last week.
Chris Christie: Christie's America Leads super PAC is spending $821,000 in New Hampshire; it's booked about the same every week leading up to the primaries.
Ted Cruz: Cruz's campaign is spending $106,000 in Iowa, mostly on broadcast TV, and $20,000 on cable shows in South Carolina. Cruz's networks of super PACs are spending less than $10,000 in Iowa and South Carolina, and $93,000 on a national radio buy.
Carly Fiorina: Fiorina's super PAC is on its second week of big New Hampshire spending, dropping $580,000 on broadcast, cable and radio.
Lindsey Graham: The Security is Strength PAC is dumping $155,000 on New Hampshire TV, well below the $544,000 it spent last week.
John Kasich: New Day for America PAC is unloading $309,000 on New Hampshire TV this week.
Rand Paul: Paul's super PAC is up with tiny buys on Iowa and New Hampshire radio stations, amounting to about $20,000 each.
Marco Rubio: Rubio's campaign is in its second week of a big ad blitz, unloading $542,000 in Iowa and $402,000 in New Hampshire. They kick off a South Carolina effort next week. A pro-Rubio PAC is spending almost $400,000 in both Iowa and New Hampshire this week, and another Rubio backer is spending $75,000 on national radio.
Hillary Clinton: Clinton's campaign will spend $200,000 in Iowa this week and more than twice as much — $464,000 — in New Hampshire. They're up with a small $13,000 buy in South Carolina.
Bernie Sanders: The Sanders campaign is doubling Clinton in Iowa, where they're spending $391,000, and they're up with $506,000 in New Hampshire. Sanders is also spending a little, $14,000, on South Carolina radio.
Candidate Tracker
Former Maryland Gov. Martin O'Malley (D) and former Sen. Rick Santorum (R-Pa.) don't have a lot in common, but they've both taken a shine to Iowa. O'Malley and Santorum have spent more time in the first-in-the-nation caucus state than any other candidate in their party. Here's who's visted Iowa and New Hampshire most, courtesy of the Des Moines Register and WMUR:
Candidate         Days in IA Days in NH
Santorum              72          7
Huckabee              54          2
Fiorina               46         40
Cruz                  41         16
Paul                  33         24
Carson                27         11
Rubio                 27         11
Christie              25         51
Graham                22         58
Trump                 22         16
Bush                  19         30
Kasich                 8         35

O'Malley              46         22
Sanders               37         20
Clinton               30         21
O'Malley's Man in the South: O'Malley's campaign has hired Tyler Jones to run his South Carolina operation, the governor's first formal staffer in the first-in-the-South primary state. Jones ran John Edwards's 2008 campaign; he was waiting for Vice President Biden to get in the race, but he switched to O'Malley once Biden said no.
Jeb's Bio-Pic: Right to Rise PAC will pay to air a 15-minute documentary on Bush's career as governor on the New England Sports Network, Mike Murphy told donors in Washington last week. Right to Rise is debating whether to go after Rubio with negative ads, too.
Clinton's Facebook Friend: Hillary Clinton laid out her plans to keep a tight leash on Wall Street in a New York Times opinion piece this morning, and she won praise from a helpful source — Sen. Elizabeth Warren (D-Mass.). "Secretary Clinton is right to fight back against Republicans trying to sneak Wall Street giveaways into the must-pass government funding bill," Warren, the only Democratic woman senator who hasn't endorsed Clinton, said in a Facebook post. Clinton "liked" the post.
Just For Fun: Time Magazine crunched the data to find the most Instagrammed locations in all 50 states and D.C. They're pretty much what you expect — the White House, Disneyland in California, ballparks in Maryland, Illinois (Wrigley), Texas and Indiana, national parks in Alaska, Arizona, Wyoming and Montana — but a lot of fun to click through.