America's Legislatures Don't Look Much Like America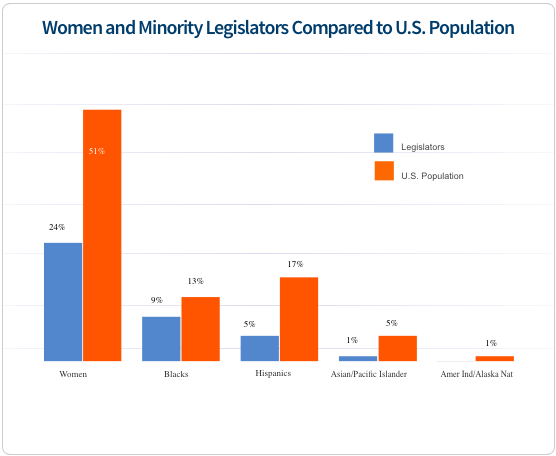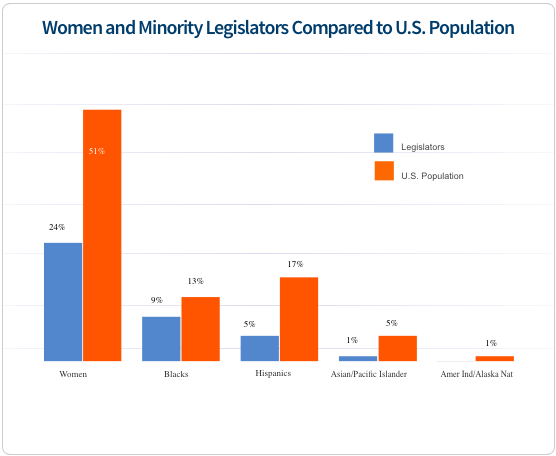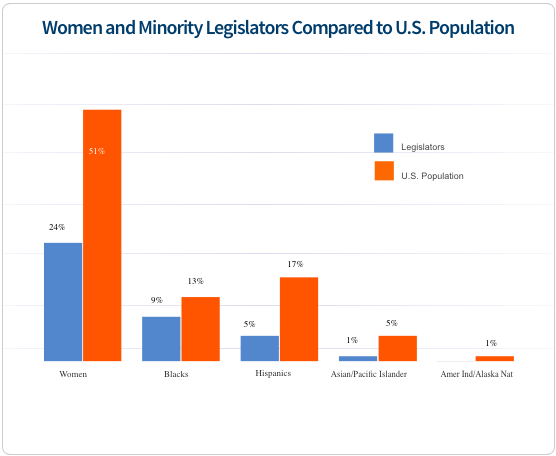 The 7,382 state representatives and senators who hold office in each of the 50 states are much whiter, much older and much more male than the citizens they represent, according to a new study to be released Thursday.
The survey, conducted by the National Conference of State Legislatures and the Pew Charitable Trusts, finds that whites hold a disproportionately large percentage of state legislative seats in 40 states, while minorities hold disproportionately small percentages of seats in virtually every state in the union. Women, who make up 51 percent of the population, account for only 24 percent of state legislators.
Ethnic imbalance is not restricted to red states or blue states, northern states or southern states. In deep blue Delaware, whites account for 90 percent of all state legislators, and just 69 percent of the population, a 21-point disparity. In deep red Alaska, 85 percent of the legislature is white, 19 points higher than the state population.
The average state's population is 77 percent white, according to the U.S. Census Bureau. The average state legislature is 82 percent white.
African Americans, Hispanics, Asian Americans and Native Americans are all chronically underrepresented, even in states where they make up significant percentages of the population. Hispanics make up a greater share of the population than they do a share of state legislators in all 50 states; Asian and Pacific Islanders are overrepresented in just two states.
States with the largest percentages of Native American residents, like Alaska, New Mexico, Oklahoma and South Dakota, elect disproportionally few Native Americans to legislatures.
Native Americans are also most likely to be completely left out of state legislative chambers. Only 13 states have at least one Native American voice in a legislative chamber; only four of the 26 states east of the Mississippi River — Tennessee, Mississippi, Maryland and Maine — have Native American representatives. So do only nine of 24 states west of the Mississippi.
Montana has the most Native American legislators, five.
African Americans, who make up major portions of the population especially in states that once made up the Confederacy, are also overwhelmingly likely to be underrepresented. Even in states where election laws were overseen by the Justice Department under the Civil Rights Act of 1964, blacks make up smaller shares of the legislature than they do of the population at large: In Mississippi, 38 percent of the population is black, but just 28 percent of the legislature is too. In Virginia, blacks account for 12 percent of the state Senate and General Assembly, and 19 percent of the population.
But even in Northern states, blacks are underrepresented in state legislatures. Minnesota's population is 6 percent black, yet just 1 percent of its legislators are African American. Massachusetts and Rhode Island both exhibit wide gaps between African American populations and legislators.
African Americans are over-represented as a share of state legislative seats in only five states — Illinois, Michigan, California, Nevada and Utah. They are underrepresented in 36 states, the data show.
North Dakota has the whitest legislature in the nation, the data show. All but one of the state's 47 senators and 94 representatives is white. White elected officials make up more than 95 percent of all legislators in Wyoming, West Virginia, Vermont and Idaho, the data show.
Democrats, who depend most heavily on minority voters, tend to elect more non-whites to public office than do Republicans, according to NCSL data. Karl Kurtz, an NCSL analyst, found 33 percent of Democratic legislators across the country are minorities, compared with just 5 percent of Republican legislators. Minorities account for a majority of the seats Democrats hold in 14 states.
A disproportionate number of legislators, 55 percent, are members of the Baby Boom generation, NCSL and Pew found. Only 5 percent of all legislators are Millenials, a generation that accounts for 30 percent of the population.
The average age of a state legislator holding office today is 56 years old, nine years older than the average adult. New Hampshire's legislature, made up of 400 members of the state House and 24 state senators, is the oldest in the nation, at 66. Michigan's legislature, with an average age of 50, is the youngest.