In The States: Breaking Down Legislative Demographics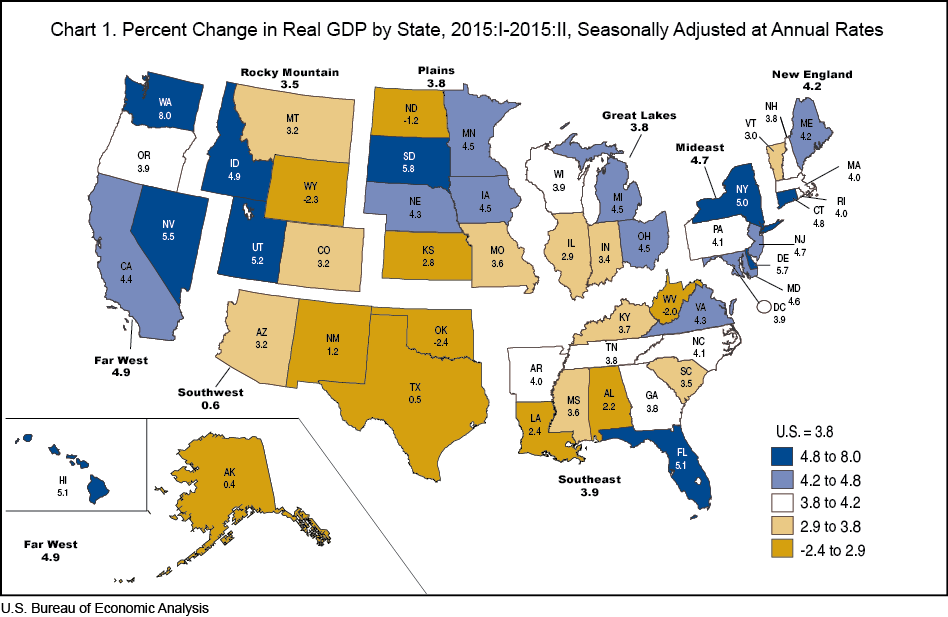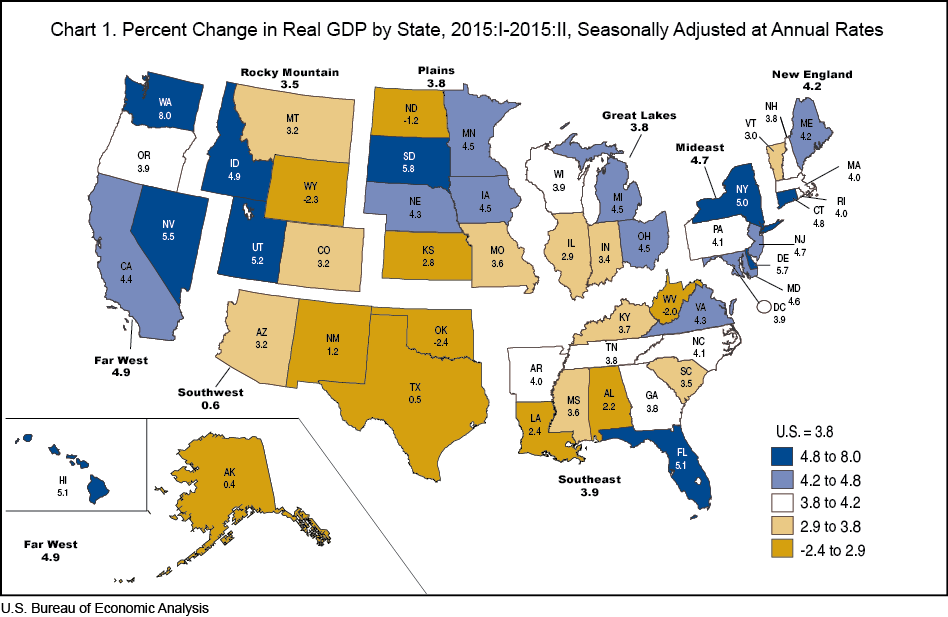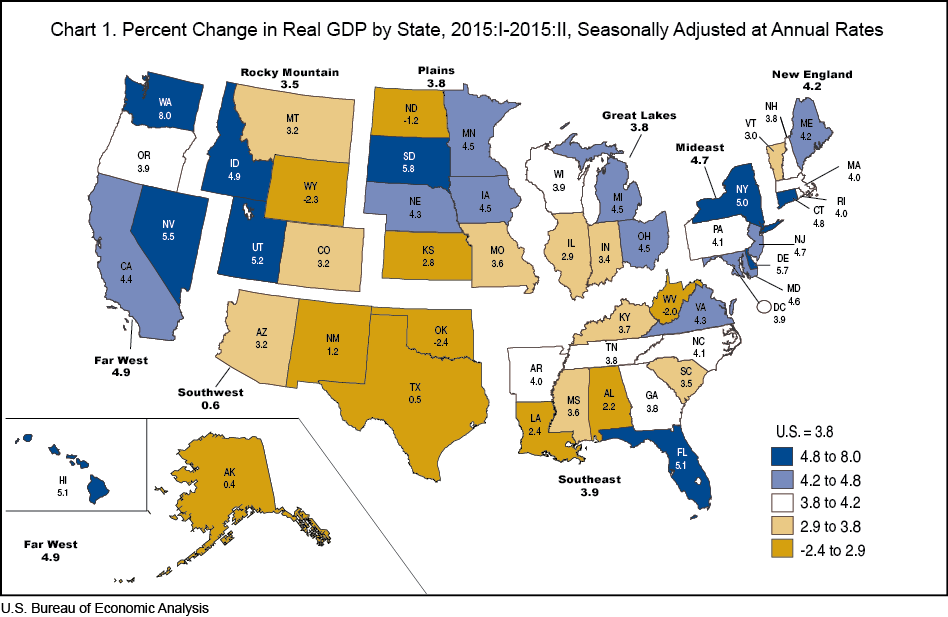 We are excited to launch Morning Consult Intelligence, a digital database that allows you to instantly search, analyze and share more than 50,000 questions from the world's leading polling organizations. Access the database for free here.
In today's edition: Western states see strong GDP growth, energy-dependent states suffer; Colorado moves toward redistricting commission; South Dakota governor wants to expand Medicaid; Montana marijuana measure advances; Texas denied restraining order to halt Syrian refugees.
America's Legislatures Don't Look Much Like America
The 7,382 state representatives and senators who hold office in each of the 50 states are much whiter, much older and much more male than the citizens they represent, according to a new study to be released Thursday.
The survey, conducted by the National Conference of State Legislatures and the Pew Charitable Trusts, finds that whites hold a disproportionately large percentage of state legislative seats in 40 states, while minorities hold disproportionately small percentages of seats in virtually every state in the union. Women, who make up 51 percent of the population, account for only 24 percent of state legislators.
Ethnic imbalance is not restricted to red states or blue states, northern states or southern states. In deep blue Delaware, whites account for 90 percent of all state legislators, and just 69 percent of the population, a 21-point disparity. In deep red Alaska, 85 percent of the legislature is white, 19 points higher than the state population.
The average state's population is 77 percent white, according to the U.S. Census Bureau. The average state legislature is 82 percent white.
African Americans, Hispanics, Asian Americans and Native Americans are all chronically underrepresented, even in states where they make up significant percentages of the population. Hispanics make up a greater share of the population than they do a share of state legislators in all 50 states; Asian and Pacific Islanders are over-represented in just two states.
States with the largest percentages of Native American residents, like Alaska, New Mexico, Oklahoma and South Dakota, elect disproportionally few Native Americans to legislatures.
Native Americans are also most likely to be completely left out of state legislative chambers. Only 13 states have at least one Native American voice in a legislative chamber; only four of the 26 states east of the Mississippi River — Tennessee, Mississippi, Maryland and Maine — have Native American representatives. So do only nine of 24 states west of the Mississippi.
African Americans, who make up major portions of the population especially in states that once made up the Confederacy, are also overwhelmingly likely to be underrepresented. Even in states where election laws were overseen by the Justice Department under the Civil Rights Act of 1964, blacks make up smaller shares of the legislature than they do of the population at large: In Mississippi, 38 percent of the population is black, but just 28 percent of the legislature is too. In Virginia, blacks account for 12 percent of the state Senate and General Assembly, and 19 percent of the population.
But even in Northern states, blacks are underrepresented in state legislatures. Minnesota's population is 6 percent black, yet just 1 percent of its legislators are African American. Massachusetts and Rhode Island both exhibit wide gaps between African American populations and legislators.
African Americans are over-represented as a share of state legislative seats in only five states — Illinois, Michigan, California, Nevada and Utah. They are underrepresented in 36 states, the data show.
North Dakota has the whitest legislature in the nation, the data show. All but one of the state's 47 senators and 94 representatives is white. White elected officials make up more than 95 percent of all legislators in Wyoming, West Virginia, Vermont and Idaho, the data show.
Democrats, who depend most heavily on minority voters, tend to elect more non-whites to public office than do Republicans, according to NCSL data. Karl Kurtz, an NCSL analyst, found 33 percent of Democratic legislators across the country are minorities, compared with just 5 percent of Republican legislators. Minorities account for a majority of the seats Democrats hold in 14 states.
A disproportionate number of legislators, 55 percent, are members of the Baby Boom generation, NCSL and Pew found. Only 5 percent of all legislators are Millenials, a generation that accounts for 30 percent of the population.
The average age of a state legislator holding office today is 56 years old, nine years older than the average adult. New Hampshire's legislature, made up of 400 members of the state House and 24 state senators, is the oldest in the nation, at 66. Michigan's legislature, with an average age of 50, is the youngest.
Go West, Young GDP Growth
The real gross domestic product increased in 46 states and the District of Columbia in the second quarter of the year, the Bureau of Economic Analysis reported Thursday, but energy-reliant states are hurting as prices continue to slump.
Washington State saw the most robust GDP growth in the second quarter, expanding at a seasonally-adjusted annual rate of 8 percent. Delaware, Florida, New York, Hawaii, South Dakota, Nevada and Utah all grew more than 5 percent on an annual basis. But Oklahoma, North Dakota, Wyoming and West Virginia — all states where coal and oil development are economic cornerstones — saw their GDPs shrink. Alaska's GDP grew at an annual rate of just 0.4 percentage points.
All 50 states saw statistically significant increases in professional, technical and wholesale trade sectors, while the mining sector shrank by 17.9 percentage points. That sector alone accounted for drops of more than 2 percentage points from real GDP growth in North Dakota, West Virginia, Oklahoma, Texas and Wyoming.
In The States
Connecticut: Gov. Dan Malloy (D) will sign an executive order blocking anyone on the federal government's terrorism watch list from getting a gun permit, he said Thursday. Malloy said his administration is working with the Obama administration to gain access to federal databases. The NRA and the ACLU both questioned the constitutionality of using the watch list or a no-fly list to bar access to gun permits.
Colorado: State Republicans and Democrats are working toward language for a proposed constitutional amendment that would create a bipartisan, independent redistricting commission. The commission would include 12 members — four Democrats, four Republicans and four unaffiliated voters. The two sides have agreed to allow courts to decide whether districts are drawn fairly, though other sticking points remain. Backers would have to collect 98,492 signatures to qualify the measure for the 2016 ballot.
Florida: A measure that would shift the burden of proof in cases involving Florida's "stand your ground" law will come before the full Senate after it passed through committee in a unanimous vote. The state Supreme Court ruled in July that those invoking the "stand your ground" law had to demonstrate they should be protected from prosecution. The new measure would require the state to prove otherwise. A similar bill died in a state House committee in November.
South Dakota: Gov. Dennis Daugaard (R) this week announced a new plan to expand Medicaid to cover about 55,000 low-income residents. The proposal, part of a $4.8 billion annual budget, is likely to face a steep climb in the state legislature, dominated by Republicans skeptical about costs once federal funding starts to shrink. Daugaard also proposed buying down $42 million in state debt, which would save the state $3.7 million in interest payments each year.
Vermont: U.S. District Court Judge William Sessions ruled this week two candidates for state office can challenge the constitutionality of Vermont's campaign finance law, which requires residents to wait until Feb. 15 in an election year to declare themselves candidates in order to qualify for up to $200,000 in public money. The challenge comes from a Democrat who lost a bid for lieutenant governor, and a senator from the Progressive Party who wants to run for statewide office next year.
Texas: U.S. District Court Judge David Godbey denied the state's emergency request for a temporary restraining order to halt the settlement of Syrian refugees. Attorney General Ken Paxton (R) made the request citing evidence that "terrorist organizations have infiltrated the very refugee program that is central to the dispute." Godbey said Texas's claim that it could face irreparable harm "is largely speculative hearsay." Godbey issued his ruling just an hour after Paxton's request.
Missouri: Lt. Gov. Peter Kinder (R) has accused aides of misspending thousands of dollars from his campaign account. Kinder, who is running for governor, severed ties to consultant David Barklage earlier this year. Barklage said his company had first reported discrepancies in campaign finance reports filed with the Missouri Ethics Commission. Kinder's campaign has referred the matter to the U.S. Attorney's office in St. Louis.
Sen. Claire McCaskill (D) has donated $10,000 to an advocacy group that helps interns facing sexual harassment in the state legislature. A brewing scandal over sexual harassment by legislators has already led to the resignations of state Sen. Paul LeVota (D) and House Speaker John Diehl (R). The new group will include representatives from nine public and private colleges that send interns to Jefferson City.
Montana: Attorney General Tim Fox (R) has approved language for a ballot measure that would legalize marijuana for recreational use. Backers must now gather at least 24,175 signatures of registered voters, including 5 percent of registered voters in each of the state's 34 House districts, to qualify for the 2016 ballot. The initiative projects generating $37 million in tax revenue over five years.
Headline of the Week: "Naked Oregon man found in Kansas wheat field told: Go back to 'liberal' home."