White House Update: Cruz Control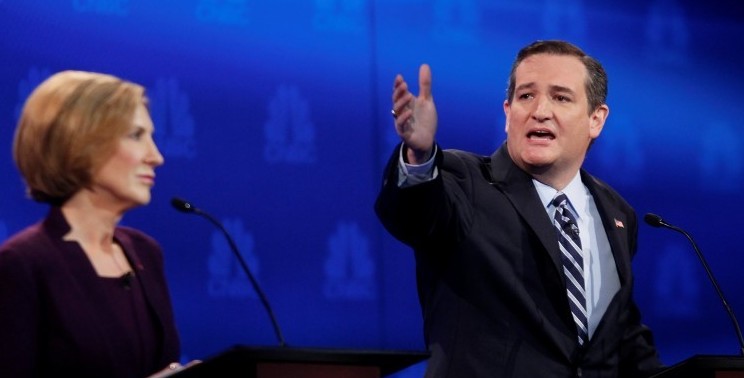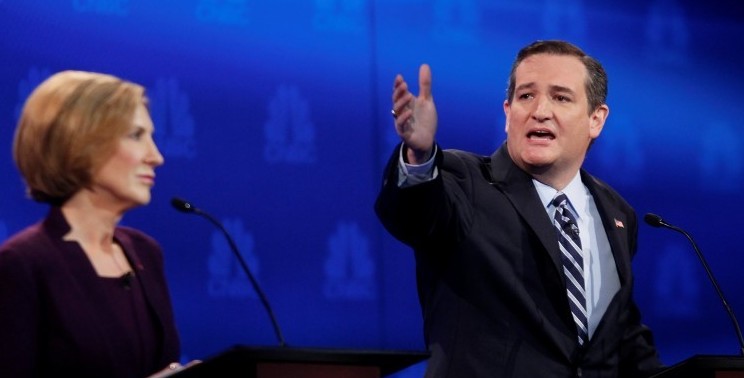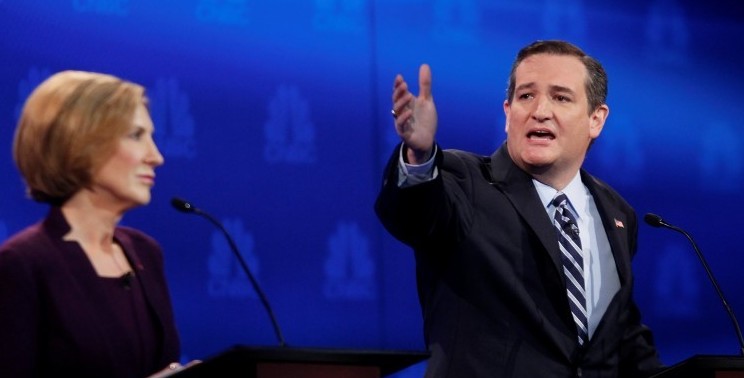 In today's edition: The CW loves Cruz; Clinton's healthy lead in Iowa; debate night tomorrow; the difference between a "contested" convention and a "brokered" convention; Jeb's Ohio strategy; and who's on air in early states.
Behind Cruz's Iowa Surge
The conventional wisdom, solidified by three new polls out over the weekend, now paints Sen. Ted Cruz (R-Texas) as the frontrunner for the Republican nomination, thanks to big leads in Iowa and a growing popularity among national GOP voters.
Credit Cruz's popularity among the evangelical wing of the party, his performance in debates — and a throwback paid media strategy that has relied as much on ads airing on conservative radio as on television stations. (The campaign has spent $180,000 on Iowa radio alone, while one of his super PACs has spent almost $1 million on national conservative radio, more than any other candidate.)
Cruz's rise isn't new. Morning Consult polling throughout November showed Cruz performing disproportionally well among those who describe themselves as very conservative and those who call themselves Tea Party supporters, two cohorts who are disproportionately likely to show up in early nominating contests.
Those leads are holding. Consider the latest Iowa Poll, conducted by Selzer & Co. for the Des Moines Register and Bloomberg, in which Tea Party Republicans make up 24 percent of the electorate and evangelicals make up 32 percent (versus 35 percent who call themselves "Mainstream Republicans"). Cruz takes 39 percent of Tea Party backers and 45 percent among evangelicals — and he's the second choice of about half of Donald Trump's supporters.
A Quinnipiac poll out Monday morning underscores Cruz's advantages: He's statistically tied with Trump, 27 percent to 28 percent, but he leads 45 percent to 26 percent among self-described Tea Party voters, 34 percent to 24 percent among white evangelical born-again Christians, and 40 percent to 29 percent among those who call themselves very conservative. Cruz is up 40 percent to 20 percent among those who say they're looking for a candidate who shares their values, while Trump leads among those looking for a strong leader, 40 percent to 29 percent.
Recent Iowa polls, conducted by Quinnipiac, Selzer ("DMR"), Fox News and Monmouth:
           Qui DMR Fox Mon
Cruz       27% 31% 28% 24%
Trump      28  21  26  19
Rubio      14  10  13  17
Carson     10  13  10  13
Bush        5   6   5   6
Paul        4   3   5   4
Christie    3   3   2   2
Fiorina     3   1   2   3
Favorable/unfavorable ratings (among likely Republican caucus-goers) from Selzer's Iowa Poll:
              Fav Unfav
Cruz          73%  19%
Carson        72   22
Rubio         70   21
Trump         57   38
Huckabee      53   38
Fiorina       52   33
Christie      46   42
Santorum      42   43
Bush          39   54
Paul          37   50
Kasich        19   46
Graham        16   53
Cruz's path to winning Iowa looks clear. He's a strong contender for a top-three spot in New Hampshire and South Carolina. (There isn't a lot of good polling out of Nevada these days.) And he wants to leverage conservative strength in SEC primary states on March 1 to build an early delegate lead. Cruz said last week he'll hit all seven southern March 1 states before Christmas.
When we spotlighted Cruz's rise way back on Nov. 3, we asked Democratic pollster Fred Yang — one half of the bipartisan pair behind NBC News/Wall Street Journal polls — to look into his crystal ball: "I think our polling shows Carson and Trump have real support across an impressive swath of the GOP electorate," Yang said. "But if we are looking for the next man up, it is likely to be Ted Cruz."
Fred was right.
Clinton's Iowa Lead Steady
Those same polls showing Cruz taking the lead in Iowa show Hillary Clinton is holding her own. She leads by 9 to 22 percentage points, depending on which pollster you believe. (Quinnipiac hasn't released its latest numbers yet; expect them out tomorrow morning.)
Recent Iowa polls, conducted by Selzer ("DMR"), Fox News and Monmouth:
           DMR Fox Mon
Clinton    48% 50% 55%
Sanders    39  36  33
O'Malley    4   5   6
Debate Prep
Nine candidates will appear on stage at Sheldon Adelson's Venetian hotel and casino in Las Vegas on Tuesday night, with real estate mogul Donald Trump once again front and center. Ben Carson will appear on Trump's right, and Cruz has taken over the third spot, to Trump's left.
Others on CNN's main stage: Sen. Marco Rubio (R-Fla.), former Florida Gov. Jeb Bush (R), businesswoman Carly Fiorina, New Jersey Gov. Chris Christie (R), Ohio Gov. John Kasich (R) and Sen. Rand Paul (R-Ky.). Christie has fought his way back to a prime time podium after missing out on a Fox Business debate last month. Paul barely staved off irrelevancy, thanks to a last-minute showing in a Fox News poll released Sunday morning, CNN said.
The undercard debate, featuring former New York Gov. George Pataki (R), former Arkansas Gov. Mike Huckabee (R), former Sen. Rick Santorum (R-Pa.) and Sen. Lindsey Graham (R-S.C.), kicks off at 6 p.m. ET.
On the main stage, if history is any guide, Trump will get more time than his rivals. The conservative Media Research Center finds Trump has spoken for 53 minutes during previous debates, 12 minutes longer than his next-closest rival, Bush.
About That Secret Dinner
The much-ballyhooed meeting last Monday at The Source, in which senior Republicans kibitzed over the possibility of a contested convention, was illuminating, more for the reaction it generated than for the substance within. The Washington Post reported that RNC Chairman Reince Priebus, Senate Majority Leader Mitch McConnell (R-Ky.) and other power brokers discussed the prospect of a floor fight in Cleveland.
News of the meeting riled up several candidates, including retired neurosurgeon Ben Carson, who threatened to leave the party over a brokered convention. But as one participant in the discussion reminded us, language matters: There won't be a brokered convention, because there isn't anyone in the deeply divided Republican Party who could serve as the broker.
A contested convention, now that's certainly possible. Current RNC rules require a candidate to win a majority of delegates from eight states in order to be formally nominated at the convention, a rule put in place by Mitt Romney allies worried about a Ron Paul-esque primary challenge in 2016, had Romney won in 2012. As the field stands, it's not all that likely anyone will win a majority of delegates from that many states — only eight states, as varied as Florida, Idaho and Ohio, are currently winner-take-all contests.
In the event that no one actually qualifies, the RNC's Rules and Bylaws Committee, meeting the week before the convention, can change that rule. But with so many candidates in the running, and so many states allocating delegates proportionally, there's a decent chance that no one accumulates the 1,237 delegates (50 percent plus one of the 2,472 delegates available) necessary to capture the nomination outright on the first ballot.
Check out the state-by-state delegate breakdown here, courtesy The Green Papers.
Delegates are bound to vote for the candidate to whom they are pledged on the first ballot. Candidates can release their delegates if they choose, but a stable of even 40 or 50 delegates could become a powerful bargaining chip.
What about a third-party bid, either by Trump or Carson? Sure, it's possible, as Ross Perot proved. But anyone seeking an independent line on state ballots needs to start working sooner than later. The first filing deadline comes May 9 in Texas, where campaigns have to gather the signatures of 79,939 registered voters. In all, ballot access expert Richard Winger tells the Associated Press, an independent candidate would need about 600,000 signatures to get on ballots in every state and the District of Columbia.
Bush's Ohio Play
As we mentioned above, there aren't many states that award delegates on a winner-take-all basis. One state that does is Ohio, where 66 delegates are up for grabs on March 15. And there's only one candidate whose backers are making a big early play for Ohio: Jeb Bush.
Right to Rise, Bush's super PAC, has already spent more than $315,000 on cable and broadcast television in the Cincinnati, Cleveland, Columbus and Dayton markets. No other candidate — including Ohio Gov. John Kasich (R) — has made such a sustained commitment to the Buckeye State. Right to Rise's calculation: Kasich, mired near the bottom in national and early-state polling, isn't going to be around on March 15.
Just as in other states, business and conservative voters are battling for supremacy in Ohio. Call it the John Boehner wing versus the Jim Jordan wing. The Boehner wing wins more often than not — Kasich, Sen. Rob Portman (R), former Sens. George Voinovich and Mike DeWine all fit better into that category. The last time Ohio Republicans nominated a staunch conservative, former Secretary of State Ken Blackwell got crunched in the 2006 governor's race.
Carson's Small-Dollar Army
About three-quarters of those who have given more than $200 to Ben Carson's campaign haven't given money to another federal candidate since at least 2007, according to the Center for Public Integrity. Carson's campaign has attracted contributions from about 570,000 people, the vast majority of whom have given less than $200, through an aggressive telemarketing and mail solicitation strategy.
That's a great way to build a donor base, but it's expensive: Carson's campaign has spent more on fundraising than any of his rivals, by a mile. The campaign paid $4.7 million to one firm — Eleventy Marketing — for database management and other consulting services through the first nine months of the year.
The only other candidate who's attracting a huge number of new donors: Ted Cruz. More than 15,600 of Cruz's donors haven't given to other federal races in recent years.
Trump's Free Air Army
Carson may be cleaning up among small donors, but Trump is the clear favorite among network news producers. Since the beginning of 2015, Trump has been the focus of evening news broadcasts on ABC, NBC or CBS for a total of 234 minutes, Bloomberg reports, more than every other candidate combined. If we assume a 30-second ad on one of those networks costs $50,000, that equates to $23.4 million in free media time on network news alone.
Between May 1 and Dec. 10, Trump has been the focus of 22 hours and 17 minutes of airtime on Fox News. That's more than twice the time of Trump's nearest rival, New Jersey Gov. Chris Christie (R), who earned 9 hours and 50 minutes with his Fox friends.
Who's On Air
Candidates and their supportive super PACs are spending a total of $9.4 million on television, cable and radio ads this week. Here's who's spending, and where:
Jeb Bush: Bush's campaign is spending $190,000 in New Hampshire this week, the bulk of it on Boston broadcast. Bush's super PAC is going big on national cable, their third straight week of a $1.1 million-plus buy. Right to Rise will also spend $725,000 in Iowa, $1.6 million in New Hampshire ($1 million alone in the Boston market), $100,000 in Ohio and $309,000 in South Carolina.
Ben Carson: Carson's campaign is picking its spots in Iowa, where they're spending $271,000 on TV this week in the Cedar Rapids, Quad Cities, Des Moines, Omaha and Sioux City markets (skipping over Ottumwa, Quincy and Mason City). They're also on air with $100,000 in South Carolina. A pro-Carson super PAC is up with a tiny $11,000 buy in Iowa, too.
Chris Christie: The America Leads super PAC is spending $781,000 in New Hampshire, the bulk of it — $473,000 — on Manchester broadcast.
Ted Cruz: Cruz's campaign is spending a relatively paltry $159,000 on Iowa television and radio, and $20,000 on statewide cable in South Carolina. Keep the Promise I super PAC is spending $62,000 on national conservative radio. Another pro-Cruz super PAC, Stand for Truth, is up with $51,000 on Iowa radio stations.
Mike Huckabee: A super PAC backing Huckabee is in its second week of Iowa radio, with $11,000 spread across six markets.
John Kasich: Another New Hampshire-only play here: The New Day for America super PAC is up with $361,000 on broadcast and cable TV across the Granite State.
Rand Paul: Paul's America's Liberty PAC will spend $40,000 this week, about evenly split between Iowa and New Hampshire.
Marco Rubio: Rubio's campaign is dropping $342,000 on Iowa television, $329,000 on New Hampshire TV and $395,000 in South Carolina airtime this week. The pro-Rubio CS PAC is spending $373,000 in Iowa and $534,000 in New Hampshire; the CS Project will drop $72,000 on Iowa radio, $38,000 on New Hampshire radio and $75,000 on national radio this week.
Hillary Clinton: Clinton's campaign is spending $231,000 in Iowa, $464,000 in New Hampshire and $13,000 on African American stations in South Carolina this week. That represents a slight spending dip in Iowa from last week, when the campaign spent $371,000.
Bernie Sanders: Sanders, too, is backing off the Iowa airwaves a bit. His campaign will spend $266,000 in Iowa this week, about half what it spent last week. The campaign is up with $269,000 in New Hampshire, too.