Welcome to 2016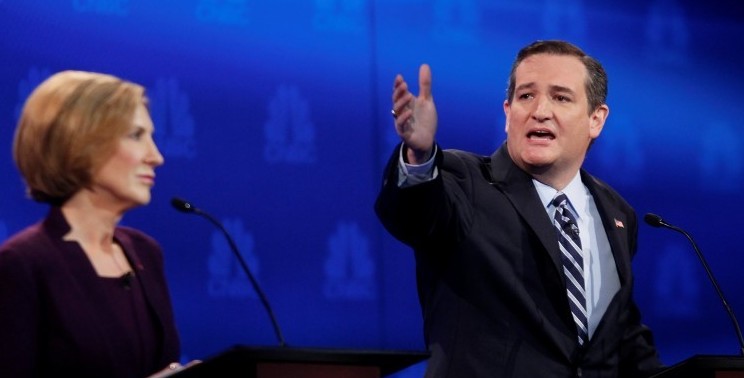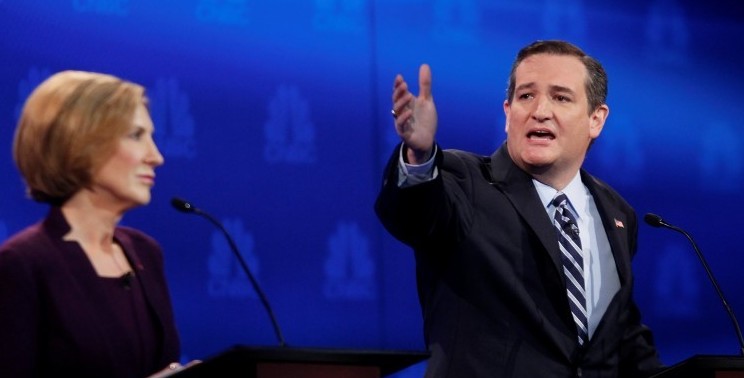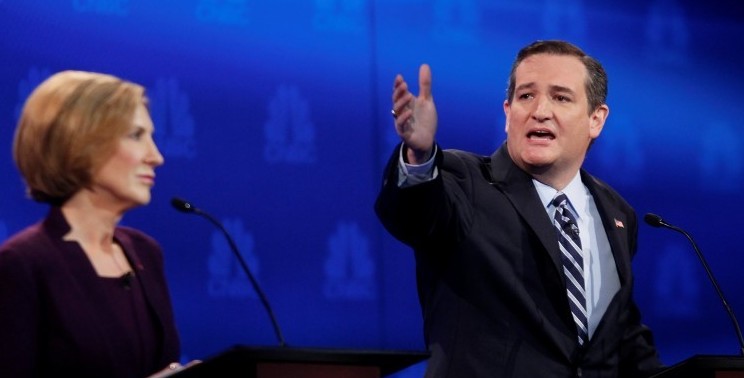 In today's edition: Our predictions for the year ahead in politics, another round of Romney rumors, Clinton eyes UFOs (really), and who's spending on television this week.
Welcome to the Show
Four weeks from tonight, hardy Iowans will brave the bitter cold to caucus in community centers, school gyms and church basements. And a little under 10 months from today, the rest of us get our chance to weigh in. Here are our ten predictions for the coming year in politics:
1) Donald Trump won't be the Republican nominee. Trump's campaign is the show horse of the 2016 race. Work horses win presidential elections. Trump has fallen behind Sen. Ted Cruz (R-Texas) in Iowa polls, and his leads elsewhere are slipping. We've been more bullish on Trump's chances than others all year, but once the candidate whose brand is based on winning loses, the aura of inevitability will melt away.
2) The first person to beat Trump will be the Republican nominee. Cruz's path to the GOP nomination is clearer than any other candidate, given a) his strength in Iowa, b) the crowded field in New Hampshire and c) the groundwork he's laid in SEC states. Sen. Marco Rubio (R-Fla.) is the candidate most likely to emerge as the anti-Cruz, but all the candidates need Cruz to beat Trump soundly before they get their shots.
3) Political junkies will get to know a guy named John Ryder. Another way to put it: The most interesting part of the 2016 Republican National Convention will be the Rules Committee meeting that happens the week before the convention. Ryder, the RNC's general counsel, will be in the spotlight if Republicans want to — or need to — change the rules ahead of the convention. And it won't be an easy job: The mere hint that some Republicans were discussing the prospect of a contested convention sent Trump and Ben Carson into fits of hysteria. Even if the convention isn't contested, it's going to be a fraught two weeks for the GOP.
4) Donald Trump won't run as an independent. There's one major reason we're wandering out on this particular limb: Any independent candidate has to start collecting the signatures necessary to qualify for state ballots really early; he or she would need to file 2,775 signatures in South Dakota by April 26, and almost 80,000 signatures in Texas by May 9, according to ballot-access expert Richard Winger. All told, an independent candidate needs more than 926,000 valid signatures to get on ballots in all 50 states and Washington, D.C. By the time Trump realizes he won't win the Republican nomination, it'll be too late for him to realistically pursue an independent candidacy.
5) The party that wins the White House will win the Senate. It will be extremely difficult for Republicans to hold the Senate if a Democrat wins the White House. It will be extremely difficult for Democrats to reclaim the Senate if a Republican wins the White House. Fewer and fewer voters split tickets between Democratic and Republican candidates for different offices, and virtually every close Senate race this year is in a presidential swing state. Some, like Sen. Rob Portman (R-Ohio), have a better chance of surviving a Democratic wave than others, like Sen. Ron Johnson (R-Wis.). Democrats have a path to 51 seats, and Republicans have candidates who are prepared and well funded. Forget the race for the White House – the fight for the Senate will be the best political contest to watch this year.
6) Republicans won't face tough primaries. After two consecutive election cycles in which radically conservative candidates lost winnable seats, Republicans spent 2014 paying more attention to primary contests. And it worked: They fought off challenges to Sens. Thad Cochran (R-Miss.) and Pat Roberts (R-Kan.), even if the incumbents needed a little boost from D.C. This year, only two Republican incumbents face even the hint of a challenge from the right: Sens. Richard Shelby (R-Ala.) and John McCain (R-Ariz.). Shelby, famously paranoid about his re-election chances even in deep-red Alabama, is already advertising. McCain has been through this rodeo before, against an opponent stronger than former state Sen. Kelli Ward (R). Once the primary dust has settled, 2016 will be the year Republicans exorcise the ghosts of Christine O'Donnell, Richard Mourdock, Todd Akin and Sharron Angle.
7) Republicans won't break a sweat keeping control of the House. The GOP's majority is bigger than it's been since the Great Depression, and gerrymandering has severely cut back on the number of seriously competitive seats. Even if Republicans have to run on a ticket with Donald Trump, Democrats just don't have the opportunities they need to make a serious run at 218 seats.
8) Democrats will lose their last Southern legislative chamber. After two decades of steady losses, Democrats control only one legislative chamber in a Southern state: The Kentucky House of Representatives. But new Gov. Matt Bevin (R) has cleverly offered jobs to several Democratic incumbents, and Republicans have their eyes on plenty of coal-country seats where Democratic voters have defected to the right in recent years. At the moment, Democrats hold a 50-46 edge, with four vacancies to be filled by special election. Nationally, Democrats will win back legislative seats in November's elections; they're so close to a nadir it would be hard for them to lose any more. But in Kentucky, Republicans still have room to grow.
9) Marijuana will be legalized in at least five new states. It is legal in four states to use marijuana for recreational purposes. The one thing those four states have learned: Marijuana is big business. This year, at least 50 proposed measures to legalize marijuana for recreational or medical purposes are trying to get on the ballot in 20 states. (One measure has qualified for the ballot, in Nevada.) If they make the ballot, expect a handful to pass, especially in states like Maine, Massachusetts, California and Michigan.
10) Online polls will become popular among political professionals. Maybe this one is a little self-serving, but this cycle has already been outstanding for the newest method of public opinion research. Consider: Morning Consult polling found Donald Trump leaping ahead, Bernie Sanders surging and Ted Cruz gaining strength before phone polls did. Every time one publication declared Trump toast after one of his impolitic remarks, Morning Consult polling has found him gaining, which phone polls then verify a few days later. Objections over methodology notwithstanding, political professionals are already turning to online surveys. That trend will continue over the long run.
Romney Reborn
What we learned from the Washington Post's epic tick-tock of the last year in politics: Mitt Romney fielded calls from backers, including one candidate who ran for president, to get in the race once again, though he suspected former advisor Mike Murphy was behind a whisper campaign aimed at taking him down a peg. Portman and Rep. Paul Ryan (R-Wis.) were both cool to the idea of a third Romney go-round.
Behind the scenes at early Republican debates, Sen. Rand Paul (R-Ky.) and former HP executive Carly Fiorina kept to themselves. Rubio struck fellow candidates as on message, even when the cameras were off. Trump and New Jersey Gov. Chris Christie (R) were outgoing and friendly.
Ohio Gov. John Kasich, on Trump's less-than-politic remarks: "If I said one of the things he had said about Hispanics, Muslims or women, I'd have to go into a witness protection program."
Finally, The Big Issues
Headline of the week, from the Conway Daily Sun: "Clinton promises to investigate UFOs." Asked whether Earth had been visited by extraterrestrials, Clinton told a reporter: "I think we may have been (visited already). We don't know for sure." Clinton promised to look into Area 51; her campaign chairman, John Podesta, is apparently a huge fan of UFOs.
"He has made me personally pledge we are going to get the information out," Clinton said of Podesta. "One way or another. Maybe we could have, like, a task force to go to Area 51."
Thanks, Conway Daily Sun!
Senate On Defense
Rubio, Cruz and Paul have been unsparing in their critiques of the institution in which they serve, and for good reason: Congress's approval rating is about as high as car salesmen and lobbyists. But other Republicans aren't so thrilled at the bash-the-Senate strategy.
"The Senate is up and running, and members are able to participate and try to make a difference again," Majority Leader Mitch McConnell says. "Whether you're a Republican or a Democrat, you have to enjoy the fact that the Senate has actually gotten back to work," added Sen. John Cornyn (R-Texas). And, says Sen. John Thune (R-S.D.): "When you look at the record for the last year, there's a lot that's been done."
The irony for those Republicans running for president: They need voters to re-elect a bunch of Republican incumbents in swing states if they're going to cobble together a governing majority next year.
Who's On Air This Week
With a month to go, candidates and their affiliated super PACs are starting to dump big bucks on television. Here's who's on air across the nation for the week of Jan. 5-11:
Jeb Bush: Bush's campaign canceled its buys in Iowa and South Carolina this week, but they're spending $744,000 in New Hampshire – including more than half a million on Boston broadcast. The pro-Bush Right to Rise super PAC is spending $652,000 in Iowa, $1.6 million in New Hampshire and $538,000 in South Carolina.
Ben Carson: Carson's campaign will spend $299,000 on Iowa television this week, all of it on broadcast. They're off air everywhere else.
Chris Christie: Christie's America Leads super PAC will spend $823,000 in New Hampshire this week. They haven't aired ads in any state holding a nominating contest after New Hampshire yet.
Ted Cruz: Cruz's campaign continues to spend less than most of his top-tier rivals. He's unloading $42,000 on television, radio and statewide cable in Iowa and $20,000 on statewide cable in South Carolina this week. His super PACs haven't bought any time yet this week.
Mike Huckabee: Pursuing America's Greatness, a pro-Huckabee PAC, will spend a mere $6,000 on Iowa cable this week.
John Kasich: Kasich's New Day for America PAC will dump $261,000 in New Hampshire this week, a bigger buy than they've made in recent weeks.
Rand Paul: America's Liberty PAC is up with $12,000 on Iowa radio and $14,000 in New Hampshire radio this week. It's not a lot, but we suspect an autopsy of the 2016 race will find radio plays a bigger role than television does, now that the TV market is so fragmented.
Marco Rubio: Rubio's campaign has spent more on television than any candidate other than Bush. He's up with $409,000 in Iowa ads this week, $316,000 in New Hampshire and $271,000 in South Carolina. Add in super PAC spending totalling $675,000 in Iowa, $588,000 in New Hampshire and $486,000 in South Carolina and that's a pretty penny.
Hillary Clinton: Clinton's campaign will spend $359,000 in Iowa and $274,000 in New Hampshire this week. That's less than they've spent in previous weeks, though it's more than…
Bernie Sanders: The Sanders campaign will spend $62,000 in Iowa, and they've only booked $18,000 in New Hampshire this week. Sanders is the only candidate advertising in Nevada, with $16,000 booked so far this week. Expect those totals to grow, however, now that TV stations are open again after the holidays.
Who's not on the above list? Donald Trump. He's produced his first TV spot, which hits just about the same notes you'd expect, though his campaign is only now beginning to buy its first ads. Stay tuned for the full buy – he's pledged $2 million a week across early state airwaves.