White House Update: Obama and Ryan Outside, Looking In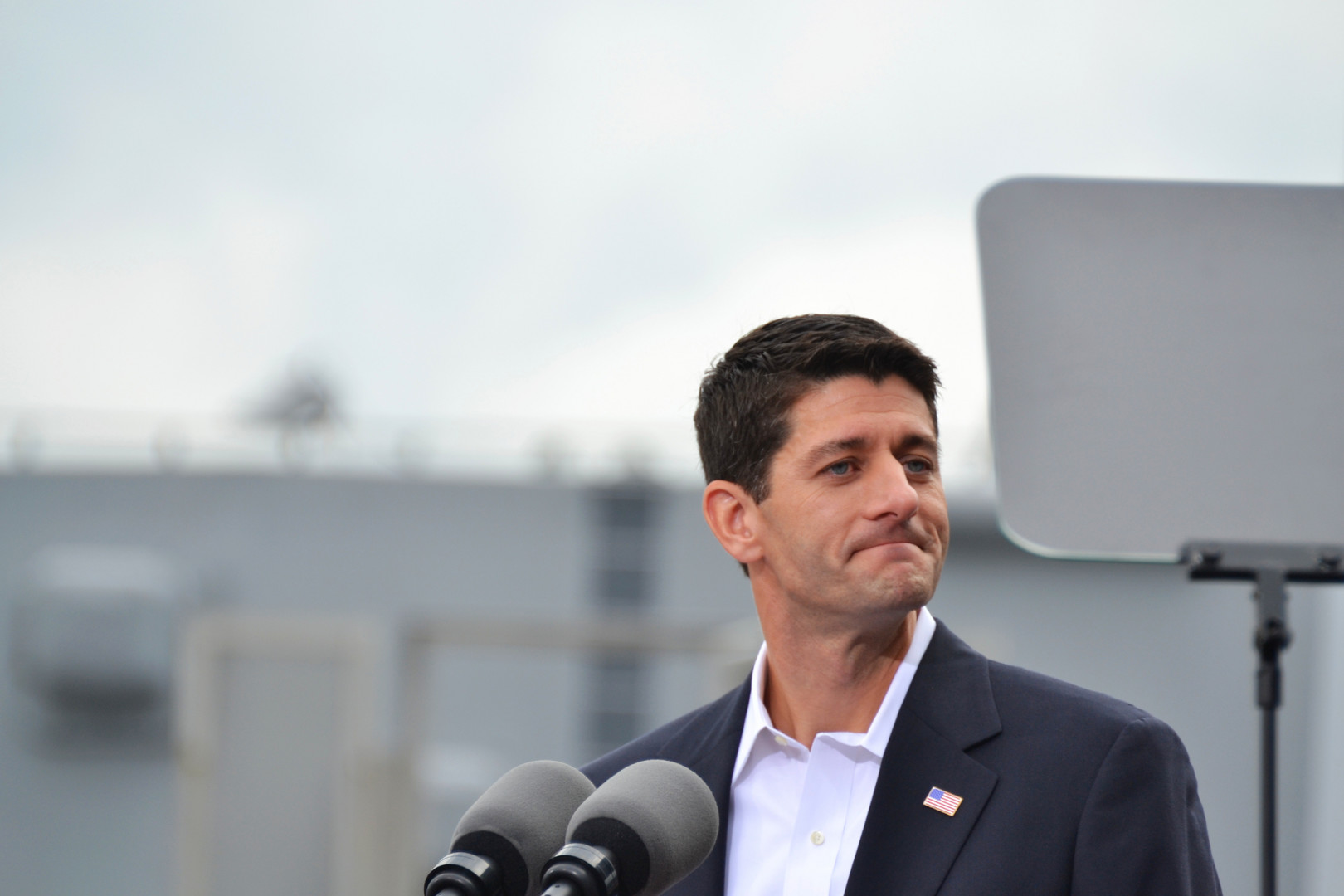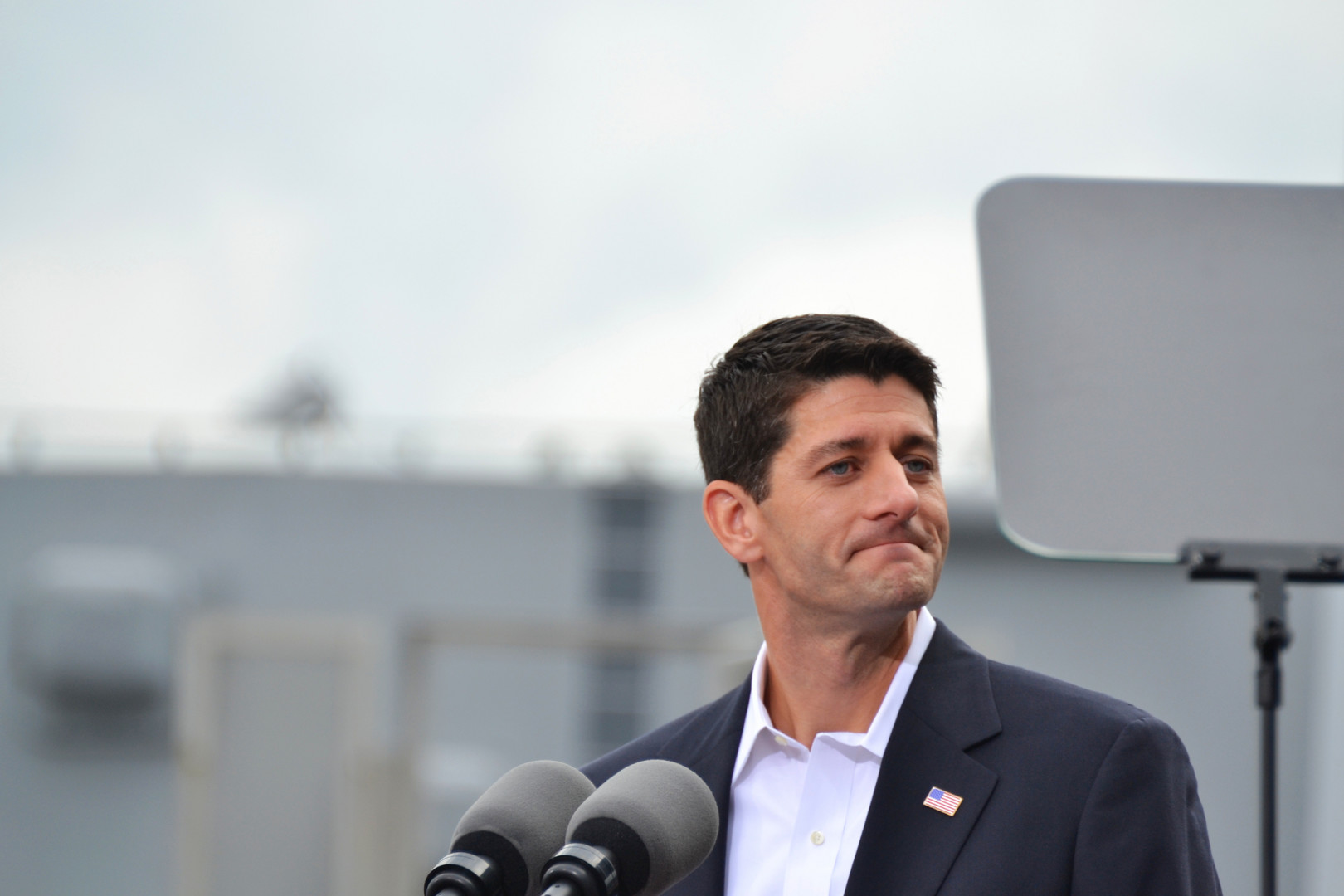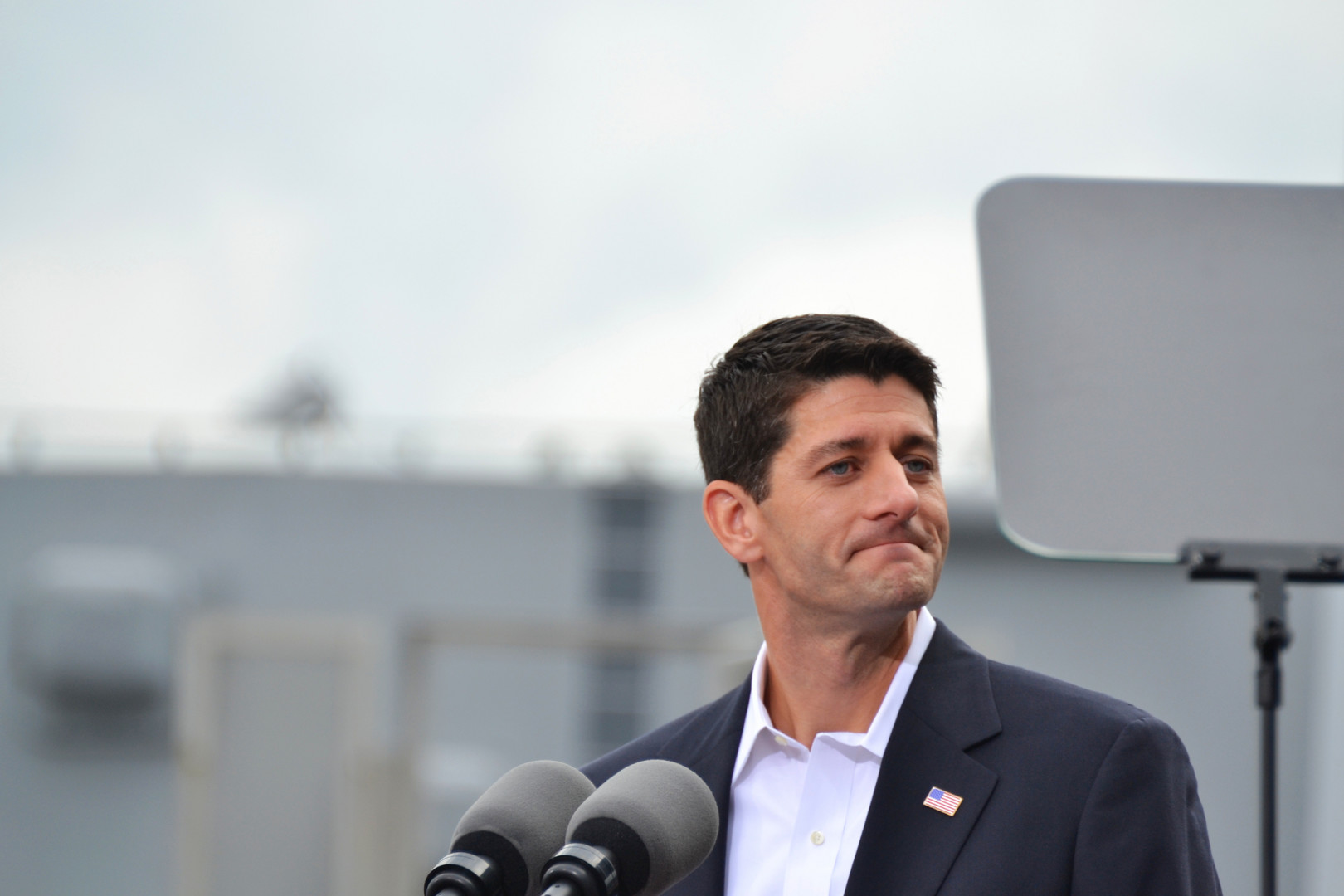 In today's edition: Two outside actors are making a play for influence in the race for the White House — including the guy who lives there now. Why are candidates overlooking Nevada, again? The buzziest political stories online last week. And we'll tell you who's spending $14 million in TV and radio ads this week, and where.
Outside, Looking In
Every presidential campaign strives to create a storyline in which their candidate is the hero capable of leading the world's most powerful nation. External events complicate matters, like the attacks in Paris and California and a teetering global economy, and external actors pushing narratives of their own.
This week, two of those actors are influencing the race for the White House. Both of whom have their own priorities — and their own megaphones.
One is House Speaker Paul Ryan, who used a summit on poverty this weekend in South Carolina to focus the Republican field on a big, thematic idea that goes beyond the small-ball squabbles over immigration and Ted Cruz's birthplace. As national Republicans worry over the message candidates like Donald Trump send to the very voters the party desperately needs to court, Ryan is sounding a more significant tone, one he hopes will serve to reorient the Party of No in a more positive direction.
"We can reignite the enthusiasm for the American idea," Ryan said Sunday on CBS's Face the Nation. "My goal is that we, as Republicans — if we don't like these laws, don't like the direction the country is going, I think we have to be more than just an opposition party. We have to be a proposition party."
Contrast that with the rest of the Republican field. When The Boston Globe asked presidential candidates for one big idea, Republicans almost uniformly took a narrow view: Jeb Bush wants to "restore cuts to strengthen the military." Chris Christie wants more resources for law enforcement and the intelligence community. Carly Fiorina wants to "augment American leadership," the definition of bland. Cruz, Jim Gilmore, Mike Huckabee and Rand Paul all mentioned tax cuts.
The answers from the two leading Democratic contenders are much more on Ryan's scale: Hillary Clinton's big idea is to "raise middle-class incomes." Bernie Sanders' big idea is to "reduce income inequality."
"All of our responses to this question are varying degrees of stupid," one exasperated Republican unaffiliated with any campaign emailed last week. "For most of the field we try to prove how smart we are as opposed to how much we care about the American people and that we can be trusted to change the direction of this country."
Congressional parties usually echo their presidential nominees. Ryan has signaled he has no plans to take it easy this year. He wants House Republicans to take up tax reform, and to offer an alternative to the Affordable Care Act — despite the long odds either proposal would face in an election year.
Perhaps it's no coincidence that when the topic of a potentially contested Republican convention comes up, GOP activists and strategists can't help but bring up the prospect of a Draft Ryan movement.
The other external actor exerting his influence is President Barack Obama, who will use one of the last significant megaphone moments of his presidency both to shape his legacy and to influence the campaign. Obama will pitch an enthusiastic and optimistic vision of the country, one aimed more at influencing right-track wrong-direction opinion than this year's congressional agenda.
"America can do anything. Even in times of great challenge and change, our future is entirely up to us," Obama said in his weekly radio address. "And on Tuesday, I'm going to talk about the choices we have to make to set this country firmly on an even better, brighter course for decades to come."
The American electorate is as divided over what they think of the direction of the country as they are over who should lead it next. The Obama coalition that Democrats so desperately need to recreate is much more optimistic about the future than voters who intend to vote Republican. The trouble for Hillary Clinton is that independents and white voters are almost as pessimistic as Republicans. Obama's megaphone gives him the chance to change a few of those minds.
Obama's name won't be on the ballot, but his legacy will be. Ryan's name isn't on the ballot outside of his home district in Wisconsin, but the new speaker is already defending his party. No matter which candidate either party nominates, they'll have to deal with both Obama and Ryan, both signaling early that they want a say in 2016.
Facebook Monday
Every week, our friends at Facebook give us a peek behind the curtain at the political stories that generated the most news over the past seven days. Here's what got clicks, likes and shares last week:
10. Rep. Donna Edwards (D-MD) says that media coverage of armed white activists is much more favorable than their coverage of black activists.
9. Former UN Ambassador John Bolton criticizes President Obama's policies on guns and terrorism.
8. Sen. Tom Cotton (R-AR) says he favors Bernie Sanders winning the Democratic presidential nomination.
7. Alabama Supreme Court Chief Justice Roy Moore orders state probate judges not to issue marriage licenses to same sex couples.
6. Illinois Department of Revenue to delay issuing state tax refunds.
5. Saudi Arabia executes Shia cleric Nimr al-Nimr.
4. President Obama announces executive action to expand background checks for gun purchases.
3. North Korea claims it detonated a hydrogen bomb.
2. Louisiana State Senator Elbert Guillory criticizes President Obama's policies on ISIS and guns.
1. Armed activists occupy headquarters of Malheur National Wildlife Refuge in Oregon.
Whither Nevada?
If candidates are putting their money where their mouths are, they don't have a whole lot to say about Nevada. The first-in-the-West caucus state has hosted a few debates, and last week all three Democratic contenders addressed a party fundraising dinner. But Nevada's airwaves have been mostly free of the barrage of political ads that run wall to wall in Iowa and New Hampshire.
Of the $204 million presidential campaigns and super PACs have spent reserving television ads since the end of March, only about $1.6 million has been spent on Nevada television. Sen. Bernie Sanders (I-Vt.) is the biggest spender; his campaign has poured $576,000 into the Silver State so far. Sen. Marco Rubio (R-Fla.) and Hillary Clinton have each spent about $240,000 there, while Ben Carson's campaign has added $286,000 to the fire. Jeb Bush's Right to Rise super PAC has spent just $135,000 in Nevada, a fraction of what it's booked on TV in Oklahoma, Tennessee, Texas and Virginia.
Why is Nevada being overlooked, for what feels like the third consecutive cycle? Is the state blowing its opportunity to play an influential role in picking the next president of the United States? To become the Western version of must-stop South Carolina?
Nevada, which became a state during the Civil War, calls itself Battle Born. Its early caucus was born more from compromise — a rare truce between senior officials at the Democratic National Committee and the Republican National Committee, who agreed to add a new state to the early roster in an effort to bring some kind of harmony to the ever-evolving chaos of the presidential primary calendar.
Senate Democratic leader Harry Reid pushed the DNC hard to secure the fourth slot for his home state; he thought organizing thousands of Democrats in a caucus two years before he faced re-election in 2010 would be good for his political organization (He was right). Republicans plotting Mitt Romney's 2008 presidential campaign liked the idea too, given that about a quarter of the state's electorate — and up to half the Republican primary electorate — is Mormon.
But in two cycles at the head of the pack, Nevada has never hosted a truly competitive contest. Romney rolled to big wins in 2008 and 2012; Hillary Clinton beat Obama by a five-point margin in the 2008 caucuses, but she was halfway out the door by the time the results rolled in (Clinton delayed her flight out to hold a last-minute victory rally).
"We are still relatively new to the early-state game," says Jon Ralston, the state's political observer of record.
Most Nevada political experts we talked to said they're convinced the state's influence will grow. But, they agreed, there are a few factors that have hampered that growth.
First, Nevada's a long way from Washington (or Tallahassee, or New York, or New Hampshire and South Carolina). The state's donor class isn't large enough to merit repeat fundraising trips, and committing the time and money necessary for a political trip isn't necessarily worth it to candidates who might not even survive to the third (for Democrats) or fourth (for Republicans) contest of the year.
Second, the state's political culture is nowhere nearly as developed as Iowa and New Hampshire, where voters have had easy access to two generations of presidential candidates. That makes building a political team especially time- and resource-consuming.
The Nevada politicians who have had the most success building a team — Reid, the late former Gov. Kenny Guinn (R), former Sen. John Ensign (R), Gov. Brian Sandoval (R) and Sen. Dean Heller (R) — have done so mostly independently of state parties. While Reid has left a strong state Democratic Party behind him, Nevada's Republican Party is in such dismal shape, run by acolytes of former Rep. Ron Paul, that the national GOP typically funnels coordinated campaign money through a county-level party organization.
Ralston predicted good turnout among Democrats, especially if Sanders can score a win in either Iowa and New Hampshire. Republican county parties, he said, are likely to drive turnout to new heights as well. The candidates just haven't gotten around to focusing on Nevada yet.
Who's On Air This Week
Candidates and their allied super PACs have booked at least $14 million in television and radio ad time this week. Here's a look at who's spending, and where:
Jeb Bush: Bush's campaign will drop $592,000 in New Hampshire this week, the bulk of it on Boston broadcast. Right to Rise is spending $1.3 million in Iowa, $2.1 million in New Hampshire and $530,000 in South Carolina.
Ben Carson: Carson's campaign will spend $334,000 this week, all of it on cable and broadcast TV in Cedar Rapids, Des Moines, Omaha, the Quad Cities and Sioux City. A pro-Carson super PAC will add $41,000 in Cedar Rapids and Des Moines cable.
Chris Christie: Remember when Christie said he didn't mind if someone like Rubio attacked him? Well, maybe Christie can't afford to respond. His campaign is spending just $44,000 in three Iowa markets this week, and he's booked less than $1,000 on New Hampshire radio. Christie's America Leads super PAC will spend $1.3 million on New Hampshire television.
Ted Cruz: Cruz's campaign is sticking with its small-buy strategy. He's only bought $44,000 in Iowa, $11,000 in New Hampshire and $21,000 in South Carolina this week. Most of his Iowa ads are radio spots. Pro-Cruz Keep the Promise I is spending $344,000 in Iowa and $1,000 in New Hampshire radio. The new Stand for Truth super PAC will dump $663,000 on Iowa television, too.
Mike Huckabee: Huck-mentum! The pro-Huckabee Pursuing America's Greatness has bought $91,000 in Iowa TV and radio this week, after spending $529,000(!) last week. Will he get a bump in the next set of Iowa polls?
John Kasich: Kasich's campaign has bought $38,000 in TV time in New Hampshire, while his New Day for America PAC is up with $154,000 in Granite State ads.
Rand Paul: America's Liberty PAC will spend $12,000 in Iowa and $14,000 in New Hampshire this week, all of it on radio time.
Marco Rubio: The Florida senator's campaign will spend $511,000 on the air in Iowa and $369,000 in New Hampshire this week. He's also bought $354,000 in South Carolina ad time. Conservative Solutions PAC is spending $535,000 in Iowa, $1.1 million in New Hampshire and $595,000 in South Carolina, while the Conservative Solutions Project spends another $135,000 on Iowa radio.
Rick Santorum: Santorum's campaign is running on fumes. It's spending just $1,000 on ads in eight Iowa cable markets — buys that are so small they probably only pay for one spot each.
Donald Trump: Trump's campaign follows up its initial buys last week with another $145,000 on Iowa airtime and $105,000 in New Hampshire. That brings his total spending on airtime to $2.17 million, though he hasn't bought any time after that.
Hillary Clinton: Clinton's campaign will spend $544,000 in Iowa time this week and $571,000 in New Hampshire. She's also up with $112,000 in Nevada and about $3,000 on South Carolina radio stations.
Bernie Sanders: The Sanders campaign is spending $604,000 in Iowa and $536,000 in New Hampshire this week, along with another $150,000 in Nevada and $11,000 in South Carolina.
Sanders's campaign has outspend Clinton's campaign in Iowa every week this year. Perhaps it's no wonder the latest survey, from NBC and the Wall Street Journal, shows a tighter race.