Obama's Final State of the Union Offers Friendly, Light Touch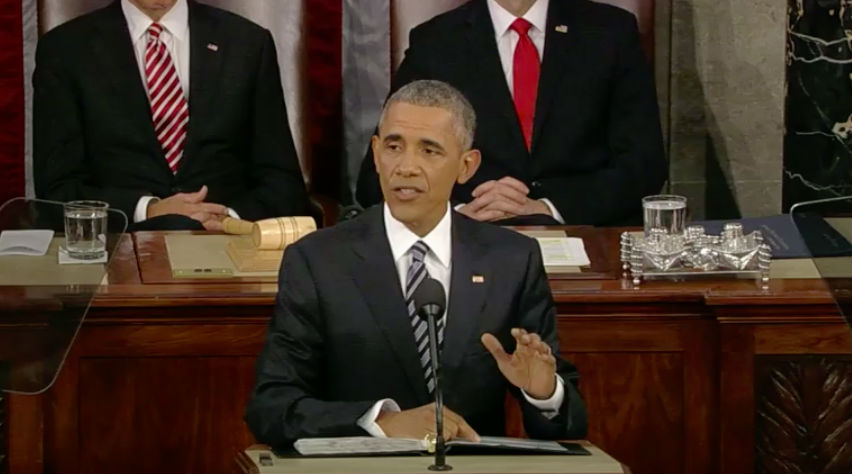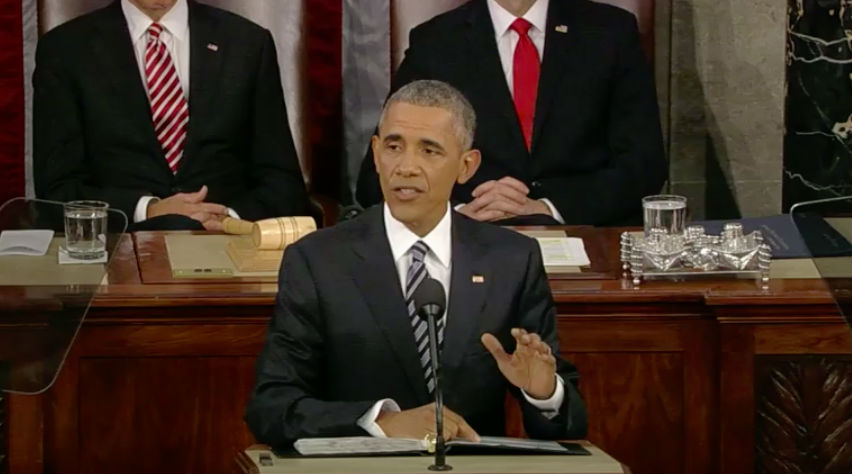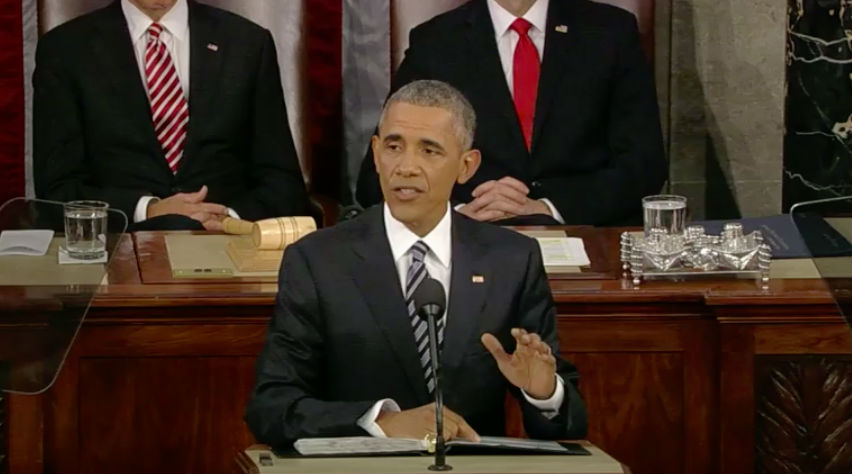 Skip to: Energy, Finance, Health, Tech,
President Barack Obama bucked tradition in his final State of the Union address Tuesday night, delivering a speech that prepared for the 2016 election and his post-presidential career rather than laying out a menu of policy objectives.
In doing so, he offered a blunt admission that a GOP-led Congress and the exigencies of a presidential election will offer few chances for him to push for new laws in the deep winter of his presidency.
"Because it's an election season, expectations for what we'll achieve this year are low," Obama said at the outset.
Instead, the nation's first black president — who famously ran his 2008 campaign on a message of hope and change — spent significant portions of his final joint congressional address hearkening back to the themes that landed him the gig.
"America has been through big changes before – wars and depression, the influx of immigrants, workers fighting for a fair deal, and movements to expand civil rights," Obama said.
He called for an effort to "fix our politics," arguing that "the future we want" will "only happen if we can have rational, constructive debates."
Despite legitimate political differences, Obama said, "democracy does require basic bonds of trust between its citizens."
The president did not shy away from using one of his final moments atop the bully pulpit to make the case for keeping the White House in Democratic hands. "There are other areas where it's been more difficult to find agreement over the last seven years," he said. " Namely, what role the government should play in making sure the system's not rigged in favor of the wealthiest and biggest corporations. And here, the American people have a choice to make."
But he also hastened to state that he would welcome a discussion with House Speaker Paul Ryan (R-Wis.) on tackling poverty, an issue Ryan has expressed a desire to work on. Obama also asked Congress for a new Authorization for the Use of Military Force again the Islamic State, a prospect Ryan has let the Republican conference debate but which Senate Majority Leader Mitch McConnell (R-Ky.) has flatly ruled out until Obama's successor takes the oath of office.
On the terrorism front, Obama said the political class has been exaggerating the threat of the Islamic State. The group does "not threaten our national existence," he said, adding that the United States should seek to build coalitions abroad whenever possible.
And, in something akin to a victory lap, Obama made his administration's climate agenda a central pillar of his speech. He defended his commitment to the combatting global warming and poked at critics who say the problem isn't as bad as scientists and Democrats say it is. He compared the magnitude of climate issues to that of the Cold War.
"Sixty years ago, when the Russians beat us into space, we didn't deny Sputnik was up there," he said, to eager applause and laughter from Democrats. "We didn't argue about the science, or shrink our research and development budget. We built a space program almost overnight, and twelve years later, we were walking on the moon."
Amid acknowledgments of partisan disagreements, Obama highlighted one legislative effort that could be completed in a divided government and high-tension election year — criminal justice reform. It is an issue that has defied conventional partisan lines. In the Senate, a bill sponsored by Judiciary Committee Chairman Chuck Grassley (R-Iowa) that would reduce mandatory sentences for certain non-violent drug offenders enjoys the support of both parties' whips, Sens. John Cornyn (R-Texas) and Dick Durbin (D-Ill.), as well 26 other members from both parties. Across the Capitol, the House Judiciary Committee has introduced its own slate of reform initiatives and promised further action this year.
McConnell has yet to schedule floor time for the Grassley bill, which advanced from the Judiciary Committee in October. But on Tuesday afternoon, hours before Obama's speech, Sen. John Thune (R-S.D.) put the odds the legislation receives a vote this year at "better than 50-50."
"This could be a legacy item for the president," Cornyn agreed.
Obama took a particularly reflective moment in the speech to lament the bitter partisanship that has characterized much of his presidency. "It's one of the few regrets of my presidency , that the rancor and suspicion between the parties has gotten worse instead of better," Obama said.
Using language that characterized both his successful bids for the White House – "What I'm asking for is hard … I can't do these things on my own … Our brand of democracy is hard." —  Obama said that he aims to continue pursuing what he called "a better politics" over the course of this next year.
The president explicitly laid the blame for recent gridlock at the feet of congressional gerrymandering and the influence of money in politics. He signaled that changing what he believes are the systemic roots of political dysfunction would become a focus of his work once he leaves office. "I can promise that a year from now, when I no longer hold this office, I'll be right there with you as a citizen — inspired by those voices of fairness and vision, of grit and good humor and kindness that have helped America travel so far," he said. "Voices Dr. King believed would have the final word — voices of unarmed truth and unconditional love."
HEALTH
In a bold move, Obama announced a new national effort to cure cancer, led by Vice President Joe Biden. Biden has already vowed to work on the "moonshot" project, but the actual cure-cancer initiative, dubbed "Mission Control" by Obama, is new.
Last month, Biden worked with Congress to increase funding to the National Institutes of Health by $2 billion, the largest funding increase since 2003. "For the loved ones we've all lost, for the families we can still save, let's make America the country that cures cancer once and for all," Obama said.
Mission Control will have two primary goals — increase private and public resources to fight cancer and "break down silos and bring all the cancer fighters together," according to the White House.
"Here's what that means: The federal government will do everything it possibly can  — through funding, targeted incentives, and increased private-sector coordination  —  to support research and enable progress," Biden wrote in a statement announcing the project.
As expected, the president touted the Affordable Care Act, listing accomplishments under the law. "Nearly 18 million have gained coverage so far. Health care inflation has slowed. And our businesses have created jobs every single month since it became law," he said. But the president also acknowledged it will be a long time before Democrats and Republicans agree on health care, prompting laughs.
Notably absent from the president's address was any mention of mental health reform or prescription drug prices, two issues which have grown to prominence over the past several months. Last week, Obama included mental health reforms amid executive actions on gun control. One of these was an additional $500 million to expand access to mental health care — a vague policy prescription that he did not expand upon on Tuesday evening.
—Caitlin Owens
FINANCE
Obama highlighted the improvements in the economy since he took office just after the financial crisis. In a tacit rebuttal to his critics, he championed the role of government in keeping the United States afloat. That needs to continue, he said. "After years of record corporate profits, working families won't get more opportunity or bigger paychecks by letting big banks or big oil or hedge funds make their own rules at the expense of everyone else," he said.
Much of the economic portion of Obama's speech focused on proposals that have long been part of his agenda — raising the minimum wage, ensuring equal pay for women in the workplace, and championing the role of regulation in a well-functioning economy.
In a nod to House Speaker Paul Ryan's interest in alleviating poverty, Obama called for a bipartisan effort on that front, including expanding the tax credit for workers without children. That's an idea that could pass muster with Republicans if it's paid for. Still, many of Obama's ideas on economic inequality are likely unpalatable to Republicans. For example, he called for expanding unemployment benefits, which Republicans tend to dislike.
On student loans, Obama said "no hardworking student should be stuck in the red." Student debt now tops $1 trillion, a problem that has shocked policymakers over the past several years and caused both Republicans and Democrats to look for ways to address the problem. Obama's idea of giving two years of community college to students for free is not likely in the near future, but there is bipartisan opportunity to rejigger how student loans are financed and protected. Senate Democrats have begun a campaign drum up support for decreasing student debt. That effort started a few hours before the State of the Union, with Democratic senators sporting buttons that said "Students #InTheRed."
Finally, Obama made a call for finalizing the Trans-Pacific Partnership, which will face an uphill battle in Congress while he is still in office. Most observers believe there are enough votes to pass the agreement through Congress because of Republican support. But the chances of doing so in an election year, giving a legacy-defining capstone to Obama, will likely be unpalatable to many Republicans.
—Gabe Rubin
TECH
The White House rolled out a new Snapchat channel to engage younger voters and showcase State of the Union preparations, but Obama's seventh and final address to Congress offered little on tech policy.
Obama barely waded into the topic, even as the administration and lawmakers push for the tech industry to get involved in the war on terror. His only mention of terrorism's online presence was a nod to the importance of the internet in the self-proclaimed Islamic State's rise.  "They use the Internet to poison the minds of individuals inside our country; they undermine our allies," he said of ISIS.
He left it at that, although there is mounting pressure to launch more robust defense against terrorists' use of social media after the terrorist attacks in San Bernardino and Paris.
Federal Bureau of Investigation Director James B. Comey, Attorney General Loretta Lynch, counterterrorism adviser Lisa Monaco, Director of National Intelligence James Clapper and National Security Agency Director Michael Rogers attended a summit with executives from Silicon Valley giants to strategize the best way to combat terrorism on the internet last Friday.
The Obama administration also announced a task force made up of the Departments of Homeland Security, Justice and State that will coordinate efforts and add some muscle to the online fight. Obama left this out as he discussed his strategy in the Middle East, choosing instead to focus on boots on the ground.
Obama did tout the Federal Communication Commission's new net neutrality rules and his administration's ConnectHome program, which aims to bring 275,000 low-income families internet connection, in a short one-liner.
In addition to terrorism, many other tech issues missed the cut for Obama's address. Tech industry and advocate groups hoped to hear updates on patent trolls, encryption, the sharing economy and surveillance. In 2014 Obama mentioned his intent to see legislation pass targeting patent trolls, the name given to entities that abusively use patent lawsuits.
—Amir Nasr
ENERGY
On energy, Obama focused more on the investments made in his first year of office over his landmark rule that aims to significantly reduce carbon emissions from power plants.
He listed the accomplishments that he said came from the billions of clean energy funding in the 2009 stimulus bill, but he added that the move away from "dirty energy" still needs to accelerate.
The energy portion of the speech came in response to Obama's second "big question" for Americans, asking how the country can reignite "the spirit of innovation."
Obama said the investment in renewable energy is an example of American ingenuity. "Solar is saving Americans tens of millions of dollars a year on their energy bills, and employs more Americans than coal," he said.
He made no direct reference to the Clean Power Plan, which is arguably the central piece of the Obama administration's energy policy, and he only briefly mentioned the landmark climate negotiations that took place in Paris in December.
Obama also spent little time focusing on the benefits to consumers of increased oil and natural gas production in the United States, simply stating "Gas under two bucks a gallon ain't bad, either." (There is some debate among energy experts and economists about whether the shockingly low price of oil is a good thing for the economy in the long run.)
The president came close to mocking those who doubt the science that says humans are to blame for climate change, telling critics who want to dispute those findings to "have at it." But he didn't linger on the topic. Environmentalists didn't expect him to. They say he has proved his bona fides on the topic early on.
Obama closed his comments on energy by vowing to "push to change the way we manage our oil and coal resources, so that they better reflect the costs they impose on taxpayers and our planet."
—Jack Fitzpatrick