The Coming Week: House Closed for Snow, Energy on Tap in Senate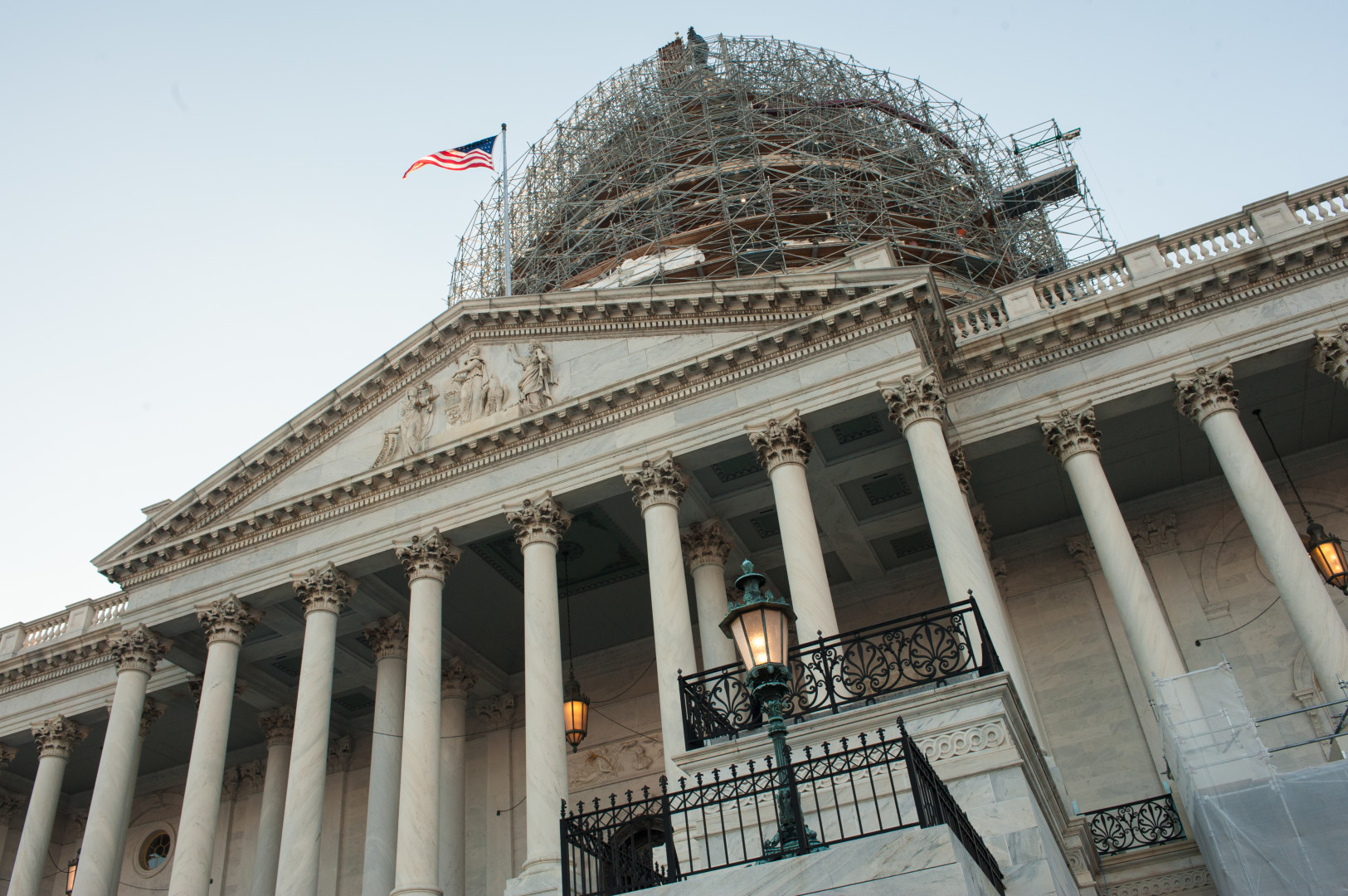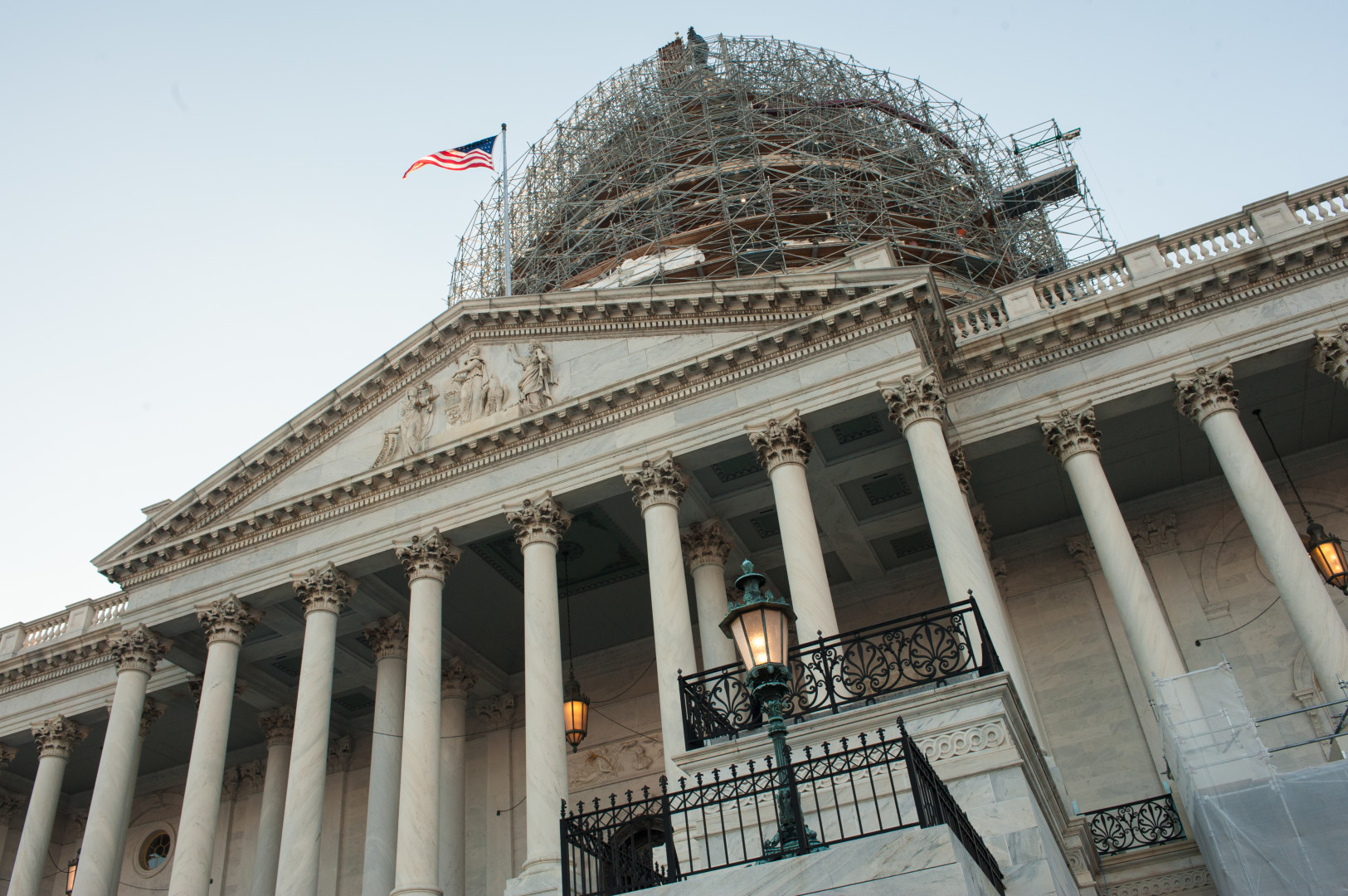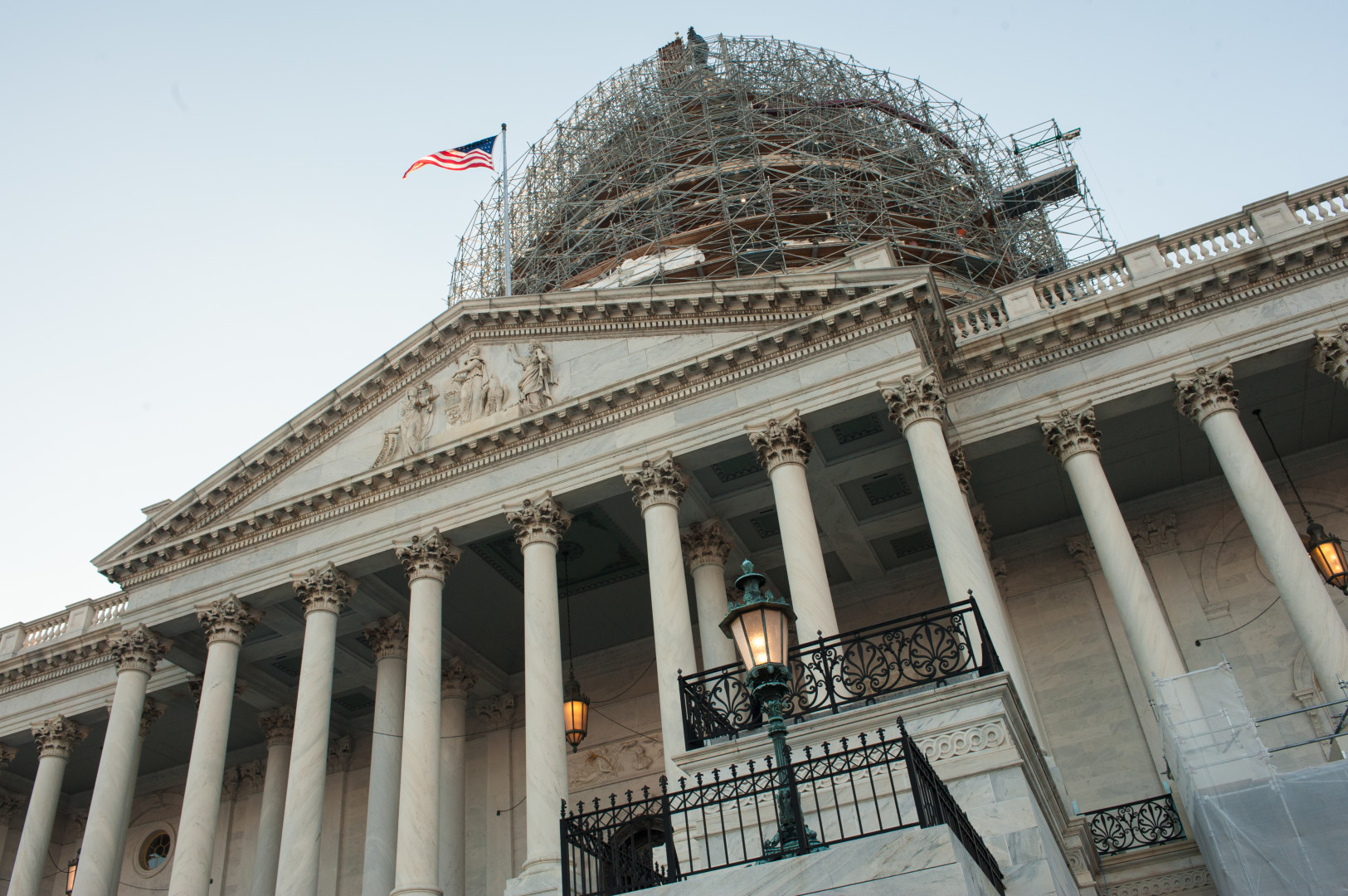 Skip to: Energy, Finance, Health, Tech
Thanks to a historic blizzard in Washington, D.C., a short week for the House became an extended recess. The chamber was scheduled to return from a weeklong recess on Tuesday before the Democrats went to Baltimore for their annual winter retreat, but votes are now postponed until Feb. 1 due to the snow. The Democratic retreat is still on for now, starting Wednesday afternoon.
When the House gets back, they have a do-over vote to take on a vacated Iran sanctions bill is on the schedule after House Speaker Paul Ryan (R-Wis.) used the first vote earlier this month to crack down on members who routinely show up late to votes. That vote was later vacated because so many members did not record a 'yea' or a 'nay.'
House Majority Leader Kevin McCarthy's office said the Iran vote and a vote to override President Obama's veto of an Affordable Care Act repeal would take place the week of Feb. 1.
Otherwise, the next major task on each chamber's docket is drafting a budget resolution. GOP budgeteers are still in the early stages of piecing together their blueprints, but some details are already emerging.
House Budget Committee Chairman Tom Price (R-Ga.) said his budget resolution would adhere to discretionary levels for fiscal year 2017, agreed to in the fall budget deal. A majority of House Republicans opposed that agreement because of the increased spending limits, so Price is including an ambitious reconciliation effort — perhaps focused on welfare reform — as a way to build support for the resolution.
The Senate is also on a snow delay this week. The chamber convenes on Tuesday, but a vote confirming John Michael Vazquez to be United States district judge for the District of New Jersey is delayed until 5:30 p.m. on Wednesday.
After that, it's energy week (or weeks) in the Senate. Majority Leader Mitch McConnell (R-Ky.) is turning the chamber to a broad energy bill drafted by Senate Energy and Natural Resources Committee Chairman Lisa Murkowski (R-Alaska) and ranking member Maria Cantwell (D-Wash.).
ENERGY
The Senate's debate on a wide-ranging, bipartisan energy bill should culminate in passage if floor amendments don't muck up the delicate balance of the compromise package. The bill would expand liquefied natural gas exports and update a number of other efficiency regulations that haven't been changed since 2007. It passed the committee 18-4 in July.
Sen. John Barrasso (R-Wyo.) has called for an amendment blocking the Obama administration's decision to freeze new coal leases on federal land. It is unclear whether senators will insist on offering even more partisan amendments on oil drilling, climate change, and the like. Senate Energy and Natural Resources Chairwoman Lisa Murkowski (R-Alaska) says she has "no idea" how the amendment process will affect Democrats' support for the bill. Already, some of them are wary of the LNG provision.
But, both Murkowski and Cantwell are old hands at managing Senate floor debate. They have already managed the needs of their own political parties in shepherding the energy bill through committee. They are both respected members of their caucuses. Those skills come in handy when dealing with requests from dozens of members about a topic of national importance.
Meanwhile, the Senate Environment and Public Works Committee is scheduled to hold a hearing Wednesday on three bills. The first, sponsored by Sen. John Hoeven (R-N.D.), would set requirements for disposing of coal combustion residuals. The second, sponsored by Chairman Jim Inhofe (R-Okla.), would create a grant program to promote development on abandoned land. Also, the committee will discuss draft legislation called the "Good Samaritan Cleanup of Orphan Mines Act of 2016," which Sens. Cory Gardner (R-Colo.) and Michael Bennet (D-Colo.) plan to introduce later. That bill would incentivize cleanup efforts at abandoned mines.
The weekend blizzard caused committees to postpone a handful of hearings. One oversight hearing, originally planned for Tuesday, is supposed to focus on a November presidential memorandum instructing executive agencies to mitigate effects on natural resources from development projects. Another, planned for Thursday, is intended to address innovative technologies in the nuclear industry. New dates have not been set for those hearings.
The House Energy and Commerce Committee also indefinitely postponed a Tuesday hearing on two bills — one to establish rules for how the Environmental Protection Agency would set emission limits for existing power plants that use carbon capture technology, and another on judicial review of EPA rules on emissions from clay ceramics manufacturing.
—Jack Fitzpatrick
FINANCE
At the end of 2015, in the immediate aftermath of the massacre in San Bernardino, Calif., House Financial Services Committee Chairman Jeb Hensarling told reporters that combating terrorist financing would be a top concern of his committee in 2016. The committee had already held several hearings on the issue prior to San Bernardino, but given that the attackers reportedly obtained a loan from an online marketplace, Prosper, the issue has taken on increased salience.
Before the storm, the committee was scheduled to hold a hearing on terrorism financing on Tuesday. There is significant bipartisan appetite for tightening anti-money laundering laws and other regulations. Much of the discussion will likely center on marketplace lenders, given their relatively lax regulatory oversight compared to banks.
Further afield, the Puerto Rico debt crisis continues to sizzle. Senate Judiciary Committee Chairman Chuck Grassley (R-Iowa) told reporters Thursday that high-level discussions among Republicans and Democrats are continuing, but he remains skeptical about allowing the commonwealth access to Chapter 9 bankruptcy. He also supports imposing a financial control board to deal with the island's finances, a proposal that gives many Democrats pause. Still, with more partial defaults looming and a Speaker Paul Ryan-imposed deadline of March 31 for action in the House, time is running out for an orderly legislative solution to the crisis.
Looking ahead, Hensarling has also announced that Federal Reserve Chair Janet Yellen will deliver her semiannual testimony on monetary policy before the Financial Services Committee on Feb. 10. Much of the hearing will likely focus on the Fed's decision to raise interest rates and on what Yellen has planned for rates in the next several months. However, Republicans on the committee have amplified their calls for more transparency at the Fed, both with regard to monetary policy as well as the Fed's supervision of financial institutions.
—Gabe Rubin
TECH
The Federal Communications Commission will consider ways to update the Emergency Alert Systems and Wireless Emergency Alerts at its monthly meeting on Thursday, even as the East Coast digs out from a massive snowstorm.
The commission will also consider a proposal to require cable and satellite TV providers and radio operators to put their public inspection files on the FCC's online database. Finally, the commissioners will look at the 2016 Broadband Progress report that assesses whether advanced telecommunications capability is deploying to everyone in the United States in a "reasonable and timely fashion."
After the Senate Judiciary Committee pushed back the European online privacy legislation yet again, the committee is set to mark up the legislation on Thursday. That's just three days before the deadline for completing a new data-sharing agreement between the United States and the European Union.
Europeans have highlighted the Judicial Redress Act as a crucial step in winning their trust about the U.S. government's handling of personal data. The bill would give citizens of designated U.S. allies the power to sue federal agencies if they misuse their data. These citizens would also receive the same rights given to Americans under the Privacy Act of 1974.
If the U.S. and EU cannot come to an agreement by the end of January, it could result in legal action against any American company that transfers data from Europe.
It's always a big deal when the Senate Intelligence Committee holds an open hearing. The big guns will be there this time: Central Intelligence Agency Director John Brennan is slated to testify on Tuesday.
—Amir Nasr
HEALTH
The mental health debate could take a partisan turn this week — away from a cordial discussion in the Health, Education, Labor and Pensions Committee — to almost guaranteed party-line rancor in the Judiciary Committee. There, Senate Majority Whip John Cornyn's mental health bill is on the agenda for a Tuesday hearing. The bill contains a provision Democrats say would increase access to guns. The also say its inclusion could sink any bipartisan mental health reform effort.
The HELP Committee will hold a hearing Thursday on increasing access to generic drugs and generic drug user fee amendments, hearing testimony from Janet Woodcock, a director at the Food and Drug Administration. The hearing could expose some party difference on the issue. A day before that hearing, the Center for American Progress will hold an event on drug pricing policies featuring experts from different industry groups. The policies put forth last year by CAP are left-leaning, of the sort that Democrats support but give Republicans pause. Democrats' insistence on the inclusion of such drug price policies in a big medical bill contributed to the HELP Committee's recent decision to take a piecemeal approach to the legislation instead.
The Judiciary Committee will hold a hearing on heroin and prescription drug abuse on Wednesday, a topic that has been examined by other committees and is likely to gain momentum in both chambers of Congress. It's also been popular on the presidential campaign trail, with members of both parties agreeing something must be done.
The House Oversight Committee was set to join the conversation about what to do about rising drug prices in a hearing scheduled for Tuesday, before the blizzard hit. If the topic itself wasn't guaranteed to be interesting enough, the infamous hedge fund guru Martin Shkreli's refusal to speak at the hearing, despite being listed on the witness list, promises drama. Shkreli is the former CEO of Turing Pharmaceuticals and was subpoenaed by the House panel to testify at the hearing, even if he says nothing. He became famous after Turing hiked the price of the drug Daraprim from $13.50 to $750.
—Caitlin Owens
Update: This story has been updated after Senate and House leadership postponed votes this week, due to weather conditions.