Poll: Establishment GOP Voters Secretly Love Ted Cruz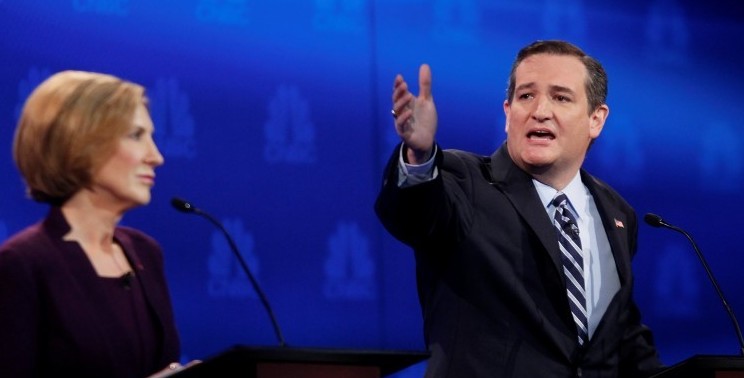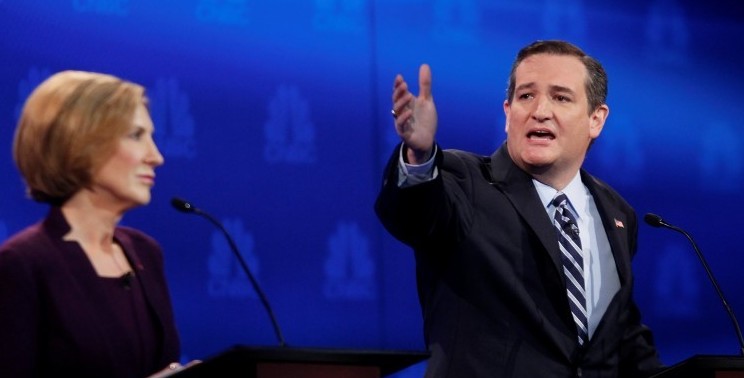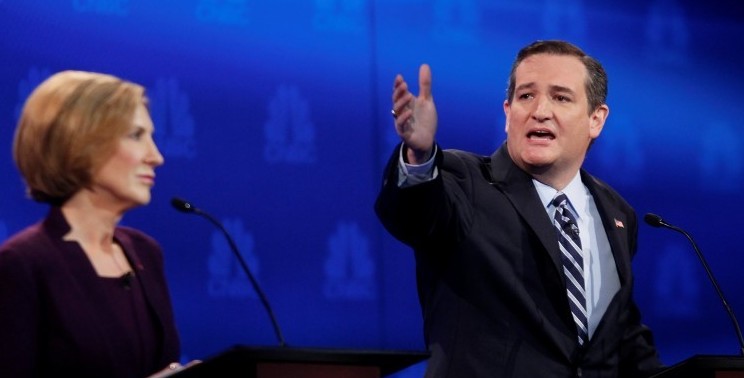 Most Republicans who back establishment candidates such as Sen. Marco Rubio (R-Fla.) and former Florida Gov. Jeb Bush have a surprising second choice for president: Sen. Ted Cruz (R-Texas), the evangelical conservative running to the right of the crowded field.
Cruz is the top second choice for voters who back candidates across the ideological spectrum, from Donald Trump and Ben Carson to Rubio and Bush. Among nearly 4,000 registered Republicans and independents who lean Republican, Cruz got the top spot against the four other top contenders when respondents were asked who their second choice candidate is. The Texas senator tied with Rubio among voters whose first choice was Bush.
200571
Dates: 2020-05-19 - 2020-05-21
ECO1 - Which of the following best describes your employment situation in January 2020, prior to the outbreak of the coronavirus pandemic in the United States?
Adults
Gender: Male
Gender: Female
Age: 18-34
Age: 35-44
Age: 45-64
Age: 65+
GenZers: 1997-2012
Millennials: 1981-1996
GenXers: 1965-1980
Baby Boomers: 1946-1964
PID: Dem (no lean)
PID: Ind (no lean)
PID: Rep (no lean)
PID/Gender: Dem Men
PID/Gender: Dem Women
PID/Gender: Ind Men
PID/Gender: Ind Women
PID/Gender: Rep Men
PID/Gender: Rep Women
Ideo: Liberal (1-3)
Ideo: Moderate (4)
Ideo: Conservative (5-7)
Educ: < College
Educ: Bachelors degree
Educ: Post-grad
Income: Under 50k
Income: 50k-100k
Income: 100k+
Ethnicity: White
Ethnicity: Hispanic
Ethnicity: Afr. Am.
Ethnicity: Other
All Christian
All Non-Christian
Atheist
Agnostic/Nothing in particular
Religious Non-Protestant/Catholic
Evangelical
Non-Evangelical
Community: Urban
Community: Suburban
Community: Rural
Employ: Private Sector
Employ: Government
Employ: Self-Employed
Employ: Homemaker
Employ: Retired
Employ: Unemployed
Employ: Other
Military HH: Yes
Military HH: No
4-Region: Northeast
4-Region: Midwest
4-Region: South
4-Region: West
In Labor Force
In Labor Force and Employed
In Labor Force but Not Employed
Not in Labor Force
Student
Retired
Disabled
Long Term Unemployed
Been laid off or lost a job: Yes
Been laid off or lost a job: No
Lost pay or income: Yes
Lost pay or income: No
Put on temporary leave from job: Yes
Put on temporary leave from job: No
Increased hours worked per week: Yes
Increased hours worked per week: No
Marginally Attached to Labor Force
Recently laid off or furloughed
Single, never married
Married
Separated
Divorced
Widowed
Living with a partner
Parent
Not a Parent
Anticipates Loss
Does Not Anticipate Loss
<20 Employees
<500 Employees
500+ Employees
Children younger than 6
Children ages 7-17
Children younger than 17
Children 18+
Now WFH
Always WFH
Works in IRL
Annual Salary January
Hourly Pay January
January unemployed, looking
Temp leave w/full pay
Temp leave w/some pay
Temp leave w/no pay
Applied for unemployment prev.
Never applied for unemployment
Employment impacted
Impact Feb 15-19
Impact Mar 1-15
Impact Mar 16-31
Impact Apr 1-15
Impact Apr 16-30
Impact May 1-16
Unweighted N
2200
1082
1118
679
353
792
376
242
619
555
722
758
752
690
320
438
400
352
362
328
650
585
770
1249
557
394
1002
730
468
1739
207
208
253
1065
120
116
899
138
569
804
519
1147
534
758
161
181
132
453
251
119
357
1843
423
515
875
387
1336
1229
107
864
105
439
144
176
178
2022
466
1734
246
1954
256
1944
48
326
651
1025
35
227
92
170
770
1430
356
873
332
654
414
278
478
638
210
426
168
532
468
722
179
53
56
274
483
1717
939
153
173
335
163
104
121
Weighted N
2200
1062
1138
655
358
751
436
277
579
522
751
785
752
663
332
452
390
361
339
324
610
573
765
1512
444
244
1193
662
345
1722
349
274
204
996
104
111
989
124
573
780
567
1083
550
642
140
188
149
510
294
131
346
1854
394
462
824
520
1216
1102
114
984
100
499
185
200
193
2007
458
1742
258
1942
243
1957
62
344
682
956
40
254
105
163
737
1463
331
771
322
605
357
255
463
606
197
349
167
496
348
723
187
49
67
271
495
1705
900
169
178
310
190
100
117
Margin of Error (Weighted N)
0.02
0.03
0.03
0.04
0.05
0.04
0.05
0.06
0.04
0.04
0.04
0.03
0.04
0.04
0.05
0.05
0.05
0.05
0.05
0.05
0.04
0.04
0.04
0.03
0.05
0.06
0.03
0.04
0.05
0.02
0.05
0.06
0.07
0.03
0.1
0.09
0.03
0.09
0.04
0.04
0.04
0.03
0.04
0.04
0.08
0.07
0.08
0.04
0.06
0.09
0.05
0.02
0.05
0.05
0.03
0.04
0.03
0.03
0.09
0.03
0.1
0.04
0.07
0.07
0.07
0.02
0.05
0.02
0.06
0.02
0.06
0.02
0.12
0.05
0.04
0.03
0.15
0.06
0.1
0.08
0.04
0.03
0.05
0.04
0.05
0.04
0.05
0.06
0.05
0.04
0.07
0.05
0.08
0.04
0.05
0.04
0.07
0.14
0.12
0.06
0.04
0.02
0.03
0.08
0.07
0.06
0.07
0.1
0.09
Margin of Error (Unweighted N)
0.02
0.03
0.03
0.04
0.05
0.03
0.05
0.06
0.04
0.04
0.04
0.04
0.04
0.04
0.05
0.05
0.05
0.05
0.05
0.05
0.04
0.04
0.04
0.03
0.04
0.05
0.03
0.04
0.05
0.02
0.07
0.07
0.06
0.03
0.09
0.09
0.03
0.08
0.04
0.03
0.04
0.03
0.04
0.04
0.08
0.07
0.09
0.05
0.06
0.09
0.05
0.02
0.05
0.04
0.03
0.05
0.03
0.03
0.09
0.03
0.1
0.05
0.08
0.07
0.07
0.02
0.05
0.02
0.06
0.02
0.06
0.02
0.14
0.05
0.04
0.03
0.17
0.07
0.1
0.08
0.04
0.03
0.05
0.03
0.05
0.04
0.05
0.06
0.04
0.04
0.07
0.05
0.08
0.04
0.05
0.04
0.07
0.13
0.13
0.06
0.04
0.02
0.03
0.08
0.07
0.05
0.08
0.1
0.09
Working for pay or profit
0.53
0.58
0.48
0.64
0.68
0.58
0.15
0.55
0.69
0.67
0.34
0.53
0.51
0.55
0.61
0.47
0.55
0.47
0.59
0.5
0.56
0.52
0.53
0.46
0.69
0.69
0.42
0.64
0.71
0.52
0.64
0.51
0.61
0.51
0.49
0.6
0.55
0.52
0.52
0.52
0.57
0.55
0.44
0.96
0.94
0.89
0.07
0.06
0.3
0.48
0.46
0.54
0.55
0.54
0.52
0.52
0.87
0.91
0.47
0.11
0.28
0.05
0.06
0.2
0.65
0.52
0.76
0.47
0.76
0.5
0.81
0.5
0.23
0.73
0.54
0.55
0.5
0.44
0.22
0.7
0.65
0.47
0.89
0.92
0.84
0.89
0.95
0.67
0.68
0.68
0.57
0.94
0.8
0.95
1
1
0.94
0.74
0.83
0.48
0.54
0.83
0.68
0.82
0.84
0.87
0.84
0.76
Not working for pay or profit
0.47
0.42
0.52
0.36
0.32
0.42
0.85
0.45
0.31
0.33
0.66
0.47
0.49
0.45
0.39
0.53
0.45
0.53
0.41
0.5
0.44
0.48
0.47
0.54
0.31
0.31
0.58
0.36
0.29
0.48
0.36
0.49
0.39
0.49
0.51
0.4
0.45
0.48
0.48
0.48
0.43
0.45
0.56
0.04
0.06
0.11
0.93
0.94
0.7
0.52
0.54
0.46
0.45
0.46
0.48
0.48
0.13
0.09
0.53
0.89
0.72
0.95
0.94
0.8
0.35
0.48
0.24
0.53
0.24
0.5
0.19
0.5
0.77
0.27
0.46
0.45
0.5
0.56
0.78
0.3
0.35
0.53
0.11
0.08
0.16
0.11
0.05
0.33
0.32
0.32
0.43
0.06
0.2
0.05
1
0.06
0.26
0.17
0.52
0.46
0.17
0.32
0.18
0.16
0.13
0.16
0.24
Not Working
1034
Employment/Population Ratio is on the low-end, but we end up weighting up the people who were unemployed in Jan
ECO2 - Were you actively looking for work in December 2019 or January 2020… Examples of actively looking for work include contacting employers or employment agencies and placing or answering ads. Looking at ads or attending job training programs do not count as active looking.
Adults
Gender: Male
Gender: Female
Age: 18-34
Age: 35-44
Age: 45-64
Age: 65+
GenZers: 1997-2012
Millennials: 1981-1996
GenXers: 1965-1980
Baby Boomers: 1946-1964
PID: Dem (no lean)
PID: Ind (no lean)
PID: Rep (no lean)
PID/Gender: Dem Men
PID/Gender: Dem Women
PID/Gender: Ind Men
PID/Gender: Ind Women
PID/Gender: Rep Men
PID/Gender: Rep Women
Ideo: Liberal (1-3)
Ideo: Moderate (4)
Ideo: Conservative (5-7)
Educ: < College
Educ: Bachelors degree
Educ: Post-grad
Income: Under 50k
Income: 50k-100k
Income: 100k+
Ethnicity: White
Ethnicity: Hispanic
Ethnicity: Afr. Am.
Ethnicity: Other
All Christian
All Non-Christian
Atheist
Agnostic/Nothing in particular
Religious Non-Protestant/Catholic
Evangelical
Non-Evangelical
Community: Urban
Community: Suburban
Community: Rural
Employ: Private Sector
Employ: Government
Employ: Self-Employed
Employ: Homemaker
Employ: Retired
Employ: Unemployed
Employ: Other
Military HH: Yes
Military HH: No
4-Region: Northeast
4-Region: Midwest
4-Region: South
4-Region: West
In Labor Force
In Labor Force and Employed
In Labor Force but Not Employed
Not in Labor Force
Student
Retired
Disabled
Long Term Unemployed
Been laid off or lost a job: Yes
Been laid off or lost a job: No
Lost pay or income: Yes
Lost pay or income: No
Put on temporary leave from job: Yes
Put on temporary leave from job: No
Increased hours worked per week: Yes
Increased hours worked per week: No
Marginally Attached to Labor Force
Recently laid off or furloughed
Single, never married
Married
Separated
Divorced
Widowed
Living with a partner
Parent
Not a Parent
Anticipates Loss
Does Not Anticipate Loss
<20 Employees
<500 Employees
500+ Employees
Children younger than 6
Children ages 7-17
Children younger than 17
Children 18+
Now WFH
Always WFH
Works in IRL
Annual Salary January
Hourly Pay January
January unemployed, looking
Temp leave w/full pay
Temp leave w/some pay
Temp leave w/no pay
Applied for unemployment prev.
Never applied for unemployment
Employment impacted
Impact Feb 15-19
Impact Mar 1-15
Impact Mar 16-31
Impact Apr 1-15
Impact Apr 16-30
Impact May 1-16
Unweighted N
911
403
508
214
93
299
305
110
159
151
440
316
317
278
117
199
152
165
134
144
249
244
322
635
160
116
544
246
121
727
70
93
91
453
49
39
370
54
244
341
184
464
263
30
9
19
123
423
167
55
180
731
172
191
383
165
150
92
58
761
74
415
132
140
58
853
95
816
54
857
39
872
34
81
261
405
17
115
68
45
248
663
38
54
45
65
18
78
140
184
90
26
26
24
0
0
179
5
13
42
233
678
138
41
26
48
20
16
27
Weighted N
1035
446
589
237
114
312
371
125
180
172
497
368
366
301
130
238
175
190
140
161
268
277
356
820
139
76
695
241
99
821
126
135
79
488
53
44
450
60
276
377
243
486
305
27
9
21
139
479
206
68
188
847
178
215
394
248
156
95
61
879
71
473
174
160
68
967
109
926
62
973
47
987
47
93
312
428
20
142
82
50
261
773
36
60
51
68
19
84
150
193
86
21
33
26
187
3
17
46
256
778
156
54
32
51
26
16
28
Margin of Error (Weighted N)
0.03
0.05
0.04
0.06
0.09
0.06
0.05
0.09
0.07
0.07
0.04
0.05
0.05
0.06
0.09
0.06
0.07
0.07
0.08
0.08
0.06
0.06
0.05
0.03
0.08
0.11
0.04
0.06
0.1
0.03
0.09
0.08
0.11
0.04
0.13
0.15
0.05
0.13
0.06
0.05
0.06
0.04
0.06
0.19
0.33
0.21
0.08
0.04
0.07
0.12
0.07
0.03
0.07
0.07
0.05
0.06
0.08
0.1
0.13
0.03
0.12
0.05
0.07
0.08
0.12
0.03
0.09
0.03
0.12
0.03
0.14
0.03
0.14
0.1
0.06
0.05
0.22
0.08
0.11
0.14
0.06
0.04
0.16
0.13
0.14
0.12
0.22
0.11
0.08
0.07
0.11
0.21
0.17
0.19
0.07
0.57
0.24
0.14
0.06
0.04
0.08
0.13
0.17
0.14
0.19
0.24
0.19
Margin of Error (Unweighted N)
0.03
0.05
0.04
0.07
0.1
0.06
0.06
0.09
0.08
0.08
0.05
0.06
0.06
0.06
0.09
0.07
0.08
0.08
0.08
0.08
0.06
0.06
0.05
0.04
0.08
0.09
0.04
0.06
0.09
0.04
0.12
0.1
0.1
0.05
0.14
0.16
0.05
0.13
0.06
0.05
0.07
0.05
0.06
0.18
0.33
0.22
0.09
0.05
0.08
0.13
0.07
0.04
0.07
0.07
0.05
0.08
0.08
0.1
0.13
0.04
0.11
0.05
0.09
0.08
0.13
0.03
0.1
0.03
0.13
0.03
0.16
0.03
0.17
0.11
0.06
0.05
0.24
0.09
0.12
0.15
0.06
0.04
0.16
0.13
0.15
0.12
0.23
0.11
0.08
0.07
0.1
0.19
0.19
0.2
#NUM!
#NUM!
0.07
0.44
0.27
0.15
0.06
0.04
0.08
0.15
0.19
0.14
0.22
0.24
0.19
Yes
0.18
0.19
0.18
0.4
0.25
0.13
0.06
0.43
0.33
0.19
0.07
0.2
0.23
0.11
0.2
0.19
0.21
0.24
0.14
0.08
0.19
0.19
0.15
0.19
0.15
0.13
0.2
0.14
0.14
0.14
0.22
0.26
0.41
0.12
0.11
0.24
0.25
0.14
0.15
0.16
0.24
0.19
0.13
0.42
0.17
0.38
0.15
0.05
0.38
0.17
0.16
0.18
0.23
0.13
0.19
0.18
0.51
0.38
0.72
0.12
0.37
0.05
0.12
0.24
0.46
0.16
0.43
0.15
0.39
0.17
0.24
0.18
0.66
0.48
0.37
0.11
0.11
0.08
0.05
0.15
0.25
0.16
0.51
0.3
0.4
0.38
0.49
0.26
0.33
0.3
0.13
0.33
0.41
0.48
1
0.4
0.32
0.62
0.23
0.17
0.46
0.62
0.5
0.45
0.41
0.45
0.37
No
0.82
0.81
0.82
0.6
0.75
0.87
0.94
0.57
0.67
0.81
0.93
0.8
0.77
0.89
0.8
0.81
0.79
0.76
0.86
0.92
0.81
0.81
0.85
0.81
0.85
0.87
0.8
0.86
0.86
0.86
0.78
0.74
0.59
0.88
0.89
0.76
0.75
0.86
0.85
0.84
0.76
0.81
0.87
0.58
0.83
0.62
0.85
0.95
0.62
0.83
0.84
0.82
0.77
0.87
0.81
0.82
0.49
0.62
0.28
0.88
0.63
0.95
0.88
0.76
0.54
0.84
0.57
0.85
0.61
0.83
0.76
0.82
0.34
0.52
0.63
0.89
0.89
0.92
0.95
0.85
0.75
0.84
0.49
0.7
0.6
0.62
0.51
0.74
0.67
0.7
0.87
0.67
0.59
0.52
0.6
0.68
0.38
0.77
0.83
0.54
0.38
0.5
0.55
0.59
0.55
0.63
JAN UNEMPLOYMENT
0.13776528876729
ECO3 - Were you paid an annual salary or at an hourly rate for your work in January 2020?
Adults
Gender: Male
Gender: Female
Age: 18-34
Age: 35-44
Age: 45-64
Age: 65+
GenZers: 1997-2012
Millennials: 1981-1996
GenXers: 1965-1980
Baby Boomers: 1946-1964
PID: Dem (no lean)
PID: Ind (no lean)
PID: Rep (no lean)
PID/Gender: Dem Men
PID/Gender: Dem Women
PID/Gender: Ind Men
PID/Gender: Ind Women
PID/Gender: Rep Men
PID/Gender: Rep Women
Ideo: Liberal (1-3)
Ideo: Moderate (4)
Ideo: Conservative (5-7)
Educ: < College
Educ: Bachelors degree
Educ: Post-grad
Income: Under 50k
Income: 50k-100k
Income: 100k+
Ethnicity: White
Ethnicity: Hispanic
Ethnicity: Afr. Am.
Ethnicity: Other
All Christian
All Non-Christian
Atheist
Agnostic/Nothing in particular
Religious Non-Protestant/Catholic
Evangelical
Non-Evangelical
Community: Urban
Community: Suburban
Community: Rural
Employ: Private Sector
Employ: Government
Employ: Self-Employed
Employ: Homemaker
Employ: Retired
Employ: Unemployed
Employ: Other
Military HH: Yes
Military HH: No
4-Region: Northeast
4-Region: Midwest
4-Region: South
4-Region: West
In Labor Force
In Labor Force and Employed
In Labor Force but Not Employed
Not in Labor Force
Student
Retired
Disabled
Long Term Unemployed
Been laid off or lost a job: Yes
Been laid off or lost a job: No
Lost pay or income: Yes
Lost pay or income: No
Put on temporary leave from job: Yes
Put on temporary leave from job: No
Increased hours worked per week: Yes
Increased hours worked per week: No
Marginally Attached to Labor Force
Recently laid off or furloughed
Single, never married
Married
Separated
Divorced
Widowed
Living with a partner
Parent
Not a Parent
Anticipates Loss
Does Not Anticipate Loss
<20 Employees
<500 Employees
500+ Employees
Children younger than 6
Children ages 7-17
Children younger than 17
Children 18+
Now WFH
Always WFH
Works in IRL
Annual Salary January
Hourly Pay January
January unemployed, looking
Temp leave w/full pay
Temp leave w/some pay
Temp leave w/no pay
Applied for unemployment prev.
Never applied for unemployment
Employment impacted
Impact Feb 15-19
Impact Mar 1-15
Impact Mar 16-31
Impact Apr 1-15
Impact Apr 16-30
Impact May 1-16
Unweighted N
1289
679
610
465
260
493
71
132
460
404
282
442
435
412
203
239
248
187
228
184
401
341
448
614
397
278
458
484
347
1012
137
115
162
612
71
77
529
84
325
463
335
683
271
728
152
162
9
30
84
64
177
1112
251
324
492
222
1186
1137
49
103
31
24
12
36
120
1169
371
918
192
1097
217
1072
14
245
390
620
18
112
24
125
522
767
318
819
287
589
396
200
338
454
120
400
142
508
468
722
0
48
43
232
250
1039
801
112
147
287
143
88
94
Weighted N
1165
616
549
418
244
439
65
152
398
350
254
417
386
362
202
215
215
171
198
164
342
297
409
692
305
168
498
421
246
901
223
139
125
508
51
67
539
64
297
404
324
597
245
614
131
168
10
31
88
62
158
1007
215
247
431
272
1060
1006
53
106
28
26
11
40
125
1040
349
817
196
969
196
970
14
250
369
528
20
112
23
114
476
689
295
711
271
537
339
171
313
412
112
327
134
469
348
723
46
50
224
239
927
744
115
146
260
165
85
88
Margin of Error (Weighted N)
0.03
0.04
0.04
0.05
0.06
0.05
0.12
0.08
0.05
0.05
0.06
0.05
0.05
0.05
0.07
0.07
0.07
0.07
0.07
0.08
0.05
0.06
0.05
0.04
0.06
0.08
0.04
0.05
0.06
0.03
0.07
0.08
0.09
0.04
0.14
0.12
0.04
0.12
0.06
0.05
0.05
0.04
0.06
0.04
0.09
0.08
0.31
0.18
0.1
0.12
0.08
0.03
0.07
0.06
0.05
0.06
0.03
0.03
0.13
0.1
0.19
0.19
0.3
0.15
0.09
0.03
0.05
0.03
0.07
0.03
0.07
0.03
0.26
0.06
0.05
0.04
0.22
0.09
0.2
0.09
0.04
0.04
0.06
0.04
0.06
0.04
0.05
0.07
0.06
0.05
0.09
0.05
0.08
0.05
0.05
0.04
0.14
0.14
0.07
0.06
0.03
0.04
0.09
0.08
0.06
0.08
0.11
0.1
Margin of Error (Unweighted N)
0.03
0.04
0.04
0.05
0.06
0.04
0.12
0.09
0.05
0.05
0.06
0.05
0.05
0.05
0.07
0.06
0.06
0.07
0.06
0.07
0.05
0.05
0.05
0.04
0.05
0.06
0.05
0.04
0.05
0.03
0.08
0.09
0.08
0.04
0.12
0.11
0.04
0.11
0.05
0.05
0.05
0.04
0.06
0.04
0.08
0.08
0.33
0.18
0.11
0.12
0.07
0.03
0.06
0.05
0.04
0.07
0.03
0.03
0.14
0.1
0.18
0.2
0.28
0.16
0.09
0.03
0.05
0.03
0.07
0.03
0.07
0.03
0.26
0.06
0.05
0.04
0.23
0.09
0.2
0.09
0.04
0.04
0.05
0.03
0.06
0.04
0.05
0.07
0.05
0.05
0.09
0.05
0.08
0.04
0.05
0.04
#NUM!
0.14
0.15
0.06
0.06
0.03
0.03
0.09
0.08
0.06
0.08
0.1
0.1
Annual salary
0.3
0.33
0.26
0.23
0.39
0.32
0.25
0.1
0.31
0.37
0.3
0.28
0.29
0.33
0.26
0.3
0.35
0.2
0.38
0.27
0.34
0.27
0.32
0.14
0.47
0.63
0.14
0.34
0.56
0.31
0.31
0.23
0.28
0.37
0.33
0.24
0.24
0.31
0.29
0.32
0.27
0.36
0.18
0.35
0.4
0.28
0.09
0.14
0.09
0.19
0.34
0.29
0.32
0.29
0.28
0.31
0.32
0.33
0.05
0.12
0.06
0.16
0.24
0.09
0.14
0.32
0.2
0.34
0.2
0.32
0.35
0.29
0.17
0.18
0.19
0.4
0.19
0.26
0.26
0.21
0.36
0.26
0.22
0.38
0.24
0.3
0.36
0.41
0.36
0.36
0.33
0.54
0.41
0.19
1
0.2
0.34
0.12
0.21
0.32
0.24
0.19
0.14
0.2
0.2
0.2
0.28
Hourly rate
0.62
0.59
0.66
0.73
0.52
0.59
0.51
0.83
0.63
0.56
0.57
0.66
0.61
0.58
0.68
0.65
0.56
0.68
0.52
0.65
0.58
0.67
0.58
0.77
0.48
0.26
0.77
0.59
0.37
0.6
0.64
0.71
0.67
0.54
0.5
0.73
0.7
0.53
0.59
0.61
0.64
0.57
0.71
0.62
0.57
0.43
0.91
0.46
0.84
0.77
0.54
0.63
0.6
0.62
0.64
0.61
0.61
0.6
0.91
0.68
0.72
0.44
0.51
0.87
0.78
0.6
0.7
0.59
0.74
0.6
0.59
0.63
0.79
0.76
0.72
0.53
0.71
0.66
0.53
0.69
0.57
0.66
0.66
0.57
0.57
0.6
0.61
0.55
0.56
0.57
0.56
0.44
0.41
0.75
1
0.8
0.62
0.79
0.66
0.61
0.68
0.69
0.79
0.72
0.75
0.76
0.66
Other (please specify):
0.08
0.08
0.08
0.05
0.09
0.09
0.24
0.08
0.06
0.07
0.13
0.06
0.1
0.09
0.06
0.06
0.08
0.12
0.09
0.08
0.07
0.06
0.1
0.09
0.05
0.11
0.1
0.07
0.07
0.09
0.05
0.06
0.05
0.1
0.16
0.03
0.07
0.16
0.11
0.07
0.09
0.07
0.11
0.02
0.03
0.28
0.4
0.07
0.04
0.13
0.07
0.08
0.09
0.07
0.08
0.07
0.07
0.04
0.2
0.21
0.4
0.25
0.04
0.08
0.08
0.1
0.07
0.05
0.09
0.06
0.08
0.04
0.06
0.09
0.07
0.1
0.08
0.22
0.1
0.08
0.09
0.12
0.05
0.19
0.11
0.03
0.04
0.07
0.07
0.1
0.02
0.19
0.06
0.04
0.1
0.13
0.07
0.08
0.12
0.07
0.08
0.05
0.04
0.06
https://www.bls.gov/opub/reports/minimum-wage/2019/home.htm
58% of workers were paid hourly rate as of 2019
ECO4 - Thinking about an average work week in January 2020 (before the outbreak of the coronavirus pandemic in the US), about how many hours per week did you work on average?
Adults
Gender: Male
Gender: Female
Age: 18-34
Age: 35-44
Age: 45-64
Age: 65+
GenZers: 1997-2012
Millennials: 1981-1996
GenXers: 1965-1980
Baby Boomers: 1946-1964
PID: Dem (no lean)
PID: Ind (no lean)
PID: Rep (no lean)
PID/Gender: Dem Men
PID/Gender: Dem Women
PID/Gender: Ind Men
PID/Gender: Ind Women
PID/Gender: Rep Men
PID/Gender: Rep Women
Ideo: Liberal (1-3)
Ideo: Moderate (4)
Ideo: Conservative (5-7)
Educ: < College
Educ: Bachelors degree
Educ: Post-grad
Income: Under 50k
Income: 50k-100k
Income: 100k+
Ethnicity: White
Ethnicity: Hispanic
Ethnicity: Afr. Am.
Ethnicity: Other
All Christian
All Non-Christian
Atheist
Agnostic/Nothing in particular
Religious Non-Protestant/Catholic
Evangelical
Non-Evangelical
Community: Urban
Community: Suburban
Community: Rural
Employ: Private Sector
Employ: Government
Employ: Self-Employed
Employ: Homemaker
Employ: Retired
Employ: Unemployed
Employ: Other
Military HH: Yes
Military HH: No
4-Region: Northeast
4-Region: Midwest
4-Region: South
4-Region: West
In Labor Force
In Labor Force and Employed
In Labor Force but Not Employed
Not in Labor Force
Student
Retired
Disabled
Long Term Unemployed
Been laid off or lost a job: Yes
Been laid off or lost a job: No
Lost pay or income: Yes
Lost pay or income: No
Put on temporary leave from job: Yes
Put on temporary leave from job: No
Increased hours worked per week: Yes
Increased hours worked per week: No
Marginally Attached to Labor Force
Recently laid off or furloughed
Single, never married
Married
Separated
Divorced
Widowed
Living with a partner
Parent
Not a Parent
Anticipates Loss
Does Not Anticipate Loss
<20 Employees
<500 Employees
500+ Employees
Children younger than 6
Children ages 7-17
Children younger than 17
Children 18+
Now WFH
Always WFH
Works in IRL
Annual Salary January
Hourly Pay January
January unemployed, looking
Temp leave w/full pay
Temp leave w/some pay
Temp leave w/no pay
Applied for unemployment prev.
Never applied for unemployment
Employment impacted
Impact Feb 15-19
Impact Mar 1-15
Impact Mar 16-31
Impact Apr 1-15
Impact Apr 16-30
Impact May 1-16
Unweighted N
1289
679
610
465
260
493
71
132
460
404
282
442
435
412
203
239
248
187
228
184
401
341
448
614
397
278
458
484
347
1012
137
115
162
612
71
77
529
84
325
463
335
683
271
728
152
162
9
30
84
64
177
1112
251
324
492
222
1186
1137
49
103
31
24
12
36
120
1169
371
918
192
1097
217
1072
14
245
390
620
18
112
24
125
522
767
318
819
287
589
396
200
338
454
120
400
142
508
468
722
0
48
43
232
250
1039
801
112
147
287
143
88
94
Weighted N
1165
616
549
418
244
439
65
152
398
350
254
417
386
362
202
215
215
171
198
164
342
297
409
692
305
168
498
421
246
901
223
139
125
508
51
67
539
64
297
404
324
597
245
614
131
168
10
31
88
62
158
1007
215
247
431
272
1060
1006
53
106
28
26
11
40
125
1040
349
817
196
969
196
970
14
250
369
528
20
112
23
114
476
689
295
711
271
537
339
171
313
412
112
327
134
469
348
723
46
50
224
239
927
744
115
146
260
165
85
88
Margin of Error (Weighted N)
0.03
0.04
0.04
0.05
0.06
0.05
0.12
0.08
0.05
0.05
0.06
0.05
0.05
0.05
0.07
0.07
0.07
0.07
0.07
0.08
0.05
0.06
0.05
0.04
0.06
0.08
0.04
0.05
0.06
0.03
0.07
0.08
0.09
0.04
0.14
0.12
0.04
0.12
0.06
0.05
0.05
0.04
0.06
0.04
0.09
0.08
0.31
0.18
0.1
0.12
0.08
0.03
0.07
0.06
0.05
0.06
0.03
0.03
0.13
0.1
0.19
0.19
0.3
0.15
0.09
0.03
0.05
0.03
0.07
0.03
0.07
0.03
0.26
0.06
0.05
0.04
0.22
0.09
0.2
0.09
0.04
0.04
0.06
0.04
0.06
0.04
0.05
0.07
0.06
0.05
0.09
0.05
0.08
0.05
0.05
0.04
0.14
0.14
0.07
0.06
0.03
0.04
0.09
0.08
0.06
0.08
0.11
0.1
Margin of Error (Unweighted N)
0.03
0.04
0.04
0.05
0.06
0.04
0.12
0.09
0.05
0.05
0.06
0.05
0.05
0.05
0.07
0.06
0.06
0.07
0.06
0.07
0.05
0.05
0.05
0.04
0.05
0.06
0.05
0.04
0.05
0.03
0.08
0.09
0.08
0.04
0.12
0.11
0.04
0.11
0.05
0.05
0.05
0.04
0.06
0.04
0.08
0.08
0.33
0.18
0.11
0.12
0.07
0.03
0.06
0.05
0.04
0.07
0.03
0.03
0.14
0.1
0.18
0.2
0.28
0.16
0.09
0.03
0.05
0.03
0.07
0.03
0.07
0.03
0.26
0.06
0.05
0.04
0.23
0.09
0.2
0.09
0.04
0.04
0.05
0.03
0.06
0.04
0.05
0.07
0.05
0.05
0.09
0.05
0.08
0.04
0.05
0.04
#NUM!
0.14
0.15
0.06
0.06
0.03
0.03
0.09
0.08
0.06
0.08
0.1
0.1
Fewer than 20
0.1
0.1
0.11
0.13
0.05
0.09
0.2
0.27
0.06
0.06
0.13
0.1
0.1
0.11
0.1
0.11
0.09
0.11
0.11
0.1
0.1
0.08
0.11
0.14
0.05
0.05
0.14
0.08
0.07
0.09
0.1
0.17
0.12
0.1
0.18
0.08
0.1
0.15
0.1
0.13
0.1
0.11
0.1
0.04
0.05
0.15
0.32
0.36
0.15
0.12
0.1
0.1
0.15
0.09
0.1
0.09
0.08
0.08
0.15
0.3
0.46
0.34
0.19
0.19
0.14
0.1
0.11
0.1
0.13
0.1
0.09
0.11
0.41
0.13
0.16
0.07
0.07
0.1
0.21
0.04
0.06
0.13
0.09
0.08
0.15
0.1
0.06
0.03
0.06
0.05
0.1
0.04
0.18
0.07
0.03
0.13
0.09
0.14
0.14
0.12
0.1
0.11
0.12
0.16
0.14
0.15
0.19
0.14
20-25 hours per week
0.09
0.08
0.1
0.11
0.05
0.08
0.15
0.13
0.09
0.06
0.09
0.09
0.09
0.09
0.08
0.1
0.06
0.11
0.08
0.1
0.1
0.1
0.08
0.1
0.06
0.08
0.12
0.07
0.07
0.08
0.11
0.09
0.13
0.08
0.12
0.1
0.09
0.12
0.08
0.08
0.1
0.09
0.09
0.06
0.04
0.17
0.23
0.17
0.09
0.15
0.15
0.08
0.09
0.07
0.1
0.07
0.08
0.08
0.03
0.16
0.27
0.13
0.16
0.1
0.13
0.08
0.12
0.08
0.08
0.09
0.07
0.09
0.09
0.12
0.08
0.03
0.04
0.28
0.07
0.08
0.1
0.12
0.07
0.14
0.11
0.06
0.1
0.09
0.08
0.06
0.05
0.17
0.09
0.06
0.09
0.1
0.12
0.16
0.11
0.08
0.1
0.18
0.1
0.13
0.09
0.1
0.1
26 - 30 hours per week
0.11
0.1
0.12
0.15
0.09
0.08
0.17
0.23
0.11
0.06
0.11
0.13
0.08
0.12
0.13
0.13
0.06
0.11
0.11
0.13
0.1
0.1
0.11
0.14
0.08
0.05
0.17
0.08
0.05
0.12
0.12
0.11
0.08
0.08
0.12
0.22
0.12
0.13
0.11
0.08
0.12
0.1
0.13
0.08
0.11
0.17
0.04
0.18
0.12
0.11
0.11
0.07
0.07
0.12
0.17
0.11
0.11
0.08
0.15
0.08
0.05
0.05
0.29
0.18
0.1
0.15
0.1
0.19
0.1
0.14
0.11
0.1
0.18
0.14
0.07
0.23
0.14
0.13
0.14
0.09
0.13
0.16
0.09
0.15
0.13
0.08
0.13
0.07
0.09
0.07
0.1
0.18
0.09
0.03
0.15
0.26
0.19
0.13
0.09
0.12
0.14
0.18
0.21
0.12
0.21
0.09
0.14
31 - 35 hours per week
0.11
0.11
0.12
0.15
0.09
0.1
0.08
0.15
0.12
0.11
0.08
0.16
0.11
0.07
0.13
0.18
0.13
0.08
0.06
0.08
0.13
0.14
0.06
0.12
0.1
0.12
0.14
0.09
0.09
0.11
0.15
0.14
0.13
0.09
0.13
0.2
0.12
0.11
0.11
0.09
0.14
0.09
0.12
0.11
0.11
0.12
0.13
0.04
0.12
0.15
0.1
0.11
0.14
0.11
0.1
0.11
0.11
0.11
0.17
0.1
0.05
0.05
0.18
0.13
0.11
0.14
0.1
0.15
0.11
0.16
0.1
0.24
0.14
0.11
0.08
0.21
0.19
0.09
0.17
0.11
0.12
0.14
0.1
0.09
0.11
0.11
0.08
0.12
0.11
0.08
0.15
0.07
0.1
0.08
0.13
0.15
0.11
0.14
0.12
0.11
0.13
0.12
0.17
0.11
0.17
0.15
0.11
More than 35 hours per week
0.57
0.6
0.53
0.43
0.69
0.66
0.36
0.18
0.6
0.69
0.59
0.51
0.6
0.61
0.55
0.46
0.64
0.56
0.62
0.6
0.56
0.57
0.63
0.48
0.7
0.7
0.41
0.67
0.72
0.6
0.5
0.46
0.48
0.63
0.44
0.38
0.55
0.49
0.58
0.6
0.53
0.61
0.53
0.7
0.68
0.38
0.32
0.28
0.4
0.44
0.52
0.58
0.53
0.64
0.56
0.55
0.61
0.61
0.55
0.21
0.07
0.3
0.4
0.19
0.41
0.59
0.48
0.61
0.46
0.59
0.55
0.57
0.25
0.45
0.45
0.68
0.46
0.52
0.28
0.56
0.66
0.5
0.49
0.66
0.46
0.54
0.7
0.65
0.66
0.67
0.69
0.65
0.38
0.65
0.79
0.49
0.4
0.43
0.43
0.53
0.58
0.51
0.39
0.36
0.49
0.37
0.46
0.51
Don't Know
0.02
0.02
0.01
0.02
0.01
0.01
0.04
0.03
0.02
0.01
0.01
0.03
0.01
0.01
0.01
0.02
0.03
0.02
0.01
0.01
0.01
0.02
0.01
0.01
0.03
0.01
0
0.01
0.02
0.02
0.05
0.01
0.01
0.02
0.02
0.01
0.01
0.01
0.03
0
0.02
0.02
0.11
0.06
0.01
0.02
0.01
0.01
0.02
0.01
0.02
0.01
0.01
0.02
0.09
0.06
0.13
0.19
0.05
0.01
0.02
0.01
0.02
0.02
0.02
0
0.03
0.01
0.01
0.02
0
0.02
0
0.01
0.01
0.01
0.01
0
0
0.01
0.03
0
0.01
0.01
0
0.03
0.01
0
0.01
0.01
0.01
2020-01-01 00:00:00
Full Time
131099
Part Time
27529
0.82645560682855
https://www.bls.gov/news.release/empsit.t09.htm
Underrepresent Full-time workers
ECO5_1 - Since February 15th, have you experienced any of the following changes in your employment situation?If yes, please select when you experienced this change. If not, please select "No, I have not." \\ Been laid off or lost a job
Adults
Gender: Male
Gender: Female
Age: 18-34
Age: 35-44
Age: 45-64
Age: 65+
GenZers: 1997-2012
Millennials: 1981-1996
GenXers: 1965-1980
Baby Boomers: 1946-1964
PID: Dem (no lean)
PID: Ind (no lean)
PID: Rep (no lean)
PID/Gender: Dem Men
PID/Gender: Dem Women
PID/Gender: Ind Men
PID/Gender: Ind Women
PID/Gender: Rep Men
PID/Gender: Rep Women
Ideo: Liberal (1-3)
Ideo: Moderate (4)
Ideo: Conservative (5-7)
Educ: < College
Educ: Bachelors degree
Educ: Post-grad
Income: Under 50k
Income: 50k-100k
Income: 100k+
Ethnicity: White
Ethnicity: Hispanic
Ethnicity: Afr. Am.
Ethnicity: Other
All Christian
All Non-Christian
Atheist
Agnostic/Nothing in particular
Religious Non-Protestant/Catholic
Evangelical
Non-Evangelical
Community: Urban
Community: Suburban
Community: Rural
Employ: Private Sector
Employ: Government
Employ: Self-Employed
Employ: Homemaker
Employ: Retired
Employ: Unemployed
Employ: Other
Military HH: Yes
Military HH: No
4-Region: Northeast
4-Region: Midwest
4-Region: South
4-Region: West
In Labor Force
In Labor Force and Employed
In Labor Force but Not Employed
Not in Labor Force
Student
Retired
Disabled
Long Term Unemployed
Been laid off or lost a job: Yes
Been laid off or lost a job: No
Lost pay or income: Yes
Lost pay or income: No
Put on temporary leave from job: Yes
Put on temporary leave from job: No
Increased hours worked per week: Yes
Increased hours worked per week: No
Marginally Attached to Labor Force
Recently laid off or furloughed
Single, never married
Married
Separated
Divorced
Widowed
Living with a partner
Parent
Not a Parent
Anticipates Loss
Does Not Anticipate Loss
<20 Employees
<500 Employees
500+ Employees
Children younger than 6
Children ages 7-17
Children younger than 17
Children 18+
Now WFH
Always WFH
Works in IRL
Annual Salary January
Hourly Pay January
January unemployed, looking
Temp leave w/full pay
Temp leave w/some pay
Temp leave w/no pay
Applied for unemployment prev.
Never applied for unemployment
Employment impacted
Impact Feb 15-19
Impact Mar 1-15
Impact Mar 16-31
Impact Apr 1-15
Impact Apr 16-30
Impact May 1-16
Unweighted N
2200
1082
1118
679
353
792
376
242
619
555
722
758
752
690
320
438
400
352
362
328
650
585
770
1249
557
394
1002
730
468
1739
207
208
253
1065
120
116
899
138
569
804
519
1147
534
758
161
181
132
453
251
119
357
1843
423
515
875
387
1336
1229
107
864
105
439
144
176
178
2022
466
1734
246
1954
256
1944
48
326
651
1025
35
227
92
170
770
1430
356
873
332
654
414
278
478
638
210
426
168
532
468
722
179
53
56
274
483
1717
939
153
173
335
163
104
121
Weighted N
2200
1062
1138
655
358
751
436
277
579
522
751
785
752
663
332
452
390
361
339
324
610
573
765
1512
444
244
1193
662
345
1722
349
274
204
996
104
111
989
124
573
780
567
1083
550
642
140
188
149
510
294
131
346
1854
394
462
824
520
1216
1102
114
984
100
499
185
200
193
2007
458
1742
258
1942
243
1957
62
344
682
956
40
254
105
163
737
1463
331
771
322
605
357
255
463
606
197
349
167
496
348
723
187
49
67
271
495
1705
900
169
178
310
190
100
117
Margin of Error (Weighted N)
0.02
0.03
0.03
0.04
0.05
0.04
0.05
0.06
0.04
0.04
0.04
0.03
0.04
0.04
0.05
0.05
0.05
0.05
0.05
0.05
0.04
0.04
0.04
0.03
0.05
0.06
0.03
0.04
0.05
0.02
0.05
0.06
0.07
0.03
0.1
0.09
0.03
0.09
0.04
0.04
0.04
0.03
0.04
0.04
0.08
0.07
0.08
0.04
0.06
0.09
0.05
0.02
0.05
0.05
0.03
0.04
0.03
0.03
0.09
0.03
0.1
0.04
0.07
0.07
0.07
0.02
0.05
0.02
0.06
0.02
0.06
0.02
0.12
0.05
0.04
0.03
0.15
0.06
0.1
0.08
0.04
0.03
0.05
0.04
0.05
0.04
0.05
0.06
0.05
0.04
0.07
0.05
0.08
0.04
0.05
0.04
0.07
0.14
0.12
0.06
0.04
0.02
0.03
0.08
0.07
0.06
0.07
0.1
0.09
Margin of Error (Unweighted N)
0.02
0.03
0.03
0.04
0.05
0.03
0.05
0.06
0.04
0.04
0.04
0.04
0.04
0.04
0.05
0.05
0.05
0.05
0.05
0.05
0.04
0.04
0.04
0.03
0.04
0.05
0.03
0.04
0.05
0.02
0.07
0.07
0.06
0.03
0.09
0.09
0.03
0.08
0.04
0.03
0.04
0.03
0.04
0.04
0.08
0.07
0.09
0.05
0.06
0.09
0.05
0.02
0.05
0.04
0.03
0.05
0.03
0.03
0.09
0.03
0.1
0.05
0.08
0.07
0.07
0.02
0.05
0.02
0.06
0.02
0.06
0.02
0.14
0.05
0.04
0.03
0.17
0.07
0.1
0.08
0.04
0.03
0.05
0.03
0.05
0.04
0.05
0.06
0.04
0.04
0.07
0.05
0.08
0.04
0.05
0.04
0.07
0.13
0.13
0.06
0.04
0.02
0.03
0.08
0.07
0.05
0.08
0.1
0.09
Yes, Feb 15-19
0.03
0.04
0.03
0.06
0.04
0.02
0.01
0.05
0.05
0.02
0.02
0.04
0.03
0.03
0.07
0.01
0.02
0.04
0.03
0.03
0.05
0.02
0.02
0.04
0.02
0.02
0.04
0.03
0.01
0.03
0.06
0.04
0.02
0.02
0.03
0.01
0.05
0.02
0.02
0.04
0.04
0.03
0.03
0.03
0.04
0.09
0.01
0.01
0.07
0
0.05
0.03
0.03
0.04
0.03
0.04
0.05
0.04
0.12
0.01
0.07
0.01
0.01
0.01
0.1
0.03
0.05
0.03
0.06
0.03
0.03
0.03
0.03
0.07
0.04
0.03
0.03
0.03
0.01
0.06
0.05
0.02
0.08
0.02
0.07
0.05
0.01
0.05
0.06
0.05
0.04
0.01
0.05
0.05
0.03
0.04
0.08
0.05
0.11
0.16
0.06
0.02
0.08
0.42
0.03
0.02
0.05
0.03
Yes, March 1-15
0.03
0.03
0.03
0.04
0.01
0.03
0.02
0.03
0.03
0.04
0.02
0.03
0.03
0.02
0.03
0.03
0.03
0.03
0.02
0.02
0.03
0.03
0.02
0.02
0.04
0.03
0.03
0.02
0.03
0.02
0.04
0.04
0.05
0.03
0.05
0.01
0.02
0.05
0.02
0.03
0.03
0.03
0.02
0.02
0.01
0.04
0.02
0.01
0.08
0.04
0.02
0.03
0.03
0.01
0.03
0.03
0.03
0.02
0.16
0.02
0.02
0.01
0.03
0.03
0.16
0.01
0.07
0.01
0.09
0.02
0.01
0.03
0.05
0.11
0.03
0.02
0.06
0.04
0.01
0.04
0.03
0.03
0.04
0.01
0.03
0.02
0.02
0.03
0.03
0.03
0.03
0.01
0.02
0.03
0.01
0.04
0.06
0.03
0.09
0.11
0.05
0.02
0.07
0.04
0.33
0.02
0.03
0.01
0.01
Yes, March 16-31
0.05
0.04
0.06
0.06
0.06
0.05
0.02
0.07
0.05
0.05
0.04
0.06
0.05
0.03
0.07
0.05
0.03
0.08
0.03
0.03
0.06
0.06
0.03
0.05
0.04
0.05
0.06
0.04
0.04
0.04
0.05
0.08
0.06
0.04
0.04
0.08
0.06
0.04
0.04
0.04
0.04
0.05
0.04
0.05
0.02
0.1
0
0.01
0.11
0.04
0.03
0.05
0.05
0.05
0.05
0.04
0.06
0.06
0.13
0.03
0.05
0.01
0.02
0.08
0.25
0.03
0.13
0.03
0.16
0.03
0.06
0.05
0.17
0.18
0.06
0.04
0.11
0.05
0.02
0.04
0.05
0.05
0.14
0.02
0.1
0.07
0.06
0.04
0.06
0.05
0.07
0.03
0.05
0.06
0.02
0.1
0.06
0.23
0.12
0.25
0.07
0.04
0.12
0.07
0.13
0.34
0.09
0.04
0.02
Yes, April 1-15
0.02
0.01
0.02
0.03
0.01
0.01
0.01
0.05
0.02
0.01
0.01
0.02
0.01
0.01
0.02
0.02
0.01
0.02
0.01
0.01
0.02
0.01
0.02
0.02
0.01
0.01
0.02
0.01
0
0.01
0.04
0.04
0.02
0.01
0.03
0.04
0.02
0.03
0.01
0.01
0.02
0.01
0.03
0.02
0.01
0.05
0
0.02
0.02
0.01
0.02
0.01
0.02
0.01
0.02
0.03
0.02
0.06
0
0
0
0.05
0.01
0.04
0.01
0.05
0.01
0.04
0.01
0.05
0.02
0
0.01
0.02
0.05
0.02
0.02
0.04
0.02
0.04
0.03
0.02
0.03
0.01
0.02
0
0.03
0.06
0.01
0.01
0.03
0.08
0.12
0.05
0.04
0.01
0.04
0.05
0.04
0.06
0.18
0.09
0.03
Yes, April 16-31
0.01
0.01
0.01
0.02
0.01
0
0.01
0.02
0.02
0
0
0.01
0.01
0.01
0.01
0.01
0.01
0
0.01
0.01
0.01
0.01
0.01
0.01
0.01
0.01
0.01
0.01
0.01
0.01
0.02
0.01
0.03
0.01
0.01
0.01
0.01
0.01
0.01
0.01
0.01
0.01
0
0.02
0.02
0.01
0.02
0.02
0.02
0.01
0.01
0
0.02
0.01
0.01
0.04
0.01
0.01
0
0.01
0.01
0.06
0
0.02
0.01
0.04
0.01
0.02
0.01
0.02
0.04
0.02
0.01
0
0.02
0.01
0.01
0.01
0.01
0.02
0.02
0
0.02
0.01
0.01
0.01
0.01
0.02
0.01
0.01
0.02
0.02
0.07
0.03
0.03
0.02
0.01
0.02
0.01
0.01
0.01
0.05
0.21
0.04
Yes, May 1-16
0.01
0.02
0.01
0.03
0.02
0
0
0.04
0.01
0.01
0
0.02
0.01
0.01
0.03
0.01
0.01
0.01
0.01
0.02
0.02
0.01
0.01
0.01
0.02
0
0.02
0.01
0.01
0.01
0.02
0.01
0.01
0.01
0.01
0.03
0.02
0
0.01
0.01
0.02
0.01
0.01
0.02
0.04
0.02
0.01
0.01
0.02
0.01
0.01
0.01
0
0.02
0.01
0.02
0.02
0.03
0
0.01
0.01
0
0.08
0.01
0.05
0
0.06
0.01
0.02
0.01
0.01
0.06
0.02
0.01
0.01
0.01
0.02
0.01
0.05
0.01
0.01
0.02
0.02
0.01
0.03
0.02
0.02
0.02
0.03
0.02
0.02
0.02
0.02
0.03
0.04
0.05
0.01
0.01
0.03
0.02
0.01
0.02
0.05
0.11
0.25
No, I have not
0.85
0.85
0.85
0.77
0.86
0.88
0.94
0.73
0.81
0.86
0.91
0.83
0.86
0.88
0.79
0.86
0.89
0.82
0.88
0.88
0.81
0.86
0.9
0.85
0.87
0.88
0.82
0.89
0.9
0.87
0.77
0.78
0.81
0.89
0.83
0.83
0.83
0.85
0.89
0.86
0.84
0.86
0.86
0.87
0.87
0.69
0.93
0.97
0.7
0.85
0.86
0.85
0.86
0.87
0.83
0.87
0.8
0.83
0.47
0.92
0.85
0.97
0.92
0.86
0.3
0.91
0.63
0.91
0.54
0.9
0.82
0.86
0.72
0.5
0.81
0.89
0.79
0.85
0.95
0.77
0.82
0.87
0.64
0.91
0.73
0.8
0.87
0.83
0.81
0.81
0.83
0.89
0.78
0.82
0.9
0.75
0.76
0.51
0.5
0.35
0.75
0.88
0.64
0.4
0.44
0.53
0.55
0.53
0.63
ECO5_2 - Since February 15th, have you experienced any of the following changes in your employment situation?If yes, please select when you experienced this change. If not, please select "No, I have not." \\ Lost pay or income
Adults
Gender: Male
Gender: Female
Age: 18-34
Age: 35-44
Age: 45-64
Age: 65+
GenZers: 1997-2012
Millennials: 1981-1996
GenXers: 1965-1980
Baby Boomers: 1946-1964
PID: Dem (no lean)
PID: Ind (no lean)
PID: Rep (no lean)
PID/Gender: Dem Men
PID/Gender: Dem Women
PID/Gender: Ind Men
PID/Gender: Ind Women
PID/Gender: Rep Men
PID/Gender: Rep Women
Ideo: Liberal (1-3)
Ideo: Moderate (4)
Ideo: Conservative (5-7)
Educ: < College
Educ: Bachelors degree
Educ: Post-grad
Income: Under 50k
Income: 50k-100k
Income: 100k+
Ethnicity: White
Ethnicity: Hispanic
Ethnicity: Afr. Am.
Ethnicity: Other
All Christian
All Non-Christian
Atheist
Agnostic/Nothing in particular
Religious Non-Protestant/Catholic
Evangelical
Non-Evangelical
Community: Urban
Community: Suburban
Community: Rural
Employ: Private Sector
Employ: Government
Employ: Self-Employed
Employ: Homemaker
Employ: Retired
Employ: Unemployed
Employ: Other
Military HH: Yes
Military HH: No
4-Region: Northeast
4-Region: Midwest
4-Region: South
4-Region: West
In Labor Force
In Labor Force and Employed
In Labor Force but Not Employed
Not in Labor Force
Student
Retired
Disabled
Long Term Unemployed
Been laid off or lost a job: Yes
Been laid off or lost a job: No
Lost pay or income: Yes
Lost pay or income: No
Put on temporary leave from job: Yes
Put on temporary leave from job: No
Increased hours worked per week: Yes
Increased hours worked per week: No
Marginally Attached to Labor Force
Recently laid off or furloughed
Single, never married
Married
Separated
Divorced
Widowed
Living with a partner
Parent
Not a Parent
Anticipates Loss
Does Not Anticipate Loss
<20 Employees
<500 Employees
500+ Employees
Children younger than 6
Children ages 7-17
Children younger than 17
Children 18+
Now WFH
Always WFH
Works in IRL
Annual Salary January
Hourly Pay January
January unemployed, looking
Temp leave w/full pay
Temp leave w/some pay
Temp leave w/no pay
Applied for unemployment prev.
Never applied for unemployment
Employment impacted
Impact Feb 15-19
Impact Mar 1-15
Impact Mar 16-31
Impact Apr 1-15
Impact Apr 16-30
Impact May 1-16
Unweighted N
2200
1082
1118
679
353
792
376
242
619
555
722
758
752
690
320
438
400
352
362
328
650
585
770
1249
557
394
1002
730
468
1739
207
208
253
1065
120
116
899
138
569
804
519
1147
534
758
161
181
132
453
251
119
357
1843
423
515
875
387
1336
1229
107
864
105
439
144
176
178
2022
466
1734
246
1954
256
1944
48
326
651
1025
35
227
92
170
770
1430
356
873
332
654
414
278
478
638
210
426
168
532
468
722
179
53
56
274
483
1717
939
153
173
335
163
104
121
Weighted N
2200
1062
1138
655
358
751
436
277
579
522
751
785
752
663
332
452
390
361
339
324
610
573
765
1512
444
244
1193
662
345
1722
349
274
204
996
104
111
989
124
573
780
567
1083
550
642
140
188
149
510
294
131
346
1854
394
462
824
520
1216
1102
114
984
100
499
185
200
193
2007
458
1742
258
1942
243
1957
62
344
682
956
40
254
105
163
737
1463
331
771
322
605
357
255
463
606
197
349
167
496
348
723
187
49
67
271
495
1705
900
169
178
310
190
100
117
Margin of Error (Weighted N)
0.02
0.03
0.03
0.04
0.05
0.04
0.05
0.06
0.04
0.04
0.04
0.03
0.04
0.04
0.05
0.05
0.05
0.05
0.05
0.05
0.04
0.04
0.04
0.03
0.05
0.06
0.03
0.04
0.05
0.02
0.05
0.06
0.07
0.03
0.1
0.09
0.03
0.09
0.04
0.04
0.04
0.03
0.04
0.04
0.08
0.07
0.08
0.04
0.06
0.09
0.05
0.02
0.05
0.05
0.03
0.04
0.03
0.03
0.09
0.03
0.1
0.04
0.07
0.07
0.07
0.02
0.05
0.02
0.06
0.02
0.06
0.02
0.12
0.05
0.04
0.03
0.15
0.06
0.1
0.08
0.04
0.03
0.05
0.04
0.05
0.04
0.05
0.06
0.05
0.04
0.07
0.05
0.08
0.04
0.05
0.04
0.07
0.14
0.12
0.06
0.04
0.02
0.03
0.08
0.07
0.06
0.07
0.1
0.09
Margin of Error (Unweighted N)
0.02
0.03
0.03
0.04
0.05
0.03
0.05
0.06
0.04
0.04
0.04
0.04
0.04
0.04
0.05
0.05
0.05
0.05
0.05
0.05
0.04
0.04
0.04
0.03
0.04
0.05
0.03
0.04
0.05
0.02
0.07
0.07
0.06
0.03
0.09
0.09
0.03
0.08
0.04
0.03
0.04
0.03
0.04
0.04
0.08
0.07
0.09
0.05
0.06
0.09
0.05
0.02
0.05
0.04
0.03
0.05
0.03
0.03
0.09
0.03
0.1
0.05
0.08
0.07
0.07
0.02
0.05
0.02
0.06
0.02
0.06
0.02
0.14
0.05
0.04
0.03
0.17
0.07
0.1
0.08
0.04
0.03
0.05
0.03
0.05
0.04
0.05
0.06
0.04
0.04
0.07
0.05
0.08
0.04
0.05
0.04
0.07
0.13
0.13
0.06
0.04
0.02
0.03
0.08
0.07
0.05
0.08
0.1
0.09
Yes, Feb 15-19
0.05
0.05
0.04
0.06
0.06
0.05
0.01
0.05
0.07
0.05
0.03
0.06
0.05
0.03
0.09
0.04
0.04
0.05
0.02
0.04
0.05
0.05
0.03
0.05
0.04
0.03
0.06
0.04
0.02
0.04
0.06
0.06
0.06
0.03
0.07
0.03
0.06
0.06
0.04
0.05
0.06
0.05
0.03
0.05
0.01
0.1
0.07
0.01
0.09
0
0.06
0.04
0.05
0.05
0.05
0.04
0.06
0.05
0.15
0.03
0.07
0.01
0.06
0.04
0.1
0.04
0.11
0.03
0.1
0.04
0.05
0.05
0.04
0.09
0.06
0.04
0.06
0.06
0.01
0.04
0.07
0.04
0.13
0.02
0.08
0.07
0.03
0.07
0.08
0.07
0.05
0.04
0.05
0.06
0.03
0.06
0.13
0.08
0.07
0.17
0.07
0.04
0.11
0.6
0.03
0.02
0.01
0.01
0.02
Yes, March 1-15
0.05
0.06
0.05
0.08
0.01
0.05
0.03
0.09
0.06
0.05
0.04
0.07
0.04
0.04
0.08
0.06
0.05
0.04
0.04
0.03
0.07
0.05
0.04
0.05
0.06
0.06
0.05
0.06
0.04
0.05
0.08
0.06
0.06
0.05
0.09
0.06
0.05
0.1
0.03
0.05
0.06
0.05
0.04
0.06
0.04
0.11
0.02
0.08
0.09
0.04
0.05
0.06
0.02
0.04
0.09
0.08
0.07
0.16
0.02
0.03
0.01
0.03
0.02
0.19
0.04
0.17
0.02
0.13
0.04
0.05
0.05
0.01
0.15
0.06
0.05
0.11
0.04
0.02
0.06
0.05
0.05
0.13
0.05
0.08
0.09
0.06
0.05
0.05
0.05
0.05
0.05
0.09
0.07
0.03
0.11
0.03
0.22
0.17
0.16
0.07
0.05
0.13
0.12
0.64
0.08
0.05
0.02
0.03
Yes, March 16-31
0.09
0.08
0.09
0.1
0.08
0.1
0.04
0.1
0.09
0.09
0.08
0.09
0.09
0.07
0.09
0.09
0.09
0.1
0.06
0.08
0.1
0.08
0.09
0.08
0.11
0.09
0.08
0.09
0.09
0.08
0.1
0.11
0.11
0.08
0.12
0.09
0.09
0.12
0.09
0.08
0.09
0.09
0.08
0.1
0.05
0.16
0
0.02
0.14
0.13
0.05
0.09
0.09
0.1
0.09
0.07
0.12
0.11
0.17
0.05
0.11
0.01
0.02
0.12
0.2
0.08
0.25
0.04
0.27
0.06
0.11
0.08
0.2
0.24
0.1
0.08
0.12
0.09
0.06
0.08
0.1
0.08
0.23
0.06
0.16
0.13
0.11
0.09
0.1
0.11
0.11
0.1
0.08
0.14
0.09
0.15
0.09
0.06
0.26
0.37
0.14
0.07
0.21
0.05
0.08
0.61
0.12
0.1
0.11
Yes, April 1-15
0.05
0.05
0.04
0.08
0.04
0.04
0.02
0.07
0.07
0.03
0.03
0.03
0.04
0.07
0.03
0.04
0.04
0.04
0.07
0.06
0.05
0.05
0.05
0.05
0.03
0.03
0.05
0.05
0.04
0.05
0.09
0.04
0.05
0.04
0.02
0.05
0.05
0.02
0.04
0.04
0.04
0.05
0.04
0.07
0.03
0.11
0.03
0.01
0.04
0.03
0.04
0.05
0.03
0.04
0.05
0.06
0.08
0.07
0.11
0.01
0.03
0.01
0
0.12
0.04
0.12
0.03
0.09
0.04
0.07
0.04
0.11
0.05
0.04
0.02
0.04
0.1
0.05
0.04
0.1
0.06
0.08
0.08
0.07
0.08
0.05
0.05
0.03
0.07
0.09
0.07
0.06
0.09
0.03
0.03
0.22
0.12
0.05
0.05
0.11
0.06
0.06
0.09
0.53
0.08
0.03
Yes, April 16-31
0.03
0.03
0.02
0.04
0.01
0.02
0.01
0.07
0.02
0.02
0.02
0.03
0.02
0.03
0.03
0.03
0.02
0.02
0.03
0.02
0.02
0.02
0.03
0.02
0.03
0.03
0.03
0.02
0.03
0.02
0.04
0.03
0.06
0.02
0.06
0.03
0.02
0.05
0.02
0.02
0.04
0.02
0.02
0.05
0.01
0.04
0
0.01
0.02
0.04
0.02
0.03
0.03
0.02
0.03
0.02
0.04
0.04
0.03
0.01
0.03
0.01
0
0.01
0.04
0.02
0.08
0.01
0.07
0.02
0.02
0.03
0.02
0.06
0.04
0.02
0.01
0.03
0.01
0.02
0.02
0.03
0.09
0.02
0.05
0.05
0.04
0.02
0.02
0.03
0.02
0.05
0.05
0.03
0.04
0.04
0.02
0.12
0.09
0.05
0.04
0.02
0.06
0.02
0.03
0.02
0.09
0.56
0.1
Yes, May 1-16
0.02
0.02
0.02
0.04
0.03
0.02
0.01
0.04
0.03
0.02
0.01
0.03
0.02
0.02
0.03
0.03
0.02
0.02
0.02
0.01
0.03
0.03
0.02
0.02
0.03
0.03
0.03
0.02
0.02
0.02
0.02
0.03
0.02
0.02
0.02
0.02
0.03
0.02
0.01
0.03
0.04
0.02
0.02
0.04
0.05
0.03
0.01
0
0.01
0.04
0.02
0.02
0.02
0.03
0.02
0.02
0.04
0.04
0.02
0.01
0.02
0
0.02
0.01
0.06
0.02
0.09
0.01
0.07
0.02
0.02
0.02
0.03
0.06
0.03
0.02
0.01
0.02
0.01
0.04
0.03
0.02
0.09
0.02
0.04
0.04
0.03
0.04
0.03
0.03
0.03
0.04
0.01
0.04
0.04
0.03
0.02
0.02
0.02
0.06
0.02
0.03
0.06
0.03
0.01
0.02
0.03
0.07
0.45
No, I have not
0.72
0.71
0.73
0.59
0.77
0.72
0.87
0.58
0.65
0.73
0.79
0.68
0.73
0.75
0.64
0.71
0.73
0.73
0.75
0.74
0.68
0.72
0.74
0.72
0.71
0.73
0.7
0.73
0.76
0.74
0.61
0.66
0.64
0.76
0.61
0.71
0.69
0.64
0.76
0.73
0.67
0.72
0.77
0.64
0.81
0.44
0.88
0.94
0.62
0.68
0.77
0.71
0.72
0.74
0.72
0.7
0.59
0.61
0.36
0.88
0.71
0.95
0.87
0.79
0.3
0.76
0.19
0.86
0.28
0.78
0.67
0.73
0.7
0.29
0.66
0.75
0.67
0.74
0.86
0.66
0.68
0.74
0.23
0.78
0.51
0.54
0.66
0.64
0.67
0.66
0.7
0.65
0.64
0.6
0.72
0.52
0.68
0.47
0.17
0.07
0.61
0.75
0.31
0.11
0.16
0.17
0.17
0.17
0.25
ECO5_3 - Since February 15th, have you experienced any of the following changes in your employment situation?If yes, please select when you experienced this change. If not, please select "No, I have not." \\ Put on temporary leave from job
Adults
Gender: Male
Gender: Female
Age: 18-34
Age: 35-44
Age: 45-64
Age: 65+
GenZers: 1997-2012
Millennials: 1981-1996
GenXers: 1965-1980
Baby Boomers: 1946-1964
PID: Dem (no lean)
PID: Ind (no lean)
PID: Rep (no lean)
PID/Gender: Dem Men
PID/Gender: Dem Women
PID/Gender: Ind Men
PID/Gender: Ind Women
PID/Gender: Rep Men
PID/Gender: Rep Women
Ideo: Liberal (1-3)
Ideo: Moderate (4)
Ideo: Conservative (5-7)
Educ: < College
Educ: Bachelors degree
Educ: Post-grad
Income: Under 50k
Income: 50k-100k
Income: 100k+
Ethnicity: White
Ethnicity: Hispanic
Ethnicity: Afr. Am.
Ethnicity: Other
All Christian
All Non-Christian
Atheist
Agnostic/Nothing in particular
Religious Non-Protestant/Catholic
Evangelical
Non-Evangelical
Community: Urban
Community: Suburban
Community: Rural
Employ: Private Sector
Employ: Government
Employ: Self-Employed
Employ: Homemaker
Employ: Retired
Employ: Unemployed
Employ: Other
Military HH: Yes
Military HH: No
4-Region: Northeast
4-Region: Midwest
4-Region: South
4-Region: West
In Labor Force
In Labor Force and Employed
In Labor Force but Not Employed
Not in Labor Force
Student
Retired
Disabled
Long Term Unemployed
Been laid off or lost a job: Yes
Been laid off or lost a job: No
Lost pay or income: Yes
Lost pay or income: No
Put on temporary leave from job: Yes
Put on temporary leave from job: No
Increased hours worked per week: Yes
Increased hours worked per week: No
Marginally Attached to Labor Force
Recently laid off or furloughed
Single, never married
Married
Separated
Divorced
Widowed
Living with a partner
Parent
Not a Parent
Anticipates Loss
Does Not Anticipate Loss
<20 Employees
<500 Employees
500+ Employees
Children younger than 6
Children ages 7-17
Children younger than 17
Children 18+
Now WFH
Always WFH
Works in IRL
Annual Salary January
Hourly Pay January
January unemployed, looking
Temp leave w/full pay
Temp leave w/some pay
Temp leave w/no pay
Applied for unemployment prev.
Never applied for unemployment
Employment impacted
Impact Feb 15-19
Impact Mar 1-15
Impact Mar 16-31
Impact Apr 1-15
Impact Apr 16-30
Impact May 1-16
Unweighted N
2200
1082
1118
679
353
792
376
242
619
555
722
758
752
690
320
438
400
352
362
328
650
585
770
1249
557
394
1002
730
468
1739
207
208
253
1065
120
116
899
138
569
804
519
1147
534
758
161
181
132
453
251
119
357
1843
423
515
875
387
1336
1229
107
864
105
439
144
176
178
2022
466
1734
246
1954
256
1944
48
326
651
1025
35
227
92
170
770
1430
356
873
332
654
414
278
478
638
210
426
168
532
468
722
179
53
56
274
483
1717
939
153
173
335
163
104
121
Weighted N
2200
1062
1138
655
358
751
436
277
579
522
751
785
752
663
332
452
390
361
339
324
610
573
765
1512
444
244
1193
662
345
1722
349
274
204
996
104
111
989
124
573
780
567
1083
550
642
140
188
149
510
294
131
346
1854
394
462
824
520
1216
1102
114
984
100
499
185
200
193
2007
458
1742
258
1942
243
1957
62
344
682
956
40
254
105
163
737
1463
331
771
322
605
357
255
463
606
197
349
167
496
348
723
187
49
67
271
495
1705
900
169
178
310
190
100
117
Margin of Error (Weighted N)
0.02
0.03
0.03
0.04
0.05
0.04
0.05
0.06
0.04
0.04
0.04
0.03
0.04
0.04
0.05
0.05
0.05
0.05
0.05
0.05
0.04
0.04
0.04
0.03
0.05
0.06
0.03
0.04
0.05
0.02
0.05
0.06
0.07
0.03
0.1
0.09
0.03
0.09
0.04
0.04
0.04
0.03
0.04
0.04
0.08
0.07
0.08
0.04
0.06
0.09
0.05
0.02
0.05
0.05
0.03
0.04
0.03
0.03
0.09
0.03
0.1
0.04
0.07
0.07
0.07
0.02
0.05
0.02
0.06
0.02
0.06
0.02
0.12
0.05
0.04
0.03
0.15
0.06
0.1
0.08
0.04
0.03
0.05
0.04
0.05
0.04
0.05
0.06
0.05
0.04
0.07
0.05
0.08
0.04
0.05
0.04
0.07
0.14
0.12
0.06
0.04
0.02
0.03
0.08
0.07
0.06
0.07
0.1
0.09
Margin of Error (Unweighted N)
0.02
0.03
0.03
0.04
0.05
0.03
0.05
0.06
0.04
0.04
0.04
0.04
0.04
0.04
0.05
0.05
0.05
0.05
0.05
0.05
0.04
0.04
0.04
0.03
0.04
0.05
0.03
0.04
0.05
0.02
0.07
0.07
0.06
0.03
0.09
0.09
0.03
0.08
0.04
0.03
0.04
0.03
0.04
0.04
0.08
0.07
0.09
0.05
0.06
0.09
0.05
0.02
0.05
0.04
0.03
0.05
0.03
0.03
0.09
0.03
0.1
0.05
0.08
0.07
0.07
0.02
0.05
0.02
0.06
0.02
0.06
0.02
0.14
0.05
0.04
0.03
0.17
0.07
0.1
0.08
0.04
0.03
0.05
0.03
0.05
0.04
0.05
0.06
0.04
0.04
0.07
0.05
0.08
0.04
0.05
0.04
0.07
0.13
0.13
0.06
0.04
0.02
0.03
0.08
0.07
0.05
0.08
0.1
0.09
Yes, Feb 15-19
0.03
0.03
0.03
0.06
0.05
0.02
0.01
0.09
0.05
0.02
0.01
0.05
0.02
0.02
0.08
0.03
0.02
0.03
0.01
0.04
0.06
0.03
0.01
0.04
0.02
0.02
0.04
0.02
0.02
0.03
0.06
0.07
0.03
0.02
0.01
0.03
0.05
0.01
0.02
0.03
0.04
0.03
0.02
0.04
0.04
0.07
0
0
0.04
0.02
0.04
0.03
0.02
0.04
0.03
0.04
0.05
0.05
0.08
0.01
0.04
0
0.02
0
0.11
0.02
0.08
0.02
0.11
0.02
0.08
0.03
0.1
0.05
0.02
0.06
0.03
0.01
0.05
0.05
0.03
0.1
0.03
0.08
0.07
0.02
0.05
0.05
0.05
0.04
0.03
0.06
0.05
0.01
0.06
0.04
0.2
0.16
0.19
0.05
0.03
0.08
0.42
0.07
0.04
0.07
0.01
0
Yes, March 1-15
0.03
0.04
0.03
0.05
0.02
0.04
0.01
0.05
0.03
0.05
0.02
0.04
0.03
0.03
0.06
0.02
0.03
0.03
0.03
0.03
0.03
0.03
0.03
0.03
0.04
0.03
0.03
0.04
0.02
0.03
0.03
0.06
0.03
0.02
0.08
0.04
0.03
0.07
0.03
0.03
0.04
0.03
0.03
0.04
0.03
0.07
0
0.07
0.02
0.03
0.03
0.04
0.01
0.03
0.04
0.05
0.04
0.11
0.01
0.01
0
0.01
0.02
0.13
0.02
0.08
0.02
0.16
0.01
0.03
0.03
0.15
0.04
0.04
0.06
0.02
0.03
0.03
0.03
0.09
0.03
0.06
0.06
0.03
0.02
0.04
0.03
0.02
0.04
0.04
0.05
0.02
0.07
0.03
0.28
0.16
0.17
0.05
0.03
0.08
0.03
0.4
0.05
0.04
0.05
0.03
Yes, March 16-31
0.06
0.06
0.06
0.07
0.08
0.07
0.02
0.07
0.08
0.06
0.05
0.06
0.07
0.05
0.07
0.05
0.05
0.09
0.06
0.04
0.06
0.05
0.06
0.06
0.06
0.06
0.06
0.07
0.05
0.06
0.07
0.07
0.08
0.06
0.08
0.1
0.06
0.08
0.06
0.06
0.07
0.06
0.05
0.08
0.04
0.09
0.01
0.1
0.09
0.05
0.06
0.07
0.06
0.06
0.06
0.08
0.08
0.11
0.04
0.09
0.01
0.02
0.11
0.17
0.05
0.14
0.04
0.27
0.03
0.05
0.06
0.17
0.23
0.08
0.05
0.13
0.05
0.03
0.07
0.07
0.06
0.16
0.04
0.09
0.08
0.08
0.07
0.07
0.07
0.07
0.06
0.04
0.09
0.06
0.12
0.06
0.23
0.29
0.39
0.09
0.05
0.15
0.06
0.06
0.44
0.06
0.04
0.08
Yes, April 1-15
0.02
0.02
0.02
0.04
0.01
0.02
0.01
0.04
0.03
0.02
0.02
0.02
0.03
0.03
0.02
0.02
0.03
0.03
0.02
0.03
0.03
0.02
0.02
0.03
0.01
0.02
0.03
0.01
0.01
0.02
0.05
0.01
0.05
0.02
0.02
0.02
0.03
0.02
0.03
0.02
0.03
0.02
0.03
0.03
0.01
0.07
0.02
0.01
0.01
0.04
0.02
0.02
0.01
0.02
0.04
0.02
0.03
0.03
0.05
0.01
0.02
0.01
0.01
0.07
0.02
0.04
0.02
0.11
0.01
0.02
0.02
0.04
0.1
0.03
0.02
0.01
0.02
0.08
0.02
0.03
0.06
0.02
0.05
0.04
0.03
0.02
0.02
0.02
0.01
0.04
0.03
0.03
0.03
0.04
0.03
0.2
0.12
0.12
0.04
0.02
0.06
0.02
0.06
0.05
0.26
0.09
0.03
Yes, April 16-31
0.01
0.02
0.01
0.03
0.01
0.01
0.01
0.02
0.02
0.01
0.01
0.01
0.02
0.02
0.01
0.01
0.02
0.01
0.02
0.01
0.01
0.02
0.01
0.01
0.02
0.01
0.02
0.01
0.01
0.01
0.02
0.02
0.03
0.01
0.01
0.01
0.02
0.01
0.01
0.01
0.02
0.01
0.01
0.02
0.03
0.01
0.02
0
0.02
0.02
0.02
0.01
0.01
0.01
0.02
0.01
0.02
0.02
0.04
0.01
0.01
0
0
0.01
0.07
0.01
0.04
0.01
0.06
0.01
0
0.01
0.02
0.06
0.02
0.01
0.01
0.01
0.01
0.01
0.01
0.05
0.01
0.01
0.01
0.02
0.02
0.01
0.01
0.03
0
0.02
0.01
0.03
0.01
0.05
0.1
0.08
0.02
0.01
0.03
0.02
0.06
0.3
0.06
Yes, May 1-16
0.01
0.02
0.01
0.02
0.01
0.01
0.01
0.02
0.02
0.01
0
0.02
0.01
0
0.02
0.02
0.02
0
0.01
0
0.01
0.02
0.01
0.01
0.02
0.01
0.01
0.01
0.02
0.01
0.01
0.03
0.02
0.01
0.01
0.03
0.01
0.01
0.01
0.01
0.02
0.01
0.01
0.02
0.03
0.02
0.01
0.02
0.01
0.01
0.02
0.01
0.01
0.01
0.02
0.02
0.01
0.04
0.01
0.03
0.01
0.06
0.01
0.02
0.01
0.01
0.06
0.02
0.01
0.01
0.02
0.02
0.01
0.04
0.02
0.02
0.02
0.02
0.02
0.02
0.02
0.02
0.03
0.03
0.02
0.02
0.02
0.03
0.04
0.17
0.05
0.01
0.01
0.03
0.06
0.02
0.02
0.04
0.05
0.24
No, I have not
0.82
0.82
0.83
0.73
0.83
0.84
0.94
0.72
0.76
0.84
0.89
0.81
0.82
0.85
0.74
0.85
0.84
0.8
0.86
0.84
0.79
0.83
0.86
0.82
0.84
0.85
0.81
0.84
0.87
0.84
0.75
0.75
0.76
0.86
0.78
0.78
0.8
0.79
0.84
0.84
0.79
0.84
0.84
0.78
0.82
0.67
0.96
0.98
0.75
0.78
0.82
0.82
0.82
0.85
0.82
0.82
0.74
0.75
0.6
0.93
0.83
0.98
0.95
0.84
0.41
0.86
0.58
0.89
0.22
0.9
0.8
0.83
0.76
0.3
0.77
0.85
0.73
0.88
0.94
0.76
0.81
0.83
0.52
0.86
0.69
0.72
0.79
0.79
0.8
0.79
0.85
0.78
0.79
0.75
0.85
0.66
0.81
0.73
0.85
0.57
0.41
0.38
0.38
0.46
0.47
0.56
ECO5_4 - Since February 15th, have you experienced any of the following changes in your employment situation?If yes, please select when you experienced this change. If not, please select "No, I have not." \\ Had my hours reduced
Adults
Gender: Male
Gender: Female
Age: 18-34
Age: 35-44
Age: 45-64
Age: 65+
GenZers: 1997-2012
Millennials: 1981-1996
GenXers: 1965-1980
Baby Boomers: 1946-1964
PID: Dem (no lean)
PID: Ind (no lean)
PID: Rep (no lean)
PID/Gender: Dem Men
PID/Gender: Dem Women
PID/Gender: Ind Men
PID/Gender: Ind Women
PID/Gender: Rep Men
PID/Gender: Rep Women
Ideo: Liberal (1-3)
Ideo: Moderate (4)
Ideo: Conservative (5-7)
Educ: < College
Educ: Bachelors degree
Educ: Post-grad
Income: Under 50k
Income: 50k-100k
Income: 100k+
Ethnicity: White
Ethnicity: Hispanic
Ethnicity: Afr. Am.
Ethnicity: Other
All Christian
All Non-Christian
Atheist
Agnostic/Nothing in particular
Religious Non-Protestant/Catholic
Evangelical
Non-Evangelical
Community: Urban
Community: Suburban
Community: Rural
Employ: Private Sector
Employ: Government
Employ: Self-Employed
Employ: Homemaker
Employ: Retired
Employ: Unemployed
Employ: Other
Military HH: Yes
Military HH: No
4-Region: Northeast
4-Region: Midwest
4-Region: South
4-Region: West
In Labor Force
In Labor Force and Employed
In Labor Force but Not Employed
Not in Labor Force
Student
Retired
Disabled
Long Term Unemployed
Been laid off or lost a job: Yes
Been laid off or lost a job: No
Lost pay or income: Yes
Lost pay or income: No
Put on temporary leave from job: Yes
Put on temporary leave from job: No
Increased hours worked per week: Yes
Increased hours worked per week: No
Marginally Attached to Labor Force
Recently laid off or furloughed
Single, never married
Married
Separated
Divorced
Widowed
Living with a partner
Parent
Not a Parent
Anticipates Loss
Does Not Anticipate Loss
<20 Employees
<500 Employees
500+ Employees
Children younger than 6
Children ages 7-17
Children younger than 17
Children 18+
Now WFH
Always WFH
Works in IRL
Annual Salary January
Hourly Pay January
January unemployed, looking
Temp leave w/full pay
Temp leave w/some pay
Temp leave w/no pay
Applied for unemployment prev.
Never applied for unemployment
Employment impacted
Impact Feb 15-19
Impact Mar 1-15
Impact Mar 16-31
Impact Apr 1-15
Impact Apr 16-30
Impact May 1-16
Unweighted N
2200
1082
1118
679
353
792
376
242
619
555
722
758
752
690
320
438
400
352
362
328
650
585
770
1249
557
394
1002
730
468
1739
207
208
253
1065
120
116
899
138
569
804
519
1147
534
758
161
181
132
453
251
119
357
1843
423
515
875
387
1336
1229
107
864
105
439
144
176
178
2022
466
1734
246
1954
256
1944
48
326
651
1025
35
227
92
170
770
1430
356
873
332
654
414
278
478
638
210
426
168
532
468
722
179
53
56
274
483
1717
939
153
173
335
163
104
121
Weighted N
2200
1062
1138
655
358
751
436
277
579
522
751
785
752
663
332
452
390
361
339
324
610
573
765
1512
444
244
1193
662
345
1722
349
274
204
996
104
111
989
124
573
780
567
1083
550
642
140
188
149
510
294
131
346
1854
394
462
824
520
1216
1102
114
984
100
499
185
200
193
2007
458
1742
258
1942
243
1957
62
344
682
956
40
254
105
163
737
1463
331
771
322
605
357
255
463
606
197
349
167
496
348
723
187
49
67
271
495
1705
900
169
178
310
190
100
117
Margin of Error (Weighted N)
0.02
0.03
0.03
0.04
0.05
0.04
0.05
0.06
0.04
0.04
0.04
0.03
0.04
0.04
0.05
0.05
0.05
0.05
0.05
0.05
0.04
0.04
0.04
0.03
0.05
0.06
0.03
0.04
0.05
0.02
0.05
0.06
0.07
0.03
0.1
0.09
0.03
0.09
0.04
0.04
0.04
0.03
0.04
0.04
0.08
0.07
0.08
0.04
0.06
0.09
0.05
0.02
0.05
0.05
0.03
0.04
0.03
0.03
0.09
0.03
0.1
0.04
0.07
0.07
0.07
0.02
0.05
0.02
0.06
0.02
0.06
0.02
0.12
0.05
0.04
0.03
0.15
0.06
0.1
0.08
0.04
0.03
0.05
0.04
0.05
0.04
0.05
0.06
0.05
0.04
0.07
0.05
0.08
0.04
0.05
0.04
0.07
0.14
0.12
0.06
0.04
0.02
0.03
0.08
0.07
0.06
0.07
0.1
0.09
Margin of Error (Unweighted N)
0.02
0.03
0.03
0.04
0.05
0.03
0.05
0.06
0.04
0.04
0.04
0.04
0.04
0.04
0.05
0.05
0.05
0.05
0.05
0.05
0.04
0.04
0.04
0.03
0.04
0.05
0.03
0.04
0.05
0.02
0.07
0.07
0.06
0.03
0.09
0.09
0.03
0.08
0.04
0.03
0.04
0.03
0.04
0.04
0.08
0.07
0.09
0.05
0.06
0.09
0.05
0.02
0.05
0.04
0.03
0.05
0.03
0.03
0.09
0.03
0.1
0.05
0.08
0.07
0.07
0.02
0.05
0.02
0.06
0.02
0.06
0.02
0.14
0.05
0.04
0.03
0.17
0.07
0.1
0.08
0.04
0.03
0.05
0.03
0.05
0.04
0.05
0.06
0.04
0.04
0.07
0.05
0.08
0.04
0.05
0.04
0.07
0.13
0.13
0.06
0.04
0.02
0.03
0.08
0.07
0.05
0.08
0.1
0.09
Yes, Feb 15-19
0.04
0.05
0.04
0.06
0.05
0.04
0.01
0.07
0.06
0.05
0.02
0.05
0.05
0.03
0.09
0.03
0.04
0.05
0.03
0.04
0.05
0.04
0.03
0.05
0.03
0.04
0.05
0.04
0.03
0.04
0.05
0.06
0.04
0.03
0.07
0.06
0.06
0.03
0.05
0.06
0.04
0.03
0.06
0.06
0.08
0.04
0.01
0.06
0.03
0.04
0.04
0.05
0.04
0.04
0.04
0.07
0.06
0.13
0.02
0.08
0.01
0.02
0.03
0.08
0.04
0.11
0.03
0.1
0.04
0.05
0.04
0.01
0.09
0.06
0.04
0.03
0.02
0.07
0.06
0.04
0.13
0.03
0.08
0.07
0.04
0.05
0.07
0.06
0.05
0.04
0.02
0.07
0.03
0.07
0.09
0.07
0.1
0.18
0.07
0.04
0.11
0.58
0.06
0.02
0.04
0.04
0.08
Yes, March 1-15
0.05
0.04
0.05
0.08
0.03
0.04
0.03
0.07
0.06
0.05
0.03
0.05
0.05
0.04
0.04
0.06
0.04
0.05
0.03
0.05
0.06
0.05
0.03
0.04
0.06
0.04
0.05
0.05
0.03
0.04
0.07
0.06
0.04
0.05
0.02
0.07
0.05
0.04
0.04
0.05
0.06
0.04
0.04
0.05
0.04
0.09
0.01
0.01
0.08
0.05
0.04
0.05
0.04
0.02
0.05
0.07
0.07
0.06
0.15
0.02
0.02
0.01
0.03
0.02
0.13
0.04
0.13
0.03
0.13
0.04
0.05
0.05
0.02
0.13
0.05
0.05
0.08
0.03
0.08
0.05
0.04
0.1
0.04
0.07
0.08
0.04
0.05
0.05
0.05
0.05
0.07
0.03
0.06
0.03
0.1
0.02
0.14
0.1
0.16
0.05
0.05
0.11
0.05
0.58
0.06
0.05
0.01
Yes, March 16-31
0.08
0.08
0.08
0.11
0.09
0.09
0.02
0.11
0.1
0.08
0.06
0.09
0.09
0.06
0.09
0.08
0.09
0.1
0.05
0.07
0.09
0.08
0.08
0.07
0.1
0.09
0.08
0.08
0.08
0.07
0.1
0.1
0.11
0.07
0.16
0.1
0.08
0.15
0.08
0.07
0.07
0.08
0.08
0.12
0.07
0.13
0.02
0.01
0.09
0.1
0.06
0.08
0.08
0.09
0.08
0.06
0.12
0.12
0.12
0.03
0.07
0
0.02
0.07
0.2
0.07
0.2
0.05
0.21
0.06
0.11
0.08
0.11
0.2
0.09
0.07
0.14
0.07
0.04
0.11
0.09
0.08
0.25
0.07
0.13
0.13
0.13
0.1
0.08
0.1
0.08
0.11
0.1
0.14
0.07
0.15
0.08
0.15
0.29
0.28
0.12
0.07
0.2
0.07
0.1
0.57
0.16
0.08
0.07
Yes, April 1-15
0.05
0.04
0.05
0.08
0.05
0.03
0.03
0.08
0.06
0.03
0.04
0.06
0.02
0.06
0.06
0.06
0.01
0.03
0.05
0.06
0.05
0.05
0.05
0.05
0.04
0.02
0.06
0.03
0.03
0.04
0.11
0.04
0.07
0.05
0.02
0.08
0.04
0.02
0.05
0.05
0.05
0.05
0.04
0.08
0.06
0.09
0.01
0.01
0.08
0.04
0.05
0.03
0.05
0.05
0.05
0.08
0.08
0.03
0.01
0.01
0.01
0
0.01
0.12
0.04
0.12
0.03
0.14
0.03
0.07
0.04
0.01
0.13
0.05
0.04
0.01
0.05
0.05
0.1
0.06
0.04
0.12
0.06
0.1
0.09
0.08
0.06
0.07
0.06
0.03
0.09
0.09
0.08
0.04
0.11
0.02
0.26
0.19
0.09
0.06
0.04
0.11
0.03
0.05
0.06
0.54
0.22
0.08
Yes, April 16-31
0.02
0.02
0.02
0.03
0.03
0.01
0
0.03
0.03
0.02
0
0.02
0.01
0.02
0.03
0.01
0.01
0.01
0.01
0.02
0.02
0.02
0.01
0.02
0.01
0.01
0.02
0.01
0.01
0.02
0
0.02
0.01
0.01
0.02
0.01
0.02
0.01
0.01
0.02
0.02
0.02
0.01
0.03
0.02
0.02
0.02
0
0
0.01
0
0.02
0.03
0.01
0.02
0.01
0.03
0.03
0.03
0
0.02
0
0.01
0.04
0.01
0.05
0.01
0.04
0.01
0
0.02
0.04
0.03
0.01
0.05
0.01
0.01
0.02
0.01
0.05
0.02
0.02
0.03
0.03
0.03
0.02
0.02
0.02
0.02
0.03
0.03
0
0.04
0
0.05
0.05
0.02
0.03
0.01
0.04
0.02
0.05
0.35
0.05
Yes, May 1-16
0.02
0.03
0.02
0.03
0.03
0.02
0.01
0.02
0.03
0.02
0.02
0.02
0.02
0.02
0.03
0.02
0.02
0.02
0.02
0.01
0.02
0.02
0.02
0.02
0.03
0.02
0.02
0.02
0.03
0.02
0.03
0.02
0.05
0.02
0.01
0.02
0.02
0.01
0.02
0.02
0.03
0.02
0.02
0.04
0.02
0.02
0
0.02
0.03
0.02
0.02
0.01
0.01
0.03
0.02
0.03
0.04
0.02
0
0.01
0
0.02
0.01
0.02
0.05
0.01
0.05
0.02
0.04
0.02
0.03
0.02
0.02
0.02
0.01
0.03
0.02
0.02
0.06
0.02
0.03
0.04
0.03
0.03
0.02
0.02
0.03
0.03
0.01
0.04
0.02
0.04
0.02
0.02
0.05
0.05
0.02
0.02
0.05
0.01
0.01
0.03
0.01
0.05
0.39
No, I have not
0.75
0.75
0.74
0.62
0.73
0.77
0.9
0.63
0.66
0.76
0.83
0.7
0.76
0.78
0.66
0.73
0.78
0.75
0.8
0.75
0.71
0.74
0.78
0.75
0.72
0.77
0.72
0.76
0.79
0.76
0.63
0.69
0.68
0.77
0.71
0.73
0.73
0.71
0.77
0.75
0.71
0.75
0.78
0.63
0.74
0.57
0.92
0.96
0.74
0.7
0.8
0.74
0.76
0.76
0.73
0.74
0.6
0.61
0.53
0.92
0.79
0.96
0.94
0.86
0.42
0.78
0.35
0.85
0.34
0.8
0.68
0.75
0.85
0.38
0.7
0.78
0.72
0.79
0.87
0.6
0.7
0.77
0.3
0.75
0.58
0.56
0.65
0.69
0.69
0.68
0.74
0.64
0.72
0.57
0.8
0.5
0.77
0.3
0.22
0.22
0.66
0.77
0.38
0.27
0.19
0.24
0.16
0.26
0.33
ECO5_5 - Since February 15th, have you experienced any of the following changes in your employment situation?If yes, please select when you experienced this change. If not, please select "No, I have not." \\ Increased hours worked per week
Adults
Gender: Male
Gender: Female
Age: 18-34
Age: 35-44
Age: 45-64
Age: 65+
GenZers: 1997-2012
Millennials: 1981-1996
GenXers: 1965-1980
Baby Boomers: 1946-1964
PID: Dem (no lean)
PID: Ind (no lean)
PID: Rep (no lean)
PID/Gender: Dem Men
PID/Gender: Dem Women
PID/Gender: Ind Men
PID/Gender: Ind Women
PID/Gender: Rep Men
PID/Gender: Rep Women
Ideo: Liberal (1-3)
Ideo: Moderate (4)
Ideo: Conservative (5-7)
Educ: < College
Educ: Bachelors degree
Educ: Post-grad
Income: Under 50k
Income: 50k-100k
Income: 100k+
Ethnicity: White
Ethnicity: Hispanic
Ethnicity: Afr. Am.
Ethnicity: Other
All Christian
All Non-Christian
Atheist
Agnostic/Nothing in particular
Religious Non-Protestant/Catholic
Evangelical
Non-Evangelical
Community: Urban
Community: Suburban
Community: Rural
Employ: Private Sector
Employ: Government
Employ: Self-Employed
Employ: Homemaker
Employ: Retired
Employ: Unemployed
Employ: Other
Military HH: Yes
Military HH: No
4-Region: Northeast
4-Region: Midwest
4-Region: South
4-Region: West
In Labor Force
In Labor Force and Employed
In Labor Force but Not Employed
Not in Labor Force
Student
Retired
Disabled
Long Term Unemployed
Been laid off or lost a job: Yes
Been laid off or lost a job: No
Lost pay or income: Yes
Lost pay or income: No
Put on temporary leave from job: Yes
Put on temporary leave from job: No
Increased hours worked per week: Yes
Increased hours worked per week: No
Marginally Attached to Labor Force
Recently laid off or furloughed
Single, never married
Married
Separated
Divorced
Widowed
Living with a partner
Parent
Not a Parent
Anticipates Loss
Does Not Anticipate Loss
<20 Employees
<500 Employees
500+ Employees
Children younger than 6
Children ages 7-17
Children younger than 17
Children 18+
Now WFH
Always WFH
Works in IRL
Annual Salary January
Hourly Pay January
January unemployed, looking
Temp leave w/full pay
Temp leave w/some pay
Temp leave w/no pay
Applied for unemployment prev.
Never applied for unemployment
Employment impacted
Impact Feb 15-19
Impact Mar 1-15
Impact Mar 16-31
Impact Apr 1-15
Impact Apr 16-30
Impact May 1-16
Unweighted N
2200
1082
1118
679
353
792
376
242
619
555
722
758
752
690
320
438
400
352
362
328
650
585
770
1249
557
394
1002
730
468
1739
207
208
253
1065
120
116
899
138
569
804
519
1147
534
758
161
181
132
453
251
119
357
1843
423
515
875
387
1336
1229
107
864
105
439
144
176
178
2022
466
1734
246
1954
256
1944
48
326
651
1025
35
227
92
170
770
1430
356
873
332
654
414
278
478
638
210
426
168
532
468
722
179
53
56
274
483
1717
939
153
173
335
163
104
121
Weighted N
2200
1062
1138
655
358
751
436
277
579
522
751
785
752
663
332
452
390
361
339
324
610
573
765
1512
444
244
1193
662
345
1722
349
274
204
996
104
111
989
124
573
780
567
1083
550
642
140
188
149
510
294
131
346
1854
394
462
824
520
1216
1102
114
984
100
499
185
200
193
2007
458
1742
258
1942
243
1957
62
344
682
956
40
254
105
163
737
1463
331
771
322
605
357
255
463
606
197
349
167
496
348
723
187
49
67
271
495
1705
900
169
178
310
190
100
117
Margin of Error (Weighted N)
0.02
0.03
0.03
0.04
0.05
0.04
0.05
0.06
0.04
0.04
0.04
0.03
0.04
0.04
0.05
0.05
0.05
0.05
0.05
0.05
0.04
0.04
0.04
0.03
0.05
0.06
0.03
0.04
0.05
0.02
0.05
0.06
0.07
0.03
0.1
0.09
0.03
0.09
0.04
0.04
0.04
0.03
0.04
0.04
0.08
0.07
0.08
0.04
0.06
0.09
0.05
0.02
0.05
0.05
0.03
0.04
0.03
0.03
0.09
0.03
0.1
0.04
0.07
0.07
0.07
0.02
0.05
0.02
0.06
0.02
0.06
0.02
0.12
0.05
0.04
0.03
0.15
0.06
0.1
0.08
0.04
0.03
0.05
0.04
0.05
0.04
0.05
0.06
0.05
0.04
0.07
0.05
0.08
0.04
0.05
0.04
0.07
0.14
0.12
0.06
0.04
0.02
0.03
0.08
0.07
0.06
0.07
0.1
0.09
Margin of Error (Unweighted N)
0.02
0.03
0.03
0.04
0.05
0.03
0.05
0.06
0.04
0.04
0.04
0.04
0.04
0.04
0.05
0.05
0.05
0.05
0.05
0.05
0.04
0.04
0.04
0.03
0.04
0.05
0.03
0.04
0.05
0.02
0.07
0.07
0.06
0.03
0.09
0.09
0.03
0.08
0.04
0.03
0.04
0.03
0.04
0.04
0.08
0.07
0.09
0.05
0.06
0.09
0.05
0.02
0.05
0.04
0.03
0.05
0.03
0.03
0.09
0.03
0.1
0.05
0.08
0.07
0.07
0.02
0.05
0.02
0.06
0.02
0.06
0.02
0.14
0.05
0.04
0.03
0.17
0.07
0.1
0.08
0.04
0.03
0.05
0.03
0.05
0.04
0.05
0.06
0.04
0.04
0.07
0.05
0.08
0.04
0.05
0.04
0.07
0.13
0.13
0.06
0.04
0.02
0.03
0.08
0.07
0.05
0.08
0.1
0.09
Yes, Feb 15-19
0.02
0.03
0.02
0.03
0.05
0.02
0.01
0.03
0.03
0.04
0.01
0.02
0.03
0.02
0.03
0.02
0.04
0.02
0.02
0.01
0.02
0.02
0.02
0.02
0.03
0.02
0.02
0.03
0.02
0.02
0.02
0.03
0.04
0.02
0.02
0.03
0.02
0.03
0.03
0.02
0.02
0.02
0.02
0.04
0.04
0.03
0.01
0.02
0.02
0.04
0.02
0.03
0.02
0.02
0.03
0.04
0.04
0.03
0.01
0.01
0.01
0.03
0.05
0.02
0.04
0.02
0.05
0.02
0.09
0.02
0.05
0.03
0.03
0.01
0.02
0.02
0.04
0.02
0.04
0.03
0.04
0.03
0.04
0.04
0.05
0.04
0.03
0.02
0.03
0.05
0.02
0.04
0.03
0.03
0.06
0.05
0.02
0.03
0.06
0.08
0.04
0.03
0.01
0.04
0.03
Yes, March 1-15
0.01
0.01
0.01
0.02
0.01
0.01
0
0.02
0.01
0.01
0.01
0.01
0.01
0.01
0.01
0.01
0.01
0.01
0.02
0.01
0.02
0.01
0.01
0.01
0.02
0.02
0.01
0.01
0.02
0.01
0.02
0.03
0.01
0.01
0.02
0.02
0.01
0.01
0.01
0.01
0.01
0.01
0.02
0.03
0.01
0.01
0
0.02
0.01
0.01
0.02
0
0.01
0.02
0.02
0.03
0.02
0.01
0.01
0.01
0.02
0.01
0.07
0
0.02
0.01
0.02
0
0.01
0.02
0.01
0.02
0.02
0.02
0.02
0.02
0.03
0.02
0.03
0.02
0.02
0.03
0.02
0.02
0.02
0.05
0.1
0.01
0.02
0.01
0.03
0.03
0.03
0.04
0.05
0.01
0.01
Yes, March 16-31
0.03
0.04
0.02
0.05
0.03
0.02
0
0.05
0.04
0.03
0.01
0.03
0.03
0.02
0.03
0.03
0.04
0.01
0.03
0
0.03
0.03
0.03
0.02
0.03
0.06
0.02
0.02
0.04
0.02
0.05
0.04
0.03
0.03
0.04
0.01
0.03
0.04
0.02
0.02
0.02
0.03
0.03
0.04
0.04
0.09
0
0
0.05
0.02
0.03
0.04
0.02
0.02
0.04
0.05
0.05
0.01
0
0.01
0
0.02
0.05
0.02
0.04
0.02
0.04
0.03
0.16
0.01
0.04
0.04
0.03
0.06
0.02
0
0.03
0.03
0.06
0.05
0.06
0.05
0.05
0.04
0.03
0.03
0.01
0.07
0.09
0.03
0.05
0.05
0.02
0.15
0.11
0.02
0.01
0.03
0.07
0.07
0.07
0.04
0.11
0.06
0.05
Yes, April 1-15
0.02
0.02
0.01
0.03
0.01
0.01
0.04
0.02
0.02
0
0.02
0.01
0.01
0.03
0.01
0.01
0.01
0.02
0.01
0.02
0.01
0.01
0.01
0.02
0.01
0.01
0.01
0.03
0.01
0.02
0.02
0.02
0.01
0.01
0.03
0.02
0.01
0.01
0.01
0.02
0.02
0.01
0.02
0.04
0.02
0.02
0.01
0.01
0.02
0.01
0
0.01
0.03
0.03
0.03
0.02
0
0.01
0.04
0.01
0.03
0.01
0.04
0.01
0.06
0.01
0.01
0.04
0.02
0.01
0
0.01
0.02
0.01
0.02
0.03
0.02
0.03
0.02
0.03
0.03
0.03
0.02
0.03
0.04
0.02
0.03
0.02
0.02
0.08
0.06
0.02
0.01
0.02
0.04
0.03
0.04
0.02
0.04
0.04
0.03
Yes, April 16-31
0.01
0.01
0.01
0.01
0.02
0.01
0
0.01
0.02
0.01
0.01
0.01
0.01
0.01
0.03
0
0.01
0.01
0.01
0.01
0.01
0.01
0.01
0.01
0.01
0.02
0.01
0.02
0.01
0.01
0.01
0.02
0.02
0.01
0.01
0.03
0.01
0.01
0.01
0.01
0.02
0.01
0.01
0.02
0.02
0.01
0
0.01
0.01
0.01
0.01
0
0
0.02
0.01
0.02
0.02
0.02
0
0
0
0
0.01
0.01
0.01
0.01
0.01
0.01
0.06
0.01
0.01
0.01
0.02
0.01
0.01
0.02
0.01
0.01
0.01
0.02
0.02
0.02
0.02
0.01
0.01
0.01
0.01
0.01
0
0.02
0.02
0.02
0
0.02
0.02
0.01
0.01
0.03
0.01
0.02
0.01
0.01
0.02
0.02
Yes, May 1-16
0.03
0.03
0.03
0.06
0.04
0.03
0
0.07
0.05
0.04
0.01
0.04
0.02
0.04
0.06
0.03
0.01
0.04
0.04
0.04
0.04
0.02
0.04
0.03
0.05
0.04
0.02
0.04
0.06
0.03
0.09
0.01
0.05
0.03
0.02
0.08
0.04
0.03
0.03
0.02
0.03
0.03
0.03
0.05
0.07
0.1
0.01
0
0.04
0.03
0.03
0.03
0.03
0.03
0.04
0.06
0.06
0
0.02
0.01
0.02
0.04
0.04
0.03
0.02
0.04
0.21
0.01
0.02
0.04
0.03
0.01
0.03
0.01
0.07
0.05
0.03
0.04
0.08
0.05
0.07
0.05
0.04
0.06
0.05
0.04
0.05
0.1
0.06
0.07
0.05
0
0.02
0.12
0.03
0.03
0.04
0.08
0.08
0.04
0.06
0.09
0.03
0.06
No, I have not
0.88
0.85
0.9
0.81
0.83
0.9
0.98
0.77
0.83
0.86
0.95
0.85
0.89
0.89
0.81
0.88
0.88
0.9
0.86
0.92
0.85
0.89
0.88
0.9
0.84
0.83
0.9
0.87
0.82
0.89
0.8
0.85
0.83
0.9
0.87
0.81
0.86
0.86
0.88
0.91
0.88
0.88
0.88
0.81
0.76
0.74
0.96
1
0.95
0.87
0.87
0.88
0.87
0.9
0.9
0.84
0.8
0.78
0.9
0.98
0.95
1
0.98
0.95
0.81
0.88
0.83
0.89
0.84
0.88
0.35
0.94
0.97
0.83
0.84
0.88
0.91
0.93
0.98
0.86
0.82
0.9
0.82
0.77
0.79
0.78
0.79
0.81
0.8
0.81
0.88
0.8
0.69
0.79
0.78
0.81
0.91
0.67
0.54
0.85
0.9
0.87
0.7
0.68
0.75
0.79
0.7
0.8
0.8
ECO6 - Are you currently being paid for temporary leave?
Adults
Gender: Male
Gender: Female
Age: 18-34
Age: 35-44
Age: 45-64
Age: 65+
GenZers: 1997-2012
Millennials: 1981-1996
GenXers: 1965-1980
Baby Boomers: 1946-1964
PID: Dem (no lean)
PID: Ind (no lean)
PID: Rep (no lean)
PID/Gender: Dem Men
PID/Gender: Dem Women
PID/Gender: Ind Men
PID/Gender: Ind Women
PID/Gender: Rep Men
PID/Gender: Rep Women
Ideo: Liberal (1-3)
Ideo: Moderate (4)
Ideo: Conservative (5-7)
Educ: < College
Educ: Bachelors degree
Educ: Post-grad
Income: Under 50k
Income: 50k-100k
Income: 100k+
Ethnicity: White
Ethnicity: Hispanic
Ethnicity: Afr. Am.
Ethnicity: Other
All Christian
All Non-Christian
Atheist
Agnostic/Nothing in particular
Religious Non-Protestant/Catholic
Evangelical
Non-Evangelical
Community: Urban
Community: Suburban
Community: Rural
Employ: Private Sector
Employ: Government
Employ: Self-Employed
Employ: Homemaker
Employ: Retired
Employ: Unemployed
Employ: Other
Military HH: Yes
Military HH: No
4-Region: Northeast
4-Region: Midwest
4-Region: South
4-Region: West
In Labor Force
In Labor Force and Employed
In Labor Force but Not Employed
Not in Labor Force
Student
Retired
Disabled
Long Term Unemployed
Been laid off or lost a job: Yes
Been laid off or lost a job: No
Lost pay or income: Yes
Lost pay or income: No
Put on temporary leave from job: Yes
Put on temporary leave from job: No
Increased hours worked per week: Yes
Increased hours worked per week: No
Marginally Attached to Labor Force
Recently laid off or furloughed
Single, never married
Married
Separated
Divorced
Widowed
Living with a partner
Parent
Not a Parent
Anticipates Loss
Does Not Anticipate Loss
<20 Employees
<500 Employees
500+ Employees
Children younger than 6
Children ages 7-17
Children younger than 17
Children 18+
Now WFH
Always WFH
Works in IRL
Annual Salary January
Hourly Pay January
January unemployed, looking
Temp leave w/full pay
Temp leave w/some pay
Temp leave w/no pay
Applied for unemployment prev.
Never applied for unemployment
Employment impacted
Impact Feb 15-19
Impact Mar 1-15
Impact Mar 16-31
Impact Apr 1-15
Impact Apr 16-30
Impact May 1-16
Unweighted N
383
196
187
167
63
127
26
61
140
97
82
145
139
99
74
71
72
67
50
49
129
109
98
229
92
62
197
116
70
270
48
54
59
155
25
25
178
29
90
127
116
175
92
162
26
53
4
12
66
29
63
320
81
88
144
70
313
274
39
70
19
12
9
30
105
278
197
186
195
188
50
333
10
229
153
151
8
27
6
38
143
240
167
107
93
173
75
55
94
128
33
77
25
135
60
239
32
53
56
274
122
261
383
82
107
197
80
50
55
Weighted N
387
196
191
177
62
123
25
78
138
86
82
151
136
99
86
66
64
72
46
53
128
100
106
277
72
38
231
109
46
269
88
69
48
142
23
25
197
26
92
123
121
178
88
144
25
63
6
12
75
28
62
325
71
71
149
96
316
270
46
70
17
12
9
33
113
273
192
195
201
186
50
337
15
239
157
143
11
29
7
40
141
246
160
110
101
172
74
55
93
127
31
76
35
126
52
244
35
49
67
271
133
253
387
100
110
192
102
53
51
Margin of Error (Weighted N)
0.05
0.07
0.07
0.07
0.12
0.09
0.2
0.11
0.08
0.11
0.11
0.08
0.08
0.1
0.11
0.12
0.12
0.12
0.14
0.13
0.09
0.1
0.1
0.06
0.12
0.16
0.06
0.09
0.14
0.06
0.1
0.12
0.14
0.08
0.2
0.2
0.07
0.19
0.1
0.09
0.09
0.07
0.1
0.08
0.2
0.12
0.4
0.28
0.11
0.19
0.12
0.05
0.12
0.12
0.08
0.1
0.06
0.06
0.14
0.12
0.24
0.28
0.33
0.17
0.09
0.06
0.07
0.07
0.07
0.07
0.14
0.05
0.25
0.06
0.08
0.08
0.3
0.18
0.37
0.15
0.08
0.06
0.08
0.09
0.1
0.07
0.11
0.13
0.1
0.09
0.18
0.11
0.17
0.09
0.14
0.06
0.17
0.14
0.12
0.06
0.08
0.06
0.05
0.1
0.09
0.07
0.1
0.13
0.14
Margin of Error (Unweighted N)
0.05
0.07
0.07
0.08
0.12
0.09
0.19
0.13
0.08
0.1
0.11
0.08
0.08
0.1
0.11
0.12
0.12
0.12
0.14
0.14
0.09
0.09
0.1
0.06
0.1
0.12
0.07
0.09
0.12
0.06
0.14
0.13
0.13
0.08
0.2
0.2
0.07
0.18
0.1
0.09
0.09
0.07
0.1
0.08
0.19
0.13
0.49
0.28
0.12
0.18
0.12
0.05
0.11
0.1
0.08
0.12
0.06
0.06
0.16
0.12
0.22
0.28
0.33
0.18
0.1
0.06
0.07
0.07
0.07
0.07
0.14
0.05
0.31
0.06
0.08
0.08
0.35
0.19
0.4
0.16
0.08
0.06
0.08
0.09
0.1
0.07
0.11
0.13
0.1
0.09
0.17
0.11
0.2
0.08
0.13
0.06
0.17
0.13
0.13
0.06
0.09
0.06
0.05
0.11
0.09
0.07
0.11
0.14
0.13
Yes, I am on temporary leave with full pay
0.13
0.16
0.09
0.14
0.14
0.12
0.06
0.17
0.11
0.14
0.09
0.15
0.1
0.14
0.17
0.13
0.14
0.05
0.18
0.11
0.15
0.1
0.15
0.13
0.08
0.24
0.11
0.15
0.18
0.16
0.19
0.02
0.07
0.1
0.3
0.21
0.11
0.26
0.08
0.09
0.12
0.12
0.16
0.18
0.3
0.22
0.02
0.14
0.12
0.06
0.12
0.13
0.18
0.15
0.18
0.02
0.03
0.02
0.11
0.13
0.08
0.17
0.15
0.1
0.12
0.13
0.15
0.12
0.16
0.06
0.16
0.12
0.13
0.13
0.25
0.22
0.2
0.09
0.12
0.13
0.13
0.11
0.24
0.3
0.14
0.18
0.15
0.03
1
0.16
0.11
0.13
0.11
0.21
0.12
0.19
0.22
0.08
Yes, I am on temporary leave with some pay
0.17
0.18
0.17
0.22
0.11
0.13
0.18
0.2
0.21
0.1
0.17
0.21
0.15
0.15
0.2
0.22
0.13
0.16
0.19
0.12
0.15
0.22
0.18
0.18
0.19
0.1
0.19
0.16
0.09
0.15
0.2
0.27
0.16
0.19
0.32
0.2
0.14
0.29
0.17
0.15
0.23
0.15
0.14
0.21
0.19
0.14
0.11
0.09
0.07
0.21
0.26
0.15
0.19
0.14
0.13
0.25
0.19
0.21
0.1
0.09
0.16
0.09
0.07
0.13
0.19
0.14
0.21
0.17
0.18
0.31
0.15
0.16
0.17
0.17
0.2
0.27
0.12
0.12
0.21
0.15
0.16
0.27
0.14
0.21
0.2
0.3
0.24
0.24
0.11
0.25
0.42
0.14
0.32
0.13
0.15
1
0.19
0.16
0.17
0.22
0.16
0.18
0.3
0.26
0.28
No, I am on temporary leave without pay
0.7
0.66
0.74
0.64
0.75
0.74
0.76
0.62
0.68
0.76
0.74
0.64
0.76
0.71
0.63
0.66
0.73
0.79
0.63
0.77
0.7
0.67
0.67
0.7
0.74
0.66
0.7
0.69
0.73
0.69
0.62
0.71
0.77
0.7
0.38
0.59
0.75
0.45
0.75
0.77
0.65
0.73
0.7
0.61
0.51
0.64
0.89
0.91
0.93
0.78
0.59
0.72
0.75
0.74
0.75
0.56
0.66
0.62
0.9
0.9
0.81
0.91
1
0.91
0.75
0.68
0.78
0.62
0.68
0.72
0.57
0.72
1
0.69
0.71
0.67
0.8
0.67
0.88
0.72
0.67
0.72
0.71
0.48
0.64
0.59
0.71
0.57
0.63
0.63
0.79
0.51
0.28
0.72
0.5
0.72
0.81
1
0.66
0.72
0.7
0.67
0.63
0.7
0.51
0.53
0.64
ECO7_1NET - Why do you believe your employment situation changed since February 15th? Please select all that apply. \\ The business closed and is no longer in operation
Adults
Gender: Male
Gender: Female
Age: 18-34
Age: 35-44
Age: 45-64
Age: 65+
GenZers: 1997-2012
Millennials: 1981-1996
GenXers: 1965-1980
Baby Boomers: 1946-1964
PID: Dem (no lean)
PID: Ind (no lean)
PID: Rep (no lean)
PID/Gender: Dem Men
PID/Gender: Dem Women
PID/Gender: Ind Men
PID/Gender: Ind Women
PID/Gender: Rep Men
PID/Gender: Rep Women
Ideo: Liberal (1-3)
Ideo: Moderate (4)
Ideo: Conservative (5-7)
Educ: < College
Educ: Bachelors degree
Educ: Post-grad
Income: Under 50k
Income: 50k-100k
Income: 100k+
Ethnicity: White
Ethnicity: Hispanic
Ethnicity: Afr. Am.
Ethnicity: Other
All Christian
All Non-Christian
Atheist
Agnostic/Nothing in particular
Religious Non-Protestant/Catholic
Evangelical
Non-Evangelical
Community: Urban
Community: Suburban
Community: Rural
Employ: Private Sector
Employ: Government
Employ: Self-Employed
Employ: Homemaker
Employ: Retired
Employ: Unemployed
Employ: Other
Military HH: Yes
Military HH: No
4-Region: Northeast
4-Region: Midwest
4-Region: South
4-Region: West
In Labor Force
In Labor Force and Employed
In Labor Force but Not Employed
Not in Labor Force
Student
Retired
Disabled
Long Term Unemployed
Been laid off or lost a job: Yes
Been laid off or lost a job: No
Lost pay or income: Yes
Lost pay or income: No
Put on temporary leave from job: Yes
Put on temporary leave from job: No
Increased hours worked per week: Yes
Increased hours worked per week: No
Marginally Attached to Labor Force
Recently laid off or furloughed
Single, never married
Married
Separated
Divorced
Widowed
Living with a partner
Parent
Not a Parent
Anticipates Loss
Does Not Anticipate Loss
<20 Employees
<500 Employees
500+ Employees
Children younger than 6
Children ages 7-17
Children younger than 17
Children 18+
Now WFH
Always WFH
Works in IRL
Annual Salary January
Hourly Pay January
January unemployed, looking
Temp leave w/full pay
Temp leave w/some pay
Temp leave w/no pay
Applied for unemployment prev.
Never applied for unemployment
Employment impacted
Impact Feb 15-19
Impact Mar 1-15
Impact Mar 16-31
Impact Apr 1-15
Impact Apr 16-30
Impact May 1-16
Unweighted N
939
476
463
375
171
326
67
135
326
265
206
354
317
268
162
192
169
148
145
123
307
255
293
501
261
177
417
319
203
704
118
99
136
406
63
60
410
73
224
320
257
470
212
438
78
132
17
38
116
52
126
813
191
220
358
170
796
728
68
143
38
32
22
51
147
792
415
524
219
720
210
729
20
284
329
399
14
83
20
94
384
555
319
409
218
412
238
140
256
338
90
220
88
346
226
508
66
53
56
274
223
716
939
153
173
335
163
104
121
Weighted N
900
451
449
375
164
293
67
162
306
229
198
352
303
244
171
182
154
149
126
118
284
234
280
585
206
108
472
279
148
663
200
123
114
357
50
55
438
58
214
296
265
427
207
382
67
132
25
37
126
57
116
783
166
177
331
226
748
671
78
151
35
32
26
58
152
747
398
502
227
673
190
709
23
293
330
361
17
87
19
86
367
532
293
378
208
390
214
134
250
324
82
199
92
315
176
508
72
49
67
271
233
666
900
169
178
310
190
100
117
Margin of Error (Weighted N)
0.03
0.05
0.05
0.05
0.08
0.06
0.12
0.08
0.06
0.06
0.07
0.05
0.06
0.06
0.07
0.07
0.08
0.08
0.09
0.09
0.06
0.06
0.06
0.04
0.07
0.09
0.05
0.06
0.08
0.04
0.07
0.09
0.09
0.05
0.14
0.13
0.05
0.13
0.07
0.06
0.06
0.05
0.07
0.05
0.12
0.09
0.2
0.16
0.09
0.13
0.09
0.04
0.08
0.07
0.05
0.07
0.04
0.04
0.11
0.08
0.17
0.17
0.19
0.13
0.08
0.04
0.05
0.04
0.07
0.04
0.07
0.04
0.2
0.06
0.05
0.05
0.24
0.11
0.22
0.11
0.05
0.04
0.06
0.05
0.07
0.05
0.07
0.08
0.06
0.05
0.11
0.07
0.1
0.06
0.07
0.04
0.12
0.14
0.12
0.06
0.06
0.04
0.03
0.08
0.07
0.06
0.07
0.1
0.09
Margin of Error (Unweighted N)
0.03
0.04
0.05
0.05
0.07
0.05
0.12
0.08
0.05
0.06
0.07
0.05
0.06
0.06
0.08
0.07
0.08
0.08
0.08
0.09
0.06
0.06
0.06
0.04
0.06
0.07
0.05
0.05
0.07
0.04
0.09
0.1
0.08
0.05
0.12
0.13
0.05
0.11
0.07
0.05
0.06
0.05
0.07
0.05
0.11
0.09
0.24
0.16
0.09
0.14
0.09
0.03
0.07
0.07
0.05
0.08
0.03
0.04
0.12
0.08
0.16
0.17
0.21
0.14
0.08
0.03
0.05
0.04
0.07
0.04
0.07
0.04
0.22
0.06
0.05
0.05
0.26
0.11
0.22
0.1
0.05
0.04
0.05
0.05
0.07
0.05
0.06
0.08
0.06
0.05
0.1
0.07
0.1
0.05
0.07
0.04
0.12
0.13
0.13
0.06
0.07
0.04
0.03
0.08
0.07
0.05
0.08
0.1
0.09
Selected
0.07
0.06
0.07
0.08
0.06
0.05
0.06
0.09
0.08
0.07
0.03
0.07
0.07
0.07
0.07
0.07
0.05
0.09
0.07
0.06
0.08
0.06
0.07
0.06
0.1
0.04
0.08
0.06
0.04
0.07
0.09
0.07
0.07
0.06
0.02
0.02
0.08
0.03
0.08
0.06
0.06
0.07
0.06
0.05
0.11
0.07
0.02
0.11
0.03
0.05
0.07
0.06
0.07
0.07
0.07
0.06
0.06
0.09
0.08
0.14
0.1
0.09
0.07
0.07
0.05
0.08
0.07
0.07
0.06
0.07
0.08
0.06
0.11
0.04
0.08
0.06
0.04
0.07
0.07
0.07
0.05
0.07
0.07
0.04
0.06
0.06
0.07
0.06
0.07
0.09
0.05
0.05
0.07
0.06
0.1
0.11
0.11
0.11
0.05
0.07
0.11
0.06
0.12
0.07
0.05
0.08
Not Selected
0.93
0.94
0.93
0.92
0.94
0.95
0.94
0.91
0.92
0.93
0.97
0.93
0.93
0.93
0.93
0.93
0.95
0.91
0.93
0.94
0.92
0.94
0.93
0.94
0.9
0.96
0.92
0.94
0.96
0.93
0.91
0.93
0.93
0.94
0.98
0.98
0.92
0.97
0.92
0.94
0.94
0.93
0.94
0.95
0.89
0.93
0.98
1
0.89
0.97
0.95
0.93
0.94
0.93
0.93
0.93
0.94
0.94
0.91
0.92
0.86
1
0.9
0.91
0.93
0.93
0.95
0.92
0.93
0.93
0.94
0.93
0.92
0.94
0.89
0.96
0.92
0.94
1
0.96
0.93
0.93
0.93
0.95
0.93
0.93
0.96
0.94
0.94
0.93
0.94
0.93
0.91
0.95
0.95
0.93
0.94
0.9
0.89
0.89
0.89
0.95
0.93
0.89
0.94
0.88
0.93
0.95
0.92
ECO7_2NET - Why do you believe your employment situation changed since February 15th? Please select all that apply. \\ The business has fewer customers or orders
Adults
Gender: Male
Gender: Female
Age: 18-34
Age: 35-44
Age: 45-64
Age: 65+
GenZers: 1997-2012
Millennials: 1981-1996
GenXers: 1965-1980
Baby Boomers: 1946-1964
PID: Dem (no lean)
PID: Ind (no lean)
PID: Rep (no lean)
PID/Gender: Dem Men
PID/Gender: Dem Women
PID/Gender: Ind Men
PID/Gender: Ind Women
PID/Gender: Rep Men
PID/Gender: Rep Women
Ideo: Liberal (1-3)
Ideo: Moderate (4)
Ideo: Conservative (5-7)
Educ: < College
Educ: Bachelors degree
Educ: Post-grad
Income: Under 50k
Income: 50k-100k
Income: 100k+
Ethnicity: White
Ethnicity: Hispanic
Ethnicity: Afr. Am.
Ethnicity: Other
All Christian
All Non-Christian
Atheist
Agnostic/Nothing in particular
Religious Non-Protestant/Catholic
Evangelical
Non-Evangelical
Community: Urban
Community: Suburban
Community: Rural
Employ: Private Sector
Employ: Government
Employ: Self-Employed
Employ: Homemaker
Employ: Retired
Employ: Unemployed
Employ: Other
Military HH: Yes
Military HH: No
4-Region: Northeast
4-Region: Midwest
4-Region: South
4-Region: West
In Labor Force
In Labor Force and Employed
In Labor Force but Not Employed
Not in Labor Force
Student
Retired
Disabled
Long Term Unemployed
Been laid off or lost a job: Yes
Been laid off or lost a job: No
Lost pay or income: Yes
Lost pay or income: No
Put on temporary leave from job: Yes
Put on temporary leave from job: No
Increased hours worked per week: Yes
Increased hours worked per week: No
Marginally Attached to Labor Force
Recently laid off or furloughed
Single, never married
Married
Separated
Divorced
Widowed
Living with a partner
Parent
Not a Parent
Anticipates Loss
Does Not Anticipate Loss
<20 Employees
<500 Employees
500+ Employees
Children younger than 6
Children ages 7-17
Children younger than 17
Children 18+
Now WFH
Always WFH
Works in IRL
Annual Salary January
Hourly Pay January
January unemployed, looking
Temp leave w/full pay
Temp leave w/some pay
Temp leave w/no pay
Applied for unemployment prev.
Never applied for unemployment
Employment impacted
Impact Feb 15-19
Impact Mar 1-15
Impact Mar 16-31
Impact Apr 1-15
Impact Apr 16-30
Impact May 1-16
Unweighted N
939
476
463
375
171
326
67
135
326
265
206
354
317
268
162
192
169
148
145
123
307
255
293
501
261
177
417
319
203
704
118
99
136
406
63
60
410
73
224
320
257
470
212
438
78
132
17
38
116
52
126
813
191
220
358
170
796
728
68
143
38
32
22
51
147
792
415
524
219
720
210
729
20
284
329
399
14
83
20
94
384
555
319
409
218
412
238
140
256
338
90
220
88
346
226
508
66
53
56
274
223
716
939
153
173
335
163
104
121
Weighted N
900
451
449
375
164
293
67
162
306
229
198
352
303
244
171
182
154
149
126
118
284
234
280
585
206
108
472
279
148
663
200
123
114
357
50
55
438
58
214
296
265
427
207
382
67
132
25
37
126
57
116
783
166
177
331
226
748
671
78
151
35
32
26
58
152
747
398
502
227
673
190
709
23
293
330
361
17
87
19
86
367
532
293
378
208
390
214
134
250
324
82
199
92
315
176
508
72
49
67
271
233
666
900
169
178
310
190
100
117
Margin of Error (Weighted N)
0.03
0.05
0.05
0.05
0.08
0.06
0.12
0.08
0.06
0.06
0.07
0.05
0.06
0.06
0.07
0.07
0.08
0.08
0.09
0.09
0.06
0.06
0.06
0.04
0.07
0.09
0.05
0.06
0.08
0.04
0.07
0.09
0.09
0.05
0.14
0.13
0.05
0.13
0.07
0.06
0.06
0.05
0.07
0.05
0.12
0.09
0.2
0.16
0.09
0.13
0.09
0.04
0.08
0.07
0.05
0.07
0.04
0.04
0.11
0.08
0.17
0.17
0.19
0.13
0.08
0.04
0.05
0.04
0.07
0.04
0.07
0.04
0.2
0.06
0.05
0.05
0.24
0.11
0.22
0.11
0.05
0.04
0.06
0.05
0.07
0.05
0.07
0.08
0.06
0.05
0.11
0.07
0.1
0.06
0.07
0.04
0.12
0.14
0.12
0.06
0.06
0.04
0.03
0.08
0.07
0.06
0.07
0.1
0.09
Margin of Error (Unweighted N)
0.03
0.04
0.05
0.05
0.07
0.05
0.12
0.08
0.05
0.06
0.07
0.05
0.06
0.06
0.08
0.07
0.08
0.08
0.08
0.09
0.06
0.06
0.06
0.04
0.06
0.07
0.05
0.05
0.07
0.04
0.09
0.1
0.08
0.05
0.12
0.13
0.05
0.11
0.07
0.05
0.06
0.05
0.07
0.05
0.11
0.09
0.24
0.16
0.09
0.14
0.09
0.03
0.07
0.07
0.05
0.08
0.03
0.04
0.12
0.08
0.16
0.17
0.21
0.14
0.08
0.03
0.05
0.04
0.07
0.04
0.07
0.04
0.22
0.06
0.05
0.05
0.26
0.11
0.22
0.1
0.05
0.04
0.05
0.05
0.07
0.05
0.06
0.08
0.06
0.05
0.1
0.07
0.1
0.05
0.07
0.04
0.12
0.13
0.13
0.06
0.07
0.04
0.03
0.08
0.07
0.05
0.08
0.1
0.09
Selected
0.22
0.25
0.19
0.17
0.22
0.27
0.26
0.15
0.19
0.24
0.29
0.18
0.24
0.26
0.17
0.18
0.31
0.17
0.28
0.24
0.15
0.24
0.3
0.2
0.28
0.24
0.19
0.23
0.3
0.23
0.21
0.16
0.21
0.27
0.23
0.24
0.17
0.2
0.24
0.24
0.19
0.25
0.19
0.28
0.1
0.26
0.1
0.23
0.17
0.11
0.22
0.22
0.2
0.27
0.26
0.13
0.24
0.25
0.2
0.11
0.14
0.18
0.03
0.09
0.14
0.24
0.25
0.2
0.15
0.24
0.18
0.23
0.03
0.15
0.17
0.25
0.24
0.22
0.23
0.28
0.19
0.24
0.3
0.21
0.26
0.26
0.26
0.19
0.19
0.19
0.18
0.18
0.24
0.31
0.23
0.23
0.12
0.06
0.12
0.18
0.22
0.22
0.22
0.19
0.2
0.2
0.28
0.28
0.24
Not Selected
0.78
0.75
0.81
0.83
0.78
0.73
0.74
0.85
0.81
0.76
0.71
0.82
0.76
0.74
0.83
0.82
0.69
0.83
0.72
0.76
0.85
0.76
0.7
0.8
0.72
0.76
0.81
0.77
0.7
0.77
0.79
0.84
0.79
0.73
0.77
0.76
0.83
0.8
0.76
0.76
0.81
0.75
0.81
0.72
0.9
0.74
0.9
0.77
0.83
0.89
0.78
0.78
0.8
0.73
0.74
0.87
0.76
0.75
0.8
0.89
0.86
0.82
0.97
0.91
0.86
0.76
0.75
0.8
0.85
0.76
0.82
0.77
0.97
0.85
0.83
0.75
0.76
0.78
0.77
0.72
0.81
0.76
0.7
0.79
0.74
0.74
0.74
0.81
0.81
0.81
0.82
0.82
0.76
0.69
0.77
0.77
0.88
0.94
0.88
0.82
0.78
0.78
0.78
0.81
0.8
0.8
0.72
0.72
0.76
ECO7_3NET - Why do you believe your employment situation changed since February 15th? Please select all that apply. \\ I cannot work at the office or job site and am unable to perform my job while working at home
Adults
Gender: Male
Gender: Female
Age: 18-34
Age: 35-44
Age: 45-64
Age: 65+
GenZers: 1997-2012
Millennials: 1981-1996
GenXers: 1965-1980
Baby Boomers: 1946-1964
PID: Dem (no lean)
PID: Ind (no lean)
PID: Rep (no lean)
PID/Gender: Dem Men
PID/Gender: Dem Women
PID/Gender: Ind Men
PID/Gender: Ind Women
PID/Gender: Rep Men
PID/Gender: Rep Women
Ideo: Liberal (1-3)
Ideo: Moderate (4)
Ideo: Conservative (5-7)
Educ: < College
Educ: Bachelors degree
Educ: Post-grad
Income: Under 50k
Income: 50k-100k
Income: 100k+
Ethnicity: White
Ethnicity: Hispanic
Ethnicity: Afr. Am.
Ethnicity: Other
All Christian
All Non-Christian
Atheist
Agnostic/Nothing in particular
Religious Non-Protestant/Catholic
Evangelical
Non-Evangelical
Community: Urban
Community: Suburban
Community: Rural
Employ: Private Sector
Employ: Government
Employ: Self-Employed
Employ: Homemaker
Employ: Retired
Employ: Unemployed
Employ: Other
Military HH: Yes
Military HH: No
4-Region: Northeast
4-Region: Midwest
4-Region: South
4-Region: West
In Labor Force
In Labor Force and Employed
In Labor Force but Not Employed
Not in Labor Force
Student
Retired
Disabled
Long Term Unemployed
Been laid off or lost a job: Yes
Been laid off or lost a job: No
Lost pay or income: Yes
Lost pay or income: No
Put on temporary leave from job: Yes
Put on temporary leave from job: No
Increased hours worked per week: Yes
Increased hours worked per week: No
Marginally Attached to Labor Force
Recently laid off or furloughed
Single, never married
Married
Separated
Divorced
Widowed
Living with a partner
Parent
Not a Parent
Anticipates Loss
Does Not Anticipate Loss
<20 Employees
<500 Employees
500+ Employees
Children younger than 6
Children ages 7-17
Children younger than 17
Children 18+
Now WFH
Always WFH
Works in IRL
Annual Salary January
Hourly Pay January
January unemployed, looking
Temp leave w/full pay
Temp leave w/some pay
Temp leave w/no pay
Applied for unemployment prev.
Never applied for unemployment
Employment impacted
Impact Feb 15-19
Impact Mar 1-15
Impact Mar 16-31
Impact Apr 1-15
Impact Apr 16-30
Impact May 1-16
Unweighted N
939
476
463
375
171
326
67
135
326
265
206
354
317
268
162
192
169
148
145
123
307
255
293
501
261
177
417
319
203
704
118
99
136
406
63
60
410
73
224
320
257
470
212
438
78
132
17
38
116
52
126
813
191
220
358
170
796
728
68
143
38
32
22
51
147
792
415
524
219
720
210
729
20
284
329
399
14
83
20
94
384
555
319
409
218
412
238
140
256
338
90
220
88
346
226
508
66
53
56
274
223
716
939
153
173
335
163
104
121
Weighted N
900
451
449
375
164
293
67
162
306
229
198
352
303
244
171
182
154
149
126
118
284
234
280
585
206
108
472
279
148
663
200
123
114
357
50
55
438
58
214
296
265
427
207
382
67
132
25
37
126
57
116
783
166
177
331
226
748
671
78
151
35
32
26
58
152
747
398
502
227
673
190
709
23
293
330
361
17
87
19
86
367
532
293
378
208
390
214
134
250
324
82
199
92
315
176
508
72
49
67
271
233
666
900
169
178
310
190
100
117
Margin of Error (Weighted N)
0.03
0.05
0.05
0.05
0.08
0.06
0.12
0.08
0.06
0.06
0.07
0.05
0.06
0.06
0.07
0.07
0.08
0.08
0.09
0.09
0.06
0.06
0.06
0.04
0.07
0.09
0.05
0.06
0.08
0.04
0.07
0.09
0.09
0.05
0.14
0.13
0.05
0.13
0.07
0.06
0.06
0.05
0.07
0.05
0.12
0.09
0.2
0.16
0.09
0.13
0.09
0.04
0.08
0.07
0.05
0.07
0.04
0.04
0.11
0.08
0.17
0.17
0.19
0.13
0.08
0.04
0.05
0.04
0.07
0.04
0.07
0.04
0.2
0.06
0.05
0.05
0.24
0.11
0.22
0.11
0.05
0.04
0.06
0.05
0.07
0.05
0.07
0.08
0.06
0.05
0.11
0.07
0.1
0.06
0.07
0.04
0.12
0.14
0.12
0.06
0.06
0.04
0.03
0.08
0.07
0.06
0.07
0.1
0.09
Margin of Error (Unweighted N)
0.03
0.04
0.05
0.05
0.07
0.05
0.12
0.08
0.05
0.06
0.07
0.05
0.06
0.06
0.08
0.07
0.08
0.08
0.08
0.09
0.06
0.06
0.06
0.04
0.06
0.07
0.05
0.05
0.07
0.04
0.09
0.1
0.08
0.05
0.12
0.13
0.05
0.11
0.07
0.05
0.06
0.05
0.07
0.05
0.11
0.09
0.24
0.16
0.09
0.14
0.09
0.03
0.07
0.07
0.05
0.08
0.03
0.04
0.12
0.08
0.16
0.17
0.21
0.14
0.08
0.03
0.05
0.04
0.07
0.04
0.07
0.04
0.22
0.06
0.05
0.05
0.26
0.11
0.22
0.1
0.05
0.04
0.05
0.05
0.07
0.05
0.06
0.08
0.06
0.05
0.1
0.07
0.1
0.05
0.07
0.04
0.12
0.13
0.13
0.06
0.07
0.04
0.03
0.08
0.07
0.05
0.08
0.1
0.09
Selected
0.14
0.1
0.17
0.17
0.1
0.12
0.11
0.14
0.17
0.1
0.12
0.14
0.13
0.14
0.12
0.16
0.09
0.18
0.1
0.19
0.14
0.16
0.11
0.13
0.14
0.16
0.16
0.14
0.08
0.15
0.1
0.14
0.09
0.13
0.07
0.17
0.15
0.06
0.09
0.15
0.16
0.11
0.16
0.14
0.15
0.13
0.05
0.2
0.12
0.14
0.14
0.12
0.14
0.14
0.15
0.14
0.14
0.19
0.1
0.11
0.06
0.12
0.11
0.19
0.13
0.18
0.11
0.17
0.13
0.09
0.15
0.1
0.16
0.13
0.13
0.18
0.12
0.02
0.23
0.11
0.15
0.18
0.11
0.14
0.15
0.12
0.14
0.09
0.1
0.15
0.17
0.02
0.12
0.1
0.17
0.08
0.13
0.19
0.19
0.14
0.13
0.14
0.15
0.25
0.16
0.16
0.07
0.08
Not Selected
0.86
0.9
0.83
0.83
0.9
0.88
0.89
0.86
0.83
0.9
0.88
0.86
0.87
0.86
0.88
0.84
0.91
0.82
0.9
0.81
0.86
0.84
0.89
0.87
0.86
0.84
0.84
0.86
0.92
0.85
0.9
0.86
0.91
0.87
0.93
0.83
0.85
0.94
0.91
0.85
0.84
0.89
0.84
0.86
0.85
0.87
1
0.95
0.8
0.88
0.86
0.86
0.88
0.86
0.86
0.85
0.86
0.86
0.81
0.9
0.89
0.94
0.88
0.89
0.81
0.87
0.82
0.89
0.83
0.87
0.91
0.85
0.9
0.84
0.87
0.87
0.82
0.88
0.98
0.77
0.89
0.85
0.82
0.89
0.86
0.85
0.88
0.86
0.91
0.9
0.85
0.83
0.98
0.88
0.9
0.83
0.92
0.87
0.81
0.81
0.86
0.87
0.86
0.85
0.75
0.84
0.84
0.93
0.92
ECO7_4NET - Why do you believe your employment situation changed since February 15th? Please select all that apply. \\ I became sick or temporarily disabled
Adults
Gender: Male
Gender: Female
Age: 18-34
Age: 35-44
Age: 45-64
Age: 65+
GenZers: 1997-2012
Millennials: 1981-1996
GenXers: 1965-1980
Baby Boomers: 1946-1964
PID: Dem (no lean)
PID: Ind (no lean)
PID: Rep (no lean)
PID/Gender: Dem Men
PID/Gender: Dem Women
PID/Gender: Ind Men
PID/Gender: Ind Women
PID/Gender: Rep Men
PID/Gender: Rep Women
Ideo: Liberal (1-3)
Ideo: Moderate (4)
Ideo: Conservative (5-7)
Educ: < College
Educ: Bachelors degree
Educ: Post-grad
Income: Under 50k
Income: 50k-100k
Income: 100k+
Ethnicity: White
Ethnicity: Hispanic
Ethnicity: Afr. Am.
Ethnicity: Other
All Christian
All Non-Christian
Atheist
Agnostic/Nothing in particular
Religious Non-Protestant/Catholic
Evangelical
Non-Evangelical
Community: Urban
Community: Suburban
Community: Rural
Employ: Private Sector
Employ: Government
Employ: Self-Employed
Employ: Homemaker
Employ: Retired
Employ: Unemployed
Employ: Other
Military HH: Yes
Military HH: No
4-Region: Northeast
4-Region: Midwest
4-Region: South
4-Region: West
In Labor Force
In Labor Force and Employed
In Labor Force but Not Employed
Not in Labor Force
Student
Retired
Disabled
Long Term Unemployed
Been laid off or lost a job: Yes
Been laid off or lost a job: No
Lost pay or income: Yes
Lost pay or income: No
Put on temporary leave from job: Yes
Put on temporary leave from job: No
Increased hours worked per week: Yes
Increased hours worked per week: No
Marginally Attached to Labor Force
Recently laid off or furloughed
Single, never married
Married
Separated
Divorced
Widowed
Living with a partner
Parent
Not a Parent
Anticipates Loss
Does Not Anticipate Loss
<20 Employees
<500 Employees
500+ Employees
Children younger than 6
Children ages 7-17
Children younger than 17
Children 18+
Now WFH
Always WFH
Works in IRL
Annual Salary January
Hourly Pay January
January unemployed, looking
Temp leave w/full pay
Temp leave w/some pay
Temp leave w/no pay
Applied for unemployment prev.
Never applied for unemployment
Employment impacted
Impact Feb 15-19
Impact Mar 1-15
Impact Mar 16-31
Impact Apr 1-15
Impact Apr 16-30
Impact May 1-16
Unweighted N
939
476
463
375
171
326
67
135
326
265
206
354
317
268
162
192
169
148
145
123
307
255
293
501
261
177
417
319
203
704
118
99
136
406
63
60
410
73
224
320
257
470
212
438
78
132
17
38
116
52
126
813
191
220
358
170
796
728
68
143
38
32
22
51
147
792
415
524
219
720
210
729
20
284
329
399
14
83
20
94
384
555
319
409
218
412
238
140
256
338
90
220
88
346
226
508
66
53
56
274
223
716
939
153
173
335
163
104
121
Weighted N
900
451
449
375
164
293
67
162
306
229
198
352
303
244
171
182
154
149
126
118
284
234
280
585
206
108
472
279
148
663
200
123
114
357
50
55
438
58
214
296
265
427
207
382
67
132
25
37
126
57
116
783
166
177
331
226
748
671
78
151
35
32
26
58
152
747
398
502
227
673
190
709
23
293
330
361
17
87
19
86
367
532
293
378
208
390
214
134
250
324
82
199
92
315
176
508
72
49
67
271
233
666
900
169
178
310
190
100
117
Margin of Error (Weighted N)
0.03
0.05
0.05
0.05
0.08
0.06
0.12
0.08
0.06
0.06
0.07
0.05
0.06
0.06
0.07
0.07
0.08
0.08
0.09
0.09
0.06
0.06
0.06
0.04
0.07
0.09
0.05
0.06
0.08
0.04
0.07
0.09
0.09
0.05
0.14
0.13
0.05
0.13
0.07
0.06
0.06
0.05
0.07
0.05
0.12
0.09
0.2
0.16
0.09
0.13
0.09
0.04
0.08
0.07
0.05
0.07
0.04
0.04
0.11
0.08
0.17
0.17
0.19
0.13
0.08
0.04
0.05
0.04
0.07
0.04
0.07
0.04
0.2
0.06
0.05
0.05
0.24
0.11
0.22
0.11
0.05
0.04
0.06
0.05
0.07
0.05
0.07
0.08
0.06
0.05
0.11
0.07
0.1
0.06
0.07
0.04
0.12
0.14
0.12
0.06
0.06
0.04
0.03
0.08
0.07
0.06
0.07
0.1
0.09
Margin of Error (Unweighted N)
0.03
0.04
0.05
0.05
0.07
0.05
0.12
0.08
0.05
0.06
0.07
0.05
0.06
0.06
0.08
0.07
0.08
0.08
0.08
0.09
0.06
0.06
0.06
0.04
0.06
0.07
0.05
0.05
0.07
0.04
0.09
0.1
0.08
0.05
0.12
0.13
0.05
0.11
0.07
0.05
0.06
0.05
0.07
0.05
0.11
0.09
0.24
0.16
0.09
0.14
0.09
0.03
0.07
0.07
0.05
0.08
0.03
0.04
0.12
0.08
0.16
0.17
0.21
0.14
0.08
0.03
0.05
0.04
0.07
0.04
0.07
0.04
0.22
0.06
0.05
0.05
0.26
0.11
0.22
0.1
0.05
0.04
0.05
0.05
0.07
0.05
0.06
0.08
0.06
0.05
0.1
0.07
0.1
0.05
0.07
0.04
0.12
0.13
0.13
0.06
0.07
0.04
0.03
0.08
0.07
0.05
0.08
0.1
0.09
Selected
0.03
0.03
0.04
0.03
0.05
0.02
0.06
0.04
0.04
0.01
0.04
0.04
0.03
0.02
0.04
0.05
0.02
0.04
0.03
0.01
0.03
0.05
0.01
0.05
0.01
0.01
0.06
0.01
0.01
0.03
0.04
0.08
0.03
0.01
0.01
0.03
0.06
0.01
0.04
0.02
0.05
0.02
0.04
0.04
0.01
0.01
0.05
0.03
0.07
0.03
0.03
0.02
0.05
0.03
0.03
0.03
0.03
0.05
0.06
0.03
0.03
0.23
0.01
0.02
0.04
0.03
0.04
0.04
0.03
0
0.04
0.04
0.04
0.02
0.02
0.15
0.06
0.1
0.03
0.04
0.03
0.02
0.02
0.02
0.03
0.03
0.04
0.03
0.02
0.03
0.03
0.03
0.02
0.04
0.05
0.05
0.03
0.04
0.02
0.04
0.03
0.07
0.03
0.03
0.04
0.02
0.05
Not Selected
0.97
0.97
0.96
0.97
0.95
0.98
0.94
0.96
0.96
0.99
0.96
0.96
0.97
0.98
0.96
0.95
0.98
0.96
0.97
0.99
0.97
0.95
0.99
0.95
0.99
0.99
0.94
0.99
0.99
0.97
0.96
0.92
0.97
0.99
0.99
0.97
0.94
0.99
0.96
0.98
0.95
0.98
0.96
0.96
0.99
0.99
0.95
0.97
0.93
1
0.97
0.97
0.98
0.95
0.97
0.97
0.97
0.97
0.95
0.94
0.97
0.97
0.77
0.99
0.98
0.96
0.97
0.96
0.96
0.97
1
0.96
0.96
0.96
0.98
0.98
0.85
0.94
1
0.9
0.97
0.96
0.97
0.98
0.98
0.98
0.97
0.97
0.96
0.97
0.98
0.97
0.97
0.97
0.98
0.96
0.95
0.95
0.97
0.96
0.98
0.96
0.97
0.93
0.97
0.97
0.96
0.98
0.95
ECO7_5NET - Why do you believe your employment situation changed since February 15th? Please select all that apply. \\ I need to stay home to care for family members
Adults
Gender: Male
Gender: Female
Age: 18-34
Age: 35-44
Age: 45-64
Age: 65+
GenZers: 1997-2012
Millennials: 1981-1996
GenXers: 1965-1980
Baby Boomers: 1946-1964
PID: Dem (no lean)
PID: Ind (no lean)
PID: Rep (no lean)
PID/Gender: Dem Men
PID/Gender: Dem Women
PID/Gender: Ind Men
PID/Gender: Ind Women
PID/Gender: Rep Men
PID/Gender: Rep Women
Ideo: Liberal (1-3)
Ideo: Moderate (4)
Ideo: Conservative (5-7)
Educ: < College
Educ: Bachelors degree
Educ: Post-grad
Income: Under 50k
Income: 50k-100k
Income: 100k+
Ethnicity: White
Ethnicity: Hispanic
Ethnicity: Afr. Am.
Ethnicity: Other
All Christian
All Non-Christian
Atheist
Agnostic/Nothing in particular
Religious Non-Protestant/Catholic
Evangelical
Non-Evangelical
Community: Urban
Community: Suburban
Community: Rural
Employ: Private Sector
Employ: Government
Employ: Self-Employed
Employ: Homemaker
Employ: Retired
Employ: Unemployed
Employ: Other
Military HH: Yes
Military HH: No
4-Region: Northeast
4-Region: Midwest
4-Region: South
4-Region: West
In Labor Force
In Labor Force and Employed
In Labor Force but Not Employed
Not in Labor Force
Student
Retired
Disabled
Long Term Unemployed
Been laid off or lost a job: Yes
Been laid off or lost a job: No
Lost pay or income: Yes
Lost pay or income: No
Put on temporary leave from job: Yes
Put on temporary leave from job: No
Increased hours worked per week: Yes
Increased hours worked per week: No
Marginally Attached to Labor Force
Recently laid off or furloughed
Single, never married
Married
Separated
Divorced
Widowed
Living with a partner
Parent
Not a Parent
Anticipates Loss
Does Not Anticipate Loss
<20 Employees
<500 Employees
500+ Employees
Children younger than 6
Children ages 7-17
Children younger than 17
Children 18+
Now WFH
Always WFH
Works in IRL
Annual Salary January
Hourly Pay January
January unemployed, looking
Temp leave w/full pay
Temp leave w/some pay
Temp leave w/no pay
Applied for unemployment prev.
Never applied for unemployment
Employment impacted
Impact Feb 15-19
Impact Mar 1-15
Impact Mar 16-31
Impact Apr 1-15
Impact Apr 16-30
Impact May 1-16
Unweighted N
939
476
463
375
171
326
67
135
326
265
206
354
317
268
162
192
169
148
145
123
307
255
293
501
261
177
417
319
203
704
118
99
136
406
63
60
410
73
224
320
257
470
212
438
78
132
17
38
116
52
126
813
191
220
358
170
796
728
68
143
38
32
22
51
147
792
415
524
219
720
210
729
20
284
329
399
14
83
20
94
384
555
319
409
218
412
238
140
256
338
90
220
88
346
226
508
66
53
56
274
223
716
939
153
173
335
163
104
121
Weighted N
900
451
449
375
164
293
67
162
306
229
198
352
303
244
171
182
154
149
126
118
284
234
280
585
206
108
472
279
148
663
200
123
114
357
50
55
438
58
214
296
265
427
207
382
67
132
25
37
126
57
116
783
166
177
331
226
748
671
78
151
35
32
26
58
152
747
398
502
227
673
190
709
23
293
330
361
17
87
19
86
367
532
293
378
208
390
214
134
250
324
82
199
92
315
176
508
72
49
67
271
233
666
900
169
178
310
190
100
117
Margin of Error (Weighted N)
0.03
0.05
0.05
0.05
0.08
0.06
0.12
0.08
0.06
0.06
0.07
0.05
0.06
0.06
0.07
0.07
0.08
0.08
0.09
0.09
0.06
0.06
0.06
0.04
0.07
0.09
0.05
0.06
0.08
0.04
0.07
0.09
0.09
0.05
0.14
0.13
0.05
0.13
0.07
0.06
0.06
0.05
0.07
0.05
0.12
0.09
0.2
0.16
0.09
0.13
0.09
0.04
0.08
0.07
0.05
0.07
0.04
0.04
0.11
0.08
0.17
0.17
0.19
0.13
0.08
0.04
0.05
0.04
0.07
0.04
0.07
0.04
0.2
0.06
0.05
0.05
0.24
0.11
0.22
0.11
0.05
0.04
0.06
0.05
0.07
0.05
0.07
0.08
0.06
0.05
0.11
0.07
0.1
0.06
0.07
0.04
0.12
0.14
0.12
0.06
0.06
0.04
0.03
0.08
0.07
0.06
0.07
0.1
0.09
Margin of Error (Unweighted N)
0.03
0.04
0.05
0.05
0.07
0.05
0.12
0.08
0.05
0.06
0.07
0.05
0.06
0.06
0.08
0.07
0.08
0.08
0.08
0.09
0.06
0.06
0.06
0.04
0.06
0.07
0.05
0.05
0.07
0.04
0.09
0.1
0.08
0.05
0.12
0.13
0.05
0.11
0.07
0.05
0.06
0.05
0.07
0.05
0.11
0.09
0.24
0.16
0.09
0.14
0.09
0.03
0.07
0.07
0.05
0.08
0.03
0.04
0.12
0.08
0.16
0.17
0.21
0.14
0.08
0.03
0.05
0.04
0.07
0.04
0.07
0.04
0.22
0.06
0.05
0.05
0.26
0.11
0.22
0.1
0.05
0.04
0.05
0.05
0.07
0.05
0.06
0.08
0.06
0.05
0.1
0.07
0.1
0.05
0.07
0.04
0.12
0.13
0.13
0.06
0.07
0.04
0.03
0.08
0.07
0.05
0.08
0.1
0.09
Selected
0.09
0.09
0.09
0.12
0.11
0.04
0.03
0.08
0.13
0.07
0.04
0.09
0.08
0.09
0.09
0.1
0.07
0.08
0.11
0.07
0.12
0.07
0.08
0.09
0.06
0.1
0.1
0.07
0.09
0.08
0.11
0.08
0.1
0.07
0.14
0.06
0.1
0.12
0.11
0.04
0.07
0.1
0.08
0.07
0.05
0.14
0.48
0.02
0.05
0.04
0.08
0.09
0.07
0.06
0.07
0.14
0.08
0.08
0.02
0.14
0.19
0.02
0.28
0.13
0.06
0.09
0.07
0.1
0.07
0.09
0.07
0.09
0.02
0.08
0.09
0.11
0.04
0.03
0.07
0.13
0.05
0.1
0.07
0.09
0.09
0.07
0.19
0.17
0.15
0.05
0.12
0.18
0.04
0.1
0.07
0.14
0.18
0.21
0.05
0.06
0.09
0.09
0.19
0.1
0.09
0.15
0.08
0.12
Not Selected
0.91
0.91
0.91
0.88
0.89
0.96
0.97
0.92
0.87
0.93
0.96
0.91
0.92
0.91
0.91
0.9
0.93
0.92
0.89
0.93
0.88
0.93
0.92
0.91
0.94
0.9
0.9
0.93
0.91
0.92
0.89
0.92
0.9
0.93
0.86
0.94
0.9
0.88
0.89
0.96
0.93
0.9
0.92
0.93
0.95
0.86
0.52
0.98
0.95
0.96
0.92
0.91
0.93
0.94
0.93
0.86
0.92
0.92
0.98
0.86
0.81
0.98
0.72
0.87
0.94
0.91
0.93
0.9
0.93
0.91
0.93
0.91
0.98
0.92
0.91
0.89
1
0.96
0.97
0.93
0.87
0.95
0.9
0.93
0.91
0.91
0.93
0.81
0.83
0.85
0.95
0.88
0.82
0.96
0.9
0.93
0.86
0.82
0.79
0.95
0.94
0.91
0.91
0.81
0.9
0.91
0.85
0.92
0.88
ECO7_6NET - Why do you believe your employment situation changed since February 15th? Please select all that apply. \\ The business has more customers or orders
Adults
Gender: Male
Gender: Female
Age: 18-34
Age: 35-44
Age: 45-64
Age: 65+
GenZers: 1997-2012
Millennials: 1981-1996
GenXers: 1965-1980
Baby Boomers: 1946-1964
PID: Dem (no lean)
PID: Ind (no lean)
PID: Rep (no lean)
PID/Gender: Dem Men
PID/Gender: Dem Women
PID/Gender: Ind Men
PID/Gender: Ind Women
PID/Gender: Rep Men
PID/Gender: Rep Women
Ideo: Liberal (1-3)
Ideo: Moderate (4)
Ideo: Conservative (5-7)
Educ: < College
Educ: Bachelors degree
Educ: Post-grad
Income: Under 50k
Income: 50k-100k
Income: 100k+
Ethnicity: White
Ethnicity: Hispanic
Ethnicity: Afr. Am.
Ethnicity: Other
All Christian
All Non-Christian
Atheist
Agnostic/Nothing in particular
Religious Non-Protestant/Catholic
Evangelical
Non-Evangelical
Community: Urban
Community: Suburban
Community: Rural
Employ: Private Sector
Employ: Government
Employ: Self-Employed
Employ: Homemaker
Employ: Retired
Employ: Unemployed
Employ: Other
Military HH: Yes
Military HH: No
4-Region: Northeast
4-Region: Midwest
4-Region: South
4-Region: West
In Labor Force
In Labor Force and Employed
In Labor Force but Not Employed
Not in Labor Force
Student
Retired
Disabled
Long Term Unemployed
Been laid off or lost a job: Yes
Been laid off or lost a job: No
Lost pay or income: Yes
Lost pay or income: No
Put on temporary leave from job: Yes
Put on temporary leave from job: No
Increased hours worked per week: Yes
Increased hours worked per week: No
Marginally Attached to Labor Force
Recently laid off or furloughed
Single, never married
Married
Separated
Divorced
Widowed
Living with a partner
Parent
Not a Parent
Anticipates Loss
Does Not Anticipate Loss
<20 Employees
<500 Employees
500+ Employees
Children younger than 6
Children ages 7-17
Children younger than 17
Children 18+
Now WFH
Always WFH
Works in IRL
Annual Salary January
Hourly Pay January
January unemployed, looking
Temp leave w/full pay
Temp leave w/some pay
Temp leave w/no pay
Applied for unemployment prev.
Never applied for unemployment
Employment impacted
Impact Feb 15-19
Impact Mar 1-15
Impact Mar 16-31
Impact Apr 1-15
Impact Apr 16-30
Impact May 1-16
Unweighted N
939
476
463
375
171
326
67
135
326
265
206
354
317
268
162
192
169
148
145
123
307
255
293
501
261
177
417
319
203
704
118
99
136
406
63
60
410
73
224
320
257
470
212
438
78
132
17
38
116
52
126
813
191
220
358
170
796
728
68
143
38
32
22
51
147
792
415
524
219
720
210
729
20
284
329
399
14
83
20
94
384
555
319
409
218
412
238
140
256
338
90
220
88
346
226
508
66
53
56
274
223
716
939
153
173
335
163
104
121
Weighted N
900
451
449
375
164
293
67
162
306
229
198
352
303
244
171
182
154
149
126
118
284
234
280
585
206
108
472
279
148
663
200
123
114
357
50
55
438
58
214
296
265
427
207
382
67
132
25
37
126
57
116
783
166
177
331
226
748
671
78
151
35
32
26
58
152
747
398
502
227
673
190
709
23
293
330
361
17
87
19
86
367
532
293
378
208
390
214
134
250
324
82
199
92
315
176
508
72
49
67
271
233
666
900
169
178
310
190
100
117
Margin of Error (Weighted N)
0.03
0.05
0.05
0.05
0.08
0.06
0.12
0.08
0.06
0.06
0.07
0.05
0.06
0.06
0.07
0.07
0.08
0.08
0.09
0.09
0.06
0.06
0.06
0.04
0.07
0.09
0.05
0.06
0.08
0.04
0.07
0.09
0.09
0.05
0.14
0.13
0.05
0.13
0.07
0.06
0.06
0.05
0.07
0.05
0.12
0.09
0.2
0.16
0.09
0.13
0.09
0.04
0.08
0.07
0.05
0.07
0.04
0.04
0.11
0.08
0.17
0.17
0.19
0.13
0.08
0.04
0.05
0.04
0.07
0.04
0.07
0.04
0.2
0.06
0.05
0.05
0.24
0.11
0.22
0.11
0.05
0.04
0.06
0.05
0.07
0.05
0.07
0.08
0.06
0.05
0.11
0.07
0.1
0.06
0.07
0.04
0.12
0.14
0.12
0.06
0.06
0.04
0.03
0.08
0.07
0.06
0.07
0.1
0.09
Margin of Error (Unweighted N)
0.03
0.04
0.05
0.05
0.07
0.05
0.12
0.08
0.05
0.06
0.07
0.05
0.06
0.06
0.08
0.07
0.08
0.08
0.08
0.09
0.06
0.06
0.06
0.04
0.06
0.07
0.05
0.05
0.07
0.04
0.09
0.1
0.08
0.05
0.12
0.13
0.05
0.11
0.07
0.05
0.06
0.05
0.07
0.05
0.11
0.09
0.24
0.16
0.09
0.14
0.09
0.03
0.07
0.07
0.05
0.08
0.03
0.04
0.12
0.08
0.16
0.17
0.21
0.14
0.08
0.03
0.05
0.04
0.07
0.04
0.07
0.04
0.22
0.06
0.05
0.05
0.26
0.11
0.22
0.1
0.05
0.04
0.05
0.05
0.07
0.05
0.06
0.08
0.06
0.05
0.1
0.07
0.1
0.05
0.07
0.04
0.12
0.13
0.13
0.06
0.07
0.04
0.03
0.08
0.07
0.05
0.08
0.1
0.09
Selected
0.08
0.1
0.06
0.09
0.08
0.07
0.03
0.13
0.06
0.09
0.05
0.08
0.08
0.06
0.1
0.06
0.1
0.06
0.08
0.03
0.09
0.07
0.08
0.08
0.08
0.06
0.05
0.08
0.15
0.09
0.08
0.03
0.06
0.07
0.04
0.1
0.08
0.04
0.06
0.06
0.06
0.08
0.08
0.11
0.13
0.07
0.01
0.04
0.07
0.08
0.06
0.09
0.07
0.09
0.09
0.1
0.02
0.04
0.05
0.02
0.04
0.08
0.03
0.11
0.03
0.09
0.26
0.03
0.03
0.08
0.07
0.03
0.1
0.08
0.07
0.08
0.07
0.02
0.15
0.04
0.06
0.15
0.05
0.09
0.08
0.06
0.07
0.15
0.1
0.12
0.08
0.03
0.02
0.01
0.03
0.04
0.09
0.08
0.05
0.02
0.03
0.04
0.03
0.04
Not Selected
0.92
0.9
0.94
0.91
0.92
0.93
0.97
0.87
0.94
0.91
0.95
0.92
0.92
0.94
0.9
0.94
0.9
0.94
0.92
0.97
0.91
0.93
0.92
0.92
0.92
0.94
0.95
0.92
0.85
0.91
0.92
0.97
0.94
0.93
0.96
0.9
0.92
0.96
0.94
0.94
0.94
0.92
0.92
0.89
0.87
0.93
1
1
0.99
0.96
0.93
0.92
0.94
0.91
0.93
0.91
0.91
0.9
1
0.98
0.96
1
0.95
0.98
0.96
0.92
0.97
0.89
0.97
0.91
0.74
0.97
1
0.97
0.92
0.93
0.97
0.9
0.92
0.93
0.92
0.93
0.98
0.85
0.96
0.94
0.85
0.95
0.91
0.92
0.94
0.93
0.85
0.9
0.88
0.92
0.97
0.98
0.99
0.97
0.96
0.91
0.92
0.95
0.98
0.97
0.96
0.97
0.96
ECO7_7NET - Why do you believe your employment situation changed since February 15th? Please select all that apply. \\ The business laid off some of its workers so I have to work more hours
Adults
Gender: Male
Gender: Female
Age: 18-34
Age: 35-44
Age: 45-64
Age: 65+
GenZers: 1997-2012
Millennials: 1981-1996
GenXers: 1965-1980
Baby Boomers: 1946-1964
PID: Dem (no lean)
PID: Ind (no lean)
PID: Rep (no lean)
PID/Gender: Dem Men
PID/Gender: Dem Women
PID/Gender: Ind Men
PID/Gender: Ind Women
PID/Gender: Rep Men
PID/Gender: Rep Women
Ideo: Liberal (1-3)
Ideo: Moderate (4)
Ideo: Conservative (5-7)
Educ: < College
Educ: Bachelors degree
Educ: Post-grad
Income: Under 50k
Income: 50k-100k
Income: 100k+
Ethnicity: White
Ethnicity: Hispanic
Ethnicity: Afr. Am.
Ethnicity: Other
All Christian
All Non-Christian
Atheist
Agnostic/Nothing in particular
Religious Non-Protestant/Catholic
Evangelical
Non-Evangelical
Community: Urban
Community: Suburban
Community: Rural
Employ: Private Sector
Employ: Government
Employ: Self-Employed
Employ: Homemaker
Employ: Retired
Employ: Unemployed
Employ: Other
Military HH: Yes
Military HH: No
4-Region: Northeast
4-Region: Midwest
4-Region: South
4-Region: West
In Labor Force
In Labor Force and Employed
In Labor Force but Not Employed
Not in Labor Force
Student
Retired
Disabled
Long Term Unemployed
Been laid off or lost a job: Yes
Been laid off or lost a job: No
Lost pay or income: Yes
Lost pay or income: No
Put on temporary leave from job: Yes
Put on temporary leave from job: No
Increased hours worked per week: Yes
Increased hours worked per week: No
Marginally Attached to Labor Force
Recently laid off or furloughed
Single, never married
Married
Separated
Divorced
Widowed
Living with a partner
Parent
Not a Parent
Anticipates Loss
Does Not Anticipate Loss
<20 Employees
<500 Employees
500+ Employees
Children younger than 6
Children ages 7-17
Children younger than 17
Children 18+
Now WFH
Always WFH
Works in IRL
Annual Salary January
Hourly Pay January
January unemployed, looking
Temp leave w/full pay
Temp leave w/some pay
Temp leave w/no pay
Applied for unemployment prev.
Never applied for unemployment
Employment impacted
Impact Feb 15-19
Impact Mar 1-15
Impact Mar 16-31
Impact Apr 1-15
Impact Apr 16-30
Impact May 1-16
Unweighted N
939
476
463
375
171
326
67
135
326
265
206
354
317
268
162
192
169
148
145
123
307
255
293
501
261
177
417
319
203
704
118
99
136
406
63
60
410
73
224
320
257
470
212
438
78
132
17
38
116
52
126
813
191
220
358
170
796
728
68
143
38
32
22
51
147
792
415
524
219
720
210
729
20
284
329
399
14
83
20
94
384
555
319
409
218
412
238
140
256
338
90
220
88
346
226
508
66
53
56
274
223
716
939
153
173
335
163
104
121
Weighted N
900
451
449
375
164
293
67
162
306
229
198
352
303
244
171
182
154
149
126
118
284
234
280
585
206
108
472
279
148
663
200
123
114
357
50
55
438
58
214
296
265
427
207
382
67
132
25
37
126
57
116
783
166
177
331
226
748
671
78
151
35
32
26
58
152
747
398
502
227
673
190
709
23
293
330
361
17
87
19
86
367
532
293
378
208
390
214
134
250
324
82
199
92
315
176
508
72
49
67
271
233
666
900
169
178
310
190
100
117
Margin of Error (Weighted N)
0.03
0.05
0.05
0.05
0.08
0.06
0.12
0.08
0.06
0.06
0.07
0.05
0.06
0.06
0.07
0.07
0.08
0.08
0.09
0.09
0.06
0.06
0.06
0.04
0.07
0.09
0.05
0.06
0.08
0.04
0.07
0.09
0.09
0.05
0.14
0.13
0.05
0.13
0.07
0.06
0.06
0.05
0.07
0.05
0.12
0.09
0.2
0.16
0.09
0.13
0.09
0.04
0.08
0.07
0.05
0.07
0.04
0.04
0.11
0.08
0.17
0.17
0.19
0.13
0.08
0.04
0.05
0.04
0.07
0.04
0.07
0.04
0.2
0.06
0.05
0.05
0.24
0.11
0.22
0.11
0.05
0.04
0.06
0.05
0.07
0.05
0.07
0.08
0.06
0.05
0.11
0.07
0.1
0.06
0.07
0.04
0.12
0.14
0.12
0.06
0.06
0.04
0.03
0.08
0.07
0.06
0.07
0.1
0.09
Margin of Error (Unweighted N)
0.03
0.04
0.05
0.05
0.07
0.05
0.12
0.08
0.05
0.06
0.07
0.05
0.06
0.06
0.08
0.07
0.08
0.08
0.08
0.09
0.06
0.06
0.06
0.04
0.06
0.07
0.05
0.05
0.07
0.04
0.09
0.1
0.08
0.05
0.12
0.13
0.05
0.11
0.07
0.05
0.06
0.05
0.07
0.05
0.11
0.09
0.24
0.16
0.09
0.14
0.09
0.03
0.07
0.07
0.05
0.08
0.03
0.04
0.12
0.08
0.16
0.17
0.21
0.14
0.08
0.03
0.05
0.04
0.07
0.04
0.07
0.04
0.22
0.06
0.05
0.05
0.26
0.11
0.22
0.1
0.05
0.04
0.05
0.05
0.07
0.05
0.06
0.08
0.06
0.05
0.1
0.07
0.1
0.05
0.07
0.04
0.12
0.13
0.13
0.06
0.07
0.04
0.03
0.08
0.07
0.05
0.08
0.1
0.09
Selected
0.07
0.09
0.04
0.09
0.08
0.04
0.01
0.12
0.08
0.04
0.02
0.09
0.06
0.03
0.13
0.06
0.09
0.04
0.03
0.03
0.11
0.03
0.06
0.06
0.06
0.1
0.07
0.05
0.08
0.04
0.13
0.15
0.12
0.03
0.14
0.08
0.08
0.12
0.05
0.05
0.08
0.05
0.08
0.07
0.04
0.05
0.1
0.05
0.04
0.04
0.07
0.04
0.06
0.06
0.11
0.07
0.07
0.1
0.02
0.05
0.04
0.05
0.07
0.04
0.08
0.03
0.08
0.16
0.04
0.05
0.1
0.06
0.14
0.01
0.03
0.04
0.08
0.05
0.07
0.07
0.07
0.07
0.08
0.1
0.09
0.09
0.02
0.09
0.11
0.05
0.1
0.06
0.07
0.1
0.12
0.05
0.09
0.06
0.07
0.09
0.08
0.07
0.1
0.07
0.07
Not Selected
0.93
0.91
0.96
0.91
0.92
0.96
0.99
0.88
0.92
0.96
0.98
0.91
0.94
0.97
0.87
0.94
0.91
0.96
0.97
0.97
0.89
0.97
0.94
0.94
0.94
0.9
0.93
0.95
0.92
0.96
0.87
0.85
0.88
0.97
0.86
0.92
0.92
0.88
0.95
0.95
0.92
0.95
0.92
0.93
0.96
0.95
0.9
1
0.95
0.96
0.96
0.93
0.96
0.94
0.94
0.89
0.93
0.93
0.9
0.98
1
1
0.95
0.96
0.95
0.93
0.96
0.92
0.97
0.92
0.84
0.96
1
0.95
0.9
0.94
0.86
0.99
0.97
0.96
0.92
0.95
0.93
0.93
0.93
0.93
0.92
0.9
0.91
0.91
0.98
0.91
0.89
0.95
0.9
0.94
0.93
0.9
0.88
0.95
0.91
0.94
0.93
0.91
0.92
0.93
0.9
0.93
0.93
ECO7_8NET - Why do you believe your employment situation changed since February 15th? Please select all that apply. \\ Coronavirus affected the business and/or my ability to perform my job
Adults
Gender: Male
Gender: Female
Age: 18-34
Age: 35-44
Age: 45-64
Age: 65+
GenZers: 1997-2012
Millennials: 1981-1996
GenXers: 1965-1980
Baby Boomers: 1946-1964
PID: Dem (no lean)
PID: Ind (no lean)
PID: Rep (no lean)
PID/Gender: Dem Men
PID/Gender: Dem Women
PID/Gender: Ind Men
PID/Gender: Ind Women
PID/Gender: Rep Men
PID/Gender: Rep Women
Ideo: Liberal (1-3)
Ideo: Moderate (4)
Ideo: Conservative (5-7)
Educ: < College
Educ: Bachelors degree
Educ: Post-grad
Income: Under 50k
Income: 50k-100k
Income: 100k+
Ethnicity: White
Ethnicity: Hispanic
Ethnicity: Afr. Am.
Ethnicity: Other
All Christian
All Non-Christian
Atheist
Agnostic/Nothing in particular
Religious Non-Protestant/Catholic
Evangelical
Non-Evangelical
Community: Urban
Community: Suburban
Community: Rural
Employ: Private Sector
Employ: Government
Employ: Self-Employed
Employ: Homemaker
Employ: Retired
Employ: Unemployed
Employ: Other
Military HH: Yes
Military HH: No
4-Region: Northeast
4-Region: Midwest
4-Region: South
4-Region: West
In Labor Force
In Labor Force and Employed
In Labor Force but Not Employed
Not in Labor Force
Student
Retired
Disabled
Long Term Unemployed
Been laid off or lost a job: Yes
Been laid off or lost a job: No
Lost pay or income: Yes
Lost pay or income: No
Put on temporary leave from job: Yes
Put on temporary leave from job: No
Increased hours worked per week: Yes
Increased hours worked per week: No
Marginally Attached to Labor Force
Recently laid off or furloughed
Single, never married
Married
Separated
Divorced
Widowed
Living with a partner
Parent
Not a Parent
Anticipates Loss
Does Not Anticipate Loss
<20 Employees
<500 Employees
500+ Employees
Children younger than 6
Children ages 7-17
Children younger than 17
Children 18+
Now WFH
Always WFH
Works in IRL
Annual Salary January
Hourly Pay January
January unemployed, looking
Temp leave w/full pay
Temp leave w/some pay
Temp leave w/no pay
Applied for unemployment prev.
Never applied for unemployment
Employment impacted
Impact Feb 15-19
Impact Mar 1-15
Impact Mar 16-31
Impact Apr 1-15
Impact Apr 16-30
Impact May 1-16
Unweighted N
939
476
463
375
171
326
67
135
326
265
206
354
317
268
162
192
169
148
145
123
307
255
293
501
261
177
417
319
203
704
118
99
136
406
63
60
410
73
224
320
257
470
212
438
78
132
17
38
116
52
126
813
191
220
358
170
796
728
68
143
38
32
22
51
147
792
415
524
219
720
210
729
20
284
329
399
14
83
20
94
384
555
319
409
218
412
238
140
256
338
90
220
88
346
226
508
66
53
56
274
223
716
939
153
173
335
163
104
121
Weighted N
900
451
449
375
164
293
67
162
306
229
198
352
303
244
171
182
154
149
126
118
284
234
280
585
206
108
472
279
148
663
200
123
114
357
50
55
438
58
214
296
265
427
207
382
67
132
25
37
126
57
116
783
166
177
331
226
748
671
78
151
35
32
26
58
152
747
398
502
227
673
190
709
23
293
330
361
17
87
19
86
367
532
293
378
208
390
214
134
250
324
82
199
92
315
176
508
72
49
67
271
233
666
900
169
178
310
190
100
117
Margin of Error (Weighted N)
0.03
0.05
0.05
0.05
0.08
0.06
0.12
0.08
0.06
0.06
0.07
0.05
0.06
0.06
0.07
0.07
0.08
0.08
0.09
0.09
0.06
0.06
0.06
0.04
0.07
0.09
0.05
0.06
0.08
0.04
0.07
0.09
0.09
0.05
0.14
0.13
0.05
0.13
0.07
0.06
0.06
0.05
0.07
0.05
0.12
0.09
0.2
0.16
0.09
0.13
0.09
0.04
0.08
0.07
0.05
0.07
0.04
0.04
0.11
0.08
0.17
0.17
0.19
0.13
0.08
0.04
0.05
0.04
0.07
0.04
0.07
0.04
0.2
0.06
0.05
0.05
0.24
0.11
0.22
0.11
0.05
0.04
0.06
0.05
0.07
0.05
0.07
0.08
0.06
0.05
0.11
0.07
0.1
0.06
0.07
0.04
0.12
0.14
0.12
0.06
0.06
0.04
0.03
0.08
0.07
0.06
0.07
0.1
0.09
Margin of Error (Unweighted N)
0.03
0.04
0.05
0.05
0.07
0.05
0.12
0.08
0.05
0.06
0.07
0.05
0.06
0.06
0.08
0.07
0.08
0.08
0.08
0.09
0.06
0.06
0.06
0.04
0.06
0.07
0.05
0.05
0.07
0.04
0.09
0.1
0.08
0.05
0.12
0.13
0.05
0.11
0.07
0.05
0.06
0.05
0.07
0.05
0.11
0.09
0.24
0.16
0.09
0.14
0.09
0.03
0.07
0.07
0.05
0.08
0.03
0.04
0.12
0.08
0.16
0.17
0.21
0.14
0.08
0.03
0.05
0.04
0.07
0.04
0.07
0.04
0.22
0.06
0.05
0.05
0.26
0.11
0.22
0.1
0.05
0.04
0.05
0.05
0.07
0.05
0.06
0.08
0.06
0.05
0.1
0.07
0.1
0.05
0.07
0.04
0.12
0.13
0.13
0.06
0.07
0.04
0.03
0.08
0.07
0.05
0.08
0.1
0.09
Selected
0.47
0.46
0.47
0.46
0.43
0.5
0.45
0.42
0.47
0.46
0.49
0.46
0.43
0.52
0.43
0.48
0.43
0.44
0.54
0.5
0.46
0.47
0.46
0.45
0.53
0.44
0.43
0.53
0.44
0.44
0.45
0.55
0.52
0.49
0.46
0.45
0.45
0.51
0.48
0.49
0.45
0.46
0.5
0.46
0.39
0.5
0.17
0.45
0.52
0.58
0.47
0.46
0.45
0.44
0.51
0.42
0.46
0.46
0.5
0.48
0.52
0.46
0.59
0.43
0.61
0.44
0.54
0.41
0.58
0.43
0.34
0.5
0.54
0.58
0.43
0.5
0.5
0.5
0.53
0.4
0.47
0.47
0.53
0.4
0.49
0.5
0.4
0.46
0.45
0.46
0.57
0.47
0.33
0.48
0.49
0.46
0.36
0.52
0.58
0.56
0.51
0.45
0.47
0.42
0.54
0.58
0.42
0.55
0.38
Not Selected
0.53
0.54
0.53
0.54
0.57
0.5
0.55
0.58
0.53
0.54
0.51
0.54
0.57
0.48
0.57
0.52
0.57
0.56
0.46
0.5
0.54
0.53
0.54
0.55
0.47
0.56
0.57
0.47
0.56
0.56
0.55
0.45
0.48
0.51
0.54
0.55
0.55
0.49
0.52
0.51
0.55
0.54
0.5
0.54
0.61
0.5
0.83
0.55
0.48
0.42
0.53
0.54
0.55
0.56
0.49
0.58
0.54
0.54
0.5
0.52
0.48
0.54
0.41
0.57
0.39
0.56
0.46
0.59
0.42
0.57
0.66
0.5
0.46
0.42
0.57
0.5
0.5
0.5
0.47
0.6
0.53
0.53
0.47
0.6
0.51
0.5
0.6
0.54
0.55
0.54
0.43
0.53
0.67
0.52
0.51
0.54
0.64
0.48
0.42
0.44
0.49
0.55
0.53
0.58
0.46
0.42
0.58
0.45
0.62
ECO7_9NET - Why do you believe your employment situation changed since February 15th? Please select all that apply. \\ I do not know.
Adults
Gender: Male
Gender: Female
Age: 18-34
Age: 35-44
Age: 45-64
Age: 65+
GenZers: 1997-2012
Millennials: 1981-1996
GenXers: 1965-1980
Baby Boomers: 1946-1964
PID: Dem (no lean)
PID: Ind (no lean)
PID: Rep (no lean)
PID/Gender: Dem Men
PID/Gender: Dem Women
PID/Gender: Ind Men
PID/Gender: Ind Women
PID/Gender: Rep Men
PID/Gender: Rep Women
Ideo: Liberal (1-3)
Ideo: Moderate (4)
Ideo: Conservative (5-7)
Educ: < College
Educ: Bachelors degree
Educ: Post-grad
Income: Under 50k
Income: 50k-100k
Income: 100k+
Ethnicity: White
Ethnicity: Hispanic
Ethnicity: Afr. Am.
Ethnicity: Other
All Christian
All Non-Christian
Atheist
Agnostic/Nothing in particular
Religious Non-Protestant/Catholic
Evangelical
Non-Evangelical
Community: Urban
Community: Suburban
Community: Rural
Employ: Private Sector
Employ: Government
Employ: Self-Employed
Employ: Homemaker
Employ: Retired
Employ: Unemployed
Employ: Other
Military HH: Yes
Military HH: No
4-Region: Northeast
4-Region: Midwest
4-Region: South
4-Region: West
In Labor Force
In Labor Force and Employed
In Labor Force but Not Employed
Not in Labor Force
Student
Retired
Disabled
Long Term Unemployed
Been laid off or lost a job: Yes
Been laid off or lost a job: No
Lost pay or income: Yes
Lost pay or income: No
Put on temporary leave from job: Yes
Put on temporary leave from job: No
Increased hours worked per week: Yes
Increased hours worked per week: No
Marginally Attached to Labor Force
Recently laid off or furloughed
Single, never married
Married
Separated
Divorced
Widowed
Living with a partner
Parent
Not a Parent
Anticipates Loss
Does Not Anticipate Loss
<20 Employees
<500 Employees
500+ Employees
Children younger than 6
Children ages 7-17
Children younger than 17
Children 18+
Now WFH
Always WFH
Works in IRL
Annual Salary January
Hourly Pay January
January unemployed, looking
Temp leave w/full pay
Temp leave w/some pay
Temp leave w/no pay
Applied for unemployment prev.
Never applied for unemployment
Employment impacted
Impact Feb 15-19
Impact Mar 1-15
Impact Mar 16-31
Impact Apr 1-15
Impact Apr 16-30
Impact May 1-16
Unweighted N
939
476
463
375
171
326
67
135
326
265
206
354
317
268
162
192
169
148
145
123
307
255
293
501
261
177
417
319
203
704
118
99
136
406
63
60
410
73
224
320
257
470
212
438
78
132
17
38
116
52
126
813
191
220
358
170
796
728
68
143
38
32
22
51
147
792
415
524
219
720
210
729
20
284
329
399
14
83
20
94
384
555
319
409
218
412
238
140
256
338
90
220
88
346
226
508
66
53
56
274
223
716
939
153
173
335
163
104
121
Weighted N
900
451
449
375
164
293
67
162
306
229
198
352
303
244
171
182
154
149
126
118
284
234
280
585
206
108
472
279
148
663
200
123
114
357
50
55
438
58
214
296
265
427
207
382
67
132
25
37
126
57
116
783
166
177
331
226
748
671
78
151
35
32
26
58
152
747
398
502
227
673
190
709
23
293
330
361
17
87
19
86
367
532
293
378
208
390
214
134
250
324
82
199
92
315
176
508
72
49
67
271
233
666
900
169
178
310
190
100
117
Margin of Error (Weighted N)
0.03
0.05
0.05
0.05
0.08
0.06
0.12
0.08
0.06
0.06
0.07
0.05
0.06
0.06
0.07
0.07
0.08
0.08
0.09
0.09
0.06
0.06
0.06
0.04
0.07
0.09
0.05
0.06
0.08
0.04
0.07
0.09
0.09
0.05
0.14
0.13
0.05
0.13
0.07
0.06
0.06
0.05
0.07
0.05
0.12
0.09
0.2
0.16
0.09
0.13
0.09
0.04
0.08
0.07
0.05
0.07
0.04
0.04
0.11
0.08
0.17
0.17
0.19
0.13
0.08
0.04
0.05
0.04
0.07
0.04
0.07
0.04
0.2
0.06
0.05
0.05
0.24
0.11
0.22
0.11
0.05
0.04
0.06
0.05
0.07
0.05
0.07
0.08
0.06
0.05
0.11
0.07
0.1
0.06
0.07
0.04
0.12
0.14
0.12
0.06
0.06
0.04
0.03
0.08
0.07
0.06
0.07
0.1
0.09
Margin of Error (Unweighted N)
0.03
0.04
0.05
0.05
0.07
0.05
0.12
0.08
0.05
0.06
0.07
0.05
0.06
0.06
0.08
0.07
0.08
0.08
0.08
0.09
0.06
0.06
0.06
0.04
0.06
0.07
0.05
0.05
0.07
0.04
0.09
0.1
0.08
0.05
0.12
0.13
0.05
0.11
0.07
0.05
0.06
0.05
0.07
0.05
0.11
0.09
0.24
0.16
0.09
0.14
0.09
0.03
0.07
0.07
0.05
0.08
0.03
0.04
0.12
0.08
0.16
0.17
0.21
0.14
0.08
0.03
0.05
0.04
0.07
0.04
0.07
0.04
0.22
0.06
0.05
0.05
0.26
0.11
0.22
0.1
0.05
0.04
0.05
0.05
0.07
0.05
0.06
0.08
0.06
0.05
0.1
0.07
0.1
0.05
0.07
0.04
0.12
0.13
0.13
0.06
0.07
0.04
0.03
0.08
0.07
0.05
0.08
0.1
0.09
Selected
0.12
0.13
0.12
0.1
0.11
0.13
0.2
0.1
0.11
0.14
0.16
0.1
0.15
0.11
0.1
0.11
0.16
0.14
0.12
0.1
0.1
0.11
0.13
0.14
0.09
0.12
0.14
0.12
0.09
0.13
0.11
0.08
0.14
0.11
0.1
0.14
0.13
0.11
0.13
0.12
0.12
0.12
0.13
0.09
0.13
0.08
0.1
0.27
0.17
0.18
0.14
0.12
0.17
0.09
0.11
0.14
0.11
0.11
0.1
0.2
0.16
0.29
0.07
0.24
0.12
0.12
0.09
0.15
0.11
0.13
0.14
0.12
0.3
0.11
0.15
0.11
0.12
0.16
0.11
0.11
0.13
0.06
0.14
0.12
0.11
0.1
0.06
0.1
0.09
0.12
0.07
0.16
0.11
0.1
0.1
0.28
0.02
0.04
0.11
0.13
0.12
0.12
0.09
0.06
0.08
0.1
0.11
0.17
Not Selected
0.88
0.87
0.88
0.9
0.89
0.87
0.8
0.9
0.89
0.86
0.84
0.9
0.85
0.89
0.9
0.89
0.84
0.86
0.88
0.9
0.9
0.89
0.87
0.86
0.91
0.88
0.86
0.88
0.91
0.87
0.89
0.92
0.86
0.89
0.9
0.86
0.87
0.89
0.87
0.88
0.88
0.88
0.87
0.91
0.87
0.92
0.9
0.73
0.83
0.82
0.86
0.88
0.83
0.91
0.89
0.86
0.89
0.89
0.9
0.8
0.84
0.71
0.93
0.76
0.88
0.88
0.91
0.85
0.89
0.87
0.86
0.88
0.7
0.89
0.85
0.89
1
0.88
0.84
0.89
0.89
0.87
0.94
0.86
0.88
0.89
0.9
0.94
0.9
0.91
0.88
0.93
0.84
0.89
0.9
0.9
0.72
0.98
0.96
0.89
0.87
0.88
0.88
0.91
0.94
0.92
0.9
0.89
0.83
ECO8 - Do you expect that you will experience a loss of employment income in the next 4 weeks because of the coronavirus pandemic?
Adults
Gender: Male
Gender: Female
Age: 18-34
Age: 35-44
Age: 45-64
Age: 65+
GenZers: 1997-2012
Millennials: 1981-1996
GenXers: 1965-1980
Baby Boomers: 1946-1964
PID: Dem (no lean)
PID: Ind (no lean)
PID: Rep (no lean)
PID/Gender: Dem Men
PID/Gender: Dem Women
PID/Gender: Ind Men
PID/Gender: Ind Women
PID/Gender: Rep Men
PID/Gender: Rep Women
Ideo: Liberal (1-3)
Ideo: Moderate (4)
Ideo: Conservative (5-7)
Educ: < College
Educ: Bachelors degree
Educ: Post-grad
Income: Under 50k
Income: 50k-100k
Income: 100k+
Ethnicity: White
Ethnicity: Hispanic
Ethnicity: Afr. Am.
Ethnicity: Other
All Christian
All Non-Christian
Atheist
Agnostic/Nothing in particular
Religious Non-Protestant/Catholic
Evangelical
Non-Evangelical
Community: Urban
Community: Suburban
Community: Rural
Employ: Private Sector
Employ: Government
Employ: Self-Employed
Employ: Homemaker
Employ: Retired
Employ: Unemployed
Employ: Other
Military HH: Yes
Military HH: No
4-Region: Northeast
4-Region: Midwest
4-Region: South
4-Region: West
In Labor Force
In Labor Force and Employed
In Labor Force but Not Employed
Not in Labor Force
Student
Retired
Disabled
Long Term Unemployed
Been laid off or lost a job: Yes
Been laid off or lost a job: No
Lost pay or income: Yes
Lost pay or income: No
Put on temporary leave from job: Yes
Put on temporary leave from job: No
Increased hours worked per week: Yes
Increased hours worked per week: No
Marginally Attached to Labor Force
Recently laid off or furloughed
Single, never married
Married
Separated
Divorced
Widowed
Living with a partner
Parent
Not a Parent
Anticipates Loss
Does Not Anticipate Loss
<20 Employees
<500 Employees
500+ Employees
Children younger than 6
Children ages 7-17
Children younger than 17
Children 18+
Now WFH
Always WFH
Works in IRL
Annual Salary January
Hourly Pay January
January unemployed, looking
Temp leave w/full pay
Temp leave w/some pay
Temp leave w/no pay
Applied for unemployment prev.
Never applied for unemployment
Employment impacted
Impact Feb 15-19
Impact Mar 1-15
Impact Mar 16-31
Impact Apr 1-15
Impact Apr 16-30
Impact May 1-16
Unweighted N
1229
664
565
443
253
471
62
114
452
393
259
413
416
400
195
218
249
167
220
180
368
333
438
567
385
277
430
457
342
969
135
101
159
585
73
78
493
84
315
435
321
654
254
758
161
181
6
14
20
49
176
1053
239
311
468
211
1229
1229
0
0
0
0
0
0
104
1125
353
876
180
1049
228
1001
4
220
372
602
14
103
23
115
515
714
356
873
332
654
414
201
336
450
112
426
168
532
449
608
42
51
46
177
229
1000
728
110
124
240
132
80
101
Weighted N
1102
598
504
402
234
412
54
142
383
338
231
390
367
345
193
197
219
148
187
158
313
291
394
638
299
165
468
396
238
865
216
126
111
477
56
69
500
67
285
373
308
563
231
642
140
188
6
11
21
48
157
945
198
243
405
256
1102
1102
111
991
335
767
180
922
208
894
5
227
360
505
15
98
20
103
458
644
331
771
322
605
357
168
304
398
103
349
167
496
333
602
36
48
56
166
212
890
671
114
121
220
157
81
97
Margin of Error (Weighted N)
0.03
0.04
0.04
0.05
0.06
0.05
0.13
0.08
0.05
0.05
0.06
0.05
0.05
0.05
0.07
0.07
0.07
0.08
0.07
0.08
0.06
0.06
0.05
0.04
0.06
0.08
0.05
0.05
0.06
0.03
0.07
0.09
0.09
0.04
0.13
0.12
0.04
0.12
0.06
0.05
0.06
0.04
0.06
0.04
0.08
0.07
0.4
0.3
0.21
0.14
0.08
0.03
0.07
0.06
0.05
0.06
0.03
0.03
0.09
0.03
0.05
0.04
0.07
0.03
0.07
0.03
0.44
0.07
0.05
0.04
0.25
0.1
0.22
0.1
0.05
0.04
0.05
0.04
0.05
0.04
0.05
0.08
0.06
0.05
0.1
0.05
0.08
0.04
0.05
0.04
0.16
0.14
0.13
0.08
0.07
0.03
0.04
0.09
0.09
0.07
0.08
0.11
0.1
Margin of Error (Unweighted N)
0.03
0.04
0.04
0.05
0.06
0.05
0.12
0.09
0.05
0.05
0.06
0.05
0.05
0.05
0.07
0.07
0.06
0.08
0.07
0.07
0.05
0.05
0.05
0.04
0.05
0.06
0.05
0.05
0.05
0.03
0.08
0.1
0.08
0.04
0.11
0.11
0.04
0.11
0.06
0.05
0.05
0.04
0.06
0.04
0.08
0.07
0.4
0.26
0.22
0.14
0.07
0.03
0.06
0.06
0.05
0.07
0.03
0.03
#NUM!
#NUM!
#NUM!
#NUM!
#NUM!
#NUM!
0.1
0.03
0.05
0.03
0.07
0.03
0.06
0.03
0.49
0.07
0.05
0.04
0.26
0.1
0.2
0.09
0.04
0.04
0.05
0.03
0.05
0.04
0.05
0.07
0.05
0.05
0.09
0.05
0.08
0.04
0.05
0.04
0.15
0.14
0.14
0.07
0.06
0.03
0.04
0.09
0.09
0.06
0.09
0.11
0.1
Yes
0.3
0.32
0.28
0.33
0.24
0.29
0.37
0.41
0.26
0.26
0.35
0.29
0.31
0.31
0.33
0.24
0.33
0.27
0.29
0.33
0.29
0.35
0.29
0.31
0.28
0.3
0.38
0.24
0.24
0.28
0.36
0.3
0.42
0.3
0.45
0.24
0.29
0.4
0.31
0.32
0.4
0.28
0.21
0.27
0.2
0.44
0.57
0.28
0.63
0.31
0.3
0.3
0.26
0.28
0.35
0.27
0.3
0.3
0.71
0.25
0.65
0.15
0.59
0.24
0.2
0.32
0.13
0.61
0.33
0.27
0.62
0.32
0.34
0.27
0.29
0.31
1
0.43
0.36
0.24
0.26
0.3
0.29
0.31
0.29
0.3
0.29
0.19
0.33
0.5
0.44
0.46
0.68
0.43
0.27
0.44
0.59
0.55
0.54
0.44
0.61
0.56
No
0.7
0.68
0.72
0.67
0.76
0.71
0.63
0.59
0.74
0.74
0.65
0.71
0.69
0.69
0.67
0.76
0.67
0.73
0.71
0.67
0.71
0.65
0.71
0.69
0.72
0.7
0.62
0.76
0.76
0.72
0.64
0.7
0.58
0.7
0.55
0.76
0.71
0.6
0.69
0.68
0.6
0.72
0.79
0.73
0.8
0.56
0.43
0.72
0.37
0.69
0.7
0.7
0.74
0.72
0.65
0.73
0.7
0.7
0.29
0.75
0.35
0.85
0.41
0.76
0.8
0.68
0.87
0.39
0.67
0.73
0.38
0.68
0.66
0.73
0.71
0.69
1
0.57
0.64
0.76
0.74
0.7
0.71
0.69
0.71
0.7
0.71
0.81
0.67
0.5
0.56
0.54
0.32
0.57
0.73
0.56
0.41
0.45
0.46
0.56
0.39
0.44
HOURLY PAID WORKERS MORE ANXIOUS
NO REAL DIFFERENCT ACROSS EDUCATION; BIGGER DIFFERENCE ACROSS INCOME AND AGE --> MAYBE OLD PEOPLE CAN'T DO THE WORK DUE TO HEALTH RISKS
DIFFERENCE BETWEEN HOURLY AND SALARIED WORKERS
ECO9 - Which of the following most accurately describes where you work?
Adults
Gender: Male
Gender: Female
Age: 18-34
Age: 35-44
Age: 45-64
Age: 65+
GenZers: 1997-2012
Millennials: 1981-1996
GenXers: 1965-1980
Baby Boomers: 1946-1964
PID: Dem (no lean)
PID: Ind (no lean)
PID: Rep (no lean)
PID/Gender: Dem Men
PID/Gender: Dem Women
PID/Gender: Ind Men
PID/Gender: Ind Women
PID/Gender: Rep Men
PID/Gender: Rep Women
Ideo: Liberal (1-3)
Ideo: Moderate (4)
Ideo: Conservative (5-7)
Educ: < College
Educ: Bachelors degree
Educ: Post-grad
Income: Under 50k
Income: 50k-100k
Income: 100k+
Ethnicity: White
Ethnicity: Hispanic
Ethnicity: Afr. Am.
Ethnicity: Other
All Christian
All Non-Christian
Atheist
Agnostic/Nothing in particular
Religious Non-Protestant/Catholic
Evangelical
Non-Evangelical
Community: Urban
Community: Suburban
Community: Rural
Employ: Private Sector
Employ: Government
Employ: Self-Employed
Employ: Homemaker
Employ: Retired
Employ: Unemployed
Employ: Other
Military HH: Yes
Military HH: No
4-Region: Northeast
4-Region: Midwest
4-Region: South
4-Region: West
In Labor Force
In Labor Force and Employed
In Labor Force but Not Employed
Not in Labor Force
Student
Retired
Disabled
Long Term Unemployed
Been laid off or lost a job: Yes
Been laid off or lost a job: No
Lost pay or income: Yes
Lost pay or income: No
Put on temporary leave from job: Yes
Put on temporary leave from job: No
Increased hours worked per week: Yes
Increased hours worked per week: No
Marginally Attached to Labor Force
Recently laid off or furloughed
Single, never married
Married
Separated
Divorced
Widowed
Living with a partner
Parent
Not a Parent
Anticipates Loss
Does Not Anticipate Loss
<20 Employees
<500 Employees
500+ Employees
Children younger than 6
Children ages 7-17
Children younger than 17
Children 18+
Now WFH
Always WFH
Works in IRL
Annual Salary January
Hourly Pay January
January unemployed, looking
Temp leave w/full pay
Temp leave w/some pay
Temp leave w/no pay
Applied for unemployment prev.
Never applied for unemployment
Employment impacted
Impact Feb 15-19
Impact Mar 1-15
Impact Mar 16-31
Impact Apr 1-15
Impact Apr 16-30
Impact May 1-16
Unweighted N
1229
664
565
443
253
471
62
114
452
393
259
413
416
400
195
218
249
167
220
180
368
333
438
567
385
277
430
457
342
969
135
101
159
585
73
78
493
84
315
435
321
654
254
758
161
181
6
14
20
49
176
1053
239
311
468
211
1229
1229
0
0
0
0
0
0
104
1125
353
876
180
1049
228
1001
4
220
372
602
14
103
23
115
515
714
356
873
332
654
414
201
336
450
112
426
168
532
449
608
42
51
46
177
229
1000
728
110
124
240
132
80
101
Weighted N
1102
598
504
402
234
412
54
142
383
338
231
390
367
345
193
197
219
148
187
158
313
291
394
638
299
165
468
396
238
865
216
126
111
477
56
69
500
67
285
373
308
563
231
642
140
188
6
11
21
48
157
945
198
243
405
256
1102
1102
111
991
335
767
180
922
208
894
5
227
360
505
15
98
20
103
458
644
331
771
322
605
357
168
304
398
103
349
167
496
333
602
36
48
56
166
212
890
671
114
121
220
157
81
97
Margin of Error (Weighted N)
0.03
0.04
0.04
0.05
0.06
0.05
0.13
0.08
0.05
0.05
0.06
0.05
0.05
0.05
0.07
0.07
0.07
0.08
0.07
0.08
0.06
0.06
0.05
0.04
0.06
0.08
0.05
0.05
0.06
0.03
0.07
0.09
0.09
0.04
0.13
0.12
0.04
0.12
0.06
0.05
0.06
0.04
0.06
0.04
0.08
0.07
0.4
0.3
0.21
0.14
0.08
0.03
0.07
0.06
0.05
0.06
0.03
0.03
0.09
0.03
0.05
0.04
0.07
0.03
0.07
0.03
0.44
0.07
0.05
0.04
0.25
0.1
0.22
0.1
0.05
0.04
0.05
0.04
0.05
0.04
0.05
0.08
0.06
0.05
0.1
0.05
0.08
0.04
0.05
0.04
0.16
0.14
0.13
0.08
0.07
0.03
0.04
0.09
0.09
0.07
0.08
0.11
0.1
Margin of Error (Unweighted N)
0.03
0.04
0.04
0.05
0.06
0.05
0.12
0.09
0.05
0.05
0.06
0.05
0.05
0.05
0.07
0.07
0.06
0.08
0.07
0.07
0.05
0.05
0.05
0.04
0.05
0.06
0.05
0.05
0.05
0.03
0.08
0.1
0.08
0.04
0.11
0.11
0.04
0.11
0.06
0.05
0.05
0.04
0.06
0.04
0.08
0.07
0.4
0.26
0.22
0.14
0.07
0.03
0.06
0.06
0.05
0.07
0.03
0.03
#NUM!
#NUM!
#NUM!
#NUM!
#NUM!
#NUM!
0.1
0.03
0.05
0.03
0.07
0.03
0.06
0.03
0.49
0.07
0.05
0.04
0.26
0.1
0.2
0.09
0.04
0.04
0.05
0.03
0.05
0.04
0.05
0.07
0.05
0.05
0.09
0.05
0.08
0.04
0.05
0.04
0.15
0.14
0.14
0.07
0.06
0.03
0.04
0.09
0.09
0.06
0.09
0.11
0.1
I used to work in an office, but I now work from home due to the coronavirus pandemic
0.32
0.31
0.33
0.33
0.35
0.29
0.25
0.26
0.36
0.35
0.24
0.38
0.29
0.27
0.34
0.42
0.29
0.29
0.29
0.24
0.42
0.31
0.27
0.19
0.47
0.54
0.22
0.35
0.46
0.32
0.39
0.27
0.32
0.36
0.35
0.29
0.27
0.33
0.26
0.33
0.39
0.34
0.17
0.34
0.49
0.16
0.1
0.14
0.27
0.31
0.32
0.4
0.31
0.24
0.37
0.32
0.32
0.27
0.32
0.29
0.33
0.28
0.32
0.27
0.33
0.1
0.27
0.28
0.35
0.26
0.33
0.1
0.32
0.36
0.28
0.3
0.32
0.13
0.26
0.34
0.36
0.38
0.37
0.34
1
0.53
0.24
0.2
0.38
0.34
0.23
0.29
0.32
0.3
0.24
0.28
0.26
0.33
0.39
0.3
I worked from home even before the coronavirus pandemic, and currently work from home
0.15
0.17
0.12
0.19
0.14
0.12
0.22
0.26
0.16
0.11
0.14
0.15
0.17
0.13
0.17
0.13
0.2
0.12
0.15
0.12
0.14
0.15
0.15
0.17
0.12
0.14
0.18
0.13
0.13
0.14
0.2
0.23
0.18
0.12
0.3
0.23
0.16
0.28
0.15
0.12
0.14
0.16
0.15
0.07
0.02
0.46
0.09
0.41
0.31
0.09
0.15
0.15
0.13
0.11
0.17
0.18
0.15
0.15
0.17
0.15
0.14
0.16
0.08
0.17
0.22
0.13
0.12
0.21
0.13
0.08
0.1
0.09
0.12
0.12
0.18
0.15
0.15
0.32
0.22
0.09
0.16
0.11
0.11
0.06
1
0.16
0.09
0.37
0.22
0.26
0.06
0.15
0.15
0.14
0.24
0.16
0.15
0.24
0.17
0.13
I leave my home to work in an office or other workplace
0.45
0.45
0.45
0.41
0.46
0.49
0.42
0.39
0.42
0.47
0.52
0.41
0.43
0.51
0.44
0.38
0.43
0.44
0.48
0.54
0.37
0.47
0.5
0.53
0.36
0.28
0.48
0.48
0.34
0.46
0.37
0.42
0.43
0.44
0.33
0.34
0.49
0.37
0.51
0.45
0.4
0.43
0.56
0.52
0.41
0.29
0.39
0.18
0.19
0.6
0.46
0.45
0.41
0.48
0.49
0.39
0.45
0.45
0.42
0.45
0.47
0.44
0.53
0.43
0.45
0.45
0.18
0.49
0.43
0.44
0.66
0.48
0.78
0.47
0.47
0.44
0.44
0.45
0.42
0.43
0.5
0.43
0.47
0.47
0.51
1
0.27
0.58
0.35
0.37
0.32
0.55
0.47
0.44
0.47
0.4
0.45
0.47
0.37
0.42
0.45
Other (please specify):
0.08
0.07
0.1
0.07
0.05
0.1
0.11
0.09
0.07
0.07
0.11
0.06
0.1
0.09
0.06
0.06
0.07
0.15
0.07
0.1
0.08
0.06
0.08
0.11
0.05
0.04
0.12
0.04
0.07
0.08
0.04
0.08
0.08
0.08
0.02
0.15
0.08
0.02
0.08
0.09
0.08
0.07
0.12
0.07
0.07
0.09
0.52
0.32
0.36
0.04
0.09
0.08
0.06
0.1
0.1
0.06
0.08
0.08
0.14
0.08
0.1
0.07
0.11
0.08
0.06
0.09
0.72
0.12
0.08
0.08
0.08
0.03
0.09
0.06
0.1
0.1
0.07
0.12
0.09
0.07
0.06
0.04
0.05
0.09
0.04
0.09
0.08
0.04
0.08
0.16
0.09
0.08
0.1
0.12
0.11
0.12
0.06
0.02
0.13