Republicans Propose Major Redraw of N.C. Districts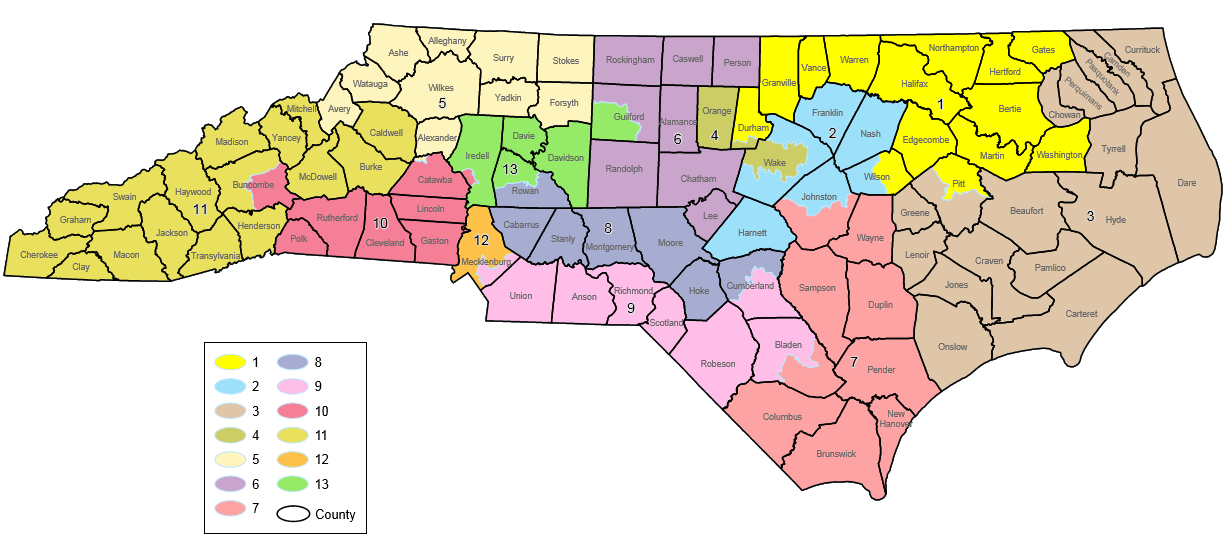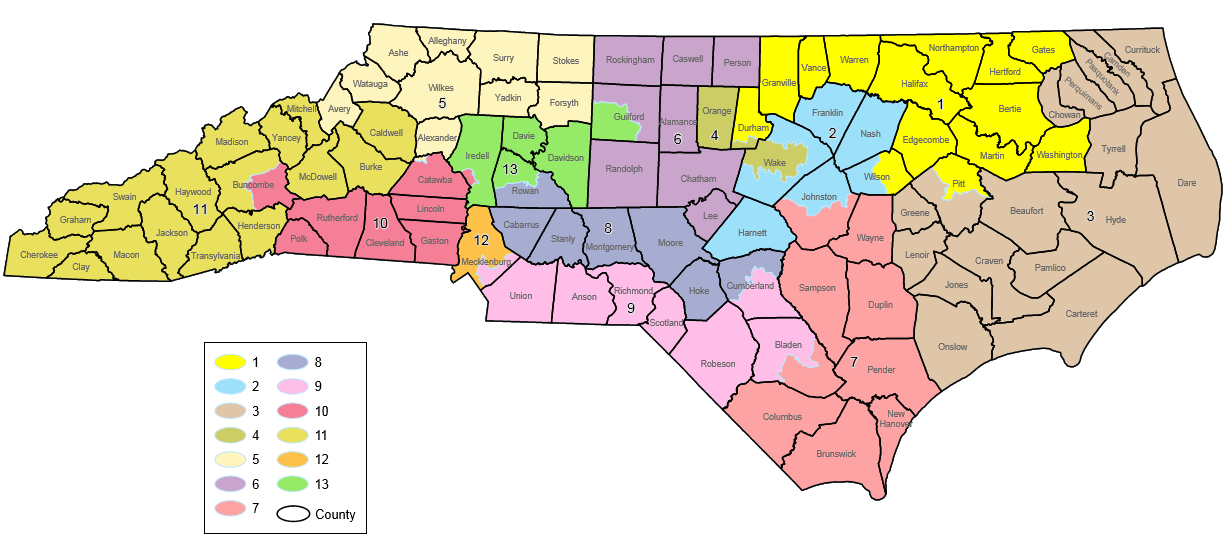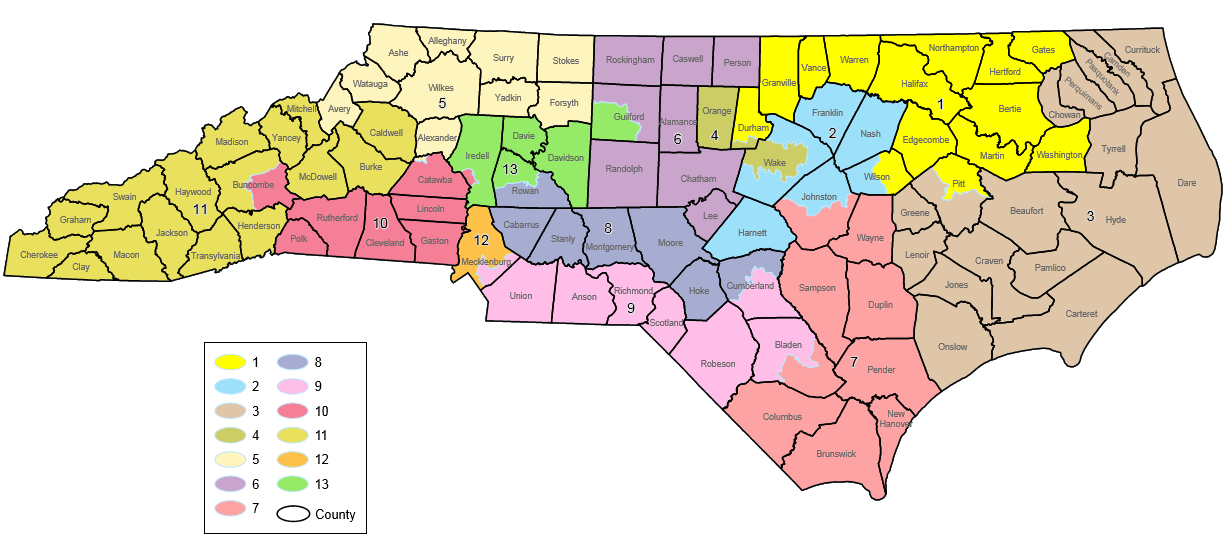 Weeks after a federal court ruled two of North Carolina's congressional districts unconstitutional, state Republican legislators have proposed significant changes they hope will stand up to scrutiny — and that would maintain Republican control of 10 of the state's 13 seats.
The state House and Senate will take up the newly proposed maps in a special session Thursday morning. At the same time, legislators will consider delaying the March 15 primary to give candidates more time to file under the new lines.
The proposal most dramatically alters the state's 12th District, held by Democratic Rep. Alma Adams. Current lines have the district snaking north along Interstate 85 from Charlotte to Greensboro; the new lines would compact the seat entirely within Charlotte's Mecklenburg County.
The 1st District, held by Democratic Rep. G.K. Butterfield, would lose parts of several counties in the eastern corner of the state, in exchange for new voters in Durham County. Democratic Rep. David Price's 4th District would become much more compact, taking in Democratic voters in Orange, Durham and Wake counties.
New Proposed Congressional District Boundaries
Several counties Adams currently represents would fall under districts held by GOP Reps. George Holding, Mark Walker and Patrick McHenry. Holding's 13th District would shift entirely, from east of Raleigh to Greensboro in the west. And Republican Rep. Robert Pittenger's 9th District would shift from the Charlotte suburbs to a series of more rural counties along the border with South Carolina. Several counties Pittenger currently represents would move into GOP Rep. Richard Hudson's district.
The new boundaries would draw both Adams and Holding out of their current districts. Adams lives in Greensboro, about 90 miles from her new constituents; Holding, of Raleigh, would be drawn into Price's district, though not as far from his current district as Adams would be.
The Republican-drawn map still packs Democratic voters into three safe districts, according to election data compiled by the liberal Daily Kos blog. Under the new map, the 1st, 4th and 12th districts all gave President Obama more than 65 percent of the vote in 2012. Former Massachusetts Gov. Mitt Romney won the state's other ten districts with at least 53 percent of the vote that year.
Current District Lines, Enacted in 2011
Democrats objected to the new maps, passed on party-line votes, which they said still do not comply with the federal court order.
"The new districts are no more legitimate than the old. A three-ten split in the House delegation does not reflect the current demographics or voter registration of our state," Price said in a statement. "The fact that Republicans decided to maintain the current partisan split of seats before they began drawing these new maps demonstrates that they did not set out to ensure fair representation."
But Republicans said the new lines meet constitutional muster because they do not take race into consideration at all. Just 13 counties are divided between two districts under the new maps, about a third the number of counties split up under the current maps.
"These maps reduce the amount of Republican voters in several Congressional districts, but we will fight and retain these seats," state GOP Chairman Hasan Harnett said in a statement.
In a letter to House Speaker Tim Moore (R) and Senate President Phil Burger (R), Butterfield objected to the fact that race was not considered in redrawing the maps. Butterfield said race could not be the sole determination of district lines, but that it could be at least one factor.
Ellmers emerges as the most significant winner under the new map, which includes her home Harnett County. Ellmers faces a challenge from Chatham County Republican Party Chairman Jim Duncan, whose home is outside the district.
Republicans are waiting on the U.S. Supreme Court, hopeful it would order a stay of the lower court's ruling that would maintain the current lines. Lawyers representing Republican Gov. Pat McCrory told the high court that new district lines implemented so late in the process would disrupt the March 15 primary.
The measure to delay House primaries would not impact other elections scheduled for March 15. North Carolina voters will pick presidential nominees and candidates in other races that day.