Democrats Won't Block Senate's Work Over Supreme Court Dispute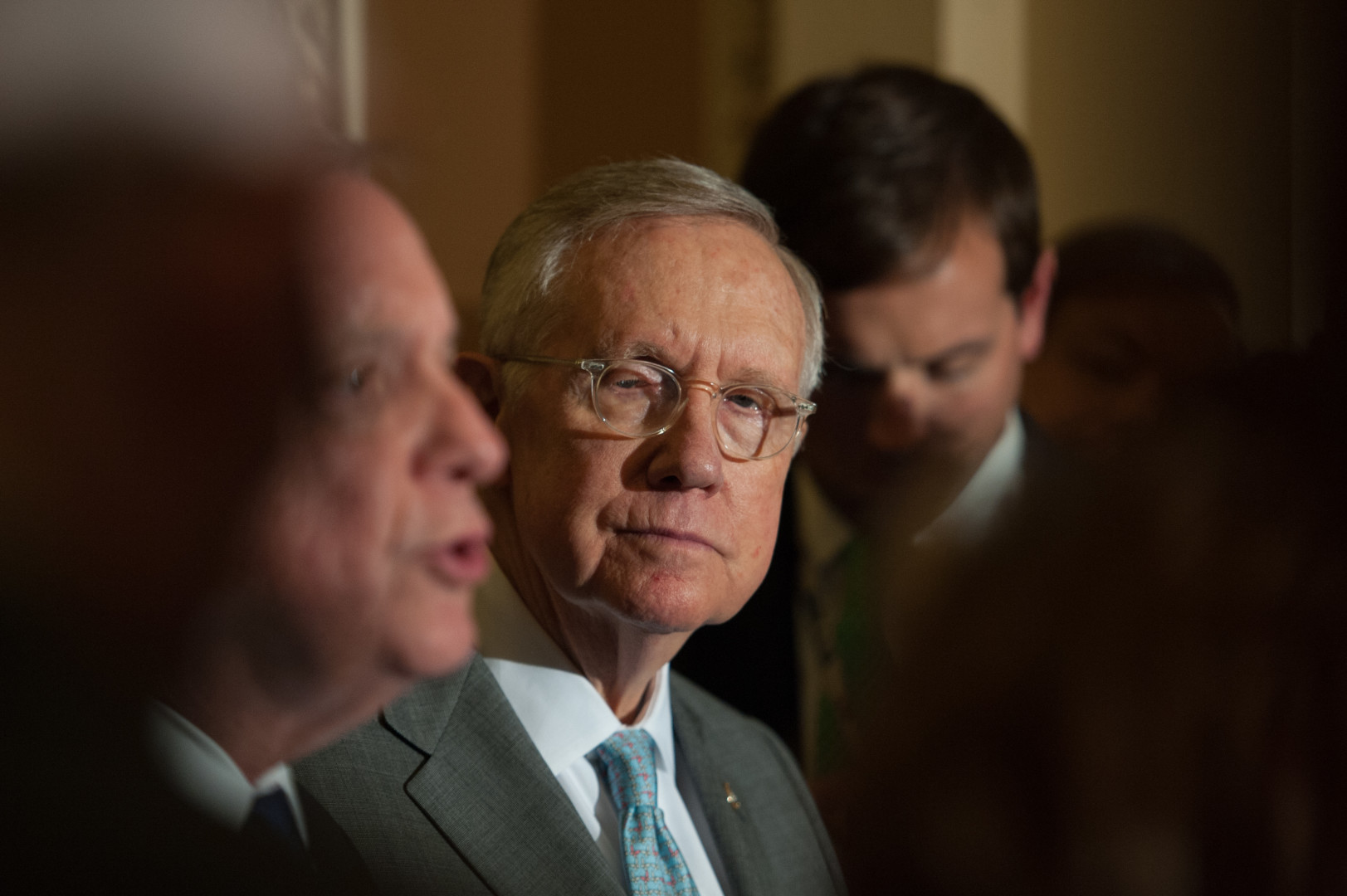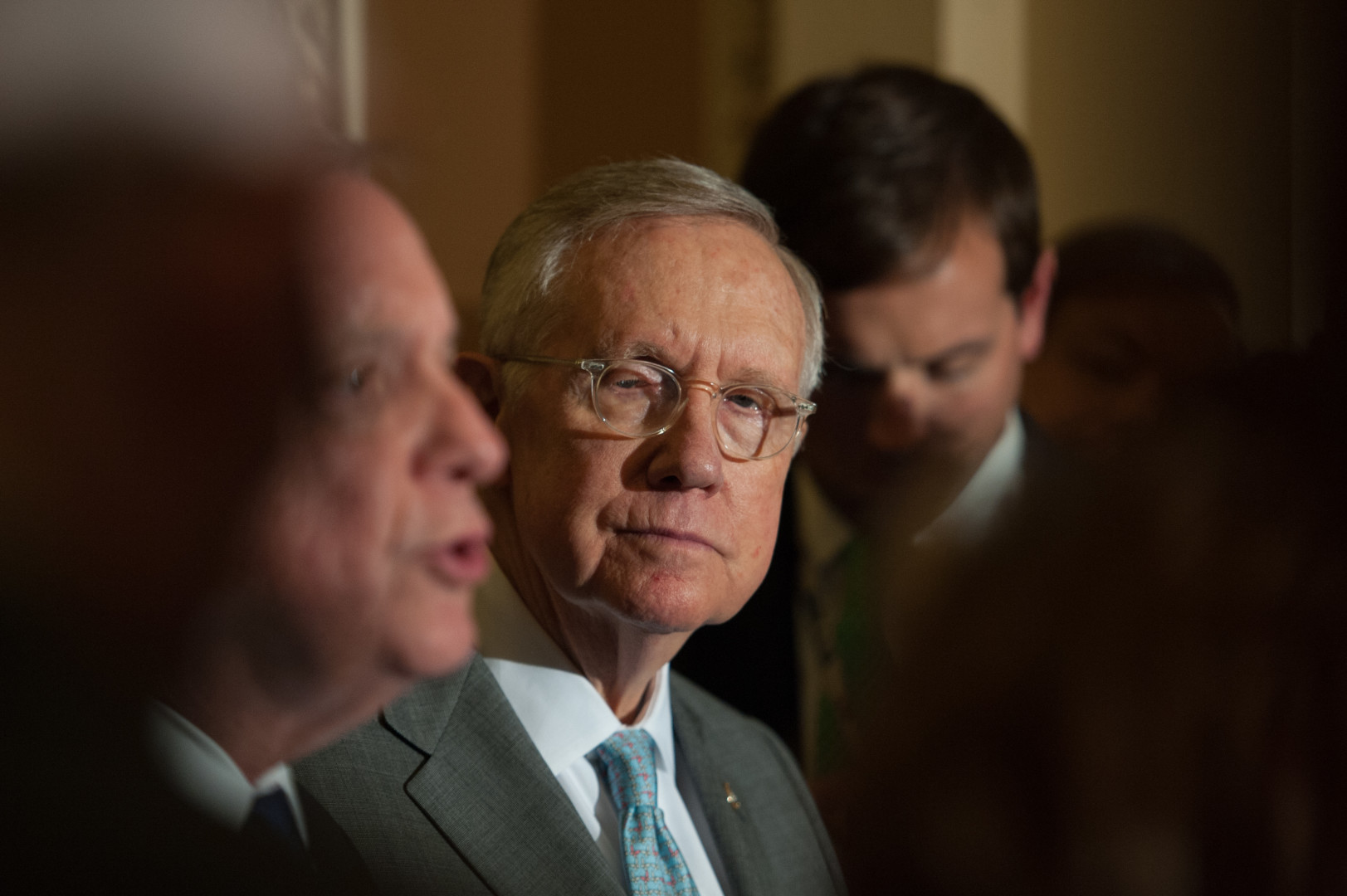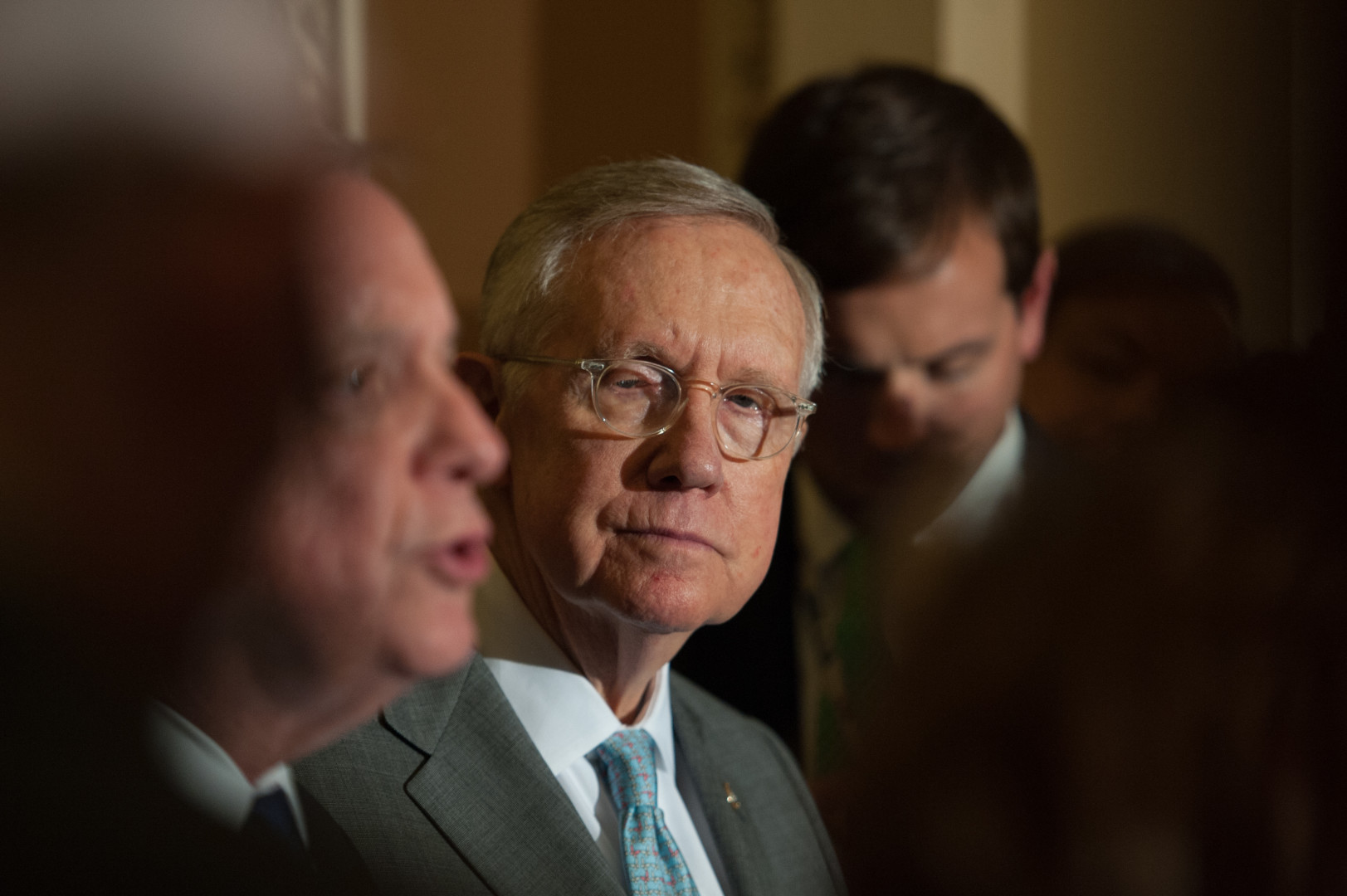 President Obama hasn't even hinted at who he wants to replace the late Supreme Court Justice Antonin Scalia, and already Senate Republicans say they will deny the candidate a hearing and a vote. Senate Majority Leader Mitch McConnell (R-Ky.) even suggested Tuesday he might not take the time to meet whomever Obama nominates to the nation's highest court.
So you'd be forgiven if you expected Senate Democrats to break out the pitchforks and torches.
But leading Senate Democrats insist that despite the GOP's unprecedented decision, they have no plans to grind the chamber to a halt.
"I'm not going to turn into the obstruct caucus," said Senate Minority Leader Harry Reid (D-Nev.) when asked whether the Supreme Court fracas would impede other legislative activity, such as writing next year's spending bills, at his weekly press conference. "We're going to do our work."
Instead, Democrats are content to trust that the winds of public opinion will soon blow their way, especially once Obama taps a replacement.
"[McConnell] hasn't seen the pressure that's going to build," Reid added. His top lieutenant, Minority Whip Dick Durbin (D-Ill.), repeated the same prediction moments later to reporters. Asked whether he expected that pressure to build even further once Obama settled on a nominee, Durbin simply said, "I do."
This seems to be a running theme among Democrats. Make a fuss over the nominee, but don't get in the way of actual work. Senate Judiciary Committee member Richard Blumenthal (D-Conn.) called the GOP's decision "irrational," yet cautioned that shutting down the chamber in retaliation would be a mistake.
"My hope is we'll continue to get things done. That's what the American people want," he said Tuesday. "We should be moving forward on criminal justice reform, on opiate and heroin addiction, on military aid for our allies in the Middle East."
"There is the expectation pressure will continue to build, particularly when we have an actual nominee," explained one Senate Democratic leadership aide via email. "I know everyone is eager to write a Democrats will retaliate and shutdown the Senate story, but as Reid made clear today, we're not there yet."
"Yet" is a key word here. Jim Manley, a former Reid aide, noted that if Democrats decide later to start bottling up the chamber and turn the screws on McConnell's conference, they have a wide range of options and face little risk in doing so. The must-do list is short. There are annual appropriations, something to help Puerto Rico deal with its debt, and the reauthorization of the Federal Aviation Administration. "Not much 'needs' to get done and therefore fallout from shutting things down could be very minimal," he said.
Meanwhile, as Democratic leaders hold off on torpedoing other legislation, the caucus's public relations operation is moving into high gear. On Wednesday, Sen. Amy Klobuchar (D-Minn.) and other Democratic lawmakers will host a forum with legal scholars from the University of North Carolina, the University of Chicago, Georgetown University, and Columbia University to discuss the impact of leaving the court one seat short for almost an entire year.
Democrats across the Capitol are chipping in as well. House Democrats said Tuesday evening they would dedicate part of their post-caucus press conference Wednesday morning to the topic.
On Tuesday, every GOP member of the Senate Judiciary Committee signed a letter stating their intention to forgo giving a hearing to any Supreme Court nominee until after the next president is sworn into office in 2017. Several moments after the letter became public, McConnell told reporters he would fully back the GOP-led panel's decision.
"Not since 1932 has the Senate confirmed in a presidential election year a Supreme Court nominee to a vacancy arising in that year. And it is necessary to go even further back — to 1888 — in order to find an election year nominee who was nominated and confirmed under divided government, as we have now," the letter said. "Because our decision is based on constitutional principle and born of a necessity to protect the will of the American people, this Committee will not hold hearings on any Supreme Court nominee until after our next President is sworn in on January 20, 2017."
Initially, Senate Judiciary Chairman Grassley (R-Iowa) said he would wait until Obama put forward a nominee before deciding on whether to hold hearings, but that changed as the conference members coalesced into a more-or-less consensus opinion not to go forward.
Then a gift landed in the lap of Senate Republicans — a wide-ranging 1992 floor speech featuring then-Senate Judiciary Chairman Joe Biden (D-Del.) opining about the conditions under which a Democratic Senate should consider a hypothetical Supreme Court nominee from Republican President George H.W. Bush, who was then running for re-election.
In typical Biden fashion, the 90-minute long oration meanders, and contains a passage where he says he would consider taking up a moderate Bush nominee. But he also made the case for why his committee would be well within its rights to not even hold a hearing.
Republicans quickly hopped on the remarks as evidence that were the situation flipped, Democrats would be following the current GOP playbook exactly. Republicans aides called it a game changer. Clearly, that helped solidify their belief that they will win the public relations war that is only just beginning.
Grassley took to the Senate floor Monday to quote large portions of Biden's speech verbatim. And speaking to reporters Tuesday, Sen. John McCain (R-Ariz.) relentlessly hammered the point home. "I agree with Joe Biden. He was exactly right," he said. "He has the most convincing argument in the world."
"The only thing bipartisan about this is that both sides of the aisle, when a president of the other party has been in their last year, seem to agree that confirming a justice is not the right thing to do," echoed Sen. Bob Corker (R-Tenn.).
Caitlin Owens contributed to this report.