Can a Judge Make Grassley Rue His SCOTUS Stance?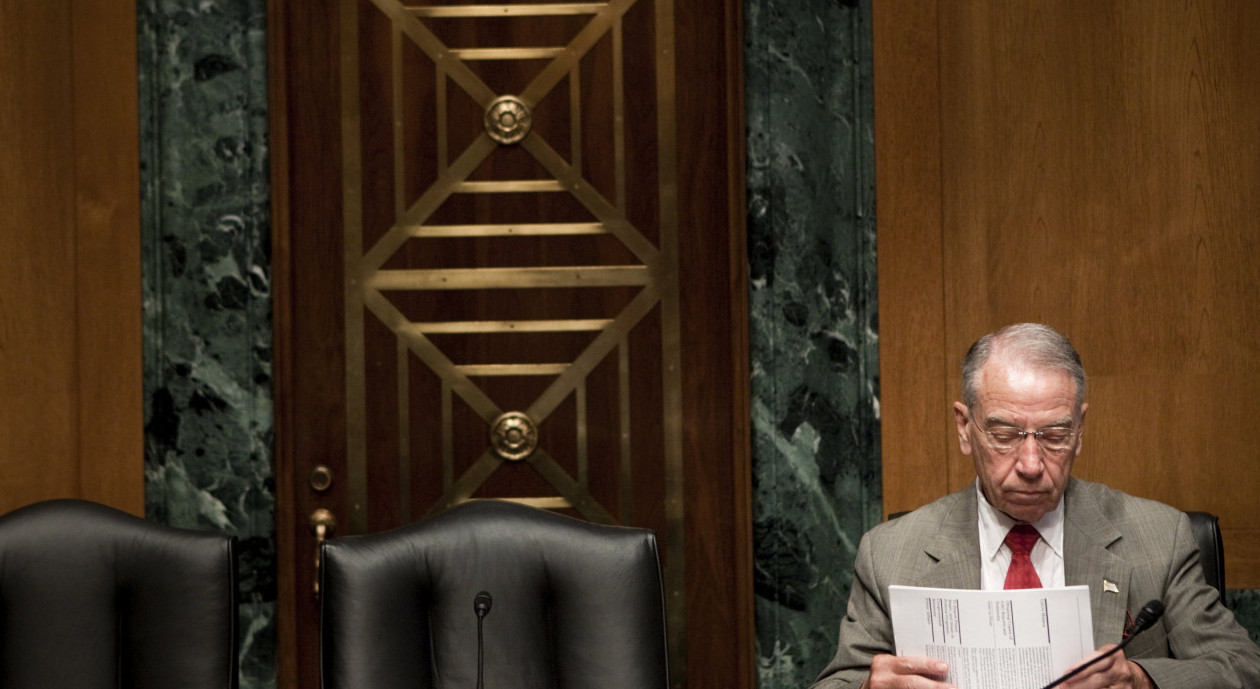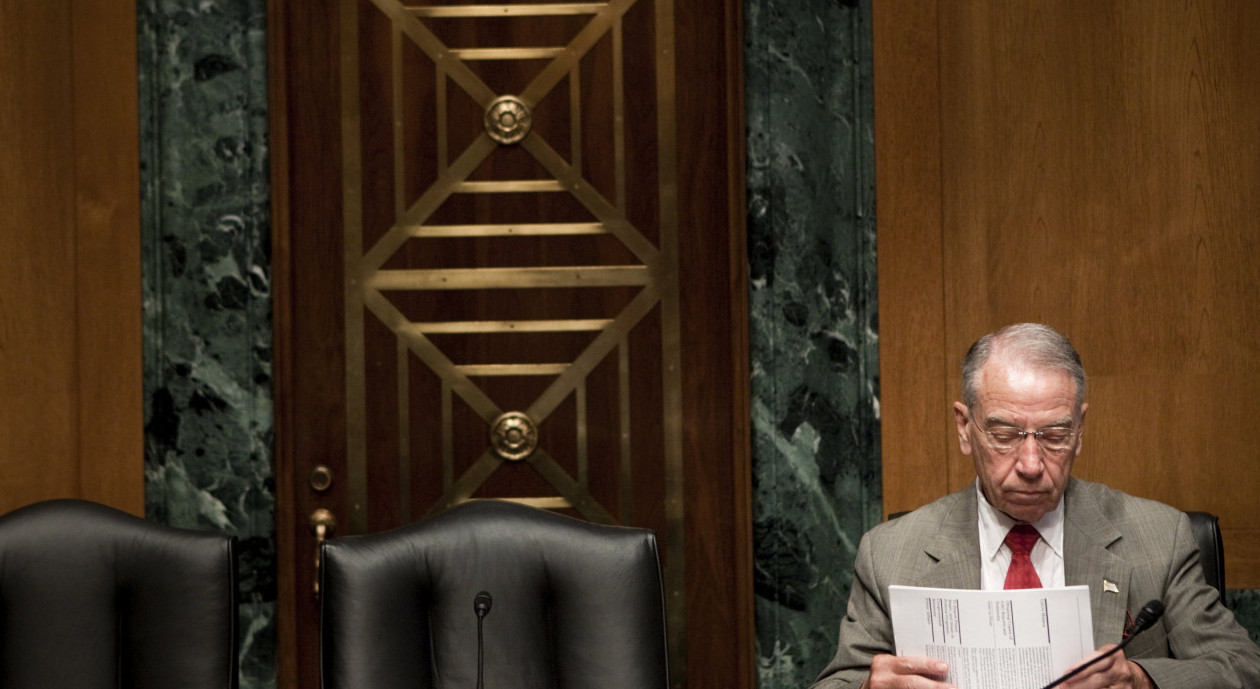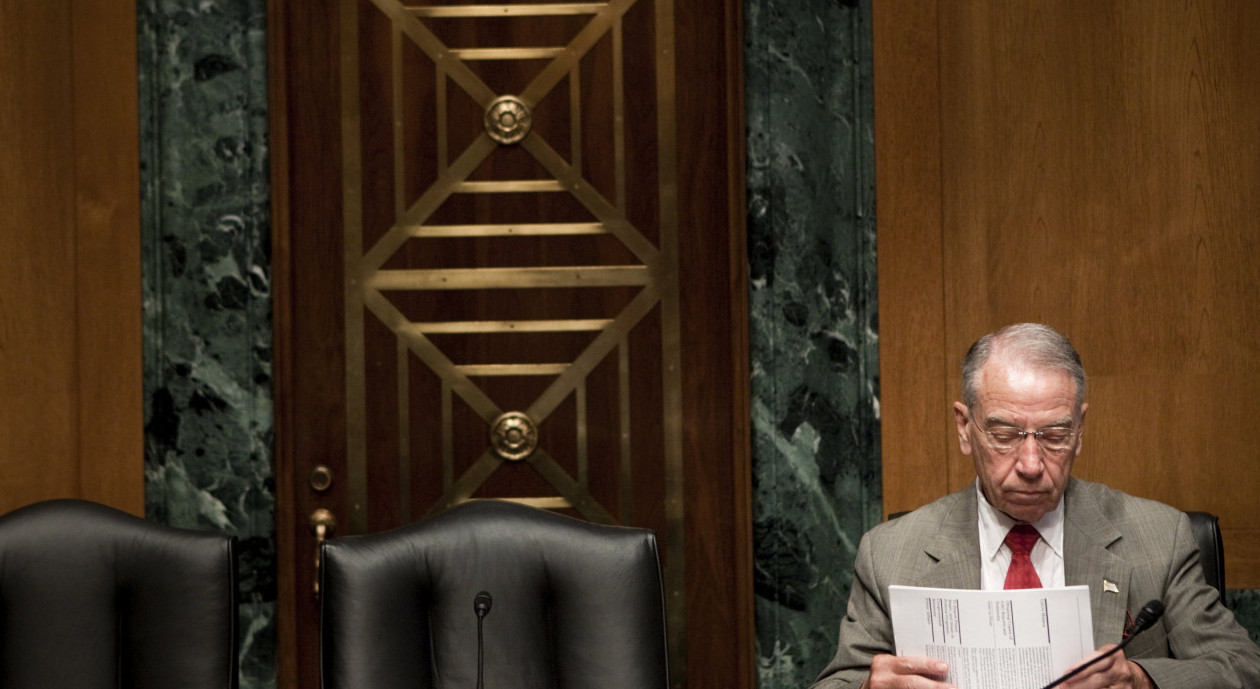 Senate Democrats are understandably excited that former Iowa Lt. Gov. Patty Judge (D) has signed up to challenge Senate Judiciary Committee Chairman Chuck Grassley (R-Iowa) this year. But she has a long way to go before she can seriously put the Iowa Republican's seat in jeopardy.
Judge attended the Democrats' weekly caucus lunch Tuesday, a clear statement that Senate Minority Leader Harry Reid (D-Nev.) and company are pleased she opted to run against the six-term senator this November.
And why wouldn't they be? After all, Judge has statewide name recognition and was the first woman to serve as Iowa's secretary of Agriculture. She can spend an entire campaign hammering Grassley on his decision to pre-emptively deny President Obama's Supreme Court nominee a Judiciary Committee hearing, tying Democratic frustration with the Senate GOP's position to a single race.
And it doesn't hurt that her name naturally lends itself to the issue.
"She's one judge that senator Grassley can't ignore," Reid quipped to reporters Tuesday, repeating a line Judge said in the caucus room. "She did a good job in our caucus. She said a number of things I am very impressed with."
"She's a very interesting opponent," echoed Minority Whip Dick Durbin (D-Ill.). "She has her own career. She has her own life. She clearly has Midwestern roots."
But Democratic ebullience over Judge's chances must be tempered by a simple, sobering fact. Grassley is a giant in Iowa. There is, after all, a reason that campaigning in each of Iowa's 99 counties is referred to as the "Full Grassley."
Since first knocking off his Democratic opponent in 1980, the Iowa Republican has never received less than 64.4 percent of the vote. And even in that first Senate race, against an incumbent, he won by a robust eight-point margin. Federal Election Commission filings show that, as of the end of 2015, Grassley has $4.3 million cash on hand.
"He's, of course, a very formidable candidate," Durbin acknowledged.
"There's no senator who is more in touch with his constituents than Chuck Grassley," said Sen. Roger Wicker (R-Miss.), who chairs the Senate Republicans' campaign arm. "There's no senator who pays more attention or works harder for his constituency than Chuck Grassley. I think he will be re-elected."
Judge last ran for statewide office in 2010 as a first-term incumbent lieutenant governor. Both Judge and her running mate, first-term Gov. Chet Culver, lost by nearly 10 points as incumbents. Prior to her stint as lieutenant governor, Judge served two terms as Iowa Secretary of Agriculture and two terms in the Iowa state Senate.
Before she ever gets a chance to challenge Grassley one on one, Judge has to first navigate her way through a four-way Democratic primary on June 7. Her primary opponents include former state Sen. Tom Fiegen and former state Rep. Bob Krause, both of whom failed to secure the Democratic Senate nomination in 2010, and state Sen. Rob Hogg. Hogg has over 60 endorsements from state lawmakers and the backing of Democratic state Senate Majority Leader Michael Gronstal, according to the Des Moines Register.
So far, Wicker sees no evidence that the heated Washington rhetoric over the Supreme Court nominee has hurt vulnerable GOP incumbents such as Sens. Kelly Ayotte of New Hampshire or Ron Johnson of Wisconsin.
"I think it is very sustainable," the Mississippi Republican said of the GOP's decision not to grant Obama's yet-to-be named nominee a hearing. "There is a lot to be said for letting the American voters speak to this issue in a general election that's coming up very soon."
Not that Judge would necessarily need to knock off Grassley to give Senate Democrats a boost in the November elections.
A close race would force Republicans to spend money in Iowa, siphoning funds from other competitive elections around the country. Even if Wicker is right and the Supreme Court controversy has little effect on individual races in New Hampshire or Wisconsin, the mere fact that the issue could put Iowa in play would be a strategic victory for Democrats.
John Maxwell, Grassley's campaign strategist, predicted that despite a spate of bad headlines, Iowa voters would support their long-time senator's Supreme Court decision.
"Ultimately I expect the senator's position on letting the voters have a say in who will nominate the next SCOTUS judge will prove to be very popular," Maxwell said in an email to Morning Consult. "The voters made it perfectly clear with the GOP landslide in 2014 they didn't want a Congress that would rubber stamp the Obama agenda."
The Democratic senatorial campaign arm did not return a request for comment. Durbin, when asked about the prospect of forcing Republicans to spend resources to defend Grassley, deflected. He suggested that Democrats' actual biggest advantage in Iowa and elsewhere would be the name atop the GOP presidential ticket.
"Many years ago when Barry Goldwater ran, many Republicans were so turned off they stayed home and it was a sweep for Democrats," he said. "So if the Republicans decide that Trump or Cruz will be their standard bearer, they're running the same risk."