Senate Democrats Crank the Rhetoric Up to 11 on SCOTUS Nomination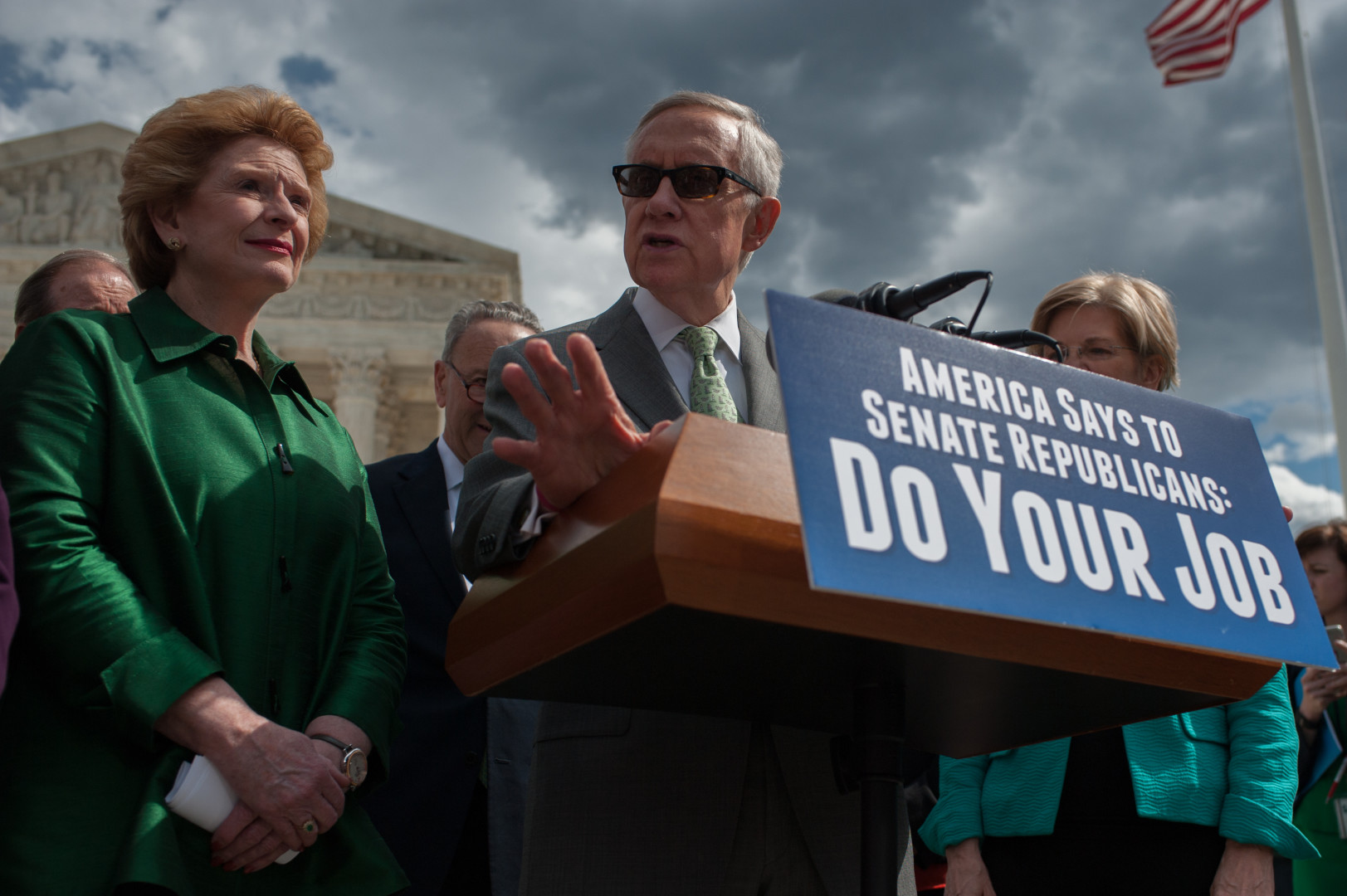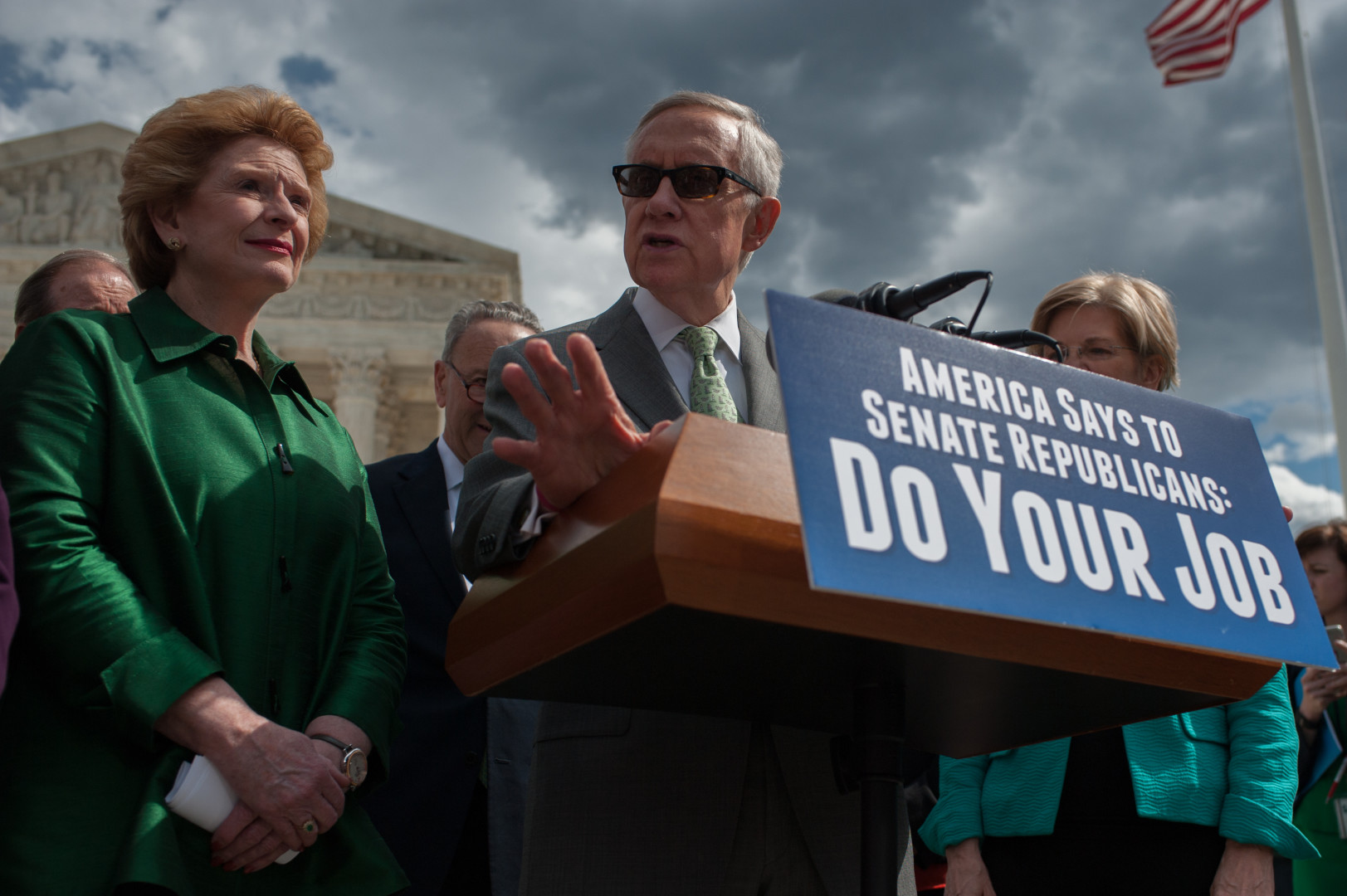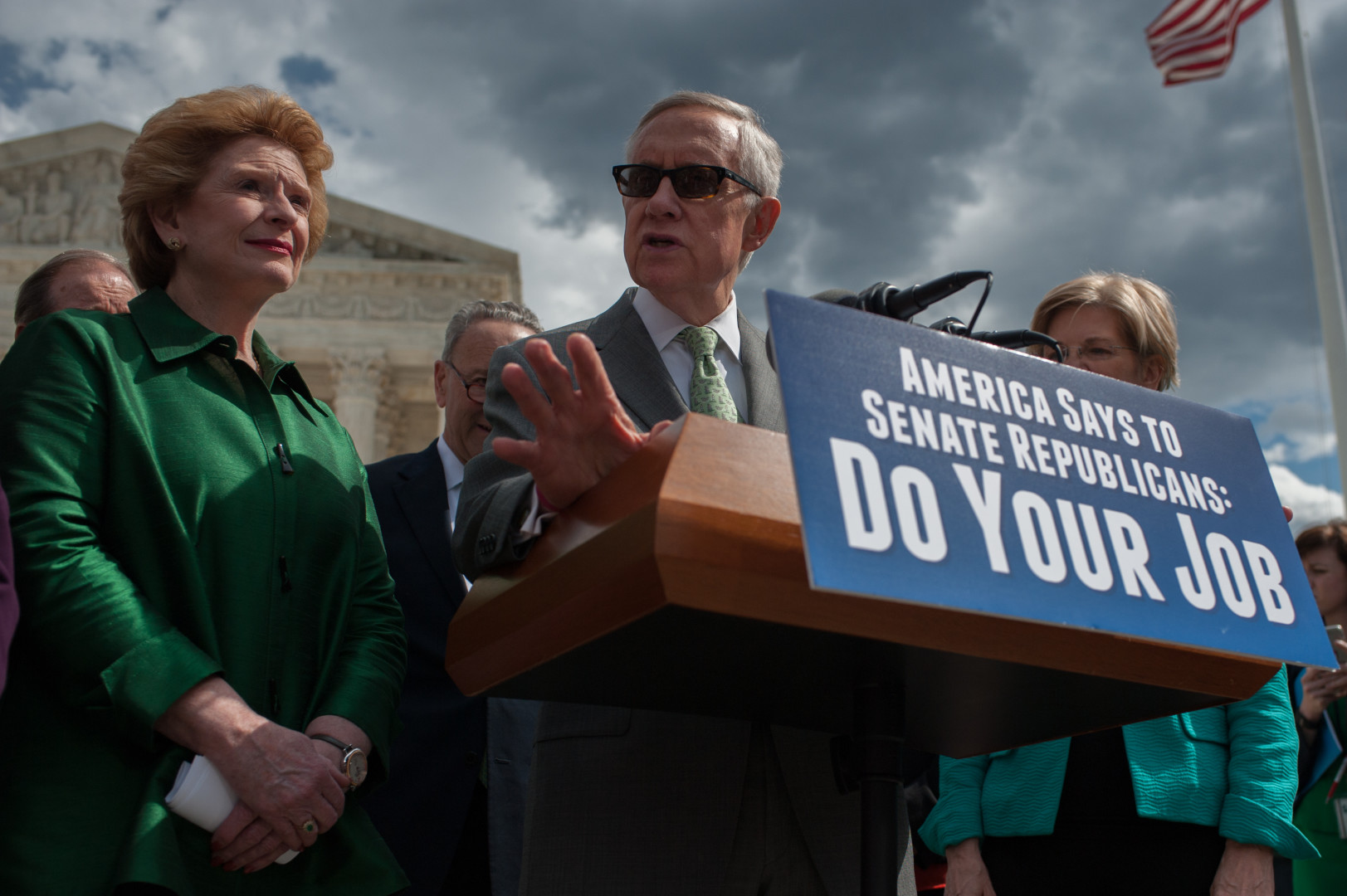 Senate Democrats spent a busy Thursday hyping the nomination of D.C. Circuit Court of Appeals Chief Judge Merrick Garland to replace the late Supreme Court Justice Antonin Scalia.
The caucus held a press conference in front of the Supreme Court as well as photo-ops with Garland, a moderate, experienced judge who is expected to put the maximum amount of political pressure on Republicans.
Since Garland's nomination on Wednesday, GOP Senate leaders have stuck with their unprecedented decision to deny President Obama's nominee a hearing.
Earlier Thursday, veteran Obama staffers launched a website intended to serve as a comprehensive platform for Democratic messaging on the nomination battle.
Democratic aides say they expect the pressure to build over the final two weeks in March, when senators are in their home states and have to face voters for the first time since Obama named Garland.
A coalition of White House officials, Senate Democrats, and liberal grassroots organizations has an ambitious media campaign planned for the two-week break. Spearheaded by former Obama administration communications veteran Amy Brundage, the messaging campaign is geared at keeping the Supreme Court vacancy squarely in the spotlight.
MoveOn.org is planning a day of action on March 21, which will feature more than 50 events at the district offices of GOP senators. Its events will be accompanied by phone banks and social media campaigns. GOP senators also will be the targets of "welcome back" events from Democratic activists in Iowa and Pennsylvania.
There will be a particular focus on vulnerable Republican incumbents. Ohio teachers will host "learn-in" sessions in Cleveland, Cincinnati, and Lima urging their GOP senator, Rob Portman, to take up Garland's nomination. Pennsylvania firefighters and nurses will gather in Pittsburgh and Philadelphia to call on Republican Sen. Pat Toomey to do the same. Democratic senators and high-profile figures will hold news conferences, pen op-eds, and reach out to editorial boards throughout the recess.
Republican groups are ramping up their own efforts as well. A number of anti-abortion groups also launched a website Thursday, the first step in building a coalition among such groups to keep the seat vacant until 2017.
Senate Republicans say they aren't concerned about having to support their decision not to consider Garland back home. A GOP aide said voters are far more concerned with issues such as national security and the economy than whether one Supreme Court seat is vacant for the next several months.
Sen. Chuck Schumer of New York, the Democratic leader-in-waiting, spent all day Thursday saying that Republicans are in the early stages of breaking ranks with Senate Majority Leader Mitch McConnell (R-Ky.) — i.e., there are "cracks in the ice." A few Republicans said Wednesday they would be open to meeting Garland individually or might even confirm him directly after the November election if Democrats retain the White House.
"It's a step at a time. A good number of them put their foot in the water yesterday," said Schumer. "I think they're going to end up voting for him."
The current Democratic leader, Harry Reid of Nevada, told reporters Thursday that McConnell is making a clear strategic blunder. "This is elementary school stuff. I don't know how my counterpart Mitch McConnell could come up with this," said Reid. "McConnell is leading his troops over a cliff, and they're going to rue the day they followed him over the cliff."
Republican leaders, meanwhile, sought to brush aside remarks from GOP senators as senior as Senate President Pro Tempore Orrin Hatch (R-Utah), who suggested that a Democratic presidential victory in November might pave the way for a lame-duck confirmation of Garland.
At a Senate Judiciary Committee meeting Thursday morning, Senate Majority Whip John Cornyn (R-Texas) said such a scenario would be "completely unacceptable."
He added that Senate Democrats are too confident that the public will take their side in the dispute. "I don't think anybody in their right mind doubts that if the shoe were on the other foot they'd be doing the exact same thing," he said.
Committee Chairman Chuck Grassley (R-Iowa) said at the same meeting that he expects Garland to call and schedule a face-to-face meeting, but that the Obama nominee should not expect much more than a repetition of the GOP mantra to date: no hearings, no votes.