Paul Ryan's Non-Candidacy Upstaged by Protesters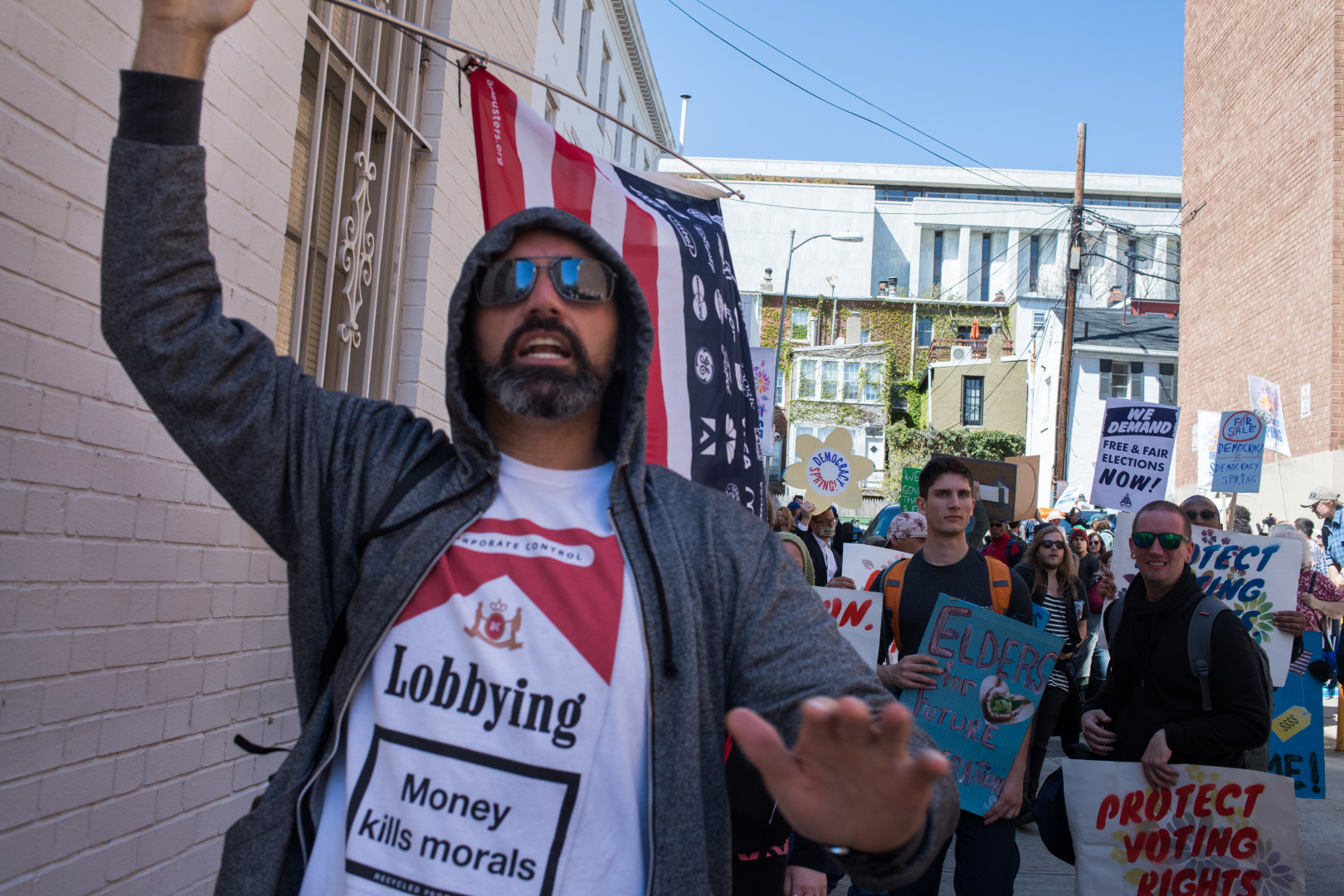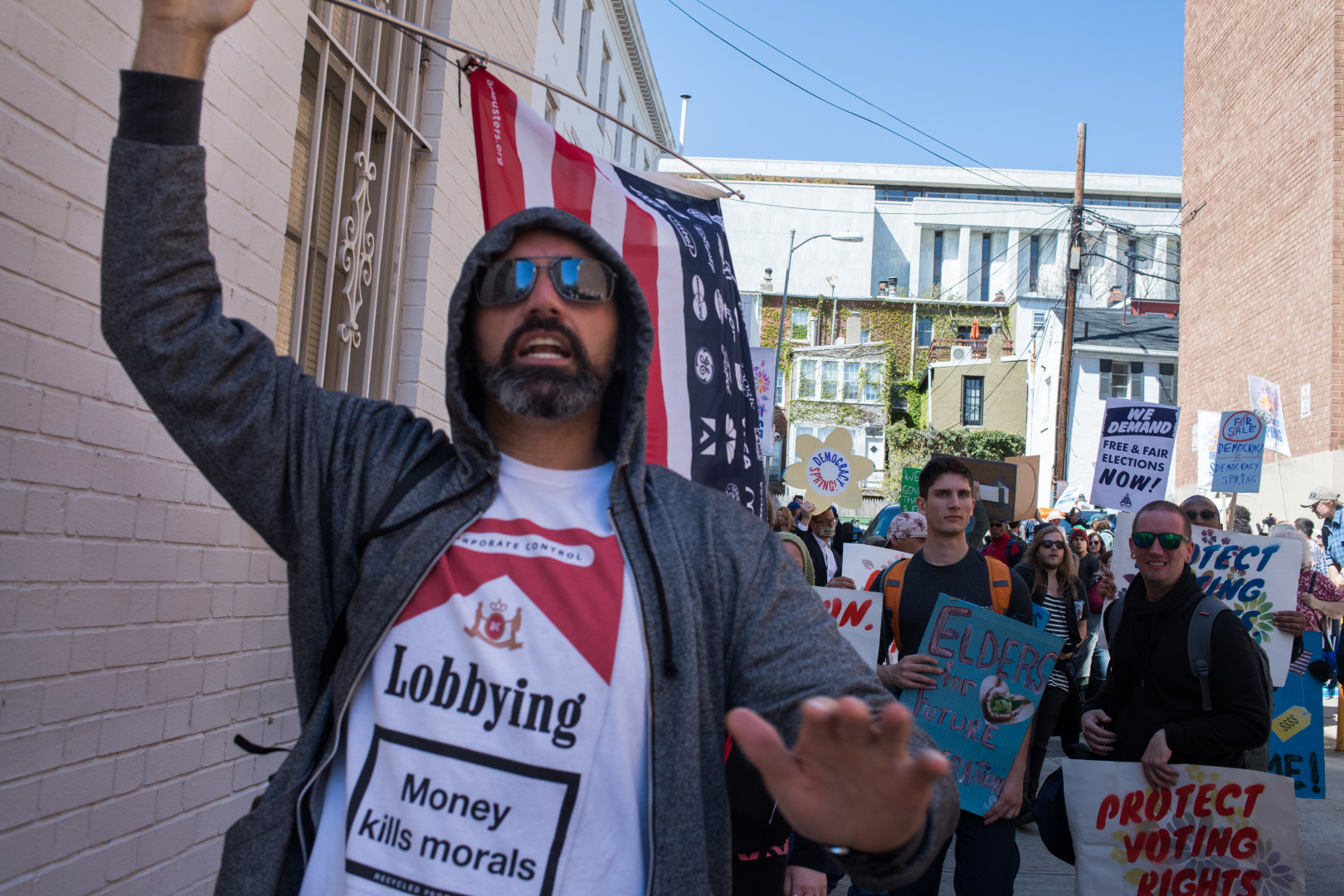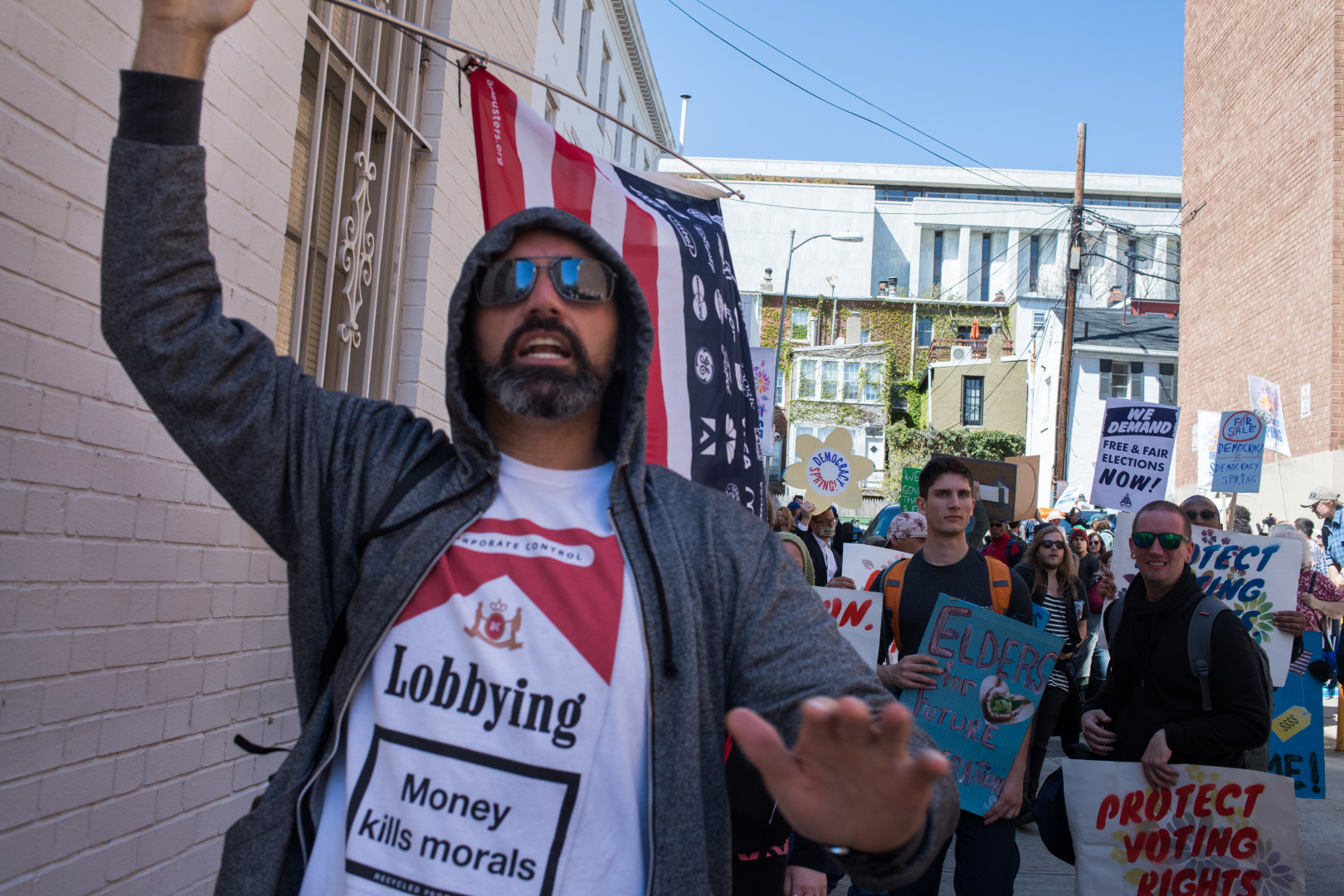 The Capitol Hill press corps descended en masse on a besieged Republican National Committee building Tuesday afternoon. They were there for a last-minute announcement from House Speaker Paul Ryan (R-Wis.). They got more color than they expected.
Camped in front of the GOP's party headquarters, located catty-corner to the Cannon House Office Building, were several dozen activists affiliated with the "Democracy Spring" campaign, a weeklong act of civil disobedience to protest the influence of money in politics. Sporting a collection of signs — i.e., "If money is speech, then speech isn't free" — the demonstrators chanted in a semicircle. One couple sported dollar bills taped over their mouths.
The protests had begun a day earlier in front of the Capitol building, when U.S. Capitol Police arrested more than 400 individuals for "unlawful demonstration activity." It's a fact that the Democracy Spring website now proudly touts.
The sit-ins are scheduled to continue through April 18.
The press wasn't at the RNC to cover the protest, though it certainly presented an obstacle.
At some point, the decision had been made to lock the building's two entrances on First St. Southeast, in light of the demonstration. Some RNC employees were locked out. When a dozen or so reporters and cameramen tried to get in through a back door, the protesters followed, continuing their chanting as they walked up an alley behind the headquarters. Eventually the reporters, realizing that mass protests tend to move lethargically, doubled back and quickly filed into the RNC's press room for the main event.
The marquee event, for all its hype, was decidedly less dramatic than the sit-in mere feet away. Ryan was finally formally announcing that he would not be making an 11th-hour entrance into the presidential race at the GOP's nominating convention in July. Again.
"Let me be clear: I do not want, nor will I accept the Republican nomination," he told a packed room of print reporters and a crowded bank of cameras.
Ryan, of course, has previously said in public that he won't be the party's 2016 nominee. Again on Tuesday he reiterated his belief that even in the event of a contested convention, the party's candidate should be someone who actually ran for president during the primary. Ryan notes frequently that he deliberately made the decision not to run this year, despite having served at Mitt Romney's 2012 running mate.
There was no suspense about what Ryan would say at the press conference. "He's going to rule himself out and put this to rest once and for all," an aide said in announcing the event. That prompted several journalists to wonder aloud whether anything Ryan did would put the question to rest once and for all.
The political logic has never made sense for a Draft-Ryan effort at the convention, as House Minority Whip Steny Hoyer (D-Md.) — normally not one to pass up the chance to sow mischief across the aisle — explained to reporters.
"If it's not Trump or Cruz, the Trump or Cruz people are going to be outraged. I think that's the Republican conundrum," the chamber's No. 2 Democrat said Tuesday. "If I were advising him, I'd say, 'Look Paul, you're 46 years of age. You don't want to get in what is happening on the national stage.'"
Not only is this year's GOP presidential contest not the ideal environment for a consummate D.C. insider – Ryan has, after all, served in Congress for almost two decades – but the Wisconsin Republican is out of sync with his party's right flank on immigration, an issue on which front-runners Donald Trump and Texas Sen. Ted Cruz have taken hard-line positions. Prior to winning his speakership, Ryan had to pledge not to attempt a bipartisan immigration compromise in President Obama's final year.
Even if Ryan somehow magically emerged from the convention with the broad backing of GOP delegates, there's no guarantee he is the solution to the party's general-election woes that many are anticipating in the event of a Cruz or Trump nomination. A Morning Consult poll conducted last month found Ryan losing in hypothetical head-to-head matchups to Hillary Clinton by eight points and to Vermont Sen. Bernie Sanders by a whopping 20 points.
Yet none of that has prevented pundits and former public figures from repeatedly floating the notion that Ryan might play his party's savior twice in one year. Former Speaker John Boehner (R-Ohio) floated Ryan's name in March as a possible nominee if the convention goes past the first ballot. An unaffiliated super PAC, the "Committee to Draft Speaker Ryan," has even emerged. Ryan's lawyer had to formally disavow the group.
The continuing fascination with a last-gasp Ryan bid for the White House is partly his own fault. He evolved in his thinking on assuming the speakership. He initially opposed the idea, but his change of heart has led some to speculate that a similar pattern could play out on the presidential stage. Ryan, on Tuesday, called the two scenarios "apples and oranges."
"Being Speaker of the House is a far cry from being President of the United States because I was already in the House. I'm already a congressman," he said. "That is entirely different than getting the nomination for president of the United States by your party without even running for the job."
Still, there is a clear desire among at least a subset of the Republican Party for Ryan to play a long-term role in leading the party moving forward. Even his political opponents acknowledge that Ryan could entertain any political future he likes some day.
"I never thought Paul Ryan was that likely [as a nominee]," Sen. Jeff Flake (R-Ariz.) said when asked about Ryan's latest attempt to dissuade his would-be presidential boosters. "All of us can dream."
"He's young," said Hoyer. "There's a lot of time for Paul Ryan to do whatever he wants to do at some point in time."
But at least for this cycle, the unofficial "Ryan for President" effort is nothing more than fantasy.
"Let me speak directly to the delegates on this," he said at the RNC. "Count me out."
By the time the brief press conference had ended, most of the protesters had left. But a handful lingered, and three of them were sitting on the steps outside of the RNC front entrance.
As the press corps filed out of the building, one of the Democracy Spring activists sitting by the door distilled the event's obvious predictability with suitable snark: "Hot scoop. He's not running."