Poll: Most Democrats Want Sanders to Stay in the Race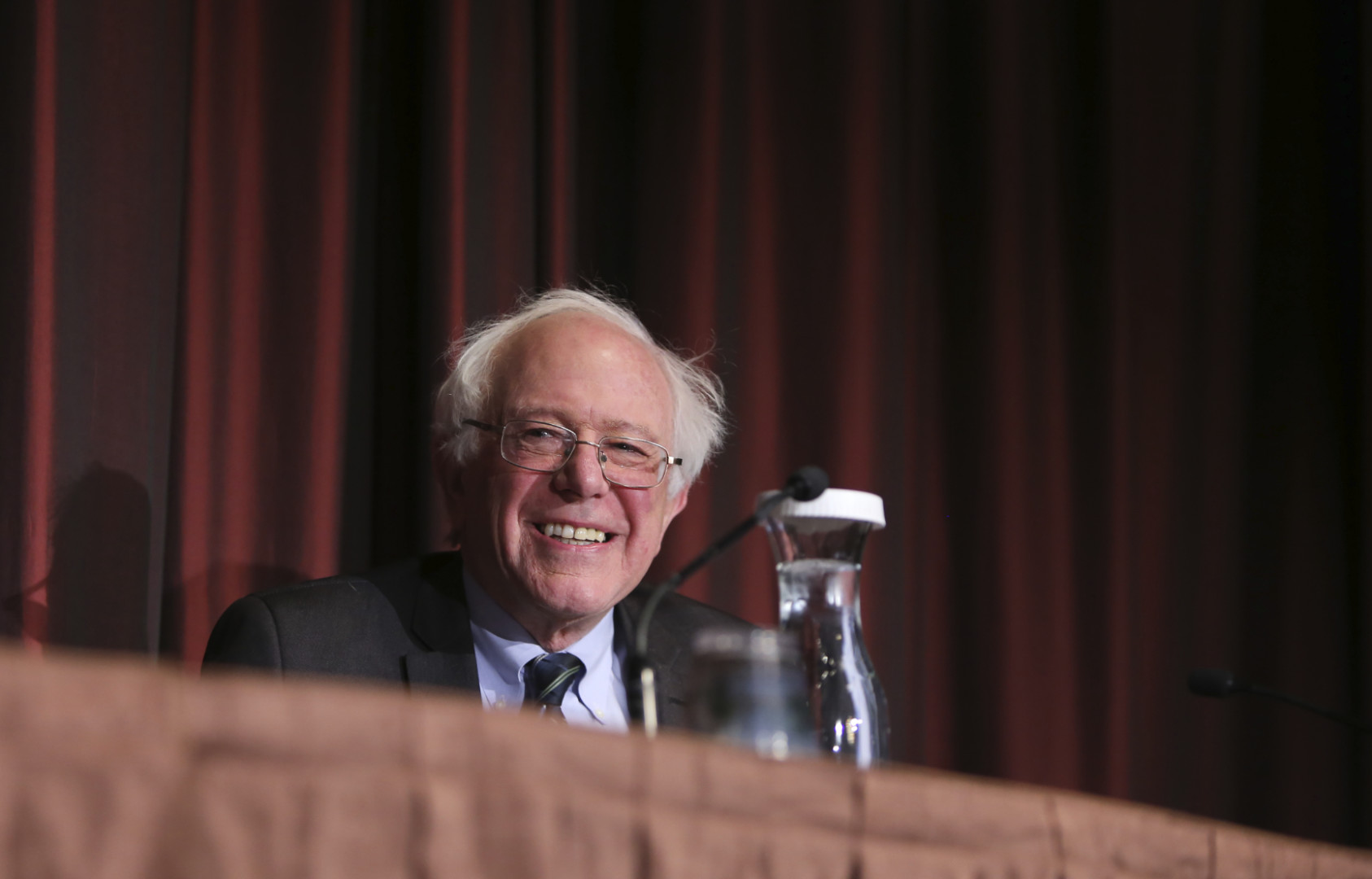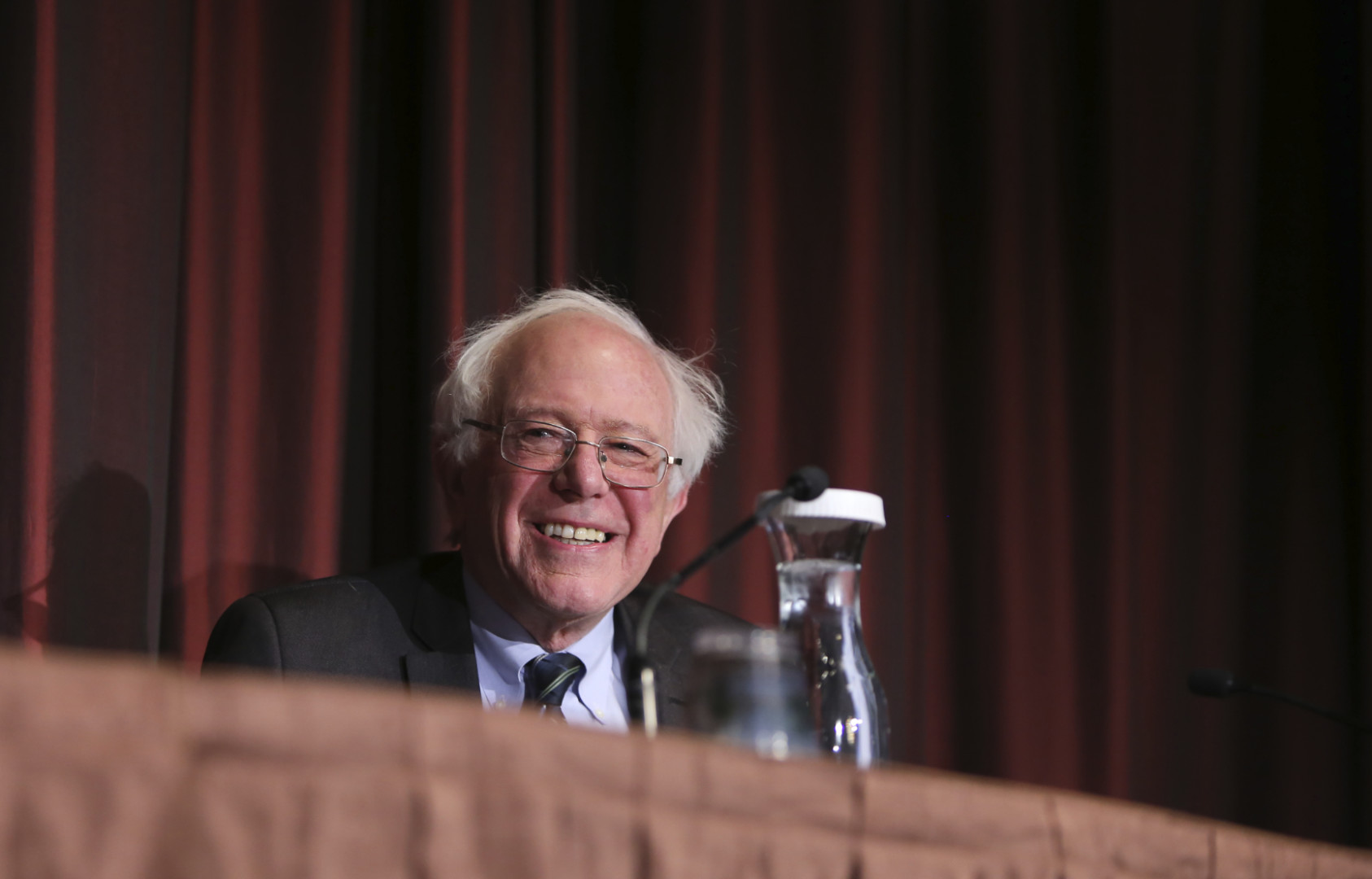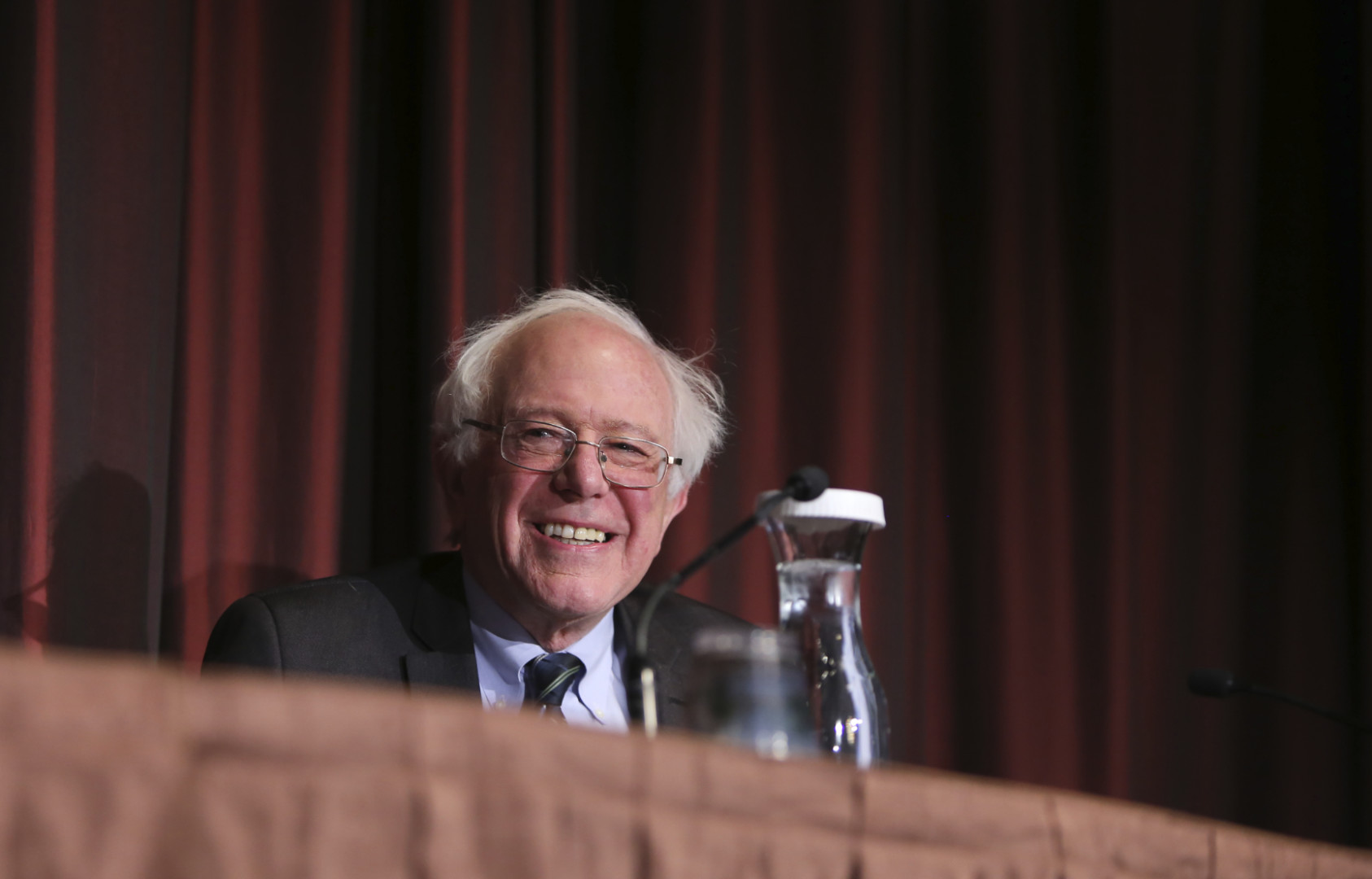 While the calls for Sen. Bernie Sanders to drop out of the Democratic race have increased in recent weeks, most voters — and even Democrats — think he should stay in the contest, according to a new Morning Consult poll.
A national survey of 2,001 registered voters taken last week (see toplines and crosstabs) shows 57 percent of respondents said the Vermont independent should stay in the race, compared with 28 percent who said he should drop out and 15 percent who didn't know or had no opinion.
The breakdown is similar among partisan lines. Fifty-seven percent of Democrats and Democratic-leaning independents also said they thought Sanders should remain in the race, compared with 55 percent of Republicans and 60 percent of independents.
And while most Democrats prefer for Sanders to continue his campaign, they also back the party's front-runner, former Secretary of State Hillary Clinton, over him in the primary. In a Morning Consult survey of 4,002 registered voters taken last week (see toplines and crosstabs), 46 percent of Democratic voters prefer Clinton to Sanders, who was the first choice of 42 percent of respondents.
Sanders' insistence on remaining in the race has caused some consternation among establishment Democrats who are growing wary as the GOP nominee, Donald Trump, has begun to consolidate support and creep up in head-to-head polls with Clinton. In our new survey, Trump remains just outside the margin of error, trailing Clinton by 3 points (42 percent to 39 percent). The real estate mogul lost one point from our previous poll.
period_end
leader
Approve
Disaprove
1/21/21 0:00
Joe Biden
0.5
0.28
1/22/21 0:00
Joe Biden
0.51
0.28
1/23/21 0:00
Joe Biden
0.52
0.29
1/24/21 0:00
Joe Biden
0.53
0.29
1/25/21 0:00
Joe Biden
0.53
0.3
1/26/21 0:00
Joe Biden
0.53
0.3
1/27/21 0:00
Joe Biden
0.54
0.31
1/28/21 0:00
Joe Biden
0.54
0.32
1/29/21 0:00
Joe Biden
0.54
0.32
1/30/21 0:00
Joe Biden
0.54
0.32
1/31/21 0:00
Joe Biden
0.54
0.33
2/1/21 0:00
Joe Biden
0.54
0.33
2/2/21 0:00
Joe Biden
0.54
0.33
2/3/21 0:00
Joe Biden
0.54
0.33
2/4/21 0:00
Joe Biden
0.54
0.34
2/5/21 0:00
Joe Biden
0.54
0.34
2/6/21 0:00
Joe Biden
0.54
0.34
2/7/21 0:00
Joe Biden
0.55
0.33
2/8/21 0:00
Joe Biden
0.55
0.33
2/9/21 0:00
Joe Biden
0.55
0.33
2/10/21 0:00
Joe Biden
0.55
0.33
2/11/21 0:00
Joe Biden
0.55
0.33
2/12/21 0:00
Joe Biden
0.55
0.33
2/13/21 0:00
Joe Biden
0.55
0.34
2/14/21 0:00
Joe Biden
0.54
0.34
2/15/21 0:00
Joe Biden
0.54
0.34
2/16/21 0:00
Joe Biden
0.54
0.34
2/17/21 0:00
Joe Biden
0.54
0.34
2/18/21 0:00
Joe Biden
0.54
0.35
2/19/21 0:00
Joe Biden
0.54
0.35
2/20/21 0:00
Joe Biden
0.54
0.35
2/21/21 0:00
Joe Biden
0.54
0.35
2/22/21 0:00
Joe Biden
0.54
0.35
2/23/21 0:00
Joe Biden
0.54
0.35
2/24/21 0:00
Joe Biden
0.54
0.35
2/25/21 0:00
Joe Biden
0.54
0.35
2/26/21 0:00
Joe Biden
0.54
0.35
2/27/21 0:00
Joe Biden
0.54
0.35
2/28/21 0:00
Joe Biden
0.54
0.35
3/1/21 0:00
Joe Biden
0.54
0.35
3/2/21 0:00
Joe Biden
0.54
0.36
3/3/21 0:00
Joe Biden
0.54
0.36
3/4/21 0:00
Joe Biden
0.54
0.36
3/5/21 0:00
Joe Biden
0.54
0.36
3/6/21 0:00
Joe Biden
0.54
0.36
3/7/21 0:00
Joe Biden
0.55
0.36
3/8/21 0:00
Joe Biden
0.55
0.36
3/9/21 0:00
Joe Biden
0.55
0.36
3/10/21 0:00
Joe Biden
0.55
0.36
3/11/21 0:00
Joe Biden
0.55
0.36
3/12/21 0:00
Joe Biden
0.55
0.36
3/13/21 0:00
Joe Biden
0.56
0.35
3/14/21 0:00
Joe Biden
0.56
0.35
3/15/21 0:00
Joe Biden
0.55
0.36
3/16/21 0:00
Joe Biden
0.56
0.35
3/17/21 0:00
Joe Biden
0.56
0.35
3/18/21 0:00
Joe Biden
0.56
0.35
3/19/21 0:00
Joe Biden
0.56
0.35
3/20/21 0:00
Joe Biden
0.56
0.35
3/21/21 0:00
Joe Biden
0.55
0.36
3/22/21 0:00
Joe Biden
0.56
0.36
3/23/21 0:00
Joe Biden
0.55
0.36
3/24/21 0:00
Joe Biden
0.55
0.36
3/25/21 0:00
Joe Biden
0.56
0.36
3/26/21 0:00
Joe Biden
0.55
0.36
3/27/21 0:00
Joe Biden
0.55
0.36
3/28/21 0:00
Joe Biden
0.54
0.36
3/29/21 0:00
Joe Biden
0.54
0.36
3/30/21 0:00
Joe Biden
0.54
0.36
3/31/21 0:00
Joe Biden
0.54
0.36
4/1/21 0:00
Joe Biden
0.54
0.36
4/2/21 0:00
Joe Biden
0.54
0.36
4/3/21 0:00
Joe Biden
0.54
0.36
4/4/21 0:00
Joe Biden
0.55
0.36
4/5/21 0:00
Joe Biden
0.55
0.36
4/6/21 0:00
Joe Biden
0.55
0.36
4/7/21 0:00
Joe Biden
0.55
0.36
4/8/21 0:00
Joe Biden
0.55
0.36
4/9/21 0:00
Joe Biden
0.55
0.36
4/10/21 0:00
Joe Biden
0.55
0.36
4/11/21 0:00
Joe Biden
0.54
0.37
4/12/21 0:00
Joe Biden
0.55
0.36
4/13/21 0:00
Joe Biden
0.55
0.36
4/14/21 0:00
Joe Biden
0.54
0.37
4/15/21 0:00
Joe Biden
0.54
0.37
4/16/21 0:00
Joe Biden
0.55
0.37
4/17/21 0:00
Joe Biden
0.54
0.37
4/18/21 0:00
Joe Biden
0.54
0.37
4/19/21 0:00
Joe Biden
0.54
0.38
4/20/21 0:00
Joe Biden
0.53
0.38
4/21/21 0:00
Joe Biden
0.54
0.37
4/22/21 0:00
Joe Biden
0.54
0.37
4/23/21 0:00
Joe Biden
0.54
0.37
4/24/21 0:00
Joe Biden
0.54
0.37
4/25/21 0:00
Joe Biden
0.54
0.36
4/26/21 0:00
Joe Biden
0.55
0.36
4/27/21 0:00
Joe Biden
0.55
0.36
4/28/21 0:00
Joe Biden
0.55
0.36
4/29/21 0:00
Joe Biden
0.55
0.36
4/30/21 0:00
Joe Biden
0.55
0.36
5/1/21 0:00
Joe Biden
0.56
0.36
5/2/21 0:00
Joe Biden
0.56
0.36
5/3/21 0:00
Joe Biden
0.56
0.36
5/4/21 0:00
Joe Biden
0.56
0.36
5/5/21 0:00
Joe Biden
0.56
0.36
5/6/21 0:00
Joe Biden
0.56
0.36
5/7/21 0:00
Joe Biden
0.56
0.36
5/8/21 0:00
Joe Biden
0.55
0.36
5/9/21 0:00
Joe Biden
0.55
0.36
5/10/21 0:00
Joe Biden
0.55
0.37
5/11/21 0:00
Joe Biden
0.55
0.37
5/12/21 0:00
Joe Biden
0.55
0.37
5/13/21 0:00
Joe Biden
0.54
0.37
5/14/21 0:00
Joe Biden
0.54
0.37
5/15/21 0:00
Joe Biden
0.54
0.37
5/16/21 0:00
Joe Biden
0.54
0.37
5/17/21 0:00
Joe Biden
0.54
0.37
5/18/21 0:00
Joe Biden
0.54
0.38
5/19/21 0:00
Joe Biden
0.54
0.38
5/20/21 0:00
Joe Biden
0.54
0.38
5/21/21 0:00
Joe Biden
0.54
0.38
5/22/21 0:00
Joe Biden
0.54
0.39
5/23/21 0:00
Joe Biden
0.54
0.39
5/24/21 0:00
Joe Biden
0.54
0.39
5/25/21 0:00
Joe Biden
0.54
0.38
5/26/21 0:00
Joe Biden
0.54
0.38
5/27/21 0:00
Joe Biden
0.54
0.38
5/28/21 0:00
Joe Biden
0.54
0.38
5/29/21 0:00
Joe Biden
0.54
0.38
5/30/21 0:00
Joe Biden
0.54
0.38
5/31/21 0:00
Joe Biden
0.54
0.38
6/1/21 0:00
Joe Biden
0.53
0.38
6/2/21 0:00
Joe Biden
0.53
0.38
6/3/21 0:00
Joe Biden
0.53
0.38
6/4/21 0:00
Joe Biden
0.53
0.39
6/5/21 0:00
Joe Biden
0.53
0.39
6/6/21 0:00
Joe Biden
0.53
0.39
6/7/21 0:00
Joe Biden
0.53
0.39
6/8/21 0:00
Joe Biden
0.52
0.39
6/9/21 0:00
Joe Biden
0.52
0.39
6/10/21 0:00
Joe Biden
0.52
0.39
6/11/21 0:00
Joe Biden
0.53
0.39
6/12/21 0:00
Joe Biden
0.53
0.39
6/13/21 0:00
Joe Biden
0.53
0.39
6/14/21 0:00
Joe Biden
0.52
0.39
6/15/21 0:00
Joe Biden
0.53
0.39
6/16/21 0:00
Joe Biden
0.53
0.39
6/17/21 0:00
Joe Biden
0.53
0.39
6/18/21 0:00
Joe Biden
0.53
0.39
6/19/21 0:00
Joe Biden
0.53
0.39
6/20/21 0:00
Joe Biden
0.53
0.38
6/21/21 0:00
Joe Biden
0.54
0.38
6/22/21 0:00
Joe Biden
0.54
0.39
6/23/21 0:00
Joe Biden
0.53
0.39
6/24/21 0:00
Joe Biden
0.53
0.39
6/25/21 0:00
Joe Biden
0.53
0.39
6/26/21 0:00
Joe Biden
0.53
0.39
6/27/21 0:00
Joe Biden
0.53
0.39
6/28/21 0:00
Joe Biden
0.53
0.39
6/29/21 0:00
Joe Biden
0.53
0.39
6/30/21 0:00
Joe Biden
0.53
0.39
7/1/21 0:00
Joe Biden
0.53
0.39
7/2/21 0:00
Joe Biden
0.52
0.39
7/3/21 0:00
Joe Biden
0.52
0.39
7/4/21 0:00
Joe Biden
0.52
0.39
7/5/21 0:00
Joe Biden
0.52
0.39
7/6/21 0:00
Joe Biden
0.52
0.39
7/7/21 0:00
Joe Biden
0.53
0.39
7/8/21 0:00
Joe Biden
0.53
0.39
7/9/21 0:00
Joe Biden
0.53
0.39
7/10/21 0:00
Joe Biden
0.52
0.39
7/11/21 0:00
Joe Biden
0.52
0.39
7/12/21 0:00
Joe Biden
0.52
0.39
7/13/21 0:00
Joe Biden
0.52
0.39
7/14/21 0:00
Joe Biden
0.52
0.39
7/15/21 0:00
Joe Biden
0.52
0.39
7/16/21 0:00
Joe Biden
0.52
0.39
7/17/21 0:00
Joe Biden
0.53
0.39
7/18/21 0:00
Joe Biden
0.52
0.39
7/19/21 0:00
Joe Biden
0.52
0.39
7/20/21 0:00
Joe Biden
0.52
0.4
7/21/21 0:00
Joe Biden
0.52
0.4
7/22/21 0:00
Joe Biden
0.52
0.4
7/23/21 0:00
Joe Biden
0.52
0.4
7/24/21 0:00
Joe Biden
0.52
0.4
7/25/21 0:00
Joe Biden
0.52
0.4
7/26/21 0:00
Joe Biden
0.52
0.4
7/27/21 0:00
Joe Biden
0.52
0.4
7/28/21 0:00
Joe Biden
0.52
0.4
7/29/21 0:00
Joe Biden
0.52
0.4
7/30/21 0:00
Joe Biden
0.51
0.4
7/31/21 0:00
Joe Biden
0.51
0.4
8/1/21 0:00
Joe Biden
0.51
0.4
8/2/21 0:00
Joe Biden
0.51
0.4
8/3/21 0:00
Joe Biden
0.51
0.41
8/4/21 0:00
Joe Biden
0.51
0.4
8/5/21 0:00
Joe Biden
0.51
0.4
8/6/21 0:00
Joe Biden
0.51
0.4
8/7/21 0:00
Joe Biden
0.51
0.41
8/8/21 0:00
Joe Biden
0.5
0.41
8/9/21 0:00
Joe Biden
0.51
0.41
8/10/21 0:00
Joe Biden
0.51
0.41
8/11/21 0:00
Joe Biden
0.51
0.4
8/12/21 0:00
Joe Biden
0.51
0.4
8/13/21 0:00
Joe Biden
0.52
0.4
8/14/21 0:00
Joe Biden
0.52
0.4
8/15/21 0:00
Joe Biden
0.52
0.4
8/16/21 0:00
Joe Biden
0.52
0.4
8/17/21 0:00
Joe Biden
0.52
0.4
8/18/21 0:00
Joe Biden
0.51
0.41
8/19/21 0:00
Joe Biden
0.51
0.41
8/20/21 0:00
Joe Biden
0.5
0.42
8/21/21 0:00
Joe Biden
0.5
0.42
8/22/21 0:00
Joe Biden
0.5
0.43
8/23/21 0:00
Joe Biden
0.5
0.43
8/24/21 0:00
Joe Biden
0.49
0.43
8/25/21 0:00
Joe Biden
0.49
0.43
8/26/21 0:00
Joe Biden
0.49
0.43
8/27/21 0:00
Joe Biden
0.49
0.43
8/28/21 0:00
Joe Biden
0.49
0.44
8/29/21 0:00
Joe Biden
0.49
0.44
8/30/21 0:00
Joe Biden
0.49
0.44
8/31/21 0:00
Joe Biden
0.48
0.44
9/1/21 0:00
Joe Biden
0.48
0.45
9/2/21 0:00
Joe Biden
0.47
0.45
9/3/21 0:00
Joe Biden
0.47
0.45
9/4/21 0:00
Joe Biden
0.47
0.45
9/5/21 0:00
Joe Biden
0.47
0.45
9/6/21 0:00
Joe Biden
0.46
0.45
9/7/21 0:00
Joe Biden
0.46
0.45
9/8/21 0:00
Joe Biden
0.47
0.45
9/9/21 0:00
Joe Biden
0.47
0.45
9/10/21 0:00
Joe Biden
0.47
0.45
9/11/21 0:00
Joe Biden
0.47
0.45
9/12/21 0:00
Joe Biden
0.47
0.45
9/13/21 0:00
Joe Biden
0.47
0.46
9/14/21 0:00
Joe Biden
0.47
0.46
9/15/21 0:00
Joe Biden
0.46
0.46
9/16/21 0:00
Joe Biden
0.46
0.46
9/17/21 0:00
Joe Biden
0.46
0.46
9/18/21 0:00
Joe Biden
0.46
0.46
9/19/21 0:00
Joe Biden
0.47
0.46
9/20/21 0:00
Joe Biden
0.47
0.46
9/21/21 0:00
Joe Biden
0.47
0.46
9/22/21 0:00
Joe Biden
0.47
0.46
9/23/21 0:00
Joe Biden
0.47
0.46
9/24/21 0:00
Joe Biden
0.46
0.46
9/25/21 0:00
Joe Biden
0.46
0.46
9/26/21 0:00
Joe Biden
0.46
0.47
9/27/21 0:00
Joe Biden
0.45
0.47
9/28/21 0:00
Joe Biden
0.45
0.47
9/29/21 0:00
Joe Biden
0.45
0.47
9/30/21 0:00
Joe Biden
0.45
0.47
10/1/21 0:00
Joe Biden
0.45
0.47
10/2/21 0:00
Joe Biden
0.45
0.47
10/3/21 0:00
Joe Biden
0.46
0.47
10/4/21 0:00
Joe Biden
0.46
0.47
10/5/21 0:00
Joe Biden
0.46
0.47
10/6/21 0:00
Joe Biden
0.45
0.47
10/7/21 0:00
Joe Biden
0.45
0.47
10/8/21 0:00
Joe Biden
0.46
0.47
10/9/21 0:00
Joe Biden
0.46
0.47
10/10/21 0:00
Joe Biden
0.46
0.47
10/11/21 0:00
Joe Biden
0.46
0.47
10/12/21 0:00
Joe Biden
0.46
0.47
10/13/21 0:00
Joe Biden
0.46
0.47
10/14/21 0:00
Joe Biden
0.46
0.47
10/15/21 0:00
Joe Biden
0.46
0.47
10/16/21 0:00
Joe Biden
0.46
0.47
10/17/21 0:00
Joe Biden
0.46
0.47
10/18/21 0:00
Joe Biden
0.46
0.47
10/19/21 0:00
Joe Biden
0.46
0.47
10/20/21 0:00
Joe Biden
0.46
0.47
10/21/21 0:00
Joe Biden
0.46
0.47
10/22/21 0:00
Joe Biden
0.45
0.47
10/23/21 0:00
Joe Biden
0.46
0.47
10/24/21 0:00
Joe Biden
0.45
0.48
10/25/21 0:00
Joe Biden
0.45
0.48
10/26/21 0:00
Joe Biden
0.45
0.48
10/27/21 0:00
Joe Biden
0.45
0.48
10/28/21 0:00
Joe Biden
0.45
0.48
10/29/21 0:00
Joe Biden
0.45
0.48
10/30/21 0:00
Joe Biden
0.45
0.48
10/31/21 0:00
Joe Biden
0.45
0.48
11/1/21 0:00
Joe Biden
0.44
0.48
11/2/21 0:00
Joe Biden
0.44
0.48
11/3/21 0:00
Joe Biden
0.44
0.48
11/4/21 0:00
Joe Biden
0.44
0.48
11/5/21 0:00
Joe Biden
0.44
0.48
11/6/21 0:00
Joe Biden
0.44
0.49
11/7/21 0:00
Joe Biden
0.44
0.49
11/8/21 0:00
Joe Biden
0.44
0.48
11/9/21 0:00
Joe Biden
0.44
0.49
11/10/21 0:00
Joe Biden
0.44
0.49
11/11/21 0:00
Joe Biden
0.44
0.49
11/12/21 0:00
Joe Biden
0.44
0.48
11/13/21 0:00
Joe Biden
0.44
0.49
11/14/21 0:00
Joe Biden
0.44
0.49
11/15/21 0:00
Joe Biden
0.44
0.49
11/16/21 0:00
Joe Biden
0.44
0.48
11/17/21 0:00
Joe Biden
0.44
0.49
11/18/21 0:00
Joe Biden
0.44
0.49
11/19/21 0:00
Joe Biden
0.44
0.49
11/20/21 0:00
Joe Biden
0.44
0.48
11/21/21 0:00
Joe Biden
0.45
0.48
11/22/21 0:00
Joe Biden
0.44
0.48
11/23/21 0:00
Joe Biden
0.44
0.48
11/24/21 0:00
Joe Biden
0.44
0.48
11/25/21 0:00
Joe Biden
0.45
0.48
11/26/21 0:00
Joe Biden
0.45
0.48
11/27/21 0:00
Joe Biden
0.44
0.48
11/28/21 0:00
Joe Biden
0.44
0.49
11/29/21 0:00
Joe Biden
0.44
0.48
11/30/21 0:00
Joe Biden
0.44
0.49
12/1/21 0:00
Joe Biden
0.44
0.49
12/2/21 0:00
Joe Biden
0.44
0.49
12/3/21 0:00
Joe Biden
0.44
0.49
12/4/21 0:00
Joe Biden
0.44
0.49
12/5/21 0:00
Joe Biden
0.44
0.49
12/6/21 0:00
Joe Biden
0.44
0.49
12/7/21 0:00
Joe Biden
0.44
0.48
3/6/20 0:00
Jair Bolsonaro
0.56
0.36
3/7/20 0:00
Jair Bolsonaro
0.56
0.36
3/8/20 0:00
Jair Bolsonaro
0.57
0.35
3/9/20 0:00
Jair Bolsonaro
0.56
0.36
3/10/20 0:00
Jair Bolsonaro
0.55
0.38
3/11/20 0:00
Jair Bolsonaro
0.55
0.38
3/12/20 0:00
Jair Bolsonaro
0.55
0.37
3/13/20 0:00
Jair Bolsonaro
0.55
0.37
3/14/20 0:00
Jair Bolsonaro
0.56
0.36
3/15/20 0:00
Jair Bolsonaro
0.56
0.36
3/16/20 0:00
Jair Bolsonaro
0.56
0.36
3/17/20 0:00
Jair Bolsonaro
0.58
0.35
3/18/20 0:00
Jair Bolsonaro
0.59
0.34
3/19/20 0:00
Jair Bolsonaro
0.58
0.34
3/20/20 0:00
Jair Bolsonaro
0.58
0.34
3/21/20 0:00
Jair Bolsonaro
0.58
0.34
3/22/20 0:00
Jair Bolsonaro
0.58
0.34
3/23/20 0:00
Jair Bolsonaro
0.58
0.34
3/24/20 0:00
Jair Bolsonaro
0.56
0.36
3/25/20 0:00
Jair Bolsonaro
0.54
0.38
3/26/20 0:00
Jair Bolsonaro
0.54
0.39
3/27/20 0:00
Jair Bolsonaro
0.51
0.41
3/28/20 0:00
Jair Bolsonaro
0.5
0.42
3/29/20 0:00
Jair Bolsonaro
0.49
0.44
3/30/20 0:00
Jair Bolsonaro
0.48
0.46
3/31/20 0:00
Jair Bolsonaro
0.48
0.45
4/1/20 0:00
Jair Bolsonaro
0.47
0.45
4/2/20 0:00
Jair Bolsonaro
0.48
0.44
4/3/20 0:00
Jair Bolsonaro
0.5
0.43
4/4/20 0:00
Jair Bolsonaro
0.5
0.43
4/5/20 0:00
Jair Bolsonaro
0.49
0.44
4/6/20 0:00
Jair Bolsonaro
0.5
0.43
4/7/20 0:00
Jair Bolsonaro
0.51
0.43
4/8/20 0:00
Jair Bolsonaro
0.51
0.42
4/9/20 0:00
Jair Bolsonaro
0.51
0.42
4/10/20 0:00
Jair Bolsonaro
0.52
0.42
4/11/20 0:00
Jair Bolsonaro
0.51
0.42
4/12/20 0:00
Jair Bolsonaro
0.53
0.4
4/13/20 0:00
Jair Bolsonaro
0.53
0.41
4/14/20 0:00
Jair Bolsonaro
0.52
0.41
4/15/20 0:00
Jair Bolsonaro
0.53
0.41
4/16/20 0:00
Jair Bolsonaro
0.53
0.42
4/17/20 0:00
Jair Bolsonaro
0.52
0.43
4/18/20 0:00
Jair Bolsonaro
0.52
0.42
4/19/20 0:00
Jair Bolsonaro
0.52
0.41
4/20/20 0:00
Jair Bolsonaro
0.52
0.42
4/21/20 0:00
Jair Bolsonaro
0.52
0.42
4/22/20 0:00
Jair Bolsonaro
0.51
0.43
4/23/20 0:00
Jair Bolsonaro
0.5
0.43
4/24/20 0:00
Jair Bolsonaro
0.49
0.44
4/25/20 0:00
Jair Bolsonaro
0.47
0.46
4/26/20 0:00
Jair Bolsonaro
0.45
0.49
4/27/20 0:00
Jair Bolsonaro
0.44
0.5
4/28/20 0:00
Jair Bolsonaro
0.44
0.5
4/29/20 0:00
Jair Bolsonaro
0.44
0.5
4/30/20 0:00
Jair Bolsonaro
0.45
0.49
5/1/20 0:00
Jair Bolsonaro
0.45
0.48
5/2/20 0:00
Jair Bolsonaro
0.47
0.46
5/3/20 0:00
Jair Bolsonaro
0.47
0.46
5/4/20 0:00
Jair Bolsonaro
0.47
0.46
5/5/20 0:00
Jair Bolsonaro
0.46
0.47
5/6/20 0:00
Jair Bolsonaro
0.45
0.47
5/7/20 0:00
Jair Bolsonaro
0.44
0.47
5/8/20 0:00
Jair Bolsonaro
0.42
0.5
5/9/20 0:00
Jair Bolsonaro
0.42
0.5
5/10/20 0:00
Jair Bolsonaro
0.41
0.5
5/11/20 0:00
Jair Bolsonaro
0.4
0.51
5/12/20 0:00
Jair Bolsonaro
0.41
0.51
5/13/20 0:00
Jair Bolsonaro
0.41
0.52
5/14/20 0:00
Jair Bolsonaro
0.42
0.53
5/15/20 0:00
Jair Bolsonaro
0.42
0.53
5/16/20 0:00
Jair Bolsonaro
0.42
0.53
5/17/20 0:00
Jair Bolsonaro
0.42
0.54
5/18/20 0:00
Jair Bolsonaro
0.42
0.54
5/19/20 0:00
Jair Bolsonaro
0.41
0.54
5/20/20 0:00
Jair Bolsonaro
0.41
0.53
5/21/20 0:00
Jair Bolsonaro
0.41
0.53
5/22/20 0:00
Jair Bolsonaro
0.41
0.52
5/23/20 0:00
Jair Bolsonaro
0.42
0.51
5/24/20 0:00
Jair Bolsonaro
0.42
0.5
5/25/20 0:00
Jair Bolsonaro
0.42
0.5
5/26/20 0:00
Jair Bolsonaro
0.42
0.5
5/27/20 0:00
Jair Bolsonaro
0.42
0.49
5/28/20 0:00
Jair Bolsonaro
0.42
0.48
5/29/20 0:00
Jair Bolsonaro
0.43
0.49
5/30/20 0:00
Jair Bolsonaro
0.42
0.5
5/31/20 0:00
Jair Bolsonaro
0.42
0.5
6/1/20 0:00
Jair Bolsonaro
0.43
0.5
6/2/20 0:00
Jair Bolsonaro
0.43
0.5
6/3/20 0:00
Jair Bolsonaro
0.42
0.51
6/4/20 0:00
Jair Bolsonaro
0.42
0.53
6/5/20 0:00
Jair Bolsonaro
0.42
0.53
6/6/20 0:00
Jair Bolsonaro
0.42
0.52
6/7/20 0:00
Jair Bolsonaro
0.41
0.52
6/8/20 0:00
Jair Bolsonaro
0.39
0.55
6/9/20 0:00
Jair Bolsonaro
0.38
0.55
6/10/20 0:00
Jair Bolsonaro
0.39
0.54
6/11/20 0:00
Jair Bolsonaro
0.4
0.53
6/12/20 0:00
Jair Bolsonaro
0.4
0.53
6/13/20 0:00
Jair Bolsonaro
0.4
0.53
6/14/20 0:00
Jair Bolsonaro
0.4
0.53
6/15/20 0:00
Jair Bolsonaro
0.42
0.51
6/16/20 0:00
Jair Bolsonaro
0.42
0.51
6/17/20 0:00
Jair Bolsonaro
0.41
0.51
6/18/20 0:00
Jair Bolsonaro
0.41
0.52
6/19/20 0:00
Jair Bolsonaro
0.4
0.52
6/20/20 0:00
Jair Bolsonaro
0.41
0.52
6/21/20 0:00
Jair Bolsonaro
0.4
0.53
6/22/20 0:00
Jair Bolsonaro
0.42
0.51
6/23/20 0:00
Jair Bolsonaro
0.43
0.51
6/24/20 0:00
Jair Bolsonaro
0.43
0.5
6/25/20 0:00
Jair Bolsonaro
0.43
0.5
6/26/20 0:00
Jair Bolsonaro
0.41
0.51
6/27/20 0:00
Jair Bolsonaro
0.42
0.51
6/28/20 0:00
Jair Bolsonaro
0.43
0.5
6/29/20 0:00
Jair Bolsonaro
0.42
0.51
6/30/20 0:00
Jair Bolsonaro
0.42
0.5
7/1/20 0:00
Jair Bolsonaro
0.42
0.51
7/2/20 0:00
Jair Bolsonaro
0.43
0.5
7/3/20 0:00
Jair Bolsonaro
0.44
0.48
7/4/20 0:00
Jair Bolsonaro
0.45
0.48
7/5/20 0:00
Jair Bolsonaro
0.45
0.47
7/6/20 0:00
Jair Bolsonaro
0.44
0.48
7/7/20 0:00
Jair Bolsonaro
0.45
0.48
7/8/20 0:00
Jair Bolsonaro
0.46
0.47
7/9/20 0:00
Jair Bolsonaro
0.45
0.48
7/10/20 0:00
Jair Bolsonaro
0.46
0.48
7/11/20 0:00
Jair Bolsonaro
0.46
0.47
7/12/20 0:00
Jair Bolsonaro
0.46
0.47
7/13/20 0:00
Jair Bolsonaro
0.45
0.48
7/14/20 0:00
Jair Bolsonaro
0.47
0.46
7/15/20 0:00
Jair Bolsonaro
0.46
0.46
7/16/20 0:00
Jair Bolsonaro
0.45
0.47
7/17/20 0:00
Jair Bolsonaro
0.45
0.47
7/18/20 0:00
Jair Bolsonaro
0.45
0.47
7/19/20 0:00
Jair Bolsonaro
0.45
0.48
7/20/20 0:00
Jair Bolsonaro
0.47
0.47
7/21/20 0:00
Jair Bolsonaro
0.45
0.48
7/22/20 0:00
Jair Bolsonaro
0.47
0.48
7/23/20 0:00
Jair Bolsonaro
0.47
0.47
7/24/20 0:00
Jair Bolsonaro
0.46
0.47
7/25/20 0:00
Jair Bolsonaro
0.46
0.48
7/26/20 0:00
Jair Bolsonaro
0.47
0.48
7/27/20 0:00
Jair Bolsonaro
0.47
0.47
7/28/20 0:00
Jair Bolsonaro
0.47
0.47
7/29/20 0:00
Jair Bolsonaro
0.47
0.47
7/30/20 0:00
Jair Bolsonaro
0.47
0.47
7/31/20 0:00
Jair Bolsonaro
0.47
0.47
8/1/20 0:00
Jair Bolsonaro
0.47
0.46
8/2/20 0:00
Jair Bolsonaro
0.46
0.45
8/3/20 0:00
Jair Bolsonaro
0.46
0.46
8/4/20 0:00
Jair Bolsonaro
0.46
0.46
8/5/20 0:00
Jair Bolsonaro
0.46
0.47
8/6/20 0:00
Jair Bolsonaro
0.46
0.47
8/7/20 0:00
Jair Bolsonaro
0.46
0.47
8/8/20 0:00
Jair Bolsonaro
0.46
0.48
8/9/20 0:00
Jair Bolsonaro
0.47
0.47
8/10/20 0:00
Jair Bolsonaro
0.47
0.47
8/11/20 0:00
Jair Bolsonaro
0.46
0.47
8/12/20 0:00
Jair Bolsonaro
0.46
0.47
8/13/20 0:00
Jair Bolsonaro
0.46
0.47
8/14/20 0:00
Jair Bolsonaro
0.47
0.47
8/15/20 0:00
Jair Bolsonaro
0.48
0.45
8/16/20 0:00
Jair Bolsonaro
0.48
0.46
8/17/20 0:00
Jair Bolsonaro
0.47
0.46
8/18/20 0:00
Jair Bolsonaro
0.48
0.46
8/19/20 0:00
Jair Bolsonaro
0.49
0.45
8/20/20 0:00
Jair Bolsonaro
0.48
0.45
8/21/20 0:00
Jair Bolsonaro
0.5
0.44
8/22/20 0:00
Jair Bolsonaro
0.48
0.45
8/23/20 0:00
Jair Bolsonaro
0.49
0.44
8/24/20 0:00
Jair Bolsonaro
0.5
0.43
8/25/20 0:00
Jair Bolsonaro
0.5
0.44
8/26/20 0:00
Jair Bolsonaro
0.5
0.44
8/27/20 0:00
Jair Bolsonaro
0.5
0.43
8/28/20 0:00
Jair Bolsonaro
0.5
0.43
8/29/20 0:00
Jair Bolsonaro
0.51
0.43
8/30/20 0:00
Jair Bolsonaro
0.5
0.43
8/31/20 0:00
Jair Bolsonaro
0.49
0.43
9/1/20 0:00
Jair Bolsonaro
0.5
0.42
9/2/20 0:00
Jair Bolsonaro
0.49
0.43
9/3/20 0:00
Jair Bolsonaro
0.49
0.43
9/4/20 0:00
Jair Bolsonaro
0.48
0.44
9/5/20 0:00
Jair Bolsonaro
0.47
0.44
9/6/20 0:00
Jair Bolsonaro
0.48
0.44
9/7/20 0:00
Jair Bolsonaro
0.48
0.44
9/8/20 0:00
Jair Bolsonaro
0.48
0.44
9/9/20 0:00
Jair Bolsonaro
0.48
0.44
9/10/20 0:00
Jair Bolsonaro
0.48
0.43
9/11/20 0:00
Jair Bolsonaro
0.48
0.43
9/12/20 0:00
Jair Bolsonaro
0.49
0.43
9/13/20 0:00
Jair Bolsonaro
0.49
0.43
9/14/20 0:00
Jair Bolsonaro
0.49
0.43
9/15/20 0:00
Jair Bolsonaro
0.49
0.42
9/16/20 0:00
Jair Bolsonaro
0.49
0.42
9/17/20 0:00
Jair Bolsonaro
0.49
0.43
9/18/20 0:00
Jair Bolsonaro
0.49
0.43
9/19/20 0:00
Jair Bolsonaro
0.48
0.44
9/20/20 0:00
Jair Bolsonaro
0.47
0.44
9/21/20 0:00
Jair Bolsonaro
0.47
0.45
9/22/20 0:00
Jair Bolsonaro
0.47
0.45
9/23/20 0:00
Jair Bolsonaro
0.48
0.45
9/24/20 0:00
Jair Bolsonaro
0.46
0.46
9/25/20 0:00
Jair Bolsonaro
0.47
0.45
9/26/20 0:00
Jair Bolsonaro
0.48
0.44
9/27/20 0:00
Jair Bolsonaro
0.47
0.44
9/28/20 0:00
Jair Bolsonaro
0.47
0.44
9/29/20 0:00
Jair Bolsonaro
0.47
0.44
9/30/20 0:00
Jair Bolsonaro
0.47
0.43
10/1/20 0:00
Jair Bolsonaro
0.47
0.43
10/2/20 0:00
Jair Bolsonaro
0.48
0.42
10/3/20 0:00
Jair Bolsonaro
0.48
0.42
10/4/20 0:00
Jair Bolsonaro
0.5
0.4
10/5/20 0:00
Jair Bolsonaro
0.5
0.4
10/6/20 0:00
Jair Bolsonaro
0.5
0.4
10/7/20 0:00
Jair Bolsonaro
0.49
0.41
10/8/20 0:00
Jair Bolsonaro
0.49
0.42
10/9/20 0:00
Jair Bolsonaro
0.5
0.41
10/10/20 0:00
Jair Bolsonaro
0.48
0.43
10/11/20 0:00
Jair Bolsonaro
0.49
0.43
10/12/20 0:00
Jair Bolsonaro
0.49
0.42
10/13/20 0:00
Jair Bolsonaro
0.49
0.42
10/14/20 0:00
Jair Bolsonaro
0.49
0.42
10/15/20 0:00
Jair Bolsonaro
0.5
0.41
10/16/20 0:00
Jair Bolsonaro
0.5
0.41
10/17/20 0:00
Jair Bolsonaro
0.51
0.4
10/18/20 0:00
Jair Bolsonaro
0.49
0.42
10/19/20 0:00
Jair Bolsonaro
0.49
0.43
10/20/20 0:00
Jair Bolsonaro
0.49
0.43
10/21/20 0:00
Jair Bolsonaro
0.49
0.44
10/22/20 0:00
Jair Bolsonaro
0.49
0.43
10/23/20 0:00
Jair Bolsonaro
0.49
0.43
10/24/20 0:00
Jair Bolsonaro
0.48
0.45
10/25/20 0:00
Jair Bolsonaro
0.46
0.46
10/26/20 0:00
Jair Bolsonaro
0.46
0.46
10/27/20 0:00
Jair Bolsonaro
0.46
0.46
10/28/20 0:00
Jair Bolsonaro
0.45
0.46
10/29/20 0:00
Jair Bolsonaro
0.45
0.47
10/30/20 0:00
Jair Bolsonaro
0.44
0.49
10/31/20 0:00
Jair Bolsonaro
0.44
0.48
11/1/20 0:00
Jair Bolsonaro
0.46
0.46
11/2/20 0:00
Jair Bolsonaro
0.46
0.45
11/3/20 0:00
Jair Bolsonaro
0.46
0.45
11/4/20 0:00
Jair Bolsonaro
0.46
0.46
11/5/20 0:00
Jair Bolsonaro
0.45
0.46
11/6/20 0:00
Jair Bolsonaro
0.46
0.45
11/7/20 0:00
Jair Bolsonaro
0.45
0.46
11/8/20 0:00
Jair Bolsonaro
0.44
0.48
11/9/20 0:00
Jair Bolsonaro
0.44
0.48
11/10/20 0:00
Jair Bolsonaro
0.45
0.47
11/11/20 0:00
Jair Bolsonaro
0.46
0.46
11/12/20 0:00
Jair Bolsonaro
0.46
0.46
11/13/20 0:00
Jair Bolsonaro
0.45
0.47
11/14/20 0:00
Jair Bolsonaro
0.47
0.45
11/15/20 0:00
Jair Bolsonaro
0.48
0.44
11/16/20 0:00
Jair Bolsonaro
0.48
0.44
11/17/20 0:00
Jair Bolsonaro
0.47
0.45
11/18/20 0:00
Jair Bolsonaro
0.46
0.47
11/19/20 0:00
Jair Bolsonaro
0.46
0.46
11/20/20 0:00
Jair Bolsonaro
0.48
0.45
11/21/20 0:00
Jair Bolsonaro
0.45
0.47
11/22/20 0:00
Jair Bolsonaro
0.45
0.47
11/23/20 0:00
Jair Bolsonaro
0.45
0.48
11/24/20 0:00
Jair Bolsonaro
0.46
0.47
11/25/20 0:00
Jair Bolsonaro
0.46
0.46
11/26/20 0:00
Jair Bolsonaro
0.45
0.47
11/27/20 0:00
Jair Bolsonaro
0.45
0.48
11/28/20 0:00
Jair Bolsonaro
0.46
0.47
11/29/20 0:00
Jair Bolsonaro
0.46
0.46
11/30/20 0:00
Jair Bolsonaro
0.47
0.44
12/1/20 0:00
Jair Bolsonaro
0.46
0.45
12/2/20 0:00
Jair Bolsonaro
0.47
0.44
12/3/20 0:00
Jair Bolsonaro
0.47
0.44
12/4/20 0:00
Jair Bolsonaro
0.47
0.44
12/5/20 0:00
Jair Bolsonaro
0.48
0.43
12/6/20 0:00
Jair Bolsonaro
0.48
0.43
12/7/20 0:00
Jair Bolsonaro
0.47
0.45
12/8/20 0:00
Jair Bolsonaro
0.47
0.45
12/9/20 0:00
Jair Bolsonaro
0.47
0.46
12/10/20 0:00
Jair Bolsonaro
0.47
0.46
12/11/20 0:00
Jair Bolsonaro
0.47
0.46
12/12/20 0:00
Jair Bolsonaro
0.46
0.47
12/13/20 0:00
Jair Bolsonaro
0.45
0.48
12/14/20 0:00
Jair Bolsonaro
0.45
0.48
12/15/20 0:00
Jair Bolsonaro
0.44
0.49
12/16/20 0:00
Jair Bolsonaro
0.45
0.48
12/17/20 0:00
Jair Bolsonaro
0.45
0.48
12/18/20 0:00
Jair Bolsonaro
0.46
0.47
12/19/20 0:00
Jair Bolsonaro
0.45
0.48
12/20/20 0:00
Jair Bolsonaro
0.45
0.48
12/21/20 0:00
Jair Bolsonaro
0.45
0.48
12/22/20 0:00
Jair Bolsonaro
0.45
0.47
12/23/20 0:00
Jair Bolsonaro
0.44
0.48
12/24/20 0:00
Jair Bolsonaro
0.43
0.48
12/25/20 0:00
Jair Bolsonaro
0.42
0.49
12/26/20 0:00
Jair Bolsonaro
0.41
0.5
12/27/20 0:00
Jair Bolsonaro
0.4
0.5
12/28/20 0:00
Jair Bolsonaro
0.41
0.49
12/29/20 0:00
Jair Bolsonaro
0.41
0.5
12/30/20 0:00
Jair Bolsonaro
0.41
0.5
12/31/20 0:00
Jair Bolsonaro
0.42
0.5
1/1/21 0:00
Jair Bolsonaro
0.43
0.49
1/2/21 0:00
Jair Bolsonaro
0.43
0.49
1/3/21 0:00
Jair Bolsonaro
0.43
0.48
1/4/21 0:00
Jair Bolsonaro
0.42
0.49
1/5/21 0:00
Jair Bolsonaro
0.42
0.49
1/6/21 0:00
Jair Bolsonaro
0.41
0.51
1/7/21 0:00
Jair Bolsonaro
0.4
0.51
1/8/21 0:00
Jair Bolsonaro
0.39
0.52
1/9/21 0:00
Jair Bolsonaro
0.4
0.52
1/10/21 0:00
Jair Bolsonaro
0.41
0.52
1/11/21 0:00
Jair Bolsonaro
0.41
0.52
1/12/21 0:00
Jair Bolsonaro
0.42
0.51
1/13/21 0:00
Jair Bolsonaro
0.43
0.51
1/14/21 0:00
Jair Bolsonaro
0.44
0.51
1/15/21 0:00
Jair Bolsonaro
0.43
0.52
1/16/21 0:00
Jair Bolsonaro
0.43
0.52
1/17/21 0:00
Jair Bolsonaro
0.43
0.52
1/18/21 0:00
Jair Bolsonaro
0.42
0.52
1/19/21 0:00
Jair Bolsonaro
0.4
0.54
1/20/21 0:00
Jair Bolsonaro
0.4
0.54
1/21/21 0:00
Jair Bolsonaro
0.4
0.54
1/22/21 0:00
Jair Bolsonaro
0.4
0.54
1/23/21 0:00
Jair Bolsonaro
0.41
0.54
1/24/21 0:00
Jair Bolsonaro
0.4
0.54
1/25/21 0:00
Jair Bolsonaro
0.4
0.55
1/26/21 0:00
Jair Bolsonaro
0.41
0.52
1/27/21 0:00
Jair Bolsonaro
0.4
0.53
1/28/21 0:00
Jair Bolsonaro
0.39
0.54
1/29/21 0:00
Jair Bolsonaro
0.4
0.53
1/30/21 0:00
Jair Bolsonaro
0.4
0.53
1/31/21 0:00
Jair Bolsonaro
0.4
0.52
2/1/21 0:00
Jair Bolsonaro
0.4
0.52
2/2/21 0:00
Jair Bolsonaro
0.39
0.54
2/3/21 0:00
Jair Bolsonaro
0.39
0.53
2/4/21 0:00
Jair Bolsonaro
0.4
0.52
2/5/21 0:00
Jair Bolsonaro
0.39
0.53
2/6/21 0:00
Jair Bolsonaro
0.39
0.53
2/7/21 0:00
Jair Bolsonaro
0.4
0.53
2/8/21 0:00
Jair Bolsonaro
0.41
0.52
2/9/21 0:00
Jair Bolsonaro
0.41
0.52
2/10/21 0:00
Jair Bolsonaro
0.42
0.51
2/11/21 0:00
Jair Bolsonaro
0.43
0.5
2/12/21 0:00
Jair Bolsonaro
0.44
0.49
2/13/21 0:00
Jair Bolsonaro
0.44
0.48
2/14/21 0:00
Jair Bolsonaro
0.45
0.48
2/15/21 0:00
Jair Bolsonaro
0.45
0.47
2/16/21 0:00
Jair Bolsonaro
0.47
0.47
2/17/21 0:00
Jair Bolsonaro
0.45
0.48
2/18/21 0:00
Jair Bolsonaro
0.44
0.48
2/19/21 0:00
Jair Bolsonaro
0.44
0.48
2/20/21 0:00
Jair Bolsonaro
0.43
0.49
2/21/21 0:00
Jair Bolsonaro
0.42
0.5
2/22/21 0:00
Jair Bolsonaro
0.42
0.5
2/23/21 0:00
Jair Bolsonaro
0.43
0.49
2/24/21 0:00
Jair Bolsonaro
0.43
0.49
2/25/21 0:00
Jair Bolsonaro
0.44
0.48
2/26/21 0:00
Jair Bolsonaro
0.44
0.48
2/27/21 0:00
Jair Bolsonaro
0.44
0.48
2/28/21 0:00
Jair Bolsonaro
0.45
0.47
3/1/21 0:00
Jair Bolsonaro
0.45
0.47
3/2/21 0:00
Jair Bolsonaro
0.45
0.48
3/3/21 0:00
Jair Bolsonaro
0.47
0.46
3/4/21 0:00
Jair Bolsonaro
0.46
0.47
3/5/21 0:00
Jair Bolsonaro
0.46
0.48
3/6/21 0:00
Jair Bolsonaro
0.44
0.49
3/7/21 0:00
Jair Bolsonaro
0.42
0.51
3/8/21 0:00
Jair Bolsonaro
0.42
0.52
3/9/21 0:00
Jair Bolsonaro
0.41
0.53
3/10/21 0:00
Jair Bolsonaro
0.39
0.55
3/11/21 0:00
Jair Bolsonaro
0.38
0.55
3/12/21 0:00
Jair Bolsonaro
0.38
0.56
3/13/21 0:00
Jair Bolsonaro
0.38
0.55
3/14/21 0:00
Jair Bolsonaro
0.39
0.56
3/15/21 0:00
Jair Bolsonaro
0.38
0.56
3/16/21 0:00
Jair Bolsonaro
0.39
0.55
3/17/21 0:00
Jair Bolsonaro
0.38
0.56
3/18/21 0:00
Jair Bolsonaro
0.37
0.56
3/19/21 0:00
Jair Bolsonaro
0.37
0.55
3/20/21 0:00
Jair Bolsonaro
0.37
0.55
3/21/21 0:00
Jair Bolsonaro
0.38
0.54
3/22/21 0:00
Jair Bolsonaro
0.38
0.54
3/23/21 0:00
Jair Bolsonaro
0.37
0.55
3/24/21 0:00
Jair Bolsonaro
0.37
0.54
3/25/21 0:00
Jair Bolsonaro
0.38
0.54
3/26/21 0:00
Jair Bolsonaro
0.39
0.54
3/27/21 0:00
Jair Bolsonaro
0.38
0.54
3/28/21 0:00
Jair Bolsonaro
0.39
0.54
3/29/21 0:00
Jair Bolsonaro
0.38
0.55
3/30/21 0:00
Jair Bolsonaro
0.38
0.54
3/31/21 0:00
Jair Bolsonaro
0.38
0.54
4/1/21 0:00
Jair Bolsonaro
0.39
0.53
4/2/21 0:00
Jair Bolsonaro
0.38
0.55
4/3/21 0:00
Jair Bolsonaro
0.37
0.55
4/4/21 0:00
Jair Bolsonaro
0.37
0.55
4/5/21 0:00
Jair Bolsonaro
0.37
0.54
4/6/21 0:00
Jair Bolsonaro
0.38
0.55
4/7/21 0:00
Jair Bolsonaro
0.38
0.55
4/8/21 0:00
Jair Bolsonaro
0.37
0.56
4/9/21 0:00
Jair Bolsonaro
0.38
0.55
4/10/21 0:00
Jair Bolsonaro
0.39
0.54
4/11/21 0:00
Jair Bolsonaro
0.4
0.54
4/12/21 0:00
Jair Bolsonaro
0.4
0.54
4/13/21 0:00
Jair Bolsonaro
0.38
0.55
4/14/21 0:00
Jair Bolsonaro
0.38
0.55
4/15/21 0:00
Jair Bolsonaro
0.39
0.55
4/16/21 0:00
Jair Bolsonaro
0.39
0.56
4/17/21 0:00
Jair Bolsonaro
0.39
0.56
4/18/21 0:00
Jair Bolsonaro
0.39
0.56
4/19/21 0:00
Jair Bolsonaro
0.39
0.55
4/20/21 0:00
Jair Bolsonaro
0.41
0.53
4/21/21 0:00
Jair Bolsonaro
0.42
0.52
4/22/21 0:00
Jair Bolsonaro
0.43
0.51
4/23/21 0:00
Jair Bolsonaro
0.43
0.51
4/24/21 0:00
Jair Bolsonaro
0.42
0.52
4/25/21 0:00
Jair Bolsonaro
0.42
0.52
4/26/21 0:00
Jair Bolsonaro
0.42
0.52
4/27/21 0:00
Jair Bolsonaro
0.42
0.52
4/28/21 0:00
Jair Bolsonaro
0.42
0.52
4/29/21 0:00
Jair Bolsonaro
0.41
0.52
4/30/21 0:00
Jair Bolsonaro
0.41
0.51
5/1/21 0:00
Jair Bolsonaro
0.42
0.5
5/2/21 0:00
Jair Bolsonaro
0.43
0.5
5/3/21 0:00
Jair Bolsonaro
0.41
0.5
5/4/21 0:00
Jair Bolsonaro
0.41
0.51
5/5/21 0:00
Jair Bolsonaro
0.4
0.51
5/6/21 0:00
Jair Bolsonaro
0.41
0.51
5/7/21 0:00
Jair Bolsonaro
0.4
0.52
5/8/21 0:00
Jair Bolsonaro
0.39
0.52
5/9/21 0:00
Jair Bolsonaro
0.38
0.54
5/10/21 0:00
Jair Bolsonaro
0.39
0.53
5/11/21 0:00
Jair Bolsonaro
0.39
0.53
5/12/21 0:00
Jair Bolsonaro
0.39
0.53
5/13/21 0:00
Jair Bolsonaro
0.39
0.53
5/14/21 0:00
Jair Bolsonaro
0.39
0.54
5/15/21 0:00
Jair Bolsonaro
0.39
0.54
5/16/21 0:00
Jair Bolsonaro
0.4
0.53
5/17/21 0:00
Jair Bolsonaro
0.4
0.53
5/18/21 0:00
Jair Bolsonaro
0.4
0.53
5/19/21 0:00
Jair Bolsonaro
0.4
0.53
5/20/21 0:00
Jair Bolsonaro
0.4
0.53
5/21/21 0:00
Jair Bolsonaro
0.4
0.52
5/22/21 0:00
Jair Bolsonaro
0.4
0.53
5/23/21 0:00
Jair Bolsonaro
0.4
0.53
5/24/21 0:00
Jair Bolsonaro
0.38
0.54
5/25/21 0:00
Jair Bolsonaro
0.38
0.54
5/26/21 0:00
Jair Bolsonaro
0.37
0.55
5/27/21 0:00
Jair Bolsonaro
0.38
0.55
5/28/21 0:00
Jair Bolsonaro
0.38
0.55
5/29/21 0:00
Jair Bolsonaro
0.38
0.55
5/30/21 0:00
Jair Bolsonaro
0.37
0.55
5/31/21 0:00
Jair Bolsonaro
0.38
0.54
6/1/21 0:00
Jair Bolsonaro
0.38
0.54
6/2/21 0:00
Jair Bolsonaro
0.38
0.55
6/3/21 0:00
Jair Bolsonaro
0.37
0.55
6/4/21 0:00
Jair Bolsonaro
0.37
0.55
6/5/21 0:00
Jair Bolsonaro
0.37
0.55
6/6/21 0:00
Jair Bolsonaro
0.37
0.56
6/7/21 0:00
Jair Bolsonaro
0.37
0.56
6/8/21 0:00
Jair Bolsonaro
0.37
0.56
6/9/21 0:00
Jair Bolsonaro
0.37
0.56
6/10/21 0:00
Jair Bolsonaro
0.37
0.56
6/11/21 0:00
Jair Bolsonaro
0.37
0.56
6/12/21 0:00
Jair Bolsonaro
0.37
0.56
6/13/21 0:00
Jair Bolsonaro
0.37
0.56
6/14/21 0:00
Jair Bolsonaro
0.36
0.57
6/15/21 0:00
Jair Bolsonaro
0.35
0.57
6/16/21 0:00
Jair Bolsonaro
0.36
0.56
6/17/21 0:00
Jair Bolsonaro
0.35
0.57
6/18/21 0:00
Jair Bolsonaro
0.35
0.58
6/19/21 0:00
Jair Bolsonaro
0.34
0.59
6/20/21 0:00
Jair Bolsonaro
0.34
0.58
6/21/21 0:00
Jair Bolsonaro
0.35
0.58
6/22/21 0:00
Jair Bolsonaro
0.36
0.58
6/23/21 0:00
Jair Bolsonaro
0.35
0.59
6/24/21 0:00
Jair Bolsonaro
0.35
0.58
6/25/21 0:00
Jair Bolsonaro
0.36
0.57
6/26/21 0:00
Jair Bolsonaro
0.37
0.56
6/27/21 0:00
Jair Bolsonaro
0.37
0.55
6/28/21 0:00
Jair Bolsonaro
0.37
0.56
6/29/21 0:00
Jair Bolsonaro
0.37
0.56
6/30/21 0:00
Jair Bolsonaro
0.37
0.55
7/1/21 0:00
Jair Bolsonaro
0.37
0.56
7/2/21 0:00
Jair Bolsonaro
0.36
0.57
7/3/21 0:00
Jair Bolsonaro
0.36
0.57
7/4/21 0:00
Jair Bolsonaro
0.36
0.58
7/5/21 0:00
Jair Bolsonaro
0.36
0.57
7/6/21 0:00
Jair Bolsonaro
0.36
0.58
7/7/21 0:00
Jair Bolsonaro
0.37
0.57
7/8/21 0:00
Jair Bolsonaro
0.37
0.56
7/9/21 0:00
Jair Bolsonaro
0.38
0.55
7/10/21 0:00
Jair Bolsonaro
0.36
0.56
7/11/21 0:00
Jair Bolsonaro
0.37
0.56
7/12/21 0:00
Jair Bolsonaro
0.37
0.56
7/13/21 0:00
Jair Bolsonaro
0.38
0.55
7/14/21 0:00
Jair Bolsonaro
0.38
0.55
7/15/21 0:00
Jair Bolsonaro
0.38
0.56
7/16/21 0:00
Jair Bolsonaro
0.38
0.56
7/17/21 0:00
Jair Bolsonaro
0.4
0.54
7/18/21 0:00
Jair Bolsonaro
0.39
0.54
7/19/21 0:00
Jair Bolsonaro
0.4
0.54
7/20/21 0:00
Jair Bolsonaro
0.4
0.53
7/21/21 0:00
Jair Bolsonaro
0.41
0.52
7/22/21 0:00
Jair Bolsonaro
0.41
0.52
7/23/21 0:00
Jair Bolsonaro
0.4
0.52
7/24/21 0:00
Jair Bolsonaro
0.39
0.53
7/25/21 0:00
Jair Bolsonaro
0.41
0.52
7/26/21 0:00
Jair Bolsonaro
0.4
0.53
7/27/21 0:00
Jair Bolsonaro
0.4
0.53
7/28/21 0:00
Jair Bolsonaro
0.39
0.53
7/29/21 0:00
Jair Bolsonaro
0.39
0.54
7/30/21 0:00
Jair Bolsonaro
0.39
0.54
7/31/21 0:00
Jair Bolsonaro
0.39
0.54
8/1/21 0:00
Jair Bolsonaro
0.38
0.55
8/2/21 0:00
Jair Bolsonaro
0.38
0.54
8/3/21 0:00
Jair Bolsonaro
0.37
0.55
8/4/21 0:00
Jair Bolsonaro
0.38
0.55
8/5/21 0:00
Jair Bolsonaro
0.38
0.54
8/6/21 0:00
Jair Bolsonaro
0.38
0.55
8/7/21 0:00
Jair Bolsonaro
0.39
0.54
8/8/21 0:00
Jair Bolsonaro
0.39
0.53
8/9/21 0:00
Jair Bolsonaro
0.38
0.54
8/10/21 0:00
Jair Bolsonaro
0.39
0.54
8/11/21 0:00
Jair Bolsonaro
0.39
0.54
8/12/21 0:00
Jair Bolsonaro
0.39
0.54
8/13/21 0:00
Jair Bolsonaro
0.41
0.53
8/14/21 0:00
Jair Bolsonaro
0.41
0.53
8/15/21 0:00
Jair Bolsonaro
0.41
0.52
8/16/21 0:00
Jair Bolsonaro
0.41
0.52
8/17/21 0:00
Jair Bolsonaro
0.41
0.52
8/18/21 0:00
Jair Bolsonaro
0.4
0.52
8/19/21 0:00
Jair Bolsonaro
0.4
0.53
8/20/21 0:00
Jair Bolsonaro
0.39
0.53
8/21/21 0:00
Jair Bolsonaro
0.39
0.54
8/22/21 0:00
Jair Bolsonaro
0.39
0.53
8/23/21 0:00
Jair Bolsonaro
0.39
0.53
8/24/21 0:00
Jair Bolsonaro
0.39
0.53
8/25/21 0:00
Jair Bolsonaro
0.38
0.54
8/26/21 0:00
Jair Bolsonaro
0.38
0.54
8/27/21 0:00
Jair Bolsonaro
0.38
0.54
8/28/21 0:00
Jair Bolsonaro
0.38
0.54
8/29/21 0:00
Jair Bolsonaro
0.37
0.55
8/30/21 0:00
Jair Bolsonaro
0.38
0.55
8/31/21 0:00
Jair Bolsonaro
0.39
0.54
9/1/21 0:00
Jair Bolsonaro
0.38
0.54
9/2/21 0:00
Jair Bolsonaro
0.39
0.53
9/3/21 0:00
Jair Bolsonaro
0.39
0.53
9/4/21 0:00
Jair Bolsonaro
0.38
0.54
9/5/21 0:00
Jair Bolsonaro
0.38
0.54
9/6/21 0:00
Jair Bolsonaro
0.37
0.54
9/7/21 0:00
Jair Bolsonaro
0.36
0.56
9/8/21 0:00
Jair Bolsonaro
0.37
0.55
9/9/21 0:00
Jair Bolsonaro
0.36
0.56
9/10/21 0:00
Jair Bolsonaro
0.36
0.56
9/11/21 0:00
Jair Bolsonaro
0.36
0.56
9/12/21 0:00
Jair Bolsonaro
0.36
0.56
9/13/21 0:00
Jair Bolsonaro
0.36
0.56
9/14/21 0:00
Jair Bolsonaro
0.37
0.55
9/15/21 0:00
Jair Bolsonaro
0.36
0.56
9/16/21 0:00
Jair Bolsonaro
0.36
0.56
9/17/21 0:00
Jair Bolsonaro
0.37
0.56
9/18/21 0:00
Jair Bolsonaro
0.37
0.56
9/19/21 0:00
Jair Bolsonaro
0.37
0.56
9/20/21 0:00
Jair Bolsonaro
0.37
0.56
9/21/21 0:00
Jair Bolsonaro
0.37
0.56
9/22/21 0:00
Jair Bolsonaro
0.36
0.58
9/23/21 0:00
Jair Bolsonaro
0.35
0.58
9/24/21 0:00
Jair Bolsonaro
0.34
0.59
9/25/21 0:00
Jair Bolsonaro
0.33
0.6
9/26/21 0:00
Jair Bolsonaro
0.33
0.6
9/27/21 0:00
Jair Bolsonaro
0.33
0.6
9/28/21 0:00
Jair Bolsonaro
0.33
0.6
9/29/21 0:00
Jair Bolsonaro
0.34
0.59
9/30/21 0:00
Jair Bolsonaro
0.35
0.59
10/1/21 0:00
Jair Bolsonaro
0.36
0.59
10/2/21 0:00
Jair Bolsonaro
0.36
0.58
10/3/21 0:00
Jair Bolsonaro
0.36
0.58
10/4/21 0:00
Jair Bolsonaro
0.37
0.57
10/5/21 0:00
Jair Bolsonaro
0.36
0.57
10/6/21 0:00
Jair Bolsonaro
0.36
0.57
10/7/21 0:00
Jair Bolsonaro
0.37
0.56
10/8/21 0:00
Jair Bolsonaro
0.37
0.56
10/9/21 0:00
Jair Bolsonaro
0.36
0.57
10/10/21 0:00
Jair Bolsonaro
0.36
0.57
10/11/21 0:00
Jair Bolsonaro
0.36
0.57
10/12/21 0:00
Jair Bolsonaro
0.35
0.57
10/13/21 0:00
Jair Bolsonaro
0.34
0.58
10/14/21 0:00
Jair Bolsonaro
0.33
0.59
10/15/21 0:00
Jair Bolsonaro
0.33
0.59
10/16/21 0:00
Jair Bolsonaro
0.34
0.58
10/17/21 0:00
Jair Bolsonaro
0.34
0.58
10/18/21 0:00
Jair Bolsonaro
0.34
0.58
10/19/21 0:00
Jair Bolsonaro
0.35
0.58
10/20/21 0:00
Jair Bolsonaro
0.36
0.56
10/21/21 0:00
Jair Bolsonaro
0.36
0.56
10/22/21 0:00
Jair Bolsonaro
0.37
0.56
10/23/21 0:00
Jair Bolsonaro
0.37
0.56
10/24/21 0:00
Jair Bolsonaro
0.37
0.56
10/25/21 0:00
Jair Bolsonaro
0.36
0.56
10/26/21 0:00
Jair Bolsonaro
0.36
0.57
10/27/21 0:00
Jair Bolsonaro
0.35
0.58
10/28/21 0:00
Jair Bolsonaro
0.36
0.58
10/29/21 0:00
Jair Bolsonaro
0.36
0.57
10/30/21 0:00
Jair Bolsonaro
0.35
0.59
10/31/21 0:00
Jair Bolsonaro
0.35
0.59
11/1/21 0:00
Jair Bolsonaro
0.36
0.58
11/2/21 0:00
Jair Bolsonaro
0.35
0.59
11/3/21 0:00
Jair Bolsonaro
0.35
0.58
11/4/21 0:00
Jair Bolsonaro
0.35
0.59
11/5/21 0:00
Jair Bolsonaro
0.35
0.59
11/6/21 0:00
Jair Bolsonaro
0.35
0.58
11/7/21 0:00
Jair Bolsonaro
0.36
0.57
11/8/21 0:00
Jair Bolsonaro
0.36
0.57
11/9/21 0:00
Jair Bolsonaro
0.38
0.55
11/10/21 0:00
Jair Bolsonaro
0.37
0.55
11/11/21 0:00
Jair Bolsonaro
0.38
0.54
11/12/21 0:00
Jair Bolsonaro
0.38
0.55
11/13/21 0:00
Jair Bolsonaro
0.38
0.55
11/14/21 0:00
Jair Bolsonaro
0.37
0.56
11/15/21 0:00
Jair Bolsonaro
0.37
0.57
11/16/21 0:00
Jair Bolsonaro
0.36
0.58
11/17/21 0:00
Jair Bolsonaro
0.36
0.58
11/18/21 0:00
Jair Bolsonaro
0.35
0.58
11/19/21 0:00
Jair Bolsonaro
0.36
0.57
11/20/21 0:00
Jair Bolsonaro
0.36
0.57
11/21/21 0:00
Jair Bolsonaro
0.36
0.56
11/22/21 0:00
Jair Bolsonaro
0.37
0.55
11/23/21 0:00
Jair Bolsonaro
0.36
0.56
11/24/21 0:00
Jair Bolsonaro
0.36
0.56
11/25/21 0:00
Jair Bolsonaro
0.36
0.57
11/26/21 0:00
Jair Bolsonaro
0.36
0.57
11/27/21 0:00
Jair Bolsonaro
0.36
0.57
11/28/21 0:00
Jair Bolsonaro
0.36
0.58
11/29/21 0:00
Jair Bolsonaro
0.35
0.58
11/30/21 0:00
Jair Bolsonaro
0.36
0.57
12/1/21 0:00
Jair Bolsonaro
0.36
0.58
12/2/21 0:00
Jair Bolsonaro
0.38
0.56
12/3/21 0:00
Jair Bolsonaro
0.37
0.57
12/4/21 0:00
Jair Bolsonaro
0.37
0.57
12/5/21 0:00
Jair Bolsonaro
0.38
0.56
12/6/21 0:00
Jair Bolsonaro
0.38
0.56
12/7/21 0:00
Jair Bolsonaro
0.37
0.56
2/17/21 0:00
Mario Draghi
0.47
0.23
2/18/21 0:00
Mario Draghi
0.5
0.24
2/19/21 0:00
Mario Draghi
0.53
0.22
2/20/21 0:00
Mario Draghi
0.53
0.22
2/21/21 0:00
Mario Draghi
0.53
0.23
2/22/21 0:00
Mario Draghi
0.54
0.23
2/23/21 0:00
Mario Draghi
0.54
0.23
2/24/21 0:00
Mario Draghi
0.54
0.24
2/25/21 0:00
Mario Draghi
0.54
0.24
2/26/21 0:00
Mario Draghi
0.54
0.25
2/27/21 0:00
Mario Draghi
0.54
0.26
2/28/21 0:00
Mario Draghi
0.54
0.27
3/1/21 0:00
Mario Draghi
0.53
0.28
3/2/21 0:00
Mario Draghi
0.54
0.29
3/3/21 0:00
Mario Draghi
0.54
0.29
3/4/21 0:00
Mario Draghi
0.54
0.29
3/5/21 0:00
Mario Draghi
0.55
0.3
3/6/21 0:00
Mario Draghi
0.55
0.3
3/7/21 0:00
Mario Draghi
0.56
0.29
3/8/21 0:00
Mario Draghi
0.55
0.3
3/9/21 0:00
Mario Draghi
0.56
0.3
3/10/21 0:00
Mario Draghi
0.56
0.3
3/11/21 0:00
Mario Draghi
0.56
0.3
3/12/21 0:00
Mario Draghi
0.55
0.3
3/13/21 0:00
Mario Draghi
0.56
0.3
3/14/21 0:00
Mario Draghi
0.56
0.31
3/15/21 0:00
Mario Draghi
0.56
0.31
3/16/21 0:00
Mario Draghi
0.56
0.31
3/17/21 0:00
Mario Draghi
0.57
0.32
3/18/21 0:00
Mario Draghi
0.57
0.33
3/19/21 0:00
Mario Draghi
0.57
0.33
3/20/21 0:00
Mario Draghi
0.56
0.33
3/21/21 0:00
Mario Draghi
0.56
0.33
3/22/21 0:00
Mario Draghi
0.55
0.34
3/23/21 0:00
Mario Draghi
0.55
0.34
3/24/21 0:00
Mario Draghi
0.55
0.35
3/25/21 0:00
Mario Draghi
0.54
0.35
3/26/21 0:00
Mario Draghi
0.55
0.34
3/27/21 0:00
Mario Draghi
0.55
0.35
3/28/21 0:00
Mario Draghi
0.56
0.35
3/29/21 0:00
Mario Draghi
0.58
0.34
3/30/21 0:00
Mario Draghi
0.58
0.34
3/31/21 0:00
Mario Draghi
0.58
0.35
4/1/21 0:00
Mario Draghi
0.57
0.35
4/2/21 0:00
Mario Draghi
0.56
0.37
4/3/21 0:00
Mario Draghi
0.55
0.38
4/4/21 0:00
Mario Draghi
0.54
0.39
4/5/21 0:00
Mario Draghi
0.53
0.39
4/6/21 0:00
Mario Draghi
0.52
0.4
4/7/21 0:00
Mario Draghi
0.51
0.41
4/8/21 0:00
Mario Draghi
0.51
0.41
4/9/21 0:00
Mario Draghi
0.51
0.41
4/10/21 0:00
Mario Draghi
0.52
0.4
4/11/21 0:00
Mario Draghi
0.53
0.39
4/12/21 0:00
Mario Draghi
0.52
0.4
4/13/21 0:00
Mario Draghi
0.52
0.4
4/14/21 0:00
Mario Draghi
0.53
0.39
4/15/21 0:00
Mario Draghi
0.53
0.39
4/16/21 0:00
Mario Draghi
0.53
0.39
4/17/21 0:00
Mario Draghi
0.54
0.39
4/18/21 0:00
Mario Draghi
0.53
0.39
4/19/21 0:00
Mario Draghi
0.54
0.39
4/20/21 0:00
Mario Draghi
0.54
0.39
4/21/21 0:00
Mario Draghi
0.55
0.39
4/22/21 0:00
Mario Draghi
0.54
0.4
4/23/21 0:00
Mario Draghi
0.53
0.41
4/24/21 0:00
Mario Draghi
0.53
0.41
4/25/21 0:00
Mario Draghi
0.51
0.42
4/26/21 0:00
Mario Draghi
0.51
0.43
4/27/21 0:00
Mario Draghi
0.51
0.43
4/28/21 0:00
Mario Draghi
0.51
0.43
4/29/21 0:00
Mario Draghi
0.52
0.43
4/30/21 0:00
Mario Draghi
0.52
0.42
5/1/21 0:00
Mario Draghi
0.52
0.42
5/2/21 0:00
Mario Draghi
0.53
0.41
5/3/21 0:00
Mario Draghi
0.53
0.4
5/4/21 0:00
Mario Draghi
0.54
0.4
5/5/21 0:00
Mario Draghi
0.53
0.4
5/6/21 0:00
Mario Draghi
0.54
0.4
5/7/21 0:00
Mario Draghi
0.54
0.39
5/8/21 0:00
Mario Draghi
0.55
0.39
5/9/21 0:00
Mario Draghi
0.55
0.38
5/10/21 0:00
Mario Draghi
0.56
0.38
5/11/21 0:00
Mario Draghi
0.57
0.37
5/12/21 0:00
Mario Draghi
0.57
0.36
5/13/21 0:00
Mario Draghi
0.57
0.37
5/14/21 0:00
Mario Draghi
0.58
0.36
5/15/21 0:00
Mario Draghi
0.59
0.35
5/16/21 0:00
Mario Draghi
0.59
0.35
5/17/21 0:00
Mario Draghi
0.59
0.35
5/18/21 0:00
Mario Draghi
0.59
0.35
5/19/21 0:00
Mario Draghi
0.6
0.33
5/20/21 0:00
Mario Draghi
0.6
0.33
5/21/21 0:00
Mario Draghi
0.61
0.33
5/22/21 0:00
Mario Draghi
0.61
0.33
5/23/21 0:00
Mario Draghi
0.61
0.32
5/24/21 0:00
Mario Draghi
0.62
0.32
5/25/21 0:00
Mario Draghi
0.62
0.31
5/26/21 0:00
Mario Draghi
0.62
0.32
5/27/21 0:00
Mario Draghi
0.63
0.31
5/28/21 0:00
Mario Draghi
0.62
0.31
5/29/21 0:00
Mario Draghi
0.63
0.3
5/30/21 0:00
Mario Draghi
0.63
0.3
5/31/21 0:00
Mario Draghi
0.62
0.31
6/1/21 0:00
Mario Draghi
0.63
0.3
6/2/21 0:00
Mario Draghi
0.64
0.3
6/3/21 0:00
Mario Draghi
0.63
0.3
6/4/21 0:00
Mario Draghi
0.64
0.3
6/5/21 0:00
Mario Draghi
0.63
0.3
6/6/21 0:00
Mario Draghi
0.64
0.29
6/7/21 0:00
Mario Draghi
0.65
0.29
6/8/21 0:00
Mario Draghi
0.65
0.28
6/9/21 0:00
Mario Draghi
0.65
0.28
6/10/21 0:00
Mario Draghi
0.65
0.27
6/11/21 0:00
Mario Draghi
0.66
0.27
6/12/21 0:00
Mario Draghi
0.66
0.27
6/13/21 0:00
Mario Draghi
0.65
0.28
6/14/21 0:00
Mario Draghi
0.65
0.28
6/15/21 0:00
Mario Draghi
0.65
0.28
6/16/21 0:00
Mario Draghi
0.65
0.29
6/17/21 0:00
Mario Draghi
0.65
0.29
6/18/21 0:00
Mario Draghi
0.65
0.29
6/19/21 0:00
Mario Draghi
0.66
0.28
6/20/21 0:00
Mario Draghi
0.66
0.28
6/21/21 0:00
Mario Draghi
0.66
0.28
6/22/21 0:00
Mario Draghi
0.66
0.28
6/23/21 0:00
Mario Draghi
0.65
0.28
6/24/21 0:00
Mario Draghi
0.66
0.28
6/25/21 0:00
Mario Draghi
0.67
0.27
6/26/21 0:00
Mario Draghi
0.67
0.27
6/27/21 0:00
Mario Draghi
0.67
0.27
6/28/21 0:00
Mario Draghi
0.67
0.28
6/29/21 0:00
Mario Draghi
0.66
0.28
6/30/21 0:00
Mario Draghi
0.66
0.28
7/1/21 0:00
Mario Draghi
0.66
0.28
7/2/21 0:00
Mario Draghi
0.65
0.29
7/3/21 0:00
Mario Draghi
0.64
0.29
7/4/21 0:00
Mario Draghi
0.65
0.29
7/5/21 0:00
Mario Draghi
0.65
0.29
7/6/21 0:00
Mario Draghi
0.65
0.29
7/7/21 0:00
Mario Draghi
0.65
0.29
7/8/21 0:00
Mario Draghi
0.65
0.29
7/9/21 0:00
Mario Draghi
0.65
0.28
7/10/21 0:00
Mario Draghi
0.66
0.28
7/11/21 0:00
Mario Draghi
0.65
0.28
7/12/21 0:00
Mario Draghi
0.65
0.28
7/13/21 0:00
Mario Draghi
0.65
0.28
7/14/21 0:00
Mario Draghi
0.66
0.27
7/15/21 0:00
Mario Draghi
0.67
0.27
7/16/21 0:00
Mario Draghi
0.67
0.27
7/17/21 0:00
Mario Draghi
0.66
0.28
7/18/21 0:00
Mario Draghi
0.66
0.29
7/19/21 0:00
Mario Draghi
0.65
0.29
7/20/21 0:00
Mario Draghi
0.65
0.29
7/21/21 0:00
Mario Draghi
0.64
0.3
7/22/21 0:00
Mario Draghi
0.63
0.31
7/23/21 0:00
Mario Draghi
0.63
0.31
7/24/21 0:00
Mario Draghi
0.63
0.31
7/25/21 0:00
Mario Draghi
0.63
0.31
7/26/21 0:00
Mario Draghi
0.63
0.31
7/27/21 0:00
Mario Draghi
0.62
0.32
7/28/21 0:00
Mario Draghi
0.62
0.32
7/29/21 0:00
Mario Draghi
0.62
0.31
7/30/21 0:00
Mario Draghi
0.62
0.32
7/31/21 0:00
Mario Draghi
0.62
0.32
8/1/21 0:00
Mario Draghi
0.62
0.32
8/2/21 0:00
Mario Draghi
0.63
0.31
8/3/21 0:00
Mario Draghi
0.62
0.31
8/4/21 0:00
Mario Draghi
0.62
0.31
8/5/21 0:00
Mario Draghi
0.62
0.32
8/6/21 0:00
Mario Draghi
0.62
0.32
8/7/21 0:00
Mario Draghi
0.62
0.32
8/8/21 0:00
Mario Draghi
0.62
0.31
8/9/21 0:00
Mario Draghi
0.61
0.33
8/10/21 0:00
Mario Draghi
0.62
0.32
8/11/21 0:00
Mario Draghi
0.62
0.32
8/12/21 0:00
Mario Draghi
0.62
0.32
8/13/21 0:00
Mario Draghi
0.61
0.33
8/14/21 0:00
Mario Draghi
0.62
0.33
8/15/21 0:00
Mario Draghi
0.63
0.32
8/16/21 0:00
Mario Draghi
0.63
0.31
8/17/21 0:00
Mario Draghi
0.63
0.31
8/18/21 0:00
Mario Draghi
0.62
0.31
8/19/21 0:00
Mario Draghi
0.63
0.31
8/20/21 0:00
Mario Draghi
0.63
0.3
8/21/21 0:00
Mario Draghi
0.63
0.3
8/22/21 0:00
Mario Draghi
0.62
0.31
8/23/21 0:00
Mario Draghi
0.62
0.31
8/24/21 0:00
Mario Draghi
0.62
0.32
8/25/21 0:00
Mario Draghi
0.62
0.31
8/26/21 0:00
Mario Draghi
0.62
0.31
8/27/21 0:00
Mario Draghi
0.62
0.31
8/28/21 0:00
Mario Draghi
0.62
0.31
8/29/21 0:00
Mario Draghi
0.63
0.31
8/30/21 0:00
Mario Draghi
0.63
0.31
8/31/21 0:00
Mario Draghi
0.63
0.31
9/1/21 0:00
Mario Draghi
0.63
0.31
9/2/21 0:00
Mario Draghi
0.63
0.31
9/3/21 0:00
Mario Draghi
0.63
0.32
9/4/21 0:00
Mario Draghi
0.63
0.32
9/5/21 0:00
Mario Draghi
0.62
0.33
9/6/21 0:00
Mario Draghi
0.62
0.33
9/7/21 0:00
Mario Draghi
0.63
0.32
9/8/21 0:00
Mario Draghi
0.63
0.32
9/9/21 0:00
Mario Draghi
0.63
0.32
9/10/21 0:00
Mario Draghi
0.63
0.31
9/11/21 0:00
Mario Draghi
0.62
0.32
9/12/21 0:00
Mario Draghi
0.62
0.31
9/13/21 0:00
Mario Draghi
0.61
0.32
9/14/21 0:00
Mario Draghi
0.61
0.32
9/15/21 0:00
Mario Draghi
0.61
0.33
9/16/21 0:00
Mario Draghi
0.61
0.33
9/17/21 0:00
Mario Draghi
0.62
0.33
9/18/21 0:00
Mario Draghi
0.63
0.32
9/19/21 0:00
Mario Draghi
0.62
0.33
9/20/21 0:00
Mario Draghi
0.62
0.32
9/21/21 0:00
Mario Draghi
0.62
0.33
9/22/21 0:00
Mario Draghi
0.61
0.33
9/23/21 0:00
Mario Draghi
0.6
0.34
9/24/21 0:00
Mario Draghi
0.6
0.34
9/25/21 0:00
Mario Draghi
0.59
0.35
9/26/21 0:00
Mario Draghi
0.6
0.35
9/27/21 0:00
Mario Draghi
0.59
0.35
9/28/21 0:00
Mario Draghi
0.59
0.35
9/29/21 0:00
Mario Draghi
0.6
0.35
9/30/21 0:00
Mario Draghi
0.6
0.34
10/1/21 0:00
Mario Draghi
0.6
0.34
10/2/21 0:00
Mario Draghi
0.6
0.34
10/3/21 0:00
Mario Draghi
0.61
0.34
10/4/21 0:00
Mario Draghi
0.61
0.34
10/5/21 0:00
Mario Draghi
0.61
0.33
10/6/21 0:00
Mario Draghi
0.61
0.33
10/7/21 0:00
Mario Draghi
0.6
0.34
10/8/21 0:00
Mario Draghi
0.61
0.34
10/9/21 0:00
Mario Draghi
0.61
0.33
10/10/21 0:00
Mario Draghi
0.61
0.33
10/11/21 0:00
Mario Draghi
0.61
0.33
10/12/21 0:00
Mario Draghi
0.61
0.33
10/13/21 0:00
Mario Draghi
0.61
0.33
10/14/21 0:00
Mario Draghi
0.61
0.33
10/15/21 0:00
Mario Draghi
0.59
0.34
10/16/21 0:00
Mario Draghi
0.59
0.34
10/17/21 0:00
Mario Draghi
0.59
0.35
10/18/21 0:00
Mario Draghi
0.59
0.35
10/19/21 0:00
Mario Draghi
0.58
0.36
10/20/21 0:00
Mario Draghi
0.58
0.36
10/21/21 0:00
Mario Draghi
0.59
0.35
10/22/21 0:00
Mario Draghi
0.6
0.34
10/23/21 0:00
Mario Draghi
0.59
0.35
10/24/21 0:00
Mario Draghi
0.6
0.34
10/25/21 0:00
Mario Draghi
0.6
0.34
10/26/21 0:00
Mario Draghi
0.6
0.34
10/27/21 0:00
Mario Draghi
0.6
0.34
10/28/21 0:00
Mario Draghi
0.6
0.35
10/29/21 0:00
Mario Draghi
0.59
0.35
10/30/21 0:00
Mario Draghi
0.59
0.35
10/31/21 0:00
Mario Draghi
0.58
0.35
11/1/21 0:00
Mario Draghi
0.58
0.36
11/2/21 0:00
Mario Draghi
0.58
0.36
11/3/21 0:00
Mario Draghi
0.58
0.36
11/4/21 0:00
Mario Draghi
0.59
0.36
11/5/21 0:00
Mario Draghi
0.59
0.35
11/6/21 0:00
Mario Draghi
0.59
0.35
11/7/21 0:00
Mario Draghi
0.59
0.35
11/8/21 0:00
Mario Draghi
0.59
0.35
11/9/21 0:00
Mario Draghi
0.58
0.35
11/10/21 0:00
Mario Draghi
0.58
0.35
11/11/21 0:00
Mario Draghi
0.59
0.34
11/12/21 0:00
Mario Draghi
0.6
0.34
11/13/21 0:00
Mario Draghi
0.59
0.34
11/14/21 0:00
Mario Draghi
0.59
0.34
11/15/21 0:00
Mario Draghi
0.6
0.34
11/16/21 0:00
Mario Draghi
0.61
0.33
11/17/21 0:00
Mario Draghi
0.6
0.34
11/18/21 0:00
Mario Draghi
0.59
0.35
11/19/21 0:00
Mario Draghi
0.59
0.35
11/20/21 0:00
Mario Draghi
0.59
0.35
11/21/21 0:00
Mario Draghi
0.6
0.34
11/22/21 0:00
Mario Draghi
0.59
0.35
11/23/21 0:00
Mario Draghi
0.59
0.35
11/24/21 0:00
Mario Draghi
0.59
0.35
11/25/21 0:00
Mario Draghi
0.59
0.35
11/26/21 0:00
Mario Draghi
0.59
0.35
11/27/21 0:00
Mario Draghi
0.6
0.35
11/28/21 0:00
Mario Draghi
0.59
0.35
11/29/21 0:00
Mario Draghi
0.59
0.35
11/30/21 0:00
Mario Draghi
0.58
0.36
12/1/21 0:00
Mario Draghi
0.58
0.36
12/2/21 0:00
Mario Draghi
0.58
0.36
12/3/21 0:00
Mario Draghi
0.58
0.36
12/4/21 0:00
Mario Draghi
0.57
0.37
12/5/21 0:00
Mario Draghi
0.57
0.37
12/6/21 0:00
Mario Draghi
0.58
0.36
12/7/21 0:00
Mario Draghi
0.59
0.35
3/6/20 0:00
Boris Johnson
0.47
0.44
3/7/20 0:00
Boris Johnson
0.47
0.44
3/8/20 0:00
Boris Johnson
0.47
0.44
3/9/20 0:00
Boris Johnson
0.47
0.44
3/10/20 0:00
Boris Johnson
0.47
0.44
3/11/20 0:00
Boris Johnson
0.46
0.44
3/12/20 0:00
Boris Johnson
0.46
0.44
3/13/20 0:00
Boris Johnson
0.46
0.44
3/14/20 0:00
Boris Johnson
0.46
0.44
3/15/20 0:00
Boris Johnson
0.46
0.44
3/16/20 0:00
Boris Johnson
0.46
0.45
3/17/20 0:00
Boris Johnson
0.46
0.45
3/18/20 0:00
Boris Johnson
0.46
0.45
3/19/20 0:00
Boris Johnson
0.47
0.44
3/20/20 0:00
Boris Johnson
0.48
0.44
3/21/20 0:00
Boris Johnson
0.5
0.43
3/22/20 0:00
Boris Johnson
0.51
0.41
3/23/20 0:00
Boris Johnson
0.53
0.39
3/24/20 0:00
Boris Johnson
0.56
0.37
3/25/20 0:00
Boris Johnson
0.58
0.34
3/26/20 0:00
Boris Johnson
0.59
0.33
3/27/20 0:00
Boris Johnson
0.62
0.31
3/28/20 0:00
Boris Johnson
0.63
0.3
3/29/20 0:00
Boris Johnson
0.63
0.3
3/30/20 0:00
Boris Johnson
0.63
0.3
3/31/20 0:00
Boris Johnson
0.62
0.31
4/1/20 0:00
Boris Johnson
0.62
0.31
4/2/20 0:00
Boris Johnson
0.61
0.32
4/3/20 0:00
Boris Johnson
0.61
0.32
4/4/20 0:00
Boris Johnson
0.61
0.32
4/5/20 0:00
Boris Johnson
0.61
0.33
4/6/20 0:00
Boris Johnson
0.6
0.33
4/7/20 0:00
Boris Johnson
0.61
0.32
4/8/20 0:00
Boris Johnson
0.62
0.31
4/9/20 0:00
Boris Johnson
0.64
0.29
4/10/20 0:00
Boris Johnson
0.64
0.29
4/11/20 0:00
Boris Johnson
0.65
0.28
4/12/20 0:00
Boris Johnson
0.66
0.28
4/13/20 0:00
Boris Johnson
0.66
0.27
4/14/20 0:00
Boris Johnson
0.66
0.27
4/15/20 0:00
Boris Johnson
0.65
0.28
4/16/20 0:00
Boris Johnson
0.65
0.28
4/17/20 0:00
Boris Johnson
0.65
0.28
4/18/20 0:00
Boris Johnson
0.65
0.28
4/19/20 0:00
Boris Johnson
0.65
0.28
4/20/20 0:00
Boris Johnson
0.65
0.28
4/21/20 0:00
Boris Johnson
0.64
0.29
4/22/20 0:00
Boris Johnson
0.64
0.29
4/23/20 0:00
Boris Johnson
0.63
0.3
4/24/20 0:00
Boris Johnson
0.61
0.32
4/25/20 0:00
Boris Johnson
0.61
0.32
4/26/20 0:00
Boris Johnson
0.6
0.32
4/27/20 0:00
Boris Johnson
0.6
0.33
4/28/20 0:00
Boris Johnson
0.6
0.32
4/29/20 0:00
Boris Johnson
0.6
0.32
4/30/20 0:00
Boris Johnson
0.61
0.32
5/1/20 0:00
Boris Johnson
0.61
0.31
5/2/20 0:00
Boris Johnson
0.61
0.32
5/3/20 0:00
Boris Johnson
0.61
0.32
5/4/20 0:00
Boris Johnson
0.62
0.31
5/5/20 0:00
Boris Johnson
0.61
0.32
5/6/20 0:00
Boris Johnson
0.62
0.32
5/7/20 0:00
Boris Johnson
0.6
0.33
5/8/20 0:00
Boris Johnson
0.6
0.34
5/9/20 0:00
Boris Johnson
0.6
0.35
5/10/20 0:00
Boris Johnson
0.59
0.35
5/11/20 0:00
Boris Johnson
0.58
0.37
5/12/20 0:00
Boris Johnson
0.57
0.37
5/13/20 0:00
Boris Johnson
0.56
0.39
5/14/20 0:00
Boris Johnson
0.56
0.38
5/15/20 0:00
Boris Johnson
0.56
0.38
5/16/20 0:00
Boris Johnson
0.56
0.38
5/17/20 0:00
Boris Johnson
0.55
0.39
5/18/20 0:00
Boris Johnson
0.55
0.39
5/19/20 0:00
Boris Johnson
0.55
0.39
5/20/20 0:00
Boris Johnson
0.55
0.39
5/21/20 0:00
Boris Johnson
0.54
0.4
5/22/20 0:00
Boris Johnson
0.53
0.41
5/23/20 0:00
Boris Johnson
0.53
0.4
5/24/20 0:00
Boris Johnson
0.53
0.41
5/25/20 0:00
Boris Johnson
0.53
0.41
5/26/20 0:00
Boris Johnson
0.52
0.42
5/27/20 0:00
Boris Johnson
0.51
0.42
5/28/20 0:00
Boris Johnson
0.5
0.43
5/29/20 0:00
Boris Johnson
0.5
0.43
5/30/20 0:00
Boris Johnson
0.49
0.44
5/31/20 0:00
Boris Johnson
0.48
0.45
6/1/20 0:00
Boris Johnson
0.47
0.46
6/2/20 0:00
Boris Johnson
0.47
0.47
6/3/20 0:00
Boris Johnson
0.46
0.47
6/4/20 0:00
Boris Johnson
0.47
0.47
6/5/20 0:00
Boris Johnson
0.46
0.47
6/6/20 0:00
Boris Johnson
0.44
0.49
6/7/20 0:00
Boris Johnson
0.44
0.49
6/8/20 0:00
Boris Johnson
0.45
0.49
6/9/20 0:00
Boris Johnson
0.44
0.5
6/10/20 0:00
Boris Johnson
0.43
0.5
6/11/20 0:00
Boris Johnson
0.44
0.5
6/12/20 0:00
Boris Johnson
0.44
0.51
6/13/20 0:00
Boris Johnson
0.44
0.5
6/14/20 0:00
Boris Johnson
0.44
0.5
6/15/20 0:00
Boris Johnson
0.45
0.49
6/16/20 0:00
Boris Johnson
0.45
0.48
6/17/20 0:00
Boris Johnson
0.46
0.48
6/18/20 0:00
Boris Johnson
0.46
0.47
6/19/20 0:00
Boris Johnson
0.46
0.47
6/20/20 0:00
Boris Johnson
0.46
0.47
6/21/20 0:00
Boris Johnson
0.46
0.47
6/22/20 0:00
Boris Johnson
0.45
0.48
6/23/20 0:00
Boris Johnson
0.45
0.48
6/24/20 0:00
Boris Johnson
0.46
0.47
6/25/20 0:00
Boris Johnson
0.46
0.48
6/26/20 0:00
Boris Johnson
0.46
0.48
6/27/20 0:00
Boris Johnson
0.46
0.48
6/28/20 0:00
Boris Johnson
0.46
0.48
6/29/20 0:00
Boris Johnson
0.47
0.47
6/30/20 0:00
Boris Johnson
0.46
0.48
7/1/20 0:00
Boris Johnson
0.45
0.49
7/2/20 0:00
Boris Johnson
0.46
0.48
7/3/20 0:00
Boris Johnson
0.46
0.49
7/4/20 0:00
Boris Johnson
0.46
0.48
7/5/20 0:00
Boris Johnson
0.46
0.49
7/6/20 0:00
Boris Johnson
0.45
0.49
7/7/20 0:00
Boris Johnson
0.45
0.49
7/8/20 0:00
Boris Johnson
0.46
0.49
7/9/20 0:00
Boris Johnson
0.45
0.49
7/10/20 0:00
Boris Johnson
0.45
0.49
7/11/20 0:00
Boris Johnson
0.45
0.5
7/12/20 0:00
Boris Johnson
0.44
0.5
7/13/20 0:00
Boris Johnson
0.44
0.5
7/14/20 0:00
Boris Johnson
0.45
0.49
7/15/20 0:00
Boris Johnson
0.44
0.49
7/16/20 0:00
Boris Johnson
0.43
0.5
7/17/20 0:00
Boris Johnson
0.44
0.49
7/18/20 0:00
Boris Johnson
0.44
0.48
7/19/20 0:00
Boris Johnson
0.45
0.48
7/20/20 0:00
Boris Johnson
0.45
0.48
7/21/20 0:00
Boris Johnson
0.45
0.49
7/22/20 0:00
Boris Johnson
0.44
0.5
7/23/20 0:00
Boris Johnson
0.44
0.5
7/24/20 0:00
Boris Johnson
0.44
0.5
7/25/20 0:00
Boris Johnson
0.43
0.51
7/26/20 0:00
Boris Johnson
0.43
0.52
7/27/20 0:00
Boris Johnson
0.43
0.51
7/28/20 0:00
Boris Johnson
0.44
0.51
7/29/20 0:00
Boris Johnson
0.44
0.51
7/30/20 0:00
Boris Johnson
0.44
0.5
7/31/20 0:00
Boris Johnson
0.43
0.51
8/1/20 0:00
Boris Johnson
0.42
0.52
8/2/20 0:00
Boris Johnson
0.42
0.52
8/3/20 0:00
Boris Johnson
0.42
0.52
8/4/20 0:00
Boris Johnson
0.41
0.53
8/5/20 0:00
Boris Johnson
0.41
0.53
8/6/20 0:00
Boris Johnson
0.41
0.53
8/7/20 0:00
Boris Johnson
0.41
0.53
8/8/20 0:00
Boris Johnson
0.41
0.53
8/9/20 0:00
Boris Johnson
0.41
0.52
8/10/20 0:00
Boris Johnson
0.41
0.53
8/11/20 0:00
Boris Johnson
0.42
0.52
8/12/20 0:00
Boris Johnson
0.42
0.52
8/13/20 0:00
Boris Johnson
0.42
0.52
8/14/20 0:00
Boris Johnson
0.42
0.52
8/15/20 0:00
Boris Johnson
0.42
0.52
8/16/20 0:00
Boris Johnson
0.43
0.52
8/17/20 0:00
Boris Johnson
0.42
0.52
8/18/20 0:00
Boris Johnson
0.41
0.53
8/19/20 0:00
Boris Johnson
0.42
0.53
8/20/20 0:00
Boris Johnson
0.4
0.55
8/21/20 0:00
Boris Johnson
0.4
0.55
8/22/20 0:00
Boris Johnson
0.4
0.55
8/23/20 0:00
Boris Johnson
0.38
0.56
8/24/20 0:00
Boris Johnson
0.38
0.56
8/25/20 0:00
Boris Johnson
0.38
0.55
8/26/20 0:00
Boris Johnson
0.38
0.55
8/27/20 0:00
Boris Johnson
0.38
0.55
8/28/20 0:00
Boris Johnson
0.38
0.54
8/29/20 0:00
Boris Johnson
0.39
0.54
8/30/20 0:00
Boris Johnson
0.4
0.52
8/31/20 0:00
Boris Johnson
0.41
0.52
9/1/20 0:00
Boris Johnson
0.41
0.52
9/2/20 0:00
Boris Johnson
0.41
0.52
9/3/20 0:00
Boris Johnson
0.41
0.52
9/4/20 0:00
Boris Johnson
0.41
0.52
9/5/20 0:00
Boris Johnson
0.41
0.53
9/6/20 0:00
Boris Johnson
0.4
0.53
9/7/20 0:00
Boris Johnson
0.4
0.54
9/8/20 0:00
Boris Johnson
0.4
0.55
9/9/20 0:00
Boris Johnson
0.4
0.55
9/10/20 0:00
Boris Johnson
0.4
0.55
9/11/20 0:00
Boris Johnson
0.4
0.55
9/12/20 0:00
Boris Johnson
0.39
0.55
9/13/20 0:00
Boris Johnson
0.39
0.56
9/14/20 0:00
Boris Johnson
0.38
0.56
9/15/20 0:00
Boris Johnson
0.38
0.56
9/16/20 0:00
Boris Johnson
0.38
0.57
9/17/20 0:00
Boris Johnson
0.37
0.57
9/18/20 0:00
Boris Johnson
0.37
0.58
9/19/20 0:00
Boris Johnson
0.36
0.59
9/20/20 0:00
Boris Johnson
0.36
0.59
9/21/20 0:00
Boris Johnson
0.35
0.59
9/22/20 0:00
Boris Johnson
0.35
0.59
9/23/20 0:00
Boris Johnson
0.36
0.59
9/24/20 0:00
Boris Johnson
0.36
0.59
9/25/20 0:00
Boris Johnson
0.37
0.58
9/26/20 0:00
Boris Johnson
0.37
0.57
9/27/20 0:00
Boris Johnson
0.38
0.57
9/28/20 0:00
Boris Johnson
0.38
0.56
9/29/20 0:00
Boris Johnson
0.38
0.57
9/30/20 0:00
Boris Johnson
0.38
0.56
10/1/20 0:00
Boris Johnson
0.37
0.57
10/2/20 0:00
Boris Johnson
0.37
0.57
10/3/20 0:00
Boris Johnson
0.37
0.57
10/4/20 0:00
Boris Johnson
0.37
0.57
10/5/20 0:00
Boris Johnson
0.37
0.57
10/6/20 0:00
Boris Johnson
0.37
0.58
10/7/20 0:00
Boris Johnson
0.37
0.58
10/8/20 0:00
Boris Johnson
0.37
0.57
10/9/20 0:00
Boris Johnson
0.38
0.57
10/10/20 0:00
Boris Johnson
0.37
0.58
10/11/20 0:00
Boris Johnson
0.37
0.58
10/12/20 0:00
Boris Johnson
0.37
0.58
10/13/20 0:00
Boris Johnson
0.38
0.56
10/14/20 0:00
Boris Johnson
0.38
0.57
10/15/20 0:00
Boris Johnson
0.37
0.58
10/16/20 0:00
Boris Johnson
0.36
0.58
10/17/20 0:00
Boris Johnson
0.36
0.58
10/18/20 0:00
Boris Johnson
0.37
0.57
10/19/20 0:00
Boris Johnson
0.37
0.57
10/20/20 0:00
Boris Johnson
0.36
0.58
10/21/20 0:00
Boris Johnson
0.36
0.58
10/22/20 0:00
Boris Johnson
0.37
0.57
10/23/20 0:00
Boris Johnson
0.38
0.56
10/24/20 0:00
Boris Johnson
0.38
0.56
10/25/20 0:00
Boris Johnson
0.38
0.56
10/26/20 0:00
Boris Johnson
0.38
0.56
10/27/20 0:00
Boris Johnson
0.38
0.56
10/28/20 0:00
Boris Johnson
0.38
0.56
10/29/20 0:00
Boris Johnson
0.38
0.57
10/30/20 0:00
Boris Johnson
0.37
0.57
10/31/20 0:00
Boris Johnson
0.37
0.57
11/1/20 0:00
Boris Johnson
0.38
0.56
11/2/20 0:00
Boris Johnson
0.37
0.57
11/3/20 0:00
Boris Johnson
0.37
0.57
11/4/20 0:00
Boris Johnson
0.37
0.57
11/5/20 0:00
Boris Johnson
0.38
0.56
11/6/20 0:00
Boris Johnson
0.39
0.56
11/7/20 0:00
Boris Johnson
0.38
0.56
11/8/20 0:00
Boris Johnson
0.38
0.56
11/9/20 0:00
Boris Johnson
0.39
0.55
11/10/20 0:00
Boris Johnson
0.4
0.54
11/11/20 0:00
Boris Johnson
0.4
0.54
11/12/20 0:00
Boris Johnson
0.39
0.55
11/13/20 0:00
Boris Johnson
0.39
0.55
11/14/20 0:00
Boris Johnson
0.4
0.55
11/15/20 0:00
Boris Johnson
0.39
0.55
11/16/20 0:00
Boris Johnson
0.39
0.55
11/17/20 0:00
Boris Johnson
0.38
0.56
11/18/20 0:00
Boris Johnson
0.37
0.57
11/19/20 0:00
Boris Johnson
0.38
0.56
11/20/20 0:00
Boris Johnson
0.38
0.57
11/21/20 0:00
Boris Johnson
0.37
0.58
11/22/20 0:00
Boris Johnson
0.38
0.56
11/23/20 0:00
Boris Johnson
0.37
0.57
11/24/20 0:00
Boris Johnson
0.37
0.57
11/25/20 0:00
Boris Johnson
0.38
0.56
11/26/20 0:00
Boris Johnson
0.38
0.56
11/27/20 0:00
Boris Johnson
0.39
0.56
11/28/20 0:00
Boris Johnson
0.38
0.55
11/29/20 0:00
Boris Johnson
0.37
0.56
11/30/20 0:00
Boris Johnson
0.37
0.57
12/1/20 0:00
Boris Johnson
0.38
0.56
12/2/20 0:00
Boris Johnson
0.37
0.57
12/3/20 0:00
Boris Johnson
0.37
0.57
12/4/20 0:00
Boris Johnson
0.38
0.56
12/5/20 0:00
Boris Johnson
0.39
0.55
12/6/20 0:00
Boris Johnson
0.39
0.55
12/7/20 0:00
Boris Johnson
0.4
0.53
12/8/20 0:00
Boris Johnson
0.4
0.53
12/9/20 0:00
Boris Johnson
0.4
0.53
12/10/20 0:00
Boris Johnson
0.4
0.53
12/11/20 0:00
Boris Johnson
0.39
0.53
12/12/20 0:00
Boris Johnson
0.39
0.54
12/13/20 0:00
Boris Johnson
0.4
0.53
12/14/20 0:00
Boris Johnson
0.39
0.54
12/15/20 0:00
Boris Johnson
0.39
0.54
12/16/20 0:00
Boris Johnson
0.39
0.54
12/17/20 0:00
Boris Johnson
0.39
0.54
12/18/20 0:00
Boris Johnson
0.39
0.54
12/19/20 0:00
Boris Johnson
0.39
0.54
12/20/20 0:00
Boris Johnson
0.38
0.55
12/21/20 0:00
Boris Johnson
0.38
0.55
12/22/20 0:00
Boris Johnson
0.38
0.56
12/23/20 0:00
Boris Johnson
0.38
0.56
12/24/20 0:00
Boris Johnson
0.37
0.57
12/25/20 0:00
Boris Johnson
0.36
0.58
12/26/20 0:00
Boris Johnson
0.37
0.58
12/27/20 0:00
Boris Johnson
0.37
0.57
12/28/20 0:00
Boris Johnson
0.37
0.56
12/29/20 0:00
Boris Johnson
0.37
0.56
12/30/20 0:00
Boris Johnson
0.36
0.57
12/31/20 0:00
Boris Johnson
0.37
0.56
1/1/21 0:00
Boris Johnson
0.38
0.55
1/2/21 0:00
Boris Johnson
0.38
0.55
1/3/21 0:00
Boris Johnson
0.38
0.55
1/4/21 0:00
Boris Johnson
0.38
0.56
1/5/21 0:00
Boris Johnson
0.38
0.56
1/6/21 0:00
Boris Johnson
0.39
0.55
1/7/21 0:00
Boris Johnson
0.39
0.56
1/8/21 0:00
Boris Johnson
0.39
0.56
1/9/21 0:00
Boris Johnson
0.39
0.56
1/10/21 0:00
Boris Johnson
0.39
0.55
1/11/21 0:00
Boris Johnson
0.4
0.55
1/12/21 0:00
Boris Johnson
0.4
0.54
1/13/21 0:00
Boris Johnson
0.4
0.55
1/14/21 0:00
Boris Johnson
0.41
0.54
1/15/21 0:00
Boris Johnson
0.41
0.54
1/16/21 0:00
Boris Johnson
0.41
0.54
1/17/21 0:00
Boris Johnson
0.41
0.54
1/18/21 0:00
Boris Johnson
0.41
0.53
1/19/21 0:00
Boris Johnson
0.4
0.54
1/20/21 0:00
Boris Johnson
0.41
0.53
1/21/21 0:00
Boris Johnson
0.4
0.53
1/22/21 0:00
Boris Johnson
0.41
0.53
1/23/21 0:00
Boris Johnson
0.41
0.53
1/24/21 0:00
Boris Johnson
0.4
0.54
1/25/21 0:00
Boris Johnson
0.4
0.54
1/26/21 0:00
Boris Johnson
0.4
0.54
1/27/21 0:00
Boris Johnson
0.4
0.55
1/28/21 0:00
Boris Johnson
0.39
0.56
1/29/21 0:00
Boris Johnson
0.39
0.56
1/30/21 0:00
Boris Johnson
0.39
0.56
1/31/21 0:00
Boris Johnson
0.4
0.55
2/1/21 0:00
Boris Johnson
0.39
0.55
2/2/21 0:00
Boris Johnson
0.41
0.54
2/3/21 0:00
Boris Johnson
0.41
0.53
2/4/21 0:00
Boris Johnson
0.42
0.52
2/5/21 0:00
Boris Johnson
0.42
0.52
2/6/21 0:00
Boris Johnson
0.43
0.51
2/7/21 0:00
Boris Johnson
0.43
0.51
2/8/21 0:00
Boris Johnson
0.43
0.51
2/9/21 0:00
Boris Johnson
0.43
0.51
2/10/21 0:00
Boris Johnson
0.42
0.52
2/11/21 0:00
Boris Johnson
0.42
0.52
2/12/21 0:00
Boris Johnson
0.42
0.52
2/13/21 0:00
Boris Johnson
0.41
0.52
2/14/21 0:00
Boris Johnson
0.41
0.53
2/15/21 0:00
Boris Johnson
0.42
0.52
2/16/21 0:00
Boris Johnson
0.42
0.52
2/17/21 0:00
Boris Johnson
0.43
0.51
2/18/21 0:00
Boris Johnson
0.43
0.51
2/19/21 0:00
Boris Johnson
0.44
0.51
2/20/21 0:00
Boris Johnson
0.44
0.5
2/21/21 0:00
Boris Johnson
0.44
0.5
2/22/21 0:00
Boris Johnson
0.44
0.5
2/23/21 0:00
Boris Johnson
0.45
0.49
2/24/21 0:00
Boris Johnson
0.45
0.49
2/25/21 0:00
Boris Johnson
0.45
0.49
2/26/21 0:00
Boris Johnson
0.45
0.49
2/27/21 0:00
Boris Johnson
0.46
0.48
2/28/21 0:00
Boris Johnson
0.46
0.48
3/1/21 0:00
Boris Johnson
0.46
0.48
3/2/21 0:00
Boris Johnson
0.45
0.49
3/3/21 0:00
Boris Johnson
0.45
0.48
3/4/21 0:00
Boris Johnson
0.45
0.48
3/5/21 0:00
Boris Johnson
0.45
0.49
3/6/21 0:00
Boris Johnson
0.45
0.5
3/7/21 0:00
Boris Johnson
0.44
0.5
3/8/21 0:00
Boris Johnson
0.44
0.5
3/9/21 0:00
Boris Johnson
0.44
0.5
3/10/21 0:00
Boris Johnson
0.45
0.5
3/11/21 0:00
Boris Johnson
0.45
0.5
3/12/21 0:00
Boris Johnson
0.44
0.5
3/13/21 0:00
Boris Johnson
0.44
0.49
3/14/21 0:00
Boris Johnson
0.44
0.5
3/15/21 0:00
Boris Johnson
0.45
0.49
3/16/21 0:00
Boris Johnson
0.45
0.49
3/17/21 0:00
Boris Johnson
0.45
0.5
3/18/21 0:00
Boris Johnson
0.45
0.49
3/19/21 0:00
Boris Johnson
0.45
0.49
3/20/21 0:00
Boris Johnson
0.46
0.49
3/21/21 0:00
Boris Johnson
0.46
0.49
3/22/21 0:00
Boris Johnson
0.46
0.48
3/23/21 0:00
Boris Johnson
0.46
0.48
3/24/21 0:00
Boris Johnson
0.46
0.48
3/25/21 0:00
Boris Johnson
0.45
0.48
3/26/21 0:00
Boris Johnson
0.46
0.48
3/27/21 0:00
Boris Johnson
0.46
0.48
3/28/21 0:00
Boris Johnson
0.46
0.47
3/29/21 0:00
Boris Johnson
0.46
0.47
3/30/21 0:00
Boris Johnson
0.46
0.47
3/31/21 0:00
Boris Johnson
0.47
0.47
4/1/21 0:00
Boris Johnson
0.47
0.47
4/2/21 0:00
Boris Johnson
0.48
0.46
4/3/21 0:00
Boris Johnson
0.47
0.46
4/4/21 0:00
Boris Johnson
0.46
0.47
4/5/21 0:00
Boris Johnson
0.47
0.47
4/6/21 0:00
Boris Johnson
0.47
0.46
4/7/21 0:00
Boris Johnson
0.47
0.46
4/8/21 0:00
Boris Johnson
0.47
0.46
4/9/21 0:00
Boris Johnson
0.47
0.46
4/10/21 0:00
Boris Johnson
0.47
0.46
4/11/21 0:00
Boris Johnson
0.48
0.46
4/12/21 0:00
Boris Johnson
0.47
0.46
4/13/21 0:00
Boris Johnson
0.47
0.46
4/14/21 0:00
Boris Johnson
0.47
0.46
4/15/21 0:00
Boris Johnson
0.47
0.46
4/16/21 0:00
Boris Johnson
0.47
0.45
4/17/21 0:00
Boris Johnson
0.47
0.46
4/18/21 0:00
Boris Johnson
0.47
0.46
4/19/21 0:00
Boris Johnson
0.47
0.46
4/20/21 0:00
Boris Johnson
0.47
0.46
4/21/21 0:00
Boris Johnson
0.47
0.46
4/22/21 0:00
Boris Johnson
0.47
0.46
4/23/21 0:00
Boris Johnson
0.46
0.47
4/24/21 0:00
Boris Johnson
0.46
0.47
4/25/21 0:00
Boris Johnson
0.47
0.46
4/26/21 0:00
Boris Johnson
0.48
0.46
4/27/21 0:00
Boris Johnson
0.48
0.46
4/28/21 0:00
Boris Johnson
0.47
0.47
4/29/21 0:00
Boris Johnson
0.46
0.47
4/30/21 0:00
Boris Johnson
0.47
0.46
5/1/21 0:00
Boris Johnson
0.48
0.46
5/2/21 0:00
Boris Johnson
0.47
0.46
5/3/21 0:00
Boris Johnson
0.47
0.46
5/4/21 0:00
Boris Johnson
0.47
0.46
5/5/21 0:00
Boris Johnson
0.48
0.46
5/6/21 0:00
Boris Johnson
0.47
0.46
5/7/21 0:00
Boris Johnson
0.47
0.46
5/8/21 0:00
Boris Johnson
0.47
0.47
5/9/21 0:00
Boris Johnson
0.47
0.46
5/10/21 0:00
Boris Johnson
0.47
0.47
5/11/21 0:00
Boris Johnson
0.47
0.46
5/12/21 0:00
Boris Johnson
0.47
0.45
5/13/21 0:00
Boris Johnson
0.48
0.45
5/14/21 0:00
Boris Johnson
0.48
0.46
5/15/21 0:00
Boris Johnson
0.49
0.45
5/16/21 0:00
Boris Johnson
0.49
0.45
5/17/21 0:00
Boris Johnson
0.49
0.45
5/18/21 0:00
Boris Johnson
0.49
0.45
5/19/21 0:00
Boris Johnson
0.49
0.46
5/20/21 0:00
Boris Johnson
0.49
0.45
5/21/21 0:00
Boris Johnson
0.49
0.45
5/22/21 0:00
Boris Johnson
0.48
0.45
5/23/21 0:00
Boris Johnson
0.49
0.45
5/24/21 0:00
Boris Johnson
0.5
0.44
5/25/21 0:00
Boris Johnson
0.5
0.43
5/26/21 0:00
Boris Johnson
0.49
0.44
5/27/21 0:00
Boris Johnson
0.49
0.45
5/28/21 0:00
Boris Johnson
0.48
0.45
5/29/21 0:00
Boris Johnson
0.47
0.46
5/30/21 0:00
Boris Johnson
0.47
0.48
5/31/21 0:00
Boris Johnson
0.46
0.48
6/1/21 0:00
Boris Johnson
0.45
0.49
6/2/21 0:00
Boris Johnson
0.46
0.48
6/3/21 0:00
Boris Johnson
0.46
0.48
6/4/21 0:00
Boris Johnson
0.46
0.48
6/5/21 0:00
Boris Johnson
0.46
0.47
6/6/21 0:00
Boris Johnson
0.46
0.46
6/7/21 0:00
Boris Johnson
0.46
0.47
6/8/21 0:00
Boris Johnson
0.47
0.46
6/9/21 0:00
Boris Johnson
0.46
0.47
6/10/21 0:00
Boris Johnson
0.45
0.47
6/11/21 0:00
Boris Johnson
0.45
0.47
6/12/21 0:00
Boris Johnson
0.46
0.47
6/13/21 0:00
Boris Johnson
0.45
0.48
6/14/21 0:00
Boris Johnson
0.44
0.48
6/15/21 0:00
Boris Johnson
0.44
0.49
6/16/21 0:00
Boris Johnson
0.45
0.49
6/17/21 0:00
Boris Johnson
0.45
0.49
6/18/21 0:00
Boris Johnson
0.45
0.49
6/19/21 0:00
Boris Johnson
0.44
0.49
6/20/21 0:00
Boris Johnson
0.45
0.49
6/21/21 0:00
Boris Johnson
0.44
0.5
6/22/21 0:00
Boris Johnson
0.44
0.49
6/23/21 0:00
Boris Johnson
0.44
0.49
6/24/21 0:00
Boris Johnson
0.45
0.49
6/25/21 0:00
Boris Johnson
0.45
0.5
6/26/21 0:00
Boris Johnson
0.44
0.5
6/27/21 0:00
Boris Johnson
0.45
0.49
6/28/21 0:00
Boris Johnson
0.46
0.48
6/29/21 0:00
Boris Johnson
0.44
0.49
6/30/21 0:00
Boris Johnson
0.44
0.5
7/1/21 0:00
Boris Johnson
0.43
0.5
7/2/21 0:00
Boris Johnson
0.43
0.5
7/3/21 0:00
Boris Johnson
0.43
0.5
7/4/21 0:00
Boris Johnson
0.43
0.5
7/5/21 0:00
Boris Johnson
0.42
0.5
7/6/21 0:00
Boris Johnson
0.43
0.5
7/7/21 0:00
Boris Johnson
0.43
0.5
7/8/21 0:00
Boris Johnson
0.43
0.5
7/9/21 0:00
Boris Johnson
0.43
0.5
7/10/21 0:00
Boris Johnson
0.44
0.49
7/11/21 0:00
Boris Johnson
0.44
0.5
7/12/21 0:00
Boris Johnson
0.44
0.5
7/13/21 0:00
Boris Johnson
0.44
0.5
7/14/21 0:00
Boris Johnson
0.44
0.49
7/15/21 0:00
Boris Johnson
0.44
0.5
7/16/21 0:00
Boris Johnson
0.42
0.51
7/17/21 0:00
Boris Johnson
0.41
0.51
7/18/21 0:00
Boris Johnson
0.42
0.51
7/19/21 0:00
Boris Johnson
0.41
0.52
7/20/21 0:00
Boris Johnson
0.42
0.52
7/21/21 0:00
Boris Johnson
0.42
0.52
7/22/21 0:00
Boris Johnson
0.42
0.52
7/23/21 0:00
Boris Johnson
0.42
0.52
7/24/21 0:00
Boris Johnson
0.42
0.52
7/25/21 0:00
Boris Johnson
0.41
0.53
7/26/21 0:00
Boris Johnson
0.41
0.53
7/27/21 0:00
Boris Johnson
0.41
0.53
7/28/21 0:00
Boris Johnson
0.42
0.53
7/29/21 0:00
Boris Johnson
0.41
0.53
7/30/21 0:00
Boris Johnson
0.41
0.53
7/31/21 0:00
Boris Johnson
0.41
0.53
8/1/21 0:00
Boris Johnson
0.42
0.51
8/2/21 0:00
Boris Johnson
0.41
0.51
8/3/21 0:00
Boris Johnson
0.41
0.51
8/4/21 0:00
Boris Johnson
0.41
0.52
8/5/21 0:00
Boris Johnson
0.41
0.52
8/6/21 0:00
Boris Johnson
0.41
0.52
8/7/21 0:00
Boris Johnson
0.42
0.51
8/8/21 0:00
Boris Johnson
0.41
0.52
8/9/21 0:00
Boris Johnson
0.42
0.51
8/10/21 0:00
Boris Johnson
0.42
0.51
8/11/21 0:00
Boris Johnson
0.43
0.5
8/12/21 0:00
Boris Johnson
0.42
0.51
8/13/21 0:00
Boris Johnson
0.43
0.51
8/14/21 0:00
Boris Johnson
0.42
0.51
8/15/21 0:00
Boris Johnson
0.42
0.51
8/16/21 0:00
Boris Johnson
0.42
0.52
8/17/21 0:00
Boris Johnson
0.42
0.51
8/18/21 0:00
Boris Johnson
0.41
0.52
8/19/21 0:00
Boris Johnson
0.42
0.51
8/20/21 0:00
Boris Johnson
0.42
0.51
8/21/21 0:00
Boris Johnson
0.41
0.52
8/22/21 0:00
Boris Johnson
0.42
0.52
8/23/21 0:00
Boris Johnson
0.42
0.52
8/24/21 0:00
Boris Johnson
0.42
0.51
8/25/21 0:00
Boris Johnson
0.42
0.51
8/26/21 0:00
Boris Johnson
0.42
0.51
8/27/21 0:00
Boris Johnson
0.41
0.51
8/28/21 0:00
Boris Johnson
0.41
0.51
8/29/21 0:00
Boris Johnson
0.41
0.51
8/30/21 0:00
Boris Johnson
0.41
0.51
8/31/21 0:00
Boris Johnson
0.41
0.52
9/1/21 0:00
Boris Johnson
0.42
0.51
9/2/21 0:00
Boris Johnson
0.41
0.52
9/3/21 0:00
Boris Johnson
0.42
0.51
9/4/21 0:00
Boris Johnson
0.42
0.51
9/5/21 0:00
Boris Johnson
0.42
0.51
9/6/21 0:00
Boris Johnson
0.42
0.51
9/7/21 0:00
Boris Johnson
0.42
0.51
9/8/21 0:00
Boris Johnson
0.41
0.52
9/9/21 0:00
Boris Johnson
0.41
0.52
9/10/21 0:00
Boris Johnson
0.41
0.52
9/11/21 0:00
Boris Johnson
0.4
0.53
9/12/21 0:00
Boris Johnson
0.4
0.53
9/13/21 0:00
Boris Johnson
0.4
0.52
9/14/21 0:00
Boris Johnson
0.41
0.53
9/15/21 0:00
Boris Johnson
0.4
0.53
9/16/21 0:00
Boris Johnson
0.4
0.53
9/17/21 0:00
Boris Johnson
0.4
0.53
9/18/21 0:00
Boris Johnson
0.4
0.54
9/19/21 0:00
Boris Johnson
0.4
0.53
9/20/21 0:00
Boris Johnson
0.4
0.54
9/21/21 0:00
Boris Johnson
0.4
0.54
9/22/21 0:00
Boris Johnson
0.41
0.53
9/23/21 0:00
Boris Johnson
0.41
0.52
9/24/21 0:00
Boris Johnson
0.41
0.52
9/25/21 0:00
Boris Johnson
0.41
0.52
9/26/21 0:00
Boris Johnson
0.4
0.53
9/27/21 0:00
Boris Johnson
0.4
0.53
9/28/21 0:00
Boris Johnson
0.41
0.53
9/29/21 0:00
Boris Johnson
0.4
0.53
9/30/21 0:00
Boris Johnson
0.4
0.54
10/1/21 0:00
Boris Johnson
0.4
0.54
10/2/21 0:00
Boris Johnson
0.4
0.54
10/3/21 0:00
Boris Johnson
0.4
0.54
10/4/21 0:00
Boris Johnson
0.4
0.54
10/5/21 0:00
Boris Johnson
0.39
0.54
10/6/21 0:00
Boris Johnson
0.39
0.54
10/7/21 0:00
Boris Johnson
0.38
0.55
10/8/21 0:00
Boris Johnson
0.37
0.55
10/9/21 0:00
Boris Johnson
0.38
0.55
10/10/21 0:00
Boris Johnson
0.38
0.54
10/11/21 0:00
Boris Johnson
0.38
0.54
10/12/21 0:00
Boris Johnson
0.38
0.54
10/13/21 0:00
Boris Johnson
0.38
0.55
10/14/21 0:00
Boris Johnson
0.38
0.54
10/15/21 0:00
Boris Johnson
0.39
0.54
10/16/21 0:00
Boris Johnson
0.38
0.55
10/17/21 0:00
Boris Johnson
0.38
0.55
10/18/21 0:00
Boris Johnson
0.38
0.55
10/19/21 0:00
Boris Johnson
0.38
0.55
10/20/21 0:00
Boris Johnson
0.39
0.54
10/21/21 0:00
Boris Johnson
0.39
0.54
10/22/21 0:00
Boris Johnson
0.39
0.54
10/23/21 0:00
Boris Johnson
0.39
0.54
10/24/21 0:00
Boris Johnson
0.4
0.54
10/25/21 0:00
Boris Johnson
0.4
0.54
10/26/21 0:00
Boris Johnson
0.39
0.54
10/27/21 0:00
Boris Johnson
0.4
0.54
10/28/21 0:00
Boris Johnson
0.39
0.54
10/29/21 0:00
Boris Johnson
0.39
0.54
10/30/21 0:00
Boris Johnson
0.4
0.53
10/31/21 0:00
Boris Johnson
0.4
0.52
11/1/21 0:00
Boris Johnson
0.41
0.52
11/2/21 0:00
Boris Johnson
0.4
0.52
11/3/21 0:00
Boris Johnson
0.4
0.53
11/4/21 0:00
Boris Johnson
0.4
0.53
11/5/21 0:00
Boris Johnson
0.4
0.54
11/6/21 0:00
Boris Johnson
0.39
0.54
11/7/21 0:00
Boris Johnson
0.39
0.55
11/8/21 0:00
Boris Johnson
0.38
0.55
11/9/21 0:00
Boris Johnson
0.37
0.56
11/10/21 0:00
Boris Johnson
0.37
0.56
11/11/21 0:00
Boris Johnson
0.37
0.56
11/12/21 0:00
Boris Johnson
0.37
0.57
11/13/21 0:00
Boris Johnson
0.36
0.57
11/14/21 0:00
Boris Johnson
0.37
0.56
11/15/21 0:00
Boris Johnson
0.36
0.56
11/16/21 0:00
Boris Johnson
0.37
0.56
11/17/21 0:00
Boris Johnson
0.37
0.55
11/18/21 0:00
Boris Johnson
0.37
0.55
11/19/21 0:00
Boris Johnson
0.37
0.55
11/20/21 0:00
Boris Johnson
0.37
0.55
11/21/21 0:00
Boris Johnson
0.36
0.56
11/22/21 0:00
Boris Johnson
0.37
0.55
11/23/21 0:00
Boris Johnson
0.37
0.56
11/24/21 0:00
Boris Johnson
0.37
0.56
11/25/21 0:00
Boris Johnson
0.37
0.56
11/26/21 0:00
Boris Johnson
0.38
0.56
11/27/21 0:00
Boris Johnson
0.37
0.56
11/28/21 0:00
Boris Johnson
0.38
0.55
11/29/21 0:00
Boris Johnson
0.38
0.56
11/30/21 0:00
Boris Johnson
0.38
0.55
12/1/21 0:00
Boris Johnson
0.38
0.55
12/2/21 0:00
Boris Johnson
0.37
0.56
12/3/21 0:00
Boris Johnson
0.37
0.56
12/4/21 0:00
Boris Johnson
0.37
0.56
12/5/21 0:00
Boris Johnson
0.37
0.57
12/6/21 0:00
Boris Johnson
0.37
0.56
12/7/21 0:00
Boris Johnson
0.37
0.57
10/7/21 0:00
Fumio Kishida
0.42
0.28
10/8/21 0:00
Fumio Kishida
0.42
0.28
10/9/21 0:00
Fumio Kishida
0.41
0.28
10/10/21 0:00
Fumio Kishida
0.4
0.27
10/11/21 0:00
Fumio Kishida
0.4
0.27
10/12/21 0:00
Fumio Kishida
0.4
0.28
10/13/21 0:00
Fumio Kishida
0.4
0.3
10/14/21 0:00
Fumio Kishida
0.39
0.3
10/15/21 0:00
Fumio Kishida
0.4
0.32
10/16/21 0:00
Fumio Kishida
0.4
0.33
10/17/21 0:00
Fumio Kishida
0.41
0.34
10/18/21 0:00
Fumio Kishida
0.4
0.36
10/19/21 0:00
Fumio Kishida
0.4
0.36
10/20/21 0:00
Fumio Kishida
0.41
0.36
10/21/21 0:00
Fumio Kishida
0.41
0.36
10/22/21 0:00
Fumio Kishida
0.41
0.36
10/23/21 0:00
Fumio Kishida
0.41
0.35
10/24/21 0:00
Fumio Kishida
0.42
0.35
10/25/21 0:00
Fumio Kishida
0.43
0.35
10/26/21 0:00
Fumio Kishida
0.43
0.35
10/27/21 0:00
Fumio Kishida
0.43
0.35
10/28/21 0:00
Fumio Kishida
0.42
0.36
10/29/21 0:00
Fumio Kishida
0.42
0.35
10/30/21 0:00
Fumio Kishida
0.43
0.35
10/31/21 0:00
Fumio Kishida
0.41
0.36
11/1/21 0:00
Fumio Kishida
0.42
0.36
11/2/21 0:00
Fumio Kishida
0.42
0.35
11/3/21 0:00
Fumio Kishida
0.44
0.35
11/4/21 0:00
Fumio Kishida
0.44
0.34
11/5/21 0:00
Fumio Kishida
0.45
0.34
11/6/21 0:00
Fumio Kishida
0.44
0.35
11/7/21 0:00
Fumio Kishida
0.46
0.33
11/8/21 0:00
Fumio Kishida
0.46
0.34
11/9/21 0:00
Fumio Kishida
0.45
0.35
11/10/21 0:00
Fumio Kishida
0.44
0.37
11/11/21 0:00
Fumio Kishida
0.45
0.37
11/12/21 0:00
Fumio Kishida
0.44
0.38
11/13/21 0:00
Fumio Kishida
0.45
0.38
11/14/21 0:00
Fumio Kishida
0.43
0.4
11/15/21 0:00
Fumio Kishida
0.44
0.39
11/16/21 0:00
Fumio Kishida
0.43
0.39
11/17/21 0:00
Fumio Kishida
0.43
0.39
11/18/21 0:00
Fumio Kishida
0.42
0.39
11/19/21 0:00
Fumio Kishida
0.42
0.39
11/20/21 0:00
Fumio Kishida
0.41
0.39
11/21/21 0:00
Fumio Kishida
0.42
0.39
11/22/21 0:00
Fumio Kishida
0.41
0.41
11/23/21 0:00
Fumio Kishida
0.41
0.41
11/24/21 0:00
Fumio Kishida
0.41
0.42
11/25/21 0:00
Fumio Kishida
0.42
0.42
11/26/21 0:00
Fumio Kishida
0.42
0.41
11/27/21 0:00
Fumio Kishida
0.41
0.42
11/28/21 0:00
Fumio Kishida
0.41
0.43
11/29/21 0:00
Fumio Kishida
0.41
0.43
11/30/21 0:00
Fumio Kishida
0.42
0.42
12/1/21 0:00
Fumio Kishida
0.43
0.41
12/2/21 0:00
Fumio Kishida
0.43
0.41
12/3/21 0:00
Fumio Kishida
0.43
0.41
12/4/21 0:00
Fumio Kishida
0.44
0.39
12/5/21 0:00
Fumio Kishida
0.45
0.38
12/6/21 0:00
Fumio Kishida
0.47
0.37
12/7/21 0:00
Fumio Kishida
0.46
0.37
3/6/20 0:00
Andrés Manuel López Obrador
0.61
0.31
3/7/20 0:00
Andrés Manuel López Obrador
0.61
0.31
3/8/20 0:00
Andrés Manuel López Obrador
0.6
0.31
3/9/20 0:00
Andrés Manuel López Obrador
0.6
0.32
3/10/20 0:00
Andrés Manuel López Obrador
0.61
0.31
3/11/20 0:00
Andrés Manuel López Obrador
0.62
0.31
3/12/20 0:00
Andrés Manuel López Obrador
0.61
0.31
3/13/20 0:00
Andrés Manuel López Obrador
0.6
0.31
3/14/20 0:00
Andrés Manuel López Obrador
0.6
0.32
3/15/20 0:00
Andrés Manuel López Obrador
0.62
0.32
3/16/20 0:00
Andrés Manuel López Obrador
0.62
0.31
3/17/20 0:00
Andrés Manuel López Obrador
0.61
0.31
3/18/20 0:00
Andrés Manuel López Obrador
0.61
0.3
3/19/20 0:00
Andrés Manuel López Obrador
0.63
0.3
3/20/20 0:00
Andrés Manuel López Obrador
0.63
0.29
3/21/20 0:00
Andrés Manuel López Obrador
0.64
0.28
3/22/20 0:00
Andrés Manuel López Obrador
0.63
0.27
3/23/20 0:00
Andrés Manuel López Obrador
0.61
0.29
3/24/20 0:00
Andrés Manuel López Obrador
0.61
0.29
3/25/20 0:00
Andrés Manuel López Obrador
0.6
0.3
3/26/20 0:00
Andrés Manuel López Obrador
0.61
0.29
3/27/20 0:00
Andrés Manuel López Obrador
0.6
0.3
3/28/20 0:00
Andrés Manuel López Obrador
0.59
0.31
3/29/20 0:00
Andrés Manuel López Obrador
0.6
0.32
3/30/20 0:00
Andrés Manuel López Obrador
0.61
0.3
3/31/20 0:00
Andrés Manuel López Obrador
0.61
0.31
4/1/20 0:00
Andrés Manuel López Obrador
0.61
0.3
4/2/20 0:00
Andrés Manuel López Obrador
0.6
0.32
4/3/20 0:00
Andrés Manuel López Obrador
0.6
0.31
4/4/20 0:00
Andrés Manuel López Obrador
0.6
0.32
4/5/20 0:00
Andrés Manuel López Obrador
0.6
0.32
4/6/20 0:00
Andrés Manuel López Obrador
0.6
0.32
4/7/20 0:00
Andrés Manuel López Obrador
0.6
0.32
4/8/20 0:00
Andrés Manuel López Obrador
0.6
0.3
4/9/20 0:00
Andrés Manuel López Obrador
0.63
0.29
4/10/20 0:00
Andrés Manuel López Obrador
0.62
0.29
4/11/20 0:00
Andrés Manuel López Obrador
0.62
0.28
4/12/20 0:00
Andrés Manuel López Obrador
0.63
0.28
4/13/20 0:00
Andrés Manuel López Obrador
0.63
0.28
4/14/20 0:00
Andrés Manuel López Obrador
0.64
0.28
4/15/20 0:00
Andrés Manuel López Obrador
0.63
0.3
4/16/20 0:00
Andrés Manuel López Obrador
0.63
0.3
4/17/20 0:00
Andrés Manuel López Obrador
0.63
0.3
4/18/20 0:00
Andrés Manuel López Obrador
0.63
0.3
4/19/20 0:00
Andrés Manuel López Obrador
0.62
0.31
4/20/20 0:00
Andrés Manuel López Obrador
0.61
0.3
4/21/20 0:00
Andrés Manuel López Obrador
0.62
0.3
4/22/20 0:00
Andrés Manuel López Obrador
0.63
0.29
4/23/20 0:00
Andrés Manuel López Obrador
0.64
0.28
4/24/20 0:00
Andrés Manuel López Obrador
0.65
0.27
4/25/20 0:00
Andrés Manuel López Obrador
0.65
0.27
4/26/20 0:00
Andrés Manuel López Obrador
0.66
0.27
4/27/20 0:00
Andrés Manuel López Obrador
0.66
0.27
4/28/20 0:00
Andrés Manuel López Obrador
0.65
0.28
4/29/20 0:00
Andrés Manuel López Obrador
0.65
0.28
4/30/20 0:00
Andrés Manuel López Obrador
0.63
0.3
5/1/20 0:00
Andrés Manuel López Obrador
0.62
0.3
5/2/20 0:00
Andrés Manuel López Obrador
0.61
0.31
5/3/20 0:00
Andrés Manuel López Obrador
0.61
0.3
5/4/20 0:00
Andrés Manuel López Obrador
0.6
0.3
5/5/20 0:00
Andrés Manuel López Obrador
0.6
0.3
5/6/20 0:00
Andrés Manuel López Obrador
0.61
0.29
5/7/20 0:00
Andrés Manuel López Obrador
0.62
0.28
5/8/20 0:00
Andrés Manuel López Obrador
0.63
0.28
5/9/20 0:00
Andrés Manuel López Obrador
0.63
0.28
5/10/20 0:00
Andrés Manuel López Obrador
0.62
0.29
5/11/20 0:00
Andrés Manuel López Obrador
0.61
0.3
5/12/20 0:00
Andrés Manuel López Obrador
0.61
0.3
5/13/20 0:00
Andrés Manuel López Obrador
0.61
0.3
5/14/20 0:00
Andrés Manuel López Obrador
0.6
0.31
5/15/20 0:00
Andrés Manuel López Obrador
0.59
0.31
5/16/20 0:00
Andrés Manuel López Obrador
0.59
0.31
5/17/20 0:00
Andrés Manuel López Obrador
0.6
0.31
5/18/20 0:00
Andrés Manuel López Obrador
0.6
0.31
5/19/20 0:00
Andrés Manuel López Obrador
0.59
0.32
5/20/20 0:00
Andrés Manuel López Obrador
0.59
0.32
5/21/20 0:00
Andrés Manuel López Obrador
0.59
0.32
5/22/20 0:00
Andrés Manuel López Obrador
0.59
0.31
5/23/20 0:00
Andrés Manuel López Obrador
0.59
0.31
5/24/20 0:00
Andrés Manuel López Obrador
0.58
0.33
5/25/20 0:00
Andrés Manuel López Obrador
0.6
0.32
5/26/20 0:00
Andrés Manuel López Obrador
0.59
0.33
5/27/20 0:00
Andrés Manuel López Obrador
0.61
0.32
5/28/20 0:00
Andrés Manuel López Obrador
0.6
0.33
5/29/20 0:00
Andrés Manuel López Obrador
0.6
0.33
5/30/20 0:00
Andrés Manuel López Obrador
0.59
0.34
5/31/20 0:00
Andrés Manuel López Obrador
0.58
0.33
6/1/20 0:00
Andrés Manuel López Obrador
0.58
0.33
6/2/20 0:00
Andrés Manuel López Obrador
0.6
0.32
6/3/20 0:00
Andrés Manuel López Obrador
0.57
0.34
6/4/20 0:00
Andrés Manuel López Obrador
0.56
0.35
6/5/20 0:00
Andrés Manuel López Obrador
0.55
0.35
6/6/20 0:00
Andrés Manuel López Obrador
0.55
0.36
6/7/20 0:00
Andrés Manuel López Obrador
0.55
0.37
6/8/20 0:00
Andrés Manuel López Obrador
0.54
0.37
6/9/20 0:00
Andrés Manuel López Obrador
0.54
0.37
6/10/20 0:00
Andrés Manuel López Obrador
0.54
0.37
6/11/20 0:00
Andrés Manuel López Obrador
0.55
0.37
6/12/20 0:00
Andrés Manuel López Obrador
0.56
0.36
6/13/20 0:00
Andrés Manuel López Obrador
0.58
0.34
6/14/20 0:00
Andrés Manuel López Obrador
0.59
0.33
6/15/20 0:00
Andrés Manuel López Obrador
0.6
0.33
6/16/20 0:00
Andrés Manuel López Obrador
0.59
0.34
6/17/20 0:00
Andrés Manuel López Obrador
0.6
0.33
6/18/20 0:00
Andrés Manuel López Obrador
0.62
0.31
6/19/20 0:00
Andrés Manuel López Obrador
0.62
0.32
6/20/20 0:00
Andrés Manuel López Obrador
0.6
0.34
6/21/20 0:00
Andrés Manuel López Obrador
0.59
0.35
6/22/20 0:00
Andrés Manuel López Obrador
0.59
0.34
6/23/20 0:00
Andrés Manuel López Obrador
0.58
0.34
6/24/20 0:00
Andrés Manuel López Obrador
0.58
0.34
6/25/20 0:00
Andrés Manuel López Obrador
0.55
0.36
6/26/20 0:00
Andrés Manuel López Obrador
0.56
0.36
6/27/20 0:00
Andrés Manuel López Obrador
0.57
0.35
6/28/20 0:00
Andrés Manuel López Obrador
0.56
0.36
6/29/20 0:00
Andrés Manuel López Obrador
0.56
0.36
6/30/20 0:00
Andrés Manuel López Obrador
0.58
0.35
7/1/20 0:00
Andrés Manuel López Obrador
0.57
0.35
7/2/20 0:00
Andrés Manuel López Obrador
0.59
0.34
7/3/20 0:00
Andrés Manuel López Obrador
0.58
0.34
7/4/20 0:00
Andrés Manuel López Obrador
0.57
0.34
7/5/20 0:00
Andrés Manuel López Obrador
0.59
0.32
7/6/20 0:00
Andrés Manuel López Obrador
0.59
0.32
7/7/20 0:00
Andrés Manuel López Obrador
0.58
0.33
7/8/20 0:00
Andrés Manuel López Obrador
0.59
0.32
7/9/20 0:00
Andrés Manuel López Obrador
0.59
0.32
7/10/20 0:00
Andrés Manuel López Obrador
0.6
0.32
7/11/20 0:00
Andrés Manuel López Obrador
0.59
0.33
7/12/20 0:00
Andrés Manuel López Obrador
0.59
0.33
7/13/20 0:00
Andrés Manuel López Obrador
0.59
0.33
7/14/20 0:00
Andrés Manuel López Obrador
0.58
0.33
7/15/20 0:00
Andrés Manuel López Obrador
0.59
0.33
7/16/20 0:00
Andrés Manuel López Obrador
0.58
0.35
7/17/20 0:00
Andrés Manuel López Obrador
0.58
0.35
7/18/20 0:00
Andrés Manuel López Obrador
0.59
0.33
7/19/20 0:00
Andrés Manuel López Obrador
0.58
0.33
7/20/20 0:00
Andrés Manuel López Obrador
0.57
0.34
7/21/20 0:00
Andrés Manuel López Obrador
0.59
0.33
7/22/20 0:00
Andrés Manuel López Obrador
0.59
0.33
7/23/20 0:00
Andrés Manuel López Obrador
0.61
0.31
7/24/20 0:00
Andrés Manuel López Obrador
0.6
0.31
7/25/20 0:00
Andrés Manuel López Obrador
0.6
0.32
7/26/20 0:00
Andrés Manuel López Obrador
0.59
0.32
7/27/20 0:00
Andrés Manuel López Obrador
0.6
0.32
7/28/20 0:00
Andrés Manuel López Obrador
0.58
0.34
7/29/20 0:00
Andrés Manuel López Obrador
0.58
0.34
7/30/20 0:00
Andrés Manuel López Obrador
0.57
0.34
7/31/20 0:00
Andrés Manuel López Obrador
0.59
0.33
8/1/20 0:00
Andrés Manuel López Obrador
0.59
0.33
8/2/20 0:00
Andrés Manuel López Obrador
0.6
0.32
8/3/20 0:00
Andrés Manuel López Obrador
0.61
0.31
8/4/20 0:00
Andrés Manuel López Obrador
0.62
0.29
8/5/20 0:00
Andrés Manuel López Obrador
0.61
0.3
8/6/20 0:00
Andrés Manuel López Obrador
0.61
0.31
8/7/20 0:00
Andrés Manuel López Obrador
0.61
0.3
8/8/20 0:00
Andrés Manuel López Obrador
0.61
0.31
8/9/20 0:00
Andrés Manuel López Obrador
0.6
0.31
8/10/20 0:00
Andrés Manuel López Obrador
0.6
0.33
8/11/20 0:00
Andrés Manuel López Obrador
0.59
0.33
8/12/20 0:00
Andrés Manuel López Obrador
0.6
0.33
8/13/20 0:00
Andrés Manuel López Obrador
0.61
0.32
8/14/20 0:00
Andrés Manuel López Obrador
0.59
0.34
8/15/20 0:00
Andrés Manuel López Obrador
0.6
0.33
8/16/20 0:00
Andrés Manuel López Obrador
0.6
0.32
8/17/20 0:00
Andrés Manuel López Obrador
0.61
0.32
8/18/20 0:00
Andrés Manuel López Obrador
0.61
0.31
8/19/20 0:00
Andrés Manuel López Obrador
0.61
0.31
8/20/20 0:00
Andrés Manuel López Obrador
0.6
0.32
8/21/20 0:00
Andrés Manuel López Obrador
0.61
0.31
8/22/20 0:00
Andrés Manuel López Obrador
0.61
0.31
8/23/20 0:00
Andrés Manuel López Obrador
0.6
0.32
8/24/20 0:00
Andrés Manuel López Obrador
0.6
0.33
8/25/20 0:00
Andrés Manuel López Obrador
0.61
0.32
8/26/20 0:00
Andrés Manuel López Obrador
0.6
0.33
8/27/20 0:00
Andrés Manuel López Obrador
0.61
0.32
8/28/20 0:00
Andrés Manuel López Obrador
0.6
0.32
8/29/20 0:00
Andrés Manuel López Obrador
0.6
0.32
8/30/20 0:00
Andrés Manuel López Obrador
0.61
0.31
8/31/20 0:00
Andrés Manuel López Obrador
0.61
0.3
9/1/20 0:00
Andrés Manuel López Obrador
0.62
0.3
9/2/20 0:00
Andrés Manuel López Obrador
0.62
0.29
9/3/20 0:00
Andrés Manuel López Obrador
0.6
0.31
9/4/20 0:00
Andrés Manuel López Obrador
0.61
0.31
9/5/20 0:00
Andrés Manuel López Obrador
0.61
0.32
9/6/20 0:00
Andrés Manuel López Obrador
0.6
0.32
9/7/20 0:00
Andrés Manuel López Obrador
0.59
0.33
9/8/20 0:00
Andrés Manuel López Obrador
0.59
0.34
9/9/20 0:00
Andrés Manuel López Obrador
0.59
0.34
9/10/20 0:00
Andrés Manuel López Obrador
0.59
0.34
9/11/20 0:00
Andrés Manuel López Obrador
0.59
0.34
9/12/20 0:00
Andrés Manuel López Obrador
0.59
0.33
9/13/20 0:00
Andrés Manuel López Obrador
0.6
0.33
9/14/20 0:00
Andrés Manuel López Obrador
0.6
0.32
9/15/20 0:00
Andrés Manuel López Obrador
0.59
0.33
9/16/20 0:00
Andrés Manuel López Obrador
0.59
0.33
9/17/20 0:00
Andrés Manuel López Obrador
0.59
0.33
9/18/20 0:00
Andrés Manuel López Obrador
0.58
0.34
9/19/20 0:00
Andrés Manuel López Obrador
0.57
0.35
9/20/20 0:00
Andrés Manuel López Obrador
0.56
0.35
9/21/20 0:00
Andrés Manuel López Obrador
0.57
0.35
9/22/20 0:00
Andrés Manuel López Obrador
0.59
0.34
9/23/20 0:00
Andrés Manuel López Obrador
0.58
0.34
9/24/20 0:00
Andrés Manuel López Obrador
0.59
0.34
9/25/20 0:00
Andrés Manuel López Obrador
0.6
0.33
9/26/20 0:00
Andrés Manuel López Obrador
0.6
0.33
9/27/20 0:00
Andrés Manuel López Obrador
0.6
0.33
9/28/20 0:00
Andrés Manuel López Obrador
0.59
0.33
9/29/20 0:00
Andrés Manuel López Obrador
0.6
0.33
9/30/20 0:00
Andrés Manuel López Obrador
0.59
0.33
10/1/20 0:00
Andrés Manuel López Obrador
0.59
0.33
10/2/20 0:00
Andrés Manuel López Obrador
0.6
0.33
10/3/20 0:00
Andrés Manuel López Obrador
0.61
0.31
10/4/20 0:00
Andrés Manuel López Obrador
0.62
0.3
10/5/20 0:00
Andrés Manuel López Obrador
0.62
0.29
10/6/20 0:00
Andrés Manuel López Obrador
0.61
0.3
10/7/20 0:00
Andrés Manuel López Obrador
0.61
0.31
10/8/20 0:00
Andrés Manuel López Obrador
0.62
0.3
10/9/20 0:00
Andrés Manuel López Obrador
0.61
0.32
10/10/20 0:00
Andrés Manuel López Obrador
0.6
0.32
10/11/20 0:00
Andrés Manuel López Obrador
0.6
0.32
10/12/20 0:00
Andrés Manuel López Obrador
0.6
0.33
10/13/20 0:00
Andrés Manuel López Obrador
0.61
0.32
10/14/20 0:00
Andrés Manuel López Obrador
0.62
0.32
10/15/20 0:00
Andrés Manuel López Obrador
0.61
0.32
10/16/20 0:00
Andrés Manuel López Obrador
0.61
0.31
10/17/20 0:00
Andrés Manuel López Obrador
0.61
0.31
10/18/20 0:00
Andrés Manuel López Obrador
0.62
0.3
10/19/20 0:00
Andrés Manuel López Obrador
0.62
0.3
10/20/20 0:00
Andrés Manuel López Obrador
0.6
0.31
10/21/20 0:00
Andrés Manuel López Obrador
0.6
0.31
10/22/20 0:00
Andrés Manuel López Obrador
0.61
0.32
10/23/20 0:00
Andrés Manuel López Obrador
0.61
0.31
10/24/20 0:00
Andrés Manuel López Obrador
0.6
0.32
10/25/20 0:00
Andrés Manuel López Obrador
0.59
0.33
10/26/20 0:00
Andrés Manuel López Obrador
0.58
0.34
10/27/20 0:00
Andrés Manuel López Obrador
0.59
0.33
10/28/20 0:00
Andrés Manuel López Obrador
0.59
0.33
10/29/20 0:00
Andrés Manuel López Obrador
0.58
0.33
10/30/20 0:00
Andrés Manuel López Obrador
0.58
0.33
10/31/20 0:00
Andrés Manuel López Obrador
0.58
0.34
11/1/20 0:00
Andrés Manuel López Obrador
0.57
0.34
11/2/20 0:00
Andrés Manuel López Obrador
0.59
0.33
11/3/20 0:00
Andrés Manuel López Obrador
0.58
0.33
11/4/20 0:00
Andrés Manuel López Obrador
0.58
0.34
11/5/20 0:00
Andrés Manuel López Obrador
0.58
0.34
11/6/20 0:00
Andrés Manuel López Obrador
0.58
0.34
11/7/20 0:00
Andrés Manuel López Obrador
0.58
0.33
11/8/20 0:00
Andrés Manuel López Obrador
0.59
0.32
11/9/20 0:00
Andrés Manuel López Obrador
0.6
0.32
11/10/20 0:00
Andrés Manuel López Obrador
0.6
0.32
11/11/20 0:00
Andrés Manuel López Obrador
0.61
0.31
11/12/20 0:00
Andrés Manuel López Obrador
0.61
0.31
11/13/20 0:00
Andrés Manuel López Obrador
0.6
0.31
11/14/20 0:00
Andrés Manuel López Obrador
0.61
0.3
11/15/20 0:00
Andrés Manuel López Obrador
0.61
0.31
11/16/20 0:00
Andrés Manuel López Obrador
0.6
0.31
11/17/20 0:00
Andrés Manuel López Obrador
0.6
0.32
11/18/20 0:00
Andrés Manuel López Obrador
0.61
0.32
11/19/20 0:00
Andrés Manuel López Obrador
0.62
0.3
11/20/20 0:00
Andrés Manuel López Obrador
0.63
0.3
11/21/20 0:00
Andrés Manuel López Obrador
0.63
0.3
11/22/20 0:00
Andrés Manuel López Obrador
0.64
0.29
11/23/20 0:00
Andrés Manuel López Obrador
0.64
0.29
11/24/20 0:00
Andrés Manuel López Obrador
0.64
0.28
11/25/20 0:00
Andrés Manuel López Obrador
0.63
0.27
11/26/20 0:00
Andrés Manuel López Obrador
0.61
0.29
11/27/20 0:00
Andrés Manuel López Obrador
0.61
0.3
11/28/20 0:00
Andrés Manuel López Obrador
0.61
0.29
11/29/20 0:00
Andrés Manuel López Obrador
0.6
0.3
11/30/20 0:00
Andrés Manuel López Obrador
0.6
0.3
12/1/20 0:00
Andrés Manuel López Obrador
0.59
0.3
12/2/20 0:00
Andrés Manuel López Obrador
0.6
0.32
12/3/20 0:00
Andrés Manuel López Obrador
0.61
0.3
12/4/20 0:00
Andrés Manuel López Obrador
0.61
0.3
12/5/20 0:00
Andrés Manuel López Obrador
0.61
0.3
12/6/20 0:00
Andrés Manuel López Obrador
0.62
0.3
12/7/20 0:00
Andrés Manuel López Obrador
0.62
0.29
12/8/20 0:00
Andrés Manuel López Obrador
0.63
0.29
12/9/20 0:00
Andrés Manuel López Obrador
0.64
0.27
12/10/20 0:00
Andrés Manuel López Obrador
0.64
0.28
12/11/20 0:00
Andrés Manuel López Obrador
0.64
0.29
12/12/20 0:00
Andrés Manuel López Obrador
0.63
0.3
12/13/20 0:00
Andrés Manuel López Obrador
0.64
0.3
12/14/20 0:00
Andrés Manuel López Obrador
0.64
0.29
12/15/20 0:00
Andrés Manuel López Obrador
0.64
0.28
12/16/20 0:00
Andrés Manuel López Obrador
0.63
0.3
12/17/20 0:00
Andrés Manuel López Obrador
0.63
0.3
12/18/20 0:00
Andrés Manuel López Obrador
0.63
0.3
12/19/20 0:00
Andrés Manuel López Obrador
0.63
0.3
12/20/20 0:00
Andrés Manuel López Obrador
0.62
0.31
12/21/20 0:00
Andrés Manuel López Obrador
0.61
0.33
12/22/20 0:00
Andrés Manuel López Obrador
0.62
0.33
12/23/20 0:00
Andrés Manuel López Obrador
0.62
0.33
12/24/20 0:00
Andrés Manuel López Obrador
0.63
0.31
12/25/20 0:00
Andrés Manuel López Obrador
0.64
0.29
12/26/20 0:00
Andrés Manuel López Obrador
0.64
0.28
12/27/20 0:00
Andrés Manuel López Obrador
0.64
0.27
12/28/20 0:00
Andrés Manuel López Obrador
0.64
0.26
12/29/20 0:00
Andrés Manuel López Obrador
0.65
0.25
12/30/20 0:00
Andrés Manuel López Obrador
0.64
0.26
12/31/20 0:00
Andrés Manuel López Obrador
0.64
0.27
1/1/21 0:00
Andrés Manuel López Obrador
0.64
0.28
1/2/21 0:00
Andrés Manuel López Obrador
0.63
0.28
1/3/21 0:00
Andrés Manuel López Obrador
0.65
0.27
1/4/21 0:00
Andrés Manuel López Obrador
0.65
0.27
1/5/21 0:00
Andrés Manuel López Obrador
0.64
0.28
1/6/21 0:00
Andrés Manuel López Obrador
0.64
0.28
1/7/21 0:00
Andrés Manuel López Obrador
0.64
0.27
1/8/21 0:00
Andrés Manuel López Obrador
0.63
0.28
1/9/21 0:00
Andrés Manuel López Obrador
0.63
0.28
1/10/21 0:00
Andrés Manuel López Obrador
0.63
0.3
1/11/21 0:00
Andrés Manuel López Obrador
0.62
0.31
1/12/21 0:00
Andrés Manuel López Obrador
0.61
0.31
1/13/21 0:00
Andrés Manuel López Obrador
0.62
0.31
1/14/21 0:00
Andrés Manuel López Obrador
0.61
0.32
1/15/21 0:00
Andrés Manuel López Obrador
0.62
0.31
1/16/21 0:00
Andrés Manuel López Obrador
0.62
0.31
1/17/21 0:00
Andrés Manuel López Obrador
0.62
0.3
1/18/21 0:00
Andrés Manuel López Obrador
0.62
0.3
1/19/21 0:00
Andrés Manuel López Obrador
0.63
0.29
1/20/21 0:00
Andrés Manuel López Obrador
0.64
0.28
1/21/21 0:00
Andrés Manuel López Obrador
0.66
0.27
1/22/21 0:00
Andrés Manuel López Obrador
0.66
0.26
1/23/21 0:00
Andrés Manuel López Obrador
0.66
0.26
1/24/21 0:00
Andrés Manuel López Obrador
0.65
0.27
1/25/21 0:00
Andrés Manuel López Obrador
0.66
0.25
1/26/21 0:00
Andrés Manuel López Obrador
0.67
0.26
1/27/21 0:00
Andrés Manuel López Obrador
0.65
0.27
1/28/21 0:00
Andrés Manuel López Obrador
0.64
0.27
1/29/21 0:00
Andrés Manuel López Obrador
0.62
0.28
1/30/21 0:00
Andrés Manuel López Obrador
0.62
0.28
1/31/21 0:00
Andrés Manuel López Obrador
0.62
0.28
2/1/21 0:00
Andrés Manuel López Obrador
0.61
0.3
2/2/21 0:00
Andrés Manuel López Obrador
0.61
0.3
2/3/21 0:00
Andrés Manuel López Obrador
0.61
0.3
2/4/21 0:00
Andrés Manuel López Obrador
0.61
0.31
2/5/21 0:00
Andrés Manuel López Obrador
0.62
0.31
2/6/21 0:00
Andrés Manuel López Obrador
0.61
0.31
2/7/21 0:00
Andrés Manuel López Obrador
0.62
0.3
2/8/21 0:00
Andrés Manuel López Obrador
0.63
0.28
2/9/21 0:00
Andrés Manuel López Obrador
0.62
0.28
2/10/21 0:00
Andrés Manuel López Obrador
0.63
0.28
2/11/21 0:00
Andrés Manuel López Obrador
0.62
0.28
2/12/21 0:00
Andrés Manuel López Obrador
0.61
0.28
2/13/21 0:00
Andrés Manuel López Obrador
0.62
0.28
2/14/21 0:00
Andrés Manuel López Obrador
0.62
0.28
2/15/21 0:00
Andrés Manuel López Obrador
0.62
0.3
2/16/21 0:00
Andrés Manuel López Obrador
0.61
0.3
2/17/21 0:00
Andrés Manuel López Obrador
0.61
0.3
2/18/21 0:00
Andrés Manuel López Obrador
0.62
0.3
2/19/21 0:00
Andrés Manuel López Obrador
0.64
0.29
2/20/21 0:00
Andrés Manuel López Obrador
0.64
0.29
2/21/21 0:00
Andrés Manuel López Obrador
0.63
0.29
2/22/21 0:00
Andrés Manuel López Obrador
0.63
0.28
2/23/21 0:00
Andrés Manuel López Obrador
0.64
0.28
2/24/21 0:00
Andrés Manuel López Obrador
0.65
0.27
2/25/21 0:00
Andrés Manuel López Obrador
0.63
0.27
2/26/21 0:00
Andrés Manuel López Obrador
0.62
0.28
2/27/21 0:00
Andrés Manuel López Obrador
0.62
0.28
2/28/21 0:00
Andrés Manuel López Obrador
0.62
0.29
3/1/21 0:00
Andrés Manuel López Obrador
0.61
0.29
3/2/21 0:00
Andrés Manuel López Obrador
0.6
0.3
3/3/21 0:00
Andrés Manuel López Obrador
0.58
0.31
3/4/21 0:00
Andrés Manuel López Obrador
0.58
0.31
3/5/21 0:00
Andrés Manuel López Obrador
0.6
0.3
3/6/21 0:00
Andrés Manuel López Obrador
0.6
0.3
3/7/21 0:00
Andrés Manuel López Obrador
0.61
0.29
3/8/21 0:00
Andrés Manuel López Obrador
0.62
0.29
3/9/21 0:00
Andrés Manuel López Obrador
0.64
0.27
3/10/21 0:00
Andrés Manuel López Obrador
0.65
0.27
3/11/21 0:00
Andrés Manuel López Obrador
0.66
0.27
3/12/21 0:00
Andrés Manuel López Obrador
0.64
0.28
3/13/21 0:00
Andrés Manuel López Obrador
0.64
0.28
3/14/21 0:00
Andrés Manuel López Obrador
0.63
0.28
3/15/21 0:00
Andrés Manuel López Obrador
0.62
0.29
3/16/21 0:00
Andrés Manuel López Obrador
0.61
0.3
3/17/21 0:00
Andrés Manuel López Obrador
0.61
0.3
3/18/21 0:00
Andrés Manuel López Obrador
0.59
0.31
3/19/21 0:00
Andrés Manuel López Obrador
0.59
0.31
3/20/21 0:00
Andrés Manuel López Obrador
0.6
0.3
3/21/21 0:00
Andrés Manuel López Obrador
0.59
0.3
3/22/21 0:00
Andrés Manuel López Obrador
0.59
0.29
3/23/21 0:00
Andrés Manuel López Obrador
0.58
0.3
3/24/21 0:00
Andrés Manuel López Obrador
0.58
0.3
3/25/21 0:00
Andrés Manuel López Obrador
0.59
0.29
3/26/21 0:00
Andrés Manuel López Obrador
0.59
0.29
3/27/21 0:00
Andrés Manuel López Obrador
0.59
0.3
3/28/21 0:00
Andrés Manuel López Obrador
0.58
0.3
3/29/21 0:00
Andrés Manuel López Obrador
0.58
0.31
3/30/21 0:00
Andrés Manuel López Obrador
0.59
0.31
3/31/21 0:00
Andrés Manuel López Obrador
0.58
0.31
4/1/21 0:00
Andrés Manuel López Obrador
0.59
0.3
4/2/21 0:00
Andrés Manuel López Obrador
0.59
0.3
4/3/21 0:00
Andrés Manuel López Obrador
0.6
0.3
4/4/21 0:00
Andrés Manuel López Obrador
0.61
0.29
4/5/21 0:00
Andrés Manuel López Obrador
0.61
0.29
4/6/21 0:00
Andrés Manuel López Obrador
0.61
0.28
4/7/21 0:00
Andrés Manuel López Obrador
0.63
0.28
4/8/21 0:00
Andrés Manuel López Obrador
0.6
0.3
4/9/21 0:00
Andrés Manuel López Obrador
0.6
0.3
4/10/21 0:00
Andrés Manuel López Obrador
0.61
0.29
4/11/21 0:00
Andrés Manuel López Obrador
0.59
0.31
4/12/21 0:00
Andrés Manuel López Obrador
0.59
0.31
4/13/21 0:00
Andrés Manuel López Obrador
0.59
0.31
4/14/21 0:00
Andrés Manuel López Obrador
0.6
0.31
4/15/21 0:00
Andrés Manuel López Obrador
0.61
0.3
4/16/21 0:00
Andrés Manuel López Obrador
0.62
0.3
4/17/21 0:00
Andrés Manuel López Obrador
0.6
0.31
4/18/21 0:00
Andrés Manuel López Obrador
0.61
0.3
4/19/21 0:00
Andrés Manuel López Obrador
0.62
0.29
4/20/21 0:00
Andrés Manuel López Obrador
0.62
0.3
4/21/21 0:00
Andrés Manuel López Obrador
0.61
0.31
4/22/21 0:00
Andrés Manuel López Obrador
0.61
0.32
4/23/21 0:00
Andrés Manuel López Obrador
0.61
0.31
4/24/21 0:00
Andrés Manuel López Obrador
0.61
0.31
4/25/21 0:00
Andrés Manuel López Obrador
0.61
0.31
4/26/21 0:00
Andrés Manuel López Obrador
0.6
0.32
4/27/21 0:00
Andrés Manuel López Obrador
0.59
0.32
4/28/21 0:00
Andrés Manuel López Obrador
0.6
0.31
4/29/21 0:00
Andrés Manuel López Obrador
0.6
0.3
4/30/21 0:00
Andrés Manuel López Obrador
0.6
0.31
5/1/21 0:00
Andrés Manuel López Obrador
0.62
0.3
5/2/21 0:00
Andrés Manuel López Obrador
0.62
0.3
5/3/21 0:00
Andrés Manuel López Obrador
0.62
0.3
5/4/21 0:00
Andrés Manuel López Obrador
0.64
0.29
5/5/21 0:00
Andrés Manuel López Obrador
0.63
0.3
5/6/21 0:00
Andrés Manuel López Obrador
0.63
0.3
5/7/21 0:00
Andrés Manuel López Obrador
0.63
0.3
5/8/21 0:00
Andrés Manuel López Obrador
0.62
0.3
5/9/21 0:00
Andrés Manuel López Obrador
0.62
0.3
5/10/21 0:00
Andrés Manuel López Obrador
0.62
0.29
5/11/21 0:00
Andrés Manuel López Obrador
0.6
0.3
5/12/21 0:00
Andrés Manuel López Obrador
0.6
0.31
5/13/21 0:00
Andrés Manuel López Obrador
0.59
0.31
5/14/21 0:00
Andrés Manuel López Obrador
0.57
0.33
5/15/21 0:00
Andrés Manuel López Obrador
0.57
0.33
5/16/21 0:00
Andrés Manuel López Obrador
0.57
0.34
5/17/21 0:00
Andrés Manuel López Obrador
0.56
0.34
5/18/21 0:00
Andrés Manuel López Obrador
0.57
0.33
5/19/21 0:00
Andrés Manuel López Obrador
0.58
0.33
5/20/21 0:00
Andrés Manuel López Obrador
0.59
0.33
5/21/21 0:00
Andrés Manuel López Obrador
0.6
0.3
5/22/21 0:00
Andrés Manuel López Obrador
0.61
0.3
5/23/21 0:00
Andrés Manuel López Obrador
0.61
0.28
5/24/21 0:00
Andrés Manuel López Obrador
0.63
0.28
5/25/21 0:00
Andrés Manuel López Obrador
0.62
0.27
5/26/21 0:00
Andrés Manuel López Obrador
0.61
0.28
5/27/21 0:00
Andrés Manuel López Obrador
0.62
0.27
5/28/21 0:00
Andrés Manuel López Obrador
0.62
0.28
5/29/21 0:00
Andrés Manuel López Obrador
0.61
0.29
5/30/21 0:00
Andrés Manuel López Obrador
0.62
0.29
5/31/21 0:00
Andrés Manuel López Obrador
0.6
0.3
6/1/21 0:00
Andrés Manuel López Obrador
0.62
0.3
6/2/21 0:00
Andrés Manuel López Obrador
0.63
0.3
6/3/21 0:00
Andrés Manuel López Obrador
0.63
0.3
6/4/21 0:00
Andrés Manuel López Obrador
0.63
0.3
6/5/21 0:00
Andrés Manuel López Obrador
0.63
0.31
6/6/21 0:00
Andrés Manuel López Obrador
0.62
0.31
6/7/21 0:00
Andrés Manuel López Obrador
0.63
0.3
6/8/21 0:00
Andrés Manuel López Obrador
0.62
0.3
6/9/21 0:00
Andrés Manuel López Obrador
0.62
0.29
6/10/21 0:00
Andrés Manuel López Obrador
0.62
0.29
6/11/21 0:00
Andrés Manuel López Obrador
0.63
0.28
6/12/21 0:00
Andrés Manuel López Obrador
0.63
0.27
6/13/21 0:00
Andrés Manuel López Obrador
0.63
0.26
6/14/21 0:00
Andrés Manuel López Obrador
0.63
0.26
6/15/21 0:00
Andrés Manuel López Obrador
0.63
0.27
6/16/21 0:00
Andrés Manuel López Obrador
0.62
0.27
6/17/21 0:00
Andrés Manuel López Obrador
0.62
0.27
6/18/21 0:00
Andrés Manuel López Obrador
0.62
0.27
6/19/21 0:00
Andrés Manuel López Obrador
0.63
0.27
6/20/21 0:00
Andrés Manuel López Obrador
0.63
0.27
6/21/21 0:00
Andrés Manuel López Obrador
0.63
0.27
6/22/21 0:00
Andrés Manuel López Obrador
0.64
0.27
6/23/21 0:00
Andrés Manuel López Obrador
0.64
0.27
6/24/21 0:00
Andrés Manuel López Obrador
0.63
0.27
6/25/21 0:00
Andrés Manuel López Obrador
0.64
0.26
6/26/21 0:00
Andrés Manuel López Obrador
0.64
0.26
6/27/21 0:00
Andrés Manuel López Obrador
0.66
0.25
6/28/21 0:00
Andrés Manuel López Obrador
0.66
0.26
6/29/21 0:00
Andrés Manuel López Obrador
0.66
0.26
6/30/21 0:00
Andrés Manuel López Obrador
0.66
0.25
7/1/21 0:00
Andrés Manuel López Obrador
0.67
0.25
7/2/21 0:00
Andrés Manuel López Obrador
0.66
0.26
7/3/21 0:00
Andrés Manuel López Obrador
0.66
0.26
7/4/21 0:00
Andrés Manuel López Obrador
0.66
0.26
7/5/21 0:00
Andrés Manuel López Obrador
0.67
0.26
7/6/21 0:00
Andrés Manuel López Obrador
0.66
0.26
7/7/21 0:00
Andrés Manuel López Obrador
0.66
0.26
7/8/21 0:00
Andrés Manuel López Obrador
0.66
0.27
7/9/21 0:00
Andrés Manuel López Obrador
0.66
0.27
7/10/21 0:00
Andrés Manuel López Obrador
0.66
0.26
7/11/21 0:00
Andrés Manuel López Obrador
0.65
0.26
7/12/21 0:00
Andrés Manuel López Obrador
0.64
0.27
7/13/21 0:00
Andrés Manuel López Obrador
0.64
0.27
7/14/21 0:00
Andrés Manuel López Obrador
0.64
0.26
7/15/21 0:00
Andrés Manuel López Obrador
0.63
0.26
7/16/21 0:00
Andrés Manuel López Obrador
0.63
0.26
7/17/21 0:00
Andrés Manuel López Obrador
0.63
0.27
7/18/21 0:00
Andrés Manuel López Obrador
0.62
0.27
7/19/21 0:00
Andrés Manuel López Obrador
0.64
0.27
7/20/21 0:00
Andrés Manuel López Obrador
0.65
0.27
7/21/21 0:00
Andrés Manuel López Obrador
0.65
0.26
7/22/21 0:00
Andrés Manuel López Obrador
0.66
0.27
7/23/21 0:00
Andrés Manuel López Obrador
0.66
0.27
7/24/21 0:00
Andrés Manuel López Obrador
0.66
0.27
7/25/21 0:00
Andrés Manuel López Obrador
0.66
0.27
7/26/21 0:00
Andrés Manuel López Obrador
0.66
0.27
7/27/21 0:00
Andrés Manuel López Obrador
0.65
0.27
7/28/21 0:00
Andrés Manuel López Obrador
0.63
0.28
7/29/21 0:00
Andrés Manuel López Obrador
0.64
0.27
7/30/21 0:00
Andrés Manuel López Obrador
0.64
0.27
7/31/21 0:00
Andrés Manuel López Obrador
0.63
0.28
8/1/21 0:00
Andrés Manuel López Obrador
0.64
0.28
8/2/21 0:00
Andrés Manuel López Obrador
0.63
0.28
8/3/21 0:00
Andrés Manuel López Obrador
0.64
0.28
8/4/21 0:00
Andrés Manuel López Obrador
0.65
0.26
8/5/21 0:00
Andrés Manuel López Obrador
0.65
0.27
8/6/21 0:00
Andrés Manuel López Obrador
0.66
0.26
8/7/21 0:00
Andrés Manuel López Obrador
0.66
0.27
8/8/21 0:00
Andrés Manuel López Obrador
0.65
0.27
8/9/21 0:00
Andrés Manuel López Obrador
0.66
0.26
8/10/21 0:00
Andrés Manuel López Obrador
0.65
0.27
8/11/21 0:00
Andrés Manuel López Obrador
0.65
0.28
8/12/21 0:00
Andrés Manuel López Obrador
0.65
0.28
8/13/21 0:00
Andrés Manuel López Obrador
0.64
0.29
8/14/21 0:00
Andrés Manuel López Obrador
0.63
0.28
8/15/21 0:00
Andrés Manuel López Obrador
0.63
0.29
8/16/21 0:00
Andrés Manuel López Obrador
0.62
0.3
8/17/21 0:00
Andrés Manuel López Obrador
0.62
0.29
8/18/21 0:00
Andrés Manuel López Obrador
0.6
0.3
8/19/21 0:00
Andrés Manuel López Obrador
0.6
0.31
8/20/21 0:00
Andrés Manuel López Obrador
0.61
0.3
8/21/21 0:00
Andrés Manuel López Obrador
0.62
0.29
8/22/21 0:00
Andrés Manuel López Obrador
0.62
0.28
8/23/21 0:00
Andrés Manuel López Obrador
0.62
0.29
8/24/21 0:00
Andrés Manuel López Obrador
0.62
0.29
8/25/21 0:00
Andrés Manuel López Obrador
0.63
0.27
8/26/21 0:00
Andrés Manuel López Obrador
0.64
0.27
8/27/21 0:00
Andrés Manuel López Obrador
0.64
0.28
8/28/21 0:00
Andrés Manuel López Obrador
0.65
0.27
8/29/21 0:00
Andrés Manuel López Obrador
0.65
0.27
8/30/21 0:00
Andrés Manuel López Obrador
0.65
0.27
8/31/21 0:00
Andrés Manuel López Obrador
0.64
0.27
9/1/21 0:00
Andrés Manuel López Obrador
0.64
0.28
9/2/21 0:00
Andrés Manuel López Obrador
0.63
0.28
9/3/21 0:00
Andrés Manuel López Obrador
0.63
0.27
9/4/21 0:00
Andrés Manuel López Obrador
0.63
0.28
9/5/21 0:00
Andrés Manuel López Obrador
0.63
0.28
9/6/21 0:00
Andrés Manuel López Obrador
0.65
0.27
9/7/21 0:00
Andrés Manuel López Obrador
0.65
0.26
9/8/21 0:00
Andrés Manuel López Obrador
0.66
0.26
9/9/21 0:00
Andrés Manuel López Obrador
0.66
0.27
9/10/21 0:00
Andrés Manuel López Obrador
0.67
0.26
9/11/21 0:00
Andrés Manuel López Obrador
0.65
0.26
9/12/21 0:00
Andrés Manuel López Obrador
0.65
0.27
9/13/21 0:00
Andrés Manuel López Obrador
0.65
0.27
9/14/21 0:00
Andrés Manuel López Obrador
0.65
0.28
9/15/21 0:00
Andrés Manuel López Obrador
0.65
0.29
9/16/21 0:00
Andrés Manuel López Obrador
0.65
0.28
9/17/21 0:00
Andrés Manuel López Obrador
0.65
0.29
9/18/21 0:00
Andrés Manuel López Obrador
0.65
0.29
9/19/21 0:00
Andrés Manuel López Obrador
0.65
0.29
9/20/21 0:00
Andrés Manuel López Obrador
0.66
0.28
9/21/21 0:00
Andrés Manuel López Obrador
0.65
0.28
9/22/21 0:00
Andrés Manuel López Obrador
0.66
0.27
9/23/21 0:00
Andrés Manuel López Obrador
0.64
0.28
9/24/21 0:00
Andrés Manuel López Obrador
0.63
0.29
9/25/21 0:00
Andrés Manuel López Obrador
0.63
0.28
9/26/21 0:00
Andrés Manuel López Obrador
0.62
0.28
9/27/21 0:00
Andrés Manuel López Obrador
0.61
0.29
9/28/21 0:00
Andrés Manuel López Obrador
0.62
0.3
9/29/21 0:00
Andrés Manuel López Obrador
0.61
0.3
9/30/21 0:00
Andrés Manuel López Obrador
0.63
0.29
10/1/21 0:00
Andrés Manuel López Obrador
0.64
0.29
10/2/21 0:00
Andrés Manuel López Obrador
0.65
0.29
10/3/21 0:00
Andrés Manuel López Obrador
0.65
0.29
10/4/21 0:00
Andrés Manuel López Obrador
0.66
0.27
10/5/21 0:00
Andrés Manuel López Obrador
0.67
0.27
10/6/21 0:00
Andrés Manuel López Obrador
0.67
0.26
10/7/21 0:00
Andrés Manuel López Obrador
0.65
0.28
10/8/21 0:00
Andrés Manuel López Obrador
0.65
0.27
10/9/21 0:00
Andrés Manuel López Obrador
0.64
0.28
10/10/21 0:00
Andrés Manuel López Obrador
0.64
0.28
10/11/21 0:00
Andrés Manuel López Obrador
0.63
0.29
10/12/21 0:00
Andrés Manuel López Obrador
0.63
0.28
10/13/21 0:00
Andrés Manuel López Obrador
0.63
0.28
10/14/21 0:00
Andrés Manuel López Obrador
0.64
0.27
10/15/21 0:00
Andrés Manuel López Obrador
0.65
0.27
10/16/21 0:00
Andrés Manuel López Obrador
0.65
0.27
10/17/21 0:00
Andrés Manuel López Obrador
0.65
0.26
10/18/21 0:00
Andrés Manuel López Obrador
0.65
0.26
10/19/21 0:00
Andrés Manuel López Obrador
0.65
0.26
10/20/21 0:00
Andrés Manuel López Obrador
0.65
0.27
10/21/21 0:00
Andrés Manuel López Obrador
0.66
0.27
10/22/21 0:00
Andrés Manuel López Obrador
0.66
0.26
10/23/21 0:00
Andrés Manuel López Obrador
0.67
0.25
10/24/21 0:00
Andrés Manuel López Obrador
0.66
0.26
10/25/21 0:00
Andrés Manuel López Obrador
0.67
0.25
10/26/21 0:00
Andrés Manuel López Obrador
0.67
0.25
10/27/21 0:00
Andrés Manuel López Obrador
0.68
0.24
10/28/21 0:00
Andrés Manuel López Obrador
0.67
0.25
10/29/21 0:00
Andrés Manuel López Obrador
0.66
0.26
10/30/21 0:00
Andrés Manuel López Obrador
0.66
0.25
10/31/21 0:00
Andrés Manuel López Obrador
0.67
0.26
11/1/21 0:00
Andrés Manuel López Obrador
0.68
0.25
11/2/21 0:00
Andrés Manuel López Obrador
0.66
0.25
11/3/21 0:00
Andrés Manuel López Obrador
0.64
0.26
11/4/21 0:00
Andrés Manuel López Obrador
0.65
0.26
11/5/21 0:00
Andrés Manuel López Obrador
0.66
0.26
11/6/21 0:00
Andrés Manuel López Obrador
0.65
0.26
11/7/21 0:00
Andrés Manuel López Obrador
0.65
0.26
11/8/21 0:00
Andrés Manuel López Obrador
0.63
0.27
11/9/21 0:00
Andrés Manuel López Obrador
0.65
0.26
11/10/21 0:00
Andrés Manuel López Obrador
0.65
0.25
11/11/21 0:00
Andrés Manuel López Obrador
0.65
0.26
11/12/21 0:00
Andrés Manuel López Obrador
0.65
0.26
11/13/21 0:00
Andrés Manuel López Obrador
0.65
0.26
11/14/21 0:00
Andrés Manuel López Obrador
0.66
0.25
11/15/21 0:00
Andrés Manuel López Obrador
0.67
0.25
11/16/21 0:00
Andrés Manuel López Obrador
0.67
0.25
11/17/21 0:00
Andrés Manuel López Obrador
0.67
0.25
11/18/21 0:00
Andrés Manuel López Obrador
0.68
0.24
11/19/21 0:00
Andrés Manuel López Obrador
0.68
0.24
11/20/21 0:00
Andrés Manuel López Obrador
0.69
0.24
11/21/21 0:00
Andrés Manuel López Obrador
0.69
0.24
11/22/21 0:00
Andrés Manuel López Obrador
0.68
0.24
11/23/21 0:00
Andrés Manuel López Obrador
0.68
0.25
11/24/21 0:00
Andrés Manuel López Obrador
0.67
0.25
11/25/21 0:00
Andrés Manuel López Obrador
0.67
0.26
11/26/21 0:00
Andrés Manuel López Obrador
0.66
0.26
11/27/21 0:00
Andrés Manuel López Obrador
0.66
0.26
11/28/21 0:00
Andrés Manuel López Obrador
0.67
0.25
11/29/21 0:00
Andrés Manuel López Obrador
0.66
0.26
11/30/21 0:00
Andrés Manuel López Obrador
0.67
0.25
12/1/21 0:00
Andrés Manuel López Obrador
0.66
0.25
12/2/21 0:00
Andrés Manuel López Obrador
0.66
0.25
12/3/21 0:00
Andrés Manuel López Obrador
0.67
0.25
12/4/21 0:00
Andrés Manuel López Obrador
0.66
0.25
12/5/21 0:00
Andrés Manuel López Obrador
0.66
0.25
12/6/21 0:00
Andrés Manuel López Obrador
0.67
0.26
12/7/21 0:00
Andrés Manuel López Obrador
0.66
0.26
3/6/20 0:00
Angela Merkel
0.4
0.52
3/7/20 0:00
Angela Merkel
0.4
0.52
3/8/20 0:00
Angela Merkel
0.4
0.52
3/9/20 0:00
Angela Merkel
0.4
0.53
3/10/20 0:00
Angela Merkel
0.4
0.53
3/11/20 0:00
Angela Merkel
0.39
0.53
3/12/20 0:00
Angela Merkel
0.4
0.53
3/13/20 0:00
Angela Merkel
0.4
0.52
3/14/20 0:00
Angela Merkel
0.4
0.52
3/15/20 0:00
Angela Merkel
0.41
0.52
3/16/20 0:00
Angela Merkel
0.42
0.51
3/17/20 0:00
Angela Merkel
0.43
0.5
3/18/20 0:00
Angela Merkel
0.43
0.5
3/19/20 0:00
Angela Merkel
0.44
0.49
3/20/20 0:00
Angela Merkel
0.45
0.47
3/21/20 0:00
Angela Merkel
0.46
0.47
3/22/20 0:00
Angela Merkel
0.46
0.46
3/23/20 0:00
Angela Merkel
0.48
0.45
3/24/20 0:00
Angela Merkel
0.48
0.44
3/25/20 0:00
Angela Merkel
0.49
0.43
3/26/20 0:00
Angela Merkel
0.5
0.43
3/27/20 0:00
Angela Merkel
0.5
0.43
3/28/20 0:00
Angela Merkel
0.5
0.43
3/29/20 0:00
Angela Merkel
0.5
0.42
3/30/20 0:00
Angela Merkel
0.5
0.42
3/31/20 0:00
Angela Merkel
0.5
0.42
4/1/20 0:00
Angela Merkel
0.51
0.41
4/2/20 0:00
Angela Merkel
0.5
0.41
4/3/20 0:00
Angela Merkel
0.51
0.4
4/4/20 0:00
Angela Merkel
0.51
0.4
4/5/20 0:00
Angela Merkel
0.51
0.4
4/6/20 0:00
Angela Merkel
0.52
0.39
4/7/20 0:00
Angela Merkel
0.53
0.39
4/8/20 0:00
Angela Merkel
0.53
0.39
4/9/20 0:00
Angela Merkel
0.54
0.39
4/10/20 0:00
Angela Merkel
0.55
0.38
4/11/20 0:00
Angela Merkel
0.55
0.38
4/12/20 0:00
Angela Merkel
0.55
0.38
4/13/20 0:00
Angela Merkel
0.55
0.38
4/14/20 0:00
Angela Merkel
0.55
0.38
4/15/20 0:00
Angela Merkel
0.54
0.38
4/16/20 0:00
Angela Merkel
0.55
0.37
4/17/20 0:00
Angela Merkel
0.54
0.37
4/18/20 0:00
Angela Merkel
0.55
0.37
4/19/20 0:00
Angela Merkel
0.55
0.37
4/20/20 0:00
Angela Merkel
0.56
0.36
4/21/20 0:00
Angela Merkel
0.56
0.36
4/22/20 0:00
Angela Merkel
0.57
0.35
4/23/20 0:00
Angela Merkel
0.57
0.35
4/24/20 0:00
Angela Merkel
0.58
0.34
4/25/20 0:00
Angela Merkel
0.58
0.35
4/26/20 0:00
Angela Merkel
0.58
0.35
4/27/20 0:00
Angela Merkel
0.58
0.34
4/28/20 0:00
Angela Merkel
0.58
0.34
4/29/20 0:00
Angela Merkel
0.57
0.35
4/30/20 0:00
Angela Merkel
0.57
0.34
5/1/20 0:00
Angela Merkel
0.57
0.35
5/2/20 0:00
Angela Merkel
0.57
0.34
5/3/20 0:00
Angela Merkel
0.57
0.35
5/4/20 0:00
Angela Merkel
0.56
0.35
5/5/20 0:00
Angela Merkel
0.56
0.36
5/6/20 0:00
Angela Merkel
0.57
0.35
5/7/20 0:00
Angela Merkel
0.57
0.35
5/8/20 0:00
Angela Merkel
0.57
0.35
5/9/20 0:00
Angela Merkel
0.57
0.35
5/10/20 0:00
Angela Merkel
0.57
0.35
5/11/20 0:00
Angela Merkel
0.58
0.35
5/12/20 0:00
Angela Merkel
0.58
0.34
5/13/20 0:00
Angela Merkel
0.58
0.35
5/14/20 0:00
Angela Merkel
0.58
0.35
5/15/20 0:00
Angela Merkel
0.57
0.35
5/16/20 0:00
Angela Merkel
0.57
0.35
5/17/20 0:00
Angela Merkel
0.57
0.34
5/18/20 0:00
Angela Merkel
0.56
0.35
5/19/20 0:00
Angela Merkel
0.56
0.35
5/20/20 0:00
Angela Merkel
0.55
0.35
5/21/20 0:00
Angela Merkel
0.55
0.35
5/22/20 0:00
Angela Merkel
0.56
0.35
5/23/20 0:00
Angela Merkel
0.55
0.36
5/24/20 0:00
Angela Merkel
0.56
0.35
5/25/20 0:00
Angela Merkel
0.55
0.35
5/26/20 0:00
Angela Merkel
0.56
0.35
5/27/20 0:00
Angela Merkel
0.57
0.34
5/28/20 0:00
Angela Merkel
0.57
0.34
5/29/20 0:00
Angela Merkel
0.57
0.35
5/30/20 0:00
Angela Merkel
0.57
0.35
5/31/20 0:00
Angela Merkel
0.57
0.35
6/1/20 0:00
Angela Merkel
0.57
0.36
6/2/20 0:00
Angela Merkel
0.57
0.36
6/3/20 0:00
Angela Merkel
0.57
0.36
6/4/20 0:00
Angela Merkel
0.57
0.35
6/5/20 0:00
Angela Merkel
0.57
0.35
6/6/20 0:00
Angela Merkel
0.57
0.35
6/7/20 0:00
Angela Merkel
0.57
0.35
6/8/20 0:00
Angela Merkel
0.58
0.34
6/9/20 0:00
Angela Merkel
0.57
0.34
6/10/20 0:00
Angela Merkel
0.58
0.34
6/11/20 0:00
Angela Merkel
0.58
0.35
6/12/20 0:00
Angela Merkel
0.58
0.34
6/13/20 0:00
Angela Merkel
0.58
0.35
6/14/20 0:00
Angela Merkel
0.59
0.34
6/15/20 0:00
Angela Merkel
0.58
0.34
6/16/20 0:00
Angela Merkel
0.59
0.34
6/17/20 0:00
Angela Merkel
0.58
0.35
6/18/20 0:00
Angela Merkel
0.58
0.35
6/19/20 0:00
Angela Merkel
0.57
0.36
6/20/20 0:00
Angela Merkel
0.57
0.35
6/21/20 0:00
Angela Merkel
0.57
0.36
6/22/20 0:00
Angela Merkel
0.57
0.36
6/23/20 0:00
Angela Merkel
0.56
0.36
6/24/20 0:00
Angela Merkel
0.56
0.37
6/25/20 0:00
Angela Merkel
0.56
0.37
6/26/20 0:00
Angela Merkel
0.56
0.37
6/27/20 0:00
Angela Merkel
0.55
0.37
6/28/20 0:00
Angela Merkel
0.55
0.36
6/29/20 0:00
Angela Merkel
0.57
0.35
6/30/20 0:00
Angela Merkel
0.57
0.36
7/1/20 0:00
Angela Merkel
0.57
0.35
7/2/20 0:00
Angela Merkel
0.57
0.36
7/3/20 0:00
Angela Merkel
0.57
0.36
7/4/20 0:00
Angela Merkel
0.57
0.35
7/5/20 0:00
Angela Merkel
0.57
0.36
7/6/20 0:00
Angela Merkel
0.57
0.36
7/7/20 0:00
Angela Merkel
0.57
0.36
7/8/20 0:00
Angela Merkel
0.57
0.35
7/9/20 0:00
Angela Merkel
0.58
0.35
7/10/20 0:00
Angela Merkel
0.58
0.34
7/11/20 0:00
Angela Merkel
0.58
0.34
7/12/20 0:00
Angela Merkel
0.59
0.34
7/13/20 0:00
Angela Merkel
0.58
0.35
7/14/20 0:00
Angela Merkel
0.58
0.35
7/15/20 0:00
Angela Merkel
0.58
0.35
7/16/20 0:00
Angela Merkel
0.58
0.35
7/17/20 0:00
Angela Merkel
0.57
0.36
7/18/20 0:00
Angela Merkel
0.57
0.36
7/19/20 0:00
Angela Merkel
0.57
0.36
7/20/20 0:00
Angela Merkel
0.57
0.36
7/21/20 0:00
Angela Merkel
0.57
0.35
7/22/20 0:00
Angela Merkel
0.57
0.35
7/23/20 0:00
Angela Merkel
0.57
0.35
7/24/20 0:00
Angela Merkel
0.57
0.35
7/25/20 0:00
Angela Merkel
0.57
0.35
7/26/20 0:00
Angela Merkel
0.57
0.35
7/27/20 0:00
Angela Merkel
0.57
0.35
7/28/20 0:00
Angela Merkel
0.57
0.36
7/29/20 0:00
Angela Merkel
0.56
0.36
7/30/20 0:00
Angela Merkel
0.56
0.37
7/31/20 0:00
Angela Merkel
0.56
0.37
8/1/20 0:00
Angela Merkel
0.56
0.37
8/2/20 0:00
Angela Merkel
0.55
0.37
8/3/20 0:00
Angela Merkel
0.56
0.37
8/4/20 0:00
Angela Merkel
0.56
0.37
8/5/20 0:00
Angela Merkel
0.56
0.37
8/6/20 0:00
Angela Merkel
0.56
0.36
8/7/20 0:00
Angela Merkel
0.56
0.36
8/8/20 0:00
Angela Merkel
0.56
0.36
8/9/20 0:00
Angela Merkel
0.57
0.36
8/10/20 0:00
Angela Merkel
0.56
0.36
8/11/20 0:00
Angela Merkel
0.56
0.36
8/12/20 0:00
Angela Merkel
0.56
0.37
8/13/20 0:00
Angela Merkel
0.56
0.37
8/14/20 0:00
Angela Merkel
0.56
0.37
8/15/20 0:00
Angela Merkel
0.56
0.37
8/16/20 0:00
Angela Merkel
0.56
0.37
8/17/20 0:00
Angela Merkel
0.55
0.38
8/18/20 0:00
Angela Merkel
0.55
0.39
8/19/20 0:00
Angela Merkel
0.55
0.38
8/20/20 0:00
Angela Merkel
0.56
0.37
8/21/20 0:00
Angela Merkel
0.56
0.37
8/22/20 0:00
Angela Merkel
0.56
0.37
8/23/20 0:00
Angela Merkel
0.56
0.37
8/24/20 0:00
Angela Merkel
0.56
0.36
8/25/20 0:00
Angela Merkel
0.57
0.35
8/26/20 0:00
Angela Merkel
0.58
0.35
8/27/20 0:00
Angela Merkel
0.57
0.36
8/28/20 0:00
Angela Merkel
0.57
0.36
8/29/20 0:00
Angela Merkel
0.57
0.35
8/30/20 0:00
Angela Merkel
0.57
0.36
8/31/20 0:00
Angela Merkel
0.57
0.35
9/1/20 0:00
Angela Merkel
0.58
0.35
9/2/20 0:00
Angela Merkel
0.57
0.35
9/3/20 0:00
Angela Merkel
0.57
0.35
9/4/20 0:00
Angela Merkel
0.58
0.35
9/5/20 0:00
Angela Merkel
0.57
0.35
9/6/20 0:00
Angela Merkel
0.57
0.36
9/7/20 0:00
Angela Merkel
0.57
0.36
9/8/20 0:00
Angela Merkel
0.57
0.36
9/9/20 0:00
Angela Merkel
0.56
0.37
9/10/20 0:00
Angela Merkel
0.56
0.37
9/11/20 0:00
Angela Merkel
0.56
0.37
9/12/20 0:00
Angela Merkel
0.56
0.37
9/13/20 0:00
Angela Merkel
0.55
0.38
9/14/20 0:00
Angela Merkel
0.54
0.38
9/15/20 0:00
Angela Merkel
0.54
0.38
9/16/20 0:00
Angela Merkel
0.54
0.39
9/17/20 0:00
Angela Merkel
0.54
0.39
9/18/20 0:00
Angela Merkel
0.53
0.39
9/19/20 0:00
Angela Merkel
0.53
0.39
9/20/20 0:00
Angela Merkel
0.53
0.39
9/21/20 0:00
Angela Merkel
0.53
0.4
9/22/20 0:00
Angela Merkel
0.54
0.39
9/23/20 0:00
Angela Merkel
0.54
0.39
9/24/20 0:00
Angela Merkel
0.53
0.4
9/25/20 0:00
Angela Merkel
0.54
0.39
9/26/20 0:00
Angela Merkel
0.54
0.38
9/27/20 0:00
Angela Merkel
0.54
0.38
9/28/20 0:00
Angela Merkel
0.54
0.39
9/29/20 0:00
Angela Merkel
0.53
0.39
9/30/20 0:00
Angela Merkel
0.54
0.39
10/1/20 0:00
Angela Merkel
0.54
0.39
10/2/20 0:00
Angela Merkel
0.54
0.39
10/3/20 0:00
Angela Merkel
0.54
0.39
10/4/20 0:00
Angela Merkel
0.55
0.39
10/5/20 0:00
Angela Merkel
0.55
0.38
10/6/20 0:00
Angela Merkel
0.55
0.38
10/7/20 0:00
Angela Merkel
0.55
0.38
10/8/20 0:00
Angela Merkel
0.55
0.38
10/9/20 0:00
Angela Merkel
0.55
0.38
10/10/20 0:00
Angela Merkel
0.54
0.39
10/11/20 0:00
Angela Merkel
0.54
0.39
10/12/20 0:00
Angela Merkel
0.54
0.39
10/13/20 0:00
Angela Merkel
0.54
0.38
10/14/20 0:00
Angela Merkel
0.55
0.38
10/15/20 0:00
Angela Merkel
0.55
0.37
10/16/20 0:00
Angela Merkel
0.56
0.37
10/17/20 0:00
Angela Merkel
0.57
0.36
10/18/20 0:00
Angela Merkel
0.57
0.36
10/19/20 0:00
Angela Merkel
0.57
0.36
10/20/20 0:00
Angela Merkel
0.57
0.36
10/21/20 0:00
Angela Merkel
0.57
0.36
10/22/20 0:00
Angela Merkel
0.56
0.37
10/23/20 0:00
Angela Merkel
0.56
0.37
10/24/20 0:00
Angela Merkel
0.56
0.37
10/25/20 0:00
Angela Merkel
0.56
0.37
10/26/20 0:00
Angela Merkel
0.57
0.37
10/27/20 0:00
Angela Merkel
0.56
0.37
10/28/20 0:00
Angela Merkel
0.56
0.38
10/29/20 0:00
Angela Merkel
0.56
0.38
10/30/20 0:00
Angela Merkel
0.56
0.38
10/31/20 0:00
Angela Merkel
0.56
0.38
11/1/20 0:00
Angela Merkel
0.55
0.38
11/2/20 0:00
Angela Merkel
0.55
0.39
11/3/20 0:00
Angela Merkel
0.55
0.38
11/4/20 0:00
Angela Merkel
0.55
0.38
11/5/20 0:00
Angela Merkel
0.55
0.38
11/6/20 0:00
Angela Merkel
0.55
0.38
11/7/20 0:00
Angela Merkel
0.55
0.38
11/8/20 0:00
Angela Merkel
0.55
0.38
11/9/20 0:00
Angela Merkel
0.56
0.37
11/10/20 0:00
Angela Merkel
0.56
0.38
11/11/20 0:00
Angela Merkel
0.56
0.38
11/12/20 0:00
Angela Merkel
0.56
0.38
11/13/20 0:00
Angela Merkel
0.56
0.38
11/14/20 0:00
Angela Merkel
0.56
0.38
11/15/20 0:00
Angela Merkel
0.56
0.38
11/16/20 0:00
Angela Merkel
0.56
0.38
11/17/20 0:00
Angela Merkel
0.57
0.37
11/18/20 0:00
Angela Merkel
0.58
0.37
11/19/20 0:00
Angela Merkel
0.58
0.36
11/20/20 0:00
Angela Merkel
0.58
0.36
11/21/20 0:00
Angela Merkel
0.58
0.37
11/22/20 0:00
Angela Merkel
0.58
0.37
11/23/20 0:00
Angela Merkel
0.58
0.37
11/24/20 0:00
Angela Merkel
0.57
0.37
11/25/20 0:00
Angela Merkel
0.57
0.37
11/26/20 0:00
Angela Merkel
0.57
0.37
11/27/20 0:00
Angela Merkel
0.57
0.37
11/28/20 0:00
Angela Merkel
0.57
0.37
11/29/20 0:00
Angela Merkel
0.58
0.36
11/30/20 0:00
Angela Merkel
0.58
0.37
12/1/20 0:00
Angela Merkel
0.58
0.37
12/2/20 0:00
Angela Merkel
0.58
0.37
12/3/20 0:00
Angela Merkel
0.58
0.37
12/4/20 0:00
Angela Merkel
0.57
0.38
12/5/20 0:00
Angela Merkel
0.57
0.38
12/6/20 0:00
Angela Merkel
0.58
0.37
12/7/20 0:00
Angela Merkel
0.58
0.37
12/8/20 0:00
Angela Merkel
0.58
0.37
12/9/20 0:00
Angela Merkel
0.58
0.36
12/10/20 0:00
Angela Merkel
0.59
0.36
12/11/20 0:00
Angela Merkel
0.59
0.36
12/12/20 0:00
Angela Merkel
0.6
0.35
12/13/20 0:00
Angela Merkel
0.6
0.35
12/14/20 0:00
Angela Merkel
0.6
0.35
12/15/20 0:00
Angela Merkel
0.59
0.35
12/16/20 0:00
Angela Merkel
0.59
0.36
12/17/20 0:00
Angela Merkel
0.59
0.35
12/18/20 0:00
Angela Merkel
0.6
0.34
12/19/20 0:00
Angela Merkel
0.59
0.35
12/20/20 0:00
Angela Merkel
0.59
0.35
12/21/20 0:00
Angela Merkel
0.59
0.36
12/22/20 0:00
Angela Merkel
0.59
0.35
12/23/20 0:00
Angela Merkel
0.59
0.35
12/24/20 0:00
Angela Merkel
0.58
0.35
12/25/20 0:00
Angela Merkel
0.57
0.36
12/26/20 0:00
Angela Merkel
0.57
0.36
12/27/20 0:00
Angela Merkel
0.58
0.36
12/28/20 0:00
Angela Merkel
0.57
0.36
12/29/20 0:00
Angela Merkel
0.57
0.36
12/30/20 0:00
Angela Merkel
0.57
0.36
12/31/20 0:00
Angela Merkel
0.58
0.36
1/1/21 0:00
Angela Merkel
0.58
0.35
1/2/21 0:00
Angela Merkel
0.59
0.35
1/3/21 0:00
Angela Merkel
0.59
0.35
1/4/21 0:00
Angela Merkel
0.59
0.36
1/5/21 0:00
Angela Merkel
0.59
0.35
1/6/21 0:00
Angela Merkel
0.59
0.35
1/7/21 0:00
Angela Merkel
0.59
0.36
1/8/21 0:00
Angela Merkel
0.59
0.35
1/9/21 0:00
Angela Merkel
0.59
0.35
1/10/21 0:00
Angela Merkel
0.59
0.35
1/11/21 0:00
Angela Merkel
0.6
0.34
1/12/21 0:00
Angela Merkel
0.6
0.35
1/13/21 0:00
Angela Merkel
0.6
0.35
1/14/21 0:00
Angela Merkel
0.6
0.35
1/15/21 0:00
Angela Merkel
0.59
0.36
1/16/21 0:00
Angela Merkel
0.59
0.36
1/17/21 0:00
Angela Merkel
0.58
0.36
1/18/21 0:00
Angela Merkel
0.58
0.37
1/19/21 0:00
Angela Merkel
0.57
0.37
1/20/21 0:00
Angela Merkel
0.57
0.36
1/21/21 0:00
Angela Merkel
0.57
0.36
1/22/21 0:00
Angela Merkel
0.58
0.35
1/23/21 0:00
Angela Merkel
0.58
0.35
1/24/21 0:00
Angela Merkel
0.58
0.35
1/25/21 0:00
Angela Merkel
0.58
0.35
1/26/21 0:00
Angela Merkel
0.58
0.35
1/27/21 0:00
Angela Merkel
0.58
0.36
1/28/21 0:00
Angela Merkel
0.58
0.36
1/29/21 0:00
Angela Merkel
0.57
0.36
1/30/21 0:00
Angela Merkel
0.57
0.36
1/31/21 0:00
Angela Merkel
0.58
0.36
2/1/21 0:00
Angela Merkel
0.58
0.36
2/2/21 0:00
Angela Merkel
0.58
0.36
2/3/21 0:00
Angela Merkel
0.59
0.35
2/4/21 0:00
Angela Merkel
0.59
0.35
2/5/21 0:00
Angela Merkel
0.58
0.35
2/6/21 0:00
Angela Merkel
0.59
0.35
2/7/21 0:00
Angela Merkel
0.59
0.35
2/8/21 0:00
Angela Merkel
0.59
0.35
2/9/21 0:00
Angela Merkel
0.59
0.35
2/10/21 0:00
Angela Merkel
0.58
0.36
2/11/21 0:00
Angela Merkel
0.58
0.36
2/12/21 0:00
Angela Merkel
0.58
0.37
2/13/21 0:00
Angela Merkel
0.58
0.36
2/14/21 0:00
Angela Merkel
0.57
0.37
2/15/21 0:00
Angela Merkel
0.56
0.38
2/16/21 0:00
Angela Merkel
0.56
0.38
2/17/21 0:00
Angela Merkel
0.56
0.38
2/18/21 0:00
Angela Merkel
0.55
0.39
2/19/21 0:00
Angela Merkel
0.56
0.39
2/20/21 0:00
Angela Merkel
0.56
0.39
2/21/21 0:00
Angela Merkel
0.56
0.39
2/22/21 0:00
Angela Merkel
0.56
0.39
2/23/21 0:00
Angela Merkel
0.56
0.38
2/24/21 0:00
Angela Merkel
0.56
0.37
2/25/21 0:00
Angela Merkel
0.56
0.38
2/26/21 0:00
Angela Merkel
0.56
0.37
2/27/21 0:00
Angela Merkel
0.56
0.37
2/28/21 0:00
Angela Merkel
0.56
0.37
3/1/21 0:00
Angela Merkel
0.56
0.37
3/2/21 0:00
Angela Merkel
0.55
0.38
3/3/21 0:00
Angela Merkel
0.55
0.38
3/4/21 0:00
Angela Merkel
0.56
0.37
3/5/21 0:00
Angela Merkel
0.55
0.38
3/6/21 0:00
Angela Merkel
0.55
0.38
3/7/21 0:00
Angela Merkel
0.54
0.39
3/8/21 0:00
Angela Merkel
0.54
0.4
3/9/21 0:00
Angela Merkel
0.54
0.4
3/10/21 0:00
Angela Merkel
0.53
0.41
3/11/21 0:00
Angela Merkel
0.53
0.41
3/12/21 0:00
Angela Merkel
0.51
0.42
3/13/21 0:00
Angela Merkel
0.51
0.43
3/14/21 0:00
Angela Merkel
0.51
0.43
3/15/21 0:00
Angela Merkel
0.51
0.43
3/16/21 0:00
Angela Merkel
0.51
0.43
3/17/21 0:00
Angela Merkel
0.5
0.43
3/18/21 0:00
Angela Merkel
0.49
0.44
3/19/21 0:00
Angela Merkel
0.5
0.43
3/20/21 0:00
Angela Merkel
0.51
0.43
3/21/21 0:00
Angela Merkel
0.5
0.43
3/22/21 0:00
Angela Merkel
0.5
0.44
3/23/21 0:00
Angela Merkel
0.49
0.44
3/24/21 0:00
Angela Merkel
0.49
0.44
3/25/21 0:00
Angela Merkel
0.49
0.44
3/26/21 0:00
Angela Merkel
0.48
0.45
3/27/21 0:00
Angela Merkel
0.48
0.45
3/28/21 0:00
Angela Merkel
0.48
0.45
3/29/21 0:00
Angela Merkel
0.48
0.45
3/30/21 0:00
Angela Merkel
0.49
0.44
3/31/21 0:00
Angela Merkel
0.49
0.44
4/1/21 0:00
Angela Merkel
0.5
0.44
4/2/21 0:00
Angela Merkel
0.5
0.43
4/3/21 0:00
Angela Merkel
0.5
0.43
4/4/21 0:00
Angela Merkel
0.5
0.43
4/5/21 0:00
Angela Merkel
0.5
0.44
4/6/21 0:00
Angela Merkel
0.49
0.44
4/7/21 0:00
Angela Merkel
0.5
0.44
4/8/21 0:00
Angela Merkel
0.49
0.45
4/9/21 0:00
Angela Merkel
0.5
0.44
4/10/21 0:00
Angela Merkel
0.5
0.45
4/11/21 0:00
Angela Merkel
0.49
0.45
4/12/21 0:00
Angela Merkel
0.5
0.45
4/13/21 0:00
Angela Merkel
0.5
0.45
4/14/21 0:00
Angela Merkel
0.5
0.45
4/15/21 0:00
Angela Merkel
0.5
0.45
4/16/21 0:00
Angela Merkel
0.5
0.45
4/17/21 0:00
Angela Merkel
0.49
0.45
4/18/21 0:00
Angela Merkel
0.49
0.45
4/19/21 0:00
Angela Merkel
0.49
0.45
4/20/21 0:00
Angela Merkel
0.49
0.45
4/21/21 0:00
Angela Merkel
0.5
0.45
4/22/21 0:00
Angela Merkel
0.49
0.45
4/23/21 0:00
Angela Merkel
0.49
0.45
4/24/21 0:00
Angela Merkel
0.49
0.46
4/25/21 0:00
Angela Merkel
0.5
0.45
4/26/21 0:00
Angela Merkel
0.49
0.46
4/27/21 0:00
Angela Merkel
0.49
0.45
4/28/21 0:00
Angela Merkel
0.5
0.45
4/29/21 0:00
Angela Merkel
0.5
0.44
4/30/21 0:00
Angela Merkel
0.5
0.45
5/1/21 0:00
Angela Merkel
0.51
0.44
5/2/21 0:00
Angela Merkel
0.51
0.44
5/3/21 0:00
Angela Merkel
0.51
0.43
5/4/21 0:00
Angela Merkel
0.51
0.43
5/5/21 0:00
Angela Merkel
0.51
0.43
5/6/21 0:00
Angela Merkel
0.5
0.43
5/7/21 0:00
Angela Merkel
0.5
0.43
5/8/21 0:00
Angela Merkel
0.5
0.43
5/9/21 0:00
Angela Merkel
0.5
0.43
5/10/21 0:00
Angela Merkel
0.51
0.42
5/11/21 0:00
Angela Merkel
0.52
0.41
5/12/21 0:00
Angela Merkel
0.52
0.41
5/13/21 0:00
Angela Merkel
0.52
0.41
5/14/21 0:00
Angela Merkel
0.52
0.41
5/15/21 0:00
Angela Merkel
0.53
0.4
5/16/21 0:00
Angela Merkel
0.53
0.4
5/17/21 0:00
Angela Merkel
0.52
0.4
5/18/21 0:00
Angela Merkel
0.51
0.41
5/19/21 0:00
Angela Merkel
0.5
0.41
5/20/21 0:00
Angela Merkel
0.5
0.42
5/21/21 0:00
Angela Merkel
0.5
0.41
5/22/21 0:00
Angela Merkel
0.5
0.42
5/23/21 0:00
Angela Merkel
0.5
0.42
5/24/21 0:00
Angela Merkel
0.51
0.41
5/25/21 0:00
Angela Merkel
0.52
0.4
5/26/21 0:00
Angela Merkel
0.53
0.4
5/27/21 0:00
Angela Merkel
0.52
0.41
5/28/21 0:00
Angela Merkel
0.53
0.4
5/29/21 0:00
Angela Merkel
0.53
0.4
5/30/21 0:00
Angela Merkel
0.53
0.39
5/31/21 0:00
Angela Merkel
0.53
0.4
6/1/21 0:00
Angela Merkel
0.52
0.41
6/2/21 0:00
Angela Merkel
0.53
0.4
6/3/21 0:00
Angela Merkel
0.54
0.39
6/4/21 0:00
Angela Merkel
0.53
0.4
6/5/21 0:00
Angela Merkel
0.53
0.41
6/6/21 0:00
Angela Merkel
0.53
0.41
6/7/21 0:00
Angela Merkel
0.53
0.41
6/8/21 0:00
Angela Merkel
0.54
0.4
6/9/21 0:00
Angela Merkel
0.53
0.42
6/10/21 0:00
Angela Merkel
0.53
0.41
6/11/21 0:00
Angela Merkel
0.54
0.41
6/12/21 0:00
Angela Merkel
0.54
0.41
6/13/21 0:00
Angela Merkel
0.54
0.41
6/14/21 0:00
Angela Merkel
0.54
0.4
6/15/21 0:00
Angela Merkel
0.53
0.41
6/16/21 0:00
Angela Merkel
0.53
0.41
6/17/21 0:00
Angela Merkel
0.52
0.41
6/18/21 0:00
Angela Merkel
0.51
0.41
6/19/21 0:00
Angela Merkel
0.51
0.41
6/20/21 0:00
Angela Merkel
0.52
0.41
6/21/21 0:00
Angela Merkel
0.51
0.42
6/22/21 0:00
Angela Merkel
0.52
0.41
6/23/21 0:00
Angela Merkel
0.52
0.42
6/24/21 0:00
Angela Merkel
0.52
0.41
6/25/21 0:00
Angela Merkel
0.53
0.41
6/26/21 0:00
Angela Merkel
0.53
0.41
6/27/21 0:00
Angela Merkel
0.53
0.4
6/28/21 0:00
Angela Merkel
0.54
0.39
6/29/21 0:00
Angela Merkel
0.54
0.4
6/30/21 0:00
Angela Merkel
0.55
0.39
7/1/21 0:00
Angela Merkel
0.55
0.39
7/2/21 0:00
Angela Merkel
0.55
0.39
7/3/21 0:00
Angela Merkel
0.55
0.39
7/4/21 0:00
Angela Merkel
0.55
0.39
7/5/21 0:00
Angela Merkel
0.54
0.4
7/6/21 0:00
Angela Merkel
0.54
0.4
7/7/21 0:00
Angela Merkel
0.55
0.39
7/8/21 0:00
Angela Merkel
0.55
0.39
7/9/21 0:00
Angela Merkel
0.54
0.4
7/10/21 0:00
Angela Merkel
0.54
0.4
7/11/21 0:00
Angela Merkel
0.54
0.4
7/12/21 0:00
Angela Merkel
0.54
0.4
7/13/21 0:00
Angela Merkel
0.54
0.39
7/14/21 0:00
Angela Merkel
0.54
0.4
7/15/21 0:00
Angela Merkel
0.53
0.4
7/16/21 0:00
Angela Merkel
0.54
0.4
7/17/21 0:00
Angela Merkel
0.55
0.39
7/18/21 0:00
Angela Merkel
0.55
0.39
7/19/21 0:00
Angela Merkel
0.56
0.39
7/20/21 0:00
Angela Merkel
0.55
0.39
7/21/21 0:00
Angela Merkel
0.55
0.39
7/22/21 0:00
Angela Merkel
0.55
0.39
7/23/21 0:00
Angela Merkel
0.55
0.39
7/24/21 0:00
Angela Merkel
0.54
0.4
7/25/21 0:00
Angela Merkel
0.55
0.39
7/26/21 0:00
Angela Merkel
0.55
0.39
7/27/21 0:00
Angela Merkel
0.55
0.39
7/28/21 0:00
Angela Merkel
0.55
0.38
7/29/21 0:00
Angela Merkel
0.55
0.38
7/30/21 0:00
Angela Merkel
0.55
0.38
7/31/21 0:00
Angela Merkel
0.55
0.38
8/1/21 0:00
Angela Merkel
0.55
0.38
8/2/21 0:00
Angela Merkel
0.55
0.38
8/3/21 0:00
Angela Merkel
0.55
0.38
8/4/21 0:00
Angela Merkel
0.55
0.38
8/5/21 0:00
Angela Merkel
0.55
0.38
8/6/21 0:00
Angela Merkel
0.55
0.38
8/7/21 0:00
Angela Merkel
0.54
0.39
8/8/21 0:00
Angela Merkel
0.54
0.39
8/9/21 0:00
Angela Merkel
0.54
0.39
8/10/21 0:00
Angela Merkel
0.55
0.39
8/11/21 0:00
Angela Merkel
0.55
0.39
8/12/21 0:00
Angela Merkel
0.55
0.39
8/13/21 0:00
Angela Merkel
0.55
0.39
8/14/21 0:00
Angela Merkel
0.55
0.38
8/15/21 0:00
Angela Merkel
0.55
0.37
8/16/21 0:00
Angela Merkel
0.55
0.37
8/17/21 0:00
Angela Merkel
0.54
0.38
8/18/21 0:00
Angela Merkel
0.54
0.38
8/19/21 0:00
Angela Merkel
0.54
0.39
8/20/21 0:00
Angela Merkel
0.54
0.39
8/21/21 0:00
Angela Merkel
0.54
0.39
8/22/21 0:00
Angela Merkel
0.53
0.4
8/23/21 0:00
Angela Merkel
0.53
0.4
8/24/21 0:00
Angela Merkel
0.54
0.4
8/25/21 0:00
Angela Merkel
0.53
0.4
8/26/21 0:00
Angela Merkel
0.53
0.4
8/27/21 0:00
Angela Merkel
0.53
0.41
8/28/21 0:00
Angela Merkel
0.53
0.41
8/29/21 0:00
Angela Merkel
0.53
0.4
8/30/21 0:00
Angela Merkel
0.53
0.4
8/31/21 0:00
Angela Merkel
0.52
0.41
9/1/21 0:00
Angela Merkel
0.53
0.4
9/2/21 0:00
Angela Merkel
0.53
0.39
9/3/21 0:00
Angela Merkel
0.53
0.39
9/4/21 0:00
Angela Merkel
0.53
0.39
9/5/21 0:00
Angela Merkel
0.52
0.39
9/6/21 0:00
Angela Merkel
0.53
0.38
9/7/21 0:00
Angela Merkel
0.53
0.39
9/8/21 0:00
Angela Merkel
0.53
0.39
9/9/21 0:00
Angela Merkel
0.53
0.4
9/10/21 0:00
Angela Merkel
0.53
0.4
9/11/21 0:00
Angela Merkel
0.53
0.4
9/12/21 0:00
Angela Merkel
0.54
0.39
9/13/21 0:00
Angela Merkel
0.54
0.39
9/14/21 0:00
Angela Merkel
0.55
0.39
9/15/21 0:00
Angela Merkel
0.54
0.39
9/16/21 0:00
Angela Merkel
0.54
0.39
9/17/21 0:00
Angela Merkel
0.54
0.39
9/18/21 0:00
Angela Merkel
0.54
0.39
9/19/21 0:00
Angela Merkel
0.54
0.4
9/20/21 0:00
Angela Merkel
0.54
0.4
9/21/21 0:00
Angela Merkel
0.54
0.4
9/22/21 0:00
Angela Merkel
0.54
0.4
9/23/21 0:00
Angela Merkel
0.54
0.4
9/24/21 0:00
Angela Merkel
0.54
0.39
9/25/21 0:00
Angela Merkel
0.54
0.4
9/26/21 0:00
Angela Merkel
0.54
0.4
9/27/21 0:00
Angela Merkel
0.54
0.4
9/28/21 0:00
Angela Merkel
0.53
0.4
9/29/21 0:00
Angela Merkel
0.53
0.4
9/30/21 0:00
Angela Merkel
0.53
0.4
10/1/21 0:00
Angela Merkel
0.53
0.4
10/2/21 0:00
Angela Merkel
0.53
0.4
10/3/21 0:00
Angela Merkel
0.53
0.4
10/4/21 0:00
Angela Merkel
0.53
0.4
10/5/21 0:00
Angela Merkel
0.52
0.41
10/6/21 0:00
Angela Merkel
0.53
0.41
10/7/21 0:00
Angela Merkel
0.53
0.4
10/8/21 0:00
Angela Merkel
0.54
0.39
10/9/21 0:00
Angela Merkel
0.54
0.39
10/10/21 0:00
Angela Merkel
0.54
0.39
10/11/21 0:00
Angela Merkel
0.54
0.39
10/12/21 0:00
Angela Merkel
0.54
0.39
10/13/21 0:00
Angela Merkel
0.54
0.39
10/14/21 0:00
Angela Merkel
0.53
0.4
10/15/21 0:00
Angela Merkel
0.53
0.4
10/16/21 0:00
Angela Merkel
0.54
0.39
10/17/21 0:00
Angela Merkel
0.54
0.4
10/18/21 0:00
Angela Merkel
0.54
0.4
10/19/21 0:00
Angela Merkel
0.53
0.4
10/20/21 0:00
Angela Merkel
0.53
0.4
10/21/21 0:00
Angela Merkel
0.53
0.4
10/22/21 0:00
Angela Merkel
0.53
0.4
10/23/21 0:00
Angela Merkel
0.52
0.4
10/24/21 0:00
Angela Merkel
0.52
0.4
10/25/21 0:00
Angela Merkel
0.52
0.4
10/26/21 0:00
Angela Merkel
0.53
0.39
10/27/21 0:00
Angela Merkel
0.53
0.39
10/28/21 0:00
Angela Merkel
0.53
0.39
10/29/21 0:00
Angela Merkel
0.53
0.39
10/30/21 0:00
Angela Merkel
0.53
0.39
10/31/21 0:00
Angela Merkel
0.54
0.38
11/1/21 0:00
Angela Merkel
0.54
0.38
11/2/21 0:00
Angela Merkel
0.54
0.39
11/3/21 0:00
Angela Merkel
0.54
0.39
11/4/21 0:00
Angela Merkel
0.54
0.39
11/5/21 0:00
Angela Merkel
0.54
0.39
11/6/21 0:00
Angela Merkel
0.53
0.4
11/7/21 0:00
Angela Merkel
0.53
0.4
11/8/21 0:00
Angela Merkel
0.53
0.4
11/9/21 0:00
Angela Merkel
0.53
0.4
11/10/21 0:00
Angela Merkel
0.52
0.41
11/11/21 0:00
Angela Merkel
0.53
0.41
11/12/21 0:00
Angela Merkel
0.53
0.41
11/13/21 0:00
Angela Merkel
0.53
0.4
11/14/21 0:00
Angela Merkel
0.53
0.4
11/15/21 0:00
Angela Merkel
0.53
0.41
11/16/21 0:00
Angela Merkel
0.54
0.4
11/17/21 0:00
Angela Merkel
0.54
0.4
11/18/21 0:00
Angela Merkel
0.54
0.4
11/19/21 0:00
Angela Merkel
0.53
0.4
11/20/21 0:00
Angela Merkel
0.53
0.41
11/21/21 0:00
Angela Merkel
0.53
0.4
11/22/21 0:00
Angela Merkel
0.52
0.4
11/23/21 0:00
Angela Merkel
0.51
0.41
11/24/21 0:00
Angela Merkel
0.51
0.42
11/25/21 0:00
Angela Merkel
0.52
0.41
11/26/21 0:00
Angela Merkel
0.52
0.41
11/27/21 0:00
Angela Merkel
0.52
0.41
11/28/21 0:00
Angela Merkel
0.52
0.41
11/29/21 0:00
Angela Merkel
0.52
0.41
11/30/21 0:00
Angela Merkel
0.53
0.4
12/1/21 0:00
Angela Merkel
0.54
0.4
12/2/21 0:00
Angela Merkel
0.52
0.41
12/3/21 0:00
Angela Merkel
0.53
0.41
12/4/21 0:00
Angela Merkel
0.53
0.4
12/5/21 0:00
Angela Merkel
0.54
0.4
12/6/21 0:00
Angela Merkel
0.54
0.39
12/7/21 0:00
Angela Merkel
0.54
0.4
3/6/20 0:00
Emmanuel Macron
0.24
0.68
3/7/20 0:00
Emmanuel Macron
0.24
0.68
3/8/20 0:00
Emmanuel Macron
0.25
0.68
3/9/20 0:00
Emmanuel Macron
0.25
0.67
3/10/20 0:00
Emmanuel Macron
0.25
0.67
3/11/20 0:00
Emmanuel Macron
0.26
0.66
3/12/20 0:00
Emmanuel Macron
0.26
0.66
3/13/20 0:00
Emmanuel Macron
0.26
0.66
3/14/20 0:00
Emmanuel Macron
0.28
0.65
3/15/20 0:00
Emmanuel Macron
0.28
0.65
3/16/20 0:00
Emmanuel Macron
0.28
0.64
3/17/20 0:00
Emmanuel Macron
0.29
0.63
3/18/20 0:00
Emmanuel Macron
0.31
0.62
3/19/20 0:00
Emmanuel Macron
0.32
0.6
3/20/20 0:00
Emmanuel Macron
0.33
0.59
3/21/20 0:00
Emmanuel Macron
0.34
0.58
3/22/20 0:00
Emmanuel Macron
0.35
0.58
3/23/20 0:00
Emmanuel Macron
0.35
0.57
3/24/20 0:00
Emmanuel Macron
0.35
0.57
3/25/20 0:00
Emmanuel Macron
0.35
0.58
3/26/20 0:00
Emmanuel Macron
0.35
0.58
3/27/20 0:00
Emmanuel Macron
0.34
0.59
3/28/20 0:00
Emmanuel Macron
0.33
0.6
3/29/20 0:00
Emmanuel Macron
0.33
0.6
3/30/20 0:00
Emmanuel Macron
0.33
0.59
3/31/20 0:00
Emmanuel Macron
0.33
0.58
4/1/20 0:00
Emmanuel Macron
0.34
0.57
4/2/20 0:00
Emmanuel Macron
0.34
0.56
4/3/20 0:00
Emmanuel Macron
0.34
0.55
4/4/20 0:00
Emmanuel Macron
0.35
0.54
4/5/20 0:00
Emmanuel Macron
0.36
0.54
4/6/20 0:00
Emmanuel Macron
0.36
0.54
4/7/20 0:00
Emmanuel Macron
0.36
0.55
4/8/20 0:00
Emmanuel Macron
0.36
0.56
4/9/20 0:00
Emmanuel Macron
0.36
0.56
4/10/20 0:00
Emmanuel Macron
0.36
0.56
4/11/20 0:00
Emmanuel Macron
0.35
0.57
4/12/20 0:00
Emmanuel Macron
0.34
0.58
4/13/20 0:00
Emmanuel Macron
0.35
0.58
4/14/20 0:00
Emmanuel Macron
0.36
0.57
4/15/20 0:00
Emmanuel Macron
0.36
0.57
4/16/20 0:00
Emmanuel Macron
0.36
0.57
4/17/20 0:00
Emmanuel Macron
0.36
0.57
4/18/20 0:00
Emmanuel Macron
0.36
0.57
4/19/20 0:00
Emmanuel Macron
0.37
0.56
4/20/20 0:00
Emmanuel Macron
0.37
0.56
4/21/20 0:00
Emmanuel Macron
0.35
0.58
4/22/20 0:00
Emmanuel Macron
0.35
0.58
4/23/20 0:00
Emmanuel Macron
0.34
0.58
4/24/20 0:00
Emmanuel Macron
0.34
0.58
4/25/20 0:00
Emmanuel Macron
0.34
0.57
4/26/20 0:00
Emmanuel Macron
0.34
0.58
4/27/20 0:00
Emmanuel Macron
0.33
0.59
4/28/20 0:00
Emmanuel Macron
0.34
0.59
4/29/20 0:00
Emmanuel Macron
0.33
0.59
4/30/20 0:00
Emmanuel Macron
0.34
0.59
5/1/20 0:00
Emmanuel Macron
0.34
0.6
5/2/20 0:00
Emmanuel Macron
0.34
0.6
5/3/20 0:00
Emmanuel Macron
0.34
0.6
5/4/20 0:00
Emmanuel Macron
0.34
0.6
5/5/20 0:00
Emmanuel Macron
0.34
0.6
5/6/20 0:00
Emmanuel Macron
0.35
0.59
5/7/20 0:00
Emmanuel Macron
0.35
0.58
5/8/20 0:00
Emmanuel Macron
0.35
0.58
5/9/20 0:00
Emmanuel Macron
0.35
0.58
5/10/20 0:00
Emmanuel Macron
0.35
0.57
5/11/20 0:00
Emmanuel Macron
0.35
0.57
5/12/20 0:00
Emmanuel Macron
0.35
0.57
5/13/20 0:00
Emmanuel Macron
0.34
0.58
5/14/20 0:00
Emmanuel Macron
0.33
0.58
5/15/20 0:00
Emmanuel Macron
0.34
0.58
5/16/20 0:00
Emmanuel Macron
0.32
0.6
5/17/20 0:00
Emmanuel Macron
0.32
0.59
5/18/20 0:00
Emmanuel Macron
0.33
0.59
5/19/20 0:00
Emmanuel Macron
0.33
0.58
5/20/20 0:00
Emmanuel Macron
0.33
0.58
5/21/20 0:00
Emmanuel Macron
0.33
0.59
5/22/20 0:00
Emmanuel Macron
0.33
0.59
5/23/20 0:00
Emmanuel Macron
0.34
0.58
5/24/20 0:00
Emmanuel Macron
0.34
0.58
5/25/20 0:00
Emmanuel Macron
0.34
0.58
5/26/20 0:00
Emmanuel Macron
0.33
0.59
5/27/20 0:00
Emmanuel Macron
0.33
0.59
5/28/20 0:00
Emmanuel Macron
0.33
0.58
5/29/20 0:00
Emmanuel Macron
0.34
0.58
5/30/20 0:00
Emmanuel Macron
0.34
0.58
5/31/20 0:00
Emmanuel Macron
0.34
0.58
6/1/20 0:00
Emmanuel Macron
0.34
0.59
6/2/20 0:00
Emmanuel Macron
0.34
0.59
6/3/20 0:00
Emmanuel Macron
0.34
0.59
6/4/20 0:00
Emmanuel Macron
0.33
0.59
6/5/20 0:00
Emmanuel Macron
0.33
0.59
6/6/20 0:00
Emmanuel Macron
0.33
0.6
6/7/20 0:00
Emmanuel Macron
0.33
0.6
6/8/20 0:00
Emmanuel Macron
0.32
0.6
6/9/20 0:00
Emmanuel Macron
0.32
0.6
6/10/20 0:00
Emmanuel Macron
0.32
0.6
6/11/20 0:00
Emmanuel Macron
0.32
0.6
6/12/20 0:00
Emmanuel Macron
0.31
0.6
6/13/20 0:00
Emmanuel Macron
0.31
0.6
6/14/20 0:00
Emmanuel Macron
0.31
0.6
6/15/20 0:00
Emmanuel Macron
0.32
0.6
6/16/20 0:00
Emmanuel Macron
0.31
0.61
6/17/20 0:00
Emmanuel Macron
0.31
0.61
6/18/20 0:00
Emmanuel Macron
0.31
0.61
6/19/20 0:00
Emmanuel Macron
0.31
0.61
6/20/20 0:00
Emmanuel Macron
0.32
0.6
6/21/20 0:00
Emmanuel Macron
0.32
0.61
6/22/20 0:00
Emmanuel Macron
0.31
0.61
6/23/20 0:00
Emmanuel Macron
0.32
0.6
6/24/20 0:00
Emmanuel Macron
0.32
0.6
6/25/20 0:00
Emmanuel Macron
0.32
0.6
6/26/20 0:00
Emmanuel Macron
0.32
0.6
6/27/20 0:00
Emmanuel Macron
0.31
0.61
6/28/20 0:00
Emmanuel Macron
0.31
0.61
6/29/20 0:00
Emmanuel Macron
0.31
0.61
6/30/20 0:00
Emmanuel Macron
0.3
0.61
7/1/20 0:00
Emmanuel Macron
0.3
0.62
7/2/20 0:00
Emmanuel Macron
0.3
0.62
7/3/20 0:00
Emmanuel Macron
0.3
0.62
7/4/20 0:00
Emmanuel Macron
0.31
0.61
7/5/20 0:00
Emmanuel Macron
0.31
0.61
7/6/20 0:00
Emmanuel Macron
0.31
0.61
7/7/20 0:00
Emmanuel Macron
0.31
0.61
7/8/20 0:00
Emmanuel Macron
0.31
0.61
7/9/20 0:00
Emmanuel Macron
0.31
0.61
7/10/20 0:00
Emmanuel Macron
0.3
0.63
7/11/20 0:00
Emmanuel Macron
0.3
0.63
7/12/20 0:00
Emmanuel Macron
0.3
0.63
7/13/20 0:00
Emmanuel Macron
0.3
0.63
7/14/20 0:00
Emmanuel Macron
0.3
0.63
7/15/20 0:00
Emmanuel Macron
0.31
0.62
7/16/20 0:00
Emmanuel Macron
0.32
0.61
7/17/20 0:00
Emmanuel Macron
0.33
0.6
7/18/20 0:00
Emmanuel Macron
0.33
0.6
7/19/20 0:00
Emmanuel Macron
0.33
0.6
7/20/20 0:00
Emmanuel Macron
0.32
0.6
7/21/20 0:00
Emmanuel Macron
0.33
0.6
7/22/20 0:00
Emmanuel Macron
0.32
0.6
7/23/20 0:00
Emmanuel Macron
0.32
0.6
7/24/20 0:00
Emmanuel Macron
0.32
0.6
7/25/20 0:00
Emmanuel Macron
0.31
0.6
7/26/20 0:00
Emmanuel Macron
0.32
0.6
7/27/20 0:00
Emmanuel Macron
0.33
0.59
7/28/20 0:00
Emmanuel Macron
0.32
0.59
7/29/20 0:00
Emmanuel Macron
0.32
0.59
7/30/20 0:00
Emmanuel Macron
0.33
0.59
7/31/20 0:00
Emmanuel Macron
0.32
0.6
8/1/20 0:00
Emmanuel Macron
0.33
0.59
8/2/20 0:00
Emmanuel Macron
0.32
0.6
8/3/20 0:00
Emmanuel Macron
0.32
0.6
8/4/20 0:00
Emmanuel Macron
0.33
0.59
8/5/20 0:00
Emmanuel Macron
0.33
0.59
8/6/20 0:00
Emmanuel Macron
0.32
0.59
8/7/20 0:00
Emmanuel Macron
0.33
0.59
8/8/20 0:00
Emmanuel Macron
0.33
0.59
8/9/20 0:00
Emmanuel Macron
0.33
0.59
8/10/20 0:00
Emmanuel Macron
0.33
0.58
8/11/20 0:00
Emmanuel Macron
0.33
0.59
8/12/20 0:00
Emmanuel Macron
0.33
0.59
8/13/20 0:00
Emmanuel Macron
0.33
0.59
8/14/20 0:00
Emmanuel Macron
0.33
0.59
8/15/20 0:00
Emmanuel Macron
0.33
0.59
8/16/20 0:00
Emmanuel Macron
0.33
0.59
8/17/20 0:00
Emmanuel Macron
0.32
0.6
8/18/20 0:00
Emmanuel Macron
0.33
0.59
8/19/20 0:00
Emmanuel Macron
0.33
0.59
8/20/20 0:00
Emmanuel Macron
0.34
0.58
8/21/20 0:00
Emmanuel Macron
0.34
0.58
8/22/20 0:00
Emmanuel Macron
0.34
0.58
8/23/20 0:00
Emmanuel Macron
0.34
0.58
8/24/20 0:00
Emmanuel Macron
0.34
0.58
8/25/20 0:00
Emmanuel Macron
0.34
0.58
8/26/20 0:00
Emmanuel Macron
0.33
0.59
8/27/20 0:00
Emmanuel Macron
0.33
0.59
8/28/20 0:00
Emmanuel Macron
0.32
0.59
8/29/20 0:00
Emmanuel Macron
0.32
0.59
8/30/20 0:00
Emmanuel Macron
0.32
0.59
8/31/20 0:00
Emmanuel Macron
0.32
0.59
9/1/20 0:00
Emmanuel Macron
0.32
0.59
9/2/20 0:00
Emmanuel Macron
0.32
0.6
9/3/20 0:00
Emmanuel Macron
0.31
0.61
9/4/20 0:00
Emmanuel Macron
0.31
0.61
9/5/20 0:00
Emmanuel Macron
0.31
0.61
9/6/20 0:00
Emmanuel Macron
0.31
0.61
9/7/20 0:00
Emmanuel Macron
0.31
0.61
9/8/20 0:00
Emmanuel Macron
0.31
0.6
9/9/20 0:00
Emmanuel Macron
0.31
0.59
9/10/20 0:00
Emmanuel Macron
0.32
0.59
9/11/20 0:00
Emmanuel Macron
0.32
0.59
9/12/20 0:00
Emmanuel Macron
0.32
0.59
9/13/20 0:00
Emmanuel Macron
0.32
0.59
9/14/20 0:00
Emmanuel Macron
0.31
0.59
9/15/20 0:00
Emmanuel Macron
0.31
0.59
9/16/20 0:00
Emmanuel Macron
0.31
0.59
9/17/20 0:00
Emmanuel Macron
0.31
0.59
9/18/20 0:00
Emmanuel Macron
0.3
0.59
9/19/20 0:00
Emmanuel Macron
0.3
0.59
9/20/20 0:00
Emmanuel Macron
0.31
0.58
9/21/20 0:00
Emmanuel Macron
0.31
0.58
9/22/20 0:00
Emmanuel Macron
0.31
0.59
9/23/20 0:00
Emmanuel Macron
0.31
0.59
9/24/20 0:00
Emmanuel Macron
0.31
0.6
9/25/20 0:00
Emmanuel Macron
0.31
0.6
9/26/20 0:00
Emmanuel Macron
0.31
0.6
9/27/20 0:00
Emmanuel Macron
0.31
0.6
9/28/20 0:00
Emmanuel Macron
0.3
0.61
9/29/20 0:00
Emmanuel Macron
0.3
0.61
9/30/20 0:00
Emmanuel Macron
0.3
0.61
10/1/20 0:00
Emmanuel Macron
0.3
0.61
10/2/20 0:00
Emmanuel Macron
0.3
0.61
10/3/20 0:00
Emmanuel Macron
0.3
0.62
10/4/20 0:00
Emmanuel Macron
0.29
0.62
10/5/20 0:00
Emmanuel Macron
0.29
0.62
10/6/20 0:00
Emmanuel Macron
0.29
0.62
10/7/20 0:00
Emmanuel Macron
0.29
0.62
10/8/20 0:00
Emmanuel Macron
0.29
0.62
10/9/20 0:00
Emmanuel Macron
0.29
0.62
10/10/20 0:00
Emmanuel Macron
0.29
0.61
10/11/20 0:00
Emmanuel Macron
0.3
0.61
10/12/20 0:00
Emmanuel Macron
0.3
0.61
10/13/20 0:00
Emmanuel Macron
0.3
0.61
10/14/20 0:00
Emmanuel Macron
0.3
0.61
10/15/20 0:00
Emmanuel Macron
0.3
0.61
10/16/20 0:00
Emmanuel Macron
0.31
0.6
10/17/20 0:00
Emmanuel Macron
0.31
0.6
10/18/20 0:00
Emmanuel Macron
0.32
0.6
10/19/20 0:00
Emmanuel Macron
0.32
0.6
10/20/20 0:00
Emmanuel Macron
0.32
0.6
10/21/20 0:00
Emmanuel Macron
0.32
0.59
10/22/20 0:00
Emmanuel Macron
0.32
0.59
10/23/20 0:00
Emmanuel Macron
0.31
0.6
10/24/20 0:00
Emmanuel Macron
0.32
0.6
10/25/20 0:00
Emmanuel Macron
0.31
0.6
10/26/20 0:00
Emmanuel Macron
0.31
0.6
10/27/20 0:00
Emmanuel Macron
0.32
0.6
10/28/20 0:00
Emmanuel Macron
0.32
0.6
10/29/20 0:00
Emmanuel Macron
0.33
0.59
10/30/20 0:00
Emmanuel Macron
0.33
0.59
10/31/20 0:00
Emmanuel Macron
0.33
0.59
11/1/20 0:00
Emmanuel Macron
0.33
0.58
11/2/20 0:00
Emmanuel Macron
0.33
0.58
11/3/20 0:00
Emmanuel Macron
0.33
0.58
11/4/20 0:00
Emmanuel Macron
0.33
0.58
11/5/20 0:00
Emmanuel Macron
0.32
0.59
11/6/20 0:00
Emmanuel Macron
0.32
0.59
11/7/20 0:00
Emmanuel Macron
0.32
0.59
11/8/20 0:00
Emmanuel Macron
0.32
0.59
11/9/20 0:00
Emmanuel Macron
0.32
0.59
11/10/20 0:00
Emmanuel Macron
0.32
0.59
11/11/20 0:00
Emmanuel Macron
0.33
0.58
11/12/20 0:00
Emmanuel Macron
0.34
0.57
11/13/20 0:00
Emmanuel Macron
0.34
0.57
11/14/20 0:00
Emmanuel Macron
0.34
0.58
11/15/20 0:00
Emmanuel Macron
0.34
0.57
11/16/20 0:00
Emmanuel Macron
0.35
0.57
11/17/20 0:00
Emmanuel Macron
0.35
0.57
11/18/20 0:00
Emmanuel Macron
0.34
0.58
11/19/20 0:00
Emmanuel Macron
0.33
0.59
11/20/20 0:00
Emmanuel Macron
0.34
0.58
11/21/20 0:00
Emmanuel Macron
0.34
0.58
11/22/20 0:00
Emmanuel Macron
0.33
0.59
11/23/20 0:00
Emmanuel Macron
0.32
0.6
11/24/20 0:00
Emmanuel Macron
0.31
0.6
11/25/20 0:00
Emmanuel Macron
0.32
0.6
11/26/20 0:00
Emmanuel Macron
0.31
0.6
11/27/20 0:00
Emmanuel Macron
0.31
0.6
11/28/20 0:00
Emmanuel Macron
0.31
0.6
11/29/20 0:00
Emmanuel Macron
0.31
0.6
11/30/20 0:00
Emmanuel Macron
0.31
0.59
12/1/20 0:00
Emmanuel Macron
0.32
0.58
12/2/20 0:00
Emmanuel Macron
0.32
0.59
12/3/20 0:00
Emmanuel Macron
0.32
0.59
12/4/20 0:00
Emmanuel Macron
0.33
0.59
12/5/20 0:00
Emmanuel Macron
0.33
0.58
12/6/20 0:00
Emmanuel Macron
0.33
0.58
12/7/20 0:00
Emmanuel Macron
0.33
0.58
12/8/20 0:00
Emmanuel Macron
0.33
0.59
12/9/20 0:00
Emmanuel Macron
0.33
0.59
12/10/20 0:00
Emmanuel Macron
0.33
0.59
12/11/20 0:00
Emmanuel Macron
0.32
0.6
12/12/20 0:00
Emmanuel Macron
0.31
0.61
12/13/20 0:00
Emmanuel Macron
0.32
0.61
12/14/20 0:00
Emmanuel Macron
0.32
0.61
12/15/20 0:00
Emmanuel Macron
0.31
0.61
12/16/20 0:00
Emmanuel Macron
0.31
0.62
12/17/20 0:00
Emmanuel Macron
0.31
0.61
12/18/20 0:00
Emmanuel Macron
0.32
0.6
12/19/20 0:00
Emmanuel Macron
0.32
0.6
12/20/20 0:00
Emmanuel Macron
0.32
0.59
12/21/20 0:00
Emmanuel Macron
0.33
0.59
12/22/20 0:00
Emmanuel Macron
0.33
0.58
12/23/20 0:00
Emmanuel Macron
0.33
0.58
12/24/20 0:00
Emmanuel Macron
0.33
0.58
12/25/20 0:00
Emmanuel Macron
0.33
0.58
12/26/20 0:00
Emmanuel Macron
0.33
0.57
12/27/20 0:00
Emmanuel Macron
0.33
0.58
12/28/20 0:00
Emmanuel Macron
0.33
0.57
12/29/20 0:00
Emmanuel Macron
0.33
0.56
12/30/20 0:00
Emmanuel Macron
0.34
0.56
12/31/20 0:00
Emmanuel Macron
0.34
0.56
1/1/21 0:00
Emmanuel Macron
0.35
0.56
1/2/21 0:00
Emmanuel Macron
0.35
0.55
1/3/21 0:00
Emmanuel Macron
0.36
0.55
1/4/21 0:00
Emmanuel Macron
0.35
0.56
1/5/21 0:00
Emmanuel Macron
0.34
0.57
1/6/21 0:00
Emmanuel Macron
0.34
0.57
1/7/21 0:00
Emmanuel Macron
0.34
0.57
1/8/21 0:00
Emmanuel Macron
0.33
0.58
1/9/21 0:00
Emmanuel Macron
0.33
0.58
1/10/21 0:00
Emmanuel Macron
0.32
0.58
1/11/21 0:00
Emmanuel Macron
0.32
0.58
1/12/21 0:00
Emmanuel Macron
0.33
0.58
1/13/21 0:00
Emmanuel Macron
0.32
0.58
1/14/21 0:00
Emmanuel Macron
0.32
0.58
1/15/21 0:00
Emmanuel Macron
0.33
0.58
1/16/21 0:00
Emmanuel Macron
0.32
0.59
1/17/21 0:00
Emmanuel Macron
0.32
0.6
1/18/21 0:00
Emmanuel Macron
0.33
0.59
1/19/21 0:00
Emmanuel Macron
0.33
0.59
1/20/21 0:00
Emmanuel Macron
0.33
0.59
1/21/21 0:00
Emmanuel Macron
0.33
0.59
1/22/21 0:00
Emmanuel Macron
0.34
0.58
1/23/21 0:00
Emmanuel Macron
0.34
0.57
1/24/21 0:00
Emmanuel Macron
0.33
0.57
1/25/21 0:00
Emmanuel Macron
0.33
0.57
1/26/21 0:00
Emmanuel Macron
0.34
0.56
1/27/21 0:00
Emmanuel Macron
0.33
0.57
1/28/21 0:00
Emmanuel Macron
0.33
0.57
1/29/21 0:00
Emmanuel Macron
0.33
0.57
1/30/21 0:00
Emmanuel Macron
0.33
0.58
1/31/21 0:00
Emmanuel Macron
0.34
0.57
2/1/21 0:00
Emmanuel Macron
0.34
0.57
2/2/21 0:00
Emmanuel Macron
0.34
0.58
2/3/21 0:00
Emmanuel Macron
0.34
0.58
2/4/21 0:00
Emmanuel Macron
0.33
0.58
2/5/21 0:00
Emmanuel Macron
0.33
0.58
2/6/21 0:00
Emmanuel Macron
0.33
0.58
2/7/21 0:00
Emmanuel Macron
0.32
0.59
2/8/21 0:00
Emmanuel Macron
0.32
0.59
2/9/21 0:00
Emmanuel Macron
0.33
0.58
2/10/21 0:00
Emmanuel Macron
0.33
0.58
2/11/21 0:00
Emmanuel Macron
0.34
0.56
2/12/21 0:00
Emmanuel Macron
0.34
0.56
2/13/21 0:00
Emmanuel Macron
0.34
0.56
2/14/21 0:00
Emmanuel Macron
0.35
0.55
2/15/21 0:00
Emmanuel Macron
0.35
0.55
2/16/21 0:00
Emmanuel Macron
0.35
0.56
2/17/21 0:00
Emmanuel Macron
0.35
0.56
2/18/21 0:00
Emmanuel Macron
0.34
0.57
2/19/21 0:00
Emmanuel Macron
0.34
0.56
2/20/21 0:00
Emmanuel Macron
0.34
0.56
2/21/21 0:00
Emmanuel Macron
0.34
0.57
2/22/21 0:00
Emmanuel Macron
0.34
0.57
2/23/21 0:00
Emmanuel Macron
0.34
0.56
2/24/21 0:00
Emmanuel Macron
0.34
0.56
2/25/21 0:00
Emmanuel Macron
0.35
0.55
2/26/21 0:00
Emmanuel Macron
0.34
0.56
2/27/21 0:00
Emmanuel Macron
0.34
0.57
2/28/21 0:00
Emmanuel Macron
0.34
0.56
3/1/21 0:00
Emmanuel Macron
0.34
0.56
3/2/21 0:00
Emmanuel Macron
0.34
0.56
3/3/21 0:00
Emmanuel Macron
0.34
0.56
3/4/21 0:00
Emmanuel Macron
0.33
0.57
3/5/21 0:00
Emmanuel Macron
0.34
0.57
3/6/21 0:00
Emmanuel Macron
0.34
0.56
3/7/21 0:00
Emmanuel Macron
0.35
0.56
3/8/21 0:00
Emmanuel Macron
0.34
0.56
3/9/21 0:00
Emmanuel Macron
0.34
0.57
3/10/21 0:00
Emmanuel Macron
0.33
0.57
3/11/21 0:00
Emmanuel Macron
0.34
0.57
3/12/21 0:00
Emmanuel Macron
0.34
0.57
3/13/21 0:00
Emmanuel Macron
0.33
0.57
3/14/21 0:00
Emmanuel Macron
0.33
0.58
3/15/21 0:00
Emmanuel Macron
0.33
0.57
3/16/21 0:00
Emmanuel Macron
0.33
0.58
3/17/21 0:00
Emmanuel Macron
0.34
0.57
3/18/21 0:00
Emmanuel Macron
0.34
0.57
3/19/21 0:00
Emmanuel Macron
0.34
0.58
3/20/21 0:00
Emmanuel Macron
0.34
0.58
3/21/21 0:00
Emmanuel Macron
0.33
0.58
3/22/21 0:00
Emmanuel Macron
0.32
0.6
3/23/21 0:00
Emmanuel Macron
0.33
0.59
3/24/21 0:00
Emmanuel Macron
0.32
0.6
3/25/21 0:00
Emmanuel Macron
0.31
0.6
3/26/21 0:00
Emmanuel Macron
0.31
0.61
3/27/21 0:00
Emmanuel Macron
0.32
0.6
3/28/21 0:00
Emmanuel Macron
0.32
0.6
3/29/21 0:00
Emmanuel Macron
0.32
0.59
3/30/21 0:00
Emmanuel Macron
0.32
0.59
3/31/21 0:00
Emmanuel Macron
0.32
0.59
4/1/21 0:00
Emmanuel Macron
0.31
0.6
4/2/21 0:00
Emmanuel Macron
0.31
0.59
4/3/21 0:00
Emmanuel Macron
0.32
0.59
4/4/21 0:00
Emmanuel Macron
0.32
0.58
4/5/21 0:00
Emmanuel Macron
0.32
0.59
4/6/21 0:00
Emmanuel Macron
0.32
0.59
4/7/21 0:00
Emmanuel Macron
0.33
0.59
4/8/21 0:00
Emmanuel Macron
0.33
0.59
4/9/21 0:00
Emmanuel Macron
0.33
0.59
4/10/21 0:00
Emmanuel Macron
0.33
0.6
4/11/21 0:00
Emmanuel Macron
0.32
0.6
4/12/21 0:00
Emmanuel Macron
0.33
0.59
4/13/21 0:00
Emmanuel Macron
0.33
0.59
4/14/21 0:00
Emmanuel Macron
0.34
0.58
4/15/21 0:00
Emmanuel Macron
0.34
0.58
4/16/21 0:00
Emmanuel Macron
0.34
0.58
4/17/21 0:00
Emmanuel Macron
0.34
0.57
4/18/21 0:00
Emmanuel Macron
0.34
0.57
4/19/21 0:00
Emmanuel Macron
0.33
0.58
4/20/21 0:00
Emmanuel Macron
0.34
0.58
4/21/21 0:00
Emmanuel Macron
0.33
0.58
4/22/21 0:00
Emmanuel Macron
0.34
0.58
4/23/21 0:00
Emmanuel Macron
0.33
0.58
4/24/21 0:00
Emmanuel Macron
0.33
0.59
4/25/21 0:00
Emmanuel Macron
0.33
0.59
4/26/21 0:00
Emmanuel Macron
0.34
0.58
4/27/21 0:00
Emmanuel Macron
0.33
0.58
4/28/21 0:00
Emmanuel Macron
0.34
0.58
4/29/21 0:00
Emmanuel Macron
0.33
0.59
4/30/21 0:00
Emmanuel Macron
0.33
0.58
5/1/21 0:00
Emmanuel Macron
0.34
0.58
5/2/21 0:00
Emmanuel Macron
0.34
0.58
5/3/21 0:00
Emmanuel Macron
0.34
0.58
5/4/21 0:00
Emmanuel Macron
0.34
0.58
5/5/21 0:00
Emmanuel Macron
0.34
0.58
5/6/21 0:00
Emmanuel Macron
0.35
0.57
5/7/21 0:00
Emmanuel Macron
0.35
0.57
5/8/21 0:00
Emmanuel Macron
0.35
0.57
5/9/21 0:00
Emmanuel Macron
0.34
0.58
5/10/21 0:00
Emmanuel Macron
0.34
0.57
5/11/21 0:00
Emmanuel Macron
0.34
0.58
5/12/21 0:00
Emmanuel Macron
0.34
0.57
5/13/21 0:00
Emmanuel Macron
0.34
0.57
5/14/21 0:00
Emmanuel Macron
0.34
0.58
5/15/21 0:00
Emmanuel Macron
0.33
0.59
5/16/21 0:00
Emmanuel Macron
0.34
0.59
5/17/21 0:00
Emmanuel Macron
0.34
0.59
5/18/21 0:00
Emmanuel Macron
0.34
0.59
5/19/21 0:00
Emmanuel Macron
0.33
0.59
5/20/21 0:00
Emmanuel Macron
0.34
0.59
5/21/21 0:00
Emmanuel Macron
0.34
0.59
5/22/21 0:00
Emmanuel Macron
0.34
0.59
5/23/21 0:00
Emmanuel Macron
0.35
0.58
5/24/21 0:00
Emmanuel Macron
0.35
0.57
5/25/21 0:00
Emmanuel Macron
0.35
0.57
5/26/21 0:00
Emmanuel Macron
0.36
0.56
5/27/21 0:00
Emmanuel Macron
0.36
0.56
5/28/21 0:00
Emmanuel Macron
0.36
0.55
5/29/21 0:00
Emmanuel Macron
0.36
0.55
5/30/21 0:00
Emmanuel Macron
0.36
0.55
5/31/21 0:00
Emmanuel Macron
0.36
0.56
6/1/21 0:00
Emmanuel Macron
0.35
0.57
6/2/21 0:00
Emmanuel Macron
0.35
0.57
6/3/21 0:00
Emmanuel Macron
0.34
0.57
6/4/21 0:00
Emmanuel Macron
0.35
0.57
6/5/21 0:00
Emmanuel Macron
0.35
0.56
6/6/21 0:00
Emmanuel Macron
0.35
0.56
6/7/21 0:00
Emmanuel Macron
0.35
0.56
6/8/21 0:00
Emmanuel Macron
0.35
0.56
6/9/21 0:00
Emmanuel Macron
0.35
0.55
6/10/21 0:00
Emmanuel Macron
0.35
0.55
6/11/21 0:00
Emmanuel Macron
0.35
0.55
6/12/21 0:00
Emmanuel Macron
0.35
0.55
6/13/21 0:00
Emmanuel Macron
0.35
0.56
6/14/21 0:00
Emmanuel Macron
0.35
0.55
6/15/21 0:00
Emmanuel Macron
0.35
0.55
6/16/21 0:00
Emmanuel Macron
0.35
0.55
6/17/21 0:00
Emmanuel Macron
0.35
0.55
6/18/21 0:00
Emmanuel Macron
0.34
0.56
6/19/21 0:00
Emmanuel Macron
0.34
0.56
6/20/21 0:00
Emmanuel Macron
0.34
0.56
6/21/21 0:00
Emmanuel Macron
0.35
0.56
6/22/21 0:00
Emmanuel Macron
0.35
0.55
6/23/21 0:00
Emmanuel Macron
0.35
0.55
6/24/21 0:00
Emmanuel Macron
0.35
0.56
6/25/21 0:00
Emmanuel Macron
0.35
0.56
6/26/21 0:00
Emmanuel Macron
0.35
0.56
6/27/21 0:00
Emmanuel Macron
0.35
0.56
6/28/21 0:00
Emmanuel Macron
0.35
0.56
6/29/21 0:00
Emmanuel Macron
0.35
0.56
6/30/21 0:00
Emmanuel Macron
0.34
0.57
7/1/21 0:00
Emmanuel Macron
0.34
0.56
7/2/21 0:00
Emmanuel Macron
0.35
0.56
7/3/21 0:00
Emmanuel Macron
0.35
0.56
7/4/21 0:00
Emmanuel Macron
0.35
0.56
7/5/21 0:00
Emmanuel Macron
0.34
0.56
7/6/21 0:00
Emmanuel Macron
0.35
0.56
7/7/21 0:00
Emmanuel Macron
0.36
0.55
7/8/21 0:00
Emmanuel Macron
0.36
0.56
7/9/21 0:00
Emmanuel Macron
0.35
0.55
7/10/21 0:00
Emmanuel Macron
0.35
0.56
7/11/21 0:00
Emmanuel Macron
0.35
0.56
7/12/21 0:00
Emmanuel Macron
0.36
0.55
7/13/21 0:00
Emmanuel Macron
0.36
0.55
7/14/21 0:00
Emmanuel Macron
0.36
0.55
7/15/21 0:00
Emmanuel Macron
0.36
0.56
7/16/21 0:00
Emmanuel Macron
0.35
0.57
7/17/21 0:00
Emmanuel Macron
0.35
0.57
7/18/21 0:00
Emmanuel Macron
0.34
0.57
7/19/21 0:00
Emmanuel Macron
0.34
0.59
7/20/21 0:00
Emmanuel Macron
0.33
0.59
7/21/21 0:00
Emmanuel Macron
0.33
0.6
7/22/21 0:00
Emmanuel Macron
0.33
0.59
7/23/21 0:00
Emmanuel Macron
0.34
0.59
7/24/21 0:00
Emmanuel Macron
0.33
0.59
7/25/21 0:00
Emmanuel Macron
0.33
0.6
7/26/21 0:00
Emmanuel Macron
0.33
0.59
7/27/21 0:00
Emmanuel Macron
0.33
0.59
7/28/21 0:00
Emmanuel Macron
0.33
0.6
7/29/21 0:00
Emmanuel Macron
0.32
0.6
7/30/21 0:00
Emmanuel Macron
0.32
0.6
7/31/21 0:00
Emmanuel Macron
0.33
0.59
8/1/21 0:00
Emmanuel Macron
0.33
0.58
8/2/21 0:00
Emmanuel Macron
0.33
0.59
8/3/21 0:00
Emmanuel Macron
0.33
0.58
8/4/21 0:00
Emmanuel Macron
0.33
0.58
8/5/21 0:00
Emmanuel Macron
0.34
0.58
8/6/21 0:00
Emmanuel Macron
0.34
0.58
8/7/21 0:00
Emmanuel Macron
0.33
0.58
8/8/21 0:00
Emmanuel Macron
0.33
0.58
8/9/21 0:00
Emmanuel Macron
0.34
0.57
8/10/21 0:00
Emmanuel Macron
0.34
0.58
8/11/21 0:00
Emmanuel Macron
0.35
0.57
8/12/21 0:00
Emmanuel Macron
0.35
0.58
8/13/21 0:00
Emmanuel Macron
0.35
0.58
8/14/21 0:00
Emmanuel Macron
0.34
0.58
8/15/21 0:00
Emmanuel Macron
0.34
0.58
8/16/21 0:00
Emmanuel Macron
0.34
0.58
8/17/21 0:00
Emmanuel Macron
0.35
0.57
8/18/21 0:00
Emmanuel Macron
0.35
0.57
8/19/21 0:00
Emmanuel Macron
0.34
0.57
8/20/21 0:00
Emmanuel Macron
0.35
0.57
8/21/21 0:00
Emmanuel Macron
0.34
0.57
8/22/21 0:00
Emmanuel Macron
0.34
0.58
8/23/21 0:00
Emmanuel Macron
0.34
0.58
8/24/21 0:00
Emmanuel Macron
0.33
0.59
8/25/21 0:00
Emmanuel Macron
0.33
0.59
8/26/21 0:00
Emmanuel Macron
0.33
0.58
8/27/21 0:00
Emmanuel Macron
0.34
0.57
8/28/21 0:00
Emmanuel Macron
0.34
0.57
8/29/21 0:00
Emmanuel Macron
0.35
0.57
8/30/21 0:00
Emmanuel Macron
0.35
0.56
8/31/21 0:00
Emmanuel Macron
0.34
0.57
9/1/21 0:00
Emmanuel Macron
0.35
0.57
9/2/21 0:00
Emmanuel Macron
0.35
0.57
9/3/21 0:00
Emmanuel Macron
0.34
0.57
9/4/21 0:00
Emmanuel Macron
0.34
0.57
9/5/21 0:00
Emmanuel Macron
0.35
0.57
9/6/21 0:00
Emmanuel Macron
0.35
0.57
9/7/21 0:00
Emmanuel Macron
0.35
0.56
9/8/21 0:00
Emmanuel Macron
0.35
0.56
9/9/21 0:00
Emmanuel Macron
0.35
0.56
9/10/21 0:00
Emmanuel Macron
0.35
0.57
9/11/21 0:00
Emmanuel Macron
0.35
0.57
9/12/21 0:00
Emmanuel Macron
0.34
0.58
9/13/21 0:00
Emmanuel Macron
0.34
0.58
9/14/21 0:00
Emmanuel Macron
0.34
0.58
9/15/21 0:00
Emmanuel Macron
0.34
0.58
9/16/21 0:00
Emmanuel Macron
0.34
0.58
9/17/21 0:00
Emmanuel Macron
0.34
0.57
9/18/21 0:00
Emmanuel Macron
0.35
0.56
9/19/21 0:00
Emmanuel Macron
0.35
0.56
9/20/21 0:00
Emmanuel Macron
0.35
0.56
9/21/21 0:00
Emmanuel Macron
0.35
0.57
9/22/21 0:00
Emmanuel Macron
0.35
0.58
9/23/21 0:00
Emmanuel Macron
0.35
0.58
9/24/21 0:00
Emmanuel Macron
0.34
0.58
9/25/21 0:00
Emmanuel Macron
0.34
0.59
9/26/21 0:00
Emmanuel Macron
0.35
0.58
9/27/21 0:00
Emmanuel Macron
0.35
0.58
9/28/21 0:00
Emmanuel Macron
0.35
0.57
9/29/21 0:00
Emmanuel Macron
0.36
0.56
9/30/21 0:00
Emmanuel Macron
0.35
0.57
10/1/21 0:00
Emmanuel Macron
0.35
0.56
10/2/21 0:00
Emmanuel Macron
0.36
0.55
10/3/21 0:00
Emmanuel Macron
0.36
0.54
10/4/21 0:00
Emmanuel Macron
0.36
0.54
10/5/21 0:00
Emmanuel Macron
0.36
0.54
10/6/21 0:00
Emmanuel Macron
0.36
0.54
10/7/21 0:00
Emmanuel Macron
0.37
0.54
10/8/21 0:00
Emmanuel Macron
0.36
0.54
10/9/21 0:00
Emmanuel Macron
0.35
0.55
10/10/21 0:00
Emmanuel Macron
0.35
0.56
10/11/21 0:00
Emmanuel Macron
0.36
0.55
10/12/21 0:00
Emmanuel Macron
0.36
0.55
10/13/21 0:00
Emmanuel Macron
0.36
0.56
10/14/21 0:00
Emmanuel Macron
0.35
0.56
10/15/21 0:00
Emmanuel Macron
0.35
0.56
10/16/21 0:00
Emmanuel Macron
0.35
0.56
10/17/21 0:00
Emmanuel Macron
0.35
0.55
10/18/21 0:00
Emmanuel Macron
0.35
0.55
10/19/21 0:00
Emmanuel Macron
0.35
0.55
10/20/21 0:00
Emmanuel Macron
0.36
0.55
10/21/21 0:00
Emmanuel Macron
0.36
0.55
10/22/21 0:00
Emmanuel Macron
0.36
0.55
10/23/21 0:00
Emmanuel Macron
0.36
0.55
10/24/21 0:00
Emmanuel Macron
0.35
0.57
10/25/21 0:00
Emmanuel Macron
0.35
0.57
10/26/21 0:00
Emmanuel Macron
0.35
0.57
10/27/21 0:00
Emmanuel Macron
0.35
0.57
10/28/21 0:00
Emmanuel Macron
0.35
0.57
10/29/21 0:00
Emmanuel Macron
0.35
0.56
10/30/21 0:00
Emmanuel Macron
0.35
0.56
10/31/21 0:00
Emmanuel Macron
0.36
0.55
11/1/21 0:00
Emmanuel Macron
0.36
0.55
11/2/21 0:00
Emmanuel Macron
0.36
0.55
11/3/21 0:00
Emmanuel Macron
0.36
0.55
11/4/21 0:00
Emmanuel Macron
0.37
0.55
11/5/21 0:00
Emmanuel Macron
0.37
0.55
11/6/21 0:00
Emmanuel Macron
0.37
0.56
11/7/21 0:00
Emmanuel Macron
0.36
0.57
11/8/21 0:00
Emmanuel Macron
0.37
0.56
11/9/21 0:00
Emmanuel Macron
0.36
0.56
11/10/21 0:00
Emmanuel Macron
0.36
0.57
11/11/21 0:00
Emmanuel Macron
0.36
0.57
11/12/21 0:00
Emmanuel Macron
0.36
0.56
11/13/21 0:00
Emmanuel Macron
0.36
0.56
11/14/21 0:00
Emmanuel Macron
0.37
0.55
11/15/21 0:00
Emmanuel Macron
0.37
0.55
11/16/21 0:00
Emmanuel Macron
0.37
0.55
11/17/21 0:00
Emmanuel Macron
0.37
0.55
11/18/21 0:00
Emmanuel Macron
0.37
0.55
11/19/21 0:00
Emmanuel Macron
0.36
0.56
11/20/21 0:00
Emmanuel Macron
0.36
0.56
11/21/21 0:00
Emmanuel Macron
0.36
0.57
11/22/21 0:00
Emmanuel Macron
0.36
0.56
11/23/21 0:00
Emmanuel Macron
0.37
0.56
11/24/21 0:00
Emmanuel Macron
0.37
0.56
11/25/21 0:00
Emmanuel Macron
0.37
0.56
11/26/21 0:00
Emmanuel Macron
0.37
0.55
11/27/21 0:00
Emmanuel Macron
0.37
0.55
11/28/21 0:00
Emmanuel Macron
0.37
0.56
11/29/21 0:00
Emmanuel Macron
0.36
0.56
11/30/21 0:00
Emmanuel Macron
0.36
0.56
12/1/21 0:00
Emmanuel Macron
0.36
0.56
12/2/21 0:00
Emmanuel Macron
0.36
0.57
12/3/21 0:00
Emmanuel Macron
0.37
0.57
12/4/21 0:00
Emmanuel Macron
0.37
0.57
12/5/21 0:00
Emmanuel Macron
0.37
0.56
12/6/21 0:00
Emmanuel Macron
0.37
0.56
12/7/21 0:00
Emmanuel Macron
0.36
0.56
3/6/20 0:00
Narendra Modi
0.71
0.23
3/7/20 0:00
Narendra Modi
0.71
0.22
3/8/20 0:00
Narendra Modi
0.71
0.23
3/9/20 0:00
Narendra Modi
0.7
0.23
3/10/20 0:00
Narendra Modi
0.7
0.23
3/11/20 0:00
Narendra Modi
0.7
0.23
3/12/20 0:00
Narendra Modi
0.72
0.23
3/13/20 0:00
Narendra Modi
0.72
0.22
3/14/20 0:00
Narendra Modi
0.73
0.21
3/15/20 0:00
Narendra Modi
0.74
0.2
3/16/20 0:00
Narendra Modi
0.75
0.2
3/17/20 0:00
Narendra Modi
0.74
0.21
3/18/20 0:00
Narendra Modi
0.73
0.21
3/19/20 0:00
Narendra Modi
0.73
0.21
3/20/20 0:00
Narendra Modi
0.73
0.21
3/21/20 0:00
Narendra Modi
0.73
0.21
3/22/20 0:00
Narendra Modi
0.74
0.21
3/23/20 0:00
Narendra Modi
0.75
0.21
3/24/20 0:00
Narendra Modi
0.76
0.19
3/25/20 0:00
Narendra Modi
0.78
0.18
3/26/20 0:00
Narendra Modi
0.78
0.18
3/27/20 0:00
Narendra Modi
0.79
0.16
3/28/20 0:00
Narendra Modi
0.8
0.16
3/29/20 0:00
Narendra Modi
0.81
0.15
3/30/20 0:00
Narendra Modi
0.82
0.14
3/31/20 0:00
Narendra Modi
0.82
0.15
4/1/20 0:00
Narendra Modi
0.81
0.15
4/2/20 0:00
Narendra Modi
0.81
0.15
4/3/20 0:00
Narendra Modi
0.81
0.15
4/4/20 0:00
Narendra Modi
0.81
0.15
4/5/20 0:00
Narendra Modi
0.8
0.15
4/6/20 0:00
Narendra Modi
0.8
0.16
4/7/20 0:00
Narendra Modi
0.8
0.15
4/8/20 0:00
Narendra Modi
0.8
0.16
4/9/20 0:00
Narendra Modi
0.8
0.15
4/10/20 0:00
Narendra Modi
0.79
0.17
4/11/20 0:00
Narendra Modi
0.79
0.16
4/12/20 0:00
Narendra Modi
0.79
0.17
4/13/20 0:00
Narendra Modi
0.8
0.16
4/14/20 0:00
Narendra Modi
0.81
0.16
4/15/20 0:00
Narendra Modi
0.81
0.15
4/16/20 0:00
Narendra Modi
0.82
0.14
4/17/20 0:00
Narendra Modi
0.82
0.14
4/18/20 0:00
Narendra Modi
0.83
0.14
4/19/20 0:00
Narendra Modi
0.83
0.14
4/20/20 0:00
Narendra Modi
0.83
0.14
4/21/20 0:00
Narendra Modi
0.83
0.14
4/22/20 0:00
Narendra Modi
0.83
0.14
4/23/20 0:00
Narendra Modi
0.82
0.15
4/24/20 0:00
Narendra Modi
0.82
0.15
4/25/20 0:00
Narendra Modi
0.81
0.15
4/26/20 0:00
Narendra Modi
0.81
0.15
4/27/20 0:00
Narendra Modi
0.82
0.14
4/28/20 0:00
Narendra Modi
0.82
0.14
4/29/20 0:00
Narendra Modi
0.82
0.14
4/30/20 0:00
Narendra Modi
0.83
0.13
5/1/20 0:00
Narendra Modi
0.83
0.13
5/2/20 0:00
Narendra Modi
0.84
0.12
5/3/20 0:00
Narendra Modi
0.84
0.12
5/4/20 0:00
Narendra Modi
0.83
0.13
5/5/20 0:00
Narendra Modi
0.82
0.13
5/6/20 0:00
Narendra Modi
0.81
0.14
5/7/20 0:00
Narendra Modi
0.8
0.15
5/8/20 0:00
Narendra Modi
0.81
0.15
5/9/20 0:00
Narendra Modi
0.8
0.15
5/10/20 0:00
Narendra Modi
0.8
0.15
5/11/20 0:00
Narendra Modi
0.8
0.15
5/12/20 0:00
Narendra Modi
0.8
0.15
5/13/20 0:00
Narendra Modi
0.81
0.15
5/14/20 0:00
Narendra Modi
0.81
0.15
5/15/20 0:00
Narendra Modi
0.81
0.15
5/16/20 0:00
Narendra Modi
0.81
0.15
5/17/20 0:00
Narendra Modi
0.81
0.16
5/18/20 0:00
Narendra Modi
0.81
0.15
5/19/20 0:00
Narendra Modi
0.82
0.15
5/20/20 0:00
Narendra Modi
0.81
0.15
5/21/20 0:00
Narendra Modi
0.81
0.15
5/22/20 0:00
Narendra Modi
0.82
0.15
5/23/20 0:00
Narendra Modi
0.81
0.15
5/24/20 0:00
Narendra Modi
0.82
0.15
5/25/20 0:00
Narendra Modi
0.81
0.15
5/26/20 0:00
Narendra Modi
0.81
0.15
5/27/20 0:00
Narendra Modi
0.81
0.15
5/28/20 0:00
Narendra Modi
0.8
0.16
5/29/20 0:00
Narendra Modi
0.79
0.16
5/30/20 0:00
Narendra Modi
0.79
0.16
5/31/20 0:00
Narendra Modi
0.79
0.17
6/1/20 0:00
Narendra Modi
0.78
0.17
6/2/20 0:00
Narendra Modi
0.78
0.18
6/3/20 0:00
Narendra Modi
0.77
0.18
6/4/20 0:00
Narendra Modi
0.78
0.18
6/5/20 0:00
Narendra Modi
0.77
0.19
6/6/20 0:00
Narendra Modi
0.76
0.19
6/7/20 0:00
Narendra Modi
0.76
0.2
6/8/20 0:00
Narendra Modi
0.76
0.19
6/9/20 0:00
Narendra Modi
0.75
0.19
6/10/20 0:00
Narendra Modi
0.75
0.2
6/11/20 0:00
Narendra Modi
0.75
0.19
6/12/20 0:00
Narendra Modi
0.75
0.19
6/13/20 0:00
Narendra Modi
0.75
0.2
6/14/20 0:00
Narendra Modi
0.75
0.2
6/15/20 0:00
Narendra Modi
0.75
0.21
6/16/20 0:00
Narendra Modi
0.75
0.21
6/17/20 0:00
Narendra Modi
0.75
0.2
6/18/20 0:00
Narendra Modi
0.75
0.2
6/19/20 0:00
Narendra Modi
0.75
0.2
6/20/20 0:00
Narendra Modi
0.76
0.2
6/21/20 0:00
Narendra Modi
0.76
0.19
6/22/20 0:00
Narendra Modi
0.76
0.19
6/23/20 0:00
Narendra Modi
0.77
0.19
6/24/20 0:00
Narendra Modi
0.76
0.19
6/25/20 0:00
Narendra Modi
0.76
0.2
6/26/20 0:00
Narendra Modi
0.75
0.2
6/27/20 0:00
Narendra Modi
0.76
0.2
6/28/20 0:00
Narendra Modi
0.75
0.21
6/29/20 0:00
Narendra Modi
0.74
0.21
6/30/20 0:00
Narendra Modi
0.74
0.21
7/1/20 0:00
Narendra Modi
0.75
0.2
7/2/20 0:00
Narendra Modi
0.74
0.21
7/3/20 0:00
Narendra Modi
0.76
0.19
7/4/20 0:00
Narendra Modi
0.76
0.19
7/5/20 0:00
Narendra Modi
0.77
0.18
7/6/20 0:00
Narendra Modi
0.78
0.17
7/7/20 0:00
Narendra Modi
0.77
0.18
7/8/20 0:00
Narendra Modi
0.77
0.18
7/9/20 0:00
Narendra Modi
0.78
0.18
7/10/20 0:00
Narendra Modi
0.78
0.18
7/11/20 0:00
Narendra Modi
0.77
0.18
7/12/20 0:00
Narendra Modi
0.76
0.18
7/13/20 0:00
Narendra Modi
0.77
0.17
7/14/20 0:00
Narendra Modi
0.76
0.18
7/15/20 0:00
Narendra Modi
0.76
0.18
7/16/20 0:00
Narendra Modi
0.77
0.17
7/17/20 0:00
Narendra Modi
0.76
0.18
7/18/20 0:00
Narendra Modi
0.76
0.18
7/19/20 0:00
Narendra Modi
0.77
0.18
7/20/20 0:00
Narendra Modi
0.76
0.19
7/21/20 0:00
Narendra Modi
0.77
0.18
7/22/20 0:00
Narendra Modi
0.77
0.17
7/23/20 0:00
Narendra Modi
0.77
0.18
7/24/20 0:00
Narendra Modi
0.77
0.18
7/25/20 0:00
Narendra Modi
0.78
0.17
7/26/20 0:00
Narendra Modi
0.77
0.18
7/27/20 0:00
Narendra Modi
0.78
0.18
7/28/20 0:00
Narendra Modi
0.77
0.19
7/29/20 0:00
Narendra Modi
0.77
0.19
7/30/20 0:00
Narendra Modi
0.76
0.2
7/31/20 0:00
Narendra Modi
0.76
0.19
8/1/20 0:00
Narendra Modi
0.76
0.19
8/2/20 0:00
Narendra Modi
0.76
0.2
8/3/20 0:00
Narendra Modi
0.75
0.2
8/4/20 0:00
Narendra Modi
0.75
0.19
8/5/20 0:00
Narendra Modi
0.76
0.19
8/6/20 0:00
Narendra Modi
0.76
0.19
8/7/20 0:00
Narendra Modi
0.76
0.19
8/8/20 0:00
Narendra Modi
0.76
0.19
8/9/20 0:00
Narendra Modi
0.77
0.18
8/10/20 0:00
Narendra Modi
0.78
0.18
8/11/20 0:00
Narendra Modi
0.78
0.18
8/12/20 0:00
Narendra Modi
0.78
0.18
8/13/20 0:00
Narendra Modi
0.78
0.18
8/14/20 0:00
Narendra Modi
0.78
0.18
8/15/20 0:00
Narendra Modi
0.78
0.18
8/16/20 0:00
Narendra Modi
0.77
0.19
8/17/20 0:00
Narendra Modi
0.77
0.19
8/18/20 0:00
Narendra Modi
0.76
0.19
8/19/20 0:00
Narendra Modi
0.76
0.2
8/20/20 0:00
Narendra Modi
0.76
0.2
8/21/20 0:00
Narendra Modi
0.76
0.19
8/22/20 0:00
Narendra Modi
0.76
0.19
8/23/20 0:00
Narendra Modi
0.76
0.19
8/24/20 0:00
Narendra Modi
0.76
0.19
8/25/20 0:00
Narendra Modi
0.77
0.18
8/26/20 0:00
Narendra Modi
0.77
0.18
8/27/20 0:00
Narendra Modi
0.78
0.18
8/28/20 0:00
Narendra Modi
0.77
0.18
8/29/20 0:00
Narendra Modi
0.76
0.19
8/30/20 0:00
Narendra Modi
0.76
0.19
8/31/20 0:00
Narendra Modi
0.75
0.19
9/1/20 0:00
Narendra Modi
0.75
0.2
9/2/20 0:00
Narendra Modi
0.75
0.2
9/3/20 0:00
Narendra Modi
0.75
0.2
9/4/20 0:00
Narendra Modi
0.74
0.2
9/5/20 0:00
Narendra Modi
0.75
0.2
9/6/20 0:00
Narendra Modi
0.74
0.2
9/7/20 0:00
Narendra Modi
0.74
0.21
9/8/20 0:00
Narendra Modi
0.74
0.22
9/9/20 0:00
Narendra Modi
0.73
0.22
9/10/20 0:00
Narendra Modi
0.73
0.22
9/11/20 0:00
Narendra Modi
0.73
0.22
9/12/20 0:00
Narendra Modi
0.73
0.22
9/13/20 0:00
Narendra Modi
0.73
0.22
9/14/20 0:00
Narendra Modi
0.73
0.22
9/15/20 0:00
Narendra Modi
0.73
0.22
9/16/20 0:00
Narendra Modi
0.74
0.21
9/17/20 0:00
Narendra Modi
0.74
0.21
9/18/20 0:00
Narendra Modi
0.74
0.2
9/19/20 0:00
Narendra Modi
0.75
0.2
9/20/20 0:00
Narendra Modi
0.75
0.2
9/21/20 0:00
Narendra Modi
0.75
0.2
9/22/20 0:00
Narendra Modi
0.75
0.2
9/23/20 0:00
Narendra Modi
0.74
0.22
9/24/20 0:00
Narendra Modi
0.73
0.22
9/25/20 0:00
Narendra Modi
0.73
0.22
9/26/20 0:00
Narendra Modi
0.73
0.22
9/27/20 0:00
Narendra Modi
0.73
0.22
9/28/20 0:00
Narendra Modi
0.73
0.23
9/29/20 0:00
Narendra Modi
0.74
0.22
9/30/20 0:00
Narendra Modi
0.73
0.22
10/1/20 0:00
Narendra Modi
0.73
0.22
10/2/20 0:00
Narendra Modi
0.73
0.22
10/3/20 0:00
Narendra Modi
0.73
0.22
10/4/20 0:00
Narendra Modi
0.72
0.23
10/5/20 0:00
Narendra Modi
0.72
0.23
10/6/20 0:00
Narendra Modi
0.71
0.24
10/7/20 0:00
Narendra Modi
0.71
0.24
10/8/20 0:00
Narendra Modi
0.71
0.23
10/9/20 0:00
Narendra Modi
0.71
0.24
10/10/20 0:00
Narendra Modi
0.71
0.24
10/11/20 0:00
Narendra Modi
0.72
0.23
10/12/20 0:00
Narendra Modi
0.73
0.23
10/13/20 0:00
Narendra Modi
0.73
0.22
10/14/20 0:00
Narendra Modi
0.74
0.21
10/15/20 0:00
Narendra Modi
0.74
0.21
10/16/20 0:00
Narendra Modi
0.74
0.21
10/17/20 0:00
Narendra Modi
0.74
0.21
10/18/20 0:00
Narendra Modi
0.74
0.21
10/19/20 0:00
Narendra Modi
0.74
0.21
10/20/20 0:00
Narendra Modi
0.73
0.21
10/21/20 0:00
Narendra Modi
0.73
0.21
10/22/20 0:00
Narendra Modi
0.73
0.21
10/23/20 0:00
Narendra Modi
0.73
0.21
10/24/20 0:00
Narendra Modi
0.73
0.21
10/25/20 0:00
Narendra Modi
0.73
0.21
10/26/20 0:00
Narendra Modi
0.73
0.22
10/27/20 0:00
Narendra Modi
0.73
0.21
10/28/20 0:00
Narendra Modi
0.73
0.21
10/29/20 0:00
Narendra Modi
0.74
0.21
10/30/20 0:00
Narendra Modi
0.74
0.21
10/31/20 0:00
Narendra Modi
0.74
0.21
11/1/20 0:00
Narendra Modi
0.74
0.21
11/2/20 0:00
Narendra Modi
0.74
0.2
11/3/20 0:00
Narendra Modi
0.74
0.21
11/4/20 0:00
Narendra Modi
0.74
0.2
11/5/20 0:00
Narendra Modi
0.74
0.2
11/6/20 0:00
Narendra Modi
0.75
0.2
11/7/20 0:00
Narendra Modi
0.74
0.2
11/8/20 0:00
Narendra Modi
0.74
0.21
11/9/20 0:00
Narendra Modi
0.74
0.21
11/10/20 0:00
Narendra Modi
0.74
0.21
11/11/20 0:00
Narendra Modi
0.74
0.21
11/12/20 0:00
Narendra Modi
0.73
0.22
11/13/20 0:00
Narendra Modi
0.73
0.21
11/14/20 0:00
Narendra Modi
0.73
0.22
11/15/20 0:00
Narendra Modi
0.73
0.22
11/16/20 0:00
Narendra Modi
0.74
0.21
11/17/20 0:00
Narendra Modi
0.74
0.21
11/18/20 0:00
Narendra Modi
0.75
0.21
11/19/20 0:00
Narendra Modi
0.75
0.2
11/20/20 0:00
Narendra Modi
0.75
0.21
11/21/20 0:00
Narendra Modi
0.75
0.21
11/22/20 0:00
Narendra Modi
0.75
0.21
11/23/20 0:00
Narendra Modi
0.75
0.21
11/24/20 0:00
Narendra Modi
0.75
0.2
11/25/20 0:00
Narendra Modi
0.75
0.2
11/26/20 0:00
Narendra Modi
0.74
0.2
11/27/20 0:00
Narendra Modi
0.74
0.2
11/28/20 0:00
Narendra Modi
0.74
0.21
11/29/20 0:00
Narendra Modi
0.73
0.21
11/30/20 0:00
Narendra Modi
0.74
0.21
12/1/20 0:00
Narendra Modi
0.73
0.22
12/2/20 0:00
Narendra Modi
0.74
0.21
12/3/20 0:00
Narendra Modi
0.74
0.21
12/4/20 0:00
Narendra Modi
0.74
0.21
12/5/20 0:00
Narendra Modi
0.75
0.21
12/6/20 0:00
Narendra Modi
0.75
0.21
12/7/20 0:00
Narendra Modi
0.75
0.2
12/8/20 0:00
Narendra Modi
0.74
0.21
12/9/20 0:00
Narendra Modi
0.73
0.21
12/10/20 0:00
Narendra Modi
0.74
0.21
12/11/20 0:00
Narendra Modi
0.74
0.21
12/12/20 0:00
Narendra Modi
0.74
0.2
12/13/20 0:00
Narendra Modi
0.74
0.2
12/14/20 0:00
Narendra Modi
0.74
0.21
12/15/20 0:00
Narendra Modi
0.75
0.2
12/16/20 0:00
Narendra Modi
0.76
0.2
12/17/20 0:00
Narendra Modi
0.75
0.2
12/18/20 0:00
Narendra Modi
0.75
0.21
12/19/20 0:00
Narendra Modi
0.74
0.21
12/20/20 0:00
Narendra Modi
0.75
0.2
12/21/20 0:00
Narendra Modi
0.75
0.2
12/22/20 0:00
Narendra Modi
0.75
0.2
12/23/20 0:00
Narendra Modi
0.74
0.21
12/24/20 0:00
Narendra Modi
0.74
0.21
12/25/20 0:00
Narendra Modi
0.74
0.21
12/26/20 0:00
Narendra Modi
0.75
0.2
12/27/20 0:00
Narendra Modi
0.75
0.2
12/28/20 0:00
Narendra Modi
0.75
0.2
12/29/20 0:00
Narendra Modi
0.75
0.2
12/30/20 0:00
Narendra Modi
0.76
0.2
12/31/20 0:00
Narendra Modi
0.75
0.2
1/1/21 0:00
Narendra Modi
0.76
0.19
1/2/21 0:00
Narendra Modi
0.76
0.19
1/3/21 0:00
Narendra Modi
0.76
0.19
1/4/21 0:00
Narendra Modi
0.76
0.19
1/5/21 0:00
Narendra Modi
0.77
0.19
1/6/21 0:00
Narendra Modi
0.76
0.19
1/7/21 0:00
Narendra Modi
0.77
0.19
1/8/21 0:00
Narendra Modi
0.77
0.19
1/9/21 0:00
Narendra Modi
0.76
0.19
1/10/21 0:00
Narendra Modi
0.77
0.18
1/11/21 0:00
Narendra Modi
0.77
0.19
1/12/21 0:00
Narendra Modi
0.76
0.19
1/13/21 0:00
Narendra Modi
0.77
0.18
1/14/21 0:00
Narendra Modi
0.77
0.18
1/15/21 0:00
Narendra Modi
0.77
0.18
1/16/21 0:00
Narendra Modi
0.77
0.18
1/17/21 0:00
Narendra Modi
0.76
0.19
1/18/21 0:00
Narendra Modi
0.76
0.19
1/19/21 0:00
Narendra Modi
0.76
0.19
1/20/21 0:00
Narendra Modi
0.75
0.2
1/21/21 0:00
Narendra Modi
0.76
0.2
1/22/21 0:00
Narendra Modi
0.76
0.2
1/23/21 0:00
Narendra Modi
0.76
0.19
1/24/21 0:00
Narendra Modi
0.76
0.19
1/25/21 0:00
Narendra Modi
0.77
0.18
1/26/21 0:00
Narendra Modi
0.76
0.18
1/27/21 0:00
Narendra Modi
0.77
0.18
1/28/21 0:00
Narendra Modi
0.77
0.18
1/29/21 0:00
Narendra Modi
0.77
0.18
1/30/21 0:00
Narendra Modi
0.76
0.19
1/31/21 0:00
Narendra Modi
0.75
0.2
2/1/21 0:00
Narendra Modi
0.75
0.2
2/2/21 0:00
Narendra Modi
0.75
0.2
2/3/21 0:00
Narendra Modi
0.75
0.2
2/4/21 0:00
Narendra Modi
0.76
0.19
2/5/21 0:00
Narendra Modi
0.75
0.2
2/6/21 0:00
Narendra Modi
0.76
0.2
2/7/21 0:00
Narendra Modi
0.76
0.19
2/8/21 0:00
Narendra Modi
0.76
0.2
2/9/21 0:00
Narendra Modi
0.76
0.2
2/10/21 0:00
Narendra Modi
0.76
0.2
2/11/21 0:00
Narendra Modi
0.75
0.21
2/12/21 0:00
Narendra Modi
0.76
0.2
2/13/21 0:00
Narendra Modi
0.75
0.21
2/14/21 0:00
Narendra Modi
0.76
0.2
2/15/21 0:00
Narendra Modi
0.76
0.2
2/16/21 0:00
Narendra Modi
0.76
0.2
2/17/21 0:00
Narendra Modi
0.75
0.2
2/18/21 0:00
Narendra Modi
0.75
0.2
2/19/21 0:00
Narendra Modi
0.75
0.2
2/20/21 0:00
Narendra Modi
0.75
0.2
2/21/21 0:00
Narendra Modi
0.75
0.2
2/22/21 0:00
Narendra Modi
0.74
0.2
2/23/21 0:00
Narendra Modi
0.75
0.2
2/24/21 0:00
Narendra Modi
0.74
0.2
2/25/21 0:00
Narendra Modi
0.74
0.2
2/26/21 0:00
Narendra Modi
0.75
0.2
2/27/21 0:00
Narendra Modi
0.74
0.2
2/28/21 0:00
Narendra Modi
0.74
0.21
3/1/21 0:00
Narendra Modi
0.74
0.21
3/2/21 0:00
Narendra Modi
0.73
0.22
3/3/21 0:00
Narendra Modi
0.74
0.21
3/4/21 0:00
Narendra Modi
0.74
0.22
3/5/21 0:00
Narendra Modi
0.72
0.23
3/6/21 0:00
Narendra Modi
0.72
0.23
3/7/21 0:00
Narendra Modi
0.71
0.23
3/8/21 0:00
Narendra Modi
0.7
0.24
3/9/21 0:00
Narendra Modi
0.71
0.24
3/10/21 0:00
Narendra Modi
0.7
0.24
3/11/21 0:00
Narendra Modi
0.71
0.24
3/12/21 0:00
Narendra Modi
0.71
0.24
3/13/21 0:00
Narendra Modi
0.71
0.24
3/14/21 0:00
Narendra Modi
0.72
0.23
3/15/21 0:00
Narendra Modi
0.73
0.22
3/16/21 0:00
Narendra Modi
0.71
0.23
3/17/21 0:00
Narendra Modi
0.72
0.22
3/18/21 0:00
Narendra Modi
0.71
0.23
3/19/21 0:00
Narendra Modi
0.71
0.23
3/20/21 0:00
Narendra Modi
0.72
0.22
3/21/21 0:00
Narendra Modi
0.72
0.22
3/22/21 0:00
Narendra Modi
0.71
0.23
3/23/21 0:00
Narendra Modi
0.72
0.22
3/24/21 0:00
Narendra Modi
0.72
0.22
3/25/21 0:00
Narendra Modi
0.73
0.22
3/26/21 0:00
Narendra Modi
0.73
0.21
3/27/21 0:00
Narendra Modi
0.74
0.21
3/28/21 0:00
Narendra Modi
0.73
0.21
3/29/21 0:00
Narendra Modi
0.74
0.2
3/30/21 0:00
Narendra Modi
0.74
0.21
3/31/21 0:00
Narendra Modi
0.74
0.2
4/1/21 0:00
Narendra Modi
0.73
0.21
4/2/21 0:00
Narendra Modi
0.73
0.2
4/3/21 0:00
Narendra Modi
0.73
0.21
4/4/21 0:00
Narendra Modi
0.72
0.21
4/5/21 0:00
Narendra Modi
0.73
0.21
4/6/21 0:00
Narendra Modi
0.73
0.21
4/7/21 0:00
Narendra Modi
0.72
0.22
4/8/21 0:00
Narendra Modi
0.72
0.22
4/9/21 0:00
Narendra Modi
0.72
0.22
4/10/21 0:00
Narendra Modi
0.72
0.21
4/11/21 0:00
Narendra Modi
0.72
0.22
4/12/21 0:00
Narendra Modi
0.72
0.22
4/13/21 0:00
Narendra Modi
0.72
0.22
4/14/21 0:00
Narendra Modi
0.71
0.22
4/15/21 0:00
Narendra Modi
0.71
0.22
4/16/21 0:00
Narendra Modi
0.71
0.23
4/17/21 0:00
Narendra Modi
0.71
0.24
4/18/21 0:00
Narendra Modi
0.71
0.23
4/19/21 0:00
Narendra Modi
0.7
0.24
4/20/21 0:00
Narendra Modi
0.7
0.25
4/21/21 0:00
Narendra Modi
0.69
0.25
4/22/21 0:00
Narendra Modi
0.69
0.26
4/23/21 0:00
Narendra Modi
0.68
0.26
4/24/21 0:00
Narendra Modi
0.68
0.27
4/25/21 0:00
Narendra Modi
0.68
0.27
4/26/21 0:00
Narendra Modi
0.67
0.27
4/27/21 0:00
Narendra Modi
0.67
0.28
4/28/21 0:00
Narendra Modi
0.67
0.27
4/29/21 0:00
Narendra Modi
0.67
0.28
4/30/21 0:00
Narendra Modi
0.67
0.28
5/1/21 0:00
Narendra Modi
0.66
0.28
5/2/21 0:00
Narendra Modi
0.66
0.29
5/3/21 0:00
Narendra Modi
0.66
0.29
5/4/21 0:00
Narendra Modi
0.65
0.29
5/5/21 0:00
Narendra Modi
0.64
0.3
5/6/21 0:00
Narendra Modi
0.64
0.31
5/7/21 0:00
Narendra Modi
0.63
0.31
5/8/21 0:00
Narendra Modi
0.63
0.32
5/9/21 0:00
Narendra Modi
0.63
0.31
5/10/21 0:00
Narendra Modi
0.63
0.32
5/11/21 0:00
Narendra Modi
0.63
0.31
5/12/21 0:00
Narendra Modi
0.63
0.31
5/13/21 0:00
Narendra Modi
0.63
0.31
5/14/21 0:00
Narendra Modi
0.64
0.3
5/15/21 0:00
Narendra Modi
0.64
0.3
5/16/21 0:00
Narendra Modi
0.63
0.31
5/17/21 0:00
Narendra Modi
0.63
0.31
5/18/21 0:00
Narendra Modi
0.64
0.3
5/19/21 0:00
Narendra Modi
0.64
0.3
5/20/21 0:00
Narendra Modi
0.64
0.3
5/21/21 0:00
Narendra Modi
0.64
0.3
5/22/21 0:00
Narendra Modi
0.64
0.3
5/23/21 0:00
Narendra Modi
0.64
0.3
5/24/21 0:00
Narendra Modi
0.65
0.29
5/25/21 0:00
Narendra Modi
0.64
0.31
5/26/21 0:00
Narendra Modi
0.64
0.31
5/27/21 0:00
Narendra Modi
0.64
0.31
5/28/21 0:00
Narendra Modi
0.64
0.31
5/29/21 0:00
Narendra Modi
0.63
0.31
5/30/21 0:00
Narendra Modi
0.63
0.3
5/31/21 0:00
Narendra Modi
0.63
0.31
6/1/21 0:00
Narendra Modi
0.64
0.3
6/2/21 0:00
Narendra Modi
0.63
0.31
6/3/21 0:00
Narendra Modi
0.63
0.3
6/4/21 0:00
Narendra Modi
0.63
0.31
6/5/21 0:00
Narendra Modi
0.64
0.3
6/6/21 0:00
Narendra Modi
0.64
0.3
6/7/21 0:00
Narendra Modi
0.65
0.29
6/8/21 0:00
Narendra Modi
0.66
0.28
6/9/21 0:00
Narendra Modi
0.66
0.28
6/10/21 0:00
Narendra Modi
0.66
0.29
6/11/21 0:00
Narendra Modi
0.66
0.28
6/12/21 0:00
Narendra Modi
0.66
0.28
6/13/21 0:00
Narendra Modi
0.66
0.28
6/14/21 0:00
Narendra Modi
0.66
0.28
6/15/21 0:00
Narendra Modi
0.66
0.28
6/16/21 0:00
Narendra Modi
0.67
0.27
6/17/21 0:00
Narendra Modi
0.67
0.27
6/18/21 0:00
Narendra Modi
0.66
0.28
6/19/21 0:00
Narendra Modi
0.66
0.28
6/20/21 0:00
Narendra Modi
0.65
0.29
6/21/21 0:00
Narendra Modi
0.65
0.29
6/22/21 0:00
Narendra Modi
0.64
0.29
6/23/21 0:00
Narendra Modi
0.63
0.3
6/24/21 0:00
Narendra Modi
0.64
0.3
6/25/21 0:00
Narendra Modi
0.65
0.29
6/26/21 0:00
Narendra Modi
0.65
0.28
6/27/21 0:00
Narendra Modi
0.66
0.28
6/28/21 0:00
Narendra Modi
0.67
0.28
6/29/21 0:00
Narendra Modi
0.67
0.28
6/30/21 0:00
Narendra Modi
0.67
0.27
7/1/21 0:00
Narendra Modi
0.67
0.26
7/2/21 0:00
Narendra Modi
0.67
0.27
7/3/21 0:00
Narendra Modi
0.68
0.26
7/4/21 0:00
Narendra Modi
0.68
0.26
7/5/21 0:00
Narendra Modi
0.68
0.26
7/6/21 0:00
Narendra Modi
0.68
0.25
7/7/21 0:00
Narendra Modi
0.68
0.26
7/8/21 0:00
Narendra Modi
0.68
0.26
7/9/21 0:00
Narendra Modi
0.68
0.26
7/10/21 0:00
Narendra Modi
0.68
0.26
7/11/21 0:00
Narendra Modi
0.68
0.26
7/12/21 0:00
Narendra Modi
0.68
0.26
7/13/21 0:00
Narendra Modi
0.67
0.26
7/14/21 0:00
Narendra Modi
0.67
0.27
7/15/21 0:00
Narendra Modi
0.66
0.28
7/16/21 0:00
Narendra Modi
0.66
0.27
7/17/21 0:00
Narendra Modi
0.66
0.28
7/18/21 0:00
Narendra Modi
0.66
0.28
7/19/21 0:00
Narendra Modi
0.66
0.28
7/20/21 0:00
Narendra Modi
0.67
0.27
7/21/21 0:00
Narendra Modi
0.67
0.27
7/22/21 0:00
Narendra Modi
0.68
0.26
7/23/21 0:00
Narendra Modi
0.69
0.26
7/24/21 0:00
Narendra Modi
0.69
0.25
7/25/21 0:00
Narendra Modi
0.69
0.25
7/26/21 0:00
Narendra Modi
0.69
0.25
7/27/21 0:00
Narendra Modi
0.68
0.26
7/28/21 0:00
Narendra Modi
0.69
0.25
7/29/21 0:00
Narendra Modi
0.68
0.26
7/30/21 0:00
Narendra Modi
0.67
0.26
7/31/21 0:00
Narendra Modi
0.66
0.27
8/1/21 0:00
Narendra Modi
0.66
0.27
8/2/21 0:00
Narendra Modi
0.67
0.26
8/3/21 0:00
Narendra Modi
0.67
0.26
8/4/21 0:00
Narendra Modi
0.68
0.26
8/5/21 0:00
Narendra Modi
0.68
0.26
8/6/21 0:00
Narendra Modi
0.68
0.26
8/7/21 0:00
Narendra Modi
0.68
0.25
8/8/21 0:00
Narendra Modi
0.68
0.25
8/9/21 0:00
Narendra Modi
0.68
0.26
8/10/21 0:00
Narendra Modi
0.69
0.25
8/11/21 0:00
Narendra Modi
0.68
0.25
8/12/21 0:00
Narendra Modi
0.69
0.25
8/13/21 0:00
Narendra Modi
0.69
0.26
8/14/21 0:00
Narendra Modi
0.69
0.26
8/15/21 0:00
Narendra Modi
0.69
0.25
8/16/21 0:00
Narendra Modi
0.7
0.25
8/17/21 0:00
Narendra Modi
0.7
0.24
8/18/21 0:00
Narendra Modi
0.71
0.23
8/19/21 0:00
Narendra Modi
0.71
0.22
8/20/21 0:00
Narendra Modi
0.72
0.22
8/21/21 0:00
Narendra Modi
0.72
0.22
8/22/21 0:00
Narendra Modi
0.72
0.22
8/23/21 0:00
Narendra Modi
0.72
0.22
8/24/21 0:00
Narendra Modi
0.71
0.23
8/25/21 0:00
Narendra Modi
0.7
0.24
8/26/21 0:00
Narendra Modi
0.7
0.24
8/27/21 0:00
Narendra Modi
0.7
0.24
8/28/21 0:00
Narendra Modi
0.7
0.24
8/29/21 0:00
Narendra Modi
0.7
0.25
8/30/21 0:00
Narendra Modi
0.7
0.25
8/31/21 0:00
Narendra Modi
0.7
0.25
9/1/21 0:00
Narendra Modi
0.71
0.24
9/2/21 0:00
Narendra Modi
0.71
0.24
9/3/21 0:00
Narendra Modi
0.71
0.24
9/4/21 0:00
Narendra Modi
0.71
0.23
9/5/21 0:00
Narendra Modi
0.71
0.23
9/6/21 0:00
Narendra Modi
0.71
0.23
9/7/21 0:00
Narendra Modi
0.71
0.23
9/8/21 0:00
Narendra Modi
0.71
0.24
9/9/21 0:00
Narendra Modi
0.71
0.24
9/10/21 0:00
Narendra Modi
0.7
0.24
9/11/21 0:00
Narendra Modi
0.7
0.24
9/12/21 0:00
Narendra Modi
0.71
0.23
9/13/21 0:00
Narendra Modi
0.71
0.22
9/14/21 0:00
Narendra Modi
0.71
0.22
9/15/21 0:00
Narendra Modi
0.72
0.22
9/16/21 0:00
Narendra Modi
0.73
0.2
9/17/21 0:00
Narendra Modi
0.73
0.21
9/18/21 0:00
Narendra Modi
0.73
0.21
9/19/21 0:00
Narendra Modi
0.73
0.21
9/20/21 0:00
Narendra Modi
0.73
0.21
9/21/21 0:00
Narendra Modi
0.73
0.22
9/22/21 0:00
Narendra Modi
0.72
0.23
9/23/21 0:00
Narendra Modi
0.71
0.23
9/24/21 0:00
Narendra Modi
0.71
0.23
9/25/21 0:00
Narendra Modi
0.72
0.23
9/26/21 0:00
Narendra Modi
0.72
0.23
9/27/21 0:00
Narendra Modi
0.72
0.23
9/28/21 0:00
Narendra Modi
0.72
0.22
9/29/21 0:00
Narendra Modi
0.72
0.22
9/30/21 0:00
Narendra Modi
0.72
0.22
10/1/21 0:00
Narendra Modi
0.72
0.22
10/2/21 0:00
Narendra Modi
0.72
0.22
10/3/21 0:00
Narendra Modi
0.72
0.22
10/4/21 0:00
Narendra Modi
0.72
0.22
10/5/21 0:00
Narendra Modi
0.72
0.23
10/6/21 0:00
Narendra Modi
0.73
0.22
10/7/21 0:00
Narendra Modi
0.73
0.22
10/8/21 0:00
Narendra Modi
0.73
0.22
10/9/21 0:00
Narendra Modi
0.73
0.22
10/10/21 0:00
Narendra Modi
0.72
0.23
10/11/21 0:00
Narendra Modi
0.72
0.23
10/12/21 0:00
Narendra Modi
0.72
0.23
10/13/21 0:00
Narendra Modi
0.72
0.23
10/14/21 0:00
Narendra Modi
0.72
0.23
10/15/21 0:00
Narendra Modi
0.71
0.23
10/16/21 0:00
Narendra Modi
0.71
0.23
10/17/21 0:00
Narendra Modi
0.72
0.22
10/18/21 0:00
Narendra Modi
0.71
0.23
10/19/21 0:00
Narendra Modi
0.71
0.22
10/20/21 0:00
Narendra Modi
0.72
0.22
10/21/21 0:00
Narendra Modi
0.72
0.22
10/22/21 0:00
Narendra Modi
0.72
0.22
10/23/21 0:00
Narendra Modi
0.72
0.23
10/24/21 0:00
Narendra Modi
0.71
0.23
10/25/21 0:00
Narendra Modi
0.7
0.23
10/26/21 0:00
Narendra Modi
0.7
0.24
10/27/21 0:00
Narendra Modi
0.69
0.24
10/28/21 0:00
Narendra Modi
0.69
0.24
10/29/21 0:00
Narendra Modi
0.69
0.25
10/30/21 0:00
Narendra Modi
0.69
0.25
10/31/21 0:00
Narendra Modi
0.69
0.25
11/1/21 0:00
Narendra Modi
0.69
0.25
11/2/21 0:00
Narendra Modi
0.7
0.24
11/3/21 0:00
Narendra Modi
0.71
0.24
11/4/21 0:00
Narendra Modi
0.7
0.25
11/5/21 0:00
Narendra Modi
0.7
0.25
11/6/21 0:00
Narendra Modi
0.7
0.24
11/7/21 0:00
Narendra Modi
0.7
0.24
11/8/21 0:00
Narendra Modi
0.69
0.24
11/9/21 0:00
Narendra Modi
0.68
0.25
11/10/21 0:00
Narendra Modi
0.67
0.26
11/11/21 0:00
Narendra Modi
0.68
0.25
11/12/21 0:00
Narendra Modi
0.68
0.25
11/13/21 0:00
Narendra Modi
0.68
0.24
11/14/21 0:00
Narendra Modi
0.69
0.24
11/15/21 0:00
Narendra Modi
0.69
0.24
11/16/21 0:00
Narendra Modi
0.7
0.24
11/17/21 0:00
Narendra Modi
0.7
0.24
11/18/21 0:00
Narendra Modi
0.7
0.24
11/19/21 0:00
Narendra Modi
0.7
0.24
11/20/21 0:00
Narendra Modi
0.7
0.24
11/21/21 0:00
Narendra Modi
0.7
0.23
11/22/21 0:00
Narendra Modi
0.71
0.23
11/23/21 0:00
Narendra Modi
0.71
0.23
11/24/21 0:00
Narendra Modi
0.71
0.23
11/25/21 0:00
Narendra Modi
0.71
0.22
11/26/21 0:00
Narendra Modi
0.71
0.23
11/27/21 0:00
Narendra Modi
0.7
0.23
11/28/21 0:00
Narendra Modi
0.7
0.24
11/29/21 0:00
Narendra Modi
0.69
0.25
11/30/21 0:00
Narendra Modi
0.69
0.24
12/1/21 0:00
Narendra Modi
0.7
0.24
12/2/21 0:00
Narendra Modi
0.7
0.24
12/3/21 0:00
Narendra Modi
0.71
0.24
12/4/21 0:00
Narendra Modi
0.71
0.23
12/5/21 0:00
Narendra Modi
0.72
0.23
12/6/21 0:00
Narendra Modi
0.73
0.22
12/7/21 0:00
Narendra Modi
0.72
0.22
6/11/20 0:00
Moon Jae-in
0.55
0.36
6/12/20 0:00
Moon Jae-in
0.57
0.35
6/13/20 0:00
Moon Jae-in
0.58
0.33
6/14/20 0:00
Moon Jae-in
0.58
0.33
6/15/20 0:00
Moon Jae-in
0.58
0.34
6/16/20 0:00
Moon Jae-in
0.56
0.35
6/17/20 0:00
Moon Jae-in
0.56
0.34
6/18/20 0:00
Moon Jae-in
0.56
0.35
6/19/20 0:00
Moon Jae-in
0.55
0.36
6/20/20 0:00
Moon Jae-in
0.54
0.37
6/21/20 0:00
Moon Jae-in
0.53
0.38
6/22/20 0:00
Moon Jae-in
0.52
0.39
6/23/20 0:00
Moon Jae-in
0.54
0.37
6/24/20 0:00
Moon Jae-in
0.53
0.38
6/25/20 0:00
Moon Jae-in
0.53
0.39
6/26/20 0:00
Moon Jae-in
0.51
0.4
6/27/20 0:00
Moon Jae-in
0.52
0.4
6/28/20 0:00
Moon Jae-in
0.55
0.37
6/29/20 0:00
Moon Jae-in
0.56
0.36
6/30/20 0:00
Moon Jae-in
0.56
0.36
7/1/20 0:00
Moon Jae-in
0.55
0.36
7/2/20 0:00
Moon Jae-in
0.56
0.35
7/3/20 0:00
Moon Jae-in
0.56
0.36
7/4/20 0:00
Moon Jae-in
0.56
0.36
7/5/20 0:00
Moon Jae-in
0.55
0.36
7/6/20 0:00
Moon Jae-in
0.53
0.37
7/7/20 0:00
Moon Jae-in
0.53
0.38
7/8/20 0:00
Moon Jae-in
0.54
0.37
7/9/20 0:00
Moon Jae-in
0.54
0.37
7/10/20 0:00
Moon Jae-in
0.54
0.38
7/11/20 0:00
Moon Jae-in
0.53
0.38
7/12/20 0:00
Moon Jae-in
0.53
0.39
7/13/20 0:00
Moon Jae-in
0.53
0.39
7/14/20 0:00
Moon Jae-in
0.53
0.38
7/15/20 0:00
Moon Jae-in
0.51
0.4
7/16/20 0:00
Moon Jae-in
0.51
0.4
7/17/20 0:00
Moon Jae-in
0.5
0.4
7/18/20 0:00
Moon Jae-in
0.5
0.4
7/19/20 0:00
Moon Jae-in
0.5
0.38
7/20/20 0:00
Moon Jae-in
0.51
0.37
7/21/20 0:00
Moon Jae-in
0.5
0.39
7/22/20 0:00
Moon Jae-in
0.51
0.38
7/23/20 0:00
Moon Jae-in
0.49
0.39
7/24/20 0:00
Moon Jae-in
0.5
0.4
7/25/20 0:00
Moon Jae-in
0.48
0.42
7/26/20 0:00
Moon Jae-in
0.45
0.45
7/27/20 0:00
Moon Jae-in
0.45
0.46
7/28/20 0:00
Moon Jae-in
0.45
0.45
7/29/20 0:00
Moon Jae-in
0.44
0.46
7/30/20 0:00
Moon Jae-in
0.46
0.44
7/31/20 0:00
Moon Jae-in
0.46
0.45
8/1/20 0:00
Moon Jae-in
0.45
0.45
8/2/20 0:00
Moon Jae-in
0.47
0.44
8/3/20 0:00
Moon Jae-in
0.47
0.43
8/4/20 0:00
Moon Jae-in
0.48
0.43
8/5/20 0:00
Moon Jae-in
0.5
0.4
8/6/20 0:00
Moon Jae-in
0.5
0.4
8/7/20 0:00
Moon Jae-in
0.52
0.38
8/8/20 0:00
Moon Jae-in
0.53
0.37
8/9/20 0:00
Moon Jae-in
0.53
0.38
8/10/20 0:00
Moon Jae-in
0.51
0.39
8/11/20 0:00
Moon Jae-in
0.52
0.39
8/12/20 0:00
Moon Jae-in
0.53
0.39
8/13/20 0:00
Moon Jae-in
0.53
0.39
8/14/20 0:00
Moon Jae-in
0.52
0.4
8/15/20 0:00
Moon Jae-in
0.53
0.4
8/16/20 0:00
Moon Jae-in
0.54
0.39
8/17/20 0:00
Moon Jae-in
0.54
0.38
8/18/20 0:00
Moon Jae-in
0.52
0.4
8/19/20 0:00
Moon Jae-in
0.51
0.41
8/20/20 0:00
Moon Jae-in
0.52
0.4
8/21/20 0:00
Moon Jae-in
0.53
0.4
8/22/20 0:00
Moon Jae-in
0.52
0.4
8/23/20 0:00
Moon Jae-in
0.52
0.4
8/24/20 0:00
Moon Jae-in
0.52
0.41
8/25/20 0:00
Moon Jae-in
0.54
0.39
8/26/20 0:00
Moon Jae-in
0.54
0.38
8/27/20 0:00
Moon Jae-in
0.52
0.4
8/28/20 0:00
Moon Jae-in
0.52
0.39
8/29/20 0:00
Moon Jae-in
0.53
0.38
8/30/20 0:00
Moon Jae-in
0.54
0.37
8/31/20 0:00
Moon Jae-in
0.54
0.37
9/1/20 0:00
Moon Jae-in
0.54
0.38
9/2/20 0:00
Moon Jae-in
0.52
0.39
9/3/20 0:00
Moon Jae-in
0.54
0.38
9/4/20 0:00
Moon Jae-in
0.52
0.39
9/5/20 0:00
Moon Jae-in
0.53
0.39
9/6/20 0:00
Moon Jae-in
0.51
0.4
9/7/20 0:00
Moon Jae-in
0.51
0.4
9/8/20 0:00
Moon Jae-in
0.51
0.4
9/9/20 0:00
Moon Jae-in
0.52
0.39
9/10/20 0:00
Moon Jae-in
0.5
0.4
9/11/20 0:00
Moon Jae-in
0.5
0.41
9/12/20 0:00
Moon Jae-in
0.49
0.42
9/13/20 0:00
Moon Jae-in
0.49
0.42
9/14/20 0:00
Moon Jae-in
0.49
0.41
9/15/20 0:00
Moon Jae-in
0.49
0.41
9/16/20 0:00
Moon Jae-in
0.5
0.41
9/17/20 0:00
Moon Jae-in
0.5
0.41
9/18/20 0:00
Moon Jae-in
0.5
0.41
9/19/20 0:00
Moon Jae-in
0.5
0.41
9/20/20 0:00
Moon Jae-in
0.51
0.41
9/21/20 0:00
Moon Jae-in
0.5
0.41
9/22/20 0:00
Moon Jae-in
0.5
0.41
9/23/20 0:00
Moon Jae-in
0.49
0.42
9/24/20 0:00
Moon Jae-in
0.48
0.42
9/25/20 0:00
Moon Jae-in
0.49
0.42
9/26/20 0:00
Moon Jae-in
0.48
0.42
9/27/20 0:00
Moon Jae-in
0.47
0.43
9/28/20 0:00
Moon Jae-in
0.47
0.43
9/29/20 0:00
Moon Jae-in
0.46
0.42
9/30/20 0:00
Moon Jae-in
0.47
0.41
10/1/20 0:00
Moon Jae-in
0.49
0.39
10/2/20 0:00
Moon Jae-in
0.49
0.39
10/3/20 0:00
Moon Jae-in
0.5
0.39
10/4/20 0:00
Moon Jae-in
0.51
0.39
10/5/20 0:00
Moon Jae-in
0.49
0.4
10/6/20 0:00
Moon Jae-in
0.5
0.41
10/7/20 0:00
Moon Jae-in
0.47
0.44
10/8/20 0:00
Moon Jae-in
0.45
0.46
10/9/20 0:00
Moon Jae-in
0.46
0.44
10/10/20 0:00
Moon Jae-in
0.45
0.45
10/11/20 0:00
Moon Jae-in
0.46
0.45
10/12/20 0:00
Moon Jae-in
0.46
0.45
10/13/20 0:00
Moon Jae-in
0.45
0.45
10/14/20 0:00
Moon Jae-in
0.47
0.43
10/15/20 0:00
Moon Jae-in
0.49
0.42
10/16/20 0:00
Moon Jae-in
0.49
0.42
10/17/20 0:00
Moon Jae-in
0.5
0.42
10/18/20 0:00
Moon Jae-in
0.5
0.42
10/19/20 0:00
Moon Jae-in
0.52
0.4
10/20/20 0:00
Moon Jae-in
0.52
0.41
10/21/20 0:00
Moon Jae-in
0.51
0.43
10/22/20 0:00
Moon Jae-in
0.5
0.43
10/23/20 0:00
Moon Jae-in
0.49
0.44
10/24/20 0:00
Moon Jae-in
0.49
0.45
10/25/20 0:00
Moon Jae-in
0.47
0.46
10/26/20 0:00
Moon Jae-in
0.46
0.47
10/27/20 0:00
Moon Jae-in
0.47
0.45
10/28/20 0:00
Moon Jae-in
0.46
0.45
10/29/20 0:00
Moon Jae-in
0.47
0.44
10/30/20 0:00
Moon Jae-in
0.46
0.45
10/31/20 0:00
Moon Jae-in
0.47
0.43
11/1/20 0:00
Moon Jae-in
0.51
0.41
11/2/20 0:00
Moon Jae-in
0.5
0.41
11/3/20 0:00
Moon Jae-in
0.49
0.42
11/4/20 0:00
Moon Jae-in
0.49
0.41
11/5/20 0:00
Moon Jae-in
0.49
0.42
11/6/20 0:00
Moon Jae-in
0.5
0.41
11/7/20 0:00
Moon Jae-in
0.48
0.43
11/8/20 0:00
Moon Jae-in
0.44
0.46
11/9/20 0:00
Moon Jae-in
0.45
0.45
11/10/20 0:00
Moon Jae-in
0.44
0.46
11/11/20 0:00
Moon Jae-in
0.46
0.44
11/12/20 0:00
Moon Jae-in
0.45
0.45
11/13/20 0:00
Moon Jae-in
0.45
0.45
11/14/20 0:00
Moon Jae-in
0.47
0.44
11/15/20 0:00
Moon Jae-in
0.48
0.43
11/16/20 0:00
Moon Jae-in
0.48
0.43
11/17/20 0:00
Moon Jae-in
0.49
0.42
11/18/20 0:00
Moon Jae-in
0.48
0.42
11/19/20 0:00
Moon Jae-in
0.49
0.42
11/20/20 0:00
Moon Jae-in
0.49
0.41
11/21/20 0:00
Moon Jae-in
0.48
0.42
11/22/20 0:00
Moon Jae-in
0.5
0.41
11/23/20 0:00
Moon Jae-in
0.49
0.42
11/24/20 0:00
Moon Jae-in
0.47
0.43
11/25/20 0:00
Moon Jae-in
0.47
0.43
11/26/20 0:00
Moon Jae-in
0.46
0.43
11/27/20 0:00
Moon Jae-in
0.46
0.44
11/28/20 0:00
Moon Jae-in
0.47
0.44
11/29/20 0:00
Moon Jae-in
0.45
0.45
11/30/20 0:00
Moon Jae-in
0.45
0.44
12/1/20 0:00
Moon Jae-in
0.45
0.45
12/2/20 0:00
Moon Jae-in
0.45
0.45
12/3/20 0:00
Moon Jae-in
0.45
0.46
12/4/20 0:00
Moon Jae-in
0.45
0.45
12/5/20 0:00
Moon Jae-in
0.43
0.48
12/6/20 0:00
Moon Jae-in
0.44
0.47
12/7/20 0:00
Moon Jae-in
0.45
0.47
12/8/20 0:00
Moon Jae-in
0.44
0.47
12/9/20 0:00
Moon Jae-in
0.45
0.47
12/10/20 0:00
Moon Jae-in
0.44
0.46
12/11/20 0:00
Moon Jae-in
0.45
0.46
12/12/20 0:00
Moon Jae-in
0.45
0.45
12/13/20 0:00
Moon Jae-in
0.45
0.45
12/14/20 0:00
Moon Jae-in
0.45
0.46
12/15/20 0:00
Moon Jae-in
0.46
0.45
12/16/20 0:00
Moon Jae-in
0.46
0.45
12/17/20 0:00
Moon Jae-in
0.45
0.46
12/18/20 0:00
Moon Jae-in
0.44
0.46
12/19/20 0:00
Moon Jae-in
0.44
0.47
12/20/20 0:00
Moon Jae-in
0.45
0.46
12/21/20 0:00
Moon Jae-in
0.44
0.46
12/22/20 0:00
Moon Jae-in
0.44
0.46
12/23/20 0:00
Moon Jae-in
0.44
0.46
12/24/20 0:00
Moon Jae-in
0.45
0.46
12/25/20 0:00
Moon Jae-in
0.44
0.46
12/26/20 0:00
Moon Jae-in
0.44
0.47
12/27/20 0:00
Moon Jae-in
0.42
0.48
12/28/20 0:00
Moon Jae-in
0.41
0.49
12/29/20 0:00
Moon Jae-in
0.4
0.5
12/30/20 0:00
Moon Jae-in
0.4
0.51
12/31/20 0:00
Moon Jae-in
0.39
0.51
1/1/21 0:00
Moon Jae-in
0.4
0.51
1/2/21 0:00
Moon Jae-in
0.39
0.5
1/3/21 0:00
Moon Jae-in
0.39
0.51
1/4/21 0:00
Moon Jae-in
0.39
0.5
1/5/21 0:00
Moon Jae-in
0.4
0.49
1/6/21 0:00
Moon Jae-in
0.4
0.49
1/7/21 0:00
Moon Jae-in
0.41
0.49
1/8/21 0:00
Moon Jae-in
0.4
0.5
1/9/21 0:00
Moon Jae-in
0.42
0.49
1/10/21 0:00
Moon Jae-in
0.42
0.48
1/11/21 0:00
Moon Jae-in
0.41
0.49
1/12/21 0:00
Moon Jae-in
0.42
0.49
1/13/21 0:00
Moon Jae-in
0.41
0.5
1/14/21 0:00
Moon Jae-in
0.42
0.49
1/15/21 0:00
Moon Jae-in
0.43
0.49
1/16/21 0:00
Moon Jae-in
0.41
0.5
1/17/21 0:00
Moon Jae-in
0.41
0.5
1/18/21 0:00
Moon Jae-in
0.43
0.49
1/19/21 0:00
Moon Jae-in
0.42
0.5
1/20/21 0:00
Moon Jae-in
0.42
0.49
1/21/21 0:00
Moon Jae-in
0.42
0.49
1/22/21 0:00
Moon Jae-in
0.41
0.48
1/23/21 0:00
Moon Jae-in
0.42
0.48
1/24/21 0:00
Moon Jae-in
0.42
0.48
1/25/21 0:00
Moon Jae-in
0.42
0.48
1/26/21 0:00
Moon Jae-in
0.42
0.47
1/27/21 0:00
Moon Jae-in
0.42
0.48
1/28/21 0:00
Moon Jae-in
0.42
0.47
1/29/21 0:00
Moon Jae-in
0.42
0.48
1/30/21 0:00
Moon Jae-in
0.42
0.48
1/31/21 0:00
Moon Jae-in
0.42
0.48
2/1/21 0:00
Moon Jae-in
0.41
0.49
2/2/21 0:00
Moon Jae-in
0.42
0.47
2/3/21 0:00
Moon Jae-in
0.41
0.48
2/4/21 0:00
Moon Jae-in
0.41
0.49
2/5/21 0:00
Moon Jae-in
0.42
0.48
2/6/21 0:00
Moon Jae-in
0.42
0.47
2/7/21 0:00
Moon Jae-in
0.41
0.48
2/8/21 0:00
Moon Jae-in
0.42
0.46
2/9/21 0:00
Moon Jae-in
0.42
0.46
2/10/21 0:00
Moon Jae-in
0.43
0.46
2/11/21 0:00
Moon Jae-in
0.43
0.46
2/12/21 0:00
Moon Jae-in
0.42
0.46
2/13/21 0:00
Moon Jae-in
0.42
0.47
2/14/21 0:00
Moon Jae-in
0.43
0.46
2/15/21 0:00
Moon Jae-in
0.42
0.47
2/16/21 0:00
Moon Jae-in
0.4
0.48
2/17/21 0:00
Moon Jae-in
0.41
0.48
2/18/21 0:00
Moon Jae-in
0.4
0.49
2/19/21 0:00
Moon Jae-in
0.4
0.49
2/20/21 0:00
Moon Jae-in
0.39
0.5
2/21/21 0:00
Moon Jae-in
0.4
0.5
2/22/21 0:00
Moon Jae-in
0.39
0.5
2/23/21 0:00
Moon Jae-in
0.41
0.49
2/24/21 0:00
Moon Jae-in
0.41
0.48
2/25/21 0:00
Moon Jae-in
0.42
0.47
2/26/21 0:00
Moon Jae-in
0.42
0.47
2/27/21 0:00
Moon Jae-in
0.43
0.46
2/28/21 0:00
Moon Jae-in
0.44
0.46
3/1/21 0:00
Moon Jae-in
0.45
0.45
3/2/21 0:00
Moon Jae-in
0.44
0.46
3/3/21 0:00
Moon Jae-in
0.45
0.46
3/4/21 0:00
Moon Jae-in
0.44
0.48
3/5/21 0:00
Moon Jae-in
0.43
0.48
3/6/21 0:00
Moon Jae-in
0.43
0.49
3/7/21 0:00
Moon Jae-in
0.42
0.5
3/8/21 0:00
Moon Jae-in
0.41
0.51
3/9/21 0:00
Moon Jae-in
0.4
0.51
3/10/21 0:00
Moon Jae-in
0.39
0.52
3/11/21 0:00
Moon Jae-in
0.39
0.51
3/12/21 0:00
Moon Jae-in
0.38
0.52
3/13/21 0:00
Moon Jae-in
0.41
0.5
3/14/21 0:00
Moon Jae-in
0.41
0.5
3/15/21 0:00
Moon Jae-in
0.4
0.5
3/16/21 0:00
Moon Jae-in
0.39
0.5
3/17/21 0:00
Moon Jae-in
0.38
0.51
3/18/21 0:00
Moon Jae-in
0.39
0.5
3/19/21 0:00
Moon Jae-in
0.4
0.5
3/20/21 0:00
Moon Jae-in
0.37
0.52
3/21/21 0:00
Moon Jae-in
0.39
0.51
3/22/21 0:00
Moon Jae-in
0.4
0.51
3/23/21 0:00
Moon Jae-in
0.4
0.5
3/24/21 0:00
Moon Jae-in
0.4
0.5
3/25/21 0:00
Moon Jae-in
0.4
0.51
3/26/21 0:00
Moon Jae-in
0.4
0.51
3/27/21 0:00
Moon Jae-in
0.39
0.52
3/28/21 0:00
Moon Jae-in
0.38
0.52
3/29/21 0:00
Moon Jae-in
0.37
0.54
3/30/21 0:00
Moon Jae-in
0.38
0.54
3/31/21 0:00
Moon Jae-in
0.38
0.54
4/1/21 0:00
Moon Jae-in
0.37
0.55
4/2/21 0:00
Moon Jae-in
0.37
0.55
4/3/21 0:00
Moon Jae-in
0.37
0.55
4/4/21 0:00
Moon Jae-in
0.37
0.55
4/5/21 0:00
Moon Jae-in
0.37
0.55
4/6/21 0:00
Moon Jae-in
0.37
0.55
4/7/21 0:00
Moon Jae-in
0.37
0.55
4/8/21 0:00
Moon Jae-in
0.37
0.54
4/9/21 0:00
Moon Jae-in
0.36
0.55
4/10/21 0:00
Moon Jae-in
0.36
0.55
4/11/21 0:00
Moon Jae-in
0.36
0.54
4/12/21 0:00
Moon Jae-in
0.37
0.54
4/13/21 0:00
Moon Jae-in
0.36
0.54
4/14/21 0:00
Moon Jae-in
0.36
0.55
4/15/21 0:00
Moon Jae-in
0.36
0.56
4/16/21 0:00
Moon Jae-in
0.37
0.55
4/17/21 0:00
Moon Jae-in
0.37
0.56
4/18/21 0:00
Moon Jae-in
0.37
0.57
4/19/21 0:00
Moon Jae-in
0.35
0.58
4/20/21 0:00
Moon Jae-in
0.34
0.58
4/21/21 0:00
Moon Jae-in
0.34
0.58
4/22/21 0:00
Moon Jae-in
0.33
0.58
4/23/21 0:00
Moon Jae-in
0.33
0.58
4/24/21 0:00
Moon Jae-in
0.33
0.58
4/25/21 0:00
Moon Jae-in
0.33
0.58
4/26/21 0:00
Moon Jae-in
0.34
0.57
4/27/21 0:00
Moon Jae-in
0.34
0.57
4/28/21 0:00
Moon Jae-in
0.34
0.57
4/29/21 0:00
Moon Jae-in
0.35
0.57
4/30/21 0:00
Moon Jae-in
0.36
0.56
5/1/21 0:00
Moon Jae-in
0.35
0.55
5/2/21 0:00
Moon Jae-in
0.35
0.55
5/3/21 0:00
Moon Jae-in
0.35
0.55
5/4/21 0:00
Moon Jae-in
0.35
0.56
5/5/21 0:00
Moon Jae-in
0.35
0.56
5/6/21 0:00
Moon Jae-in
0.35
0.56
5/7/21 0:00
Moon Jae-in
0.35
0.58
5/8/21 0:00
Moon Jae-in
0.35
0.58
5/9/21 0:00
Moon Jae-in
0.35
0.59
5/10/21 0:00
Moon Jae-in
0.34
0.59
5/11/21 0:00
Moon Jae-in
0.34
0.6
5/12/21 0:00
Moon Jae-in
0.34
0.6
5/13/21 0:00
Moon Jae-in
0.34
0.59
5/14/21 0:00
Moon Jae-in
0.35
0.58
5/15/21 0:00
Moon Jae-in
0.36
0.57
5/16/21 0:00
Moon Jae-in
0.35
0.57
5/17/21 0:00
Moon Jae-in
0.35
0.58
5/18/21 0:00
Moon Jae-in
0.35
0.57
5/19/21 0:00
Moon Jae-in
0.35
0.56
5/20/21 0:00
Moon Jae-in
0.35
0.58
5/21/21 0:00
Moon Jae-in
0.33
0.59
5/22/21 0:00
Moon Jae-in
0.32
0.6
5/23/21 0:00
Moon Jae-in
0.32
0.59
5/24/21 0:00
Moon Jae-in
0.34
0.57
5/25/21 0:00
Moon Jae-in
0.34
0.58
5/26/21 0:00
Moon Jae-in
0.34
0.58
5/27/21 0:00
Moon Jae-in
0.35
0.57
5/28/21 0:00
Moon Jae-in
0.35
0.57
5/29/21 0:00
Moon Jae-in
0.36
0.57
5/30/21 0:00
Moon Jae-in
0.36
0.57
5/31/21 0:00
Moon Jae-in
0.35
0.57
6/1/21 0:00
Moon Jae-in
0.35
0.57
6/2/21 0:00
Moon Jae-in
0.35
0.57
6/3/21 0:00
Moon Jae-in
0.36
0.56
6/4/21 0:00
Moon Jae-in
0.36
0.55
6/5/21 0:00
Moon Jae-in
0.37
0.55
6/6/21 0:00
Moon Jae-in
0.38
0.55
6/7/21 0:00
Moon Jae-in
0.38
0.55
6/8/21 0:00
Moon Jae-in
0.39
0.53
6/9/21 0:00
Moon Jae-in
0.39
0.53
6/10/21 0:00
Moon Jae-in
0.38
0.54
6/11/21 0:00
Moon Jae-in
0.38
0.54
6/12/21 0:00
Moon Jae-in
0.38
0.54
6/13/21 0:00
Moon Jae-in
0.37
0.54
6/14/21 0:00
Moon Jae-in
0.38
0.54
6/15/21 0:00
Moon Jae-in
0.37
0.55
6/16/21 0:00
Moon Jae-in
0.37
0.55
6/17/21 0:00
Moon Jae-in
0.37
0.54
6/18/21 0:00
Moon Jae-in
0.38
0.54
6/19/21 0:00
Moon Jae-in
0.36
0.55
6/20/21 0:00
Moon Jae-in
0.36
0.55
6/21/21 0:00
Moon Jae-in
0.37
0.54
6/22/21 0:00
Moon Jae-in
0.36
0.56
6/23/21 0:00
Moon Jae-in
0.37
0.55
6/24/21 0:00
Moon Jae-in
0.38
0.53
6/25/21 0:00
Moon Jae-in
0.39
0.53
6/26/21 0:00
Moon Jae-in
0.39
0.53
6/27/21 0:00
Moon Jae-in
0.39
0.54
6/28/21 0:00
Moon Jae-in
0.38
0.55
6/29/21 0:00
Moon Jae-in
0.4
0.54
6/30/21 0:00
Moon Jae-in
0.38
0.54
7/1/21 0:00
Moon Jae-in
0.38
0.55
7/2/21 0:00
Moon Jae-in
0.39
0.53
7/3/21 0:00
Moon Jae-in
0.39
0.53
7/4/21 0:00
Moon Jae-in
0.38
0.53
7/5/21 0:00
Moon Jae-in
0.38
0.53
7/6/21 0:00
Moon Jae-in
0.39
0.52
7/7/21 0:00
Moon Jae-in
0.39
0.52
7/8/21 0:00
Moon Jae-in
0.38
0.53
7/9/21 0:00
Moon Jae-in
0.37
0.54
7/10/21 0:00
Moon Jae-in
0.37
0.54
7/11/21 0:00
Moon Jae-in
0.37
0.54
7/12/21 0:00
Moon Jae-in
0.38
0.54
7/13/21 0:00
Moon Jae-in
0.38
0.54
7/14/21 0:00
Moon Jae-in
0.38
0.53
7/15/21 0:00
Moon Jae-in
0.39
0.54
7/16/21 0:00
Moon Jae-in
0.38
0.54
7/17/21 0:00
Moon Jae-in
0.4
0.53
7/18/21 0:00
Moon Jae-in
0.39
0.53
7/19/21 0:00
Moon Jae-in
0.4
0.52
7/20/21 0:00
Moon Jae-in
0.4
0.52
7/21/21 0:00
Moon Jae-in
0.4
0.52
7/22/21 0:00
Moon Jae-in
0.4
0.51
7/23/21 0:00
Moon Jae-in
0.41
0.5
7/24/21 0:00
Moon Jae-in
0.4
0.51
7/25/21 0:00
Moon Jae-in
0.41
0.51
7/26/21 0:00
Moon Jae-in
0.4
0.52
7/27/21 0:00
Moon Jae-in
0.39
0.53
7/28/21 0:00
Moon Jae-in
0.4
0.52
7/29/21 0:00
Moon Jae-in
0.41
0.51
7/30/21 0:00
Moon Jae-in
0.39
0.52
7/31/21 0:00
Moon Jae-in
0.4
0.53
8/1/21 0:00
Moon Jae-in
0.41
0.51
8/2/21 0:00
Moon Jae-in
0.42
0.5
8/3/21 0:00
Moon Jae-in
0.41
0.51
8/4/21 0:00
Moon Jae-in
0.4
0.52
8/5/21 0:00
Moon Jae-in
0.39
0.53
8/6/21 0:00
Moon Jae-in
0.39
0.53
8/7/21 0:00
Moon Jae-in
0.39
0.53
8/8/21 0:00
Moon Jae-in
0.37
0.54
8/9/21 0:00
Moon Jae-in
0.37
0.54
8/10/21 0:00
Moon Jae-in
0.37
0.54
8/11/21 0:00
Moon Jae-in
0.36
0.55
8/12/21 0:00
Moon Jae-in
0.36
0.55
8/13/21 0:00
Moon Jae-in
0.36
0.56
8/14/21 0:00
Moon Jae-in
0.36
0.55
8/15/21 0:00
Moon Jae-in
0.37
0.54
8/16/21 0:00
Moon Jae-in
0.36
0.55
8/17/21 0:00
Moon Jae-in
0.37
0.54
8/18/21 0:00
Moon Jae-in
0.38
0.53
8/19/21 0:00
Moon Jae-in
0.38
0.54
8/20/21 0:00
Moon Jae-in
0.38
0.53
8/21/21 0:00
Moon Jae-in
0.37
0.54
8/22/21 0:00
Moon Jae-in
0.36
0.54
8/23/21 0:00
Moon Jae-in
0.37
0.54
8/24/21 0:00
Moon Jae-in
0.38
0.52
8/25/21 0:00
Moon Jae-in
0.38
0.52
8/26/21 0:00
Moon Jae-in
0.38
0.51
8/27/21 0:00
Moon Jae-in
0.39
0.51
8/28/21 0:00
Moon Jae-in
0.39
0.51
8/29/21 0:00
Moon Jae-in
0.39
0.52
8/30/21 0:00
Moon Jae-in
0.38
0.53
8/31/21 0:00
Moon Jae-in
0.38
0.53
9/1/21 0:00
Moon Jae-in
0.39
0.53
9/2/21 0:00
Moon Jae-in
0.38
0.54
9/3/21 0:00
Moon Jae-in
0.38
0.54
9/4/21 0:00
Moon Jae-in
0.38
0.54
9/5/21 0:00
Moon Jae-in
0.39
0.52
9/6/21 0:00
Moon Jae-in
0.39
0.52
9/7/21 0:00
Moon Jae-in
0.39
0.52
9/8/21 0:00
Moon Jae-in
0.39
0.53
9/9/21 0:00
Moon Jae-in
0.39
0.52
9/10/21 0:00
Moon Jae-in
0.39
0.52
9/11/21 0:00
Moon Jae-in
0.39
0.53
9/12/21 0:00
Moon Jae-in
0.39
0.53
9/13/21 0:00
Moon Jae-in
0.39
0.53
9/14/21 0:00
Moon Jae-in
0.41
0.52
9/15/21 0:00
Moon Jae-in
0.4
0.53
9/16/21 0:00
Moon Jae-in
0.4
0.52
9/17/21 0:00
Moon Jae-in
0.4
0.52
9/18/21 0:00
Moon Jae-in
0.4
0.52
9/19/21 0:00
Moon Jae-in
0.41
0.51
9/20/21 0:00
Moon Jae-in
0.4
0.51
9/21/21 0:00
Moon Jae-in
0.4
0.52
9/22/21 0:00
Moon Jae-in
0.41
0.5
9/23/21 0:00
Moon Jae-in
0.4
0.5
9/24/21 0:00
Moon Jae-in
0.41
0.5
9/25/21 0:00
Moon Jae-in
0.42
0.49
9/26/21 0:00
Moon Jae-in
0.41
0.5
9/27/21 0:00
Moon Jae-in
0.41
0.51
9/28/21 0:00
Moon Jae-in
0.4
0.51
9/29/21 0:00
Moon Jae-in
0.4
0.51
9/30/21 0:00
Moon Jae-in
0.39
0.52
10/1/21 0:00
Moon Jae-in
0.4
0.52
10/2/21 0:00
Moon Jae-in
0.39
0.52
10/3/21 0:00
Moon Jae-in
0.38
0.53
10/4/21 0:00
Moon Jae-in
0.38
0.53
10/5/21 0:00
Moon Jae-in
0.39
0.52
10/6/21 0:00
Moon Jae-in
0.39
0.52
10/7/21 0:00
Moon Jae-in
0.39
0.53
10/8/21 0:00
Moon Jae-in
0.39
0.53
10/9/21 0:00
Moon Jae-in
0.38
0.54
10/10/21 0:00
Moon Jae-in
0.38
0.54
10/11/21 0:00
Moon Jae-in
0.38
0.53
10/12/21 0:00
Moon Jae-in
0.38
0.54
10/13/21 0:00
Moon Jae-in
0.38
0.54
10/14/21 0:00
Moon Jae-in
0.38
0.54
10/15/21 0:00
Moon Jae-in
0.38
0.54
10/16/21 0:00
Moon Jae-in
0.38
0.55
10/17/21 0:00
Moon Jae-in
0.38
0.54
10/18/21 0:00
Moon Jae-in
0.37
0.55
10/19/21 0:00
Moon Jae-in
0.36
0.55
10/20/21 0:00
Moon Jae-in
0.36
0.56
10/21/21 0:00
Moon Jae-in
0.36
0.55
10/22/21 0:00
Moon Jae-in
0.36
0.56
10/23/21 0:00
Moon Jae-in
0.37
0.55
10/24/21 0:00
Moon Jae-in
0.37
0.56
10/25/21 0:00
Moon Jae-in
0.39
0.55
10/26/21 0:00
Moon Jae-in
0.39
0.54
10/27/21 0:00
Moon Jae-in
0.4
0.53
10/28/21 0:00
Moon Jae-in
0.39
0.54
10/29/21 0:00
Moon Jae-in
0.39
0.54
10/30/21 0:00
Moon Jae-in
0.39
0.54
10/31/21 0:00
Moon Jae-in
0.4
0.53
11/1/21 0:00
Moon Jae-in
0.4
0.52
11/2/21 0:00
Moon Jae-in
0.41
0.52
11/3/21 0:00
Moon Jae-in
0.4
0.53
11/4/21 0:00
Moon Jae-in
0.4
0.53
11/5/21 0:00
Moon Jae-in
0.4
0.53
11/6/21 0:00
Moon Jae-in
0.41
0.53
11/7/21 0:00
Moon Jae-in
0.4
0.54
11/8/21 0:00
Moon Jae-in
0.4
0.54
11/9/21 0:00
Moon Jae-in
0.39
0.55
11/10/21 0:00
Moon Jae-in
0.39
0.55
11/11/21 0:00
Moon Jae-in
0.41
0.54
11/12/21 0:00
Moon Jae-in
0.41
0.54
11/13/21 0:00
Moon Jae-in
0.4
0.55
11/14/21 0:00
Moon Jae-in
0.4
0.55
11/15/21 0:00
Moon Jae-in
0.39
0.56
11/16/21 0:00
Moon Jae-in
0.39
0.55
11/17/21 0:00
Moon Jae-in
0.39
0.56
11/18/21 0:00
Moon Jae-in
0.38
0.57
11/19/21 0:00
Moon Jae-in
0.38
0.57
11/20/21 0:00
Moon Jae-in
0.38
0.57
11/21/21 0:00
Moon Jae-in
0.38
0.57
11/22/21 0:00
Moon Jae-in
0.38
0.56
11/23/21 0:00
Moon Jae-in
0.38
0.56
11/24/21 0:00
Moon Jae-in
0.38
0.57
11/25/21 0:00
Moon Jae-in
0.38
0.56
11/26/21 0:00
Moon Jae-in
0.38
0.56
11/27/21 0:00
Moon Jae-in
0.38
0.55
11/28/21 0:00
Moon Jae-in
0.38
0.56
11/29/21 0:00
Moon Jae-in
0.38
0.56
11/30/21 0:00
Moon Jae-in
0.38
0.56
12/1/21 0:00
Moon Jae-in
0.38
0.55
12/2/21 0:00
Moon Jae-in
0.38
0.56
12/3/21 0:00
Moon Jae-in
0.38
0.56
12/4/21 0:00
Moon Jae-in
0.38
0.57
12/5/21 0:00
Moon Jae-in
0.38
0.56
12/6/21 0:00
Moon Jae-in
0.38
0.56
12/7/21 0:00
Moon Jae-in
0.38
0.56
3/6/20 0:00
Scott Morrison
0.32
0.59
3/7/20 0:00
Scott Morrison
0.32
0.58
3/8/20 0:00
Scott Morrison
0.33
0.58
3/9/20 0:00
Scott Morrison
0.33
0.57
3/10/20 0:00
Scott Morrison
0.33
0.57
3/11/20 0:00
Scott Morrison
0.34
0.56
3/12/20 0:00
Scott Morrison
0.34
0.56
3/13/20 0:00
Scott Morrison
0.34
0.56
3/14/20 0:00
Scott Morrison
0.34
0.55
3/15/20 0:00
Scott Morrison
0.35
0.55
3/16/20 0:00
Scott Morrison
0.35
0.55
3/17/20 0:00
Scott Morrison
0.35
0.54
3/18/20 0:00
Scott Morrison
0.36
0.53
3/19/20 0:00
Scott Morrison
0.37
0.52
3/20/20 0:00
Scott Morrison
0.38
0.52
3/21/20 0:00
Scott Morrison
0.39
0.51
3/22/20 0:00
Scott Morrison
0.41
0.5
3/23/20 0:00
Scott Morrison
0.43
0.48
3/24/20 0:00
Scott Morrison
0.45
0.46
3/25/20 0:00
Scott Morrison
0.46
0.45
3/26/20 0:00
Scott Morrison
0.46
0.45
3/27/20 0:00
Scott Morrison
0.47
0.44
3/28/20 0:00
Scott Morrison
0.49
0.42
3/29/20 0:00
Scott Morrison
0.5
0.42
3/30/20 0:00
Scott Morrison
0.51
0.41
3/31/20 0:00
Scott Morrison
0.51
0.4
4/1/20 0:00
Scott Morrison
0.51
0.41
4/2/20 0:00
Scott Morrison
0.53
0.39
4/3/20 0:00
Scott Morrison
0.53
0.38
4/4/20 0:00
Scott Morrison
0.54
0.38
4/5/20 0:00
Scott Morrison
0.55
0.37
4/6/20 0:00
Scott Morrison
0.55
0.36
4/7/20 0:00
Scott Morrison
0.57
0.35
4/8/20 0:00
Scott Morrison
0.57
0.35
4/9/20 0:00
Scott Morrison
0.58
0.34
4/10/20 0:00
Scott Morrison
0.59
0.34
4/11/20 0:00
Scott Morrison
0.59
0.33
4/12/20 0:00
Scott Morrison
0.59
0.33
4/13/20 0:00
Scott Morrison
0.59
0.33
4/14/20 0:00
Scott Morrison
0.58
0.34
4/15/20 0:00
Scott Morrison
0.59
0.32
4/16/20 0:00
Scott Morrison
0.61
0.31
4/17/20 0:00
Scott Morrison
0.61
0.3
4/18/20 0:00
Scott Morrison
0.62
0.3
4/19/20 0:00
Scott Morrison
0.62
0.31
4/20/20 0:00
Scott Morrison
0.62
0.3
4/21/20 0:00
Scott Morrison
0.63
0.29
4/22/20 0:00
Scott Morrison
0.63
0.3
4/23/20 0:00
Scott Morrison
0.63
0.3
4/24/20 0:00
Scott Morrison
0.63
0.3
4/25/20 0:00
Scott Morrison
0.63
0.3
4/26/20 0:00
Scott Morrison
0.64
0.29
4/27/20 0:00
Scott Morrison
0.64
0.29
4/28/20 0:00
Scott Morrison
0.64
0.29
4/29/20 0:00
Scott Morrison
0.64
0.29
4/30/20 0:00
Scott Morrison
0.64
0.29
5/1/20 0:00
Scott Morrison
0.63
0.29
5/2/20 0:00
Scott Morrison
0.64
0.28
5/3/20 0:00
Scott Morrison
0.64
0.28
5/4/20 0:00
Scott Morrison
0.64
0.28
5/5/20 0:00
Scott Morrison
0.65
0.27
5/6/20 0:00
Scott Morrison
0.64
0.28
5/7/20 0:00
Scott Morrison
0.64
0.28
5/8/20 0:00
Scott Morrison
0.65
0.28
5/9/20 0:00
Scott Morrison
0.65
0.28
5/10/20 0:00
Scott Morrison
0.65
0.28
5/11/20 0:00
Scott Morrison
0.65
0.28
5/12/20 0:00
Scott Morrison
0.65
0.28
5/13/20 0:00
Scott Morrison
0.66
0.28
5/14/20 0:00
Scott Morrison
0.66
0.28
5/15/20 0:00
Scott Morrison
0.67
0.27
5/16/20 0:00
Scott Morrison
0.67
0.27
5/17/20 0:00
Scott Morrison
0.66
0.27
5/18/20 0:00
Scott Morrison
0.67
0.26
5/19/20 0:00
Scott Morrison
0.66
0.26
5/20/20 0:00
Scott Morrison
0.66
0.26
5/21/20 0:00
Scott Morrison
0.66
0.26
5/22/20 0:00
Scott Morrison
0.64
0.28
5/23/20 0:00
Scott Morrison
0.64
0.28
5/24/20 0:00
Scott Morrison
0.64
0.28
5/25/20 0:00
Scott Morrison
0.63
0.28
5/26/20 0:00
Scott Morrison
0.64
0.28
5/27/20 0:00
Scott Morrison
0.64
0.28
5/28/20 0:00
Scott Morrison
0.64
0.28
5/29/20 0:00
Scott Morrison
0.64
0.28
5/30/20 0:00
Scott Morrison
0.64
0.28
5/31/20 0:00
Scott Morrison
0.64
0.28
6/1/20 0:00
Scott Morrison
0.65
0.28
6/2/20 0:00
Scott Morrison
0.64
0.28
6/3/20 0:00
Scott Morrison
0.62
0.3
6/4/20 0:00
Scott Morrison
0.63
0.29
6/5/20 0:00
Scott Morrison
0.63
0.29
6/6/20 0:00
Scott Morrison
0.63
0.29
6/7/20 0:00
Scott Morrison
0.64
0.28
6/8/20 0:00
Scott Morrison
0.64
0.28
6/9/20 0:00
Scott Morrison
0.64
0.28
6/10/20 0:00
Scott Morrison
0.64
0.28
6/11/20 0:00
Scott Morrison
0.64
0.29
6/12/20 0:00
Scott Morrison
0.64
0.29
6/13/20 0:00
Scott Morrison
0.64
0.29
6/14/20 0:00
Scott Morrison
0.64
0.29
6/15/20 0:00
Scott Morrison
0.64
0.29
6/16/20 0:00
Scott Morrison
0.64
0.29
6/17/20 0:00
Scott Morrison
0.64
0.29
6/18/20 0:00
Scott Morrison
0.64
0.29
6/19/20 0:00
Scott Morrison
0.64
0.29
6/20/20 0:00
Scott Morrison
0.64
0.3
6/21/20 0:00
Scott Morrison
0.63
0.3
6/22/20 0:00
Scott Morrison
0.62
0.3
6/23/20 0:00
Scott Morrison
0.63
0.3
6/24/20 0:00
Scott Morrison
0.63
0.3
6/25/20 0:00
Scott Morrison
0.64
0.29
6/26/20 0:00
Scott Morrison
0.63
0.29
6/27/20 0:00
Scott Morrison
0.64
0.29
6/28/20 0:00
Scott Morrison
0.65
0.28
6/29/20 0:00
Scott Morrison
0.65
0.28
6/30/20 0:00
Scott Morrison
0.65
0.28
7/1/20 0:00
Scott Morrison
0.65
0.28
7/2/20 0:00
Scott Morrison
0.64
0.28
7/3/20 0:00
Scott Morrison
0.65
0.28
7/4/20 0:00
Scott Morrison
0.65
0.28
7/5/20 0:00
Scott Morrison
0.64
0.29
7/6/20 0:00
Scott Morrison
0.64
0.29
7/7/20 0:00
Scott Morrison
0.64
0.29
7/8/20 0:00
Scott Morrison
0.64
0.29
7/9/20 0:00
Scott Morrison
0.64
0.29
7/10/20 0:00
Scott Morrison
0.65
0.28
7/11/20 0:00
Scott Morrison
0.64
0.29
7/12/20 0:00
Scott Morrison
0.66
0.28
7/13/20 0:00
Scott Morrison
0.65
0.29
7/14/20 0:00
Scott Morrison
0.66
0.28
7/15/20 0:00
Scott Morrison
0.65
0.28
7/16/20 0:00
Scott Morrison
0.65
0.28
7/17/20 0:00
Scott Morrison
0.64
0.3
7/18/20 0:00
Scott Morrison
0.65
0.29
7/19/20 0:00
Scott Morrison
0.64
0.29
7/20/20 0:00
Scott Morrison
0.64
0.29
7/21/20 0:00
Scott Morrison
0.64
0.3
7/22/20 0:00
Scott Morrison
0.64
0.29
7/23/20 0:00
Scott Morrison
0.64
0.29
7/24/20 0:00
Scott Morrison
0.64
0.29
7/25/20 0:00
Scott Morrison
0.64
0.29
7/26/20 0:00
Scott Morrison
0.63
0.3
7/27/20 0:00
Scott Morrison
0.63
0.3
7/28/20 0:00
Scott Morrison
0.63
0.3
7/29/20 0:00
Scott Morrison
0.62
0.3
7/30/20 0:00
Scott Morrison
0.62
0.31
7/31/20 0:00
Scott Morrison
0.63
0.3
8/1/20 0:00
Scott Morrison
0.63
0.3
8/2/20 0:00
Scott Morrison
0.62
0.3
8/3/20 0:00
Scott Morrison
0.63
0.3
8/4/20 0:00
Scott Morrison
0.63
0.3
8/5/20 0:00
Scott Morrison
0.63
0.3
8/6/20 0:00
Scott Morrison
0.63
0.3
8/7/20 0:00
Scott Morrison
0.62
0.31
8/8/20 0:00
Scott Morrison
0.62
0.31
8/9/20 0:00
Scott Morrison
0.62
0.31
8/10/20 0:00
Scott Morrison
0.61
0.31
8/11/20 0:00
Scott Morrison
0.62
0.3
8/12/20 0:00
Scott Morrison
0.62
0.3
8/13/20 0:00
Scott Morrison
0.62
0.3
8/14/20 0:00
Scott Morrison
0.62
0.3
8/15/20 0:00
Scott Morrison
0.63
0.3
8/16/20 0:00
Scott Morrison
0.62
0.3
8/17/20 0:00
Scott Morrison
0.62
0.3
8/18/20 0:00
Scott Morrison
0.62
0.3
8/19/20 0:00
Scott Morrison
0.62
0.3
8/20/20 0:00
Scott Morrison
0.62
0.31
8/21/20 0:00
Scott Morrison
0.62
0.31
8/22/20 0:00
Scott Morrison
0.62
0.31
8/23/20 0:00
Scott Morrison
0.62
0.31
8/24/20 0:00
Scott Morrison
0.62
0.31
8/25/20 0:00
Scott Morrison
0.62
0.32
8/26/20 0:00
Scott Morrison
0.62
0.31
8/27/20 0:00
Scott Morrison
0.62
0.31
8/28/20 0:00
Scott Morrison
0.63
0.29
8/29/20 0:00
Scott Morrison
0.62
0.3
8/30/20 0:00
Scott Morrison
0.62
0.3
8/31/20 0:00
Scott Morrison
0.62
0.3
9/1/20 0:00
Scott Morrison
0.62
0.3
9/2/20 0:00
Scott Morrison
0.62
0.3
9/3/20 0:00
Scott Morrison
0.62
0.31
9/4/20 0:00
Scott Morrison
0.62
0.31
9/5/20 0:00
Scott Morrison
0.63
0.31
9/6/20 0:00
Scott Morrison
0.62
0.31
9/7/20 0:00
Scott Morrison
0.62
0.31
9/8/20 0:00
Scott Morrison
0.61
0.31
9/9/20 0:00
Scott Morrison
0.61
0.32
9/10/20 0:00
Scott Morrison
0.6
0.32
9/11/20 0:00
Scott Morrison
0.6
0.32
9/12/20 0:00
Scott Morrison
0.6
0.32
9/13/20 0:00
Scott Morrison
0.6
0.32
9/14/20 0:00
Scott Morrison
0.6
0.31
9/15/20 0:00
Scott Morrison
0.6
0.31
9/16/20 0:00
Scott Morrison
0.6
0.31
9/17/20 0:00
Scott Morrison
0.61
0.31
9/18/20 0:00
Scott Morrison
0.61
0.31
9/19/20 0:00
Scott Morrison
0.6
0.31
9/20/20 0:00
Scott Morrison
0.6
0.32
9/21/20 0:00
Scott Morrison
0.59
0.32
9/22/20 0:00
Scott Morrison
0.59
0.33
9/23/20 0:00
Scott Morrison
0.6
0.33
9/24/20 0:00
Scott Morrison
0.6
0.33
9/25/20 0:00
Scott Morrison
0.61
0.33
9/26/20 0:00
Scott Morrison
0.61
0.32
9/27/20 0:00
Scott Morrison
0.6
0.32
9/28/20 0:00
Scott Morrison
0.61
0.32
9/29/20 0:00
Scott Morrison
0.61
0.32
9/30/20 0:00
Scott Morrison
0.61
0.31
10/1/20 0:00
Scott Morrison
0.6
0.31
10/2/20 0:00
Scott Morrison
0.6
0.31
10/3/20 0:00
Scott Morrison
0.61
0.31
10/4/20 0:00
Scott Morrison
0.61
0.31
10/5/20 0:00
Scott Morrison
0.61
0.31
10/6/20 0:00
Scott Morrison
0.62
0.31
10/7/20 0:00
Scott Morrison
0.61
0.32
10/8/20 0:00
Scott Morrison
0.62
0.31
10/9/20 0:00
Scott Morrison
0.61
0.32
10/10/20 0:00
Scott Morrison
0.6
0.33
10/11/20 0:00
Scott Morrison
0.6
0.33
10/12/20 0:00
Scott Morrison
0.6
0.33
10/13/20 0:00
Scott Morrison
0.59
0.33
10/14/20 0:00
Scott Morrison
0.6
0.33
10/15/20 0:00
Scott Morrison
0.61
0.32
10/16/20 0:00
Scott Morrison
0.6
0.33
10/17/20 0:00
Scott Morrison
0.6
0.32
10/18/20 0:00
Scott Morrison
0.61
0.32
10/19/20 0:00
Scott Morrison
0.6
0.32
10/20/20 0:00
Scott Morrison
0.6
0.33
10/21/20 0:00
Scott Morrison
0.59
0.33
10/22/20 0:00
Scott Morrison
0.59
0.34
10/23/20 0:00
Scott Morrison
0.6
0.33
10/24/20 0:00
Scott Morrison
0.6
0.33
10/25/20 0:00
Scott Morrison
0.59
0.33
10/26/20 0:00
Scott Morrison
0.6
0.33
10/27/20 0:00
Scott Morrison
0.6
0.32
10/28/20 0:00
Scott Morrison
0.61
0.32
10/29/20 0:00
Scott Morrison
0.61
0.31
10/30/20 0:00
Scott Morrison
0.61
0.31
10