Most Voters: Trump's Not Worth $10 Billion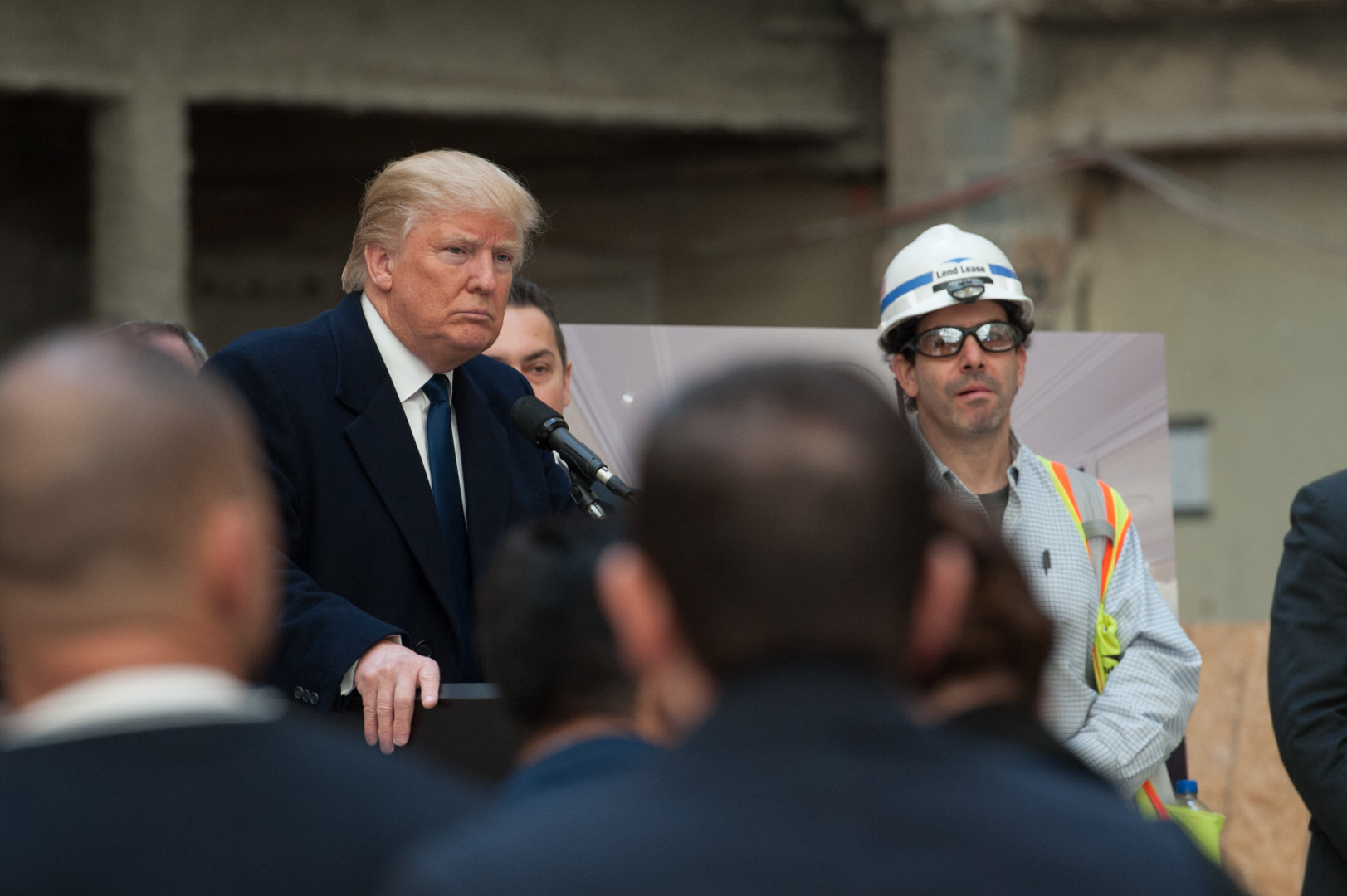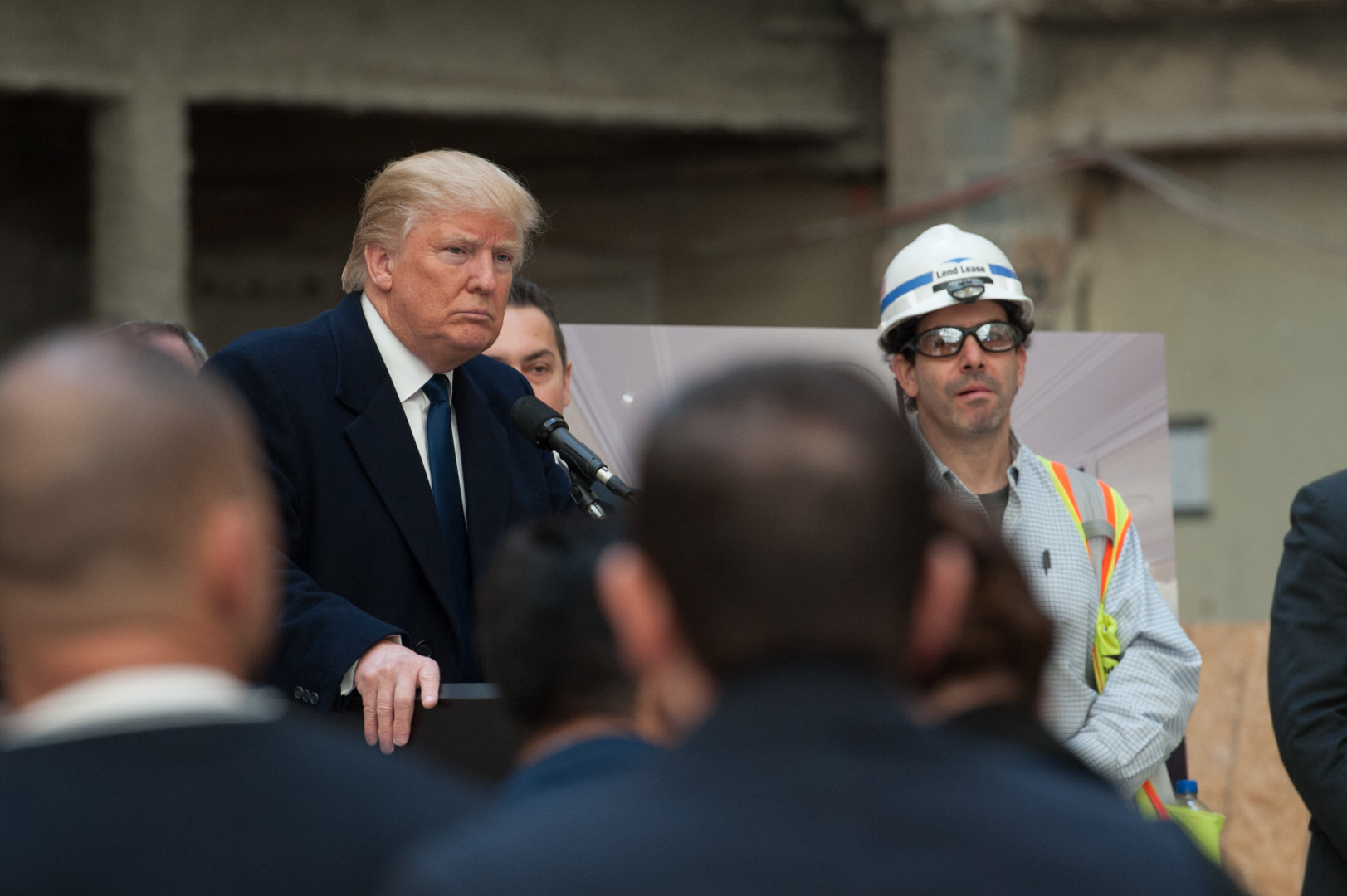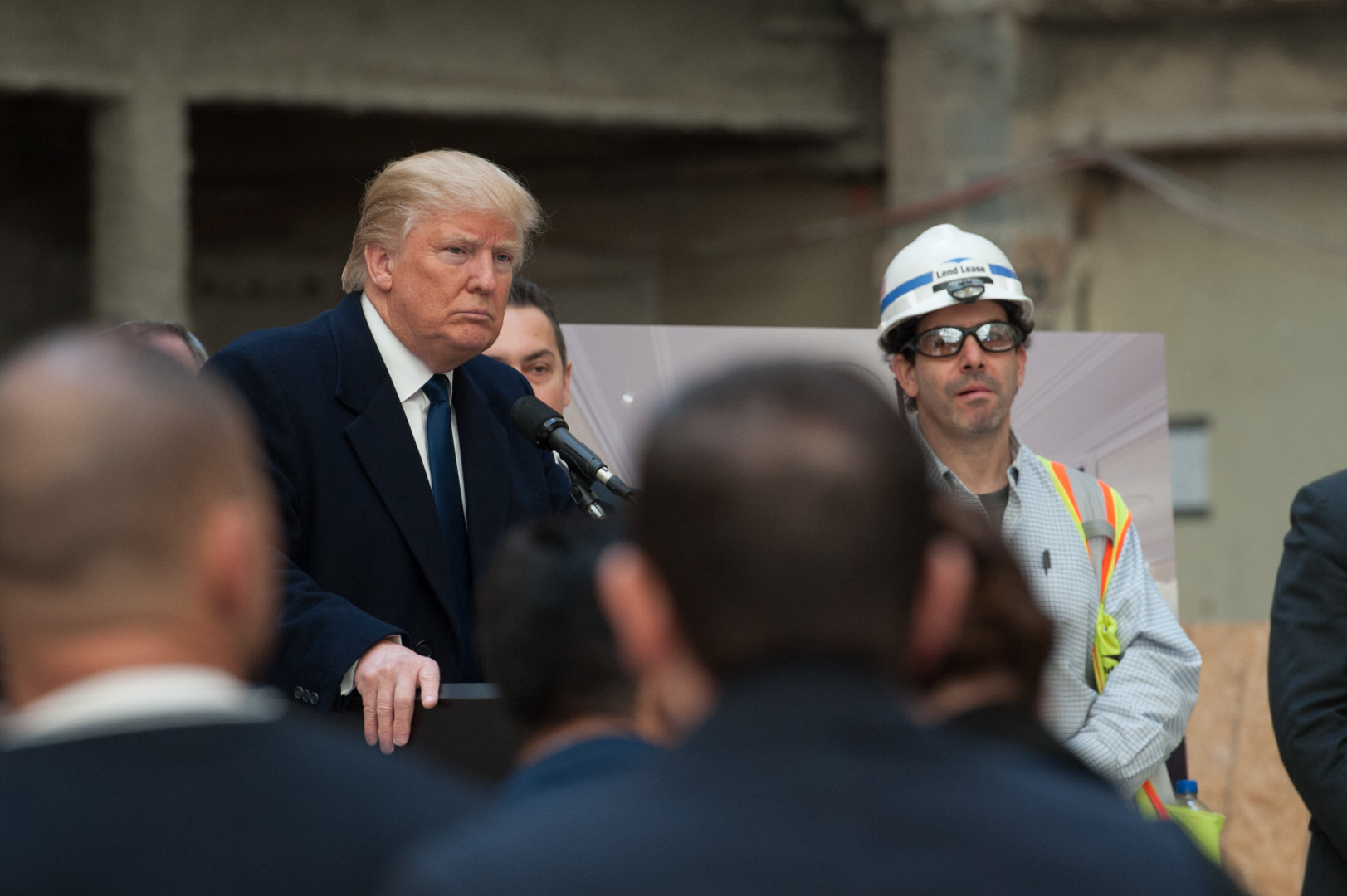 Donald Trump claims to be worth more than $10 billion, but only 20 percent of voters believe his net worth is that high as speculation grows that the real estate mogul is less wealthy than he claims to be.
Morning Consult asked 2,572 voters to guess the net worth of Trump and Democratic front-runner Hillary Clinton on a scale ranging from less than $1 million to upwards of $50 billion or more.
More than a fourth of voters (43 percent) said Trump's investments, income and real estate amount to about $5 billion or less. Nearly as many respondents (37 percent) said they didn't know or had no opinion. Forbes Magazine put Trump's net worth at $4.5 billion.
period_end
leader
Approve
Disaprove
1/21/21 0:00
Joe Biden
0.5
0.28
1/22/21 0:00
Joe Biden
0.51
0.28
1/23/21 0:00
Joe Biden
0.52
0.29
1/24/21 0:00
Joe Biden
0.53
0.29
1/25/21 0:00
Joe Biden
0.53
0.3
1/26/21 0:00
Joe Biden
0.53
0.3
1/27/21 0:00
Joe Biden
0.54
0.31
1/28/21 0:00
Joe Biden
0.54
0.32
1/29/21 0:00
Joe Biden
0.54
0.32
1/30/21 0:00
Joe Biden
0.54
0.32
1/31/21 0:00
Joe Biden
0.54
0.33
2/1/21 0:00
Joe Biden
0.54
0.33
2/2/21 0:00
Joe Biden
0.54
0.33
2/3/21 0:00
Joe Biden
0.54
0.33
2/4/21 0:00
Joe Biden
0.54
0.34
2/5/21 0:00
Joe Biden
0.54
0.34
2/6/21 0:00
Joe Biden
0.54
0.34
2/7/21 0:00
Joe Biden
0.55
0.33
2/8/21 0:00
Joe Biden
0.55
0.33
2/9/21 0:00
Joe Biden
0.55
0.33
2/10/21 0:00
Joe Biden
0.55
0.33
2/11/21 0:00
Joe Biden
0.55
0.33
2/12/21 0:00
Joe Biden
0.55
0.33
2/13/21 0:00
Joe Biden
0.55
0.34
2/14/21 0:00
Joe Biden
0.54
0.34
2/15/21 0:00
Joe Biden
0.54
0.34
2/16/21 0:00
Joe Biden
0.54
0.34
2/17/21 0:00
Joe Biden
0.54
0.34
2/18/21 0:00
Joe Biden
0.54
0.35
2/19/21 0:00
Joe Biden
0.54
0.35
2/20/21 0:00
Joe Biden
0.54
0.35
2/21/21 0:00
Joe Biden
0.54
0.35
2/22/21 0:00
Joe Biden
0.54
0.35
2/23/21 0:00
Joe Biden
0.54
0.35
2/24/21 0:00
Joe Biden
0.54
0.35
2/25/21 0:00
Joe Biden
0.54
0.35
2/26/21 0:00
Joe Biden
0.54
0.35
2/27/21 0:00
Joe Biden
0.54
0.35
2/28/21 0:00
Joe Biden
0.54
0.35
3/1/21 0:00
Joe Biden
0.54
0.35
3/2/21 0:00
Joe Biden
0.54
0.36
3/3/21 0:00
Joe Biden
0.54
0.36
3/4/21 0:00
Joe Biden
0.54
0.36
3/5/21 0:00
Joe Biden
0.54
0.36
3/6/21 0:00
Joe Biden
0.54
0.36
3/7/21 0:00
Joe Biden
0.55
0.36
3/8/21 0:00
Joe Biden
0.55
0.36
3/9/21 0:00
Joe Biden
0.55
0.36
3/10/21 0:00
Joe Biden
0.55
0.36
3/11/21 0:00
Joe Biden
0.55
0.36
3/12/21 0:00
Joe Biden
0.55
0.36
3/13/21 0:00
Joe Biden
0.56
0.35
3/14/21 0:00
Joe Biden
0.56
0.35
3/15/21 0:00
Joe Biden
0.55
0.36
3/16/21 0:00
Joe Biden
0.56
0.35
3/17/21 0:00
Joe Biden
0.56
0.35
3/18/21 0:00
Joe Biden
0.56
0.35
3/19/21 0:00
Joe Biden
0.56
0.35
3/20/21 0:00
Joe Biden
0.56
0.35
3/21/21 0:00
Joe Biden
0.55
0.36
3/22/21 0:00
Joe Biden
0.56
0.36
3/23/21 0:00
Joe Biden
0.55
0.36
3/24/21 0:00
Joe Biden
0.55
0.36
3/25/21 0:00
Joe Biden
0.56
0.36
3/26/21 0:00
Joe Biden
0.55
0.36
3/27/21 0:00
Joe Biden
0.55
0.36
3/28/21 0:00
Joe Biden
0.54
0.36
3/29/21 0:00
Joe Biden
0.54
0.36
3/30/21 0:00
Joe Biden
0.54
0.36
3/31/21 0:00
Joe Biden
0.54
0.36
4/1/21 0:00
Joe Biden
0.54
0.36
4/2/21 0:00
Joe Biden
0.54
0.36
4/3/21 0:00
Joe Biden
0.54
0.36
4/4/21 0:00
Joe Biden
0.55
0.36
4/5/21 0:00
Joe Biden
0.55
0.36
4/6/21 0:00
Joe Biden
0.55
0.36
4/7/21 0:00
Joe Biden
0.55
0.36
4/8/21 0:00
Joe Biden
0.55
0.36
4/9/21 0:00
Joe Biden
0.55
0.36
4/10/21 0:00
Joe Biden
0.55
0.36
4/11/21 0:00
Joe Biden
0.54
0.37
4/12/21 0:00
Joe Biden
0.55
0.36
4/13/21 0:00
Joe Biden
0.55
0.36
4/14/21 0:00
Joe Biden
0.54
0.37
4/15/21 0:00
Joe Biden
0.54
0.37
4/16/21 0:00
Joe Biden
0.55
0.37
4/17/21 0:00
Joe Biden
0.54
0.37
4/18/21 0:00
Joe Biden
0.54
0.37
4/19/21 0:00
Joe Biden
0.54
0.38
4/20/21 0:00
Joe Biden
0.53
0.38
4/21/21 0:00
Joe Biden
0.54
0.37
4/22/21 0:00
Joe Biden
0.54
0.37
4/23/21 0:00
Joe Biden
0.54
0.37
4/24/21 0:00
Joe Biden
0.54
0.37
4/25/21 0:00
Joe Biden
0.54
0.36
4/26/21 0:00
Joe Biden
0.55
0.36
4/27/21 0:00
Joe Biden
0.55
0.36
4/28/21 0:00
Joe Biden
0.55
0.36
4/29/21 0:00
Joe Biden
0.55
0.36
4/30/21 0:00
Joe Biden
0.55
0.36
5/1/21 0:00
Joe Biden
0.56
0.36
5/2/21 0:00
Joe Biden
0.56
0.36
5/3/21 0:00
Joe Biden
0.56
0.36
5/4/21 0:00
Joe Biden
0.56
0.36
5/5/21 0:00
Joe Biden
0.56
0.36
5/6/21 0:00
Joe Biden
0.56
0.36
5/7/21 0:00
Joe Biden
0.56
0.36
5/8/21 0:00
Joe Biden
0.55
0.36
5/9/21 0:00
Joe Biden
0.55
0.36
5/10/21 0:00
Joe Biden
0.55
0.37
5/11/21 0:00
Joe Biden
0.55
0.37
5/12/21 0:00
Joe Biden
0.55
0.37
5/13/21 0:00
Joe Biden
0.54
0.37
5/14/21 0:00
Joe Biden
0.54
0.37
5/15/21 0:00
Joe Biden
0.54
0.37
5/16/21 0:00
Joe Biden
0.54
0.37
5/17/21 0:00
Joe Biden
0.54
0.37
5/18/21 0:00
Joe Biden
0.54
0.38
5/19/21 0:00
Joe Biden
0.54
0.38
5/20/21 0:00
Joe Biden
0.54
0.38
5/21/21 0:00
Joe Biden
0.54
0.38
5/22/21 0:00
Joe Biden
0.54
0.39
5/23/21 0:00
Joe Biden
0.54
0.39
5/24/21 0:00
Joe Biden
0.54
0.39
5/25/21 0:00
Joe Biden
0.54
0.38
5/26/21 0:00
Joe Biden
0.54
0.38
5/27/21 0:00
Joe Biden
0.54
0.38
5/28/21 0:00
Joe Biden
0.54
0.38
5/29/21 0:00
Joe Biden
0.54
0.38
5/30/21 0:00
Joe Biden
0.54
0.38
5/31/21 0:00
Joe Biden
0.54
0.38
6/1/21 0:00
Joe Biden
0.53
0.38
6/2/21 0:00
Joe Biden
0.53
0.38
6/3/21 0:00
Joe Biden
0.53
0.38
6/4/21 0:00
Joe Biden
0.53
0.39
6/5/21 0:00
Joe Biden
0.53
0.39
6/6/21 0:00
Joe Biden
0.53
0.39
6/7/21 0:00
Joe Biden
0.53
0.39
6/8/21 0:00
Joe Biden
0.52
0.39
6/9/21 0:00
Joe Biden
0.52
0.39
6/10/21 0:00
Joe Biden
0.52
0.39
6/11/21 0:00
Joe Biden
0.53
0.39
6/12/21 0:00
Joe Biden
0.53
0.39
6/13/21 0:00
Joe Biden
0.53
0.39
6/14/21 0:00
Joe Biden
0.52
0.39
6/15/21 0:00
Joe Biden
0.53
0.39
6/16/21 0:00
Joe Biden
0.53
0.39
6/17/21 0:00
Joe Biden
0.53
0.39
6/18/21 0:00
Joe Biden
0.53
0.39
6/19/21 0:00
Joe Biden
0.53
0.39
6/20/21 0:00
Joe Biden
0.53
0.38
6/21/21 0:00
Joe Biden
0.54
0.38
6/22/21 0:00
Joe Biden
0.54
0.39
6/23/21 0:00
Joe Biden
0.53
0.39
6/24/21 0:00
Joe Biden
0.53
0.39
6/25/21 0:00
Joe Biden
0.53
0.39
6/26/21 0:00
Joe Biden
0.53
0.39
6/27/21 0:00
Joe Biden
0.53
0.39
6/28/21 0:00
Joe Biden
0.53
0.39
6/29/21 0:00
Joe Biden
0.53
0.39
6/30/21 0:00
Joe Biden
0.53
0.39
7/1/21 0:00
Joe Biden
0.53
0.39
7/2/21 0:00
Joe Biden
0.52
0.39
7/3/21 0:00
Joe Biden
0.52
0.39
7/4/21 0:00
Joe Biden
0.52
0.39
7/5/21 0:00
Joe Biden
0.52
0.39
7/6/21 0:00
Joe Biden
0.52
0.39
7/7/21 0:00
Joe Biden
0.53
0.39
7/8/21 0:00
Joe Biden
0.53
0.39
7/9/21 0:00
Joe Biden
0.53
0.39
7/10/21 0:00
Joe Biden
0.52
0.39
7/11/21 0:00
Joe Biden
0.52
0.39
7/12/21 0:00
Joe Biden
0.52
0.39
7/13/21 0:00
Joe Biden
0.52
0.39
7/14/21 0:00
Joe Biden
0.52
0.39
7/15/21 0:00
Joe Biden
0.52
0.39
7/16/21 0:00
Joe Biden
0.52
0.39
7/17/21 0:00
Joe Biden
0.53
0.39
7/18/21 0:00
Joe Biden
0.52
0.39
7/19/21 0:00
Joe Biden
0.52
0.39
7/20/21 0:00
Joe Biden
0.52
0.4
7/21/21 0:00
Joe Biden
0.52
0.4
7/22/21 0:00
Joe Biden
0.52
0.4
7/23/21 0:00
Joe Biden
0.52
0.4
7/24/21 0:00
Joe Biden
0.52
0.4
7/25/21 0:00
Joe Biden
0.52
0.4
7/26/21 0:00
Joe Biden
0.52
0.4
7/27/21 0:00
Joe Biden
0.52
0.4
7/28/21 0:00
Joe Biden
0.52
0.4
7/29/21 0:00
Joe Biden
0.52
0.4
7/30/21 0:00
Joe Biden
0.51
0.4
7/31/21 0:00
Joe Biden
0.51
0.4
8/1/21 0:00
Joe Biden
0.51
0.4
8/2/21 0:00
Joe Biden
0.51
0.4
8/3/21 0:00
Joe Biden
0.51
0.41
8/4/21 0:00
Joe Biden
0.51
0.4
8/5/21 0:00
Joe Biden
0.51
0.4
8/6/21 0:00
Joe Biden
0.51
0.4
8/7/21 0:00
Joe Biden
0.51
0.41
8/8/21 0:00
Joe Biden
0.5
0.41
8/9/21 0:00
Joe Biden
0.51
0.41
8/10/21 0:00
Joe Biden
0.51
0.41
8/11/21 0:00
Joe Biden
0.51
0.4
8/12/21 0:00
Joe Biden
0.51
0.4
8/13/21 0:00
Joe Biden
0.52
0.4
8/14/21 0:00
Joe Biden
0.52
0.4
8/15/21 0:00
Joe Biden
0.52
0.4
8/16/21 0:00
Joe Biden
0.52
0.4
8/17/21 0:00
Joe Biden
0.52
0.4
8/18/21 0:00
Joe Biden
0.51
0.41
8/19/21 0:00
Joe Biden
0.51
0.41
8/20/21 0:00
Joe Biden
0.5
0.42
8/21/21 0:00
Joe Biden
0.5
0.42
8/22/21 0:00
Joe Biden
0.5
0.43
8/23/21 0:00
Joe Biden
0.5
0.43
8/24/21 0:00
Joe Biden
0.49
0.43
8/25/21 0:00
Joe Biden
0.49
0.43
8/26/21 0:00
Joe Biden
0.49
0.43
8/27/21 0:00
Joe Biden
0.49
0.43
8/28/21 0:00
Joe Biden
0.49
0.44
8/29/21 0:00
Joe Biden
0.49
0.44
8/30/21 0:00
Joe Biden
0.49
0.44
8/31/21 0:00
Joe Biden
0.48
0.44
9/1/21 0:00
Joe Biden
0.48
0.45
9/2/21 0:00
Joe Biden
0.47
0.45
9/3/21 0:00
Joe Biden
0.47
0.45
9/4/21 0:00
Joe Biden
0.47
0.45
9/5/21 0:00
Joe Biden
0.47
0.45
9/6/21 0:00
Joe Biden
0.46
0.45
9/7/21 0:00
Joe Biden
0.46
0.45
9/8/21 0:00
Joe Biden
0.47
0.45
9/9/21 0:00
Joe Biden
0.47
0.45
9/10/21 0:00
Joe Biden
0.47
0.45
9/11/21 0:00
Joe Biden
0.47
0.45
9/12/21 0:00
Joe Biden
0.47
0.45
9/13/21 0:00
Joe Biden
0.47
0.46
9/14/21 0:00
Joe Biden
0.47
0.46
9/15/21 0:00
Joe Biden
0.46
0.46
9/16/21 0:00
Joe Biden
0.46
0.46
9/17/21 0:00
Joe Biden
0.46
0.46
9/18/21 0:00
Joe Biden
0.46
0.46
9/19/21 0:00
Joe Biden
0.47
0.46
9/20/21 0:00
Joe Biden
0.47
0.46
9/21/21 0:00
Joe Biden
0.47
0.46
9/22/21 0:00
Joe Biden
0.47
0.46
9/23/21 0:00
Joe Biden
0.47
0.46
9/24/21 0:00
Joe Biden
0.46
0.46
9/25/21 0:00
Joe Biden
0.46
0.46
9/26/21 0:00
Joe Biden
0.46
0.47
9/27/21 0:00
Joe Biden
0.45
0.47
9/28/21 0:00
Joe Biden
0.45
0.47
9/29/21 0:00
Joe Biden
0.45
0.47
9/30/21 0:00
Joe Biden
0.45
0.47
10/1/21 0:00
Joe Biden
0.45
0.47
10/2/21 0:00
Joe Biden
0.45
0.47
10/3/21 0:00
Joe Biden
0.46
0.47
10/4/21 0:00
Joe Biden
0.46
0.47
10/5/21 0:00
Joe Biden
0.46
0.47
10/6/21 0:00
Joe Biden
0.45
0.47
10/7/21 0:00
Joe Biden
0.45
0.47
10/8/21 0:00
Joe Biden
0.46
0.47
10/9/21 0:00
Joe Biden
0.46
0.47
10/10/21 0:00
Joe Biden
0.46
0.47
10/11/21 0:00
Joe Biden
0.46
0.47
10/12/21 0:00
Joe Biden
0.46
0.47
10/13/21 0:00
Joe Biden
0.46
0.47
10/14/21 0:00
Joe Biden
0.46
0.47
10/15/21 0:00
Joe Biden
0.46
0.47
10/16/21 0:00
Joe Biden
0.46
0.47
10/17/21 0:00
Joe Biden
0.46
0.47
10/18/21 0:00
Joe Biden
0.46
0.47
10/19/21 0:00
Joe Biden
0.46
0.47
10/20/21 0:00
Joe Biden
0.46
0.47
10/21/21 0:00
Joe Biden
0.46
0.47
10/22/21 0:00
Joe Biden
0.45
0.47
10/23/21 0:00
Joe Biden
0.46
0.47
10/24/21 0:00
Joe Biden
0.45
0.48
10/25/21 0:00
Joe Biden
0.45
0.48
10/26/21 0:00
Joe Biden
0.45
0.48
10/27/21 0:00
Joe Biden
0.45
0.48
10/28/21 0:00
Joe Biden
0.45
0.48
10/29/21 0:00
Joe Biden
0.45
0.48
10/30/21 0:00
Joe Biden
0.45
0.48
10/31/21 0:00
Joe Biden
0.45
0.48
11/1/21 0:00
Joe Biden
0.44
0.48
11/2/21 0:00
Joe Biden
0.44
0.48
11/3/21 0:00
Joe Biden
0.44
0.48
11/4/21 0:00
Joe Biden
0.44
0.48
11/5/21 0:00
Joe Biden
0.44
0.48
11/6/21 0:00
Joe Biden
0.44
0.49
11/7/21 0:00
Joe Biden
0.44
0.49
11/8/21 0:00
Joe Biden
0.44
0.48
11/9/21 0:00
Joe Biden
0.44
0.49
11/10/21 0:00
Joe Biden
0.44
0.49
11/11/21 0:00
Joe Biden
0.44
0.49
11/12/21 0:00
Joe Biden
0.44
0.48
11/13/21 0:00
Joe Biden
0.44
0.49
11/14/21 0:00
Joe Biden
0.44
0.49
11/15/21 0:00
Joe Biden
0.44
0.49
11/16/21 0:00
Joe Biden
0.44
0.48
11/17/21 0:00
Joe Biden
0.44
0.49
11/18/21 0:00
Joe Biden
0.44
0.49
11/19/21 0:00
Joe Biden
0.44
0.49
11/20/21 0:00
Joe Biden
0.44
0.48
11/21/21 0:00
Joe Biden
0.45
0.48
11/22/21 0:00
Joe Biden
0.44
0.48
11/23/21 0:00
Joe Biden
0.44
0.48
11/24/21 0:00
Joe Biden
0.44
0.48
11/25/21 0:00
Joe Biden
0.45
0.48
11/26/21 0:00
Joe Biden
0.45
0.48
11/27/21 0:00
Joe Biden
0.44
0.48
11/28/21 0:00
Joe Biden
0.44
0.49
11/29/21 0:00
Joe Biden
0.44
0.48
11/30/21 0:00
Joe Biden
0.44
0.49
12/1/21 0:00
Joe Biden
0.44
0.49
12/2/21 0:00
Joe Biden
0.44
0.49
12/3/21 0:00
Joe Biden
0.44
0.49
12/4/21 0:00
Joe Biden
0.44
0.49
12/5/21 0:00
Joe Biden
0.44
0.49
12/6/21 0:00
Joe Biden
0.44
0.49
12/7/21 0:00
Joe Biden
0.44
0.48
3/6/20 0:00
Jair Bolsonaro
0.56
0.36
3/7/20 0:00
Jair Bolsonaro
0.56
0.36
3/8/20 0:00
Jair Bolsonaro
0.57
0.35
3/9/20 0:00
Jair Bolsonaro
0.56
0.36
3/10/20 0:00
Jair Bolsonaro
0.55
0.38
3/11/20 0:00
Jair Bolsonaro
0.55
0.38
3/12/20 0:00
Jair Bolsonaro
0.55
0.37
3/13/20 0:00
Jair Bolsonaro
0.55
0.37
3/14/20 0:00
Jair Bolsonaro
0.56
0.36
3/15/20 0:00
Jair Bolsonaro
0.56
0.36
3/16/20 0:00
Jair Bolsonaro
0.56
0.36
3/17/20 0:00
Jair Bolsonaro
0.58
0.35
3/18/20 0:00
Jair Bolsonaro
0.59
0.34
3/19/20 0:00
Jair Bolsonaro
0.58
0.34
3/20/20 0:00
Jair Bolsonaro
0.58
0.34
3/21/20 0:00
Jair Bolsonaro
0.58
0.34
3/22/20 0:00
Jair Bolsonaro
0.58
0.34
3/23/20 0:00
Jair Bolsonaro
0.58
0.34
3/24/20 0:00
Jair Bolsonaro
0.56
0.36
3/25/20 0:00
Jair Bolsonaro
0.54
0.38
3/26/20 0:00
Jair Bolsonaro
0.54
0.39
3/27/20 0:00
Jair Bolsonaro
0.51
0.41
3/28/20 0:00
Jair Bolsonaro
0.5
0.42
3/29/20 0:00
Jair Bolsonaro
0.49
0.44
3/30/20 0:00
Jair Bolsonaro
0.48
0.46
3/31/20 0:00
Jair Bolsonaro
0.48
0.45
4/1/20 0:00
Jair Bolsonaro
0.47
0.45
4/2/20 0:00
Jair Bolsonaro
0.48
0.44
4/3/20 0:00
Jair Bolsonaro
0.5
0.43
4/4/20 0:00
Jair Bolsonaro
0.5
0.43
4/5/20 0:00
Jair Bolsonaro
0.49
0.44
4/6/20 0:00
Jair Bolsonaro
0.5
0.43
4/7/20 0:00
Jair Bolsonaro
0.51
0.43
4/8/20 0:00
Jair Bolsonaro
0.51
0.42
4/9/20 0:00
Jair Bolsonaro
0.51
0.42
4/10/20 0:00
Jair Bolsonaro
0.52
0.42
4/11/20 0:00
Jair Bolsonaro
0.51
0.42
4/12/20 0:00
Jair Bolsonaro
0.53
0.4
4/13/20 0:00
Jair Bolsonaro
0.53
0.41
4/14/20 0:00
Jair Bolsonaro
0.52
0.41
4/15/20 0:00
Jair Bolsonaro
0.53
0.41
4/16/20 0:00
Jair Bolsonaro
0.53
0.42
4/17/20 0:00
Jair Bolsonaro
0.52
0.43
4/18/20 0:00
Jair Bolsonaro
0.52
0.42
4/19/20 0:00
Jair Bolsonaro
0.52
0.41
4/20/20 0:00
Jair Bolsonaro
0.52
0.42
4/21/20 0:00
Jair Bolsonaro
0.52
0.42
4/22/20 0:00
Jair Bolsonaro
0.51
0.43
4/23/20 0:00
Jair Bolsonaro
0.5
0.43
4/24/20 0:00
Jair Bolsonaro
0.49
0.44
4/25/20 0:00
Jair Bolsonaro
0.47
0.46
4/26/20 0:00
Jair Bolsonaro
0.45
0.49
4/27/20 0:00
Jair Bolsonaro
0.44
0.5
4/28/20 0:00
Jair Bolsonaro
0.44
0.5
4/29/20 0:00
Jair Bolsonaro
0.44
0.5
4/30/20 0:00
Jair Bolsonaro
0.45
0.49
5/1/20 0:00
Jair Bolsonaro
0.45
0.48
5/2/20 0:00
Jair Bolsonaro
0.47
0.46
5/3/20 0:00
Jair Bolsonaro
0.47
0.46
5/4/20 0:00
Jair Bolsonaro
0.47
0.46
5/5/20 0:00
Jair Bolsonaro
0.46
0.47
5/6/20 0:00
Jair Bolsonaro
0.45
0.47
5/7/20 0:00
Jair Bolsonaro
0.44
0.47
5/8/20 0:00
Jair Bolsonaro
0.42
0.5
5/9/20 0:00
Jair Bolsonaro
0.42
0.5
5/10/20 0:00
Jair Bolsonaro
0.41
0.5
5/11/20 0:00
Jair Bolsonaro
0.4
0.51
5/12/20 0:00
Jair Bolsonaro
0.41
0.51
5/13/20 0:00
Jair Bolsonaro
0.41
0.52
5/14/20 0:00
Jair Bolsonaro
0.42
0.53
5/15/20 0:00
Jair Bolsonaro
0.42
0.53
5/16/20 0:00
Jair Bolsonaro
0.42
0.53
5/17/20 0:00
Jair Bolsonaro
0.42
0.54
5/18/20 0:00
Jair Bolsonaro
0.42
0.54
5/19/20 0:00
Jair Bolsonaro
0.41
0.54
5/20/20 0:00
Jair Bolsonaro
0.41
0.53
5/21/20 0:00
Jair Bolsonaro
0.41
0.53
5/22/20 0:00
Jair Bolsonaro
0.41
0.52
5/23/20 0:00
Jair Bolsonaro
0.42
0.51
5/24/20 0:00
Jair Bolsonaro
0.42
0.5
5/25/20 0:00
Jair Bolsonaro
0.42
0.5
5/26/20 0:00
Jair Bolsonaro
0.42
0.5
5/27/20 0:00
Jair Bolsonaro
0.42
0.49
5/28/20 0:00
Jair Bolsonaro
0.42
0.48
5/29/20 0:00
Jair Bolsonaro
0.43
0.49
5/30/20 0:00
Jair Bolsonaro
0.42
0.5
5/31/20 0:00
Jair Bolsonaro
0.42
0.5
6/1/20 0:00
Jair Bolsonaro
0.43
0.5
6/2/20 0:00
Jair Bolsonaro
0.43
0.5
6/3/20 0:00
Jair Bolsonaro
0.42
0.51
6/4/20 0:00
Jair Bolsonaro
0.42
0.53
6/5/20 0:00
Jair Bolsonaro
0.42
0.53
6/6/20 0:00
Jair Bolsonaro
0.42
0.52
6/7/20 0:00
Jair Bolsonaro
0.41
0.52
6/8/20 0:00
Jair Bolsonaro
0.39
0.55
6/9/20 0:00
Jair Bolsonaro
0.38
0.55
6/10/20 0:00
Jair Bolsonaro
0.39
0.54
6/11/20 0:00
Jair Bolsonaro
0.4
0.53
6/12/20 0:00
Jair Bolsonaro
0.4
0.53
6/13/20 0:00
Jair Bolsonaro
0.4
0.53
6/14/20 0:00
Jair Bolsonaro
0.4
0.53
6/15/20 0:00
Jair Bolsonaro
0.42
0.51
6/16/20 0:00
Jair Bolsonaro
0.42
0.51
6/17/20 0:00
Jair Bolsonaro
0.41
0.51
6/18/20 0:00
Jair Bolsonaro
0.41
0.52
6/19/20 0:00
Jair Bolsonaro
0.4
0.52
6/20/20 0:00
Jair Bolsonaro
0.41
0.52
6/21/20 0:00
Jair Bolsonaro
0.4
0.53
6/22/20 0:00
Jair Bolsonaro
0.42
0.51
6/23/20 0:00
Jair Bolsonaro
0.43
0.51
6/24/20 0:00
Jair Bolsonaro
0.43
0.5
6/25/20 0:00
Jair Bolsonaro
0.43
0.5
6/26/20 0:00
Jair Bolsonaro
0.41
0.51
6/27/20 0:00
Jair Bolsonaro
0.42
0.51
6/28/20 0:00
Jair Bolsonaro
0.43
0.5
6/29/20 0:00
Jair Bolsonaro
0.42
0.51
6/30/20 0:00
Jair Bolsonaro
0.42
0.5
7/1/20 0:00
Jair Bolsonaro
0.42
0.51
7/2/20 0:00
Jair Bolsonaro
0.43
0.5
7/3/20 0:00
Jair Bolsonaro
0.44
0.48
7/4/20 0:00
Jair Bolsonaro
0.45
0.48
7/5/20 0:00
Jair Bolsonaro
0.45
0.47
7/6/20 0:00
Jair Bolsonaro
0.44
0.48
7/7/20 0:00
Jair Bolsonaro
0.45
0.48
7/8/20 0:00
Jair Bolsonaro
0.46
0.47
7/9/20 0:00
Jair Bolsonaro
0.45
0.48
7/10/20 0:00
Jair Bolsonaro
0.46
0.48
7/11/20 0:00
Jair Bolsonaro
0.46
0.47
7/12/20 0:00
Jair Bolsonaro
0.46
0.47
7/13/20 0:00
Jair Bolsonaro
0.45
0.48
7/14/20 0:00
Jair Bolsonaro
0.47
0.46
7/15/20 0:00
Jair Bolsonaro
0.46
0.46
7/16/20 0:00
Jair Bolsonaro
0.45
0.47
7/17/20 0:00
Jair Bolsonaro
0.45
0.47
7/18/20 0:00
Jair Bolsonaro
0.45
0.47
7/19/20 0:00
Jair Bolsonaro
0.45
0.48
7/20/20 0:00
Jair Bolsonaro
0.47
0.47
7/21/20 0:00
Jair Bolsonaro
0.45
0.48
7/22/20 0:00
Jair Bolsonaro
0.47
0.48
7/23/20 0:00
Jair Bolsonaro
0.47
0.47
7/24/20 0:00
Jair Bolsonaro
0.46
0.47
7/25/20 0:00
Jair Bolsonaro
0.46
0.48
7/26/20 0:00
Jair Bolsonaro
0.47
0.48
7/27/20 0:00
Jair Bolsonaro
0.47
0.47
7/28/20 0:00
Jair Bolsonaro
0.47
0.47
7/29/20 0:00
Jair Bolsonaro
0.47
0.47
7/30/20 0:00
Jair Bolsonaro
0.47
0.47
7/31/20 0:00
Jair Bolsonaro
0.47
0.47
8/1/20 0:00
Jair Bolsonaro
0.47
0.46
8/2/20 0:00
Jair Bolsonaro
0.46
0.45
8/3/20 0:00
Jair Bolsonaro
0.46
0.46
8/4/20 0:00
Jair Bolsonaro
0.46
0.46
8/5/20 0:00
Jair Bolsonaro
0.46
0.47
8/6/20 0:00
Jair Bolsonaro
0.46
0.47
8/7/20 0:00
Jair Bolsonaro
0.46
0.47
8/8/20 0:00
Jair Bolsonaro
0.46
0.48
8/9/20 0:00
Jair Bolsonaro
0.47
0.47
8/10/20 0:00
Jair Bolsonaro
0.47
0.47
8/11/20 0:00
Jair Bolsonaro
0.46
0.47
8/12/20 0:00
Jair Bolsonaro
0.46
0.47
8/13/20 0:00
Jair Bolsonaro
0.46
0.47
8/14/20 0:00
Jair Bolsonaro
0.47
0.47
8/15/20 0:00
Jair Bolsonaro
0.48
0.45
8/16/20 0:00
Jair Bolsonaro
0.48
0.46
8/17/20 0:00
Jair Bolsonaro
0.47
0.46
8/18/20 0:00
Jair Bolsonaro
0.48
0.46
8/19/20 0:00
Jair Bolsonaro
0.49
0.45
8/20/20 0:00
Jair Bolsonaro
0.48
0.45
8/21/20 0:00
Jair Bolsonaro
0.5
0.44
8/22/20 0:00
Jair Bolsonaro
0.48
0.45
8/23/20 0:00
Jair Bolsonaro
0.49
0.44
8/24/20 0:00
Jair Bolsonaro
0.5
0.43
8/25/20 0:00
Jair Bolsonaro
0.5
0.44
8/26/20 0:00
Jair Bolsonaro
0.5
0.44
8/27/20 0:00
Jair Bolsonaro
0.5
0.43
8/28/20 0:00
Jair Bolsonaro
0.5
0.43
8/29/20 0:00
Jair Bolsonaro
0.51
0.43
8/30/20 0:00
Jair Bolsonaro
0.5
0.43
8/31/20 0:00
Jair Bolsonaro
0.49
0.43
9/1/20 0:00
Jair Bolsonaro
0.5
0.42
9/2/20 0:00
Jair Bolsonaro
0.49
0.43
9/3/20 0:00
Jair Bolsonaro
0.49
0.43
9/4/20 0:00
Jair Bolsonaro
0.48
0.44
9/5/20 0:00
Jair Bolsonaro
0.47
0.44
9/6/20 0:00
Jair Bolsonaro
0.48
0.44
9/7/20 0:00
Jair Bolsonaro
0.48
0.44
9/8/20 0:00
Jair Bolsonaro
0.48
0.44
9/9/20 0:00
Jair Bolsonaro
0.48
0.44
9/10/20 0:00
Jair Bolsonaro
0.48
0.43
9/11/20 0:00
Jair Bolsonaro
0.48
0.43
9/12/20 0:00
Jair Bolsonaro
0.49
0.43
9/13/20 0:00
Jair Bolsonaro
0.49
0.43
9/14/20 0:00
Jair Bolsonaro
0.49
0.43
9/15/20 0:00
Jair Bolsonaro
0.49
0.42
9/16/20 0:00
Jair Bolsonaro
0.49
0.42
9/17/20 0:00
Jair Bolsonaro
0.49
0.43
9/18/20 0:00
Jair Bolsonaro
0.49
0.43
9/19/20 0:00
Jair Bolsonaro
0.48
0.44
9/20/20 0:00
Jair Bolsonaro
0.47
0.44
9/21/20 0:00
Jair Bolsonaro
0.47
0.45
9/22/20 0:00
Jair Bolsonaro
0.47
0.45
9/23/20 0:00
Jair Bolsonaro
0.48
0.45
9/24/20 0:00
Jair Bolsonaro
0.46
0.46
9/25/20 0:00
Jair Bolsonaro
0.47
0.45
9/26/20 0:00
Jair Bolsonaro
0.48
0.44
9/27/20 0:00
Jair Bolsonaro
0.47
0.44
9/28/20 0:00
Jair Bolsonaro
0.47
0.44
9/29/20 0:00
Jair Bolsonaro
0.47
0.44
9/30/20 0:00
Jair Bolsonaro
0.47
0.43
10/1/20 0:00
Jair Bolsonaro
0.47
0.43
10/2/20 0:00
Jair Bolsonaro
0.48
0.42
10/3/20 0:00
Jair Bolsonaro
0.48
0.42
10/4/20 0:00
Jair Bolsonaro
0.5
0.4
10/5/20 0:00
Jair Bolsonaro
0.5
0.4
10/6/20 0:00
Jair Bolsonaro
0.5
0.4
10/7/20 0:00
Jair Bolsonaro
0.49
0.41
10/8/20 0:00
Jair Bolsonaro
0.49
0.42
10/9/20 0:00
Jair Bolsonaro
0.5
0.41
10/10/20 0:00
Jair Bolsonaro
0.48
0.43
10/11/20 0:00
Jair Bolsonaro
0.49
0.43
10/12/20 0:00
Jair Bolsonaro
0.49
0.42
10/13/20 0:00
Jair Bolsonaro
0.49
0.42
10/14/20 0:00
Jair Bolsonaro
0.49
0.42
10/15/20 0:00
Jair Bolsonaro
0.5
0.41
10/16/20 0:00
Jair Bolsonaro
0.5
0.41
10/17/20 0:00
Jair Bolsonaro
0.51
0.4
10/18/20 0:00
Jair Bolsonaro
0.49
0.42
10/19/20 0:00
Jair Bolsonaro
0.49
0.43
10/20/20 0:00
Jair Bolsonaro
0.49
0.43
10/21/20 0:00
Jair Bolsonaro
0.49
0.44
10/22/20 0:00
Jair Bolsonaro
0.49
0.43
10/23/20 0:00
Jair Bolsonaro
0.49
0.43
10/24/20 0:00
Jair Bolsonaro
0.48
0.45
10/25/20 0:00
Jair Bolsonaro
0.46
0.46
10/26/20 0:00
Jair Bolsonaro
0.46
0.46
10/27/20 0:00
Jair Bolsonaro
0.46
0.46
10/28/20 0:00
Jair Bolsonaro
0.45
0.46
10/29/20 0:00
Jair Bolsonaro
0.45
0.47
10/30/20 0:00
Jair Bolsonaro
0.44
0.49
10/31/20 0:00
Jair Bolsonaro
0.44
0.48
11/1/20 0:00
Jair Bolsonaro
0.46
0.46
11/2/20 0:00
Jair Bolsonaro
0.46
0.45
11/3/20 0:00
Jair Bolsonaro
0.46
0.45
11/4/20 0:00
Jair Bolsonaro
0.46
0.46
11/5/20 0:00
Jair Bolsonaro
0.45
0.46
11/6/20 0:00
Jair Bolsonaro
0.46
0.45
11/7/20 0:00
Jair Bolsonaro
0.45
0.46
11/8/20 0:00
Jair Bolsonaro
0.44
0.48
11/9/20 0:00
Jair Bolsonaro
0.44
0.48
11/10/20 0:00
Jair Bolsonaro
0.45
0.47
11/11/20 0:00
Jair Bolsonaro
0.46
0.46
11/12/20 0:00
Jair Bolsonaro
0.46
0.46
11/13/20 0:00
Jair Bolsonaro
0.45
0.47
11/14/20 0:00
Jair Bolsonaro
0.47
0.45
11/15/20 0:00
Jair Bolsonaro
0.48
0.44
11/16/20 0:00
Jair Bolsonaro
0.48
0.44
11/17/20 0:00
Jair Bolsonaro
0.47
0.45
11/18/20 0:00
Jair Bolsonaro
0.46
0.47
11/19/20 0:00
Jair Bolsonaro
0.46
0.46
11/20/20 0:00
Jair Bolsonaro
0.48
0.45
11/21/20 0:00
Jair Bolsonaro
0.45
0.47
11/22/20 0:00
Jair Bolsonaro
0.45
0.47
11/23/20 0:00
Jair Bolsonaro
0.45
0.48
11/24/20 0:00
Jair Bolsonaro
0.46
0.47
11/25/20 0:00
Jair Bolsonaro
0.46
0.46
11/26/20 0:00
Jair Bolsonaro
0.45
0.47
11/27/20 0:00
Jair Bolsonaro
0.45
0.48
11/28/20 0:00
Jair Bolsonaro
0.46
0.47
11/29/20 0:00
Jair Bolsonaro
0.46
0.46
11/30/20 0:00
Jair Bolsonaro
0.47
0.44
12/1/20 0:00
Jair Bolsonaro
0.46
0.45
12/2/20 0:00
Jair Bolsonaro
0.47
0.44
12/3/20 0:00
Jair Bolsonaro
0.47
0.44
12/4/20 0:00
Jair Bolsonaro
0.47
0.44
12/5/20 0:00
Jair Bolsonaro
0.48
0.43
12/6/20 0:00
Jair Bolsonaro
0.48
0.43
12/7/20 0:00
Jair Bolsonaro
0.47
0.45
12/8/20 0:00
Jair Bolsonaro
0.47
0.45
12/9/20 0:00
Jair Bolsonaro
0.47
0.46
12/10/20 0:00
Jair Bolsonaro
0.47
0.46
12/11/20 0:00
Jair Bolsonaro
0.47
0.46
12/12/20 0:00
Jair Bolsonaro
0.46
0.47
12/13/20 0:00
Jair Bolsonaro
0.45
0.48
12/14/20 0:00
Jair Bolsonaro
0.45
0.48
12/15/20 0:00
Jair Bolsonaro
0.44
0.49
12/16/20 0:00
Jair Bolsonaro
0.45
0.48
12/17/20 0:00
Jair Bolsonaro
0.45
0.48
12/18/20 0:00
Jair Bolsonaro
0.46
0.47
12/19/20 0:00
Jair Bolsonaro
0.45
0.48
12/20/20 0:00
Jair Bolsonaro
0.45
0.48
12/21/20 0:00
Jair Bolsonaro
0.45
0.48
12/22/20 0:00
Jair Bolsonaro
0.45
0.47
12/23/20 0:00
Jair Bolsonaro
0.44
0.48
12/24/20 0:00
Jair Bolsonaro
0.43
0.48
12/25/20 0:00
Jair Bolsonaro
0.42
0.49
12/26/20 0:00
Jair Bolsonaro
0.41
0.5
12/27/20 0:00
Jair Bolsonaro
0.4
0.5
12/28/20 0:00
Jair Bolsonaro
0.41
0.49
12/29/20 0:00
Jair Bolsonaro
0.41
0.5
12/30/20 0:00
Jair Bolsonaro
0.41
0.5
12/31/20 0:00
Jair Bolsonaro
0.42
0.5
1/1/21 0:00
Jair Bolsonaro
0.43
0.49
1/2/21 0:00
Jair Bolsonaro
0.43
0.49
1/3/21 0:00
Jair Bolsonaro
0.43
0.48
1/4/21 0:00
Jair Bolsonaro
0.42
0.49
1/5/21 0:00
Jair Bolsonaro
0.42
0.49
1/6/21 0:00
Jair Bolsonaro
0.41
0.51
1/7/21 0:00
Jair Bolsonaro
0.4
0.51
1/8/21 0:00
Jair Bolsonaro
0.39
0.52
1/9/21 0:00
Jair Bolsonaro
0.4
0.52
1/10/21 0:00
Jair Bolsonaro
0.41
0.52
1/11/21 0:00
Jair Bolsonaro
0.41
0.52
1/12/21 0:00
Jair Bolsonaro
0.42
0.51
1/13/21 0:00
Jair Bolsonaro
0.43
0.51
1/14/21 0:00
Jair Bolsonaro
0.44
0.51
1/15/21 0:00
Jair Bolsonaro
0.43
0.52
1/16/21 0:00
Jair Bolsonaro
0.43
0.52
1/17/21 0:00
Jair Bolsonaro
0.43
0.52
1/18/21 0:00
Jair Bolsonaro
0.42
0.52
1/19/21 0:00
Jair Bolsonaro
0.4
0.54
1/20/21 0:00
Jair Bolsonaro
0.4
0.54
1/21/21 0:00
Jair Bolsonaro
0.4
0.54
1/22/21 0:00
Jair Bolsonaro
0.4
0.54
1/23/21 0:00
Jair Bolsonaro
0.41
0.54
1/24/21 0:00
Jair Bolsonaro
0.4
0.54
1/25/21 0:00
Jair Bolsonaro
0.4
0.55
1/26/21 0:00
Jair Bolsonaro
0.41
0.52
1/27/21 0:00
Jair Bolsonaro
0.4
0.53
1/28/21 0:00
Jair Bolsonaro
0.39
0.54
1/29/21 0:00
Jair Bolsonaro
0.4
0.53
1/30/21 0:00
Jair Bolsonaro
0.4
0.53
1/31/21 0:00
Jair Bolsonaro
0.4
0.52
2/1/21 0:00
Jair Bolsonaro
0.4
0.52
2/2/21 0:00
Jair Bolsonaro
0.39
0.54
2/3/21 0:00
Jair Bolsonaro
0.39
0.53
2/4/21 0:00
Jair Bolsonaro
0.4
0.52
2/5/21 0:00
Jair Bolsonaro
0.39
0.53
2/6/21 0:00
Jair Bolsonaro
0.39
0.53
2/7/21 0:00
Jair Bolsonaro
0.4
0.53
2/8/21 0:00
Jair Bolsonaro
0.41
0.52
2/9/21 0:00
Jair Bolsonaro
0.41
0.52
2/10/21 0:00
Jair Bolsonaro
0.42
0.51
2/11/21 0:00
Jair Bolsonaro
0.43
0.5
2/12/21 0:00
Jair Bolsonaro
0.44
0.49
2/13/21 0:00
Jair Bolsonaro
0.44
0.48
2/14/21 0:00
Jair Bolsonaro
0.45
0.48
2/15/21 0:00
Jair Bolsonaro
0.45
0.47
2/16/21 0:00
Jair Bolsonaro
0.47
0.47
2/17/21 0:00
Jair Bolsonaro
0.45
0.48
2/18/21 0:00
Jair Bolsonaro
0.44
0.48
2/19/21 0:00
Jair Bolsonaro
0.44
0.48
2/20/21 0:00
Jair Bolsonaro
0.43
0.49
2/21/21 0:00
Jair Bolsonaro
0.42
0.5
2/22/21 0:00
Jair Bolsonaro
0.42
0.5
2/23/21 0:00
Jair Bolsonaro
0.43
0.49
2/24/21 0:00
Jair Bolsonaro
0.43
0.49
2/25/21 0:00
Jair Bolsonaro
0.44
0.48
2/26/21 0:00
Jair Bolsonaro
0.44
0.48
2/27/21 0:00
Jair Bolsonaro
0.44
0.48
2/28/21 0:00
Jair Bolsonaro
0.45
0.47
3/1/21 0:00
Jair Bolsonaro
0.45
0.47
3/2/21 0:00
Jair Bolsonaro
0.45
0.48
3/3/21 0:00
Jair Bolsonaro
0.47
0.46
3/4/21 0:00
Jair Bolsonaro
0.46
0.47
3/5/21 0:00
Jair Bolsonaro
0.46
0.48
3/6/21 0:00
Jair Bolsonaro
0.44
0.49
3/7/21 0:00
Jair Bolsonaro
0.42
0.51
3/8/21 0:00
Jair Bolsonaro
0.42
0.52
3/9/21 0:00
Jair Bolsonaro
0.41
0.53
3/10/21 0:00
Jair Bolsonaro
0.39
0.55
3/11/21 0:00
Jair Bolsonaro
0.38
0.55
3/12/21 0:00
Jair Bolsonaro
0.38
0.56
3/13/21 0:00
Jair Bolsonaro
0.38
0.55
3/14/21 0:00
Jair Bolsonaro
0.39
0.56
3/15/21 0:00
Jair Bolsonaro
0.38
0.56
3/16/21 0:00
Jair Bolsonaro
0.39
0.55
3/17/21 0:00
Jair Bolsonaro
0.38
0.56
3/18/21 0:00
Jair Bolsonaro
0.37
0.56
3/19/21 0:00
Jair Bolsonaro
0.37
0.55
3/20/21 0:00
Jair Bolsonaro
0.37
0.55
3/21/21 0:00
Jair Bolsonaro
0.38
0.54
3/22/21 0:00
Jair Bolsonaro
0.38
0.54
3/23/21 0:00
Jair Bolsonaro
0.37
0.55
3/24/21 0:00
Jair Bolsonaro
0.37
0.54
3/25/21 0:00
Jair Bolsonaro
0.38
0.54
3/26/21 0:00
Jair Bolsonaro
0.39
0.54
3/27/21 0:00
Jair Bolsonaro
0.38
0.54
3/28/21 0:00
Jair Bolsonaro
0.39
0.54
3/29/21 0:00
Jair Bolsonaro
0.38
0.55
3/30/21 0:00
Jair Bolsonaro
0.38
0.54
3/31/21 0:00
Jair Bolsonaro
0.38
0.54
4/1/21 0:00
Jair Bolsonaro
0.39
0.53
4/2/21 0:00
Jair Bolsonaro
0.38
0.55
4/3/21 0:00
Jair Bolsonaro
0.37
0.55
4/4/21 0:00
Jair Bolsonaro
0.37
0.55
4/5/21 0:00
Jair Bolsonaro
0.37
0.54
4/6/21 0:00
Jair Bolsonaro
0.38
0.55
4/7/21 0:00
Jair Bolsonaro
0.38
0.55
4/8/21 0:00
Jair Bolsonaro
0.37
0.56
4/9/21 0:00
Jair Bolsonaro
0.38
0.55
4/10/21 0:00
Jair Bolsonaro
0.39
0.54
4/11/21 0:00
Jair Bolsonaro
0.4
0.54
4/12/21 0:00
Jair Bolsonaro
0.4
0.54
4/13/21 0:00
Jair Bolsonaro
0.38
0.55
4/14/21 0:00
Jair Bolsonaro
0.38
0.55
4/15/21 0:00
Jair Bolsonaro
0.39
0.55
4/16/21 0:00
Jair Bolsonaro
0.39
0.56
4/17/21 0:00
Jair Bolsonaro
0.39
0.56
4/18/21 0:00
Jair Bolsonaro
0.39
0.56
4/19/21 0:00
Jair Bolsonaro
0.39
0.55
4/20/21 0:00
Jair Bolsonaro
0.41
0.53
4/21/21 0:00
Jair Bolsonaro
0.42
0.52
4/22/21 0:00
Jair Bolsonaro
0.43
0.51
4/23/21 0:00
Jair Bolsonaro
0.43
0.51
4/24/21 0:00
Jair Bolsonaro
0.42
0.52
4/25/21 0:00
Jair Bolsonaro
0.42
0.52
4/26/21 0:00
Jair Bolsonaro
0.42
0.52
4/27/21 0:00
Jair Bolsonaro
0.42
0.52
4/28/21 0:00
Jair Bolsonaro
0.42
0.52
4/29/21 0:00
Jair Bolsonaro
0.41
0.52
4/30/21 0:00
Jair Bolsonaro
0.41
0.51
5/1/21 0:00
Jair Bolsonaro
0.42
0.5
5/2/21 0:00
Jair Bolsonaro
0.43
0.5
5/3/21 0:00
Jair Bolsonaro
0.41
0.5
5/4/21 0:00
Jair Bolsonaro
0.41
0.51
5/5/21 0:00
Jair Bolsonaro
0.4
0.51
5/6/21 0:00
Jair Bolsonaro
0.41
0.51
5/7/21 0:00
Jair Bolsonaro
0.4
0.52
5/8/21 0:00
Jair Bolsonaro
0.39
0.52
5/9/21 0:00
Jair Bolsonaro
0.38
0.54
5/10/21 0:00
Jair Bolsonaro
0.39
0.53
5/11/21 0:00
Jair Bolsonaro
0.39
0.53
5/12/21 0:00
Jair Bolsonaro
0.39
0.53
5/13/21 0:00
Jair Bolsonaro
0.39
0.53
5/14/21 0:00
Jair Bolsonaro
0.39
0.54
5/15/21 0:00
Jair Bolsonaro
0.39
0.54
5/16/21 0:00
Jair Bolsonaro
0.4
0.53
5/17/21 0:00
Jair Bolsonaro
0.4
0.53
5/18/21 0:00
Jair Bolsonaro
0.4
0.53
5/19/21 0:00
Jair Bolsonaro
0.4
0.53
5/20/21 0:00
Jair Bolsonaro
0.4
0.53
5/21/21 0:00
Jair Bolsonaro
0.4
0.52
5/22/21 0:00
Jair Bolsonaro
0.4
0.53
5/23/21 0:00
Jair Bolsonaro
0.4
0.53
5/24/21 0:00
Jair Bolsonaro
0.38
0.54
5/25/21 0:00
Jair Bolsonaro
0.38
0.54
5/26/21 0:00
Jair Bolsonaro
0.37
0.55
5/27/21 0:00
Jair Bolsonaro
0.38
0.55
5/28/21 0:00
Jair Bolsonaro
0.38
0.55
5/29/21 0:00
Jair Bolsonaro
0.38
0.55
5/30/21 0:00
Jair Bolsonaro
0.37
0.55
5/31/21 0:00
Jair Bolsonaro
0.38
0.54
6/1/21 0:00
Jair Bolsonaro
0.38
0.54
6/2/21 0:00
Jair Bolsonaro
0.38
0.55
6/3/21 0:00
Jair Bolsonaro
0.37
0.55
6/4/21 0:00
Jair Bolsonaro
0.37
0.55
6/5/21 0:00
Jair Bolsonaro
0.37
0.55
6/6/21 0:00
Jair Bolsonaro
0.37
0.56
6/7/21 0:00
Jair Bolsonaro
0.37
0.56
6/8/21 0:00
Jair Bolsonaro
0.37
0.56
6/9/21 0:00
Jair Bolsonaro
0.37
0.56
6/10/21 0:00
Jair Bolsonaro
0.37
0.56
6/11/21 0:00
Jair Bolsonaro
0.37
0.56
6/12/21 0:00
Jair Bolsonaro
0.37
0.56
6/13/21 0:00
Jair Bolsonaro
0.37
0.56
6/14/21 0:00
Jair Bolsonaro
0.36
0.57
6/15/21 0:00
Jair Bolsonaro
0.35
0.57
6/16/21 0:00
Jair Bolsonaro
0.36
0.56
6/17/21 0:00
Jair Bolsonaro
0.35
0.57
6/18/21 0:00
Jair Bolsonaro
0.35
0.58
6/19/21 0:00
Jair Bolsonaro
0.34
0.59
6/20/21 0:00
Jair Bolsonaro
0.34
0.58
6/21/21 0:00
Jair Bolsonaro
0.35
0.58
6/22/21 0:00
Jair Bolsonaro
0.36
0.58
6/23/21 0:00
Jair Bolsonaro
0.35
0.59
6/24/21 0:00
Jair Bolsonaro
0.35
0.58
6/25/21 0:00
Jair Bolsonaro
0.36
0.57
6/26/21 0:00
Jair Bolsonaro
0.37
0.56
6/27/21 0:00
Jair Bolsonaro
0.37
0.55
6/28/21 0:00
Jair Bolsonaro
0.37
0.56
6/29/21 0:00
Jair Bolsonaro
0.37
0.56
6/30/21 0:00
Jair Bolsonaro
0.37
0.55
7/1/21 0:00
Jair Bolsonaro
0.37
0.56
7/2/21 0:00
Jair Bolsonaro
0.36
0.57
7/3/21 0:00
Jair Bolsonaro
0.36
0.57
7/4/21 0:00
Jair Bolsonaro
0.36
0.58
7/5/21 0:00
Jair Bolsonaro
0.36
0.57
7/6/21 0:00
Jair Bolsonaro
0.36
0.58
7/7/21 0:00
Jair Bolsonaro
0.37
0.57
7/8/21 0:00
Jair Bolsonaro
0.37
0.56
7/9/21 0:00
Jair Bolsonaro
0.38
0.55
7/10/21 0:00
Jair Bolsonaro
0.36
0.56
7/11/21 0:00
Jair Bolsonaro
0.37
0.56
7/12/21 0:00
Jair Bolsonaro
0.37
0.56
7/13/21 0:00
Jair Bolsonaro
0.38
0.55
7/14/21 0:00
Jair Bolsonaro
0.38
0.55
7/15/21 0:00
Jair Bolsonaro
0.38
0.56
7/16/21 0:00
Jair Bolsonaro
0.38
0.56
7/17/21 0:00
Jair Bolsonaro
0.4
0.54
7/18/21 0:00
Jair Bolsonaro
0.39
0.54
7/19/21 0:00
Jair Bolsonaro
0.4
0.54
7/20/21 0:00
Jair Bolsonaro
0.4
0.53
7/21/21 0:00
Jair Bolsonaro
0.41
0.52
7/22/21 0:00
Jair Bolsonaro
0.41
0.52
7/23/21 0:00
Jair Bolsonaro
0.4
0.52
7/24/21 0:00
Jair Bolsonaro
0.39
0.53
7/25/21 0:00
Jair Bolsonaro
0.41
0.52
7/26/21 0:00
Jair Bolsonaro
0.4
0.53
7/27/21 0:00
Jair Bolsonaro
0.4
0.53
7/28/21 0:00
Jair Bolsonaro
0.39
0.53
7/29/21 0:00
Jair Bolsonaro
0.39
0.54
7/30/21 0:00
Jair Bolsonaro
0.39
0.54
7/31/21 0:00
Jair Bolsonaro
0.39
0.54
8/1/21 0:00
Jair Bolsonaro
0.38
0.55
8/2/21 0:00
Jair Bolsonaro
0.38
0.54
8/3/21 0:00
Jair Bolsonaro
0.37
0.55
8/4/21 0:00
Jair Bolsonaro
0.38
0.55
8/5/21 0:00
Jair Bolsonaro
0.38
0.54
8/6/21 0:00
Jair Bolsonaro
0.38
0.55
8/7/21 0:00
Jair Bolsonaro
0.39
0.54
8/8/21 0:00
Jair Bolsonaro
0.39
0.53
8/9/21 0:00
Jair Bolsonaro
0.38
0.54
8/10/21 0:00
Jair Bolsonaro
0.39
0.54
8/11/21 0:00
Jair Bolsonaro
0.39
0.54
8/12/21 0:00
Jair Bolsonaro
0.39
0.54
8/13/21 0:00
Jair Bolsonaro
0.41
0.53
8/14/21 0:00
Jair Bolsonaro
0.41
0.53
8/15/21 0:00
Jair Bolsonaro
0.41
0.52
8/16/21 0:00
Jair Bolsonaro
0.41
0.52
8/17/21 0:00
Jair Bolsonaro
0.41
0.52
8/18/21 0:00
Jair Bolsonaro
0.4
0.52
8/19/21 0:00
Jair Bolsonaro
0.4
0.53
8/20/21 0:00
Jair Bolsonaro
0.39
0.53
8/21/21 0:00
Jair Bolsonaro
0.39
0.54
8/22/21 0:00
Jair Bolsonaro
0.39
0.53
8/23/21 0:00
Jair Bolsonaro
0.39
0.53
8/24/21 0:00
Jair Bolsonaro
0.39
0.53
8/25/21 0:00
Jair Bolsonaro
0.38
0.54
8/26/21 0:00
Jair Bolsonaro
0.38
0.54
8/27/21 0:00
Jair Bolsonaro
0.38
0.54
8/28/21 0:00
Jair Bolsonaro
0.38
0.54
8/29/21 0:00
Jair Bolsonaro
0.37
0.55
8/30/21 0:00
Jair Bolsonaro
0.38
0.55
8/31/21 0:00
Jair Bolsonaro
0.39
0.54
9/1/21 0:00
Jair Bolsonaro
0.38
0.54
9/2/21 0:00
Jair Bolsonaro
0.39
0.53
9/3/21 0:00
Jair Bolsonaro
0.39
0.53
9/4/21 0:00
Jair Bolsonaro
0.38
0.54
9/5/21 0:00
Jair Bolsonaro
0.38
0.54
9/6/21 0:00
Jair Bolsonaro
0.37
0.54
9/7/21 0:00
Jair Bolsonaro
0.36
0.56
9/8/21 0:00
Jair Bolsonaro
0.37
0.55
9/9/21 0:00
Jair Bolsonaro
0.36
0.56
9/10/21 0:00
Jair Bolsonaro
0.36
0.56
9/11/21 0:00
Jair Bolsonaro
0.36
0.56
9/12/21 0:00
Jair Bolsonaro
0.36
0.56
9/13/21 0:00
Jair Bolsonaro
0.36
0.56
9/14/21 0:00
Jair Bolsonaro
0.37
0.55
9/15/21 0:00
Jair Bolsonaro
0.36
0.56
9/16/21 0:00
Jair Bolsonaro
0.36
0.56
9/17/21 0:00
Jair Bolsonaro
0.37
0.56
9/18/21 0:00
Jair Bolsonaro
0.37
0.56
9/19/21 0:00
Jair Bolsonaro
0.37
0.56
9/20/21 0:00
Jair Bolsonaro
0.37
0.56
9/21/21 0:00
Jair Bolsonaro
0.37
0.56
9/22/21 0:00
Jair Bolsonaro
0.36
0.58
9/23/21 0:00
Jair Bolsonaro
0.35
0.58
9/24/21 0:00
Jair Bolsonaro
0.34
0.59
9/25/21 0:00
Jair Bolsonaro
0.33
0.6
9/26/21 0:00
Jair Bolsonaro
0.33
0.6
9/27/21 0:00
Jair Bolsonaro
0.33
0.6
9/28/21 0:00
Jair Bolsonaro
0.33
0.6
9/29/21 0:00
Jair Bolsonaro
0.34
0.59
9/30/21 0:00
Jair Bolsonaro
0.35
0.59
10/1/21 0:00
Jair Bolsonaro
0.36
0.59
10/2/21 0:00
Jair Bolsonaro
0.36
0.58
10/3/21 0:00
Jair Bolsonaro
0.36
0.58
10/4/21 0:00
Jair Bolsonaro
0.37
0.57
10/5/21 0:00
Jair Bolsonaro
0.36
0.57
10/6/21 0:00
Jair Bolsonaro
0.36
0.57
10/7/21 0:00
Jair Bolsonaro
0.37
0.56
10/8/21 0:00
Jair Bolsonaro
0.37
0.56
10/9/21 0:00
Jair Bolsonaro
0.36
0.57
10/10/21 0:00
Jair Bolsonaro
0.36
0.57
10/11/21 0:00
Jair Bolsonaro
0.36
0.57
10/12/21 0:00
Jair Bolsonaro
0.35
0.57
10/13/21 0:00
Jair Bolsonaro
0.34
0.58
10/14/21 0:00
Jair Bolsonaro
0.33
0.59
10/15/21 0:00
Jair Bolsonaro
0.33
0.59
10/16/21 0:00
Jair Bolsonaro
0.34
0.58
10/17/21 0:00
Jair Bolsonaro
0.34
0.58
10/18/21 0:00
Jair Bolsonaro
0.34
0.58
10/19/21 0:00
Jair Bolsonaro
0.35
0.58
10/20/21 0:00
Jair Bolsonaro
0.36
0.56
10/21/21 0:00
Jair Bolsonaro
0.36
0.56
10/22/21 0:00
Jair Bolsonaro
0.37
0.56
10/23/21 0:00
Jair Bolsonaro
0.37
0.56
10/24/21 0:00
Jair Bolsonaro
0.37
0.56
10/25/21 0:00
Jair Bolsonaro
0.36
0.56
10/26/21 0:00
Jair Bolsonaro
0.36
0.57
10/27/21 0:00
Jair Bolsonaro
0.35
0.58
10/28/21 0:00
Jair Bolsonaro
0.36
0.58
10/29/21 0:00
Jair Bolsonaro
0.36
0.57
10/30/21 0:00
Jair Bolsonaro
0.35
0.59
10/31/21 0:00
Jair Bolsonaro
0.35
0.59
11/1/21 0:00
Jair Bolsonaro
0.36
0.58
11/2/21 0:00
Jair Bolsonaro
0.35
0.59
11/3/21 0:00
Jair Bolsonaro
0.35
0.58
11/4/21 0:00
Jair Bolsonaro
0.35
0.59
11/5/21 0:00
Jair Bolsonaro
0.35
0.59
11/6/21 0:00
Jair Bolsonaro
0.35
0.58
11/7/21 0:00
Jair Bolsonaro
0.36
0.57
11/8/21 0:00
Jair Bolsonaro
0.36
0.57
11/9/21 0:00
Jair Bolsonaro
0.38
0.55
11/10/21 0:00
Jair Bolsonaro
0.37
0.55
11/11/21 0:00
Jair Bolsonaro
0.38
0.54
11/12/21 0:00
Jair Bolsonaro
0.38
0.55
11/13/21 0:00
Jair Bolsonaro
0.38
0.55
11/14/21 0:00
Jair Bolsonaro
0.37
0.56
11/15/21 0:00
Jair Bolsonaro
0.37
0.57
11/16/21 0:00
Jair Bolsonaro
0.36
0.58
11/17/21 0:00
Jair Bolsonaro
0.36
0.58
11/18/21 0:00
Jair Bolsonaro
0.35
0.58
11/19/21 0:00
Jair Bolsonaro
0.36
0.57
11/20/21 0:00
Jair Bolsonaro
0.36
0.57
11/21/21 0:00
Jair Bolsonaro
0.36
0.56
11/22/21 0:00
Jair Bolsonaro
0.37
0.55
11/23/21 0:00
Jair Bolsonaro
0.36
0.56
11/24/21 0:00
Jair Bolsonaro
0.36
0.56
11/25/21 0:00
Jair Bolsonaro
0.36
0.57
11/26/21 0:00
Jair Bolsonaro
0.36
0.57
11/27/21 0:00
Jair Bolsonaro
0.36
0.57
11/28/21 0:00
Jair Bolsonaro
0.36
0.58
11/29/21 0:00
Jair Bolsonaro
0.35
0.58
11/30/21 0:00
Jair Bolsonaro
0.36
0.57
12/1/21 0:00
Jair Bolsonaro
0.36
0.58
12/2/21 0:00
Jair Bolsonaro
0.38
0.56
12/3/21 0:00
Jair Bolsonaro
0.37
0.57
12/4/21 0:00
Jair Bolsonaro
0.37
0.57
12/5/21 0:00
Jair Bolsonaro
0.38
0.56
12/6/21 0:00
Jair Bolsonaro
0.38
0.56
12/7/21 0:00
Jair Bolsonaro
0.37
0.56
2/17/21 0:00
Mario Draghi
0.47
0.23
2/18/21 0:00
Mario Draghi
0.5
0.24
2/19/21 0:00
Mario Draghi
0.53
0.22
2/20/21 0:00
Mario Draghi
0.53
0.22
2/21/21 0:00
Mario Draghi
0.53
0.23
2/22/21 0:00
Mario Draghi
0.54
0.23
2/23/21 0:00
Mario Draghi
0.54
0.23
2/24/21 0:00
Mario Draghi
0.54
0.24
2/25/21 0:00
Mario Draghi
0.54
0.24
2/26/21 0:00
Mario Draghi
0.54
0.25
2/27/21 0:00
Mario Draghi
0.54
0.26
2/28/21 0:00
Mario Draghi
0.54
0.27
3/1/21 0:00
Mario Draghi
0.53
0.28
3/2/21 0:00
Mario Draghi
0.54
0.29
3/3/21 0:00
Mario Draghi
0.54
0.29
3/4/21 0:00
Mario Draghi
0.54
0.29
3/5/21 0:00
Mario Draghi
0.55
0.3
3/6/21 0:00
Mario Draghi
0.55
0.3
3/7/21 0:00
Mario Draghi
0.56
0.29
3/8/21 0:00
Mario Draghi
0.55
0.3
3/9/21 0:00
Mario Draghi
0.56
0.3
3/10/21 0:00
Mario Draghi
0.56
0.3
3/11/21 0:00
Mario Draghi
0.56
0.3
3/12/21 0:00
Mario Draghi
0.55
0.3
3/13/21 0:00
Mario Draghi
0.56
0.3
3/14/21 0:00
Mario Draghi
0.56
0.31
3/15/21 0:00
Mario Draghi
0.56
0.31
3/16/21 0:00
Mario Draghi
0.56
0.31
3/17/21 0:00
Mario Draghi
0.57
0.32
3/18/21 0:00
Mario Draghi
0.57
0.33
3/19/21 0:00
Mario Draghi
0.57
0.33
3/20/21 0:00
Mario Draghi
0.56
0.33
3/21/21 0:00
Mario Draghi
0.56
0.33
3/22/21 0:00
Mario Draghi
0.55
0.34
3/23/21 0:00
Mario Draghi
0.55
0.34
3/24/21 0:00
Mario Draghi
0.55
0.35
3/25/21 0:00
Mario Draghi
0.54
0.35
3/26/21 0:00
Mario Draghi
0.55
0.34
3/27/21 0:00
Mario Draghi
0.55
0.35
3/28/21 0:00
Mario Draghi
0.56
0.35
3/29/21 0:00
Mario Draghi
0.58
0.34
3/30/21 0:00
Mario Draghi
0.58
0.34
3/31/21 0:00
Mario Draghi
0.58
0.35
4/1/21 0:00
Mario Draghi
0.57
0.35
4/2/21 0:00
Mario Draghi
0.56
0.37
4/3/21 0:00
Mario Draghi
0.55
0.38
4/4/21 0:00
Mario Draghi
0.54
0.39
4/5/21 0:00
Mario Draghi
0.53
0.39
4/6/21 0:00
Mario Draghi
0.52
0.4
4/7/21 0:00
Mario Draghi
0.51
0.41
4/8/21 0:00
Mario Draghi
0.51
0.41
4/9/21 0:00
Mario Draghi
0.51
0.41
4/10/21 0:00
Mario Draghi
0.52
0.4
4/11/21 0:00
Mario Draghi
0.53
0.39
4/12/21 0:00
Mario Draghi
0.52
0.4
4/13/21 0:00
Mario Draghi
0.52
0.4
4/14/21 0:00
Mario Draghi
0.53
0.39
4/15/21 0:00
Mario Draghi
0.53
0.39
4/16/21 0:00
Mario Draghi
0.53
0.39
4/17/21 0:00
Mario Draghi
0.54
0.39
4/18/21 0:00
Mario Draghi
0.53
0.39
4/19/21 0:00
Mario Draghi
0.54
0.39
4/20/21 0:00
Mario Draghi
0.54
0.39
4/21/21 0:00
Mario Draghi
0.55
0.39
4/22/21 0:00
Mario Draghi
0.54
0.4
4/23/21 0:00
Mario Draghi
0.53
0.41
4/24/21 0:00
Mario Draghi
0.53
0.41
4/25/21 0:00
Mario Draghi
0.51
0.42
4/26/21 0:00
Mario Draghi
0.51
0.43
4/27/21 0:00
Mario Draghi
0.51
0.43
4/28/21 0:00
Mario Draghi
0.51
0.43
4/29/21 0:00
Mario Draghi
0.52
0.43
4/30/21 0:00
Mario Draghi
0.52
0.42
5/1/21 0:00
Mario Draghi
0.52
0.42
5/2/21 0:00
Mario Draghi
0.53
0.41
5/3/21 0:00
Mario Draghi
0.53
0.4
5/4/21 0:00
Mario Draghi
0.54
0.4
5/5/21 0:00
Mario Draghi
0.53
0.4
5/6/21 0:00
Mario Draghi
0.54
0.4
5/7/21 0:00
Mario Draghi
0.54
0.39
5/8/21 0:00
Mario Draghi
0.55
0.39
5/9/21 0:00
Mario Draghi
0.55
0.38
5/10/21 0:00
Mario Draghi
0.56
0.38
5/11/21 0:00
Mario Draghi
0.57
0.37
5/12/21 0:00
Mario Draghi
0.57
0.36
5/13/21 0:00
Mario Draghi
0.57
0.37
5/14/21 0:00
Mario Draghi
0.58
0.36
5/15/21 0:00
Mario Draghi
0.59
0.35
5/16/21 0:00
Mario Draghi
0.59
0.35
5/17/21 0:00
Mario Draghi
0.59
0.35
5/18/21 0:00
Mario Draghi
0.59
0.35
5/19/21 0:00
Mario Draghi
0.6
0.33
5/20/21 0:00
Mario Draghi
0.6
0.33
5/21/21 0:00
Mario Draghi
0.61
0.33
5/22/21 0:00
Mario Draghi
0.61
0.33
5/23/21 0:00
Mario Draghi
0.61
0.32
5/24/21 0:00
Mario Draghi
0.62
0.32
5/25/21 0:00
Mario Draghi
0.62
0.31
5/26/21 0:00
Mario Draghi
0.62
0.32
5/27/21 0:00
Mario Draghi
0.63
0.31
5/28/21 0:00
Mario Draghi
0.62
0.31
5/29/21 0:00
Mario Draghi
0.63
0.3
5/30/21 0:00
Mario Draghi
0.63
0.3
5/31/21 0:00
Mario Draghi
0.62
0.31
6/1/21 0:00
Mario Draghi
0.63
0.3
6/2/21 0:00
Mario Draghi
0.64
0.3
6/3/21 0:00
Mario Draghi
0.63
0.3
6/4/21 0:00
Mario Draghi
0.64
0.3
6/5/21 0:00
Mario Draghi
0.63
0.3
6/6/21 0:00
Mario Draghi
0.64
0.29
6/7/21 0:00
Mario Draghi
0.65
0.29
6/8/21 0:00
Mario Draghi
0.65
0.28
6/9/21 0:00
Mario Draghi
0.65
0.28
6/10/21 0:00
Mario Draghi
0.65
0.27
6/11/21 0:00
Mario Draghi
0.66
0.27
6/12/21 0:00
Mario Draghi
0.66
0.27
6/13/21 0:00
Mario Draghi
0.65
0.28
6/14/21 0:00
Mario Draghi
0.65
0.28
6/15/21 0:00
Mario Draghi
0.65
0.28
6/16/21 0:00
Mario Draghi
0.65
0.29
6/17/21 0:00
Mario Draghi
0.65
0.29
6/18/21 0:00
Mario Draghi
0.65
0.29
6/19/21 0:00
Mario Draghi
0.66
0.28
6/20/21 0:00
Mario Draghi
0.66
0.28
6/21/21 0:00
Mario Draghi
0.66
0.28
6/22/21 0:00
Mario Draghi
0.66
0.28
6/23/21 0:00
Mario Draghi
0.65
0.28
6/24/21 0:00
Mario Draghi
0.66
0.28
6/25/21 0:00
Mario Draghi
0.67
0.27
6/26/21 0:00
Mario Draghi
0.67
0.27
6/27/21 0:00
Mario Draghi
0.67
0.27
6/28/21 0:00
Mario Draghi
0.67
0.28
6/29/21 0:00
Mario Draghi
0.66
0.28
6/30/21 0:00
Mario Draghi
0.66
0.28
7/1/21 0:00
Mario Draghi
0.66
0.28
7/2/21 0:00
Mario Draghi
0.65
0.29
7/3/21 0:00
Mario Draghi
0.64
0.29
7/4/21 0:00
Mario Draghi
0.65
0.29
7/5/21 0:00
Mario Draghi
0.65
0.29
7/6/21 0:00
Mario Draghi
0.65
0.29
7/7/21 0:00
Mario Draghi
0.65
0.29
7/8/21 0:00
Mario Draghi
0.65
0.29
7/9/21 0:00
Mario Draghi
0.65
0.28
7/10/21 0:00
Mario Draghi
0.66
0.28
7/11/21 0:00
Mario Draghi
0.65
0.28
7/12/21 0:00
Mario Draghi
0.65
0.28
7/13/21 0:00
Mario Draghi
0.65
0.28
7/14/21 0:00
Mario Draghi
0.66
0.27
7/15/21 0:00
Mario Draghi
0.67
0.27
7/16/21 0:00
Mario Draghi
0.67
0.27
7/17/21 0:00
Mario Draghi
0.66
0.28
7/18/21 0:00
Mario Draghi
0.66
0.29
7/19/21 0:00
Mario Draghi
0.65
0.29
7/20/21 0:00
Mario Draghi
0.65
0.29
7/21/21 0:00
Mario Draghi
0.64
0.3
7/22/21 0:00
Mario Draghi
0.63
0.31
7/23/21 0:00
Mario Draghi
0.63
0.31
7/24/21 0:00
Mario Draghi
0.63
0.31
7/25/21 0:00
Mario Draghi
0.63
0.31
7/26/21 0:00
Mario Draghi
0.63
0.31
7/27/21 0:00
Mario Draghi
0.62
0.32
7/28/21 0:00
Mario Draghi
0.62
0.32
7/29/21 0:00
Mario Draghi
0.62
0.31
7/30/21 0:00
Mario Draghi
0.62
0.32
7/31/21 0:00
Mario Draghi
0.62
0.32
8/1/21 0:00
Mario Draghi
0.62
0.32
8/2/21 0:00
Mario Draghi
0.63
0.31
8/3/21 0:00
Mario Draghi
0.62
0.31
8/4/21 0:00
Mario Draghi
0.62
0.31
8/5/21 0:00
Mario Draghi
0.62
0.32
8/6/21 0:00
Mario Draghi
0.62
0.32
8/7/21 0:00
Mario Draghi
0.62
0.32
8/8/21 0:00
Mario Draghi
0.62
0.31
8/9/21 0:00
Mario Draghi
0.61
0.33
8/10/21 0:00
Mario Draghi
0.62
0.32
8/11/21 0:00
Mario Draghi
0.62
0.32
8/12/21 0:00
Mario Draghi
0.62
0.32
8/13/21 0:00
Mario Draghi
0.61
0.33
8/14/21 0:00
Mario Draghi
0.62
0.33
8/15/21 0:00
Mario Draghi
0.63
0.32
8/16/21 0:00
Mario Draghi
0.63
0.31
8/17/21 0:00
Mario Draghi
0.63
0.31
8/18/21 0:00
Mario Draghi
0.62
0.31
8/19/21 0:00
Mario Draghi
0.63
0.31
8/20/21 0:00
Mario Draghi
0.63
0.3
8/21/21 0:00
Mario Draghi
0.63
0.3
8/22/21 0:00
Mario Draghi
0.62
0.31
8/23/21 0:00
Mario Draghi
0.62
0.31
8/24/21 0:00
Mario Draghi
0.62
0.32
8/25/21 0:00
Mario Draghi
0.62
0.31
8/26/21 0:00
Mario Draghi
0.62
0.31
8/27/21 0:00
Mario Draghi
0.62
0.31
8/28/21 0:00
Mario Draghi
0.62
0.31
8/29/21 0:00
Mario Draghi
0.63
0.31
8/30/21 0:00
Mario Draghi
0.63
0.31
8/31/21 0:00
Mario Draghi
0.63
0.31
9/1/21 0:00
Mario Draghi
0.63
0.31
9/2/21 0:00
Mario Draghi
0.63
0.31
9/3/21 0:00
Mario Draghi
0.63
0.32
9/4/21 0:00
Mario Draghi
0.63
0.32
9/5/21 0:00
Mario Draghi
0.62
0.33
9/6/21 0:00
Mario Draghi
0.62
0.33
9/7/21 0:00
Mario Draghi
0.63
0.32
9/8/21 0:00
Mario Draghi
0.63
0.32
9/9/21 0:00
Mario Draghi
0.63
0.32
9/10/21 0:00
Mario Draghi
0.63
0.31
9/11/21 0:00
Mario Draghi
0.62
0.32
9/12/21 0:00
Mario Draghi
0.62
0.31
9/13/21 0:00
Mario Draghi
0.61
0.32
9/14/21 0:00
Mario Draghi
0.61
0.32
9/15/21 0:00
Mario Draghi
0.61
0.33
9/16/21 0:00
Mario Draghi
0.61
0.33
9/17/21 0:00
Mario Draghi
0.62
0.33
9/18/21 0:00
Mario Draghi
0.63
0.32
9/19/21 0:00
Mario Draghi
0.62
0.33
9/20/21 0:00
Mario Draghi
0.62
0.32
9/21/21 0:00
Mario Draghi
0.62
0.33
9/22/21 0:00
Mario Draghi
0.61
0.33
9/23/21 0:00
Mario Draghi
0.6
0.34
9/24/21 0:00
Mario Draghi
0.6
0.34
9/25/21 0:00
Mario Draghi
0.59
0.35
9/26/21 0:00
Mario Draghi
0.6
0.35
9/27/21 0:00
Mario Draghi
0.59
0.35
9/28/21 0:00
Mario Draghi
0.59
0.35
9/29/21 0:00
Mario Draghi
0.6
0.35
9/30/21 0:00
Mario Draghi
0.6
0.34
10/1/21 0:00
Mario Draghi
0.6
0.34
10/2/21 0:00
Mario Draghi
0.6
0.34
10/3/21 0:00
Mario Draghi
0.61
0.34
10/4/21 0:00
Mario Draghi
0.61
0.34
10/5/21 0:00
Mario Draghi
0.61
0.33
10/6/21 0:00
Mario Draghi
0.61
0.33
10/7/21 0:00
Mario Draghi
0.6
0.34
10/8/21 0:00
Mario Draghi
0.61
0.34
10/9/21 0:00
Mario Draghi
0.61
0.33
10/10/21 0:00
Mario Draghi
0.61
0.33
10/11/21 0:00
Mario Draghi
0.61
0.33
10/12/21 0:00
Mario Draghi
0.61
0.33
10/13/21 0:00
Mario Draghi
0.61
0.33
10/14/21 0:00
Mario Draghi
0.61
0.33
10/15/21 0:00
Mario Draghi
0.59
0.34
10/16/21 0:00
Mario Draghi
0.59
0.34
10/17/21 0:00
Mario Draghi
0.59
0.35
10/18/21 0:00
Mario Draghi
0.59
0.35
10/19/21 0:00
Mario Draghi
0.58
0.36
10/20/21 0:00
Mario Draghi
0.58
0.36
10/21/21 0:00
Mario Draghi
0.59
0.35
10/22/21 0:00
Mario Draghi
0.6
0.34
10/23/21 0:00
Mario Draghi
0.59
0.35
10/24/21 0:00
Mario Draghi
0.6
0.34
10/25/21 0:00
Mario Draghi
0.6
0.34
10/26/21 0:00
Mario Draghi
0.6
0.34
10/27/21 0:00
Mario Draghi
0.6
0.34
10/28/21 0:00
Mario Draghi
0.6
0.35
10/29/21 0:00
Mario Draghi
0.59
0.35
10/30/21 0:00
Mario Draghi
0.59
0.35
10/31/21 0:00
Mario Draghi
0.58
0.35
11/1/21 0:00
Mario Draghi
0.58
0.36
11/2/21 0:00
Mario Draghi
0.58
0.36
11/3/21 0:00
Mario Draghi
0.58
0.36
11/4/21 0:00
Mario Draghi
0.59
0.36
11/5/21 0:00
Mario Draghi
0.59
0.35
11/6/21 0:00
Mario Draghi
0.59
0.35
11/7/21 0:00
Mario Draghi
0.59
0.35
11/8/21 0:00
Mario Draghi
0.59
0.35
11/9/21 0:00
Mario Draghi
0.58
0.35
11/10/21 0:00
Mario Draghi
0.58
0.35
11/11/21 0:00
Mario Draghi
0.59
0.34
11/12/21 0:00
Mario Draghi
0.6
0.34
11/13/21 0:00
Mario Draghi
0.59
0.34
11/14/21 0:00
Mario Draghi
0.59
0.34
11/15/21 0:00
Mario Draghi
0.6
0.34
11/16/21 0:00
Mario Draghi
0.61
0.33
11/17/21 0:00
Mario Draghi
0.6
0.34
11/18/21 0:00
Mario Draghi
0.59
0.35
11/19/21 0:00
Mario Draghi
0.59
0.35
11/20/21 0:00
Mario Draghi
0.59
0.35
11/21/21 0:00
Mario Draghi
0.6
0.34
11/22/21 0:00
Mario Draghi
0.59
0.35
11/23/21 0:00
Mario Draghi
0.59
0.35
11/24/21 0:00
Mario Draghi
0.59
0.35
11/25/21 0:00
Mario Draghi
0.59
0.35
11/26/21 0:00
Mario Draghi
0.59
0.35
11/27/21 0:00
Mario Draghi
0.6
0.35
11/28/21 0:00
Mario Draghi
0.59
0.35
11/29/21 0:00
Mario Draghi
0.59
0.35
11/30/21 0:00
Mario Draghi
0.58
0.36
12/1/21 0:00
Mario Draghi
0.58
0.36
12/2/21 0:00
Mario Draghi
0.58
0.36
12/3/21 0:00
Mario Draghi
0.58
0.36
12/4/21 0:00
Mario Draghi
0.57
0.37
12/5/21 0:00
Mario Draghi
0.57
0.37
12/6/21 0:00
Mario Draghi
0.58
0.36
12/7/21 0:00
Mario Draghi
0.59
0.35
3/6/20 0:00
Boris Johnson
0.47
0.44
3/7/20 0:00
Boris Johnson
0.47
0.44
3/8/20 0:00
Boris Johnson
0.47
0.44
3/9/20 0:00
Boris Johnson
0.47
0.44
3/10/20 0:00
Boris Johnson
0.47
0.44
3/11/20 0:00
Boris Johnson
0.46
0.44
3/12/20 0:00
Boris Johnson
0.46
0.44
3/13/20 0:00
Boris Johnson
0.46
0.44
3/14/20 0:00
Boris Johnson
0.46
0.44
3/15/20 0:00
Boris Johnson
0.46
0.44
3/16/20 0:00
Boris Johnson
0.46
0.45
3/17/20 0:00
Boris Johnson
0.46
0.45
3/18/20 0:00
Boris Johnson
0.46
0.45
3/19/20 0:00
Boris Johnson
0.47
0.44
3/20/20 0:00
Boris Johnson
0.48
0.44
3/21/20 0:00
Boris Johnson
0.5
0.43
3/22/20 0:00
Boris Johnson
0.51
0.41
3/23/20 0:00
Boris Johnson
0.53
0.39
3/24/20 0:00
Boris Johnson
0.56
0.37
3/25/20 0:00
Boris Johnson
0.58
0.34
3/26/20 0:00
Boris Johnson
0.59
0.33
3/27/20 0:00
Boris Johnson
0.62
0.31
3/28/20 0:00
Boris Johnson
0.63
0.3
3/29/20 0:00
Boris Johnson
0.63
0.3
3/30/20 0:00
Boris Johnson
0.63
0.3
3/31/20 0:00
Boris Johnson
0.62
0.31
4/1/20 0:00
Boris Johnson
0.62
0.31
4/2/20 0:00
Boris Johnson
0.61
0.32
4/3/20 0:00
Boris Johnson
0.61
0.32
4/4/20 0:00
Boris Johnson
0.61
0.32
4/5/20 0:00
Boris Johnson
0.61
0.33
4/6/20 0:00
Boris Johnson
0.6
0.33
4/7/20 0:00
Boris Johnson
0.61
0.32
4/8/20 0:00
Boris Johnson
0.62
0.31
4/9/20 0:00
Boris Johnson
0.64
0.29
4/10/20 0:00
Boris Johnson
0.64
0.29
4/11/20 0:00
Boris Johnson
0.65
0.28
4/12/20 0:00
Boris Johnson
0.66
0.28
4/13/20 0:00
Boris Johnson
0.66
0.27
4/14/20 0:00
Boris Johnson
0.66
0.27
4/15/20 0:00
Boris Johnson
0.65
0.28
4/16/20 0:00
Boris Johnson
0.65
0.28
4/17/20 0:00
Boris Johnson
0.65
0.28
4/18/20 0:00
Boris Johnson
0.65
0.28
4/19/20 0:00
Boris Johnson
0.65
0.28
4/20/20 0:00
Boris Johnson
0.65
0.28
4/21/20 0:00
Boris Johnson
0.64
0.29
4/22/20 0:00
Boris Johnson
0.64
0.29
4/23/20 0:00
Boris Johnson
0.63
0.3
4/24/20 0:00
Boris Johnson
0.61
0.32
4/25/20 0:00
Boris Johnson
0.61
0.32
4/26/20 0:00
Boris Johnson
0.6
0.32
4/27/20 0:00
Boris Johnson
0.6
0.33
4/28/20 0:00
Boris Johnson
0.6
0.32
4/29/20 0:00
Boris Johnson
0.6
0.32
4/30/20 0:00
Boris Johnson
0.61
0.32
5/1/20 0:00
Boris Johnson
0.61
0.31
5/2/20 0:00
Boris Johnson
0.61
0.32
5/3/20 0:00
Boris Johnson
0.61
0.32
5/4/20 0:00
Boris Johnson
0.62
0.31
5/5/20 0:00
Boris Johnson
0.61
0.32
5/6/20 0:00
Boris Johnson
0.62
0.32
5/7/20 0:00
Boris Johnson
0.6
0.33
5/8/20 0:00
Boris Johnson
0.6
0.34
5/9/20 0:00
Boris Johnson
0.6
0.35
5/10/20 0:00
Boris Johnson
0.59
0.35
5/11/20 0:00
Boris Johnson
0.58
0.37
5/12/20 0:00
Boris Johnson
0.57
0.37
5/13/20 0:00
Boris Johnson
0.56
0.39
5/14/20 0:00
Boris Johnson
0.56
0.38
5/15/20 0:00
Boris Johnson
0.56
0.38
5/16/20 0:00
Boris Johnson
0.56
0.38
5/17/20 0:00
Boris Johnson
0.55
0.39
5/18/20 0:00
Boris Johnson
0.55
0.39
5/19/20 0:00
Boris Johnson
0.55
0.39
5/20/20 0:00
Boris Johnson
0.55
0.39
5/21/20 0:00
Boris Johnson
0.54
0.4
5/22/20 0:00
Boris Johnson
0.53
0.41
5/23/20 0:00
Boris Johnson
0.53
0.4
5/24/20 0:00
Boris Johnson
0.53
0.41
5/25/20 0:00
Boris Johnson
0.53
0.41
5/26/20 0:00
Boris Johnson
0.52
0.42
5/27/20 0:00
Boris Johnson
0.51
0.42
5/28/20 0:00
Boris Johnson
0.5
0.43
5/29/20 0:00
Boris Johnson
0.5
0.43
5/30/20 0:00
Boris Johnson
0.49
0.44
5/31/20 0:00
Boris Johnson
0.48
0.45
6/1/20 0:00
Boris Johnson
0.47
0.46
6/2/20 0:00
Boris Johnson
0.47
0.47
6/3/20 0:00
Boris Johnson
0.46
0.47
6/4/20 0:00
Boris Johnson
0.47
0.47
6/5/20 0:00
Boris Johnson
0.46
0.47
6/6/20 0:00
Boris Johnson
0.44
0.49
6/7/20 0:00
Boris Johnson
0.44
0.49
6/8/20 0:00
Boris Johnson
0.45
0.49
6/9/20 0:00
Boris Johnson
0.44
0.5
6/10/20 0:00
Boris Johnson
0.43
0.5
6/11/20 0:00
Boris Johnson
0.44
0.5
6/12/20 0:00
Boris Johnson
0.44
0.51
6/13/20 0:00
Boris Johnson
0.44
0.5
6/14/20 0:00
Boris Johnson
0.44
0.5
6/15/20 0:00
Boris Johnson
0.45
0.49
6/16/20 0:00
Boris Johnson
0.45
0.48
6/17/20 0:00
Boris Johnson
0.46
0.48
6/18/20 0:00
Boris Johnson
0.46
0.47
6/19/20 0:00
Boris Johnson
0.46
0.47
6/20/20 0:00
Boris Johnson
0.46
0.47
6/21/20 0:00
Boris Johnson
0.46
0.47
6/22/20 0:00
Boris Johnson
0.45
0.48
6/23/20 0:00
Boris Johnson
0.45
0.48
6/24/20 0:00
Boris Johnson
0.46
0.47
6/25/20 0:00
Boris Johnson
0.46
0.48
6/26/20 0:00
Boris Johnson
0.46
0.48
6/27/20 0:00
Boris Johnson
0.46
0.48
6/28/20 0:00
Boris Johnson
0.46
0.48
6/29/20 0:00
Boris Johnson
0.47
0.47
6/30/20 0:00
Boris Johnson
0.46
0.48
7/1/20 0:00
Boris Johnson
0.45
0.49
7/2/20 0:00
Boris Johnson
0.46
0.48
7/3/20 0:00
Boris Johnson
0.46
0.49
7/4/20 0:00
Boris Johnson
0.46
0.48
7/5/20 0:00
Boris Johnson
0.46
0.49
7/6/20 0:00
Boris Johnson
0.45
0.49
7/7/20 0:00
Boris Johnson
0.45
0.49
7/8/20 0:00
Boris Johnson
0.46
0.49
7/9/20 0:00
Boris Johnson
0.45
0.49
7/10/20 0:00
Boris Johnson
0.45
0.49
7/11/20 0:00
Boris Johnson
0.45
0.5
7/12/20 0:00
Boris Johnson
0.44
0.5
7/13/20 0:00
Boris Johnson
0.44
0.5
7/14/20 0:00
Boris Johnson
0.45
0.49
7/15/20 0:00
Boris Johnson
0.44
0.49
7/16/20 0:00
Boris Johnson
0.43
0.5
7/17/20 0:00
Boris Johnson
0.44
0.49
7/18/20 0:00
Boris Johnson
0.44
0.48
7/19/20 0:00
Boris Johnson
0.45
0.48
7/20/20 0:00
Boris Johnson
0.45
0.48
7/21/20 0:00
Boris Johnson
0.45
0.49
7/22/20 0:00
Boris Johnson
0.44
0.5
7/23/20 0:00
Boris Johnson
0.44
0.5
7/24/20 0:00
Boris Johnson
0.44
0.5
7/25/20 0:00
Boris Johnson
0.43
0.51
7/26/20 0:00
Boris Johnson
0.43
0.52
7/27/20 0:00
Boris Johnson
0.43
0.51
7/28/20 0:00
Boris Johnson
0.44
0.51
7/29/20 0:00
Boris Johnson
0.44
0.51
7/30/20 0:00
Boris Johnson
0.44
0.5
7/31/20 0:00
Boris Johnson
0.43
0.51
8/1/20 0:00
Boris Johnson
0.42
0.52
8/2/20 0:00
Boris Johnson
0.42
0.52
8/3/20 0:00
Boris Johnson
0.42
0.52
8/4/20 0:00
Boris Johnson
0.41
0.53
8/5/20 0:00
Boris Johnson
0.41
0.53
8/6/20 0:00
Boris Johnson
0.41
0.53
8/7/20 0:00
Boris Johnson
0.41
0.53
8/8/20 0:00
Boris Johnson
0.41
0.53
8/9/20 0:00
Boris Johnson
0.41
0.52
8/10/20 0:00
Boris Johnson
0.41
0.53
8/11/20 0:00
Boris Johnson
0.42
0.52
8/12/20 0:00
Boris Johnson
0.42
0.52
8/13/20 0:00
Boris Johnson
0.42
0.52
8/14/20 0:00
Boris Johnson
0.42
0.52
8/15/20 0:00
Boris Johnson
0.42
0.52
8/16/20 0:00
Boris Johnson
0.43
0.52
8/17/20 0:00
Boris Johnson
0.42
0.52
8/18/20 0:00
Boris Johnson
0.41
0.53
8/19/20 0:00
Boris Johnson
0.42
0.53
8/20/20 0:00
Boris Johnson
0.4
0.55
8/21/20 0:00
Boris Johnson
0.4
0.55
8/22/20 0:00
Boris Johnson
0.4
0.55
8/23/20 0:00
Boris Johnson
0.38
0.56
8/24/20 0:00
Boris Johnson
0.38
0.56
8/25/20 0:00
Boris Johnson
0.38
0.55
8/26/20 0:00
Boris Johnson
0.38
0.55
8/27/20 0:00
Boris Johnson
0.38
0.55
8/28/20 0:00
Boris Johnson
0.38
0.54
8/29/20 0:00
Boris Johnson
0.39
0.54
8/30/20 0:00
Boris Johnson
0.4
0.52
8/31/20 0:00
Boris Johnson
0.41
0.52
9/1/20 0:00
Boris Johnson
0.41
0.52
9/2/20 0:00
Boris Johnson
0.41
0.52
9/3/20 0:00
Boris Johnson
0.41
0.52
9/4/20 0:00
Boris Johnson
0.41
0.52
9/5/20 0:00
Boris Johnson
0.41
0.53
9/6/20 0:00
Boris Johnson
0.4
0.53
9/7/20 0:00
Boris Johnson
0.4
0.54
9/8/20 0:00
Boris Johnson
0.4
0.55
9/9/20 0:00
Boris Johnson
0.4
0.55
9/10/20 0:00
Boris Johnson
0.4
0.55
9/11/20 0:00
Boris Johnson
0.4
0.55
9/12/20 0:00
Boris Johnson
0.39
0.55
9/13/20 0:00
Boris Johnson
0.39
0.56
9/14/20 0:00
Boris Johnson
0.38
0.56
9/15/20 0:00
Boris Johnson
0.38
0.56
9/16/20 0:00
Boris Johnson
0.38
0.57
9/17/20 0:00
Boris Johnson
0.37
0.57
9/18/20 0:00
Boris Johnson
0.37
0.58
9/19/20 0:00
Boris Johnson
0.36
0.59
9/20/20 0:00
Boris Johnson
0.36
0.59
9/21/20 0:00
Boris Johnson
0.35
0.59
9/22/20 0:00
Boris Johnson
0.35
0.59
9/23/20 0:00
Boris Johnson
0.36
0.59
9/24/20 0:00
Boris Johnson
0.36
0.59
9/25/20 0:00
Boris Johnson
0.37
0.58
9/26/20 0:00
Boris Johnson
0.37
0.57
9/27/20 0:00
Boris Johnson
0.38
0.57
9/28/20 0:00
Boris Johnson
0.38
0.56
9/29/20 0:00
Boris Johnson
0.38
0.57
9/30/20 0:00
Boris Johnson
0.38
0.56
10/1/20 0:00
Boris Johnson
0.37
0.57
10/2/20 0:00
Boris Johnson
0.37
0.57
10/3/20 0:00
Boris Johnson
0.37
0.57
10/4/20 0:00
Boris Johnson
0.37
0.57
10/5/20 0:00
Boris Johnson
0.37
0.57
10/6/20 0:00
Boris Johnson
0.37
0.58
10/7/20 0:00
Boris Johnson
0.37
0.58
10/8/20 0:00
Boris Johnson
0.37
0.57
10/9/20 0:00
Boris Johnson
0.38
0.57
10/10/20 0:00
Boris Johnson
0.37
0.58
10/11/20 0:00
Boris Johnson
0.37
0.58
10/12/20 0:00
Boris Johnson
0.37
0.58
10/13/20 0:00
Boris Johnson
0.38
0.56
10/14/20 0:00
Boris Johnson
0.38
0.57
10/15/20 0:00
Boris Johnson
0.37
0.58
10/16/20 0:00
Boris Johnson
0.36
0.58
10/17/20 0:00
Boris Johnson
0.36
0.58
10/18/20 0:00
Boris Johnson
0.37
0.57
10/19/20 0:00
Boris Johnson
0.37
0.57
10/20/20 0:00
Boris Johnson
0.36
0.58
10/21/20 0:00
Boris Johnson
0.36
0.58
10/22/20 0:00
Boris Johnson
0.37
0.57
10/23/20 0:00
Boris Johnson
0.38
0.56
10/24/20 0:00
Boris Johnson
0.38
0.56
10/25/20 0:00
Boris Johnson
0.38
0.56
10/26/20 0:00
Boris Johnson
0.38
0.56
10/27/20 0:00
Boris Johnson
0.38
0.56
10/28/20 0:00
Boris Johnson
0.38
0.56
10/29/20 0:00
Boris Johnson
0.38
0.57
10/30/20 0:00
Boris Johnson
0.37
0.57
10/31/20 0:00
Boris Johnson
0.37
0.57
11/1/20 0:00
Boris Johnson
0.38
0.56
11/2/20 0:00
Boris Johnson
0.37
0.57
11/3/20 0:00
Boris Johnson
0.37
0.57
11/4/20 0:00
Boris Johnson
0.37
0.57
11/5/20 0:00
Boris Johnson
0.38
0.56
11/6/20 0:00
Boris Johnson
0.39
0.56
11/7/20 0:00
Boris Johnson
0.38
0.56
11/8/20 0:00
Boris Johnson
0.38
0.56
11/9/20 0:00
Boris Johnson
0.39
0.55
11/10/20 0:00
Boris Johnson
0.4
0.54
11/11/20 0:00
Boris Johnson
0.4
0.54
11/12/20 0:00
Boris Johnson
0.39
0.55
11/13/20 0:00
Boris Johnson
0.39
0.55
11/14/20 0:00
Boris Johnson
0.4
0.55
11/15/20 0:00
Boris Johnson
0.39
0.55
11/16/20 0:00
Boris Johnson
0.39
0.55
11/17/20 0:00
Boris Johnson
0.38
0.56
11/18/20 0:00
Boris Johnson
0.37
0.57
11/19/20 0:00
Boris Johnson
0.38
0.56
11/20/20 0:00
Boris Johnson
0.38
0.57
11/21/20 0:00
Boris Johnson
0.37
0.58
11/22/20 0:00
Boris Johnson
0.38
0.56
11/23/20 0:00
Boris Johnson
0.37
0.57
11/24/20 0:00
Boris Johnson
0.37
0.57
11/25/20 0:00
Boris Johnson
0.38
0.56
11/26/20 0:00
Boris Johnson
0.38
0.56
11/27/20 0:00
Boris Johnson
0.39
0.56
11/28/20 0:00
Boris Johnson
0.38
0.55
11/29/20 0:00
Boris Johnson
0.37
0.56
11/30/20 0:00
Boris Johnson
0.37
0.57
12/1/20 0:00
Boris Johnson
0.38
0.56
12/2/20 0:00
Boris Johnson
0.37
0.57
12/3/20 0:00
Boris Johnson
0.37
0.57
12/4/20 0:00
Boris Johnson
0.38
0.56
12/5/20 0:00
Boris Johnson
0.39
0.55
12/6/20 0:00
Boris Johnson
0.39
0.55
12/7/20 0:00
Boris Johnson
0.4
0.53
12/8/20 0:00
Boris Johnson
0.4
0.53
12/9/20 0:00
Boris Johnson
0.4
0.53
12/10/20 0:00
Boris Johnson
0.4
0.53
12/11/20 0:00
Boris Johnson
0.39
0.53
12/12/20 0:00
Boris Johnson
0.39
0.54
12/13/20 0:00
Boris Johnson
0.4
0.53
12/14/20 0:00
Boris Johnson
0.39
0.54
12/15/20 0:00
Boris Johnson
0.39
0.54
12/16/20 0:00
Boris Johnson
0.39
0.54
12/17/20 0:00
Boris Johnson
0.39
0.54
12/18/20 0:00
Boris Johnson
0.39
0.54
12/19/20 0:00
Boris Johnson
0.39
0.54
12/20/20 0:00
Boris Johnson
0.38
0.55
12/21/20 0:00
Boris Johnson
0.38
0.55
12/22/20 0:00
Boris Johnson
0.38
0.56
12/23/20 0:00
Boris Johnson
0.38
0.56
12/24/20 0:00
Boris Johnson
0.37
0.57
12/25/20 0:00
Boris Johnson
0.36
0.58
12/26/20 0:00
Boris Johnson
0.37
0.58
12/27/20 0:00
Boris Johnson
0.37
0.57
12/28/20 0:00
Boris Johnson
0.37
0.56
12/29/20 0:00
Boris Johnson
0.37
0.56
12/30/20 0:00
Boris Johnson
0.36
0.57
12/31/20 0:00
Boris Johnson
0.37
0.56
1/1/21 0:00
Boris Johnson
0.38
0.55
1/2/21 0:00
Boris Johnson
0.38
0.55
1/3/21 0:00
Boris Johnson
0.38
0.55
1/4/21 0:00
Boris Johnson
0.38
0.56
1/5/21 0:00
Boris Johnson
0.38
0.56
1/6/21 0:00
Boris Johnson
0.39
0.55
1/7/21 0:00
Boris Johnson
0.39
0.56
1/8/21 0:00
Boris Johnson
0.39
0.56
1/9/21 0:00
Boris Johnson
0.39
0.56
1/10/21 0:00
Boris Johnson
0.39
0.55
1/11/21 0:00
Boris Johnson
0.4
0.55
1/12/21 0:00
Boris Johnson
0.4
0.54
1/13/21 0:00
Boris Johnson
0.4
0.55
1/14/21 0:00
Boris Johnson
0.41
0.54
1/15/21 0:00
Boris Johnson
0.41
0.54
1/16/21 0:00
Boris Johnson
0.41
0.54
1/17/21 0:00
Boris Johnson
0.41
0.54
1/18/21 0:00
Boris Johnson
0.41
0.53
1/19/21 0:00
Boris Johnson
0.4
0.54
1/20/21 0:00
Boris Johnson
0.41
0.53
1/21/21 0:00
Boris Johnson
0.4
0.53
1/22/21 0:00
Boris Johnson
0.41
0.53
1/23/21 0:00
Boris Johnson
0.41
0.53
1/24/21 0:00
Boris Johnson
0.4
0.54
1/25/21 0:00
Boris Johnson
0.4
0.54
1/26/21 0:00
Boris Johnson
0.4
0.54
1/27/21 0:00
Boris Johnson
0.4
0.55
1/28/21 0:00
Boris Johnson
0.39
0.56
1/29/21 0:00
Boris Johnson
0.39
0.56
1/30/21 0:00
Boris Johnson
0.39
0.56
1/31/21 0:00
Boris Johnson
0.4
0.55
2/1/21 0:00
Boris Johnson
0.39
0.55
2/2/21 0:00
Boris Johnson
0.41
0.54
2/3/21 0:00
Boris Johnson
0.41
0.53
2/4/21 0:00
Boris Johnson
0.42
0.52
2/5/21 0:00
Boris Johnson
0.42
0.52
2/6/21 0:00
Boris Johnson
0.43
0.51
2/7/21 0:00
Boris Johnson
0.43
0.51
2/8/21 0:00
Boris Johnson
0.43
0.51
2/9/21 0:00
Boris Johnson
0.43
0.51
2/10/21 0:00
Boris Johnson
0.42
0.52
2/11/21 0:00
Boris Johnson
0.42
0.52
2/12/21 0:00
Boris Johnson
0.42
0.52
2/13/21 0:00
Boris Johnson
0.41
0.52
2/14/21 0:00
Boris Johnson
0.41
0.53
2/15/21 0:00
Boris Johnson
0.42
0.52
2/16/21 0:00
Boris Johnson
0.42
0.52
2/17/21 0:00
Boris Johnson
0.43
0.51
2/18/21 0:00
Boris Johnson
0.43
0.51
2/19/21 0:00
Boris Johnson
0.44
0.51
2/20/21 0:00
Boris Johnson
0.44
0.5
2/21/21 0:00
Boris Johnson
0.44
0.5
2/22/21 0:00
Boris Johnson
0.44
0.5
2/23/21 0:00
Boris Johnson
0.45
0.49
2/24/21 0:00
Boris Johnson
0.45
0.49
2/25/21 0:00
Boris Johnson
0.45
0.49
2/26/21 0:00
Boris Johnson
0.45
0.49
2/27/21 0:00
Boris Johnson
0.46
0.48
2/28/21 0:00
Boris Johnson
0.46
0.48
3/1/21 0:00
Boris Johnson
0.46
0.48
3/2/21 0:00
Boris Johnson
0.45
0.49
3/3/21 0:00
Boris Johnson
0.45
0.48
3/4/21 0:00
Boris Johnson
0.45
0.48
3/5/21 0:00
Boris Johnson
0.45
0.49
3/6/21 0:00
Boris Johnson
0.45
0.5
3/7/21 0:00
Boris Johnson
0.44
0.5
3/8/21 0:00
Boris Johnson
0.44
0.5
3/9/21 0:00
Boris Johnson
0.44
0.5
3/10/21 0:00
Boris Johnson
0.45
0.5
3/11/21 0:00
Boris Johnson
0.45
0.5
3/12/21 0:00
Boris Johnson
0.44
0.5
3/13/21 0:00
Boris Johnson
0.44
0.49
3/14/21 0:00
Boris Johnson
0.44
0.5
3/15/21 0:00
Boris Johnson
0.45
0.49
3/16/21 0:00
Boris Johnson
0.45
0.49
3/17/21 0:00
Boris Johnson
0.45
0.5
3/18/21 0:00
Boris Johnson
0.45
0.49
3/19/21 0:00
Boris Johnson
0.45
0.49
3/20/21 0:00
Boris Johnson
0.46
0.49
3/21/21 0:00
Boris Johnson
0.46
0.49
3/22/21 0:00
Boris Johnson
0.46
0.48
3/23/21 0:00
Boris Johnson
0.46
0.48
3/24/21 0:00
Boris Johnson
0.46
0.48
3/25/21 0:00
Boris Johnson
0.45
0.48
3/26/21 0:00
Boris Johnson
0.46
0.48
3/27/21 0:00
Boris Johnson
0.46
0.48
3/28/21 0:00
Boris Johnson
0.46
0.47
3/29/21 0:00
Boris Johnson
0.46
0.47
3/30/21 0:00
Boris Johnson
0.46
0.47
3/31/21 0:00
Boris Johnson
0.47
0.47
4/1/21 0:00
Boris Johnson
0.47
0.47
4/2/21 0:00
Boris Johnson
0.48
0.46
4/3/21 0:00
Boris Johnson
0.47
0.46
4/4/21 0:00
Boris Johnson
0.46
0.47
4/5/21 0:00
Boris Johnson
0.47
0.47
4/6/21 0:00
Boris Johnson
0.47
0.46
4/7/21 0:00
Boris Johnson
0.47
0.46
4/8/21 0:00
Boris Johnson
0.47
0.46
4/9/21 0:00
Boris Johnson
0.47
0.46
4/10/21 0:00
Boris Johnson
0.47
0.46
4/11/21 0:00
Boris Johnson
0.48
0.46
4/12/21 0:00
Boris Johnson
0.47
0.46
4/13/21 0:00
Boris Johnson
0.47
0.46
4/14/21 0:00
Boris Johnson
0.47
0.46
4/15/21 0:00
Boris Johnson
0.47
0.46
4/16/21 0:00
Boris Johnson
0.47
0.45
4/17/21 0:00
Boris Johnson
0.47
0.46
4/18/21 0:00
Boris Johnson
0.47
0.46
4/19/21 0:00
Boris Johnson
0.47
0.46
4/20/21 0:00
Boris Johnson
0.47
0.46
4/21/21 0:00
Boris Johnson
0.47
0.46
4/22/21 0:00
Boris Johnson
0.47
0.46
4/23/21 0:00
Boris Johnson
0.46
0.47
4/24/21 0:00
Boris Johnson
0.46
0.47
4/25/21 0:00
Boris Johnson
0.47
0.46
4/26/21 0:00
Boris Johnson
0.48
0.46
4/27/21 0:00
Boris Johnson
0.48
0.46
4/28/21 0:00
Boris Johnson
0.47
0.47
4/29/21 0:00
Boris Johnson
0.46
0.47
4/30/21 0:00
Boris Johnson
0.47
0.46
5/1/21 0:00
Boris Johnson
0.48
0.46
5/2/21 0:00
Boris Johnson
0.47
0.46
5/3/21 0:00
Boris Johnson
0.47
0.46
5/4/21 0:00
Boris Johnson
0.47
0.46
5/5/21 0:00
Boris Johnson
0.48
0.46
5/6/21 0:00
Boris Johnson
0.47
0.46
5/7/21 0:00
Boris Johnson
0.47
0.46
5/8/21 0:00
Boris Johnson
0.47
0.47
5/9/21 0:00
Boris Johnson
0.47
0.46
5/10/21 0:00
Boris Johnson
0.47
0.47
5/11/21 0:00
Boris Johnson
0.47
0.46
5/12/21 0:00
Boris Johnson
0.47
0.45
5/13/21 0:00
Boris Johnson
0.48
0.45
5/14/21 0:00
Boris Johnson
0.48
0.46
5/15/21 0:00
Boris Johnson
0.49
0.45
5/16/21 0:00
Boris Johnson
0.49
0.45
5/17/21 0:00
Boris Johnson
0.49
0.45
5/18/21 0:00
Boris Johnson
0.49
0.45
5/19/21 0:00
Boris Johnson
0.49
0.46
5/20/21 0:00
Boris Johnson
0.49
0.45
5/21/21 0:00
Boris Johnson
0.49
0.45
5/22/21 0:00
Boris Johnson
0.48
0.45
5/23/21 0:00
Boris Johnson
0.49
0.45
5/24/21 0:00
Boris Johnson
0.5
0.44
5/25/21 0:00
Boris Johnson
0.5
0.43
5/26/21 0:00
Boris Johnson
0.49
0.44
5/27/21 0:00
Boris Johnson
0.49
0.45
5/28/21 0:00
Boris Johnson
0.48
0.45
5/29/21 0:00
Boris Johnson
0.47
0.46
5/30/21 0:00
Boris Johnson
0.47
0.48
5/31/21 0:00
Boris Johnson
0.46
0.48
6/1/21 0:00
Boris Johnson
0.45
0.49
6/2/21 0:00
Boris Johnson
0.46
0.48
6/3/21 0:00
Boris Johnson
0.46
0.48
6/4/21 0:00
Boris Johnson
0.46
0.48
6/5/21 0:00
Boris Johnson
0.46
0.47
6/6/21 0:00
Boris Johnson
0.46
0.46
6/7/21 0:00
Boris Johnson
0.46
0.47
6/8/21 0:00
Boris Johnson
0.47
0.46
6/9/21 0:00
Boris Johnson
0.46
0.47
6/10/21 0:00
Boris Johnson
0.45
0.47
6/11/21 0:00
Boris Johnson
0.45
0.47
6/12/21 0:00
Boris Johnson
0.46
0.47
6/13/21 0:00
Boris Johnson
0.45
0.48
6/14/21 0:00
Boris Johnson
0.44
0.48
6/15/21 0:00
Boris Johnson
0.44
0.49
6/16/21 0:00
Boris Johnson
0.45
0.49
6/17/21 0:00
Boris Johnson
0.45
0.49
6/18/21 0:00
Boris Johnson
0.45
0.49
6/19/21 0:00
Boris Johnson
0.44
0.49
6/20/21 0:00
Boris Johnson
0.45
0.49
6/21/21 0:00
Boris Johnson
0.44
0.5
6/22/21 0:00
Boris Johnson
0.44
0.49
6/23/21 0:00
Boris Johnson
0.44
0.49
6/24/21 0:00
Boris Johnson
0.45
0.49
6/25/21 0:00
Boris Johnson
0.45
0.5
6/26/21 0:00
Boris Johnson
0.44
0.5
6/27/21 0:00
Boris Johnson
0.45
0.49
6/28/21 0:00
Boris Johnson
0.46
0.48
6/29/21 0:00
Boris Johnson
0.44
0.49
6/30/21 0:00
Boris Johnson
0.44
0.5
7/1/21 0:00
Boris Johnson
0.43
0.5
7/2/21 0:00
Boris Johnson
0.43
0.5
7/3/21 0:00
Boris Johnson
0.43
0.5
7/4/21 0:00
Boris Johnson
0.43
0.5
7/5/21 0:00
Boris Johnson
0.42
0.5
7/6/21 0:00
Boris Johnson
0.43
0.5
7/7/21 0:00
Boris Johnson
0.43
0.5
7/8/21 0:00
Boris Johnson
0.43
0.5
7/9/21 0:00
Boris Johnson
0.43
0.5
7/10/21 0:00
Boris Johnson
0.44
0.49
7/11/21 0:00
Boris Johnson
0.44
0.5
7/12/21 0:00
Boris Johnson
0.44
0.5
7/13/21 0:00
Boris Johnson
0.44
0.5
7/14/21 0:00
Boris Johnson
0.44
0.49
7/15/21 0:00
Boris Johnson
0.44
0.5
7/16/21 0:00
Boris Johnson
0.42
0.51
7/17/21 0:00
Boris Johnson
0.41
0.51
7/18/21 0:00
Boris Johnson
0.42
0.51
7/19/21 0:00
Boris Johnson
0.41
0.52
7/20/21 0:00
Boris Johnson
0.42
0.52
7/21/21 0:00
Boris Johnson
0.42
0.52
7/22/21 0:00
Boris Johnson
0.42
0.52
7/23/21 0:00
Boris Johnson
0.42
0.52
7/24/21 0:00
Boris Johnson
0.42
0.52
7/25/21 0:00
Boris Johnson
0.41
0.53
7/26/21 0:00
Boris Johnson
0.41
0.53
7/27/21 0:00
Boris Johnson
0.41
0.53
7/28/21 0:00
Boris Johnson
0.42
0.53
7/29/21 0:00
Boris Johnson
0.41
0.53
7/30/21 0:00
Boris Johnson
0.41
0.53
7/31/21 0:00
Boris Johnson
0.41
0.53
8/1/21 0:00
Boris Johnson
0.42
0.51
8/2/21 0:00
Boris Johnson
0.41
0.51
8/3/21 0:00
Boris Johnson
0.41
0.51
8/4/21 0:00
Boris Johnson
0.41
0.52
8/5/21 0:00
Boris Johnson
0.41
0.52
8/6/21 0:00
Boris Johnson
0.41
0.52
8/7/21 0:00
Boris Johnson
0.42
0.51
8/8/21 0:00
Boris Johnson
0.41
0.52
8/9/21 0:00
Boris Johnson
0.42
0.51
8/10/21 0:00
Boris Johnson
0.42
0.51
8/11/21 0:00
Boris Johnson
0.43
0.5
8/12/21 0:00
Boris Johnson
0.42
0.51
8/13/21 0:00
Boris Johnson
0.43
0.51
8/14/21 0:00
Boris Johnson
0.42
0.51
8/15/21 0:00
Boris Johnson
0.42
0.51
8/16/21 0:00
Boris Johnson
0.42
0.52
8/17/21 0:00
Boris Johnson
0.42
0.51
8/18/21 0:00
Boris Johnson
0.41
0.52
8/19/21 0:00
Boris Johnson
0.42
0.51
8/20/21 0:00
Boris Johnson
0.42
0.51
8/21/21 0:00
Boris Johnson
0.41
0.52
8/22/21 0:00
Boris Johnson
0.42
0.52
8/23/21 0:00
Boris Johnson
0.42
0.52
8/24/21 0:00
Boris Johnson
0.42
0.51
8/25/21 0:00
Boris Johnson
0.42
0.51
8/26/21 0:00
Boris Johnson
0.42
0.51
8/27/21 0:00
Boris Johnson
0.41
0.51
8/28/21 0:00
Boris Johnson
0.41
0.51
8/29/21 0:00
Boris Johnson
0.41
0.51
8/30/21 0:00
Boris Johnson
0.41
0.51
8/31/21 0:00
Boris Johnson
0.41
0.52
9/1/21 0:00
Boris Johnson
0.42
0.51
9/2/21 0:00
Boris Johnson
0.41
0.52
9/3/21 0:00
Boris Johnson
0.42
0.51
9/4/21 0:00
Boris Johnson
0.42
0.51
9/5/21 0:00
Boris Johnson
0.42
0.51
9/6/21 0:00
Boris Johnson
0.42
0.51
9/7/21 0:00
Boris Johnson
0.42
0.51
9/8/21 0:00
Boris Johnson
0.41
0.52
9/9/21 0:00
Boris Johnson
0.41
0.52
9/10/21 0:00
Boris Johnson
0.41
0.52
9/11/21 0:00
Boris Johnson
0.4
0.53
9/12/21 0:00
Boris Johnson
0.4
0.53
9/13/21 0:00
Boris Johnson
0.4
0.52
9/14/21 0:00
Boris Johnson
0.41
0.53
9/15/21 0:00
Boris Johnson
0.4
0.53
9/16/21 0:00
Boris Johnson
0.4
0.53
9/17/21 0:00
Boris Johnson
0.4
0.53
9/18/21 0:00
Boris Johnson
0.4
0.54
9/19/21 0:00
Boris Johnson
0.4
0.53
9/20/21 0:00
Boris Johnson
0.4
0.54
9/21/21 0:00
Boris Johnson
0.4
0.54
9/22/21 0:00
Boris Johnson
0.41
0.53
9/23/21 0:00
Boris Johnson
0.41
0.52
9/24/21 0:00
Boris Johnson
0.41
0.52
9/25/21 0:00
Boris Johnson
0.41
0.52
9/26/21 0:00
Boris Johnson
0.4
0.53
9/27/21 0:00
Boris Johnson
0.4
0.53
9/28/21 0:00
Boris Johnson
0.41
0.53
9/29/21 0:00
Boris Johnson
0.4
0.53
9/30/21 0:00
Boris Johnson
0.4
0.54
10/1/21 0:00
Boris Johnson
0.4
0.54
10/2/21 0:00
Boris Johnson
0.4
0.54
10/3/21 0:00
Boris Johnson
0.4
0.54
10/4/21 0:00
Boris Johnson
0.4
0.54
10/5/21 0:00
Boris Johnson
0.39
0.54
10/6/21 0:00
Boris Johnson
0.39
0.54
10/7/21 0:00
Boris Johnson
0.38
0.55
10/8/21 0:00
Boris Johnson
0.37
0.55
10/9/21 0:00
Boris Johnson
0.38
0.55
10/10/21 0:00
Boris Johnson
0.38
0.54
10/11/21 0:00
Boris Johnson
0.38
0.54
10/12/21 0:00
Boris Johnson
0.38
0.54
10/13/21 0:00
Boris Johnson
0.38
0.55
10/14/21 0:00
Boris Johnson
0.38
0.54
10/15/21 0:00
Boris Johnson
0.39
0.54
10/16/21 0:00
Boris Johnson
0.38
0.55
10/17/21 0:00
Boris Johnson
0.38
0.55
10/18/21 0:00
Boris Johnson
0.38
0.55
10/19/21 0:00
Boris Johnson
0.38
0.55
10/20/21 0:00
Boris Johnson
0.39
0.54
10/21/21 0:00
Boris Johnson
0.39
0.54
10/22/21 0:00
Boris Johnson
0.39
0.54
10/23/21 0:00
Boris Johnson
0.39
0.54
10/24/21 0:00
Boris Johnson
0.4
0.54
10/25/21 0:00
Boris Johnson
0.4
0.54
10/26/21 0:00
Boris Johnson
0.39
0.54
10/27/21 0:00
Boris Johnson
0.4
0.54
10/28/21 0:00
Boris Johnson
0.39
0.54
10/29/21 0:00
Boris Johnson
0.39
0.54
10/30/21 0:00
Boris Johnson
0.4
0.53
10/31/21 0:00
Boris Johnson
0.4
0.52
11/1/21 0:00
Boris Johnson
0.41
0.52
11/2/21 0:00
Boris Johnson
0.4
0.52
11/3/21 0:00
Boris Johnson
0.4
0.53
11/4/21 0:00
Boris Johnson
0.4
0.53
11/5/21 0:00
Boris Johnson
0.4
0.54
11/6/21 0:00
Boris Johnson
0.39
0.54
11/7/21 0:00
Boris Johnson
0.39
0.55
11/8/21 0:00
Boris Johnson
0.38
0.55
11/9/21 0:00
Boris Johnson
0.37
0.56
11/10/21 0:00
Boris Johnson
0.37
0.56
11/11/21 0:00
Boris Johnson
0.37
0.56
11/12/21 0:00
Boris Johnson
0.37
0.57
11/13/21 0:00
Boris Johnson
0.36
0.57
11/14/21 0:00
Boris Johnson
0.37
0.56
11/15/21 0:00
Boris Johnson
0.36
0.56
11/16/21 0:00
Boris Johnson
0.37
0.56
11/17/21 0:00
Boris Johnson
0.37
0.55
11/18/21 0:00
Boris Johnson
0.37
0.55
11/19/21 0:00
Boris Johnson
0.37
0.55
11/20/21 0:00
Boris Johnson
0.37
0.55
11/21/21 0:00
Boris Johnson
0.36
0.56
11/22/21 0:00
Boris Johnson
0.37
0.55
11/23/21 0:00
Boris Johnson
0.37
0.56
11/24/21 0:00
Boris Johnson
0.37
0.56
11/25/21 0:00
Boris Johnson
0.37
0.56
11/26/21 0:00
Boris Johnson
0.38
0.56
11/27/21 0:00
Boris Johnson
0.37
0.56
11/28/21 0:00
Boris Johnson
0.38
0.55
11/29/21 0:00
Boris Johnson
0.38
0.56
11/30/21 0:00
Boris Johnson
0.38
0.55
12/1/21 0:00
Boris Johnson
0.38
0.55
12/2/21 0:00
Boris Johnson
0.37
0.56
12/3/21 0:00
Boris Johnson
0.37
0.56
12/4/21 0:00
Boris Johnson
0.37
0.56
12/5/21 0:00
Boris Johnson
0.37
0.57
12/6/21 0:00
Boris Johnson
0.37
0.56
12/7/21 0:00
Boris Johnson
0.37
0.57
10/7/21 0:00
Fumio Kishida
0.42
0.28
10/8/21 0:00
Fumio Kishida
0.42
0.28
10/9/21 0:00
Fumio Kishida
0.41
0.28
10/10/21 0:00
Fumio Kishida
0.4
0.27
10/11/21 0:00
Fumio Kishida
0.4
0.27
10/12/21 0:00
Fumio Kishida
0.4
0.28
10/13/21 0:00
Fumio Kishida
0.4
0.3
10/14/21 0:00
Fumio Kishida
0.39
0.3
10/15/21 0:00
Fumio Kishida
0.4
0.32
10/16/21 0:00
Fumio Kishida
0.4
0.33
10/17/21 0:00
Fumio Kishida
0.41
0.34
10/18/21 0:00
Fumio Kishida
0.4
0.36
10/19/21 0:00
Fumio Kishida
0.4
0.36
10/20/21 0:00
Fumio Kishida
0.41
0.36
10/21/21 0:00
Fumio Kishida
0.41
0.36
10/22/21 0:00
Fumio Kishida
0.41
0.36
10/23/21 0:00
Fumio Kishida
0.41
0.35
10/24/21 0:00
Fumio Kishida
0.42
0.35
10/25/21 0:00
Fumio Kishida
0.43
0.35
10/26/21 0:00
Fumio Kishida
0.43
0.35
10/27/21 0:00
Fumio Kishida
0.43
0.35
10/28/21 0:00
Fumio Kishida
0.42
0.36
10/29/21 0:00
Fumio Kishida
0.42
0.35
10/30/21 0:00
Fumio Kishida
0.43
0.35
10/31/21 0:00
Fumio Kishida
0.41
0.36
11/1/21 0:00
Fumio Kishida
0.42
0.36
11/2/21 0:00
Fumio Kishida
0.42
0.35
11/3/21 0:00
Fumio Kishida
0.44
0.35
11/4/21 0:00
Fumio Kishida
0.44
0.34
11/5/21 0:00
Fumio Kishida
0.45
0.34
11/6/21 0:00
Fumio Kishida
0.44
0.35
11/7/21 0:00
Fumio Kishida
0.46
0.33
11/8/21 0:00
Fumio Kishida
0.46
0.34
11/9/21 0:00
Fumio Kishida
0.45
0.35
11/10/21 0:00
Fumio Kishida
0.44
0.37
11/11/21 0:00
Fumio Kishida
0.45
0.37
11/12/21 0:00
Fumio Kishida
0.44
0.38
11/13/21 0:00
Fumio Kishida
0.45
0.38
11/14/21 0:00
Fumio Kishida
0.43
0.4
11/15/21 0:00
Fumio Kishida
0.44
0.39
11/16/21 0:00
Fumio Kishida
0.43
0.39
11/17/21 0:00
Fumio Kishida
0.43
0.39
11/18/21 0:00
Fumio Kishida
0.42
0.39
11/19/21 0:00
Fumio Kishida
0.42
0.39
11/20/21 0:00
Fumio Kishida
0.41
0.39
11/21/21 0:00
Fumio Kishida
0.42
0.39
11/22/21 0:00
Fumio Kishida
0.41
0.41
11/23/21 0:00
Fumio Kishida
0.41
0.41
11/24/21 0:00
Fumio Kishida
0.41
0.42
11/25/21 0:00
Fumio Kishida
0.42
0.42
11/26/21 0:00
Fumio Kishida
0.42
0.41
11/27/21 0:00
Fumio Kishida
0.41
0.42
11/28/21 0:00
Fumio Kishida
0.41
0.43
11/29/21 0:00
Fumio Kishida
0.41
0.43
11/30/21 0:00
Fumio Kishida
0.42
0.42
12/1/21 0:00
Fumio Kishida
0.43
0.41
12/2/21 0:00
Fumio Kishida
0.43
0.41
12/3/21 0:00
Fumio Kishida
0.43
0.41
12/4/21 0:00
Fumio Kishida
0.44
0.39
12/5/21 0:00
Fumio Kishida
0.45
0.38
12/6/21 0:00
Fumio Kishida
0.47
0.37
12/7/21 0:00
Fumio Kishida
0.46
0.37
3/6/20 0:00
Andrés Manuel López Obrador
0.61
0.31
3/7/20 0:00
Andrés Manuel López Obrador
0.61
0.31
3/8/20 0:00
Andrés Manuel López Obrador
0.6
0.31
3/9/20 0:00
Andrés Manuel López Obrador
0.6
0.32
3/10/20 0:00
Andrés Manuel López Obrador
0.61
0.31
3/11/20 0:00
Andrés Manuel López Obrador
0.62
0.31
3/12/20 0:00
Andrés Manuel López Obrador
0.61
0.31
3/13/20 0:00
Andrés Manuel López Obrador
0.6
0.31
3/14/20 0:00
Andrés Manuel López Obrador
0.6
0.32
3/15/20 0:00
Andrés Manuel López Obrador
0.62
0.32
3/16/20 0:00
Andrés Manuel López Obrador
0.62
0.31
3/17/20 0:00
Andrés Manuel López Obrador
0.61
0.31
3/18/20 0:00
Andrés Manuel López Obrador
0.61
0.3
3/19/20 0:00
Andrés Manuel López Obrador
0.63
0.3
3/20/20 0:00
Andrés Manuel López Obrador
0.63
0.29
3/21/20 0:00
Andrés Manuel López Obrador
0.64
0.28
3/22/20 0:00
Andrés Manuel López Obrador
0.63
0.27
3/23/20 0:00
Andrés Manuel López Obrador
0.61
0.29
3/24/20 0:00
Andrés Manuel López Obrador
0.61
0.29
3/25/20 0:00
Andrés Manuel López Obrador
0.6
0.3
3/26/20 0:00
Andrés Manuel López Obrador
0.61
0.29
3/27/20 0:00
Andrés Manuel López Obrador
0.6
0.3
3/28/20 0:00
Andrés Manuel López Obrador
0.59
0.31
3/29/20 0:00
Andrés Manuel López Obrador
0.6
0.32
3/30/20 0:00
Andrés Manuel López Obrador
0.61
0.3
3/31/20 0:00
Andrés Manuel López Obrador
0.61
0.31
4/1/20 0:00
Andrés Manuel López Obrador
0.61
0.3
4/2/20 0:00
Andrés Manuel López Obrador
0.6
0.32
4/3/20 0:00
Andrés Manuel López Obrador
0.6
0.31
4/4/20 0:00
Andrés Manuel López Obrador
0.6
0.32
4/5/20 0:00
Andrés Manuel López Obrador
0.6
0.32
4/6/20 0:00
Andrés Manuel López Obrador
0.6
0.32
4/7/20 0:00
Andrés Manuel López Obrador
0.6
0.32
4/8/20 0:00
Andrés Manuel López Obrador
0.6
0.3
4/9/20 0:00
Andrés Manuel López Obrador
0.63
0.29
4/10/20 0:00
Andrés Manuel López Obrador
0.62
0.29
4/11/20 0:00
Andrés Manuel López Obrador
0.62
0.28
4/12/20 0:00
Andrés Manuel López Obrador
0.63
0.28
4/13/20 0:00
Andrés Manuel López Obrador
0.63
0.28
4/14/20 0:00
Andrés Manuel López Obrador
0.64
0.28
4/15/20 0:00
Andrés Manuel López Obrador
0.63
0.3
4/16/20 0:00
Andrés Manuel López Obrador
0.63
0.3
4/17/20 0:00
Andrés Manuel López Obrador
0.63
0.3
4/18/20 0:00
Andrés Manuel López Obrador
0.63
0.3
4/19/20 0:00
Andrés Manuel López Obrador
0.62
0.31
4/20/20 0:00
Andrés Manuel López Obrador
0.61
0.3
4/21/20 0:00
Andrés Manuel López Obrador
0.62
0.3
4/22/20 0:00
Andrés Manuel López Obrador
0.63
0.29
4/23/20 0:00
Andrés Manuel López Obrador
0.64
0.28
4/24/20 0:00
Andrés Manuel López Obrador
0.65
0.27
4/25/20 0:00
Andrés Manuel López Obrador
0.65
0.27
4/26/20 0:00
Andrés Manuel López Obrador
0.66
0.27
4/27/20 0:00
Andrés Manuel López Obrador
0.66
0.27
4/28/20 0:00
Andrés Manuel López Obrador
0.65
0.28
4/29/20 0:00
Andrés Manuel López Obrador
0.65
0.28
4/30/20 0:00
Andrés Manuel López Obrador
0.63
0.3
5/1/20 0:00
Andrés Manuel López Obrador
0.62
0.3
5/2/20 0:00
Andrés Manuel López Obrador
0.61
0.31
5/3/20 0:00
Andrés Manuel López Obrador
0.61
0.3
5/4/20 0:00
Andrés Manuel López Obrador
0.6
0.3
5/5/20 0:00
Andrés Manuel López Obrador
0.6
0.3
5/6/20 0:00
Andrés Manuel López Obrador
0.61
0.29
5/7/20 0:00
Andrés Manuel López Obrador
0.62
0.28
5/8/20 0:00
Andrés Manuel López Obrador
0.63
0.28
5/9/20 0:00
Andrés Manuel López Obrador
0.63
0.28
5/10/20 0:00
Andrés Manuel López Obrador
0.62
0.29
5/11/20 0:00
Andrés Manuel López Obrador
0.61
0.3
5/12/20 0:00
Andrés Manuel López Obrador
0.61
0.3
5/13/20 0:00
Andrés Manuel López Obrador
0.61
0.3
5/14/20 0:00
Andrés Manuel López Obrador
0.6
0.31
5/15/20 0:00
Andrés Manuel López Obrador
0.59
0.31
5/16/20 0:00
Andrés Manuel López Obrador
0.59
0.31
5/17/20 0:00
Andrés Manuel López Obrador
0.6
0.31
5/18/20 0:00
Andrés Manuel López Obrador
0.6
0.31
5/19/20 0:00
Andrés Manuel López Obrador
0.59
0.32
5/20/20 0:00
Andrés Manuel López Obrador
0.59
0.32
5/21/20 0:00
Andrés Manuel López Obrador
0.59
0.32
5/22/20 0:00
Andrés Manuel López Obrador
0.59
0.31
5/23/20 0:00
Andrés Manuel López Obrador
0.59
0.31
5/24/20 0:00
Andrés Manuel López Obrador
0.58
0.33
5/25/20 0:00
Andrés Manuel López Obrador
0.6
0.32
5/26/20 0:00
Andrés Manuel López Obrador
0.59
0.33
5/27/20 0:00
Andrés Manuel López Obrador
0.61
0.32
5/28/20 0:00
Andrés Manuel López Obrador
0.6
0.33
5/29/20 0:00
Andrés Manuel López Obrador
0.6
0.33
5/30/20 0:00
Andrés Manuel López Obrador
0.59
0.34
5/31/20 0:00
Andrés Manuel López Obrador
0.58
0.33
6/1/20 0:00
Andrés Manuel López Obrador
0.58
0.33
6/2/20 0:00
Andrés Manuel López Obrador
0.6
0.32
6/3/20 0:00
Andrés Manuel López Obrador
0.57
0.34
6/4/20 0:00
Andrés Manuel López Obrador
0.56
0.35
6/5/20 0:00
Andrés Manuel López Obrador
0.55
0.35
6/6/20 0:00
Andrés Manuel López Obrador
0.55
0.36
6/7/20 0:00
Andrés Manuel López Obrador
0.55
0.37
6/8/20 0:00
Andrés Manuel López Obrador
0.54
0.37
6/9/20 0:00
Andrés Manuel López Obrador
0.54
0.37
6/10/20 0:00
Andrés Manuel López Obrador
0.54
0.37
6/11/20 0:00
Andrés Manuel López Obrador
0.55
0.37
6/12/20 0:00
Andrés Manuel López Obrador
0.56
0.36
6/13/20 0:00
Andrés Manuel López Obrador
0.58
0.34
6/14/20 0:00
Andrés Manuel López Obrador
0.59
0.33
6/15/20 0:00
Andrés Manuel López Obrador
0.6
0.33
6/16/20 0:00
Andrés Manuel López Obrador
0.59
0.34
6/17/20 0:00
Andrés Manuel López Obrador
0.6
0.33
6/18/20 0:00
Andrés Manuel López Obrador
0.62
0.31
6/19/20 0:00
Andrés Manuel López Obrador
0.62
0.32
6/20/20 0:00
Andrés Manuel López Obrador
0.6
0.34
6/21/20 0:00
Andrés Manuel López Obrador
0.59
0.35
6/22/20 0:00
Andrés Manuel López Obrador
0.59
0.34
6/23/20 0:00
Andrés Manuel López Obrador
0.58
0.34
6/24/20 0:00
Andrés Manuel López Obrador
0.58
0.34
6/25/20 0:00
Andrés Manuel López Obrador
0.55
0.36
6/26/20 0:00
Andrés Manuel López Obrador
0.56
0.36
6/27/20 0:00
Andrés Manuel López Obrador
0.57
0.35
6/28/20 0:00
Andrés Manuel López Obrador
0.56
0.36
6/29/20 0:00
Andrés Manuel López Obrador
0.56
0.36
6/30/20 0:00
Andrés Manuel López Obrador
0.58
0.35
7/1/20 0:00
Andrés Manuel López Obrador
0.57
0.35
7/2/20 0:00
Andrés Manuel López Obrador
0.59
0.34
7/3/20 0:00
Andrés Manuel López Obrador
0.58
0.34
7/4/20 0:00
Andrés Manuel López Obrador
0.57
0.34
7/5/20 0:00
Andrés Manuel López Obrador
0.59
0.32
7/6/20 0:00
Andrés Manuel López Obrador
0.59
0.32
7/7/20 0:00
Andrés Manuel López Obrador
0.58
0.33
7/8/20 0:00
Andrés Manuel López Obrador
0.59
0.32
7/9/20 0:00
Andrés Manuel López Obrador
0.59
0.32
7/10/20 0:00
Andrés Manuel López Obrador
0.6
0.32
7/11/20 0:00
Andrés Manuel López Obrador
0.59
0.33
7/12/20 0:00
Andrés Manuel López Obrador
0.59
0.33
7/13/20 0:00
Andrés Manuel López Obrador
0.59
0.33
7/14/20 0:00
Andrés Manuel López Obrador
0.58
0.33
7/15/20 0:00
Andrés Manuel López Obrador
0.59
0.33
7/16/20 0:00
Andrés Manuel López Obrador
0.58
0.35
7/17/20 0:00
Andrés Manuel López Obrador
0.58
0.35
7/18/20 0:00
Andrés Manuel López Obrador
0.59
0.33
7/19/20 0:00
Andrés Manuel López Obrador
0.58
0.33
7/20/20 0:00
Andrés Manuel López Obrador
0.57
0.34
7/21/20 0:00
Andrés Manuel López Obrador
0.59
0.33
7/22/20 0:00
Andrés Manuel López Obrador
0.59
0.33
7/23/20 0:00
Andrés Manuel López Obrador
0.61
0.31
7/24/20 0:00
Andrés Manuel López Obrador
0.6
0.31
7/25/20 0:00
Andrés Manuel López Obrador
0.6
0.32
7/26/20 0:00
Andrés Manuel López Obrador
0.59
0.32
7/27/20 0:00
Andrés Manuel López Obrador
0.6
0.32
7/28/20 0:00
Andrés Manuel López Obrador
0.58
0.34
7/29/20 0:00
Andrés Manuel López Obrador
0.58
0.34
7/30/20 0:00
Andrés Manuel López Obrador
0.57
0.34
7/31/20 0:00
Andrés Manuel López Obrador
0.59
0.33
8/1/20 0:00
Andrés Manuel López Obrador
0.59
0.33
8/2/20 0:00
Andrés Manuel López Obrador
0.6
0.32
8/3/20 0:00
Andrés Manuel López Obrador
0.61
0.31
8/4/20 0:00
Andrés Manuel López Obrador
0.62
0.29
8/5/20 0:00
Andrés Manuel López Obrador
0.61
0.3
8/6/20 0:00
Andrés Manuel López Obrador
0.61
0.31
8/7/20 0:00
Andrés Manuel López Obrador
0.61
0.3
8/8/20 0:00
Andrés Manuel López Obrador
0.61
0.31
8/9/20 0:00
Andrés Manuel López Obrador
0.6
0.31
8/10/20 0:00
Andrés Manuel López Obrador
0.6
0.33
8/11/20 0:00
Andrés Manuel López Obrador
0.59
0.33
8/12/20 0:00
Andrés Manuel López Obrador
0.6
0.33
8/13/20 0:00
Andrés Manuel López Obrador
0.61
0.32
8/14/20 0:00
Andrés Manuel López Obrador
0.59
0.34
8/15/20 0:00
Andrés Manuel López Obrador
0.6
0.33
8/16/20 0:00
Andrés Manuel López Obrador
0.6
0.32
8/17/20 0:00
Andrés Manuel López Obrador
0.61
0.32
8/18/20 0:00
Andrés Manuel López Obrador
0.61
0.31
8/19/20 0:00
Andrés Manuel López Obrador
0.61
0.31
8/20/20 0:00
Andrés Manuel López Obrador
0.6
0.32
8/21/20 0:00
Andrés Manuel López Obrador
0.61
0.31
8/22/20 0:00
Andrés Manuel López Obrador
0.61
0.31
8/23/20 0:00
Andrés Manuel López Obrador
0.6
0.32
8/24/20 0:00
Andrés Manuel López Obrador
0.6
0.33
8/25/20 0:00
Andrés Manuel López Obrador
0.61
0.32
8/26/20 0:00
Andrés Manuel López Obrador
0.6
0.33
8/27/20 0:00
Andrés Manuel López Obrador
0.61
0.32
8/28/20 0:00
Andrés Manuel López Obrador
0.6
0.32
8/29/20 0:00
Andrés Manuel López Obrador
0.6
0.32
8/30/20 0:00
Andrés Manuel López Obrador
0.61
0.31
8/31/20 0:00
Andrés Manuel López Obrador
0.61
0.3
9/1/20 0:00
Andrés Manuel López Obrador
0.62
0.3
9/2/20 0:00
Andrés Manuel López Obrador
0.62
0.29
9/3/20 0:00
Andrés Manuel López Obrador
0.6
0.31
9/4/20 0:00
Andrés Manuel López Obrador
0.61
0.31
9/5/20 0:00
Andrés Manuel López Obrador
0.61
0.32
9/6/20 0:00
Andrés Manuel López Obrador
0.6
0.32
9/7/20 0:00
Andrés Manuel López Obrador
0.59
0.33
9/8/20 0:00
Andrés Manuel López Obrador
0.59
0.34
9/9/20 0:00
Andrés Manuel López Obrador
0.59
0.34
9/10/20 0:00
Andrés Manuel López Obrador
0.59
0.34
9/11/20 0:00
Andrés Manuel López Obrador
0.59
0.34
9/12/20 0:00
Andrés Manuel López Obrador
0.59
0.33
9/13/20 0:00
Andrés Manuel López Obrador
0.6
0.33
9/14/20 0:00
Andrés Manuel López Obrador
0.6
0.32
9/15/20 0:00
Andrés Manuel López Obrador
0.59
0.33
9/16/20 0:00
Andrés Manuel López Obrador
0.59
0.33
9/17/20 0:00
Andrés Manuel López Obrador
0.59
0.33
9/18/20 0:00
Andrés Manuel López Obrador
0.58
0.34
9/19/20 0:00
Andrés Manuel López Obrador
0.57
0.35
9/20/20 0:00
Andrés Manuel López Obrador
0.56
0.35
9/21/20 0:00
Andrés Manuel López Obrador
0.57
0.35
9/22/20 0:00
Andrés Manuel López Obrador
0.59
0.34
9/23/20 0:00
Andrés Manuel López Obrador
0.58
0.34
9/24/20 0:00
Andrés Manuel López Obrador
0.59
0.34
9/25/20 0:00
Andrés Manuel López Obrador
0.6
0.33
9/26/20 0:00
Andrés Manuel López Obrador
0.6
0.33
9/27/20 0:00
Andrés Manuel López Obrador
0.6
0.33
9/28/20 0:00
Andrés Manuel López Obrador
0.59
0.33
9/29/20 0:00
Andrés Manuel López Obrador
0.6
0.33
9/30/20 0:00
Andrés Manuel López Obrador
0.59
0.33
10/1/20 0:00
Andrés Manuel López Obrador
0.59
0.33
10/2/20 0:00
Andrés Manuel López Obrador
0.6
0.33
10/3/20 0:00
Andrés Manuel López Obrador
0.61
0.31
10/4/20 0:00
Andrés Manuel López Obrador
0.62
0.3
10/5/20 0:00
Andrés Manuel López Obrador
0.62
0.29
10/6/20 0:00
Andrés Manuel López Obrador
0.61
0.3
10/7/20 0:00
Andrés Manuel López Obrador
0.61
0.31
10/8/20 0:00
Andrés Manuel López Obrador
0.62
0.3
10/9/20 0:00
Andrés Manuel López Obrador
0.61
0.32
10/10/20 0:00
Andrés Manuel López Obrador
0.6
0.32
10/11/20 0:00
Andrés Manuel López Obrador
0.6
0.32
10/12/20 0:00
Andrés Manuel López Obrador
0.6
0.33
10/13/20 0:00
Andrés Manuel López Obrador
0.61
0.32
10/14/20 0:00
Andrés Manuel López Obrador
0.62
0.32
10/15/20 0:00
Andrés Manuel López Obrador
0.61
0.32
10/16/20 0:00
Andrés Manuel López Obrador
0.61
0.31
10/17/20 0:00
Andrés Manuel López Obrador
0.61
0.31
10/18/20 0:00
Andrés Manuel López Obrador
0.62
0.3
10/19/20 0:00
Andrés Manuel López Obrador
0.62
0.3
10/20/20 0:00
Andrés Manuel López Obrador
0.6
0.31
10/21/20 0:00
Andrés Manuel López Obrador
0.6
0.31
10/22/20 0:00
Andrés Manuel López Obrador
0.61
0.32
10/23/20 0:00
Andrés Manuel López Obrador
0.61
0.31
10/24/20 0:00
Andrés Manuel López Obrador
0.6
0.32
10/25/20 0:00
Andrés Manuel López Obrador
0.59
0.33
10/26/20 0:00
Andrés Manuel López Obrador
0.58
0.34
10/27/20 0:00
Andrés Manuel López Obrador
0.59
0.33
10/28/20 0:00
Andrés Manuel López Obrador
0.59
0.33
10/29/20 0:00
Andrés Manuel López Obrador
0.58
0.33
10/30/20 0:00
Andrés Manuel López Obrador
0.58
0.33
10/31/20 0:00
Andrés Manuel López Obrador
0.58
0.34
11/1/20 0:00
Andrés Manuel López Obrador
0.57
0.34
11/2/20 0:00
Andrés Manuel López Obrador
0.59
0.33
11/3/20 0:00
Andrés Manuel López Obrador
0.58
0.33
11/4/20 0:00
Andrés Manuel López Obrador
0.58
0.34
11/5/20 0:00
Andrés Manuel López Obrador
0.58
0.34
11/6/20 0:00
Andrés Manuel López Obrador
0.58
0.34
11/7/20 0:00
Andrés Manuel López Obrador
0.58
0.33
11/8/20 0:00
Andrés Manuel López Obrador
0.59
0.32
11/9/20 0:00
Andrés Manuel López Obrador
0.6
0.32
11/10/20 0:00
Andrés Manuel López Obrador
0.6
0.32
11/11/20 0:00
Andrés Manuel López Obrador
0.61
0.31
11/12/20 0:00
Andrés Manuel López Obrador
0.61
0.31
11/13/20 0:00
Andrés Manuel López Obrador
0.6
0.31
11/14/20 0:00
Andrés Manuel López Obrador
0.61
0.3
11/15/20 0:00
Andrés Manuel López Obrador
0.61
0.31
11/16/20 0:00
Andrés Manuel López Obrador
0.6
0.31
11/17/20 0:00
Andrés Manuel López Obrador
0.6
0.32
11/18/20 0:00
Andrés Manuel López Obrador
0.61
0.32
11/19/20 0:00
Andrés Manuel López Obrador
0.62
0.3
11/20/20 0:00
Andrés Manuel López Obrador
0.63
0.3
11/21/20 0:00
Andrés Manuel López Obrador
0.63
0.3
11/22/20 0:00
Andrés Manuel López Obrador
0.64
0.29
11/23/20 0:00
Andrés Manuel López Obrador
0.64
0.29
11/24/20 0:00
Andrés Manuel López Obrador
0.64
0.28
11/25/20 0:00
Andrés Manuel López Obrador
0.63
0.27
11/26/20 0:00
Andrés Manuel López Obrador
0.61
0.29
11/27/20 0:00
Andrés Manuel López Obrador
0.61
0.3
11/28/20 0:00
Andrés Manuel López Obrador
0.61
0.29
11/29/20 0:00
Andrés Manuel López Obrador
0.6
0.3
11/30/20 0:00
Andrés Manuel López Obrador
0.6
0.3
12/1/20 0:00
Andrés Manuel López Obrador
0.59
0.3
12/2/20 0:00
Andrés Manuel López Obrador
0.6
0.32
12/3/20 0:00
Andrés Manuel López Obrador
0.61
0.3
12/4/20 0:00
Andrés Manuel López Obrador
0.61
0.3
12/5/20 0:00
Andrés Manuel López Obrador
0.61
0.3
12/6/20 0:00
Andrés Manuel López Obrador
0.62
0.3
12/7/20 0:00
Andrés Manuel López Obrador
0.62
0.29
12/8/20 0:00
Andrés Manuel López Obrador
0.63
0.29
12/9/20 0:00
Andrés Manuel López Obrador
0.64
0.27
12/10/20 0:00
Andrés Manuel López Obrador
0.64
0.28
12/11/20 0:00
Andrés Manuel López Obrador
0.64
0.29
12/12/20 0:00
Andrés Manuel López Obrador
0.63
0.3
12/13/20 0:00
Andrés Manuel López Obrador
0.64
0.3
12/14/20 0:00
Andrés Manuel López Obrador
0.64
0.29
12/15/20 0:00
Andrés Manuel López Obrador
0.64
0.28
12/16/20 0:00
Andrés Manuel López Obrador
0.63
0.3
12/17/20 0:00
Andrés Manuel López Obrador
0.63
0.3
12/18/20 0:00
Andrés Manuel López Obrador
0.63
0.3
12/19/20 0:00
Andrés Manuel López Obrador
0.63
0.3
12/20/20 0:00
Andrés Manuel López Obrador
0.62
0.31
12/21/20 0:00
Andrés Manuel López Obrador
0.61
0.33
12/22/20 0:00
Andrés Manuel López Obrador
0.62
0.33
12/23/20 0:00
Andrés Manuel López Obrador
0.62
0.33
12/24/20 0:00
Andrés Manuel López Obrador
0.63
0.31
12/25/20 0:00
Andrés Manuel López Obrador
0.64
0.29
12/26/20 0:00
Andrés Manuel López Obrador
0.64
0.28
12/27/20 0:00
Andrés Manuel López Obrador
0.64
0.27
12/28/20 0:00
Andrés Manuel López Obrador
0.64
0.26
12/29/20 0:00
Andrés Manuel López Obrador
0.65
0.25
12/30/20 0:00
Andrés Manuel López Obrador
0.64
0.26
12/31/20 0:00
Andrés Manuel López Obrador
0.64
0.27
1/1/21 0:00
Andrés Manuel López Obrador
0.64
0.28
1/2/21 0:00
Andrés Manuel López Obrador
0.63
0.28
1/3/21 0:00
Andrés Manuel López Obrador
0.65
0.27
1/4/21 0:00
Andrés Manuel López Obrador
0.65
0.27
1/5/21 0:00
Andrés Manuel López Obrador
0.64
0.28
1/6/21 0:00
Andrés Manuel López Obrador
0.64
0.28
1/7/21 0:00
Andrés Manuel López Obrador
0.64
0.27
1/8/21 0:00
Andrés Manuel López Obrador
0.63
0.28
1/9/21 0:00
Andrés Manuel López Obrador
0.63
0.28
1/10/21 0:00
Andrés Manuel López Obrador
0.63
0.3
1/11/21 0:00
Andrés Manuel López Obrador
0.62
0.31
1/12/21 0:00
Andrés Manuel López Obrador
0.61
0.31
1/13/21 0:00
Andrés Manuel López Obrador
0.62
0.31
1/14/21 0:00
Andrés Manuel López Obrador
0.61
0.32
1/15/21 0:00
Andrés Manuel López Obrador
0.62
0.31
1/16/21 0:00
Andrés Manuel López Obrador
0.62
0.31
1/17/21 0:00
Andrés Manuel López Obrador
0.62
0.3
1/18/21 0:00
Andrés Manuel López Obrador
0.62
0.3
1/19/21 0:00
Andrés Manuel López Obrador
0.63
0.29
1/20/21 0:00
Andrés Manuel López Obrador
0.64
0.28
1/21/21 0:00
Andrés Manuel López Obrador
0.66
0.27
1/22/21 0:00
Andrés Manuel López Obrador
0.66
0.26
1/23/21 0:00
Andrés Manuel López Obrador
0.66
0.26
1/24/21 0:00
Andrés Manuel López Obrador
0.65
0.27
1/25/21 0:00
Andrés Manuel López Obrador
0.66
0.25
1/26/21 0:00
Andrés Manuel López Obrador
0.67
0.26
1/27/21 0:00
Andrés Manuel López Obrador
0.65
0.27
1/28/21 0:00
Andrés Manuel López Obrador
0.64
0.27
1/29/21 0:00
Andrés Manuel López Obrador
0.62
0.28
1/30/21 0:00
Andrés Manuel López Obrador
0.62
0.28
1/31/21 0:00
Andrés Manuel López Obrador
0.62
0.28
2/1/21 0:00
Andrés Manuel López Obrador
0.61
0.3
2/2/21 0:00
Andrés Manuel López Obrador
0.61
0.3
2/3/21 0:00
Andrés Manuel López Obrador
0.61
0.3
2/4/21 0:00
Andrés Manuel López Obrador
0.61
0.31
2/5/21 0:00
Andrés Manuel López Obrador
0.62
0.31
2/6/21 0:00
Andrés Manuel López Obrador
0.61
0.31
2/7/21 0:00
Andrés Manuel López Obrador
0.62
0.3
2/8/21 0:00
Andrés Manuel López Obrador
0.63
0.28
2/9/21 0:00
Andrés Manuel López Obrador
0.62
0.28
2/10/21 0:00
Andrés Manuel López Obrador
0.63
0.28
2/11/21 0:00
Andrés Manuel López Obrador
0.62
0.28
2/12/21 0:00
Andrés Manuel López Obrador
0.61
0.28
2/13/21 0:00
Andrés Manuel López Obrador
0.62
0.28
2/14/21 0:00
Andrés Manuel López Obrador
0.62
0.28
2/15/21 0:00
Andrés Manuel López Obrador
0.62
0.3
2/16/21 0:00
Andrés Manuel López Obrador
0.61
0.3
2/17/21 0:00
Andrés Manuel López Obrador
0.61
0.3
2/18/21 0:00
Andrés Manuel López Obrador
0.62
0.3
2/19/21 0:00
Andrés Manuel López Obrador
0.64
0.29
2/20/21 0:00
Andrés Manuel López Obrador
0.64
0.29
2/21/21 0:00
Andrés Manuel López Obrador
0.63
0.29
2/22/21 0:00
Andrés Manuel López Obrador
0.63
0.28
2/23/21 0:00
Andrés Manuel López Obrador
0.64
0.28
2/24/21 0:00
Andrés Manuel López Obrador
0.65
0.27
2/25/21 0:00
Andrés Manuel López Obrador
0.63
0.27
2/26/21 0:00
Andrés Manuel López Obrador
0.62
0.28
2/27/21 0:00
Andrés Manuel López Obrador
0.62
0.28
2/28/21 0:00
Andrés Manuel López Obrador
0.62
0.29
3/1/21 0:00
Andrés Manuel López Obrador
0.61
0.29
3/2/21 0:00
Andrés Manuel López Obrador
0.6
0.3
3/3/21 0:00
Andrés Manuel López Obrador
0.58
0.31
3/4/21 0:00
Andrés Manuel López Obrador
0.58
0.31
3/5/21 0:00
Andrés Manuel López Obrador
0.6
0.3
3/6/21 0:00
Andrés Manuel López Obrador
0.6
0.3
3/7/21 0:00
Andrés Manuel López Obrador
0.61
0.29
3/8/21 0:00
Andrés Manuel López Obrador
0.62
0.29
3/9/21 0:00
Andrés Manuel López Obrador
0.64
0.27
3/10/21 0:00
Andrés Manuel López Obrador
0.65
0.27
3/11/21 0:00
Andrés Manuel López Obrador
0.66
0.27
3/12/21 0:00
Andrés Manuel López Obrador
0.64
0.28
3/13/21 0:00
Andrés Manuel López Obrador
0.64
0.28
3/14/21 0:00
Andrés Manuel López Obrador
0.63
0.28
3/15/21 0:00
Andrés Manuel López Obrador
0.62
0.29
3/16/21 0:00
Andrés Manuel López Obrador
0.61
0.3
3/17/21 0:00
Andrés Manuel López Obrador
0.61
0.3
3/18/21 0:00
Andrés Manuel López Obrador
0.59
0.31
3/19/21 0:00
Andrés Manuel López Obrador
0.59
0.31
3/20/21 0:00
Andrés Manuel López Obrador
0.6
0.3
3/21/21 0:00
Andrés Manuel López Obrador
0.59
0.3
3/22/21 0:00
Andrés Manuel López Obrador
0.59
0.29
3/23/21 0:00
Andrés Manuel López Obrador
0.58
0.3
3/24/21 0:00
Andrés Manuel López Obrador
0.58
0.3
3/25/21 0:00
Andrés Manuel López Obrador
0.59
0.29
3/26/21 0:00
Andrés Manuel López Obrador
0.59
0.29
3/27/21 0:00
Andrés Manuel López Obrador
0.59
0.3
3/28/21 0:00
Andrés Manuel López Obrador
0.58
0.3
3/29/21 0:00
Andrés Manuel López Obrador
0.58
0.31
3/30/21 0:00
Andrés Manuel López Obrador
0.59
0.31
3/31/21 0:00
Andrés Manuel López Obrador
0.58
0.31
4/1/21 0:00
Andrés Manuel López Obrador
0.59
0.3
4/2/21 0:00
Andrés Manuel López Obrador
0.59
0.3
4/3/21 0:00
Andrés Manuel López Obrador
0.6
0.3
4/4/21 0:00
Andrés Manuel López Obrador
0.61
0.29
4/5/21 0:00
Andrés Manuel López Obrador
0.61
0.29
4/6/21 0:00
Andrés Manuel López Obrador
0.61
0.28
4/7/21 0:00
Andrés Manuel López Obrador
0.63
0.28
4/8/21 0:00
Andrés Manuel López Obrador
0.6
0.3
4/9/21 0:00
Andrés Manuel López Obrador
0.6
0.3
4/10/21 0:00
Andrés Manuel López Obrador
0.61
0.29
4/11/21 0:00
Andrés Manuel López Obrador
0.59
0.31
4/12/21 0:00
Andrés Manuel López Obrador
0.59
0.31
4/13/21 0:00
Andrés Manuel López Obrador
0.59
0.31
4/14/21 0:00
Andrés Manuel López Obrador
0.6
0.31
4/15/21 0:00
Andrés Manuel López Obrador
0.61
0.3
4/16/21 0:00
Andrés Manuel López Obrador
0.62
0.3
4/17/21 0:00
Andrés Manuel López Obrador
0.6
0.31
4/18/21 0:00
Andrés Manuel López Obrador
0.61
0.3
4/19/21 0:00
Andrés Manuel López Obrador
0.62
0.29
4/20/21 0:00
Andrés Manuel López Obrador
0.62
0.3
4/21/21 0:00
Andrés Manuel López Obrador
0.61
0.31
4/22/21 0:00
Andrés Manuel López Obrador
0.61
0.32
4/23/21 0:00
Andrés Manuel López Obrador
0.61
0.31
4/24/21 0:00
Andrés Manuel López Obrador
0.61
0.31
4/25/21 0:00
Andrés Manuel López Obrador
0.61
0.31
4/26/21 0:00
Andrés Manuel López Obrador
0.6
0.32
4/27/21 0:00
Andrés Manuel López Obrador
0.59
0.32
4/28/21 0:00
Andrés Manuel López Obrador
0.6
0.31
4/29/21 0:00
Andrés Manuel López Obrador
0.6
0.3
4/30/21 0:00
Andrés Manuel López Obrador
0.6
0.31
5/1/21 0:00
Andrés Manuel López Obrador
0.62
0.3
5/2/21 0:00
Andrés Manuel López Obrador
0.62
0.3
5/3/21 0:00
Andrés Manuel López Obrador
0.62
0.3
5/4/21 0:00
Andrés Manuel López Obrador
0.64
0.29
5/5/21 0:00
Andrés Manuel López Obrador
0.63
0.3
5/6/21 0:00
Andrés Manuel López Obrador
0.63
0.3
5/7/21 0:00
Andrés Manuel López Obrador
0.63
0.3
5/8/21 0:00
Andrés Manuel López Obrador
0.62
0.3
5/9/21 0:00
Andrés Manuel López Obrador
0.62
0.3
5/10/21 0:00
Andrés Manuel López Obrador
0.62
0.29
5/11/21 0:00
Andrés Manuel López Obrador
0.6
0.3
5/12/21 0:00
Andrés Manuel López Obrador
0.6
0.31
5/13/21 0:00
Andrés Manuel López Obrador
0.59
0.31
5/14/21 0:00
Andrés Manuel López Obrador
0.57
0.33
5/15/21 0:00
Andrés Manuel López Obrador
0.57
0.33
5/16/21 0:00
Andrés Manuel López Obrador
0.57
0.34
5/17/21 0:00
Andrés Manuel López Obrador
0.56
0.34
5/18/21 0:00
Andrés Manuel López Obrador
0.57
0.33
5/19/21 0:00
Andrés Manuel López Obrador
0.58
0.33
5/20/21 0:00
Andrés Manuel López Obrador
0.59
0.33
5/21/21 0:00
Andrés Manuel López Obrador
0.6
0.3
5/22/21 0:00
Andrés Manuel López Obrador
0.61
0.3
5/23/21 0:00
Andrés Manuel López Obrador
0.61
0.28
5/24/21 0:00
Andrés Manuel López Obrador
0.63
0.28
5/25/21 0:00
Andrés Manuel López Obrador
0.62
0.27
5/26/21 0:00
Andrés Manuel López Obrador
0.61
0.28
5/27/21 0:00
Andrés Manuel López Obrador
0.62
0.27
5/28/21 0:00
Andrés Manuel López Obrador
0.62
0.28
5/29/21 0:00
Andrés Manuel López Obrador
0.61
0.29
5/30/21 0:00
Andrés Manuel López Obrador
0.62
0.29
5/31/21 0:00
Andrés Manuel López Obrador
0.6
0.3
6/1/21 0:00
Andrés Manuel López Obrador
0.62
0.3
6/2/21 0:00
Andrés Manuel López Obrador
0.63
0.3
6/3/21 0:00
Andrés Manuel López Obrador
0.63
0.3
6/4/21 0:00
Andrés Manuel López Obrador
0.63
0.3
6/5/21 0:00
Andrés Manuel López Obrador
0.63
0.31
6/6/21 0:00
Andrés Manuel López Obrador
0.62
0.31
6/7/21 0:00
Andrés Manuel López Obrador
0.63
0.3
6/8/21 0:00
Andrés Manuel López Obrador
0.62
0.3
6/9/21 0:00
Andrés Manuel López Obrador
0.62
0.29
6/10/21 0:00
Andrés Manuel López Obrador
0.62
0.29
6/11/21 0:00
Andrés Manuel López Obrador
0.63
0.28
6/12/21 0:00
Andrés Manuel López Obrador
0.63
0.27
6/13/21 0:00
Andrés Manuel López Obrador
0.63
0.26
6/14/21 0:00
Andrés Manuel López Obrador
0.63
0.26
6/15/21 0:00
Andrés Manuel López Obrador
0.63
0.27
6/16/21 0:00
Andrés Manuel López Obrador
0.62
0.27
6/17/21 0:00
Andrés Manuel López Obrador
0.62
0.27
6/18/21 0:00
Andrés Manuel López Obrador
0.62
0.27
6/19/21 0:00
Andrés Manuel López Obrador
0.63
0.27
6/20/21 0:00
Andrés Manuel López Obrador
0.63
0.27
6/21/21 0:00
Andrés Manuel López Obrador
0.63
0.27
6/22/21 0:00
Andrés Manuel López Obrador
0.64
0.27
6/23/21 0:00
Andrés Manuel López Obrador
0.64
0.27
6/24/21 0:00
Andrés Manuel López Obrador
0.63
0.27
6/25/21 0:00
Andrés Manuel López Obrador
0.64
0.26
6/26/21 0:00
Andrés Manuel López Obrador
0.64
0.26
6/27/21 0:00
Andrés Manuel López Obrador
0.66
0.25
6/28/21 0:00
Andrés Manuel López Obrador
0.66
0.26
6/29/21 0:00
Andrés Manuel López Obrador
0.66
0.26
6/30/21 0:00
Andrés Manuel López Obrador
0.66
0.25
7/1/21 0:00
Andrés Manuel López Obrador
0.67
0.25
7/2/21 0:00
Andrés Manuel López Obrador
0.66
0.26
7/3/21 0:00
Andrés Manuel López Obrador
0.66
0.26
7/4/21 0:00
Andrés Manuel López Obrador
0.66
0.26
7/5/21 0:00
Andrés Manuel López Obrador
0.67
0.26
7/6/21 0:00
Andrés Manuel López Obrador
0.66
0.26
7/7/21 0:00
Andrés Manuel López Obrador
0.66
0.26
7/8/21 0:00
Andrés Manuel López Obrador
0.66
0.27
7/9/21 0:00
Andrés Manuel López Obrador
0.66
0.27
7/10/21 0:00
Andrés Manuel López Obrador
0.66
0.26
7/11/21 0:00
Andrés Manuel López Obrador
0.65
0.26
7/12/21 0:00
Andrés Manuel López Obrador
0.64
0.27
7/13/21 0:00
Andrés Manuel López Obrador
0.64
0.27
7/14/21 0:00
Andrés Manuel López Obrador
0.64
0.26
7/15/21 0:00
Andrés Manuel López Obrador
0.63
0.26
7/16/21 0:00
Andrés Manuel López Obrador
0.63
0.26
7/17/21 0:00
Andrés Manuel López Obrador
0.63
0.27
7/18/21 0:00
Andrés Manuel López Obrador
0.62
0.27
7/19/21 0:00
Andrés Manuel López Obrador
0.64
0.27
7/20/21 0:00
Andrés Manuel López Obrador
0.65
0.27
7/21/21 0:00
Andrés Manuel López Obrador
0.65
0.26
7/22/21 0:00
Andrés Manuel López Obrador
0.66
0.27
7/23/21 0:00
Andrés Manuel López Obrador
0.66
0.27
7/24/21 0:00
Andrés Manuel López Obrador
0.66
0.27
7/25/21 0:00
Andrés Manuel López Obrador
0.66
0.27
7/26/21 0:00
Andrés Manuel López Obrador
0.66
0.27
7/27/21 0:00
Andrés Manuel López Obrador
0.65
0.27
7/28/21 0:00
Andrés Manuel López Obrador
0.63
0.28
7/29/21 0:00
Andrés Manuel López Obrador
0.64
0.27
7/30/21 0:00
Andrés Manuel López Obrador
0.64
0.27
7/31/21 0:00
Andrés Manuel López Obrador
0.63
0.28
8/1/21 0:00
Andrés Manuel López Obrador
0.64
0.28
8/2/21 0:00
Andrés Manuel López Obrador
0.63
0.28
8/3/21 0:00
Andrés Manuel López Obrador
0.64
0.28
8/4/21 0:00
Andrés Manuel López Obrador
0.65
0.26
8/5/21 0:00
Andrés Manuel López Obrador
0.65
0.27
8/6/21 0:00
Andrés Manuel López Obrador
0.66
0.26
8/7/21 0:00
Andrés Manuel López Obrador
0.66
0.27
8/8/21 0:00
Andrés Manuel López Obrador
0.65
0.27
8/9/21 0:00
Andrés Manuel López Obrador
0.66
0.26
8/10/21 0:00
Andrés Manuel López Obrador
0.65
0.27
8/11/21 0:00
Andrés Manuel López Obrador
0.65
0.28
8/12/21 0:00
Andrés Manuel López Obrador
0.65
0.28
8/13/21 0:00
Andrés Manuel López Obrador
0.64
0.29
8/14/21 0:00
Andrés Manuel López Obrador
0.63
0.28
8/15/21 0:00
Andrés Manuel López Obrador
0.63
0.29
8/16/21 0:00
Andrés Manuel López Obrador
0.62
0.3
8/17/21 0:00
Andrés Manuel López Obrador
0.62
0.29
8/18/21 0:00
Andrés Manuel López Obrador
0.6
0.3
8/19/21 0:00
Andrés Manuel López Obrador
0.6
0.31
8/20/21 0:00
Andrés Manuel López Obrador
0.61
0.3
8/21/21 0:00
Andrés Manuel López Obrador
0.62
0.29
8/22/21 0:00
Andrés Manuel López Obrador
0.62
0.28
8/23/21 0:00
Andrés Manuel López Obrador
0.62
0.29
8/24/21 0:00
Andrés Manuel López Obrador
0.62
0.29
8/25/21 0:00
Andrés Manuel López Obrador
0.63
0.27
8/26/21 0:00
Andrés Manuel López Obrador
0.64
0.27
8/27/21 0:00
Andrés Manuel López Obrador
0.64
0.28
8/28/21 0:00
Andrés Manuel López Obrador
0.65
0.27
8/29/21 0:00
Andrés Manuel López Obrador
0.65
0.27
8/30/21 0:00
Andrés Manuel López Obrador
0.65
0.27
8/31/21 0:00
Andrés Manuel López Obrador
0.64
0.27
9/1/21 0:00
Andrés Manuel López Obrador
0.64
0.28
9/2/21 0:00
Andrés Manuel López Obrador
0.63
0.28
9/3/21 0:00
Andrés Manuel López Obrador
0.63
0.27
9/4/21 0:00
Andrés Manuel López Obrador
0.63
0.28
9/5/21 0:00
Andrés Manuel López Obrador
0.63
0.28
9/6/21 0:00
Andrés Manuel López Obrador
0.65
0.27
9/7/21 0:00
Andrés Manuel López Obrador
0.65
0.26
9/8/21 0:00
Andrés Manuel López Obrador
0.66
0.26
9/9/21 0:00
Andrés Manuel López Obrador
0.66
0.27
9/10/21 0:00
Andrés Manuel López Obrador
0.67
0.26
9/11/21 0:00
Andrés Manuel López Obrador
0.65
0.26
9/12/21 0:00
Andrés Manuel López Obrador
0.65
0.27
9/13/21 0:00
Andrés Manuel López Obrador
0.65
0.27
9/14/21 0:00
Andrés Manuel López Obrador
0.65
0.28
9/15/21 0:00
Andrés Manuel López Obrador
0.65
0.29
9/16/21 0:00
Andrés Manuel López Obrador
0.65
0.28
9/17/21 0:00
Andrés Manuel López Obrador
0.65
0.29
9/18/21 0:00
Andrés Manuel López Obrador
0.65
0.29
9/19/21 0:00
Andrés Manuel López Obrador
0.65
0.29
9/20/21 0:00
Andrés Manuel López Obrador
0.66
0.28
9/21/21 0:00
Andrés Manuel López Obrador
0.65
0.28
9/22/21 0:00
Andrés Manuel López Obrador
0.66
0.27
9/23/21 0:00
Andrés Manuel López Obrador
0.64
0.28
9/24/21 0:00
Andrés Manuel López Obrador
0.63
0.29
9/25/21 0:00
Andrés Manuel López Obrador
0.63
0.28
9/26/21 0:00
Andrés Manuel López Obrador
0.62
0.28
9/27/21 0:00
Andrés Manuel López Obrador
0.61
0.29
9/28/21 0:00
Andrés Manuel López Obrador
0.62
0.3
9/29/21 0:00
Andrés Manuel López Obrador
0.61
0.3
9/30/21 0:00
Andrés Manuel López Obrador
0.63
0.29
10/1/21 0:00
Andrés Manuel López Obrador
0.64
0.29
10/2/21 0:00
Andrés Manuel López Obrador
0.65
0.29
10/3/21 0:00
Andrés Manuel López Obrador
0.65
0.29
10/4/21 0:00
Andrés Manuel López Obrador
0.66
0.27
10/5/21 0:00
Andrés Manuel López Obrador
0.67
0.27
10/6/21 0:00
Andrés Manuel López Obrador
0.67
0.26
10/7/21 0:00
Andrés Manuel López Obrador
0.65
0.28
10/8/21 0:00
Andrés Manuel López Obrador
0.65
0.27
10/9/21 0:00
Andrés Manuel López Obrador
0.64
0.28
10/10/21 0:00
Andrés Manuel López Obrador
0.64
0.28
10/11/21 0:00
Andrés Manuel López Obrador
0.63
0.29
10/12/21 0:00
Andrés Manuel López Obrador
0.63
0.28
10/13/21 0:00
Andrés Manuel López Obrador
0.63
0.28
10/14/21 0:00
Andrés Manuel López Obrador
0.64
0.27
10/15/21 0:00
Andrés Manuel López Obrador
0.65
0.27
10/16/21 0:00
Andrés Manuel López Obrador
0.65
0.27
10/17/21 0:00
Andrés Manuel López Obrador
0.65
0.26
10/18/21 0:00
Andrés Manuel López Obrador
0.65
0.26
10/19/21 0:00
Andrés Manuel López Obrador
0.65
0.26
10/20/21 0:00
Andrés Manuel López Obrador
0.65
0.27
10/21/21 0:00
Andrés Manuel López Obrador
0.66
0.27
10/22/21 0:00
Andrés Manuel López Obrador
0.66
0.26
10/23/21 0:00
Andrés Manuel López Obrador
0.67
0.25
10/24/21 0:00
Andrés Manuel López Obrador
0.66
0.26
10/25/21 0:00
Andrés Manuel López Obrador
0.67
0.25
10/26/21 0:00
Andrés Manuel López Obrador
0.67
0.25
10/27/21 0:00
Andrés Manuel López Obrador
0.68
0.24
10/28/21 0:00
Andrés Manuel López Obrador
0.67
0.25
10/29/21 0:00
Andrés Manuel López Obrador
0.66
0.26
10/30/21 0:00
Andrés Manuel López Obrador
0.66
0.25
10/31/21 0:00
Andrés Manuel López Obrador
0.67
0.26
11/1/21 0:00
Andrés Manuel López Obrador
0.68
0.25
11/2/21 0:00
Andrés Manuel López Obrador
0.66
0.25
11/3/21 0:00
Andrés Manuel López Obrador
0.64
0.26
11/4/21 0:00
Andrés Manuel López Obrador
0.65
0.26
11/5/21 0:00
Andrés Manuel López Obrador
0.66
0.26
11/6/21 0:00
Andrés Manuel López Obrador
0.65
0.26
11/7/21 0:00
Andrés Manuel López Obrador
0.65
0.26
11/8/21 0:00
Andrés Manuel López Obrador
0.63
0.27
11/9/21 0:00
Andrés Manuel López Obrador
0.65
0.26
11/10/21 0:00
Andrés Manuel López Obrador
0.65
0.25
11/11/21 0:00
Andrés Manuel López Obrador
0.65
0.26
11/12/21 0:00
Andrés Manuel López Obrador
0.65
0.26
11/13/21 0:00
Andrés Manuel López Obrador
0.65
0.26
11/14/21 0:00
Andrés Manuel López Obrador
0.66
0.25
11/15/21 0:00
Andrés Manuel López Obrador
0.67
0.25
11/16/21 0:00
Andrés Manuel López Obrador
0.67
0.25
11/17/21 0:00
Andrés Manuel López Obrador
0.67
0.25
11/18/21 0:00
Andrés Manuel López Obrador
0.68
0.24
11/19/21 0:00
Andrés Manuel López Obrador
0.68
0.24
11/20/21 0:00
Andrés Manuel López Obrador
0.69
0.24
11/21/21 0:00
Andrés Manuel López Obrador
0.69
0.24
11/22/21 0:00
Andrés Manuel López Obrador
0.68
0.24
11/23/21 0:00
Andrés Manuel López Obrador
0.68
0.25
11/24/21 0:00
Andrés Manuel López Obrador
0.67
0.25
11/25/21 0:00
Andrés Manuel López Obrador
0.67
0.26
11/26/21 0:00
Andrés Manuel López Obrador
0.66
0.26
11/27/21 0:00
Andrés Manuel López Obrador
0.66
0.26
11/28/21 0:00
Andrés Manuel López Obrador
0.67
0.25
11/29/21 0:00
Andrés Manuel López Obrador
0.66
0.26
11/30/21 0:00
Andrés Manuel López Obrador
0.67
0.25
12/1/21 0:00
Andrés Manuel López Obrador
0.66
0.25
12/2/21 0:00
Andrés Manuel López Obrador
0.66
0.25
12/3/21 0:00
Andrés Manuel López Obrador
0.67
0.25
12/4/21 0:00
Andrés Manuel López Obrador
0.66
0.25
12/5/21 0:00
Andrés Manuel López Obrador
0.66
0.25
12/6/21 0:00
Andrés Manuel López Obrador
0.67
0.26
12/7/21 0:00
Andrés Manuel López Obrador
0.66
0.26
3/6/20 0:00
Angela Merkel
0.4
0.52
3/7/20 0:00
Angela Merkel
0.4
0.52
3/8/20 0:00
Angela Merkel
0.4
0.52
3/9/20 0:00
Angela Merkel
0.4
0.53
3/10/20 0:00
Angela Merkel
0.4
0.53
3/11/20 0:00
Angela Merkel
0.39
0.53
3/12/20 0:00
Angela Merkel
0.4
0.53
3/13/20 0:00
Angela Merkel
0.4
0.52
3/14/20 0:00
Angela Merkel
0.4
0.52
3/15/20 0:00
Angela Merkel
0.41
0.52
3/16/20 0:00
Angela Merkel
0.42
0.51
3/17/20 0:00
Angela Merkel
0.43
0.5
3/18/20 0:00
Angela Merkel
0.43
0.5
3/19/20 0:00
Angela Merkel
0.44
0.49
3/20/20 0:00
Angela Merkel
0.45
0.47
3/21/20 0:00
Angela Merkel
0.46
0.47
3/22/20 0:00
Angela Merkel
0.46
0.46
3/23/20 0:00
Angela Merkel
0.48
0.45
3/24/20 0:00
Angela Merkel
0.48
0.44
3/25/20 0:00
Angela Merkel
0.49
0.43
3/26/20 0:00
Angela Merkel
0.5
0.43
3/27/20 0:00
Angela Merkel
0.5
0.43
3/28/20 0:00
Angela Merkel
0.5
0.43
3/29/20 0:00
Angela Merkel
0.5
0.42
3/30/20 0:00
Angela Merkel
0.5
0.42
3/31/20 0:00
Angela Merkel
0.5
0.42
4/1/20 0:00
Angela Merkel
0.51
0.41
4/2/20 0:00
Angela Merkel
0.5
0.41
4/3/20 0:00
Angela Merkel
0.51
0.4
4/4/20 0:00
Angela Merkel
0.51
0.4
4/5/20 0:00
Angela Merkel
0.51
0.4
4/6/20 0:00
Angela Merkel
0.52
0.39
4/7/20 0:00
Angela Merkel
0.53
0.39
4/8/20 0:00
Angela Merkel
0.53
0.39
4/9/20 0:00
Angela Merkel
0.54
0.39
4/10/20 0:00
Angela Merkel
0.55
0.38
4/11/20 0:00
Angela Merkel
0.55
0.38
4/12/20 0:00
Angela Merkel
0.55
0.38
4/13/20 0:00
Angela Merkel
0.55
0.38
4/14/20 0:00
Angela Merkel
0.55
0.38
4/15/20 0:00
Angela Merkel
0.54
0.38
4/16/20 0:00
Angela Merkel
0.55
0.37
4/17/20 0:00
Angela Merkel
0.54
0.37
4/18/20 0:00
Angela Merkel
0.55
0.37
4/19/20 0:00
Angela Merkel
0.55
0.37
4/20/20 0:00
Angela Merkel
0.56
0.36
4/21/20 0:00
Angela Merkel
0.56
0.36
4/22/20 0:00
Angela Merkel
0.57
0.35
4/23/20 0:00
Angela Merkel
0.57
0.35
4/24/20 0:00
Angela Merkel
0.58
0.34
4/25/20 0:00
Angela Merkel
0.58
0.35
4/26/20 0:00
Angela Merkel
0.58
0.35
4/27/20 0:00
Angela Merkel
0.58
0.34
4/28/20 0:00
Angela Merkel
0.58
0.34
4/29/20 0:00
Angela Merkel
0.57
0.35
4/30/20 0:00
Angela Merkel
0.57
0.34
5/1/20 0:00
Angela Merkel
0.57
0.35
5/2/20 0:00
Angela Merkel
0.57
0.34
5/3/20 0:00
Angela Merkel
0.57
0.35
5/4/20 0:00
Angela Merkel
0.56
0.35
5/5/20 0:00
Angela Merkel
0.56
0.36
5/6/20 0:00
Angela Merkel
0.57
0.35
5/7/20 0:00
Angela Merkel
0.57
0.35
5/8/20 0:00
Angela Merkel
0.57
0.35
5/9/20 0:00
Angela Merkel
0.57
0.35
5/10/20 0:00
Angela Merkel
0.57
0.35
5/11/20 0:00
Angela Merkel
0.58
0.35
5/12/20 0:00
Angela Merkel
0.58
0.34
5/13/20 0:00
Angela Merkel
0.58
0.35
5/14/20 0:00
Angela Merkel
0.58
0.35
5/15/20 0:00
Angela Merkel
0.57
0.35
5/16/20 0:00
Angela Merkel
0.57
0.35
5/17/20 0:00
Angela Merkel
0.57
0.34
5/18/20 0:00
Angela Merkel
0.56
0.35
5/19/20 0:00
Angela Merkel
0.56
0.35
5/20/20 0:00
Angela Merkel
0.55
0.35
5/21/20 0:00
Angela Merkel
0.55
0.35
5/22/20 0:00
Angela Merkel
0.56
0.35
5/23/20 0:00
Angela Merkel
0.55
0.36
5/24/20 0:00
Angela Merkel
0.56
0.35
5/25/20 0:00
Angela Merkel
0.55
0.35
5/26/20 0:00
Angela Merkel
0.56
0.35
5/27/20 0:00
Angela Merkel
0.57
0.34
5/28/20 0:00
Angela Merkel
0.57
0.34
5/29/20 0:00
Angela Merkel
0.57
0.35
5/30/20 0:00
Angela Merkel
0.57
0.35
5/31/20 0:00
Angela Merkel
0.57
0.35
6/1/20 0:00
Angela Merkel
0.57
0.36
6/2/20 0:00
Angela Merkel
0.57
0.36
6/3/20 0:00
Angela Merkel
0.57
0.36
6/4/20 0:00
Angela Merkel
0.57
0.35
6/5/20 0:00
Angela Merkel
0.57
0.35
6/6/20 0:00
Angela Merkel
0.57
0.35
6/7/20 0:00
Angela Merkel
0.57
0.35
6/8/20 0:00
Angela Merkel
0.58
0.34
6/9/20 0:00
Angela Merkel
0.57
0.34
6/10/20 0:00
Angela Merkel
0.58
0.34
6/11/20 0:00
Angela Merkel
0.58
0.35
6/12/20 0:00
Angela Merkel
0.58
0.34
6/13/20 0:00
Angela Merkel
0.58
0.35
6/14/20 0:00
Angela Merkel
0.59
0.34
6/15/20 0:00
Angela Merkel
0.58
0.34
6/16/20 0:00
Angela Merkel
0.59
0.34
6/17/20 0:00
Angela Merkel
0.58
0.35
6/18/20 0:00
Angela Merkel
0.58
0.35
6/19/20 0:00
Angela Merkel
0.57
0.36
6/20/20 0:00
Angela Merkel
0.57
0.35
6/21/20 0:00
Angela Merkel
0.57
0.36
6/22/20 0:00
Angela Merkel
0.57
0.36
6/23/20 0:00
Angela Merkel
0.56
0.36
6/24/20 0:00
Angela Merkel
0.56
0.37
6/25/20 0:00
Angela Merkel
0.56
0.37
6/26/20 0:00
Angela Merkel
0.56
0.37
6/27/20 0:00
Angela Merkel
0.55
0.37
6/28/20 0:00
Angela Merkel
0.55
0.36
6/29/20 0:00
Angela Merkel
0.57
0.35
6/30/20 0:00
Angela Merkel
0.57
0.36
7/1/20 0:00
Angela Merkel
0.57
0.35
7/2/20 0:00
Angela Merkel
0.57
0.36
7/3/20 0:00
Angela Merkel
0.57
0.36
7/4/20 0:00
Angela Merkel
0.57
0.35
7/5/20 0:00
Angela Merkel
0.57
0.36
7/6/20 0:00
Angela Merkel
0.57
0.36
7/7/20 0:00
Angela Merkel
0.57
0.36
7/8/20 0:00
Angela Merkel
0.57
0.35
7/9/20 0:00
Angela Merkel
0.58
0.35
7/10/20 0:00
Angela Merkel
0.58
0.34
7/11/20 0:00
Angela Merkel
0.58
0.34
7/12/20 0:00
Angela Merkel
0.59
0.34
7/13/20 0:00
Angela Merkel
0.58
0.35
7/14/20 0:00
Angela Merkel
0.58
0.35
7/15/20 0:00
Angela Merkel
0.58
0.35
7/16/20 0:00
Angela Merkel
0.58
0.35
7/17/20 0:00
Angela Merkel
0.57
0.36
7/18/20 0:00
Angela Merkel
0.57
0.36
7/19/20 0:00
Angela Merkel
0.57
0.36
7/20/20 0:00
Angela Merkel
0.57
0.36
7/21/20 0:00
Angela Merkel
0.57
0.35
7/22/20 0:00
Angela Merkel
0.57
0.35
7/23/20 0:00
Angela Merkel
0.57
0.35
7/24/20 0:00
Angela Merkel
0.57
0.35
7/25/20 0:00
Angela Merkel
0.57
0.35
7/26/20 0:00
Angela Merkel
0.57
0.35
7/27/20 0:00
Angela Merkel
0.57
0.35
7/28/20 0:00
Angela Merkel
0.57
0.36
7/29/20 0:00
Angela Merkel
0.56
0.36
7/30/20 0:00
Angela Merkel
0.56
0.37
7/31/20 0:00
Angela Merkel
0.56
0.37
8/1/20 0:00
Angela Merkel
0.56
0.37
8/2/20 0:00
Angela Merkel
0.55
0.37
8/3/20 0:00
Angela Merkel
0.56
0.37
8/4/20 0:00
Angela Merkel
0.56
0.37
8/5/20 0:00
Angela Merkel
0.56
0.37
8/6/20 0:00
Angela Merkel
0.56
0.36
8/7/20 0:00
Angela Merkel
0.56
0.36
8/8/20 0:00
Angela Merkel
0.56
0.36
8/9/20 0:00
Angela Merkel
0.57
0.36
8/10/20 0:00
Angela Merkel
0.56
0.36
8/11/20 0:00
Angela Merkel
0.56
0.36
8/12/20 0:00
Angela Merkel
0.56
0.37
8/13/20 0:00
Angela Merkel
0.56
0.37
8/14/20 0:00
Angela Merkel
0.56
0.37
8/15/20 0:00
Angela Merkel
0.56
0.37
8/16/20 0:00
Angela Merkel
0.56
0.37
8/17/20 0:00
Angela Merkel
0.55
0.38
8/18/20 0:00
Angela Merkel
0.55
0.39
8/19/20 0:00
Angela Merkel
0.55
0.38
8/20/20 0:00
Angela Merkel
0.56
0.37
8/21/20 0:00
Angela Merkel
0.56
0.37
8/22/20 0:00
Angela Merkel
0.56
0.37
8/23/20 0:00
Angela Merkel
0.56
0.37
8/24/20 0:00
Angela Merkel
0.56
0.36
8/25/20 0:00
Angela Merkel
0.57
0.35
8/26/20 0:00
Angela Merkel
0.58
0.35
8/27/20 0:00
Angela Merkel
0.57
0.36
8/28/20 0:00
Angela Merkel
0.57
0.36
8/29/20 0:00
Angela Merkel
0.57
0.35
8/30/20 0:00
Angela Merkel
0.57
0.36
8/31/20 0:00
Angela Merkel
0.57
0.35
9/1/20 0:00
Angela Merkel
0.58
0.35
9/2/20 0:00
Angela Merkel
0.57
0.35
9/3/20 0:00
Angela Merkel
0.57
0.35
9/4/20 0:00
Angela Merkel
0.58
0.35
9/5/20 0:00
Angela Merkel
0.57
0.35
9/6/20 0:00
Angela Merkel
0.57
0.36
9/7/20 0:00
Angela Merkel
0.57
0.36
9/8/20 0:00
Angela Merkel
0.57
0.36
9/9/20 0:00
Angela Merkel
0.56
0.37
9/10/20 0:00
Angela Merkel
0.56
0.37
9/11/20 0:00
Angela Merkel
0.56
0.37
9/12/20 0:00
Angela Merkel
0.56
0.37
9/13/20 0:00
Angela Merkel
0.55
0.38
9/14/20 0:00
Angela Merkel
0.54
0.38
9/15/20 0:00
Angela Merkel
0.54
0.38
9/16/20 0:00
Angela Merkel
0.54
0.39
9/17/20 0:00
Angela Merkel
0.54
0.39
9/18/20 0:00
Angela Merkel
0.53
0.39
9/19/20 0:00
Angela Merkel
0.53
0.39
9/20/20 0:00
Angela Merkel
0.53
0.39
9/21/20 0:00
Angela Merkel
0.53
0.4
9/22/20 0:00
Angela Merkel
0.54
0.39
9/23/20 0:00
Angela Merkel
0.54
0.39
9/24/20 0:00
Angela Merkel
0.53
0.4
9/25/20 0:00
Angela Merkel
0.54
0.39
9/26/20 0:00
Angela Merkel
0.54
0.38
9/27/20 0:00
Angela Merkel
0.54
0.38
9/28/20 0:00
Angela Merkel
0.54
0.39
9/29/20 0:00
Angela Merkel
0.53
0.39
9/30/20 0:00
Angela Merkel
0.54
0.39
10/1/20 0:00
Angela Merkel
0.54
0.39
10/2/20 0:00
Angela Merkel
0.54
0.39
10/3/20 0:00
Angela Merkel
0.54
0.39
10/4/20 0:00
Angela Merkel
0.55
0.39
10/5/20 0:00
Angela Merkel
0.55
0.38
10/6/20 0:00
Angela Merkel
0.55
0.38
10/7/20 0:00
Angela Merkel
0.55
0.38
10/8/20 0:00
Angela Merkel
0.55
0.38
10/9/20 0:00
Angela Merkel
0.55
0.38
10/10/20 0:00
Angela Merkel
0.54
0.39
10/11/20 0:00
Angela Merkel
0.54
0.39
10/12/20 0:00
Angela Merkel
0.54
0.39
10/13/20 0:00
Angela Merkel
0.54
0.38
10/14/20 0:00
Angela Merkel
0.55
0.38
10/15/20 0:00
Angela Merkel
0.55
0.37
10/16/20 0:00
Angela Merkel
0.56
0.37
10/17/20 0:00
Angela Merkel
0.57
0.36
10/18/20 0:00
Angela Merkel
0.57
0.36
10/19/20 0:00
Angela Merkel
0.57
0.36
10/20/20 0:00
Angela Merkel
0.57
0.36
10/21/20 0:00
Angela Merkel
0.57
0.36
10/22/20 0:00
Angela Merkel
0.56
0.37
10/23/20 0:00
Angela Merkel
0.56
0.37
10/24/20 0:00
Angela Merkel
0.56
0.37
10/25/20 0:00
Angela Merkel
0.56
0.37
10/26/20 0:00
Angela Merkel
0.57
0.37
10/27/20 0:00
Angela Merkel
0.56
0.37
10/28/20 0:00
Angela Merkel
0.56
0.38
10/29/20 0:00
Angela Merkel
0.56
0.38
10/30/20 0:00
Angela Merkel
0.56
0.38
10/31/20 0:00
Angela Merkel
0.56
0.38
11/1/20 0:00
Angela Merkel
0.55
0.38
11/2/20 0:00
Angela Merkel
0.55
0.39
11/3/20 0:00
Angela Merkel
0.55
0.38
11/4/20 0:00
Angela Merkel
0.55
0.38
11/5/20 0:00
Angela Merkel
0.55
0.38
11/6/20 0:00
Angela Merkel
0.55
0.38
11/7/20 0:00
Angela Merkel
0.55
0.38
11/8/20 0:00
Angela Merkel
0.55
0.38
11/9/20 0:00
Angela Merkel
0.56
0.37
11/10/20 0:00
Angela Merkel
0.56
0.38
11/11/20 0:00
Angela Merkel
0.56
0.38
11/12/20 0:00
Angela Merkel
0.56
0.38
11/13/20 0:00
Angela Merkel
0.56
0.38
11/14/20 0:00
Angela Merkel
0.56
0.38
11/15/20 0:00
Angela Merkel
0.56
0.38
11/16/20 0:00
Angela Merkel
0.56
0.38
11/17/20 0:00
Angela Merkel
0.57
0.37
11/18/20 0:00
Angela Merkel
0.58
0.37
11/19/20 0:00
Angela Merkel
0.58
0.36
11/20/20 0:00
Angela Merkel
0.58
0.36
11/21/20 0:00
Angela Merkel
0.58
0.37
11/22/20 0:00
Angela Merkel
0.58
0.37
11/23/20 0:00
Angela Merkel
0.58
0.37
11/24/20 0:00
Angela Merkel
0.57
0.37
11/25/20 0:00
Angela Merkel
0.57
0.37
11/26/20 0:00
Angela Merkel
0.57
0.37
11/27/20 0:00
Angela Merkel
0.57
0.37
11/28/20 0:00
Angela Merkel
0.57
0.37
11/29/20 0:00
Angela Merkel
0.58
0.36
11/30/20 0:00
Angela Merkel
0.58
0.37
12/1/20 0:00
Angela Merkel
0.58
0.37
12/2/20 0:00
Angela Merkel
0.58
0.37
12/3/20 0:00
Angela Merkel
0.58
0.37
12/4/20 0:00
Angela Merkel
0.57
0.38
12/5/20 0:00
Angela Merkel
0.57
0.38
12/6/20 0:00
Angela Merkel
0.58
0.37
12/7/20 0:00
Angela Merkel
0.58
0.37
12/8/20 0:00
Angela Merkel
0.58
0.37
12/9/20 0:00
Angela Merkel
0.58
0.36
12/10/20 0:00
Angela Merkel
0.59
0.36
12/11/20 0:00
Angela Merkel
0.59
0.36
12/12/20 0:00
Angela Merkel
0.6
0.35
12/13/20 0:00
Angela Merkel
0.6
0.35
12/14/20 0:00
Angela Merkel
0.6
0.35
12/15/20 0:00
Angela Merkel
0.59
0.35
12/16/20 0:00
Angela Merkel
0.59
0.36
12/17/20 0:00
Angela Merkel
0.59
0.35
12/18/20 0:00
Angela Merkel
0.6
0.34
12/19/20 0:00
Angela Merkel
0.59
0.35
12/20/20 0:00
Angela Merkel
0.59
0.35
12/21/20 0:00
Angela Merkel
0.59
0.36
12/22/20 0:00
Angela Merkel
0.59
0.35
12/23/20 0:00
Angela Merkel
0.59
0.35
12/24/20 0:00
Angela Merkel
0.58
0.35
12/25/20 0:00
Angela Merkel
0.57
0.36
12/26/20 0:00
Angela Merkel
0.57
0.36
12/27/20 0:00
Angela Merkel
0.58
0.36
12/28/20 0:00
Angela Merkel
0.57
0.36
12/29/20 0:00
Angela Merkel
0.57
0.36
12/30/20 0:00
Angela Merkel
0.57
0.36
12/31/20 0:00
Angela Merkel
0.58
0.36
1/1/21 0:00
Angela Merkel
0.58
0.35
1/2/21 0:00
Angela Merkel
0.59
0.35
1/3/21 0:00
Angela Merkel
0.59
0.35
1/4/21 0:00
Angela Merkel
0.59
0.36
1/5/21 0:00
Angela Merkel
0.59
0.35
1/6/21 0:00
Angela Merkel
0.59
0.35
1/7/21 0:00
Angela Merkel
0.59
0.36
1/8/21 0:00
Angela Merkel
0.59
0.35
1/9/21 0:00
Angela Merkel
0.59
0.35
1/10/21 0:00
Angela Merkel
0.59
0.35
1/11/21 0:00
Angela Merkel
0.6
0.34
1/12/21 0:00
Angela Merkel
0.6
0.35
1/13/21 0:00
Angela Merkel
0.6
0.35
1/14/21 0:00
Angela Merkel
0.6
0.35
1/15/21 0:00
Angela Merkel
0.59
0.36
1/16/21 0:00
Angela Merkel
0.59
0.36
1/17/21 0:00
Angela Merkel
0.58
0.36
1/18/21 0:00
Angela Merkel
0.58
0.37
1/19/21 0:00
Angela Merkel
0.57
0.37
1/20/21 0:00
Angela Merkel
0.57
0.36
1/21/21 0:00
Angela Merkel
0.57
0.36
1/22/21 0:00
Angela Merkel
0.58
0.35
1/23/21 0:00
Angela Merkel
0.58
0.35
1/24/21 0:00
Angela Merkel
0.58
0.35
1/25/21 0:00
Angela Merkel
0.58
0.35
1/26/21 0:00
Angela Merkel
0.58
0.35
1/27/21 0:00
Angela Merkel
0.58
0.36
1/28/21 0:00
Angela Merkel
0.58
0.36
1/29/21 0:00
Angela Merkel
0.57
0.36
1/30/21 0:00
Angela Merkel
0.57
0.36
1/31/21 0:00
Angela Merkel
0.58
0.36
2/1/21 0:00
Angela Merkel
0.58
0.36
2/2/21 0:00
Angela Merkel
0.58
0.36
2/3/21 0:00
Angela Merkel
0.59
0.35
2/4/21 0:00
Angela Merkel
0.59
0.35
2/5/21 0:00
Angela Merkel
0.58
0.35
2/6/21 0:00
Angela Merkel
0.59
0.35
2/7/21 0:00
Angela Merkel
0.59
0.35
2/8/21 0:00
Angela Merkel
0.59
0.35
2/9/21 0:00
Angela Merkel
0.59
0.35
2/10/21 0:00
Angela Merkel
0.58
0.36
2/11/21 0:00
Angela Merkel
0.58
0.36
2/12/21 0:00
Angela Merkel
0.58
0.37
2/13/21 0:00
Angela Merkel
0.58
0.36
2/14/21 0:00
Angela Merkel
0.57
0.37
2/15/21 0:00
Angela Merkel
0.56
0.38
2/16/21 0:00
Angela Merkel
0.56
0.38
2/17/21 0:00
Angela Merkel
0.56
0.38
2/18/21 0:00
Angela Merkel
0.55
0.39
2/19/21 0:00
Angela Merkel
0.56
0.39
2/20/21 0:00
Angela Merkel
0.56
0.39
2/21/21 0:00
Angela Merkel
0.56
0.39
2/22/21 0:00
Angela Merkel
0.56
0.39
2/23/21 0:00
Angela Merkel
0.56
0.38
2/24/21 0:00
Angela Merkel
0.56
0.37
2/25/21 0:00
Angela Merkel
0.56
0.38
2/26/21 0:00
Angela Merkel
0.56
0.37
2/27/21 0:00
Angela Merkel
0.56
0.37
2/28/21 0:00
Angela Merkel
0.56
0.37
3/1/21 0:00
Angela Merkel
0.56
0.37
3/2/21 0:00
Angela Merkel
0.55
0.38
3/3/21 0:00
Angela Merkel
0.55
0.38
3/4/21 0:00
Angela Merkel
0.56
0.37
3/5/21 0:00
Angela Merkel
0.55
0.38
3/6/21 0:00
Angela Merkel
0.55
0.38
3/7/21 0:00
Angela Merkel
0.54
0.39
3/8/21 0:00
Angela Merkel
0.54
0.4
3/9/21 0:00
Angela Merkel
0.54
0.4
3/10/21 0:00
Angela Merkel
0.53
0.41
3/11/21 0:00
Angela Merkel
0.53
0.41
3/12/21 0:00
Angela Merkel
0.51
0.42
3/13/21 0:00
Angela Merkel
0.51
0.43
3/14/21 0:00
Angela Merkel
0.51
0.43
3/15/21 0:00
Angela Merkel
0.51
0.43
3/16/21 0:00
Angela Merkel
0.51
0.43
3/17/21 0:00
Angela Merkel
0.5
0.43
3/18/21 0:00
Angela Merkel
0.49
0.44
3/19/21 0:00
Angela Merkel
0.5
0.43
3/20/21 0:00
Angela Merkel
0.51
0.43
3/21/21 0:00
Angela Merkel
0.5
0.43
3/22/21 0:00
Angela Merkel
0.5
0.44
3/23/21 0:00
Angela Merkel
0.49
0.44
3/24/21 0:00
Angela Merkel
0.49
0.44
3/25/21 0:00
Angela Merkel
0.49
0.44
3/26/21 0:00
Angela Merkel
0.48
0.45
3/27/21 0:00
Angela Merkel
0.48
0.45
3/28/21 0:00
Angela Merkel
0.48
0.45
3/29/21 0:00
Angela Merkel
0.48
0.45
3/30/21 0:00
Angela Merkel
0.49
0.44
3/31/21 0:00
Angela Merkel
0.49
0.44
4/1/21 0:00
Angela Merkel
0.5
0.44
4/2/21 0:00
Angela Merkel
0.5
0.43
4/3/21 0:00
Angela Merkel
0.5
0.43
4/4/21 0:00
Angela Merkel
0.5
0.43
4/5/21 0:00
Angela Merkel
0.5
0.44
4/6/21 0:00
Angela Merkel
0.49
0.44
4/7/21 0:00
Angela Merkel
0.5
0.44
4/8/21 0:00
Angela Merkel
0.49
0.45
4/9/21 0:00
Angela Merkel
0.5
0.44
4/10/21 0:00
Angela Merkel
0.5
0.45
4/11/21 0:00
Angela Merkel
0.49
0.45
4/12/21 0:00
Angela Merkel
0.5
0.45
4/13/21 0:00
Angela Merkel
0.5
0.45
4/14/21 0:00
Angela Merkel
0.5
0.45
4/15/21 0:00
Angela Merkel
0.5
0.45
4/16/21 0:00
Angela Merkel
0.5
0.45
4/17/21 0:00
Angela Merkel
0.49
0.45
4/18/21 0:00
Angela Merkel
0.49
0.45
4/19/21 0:00
Angela Merkel
0.49
0.45
4/20/21 0:00
Angela Merkel
0.49
0.45
4/21/21 0:00
Angela Merkel
0.5
0.45
4/22/21 0:00
Angela Merkel
0.49
0.45
4/23/21 0:00
Angela Merkel
0.49
0.45
4/24/21 0:00
Angela Merkel
0.49
0.46
4/25/21 0:00
Angela Merkel
0.5
0.45
4/26/21 0:00
Angela Merkel
0.49
0.46
4/27/21 0:00
Angela Merkel
0.49
0.45
4/28/21 0:00
Angela Merkel
0.5
0.45
4/29/21 0:00
Angela Merkel
0.5
0.44
4/30/21 0:00
Angela Merkel
0.5
0.45
5/1/21 0:00
Angela Merkel
0.51
0.44
5/2/21 0:00
Angela Merkel
0.51
0.44
5/3/21 0:00
Angela Merkel
0.51
0.43
5/4/21 0:00
Angela Merkel
0.51
0.43
5/5/21 0:00
Angela Merkel
0.51
0.43
5/6/21 0:00
Angela Merkel
0.5
0.43
5/7/21 0:00
Angela Merkel
0.5
0.43
5/8/21 0:00
Angela Merkel
0.5
0.43
5/9/21 0:00
Angela Merkel
0.5
0.43
5/10/21 0:00
Angela Merkel
0.51
0.42
5/11/21 0:00
Angela Merkel
0.52
0.41
5/12/21 0:00
Angela Merkel
0.52
0.41
5/13/21 0:00
Angela Merkel
0.52
0.41
5/14/21 0:00
Angela Merkel
0.52
0.41
5/15/21 0:00
Angela Merkel
0.53
0.4
5/16/21 0:00
Angela Merkel
0.53
0.4
5/17/21 0:00
Angela Merkel
0.52
0.4
5/18/21 0:00
Angela Merkel
0.51
0.41
5/19/21 0:00
Angela Merkel
0.5
0.41
5/20/21 0:00
Angela Merkel
0.5
0.42
5/21/21 0:00
Angela Merkel
0.5
0.41
5/22/21 0:00
Angela Merkel
0.5
0.42
5/23/21 0:00
Angela Merkel
0.5
0.42
5/24/21 0:00
Angela Merkel
0.51
0.41
5/25/21 0:00
Angela Merkel
0.52
0.4
5/26/21 0:00
Angela Merkel
0.53
0.4
5/27/21 0:00
Angela Merkel
0.52
0.41
5/28/21 0:00
Angela Merkel
0.53
0.4
5/29/21 0:00
Angela Merkel
0.53
0.4
5/30/21 0:00
Angela Merkel
0.53
0.39
5/31/21 0:00
Angela Merkel
0.53
0.4
6/1/21 0:00
Angela Merkel
0.52
0.41
6/2/21 0:00
Angela Merkel
0.53
0.4
6/3/21 0:00
Angela Merkel
0.54
0.39
6/4/21 0:00
Angela Merkel
0.53
0.4
6/5/21 0:00
Angela Merkel
0.53
0.41
6/6/21 0:00
Angela Merkel
0.53
0.41
6/7/21 0:00
Angela Merkel
0.53
0.41
6/8/21 0:00
Angela Merkel
0.54
0.4
6/9/21 0:00
Angela Merkel
0.53
0.42
6/10/21 0:00
Angela Merkel
0.53
0.41
6/11/21 0:00
Angela Merkel
0.54
0.41
6/12/21 0:00
Angela Merkel
0.54
0.41
6/13/21 0:00
Angela Merkel
0.54
0.41
6/14/21 0:00
Angela Merkel
0.54
0.4
6/15/21 0:00
Angela Merkel
0.53
0.41
6/16/21 0:00
Angela Merkel
0.53
0.41
6/17/21 0:00
Angela Merkel
0.52
0.41
6/18/21 0:00
Angela Merkel
0.51
0.41
6/19/21 0:00
Angela Merkel
0.51
0.41
6/20/21 0:00
Angela Merkel
0.52
0.41
6/21/21 0:00
Angela Merkel
0.51
0.42
6/22/21 0:00
Angela Merkel
0.52
0.41
6/23/21 0:00
Angela Merkel
0.52
0.42
6/24/21 0:00
Angela Merkel
0.52
0.41
6/25/21 0:00
Angela Merkel
0.53
0.41
6/26/21 0:00
Angela Merkel
0.53
0.41
6/27/21 0:00
Angela Merkel
0.53
0.4
6/28/21 0:00
Angela Merkel
0.54
0.39
6/29/21 0:00
Angela Merkel
0.54
0.4
6/30/21 0:00
Angela Merkel
0.55
0.39
7/1/21 0:00
Angela Merkel
0.55
0.39
7/2/21 0:00
Angela Merkel
0.55
0.39
7/3/21 0:00
Angela Merkel
0.55
0.39
7/4/21 0:00
Angela Merkel
0.55
0.39
7/5/21 0:00
Angela Merkel
0.54
0.4
7/6/21 0:00
Angela Merkel
0.54
0.4
7/7/21 0:00
Angela Merkel
0.55
0.39
7/8/21 0:00
Angela Merkel
0.55
0.39
7/9/21 0:00
Angela Merkel
0.54
0.4
7/10/21 0:00
Angela Merkel
0.54
0.4
7/11/21 0:00
Angela Merkel
0.54
0.4
7/12/21 0:00
Angela Merkel
0.54
0.4
7/13/21 0:00
Angela Merkel
0.54
0.39
7/14/21 0:00
Angela Merkel
0.54
0.4
7/15/21 0:00
Angela Merkel
0.53
0.4
7/16/21 0:00
Angela Merkel
0.54
0.4
7/17/21 0:00
Angela Merkel
0.55
0.39
7/18/21 0:00
Angela Merkel
0.55
0.39
7/19/21 0:00
Angela Merkel
0.56
0.39
7/20/21 0:00
Angela Merkel
0.55
0.39
7/21/21 0:00
Angela Merkel
0.55
0.39
7/22/21 0:00
Angela Merkel
0.55
0.39
7/23/21 0:00
Angela Merkel
0.55
0.39
7/24/21 0:00
Angela Merkel
0.54
0.4
7/25/21 0:00
Angela Merkel
0.55
0.39
7/26/21 0:00
Angela Merkel
0.55
0.39
7/27/21 0:00
Angela Merkel
0.55
0.39
7/28/21 0:00
Angela Merkel
0.55
0.38
7/29/21 0:00
Angela Merkel
0.55
0.38
7/30/21 0:00
Angela Merkel
0.55
0.38
7/31/21 0:00
Angela Merkel
0.55
0.38
8/1/21 0:00
Angela Merkel
0.55
0.38
8/2/21 0:00
Angela Merkel
0.55
0.38
8/3/21 0:00
Angela Merkel
0.55
0.38
8/4/21 0:00
Angela Merkel
0.55
0.38
8/5/21 0:00
Angela Merkel
0.55
0.38
8/6/21 0:00
Angela Merkel
0.55
0.38
8/7/21 0:00
Angela Merkel
0.54
0.39
8/8/21 0:00
Angela Merkel
0.54
0.39
8/9/21 0:00
Angela Merkel
0.54
0.39
8/10/21 0:00
Angela Merkel
0.55
0.39
8/11/21 0:00
Angela Merkel
0.55
0.39
8/12/21 0:00
Angela Merkel
0.55
0.39
8/13/21 0:00
Angela Merkel
0.55
0.39
8/14/21 0:00
Angela Merkel
0.55
0.38
8/15/21 0:00
Angela Merkel
0.55
0.37
8/16/21 0:00
Angela Merkel
0.55
0.37
8/17/21 0:00
Angela Merkel
0.54
0.38
8/18/21 0:00
Angela Merkel
0.54
0.38
8/19/21 0:00
Angela Merkel
0.54
0.39
8/20/21 0:00
Angela Merkel
0.54
0.39
8/21/21 0:00
Angela Merkel
0.54
0.39
8/22/21 0:00
Angela Merkel
0.53
0.4
8/23/21 0:00
Angela Merkel
0.53
0.4
8/24/21 0:00
Angela Merkel
0.54
0.4
8/25/21 0:00
Angela Merkel
0.53
0.4
8/26/21 0:00
Angela Merkel
0.53
0.4
8/27/21 0:00
Angela Merkel
0.53
0.41
8/28/21 0:00
Angela Merkel
0.53
0.41
8/29/21 0:00
Angela Merkel
0.53
0.4
8/30/21 0:00
Angela Merkel
0.53
0.4
8/31/21 0:00
Angela Merkel
0.52
0.41
9/1/21 0:00
Angela Merkel
0.53
0.4
9/2/21 0:00
Angela Merkel
0.53
0.39
9/3/21 0:00
Angela Merkel
0.53
0.39
9/4/21 0:00
Angela Merkel
0.53
0.39
9/5/21 0:00
Angela Merkel
0.52
0.39
9/6/21 0:00
Angela Merkel
0.53
0.38
9/7/21 0:00
Angela Merkel
0.53
0.39
9/8/21 0:00
Angela Merkel
0.53
0.39
9/9/21 0:00
Angela Merkel
0.53
0.4
9/10/21 0:00
Angela Merkel
0.53
0.4
9/11/21 0:00
Angela Merkel
0.53
0.4
9/12/21 0:00
Angela Merkel
0.54
0.39
9/13/21 0:00
Angela Merkel
0.54
0.39
9/14/21 0:00
Angela Merkel
0.55
0.39
9/15/21 0:00
Angela Merkel
0.54
0.39
9/16/21 0:00
Angela Merkel
0.54
0.39
9/17/21 0:00
Angela Merkel
0.54
0.39
9/18/21 0:00
Angela Merkel
0.54
0.39
9/19/21 0:00
Angela Merkel
0.54
0.4
9/20/21 0:00
Angela Merkel
0.54
0.4
9/21/21 0:00
Angela Merkel
0.54
0.4
9/22/21 0:00
Angela Merkel
0.54
0.4
9/23/21 0:00
Angela Merkel
0.54
0.4
9/24/21 0:00
Angela Merkel
0.54
0.39
9/25/21 0:00
Angela Merkel
0.54
0.4
9/26/21 0:00
Angela Merkel
0.54
0.4
9/27/21 0:00
Angela Merkel
0.54
0.4
9/28/21 0:00
Angela Merkel
0.53
0.4
9/29/21 0:00
Angela Merkel
0.53
0.4
9/30/21 0:00
Angela Merkel
0.53
0.4
10/1/21 0:00
Angela Merkel
0.53
0.4
10/2/21 0:00
Angela Merkel
0.53
0.4
10/3/21 0:00
Angela Merkel
0.53
0.4
10/4/21 0:00
Angela Merkel
0.53
0.4
10/5/21 0:00
Angela Merkel
0.52
0.41
10/6/21 0:00
Angela Merkel
0.53
0.41
10/7/21 0:00
Angela Merkel
0.53
0.4
10/8/21 0:00
Angela Merkel
0.54
0.39
10/9/21 0:00
Angela Merkel
0.54
0.39
10/10/21 0:00
Angela Merkel
0.54
0.39
10/11/21 0:00
Angela Merkel
0.54
0.39
10/12/21 0:00
Angela Merkel
0.54
0.39
10/13/21 0:00
Angela Merkel
0.54
0.39
10/14/21 0:00
Angela Merkel
0.53
0.4
10/15/21 0:00
Angela Merkel
0.53
0.4
10/16/21 0:00
Angela Merkel
0.54
0.39
10/17/21 0:00
Angela Merkel
0.54
0.4
10/18/21 0:00
Angela Merkel
0.54
0.4
10/19/21 0:00
Angela Merkel
0.53
0.4
10/20/21 0:00
Angela Merkel
0.53
0.4
10/21/21 0:00
Angela Merkel
0.53
0.4
10/22/21 0:00
Angela Merkel
0.53
0.4
10/23/21 0:00
Angela Merkel
0.52
0.4
10/24/21 0:00
Angela Merkel
0.52
0.4
10/25/21 0:00
Angela Merkel
0.52
0.4
10/26/21 0:00
Angela Merkel
0.53
0.39
10/27/21 0:00
Angela Merkel
0.53
0.39
10/28/21 0:00
Angela Merkel
0.53
0.39
10/29/21 0:00
Angela Merkel
0.53
0.39
10/30/21 0:00
Angela Merkel
0.53
0.39
10/31/21 0:00
Angela Merkel
0.54
0.38
11/1/21 0:00
Angela Merkel
0.54
0.38
11/2/21 0:00
Angela Merkel
0.54
0.39
11/3/21 0:00
Angela Merkel
0.54
0.39
11/4/21 0:00
Angela Merkel
0.54
0.39
11/5/21 0:00
Angela Merkel
0.54
0.39
11/6/21 0:00
Angela Merkel
0.53
0.4
11/7/21 0:00
Angela Merkel
0.53
0.4
11/8/21 0:00
Angela Merkel
0.53
0.4
11/9/21 0:00
Angela Merkel
0.53
0.4
11/10/21 0:00
Angela Merkel
0.52
0.41
11/11/21 0:00
Angela Merkel
0.53
0.41
11/12/21 0:00
Angela Merkel
0.53
0.41
11/13/21 0:00
Angela Merkel
0.53
0.4
11/14/21 0:00
Angela Merkel
0.53
0.4
11/15/21 0:00
Angela Merkel
0.53
0.41
11/16/21 0:00
Angela Merkel
0.54
0.4
11/17/21 0:00
Angela Merkel
0.54
0.4
11/18/21 0:00
Angela Merkel
0.54
0.4
11/19/21 0:00
Angela Merkel
0.53
0.4
11/20/21 0:00
Angela Merkel
0.53
0.41
11/21/21 0:00
Angela Merkel
0.53
0.4
11/22/21 0:00
Angela Merkel
0.52
0.4
11/23/21 0:00
Angela Merkel
0.51
0.41
11/24/21 0:00
Angela Merkel
0.51
0.42
11/25/21 0:00
Angela Merkel
0.52
0.41
11/26/21 0:00
Angela Merkel
0.52
0.41
11/27/21 0:00
Angela Merkel
0.52
0.41
11/28/21 0:00
Angela Merkel
0.52
0.41
11/29/21 0:00
Angela Merkel
0.52
0.41
11/30/21 0:00
Angela Merkel
0.53
0.4
12/1/21 0:00
Angela Merkel
0.54
0.4
12/2/21 0:00
Angela Merkel
0.52
0.41
12/3/21 0:00
Angela Merkel
0.53
0.41
12/4/21 0:00
Angela Merkel
0.53
0.4
12/5/21 0:00
Angela Merkel
0.54
0.4
12/6/21 0:00
Angela Merkel
0.54
0.39
12/7/21 0:00
Angela Merkel
0.54
0.4
3/6/20 0:00
Emmanuel Macron
0.24
0.68
3/7/20 0:00
Emmanuel Macron
0.24
0.68
3/8/20 0:00
Emmanuel Macron
0.25
0.68
3/9/20 0:00
Emmanuel Macron
0.25
0.67
3/10/20 0:00
Emmanuel Macron
0.25
0.67
3/11/20 0:00
Emmanuel Macron
0.26
0.66
3/12/20 0:00
Emmanuel Macron
0.26
0.66
3/13/20 0:00
Emmanuel Macron
0.26
0.66
3/14/20 0:00
Emmanuel Macron
0.28
0.65
3/15/20 0:00
Emmanuel Macron
0.28
0.65
3/16/20 0:00
Emmanuel Macron
0.28
0.64
3/17/20 0:00
Emmanuel Macron
0.29
0.63
3/18/20 0:00
Emmanuel Macron
0.31
0.62
3/19/20 0:00
Emmanuel Macron
0.32
0.6
3/20/20 0:00
Emmanuel Macron
0.33
0.59
3/21/20 0:00
Emmanuel Macron
0.34
0.58
3/22/20 0:00
Emmanuel Macron
0.35
0.58
3/23/20 0:00
Emmanuel Macron
0.35
0.57
3/24/20 0:00
Emmanuel Macron
0.35
0.57
3/25/20 0:00
Emmanuel Macron
0.35
0.58
3/26/20 0:00
Emmanuel Macron
0.35
0.58
3/27/20 0:00
Emmanuel Macron
0.34
0.59
3/28/20 0:00
Emmanuel Macron
0.33
0.6
3/29/20 0:00
Emmanuel Macron
0.33
0.6
3/30/20 0:00
Emmanuel Macron
0.33
0.59
3/31/20 0:00
Emmanuel Macron
0.33
0.58
4/1/20 0:00
Emmanuel Macron
0.34
0.57
4/2/20 0:00
Emmanuel Macron
0.34
0.56
4/3/20 0:00
Emmanuel Macron
0.34
0.55
4/4/20 0:00
Emmanuel Macron
0.35
0.54
4/5/20 0:00
Emmanuel Macron
0.36
0.54
4/6/20 0:00
Emmanuel Macron
0.36
0.54
4/7/20 0:00
Emmanuel Macron
0.36
0.55
4/8/20 0:00
Emmanuel Macron
0.36
0.56
4/9/20 0:00
Emmanuel Macron
0.36
0.56
4/10/20 0:00
Emmanuel Macron
0.36
0.56
4/11/20 0:00
Emmanuel Macron
0.35
0.57
4/12/20 0:00
Emmanuel Macron
0.34
0.58
4/13/20 0:00
Emmanuel Macron
0.35
0.58
4/14/20 0:00
Emmanuel Macron
0.36
0.57
4/15/20 0:00
Emmanuel Macron
0.36
0.57
4/16/20 0:00
Emmanuel Macron
0.36
0.57
4/17/20 0:00
Emmanuel Macron
0.36
0.57
4/18/20 0:00
Emmanuel Macron
0.36
0.57
4/19/20 0:00
Emmanuel Macron
0.37
0.56
4/20/20 0:00
Emmanuel Macron
0.37
0.56
4/21/20 0:00
Emmanuel Macron
0.35
0.58
4/22/20 0:00
Emmanuel Macron
0.35
0.58
4/23/20 0:00
Emmanuel Macron
0.34
0.58
4/24/20 0:00
Emmanuel Macron
0.34
0.58
4/25/20 0:00
Emmanuel Macron
0.34
0.57
4/26/20 0:00
Emmanuel Macron
0.34
0.58
4/27/20 0:00
Emmanuel Macron
0.33
0.59
4/28/20 0:00
Emmanuel Macron
0.34
0.59
4/29/20 0:00
Emmanuel Macron
0.33
0.59
4/30/20 0:00
Emmanuel Macron
0.34
0.59
5/1/20 0:00
Emmanuel Macron
0.34
0.6
5/2/20 0:00
Emmanuel Macron
0.34
0.6
5/3/20 0:00
Emmanuel Macron
0.34
0.6
5/4/20 0:00
Emmanuel Macron
0.34
0.6
5/5/20 0:00
Emmanuel Macron
0.34
0.6
5/6/20 0:00
Emmanuel Macron
0.35
0.59
5/7/20 0:00
Emmanuel Macron
0.35
0.58
5/8/20 0:00
Emmanuel Macron
0.35
0.58
5/9/20 0:00
Emmanuel Macron
0.35
0.58
5/10/20 0:00
Emmanuel Macron
0.35
0.57
5/11/20 0:00
Emmanuel Macron
0.35
0.57
5/12/20 0:00
Emmanuel Macron
0.35
0.57
5/13/20 0:00
Emmanuel Macron
0.34
0.58
5/14/20 0:00
Emmanuel Macron
0.33
0.58
5/15/20 0:00
Emmanuel Macron
0.34
0.58
5/16/20 0:00
Emmanuel Macron
0.32
0.6
5/17/20 0:00
Emmanuel Macron
0.32
0.59
5/18/20 0:00
Emmanuel Macron
0.33
0.59
5/19/20 0:00
Emmanuel Macron
0.33
0.58
5/20/20 0:00
Emmanuel Macron
0.33
0.58
5/21/20 0:00
Emmanuel Macron
0.33
0.59
5/22/20 0:00
Emmanuel Macron
0.33
0.59
5/23/20 0:00
Emmanuel Macron
0.34
0.58
5/24/20 0:00
Emmanuel Macron
0.34
0.58
5/25/20 0:00
Emmanuel Macron
0.34
0.58
5/26/20 0:00
Emmanuel Macron
0.33
0.59
5/27/20 0:00
Emmanuel Macron
0.33
0.59
5/28/20 0:00
Emmanuel Macron
0.33
0.58
5/29/20 0:00
Emmanuel Macron
0.34
0.58
5/30/20 0:00
Emmanuel Macron
0.34
0.58
5/31/20 0:00
Emmanuel Macron
0.34
0.58
6/1/20 0:00
Emmanuel Macron
0.34
0.59
6/2/20 0:00
Emmanuel Macron
0.34
0.59
6/3/20 0:00
Emmanuel Macron
0.34
0.59
6/4/20 0:00
Emmanuel Macron
0.33
0.59
6/5/20 0:00
Emmanuel Macron
0.33
0.59
6/6/20 0:00
Emmanuel Macron
0.33
0.6
6/7/20 0:00
Emmanuel Macron
0.33
0.6
6/8/20 0:00
Emmanuel Macron
0.32
0.6
6/9/20 0:00
Emmanuel Macron
0.32
0.6
6/10/20 0:00
Emmanuel Macron
0.32
0.6
6/11/20 0:00
Emmanuel Macron
0.32
0.6
6/12/20 0:00
Emmanuel Macron
0.31
0.6
6/13/20 0:00
Emmanuel Macron
0.31
0.6
6/14/20 0:00
Emmanuel Macron
0.31
0.6
6/15/20 0:00
Emmanuel Macron
0.32
0.6
6/16/20 0:00
Emmanuel Macron
0.31
0.61
6/17/20 0:00
Emmanuel Macron
0.31
0.61
6/18/20 0:00
Emmanuel Macron
0.31
0.61
6/19/20 0:00
Emmanuel Macron
0.31
0.61
6/20/20 0:00
Emmanuel Macron
0.32
0.6
6/21/20 0:00
Emmanuel Macron
0.32
0.61
6/22/20 0:00
Emmanuel Macron
0.31
0.61
6/23/20 0:00
Emmanuel Macron
0.32
0.6
6/24/20 0:00
Emmanuel Macron
0.32
0.6
6/25/20 0:00
Emmanuel Macron
0.32
0.6
6/26/20 0:00
Emmanuel Macron
0.32
0.6
6/27/20 0:00
Emmanuel Macron
0.31
0.61
6/28/20 0:00
Emmanuel Macron
0.31
0.61
6/29/20 0:00
Emmanuel Macron
0.31
0.61
6/30/20 0:00
Emmanuel Macron
0.3
0.61
7/1/20 0:00
Emmanuel Macron
0.3
0.62
7/2/20 0:00
Emmanuel Macron
0.3
0.62
7/3/20 0:00
Emmanuel Macron
0.3
0.62
7/4/20 0:00
Emmanuel Macron
0.31
0.61
7/5/20 0:00
Emmanuel Macron
0.31
0.61
7/6/20 0:00
Emmanuel Macron
0.31
0.61
7/7/20 0:00
Emmanuel Macron
0.31
0.61
7/8/20 0:00
Emmanuel Macron
0.31
0.61
7/9/20 0:00
Emmanuel Macron
0.31
0.61
7/10/20 0:00
Emmanuel Macron
0.3
0.63
7/11/20 0:00
Emmanuel Macron
0.3
0.63
7/12/20 0:00
Emmanuel Macron
0.3
0.63
7/13/20 0:00
Emmanuel Macron
0.3
0.63
7/14/20 0:00
Emmanuel Macron
0.3
0.63
7/15/20 0:00
Emmanuel Macron
0.31
0.62
7/16/20 0:00
Emmanuel Macron
0.32
0.61
7/17/20 0:00
Emmanuel Macron
0.33
0.6
7/18/20 0:00
Emmanuel Macron
0.33
0.6
7/19/20 0:00
Emmanuel Macron
0.33
0.6
7/20/20 0:00
Emmanuel Macron
0.32
0.6
7/21/20 0:00
Emmanuel Macron
0.33
0.6
7/22/20 0:00
Emmanuel Macron
0.32
0.6
7/23/20 0:00
Emmanuel Macron
0.32
0.6
7/24/20 0:00
Emmanuel Macron
0.32
0.6
7/25/20 0:00
Emmanuel Macron
0.31
0.6
7/26/20 0:00
Emmanuel Macron
0.32
0.6
7/27/20 0:00
Emmanuel Macron
0.33
0.59
7/28/20 0:00
Emmanuel Macron
0.32
0.59
7/29/20 0:00
Emmanuel Macron
0.32
0.59
7/30/20 0:00
Emmanuel Macron
0.33
0.59
7/31/20 0:00
Emmanuel Macron
0.32
0.6
8/1/20 0:00
Emmanuel Macron
0.33
0.59
8/2/20 0:00
Emmanuel Macron
0.32
0.6
8/3/20 0:00
Emmanuel Macron
0.32
0.6
8/4/20 0:00
Emmanuel Macron
0.33
0.59
8/5/20 0:00
Emmanuel Macron
0.33
0.59
8/6/20 0:00
Emmanuel Macron
0.32
0.59
8/7/20 0:00
Emmanuel Macron
0.33
0.59
8/8/20 0:00
Emmanuel Macron
0.33
0.59
8/9/20 0:00
Emmanuel Macron
0.33
0.59
8/10/20 0:00
Emmanuel Macron
0.33
0.58
8/11/20 0:00
Emmanuel Macron
0.33
0.59
8/12/20 0:00
Emmanuel Macron
0.33
0.59
8/13/20 0:00
Emmanuel Macron
0.33
0.59
8/14/20 0:00
Emmanuel Macron
0.33
0.59
8/15/20 0:00
Emmanuel Macron
0.33
0.59
8/16/20 0:00
Emmanuel Macron
0.33
0.59
8/17/20 0:00
Emmanuel Macron
0.32
0.6
8/18/20 0:00
Emmanuel Macron
0.33
0.59
8/19/20 0:00
Emmanuel Macron
0.33
0.59
8/20/20 0:00
Emmanuel Macron
0.34
0.58
8/21/20 0:00
Emmanuel Macron
0.34
0.58
8/22/20 0:00
Emmanuel Macron
0.34
0.58
8/23/20 0:00
Emmanuel Macron
0.34
0.58
8/24/20 0:00
Emmanuel Macron
0.34
0.58
8/25/20 0:00
Emmanuel Macron
0.34
0.58
8/26/20 0:00
Emmanuel Macron
0.33
0.59
8/27/20 0:00
Emmanuel Macron
0.33
0.59
8/28/20 0:00
Emmanuel Macron
0.32
0.59
8/29/20 0:00
Emmanuel Macron
0.32
0.59
8/30/20 0:00
Emmanuel Macron
0.32
0.59
8/31/20 0:00
Emmanuel Macron
0.32
0.59
9/1/20 0:00
Emmanuel Macron
0.32
0.59
9/2/20 0:00
Emmanuel Macron
0.32
0.6
9/3/20 0:00
Emmanuel Macron
0.31
0.61
9/4/20 0:00
Emmanuel Macron
0.31
0.61
9/5/20 0:00
Emmanuel Macron
0.31
0.61
9/6/20 0:00
Emmanuel Macron
0.31
0.61
9/7/20 0:00
Emmanuel Macron
0.31
0.61
9/8/20 0:00
Emmanuel Macron
0.31
0.6
9/9/20 0:00
Emmanuel Macron
0.31
0.59
9/10/20 0:00
Emmanuel Macron
0.32
0.59
9/11/20 0:00
Emmanuel Macron
0.32
0.59
9/12/20 0:00
Emmanuel Macron
0.32
0.59
9/13/20 0:00
Emmanuel Macron
0.32
0.59
9/14/20 0:00
Emmanuel Macron
0.31
0.59
9/15/20 0:00
Emmanuel Macron
0.31
0.59
9/16/20 0:00
Emmanuel Macron
0.31
0.59
9/17/20 0:00
Emmanuel Macron
0.31
0.59
9/18/20 0:00
Emmanuel Macron
0.3
0.59
9/19/20 0:00
Emmanuel Macron
0.3
0.59
9/20/20 0:00
Emmanuel Macron
0.31
0.58
9/21/20 0:00
Emmanuel Macron
0.31
0.58
9/22/20 0:00
Emmanuel Macron
0.31
0.59
9/23/20 0:00
Emmanuel Macron
0.31
0.59
9/24/20 0:00
Emmanuel Macron
0.31
0.6
9/25/20 0:00
Emmanuel Macron
0.31
0.6
9/26/20 0:00
Emmanuel Macron
0.31
0.6
9/27/20 0:00
Emmanuel Macron
0.31
0.6
9/28/20 0:00
Emmanuel Macron
0.3
0.61
9/29/20 0:00
Emmanuel Macron
0.3
0.61
9/30/20 0:00
Emmanuel Macron
0.3
0.61
10/1/20 0:00
Emmanuel Macron
0.3
0.61
10/2/20 0:00
Emmanuel Macron
0.3
0.61
10/3/20 0:00
Emmanuel Macron
0.3
0.62
10/4/20 0:00
Emmanuel Macron
0.29
0.62
10/5/20 0:00
Emmanuel Macron
0.29
0.62
10/6/20 0:00
Emmanuel Macron
0.29
0.62
10/7/20 0:00
Emmanuel Macron
0.29
0.62
10/8/20 0:00
Emmanuel Macron
0.29
0.62
10/9/20 0:00
Emmanuel Macron
0.29
0.62
10/10/20 0:00
Emmanuel Macron
0.29
0.61
10/11/20 0:00
Emmanuel Macron
0.3
0.61
10/12/20 0:00
Emmanuel Macron
0.3
0.61
10/13/20 0:00
Emmanuel Macron
0.3
0.61
10/14/20 0:00
Emmanuel Macron
0.3
0.61
10/15/20 0:00
Emmanuel Macron
0.3
0.61
10/16/20 0:00
Emmanuel Macron
0.31
0.6
10/17/20 0:00
Emmanuel Macron
0.31
0.6
10/18/20 0:00
Emmanuel Macron
0.32
0.6
10/19/20 0:00
Emmanuel Macron
0.32
0.6
10/20/20 0:00
Emmanuel Macron
0.32
0.6
10/21/20 0:00
Emmanuel Macron
0.32
0.59
10/22/20 0:00
Emmanuel Macron
0.32
0.59
10/23/20 0:00
Emmanuel Macron
0.31
0.6
10/24/20 0:00
Emmanuel Macron
0.32
0.6
10/25/20 0:00
Emmanuel Macron
0.31
0.6
10/26/20 0:00
Emmanuel Macron
0.31
0.6
10/27/20 0:00
Emmanuel Macron
0.32
0.6
10/28/20 0:00
Emmanuel Macron
0.32
0.6
10/29/20 0:00
Emmanuel Macron
0.33
0.59
10/30/20 0:00
Emmanuel Macron
0.33
0.59
10/31/20 0:00
Emmanuel Macron
0.33
0.59
11/1/20 0:00
Emmanuel Macron
0.33
0.58
11/2/20 0:00
Emmanuel Macron
0.33
0.58
11/3/20 0:00
Emmanuel Macron
0.33
0.58
11/4/20 0:00
Emmanuel Macron
0.33
0.58
11/5/20 0:00
Emmanuel Macron
0.32
0.59
11/6/20 0:00
Emmanuel Macron
0.32
0.59
11/7/20 0:00
Emmanuel Macron
0.32
0.59
11/8/20 0:00
Emmanuel Macron
0.32
0.59
11/9/20 0:00
Emmanuel Macron
0.32
0.59
11/10/20 0:00
Emmanuel Macron
0.32
0.59
11/11/20 0:00
Emmanuel Macron
0.33
0.58
11/12/20 0:00
Emmanuel Macron
0.34
0.57
11/13/20 0:00
Emmanuel Macron
0.34
0.57
11/14/20 0:00
Emmanuel Macron
0.34
0.58
11/15/20 0:00
Emmanuel Macron
0.34
0.57
11/16/20 0:00
Emmanuel Macron
0.35
0.57
11/17/20 0:00
Emmanuel Macron
0.35
0.57
11/18/20 0:00
Emmanuel Macron
0.34
0.58
11/19/20 0:00
Emmanuel Macron
0.33
0.59
11/20/20 0:00
Emmanuel Macron
0.34
0.58
11/21/20 0:00
Emmanuel Macron
0.34
0.58
11/22/20 0:00
Emmanuel Macron
0.33
0.59
11/23/20 0:00
Emmanuel Macron
0.32
0.6
11/24/20 0:00
Emmanuel Macron
0.31
0.6
11/25/20 0:00
Emmanuel Macron
0.32
0.6
11/26/20 0:00
Emmanuel Macron
0.31
0.6
11/27/20 0:00
Emmanuel Macron
0.31
0.6
11/28/20 0:00
Emmanuel Macron
0.31
0.6
11/29/20 0:00
Emmanuel Macron
0.31
0.6
11/30/20 0:00
Emmanuel Macron
0.31
0.59
12/1/20 0:00
Emmanuel Macron
0.32
0.58
12/2/20 0:00
Emmanuel Macron
0.32
0.59
12/3/20 0:00
Emmanuel Macron
0.32
0.59
12/4/20 0:00
Emmanuel Macron
0.33
0.59
12/5/20 0:00
Emmanuel Macron
0.33
0.58
12/6/20 0:00
Emmanuel Macron
0.33
0.58
12/7/20 0:00
Emmanuel Macron
0.33
0.58
12/8/20 0:00
Emmanuel Macron
0.33
0.59
12/9/20 0:00
Emmanuel Macron
0.33
0.59
12/10/20 0:00
Emmanuel Macron
0.33
0.59
12/11/20 0:00
Emmanuel Macron
0.32
0.6
12/12/20 0:00
Emmanuel Macron
0.31
0.61
12/13/20 0:00
Emmanuel Macron
0.32
0.61
12/14/20 0:00
Emmanuel Macron
0.32
0.61
12/15/20 0:00
Emmanuel Macron
0.31
0.61
12/16/20 0:00
Emmanuel Macron
0.31
0.62
12/17/20 0:00
Emmanuel Macron
0.31
0.61
12/18/20 0:00
Emmanuel Macron
0.32
0.6
12/19/20 0:00
Emmanuel Macron
0.32
0.6
12/20/20 0:00
Emmanuel Macron
0.32
0.59
12/21/20 0:00
Emmanuel Macron
0.33
0.59
12/22/20 0:00
Emmanuel Macron
0.33
0.58
12/23/20 0:00
Emmanuel Macron
0.33
0.58
12/24/20 0:00
Emmanuel Macron
0.33
0.58
12/25/20 0:00
Emmanuel Macron
0.33
0.58
12/26/20 0:00
Emmanuel Macron
0.33
0.57
12/27/20 0:00
Emmanuel Macron
0.33
0.58
12/28/20 0:00
Emmanuel Macron
0.33
0.57
12/29/20 0:00
Emmanuel Macron
0.33
0.56
12/30/20 0:00
Emmanuel Macron
0.34
0.56
12/31/20 0:00
Emmanuel Macron
0.34
0.56
1/1/21 0:00
Emmanuel Macron
0.35
0.56
1/2/21 0:00
Emmanuel Macron
0.35
0.55
1/3/21 0:00
Emmanuel Macron
0.36
0.55
1/4/21 0:00
Emmanuel Macron
0.35
0.56
1/5/21 0:00
Emmanuel Macron
0.34
0.57
1/6/21 0:00
Emmanuel Macron
0.34
0.57
1/7/21 0:00
Emmanuel Macron
0.34
0.57
1/8/21 0:00
Emmanuel Macron
0.33
0.58
1/9/21 0:00
Emmanuel Macron
0.33
0.58
1/10/21 0:00
Emmanuel Macron
0.32
0.58
1/11/21 0:00
Emmanuel Macron
0.32
0.58
1/12/21 0:00
Emmanuel Macron
0.33
0.58
1/13/21 0:00
Emmanuel Macron
0.32
0.58
1/14/21 0:00
Emmanuel Macron
0.32
0.58
1/15/21 0:00
Emmanuel Macron
0.33
0.58
1/16/21 0:00
Emmanuel Macron
0.32
0.59
1/17/21 0:00
Emmanuel Macron
0.32
0.6
1/18/21 0:00
Emmanuel Macron
0.33
0.59
1/19/21 0:00
Emmanuel Macron
0.33
0.59
1/20/21 0:00
Emmanuel Macron
0.33
0.59
1/21/21 0:00
Emmanuel Macron
0.33
0.59
1/22/21 0:00
Emmanuel Macron
0.34
0.58
1/23/21 0:00
Emmanuel Macron
0.34
0.57
1/24/21 0:00
Emmanuel Macron
0.33
0.57
1/25/21 0:00
Emmanuel Macron
0.33
0.57
1/26/21 0:00
Emmanuel Macron
0.34
0.56
1/27/21 0:00
Emmanuel Macron
0.33
0.57
1/28/21 0:00
Emmanuel Macron
0.33
0.57
1/29/21 0:00
Emmanuel Macron
0.33
0.57
1/30/21 0:00
Emmanuel Macron
0.33
0.58
1/31/21 0:00
Emmanuel Macron
0.34
0.57
2/1/21 0:00
Emmanuel Macron
0.34
0.57
2/2/21 0:00
Emmanuel Macron
0.34
0.58
2/3/21 0:00
Emmanuel Macron
0.34
0.58
2/4/21 0:00
Emmanuel Macron
0.33
0.58
2/5/21 0:00
Emmanuel Macron
0.33
0.58
2/6/21 0:00
Emmanuel Macron
0.33
0.58
2/7/21 0:00
Emmanuel Macron
0.32
0.59
2/8/21 0:00
Emmanuel Macron
0.32
0.59
2/9/21 0:00
Emmanuel Macron
0.33
0.58
2/10/21 0:00
Emmanuel Macron
0.33
0.58
2/11/21 0:00
Emmanuel Macron
0.34
0.56
2/12/21 0:00
Emmanuel Macron
0.34
0.56
2/13/21 0:00
Emmanuel Macron
0.34
0.56
2/14/21 0:00
Emmanuel Macron
0.35
0.55
2/15/21 0:00
Emmanuel Macron
0.35
0.55
2/16/21 0:00
Emmanuel Macron
0.35
0.56
2/17/21 0:00
Emmanuel Macron
0.35
0.56
2/18/21 0:00
Emmanuel Macron
0.34
0.57
2/19/21 0:00
Emmanuel Macron
0.34
0.56
2/20/21 0:00
Emmanuel Macron
0.34
0.56
2/21/21 0:00
Emmanuel Macron
0.34
0.57
2/22/21 0:00
Emmanuel Macron
0.34
0.57
2/23/21 0:00
Emmanuel Macron
0.34
0.56
2/24/21 0:00
Emmanuel Macron
0.34
0.56
2/25/21 0:00
Emmanuel Macron
0.35
0.55
2/26/21 0:00
Emmanuel Macron
0.34
0.56
2/27/21 0:00
Emmanuel Macron
0.34
0.57
2/28/21 0:00
Emmanuel Macron
0.34
0.56
3/1/21 0:00
Emmanuel Macron
0.34
0.56
3/2/21 0:00
Emmanuel Macron
0.34
0.56
3/3/21 0:00
Emmanuel Macron
0.34
0.56
3/4/21 0:00
Emmanuel Macron
0.33
0.57
3/5/21 0:00
Emmanuel Macron
0.34
0.57
3/6/21 0:00
Emmanuel Macron
0.34
0.56
3/7/21 0:00
Emmanuel Macron
0.35
0.56
3/8/21 0:00
Emmanuel Macron
0.34
0.56
3/9/21 0:00
Emmanuel Macron
0.34
0.57
3/10/21 0:00
Emmanuel Macron
0.33
0.57
3/11/21 0:00
Emmanuel Macron
0.34
0.57
3/12/21 0:00
Emmanuel Macron
0.34
0.57
3/13/21 0:00
Emmanuel Macron
0.33
0.57
3/14/21 0:00
Emmanuel Macron
0.33
0.58
3/15/21 0:00
Emmanuel Macron
0.33
0.57
3/16/21 0:00
Emmanuel Macron
0.33
0.58
3/17/21 0:00
Emmanuel Macron
0.34
0.57
3/18/21 0:00
Emmanuel Macron
0.34
0.57
3/19/21 0:00
Emmanuel Macron
0.34
0.58
3/20/21 0:00
Emmanuel Macron
0.34
0.58
3/21/21 0:00
Emmanuel Macron
0.33
0.58
3/22/21 0:00
Emmanuel Macron
0.32
0.6
3/23/21 0:00
Emmanuel Macron
0.33
0.59
3/24/21 0:00
Emmanuel Macron
0.32
0.6
3/25/21 0:00
Emmanuel Macron
0.31
0.6
3/26/21 0:00
Emmanuel Macron
0.31
0.61
3/27/21 0:00
Emmanuel Macron
0.32
0.6
3/28/21 0:00
Emmanuel Macron
0.32
0.6
3/29/21 0:00
Emmanuel Macron
0.32
0.59
3/30/21 0:00
Emmanuel Macron
0.32
0.59
3/31/21 0:00
Emmanuel Macron
0.32
0.59
4/1/21 0:00
Emmanuel Macron
0.31
0.6
4/2/21 0:00
Emmanuel Macron
0.31
0.59
4/3/21 0:00
Emmanuel Macron
0.32
0.59
4/4/21 0:00
Emmanuel Macron
0.32
0.58
4/5/21 0:00
Emmanuel Macron
0.32
0.59
4/6/21 0:00
Emmanuel Macron
0.32
0.59
4/7/21 0:00
Emmanuel Macron
0.33
0.59
4/8/21 0:00
Emmanuel Macron
0.33
0.59
4/9/21 0:00
Emmanuel Macron
0.33
0.59
4/10/21 0:00
Emmanuel Macron
0.33
0.6
4/11/21 0:00
Emmanuel Macron
0.32
0.6
4/12/21 0:00
Emmanuel Macron
0.33
0.59
4/13/21 0:00
Emmanuel Macron
0.33
0.59
4/14/21 0:00
Emmanuel Macron
0.34
0.58
4/15/21 0:00
Emmanuel Macron
0.34
0.58
4/16/21 0:00
Emmanuel Macron
0.34
0.58
4/17/21 0:00
Emmanuel Macron
0.34
0.57
4/18/21 0:00
Emmanuel Macron
0.34
0.57
4/19/21 0:00
Emmanuel Macron
0.33
0.58
4/20/21 0:00
Emmanuel Macron
0.34
0.58
4/21/21 0:00
Emmanuel Macron
0.33
0.58
4/22/21 0:00
Emmanuel Macron
0.34
0.58
4/23/21 0:00
Emmanuel Macron
0.33
0.58
4/24/21 0:00
Emmanuel Macron
0.33
0.59
4/25/21 0:00
Emmanuel Macron
0.33
0.59
4/26/21 0:00
Emmanuel Macron
0.34
0.58
4/27/21 0:00
Emmanuel Macron
0.33
0.58
4/28/21 0:00
Emmanuel Macron
0.34
0.58
4/29/21 0:00
Emmanuel Macron
0.33
0.59
4/30/21 0:00
Emmanuel Macron
0.33
0.58
5/1/21 0:00
Emmanuel Macron
0.34
0.58
5/2/21 0:00
Emmanuel Macron
0.34
0.58
5/3/21 0:00
Emmanuel Macron
0.34
0.58
5/4/21 0:00
Emmanuel Macron
0.34
0.58
5/5/21 0:00
Emmanuel Macron
0.34
0.58
5/6/21 0:00
Emmanuel Macron
0.35
0.57
5/7/21 0:00
Emmanuel Macron
0.35
0.57
5/8/21 0:00
Emmanuel Macron
0.35
0.57
5/9/21 0:00
Emmanuel Macron
0.34
0.58
5/10/21 0:00
Emmanuel Macron
0.34
0.57
5/11/21 0:00
Emmanuel Macron
0.34
0.58
5/12/21 0:00
Emmanuel Macron
0.34
0.57
5/13/21 0:00
Emmanuel Macron
0.34
0.57
5/14/21 0:00
Emmanuel Macron
0.34
0.58
5/15/21 0:00
Emmanuel Macron
0.33
0.59
5/16/21 0:00
Emmanuel Macron
0.34
0.59
5/17/21 0:00
Emmanuel Macron
0.34
0.59
5/18/21 0:00
Emmanuel Macron
0.34
0.59
5/19/21 0:00
Emmanuel Macron
0.33
0.59
5/20/21 0:00
Emmanuel Macron
0.34
0.59
5/21/21 0:00
Emmanuel Macron
0.34
0.59
5/22/21 0:00
Emmanuel Macron
0.34
0.59
5/23/21 0:00
Emmanuel Macron
0.35
0.58
5/24/21 0:00
Emmanuel Macron
0.35
0.57
5/25/21 0:00
Emmanuel Macron
0.35
0.57
5/26/21 0:00
Emmanuel Macron
0.36
0.56
5/27/21 0:00
Emmanuel Macron
0.36
0.56
5/28/21 0:00
Emmanuel Macron
0.36
0.55
5/29/21 0:00
Emmanuel Macron
0.36
0.55
5/30/21 0:00
Emmanuel Macron
0.36
0.55
5/31/21 0:00
Emmanuel Macron
0.36
0.56
6/1/21 0:00
Emmanuel Macron
0.35
0.57
6/2/21 0:00
Emmanuel Macron
0.35
0.57
6/3/21 0:00
Emmanuel Macron
0.34
0.57
6/4/21 0:00
Emmanuel Macron
0.35
0.57
6/5/21 0:00
Emmanuel Macron
0.35
0.56
6/6/21 0:00
Emmanuel Macron
0.35
0.56
6/7/21 0:00
Emmanuel Macron
0.35
0.56
6/8/21 0:00
Emmanuel Macron
0.35
0.56
6/9/21 0:00
Emmanuel Macron
0.35
0.55
6/10/21 0:00
Emmanuel Macron
0.35
0.55
6/11/21 0:00
Emmanuel Macron
0.35
0.55
6/12/21 0:00
Emmanuel Macron
0.35
0.55
6/13/21 0:00
Emmanuel Macron
0.35
0.56
6/14/21 0:00
Emmanuel Macron
0.35
0.55
6/15/21 0:00
Emmanuel Macron
0.35
0.55
6/16/21 0:00
Emmanuel Macron
0.35
0.55
6/17/21 0:00
Emmanuel Macron
0.35
0.55
6/18/21 0:00
Emmanuel Macron
0.34
0.56
6/19/21 0:00
Emmanuel Macron
0.34
0.56
6/20/21 0:00
Emmanuel Macron
0.34
0.56
6/21/21 0:00
Emmanuel Macron
0.35
0.56
6/22/21 0:00
Emmanuel Macron
0.35
0.55
6/23/21 0:00
Emmanuel Macron
0.35
0.55
6/24/21 0:00
Emmanuel Macron
0.35
0.56
6/25/21 0:00
Emmanuel Macron
0.35
0.56
6/26/21 0:00
Emmanuel Macron
0.35
0.56
6/27/21 0:00
Emmanuel Macron
0.35
0.56
6/28/21 0:00
Emmanuel Macron
0.35
0.56
6/29/21 0:00
Emmanuel Macron
0.35
0.56
6/30/21 0:00
Emmanuel Macron
0.34
0.57
7/1/21 0:00
Emmanuel Macron
0.34
0.56
7/2/21 0:00
Emmanuel Macron
0.35
0.56
7/3/21 0:00
Emmanuel Macron
0.35
0.56
7/4/21 0:00
Emmanuel Macron
0.35
0.56
7/5/21 0:00
Emmanuel Macron
0.34
0.56
7/6/21 0:00
Emmanuel Macron
0.35
0.56
7/7/21 0:00
Emmanuel Macron
0.36
0.55
7/8/21 0:00
Emmanuel Macron
0.36
0.56
7/9/21 0:00
Emmanuel Macron
0.35
0.55
7/10/21 0:00
Emmanuel Macron
0.35
0.56
7/11/21 0:00
Emmanuel Macron
0.35
0.56
7/12/21 0:00
Emmanuel Macron
0.36
0.55
7/13/21 0:00
Emmanuel Macron
0.36
0.55
7/14/21 0:00
Emmanuel Macron
0.36
0.55
7/15/21 0:00
Emmanuel Macron
0.36
0.56
7/16/21 0:00
Emmanuel Macron
0.35
0.57
7/17/21 0:00
Emmanuel Macron
0.35
0.57
7/18/21 0:00
Emmanuel Macron
0.34
0.57
7/19/21 0:00
Emmanuel Macron
0.34
0.59
7/20/21 0:00
Emmanuel Macron
0.33
0.59
7/21/21 0:00
Emmanuel Macron
0.33
0.6
7/22/21 0:00
Emmanuel Macron
0.33
0.59
7/23/21 0:00
Emmanuel Macron
0.34
0.59
7/24/21 0:00
Emmanuel Macron
0.33
0.59
7/25/21 0:00
Emmanuel Macron
0.33
0.6
7/26/21 0:00
Emmanuel Macron
0.33
0.59
7/27/21 0:00
Emmanuel Macron
0.33
0.59
7/28/21 0:00
Emmanuel Macron
0.33
0.6
7/29/21 0:00
Emmanuel Macron
0.32
0.6
7/30/21 0:00
Emmanuel Macron
0.32
0.6
7/31/21 0:00
Emmanuel Macron
0.33
0.59
8/1/21 0:00
Emmanuel Macron
0.33
0.58
8/2/21 0:00
Emmanuel Macron
0.33
0.59
8/3/21 0:00
Emmanuel Macron
0.33
0.58
8/4/21 0:00
Emmanuel Macron
0.33
0.58
8/5/21 0:00
Emmanuel Macron
0.34
0.58
8/6/21 0:00
Emmanuel Macron
0.34
0.58
8/7/21 0:00
Emmanuel Macron
0.33
0.58
8/8/21 0:00
Emmanuel Macron
0.33
0.58
8/9/21 0:00
Emmanuel Macron
0.34
0.57
8/10/21 0:00
Emmanuel Macron
0.34
0.58
8/11/21 0:00
Emmanuel Macron
0.35
0.57
8/12/21 0:00
Emmanuel Macron
0.35
0.58
8/13/21 0:00
Emmanuel Macron
0.35
0.58
8/14/21 0:00
Emmanuel Macron
0.34
0.58
8/15/21 0:00
Emmanuel Macron
0.34
0.58
8/16/21 0:00
Emmanuel Macron
0.34
0.58
8/17/21 0:00
Emmanuel Macron
0.35
0.57
8/18/21 0:00
Emmanuel Macron
0.35
0.57
8/19/21 0:00
Emmanuel Macron
0.34
0.57
8/20/21 0:00
Emmanuel Macron
0.35
0.57
8/21/21 0:00
Emmanuel Macron
0.34
0.57
8/22/21 0:00
Emmanuel Macron
0.34
0.58
8/23/21 0:00
Emmanuel Macron
0.34
0.58
8/24/21 0:00
Emmanuel Macron
0.33
0.59
8/25/21 0:00
Emmanuel Macron
0.33
0.59
8/26/21 0:00
Emmanuel Macron
0.33
0.58
8/27/21 0:00
Emmanuel Macron
0.34
0.57
8/28/21 0:00
Emmanuel Macron
0.34
0.57
8/29/21 0:00
Emmanuel Macron
0.35
0.57
8/30/21 0:00
Emmanuel Macron
0.35
0.56
8/31/21 0:00
Emmanuel Macron
0.34
0.57
9/1/21 0:00
Emmanuel Macron
0.35
0.57
9/2/21 0:00
Emmanuel Macron
0.35
0.57
9/3/21 0:00
Emmanuel Macron
0.34
0.57
9/4/21 0:00
Emmanuel Macron
0.34
0.57
9/5/21 0:00
Emmanuel Macron
0.35
0.57
9/6/21 0:00
Emmanuel Macron
0.35
0.57
9/7/21 0:00
Emmanuel Macron
0.35
0.56
9/8/21 0:00
Emmanuel Macron
0.35
0.56
9/9/21 0:00
Emmanuel Macron
0.35
0.56
9/10/21 0:00
Emmanuel Macron
0.35
0.57
9/11/21 0:00
Emmanuel Macron
0.35
0.57
9/12/21 0:00
Emmanuel Macron
0.34
0.58
9/13/21 0:00
Emmanuel Macron
0.34
0.58
9/14/21 0:00
Emmanuel Macron
0.34
0.58
9/15/21 0:00
Emmanuel Macron
0.34
0.58
9/16/21 0:00
Emmanuel Macron
0.34
0.58
9/17/21 0:00
Emmanuel Macron
0.34
0.57
9/18/21 0:00
Emmanuel Macron
0.35
0.56
9/19/21 0:00
Emmanuel Macron
0.35
0.56
9/20/21 0:00
Emmanuel Macron
0.35
0.56
9/21/21 0:00
Emmanuel Macron
0.35
0.57
9/22/21 0:00
Emmanuel Macron
0.35
0.58
9/23/21 0:00
Emmanuel Macron
0.35
0.58
9/24/21 0:00
Emmanuel Macron
0.34
0.58
9/25/21 0:00
Emmanuel Macron
0.34
0.59
9/26/21 0:00
Emmanuel Macron
0.35
0.58
9/27/21 0:00
Emmanuel Macron
0.35
0.58
9/28/21 0:00
Emmanuel Macron
0.35
0.57
9/29/21 0:00
Emmanuel Macron
0.36
0.56
9/30/21 0:00
Emmanuel Macron
0.35
0.57
10/1/21 0:00
Emmanuel Macron
0.35
0.56
10/2/21 0:00
Emmanuel Macron
0.36
0.55
10/3/21 0:00
Emmanuel Macron
0.36
0.54
10/4/21 0:00
Emmanuel Macron
0.36
0.54
10/5/21 0:00
Emmanuel Macron
0.36
0.54
10/6/21 0:00
Emmanuel Macron
0.36
0.54
10/7/21 0:00
Emmanuel Macron
0.37
0.54
10/8/21 0:00
Emmanuel Macron
0.36
0.54
10/9/21 0:00
Emmanuel Macron
0.35
0.55
10/10/21 0:00
Emmanuel Macron
0.35
0.56
10/11/21 0:00
Emmanuel Macron
0.36
0.55
10/12/21 0:00
Emmanuel Macron
0.36
0.55
10/13/21 0:00
Emmanuel Macron
0.36
0.56
10/14/21 0:00
Emmanuel Macron
0.35
0.56
10/15/21 0:00
Emmanuel Macron
0.35
0.56
10/16/21 0:00
Emmanuel Macron
0.35
0.56
10/17/21 0:00
Emmanuel Macron
0.35
0.55
10/18/21 0:00
Emmanuel Macron
0.35
0.55
10/19/21 0:00
Emmanuel Macron
0.35
0.55
10/20/21 0:00
Emmanuel Macron
0.36
0.55
10/21/21 0:00
Emmanuel Macron
0.36
0.55
10/22/21 0:00
Emmanuel Macron
0.36
0.55
10/23/21 0:00
Emmanuel Macron
0.36
0.55
10/24/21 0:00
Emmanuel Macron
0.35
0.57
10/25/21 0:00
Emmanuel Macron
0.35
0.57
10/26/21 0:00
Emmanuel Macron
0.35
0.57
10/27/21 0:00
Emmanuel Macron
0.35
0.57
10/28/21 0:00
Emmanuel Macron
0.35
0.57
10/29/21 0:00
Emmanuel Macron
0.35
0.56
10/30/21 0:00
Emmanuel Macron
0.35
0.56
10/31/21 0:00
Emmanuel Macron
0.36
0.55
11/1/21 0:00
Emmanuel Macron
0.36
0.55
11/2/21 0:00
Emmanuel Macron
0.36
0.55
11/3/21 0:00
Emmanuel Macron
0.36
0.55
11/4/21 0:00
Emmanuel Macron
0.37
0.55
11/5/21 0:00
Emmanuel Macron
0.37
0.55
11/6/21 0:00
Emmanuel Macron
0.37
0.56
11/7/21 0:00
Emmanuel Macron
0.36
0.57
11/8/21 0:00
Emmanuel Macron
0.37
0.56
11/9/21 0:00
Emmanuel Macron
0.36
0.56
11/10/21 0:00
Emmanuel Macron
0.36
0.57
11/11/21 0:00
Emmanuel Macron
0.36
0.57
11/12/21 0:00
Emmanuel Macron
0.36
0.56
11/13/21 0:00
Emmanuel Macron
0.36
0.56
11/14/21 0:00
Emmanuel Macron
0.37
0.55
11/15/21 0:00
Emmanuel Macron
0.37
0.55
11/16/21 0:00
Emmanuel Macron
0.37
0.55
11/17/21 0:00
Emmanuel Macron
0.37
0.55
11/18/21 0:00
Emmanuel Macron
0.37
0.55
11/19/21 0:00
Emmanuel Macron
0.36
0.56
11/20/21 0:00
Emmanuel Macron
0.36
0.56
11/21/21 0:00
Emmanuel Macron
0.36
0.57
11/22/21 0:00
Emmanuel Macron
0.36
0.56
11/23/21 0:00
Emmanuel Macron
0.37
0.56
11/24/21 0:00
Emmanuel Macron
0.37
0.56
11/25/21 0:00
Emmanuel Macron
0.37
0.56
11/26/21 0:00
Emmanuel Macron
0.37
0.55
11/27/21 0:00
Emmanuel Macron
0.37
0.55
11/28/21 0:00
Emmanuel Macron
0.37
0.56
11/29/21 0:00
Emmanuel Macron
0.36
0.56
11/30/21 0:00
Emmanuel Macron
0.36
0.56
12/1/21 0:00
Emmanuel Macron
0.36
0.56
12/2/21 0:00
Emmanuel Macron
0.36
0.57
12/3/21 0:00
Emmanuel Macron
0.37
0.57
12/4/21 0:00
Emmanuel Macron
0.37
0.57
12/5/21 0:00
Emmanuel Macron
0.37
0.56
12/6/21 0:00
Emmanuel Macron
0.37
0.56
12/7/21 0:00
Emmanuel Macron
0.36
0.56
3/6/20 0:00
Narendra Modi
0.71
0.23
3/7/20 0:00
Narendra Modi
0.71
0.22
3/8/20 0:00
Narendra Modi
0.71
0.23
3/9/20 0:00
Narendra Modi
0.7
0.23
3/10/20 0:00
Narendra Modi
0.7
0.23
3/11/20 0:00
Narendra Modi
0.7
0.23
3/12/20 0:00
Narendra Modi
0.72
0.23
3/13/20 0:00
Narendra Modi
0.72
0.22
3/14/20 0:00
Narendra Modi
0.73
0.21
3/15/20 0:00
Narendra Modi
0.74
0.2
3/16/20 0:00
Narendra Modi
0.75
0.2
3/17/20 0:00
Narendra Modi
0.74
0.21
3/18/20 0:00
Narendra Modi
0.73
0.21
3/19/20 0:00
Narendra Modi
0.73
0.21
3/20/20 0:00
Narendra Modi
0.73
0.21
3/21/20 0:00
Narendra Modi
0.73
0.21
3/22/20 0:00
Narendra Modi
0.74
0.21
3/23/20 0:00
Narendra Modi
0.75
0.21
3/24/20 0:00
Narendra Modi
0.76
0.19
3/25/20 0:00
Narendra Modi
0.78
0.18
3/26/20 0:00
Narendra Modi
0.78
0.18
3/27/20 0:00
Narendra Modi
0.79
0.16
3/28/20 0:00
Narendra Modi
0.8
0.16
3/29/20 0:00
Narendra Modi
0.81
0.15
3/30/20 0:00
Narendra Modi
0.82
0.14
3/31/20 0:00
Narendra Modi
0.82
0.15
4/1/20 0:00
Narendra Modi
0.81
0.15
4/2/20 0:00
Narendra Modi
0.81
0.15
4/3/20 0:00
Narendra Modi
0.81
0.15
4/4/20 0:00
Narendra Modi
0.81
0.15
4/5/20 0:00
Narendra Modi
0.8
0.15
4/6/20 0:00
Narendra Modi
0.8
0.16
4/7/20 0:00
Narendra Modi
0.8
0.15
4/8/20 0:00
Narendra Modi
0.8
0.16
4/9/20 0:00
Narendra Modi
0.8
0.15
4/10/20 0:00
Narendra Modi
0.79
0.17
4/11/20 0:00
Narendra Modi
0.79
0.16
4/12/20 0:00
Narendra Modi
0.79
0.17
4/13/20 0:00
Narendra Modi
0.8
0.16
4/14/20 0:00
Narendra Modi
0.81
0.16
4/15/20 0:00
Narendra Modi
0.81
0.15
4/16/20 0:00
Narendra Modi
0.82
0.14
4/17/20 0:00
Narendra Modi
0.82
0.14
4/18/20 0:00
Narendra Modi
0.83
0.14
4/19/20 0:00
Narendra Modi
0.83
0.14
4/20/20 0:00
Narendra Modi
0.83
0.14
4/21/20 0:00
Narendra Modi
0.83
0.14
4/22/20 0:00
Narendra Modi
0.83
0.14
4/23/20 0:00
Narendra Modi
0.82
0.15
4/24/20 0:00
Narendra Modi
0.82
0.15
4/25/20 0:00
Narendra Modi
0.81
0.15
4/26/20 0:00
Narendra Modi
0.81
0.15
4/27/20 0:00
Narendra Modi
0.82
0.14
4/28/20 0:00
Narendra Modi
0.82
0.14
4/29/20 0:00
Narendra Modi
0.82
0.14
4/30/20 0:00
Narendra Modi
0.83
0.13
5/1/20 0:00
Narendra Modi
0.83
0.13
5/2/20 0:00
Narendra Modi
0.84
0.12
5/3/20 0:00
Narendra Modi
0.84
0.12
5/4/20 0:00
Narendra Modi
0.83
0.13
5/5/20 0:00
Narendra Modi
0.82
0.13
5/6/20 0:00
Narendra Modi
0.81
0.14
5/7/20 0:00
Narendra Modi
0.8
0.15
5/8/20 0:00
Narendra Modi
0.81
0.15
5/9/20 0:00
Narendra Modi
0.8
0.15
5/10/20 0:00
Narendra Modi
0.8
0.15
5/11/20 0:00
Narendra Modi
0.8
0.15
5/12/20 0:00
Narendra Modi
0.8
0.15
5/13/20 0:00
Narendra Modi
0.81
0.15
5/14/20 0:00
Narendra Modi
0.81
0.15
5/15/20 0:00
Narendra Modi
0.81
0.15
5/16/20 0:00
Narendra Modi
0.81
0.15
5/17/20 0:00
Narendra Modi
0.81
0.16
5/18/20 0:00
Narendra Modi
0.81
0.15
5/19/20 0:00
Narendra Modi
0.82
0.15
5/20/20 0:00
Narendra Modi
0.81
0.15
5/21/20 0:00
Narendra Modi
0.81
0.15
5/22/20 0:00
Narendra Modi
0.82
0.15
5/23/20 0:00
Narendra Modi
0.81
0.15
5/24/20 0:00
Narendra Modi
0.82
0.15
5/25/20 0:00
Narendra Modi
0.81
0.15
5/26/20 0:00
Narendra Modi
0.81
0.15
5/27/20 0:00
Narendra Modi
0.81
0.15
5/28/20 0:00
Narendra Modi
0.8
0.16
5/29/20 0:00
Narendra Modi
0.79
0.16
5/30/20 0:00
Narendra Modi
0.79
0.16
5/31/20 0:00
Narendra Modi
0.79
0.17
6/1/20 0:00
Narendra Modi
0.78
0.17
6/2/20 0:00
Narendra Modi
0.78
0.18
6/3/20 0:00
Narendra Modi
0.77
0.18
6/4/20 0:00
Narendra Modi
0.78
0.18
6/5/20 0:00
Narendra Modi
0.77
0.19
6/6/20 0:00
Narendra Modi
0.76
0.19
6/7/20 0:00
Narendra Modi
0.76
0.2
6/8/20 0:00
Narendra Modi
0.76
0.19
6/9/20 0:00
Narendra Modi
0.75
0.19
6/10/20 0:00
Narendra Modi
0.75
0.2
6/11/20 0:00
Narendra Modi
0.75
0.19
6/12/20 0:00
Narendra Modi
0.75
0.19
6/13/20 0:00
Narendra Modi
0.75
0.2
6/14/20 0:00
Narendra Modi
0.75
0.2
6/15/20 0:00
Narendra Modi
0.75
0.21
6/16/20 0:00
Narendra Modi
0.75
0.21
6/17/20 0:00
Narendra Modi
0.75
0.2
6/18/20 0:00
Narendra Modi
0.75
0.2
6/19/20 0:00
Narendra Modi
0.75
0.2
6/20/20 0:00
Narendra Modi
0.76
0.2
6/21/20 0:00
Narendra Modi
0.76
0.19
6/22/20 0:00
Narendra Modi
0.76
0.19
6/23/20 0:00
Narendra Modi
0.77
0.19
6/24/20 0:00
Narendra Modi
0.76
0.19
6/25/20 0:00
Narendra Modi
0.76
0.2
6/26/20 0:00
Narendra Modi
0.75
0.2
6/27/20 0:00
Narendra Modi
0.76
0.2
6/28/20 0:00
Narendra Modi
0.75
0.21
6/29/20 0:00
Narendra Modi
0.74
0.21
6/30/20 0:00
Narendra Modi
0.74
0.21
7/1/20 0:00
Narendra Modi
0.75
0.2
7/2/20 0:00
Narendra Modi
0.74
0.21
7/3/20 0:00
Narendra Modi
0.76
0.19
7/4/20 0:00
Narendra Modi
0.76
0.19
7/5/20 0:00
Narendra Modi
0.77
0.18
7/6/20 0:00
Narendra Modi
0.78
0.17
7/7/20 0:00
Narendra Modi
0.77
0.18
7/8/20 0:00
Narendra Modi
0.77
0.18
7/9/20 0:00
Narendra Modi
0.78
0.18
7/10/20 0:00
Narendra Modi
0.78
0.18
7/11/20 0:00
Narendra Modi
0.77
0.18
7/12/20 0:00
Narendra Modi
0.76
0.18
7/13/20 0:00
Narendra Modi
0.77
0.17
7/14/20 0:00
Narendra Modi
0.76
0.18
7/15/20 0:00
Narendra Modi
0.76
0.18
7/16/20 0:00
Narendra Modi
0.77
0.17
7/17/20 0:00
Narendra Modi
0.76
0.18
7/18/20 0:00
Narendra Modi
0.76
0.18
7/19/20 0:00
Narendra Modi
0.77
0.18
7/20/20 0:00
Narendra Modi
0.76
0.19
7/21/20 0:00
Narendra Modi
0.77
0.18
7/22/20 0:00
Narendra Modi
0.77
0.17
7/23/20 0:00
Narendra Modi
0.77
0.18
7/24/20 0:00
Narendra Modi
0.77
0.18
7/25/20 0:00
Narendra Modi
0.78
0.17
7/26/20 0:00
Narendra Modi
0.77
0.18
7/27/20 0:00
Narendra Modi
0.78
0.18
7/28/20 0:00
Narendra Modi
0.77
0.19
7/29/20 0:00
Narendra Modi
0.77
0.19
7/30/20 0:00
Narendra Modi
0.76
0.2
7/31/20 0:00
Narendra Modi
0.76
0.19
8/1/20 0:00
Narendra Modi
0.76
0.19
8/2/20 0:00
Narendra Modi
0.76
0.2
8/3/20 0:00
Narendra Modi
0.75
0.2
8/4/20 0:00
Narendra Modi
0.75
0.19
8/5/20 0:00
Narendra Modi
0.76
0.19
8/6/20 0:00
Narendra Modi
0.76
0.19
8/7/20 0:00
Narendra Modi
0.76
0.19
8/8/20 0:00
Narendra Modi
0.76
0.19
8/9/20 0:00
Narendra Modi
0.77
0.18
8/10/20 0:00
Narendra Modi
0.78
0.18
8/11/20 0:00
Narendra Modi
0.78
0.18
8/12/20 0:00
Narendra Modi
0.78
0.18
8/13/20 0:00
Narendra Modi
0.78
0.18
8/14/20 0:00
Narendra Modi
0.78
0.18
8/15/20 0:00
Narendra Modi
0.78
0.18
8/16/20 0:00
Narendra Modi
0.77
0.19
8/17/20 0:00
Narendra Modi
0.77
0.19
8/18/20 0:00
Narendra Modi
0.76
0.19
8/19/20 0:00
Narendra Modi
0.76
0.2
8/20/20 0:00
Narendra Modi
0.76
0.2
8/21/20 0:00
Narendra Modi
0.76
0.19
8/22/20 0:00
Narendra Modi
0.76
0.19
8/23/20 0:00
Narendra Modi
0.76
0.19
8/24/20 0:00
Narendra Modi
0.76
0.19
8/25/20 0:00
Narendra Modi
0.77
0.18
8/26/20 0:00
Narendra Modi
0.77
0.18
8/27/20 0:00
Narendra Modi
0.78
0.18
8/28/20 0:00
Narendra Modi
0.77
0.18
8/29/20 0:00
Narendra Modi
0.76
0.19
8/30/20 0:00
Narendra Modi
0.76
0.19
8/31/20 0:00
Narendra Modi
0.75
0.19
9/1/20 0:00
Narendra Modi
0.75
0.2
9/2/20 0:00
Narendra Modi
0.75
0.2
9/3/20 0:00
Narendra Modi
0.75
0.2
9/4/20 0:00
Narendra Modi
0.74
0.2
9/5/20 0:00
Narendra Modi
0.75
0.2
9/6/20 0:00
Narendra Modi
0.74
0.2
9/7/20 0:00
Narendra Modi
0.74
0.21
9/8/20 0:00
Narendra Modi
0.74
0.22
9/9/20 0:00
Narendra Modi
0.73
0.22
9/10/20 0:00
Narendra Modi
0.73
0.22
9/11/20 0:00
Narendra Modi
0.73
0.22
9/12/20 0:00
Narendra Modi
0.73
0.22
9/13/20 0:00
Narendra Modi
0.73
0.22
9/14/20 0:00
Narendra Modi
0.73
0.22
9/15/20 0:00
Narendra Modi
0.73
0.22
9/16/20 0:00
Narendra Modi
0.74
0.21
9/17/20 0:00
Narendra Modi
0.74
0.21
9/18/20 0:00
Narendra Modi
0.74
0.2
9/19/20 0:00
Narendra Modi
0.75
0.2
9/20/20 0:00
Narendra Modi
0.75
0.2
9/21/20 0:00
Narendra Modi
0.75
0.2
9/22/20 0:00
Narendra Modi
0.75
0.2
9/23/20 0:00
Narendra Modi
0.74
0.22
9/24/20 0:00
Narendra Modi
0.73
0.22
9/25/20 0:00
Narendra Modi
0.73
0.22
9/26/20 0:00
Narendra Modi
0.73
0.22
9/27/20 0:00
Narendra Modi
0.73
0.22
9/28/20 0:00
Narendra Modi
0.73
0.23
9/29/20 0:00
Narendra Modi
0.74
0.22
9/30/20 0:00
Narendra Modi
0.73
0.22
10/1/20 0:00
Narendra Modi
0.73
0.22
10/2/20 0:00
Narendra Modi
0.73
0.22
10/3/20 0:00
Narendra Modi
0.73
0.22
10/4/20 0:00
Narendra Modi
0.72
0.23
10/5/20 0:00
Narendra Modi
0.72
0.23
10/6/20 0:00
Narendra Modi
0.71
0.24
10/7/20 0:00
Narendra Modi
0.71
0.24
10/8/20 0:00
Narendra Modi
0.71
0.23
10/9/20 0:00
Narendra Modi
0.71
0.24
10/10/20 0:00
Narendra Modi
0.71
0.24
10/11/20 0:00
Narendra Modi
0.72
0.23
10/12/20 0:00
Narendra Modi
0.73
0.23
10/13/20 0:00
Narendra Modi
0.73
0.22
10/14/20 0:00
Narendra Modi
0.74
0.21
10/15/20 0:00
Narendra Modi
0.74
0.21
10/16/20 0:00
Narendra Modi
0.74
0.21
10/17/20 0:00
Narendra Modi
0.74
0.21
10/18/20 0:00
Narendra Modi
0.74
0.21
10/19/20 0:00
Narendra Modi
0.74
0.21
10/20/20 0:00
Narendra Modi
0.73
0.21
10/21/20 0:00
Narendra Modi
0.73
0.21
10/22/20 0:00
Narendra Modi
0.73
0.21
10/23/20 0:00
Narendra Modi
0.73
0.21
10/24/20 0:00
Narendra Modi
0.73
0.21
10/25/20 0:00
Narendra Modi
0.73
0.21
10/26/20 0:00
Narendra Modi
0.73
0.22
10/27/20 0:00
Narendra Modi
0.73
0.21
10/28/20 0:00
Narendra Modi
0.73
0.21
10/29/20 0:00
Narendra Modi
0.74
0.21
10/30/20 0:00
Narendra Modi
0.74
0.21
10/31/20 0:00
Narendra Modi
0.74
0.21
11/1/20 0:00
Narendra Modi
0.74
0.21
11/2/20 0:00
Narendra Modi
0.74
0.2
11/3/20 0:00
Narendra Modi
0.74
0.21
11/4/20 0:00
Narendra Modi
0.74
0.2
11/5/20 0:00
Narendra Modi
0.74
0.2
11/6/20 0:00
Narendra Modi
0.75
0.2
11/7/20 0:00
Narendra Modi
0.74
0.2
11/8/20 0:00
Narendra Modi
0.74
0.21
11/9/20 0:00
Narendra Modi
0.74
0.21
11/10/20 0:00
Narendra Modi
0.74
0.21
11/11/20 0:00
Narendra Modi
0.74
0.21
11/12/20 0:00
Narendra Modi
0.73
0.22
11/13/20 0:00
Narendra Modi
0.73
0.21
11/14/20 0:00
Narendra Modi
0.73
0.22
11/15/20 0:00
Narendra Modi
0.73
0.22
11/16/20 0:00
Narendra Modi
0.74
0.21
11/17/20 0:00
Narendra Modi
0.74
0.21
11/18/20 0:00
Narendra Modi
0.75
0.21
11/19/20 0:00
Narendra Modi
0.75
0.2
11/20/20 0:00
Narendra Modi
0.75
0.21
11/21/20 0:00
Narendra Modi
0.75
0.21
11/22/20 0:00
Narendra Modi
0.75
0.21
11/23/20 0:00
Narendra Modi
0.75
0.21
11/24/20 0:00
Narendra Modi
0.75
0.2
11/25/20 0:00
Narendra Modi
0.75
0.2
11/26/20 0:00
Narendra Modi
0.74
0.2
11/27/20 0:00
Narendra Modi
0.74
0.2
11/28/20 0:00
Narendra Modi
0.74
0.21
11/29/20 0:00
Narendra Modi
0.73
0.21
11/30/20 0:00
Narendra Modi
0.74
0.21
12/1/20 0:00
Narendra Modi
0.73
0.22
12/2/20 0:00
Narendra Modi
0.74
0.21
12/3/20 0:00
Narendra Modi
0.74
0.21
12/4/20 0:00
Narendra Modi
0.74
0.21
12/5/20 0:00
Narendra Modi
0.75
0.21
12/6/20 0:00
Narendra Modi
0.75
0.21
12/7/20 0:00
Narendra Modi
0.75
0.2
12/8/20 0:00
Narendra Modi
0.74
0.21
12/9/20 0:00
Narendra Modi
0.73
0.21
12/10/20 0:00
Narendra Modi
0.74
0.21
12/11/20 0:00
Narendra Modi
0.74
0.21
12/12/20 0:00
Narendra Modi
0.74
0.2
12/13/20 0:00
Narendra Modi
0.74
0.2
12/14/20 0:00
Narendra Modi
0.74
0.21
12/15/20 0:00
Narendra Modi
0.75
0.2
12/16/20 0:00
Narendra Modi
0.76
0.2
12/17/20 0:00
Narendra Modi
0.75
0.2
12/18/20 0:00
Narendra Modi
0.75
0.21
12/19/20 0:00
Narendra Modi
0.74
0.21
12/20/20 0:00
Narendra Modi
0.75
0.2
12/21/20 0:00
Narendra Modi
0.75
0.2
12/22/20 0:00
Narendra Modi
0.75
0.2
12/23/20 0:00
Narendra Modi
0.74
0.21
12/24/20 0:00
Narendra Modi
0.74
0.21
12/25/20 0:00
Narendra Modi
0.74
0.21
12/26/20 0:00
Narendra Modi
0.75
0.2
12/27/20 0:00
Narendra Modi
0.75
0.2
12/28/20 0:00
Narendra Modi
0.75
0.2
12/29/20 0:00
Narendra Modi
0.75
0.2
12/30/20 0:00
Narendra Modi
0.76
0.2
12/31/20 0:00
Narendra Modi
0.75
0.2
1/1/21 0:00
Narendra Modi
0.76
0.19
1/2/21 0:00
Narendra Modi
0.76
0.19
1/3/21 0:00
Narendra Modi
0.76
0.19
1/4/21 0:00
Narendra Modi
0.76
0.19
1/5/21 0:00
Narendra Modi
0.77
0.19
1/6/21 0:00
Narendra Modi
0.76
0.19
1/7/21 0:00
Narendra Modi
0.77
0.19
1/8/21 0:00
Narendra Modi
0.77
0.19
1/9/21 0:00
Narendra Modi
0.76
0.19
1/10/21 0:00
Narendra Modi
0.77
0.18
1/11/21 0:00
Narendra Modi
0.77
0.19
1/12/21 0:00
Narendra Modi
0.76
0.19
1/13/21 0:00
Narendra Modi
0.77
0.18
1/14/21 0:00
Narendra Modi
0.77
0.18
1/15/21 0:00
Narendra Modi
0.77
0.18
1/16/21 0:00
Narendra Modi
0.77
0.18
1/17/21 0:00
Narendra Modi
0.76
0.19
1/18/21 0:00
Narendra Modi
0.76
0.19
1/19/21 0:00
Narendra Modi
0.76
0.19
1/20/21 0:00
Narendra Modi
0.75
0.2
1/21/21 0:00
Narendra Modi
0.76
0.2
1/22/21 0:00
Narendra Modi
0.76
0.2
1/23/21 0:00
Narendra Modi
0.76
0.19
1/24/21 0:00
Narendra Modi
0.76
0.19
1/25/21 0:00
Narendra Modi
0.77
0.18
1/26/21 0:00
Narendra Modi
0.76
0.18
1/27/21 0:00
Narendra Modi
0.77
0.18
1/28/21 0:00
Narendra Modi
0.77
0.18
1/29/21 0:00
Narendra Modi
0.77
0.18
1/30/21 0:00
Narendra Modi
0.76
0.19
1/31/21 0:00
Narendra Modi
0.75
0.2
2/1/21 0:00
Narendra Modi
0.75
0.2
2/2/21 0:00
Narendra Modi
0.75
0.2
2/3/21 0:00
Narendra Modi
0.75
0.2
2/4/21 0:00
Narendra Modi
0.76
0.19
2/5/21 0:00
Narendra Modi
0.75
0.2
2/6/21 0:00
Narendra Modi
0.76
0.2
2/7/21 0:00
Narendra Modi
0.76
0.19
2/8/21 0:00
Narendra Modi
0.76
0.2
2/9/21 0:00
Narendra Modi
0.76
0.2
2/10/21 0:00
Narendra Modi
0.76
0.2
2/11/21 0:00
Narendra Modi
0.75
0.21
2/12/21 0:00
Narendra Modi
0.76
0.2
2/13/21 0:00
Narendra Modi
0.75
0.21
2/14/21 0:00
Narendra Modi
0.76
0.2
2/15/21 0:00
Narendra Modi
0.76
0.2
2/16/21 0:00
Narendra Modi
0.76
0.2
2/17/21 0:00
Narendra Modi
0.75
0.2
2/18/21 0:00
Narendra Modi
0.75
0.2
2/19/21 0:00
Narendra Modi
0.75
0.2
2/20/21 0:00
Narendra Modi
0.75
0.2
2/21/21 0:00
Narendra Modi
0.75
0.2
2/22/21 0:00
Narendra Modi
0.74
0.2
2/23/21 0:00
Narendra Modi
0.75
0.2
2/24/21 0:00
Narendra Modi
0.74
0.2
2/25/21 0:00
Narendra Modi
0.74
0.2
2/26/21 0:00
Narendra Modi
0.75
0.2
2/27/21 0:00
Narendra Modi
0.74
0.2
2/28/21 0:00
Narendra Modi
0.74
0.21
3/1/21 0:00
Narendra Modi
0.74
0.21
3/2/21 0:00
Narendra Modi
0.73
0.22
3/3/21 0:00
Narendra Modi
0.74
0.21
3/4/21 0:00
Narendra Modi
0.74
0.22
3/5/21 0:00
Narendra Modi
0.72
0.23
3/6/21 0:00
Narendra Modi
0.72
0.23
3/7/21 0:00
Narendra Modi
0.71
0.23
3/8/21 0:00
Narendra Modi
0.7
0.24
3/9/21 0:00
Narendra Modi
0.71
0.24
3/10/21 0:00
Narendra Modi
0.7
0.24
3/11/21 0:00
Narendra Modi
0.71
0.24
3/12/21 0:00
Narendra Modi
0.71
0.24
3/13/21 0:00
Narendra Modi
0.71
0.24
3/14/21 0:00
Narendra Modi
0.72
0.23
3/15/21 0:00
Narendra Modi
0.73
0.22
3/16/21 0:00
Narendra Modi
0.71
0.23
3/17/21 0:00
Narendra Modi
0.72
0.22
3/18/21 0:00
Narendra Modi
0.71
0.23
3/19/21 0:00
Narendra Modi
0.71
0.23
3/20/21 0:00
Narendra Modi
0.72
0.22
3/21/21 0:00
Narendra Modi
0.72
0.22
3/22/21 0:00
Narendra Modi
0.71
0.23
3/23/21 0:00
Narendra Modi
0.72
0.22
3/24/21 0:00
Narendra Modi
0.72
0.22
3/25/21 0:00
Narendra Modi
0.73
0.22
3/26/21 0:00
Narendra Modi
0.73
0.21
3/27/21 0:00
Narendra Modi
0.74
0.21
3/28/21 0:00
Narendra Modi
0.73
0.21
3/29/21 0:00
Narendra Modi
0.74
0.2
3/30/21 0:00
Narendra Modi
0.74
0.21
3/31/21 0:00
Narendra Modi
0.74
0.2
4/1/21 0:00
Narendra Modi
0.73
0.21
4/2/21 0:00
Narendra Modi
0.73
0.2
4/3/21 0:00
Narendra Modi
0.73
0.21
4/4/21 0:00
Narendra Modi
0.72
0.21
4/5/21 0:00
Narendra Modi
0.73
0.21
4/6/21 0:00
Narendra Modi
0.73
0.21
4/7/21 0:00
Narendra Modi
0.72
0.22
4/8/21 0:00
Narendra Modi
0.72
0.22
4/9/21 0:00
Narendra Modi
0.72
0.22
4/10/21 0:00
Narendra Modi
0.72
0.21
4/11/21 0:00
Narendra Modi
0.72
0.22
4/12/21 0:00
Narendra Modi
0.72
0.22
4/13/21 0:00
Narendra Modi
0.72
0.22
4/14/21 0:00
Narendra Modi
0.71
0.22
4/15/21 0:00
Narendra Modi
0.71
0.22
4/16/21 0:00
Narendra Modi
0.71
0.23
4/17/21 0:00
Narendra Modi
0.71
0.24
4/18/21 0:00
Narendra Modi
0.71
0.23
4/19/21 0:00
Narendra Modi
0.7
0.24
4/20/21 0:00
Narendra Modi
0.7
0.25
4/21/21 0:00
Narendra Modi
0.69
0.25
4/22/21 0:00
Narendra Modi
0.69
0.26
4/23/21 0:00
Narendra Modi
0.68
0.26
4/24/21 0:00
Narendra Modi
0.68
0.27
4/25/21 0:00
Narendra Modi
0.68
0.27
4/26/21 0:00
Narendra Modi
0.67
0.27
4/27/21 0:00
Narendra Modi
0.67
0.28
4/28/21 0:00
Narendra Modi
0.67
0.27
4/29/21 0:00
Narendra Modi
0.67
0.28
4/30/21 0:00
Narendra Modi
0.67
0.28
5/1/21 0:00
Narendra Modi
0.66
0.28
5/2/21 0:00
Narendra Modi
0.66
0.29
5/3/21 0:00
Narendra Modi
0.66
0.29
5/4/21 0:00
Narendra Modi
0.65
0.29
5/5/21 0:00
Narendra Modi
0.64
0.3
5/6/21 0:00
Narendra Modi
0.64
0.31
5/7/21 0:00
Narendra Modi
0.63
0.31
5/8/21 0:00
Narendra Modi
0.63
0.32
5/9/21 0:00
Narendra Modi
0.63
0.31
5/10/21 0:00
Narendra Modi
0.63
0.32
5/11/21 0:00
Narendra Modi
0.63
0.31
5/12/21 0:00
Narendra Modi
0.63
0.31
5/13/21 0:00
Narendra Modi
0.63
0.31
5/14/21 0:00
Narendra Modi
0.64
0.3
5/15/21 0:00
Narendra Modi
0.64
0.3
5/16/21 0:00
Narendra Modi
0.63
0.31
5/17/21 0:00
Narendra Modi
0.63
0.31
5/18/21 0:00
Narendra Modi
0.64
0.3
5/19/21 0:00
Narendra Modi
0.64
0.3
5/20/21 0:00
Narendra Modi
0.64
0.3
5/21/21 0:00
Narendra Modi
0.64
0.3
5/22/21 0:00
Narendra Modi
0.64
0.3
5/23/21 0:00
Narendra Modi
0.64
0.3
5/24/21 0:00
Narendra Modi
0.65
0.29
5/25/21 0:00
Narendra Modi
0.64
0.31
5/26/21 0:00
Narendra Modi
0.64
0.31
5/27/21 0:00
Narendra Modi
0.64
0.31
5/28/21 0:00
Narendra Modi
0.64
0.31
5/29/21 0:00
Narendra Modi
0.63
0.31
5/30/21 0:00
Narendra Modi
0.63
0.3
5/31/21 0:00
Narendra Modi
0.63
0.31
6/1/21 0:00
Narendra Modi
0.64
0.3
6/2/21 0:00
Narendra Modi
0.63
0.31
6/3/21 0:00
Narendra Modi
0.63
0.3
6/4/21 0:00
Narendra Modi
0.63
0.31
6/5/21 0:00
Narendra Modi
0.64
0.3
6/6/21 0:00
Narendra Modi
0.64
0.3
6/7/21 0:00
Narendra Modi
0.65
0.29
6/8/21 0:00
Narendra Modi
0.66
0.28
6/9/21 0:00
Narendra Modi
0.66
0.28
6/10/21 0:00
Narendra Modi
0.66
0.29
6/11/21 0:00
Narendra Modi
0.66
0.28
6/12/21 0:00
Narendra Modi
0.66
0.28
6/13/21 0:00
Narendra Modi
0.66
0.28
6/14/21 0:00
Narendra Modi
0.66
0.28
6/15/21 0:00
Narendra Modi
0.66
0.28
6/16/21 0:00
Narendra Modi
0.67
0.27
6/17/21 0:00
Narendra Modi
0.67
0.27
6/18/21 0:00
Narendra Modi
0.66
0.28
6/19/21 0:00
Narendra Modi
0.66
0.28
6/20/21 0:00
Narendra Modi
0.65
0.29
6/21/21 0:00
Narendra Modi
0.65
0.29
6/22/21 0:00
Narendra Modi
0.64
0.29
6/23/21 0:00
Narendra Modi
0.63
0.3
6/24/21 0:00
Narendra Modi
0.64
0.3
6/25/21 0:00
Narendra Modi
0.65
0.29
6/26/21 0:00
Narendra Modi
0.65
0.28
6/27/21 0:00
Narendra Modi
0.66
0.28
6/28/21 0:00
Narendra Modi
0.67
0.28
6/29/21 0:00
Narendra Modi
0.67
0.28
6/30/21 0:00
Narendra Modi
0.67
0.27
7/1/21 0:00
Narendra Modi
0.67
0.26
7/2/21 0:00
Narendra Modi
0.67
0.27
7/3/21 0:00
Narendra Modi
0.68
0.26
7/4/21 0:00
Narendra Modi
0.68
0.26
7/5/21 0:00
Narendra Modi
0.68
0.26
7/6/21 0:00
Narendra Modi
0.68
0.25
7/7/21 0:00
Narendra Modi
0.68
0.26
7/8/21 0:00
Narendra Modi
0.68
0.26
7/9/21 0:00
Narendra Modi
0.68
0.26
7/10/21 0:00
Narendra Modi
0.68
0.26
7/11/21 0:00
Narendra Modi
0.68
0.26
7/12/21 0:00
Narendra Modi
0.68
0.26
7/13/21 0:00
Narendra Modi
0.67
0.26
7/14/21 0:00
Narendra Modi
0.67
0.27
7/15/21 0:00
Narendra Modi
0.66
0.28
7/16/21 0:00
Narendra Modi
0.66
0.27
7/17/21 0:00
Narendra Modi
0.66
0.28
7/18/21 0:00
Narendra Modi
0.66
0.28
7/19/21 0:00
Narendra Modi
0.66
0.28
7/20/21 0:00
Narendra Modi
0.67
0.27
7/21/21 0:00
Narendra Modi
0.67
0.27
7/22/21 0:00
Narendra Modi
0.68
0.26
7/23/21 0:00
Narendra Modi
0.69
0.26
7/24/21 0:00
Narendra Modi
0.69
0.25
7/25/21 0:00
Narendra Modi
0.69
0.25
7/26/21 0:00
Narendra Modi
0.69
0.25
7/27/21 0:00
Narendra Modi
0.68
0.26
7/28/21 0:00
Narendra Modi
0.69
0.25
7/29/21 0:00
Narendra Modi
0.68
0.26
7/30/21 0:00
Narendra Modi
0.67
0.26
7/31/21 0:00
Narendra Modi
0.66
0.27
8/1/21 0:00
Narendra Modi
0.66
0.27
8/2/21 0:00
Narendra Modi
0.67
0.26
8/3/21 0:00
Narendra Modi
0.67
0.26
8/4/21 0:00
Narendra Modi
0.68
0.26
8/5/21 0:00
Narendra Modi
0.68
0.26
8/6/21 0:00
Narendra Modi
0.68
0.26
8/7/21 0:00
Narendra Modi
0.68
0.25
8/8/21 0:00
Narendra Modi
0.68
0.25
8/9/21 0:00
Narendra Modi
0.68
0.26
8/10/21 0:00
Narendra Modi
0.69
0.25
8/11/21 0:00
Narendra Modi
0.68
0.25
8/12/21 0:00
Narendra Modi
0.69
0.25
8/13/21 0:00
Narendra Modi
0.69
0.26
8/14/21 0:00
Narendra Modi
0.69
0.26
8/15/21 0:00
Narendra Modi
0.69
0.25
8/16/21 0:00
Narendra Modi
0.7
0.25
8/17/21 0:00
Narendra Modi
0.7
0.24
8/18/21 0:00
Narendra Modi
0.71
0.23
8/19/21 0:00
Narendra Modi
0.71
0.22
8/20/21 0:00
Narendra Modi
0.72
0.22
8/21/21 0:00
Narendra Modi
0.72
0.22
8/22/21 0:00
Narendra Modi
0.72
0.22
8/23/21 0:00
Narendra Modi
0.72
0.22
8/24/21 0:00
Narendra Modi
0.71
0.23
8/25/21 0:00
Narendra Modi
0.7
0.24
8/26/21 0:00
Narendra Modi
0.7
0.24
8/27/21 0:00
Narendra Modi
0.7
0.24
8/28/21 0:00
Narendra Modi
0.7
0.24
8/29/21 0:00
Narendra Modi
0.7
0.25
8/30/21 0:00
Narendra Modi
0.7
0.25
8/31/21 0:00
Narendra Modi
0.7
0.25
9/1/21 0:00
Narendra Modi
0.71
0.24
9/2/21 0:00
Narendra Modi
0.71
0.24
9/3/21 0:00
Narendra Modi
0.71
0.24
9/4/21 0:00
Narendra Modi
0.71
0.23
9/5/21 0:00
Narendra Modi
0.71
0.23
9/6/21 0:00
Narendra Modi
0.71
0.23
9/7/21 0:00
Narendra Modi
0.71
0.23
9/8/21 0:00
Narendra Modi
0.71
0.24
9/9/21 0:00
Narendra Modi
0.71
0.24
9/10/21 0:00
Narendra Modi
0.7
0.24
9/11/21 0:00
Narendra Modi
0.7
0.24
9/12/21 0:00
Narendra Modi
0.71
0.23
9/13/21 0:00
Narendra Modi
0.71
0.22
9/14/21 0:00
Narendra Modi
0.71
0.22
9/15/21 0:00
Narendra Modi
0.72
0.22
9/16/21 0:00
Narendra Modi
0.73
0.2
9/17/21 0:00
Narendra Modi
0.73
0.21
9/18/21 0:00
Narendra Modi
0.73
0.21
9/19/21 0:00
Narendra Modi
0.73
0.21
9/20/21 0:00
Narendra Modi
0.73
0.21
9/21/21 0:00
Narendra Modi
0.73
0.22
9/22/21 0:00
Narendra Modi
0.72
0.23
9/23/21 0:00
Narendra Modi
0.71
0.23
9/24/21 0:00
Narendra Modi
0.71
0.23
9/25/21 0:00
Narendra Modi
0.72
0.23
9/26/21 0:00
Narendra Modi
0.72
0.23
9/27/21 0:00
Narendra Modi
0.72
0.23
9/28/21 0:00
Narendra Modi
0.72
0.22
9/29/21 0:00
Narendra Modi
0.72
0.22
9/30/21 0:00
Narendra Modi
0.72
0.22
10/1/21 0:00
Narendra Modi
0.72
0.22
10/2/21 0:00
Narendra Modi
0.72
0.22
10/3/21 0:00
Narendra Modi
0.72
0.22
10/4/21 0:00
Narendra Modi
0.72
0.22
10/5/21 0:00
Narendra Modi
0.72
0.23
10/6/21 0:00
Narendra Modi
0.73
0.22
10/7/21 0:00
Narendra Modi
0.73
0.22
10/8/21 0:00
Narendra Modi
0.73
0.22
10/9/21 0:00
Narendra Modi
0.73
0.22
10/10/21 0:00
Narendra Modi
0.72
0.23
10/11/21 0:00
Narendra Modi
0.72
0.23
10/12/21 0:00
Narendra Modi
0.72
0.23
10/13/21 0:00
Narendra Modi
0.72
0.23
10/14/21 0:00
Narendra Modi
0.72
0.23
10/15/21 0:00
Narendra Modi
0.71
0.23
10/16/21 0:00
Narendra Modi
0.71
0.23
10/17/21 0:00
Narendra Modi
0.72
0.22
10/18/21 0:00
Narendra Modi
0.71
0.23
10/19/21 0:00
Narendra Modi
0.71
0.22
10/20/21 0:00
Narendra Modi
0.72
0.22
10/21/21 0:00
Narendra Modi
0.72
0.22
10/22/21 0:00
Narendra Modi
0.72
0.22
10/23/21 0:00
Narendra Modi
0.72
0.23
10/24/21 0:00
Narendra Modi
0.71
0.23
10/25/21 0:00
Narendra Modi
0.7
0.23
10/26/21 0:00
Narendra Modi
0.7
0.24
10/27/21 0:00
Narendra Modi
0.69
0.24
10/28/21 0:00
Narendra Modi
0.69
0.24
10/29/21 0:00
Narendra Modi
0.69
0.25
10/30/21 0:00
Narendra Modi
0.69
0.25
10/31/21 0:00
Narendra Modi
0.69
0.25
11/1/21 0:00
Narendra Modi
0.69
0.25
11/2/21 0:00
Narendra Modi
0.7
0.24
11/3/21 0:00
Narendra Modi
0.71
0.24
11/4/21 0:00
Narendra Modi
0.7
0.25
11/5/21 0:00
Narendra Modi
0.7
0.25
11/6/21 0:00
Narendra Modi
0.7
0.24
11/7/21 0:00
Narendra Modi
0.7
0.24
11/8/21 0:00
Narendra Modi
0.69
0.24
11/9/21 0:00
Narendra Modi
0.68
0.25
11/10/21 0:00
Narendra Modi
0.67
0.26
11/11/21 0:00
Narendra Modi
0.68
0.25
11/12/21 0:00
Narendra Modi
0.68
0.25
11/13/21 0:00
Narendra Modi
0.68
0.24
11/14/21 0:00
Narendra Modi
0.69
0.24
11/15/21 0:00
Narendra Modi
0.69
0.24
11/16/21 0:00
Narendra Modi
0.7
0.24
11/17/21 0:00
Narendra Modi
0.7
0.24
11/18/21 0:00
Narendra Modi
0.7
0.24
11/19/21 0:00
Narendra Modi
0.7
0.24
11/20/21 0:00
Narendra Modi
0.7
0.24
11/21/21 0:00
Narendra Modi
0.7
0.23
11/22/21 0:00
Narendra Modi
0.71
0.23
11/23/21 0:00
Narendra Modi
0.71
0.23
11/24/21 0:00
Narendra Modi
0.71
0.23
11/25/21 0:00
Narendra Modi
0.71
0.22
11/26/21 0:00
Narendra Modi
0.71
0.23
11/27/21 0:00
Narendra Modi
0.7
0.23
11/28/21 0:00
Narendra Modi
0.7
0.24
11/29/21 0:00
Narendra Modi
0.69
0.25
11/30/21 0:00
Narendra Modi
0.69
0.24
12/1/21 0:00
Narendra Modi
0.7
0.24
12/2/21 0:00
Narendra Modi
0.7
0.24
12/3/21 0:00
Narendra Modi
0.71
0.24
12/4/21 0:00
Narendra Modi
0.71
0.23
12/5/21 0:00
Narendra Modi
0.72
0.23
12/6/21 0:00
Narendra Modi
0.73
0.22
12/7/21 0:00
Narendra Modi
0.72
0.22
6/11/20 0:00
Moon Jae-in
0.55
0.36
6/12/20 0:00
Moon Jae-in
0.57
0.35
6/13/20 0:00
Moon Jae-in
0.58
0.33
6/14/20 0:00
Moon Jae-in
0.58
0.33
6/15/20 0:00
Moon Jae-in
0.58
0.34
6/16/20 0:00
Moon Jae-in
0.56
0.35
6/17/20 0:00
Moon Jae-in
0.56
0.34
6/18/20 0:00
Moon Jae-in
0.56
0.35
6/19/20 0:00
Moon Jae-in
0.55
0.36
6/20/20 0:00
Moon Jae-in
0.54
0.37
6/21/20 0:00
Moon Jae-in
0.53
0.38
6/22/20 0:00
Moon Jae-in
0.52
0.39
6/23/20 0:00
Moon Jae-in
0.54
0.37
6/24/20 0:00
Moon Jae-in
0.53
0.38
6/25/20 0:00
Moon Jae-in
0.53
0.39
6/26/20 0:00
Moon Jae-in
0.51
0.4
6/27/20 0:00
Moon Jae-in
0.52
0.4
6/28/20 0:00
Moon Jae-in
0.55
0.37
6/29/20 0:00
Moon Jae-in
0.56
0.36
6/30/20 0:00
Moon Jae-in
0.56
0.36
7/1/20 0:00
Moon Jae-in
0.55
0.36
7/2/20 0:00
Moon Jae-in
0.56
0.35
7/3/20 0:00
Moon Jae-in
0.56
0.36
7/4/20 0:00
Moon Jae-in
0.56
0.36
7/5/20 0:00
Moon Jae-in
0.55
0.36
7/6/20 0:00
Moon Jae-in
0.53
0.37
7/7/20 0:00
Moon Jae-in
0.53
0.38
7/8/20 0:00
Moon Jae-in
0.54
0.37
7/9/20 0:00
Moon Jae-in
0.54
0.37
7/10/20 0:00
Moon Jae-in
0.54
0.38
7/11/20 0:00
Moon Jae-in
0.53
0.38
7/12/20 0:00
Moon Jae-in
0.53
0.39
7/13/20 0:00
Moon Jae-in
0.53
0.39
7/14/20 0:00
Moon Jae-in
0.53
0.38
7/15/20 0:00
Moon Jae-in
0.51
0.4
7/16/20 0:00
Moon Jae-in
0.51
0.4
7/17/20 0:00
Moon Jae-in
0.5
0.4
7/18/20 0:00
Moon Jae-in
0.5
0.4
7/19/20 0:00
Moon Jae-in
0.5
0.38
7/20/20 0:00
Moon Jae-in
0.51
0.37
7/21/20 0:00
Moon Jae-in
0.5
0.39
7/22/20 0:00
Moon Jae-in
0.51
0.38
7/23/20 0:00
Moon Jae-in
0.49
0.39
7/24/20 0:00
Moon Jae-in
0.5
0.4
7/25/20 0:00
Moon Jae-in
0.48
0.42
7/26/20 0:00
Moon Jae-in
0.45
0.45
7/27/20 0:00
Moon Jae-in
0.45
0.46
7/28/20 0:00
Moon Jae-in
0.45
0.45
7/29/20 0:00
Moon Jae-in
0.44
0.46
7/30/20 0:00
Moon Jae-in
0.46
0.44
7/31/20 0:00
Moon Jae-in
0.46
0.45
8/1/20 0:00
Moon Jae-in
0.45
0.45
8/2/20 0:00
Moon Jae-in
0.47
0.44
8/3/20 0:00
Moon Jae-in
0.47
0.43
8/4/20 0:00
Moon Jae-in
0.48
0.43
8/5/20 0:00
Moon Jae-in
0.5
0.4
8/6/20 0:00
Moon Jae-in
0.5
0.4
8/7/20 0:00
Moon Jae-in
0.52
0.38
8/8/20 0:00
Moon Jae-in
0.53
0.37
8/9/20 0:00
Moon Jae-in
0.53
0.38
8/10/20 0:00
Moon Jae-in
0.51
0.39
8/11/20 0:00
Moon Jae-in
0.52
0.39
8/12/20 0:00
Moon Jae-in
0.53
0.39
8/13/20 0:00
Moon Jae-in
0.53
0.39
8/14/20 0:00
Moon Jae-in
0.52
0.4
8/15/20 0:00
Moon Jae-in
0.53
0.4
8/16/20 0:00
Moon Jae-in
0.54
0.39
8/17/20 0:00
Moon Jae-in
0.54
0.38
8/18/20 0:00
Moon Jae-in
0.52
0.4
8/19/20 0:00
Moon Jae-in
0.51
0.41
8/20/20 0:00
Moon Jae-in
0.52
0.4
8/21/20 0:00
Moon Jae-in
0.53
0.4
8/22/20 0:00
Moon Jae-in
0.52
0.4
8/23/20 0:00
Moon Jae-in
0.52
0.4
8/24/20 0:00
Moon Jae-in
0.52
0.41
8/25/20 0:00
Moon Jae-in
0.54
0.39
8/26/20 0:00
Moon Jae-in
0.54
0.38
8/27/20 0:00
Moon Jae-in
0.52
0.4
8/28/20 0:00
Moon Jae-in
0.52
0.39
8/29/20 0:00
Moon Jae-in
0.53
0.38
8/30/20 0:00
Moon Jae-in
0.54
0.37
8/31/20 0:00
Moon Jae-in
0.54
0.37
9/1/20 0:00
Moon Jae-in
0.54
0.38
9/2/20 0:00
Moon Jae-in
0.52
0.39
9/3/20 0:00
Moon Jae-in
0.54
0.38
9/4/20 0:00
Moon Jae-in
0.52
0.39
9/5/20 0:00
Moon Jae-in
0.53
0.39
9/6/20 0:00
Moon Jae-in
0.51
0.4
9/7/20 0:00
Moon Jae-in
0.51
0.4
9/8/20 0:00
Moon Jae-in
0.51
0.4
9/9/20 0:00
Moon Jae-in
0.52
0.39
9/10/20 0:00
Moon Jae-in
0.5
0.4
9/11/20 0:00
Moon Jae-in
0.5
0.41
9/12/20 0:00
Moon Jae-in
0.49
0.42
9/13/20 0:00
Moon Jae-in
0.49
0.42
9/14/20 0:00
Moon Jae-in
0.49
0.41
9/15/20 0:00
Moon Jae-in
0.49
0.41
9/16/20 0:00
Moon Jae-in
0.5
0.41
9/17/20 0:00
Moon Jae-in
0.5
0.41
9/18/20 0:00
Moon Jae-in
0.5
0.41
9/19/20 0:00
Moon Jae-in
0.5
0.41
9/20/20 0:00
Moon Jae-in
0.51
0.41
9/21/20 0:00
Moon Jae-in
0.5
0.41
9/22/20 0:00
Moon Jae-in
0.5
0.41
9/23/20 0:00
Moon Jae-in
0.49
0.42
9/24/20 0:00
Moon Jae-in
0.48
0.42
9/25/20 0:00
Moon Jae-in
0.49
0.42
9/26/20 0:00
Moon Jae-in
0.48
0.42
9/27/20 0:00
Moon Jae-in
0.47
0.43
9/28/20 0:00
Moon Jae-in
0.47
0.43
9/29/20 0:00
Moon Jae-in
0.46
0.42
9/30/20 0:00
Moon Jae-in
0.47
0.41
10/1/20 0:00
Moon Jae-in
0.49
0.39
10/2/20 0:00
Moon Jae-in
0.49
0.39
10/3/20 0:00
Moon Jae-in
0.5
0.39
10/4/20 0:00
Moon Jae-in
0.51
0.39
10/5/20 0:00
Moon Jae-in
0.49
0.4
10/6/20 0:00
Moon Jae-in
0.5
0.41
10/7/20 0:00
Moon Jae-in
0.47
0.44
10/8/20 0:00
Moon Jae-in
0.45
0.46
10/9/20 0:00
Moon Jae-in
0.46
0.44
10/10/20 0:00
Moon Jae-in
0.45
0.45
10/11/20 0:00
Moon Jae-in
0.46
0.45
10/12/20 0:00
Moon Jae-in
0.46
0.45
10/13/20 0:00
Moon Jae-in
0.45
0.45
10/14/20 0:00
Moon Jae-in
0.47
0.43
10/15/20 0:00
Moon Jae-in
0.49
0.42
10/16/20 0:00
Moon Jae-in
0.49
0.42
10/17/20 0:00
Moon Jae-in
0.5
0.42
10/18/20 0:00
Moon Jae-in
0.5
0.42
10/19/20 0:00
Moon Jae-in
0.52
0.4
10/20/20 0:00
Moon Jae-in
0.52
0.41
10/21/20 0:00
Moon Jae-in
0.51
0.43
10/22/20 0:00
Moon Jae-in
0.5
0.43
10/23/20 0:00
Moon Jae-in
0.49
0.44
10/24/20 0:00
Moon Jae-in
0.49
0.45
10/25/20 0:00
Moon Jae-in
0.47
0.46
10/26/20 0:00
Moon Jae-in
0.46
0.47
10/27/20 0:00
Moon Jae-in
0.47
0.45
10/28/20 0:00
Moon Jae-in
0.46
0.45
10/29/20 0:00
Moon Jae-in
0.47
0.44
10/30/20 0:00
Moon Jae-in
0.46
0.45
10/31/20 0:00
Moon Jae-in
0.47
0.43
11/1/20 0:00
Moon Jae-in
0.51
0.41
11/2/20 0:00
Moon Jae-in
0.5
0.41
11/3/20 0:00
Moon Jae-in
0.49
0.42
11/4/20 0:00
Moon Jae-in
0.49
0.41
11/5/20 0:00
Moon Jae-in
0.49
0.42
11/6/20 0:00
Moon Jae-in
0.5
0.41
11/7/20 0:00
Moon Jae-in
0.48
0.43
11/8/20 0:00
Moon Jae-in
0.44
0.46
11/9/20 0:00
Moon Jae-in
0.45
0.45
11/10/20 0:00
Moon Jae-in
0.44
0.46
11/11/20 0:00
Moon Jae-in
0.46
0.44
11/12/20 0:00
Moon Jae-in
0.45
0.45
11/13/20 0:00
Moon Jae-in
0.45
0.45
11/14/20 0:00
Moon Jae-in
0.47
0.44
11/15/20 0:00
Moon Jae-in
0.48
0.43
11/16/20 0:00
Moon Jae-in
0.48
0.43
11/17/20 0:00
Moon Jae-in
0.49
0.42
11/18/20 0:00
Moon Jae-in
0.48
0.42
11/19/20 0:00
Moon Jae-in
0.49
0.42
11/20/20 0:00
Moon Jae-in
0.49
0.41
11/21/20 0:00
Moon Jae-in
0.48
0.42
11/22/20 0:00
Moon Jae-in
0.5
0.41
11/23/20 0:00
Moon Jae-in
0.49
0.42
11/24/20 0:00
Moon Jae-in
0.47
0.43
11/25/20 0:00
Moon Jae-in
0.47
0.43
11/26/20 0:00
Moon Jae-in
0.46
0.43
11/27/20 0:00
Moon Jae-in
0.46
0.44
11/28/20 0:00
Moon Jae-in
0.47
0.44
11/29/20 0:00
Moon Jae-in
0.45
0.45
11/30/20 0:00
Moon Jae-in
0.45
0.44
12/1/20 0:00
Moon Jae-in
0.45
0.45
12/2/20 0:00
Moon Jae-in
0.45
0.45
12/3/20 0:00
Moon Jae-in
0.45
0.46
12/4/20 0:00
Moon Jae-in
0.45
0.45
12/5/20 0:00
Moon Jae-in
0.43
0.48
12/6/20 0:00
Moon Jae-in
0.44
0.47
12/7/20 0:00
Moon Jae-in
0.45
0.47
12/8/20 0:00
Moon Jae-in
0.44
0.47
12/9/20 0:00
Moon Jae-in
0.45
0.47
12/10/20 0:00
Moon Jae-in
0.44
0.46
12/11/20 0:00
Moon Jae-in
0.45
0.46
12/12/20 0:00
Moon Jae-in
0.45
0.45
12/13/20 0:00
Moon Jae-in
0.45
0.45
12/14/20 0:00
Moon Jae-in
0.45
0.46
12/15/20 0:00
Moon Jae-in
0.46
0.45
12/16/20 0:00
Moon Jae-in
0.46
0.45
12/17/20 0:00
Moon Jae-in
0.45
0.46
12/18/20 0:00
Moon Jae-in
0.44
0.46
12/19/20 0:00
Moon Jae-in
0.44
0.47
12/20/20 0:00
Moon Jae-in
0.45
0.46
12/21/20 0:00
Moon Jae-in
0.44
0.46
12/22/20 0:00
Moon Jae-in
0.44
0.46
12/23/20 0:00
Moon Jae-in
0.44
0.46
12/24/20 0:00
Moon Jae-in
0.45
0.46
12/25/20 0:00
Moon Jae-in
0.44
0.46
12/26/20 0:00
Moon Jae-in
0.44
0.47
12/27/20 0:00
Moon Jae-in
0.42
0.48
12/28/20 0:00
Moon Jae-in
0.41
0.49
12/29/20 0:00
Moon Jae-in
0.4
0.5
12/30/20 0:00
Moon Jae-in
0.4
0.51
12/31/20 0:00
Moon Jae-in
0.39
0.51
1/1/21 0:00
Moon Jae-in
0.4
0.51
1/2/21 0:00
Moon Jae-in
0.39
0.5
1/3/21 0:00
Moon Jae-in
0.39
0.51
1/4/21 0:00
Moon Jae-in
0.39
0.5
1/5/21 0:00
Moon Jae-in
0.4
0.49
1/6/21 0:00
Moon Jae-in
0.4
0.49
1/7/21 0:00
Moon Jae-in
0.41
0.49
1/8/21 0:00
Moon Jae-in
0.4
0.5
1/9/21 0:00
Moon Jae-in
0.42
0.49
1/10/21 0:00
Moon Jae-in
0.42
0.48
1/11/21 0:00
Moon Jae-in
0.41
0.49
1/12/21 0:00
Moon Jae-in
0.42
0.49
1/13/21 0:00
Moon Jae-in
0.41
0.5
1/14/21 0:00
Moon Jae-in
0.42
0.49
1/15/21 0:00
Moon Jae-in
0.43
0.49
1/16/21 0:00
Moon Jae-in
0.41
0.5
1/17/21 0:00
Moon Jae-in
0.41
0.5
1/18/21 0:00
Moon Jae-in
0.43
0.49
1/19/21 0:00
Moon Jae-in
0.42
0.5
1/20/21 0:00
Moon Jae-in
0.42
0.49
1/21/21 0:00
Moon Jae-in
0.42
0.49
1/22/21 0:00
Moon Jae-in
0.41
0.48
1/23/21 0:00
Moon Jae-in
0.42
0.48
1/24/21 0:00
Moon Jae-in
0.42
0.48
1/25/21 0:00
Moon Jae-in
0.42
0.48
1/26/21 0:00
Moon Jae-in
0.42
0.47
1/27/21 0:00
Moon Jae-in
0.42
0.48
1/28/21 0:00
Moon Jae-in
0.42
0.47
1/29/21 0:00
Moon Jae-in
0.42
0.48
1/30/21 0:00
Moon Jae-in
0.42
0.48
1/31/21 0:00
Moon Jae-in
0.42
0.48
2/1/21 0:00
Moon Jae-in
0.41
0.49
2/2/21 0:00
Moon Jae-in
0.42
0.47
2/3/21 0:00
Moon Jae-in
0.41
0.48
2/4/21 0:00
Moon Jae-in
0.41
0.49
2/5/21 0:00
Moon Jae-in
0.42
0.48
2/6/21 0:00
Moon Jae-in
0.42
0.47
2/7/21 0:00
Moon Jae-in
0.41
0.48
2/8/21 0:00
Moon Jae-in
0.42
0.46
2/9/21 0:00
Moon Jae-in
0.42
0.46
2/10/21 0:00
Moon Jae-in
0.43
0.46
2/11/21 0:00
Moon Jae-in
0.43
0.46
2/12/21 0:00
Moon Jae-in
0.42
0.46
2/13/21 0:00
Moon Jae-in
0.42
0.47
2/14/21 0:00
Moon Jae-in
0.43
0.46
2/15/21 0:00
Moon Jae-in
0.42
0.47
2/16/21 0:00
Moon Jae-in
0.4
0.48
2/17/21 0:00
Moon Jae-in
0.41
0.48
2/18/21 0:00
Moon Jae-in
0.4
0.49
2/19/21 0:00
Moon Jae-in
0.4
0.49
2/20/21 0:00
Moon Jae-in
0.39
0.5
2/21/21 0:00
Moon Jae-in
0.4
0.5
2/22/21 0:00
Moon Jae-in
0.39
0.5
2/23/21 0:00
Moon Jae-in
0.41
0.49
2/24/21 0:00
Moon Jae-in
0.41
0.48
2/25/21 0:00
Moon Jae-in
0.42
0.47
2/26/21 0:00
Moon Jae-in
0.42
0.47
2/27/21 0:00
Moon Jae-in
0.43
0.46
2/28/21 0:00
Moon Jae-in
0.44
0.46
3/1/21 0:00
Moon Jae-in
0.45
0.45
3/2/21 0:00
Moon Jae-in
0.44
0.46
3/3/21 0:00
Moon Jae-in
0.45
0.46
3/4/21 0:00
Moon Jae-in
0.44
0.48
3/5/21 0:00
Moon Jae-in
0.43
0.48
3/6/21 0:00
Moon Jae-in
0.43
0.49
3/7/21 0:00
Moon Jae-in
0.42
0.5
3/8/21 0:00
Moon Jae-in
0.41
0.51
3/9/21 0:00
Moon Jae-in
0.4
0.51
3/10/21 0:00
Moon Jae-in
0.39
0.52
3/11/21 0:00
Moon Jae-in
0.39
0.51
3/12/21 0:00
Moon Jae-in
0.38
0.52
3/13/21 0:00
Moon Jae-in
0.41
0.5
3/14/21 0:00
Moon Jae-in
0.41
0.5
3/15/21 0:00
Moon Jae-in
0.4
0.5
3/16/21 0:00
Moon Jae-in
0.39
0.5
3/17/21 0:00
Moon Jae-in
0.38
0.51
3/18/21 0:00
Moon Jae-in
0.39
0.5
3/19/21 0:00
Moon Jae-in
0.4
0.5
3/20/21 0:00
Moon Jae-in
0.37
0.52
3/21/21 0:00
Moon Jae-in
0.39
0.51
3/22/21 0:00
Moon Jae-in
0.4
0.51
3/23/21 0:00
Moon Jae-in
0.4
0.5
3/24/21 0:00
Moon Jae-in
0.4
0.5
3/25/21 0:00
Moon Jae-in
0.4
0.51
3/26/21 0:00
Moon Jae-in
0.4
0.51
3/27/21 0:00
Moon Jae-in
0.39
0.52
3/28/21 0:00
Moon Jae-in
0.38
0.52
3/29/21 0:00
Moon Jae-in
0.37
0.54
3/30/21 0:00
Moon Jae-in
0.38
0.54
3/31/21 0:00
Moon Jae-in
0.38
0.54
4/1/21 0:00
Moon Jae-in
0.37
0.55
4/2/21 0:00
Moon Jae-in
0.37
0.55
4/3/21 0:00
Moon Jae-in
0.37
0.55
4/4/21 0:00
Moon Jae-in
0.37
0.55
4/5/21 0:00
Moon Jae-in
0.37
0.55
4/6/21 0:00
Moon Jae-in
0.37
0.55
4/7/21 0:00
Moon Jae-in
0.37
0.55
4/8/21 0:00
Moon Jae-in
0.37
0.54
4/9/21 0:00
Moon Jae-in
0.36
0.55
4/10/21 0:00
Moon Jae-in
0.36
0.55
4/11/21 0:00
Moon Jae-in
0.36
0.54
4/12/21 0:00
Moon Jae-in
0.37
0.54
4/13/21 0:00
Moon Jae-in
0.36
0.54
4/14/21 0:00
Moon Jae-in
0.36
0.55
4/15/21 0:00
Moon Jae-in
0.36
0.56
4/16/21 0:00
Moon Jae-in
0.37
0.55
4/17/21 0:00
Moon Jae-in
0.37
0.56
4/18/21 0:00
Moon Jae-in
0.37
0.57
4/19/21 0:00
Moon Jae-in
0.35
0.58
4/20/21 0:00
Moon Jae-in
0.34
0.58
4/21/21 0:00
Moon Jae-in
0.34
0.58
4/22/21 0:00
Moon Jae-in
0.33
0.58
4/23/21 0:00
Moon Jae-in
0.33
0.58
4/24/21 0:00
Moon Jae-in
0.33
0.58
4/25/21 0:00
Moon Jae-in
0.33
0.58
4/26/21 0:00
Moon Jae-in
0.34
0.57
4/27/21 0:00
Moon Jae-in
0.34
0.57
4/28/21 0:00
Moon Jae-in
0.34
0.57
4/29/21 0:00
Moon Jae-in
0.35
0.57
4/30/21 0:00
Moon Jae-in
0.36
0.56
5/1/21 0:00
Moon Jae-in
0.35
0.55
5/2/21 0:00
Moon Jae-in
0.35
0.55
5/3/21 0:00
Moon Jae-in
0.35
0.55
5/4/21 0:00
Moon Jae-in
0.35
0.56
5/5/21 0:00
Moon Jae-in
0.35
0.56
5/6/21 0:00
Moon Jae-in
0.35
0.56
5/7/21 0:00
Moon Jae-in
0.35
0.58
5/8/21 0:00
Moon Jae-in
0.35
0.58
5/9/21 0:00
Moon Jae-in
0.35
0.59
5/10/21 0:00
Moon Jae-in
0.34
0.59
5/11/21 0:00
Moon Jae-in
0.34
0.6
5/12/21 0:00
Moon Jae-in
0.34
0.6
5/13/21 0:00
Moon Jae-in
0.34
0.59
5/14/21 0:00
Moon Jae-in
0.35
0.58
5/15/21 0:00
Moon Jae-in
0.36
0.57
5/16/21 0:00
Moon Jae-in
0.35
0.57
5/17/21 0:00
Moon Jae-in
0.35
0.58
5/18/21 0:00
Moon Jae-in
0.35
0.57
5/19/21 0:00
Moon Jae-in
0.35
0.56
5/20/21 0:00
Moon Jae-in
0.35
0.58
5/21/21 0:00
Moon Jae-in
0.33
0.59
5/22/21 0:00
Moon Jae-in
0.32
0.6
5/23/21 0:00
Moon Jae-in
0.32
0.59
5/24/21 0:00
Moon Jae-in
0.34
0.57
5/25/21 0:00
Moon Jae-in
0.34
0.58
5/26/21 0:00
Moon Jae-in
0.34
0.58
5/27/21 0:00
Moon Jae-in
0.35
0.57
5/28/21 0:00
Moon Jae-in
0.35
0.57
5/29/21 0:00
Moon Jae-in
0.36
0.57
5/30/21 0:00
Moon Jae-in
0.36
0.57
5/31/21 0:00
Moon Jae-in
0.35
0.57
6/1/21 0:00
Moon Jae-in
0.35
0.57
6/2/21 0:00
Moon Jae-in
0.35
0.57
6/3/21 0:00
Moon Jae-in
0.36
0.56
6/4/21 0:00
Moon Jae-in
0.36
0.55
6/5/21 0:00
Moon Jae-in
0.37
0.55
6/6/21 0:00
Moon Jae-in
0.38
0.55
6/7/21 0:00
Moon Jae-in
0.38
0.55
6/8/21 0:00
Moon Jae-in
0.39
0.53
6/9/21 0:00
Moon Jae-in
0.39
0.53
6/10/21 0:00
Moon Jae-in
0.38
0.54
6/11/21 0:00
Moon Jae-in
0.38
0.54
6/12/21 0:00
Moon Jae-in
0.38
0.54
6/13/21 0:00
Moon Jae-in
0.37
0.54
6/14/21 0:00
Moon Jae-in
0.38
0.54
6/15/21 0:00
Moon Jae-in
0.37
0.55
6/16/21 0:00
Moon Jae-in
0.37
0.55
6/17/21 0:00
Moon Jae-in
0.37
0.54
6/18/21 0:00
Moon Jae-in
0.38
0.54
6/19/21 0:00
Moon Jae-in
0.36
0.55
6/20/21 0:00
Moon Jae-in
0.36
0.55
6/21/21 0:00
Moon Jae-in
0.37
0.54
6/22/21 0:00
Moon Jae-in
0.36
0.56
6/23/21 0:00
Moon Jae-in
0.37
0.55
6/24/21 0:00
Moon Jae-in
0.38
0.53
6/25/21 0:00
Moon Jae-in
0.39
0.53
6/26/21 0:00
Moon Jae-in
0.39
0.53
6/27/21 0:00
Moon Jae-in
0.39
0.54
6/28/21 0:00
Moon Jae-in
0.38
0.55
6/29/21 0:00
Moon Jae-in
0.4
0.54
6/30/21 0:00
Moon Jae-in
0.38
0.54
7/1/21 0:00
Moon Jae-in
0.38
0.55
7/2/21 0:00
Moon Jae-in
0.39
0.53
7/3/21 0:00
Moon Jae-in
0.39
0.53
7/4/21 0:00
Moon Jae-in
0.38
0.53
7/5/21 0:00
Moon Jae-in
0.38
0.53
7/6/21 0:00
Moon Jae-in
0.39
0.52
7/7/21 0:00
Moon Jae-in
0.39
0.52
7/8/21 0:00
Moon Jae-in
0.38
0.53
7/9/21 0:00
Moon Jae-in
0.37
0.54
7/10/21 0:00
Moon Jae-in
0.37
0.54
7/11/21 0:00
Moon Jae-in
0.37
0.54
7/12/21 0:00
Moon Jae-in
0.38
0.54
7/13/21 0:00
Moon Jae-in
0.38
0.54
7/14/21 0:00
Moon Jae-in
0.38
0.53
7/15/21 0:00
Moon Jae-in
0.39
0.54
7/16/21 0:00
Moon Jae-in
0.38
0.54
7/17/21 0:00
Moon Jae-in
0.4
0.53
7/18/21 0:00
Moon Jae-in
0.39
0.53
7/19/21 0:00
Moon Jae-in
0.4
0.52
7/20/21 0:00
Moon Jae-in
0.4
0.52
7/21/21 0:00
Moon Jae-in
0.4
0.52
7/22/21 0:00
Moon Jae-in
0.4
0.51
7/23/21 0:00
Moon Jae-in
0.41
0.5
7/24/21 0:00
Moon Jae-in
0.4
0.51
7/25/21 0:00
Moon Jae-in
0.41
0.51
7/26/21 0:00
Moon Jae-in
0.4
0.52
7/27/21 0:00
Moon Jae-in
0.39
0.53
7/28/21 0:00
Moon Jae-in
0.4
0.52
7/29/21 0:00
Moon Jae-in
0.41
0.51
7/30/21 0:00
Moon Jae-in
0.39
0.52
7/31/21 0:00
Moon Jae-in
0.4
0.53
8/1/21 0:00
Moon Jae-in
0.41
0.51
8/2/21 0:00
Moon Jae-in
0.42
0.5
8/3/21 0:00
Moon Jae-in
0.41
0.51
8/4/21 0:00
Moon Jae-in
0.4
0.52
8/5/21 0:00
Moon Jae-in
0.39
0.53
8/6/21 0:00
Moon Jae-in
0.39
0.53
8/7/21 0:00
Moon Jae-in
0.39
0.53
8/8/21 0:00
Moon Jae-in
0.37
0.54
8/9/21 0:00
Moon Jae-in
0.37
0.54
8/10/21 0:00
Moon Jae-in
0.37
0.54
8/11/21 0:00
Moon Jae-in
0.36
0.55
8/12/21 0:00
Moon Jae-in
0.36
0.55
8/13/21 0:00
Moon Jae-in
0.36
0.56
8/14/21 0:00
Moon Jae-in
0.36
0.55
8/15/21 0:00
Moon Jae-in
0.37
0.54
8/16/21 0:00
Moon Jae-in
0.36
0.55
8/17/21 0:00
Moon Jae-in
0.37
0.54
8/18/21 0:00
Moon Jae-in
0.38
0.53
8/19/21 0:00
Moon Jae-in
0.38
0.54
8/20/21 0:00
Moon Jae-in
0.38
0.53
8/21/21 0:00
Moon Jae-in
0.37
0.54
8/22/21 0:00
Moon Jae-in
0.36
0.54
8/23/21 0:00
Moon Jae-in
0.37
0.54
8/24/21 0:00
Moon Jae-in
0.38
0.52
8/25/21 0:00
Moon Jae-in
0.38
0.52
8/26/21 0:00
Moon Jae-in
0.38
0.51
8/27/21 0:00
Moon Jae-in
0.39
0.51
8/28/21 0:00
Moon Jae-in
0.39
0.51
8/29/21 0:00
Moon Jae-in
0.39
0.52
8/30/21 0:00
Moon Jae-in
0.38
0.53
8/31/21 0:00
Moon Jae-in
0.38
0.53
9/1/21 0:00
Moon Jae-in
0.39
0.53
9/2/21 0:00
Moon Jae-in
0.38
0.54
9/3/21 0:00
Moon Jae-in
0.38
0.54
9/4/21 0:00
Moon Jae-in
0.38
0.54
9/5/21 0:00
Moon Jae-in
0.39
0.52
9/6/21 0:00
Moon Jae-in
0.39
0.52
9/7/21 0:00
Moon Jae-in
0.39
0.52
9/8/21 0:00
Moon Jae-in
0.39
0.53
9/9/21 0:00
Moon Jae-in
0.39
0.52
9/10/21 0:00
Moon Jae-in
0.39
0.52
9/11/21 0:00
Moon Jae-in
0.39
0.53
9/12/21 0:00
Moon Jae-in
0.39
0.53
9/13/21 0:00
Moon Jae-in
0.39
0.53
9/14/21 0:00
Moon Jae-in
0.41
0.52
9/15/21 0:00
Moon Jae-in
0.4
0.53
9/16/21 0:00
Moon Jae-in
0.4
0.52
9/17/21 0:00
Moon Jae-in
0.4
0.52
9/18/21 0:00
Moon Jae-in
0.4
0.52
9/19/21 0:00
Moon Jae-in
0.41
0.51
9/20/21 0:00
Moon Jae-in
0.4
0.51
9/21/21 0:00
Moon Jae-in
0.4
0.52
9/22/21 0:00
Moon Jae-in
0.41
0.5
9/23/21 0:00
Moon Jae-in
0.4
0.5
9/24/21 0:00
Moon Jae-in
0.41
0.5
9/25/21 0:00
Moon Jae-in
0.42
0.49
9/26/21 0:00
Moon Jae-in
0.41
0.5
9/27/21 0:00
Moon Jae-in
0.41
0.51
9/28/21 0:00
Moon Jae-in
0.4
0.51
9/29/21 0:00
Moon Jae-in
0.4
0.51
9/30/21 0:00
Moon Jae-in
0.39
0.52
10/1/21 0:00
Moon Jae-in
0.4
0.52
10/2/21 0:00
Moon Jae-in
0.39
0.52
10/3/21 0:00
Moon Jae-in
0.38
0.53
10/4/21 0:00
Moon Jae-in
0.38
0.53
10/5/21 0:00
Moon Jae-in
0.39
0.52
10/6/21 0:00
Moon Jae-in
0.39
0.52
10/7/21 0:00
Moon Jae-in
0.39
0.53
10/8/21 0:00
Moon Jae-in
0.39
0.53
10/9/21 0:00
Moon Jae-in
0.38
0.54
10/10/21 0:00
Moon Jae-in
0.38
0.54
10/11/21 0:00
Moon Jae-in
0.38
0.53
10/12/21 0:00
Moon Jae-in
0.38
0.54
10/13/21 0:00
Moon Jae-in
0.38
0.54
10/14/21 0:00
Moon Jae-in
0.38
0.54
10/15/21 0:00
Moon Jae-in
0.38
0.54
10/16/21 0:00
Moon Jae-in
0.38
0.55
10/17/21 0:00
Moon Jae-in
0.38
0.54
10/18/21 0:00
Moon Jae-in
0.37
0.55
10/19/21 0:00
Moon Jae-in
0.36
0.55
10/20/21 0:00
Moon Jae-in
0.36
0.56
10/21/21 0:00
Moon Jae-in
0.36
0.55
10/22/21 0:00
Moon Jae-in
0.36
0.56
10/23/21 0:00
Moon Jae-in
0.37
0.55
10/24/21 0:00
Moon Jae-in
0.37
0.56
10/25/21 0:00
Moon Jae-in
0.39
0.55
10/26/21 0:00
Moon Jae-in
0.39
0.54
10/27/21 0:00
Moon Jae-in
0.4
0.53
10/28/21 0:00
Moon Jae-in
0.39
0.54
10/29/21 0:00
Moon Jae-in
0.39
0.54
10/30/21 0:00
Moon Jae-in
0.39
0.54
10/31/21 0:00
Moon Jae-in
0.4
0.53
11/1/21 0:00
Moon Jae-in
0.4
0.52
11/2/21 0:00
Moon Jae-in
0.41
0.52
11/3/21 0:00
Moon Jae-in
0.4
0.53
11/4/21 0:00
Moon Jae-in
0.4
0.53
11/5/21 0:00
Moon Jae-in
0.4
0.53
11/6/21 0:00
Moon Jae-in
0.41
0.53
11/7/21 0:00
Moon Jae-in
0.4
0.54
11/8/21 0:00
Moon Jae-in
0.4
0.54
11/9/21 0:00
Moon Jae-in
0.39
0.55
11/10/21 0:00
Moon Jae-in
0.39
0.55
11/11/21 0:00
Moon Jae-in
0.41
0.54
11/12/21 0:00
Moon Jae-in
0.41
0.54
11/13/21 0:00
Moon Jae-in
0.4
0.55
11/14/21 0:00
Moon Jae-in
0.4
0.55
11/15/21 0:00
Moon Jae-in
0.39
0.56
11/16/21 0:00
Moon Jae-in
0.39
0.55
11/17/21 0:00
Moon Jae-in
0.39
0.56
11/18/21 0:00
Moon Jae-in
0.38
0.57
11/19/21 0:00
Moon Jae-in
0.38
0.57
11/20/21 0:00
Moon Jae-in
0.38
0.57
11/21/21 0:00
Moon Jae-in
0.38
0.57
11/22/21 0:00
Moon Jae-in
0.38
0.56
11/23/21 0:00
Moon Jae-in
0.38
0.56
11/24/21 0:00
Moon Jae-in
0.38
0.57
11/25/21 0:00
Moon Jae-in
0.38
0.56
11/26/21 0:00
Moon Jae-in
0.38
0.56
11/27/21 0:00
Moon Jae-in
0.38
0.55
11/28/21 0:00
Moon Jae-in
0.38
0.56
11/29/21 0:00
Moon Jae-in
0.38
0.56
11/30/21 0:00
Moon Jae-in
0.38
0.56
12/1/21 0:00
Moon Jae-in
0.38
0.55
12/2/21 0:00
Moon Jae-in
0.38
0.56
12/3/21 0:00
Moon Jae-in
0.38
0.56
12/4/21 0:00
Moon Jae-in
0.38
0.57
12/5/21 0:00
Moon Jae-in
0.38
0.56
12/6/21 0:00
Moon Jae-in
0.38
0.56
12/7/21 0:00
Moon Jae-in
0.38
0.56
3/6/20 0:00
Scott Morrison
0.32
0.59
3/7/20 0:00
Scott Morrison
0.32
0.58
3/8/20 0:00
Scott Morrison
0.33
0.58
3/9/20 0:00
Scott Morrison
0.33
0.57
3/10/20 0:00
Scott Morrison
0.33
0.57
3/11/20 0:00
Scott Morrison
0.34
0.56
3/12/20 0:00
Scott Morrison
0.34
0.56
3/13/20 0:00
Scott Morrison
0.34
0.56
3/14/20 0:00
Scott Morrison
0.34
0.55
3/15/20 0:00
Scott Morrison
0.35
0.55
3/16/20 0:00
Scott Morrison
0.35
0.55
3/17/20 0:00
Scott Morrison
0.35
0.54
3/18/20 0:00
Scott Morrison
0.36
0.53
3/19/20 0:00
Scott Morrison
0.37
0.52
3/20/20 0:00
Scott Morrison
0.38
0.52
3/21/20 0:00
Scott Morrison
0.39
0.51
3/22/20 0:00
Scott Morrison
0.41
0.5
3/23/20 0:00
Scott Morrison
0.43
0.48
3/24/20 0:00
Scott Morrison
0.45
0.46
3/25/20 0:00
Scott Morrison
0.46
0.45
3/26/20 0:00
Scott Morrison
0.46
0.45
3/27/20 0:00
Scott Morrison
0.47
0.44
3/28/20 0:00
Scott Morrison
0.49
0.42
3/29/20 0:00
Scott Morrison
0.5
0.42
3/30/20 0:00
Scott Morrison
0.51
0.41
3/31/20 0:00
Scott Morrison
0.51
0.4
4/1/20 0:00
Scott Morrison
0.51
0.41
4/2/20 0:00
Scott Morrison
0.53
0.39
4/3/20 0:00
Scott Morrison
0.53
0.38
4/4/20 0:00
Scott Morrison
0.54
0.38
4/5/20 0:00
Scott Morrison
0.55
0.37
4/6/20 0:00
Scott Morrison
0.55
0.36
4/7/20 0:00
Scott Morrison
0.57
0.35
4/8/20 0:00
Scott Morrison
0.57
0.35
4/9/20 0:00
Scott Morrison
0.58
0.34
4/10/20 0:00
Scott Morrison
0.59
0.34
4/11/20 0:00
Scott Morrison
0.59
0.33
4/12/20 0:00
Scott Morrison
0.59
0.33
4/13/20 0:00
Scott Morrison
0.59
0.33
4/14/20 0:00
Scott Morrison
0.58
0.34
4/15/20 0:00
Scott Morrison
0.59
0.32
4/16/20 0:00
Scott Morrison
0.61
0.31
4/17/20 0:00
Scott Morrison
0.61
0.3
4/18/20 0:00
Scott Morrison
0.62
0.3
4/19/20 0:00
Scott Morrison
0.62
0.31
4/20/20 0:00
Scott Morrison
0.62
0.3
4/21/20 0:00
Scott Morrison
0.63
0.29
4/22/20 0:00
Scott Morrison
0.63
0.3
4/23/20 0:00
Scott Morrison
0.63
0.3
4/24/20 0:00
Scott Morrison
0.63
0.3
4/25/20 0:00
Scott Morrison
0.63
0.3
4/26/20 0:00
Scott Morrison
0.64
0.29
4/27/20 0:00
Scott Morrison
0.64
0.29
4/28/20 0:00
Scott Morrison
0.64
0.29
4/29/20 0:00
Scott Morrison
0.64
0.29
4/30/20 0:00
Scott Morrison
0.64
0.29
5/1/20 0:00
Scott Morrison
0.63
0.29
5/2/20 0:00
Scott Morrison
0.64
0.28
5/3/20 0:00
Scott Morrison
0.64
0.28
5/4/20 0:00
Scott Morrison
0.64
0.28
5/5/20 0:00
Scott Morrison
0.65
0.27
5/6/20 0:00
Scott Morrison
0.64
0.28
5/7/20 0:00
Scott Morrison
0.64
0.28
5/8/20 0:00
Scott Morrison
0.65
0.28
5/9/20 0:00
Scott Morrison
0.65
0.28
5/10/20 0:00
Scott Morrison
0.65
0.28
5/11/20 0:00
Scott Morrison
0.65
0.28
5/12/20 0:00
Scott Morrison
0.65
0.28
5/13/20 0:00
Scott Morrison
0.66
0.28
5/14/20 0:00
Scott Morrison
0.66
0.28
5/15/20 0:00
Scott Morrison
0.67
0.27
5/16/20 0:00
Scott Morrison
0.67
0.27
5/17/20 0:00
Scott Morrison
0.66
0.27
5/18/20 0:00
Scott Morrison
0.67
0.26
5/19/20 0:00
Scott Morrison
0.66
0.26
5/20/20 0:00
Scott Morrison
0.66
0.26
5/21/20 0:00
Scott Morrison
0.66
0.26
5/22/20 0:00
Scott Morrison
0.64
0.28
5/23/20 0:00
Scott Morrison
0.64
0.28
5/24/20 0:00
Scott Morrison
0.64
0.28
5/25/20 0:00
Scott Morrison
0.63
0.28
5/26/20 0:00
Scott Morrison
0.64
0.28
5/27/20 0:00
Scott Morrison
0.64
0.28
5/28/20 0:00
Scott Morrison
0.64
0.28
5/29/20 0:00
Scott Morrison
0.64
0.28
5/30/20 0:00
Scott Morrison
0.64
0.28
5/31/20 0:00
Scott Morrison
0.64
0.28
6/1/20 0:00
Scott Morrison
0.65
0.28
6/2/20 0:00
Scott Morrison
0.64
0.28
6/3/20 0:00
Scott Morrison
0.62
0.3
6/4/20 0:00
Scott Morrison
0.63
0.29
6/5/20 0:00
Scott Morrison
0.63
0.29
6/6/20 0:00
Scott Morrison
0.63
0.29
6/7/20 0:00
Scott Morrison
0.64
0.28
6/8/20 0:00
Scott Morrison
0.64
0.28
6/9/20 0:00
Scott Morrison
0.64
0.28
6/10/20 0:00
Scott Morrison
0.64
0.28
6/11/20 0:00
Scott Morrison
0.64
0.29
6/12/20 0:00
Scott Morrison
0.64
0.29
6/13/20 0:00
Scott Morrison
0.64
0.29
6/14/20 0:00
Scott Morrison
0.64
0.29
6/15/20 0:00
Scott Morrison
0.64
0.29
6/16/20 0:00
Scott Morrison
0.64
0.29
6/17/20 0:00
Scott Morrison
0.64
0.29
6/18/20 0:00
Scott Morrison
0.64
0.29
6/19/20 0:00
Scott Morrison
0.64
0.29
6/20/20 0:00
Scott Morrison
0.64
0.3
6/21/20 0:00
Scott Morrison
0.63
0.3
6/22/20 0:00
Scott Morrison
0.62
0.3
6/23/20 0:00
Scott Morrison
0.63
0.3
6/24/20 0:00
Scott Morrison
0.63
0.3
6/25/20 0:00
Scott Morrison
0.64
0.29
6/26/20 0:00
Scott Morrison
0.63
0.29
6/27/20 0:00
Scott Morrison
0.64
0.29
6/28/20 0:00
Scott Morrison
0.65
0.28
6/29/20 0:00
Scott Morrison
0.65
0.28
6/30/20 0:00
Scott Morrison
0.65
0.28
7/1/20 0:00
Scott Morrison
0.65
0.28
7/2/20 0:00
Scott Morrison
0.64
0.28
7/3/20 0:00
Scott Morrison
0.65
0.28
7/4/20 0:00
Scott Morrison
0.65
0.28
7/5/20 0:00
Scott Morrison
0.64
0.29
7/6/20 0:00
Scott Morrison
0.64
0.29
7/7/20 0:00
Scott Morrison
0.64
0.29
7/8/20 0:00
Scott Morrison
0.64
0.29
7/9/20 0:00
Scott Morrison
0.64
0.29
7/10/20 0:00
Scott Morrison
0.65
0.28
7/11/20 0:00
Scott Morrison
0.64
0.29
7/12/20 0:00
Scott Morrison
0.66
0.28
7/13/20 0:00
Scott Morrison
0.65
0.29
7/14/20 0:00
Scott Morrison
0.66
0.28
7/15/20 0:00
Scott Morrison
0.65
0.28
7/16/20 0:00
Scott Morrison
0.65
0.28
7/17/20 0:00
Scott Morrison
0.64
0.3
7/18/20 0:00
Scott Morrison
0.65
0.29
7/19/20 0:00
Scott Morrison
0.64
0.29
7/20/20 0:00
Scott Morrison
0.64
0.29
7/21/20 0:00
Scott Morrison
0.64
0.3
7/22/20 0:00
Scott Morrison
0.64
0.29
7/23/20 0:00
Scott Morrison
0.64
0.29
7/24/20 0:00
Scott Morrison
0.64
0.29
7/25/20 0:00
Scott Morrison
0.64
0.29
7/26/20 0:00
Scott Morrison
0.63
0.3
7/27/20 0:00
Scott Morrison
0.63
0.3
7/28/20 0:00
Scott Morrison
0.63
0.3
7/29/20 0:00
Scott Morrison
0.62
0.3
7/30/20 0:00
Scott Morrison
0.62
0.31
7/31/20 0:00
Scott Morrison
0.63
0.3
8/1/20 0:00
Scott Morrison
0.63
0.3
8/2/20 0:00
Scott Morrison
0.62
0.3
8/3/20 0:00
Scott Morrison
0.63
0.3
8/4/20 0:00
Scott Morrison
0.63
0.3
8/5/20 0:00
Scott Morrison
0.63
0.3
8/6/20 0:00
Scott Morrison
0.63
0.3
8/7/20 0:00
Scott Morrison
0.62
0.31
8/8/20 0:00
Scott Morrison
0.62
0.31
8/9/20 0:00
Scott Morrison
0.62
0.31
8/10/20 0:00
Scott Morrison
0.61
0.31
8/11/20 0:00
Scott Morrison
0.62
0.3
8/12/20 0:00
Scott Morrison
0.62
0.3
8/13/20 0:00
Scott Morrison
0.62
0.3
8/14/20 0:00
Scott Morrison
0.62
0.3
8/15/20 0:00
Scott Morrison
0.63
0.3
8/16/20 0:00
Scott Morrison
0.62
0.3
8/17/20 0:00
Scott Morrison
0.62
0.3
8/18/20 0:00
Scott Morrison
0.62
0.3
8/19/20 0:00
Scott Morrison
0.62
0.3
8/20/20 0:00
Scott Morrison
0.62
0.31
8/21/20 0:00
Scott Morrison
0.62
0.31
8/22/20 0:00
Scott Morrison
0.62
0.31
8/23/20 0:00
Scott Morrison
0.62
0.31
8/24/20 0:00
Scott Morrison
0.62
0.31
8/25/20 0:00
Scott Morrison
0.62
0.32
8/26/20 0:00
Scott Morrison
0.62
0.31
8/27/20 0:00
Scott Morrison
0.62
0.31
8/28/20 0:00
Scott Morrison
0.63
0.29
8/29/20 0:00
Scott Morrison
0.62
0.3
8/30/20 0:00
Scott Morrison
0.62
0.3
8/31/20 0:00
Scott Morrison
0.62
0.3
9/1/20 0:00
Scott Morrison
0.62
0.3
9/2/20 0:00
Scott Morrison
0.62
0.3
9/3/20 0:00
Scott Morrison
0.62
0.31
9/4/20 0:00
Scott Morrison
0.62
0.31
9/5/20 0:00
Scott Morrison
0.63
0.31
9/6/20 0:00
Scott Morrison
0.62
0.31
9/7/20 0:00
Scott Morrison
0.62
0.31
9/8/20 0:00
Scott Morrison
0.61
0.31
9/9/20 0:00
Scott Morrison
0.61
0.32
9/10/20 0:00
Scott Morrison
0.6
0.32
9/11/20 0:00
Scott Morrison
0.6
0.32
9/12/20 0:00
Scott Morrison
0.6
0.32
9/13/20 0:00
Scott Morrison
0.6
0.32
9/14/20 0:00
Scott Morrison
0.6
0.31
9/15/20 0:00
Scott Morrison
0.6
0.31
9/16/20 0:00
Scott Morrison
0.6
0.31
9/17/20 0:00
Scott Morrison
0.61
0.31
9/18/20 0:00
Scott Morrison
0.61
0.31
9/19/20 0:00
Scott Morrison
0.6
0.31
9/20/20 0:00
Scott Morrison
0.6
0.32
9/21/20 0:00
Scott Morrison
0.59
0.32
9/22/20 0:00
Scott Morrison
0.59
0.33
9/23/20 0:00
Scott Morrison
0.6
0.33
9/24/20 0:00
Scott Morrison
0.6
0.33
9/25/20 0:00
Scott Morrison
0.61
0.33
9/26/20 0:00
Scott Morrison
0.61
0.32
9/27/20 0:00
Scott Morrison
0.6
0.32
9/28/20 0:00
Scott Morrison
0.61
0.32
9/29/20 0:00
Scott Morrison
0.61
0.32
9/30/20 0:00
Scott Morrison
0.61
0.31
10/1/20 0:00
Scott Morrison
0.6
0.31
10/2/20 0:00
Scott Morrison
0.6
0.31
10/3/20 0:00
Scott Morrison
0.61
0.31
10/4/20 0:00
Scott Morrison
0.61
0.31
10/5/20 0:00
Scott Morrison
0.61
0.31
10/6/20 0:00