Senate GOP Coaxes Trump to Stay Away From 'Rabbit Trails'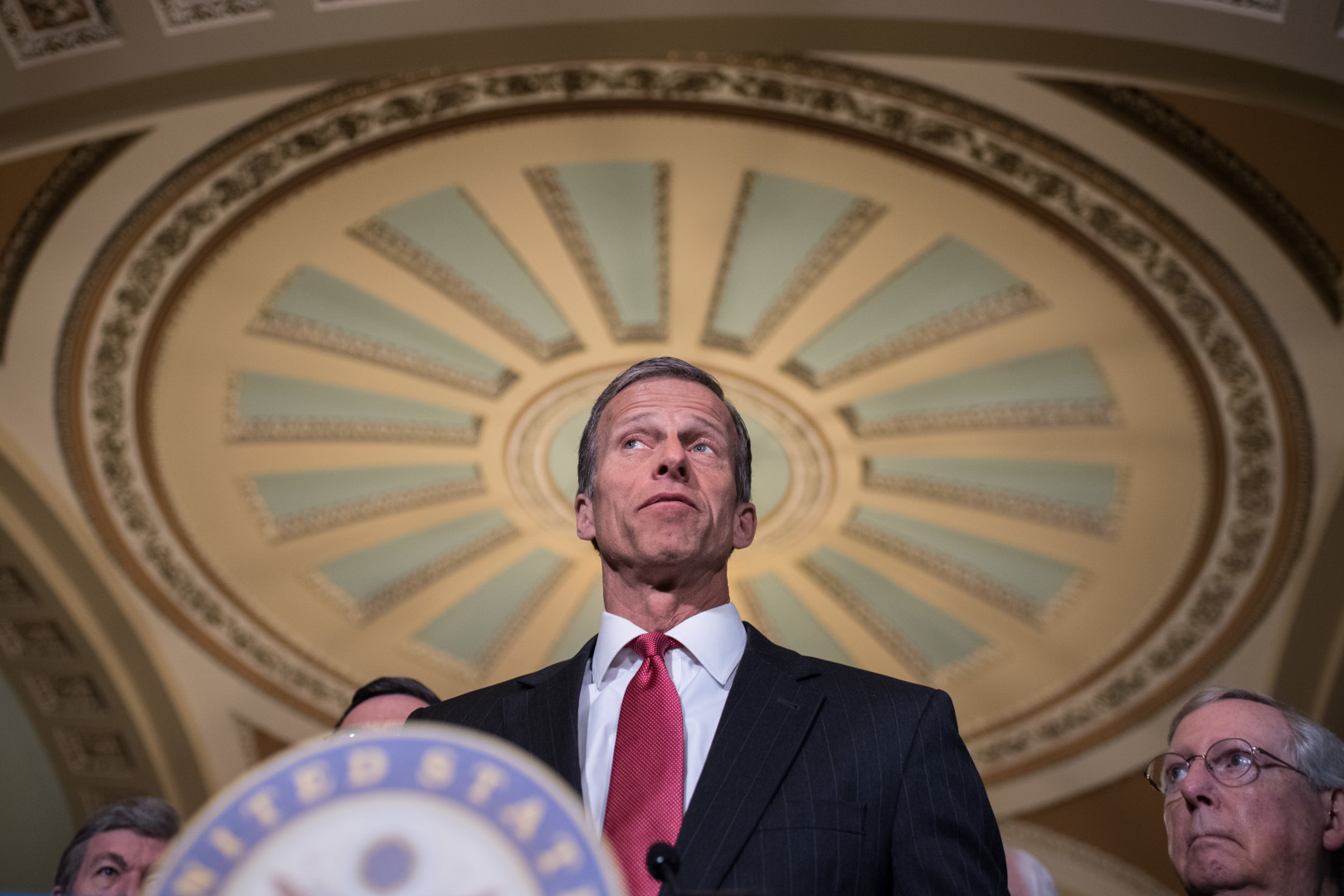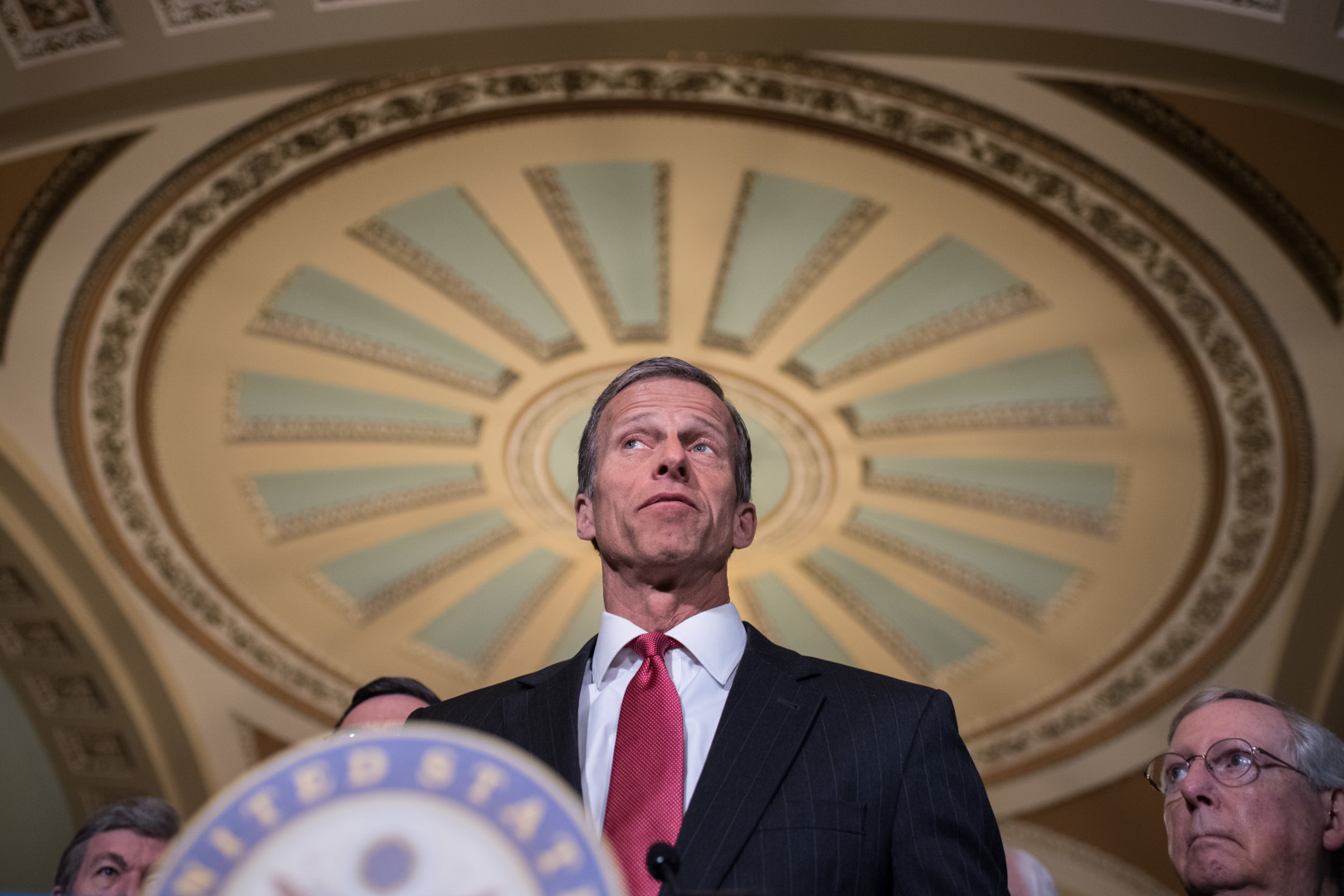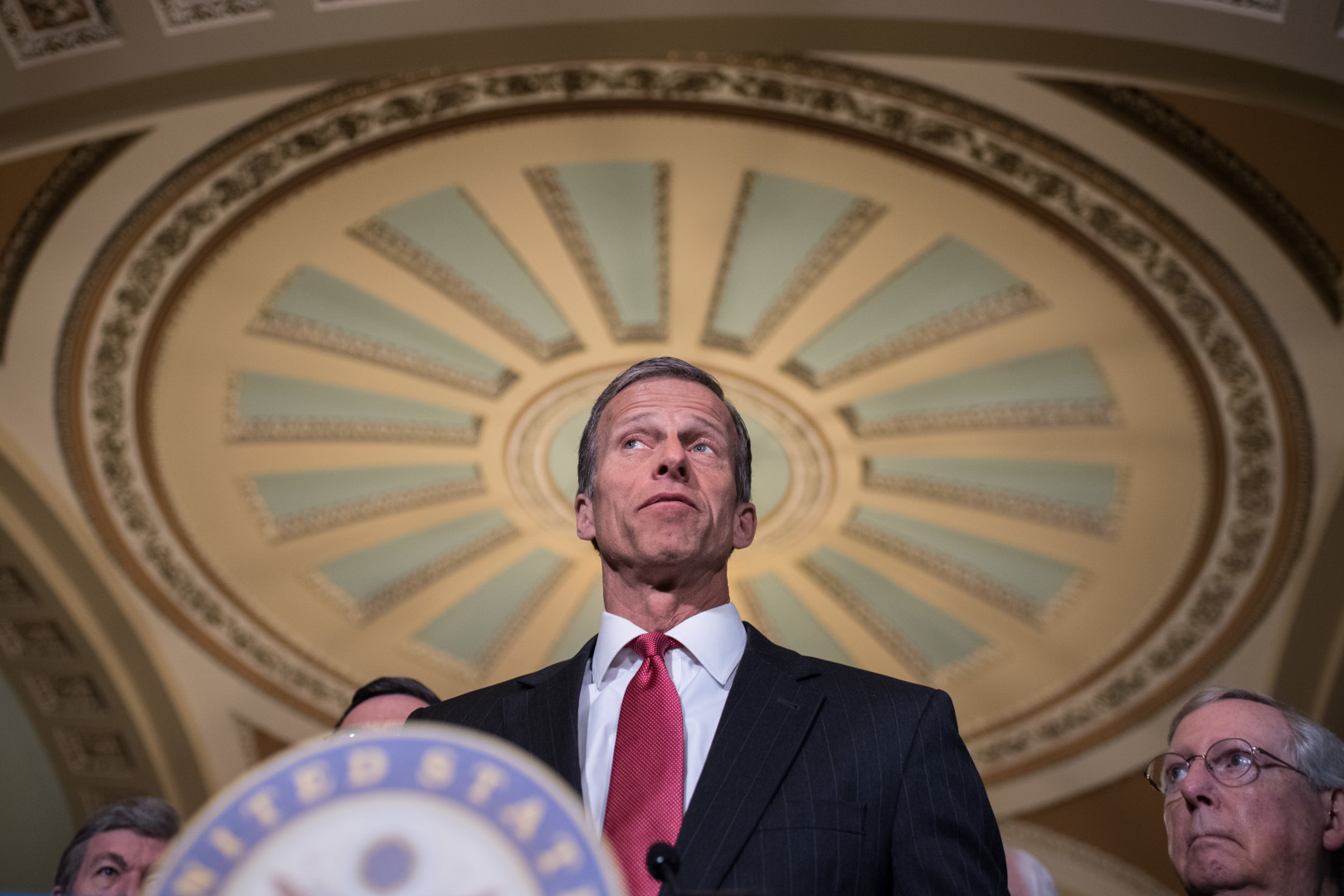 Senate Republicans who are willing to opine about Donald Trump say he needs to change his tone in the few weeks before the Republican National Convention, or else. The "else" is vague at the moment, but it's definitely there.
"There's a tremendous amount of ammunition for him to run on, and so the more time he spends getting off on these rabbit trails, the harder it's going to be for him," said Senate Republican Conference Committee Chairman John Thune (R-S.D.) on Tuesday.
He was referring to Trump's statement that an Indiana-born judge is "inherently biased" in a case against him because of his Mexican heritage. House Speaker Paul Ryan (R-Wis.) said Tuesday morning that the comments were "the textbook definition of a racist comment."
Republican senators are declining to specify what will happen if Trump's tone doesn't change, despite being mobbed with questions about it Tuesday afternoon, except to note that it's not just the real estate mogul's future at stake. The Senate is in danger of flipping to Democratic control in November, and the nominee at the top of the ticket isn't helping that problem. What's more, it just looks bad for the party.
Related: House GOP's Poverty Push Overshadowed by Their Nominee
"I don't think comments like that help anything," said Senate Banking Committee Chairman Richard Shelby (R-Ala.). "I think you should be careful in what you say. What people say, especially if they're going to be the nominee of the party, has long legs and a lot of meaning."
Trump needs to pivot, senior Republicans say, and fast. Senate Majority Leader Mitch McConnell (R-Ky.) even broke his own rule of not answering the same question over and over again to reiterate his comments from last week that Republicans are in danger of losing the Hispanic vote. "I was worried that we would do to the Latino vote what has been done with the African American vote," he said. "I am worried about that."
Senate Foreign Relations Committee Chairman Bob Corker (R-Tenn.) told reporters that Republicans see Trump as sitting on an enormous opportunity to "change the trajectory of our country right now, especially with respect to the fiscal issues."
Republicans also see an opportunity to influence the judiciary branch with a Republican in the White House. Several lawmakers said Tuesday that they like the list of potential Supreme Court nominees that the Trump camp has provided.
That list helps justify Republicans' unwillingness to proceed on the nomination of Judge Merrick Garland, President Obama's choice to replace the late Justice Antonin Scalia. "We are reassured by the list of names submitted by Mr. Trump," said Sen. Dan Coats (R-Ind.).
Senate Finance Committee Chairman Orrin Hatch (R-Utah), who previously chaired the Senate Judiciary Committee and has a long history of advocating on behalf of the judicial system, said he expects Trump to engage in "a lot of consultation" with Republicans about a Supreme Court nominee.
Therein lies the rub. Republicans expect Trump to take their counsel on everything from his tone to his nominees. They are sidestepping the question of what happens if he doesn't.
If he doesn't, Republicans' opportunity to change the judiciary and the country's fiscal policies could be thrown away, Corker acknowledged. "I'm hopeful that over the course of the next couple of weeks, in the course of this very important period of time in his campaign, that he's going to move into a very different place," he said. "I hope he won't let that opportunity slip through his hands."
Hatch urged reporters to ease up on the criticism of Trump. "Be nicer to him," he said. "Anybody who's new to politics is going to make some stupid blunders. … He'll have to rectify that mistake, but you've got to give him a little room."
For a veteran such as Hatch, Trump may be new to politics, but he's not so new that he hasn't figured out how to get a lot of attention by being outrageous. Hatch acknowledged that. "People know that he's quite a showman, there's no question about it. … That's the reason he's gotten as far as he has. There's no question."
So should Republicans simply go on with the show? "Maybe in two or three weeks, let's have this conversation again," Corker offered.
Some Republicans have stopped the conversation now. "No comment right now," said Sen. Tom Cotton (R-Ark.), while race-walking to the elevator.
"I talked about it all day yesterday, guys," Sen. Marco Rubio (R-Fla.) apologized as an elevator door closed in front of a gaggle of reporters.
It's a trickier proposition for more vulnerable members of the chamber. Sen. Mark Kirk (R-Ill.) announced Tuesday he would not be supporting Trump for the nomination.
And Senate Homeland Security Committee Chairman Ron Johnson (R-Wis.), another endangered Republican, literally ducked reporters as he walked into an elevator, saying only that Trump should "retract" his statement.
Despite obvious discomfort, Republicans in Congress are showing some willingness to at least allow questions about Trump, even if their answers are unsatisfactory to the people who ask them. The notably taciturn McConnell couldn't resist a smile on Tuesday at the cacophony of reporters yelling over one another to ask the same question about what happens to Trump and to the Republican Party. "I'll give someone one more try," he said, before repeating his statement about Trump from earlier in the week.