House Democrats Stage Sit-In Over Gun Votes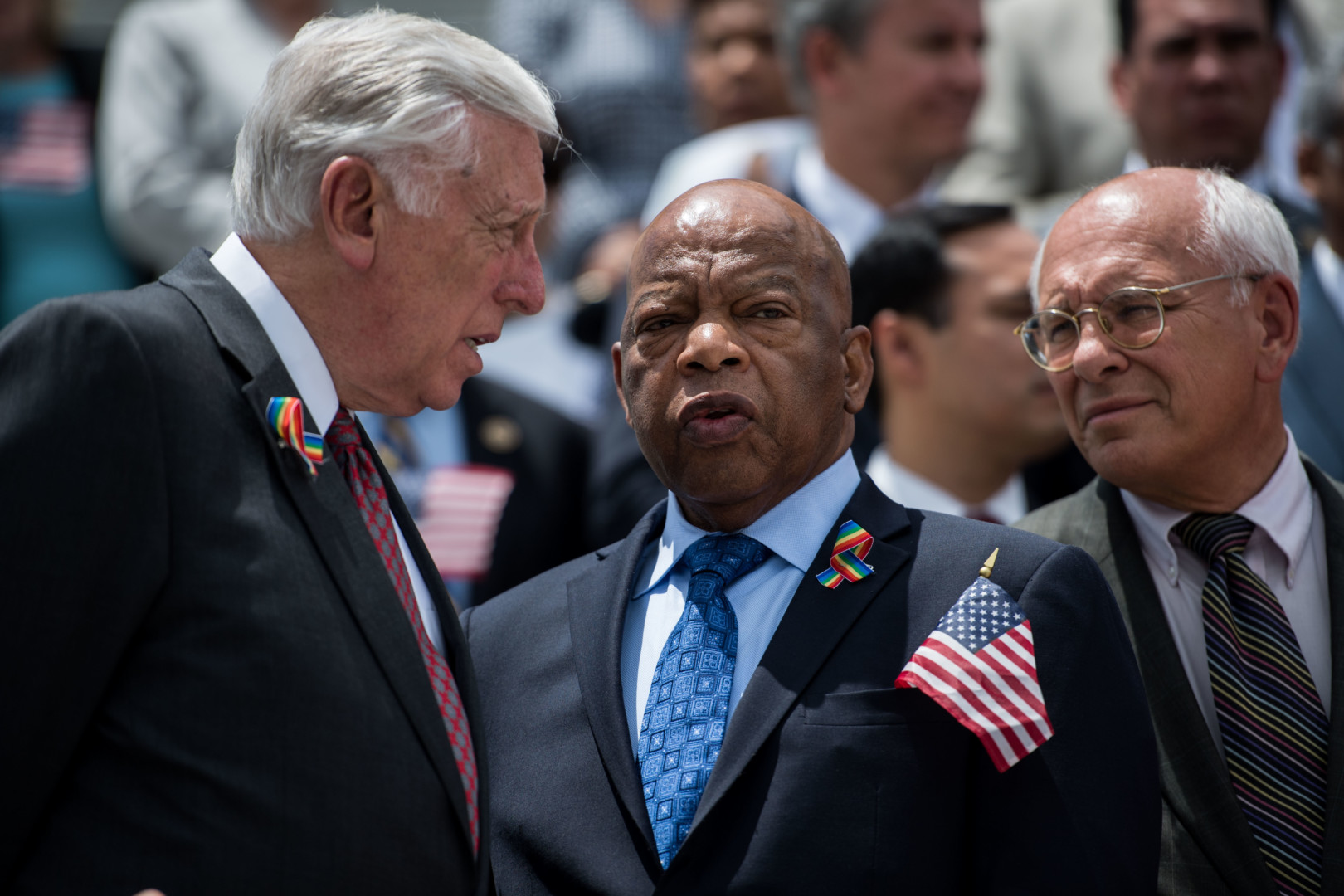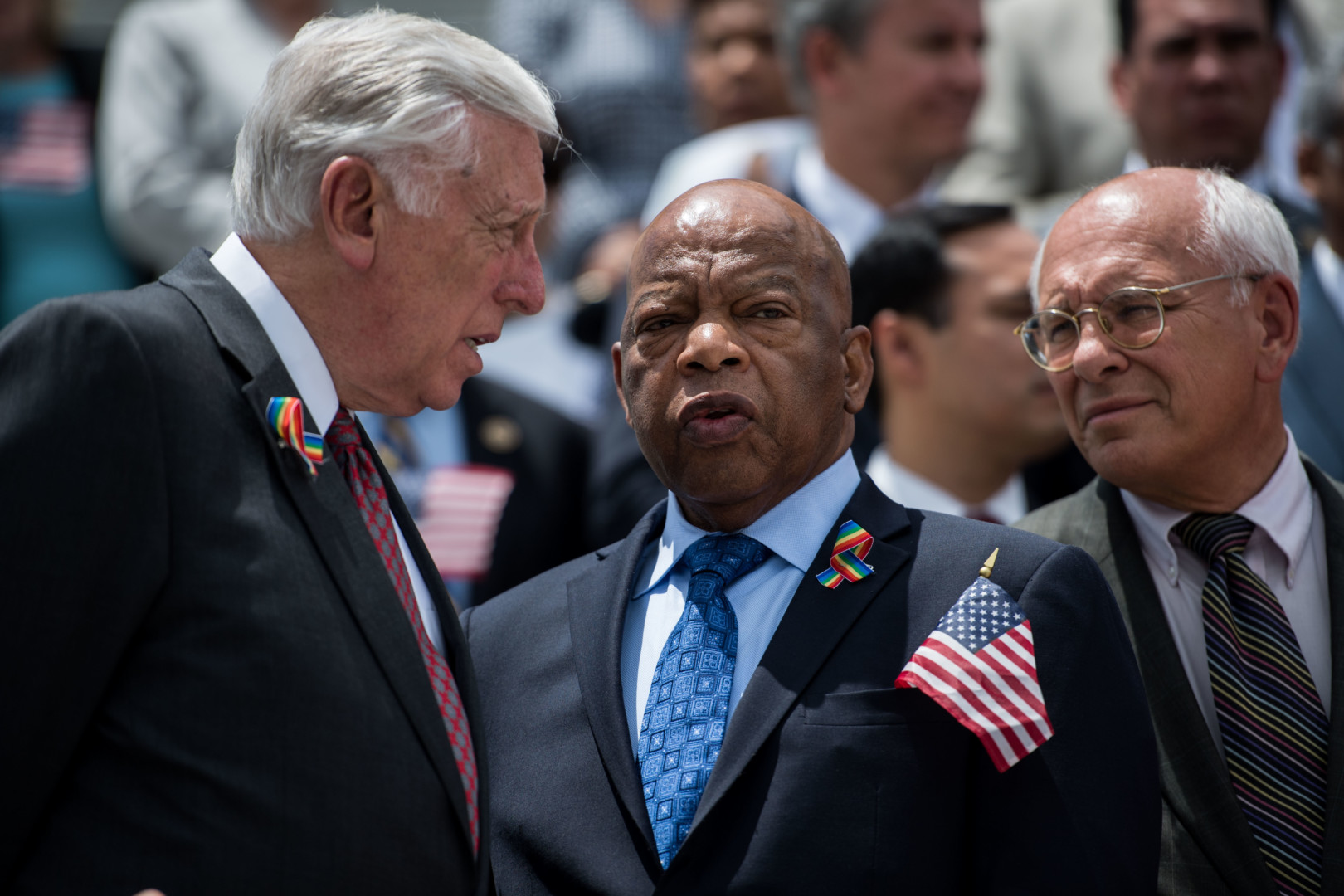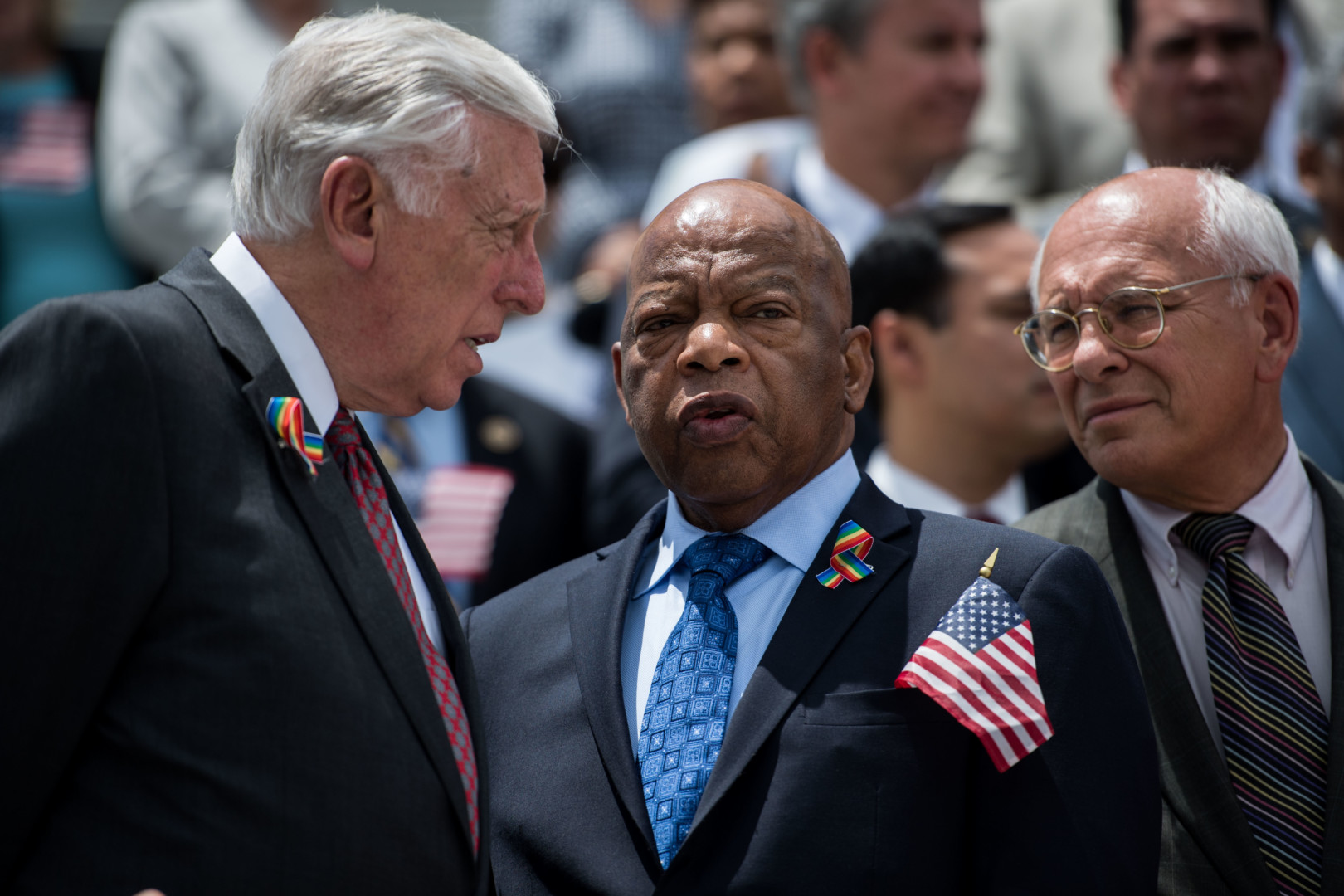 Led by Rep. John Lewis, Democrats on Wednesday staged a sit-in in the well of the House floor to call on Republicans who lead the chamber to allow votes on gun control legislation.
A senior Democratic aide said lawmakers plan to disrupt the chamber on Wednesday and Thursday, unless Republicans bring up bipartisan gun control legislation, sponsored by Reps. Peter King (R-N.Y.) and Mike Thompson (D-Calif.), up for votes: "No bill, no break."
Last week, House Republicans blocked consideration of the legislation, which would prevent people on terrorist watch lists from being able to purchase firearms.
"We ask for the right to vote on a life and death issue confronting the American people, 6,354 of our fellow citizens do not get see another day," said Minority Whip Steny Hoyer of Maryland, the No. 2 House Democrat, surrounded by dozens of House Democrats on the floor. "They are silent, let not the peoples' house be silent."
The sit-in began as the House went into recess a little before noon, following morning business. The House was scheduled to reconvene at noon, but was gaveled back into recess after Democrats refused to clear the well. The House was gaveled back into session a short time later, but almost immediately went back into recess.
"The House cannot operate without members following the rules of the institution, so the House has recessed subject to the call of the chair," said AshLee Strong, a spokeswoman for House Speaker Paul Ryan (R-Wis.).
A House GOP aide said members have been advised there will be votes Wednesday, but an exact time has not been determined.
According to a Democratic aide, Rep. Katherine Clark (D-Conn.) organized the sit-in. Senate Democrats Richard Blumenthal and Chris Murphy of Connecticut, leading advocates for gun control since the Sandy Hook Elementary School shooting of 2012, joined Democrats on the floor in a show of solidarity. Senate Minority Whip Dick Durbin (D-Ill.), Sen. Al Franken (D-Minn.) and potential Democratic vice presidential candidates, Sens. Elizabeth Warren of Massachusetts and Tim Kaine of Virginia, also joined the sit-in.
Sen. Chuck Schumer (D-N.Y.) — who's expected to replace Harry Reid (D-Nev.) next year as Senate Democratic leader — dropped by the House chamber for about an hour. At one point he sat in one of the plush House chairs conversing with House Minority Leader Nancy Pelosi (D-Calif.).
Dozens of Democrats remained on the House floor as others ventured to the Capitol steps to deliver a news conference calling for action.
Lewis, a leader in the 1960s Civil Rights Movement, said on Twitter, "Sometimes you have to get in the way."
"You have to make some noise by speaking up and speaking out," the Georgia Democrat said.
Democrats expressed outrage that the chamber's camera feed is shut off while the House is technically in recess. The feed is controlled by the majority party.
A senior GOP leadership aide noted, "All members of the House of Representatives voted on the rules governing floor proceedings at the beginning of the Congress. Cameras are only on when the House is in session. This rule of the House is being enforced, as it has been since TV cameras were first installed in the House."
Many lawmakers, in violation of House rules, were filming and taking photos on the floor. Rep. Scott Peters (D-Calif.) was the first member to live-stream the action on Periscope, which C-SPAN promptly picked up and carried live on air.
A number of lawmakers made remarks which were captured on the stream, including Rep. Bobby Rush (D-Ill.), who said, "Speaker Ryan, you can run but you can't hide."
I'm on the House floor with @repjohnlewis & Dems staging a sit-in to demand action on commonsense gun legislation pic.twitter.com/byIivby5gG

— John Yarmuth (@JohnYarmuth) June 22, 2016
Time to occupy the House to demand action. #NoBillNoBreak #DisarmHate pic.twitter.com/C7BZpzNvxL

— Rep Donna F Edwards (@repdonnaedwards) June 22, 2016
President Obama and other top Democrats thanked Lewis for leading the effort.
"Thank you John Lewis for leading on gun violence where we need it most," Obama said on Twitter. Lewis responded: "Thank you, Mr. President. I'm just trying to help out and make a contribution."
Warren called Lewis a "hero" in a tweet.
Hero @repjohnlewis is leading a sit-in on gun violence & @SpeakerRyan shut off the camera so you can't watch. Shameful. #NoBillNoBreak

— Elizabeth Warren (@SenWarren) June 22, 2016
The sit-in disrupted business elsewhere on Capitol Hill as well.
Rep. Eddie Bernice Johnson was the only Democrat at the House Science Committee hearing where Gina McCarthy was testifying.
"The reason I'm hear by myself on this side is that every other Democrat is on the House floor awaiting a bill, because without a bill, there'll be no break. The bill concerning gun violence," the Texas Democrat said.
A House Rules Committee hearing scheduled for 1:30 p.m. was also pushed back, and a Democratic news conference assailing the House GOP's efforts to block the Labor Department's fiduciary rule was canceled.
On Tuesday, Pelosi called on Ryan not to recess the chamber until it held a vote on gun legislation.
"The overwhelming majority of Americans want action on commonsense gun violence legislation – and the House of Representatives owes them a vote,"she said. "The Republican House must not leave Washington before holding a vote on commonsense gun violence legislation."
According to a national Morning Consult survey conducted in the wake of the Orlando shooting, more than half of voters (57 percent) said they support general efforts to increase gun control.
Ryan Rainey and Jack Fitzpatrick contributed.