Clinton Gains in Polls, but Voters Favor Trump to Grow Economy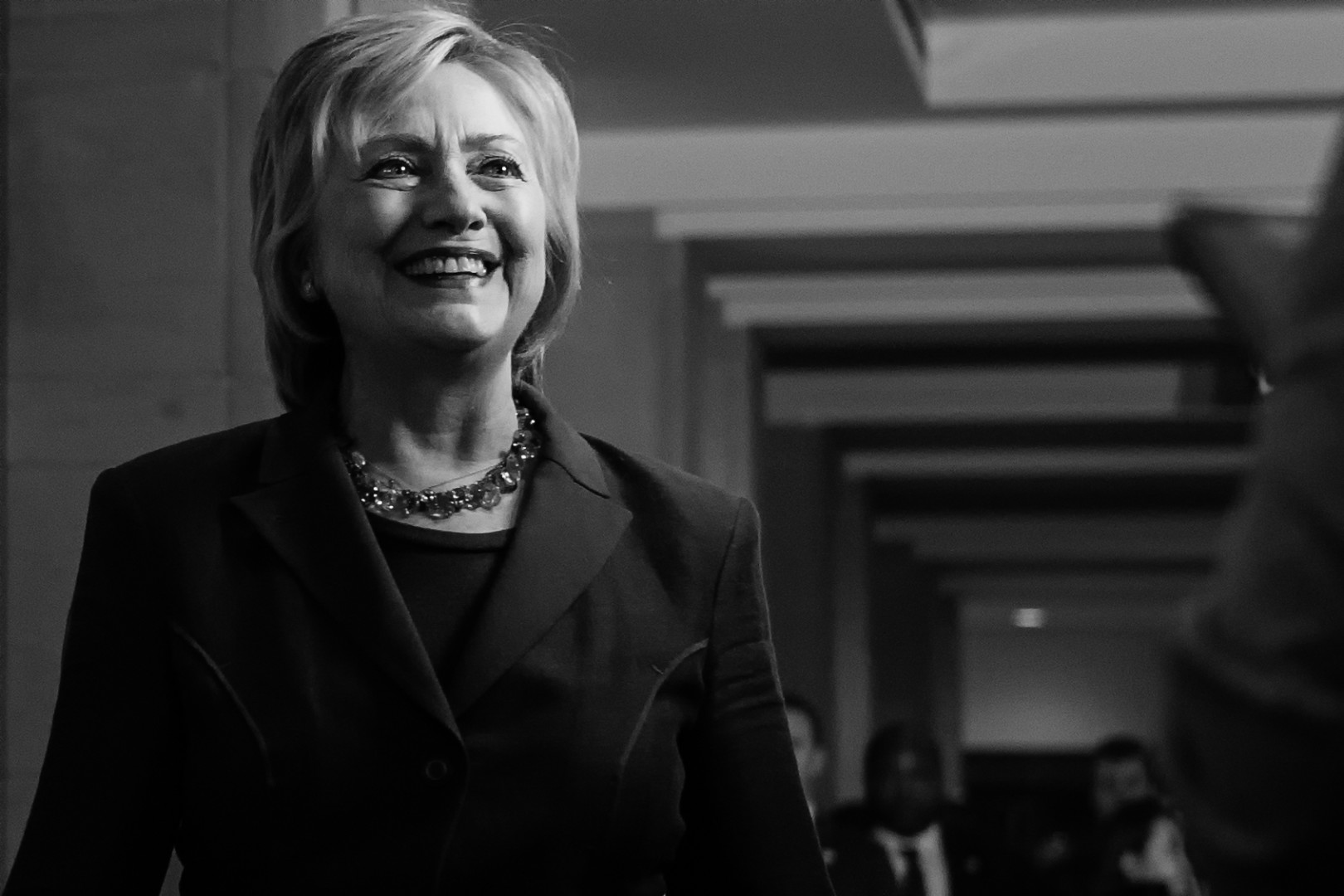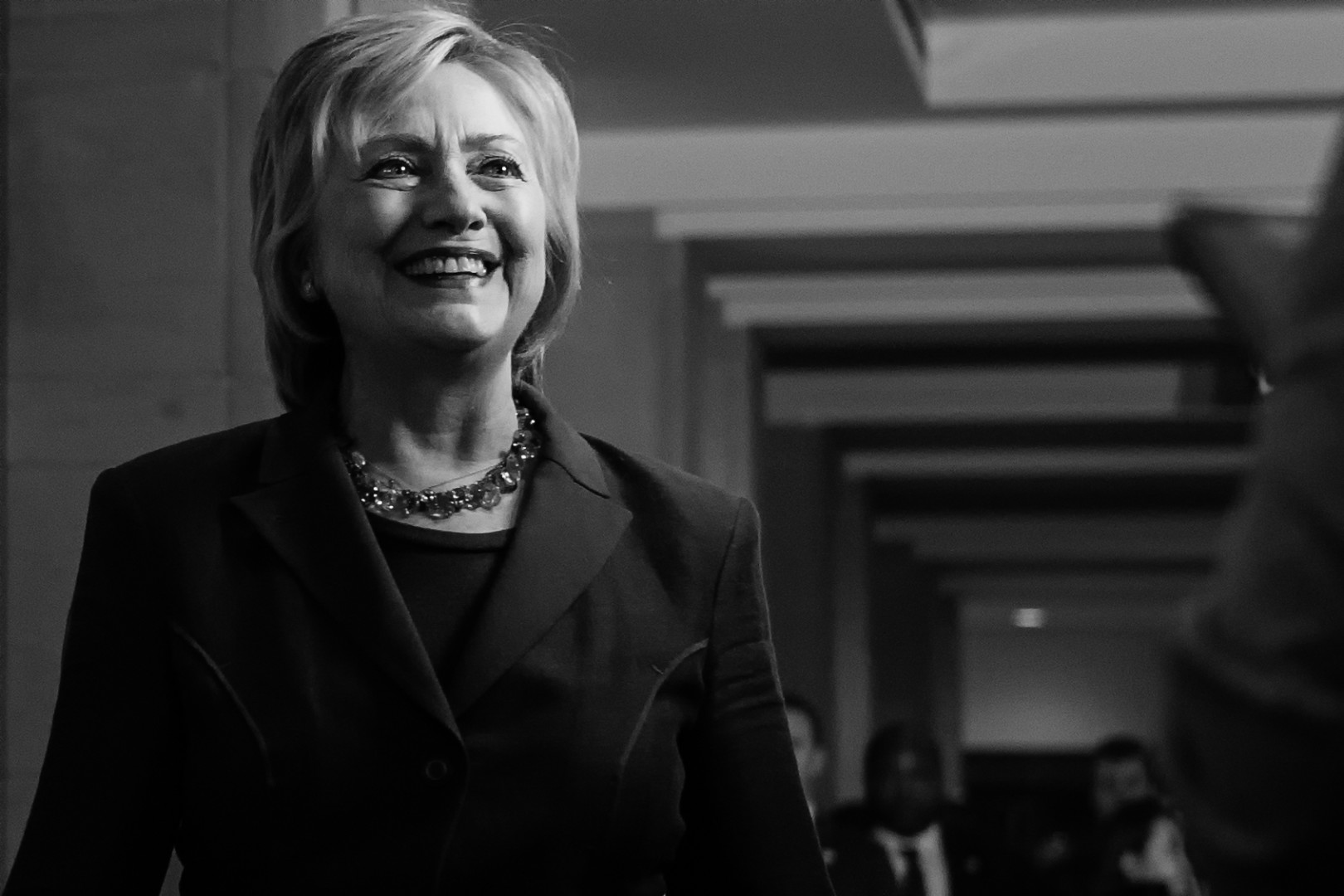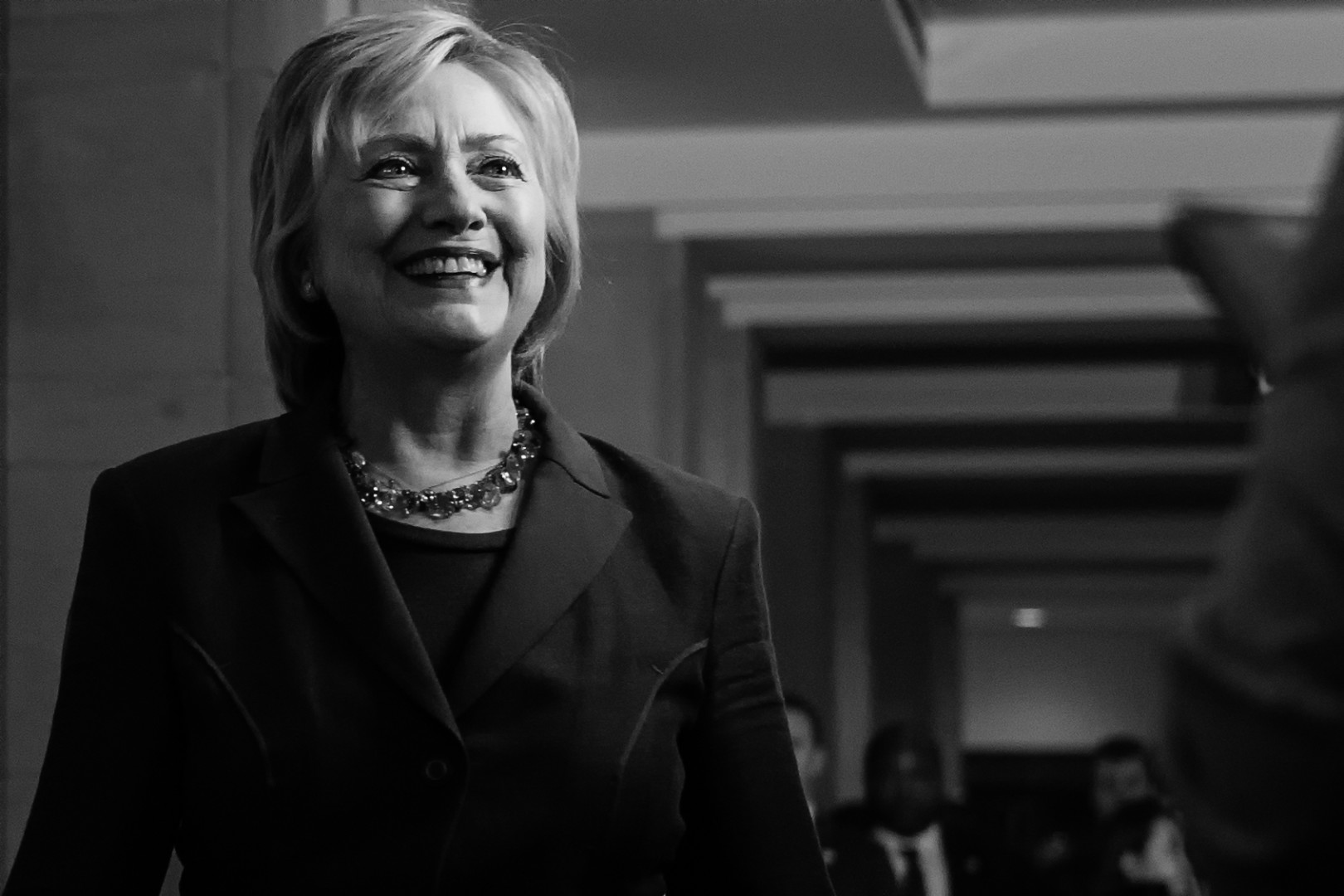 Hillary Clinton jumped 5 percentage points in a head-to-head matchup with Donald Trump over the weekend, even though voters think Trump would do more to grow the economy if he is elected president, according to a new Morning Consult poll.
Well over two-fifths of registered voters (44 percent) said they would choose the presumptive Democratic nominee if the presidential election were held now, while 39 percent said they would choose Trump. Almost one-fifth of respondents (18 percent) don't know or have no opinion.
It's a 3-point gain for Clinton, who had lost ground in our previous poll following the mass shooting at Pulse, a gay nightclub in Orlando.
period_end
company
Right Direction
Wrong Track
2020-01-06 00:00:00
The United States
0.39
0.61
2020-01-07 00:00:00
The United States
0.39
0.61
2020-01-08 00:00:00
The United States
0.39
0.61
2020-01-09 00:00:00
The United States
0.38
0.62
2020-01-10 00:00:00
The United States
0.38
0.62
2020-01-11 00:00:00
The United States
0.38
0.62
2020-01-12 00:00:00
The United States
0.38
0.62
2020-01-13 00:00:00
The United States
0.38
0.62
2020-01-14 00:00:00
The United States
0.38
0.62
2020-01-15 00:00:00
The United States
0.39
0.61
2020-01-16 00:00:00
The United States
0.39
0.61
2020-01-17 00:00:00
The United States
0.39
0.61
2020-01-18 00:00:00
The United States
0.39
0.61
2020-01-19 00:00:00
The United States
0.39
0.61
2020-01-20 00:00:00
The United States
0.39
0.61
2020-01-21 00:00:00
The United States
0.39
0.61
2020-01-22 00:00:00
The United States
0.38
0.62
2020-01-23 00:00:00
The United States
0.38
0.62
2020-01-24 00:00:00
The United States
0.38
0.62
2020-01-25 00:00:00
The United States
0.38
0.62
2020-01-26 00:00:00
The United States
0.38
0.62
2020-01-27 00:00:00
The United States
0.38
0.62
2020-01-28 00:00:00
The United States
0.38
0.62
2020-01-29 00:00:00
The United States
0.38
0.62
2020-01-30 00:00:00
The United States
0.38
0.62
2020-01-31 00:00:00
The United States
0.38
0.62
2020-02-01 00:00:00
The United States
0.38
0.62
2020-02-02 00:00:00
The United States
0.38
0.62
2020-02-03 00:00:00
The United States
0.39
0.61
2020-02-04 00:00:00
The United States
0.39
0.61
2020-02-05 00:00:00
The United States
0.39
0.61
2020-02-06 00:00:00
The United States
0.39
0.61
2020-02-07 00:00:00
The United States
0.4
0.6
2020-02-08 00:00:00
The United States
0.41
0.59
2020-02-09 00:00:00
The United States
0.41
0.59
2020-02-10 00:00:00
The United States
0.41
0.59
2020-02-11 00:00:00
The United States
0.42
0.58
2020-02-12 00:00:00
The United States
0.42
0.58
2020-02-13 00:00:00
The United States
0.42
0.58
2020-02-14 00:00:00
The United States
0.42
0.58
2020-02-15 00:00:00
The United States
0.42
0.58
2020-02-16 00:00:00
The United States
0.42
0.58
2020-02-17 00:00:00
The United States
0.42
0.58
2020-02-18 00:00:00
The United States
0.42
0.58
2020-02-19 00:00:00
The United States
0.41
0.59
2020-02-20 00:00:00
The United States
0.41
0.59
2020-02-21 00:00:00
The United States
0.41
0.59
2020-02-22 00:00:00
The United States
0.41
0.59
2020-02-23 00:00:00
The United States
0.41
0.59
2020-02-24 00:00:00
The United States
0.41
0.59
2020-02-25 00:00:00
The United States
0.41
0.59
2020-02-26 00:00:00
The United States
0.41
0.59
2020-02-27 00:00:00
The United States
0.41
0.59
2020-02-28 00:00:00
The United States
0.41
0.59
2020-02-29 00:00:00
The United States
0.41
0.59
2020-03-01 00:00:00
The United States
0.41
0.59
2020-03-02 00:00:00
The United States
0.4
0.6
2020-03-03 00:00:00
The United States
0.41
0.59
2020-03-04 00:00:00
The United States
0.41
0.59
2020-03-05 00:00:00
The United States
0.41
0.59
2020-03-06 00:00:00
The United States
0.4
0.6
2020-03-07 00:00:00
The United States
0.4
0.6
2020-03-08 00:00:00
The United States
0.4
0.6
2020-03-09 00:00:00
The United States
0.4
0.6
2020-03-10 00:00:00
The United States
0.4
0.6
2020-03-11 00:00:00
The United States
0.4
0.6
2020-03-12 00:00:00
The United States
0.4
0.6
2020-03-13 00:00:00
The United States
0.4
0.6
2020-03-14 00:00:00
The United States
0.39
0.61
2020-03-15 00:00:00
The United States
0.39
0.61
2020-03-16 00:00:00
The United States
0.39
0.61
2020-03-17 00:00:00
The United States
0.38
0.62
2020-03-18 00:00:00
The United States
0.38
0.62
2020-03-19 00:00:00
The United States
0.38
0.62
2020-03-20 00:00:00
The United States
0.37
0.63
2020-03-21 00:00:00
The United States
0.37
0.63
2020-03-22 00:00:00
The United States
0.37
0.63
2020-03-23 00:00:00
The United States
0.37
0.63
2020-03-24 00:00:00
The United States
0.36
0.64
2020-03-25 00:00:00
The United States
0.36
0.64
2020-03-26 00:00:00
The United States
0.36
0.64
2020-03-27 00:00:00
The United States
0.36
0.64
2020-03-28 00:00:00
The United States
0.36
0.64
2020-03-29 00:00:00
The United States
0.36
0.64
2020-03-30 00:00:00
The United States
0.36
0.64
2020-03-31 00:00:00
The United States
0.36
0.64
2020-04-01 00:00:00
The United States
0.36
0.64
2020-04-02 00:00:00
The United States
0.36
0.64
2020-04-03 00:00:00
The United States
0.36
0.64
2020-04-04 00:00:00
The United States
0.36
0.64
2020-04-05 00:00:00
The United States
0.36
0.64
2020-04-06 00:00:00
The United States
0.36
0.64
2020-04-07 00:00:00
The United States
0.36
0.64
2020-04-08 00:00:00
The United States
0.35
0.65
2020-04-09 00:00:00
The United States
0.35
0.65
2020-04-10 00:00:00
The United States
0.35
0.65
2020-04-11 00:00:00
The United States
0.36
0.64
2020-04-12 00:00:00
The United States
0.36
0.64
2020-04-13 00:00:00
The United States
0.36
0.64
2020-04-14 00:00:00
The United States
0.36
0.64
2020-04-15 00:00:00
The United States
0.36
0.64
2020-04-16 00:00:00
The United States
0.36
0.64
2020-04-17 00:00:00
The United States
0.36
0.64
2020-04-18 00:00:00
The United States
0.36
0.64
2020-04-19 00:00:00
The United States
0.36
0.64
2020-04-20 00:00:00
The United States
0.36
0.64
2020-04-21 00:00:00
The United States
0.36
0.64
2020-04-22 00:00:00
The United States
0.36
0.64
2020-04-23 00:00:00
The United States
0.36
0.64
2020-04-24 00:00:00
The United States
0.36
0.64
2020-04-25 00:00:00
The United States
0.37
0.63
2020-04-26 00:00:00
The United States
0.36
0.64
2020-04-27 00:00:00
The United States
0.36
0.64
2020-04-28 00:00:00
The United States
0.36
0.64
2020-04-29 00:00:00
The United States
0.36
0.64
2020-04-30 00:00:00
The United States
0.36
0.64
2020-05-01 00:00:00
The United States
0.36
0.64
2020-05-02 00:00:00
The United States
0.36
0.64
2020-05-03 00:00:00
The United States
0.36
0.64
2020-05-04 00:00:00
The United States
0.36
0.64
2020-05-05 00:00:00
The United States
0.36
0.64
2020-05-06 00:00:00
The United States
0.36
0.64
2020-05-07 00:00:00
The United States
0.36
0.64
2020-05-08 00:00:00
The United States
0.35
0.65
2020-05-09 00:00:00
The United States
0.35
0.65
2020-05-10 00:00:00
The United States
0.35
0.65
2020-05-11 00:00:00
The United States
0.35
0.65
2020-05-12 00:00:00
The United States
0.35
0.65
2020-05-13 00:00:00
The United States
0.35
0.65
2020-05-14 00:00:00
The United States
0.35
0.65
2020-05-15 00:00:00
The United States
0.35
0.65
2020-05-16 00:00:00
The United States
0.35
0.65
2020-05-17 00:00:00
The United States
0.34
0.66
2020-05-18 00:00:00
The United States
0.34
0.66
2020-05-19 00:00:00
The United States
0.34
0.66
2020-05-20 00:00:00
The United States
0.34
0.66
2020-05-21 00:00:00
The United States
0.34
0.66
2020-05-22 00:00:00
The United States
0.34
0.66
2020-05-23 00:00:00
The United States
0.34
0.66
2020-05-24 00:00:00
The United States
0.34
0.66
2020-05-25 00:00:00
The United States
0.35
0.65
2020-05-26 00:00:00
The United States
0.35
0.65
2020-05-27 00:00:00
The United States
0.35
0.65
2020-05-28 00:00:00
The United States
0.35
0.65
2020-05-29 00:00:00
The United States
0.35
0.65
2020-05-30 00:00:00
The United States
0.34
0.66
2020-05-31 00:00:00
The United States
0.34
0.66
2020-06-01 00:00:00
The United States
0.33
0.67
2020-06-02 00:00:00
The United States
0.32
0.68
2020-06-03 00:00:00
The United States
0.31
0.69
2020-06-04 00:00:00
The United States
0.3
0.7
2020-06-05 00:00:00
The United States
0.29
0.71
2020-06-06 00:00:00
The United States
0.28
0.72
2020-06-07 00:00:00
The United States
0.28
0.72
2020-06-08 00:00:00
The United States
0.28
0.72
2020-06-09 00:00:00
The United States
0.28
0.72
2020-06-10 00:00:00
The United States
0.28
0.72
2020-06-11 00:00:00
The United States
0.28
0.72
2020-06-12 00:00:00
The United States
0.28
0.72
2020-06-13 00:00:00
The United States
0.28
0.72
2020-06-14 00:00:00
The United States
0.28
0.72
2020-06-15 00:00:00
The United States
0.28
0.72
2020-06-16 00:00:00
The United States
0.28
0.72
2020-06-17 00:00:00
The United States
0.28
0.72
2020-06-18 00:00:00
The United States
0.28
0.72
2020-06-19 00:00:00
The United States
0.28
0.72
2020-06-20 00:00:00
The United States
0.28
0.72
2020-06-21 00:00:00
The United States
0.28
0.72
2020-06-22 00:00:00
The United States
0.27
0.73
2020-06-23 00:00:00
The United States
0.27
0.73
2020-06-24 00:00:00
The United States
0.27
0.73
2020-06-25 00:00:00
The United States
0.27
0.73
2020-06-26 00:00:00
The United States
0.27
0.73
2020-06-27 00:00:00
The United States
0.27
0.73
2020-06-28 00:00:00
The United States
0.27
0.73
2020-06-29 00:00:00
The United States
0.27
0.73
2020-06-30 00:00:00
The United States
0.26
0.74
2020-07-01 00:00:00
The United States
0.26
0.74
2020-07-02 00:00:00
The United States
0.26
0.74
2020-07-03 00:00:00
The United States
0.26
0.74
2020-07-04 00:00:00
The United States
0.26
0.74
2020-07-05 00:00:00
The United States
0.25
0.75
2020-07-06 00:00:00
The United States
0.25
0.75
2020-07-07 00:00:00
The United States
0.25
0.75
2020-07-08 00:00:00
The United States
0.26
0.74
2020-07-09 00:00:00
The United States
0.25
0.75
2020-07-10 00:00:00
The United States
0.26
0.74
2020-07-11 00:00:00
The United States
0.26
0.74
2020-07-12 00:00:00
The United States
0.26
0.74
2020-07-13 00:00:00
The United States
0.25
0.75
2020-07-14 00:00:00
The United States
0.25
0.75
2020-07-15 00:00:00
The United States
0.25
0.75
2020-07-16 00:00:00
The United States
0.25
0.75
2020-07-17 00:00:00
The United States
0.25
0.75
2020-07-18 00:00:00
The United States
0.25
0.75
2020-07-19 00:00:00
The United States
0.25
0.75
2020-07-20 00:00:00
The United States
0.25
0.75
2020-07-21 00:00:00
The United States
0.25
0.75
2020-07-22 00:00:00
The United States
0.25
0.75
2020-07-23 00:00:00
The United States
0.25
0.75
2020-07-24 00:00:00
The United States
0.25
0.75
2020-07-25 00:00:00
The United States
0.25
0.75
2020-07-26 00:00:00
The United States
0.25
0.75
2020-07-27 00:00:00
The United States
0.25
0.75
2020-07-28 00:00:00
The United States
0.25
0.75
2020-07-29 00:00:00
The United States
0.25
0.75
2020-07-30 00:00:00
The United States
0.25
0.75
2020-07-31 00:00:00
The United States
0.25
0.75
2020-08-01 00:00:00
The United States
0.25
0.75
2020-08-02 00:00:00
The United States
0.25
0.75
2020-08-03 00:00:00
The United States
0.25
0.75
2020-08-04 00:00:00
The United States
0.25
0.75
2020-08-05 00:00:00
The United States
0.25
0.75
2020-08-06 00:00:00
The United States
0.25
0.75
2020-08-07 00:00:00
The United States
0.25
0.75
2020-08-08 00:00:00
The United States
0.25
0.75
2020-08-09 00:00:00
The United States
0.26
0.74
2020-08-10 00:00:00
The United States
0.26
0.74
2020-08-11 00:00:00
The United States
0.26
0.74
2020-08-12 00:00:00
The United States
0.26
0.74
2020-08-13 00:00:00
The United States
0.26
0.74
2020-08-14 00:00:00
The United States
0.26
0.74
2020-08-15 00:00:00
The United States
0.26
0.74
2020-08-16 00:00:00
The United States
0.26
0.74
2020-08-17 00:00:00
The United States
0.26
0.74
2020-08-18 00:00:00
The United States
0.26
0.74
2020-08-19 00:00:00
The United States
0.26
0.74
2020-08-20 00:00:00
The United States
0.26
0.74
2020-08-21 00:00:00
The United States
0.27
0.73
2020-08-22 00:00:00
The United States
0.27
0.73
2020-08-23 00:00:00
The United States
0.27
0.73
2020-08-24 00:00:00
The United States
0.27
0.73
2020-08-25 00:00:00
The United States
0.27
0.73
2020-08-26 00:00:00
The United States
0.28
0.72
2020-08-27 00:00:00
The United States
0.28
0.72
2020-08-28 00:00:00
The United States
0.28
0.72
2020-08-29 00:00:00
The United States
0.28
0.72
2020-08-30 00:00:00
The United States
0.28
0.72
2020-08-31 00:00:00
The United States
0.27
0.73
2020-09-01 00:00:00
The United States
0.27
0.73
2020-09-02 00:00:00
The United States
0.27
0.73
2020-09-03 00:00:00
The United States
0.27
0.73
2020-09-04 00:00:00
The United States
0.27
0.73
2020-09-05 00:00:00
The United States
0.27
0.73
2020-09-06 00:00:00
The United States
0.27
0.73
2020-09-07 00:00:00
The United States
0.27
0.73
2020-09-08 00:00:00
The United States
0.28
0.72
2020-09-09 00:00:00
The United States
0.28
0.72
2020-09-10 00:00:00
The United States
0.28
0.72
2020-09-11 00:00:00
The United States
0.28
0.72
2020-09-12 00:00:00
The United States
0.28
0.72
2020-09-13 00:00:00
The United States
0.28
0.72
2020-09-14 00:00:00
The United States
0.28
0.72
2020-09-15 00:00:00
The United States
0.28
0.72
2020-09-16 00:00:00
The United States
0.28
0.72
2020-09-17 00:00:00
The United States
0.28
0.72
2020-09-18 00:00:00
The United States
0.28
0.72
2020-09-19 00:00:00
The United States
0.28
0.72
2020-09-20 00:00:00
The United States
0.28
0.72
2020-09-21 00:00:00
The United States
0.28
0.72
2020-09-22 00:00:00
The United States
0.28
0.72
2020-09-23 00:00:00
The United States
0.28
0.72
2020-09-24 00:00:00
The United States
0.28
0.72
2020-09-25 00:00:00
The United States
0.28
0.72
2020-09-26 00:00:00
The United States
0.28
0.72
2020-09-27 00:00:00
The United States
0.29
0.71
2020-09-28 00:00:00
The United States
0.29
0.71
2020-09-29 00:00:00
The United States
0.29
0.71
2020-09-30 00:00:00
The United States
0.29
0.71
2020-10-01 00:00:00
The United States
0.29
0.71
2020-10-02 00:00:00
The United States
0.29
0.71
2020-10-03 00:00:00
The United States
0.29
0.71
2020-10-04 00:00:00
The United States
0.29
0.71
2020-10-05 00:00:00
The United States
0.29
0.71
2020-10-06 00:00:00
The United States
0.29
0.71
2020-10-07 00:00:00
The United States
0.29
0.71
2020-10-08 00:00:00
The United States
0.29
0.71
2020-10-09 00:00:00
The United States
0.29
0.71
2020-10-10 00:00:00
The United States
0.29
0.71
2020-10-11 00:00:00
The United States
0.29
0.71
2020-10-12 00:00:00
The United States
0.29
0.71
2020-10-13 00:00:00
The United States
0.3
0.7
2020-10-14 00:00:00
The United States
0.3
0.7
2020-10-15 00:00:00
The United States
0.3
0.7
2020-10-16 00:00:00
The United States
0.3
0.7
2020-10-17 00:00:00
The United States
0.3
0.7
2020-10-18 00:00:00
The United States
0.3
0.7
2020-10-19 00:00:00
The United States
0.3
0.7
2020-10-20 00:00:00
The United States
0.3
0.7
2020-10-21 00:00:00
The United States
0.3
0.7
2020-10-22 00:00:00
The United States
0.3
0.7
2020-10-23 00:00:00
The United States
0.3
0.7
2020-10-24 00:00:00
The United States
0.3
0.7
2020-10-25 00:00:00
The United States
0.3
0.7
2020-10-26 00:00:00
The United States
0.3
0.7
2020-10-27 00:00:00
The United States
0.3
0.7
2020-10-28 00:00:00
The United States
0.3
0.7
2020-10-29 00:00:00
The United States
0.31
0.69
2020-10-30 00:00:00
The United States
0.31
0.69
2020-10-31 00:00:00
The United States
0.31
0.69
2020-11-01 00:00:00
The United States
0.31
0.69
2020-11-02 00:00:00
The United States
0.31
0.69
2020-11-03 00:00:00
The United States
0.31
0.69
2020-11-04 00:00:00
The United States
0.31
0.69
2020-11-05 00:00:00
The United States
0.31
0.69
2020-11-06 00:00:00
The United States
0.31
0.69
2020-11-07 00:00:00
The United States
0.3
0.7
2020-11-08 00:00:00
The United States
0.31
0.69
2020-11-09 00:00:00
The United States
0.3
0.7
2020-11-10 00:00:00
The United States
0.3
0.7
2020-11-11 00:00:00
The United States
0.3
0.7
2020-11-12 00:00:00
The United States
0.3
0.7
2020-11-13 00:00:00
The United States
0.3
0.7
2020-11-14 00:00:00
The United States
0.3
0.7
2020-11-15 00:00:00
The United States
0.29
0.71
2020-11-16 00:00:00
The United States
0.29
0.71
2020-11-17 00:00:00
The United States
0.29
0.71
2020-11-18 00:00:00
The United States
0.28
0.72
2020-11-19 00:00:00
The United States
0.28
0.72
2020-11-20 00:00:00
The United States
0.28
0.72
2020-11-21 00:00:00
The United States
0.27
0.73
2020-11-22 00:00:00
The United States
0.27
0.73
2020-11-23 00:00:00
The United States
0.27
0.73
2020-11-24 00:00:00
The United States
0.27
0.73
2020-11-25 00:00:00
The United States
0.27
0.73
2020-11-26 00:00:00
The United States
0.27
0.73
2020-11-27 00:00:00
The United States
0.28
0.72
2020-11-28 00:00:00
The United States
0.28
0.72
2020-11-29 00:00:00
The United States
0.28
0.72
2020-11-30 00:00:00
The United States
0.28
0.72
2020-12-01 00:00:00
The United States
0.28
0.72
2020-12-02 00:00:00
The United States
0.28
0.72
2020-12-03 00:00:00
The United States
0.28
0.72
2020-12-04 00:00:00
The United States
0.28
0.72
2020-12-05 00:00:00
The United States
0.28
0.72
2020-12-06 00:00:00
The United States
0.28
0.72
2020-12-07 00:00:00
The United States
0.27
0.73
2020-12-08 00:00:00
The United States
0.27
0.73
2020-12-09 00:00:00
The United States
0.27
0.73
2020-12-10 00:00:00
The United States
0.27
0.73
2020-12-11 00:00:00
The United States
0.27
0.73
2020-12-12 00:00:00
The United States
0.27
0.73
2020-12-13 00:00:00
The United States
0.27
0.73
2020-12-14 00:00:00
The United States
0.27
0.73
2020-12-15 00:00:00
The United States
0.27
0.73
2020-12-16 00:00:00
The United States
0.28
0.72
2020-12-17 00:00:00
The United States
0.28
0.72
2020-12-18 00:00:00
The United States
0.28
0.72
2020-12-19 00:00:00
The United States
0.28
0.72
2020-12-20 00:00:00
The United States
0.27
0.73
2020-12-21 00:00:00
The United States
0.27
0.73
2020-12-22 00:00:00
The United States
0.27
0.73
2020-12-23 00:00:00
The United States
0.27
0.73
2020-12-24 00:00:00
The United States
0.27
0.73
2020-12-25 00:00:00
The United States
0.27
0.73
2020-12-26 00:00:00
The United States
0.27
0.73
2020-12-27 00:00:00
The United States
0.27
0.73
2020-12-28 00:00:00
The United States
0.27
0.73
2020-12-29 00:00:00
The United States
0.26
0.74
2020-12-30 00:00:00
The United States
0.27
0.73
2020-12-31 00:00:00
The United States
0.26
0.74
2021-01-01 00:00:00
The United States
0.27
0.73
2021-01-02 00:00:00
The United States
0.27
0.73
2021-01-03 00:00:00
The United States
0.27
0.73
2021-01-04 00:00:00
The United States
0.27
0.73
2021-01-05 00:00:00
The United States
0.27
0.73
2021-01-06 00:00:00
The United States
0.26
0.74
2021-01-07 00:00:00
The United States
0.26
0.74
2021-01-08 00:00:00
The United States
0.25
0.75
2021-01-09 00:00:00
The United States
0.24
0.76
2021-01-10 00:00:00
The United States
0.23
0.77
2021-01-11 00:00:00
The United States
0.22
0.78
2021-01-12 00:00:00
The United States
0.21
0.79
2021-01-13 00:00:00
The United States
0.21
0.79
2021-01-14 00:00:00
The United States
0.21
0.79
2021-01-15 00:00:00
The United States
0.2
0.8
2021-01-16 00:00:00
The United States
0.2
0.8
2021-01-17 00:00:00
The United States
0.21
0.79
2021-01-18 00:00:00
The United States
0.21
0.79
2021-01-19 00:00:00
The United States
0.21
0.79
2021-01-20 00:00:00
The United States
0.23
0.77
2021-01-21 00:00:00
The United States
0.25
0.75
2021-01-22 00:00:00
The United States
0.27
0.73
2021-01-23 00:00:00
The United States
0.3
0.7
2021-01-24 00:00:00
The United States
0.33
0.67
2021-01-25 00:00:00
The United States
0.36
0.64
2021-01-26 00:00:00
The United States
0.39
0.61
2021-01-27 00:00:00
The United States
0.4
0.6
2021-01-28 00:00:00
The United States
0.4
0.6
2021-01-29 00:00:00
The United States
0.4
0.6
2021-01-30 00:00:00
The United States
0.4
0.6
2021-01-31 00:00:00
The United States
0.4
0.6
2021-02-01 00:00:00
The United States
0.4
0.6
2021-02-02 00:00:00
The United States
0.4
0.6
2021-02-03 00:00:00
The United States
0.4
0.6
2021-02-04 00:00:00
The United States
0.4
0.6
2021-02-05 00:00:00
The United States
0.4
0.6
2021-02-06 00:00:00
The United States
0.41
0.59
2021-02-07 00:00:00
The United States
0.42
0.58
2021-02-08 00:00:00
The United States
0.43
0.57
2021-02-09 00:00:00
The United States
0.43
0.57
2021-02-10 00:00:00
The United States
0.43
0.57
2021-02-11 00:00:00
The United States
0.43
0.57
2021-02-12 00:00:00
The United States
0.43
0.57
2021-02-13 00:00:00
The United States
0.43
0.57
2021-02-14 00:00:00
The United States
0.42
0.58
2021-02-15 00:00:00
The United States
0.42
0.58
2021-02-16 00:00:00
The United States
0.42
0.58
2021-02-17 00:00:00
The United States
0.42
0.58
2021-02-18 00:00:00
The United States
0.42
0.58
2021-02-19 00:00:00
The United States
0.42
0.58
2021-02-20 00:00:00
The United States
0.43
0.57
2021-02-21 00:00:00
The United States
0.43
0.57
2021-02-22 00:00:00
The United States
0.43
0.57
2021-02-23 00:00:00
The United States
0.44
0.56
2021-02-24 00:00:00
The United States
0.44
0.56
2021-02-25 00:00:00
The United States
0.44
0.56
2021-02-26 00:00:00
The United States
0.44
0.56
2021-02-27 00:00:00
The United States
0.45
0.55
2021-02-28 00:00:00
The United States
0.44
0.56
2021-03-01 00:00:00
The United States
0.45
0.55
2021-03-02 00:00:00
The United States
0.45
0.55
2021-03-03 00:00:00
The United States
0.45
0.55
2021-03-04 00:00:00
The United States
0.45
0.55
2021-03-05 00:00:00
The United States
0.45
0.55
2021-03-06 00:00:00
The United States
0.45
0.55
2021-03-07 00:00:00
The United States
0.46
0.54
2021-03-08 00:00:00
The United States
0.46
0.54
2021-03-09 00:00:00
The United States
0.46
0.54
2021-03-10 00:00:00
The United States
0.47
0.53
2021-03-11 00:00:00
The United States
0.47
0.53
2021-03-12 00:00:00
The United States
0.47
0.53
2021-03-13 00:00:00
The United States
0.48
0.52
2021-03-14 00:00:00
The United States
0.49
0.51
2021-03-15 00:00:00
The United States
0.49
0.51
2021-03-16 00:00:00
The United States
0.49
0.51
2021-03-17 00:00:00
The United States
0.49
0.51
2021-03-18 00:00:00
The United States
0.5
0.5
2021-03-19 00:00:00
The United States
0.5
0.5
2021-03-20 00:00:00
The United States
0.49
0.51
2021-03-21 00:00:00
The United States
0.49
0.51
2021-03-22 00:00:00
The United States
0.49
0.51
2021-03-23 00:00:00
The United States
0.49
0.51
2021-03-24 00:00:00
The United States
0.49
0.51
2021-03-25 00:00:00
The United States
0.48
0.52
2021-03-26 00:00:00
The United States
0.48
0.52
2021-03-27 00:00:00
The United States
0.48
0.52
2021-03-28 00:00:00
The United States
0.47
0.53
2021-03-29 00:00:00
The United States
0.47
0.53
2021-03-30 00:00:00
The United States
0.47
0.53
2021-03-31 00:00:00
The United States
0.46
0.54
2021-04-01 00:00:00
The United States
0.47
0.53
2021-04-02 00:00:00
The United States
0.47
0.53
2021-04-03 00:00:00
The United States
0.47
0.53
2021-04-04 00:00:00
The United States
0.47
0.53
2021-04-05 00:00:00
The United States
0.47
0.53
2021-04-06 00:00:00
The United States
0.48
0.52
2021-04-07 00:00:00
The United States
0.48
0.52
2021-04-08 00:00:00
The United States
0.48
0.52
2021-04-09 00:00:00
The United States
0.48
0.52
2021-04-10 00:00:00
The United States
0.48
0.52
2021-04-11 00:00:00
The United States
0.48
0.52
2021-04-12 00:00:00
The United States
0.48
0.52
2021-04-13 00:00:00
The United States
0.48
0.52
2021-04-14 00:00:00
The United States
0.48
0.52
2021-04-15 00:00:00
The United States
0.48
0.52
2021-04-16 00:00:00
The United States
0.47
0.53
2021-04-17 00:00:00
The United States
0.47
0.53
2021-04-18 00:00:00
The United States
0.47
0.53
2021-04-19 00:00:00
The United States
0.46
0.54
2021-04-20 00:00:00
The United States
0.46
0.54
2021-04-21 00:00:00
The United States
0.45
0.55
2021-04-22 00:00:00
The United States
0.45
0.55
2021-04-23 00:00:00
The United States
0.46
0.54
2021-04-24 00:00:00
The United States
0.46
0.54
2021-04-25 00:00:00
The United States
0.46
0.54
2021-04-26 00:00:00
The United States
0.47
0.53
2021-04-27 00:00:00
The United States
0.47
0.53
2021-04-28 00:00:00
The United States
0.48
0.52
2021-04-29 00:00:00
The United States
0.48
0.52
2021-04-30 00:00:00
The United States
0.49
0.51
2021-05-01 00:00:00
The United States
0.49
0.51
2021-05-02 00:00:00
The United States
0.5
0.5
2021-05-03 00:00:00
The United States
0.49
0.51
2021-05-04 00:00:00
The United States
0.5
0.5
2021-05-05 00:00:00
The United States
0.5
0.5
2021-05-06 00:00:00
The United States
0.5
0.5
2021-05-07 00:00:00
The United States
0.49
0.51
2021-05-08 00:00:00
The United States
0.49
0.51
2021-05-09 00:00:00
The United States
0.49
0.51
2021-05-10 00:00:00
The United States
0.49
0.51
2021-05-11 00:00:00
The United States
0.48
0.52
2021-05-12 00:00:00
The United States
0.48
0.52
2021-05-13 00:00:00
The United States
0.47
0.53
2021-05-14 00:00:00
The United States
0.47
0.53
2021-05-15 00:00:00
The United States
0.47
0.53
2021-05-16 00:00:00
The United States
0.47
0.53
2021-05-17 00:00:00
The United States
0.47
0.53
2021-05-18 00:00:00
The United States
0.47
0.53
2021-05-19 00:00:00
The United States
0.48
0.52
2021-05-20 00:00:00
The United States
0.48
0.52
2021-05-21 00:00:00
The United States
0.48
0.52
2021-05-22 00:00:00
The United States
0.48
0.52
2021-05-23 00:00:00
The United States
0.48
0.52
2021-05-24 00:00:00
The United States
0.48
0.52
2021-05-25 00:00:00
The United States
0.48
0.52
2021-05-26 00:00:00
The United States
0.48
0.52
2021-05-27 00:00:00
The United States
0.48
0.52
2021-05-28 00:00:00
The United States
0.48
0.52
2021-05-29 00:00:00
The United States
0.48
0.52
2021-05-30 00:00:00
The United States
0.48
0.52
2021-05-31 00:00:00
The United States
0.48
0.52
2021-06-01 00:00:00
The United States
0.47
0.53
2021-06-02 00:00:00
The United States
0.47
0.53
2021-06-03 00:00:00
The United States
0.47
0.53
2021-06-04 00:00:00
The United States
0.47
0.53
2021-06-05 00:00:00
The United States
0.47
0.53
2021-06-06 00:00:00
The United States
0.47
0.53
2021-06-07 00:00:00
The United States
0.47
0.53
2021-06-08 00:00:00
The United States
0.47
0.53
2021-06-09 00:00:00
The United States
0.47
0.53
2021-06-10 00:00:00
The United States
0.47
0.53
2021-06-11 00:00:00
The United States
0.47
0.53
2021-06-12 00:00:00
The United States
0.48
0.52
2021-06-13 00:00:00
The United States
0.47
0.53
2021-06-14 00:00:00
The United States
0.47
0.53
2021-06-15 00:00:00
The United States
0.47
0.53
2021-06-16 00:00:00
The United States
0.47
0.53
2021-06-17 00:00:00
The United States
0.48
0.52
2021-06-18 00:00:00
The United States
0.48
0.52
2021-06-19 00:00:00
The United States
0.48
0.52
2021-06-20 00:00:00
The United States
0.48
0.52
2021-06-21 00:00:00
The United States
0.48
0.52
2021-06-22 00:00:00
The United States
0.48
0.52
2021-06-23 00:00:00
The United States
0.48
0.52
2021-06-24 00:00:00
The United States
0.48
0.52
2021-06-25 00:00:00
The United States
0.48
0.52
2021-06-26 00:00:00
The United States
0.48
0.52
2021-06-27 00:00:00
The United States
0.48
0.52
2021-06-28 00:00:00
The United States
0.48
0.52
2021-06-29 00:00:00
The United States
0.48
0.52
2021-06-30 00:00:00
The United States
0.48
0.52
2021-07-01 00:00:00
The United States
0.48
0.52
2021-07-02 00:00:00
The United States
0.48
0.52
2021-07-03 00:00:00
The United States
0.48
0.52
2021-07-04 00:00:00
The United States
0.47
0.53
2021-07-05 00:00:00
The United States
0.47
0.53
2021-07-06 00:00:00
The United States
0.47
0.53
2021-07-07 00:00:00
The United States
0.48
0.52
2021-07-08 00:00:00
The United States
0.47
0.53
2021-07-09 00:00:00
The United States
0.47
0.53
2021-07-10 00:00:00
The United States
0.47
0.53
2021-07-11 00:00:00
The United States
0.47
0.53
2021-07-12 00:00:00
The United States
0.47
0.53
2021-07-13 00:00:00
The United States
0.47
0.53
2021-07-14 00:00:00
The United States
0.47
0.53
2021-07-15 00:00:00
The United States
0.46
0.54
2021-07-16 00:00:00
The United States
0.46
0.54
2021-07-17 00:00:00
The United States
0.46
0.54
2021-07-18 00:00:00
The United States
0.46
0.54
2021-07-19 00:00:00
The United States
0.46
0.54
2021-07-20 00:00:00
The United States
0.45
0.55
2021-07-21 00:00:00
The United States
0.45
0.55
2021-07-22 00:00:00
The United States
0.45
0.55
2021-07-23 00:00:00
The United States
0.45
0.55
2021-07-24 00:00:00
The United States
0.45
0.55
2021-07-25 00:00:00
The United States
0.45
0.55
2021-07-26 00:00:00
The United States
0.44
0.56
2021-07-27 00:00:00
The United States
0.44
0.56
2021-07-28 00:00:00
The United States
0.44
0.56
2021-07-29 00:00:00
The United States
0.44
0.56
2021-07-30 00:00:00
The United States
0.43
0.57
2021-07-31 00:00:00
The United States
0.43
0.57
2021-08-01 00:00:00
The United States
0.43
0.57
2021-08-02 00:00:00
The United States
0.43
0.57
2021-08-03 00:00:00
The United States
0.43
0.57
2021-08-04 00:00:00
The United States
0.43
0.57
2021-08-05 00:00:00
The United States
0.43
0.57
2021-08-06 00:00:00
The United States
0.43
0.57
2021-08-07 00:00:00
The United States
0.42
0.58
2021-08-08 00:00:00
The United States
0.42
0.58
2021-08-09 00:00:00
The United States
0.42
0.58
2021-08-10 00:00:00
The United States
0.42
0.58
2021-08-11 00:00:00
The United States
0.43
0.57
2021-08-12 00:00:00
The United States
0.43
0.57
2021-08-13 00:00:00
The United States
0.43
0.57
2021-08-14 00:00:00
The United States
0.43
0.57
2021-08-15 00:00:00
The United States
0.43
0.57
2021-08-16 00:00:00
The United States
0.43
0.57
2021-08-17 00:00:00
The United States
0.43
0.57
2021-08-18 00:00:00
The United States
0.43
0.57
2021-08-19 00:00:00
The United States
0.42
0.58
2021-08-20 00:00:00
The United States
0.42
0.58
2021-08-21 00:00:00
The United States
0.42
0.58
2021-08-22 00:00:00
The United States
0.41
0.59
2021-08-23 00:00:00
The United States
0.41
0.59
2021-08-24 00:00:00
The United States
0.41
0.59
2021-08-25 00:00:00
The United States
0.41
0.59
2021-08-26 00:00:00
The United States
0.41
0.59
2021-08-27 00:00:00
The United States
0.41
0.59
2021-08-28 00:00:00
The United States
0.41
0.59
2021-08-29 00:00:00
The United States
0.4
0.6
2021-08-30 00:00:00
The United States
0.4
0.6
2021-08-31 00:00:00
The United States
0.4
0.6
2021-09-01 00:00:00
The United States
0.4
0.6
2021-09-02 00:00:00
The United States
0.4
0.6
2021-09-03 00:00:00
The United States
0.39
0.61
2021-09-04 00:00:00
The United States
0.39
0.61
2021-09-05 00:00:00
The United States
0.39
0.61
2021-09-06 00:00:00
The United States
0.39
0.61
2021-09-07 00:00:00
The United States
0.39
0.61
2021-09-08 00:00:00
The United States
0.39
0.61
2021-09-09 00:00:00
The United States
0.39
0.61
2021-09-10 00:00:00
The United States
0.39
0.61
2021-09-11 00:00:00
The United States
0.39
0.61
2021-09-12 00:00:00
The United States
0.39
0.61
2021-09-13 00:00:00
The United States
0.39
0.61
2021-09-14 00:00:00
The United States
0.38
0.62
2021-09-15 00:00:00
The United States
0.38
0.62
2021-09-16 00:00:00
The United States
0.38
0.62
2021-09-17 00:00:00
The United States
0.39
0.61
2021-09-18 00:00:00
The United States
0.39
0.61
2021-09-19 00:00:00
The United States
0.39
0.61
2021-09-20 00:00:00
The United States
0.39
0.61
2021-09-21 00:00:00
The United States
0.39
0.61
2021-09-22 00:00:00
The United States
0.39
0.61
2021-09-23 00:00:00
The United States
0.39
0.61
2021-09-24 00:00:00
The United States
0.39
0.61
2021-09-25 00:00:00
The United States
0.38
0.62
2021-09-26 00:00:00
The United States
0.38
0.62
2021-09-27 00:00:00
The United States
0.38
0.62
2021-09-28 00:00:00
The United States
0.38
0.62
2021-09-29 00:00:00
The United States
0.38
0.62
2021-09-30 00:00:00
The United States
0.38
0.62
2021-10-01 00:00:00
The United States
0.38
0.62
2021-10-02 00:00:00
The United States
0.38
0.62
2021-10-03 00:00:00
The United States
0.38
0.62
2021-10-04 00:00:00
The United States
0.38
0.62
2021-10-05 00:00:00
The United States
0.38
0.62
2021-10-06 00:00:00
The United States
0.38
0.62
2021-10-07 00:00:00
The United States
0.38
0.62
2021-10-08 00:00:00
The United States
0.38
0.62
2021-10-09 00:00:00
The United States
0.38
0.62
2021-10-10 00:00:00
The United States
0.39
0.61
2021-10-11 00:00:00
The United States
0.38
0.62
2021-10-12 00:00:00
The United States
0.38
0.62
2021-10-13 00:00:00
The United States
0.39
0.61
2021-10-14 00:00:00
The United States
0.39
0.61
2021-10-15 00:00:00
The United States
0.39
0.61
2021-10-16 00:00:00
The United States
0.39
0.61
2021-10-17 00:00:00
The United States
0.39
0.61
2021-10-18 00:00:00
The United States
0.39
0.61
2021-10-19 00:00:00
The United States
0.39
0.61
2021-10-20 00:00:00
The United States
0.39
0.61
2021-10-21 00:00:00
The United States
0.39
0.61
2021-10-22 00:00:00
The United States
0.39
0.61
2021-10-23 00:00:00
The United States
0.38
0.62
2021-10-24 00:00:00
The United States
0.38
0.62
2021-10-25 00:00:00
The United States
0.38
0.62
2021-10-26 00:00:00
The United States
0.38
0.62
2021-10-27 00:00:00
The United States
0.38
0.62
2021-10-28 00:00:00
The United States
0.37
0.63
2021-10-31 00:00:00
The United States
0.38
0.62
2021-11-01 00:00:00
The United States
0.37
0.63
2021-11-02 00:00:00
The United States
0.37
0.63
2021-11-03 00:00:00
The United States
0.38
0.62
2021-11-04 00:00:00
The United States
0.38
0.62
2021-11-05 00:00:00
The United States
0.38
0.62
2021-11-06 00:00:00
The United States
0.38
0.62
2021-11-07 00:00:00
The United States
0.38
0.62
2021-11-08 00:00:00
The United States
0.38
0.62
2021-11-09 00:00:00
The United States
0.38
0.62
2021-11-10 00:00:00
The United States
0.38
0.62
2021-11-11 00:00:00
The United States
0.38
0.62
2021-11-12 00:00:00
The United States
0.38
0.62
2021-11-13 00:00:00
The United States
0.38
0.62
2021-11-14 00:00:00
The United States
0.38
0.62
2021-11-15 00:00:00
The United States
0.39
0.61
2021-11-16 00:00:00
The United States
0.38
0.62
2021-11-17 00:00:00
The United States
0.38
0.62
2021-11-18 00:00:00
The United States
0.38
0.62
2021-11-19 00:00:00
The United States
0.38
0.62
2021-11-20 00:00:00
The United States
0.38
0.62
2021-11-21 00:00:00
The United States
0.38
0.62
2021-11-22 00:00:00
The United States
0.38
0.62
2021-11-23 00:00:00
The United States
0.38
0.62
2021-11-24 00:00:00
The United States
0.39
0.61
2021-11-25 00:00:00
The United States
0.39
0.61
2021-11-26 00:00:00
The United States
0.38
0.62
2021-11-27 00:00:00
The United States
0.38
0.62
2021-11-28 00:00:00
The United States
0.39
0.61
2021-11-29 00:00:00
The United States
0.38
0.62
2021-11-30 00:00:00
The United States
0.38
0.62
2021-12-01 00:00:00
The United States
0.38
0.62
2021-12-02 00:00:00
The United States
0.38
0.62
2021-12-03 00:00:00
The United States
0.38
0.62
2021-12-04 00:00:00
The United States
0.38
0.62
2021-12-05 00:00:00
The United States
0.38
0.62
2021-12-06 00:00:00
The United States
0.38
0.62
2021-12-07 00:00:00
The United States
0.38
0.62
2021-12-08 00:00:00
The United States
0.38
0.62
2021-12-09 00:00:00
The United States
0.38
0.62
2021-12-10 00:00:00
The United States
0.37
0.63
2021-12-11 00:00:00
The United States
0.37
0.63
2021-12-12 00:00:00
The United States
0.37
0.63
2021-12-13 00:00:00
The United States
0.37
0.63
2021-12-14 00:00:00
The United States
0.37
0.63
2021-12-15 00:00:00
The United States
0.37
0.63
2021-12-16 00:00:00
The United States
0.37
0.63
2021-12-17 00:00:00
The United States
0.38
0.62
2021-12-18 00:00:00
The United States
0.38
0.62
2021-12-19 00:00:00
The United States
0.38
0.62
2021-12-20 00:00:00
The United States
0.38
0.62
2021-12-21 00:00:00
The United States
0.38
0.62
2021-12-22 00:00:00
The United States
0.38
0.62
2021-12-23 00:00:00
The United States
0.38
0.62
2021-12-24 00:00:00
The United States
0.38
0.62
2021-12-25 00:00:00
The United States
0.38
0.62
2021-12-26 00:00:00
The United States
0.37
0.63
2021-12-27 00:00:00
The United States
0.37
0.63
2021-12-28 00:00:00
The United States
0.37
0.63
2021-12-29 00:00:00
The United States
0.37
0.63
2021-12-30 00:00:00
The United States
0.36
0.64
2021-12-31 00:00:00
The United States
0.36
0.64
2022-01-01 00:00:00
The United States
0.35
0.65
2022-01-02 00:00:00
The United States
0.35
0.65
2022-01-03 00:00:00
The United States
0.35
0.65
2022-01-04 00:00:00
The United States
0.35
0.65
2022-01-05 00:00:00
The United States
0.35
0.65
2022-01-06 00:00:00
The United States
0.35
0.65
2022-01-07 00:00:00
The United States
0.36
0.64
2022-01-08 00:00:00
The United States
0.36
0.64
2022-01-09 00:00:00
The United States
0.36
0.64
2022-01-10 00:00:00
The United States
0.36
0.64
2022-01-11 00:00:00
The United States
0.36
0.64
2022-01-12 00:00:00
The United States
0.36
0.64
2022-01-13 00:00:00
The United States
0.36
0.64
2022-01-14 00:00:00
The United States
0.35
0.65
2022-01-15 00:00:00
The United States
0.35
0.65
2022-01-16 00:00:00
The United States
0.35
0.65
2022-01-17 00:00:00
The United States
0.35
0.65
2022-01-18 00:00:00
The United States
0.35
0.65
2022-01-19 00:00:00
The United States
0.35
0.65
2022-01-20 00:00:00
The United States
0.35
0.65
2022-01-21 00:00:00
The United States
0.35
0.65
2022-01-22 00:00:00
The United States
0.35
0.65
2022-01-23 00:00:00
The United States
0.35
0.65
2022-01-24 00:00:00
The United States
0.34
0.66
2022-01-25 00:00:00
The United States
0.34
0.66
2020-01-06 00:00:00
The United Kingdom
0.44
0.56
2020-01-07 00:00:00
The United Kingdom
0.45
0.55
2020-01-08 00:00:00
The United Kingdom
0.44
0.56
2020-01-09 00:00:00
The United Kingdom
0.44
0.56
2020-01-10 00:00:00
The United Kingdom
0.44
0.56
2020-01-11 00:00:00
The United Kingdom
0.43
0.57
2020-01-12 00:00:00
The United Kingdom
0.44
0.56
2020-01-13 00:00:00
The United Kingdom
0.44
0.56
2020-01-14 00:00:00
The United Kingdom
0.43
0.57
2020-01-15 00:00:00
The United Kingdom
0.43
0.57
2020-01-16 00:00:00
The United Kingdom
0.43
0.57
2020-01-17 00:00:00
The United Kingdom
0.43
0.57
2020-01-18 00:00:00
The United Kingdom
0.43
0.57
2020-01-19 00:00:00
The United Kingdom
0.42
0.58
2020-01-20 00:00:00
The United Kingdom
0.42
0.58
2020-01-21 00:00:00
The United Kingdom
0.44
0.56
2020-01-22 00:00:00
The United Kingdom
0.44
0.56
2020-01-23 00:00:00
The United Kingdom
0.45
0.55
2020-01-24 00:00:00
The United Kingdom
0.45
0.55
2020-01-25 00:00:00
The United Kingdom
0.44
0.56
2020-01-26 00:00:00
The United Kingdom
0.44
0.56
2020-01-27 00:00:00
The United Kingdom
0.46
0.54
2020-01-28 00:00:00
The United Kingdom
0.45
0.55
2020-01-29 00:00:00
The United Kingdom
0.46
0.54
2020-01-30 00:00:00
The United Kingdom
0.46
0.54
2020-01-31 00:00:00
The United Kingdom
0.45
0.55
2020-02-01 00:00:00
The United Kingdom
0.46
0.54
2020-02-02 00:00:00
The United Kingdom
0.47
0.53
2020-02-03 00:00:00
The United Kingdom
0.46
0.54
2020-02-04 00:00:00
The United Kingdom
0.46
0.54
2020-02-05 00:00:00
The United Kingdom
0.46
0.54
2020-02-06 00:00:00
The United Kingdom
0.46
0.54
2020-02-07 00:00:00
The United Kingdom
0.46
0.54
2020-02-08 00:00:00
The United Kingdom
0.46
0.54
2020-02-09 00:00:00
The United Kingdom
0.45
0.55
2020-02-10 00:00:00
The United Kingdom
0.45
0.55
2020-02-11 00:00:00
The United Kingdom
0.45
0.55
2020-02-12 00:00:00
The United Kingdom
0.45
0.55
2020-02-13 00:00:00
The United Kingdom
0.46
0.54
2020-02-14 00:00:00
The United Kingdom
0.46
0.54
2020-02-15 00:00:00
The United Kingdom
0.48
0.52
2020-02-16 00:00:00
The United Kingdom
0.47
0.53
2020-02-17 00:00:00
The United Kingdom
0.47
0.53
2020-02-18 00:00:00
The United Kingdom
0.47
0.53
2020-02-19 00:00:00
The United Kingdom
0.47
0.53
2020-02-20 00:00:00
The United Kingdom
0.48
0.52
2020-02-21 00:00:00
The United Kingdom
0.48
0.52
2020-02-22 00:00:00
The United Kingdom
0.47
0.53
2020-02-23 00:00:00
The United Kingdom
0.47
0.53
2020-02-24 00:00:00
The United Kingdom
0.47
0.53
2020-02-25 00:00:00
The United Kingdom
0.47
0.53
2020-02-26 00:00:00
The United Kingdom
0.47
0.53
2020-02-27 00:00:00
The United Kingdom
0.47
0.53
2020-02-28 00:00:00
The United Kingdom
0.45
0.55
2020-02-29 00:00:00
The United Kingdom
0.45
0.55
2020-03-01 00:00:00
The United Kingdom
0.46
0.54
2020-03-02 00:00:00
The United Kingdom
0.45
0.55
2020-03-03 00:00:00
The United Kingdom
0.45
0.55
2020-03-04 00:00:00
The United Kingdom
0.45
0.55
2020-03-05 00:00:00
The United Kingdom
0.45
0.55
2020-03-06 00:00:00
The United Kingdom
0.45
0.55
2020-03-07 00:00:00
The United Kingdom
0.46
0.54
2020-03-08 00:00:00
The United Kingdom
0.46
0.54
2020-03-09 00:00:00
The United Kingdom
0.45
0.55
2020-03-10 00:00:00
The United Kingdom
0.45
0.55
2020-03-11 00:00:00
The United Kingdom
0.45
0.55
2020-03-12 00:00:00
The United Kingdom
0.46
0.54
2020-03-13 00:00:00
The United Kingdom
0.46
0.54
2020-03-14 00:00:00
The United Kingdom
0.45
0.55
2020-03-15 00:00:00
The United Kingdom
0.45
0.55
2020-03-16 00:00:00
The United Kingdom
0.45
0.55
2020-03-17 00:00:00
The United Kingdom
0.44
0.56
2020-03-18 00:00:00
The United Kingdom
0.43
0.57
2020-03-19 00:00:00
The United Kingdom
0.44
0.56
2020-03-20 00:00:00
The United Kingdom
0.43
0.57
2020-03-21 00:00:00
The United Kingdom
0.43
0.57
2020-03-22 00:00:00
The United Kingdom
0.44
0.56
2020-03-23 00:00:00
The United Kingdom
0.44
0.56
2020-03-24 00:00:00
The United Kingdom
0.46
0.54
2020-03-25 00:00:00
The United Kingdom
0.48
0.52
2020-03-26 00:00:00
The United Kingdom
0.48
0.52
2020-03-27 00:00:00
The United Kingdom
0.5
0.5
2020-03-28 00:00:00
The United Kingdom
0.51
0.49
2020-03-29 00:00:00
The United Kingdom
0.51
0.49
2020-03-30 00:00:00
The United Kingdom
0.51
0.49
2020-03-31 00:00:00
The United Kingdom
0.51
0.49
2020-04-01 00:00:00
The United Kingdom
0.5
0.5
2020-04-02 00:00:00
The United Kingdom
0.48
0.52
2020-04-03 00:00:00
The United Kingdom
0.48
0.52
2020-04-04 00:00:00
The United Kingdom
0.48
0.52
2020-04-05 00:00:00
The United Kingdom
0.47
0.53
2020-04-06 00:00:00
The United Kingdom
0.46
0.54
2020-04-07 00:00:00
The United Kingdom
0.47
0.53
2020-04-08 00:00:00
The United Kingdom
0.48
0.52
2020-04-09 00:00:00
The United Kingdom
0.49
0.51
2020-04-10 00:00:00
The United Kingdom
0.48
0.52
2020-04-11 00:00:00
The United Kingdom
0.48
0.52
2020-04-12 00:00:00
The United Kingdom
0.49
0.51
2020-04-13 00:00:00
The United Kingdom
0.5
0.5
2020-04-14 00:00:00
The United Kingdom
0.49
0.51
2020-04-15 00:00:00
The United Kingdom
0.48
0.52
2020-04-16 00:00:00
The United Kingdom
0.49
0.51
2020-04-17 00:00:00
The United Kingdom
0.48
0.52
2020-04-18 00:00:00
The United Kingdom
0.47
0.53
2020-04-19 00:00:00
The United Kingdom
0.47
0.53
2020-04-20 00:00:00
The United Kingdom
0.47
0.53
2020-04-21 00:00:00
The United Kingdom
0.47
0.53
2020-04-22 00:00:00
The United Kingdom
0.47
0.53
2020-04-23 00:00:00
The United Kingdom
0.46
0.54
2020-04-24 00:00:00
The United Kingdom
0.47
0.53
2020-04-25 00:00:00
The United Kingdom
0.46
0.54
2020-04-26 00:00:00
The United Kingdom
0.46
0.54
2020-04-27 00:00:00
The United Kingdom
0.46
0.54
2020-04-28 00:00:00
The United Kingdom
0.47
0.53
2020-04-29 00:00:00
The United Kingdom
0.47
0.53
2020-04-30 00:00:00
The United Kingdom
0.47
0.53
2020-05-01 00:00:00
The United Kingdom
0.48
0.52
2020-05-02 00:00:00
The United Kingdom
0.48
0.52
2020-05-03 00:00:00
The United Kingdom
0.49
0.51
2020-05-04 00:00:00
The United Kingdom
0.49
0.51
2020-05-05 00:00:00
The United Kingdom
0.48
0.52
2020-05-06 00:00:00
The United Kingdom
0.48
0.52
2020-05-07 00:00:00
The United Kingdom
0.48
0.52
2020-05-08 00:00:00
The United Kingdom
0.48
0.52
2020-05-09 00:00:00
The United Kingdom
0.48
0.52
2020-05-10 00:00:00
The United Kingdom
0.46
0.54
2020-05-11 00:00:00
The United Kingdom
0.45
0.55
2020-05-12 00:00:00
The United Kingdom
0.46
0.54
2020-05-13 00:00:00
The United Kingdom
0.45
0.55
2020-05-14 00:00:00
The United Kingdom
0.45
0.55
2020-05-15 00:00:00
The United Kingdom
0.45
0.55
2020-05-16 00:00:00
The United Kingdom
0.44
0.56
2020-05-17 00:00:00
The United Kingdom
0.44
0.56
2020-05-18 00:00:00
The United Kingdom
0.44
0.56
2020-05-19 00:00:00
The United Kingdom
0.44
0.56
2020-05-20 00:00:00
The United Kingdom
0.43
0.57
2020-05-21 00:00:00
The United Kingdom
0.43
0.57
2020-05-22 00:00:00
The United Kingdom
0.44
0.56
2020-05-23 00:00:00
The United Kingdom
0.43
0.57
2020-05-24 00:00:00
The United Kingdom
0.43
0.57
2020-05-25 00:00:00
The United Kingdom
0.43
0.57
2020-05-26 00:00:00
The United Kingdom
0.43
0.57
2020-05-27 00:00:00
The United Kingdom
0.43
0.57
2020-05-28 00:00:00
The United Kingdom
0.42
0.58
2020-05-29 00:00:00
The United Kingdom
0.41
0.59
2020-05-30 00:00:00
The United Kingdom
0.42
0.58
2020-05-31 00:00:00
The United Kingdom
0.41
0.59
2020-06-01 00:00:00
The United Kingdom
0.41
0.59
2020-06-02 00:00:00
The United Kingdom
0.4
0.6
2020-06-03 00:00:00
The United Kingdom
0.4
0.6
2020-06-04 00:00:00
The United Kingdom
0.41
0.59
2020-06-05 00:00:00
The United Kingdom
0.4
0.6
2020-06-06 00:00:00
The United Kingdom
0.38
0.62
2020-06-07 00:00:00
The United Kingdom
0.38
0.62
2020-06-08 00:00:00
The United Kingdom
0.37
0.63
2020-06-09 00:00:00
The United Kingdom
0.37
0.63
2020-06-10 00:00:00
The United Kingdom
0.36
0.64
2020-06-11 00:00:00
The United Kingdom
0.35
0.65
2020-06-12 00:00:00
The United Kingdom
0.35
0.65
2020-06-13 00:00:00
The United Kingdom
0.36
0.64
2020-06-14 00:00:00
The United Kingdom
0.36
0.64
2020-06-15 00:00:00
The United Kingdom
0.37
0.63
2020-06-16 00:00:00
The United Kingdom
0.37
0.63
2020-06-17 00:00:00
The United Kingdom
0.38
0.62
2020-06-18 00:00:00
The United Kingdom
0.38
0.62
2020-06-19 00:00:00
The United Kingdom
0.38
0.62
2020-06-20 00:00:00
The United Kingdom
0.39
0.61
2020-06-21 00:00:00
The United Kingdom
0.39
0.61
2020-06-22 00:00:00
The United Kingdom
0.39
0.61
2020-06-23 00:00:00
The United Kingdom
0.39
0.61
2020-06-24 00:00:00
The United Kingdom
0.41
0.59
2020-06-25 00:00:00
The United Kingdom
0.4
0.6
2020-06-26 00:00:00
The United Kingdom
0.41
0.59
2020-06-27 00:00:00
The United Kingdom
0.41
0.59
2020-06-28 00:00:00
The United Kingdom
0.41
0.59
2020-06-29 00:00:00
The United Kingdom
0.41
0.59
2020-06-30 00:00:00
The United Kingdom
0.41
0.59
2020-07-01 00:00:00
The United Kingdom
0.4
0.6
2020-07-02 00:00:00
The United Kingdom
0.4
0.6
2020-07-03 00:00:00
The United Kingdom
0.39
0.61
2020-07-04 00:00:00
The United Kingdom
0.4
0.6
2020-07-05 00:00:00
The United Kingdom
0.39
0.61
2020-07-06 00:00:00
The United Kingdom
0.38
0.62
2020-07-07 00:00:00
The United Kingdom
0.38
0.62
2020-07-08 00:00:00
The United Kingdom
0.38
0.62
2020-07-09 00:00:00
The United Kingdom
0.39
0.61
2020-07-10 00:00:00
The United Kingdom
0.39
0.61
2020-07-11 00:00:00
The United Kingdom
0.39
0.61
2020-07-12 00:00:00
The United Kingdom
0.38
0.62
2020-07-13 00:00:00
The United Kingdom
0.39
0.61
2020-07-14 00:00:00
The United Kingdom
0.4
0.6
2020-07-15 00:00:00
The United Kingdom
0.41
0.59
2020-07-16 00:00:00
The United Kingdom
0.4
0.6
2020-07-17 00:00:00
The United Kingdom
0.4
0.6
2020-07-18 00:00:00
The United Kingdom
0.41
0.59
2020-07-19 00:00:00
The United Kingdom
0.43
0.57
2020-07-20 00:00:00
The United Kingdom
0.42
0.58
2020-07-21 00:00:00
The United Kingdom
0.41
0.59
2020-07-22 00:00:00
The United Kingdom
0.4
0.6
2020-07-23 00:00:00
The United Kingdom
0.4
0.6
2020-07-24 00:00:00
The United Kingdom
0.4
0.6
2020-07-25 00:00:00
The United Kingdom
0.39
0.61
2020-07-26 00:00:00
The United Kingdom
0.39
0.61
2020-07-27 00:00:00
The United Kingdom
0.39
0.61
2020-07-28 00:00:00
The United Kingdom
0.39
0.61
2020-07-29 00:00:00
The United Kingdom
0.38
0.62
2020-07-30 00:00:00
The United Kingdom
0.39
0.61
2020-07-31 00:00:00
The United Kingdom
0.38
0.62
2020-08-01 00:00:00
The United Kingdom
0.37
0.63
2020-08-02 00:00:00
The United Kingdom
0.36
0.64
2020-08-03 00:00:00
The United Kingdom
0.36
0.64
2020-08-04 00:00:00
The United Kingdom
0.35
0.65
2020-08-05 00:00:00
The United Kingdom
0.34
0.66
2020-08-06 00:00:00
The United Kingdom
0.34
0.66
2020-08-07 00:00:00
The United Kingdom
0.35
0.65
2020-08-08 00:00:00
The United Kingdom
0.36
0.64
2020-08-09 00:00:00
The United Kingdom
0.36
0.64
2020-08-10 00:00:00
The United Kingdom
0.36
0.64
2020-08-11 00:00:00
The United Kingdom
0.36
0.64
2020-08-12 00:00:00
The United Kingdom
0.37
0.63
2020-08-13 00:00:00
The United Kingdom
0.36
0.64
2020-08-14 00:00:00
The United Kingdom
0.36
0.64
2020-08-15 00:00:00
The United Kingdom
0.34
0.66
2020-08-16 00:00:00
The United Kingdom
0.34
0.66
2020-08-17 00:00:00
The United Kingdom
0.34
0.66
2020-08-18 00:00:00
The United Kingdom
0.33
0.67
2020-08-19 00:00:00
The United Kingdom
0.34
0.66
2020-08-20 00:00:00
The United Kingdom
0.34
0.66
2020-08-21 00:00:00
The United Kingdom
0.33
0.67
2020-08-22 00:00:00
The United Kingdom
0.34
0.66
2020-08-23 00:00:00
The United Kingdom
0.34
0.66
2020-08-24 00:00:00
The United Kingdom
0.33
0.67
2020-08-25 00:00:00
The United Kingdom
0.33
0.67
2020-08-26 00:00:00
The United Kingdom
0.33
0.67
2020-08-27 00:00:00
The United Kingdom
0.33
0.67
2020-08-28 00:00:00
The United Kingdom
0.33
0.67
2020-08-29 00:00:00
The United Kingdom
0.33
0.67
2020-08-30 00:00:00
The United Kingdom
0.34
0.66
2020-08-31 00:00:00
The United Kingdom
0.36
0.64
2020-09-01 00:00:00
The United Kingdom
0.36
0.64
2020-09-02 00:00:00
The United Kingdom
0.36
0.64
2020-09-03 00:00:00
The United Kingdom
0.36
0.64
2020-09-04 00:00:00
The United Kingdom
0.36
0.64
2020-09-05 00:00:00
The United Kingdom
0.36
0.64
2020-09-06 00:00:00
The United Kingdom
0.35
0.65
2020-09-07 00:00:00
The United Kingdom
0.34
0.66
2020-09-08 00:00:00
The United Kingdom
0.34
0.66
2020-09-09 00:00:00
The United Kingdom
0.33
0.67
2020-09-10 00:00:00
The United Kingdom
0.33
0.67
2020-09-11 00:00:00
The United Kingdom
0.32
0.68
2020-09-12 00:00:00
The United Kingdom
0.31
0.69
2020-09-13 00:00:00
The United Kingdom
0.31
0.69
2020-09-14 00:00:00
The United Kingdom
0.3
0.7
2020-09-15 00:00:00
The United Kingdom
0.29
0.71
2020-09-16 00:00:00
The United Kingdom
0.28
0.72
2020-09-17 00:00:00
The United Kingdom
0.29
0.71
2020-09-18 00:00:00
The United Kingdom
0.28
0.72
2020-09-19 00:00:00
The United Kingdom
0.26
0.74
2020-09-20 00:00:00
The United Kingdom
0.26
0.74
2020-09-21 00:00:00
The United Kingdom
0.26
0.74
2020-09-22 00:00:00
The United Kingdom
0.27
0.73
2020-09-23 00:00:00
The United Kingdom
0.27
0.73
2020-09-24 00:00:00
The United Kingdom
0.28
0.72
2020-09-25 00:00:00
The United Kingdom
0.28
0.72
2020-09-26 00:00:00
The United Kingdom
0.3
0.7
2020-09-27 00:00:00
The United Kingdom
0.3
0.7
2020-09-28 00:00:00
The United Kingdom
0.3
0.7
2020-09-29 00:00:00
The United Kingdom
0.3
0.7
2020-09-30 00:00:00
The United Kingdom
0.29
0.71
2020-10-01 00:00:00
The United Kingdom
0.28
0.72
2020-10-02 00:00:00
The United Kingdom
0.28
0.72
2020-10-03 00:00:00
The United Kingdom
0.27
0.73
2020-10-04 00:00:00
The United Kingdom
0.27
0.73
2020-10-05 00:00:00
The United Kingdom
0.27
0.73
2020-10-06 00:00:00
The United Kingdom
0.27
0.73
2020-10-07 00:00:00
The United Kingdom
0.28
0.72
2020-10-08 00:00:00
The United Kingdom
0.28
0.72
2020-10-09 00:00:00
The United Kingdom
0.28
0.72
2020-10-10 00:00:00
The United Kingdom
0.28
0.72
2020-10-11 00:00:00
The United Kingdom
0.28
0.72
2020-10-12 00:00:00
The United Kingdom
0.28
0.72
2020-10-13 00:00:00
The United Kingdom
0.28
0.72
2020-10-14 00:00:00
The United Kingdom
0.28
0.72
2020-10-15 00:00:00
The United Kingdom
0.27
0.73
2020-10-16 00:00:00
The United Kingdom
0.27
0.73
2020-10-17 00:00:00
The United Kingdom
0.27
0.73
2020-10-18 00:00:00
The United Kingdom
0.27
0.73
2020-10-19 00:00:00
The United Kingdom
0.27
0.73
2020-10-20 00:00:00
The United Kingdom
0.27
0.73
2020-10-21 00:00:00
The United Kingdom
0.27
0.73
2020-10-22 00:00:00
The United Kingdom
0.28
0.72
2020-10-23 00:00:00
The United Kingdom
0.29
0.71
2020-10-24 00:00:00
The United Kingdom
0.29
0.71
2020-10-25 00:00:00
The United Kingdom
0.29
0.71
2020-10-26 00:00:00
The United Kingdom
0.29
0.71
2020-10-27 00:00:00
The United Kingdom
0.28
0.72
2020-10-28 00:00:00
The United Kingdom
0.29
0.71
2020-10-29 00:00:00
The United Kingdom
0.27
0.73
2020-10-30 00:00:00
The United Kingdom
0.27
0.73
2020-10-31 00:00:00
The United Kingdom
0.27
0.73
2020-11-01 00:00:00
The United Kingdom
0.27
0.73
2020-11-02 00:00:00
The United Kingdom
0.28
0.72
2020-11-03 00:00:00
The United Kingdom
0.27
0.73
2020-11-04 00:00:00
The United Kingdom
0.28
0.72
2020-11-05 00:00:00
The United Kingdom
0.29
0.71
2020-11-06 00:00:00
The United Kingdom
0.29
0.71
2020-11-07 00:00:00
The United Kingdom
0.29
0.71
2020-11-08 00:00:00
The United Kingdom
0.3
0.7
2020-11-09 00:00:00
The United Kingdom
0.29
0.71
2020-11-10 00:00:00
The United Kingdom
0.3
0.7
2020-11-11 00:00:00
The United Kingdom
0.3
0.7
2020-11-12 00:00:00
The United Kingdom
0.3
0.7
2020-11-13 00:00:00
The United Kingdom
0.3
0.7
2020-11-14 00:00:00
The United Kingdom
0.3
0.7
2020-11-15 00:00:00
The United Kingdom
0.31
0.69
2020-11-16 00:00:00
The United Kingdom
0.32
0.68
2020-11-17 00:00:00
The United Kingdom
0.33
0.67
2020-11-18 00:00:00
The United Kingdom
0.33
0.67
2020-11-19 00:00:00
The United Kingdom
0.33
0.67
2020-11-20 00:00:00
The United Kingdom
0.34
0.66
2020-11-21 00:00:00
The United Kingdom
0.34
0.66
2020-11-22 00:00:00
The United Kingdom
0.34
0.66
2020-11-23 00:00:00
The United Kingdom
0.33
0.67
2020-11-24 00:00:00
The United Kingdom
0.32
0.68
2020-11-25 00:00:00
The United Kingdom
0.32
0.68
2020-11-26 00:00:00
The United Kingdom
0.32
0.68
2020-11-27 00:00:00
The United Kingdom
0.32
0.68
2020-11-28 00:00:00
The United Kingdom
0.32
0.68
2020-11-29 00:00:00
The United Kingdom
0.32
0.68
2020-11-30 00:00:00
The United Kingdom
0.32
0.68
2020-12-01 00:00:00
The United Kingdom
0.33
0.67
2020-12-02 00:00:00
The United Kingdom
0.33
0.67
2020-12-03 00:00:00
The United Kingdom
0.33
0.67
2020-12-04 00:00:00
The United Kingdom
0.34
0.66
2020-12-05 00:00:00
The United Kingdom
0.35
0.65
2020-12-06 00:00:00
The United Kingdom
0.35
0.65
2020-12-07 00:00:00
The United Kingdom
0.35
0.65
2020-12-08 00:00:00
The United Kingdom
0.36
0.64
2020-12-09 00:00:00
The United Kingdom
0.36
0.64
2020-12-10 00:00:00
The United Kingdom
0.36
0.64
2020-12-11 00:00:00
The United Kingdom
0.36
0.64
2020-12-12 00:00:00
The United Kingdom
0.36
0.64
2020-12-13 00:00:00
The United Kingdom
0.36
0.64
2020-12-14 00:00:00
The United Kingdom
0.35
0.65
2020-12-15 00:00:00
The United Kingdom
0.34
0.66
2020-12-16 00:00:00
The United Kingdom
0.34
0.66
2020-12-17 00:00:00
The United Kingdom
0.34
0.66
2020-12-18 00:00:00
The United Kingdom
0.33
0.67
2020-12-19 00:00:00
The United Kingdom
0.33
0.67
2020-12-20 00:00:00
The United Kingdom
0.33
0.67
2020-12-21 00:00:00
The United Kingdom
0.33
0.67
2020-12-22 00:00:00
The United Kingdom
0.32
0.68
2020-12-23 00:00:00
The United Kingdom
0.31
0.69
2020-12-24 00:00:00
The United Kingdom
0.3
0.7
2020-12-25 00:00:00
The United Kingdom
0.3
0.7
2020-12-26 00:00:00
The United Kingdom
0.31
0.69
2020-12-27 00:00:00
The United Kingdom
0.32
0.68
2020-12-28 00:00:00
The United Kingdom
0.33
0.67
2020-12-29 00:00:00
The United Kingdom
0.33
0.67
2020-12-30 00:00:00
The United Kingdom
0.34
0.66
2020-12-31 00:00:00
The United Kingdom
0.35
0.65
2021-01-01 00:00:00
The United Kingdom
0.36
0.64
2021-01-02 00:00:00
The United Kingdom
0.35
0.65
2021-01-03 00:00:00
The United Kingdom
0.34
0.66
2021-01-04 00:00:00
The United Kingdom
0.34
0.66
2021-01-05 00:00:00
The United Kingdom
0.34
0.66
2021-01-06 00:00:00
The United Kingdom
0.34
0.66
2021-01-07 00:00:00
The United Kingdom
0.33
0.67
2021-01-08 00:00:00
The United Kingdom
0.33
0.67
2021-01-09 00:00:00
The United Kingdom
0.33
0.67
2021-01-10 00:00:00
The United Kingdom
0.33
0.67
2021-01-11 00:00:00
The United Kingdom
0.33
0.67
2021-01-12 00:00:00
The United Kingdom
0.33
0.67
2021-01-13 00:00:00
The United Kingdom
0.33
0.67
2021-01-14 00:00:00
The United Kingdom
0.33
0.67
2021-01-15 00:00:00
The United Kingdom
0.33
0.67
2021-01-16 00:00:00
The United Kingdom
0.33
0.67
2021-01-17 00:00:00
The United Kingdom
0.34
0.66
2021-01-18 00:00:00
The United Kingdom
0.34
0.66
2021-01-19 00:00:00
The United Kingdom
0.34
0.66
2021-01-20 00:00:00
The United Kingdom
0.34
0.66
2021-01-21 00:00:00
The United Kingdom
0.34
0.66
2021-01-22 00:00:00
The United Kingdom
0.35
0.65
2021-01-23 00:00:00
The United Kingdom
0.35
0.65
2021-01-24 00:00:00
The United Kingdom
0.34
0.66
2021-01-25 00:00:00
The United Kingdom
0.34
0.66
2021-01-26 00:00:00
The United Kingdom
0.34
0.66
2021-01-27 00:00:00
The United Kingdom
0.34
0.66
2021-01-28 00:00:00
The United Kingdom
0.33
0.67
2021-01-29 00:00:00
The United Kingdom
0.33
0.67
2021-01-30 00:00:00
The United Kingdom
0.34
0.66
2021-01-31 00:00:00
The United Kingdom
0.35
0.65
2021-02-01 00:00:00
The United Kingdom
0.35
0.65
2021-02-02 00:00:00
The United Kingdom
0.36
0.64
2021-02-03 00:00:00
The United Kingdom
0.37
0.63
2021-02-04 00:00:00
The United Kingdom
0.38
0.62
2021-02-05 00:00:00
The United Kingdom
0.38
0.62
2021-02-06 00:00:00
The United Kingdom
0.39
0.61
2021-02-07 00:00:00
The United Kingdom
0.39
0.61
2021-02-08 00:00:00
The United Kingdom
0.4
0.6
2021-02-09 00:00:00
The United Kingdom
0.39
0.61
2021-02-10 00:00:00
The United Kingdom
0.39
0.61
2021-02-11 00:00:00
The United Kingdom
0.39
0.61
2021-02-12 00:00:00
The United Kingdom
0.39
0.61
2021-02-13 00:00:00
The United Kingdom
0.38
0.62
2021-02-14 00:00:00
The United Kingdom
0.39
0.61
2021-02-15 00:00:00
The United Kingdom
0.39
0.61
2021-02-16 00:00:00
The United Kingdom
0.4
0.6
2021-02-17 00:00:00
The United Kingdom
0.41
0.59
2021-02-18 00:00:00
The United Kingdom
0.41
0.59
2021-02-19 00:00:00
The United Kingdom
0.42
0.58
2021-02-20 00:00:00
The United Kingdom
0.42
0.58
2021-02-21 00:00:00
The United Kingdom
0.43
0.57
2021-02-22 00:00:00
The United Kingdom
0.43
0.57
2021-02-23 00:00:00
The United Kingdom
0.43
0.57
2021-02-24 00:00:00
The United Kingdom
0.43
0.57
2021-02-25 00:00:00
The United Kingdom
0.43
0.57
2021-02-26 00:00:00
The United Kingdom
0.44
0.56
2021-02-27 00:00:00
The United Kingdom
0.45
0.55
2021-02-28 00:00:00
The United Kingdom
0.46
0.54
2021-03-01 00:00:00
The United Kingdom
0.46
0.54
2021-03-02 00:00:00
The United Kingdom
0.47
0.53
2021-03-03 00:00:00
The United Kingdom
0.47
0.53
2021-03-04 00:00:00
The United Kingdom
0.47
0.53
2021-03-05 00:00:00
The United Kingdom
0.47
0.53
2021-03-06 00:00:00
The United Kingdom
0.46
0.54
2021-03-07 00:00:00
The United Kingdom
0.46
0.54
2021-03-08 00:00:00
The United Kingdom
0.46
0.54
2021-03-09 00:00:00
The United Kingdom
0.46
0.54
2021-03-10 00:00:00
The United Kingdom
0.46
0.54
2021-03-11 00:00:00
The United Kingdom
0.45
0.55
2021-03-12 00:00:00
The United Kingdom
0.45
0.55
2021-03-13 00:00:00
The United Kingdom
0.46
0.54
2021-03-14 00:00:00
The United Kingdom
0.45
0.55
2021-03-15 00:00:00
The United Kingdom
0.45
0.55
2021-03-16 00:00:00
The United Kingdom
0.45
0.55
2021-03-17 00:00:00
The United Kingdom
0.45
0.55
2021-03-18 00:00:00
The United Kingdom
0.46
0.54
2021-03-19 00:00:00
The United Kingdom
0.46
0.54
2021-03-20 00:00:00
The United Kingdom
0.46
0.54
2021-03-21 00:00:00
The United Kingdom
0.45
0.55
2021-03-22 00:00:00
The United Kingdom
0.46
0.54
2021-03-23 00:00:00
The United Kingdom
0.45
0.55
2021-03-24 00:00:00
The United Kingdom
0.45
0.55
2021-03-25 00:00:00
The United Kingdom
0.45
0.55
2021-03-26 00:00:00
The United Kingdom
0.46
0.54
2021-03-27 00:00:00
The United Kingdom
0.46
0.54
2021-03-28 00:00:00
The United Kingdom
0.47
0.53
2021-03-29 00:00:00
The United Kingdom
0.47
0.53
2021-03-30 00:00:00
The United Kingdom
0.47
0.53
2021-03-31 00:00:00
The United Kingdom
0.49
0.51
2021-04-01 00:00:00
The United Kingdom
0.49
0.51
2021-04-02 00:00:00
The United Kingdom
0.48
0.52
2021-04-03 00:00:00
The United Kingdom
0.49
0.51
2021-04-04 00:00:00
The United Kingdom
0.48
0.52
2021-04-05 00:00:00
The United Kingdom
0.48
0.52
2021-04-06 00:00:00
The United Kingdom
0.49
0.51
2021-04-07 00:00:00
The United Kingdom
0.49
0.51
2021-04-08 00:00:00
The United Kingdom
0.49
0.51
2021-04-09 00:00:00
The United Kingdom
0.5
0.5
2021-04-10 00:00:00
The United Kingdom
0.49
0.51
2021-04-11 00:00:00
The United Kingdom
0.5
0.5
2021-04-12 00:00:00
The United Kingdom
0.5
0.5
2021-04-13 00:00:00
The United Kingdom
0.5
0.5
2021-04-14 00:00:00
The United Kingdom
0.5
0.5
2021-04-15 00:00:00
The United Kingdom
0.51
0.49
2021-04-16 00:00:00
The United Kingdom
0.51
0.49
2021-04-17 00:00:00
The United Kingdom
0.51
0.49
2021-04-18 00:00:00
The United Kingdom
0.51
0.49
2021-04-19 00:00:00
The United Kingdom
0.5
0.5
2021-04-20 00:00:00
The United Kingdom
0.5
0.5
2021-04-21 00:00:00
The United Kingdom
0.5
0.5
2021-04-22 00:00:00
The United Kingdom
0.5
0.5
2021-04-23 00:00:00
The United Kingdom
0.5
0.5
2021-04-24 00:00:00
The United Kingdom
0.5
0.5
2021-04-25 00:00:00
The United Kingdom
0.51
0.49
2021-04-26 00:00:00
The United Kingdom
0.51
0.49
2021-04-27 00:00:00
The United Kingdom
0.51
0.49
2021-04-28 00:00:00
The United Kingdom
0.51
0.49
2021-04-29 00:00:00
The United Kingdom
0.5
0.5
2021-04-30 00:00:00
The United Kingdom
0.5
0.5
2021-05-01 00:00:00
The United Kingdom
0.5
0.5
2021-05-02 00:00:00
The United Kingdom
0.5
0.5
2021-05-03 00:00:00
The United Kingdom
0.5
0.5
2021-05-04 00:00:00
The United Kingdom
0.51
0.49
2021-05-05 00:00:00
The United Kingdom
0.5
0.5
2021-05-06 00:00:00
The United Kingdom
0.51
0.49
2021-05-07 00:00:00
The United Kingdom
0.51
0.49
2021-05-08 00:00:00
The United Kingdom
0.51
0.49
2021-05-09 00:00:00
The United Kingdom
0.51
0.49
2021-05-10 00:00:00
The United Kingdom
0.51
0.49
2021-05-11 00:00:00
The United Kingdom
0.51
0.49
2021-05-12 00:00:00
The United Kingdom
0.52
0.48
2021-05-13 00:00:00
The United Kingdom
0.53
0.47
2021-05-14 00:00:00
The United Kingdom
0.53
0.47
2021-05-15 00:00:00
The United Kingdom
0.54
0.46
2021-05-16 00:00:00
The United Kingdom
0.53
0.47
2021-05-17 00:00:00
The United Kingdom
0.53
0.47
2021-05-18 00:00:00
The United Kingdom
0.53
0.47
2021-05-19 00:00:00
The United Kingdom
0.52
0.48
2021-05-20 00:00:00
The United Kingdom
0.52
0.48
2021-05-21 00:00:00
The United Kingdom
0.52
0.48
2021-05-22 00:00:00
The United Kingdom
0.52
0.48
2021-05-23 00:00:00
The United Kingdom
0.53
0.47
2021-05-24 00:00:00
The United Kingdom
0.53
0.47
2021-05-25 00:00:00
The United Kingdom
0.53
0.47
2021-05-26 00:00:00
The United Kingdom
0.52
0.48
2021-05-27 00:00:00
The United Kingdom
0.52
0.48
2021-05-28 00:00:00
The United Kingdom
0.51
0.49
2021-05-29 00:00:00
The United Kingdom
0.51
0.49
2021-05-30 00:00:00
The United Kingdom
0.5
0.5
2021-05-31 00:00:00
The United Kingdom
0.49
0.51
2021-06-01 00:00:00
The United Kingdom
0.49
0.51
2021-06-02 00:00:00
The United Kingdom
0.49
0.51
2021-06-03 00:00:00
The United Kingdom
0.5
0.5
2021-06-04 00:00:00
The United Kingdom
0.5
0.5
2021-06-05 00:00:00
The United Kingdom
0.5
0.5
2021-06-06 00:00:00
The United Kingdom
0.5
0.5
2021-06-07 00:00:00
The United Kingdom
0.51
0.49
2021-06-08 00:00:00
The United Kingdom
0.5
0.5
2021-06-09 00:00:00
The United Kingdom
0.5
0.5
2021-06-10 00:00:00
The United Kingdom
0.49
0.51
2021-06-11 00:00:00
The United Kingdom
0.5
0.5
2021-06-12 00:00:00
The United Kingdom
0.5
0.5
2021-06-13 00:00:00
The United Kingdom
0.49
0.51
2021-06-14 00:00:00
The United Kingdom
0.49
0.51
2021-06-15 00:00:00
The United Kingdom
0.49
0.51
2021-06-16 00:00:00
The United Kingdom
0.49
0.51
2021-06-17 00:00:00
The United Kingdom
0.48
0.52
2021-06-18 00:00:00
The United Kingdom
0.47
0.53
2021-06-19 00:00:00
The United Kingdom
0.47
0.53
2021-06-20 00:00:00
The United Kingdom
0.47
0.53
2021-06-21 00:00:00
The United Kingdom
0.46
0.54
2021-06-22 00:00:00
The United Kingdom
0.47
0.53
2021-06-23 00:00:00
The United Kingdom
0.47
0.53
2021-06-24 00:00:00
The United Kingdom
0.48
0.52
2021-06-25 00:00:00
The United Kingdom
0.48
0.52
2021-06-26 00:00:00
The United Kingdom
0.48
0.52
2021-06-27 00:00:00
The United Kingdom
0.48
0.52
2021-06-28 00:00:00
The United Kingdom
0.48
0.52
2021-06-29 00:00:00
The United Kingdom
0.47
0.53
2021-06-30 00:00:00
The United Kingdom
0.46
0.54
2021-07-01 00:00:00
The United Kingdom
0.46
0.54
2021-07-02 00:00:00
The United Kingdom
0.46
0.54
2021-07-03 00:00:00
The United Kingdom
0.46
0.54
2021-07-04 00:00:00
The United Kingdom
0.46
0.54
2021-07-05 00:00:00
The United Kingdom
0.47
0.53
2021-07-06 00:00:00
The United Kingdom
0.47
0.53
2021-07-07 00:00:00
The United Kingdom
0.46
0.54
2021-07-08 00:00:00
The United Kingdom
0.46
0.54
2021-07-09 00:00:00
The United Kingdom
0.47
0.53
2021-07-10 00:00:00
The United Kingdom
0.47
0.53
2021-07-11 00:00:00
The United Kingdom
0.47
0.53
2021-07-12 00:00:00
The United Kingdom
0.47
0.53
2021-07-13 00:00:00
The United Kingdom
0.47
0.53
2021-07-14 00:00:00
The United Kingdom
0.48
0.52
2021-07-15 00:00:00
The United Kingdom
0.47
0.53
2021-07-16 00:00:00
The United Kingdom
0.46
0.54
2021-07-17 00:00:00
The United Kingdom
0.46
0.54
2021-07-18 00:00:00
The United Kingdom
0.46
0.54
2021-07-19 00:00:00
The United Kingdom
0.44
0.56
2021-07-20 00:00:00
The United Kingdom
0.44
0.56
2021-07-21 00:00:00
The United Kingdom
0.43
0.57
2021-07-22 00:00:00
The United Kingdom
0.43
0.57
2021-07-23 00:00:00
The United Kingdom
0.42
0.58
2021-07-24 00:00:00
The United Kingdom
0.41
0.59
2021-07-25 00:00:00
The United Kingdom
0.41
0.59
2021-07-26 00:00:00
The United Kingdom
0.42
0.58
2021-07-27 00:00:00
The United Kingdom
0.42
0.58
2021-07-28 00:00:00
The United Kingdom
0.43
0.57
2021-07-29 00:00:00
The United Kingdom
0.43
0.57
2021-07-30 00:00:00
The United Kingdom
0.44
0.56
2021-07-31 00:00:00
The United Kingdom
0.44
0.56
2021-08-01 00:00:00
The United Kingdom
0.45
0.55
2021-08-02 00:00:00
The United Kingdom
0.45
0.55
2021-08-03 00:00:00
The United Kingdom
0.45
0.55
2021-08-04 00:00:00
The United Kingdom
0.44
0.56
2021-08-05 00:00:00
The United Kingdom
0.45
0.55
2021-08-06 00:00:00
The United Kingdom
0.45
0.55
2021-08-07 00:00:00
The United Kingdom
0.45
0.55
2021-08-08 00:00:00
The United Kingdom
0.45
0.55
2021-08-09 00:00:00
The United Kingdom
0.45
0.55
2021-08-10 00:00:00
The United Kingdom
0.45
0.55
2021-08-11 00:00:00
The United Kingdom
0.46
0.54
2021-08-12 00:00:00
The United Kingdom
0.45
0.55
2021-08-13 00:00:00
The United Kingdom
0.46
0.54
2021-08-14 00:00:00
The United Kingdom
0.45
0.55
2021-08-15 00:00:00
The United Kingdom
0.45
0.55
2021-08-16 00:00:00
The United Kingdom
0.45
0.55
2021-08-17 00:00:00
The United Kingdom
0.45
0.55
2021-08-18 00:00:00
The United Kingdom
0.45
0.55
2021-08-19 00:00:00
The United Kingdom
0.45
0.55
2021-08-20 00:00:00
The United Kingdom
0.45
0.55
2021-08-21 00:00:00
The United Kingdom
0.44
0.56
2021-08-22 00:00:00
The United Kingdom
0.44
0.56
2021-08-23 00:00:00
The United Kingdom
0.44
0.56
2021-08-24 00:00:00
The United Kingdom
0.44
0.56
2021-08-25 00:00:00
The United Kingdom
0.43
0.57
2021-08-26 00:00:00
The United Kingdom
0.44
0.56
2021-08-27 00:00:00
The United Kingdom
0.44
0.56
2021-08-28 00:00:00
The United Kingdom
0.44
0.56
2021-08-29 00:00:00
The United Kingdom
0.45
0.55
2021-08-30 00:00:00
The United Kingdom
0.44
0.56
2021-08-31 00:00:00
The United Kingdom
0.43
0.57
2021-09-01 00:00:00
The United Kingdom
0.44
0.56
2021-09-02 00:00:00
The United Kingdom
0.44
0.56
2021-09-03 00:00:00
The United Kingdom
0.44
0.56
2021-09-04 00:00:00
The United Kingdom
0.44
0.56
2021-09-05 00:00:00
The United Kingdom
0.44
0.56
2021-09-06 00:00:00
The United Kingdom
0.45
0.55
2021-09-07 00:00:00
The United Kingdom
0.45
0.55
2021-09-08 00:00:00
The United Kingdom
0.45
0.55
2021-09-09 00:00:00
The United Kingdom
0.45
0.55
2021-09-10 00:00:00
The United Kingdom
0.45
0.55
2021-09-11 00:00:00
The United Kingdom
0.44
0.56
2021-09-12 00:00:00
The United Kingdom
0.43
0.57
2021-09-13 00:00:00
The United Kingdom
0.43
0.57
2021-09-14 00:00:00
The United Kingdom
0.43
0.57
2021-09-15 00:00:00
The United Kingdom
0.43
0.57
2021-09-16 00:00:00
The United Kingdom
0.42
0.58
2021-09-17 00:00:00
The United Kingdom
0.42
0.58
2021-09-18 00:00:00
The United Kingdom
0.42
0.58
2021-09-19 00:00:00
The United Kingdom
0.43
0.57
2021-09-20 00:00:00
The United Kingdom
0.43
0.57
2021-09-21 00:00:00
The United Kingdom
0.42
0.58
2021-09-22 00:00:00
The United Kingdom
0.43
0.57
2021-09-23 00:00:00
The United Kingdom
0.43
0.57
2021-09-24 00:00:00
The United Kingdom
0.42
0.58
2021-09-25 00:00:00
The United Kingdom
0.42
0.58
2021-09-26 00:00:00
The United Kingdom
0.41
0.59
2021-09-27 00:00:00
The United Kingdom
0.4
0.6
2021-09-28 00:00:00
The United Kingdom
0.4
0.6
2021-09-29 00:00:00
The United Kingdom
0.4
0.6
2021-09-30 00:00:00
The United Kingdom
0.39
0.61
2021-10-01 00:00:00
The United Kingdom
0.4
0.6
2021-10-02 00:00:00
The United Kingdom
0.39
0.61
2021-10-03 00:00:00
The United Kingdom
0.39
0.61
2021-10-04 00:00:00
The United Kingdom
0.4
0.6
2021-10-05 00:00:00
The United Kingdom
0.39
0.61
2021-10-06 00:00:00
The United Kingdom
0.39
0.61
2021-10-07 00:00:00
The United Kingdom
0.38
0.62
2021-10-08 00:00:00
The United Kingdom
0.37
0.63
2021-10-09 00:00:00
The United Kingdom
0.38
0.62
2021-10-10 00:00:00
The United Kingdom
0.38
0.62
2021-10-11 00:00:00
The United Kingdom
0.37
0.63
2021-10-12 00:00:00
The United Kingdom
0.37
0.63
2021-10-13 00:00:00
The United Kingdom
0.37
0.63
2021-10-14 00:00:00
The United Kingdom
0.38
0.62
2021-10-15 00:00:00
The United Kingdom
0.38
0.62
2021-10-16 00:00:00
The United Kingdom
0.38
0.62
2021-10-17 00:00:00
The United Kingdom
0.38
0.62
2021-10-18 00:00:00
The United Kingdom
0.38
0.62
2021-10-19 00:00:00
The United Kingdom
0.39
0.61
2021-10-20 00:00:00
The United Kingdom
0.39
0.61
2021-10-21 00:00:00
The United Kingdom
0.38
0.62
2021-10-22 00:00:00
The United Kingdom
0.38
0.62
2021-10-23 00:00:00
The United Kingdom
0.38
0.62
2021-10-24 00:00:00
The United Kingdom
0.38
0.62
2021-10-25 00:00:00
The United Kingdom
0.38
0.62
2021-10-26 00:00:00
The United Kingdom
0.38
0.62
2021-10-27 00:00:00
The United Kingdom
0.38
0.62
2021-10-28 00:00:00
The United Kingdom
0.39
0.61
2021-10-31 00:00:00
The United Kingdom
0.4
0.6
2021-11-01 00:00:00
The United Kingdom
0.4
0.6
2021-11-02 00:00:00
The United Kingdom
0.4
0.6
2021-11-03 00:00:00
The United Kingdom
0.4
0.6
2021-11-04 00:00:00
The United Kingdom
0.4
0.6
2021-11-05 00:00:00
The United Kingdom
0.39
0.61
2021-11-06 00:00:00
The United Kingdom
0.39
0.61
2021-11-07 00:00:00
The United Kingdom
0.39
0.61
2021-11-08 00:00:00
The United Kingdom
0.39
0.61
2021-11-09 00:00:00
The United Kingdom
0.39
0.61
2021-11-10 00:00:00
The United Kingdom
0.39
0.61
2021-11-11 00:00:00
The United Kingdom
0.38
0.62
2021-11-12 00:00:00
The United Kingdom
0.38
0.62
2021-11-13 00:00:00
The United Kingdom
0.38
0.62
2021-11-14 00:00:00
The United Kingdom
0.38
0.62
2021-11-15 00:00:00
The United Kingdom
0.38
0.62
2021-11-16 00:00:00
The United Kingdom
0.38
0.62
2021-11-17 00:00:00
The United Kingdom
0.38
0.62
2021-11-18 00:00:00
The United Kingdom
0.38
0.62
2021-11-19 00:00:00
The United Kingdom
0.38
0.62
2021-11-20 00:00:00
The United Kingdom
0.38
0.62
2021-11-21 00:00:00
The United Kingdom
0.38
0.62
2021-11-22 00:00:00
The United Kingdom
0.38
0.62
2021-11-23 00:00:00
The United Kingdom
0.38
0.62
2021-11-24 00:00:00
The United Kingdom
0.39
0.61
2021-11-25 00:00:00
The United Kingdom
0.39
0.61
2021-11-26 00:00:00
The United Kingdom
0.39
0.61
2021-11-27 00:00:00
The United Kingdom
0.39
0.61
2021-11-28 00:00:00
The United Kingdom
0.38
0.62
2021-11-29 00:00:00
The United Kingdom
0.38
0.62
2021-11-30 00:00:00
The United Kingdom
0.38
0.62
2021-12-01 00:00:00
The United Kingdom
0.38
0.62
2021-12-02 00:00:00
The United Kingdom
0.38
0.62
2021-12-03 00:00:00
The United Kingdom
0.38
0.62
2021-12-04 00:00:00
The United Kingdom
0.37
0.63
2021-12-05 00:00:00
The United Kingdom
0.37
0.63
2021-12-06 00:00:00
The United Kingdom
0.38
0.62
2021-12-07 00:00:00
The United Kingdom
0.38
0.62
2021-12-08 00:00:00
The United Kingdom
0.38
0.62
2021-12-09 00:00:00
The United Kingdom
0.38
0.62
2021-12-10 00:00:00
The United Kingdom
0.38
0.62
2021-12-11 00:00:00
The United Kingdom
0.37
0.63
2021-12-12 00:00:00
The United Kingdom
0.36
0.64
2021-12-13 00:00:00
The United Kingdom
0.35
0.65
2021-12-14 00:00:00
The United Kingdom
0.34
0.66
2021-12-15 00:00:00
The United Kingdom
0.33
0.67
2021-12-16 00:00:00
The United Kingdom
0.33
0.67
2021-12-17 00:00:00
The United Kingdom
0.33
0.67
2021-12-18 00:00:00
The United Kingdom
0.34
0.66
2021-12-19 00:00:00
The United Kingdom
0.33
0.67
2021-12-20 00:00:00
The United Kingdom
0.32
0.68
2021-12-21 00:00:00
The United Kingdom
0.32
0.68
2021-12-22 00:00:00
The United Kingdom
0.32
0.68
2021-12-23 00:00:00
The United Kingdom
0.32
0.68
2021-12-24 00:00:00
The United Kingdom
0.32
0.68
2021-12-25 00:00:00
The United Kingdom
0.32
0.68
2021-12-26 00:00:00
The United Kingdom
0.34
0.66
2021-12-27 00:00:00
The United Kingdom
0.35
0.65
2021-12-28 00:00:00
The United Kingdom
0.36
0.64
2021-12-29 00:00:00
The United Kingdom
0.36
0.64
2021-12-30 00:00:00
The United Kingdom
0.37
0.63
2021-12-31 00:00:00
The United Kingdom
0.36
0.64
2022-01-01 00:00:00
The United Kingdom
0.37
0.63
2022-01-02 00:00:00
The United Kingdom
0.36
0.64
2022-01-03 00:00:00
The United Kingdom
0.36
0.64
2022-01-04 00:00:00
The United Kingdom
0.35
0.65
2022-01-05 00:00:00
The United Kingdom
0.35
0.65
2022-01-06 00:00:00
The United Kingdom
0.35
0.65
2022-01-07 00:00:00
The United Kingdom
0.35
0.65
2022-01-08 00:00:00
The United Kingdom
0.35
0.65
2022-01-09 00:00:00
The United Kingdom
0.35
0.65
2022-01-10 00:00:00
The United Kingdom
0.35
0.65
2022-01-11 00:00:00
The United Kingdom
0.35
0.65
2022-01-12 00:00:00
The United Kingdom
0.35
0.65
2022-01-13 00:00:00
The United Kingdom
0.35
0.65
2022-01-14 00:00:00
The United Kingdom
0.35
0.65
2022-01-15 00:00:00
The United Kingdom
0.34
0.66
2022-01-16 00:00:00
The United Kingdom
0.33
0.67
2022-01-17 00:00:00
The United Kingdom
0.33
0.67
2022-01-18 00:00:00
The United Kingdom
0.33
0.67
2022-01-19 00:00:00
The United Kingdom
0.33
0.67
2022-01-20 00:00:00
The United Kingdom
0.33
0.67
2022-01-21 00:00:00
The United Kingdom
0.33
0.67
2022-01-22 00:00:00
The United Kingdom
0.34
0.66
2022-01-23 00:00:00
The United Kingdom
0.35
0.65
2022-01-24 00:00:00
The United Kingdom
0.34
0.66
2022-01-25 00:00:00
The United Kingdom
0.34
0.66
2020-01-06 00:00:00
Australia
0.37
0.63
2020-01-07 00:00:00
Australia
0.36
0.64
2020-01-08 00:00:00
Australia
0.36
0.64
2020-01-09 00:00:00
Australia
0.36
0.64
2020-01-10 00:00:00
Australia
0.36
0.64
2020-01-11 00:00:00
Australia
0.37
0.63
2020-01-12 00:00:00
Australia
0.37
0.63
2020-01-13 00:00:00
Australia
0.36
0.64
2020-01-14 00:00:00
Australia
0.37
0.63
2020-01-15 00:00:00
Australia
0.37
0.63
2020-01-16 00:00:00
Australia
0.37
0.63
2020-01-17 00:00:00
Australia
0.37
0.63
2020-01-18 00:00:00
Australia
0.37
0.63
2020-01-19 00:00:00
Australia
0.37
0.63
2020-01-20 00:00:00
Australia
0.38
0.62
2020-01-21 00:00:00
Australia
0.39
0.61
2020-01-22 00:00:00
Australia
0.39
0.61
2020-01-23 00:00:00
Australia
0.39
0.61
2020-01-24 00:00:00
Australia
0.39
0.61
2020-01-25 00:00:00
Australia
0.39
0.61
2020-01-26 00:00:00
Australia
0.4
0.6
2020-01-27 00:00:00
Australia
0.39
0.61
2020-01-28 00:00:00
Australia
0.39
0.61
2020-01-29 00:00:00
Australia
0.38
0.62
2020-01-30 00:00:00
Australia
0.39
0.61
2020-01-31 00:00:00
Australia
0.4
0.6
2020-02-01 00:00:00
Australia
0.39
0.61
2020-02-02 00:00:00
Australia
0.38
0.62
2020-02-03 00:00:00
Australia
0.38
0.62
2020-02-04 00:00:00
Australia
0.39
0.61
2020-02-05 00:00:00
Australia
0.39
0.61
2020-02-06 00:00:00
Australia
0.38
0.62
2020-02-07 00:00:00
Australia
0.38
0.62
2020-02-08 00:00:00
Australia
0.39
0.61
2020-02-09 00:00:00
Australia
0.39
0.61
2020-02-10 00:00:00
Australia
0.4
0.6
2020-02-11 00:00:00
Australia
0.4
0.6
2020-02-12 00:00:00
Australia
0.4
0.6
2020-02-13 00:00:00
Australia
0.4
0.6
2020-02-14 00:00:00
Australia
0.4
0.6
2020-02-15 00:00:00
Australia
0.39
0.61
2020-02-16 00:00:00
Australia
0.39
0.61
2020-02-17 00:00:00
Australia
0.38
0.62
2020-02-18 00:00:00
Australia
0.38
0.62
2020-02-19 00:00:00
Australia
0.38
0.62
2020-02-20 00:00:00
Australia
0.39
0.61
2020-02-21 00:00:00
Australia
0.39
0.61
2020-02-22 00:00:00
Australia
0.4
0.6
2020-02-23 00:00:00
Australia
0.4
0.6
2020-02-24 00:00:00
Australia
0.41
0.59
2020-02-25 00:00:00
Australia
0.41
0.59
2020-02-26 00:00:00
Australia
0.41
0.59
2020-02-27 00:00:00
Australia
0.4
0.6
2020-02-28 00:00:00
Australia
0.41
0.59
2020-02-29 00:00:00
Australia
0.41
0.59
2020-03-01 00:00:00
Australia
0.41
0.59
2020-03-02 00:00:00
Australia
0.4
0.6
2020-03-03 00:00:00
Australia
0.4
0.6
2020-03-04 00:00:00
Australia
0.4
0.6
2020-03-05 00:00:00
Australia
0.4
0.6
2020-03-06 00:00:00
Australia
0.39
0.61
2020-03-07 00:00:00
Australia
0.39
0.61
2020-03-08 00:00:00
Australia
0.39
0.61
2020-03-09 00:00:00
Australia
0.39
0.61
2020-03-10 00:00:00
Australia
0.38
0.62
2020-03-11 00:00:00
Australia
0.38
0.62
2020-03-12 00:00:00
Australia
0.37
0.63
2020-03-13 00:00:00
Australia
0.38
0.62
2020-03-14 00:00:00
Australia
0.38
0.62
2020-03-15 00:00:00
Australia
0.38
0.62
2020-03-16 00:00:00
Australia
0.38
0.62
2020-03-17 00:00:00
Australia
0.38
0.62
2020-03-18 00:00:00
Australia
0.38
0.62
2020-03-19 00:00:00
Australia
0.39
0.61
2020-03-20 00:00:00
Australia
0.39
0.61
2020-03-21 00:00:00
Australia
0.38
0.62
2020-03-22 00:00:00
Australia
0.39
0.61
2020-03-23 00:00:00
Australia
0.4
0.6
2020-03-24 00:00:00
Australia
0.41
0.59
2020-03-25 00:00:00
Australia
0.42
0.58
2020-03-26 00:00:00
Australia
0.42
0.58
2020-03-27 00:00:00
Australia
0.42
0.58
2020-03-28 00:00:00
Australia
0.43
0.57
2020-03-29 00:00:00
Australia
0.43
0.57
2020-03-30 00:00:00
Australia
0.44
0.56
2020-03-31 00:00:00
Australia
0.44
0.56
2020-04-01 00:00:00
Australia
0.45
0.55
2020-04-02 00:00:00
Australia
0.46
0.54
2020-04-03 00:00:00
Australia
0.47
0.53
2020-04-04 00:00:00
Australia
0.48
0.52
2020-04-05 00:00:00
Australia
0.49
0.51
2020-04-06 00:00:00
Australia
0.49
0.51
2020-04-07 00:00:00
Australia
0.51
0.49
2020-04-08 00:00:00
Australia
0.51
0.49
2020-04-09 00:00:00
Australia
0.51
0.49
2020-04-10 00:00:00
Australia
0.52
0.48
2020-04-11 00:00:00
Australia
0.53
0.47
2020-04-12 00:00:00
Australia
0.53
0.47
2020-04-13 00:00:00
Australia
0.53
0.47
2020-04-14 00:00:00
Australia
0.53
0.47
2020-04-15 00:00:00
Australia
0.54
0.46
2020-04-16 00:00:00
Australia
0.55
0.45
2020-04-17 00:00:00
Australia
0.56
0.44
2020-04-18 00:00:00
Australia
0.57
0.43
2020-04-19 00:00:00
Australia
0.57
0.43
2020-04-20 00:00:00
Australia
0.57
0.43
2020-04-21 00:00:00
Australia
0.57
0.43
2020-04-22 00:00:00
Australia
0.57
0.43
2020-04-23 00:00:00
Australia
0.58
0.42
2020-04-24 00:00:00
Australia
0.57
0.43
2020-04-25 00:00:00
Australia
0.58
0.42
2020-04-26 00:00:00
Australia
0.6
0.4
2020-04-27 00:00:00
Australia
0.6
0.4
2020-04-28 00:00:00
Australia
0.61
0.39
2020-04-29 00:00:00
Australia
0.62
0.38
2020-04-30 00:00:00
Australia
0.62
0.38
2020-05-01 00:00:00
Australia
0.62
0.38
2020-05-02 00:00:00
Australia
0.63
0.37
2020-05-03 00:00:00
Australia
0.62
0.38
2020-05-04 00:00:00
Australia
0.62
0.38
2020-05-05 00:00:00
Australia
0.62
0.38
2020-05-06 00:00:00
Australia
0.62
0.38
2020-05-07 00:00:00
Australia
0.62
0.38
2020-05-08 00:00:00
Australia
0.62
0.38
2020-05-09 00:00:00
Australia
0.62
0.38
2020-05-10 00:00:00
Australia
0.61
0.39
2020-05-11 00:00:00
Australia
0.61
0.39
2020-05-12 00:00:00
Australia
0.6
0.4
2020-05-13 00:00:00
Australia
0.6
0.4
2020-05-14 00:00:00
Australia
0.6
0.4
2020-05-15 00:00:00
Australia
0.61
0.39
2020-05-16 00:00:00
Australia
0.61
0.39
2020-05-17 00:00:00
Australia
0.62
0.38
2020-05-18 00:00:00
Australia
0.63
0.37
2020-05-19 00:00:00
Australia
0.62
0.38
2020-05-20 00:00:00
Australia
0.63
0.37
2020-05-21 00:00:00
Australia
0.62
0.38
2020-05-22 00:00:00
Australia
0.61
0.39
2020-05-23 00:00:00
Australia
0.61
0.39
2020-05-24 00:00:00
Australia
0.61
0.39
2020-05-25 00:00:00
Australia
0.6
0.4
2020-05-26 00:00:00
Australia
0.61
0.39
2020-05-27 00:00:00
Australia
0.63
0.37
2020-05-28 00:00:00
Australia
0.62
0.38
2020-05-29 00:00:00
Australia
0.63
0.37
2020-05-30 00:00:00
Australia
0.62
0.38
2020-05-31 00:00:00
Australia
0.63
0.37
2020-06-01 00:00:00
Australia
0.63
0.37
2020-06-02 00:00:00
Australia
0.62
0.38
2020-06-03 00:00:00
Australia
0.6
0.4
2020-06-04 00:00:00
Australia
0.6
0.4
2020-06-05 00:00:00
Australia
0.59
0.41
2020-06-06 00:00:00
Australia
0.58
0.42
2020-06-07 00:00:00
Australia
0.58
0.42
2020-06-08 00:00:00
Australia
0.58
0.42
2020-06-09 00:00:00
Australia
0.59
0.41
2020-06-10 00:00:00
Australia
0.59
0.41
2020-06-11 00:00:00
Australia
0.6
0.4
2020-06-12 00:00:00
Australia
0.6
0.4
2020-06-13 00:00:00
Australia
0.6
0.4
2020-06-14 00:00:00
Australia
0.6
0.4
2020-06-15 00:00:00
Australia
0.6
0.4
2020-06-16 00:00:00
Australia
0.59
0.41
2020-06-17 00:00:00
Australia
0.58
0.42
2020-06-18 00:00:00
Australia
0.58
0.42
2020-06-19 00:00:00
Australia
0.58
0.42
2020-06-20 00:00:00
Australia
0.58
0.42
2020-06-21 00:00:00
Australia
0.57
0.43
2020-06-22 00:00:00
Australia
0.56
0.44
2020-06-23 00:00:00
Australia
0.57
0.43
2020-06-24 00:00:00
Australia
0.58
0.42
2020-06-25 00:00:00
Australia
0.58
0.42
2020-06-26 00:00:00
Australia
0.58
0.42
2020-06-27 00:00:00
Australia
0.58
0.42
2020-06-28 00:00:00
Australia
0.59
0.41
2020-06-29 00:00:00
Australia
0.6
0.4
2020-06-30 00:00:00
Australia
0.6
0.4
2020-07-01 00:00:00
Australia
0.59
0.41
2020-07-02 00:00:00
Australia
0.59
0.41
2020-07-03 00:00:00
Australia
0.59
0.41
2020-07-04 00:00:00
Australia
0.59
0.41
2020-07-05 00:00:00
Australia
0.59
0.41
2020-07-06 00:00:00
Australia
0.59
0.41
2020-07-07 00:00:00
Australia
0.59
0.41
2020-07-08 00:00:00
Australia
0.58
0.42
2020-07-09 00:00:00
Australia
0.58
0.42
2020-07-10 00:00:00
Australia
0.58
0.42
2020-07-11 00:00:00
Australia
0.57
0.43
2020-07-12 00:00:00
Australia
0.56
0.44
2020-07-13 00:00:00
Australia
0.56
0.44
2020-07-14 00:00:00
Australia
0.56
0.44
2020-07-15 00:00:00
Australia
0.56
0.44
2020-07-16 00:00:00
Australia
0.56
0.44
2020-07-17 00:00:00
Australia
0.56
0.44
2020-07-18 00:00:00
Australia
0.57
0.43
2020-07-19 00:00:00
Australia
0.56
0.44
2020-07-20 00:00:00
Australia
0.55
0.45
2020-07-21 00:00:00
Australia
0.56
0.44
2020-07-22 00:00:00
Australia
0.56
0.44
2020-07-23 00:00:00
Australia
0.55
0.45
2020-07-24 00:00:00
Australia
0.55
0.45
2020-07-25 00:00:00
Australia
0.54
0.46
2020-07-26 00:00:00
Australia
0.54
0.46
2020-07-27 00:00:00
Australia
0.55
0.45
2020-07-28 00:00:00
Australia
0.53
0.47
2020-07-29 00:00:00
Australia
0.52
0.48
2020-07-30 00:00:00
Australia
0.53
0.47
2020-07-31 00:00:00
Australia
0.52
0.48
2020-08-01 00:00:00
Australia
0.52
0.48
2020-08-02 00:00:00
Australia
0.51
0.49
2020-08-03 00:00:00
Australia
0.51
0.49
2020-08-04 00:00:00
Australia
0.51
0.49
2020-08-05 00:00:00
Australia
0.51
0.49
2020-08-06 00:00:00
Australia
0.51
0.49
2020-08-07 00:00:00
Australia
0.51
0.49
2020-08-08 00:00:00
Australia
0.51
0.49
2020-08-09 00:00:00
Australia
0.52
0.48
2020-08-10 00:00:00
Australia
0.51
0.49
2020-08-11 00:00:00
Australia
0.52
0.48
2020-08-12 00:00:00
Australia
0.52
0.48
2020-08-13 00:00:00
Australia
0.52
0.48
2020-08-14 00:00:00
Australia
0.52
0.48
2020-08-15 00:00:00
Australia
0.53
0.47
2020-08-16 00:00:00
Australia
0.54
0.46
2020-08-17 00:00:00
Australia
0.55
0.45
2020-08-18 00:00:00
Australia
0.55
0.45
2020-08-19 00:00:00
Australia
0.56
0.44
2020-08-20 00:00:00
Australia
0.55
0.45
2020-08-21 00:00:00
Australia
0.55
0.45
2020-08-22 00:00:00
Australia
0.55
0.45
2020-08-23 00:00:00
Australia
0.56
0.44
2020-08-24 00:00:00
Australia
0.57
0.43
2020-08-25 00:00:00
Australia
0.58
0.42
2020-08-26 00:00:00
Australia
0.59
0.41
2020-08-27 00:00:00
Australia
0.6
0.4
2020-08-28 00:00:00
Australia
0.6
0.4
2020-08-29 00:00:00
Australia
0.6
0.4
2020-08-30 00:00:00
Australia
0.6
0.4
2020-08-31 00:00:00
Australia
0.58
0.42
2020-09-01 00:00:00
Australia
0.56
0.44
2020-09-02 00:00:00
Australia
0.55
0.45
2020-09-03 00:00:00
Australia
0.54
0.46
2020-09-04 00:00:00
Australia
0.54
0.46
2020-09-05 00:00:00
Australia
0.53
0.47
2020-09-06 00:00:00
Australia
0.53
0.47
2020-09-07 00:00:00
Australia
0.53
0.47
2020-09-08 00:00:00
Australia
0.53
0.47
2020-09-09 00:00:00
Australia
0.53
0.47
2020-09-10 00:00:00
Australia
0.54
0.46
2020-09-11 00:00:00
Australia
0.53
0.47
2020-09-12 00:00:00
Australia
0.54
0.46
2020-09-13 00:00:00
Australia
0.54
0.46
2020-09-14 00:00:00
Australia
0.54
0.46
2020-09-15 00:00:00
Australia
0.55
0.45
2020-09-16 00:00:00
Australia
0.54
0.46
2020-09-17 00:00:00
Australia
0.55
0.45
2020-09-18 00:00:00
Australia
0.55
0.45
2020-09-19 00:00:00
Australia
0.55
0.45
2020-09-20 00:00:00
Australia
0.55
0.45
2020-09-21 00:00:00
Australia
0.55
0.45
2020-09-22 00:00:00
Australia
0.55
0.45
2020-09-23 00:00:00
Australia
0.56
0.44
2020-09-24 00:00:00
Australia
0.56
0.44
2020-09-25 00:00:00
Australia
0.57
0.43
2020-09-26 00:00:00
Australia
0.57
0.43
2020-09-27 00:00:00
Australia
0.57
0.43
2020-09-28 00:00:00
Australia
0.58
0.42
2020-09-29 00:00:00
Australia
0.57
0.43
2020-09-30 00:00:00
Australia
0.58
0.42
2020-10-01 00:00:00
Australia
0.58
0.42
2020-10-02 00:00:00
Australia
0.58
0.42
2020-10-03 00:00:00
Australia
0.59
0.41
2020-10-04 00:00:00
Australia
0.59
0.41
2020-10-05 00:00:00
Australia
0.58
0.42
2020-10-06 00:00:00
Australia
0.59
0.41
2020-10-07 00:00:00
Australia
0.59
0.41
2020-10-08 00:00:00
Australia
0.59
0.41
2020-10-09 00:00:00
Australia
0.58
0.42
2020-10-10 00:00:00
Australia
0.58
0.42
2020-10-11 00:00:00
Australia
0.57
0.43
2020-10-12 00:00:00
Australia
0.58
0.42
2020-10-13 00:00:00
Australia
0.57
0.43
2020-10-14 00:00:00
Australia
0.57
0.43
2020-10-15 00:00:00
Australia
0.57
0.43
2020-10-16 00:00:00
Australia
0.57
0.43
2020-10-17 00:00:00
Australia
0.57
0.43
2020-10-18 00:00:00
Australia
0.57
0.43
2020-10-19 00:00:00
Australia
0.57
0.43
2020-10-20 00:00:00
Australia
0.56
0.44
2020-10-21 00:00:00
Australia
0.56
0.44
2020-10-22 00:00:00
Australia
0.56
0.44
2020-10-23 00:00:00
Australia
0.56
0.44
2020-10-24 00:00:00
Australia
0.56
0.44
2020-10-25 00:00:00
Australia
0.56
0.44
2020-10-26 00:00:00
Australia
0.57
0.43
2020-10-27 00:00:00
Australia
0.59
0.41
2020-10-28 00:00:00
Australia
0.6
0.4
2020-10-29 00:00:00
Australia
0.6
0.4
2020-10-30 00:00:00
Australia
0.6
0.4
2020-10-31 00:00:00
Australia
0.61
0.39
2020-11-01 00:00:00
Australia
0.61
0.39
2020-11-02 00:00:00
Australia
0.6
0.4
2020-11-03 00:00:00
Australia
0.61
0.39
2020-11-04 00:00:00
Australia
0.6
0.4
2020-11-05 00:00:00
Australia
0.6
0.4
2020-11-06 00:00:00
Australia
0.61
0.39
2020-11-07 00:00:00
Australia
0.61
0.39
2020-11-08 00:00:00
Australia
0.62
0.38
2020-11-09 00:00:00
Australia
0.63
0.37
2020-11-10 00:00:00
Australia
0.64
0.36
2020-11-11 00:00:00
Australia
0.65
0.35
2020-11-12 00:00:00
Australia
0.65
0.35
2020-11-13 00:00:00
Australia
0.65
0.35
2020-11-14 00:00:00
Australia
0.65
0.35
2020-11-15 00:00:00
Australia
0.64
0.36
2020-11-16 00:00:00
Australia
0.65
0.35
2020-11-17 00:00:00
Australia
0.65
0.35
2020-11-18 00:00:00
Australia
0.65
0.35
2020-11-19 00:00:00
Australia
0.65
0.35
2020-11-20 00:00:00
Australia
0.65
0.35
2020-11-21 00:00:00
Australia
0.64
0.36
2020-11-22 00:00:00
Australia
0.65
0.35
2020-11-23 00:00:00
Australia
0.65
0.35
2020-11-24 00:00:00
Australia
0.65
0.35
2020-11-25 00:00:00
Australia
0.66
0.34
2020-11-26 00:00:00
Australia
0.65
0.35
2020-11-27 00:00:00
Australia
0.65
0.35
2020-11-28 00:00:00
Australia
0.66
0.34
2020-11-29 00:00:00
Australia
0.65
0.35
2020-11-30 00:00:00
Australia
0.64
0.36
2020-12-01 00:00:00
Australia
0.64
0.36
2020-12-02 00:00:00
Australia
0.64
0.36
2020-12-03 00:00:00
Australia
0.65
0.35
2020-12-04 00:00:00
Australia
0.65
0.35
2020-12-05 00:00:00
Australia
0.66
0.34
2020-12-06 00:00:00
Australia
0.67
0.33
2020-12-07 00:00:00
Australia
0.67
0.33
2020-12-08 00:00:00
Australia
0.68
0.32
2020-12-09 00:00:00
Australia
0.68
0.32
2020-12-10 00:00:00
Australia
0.67
0.33
2020-12-11 00:00:00
Australia
0.67
0.33
2020-12-12 00:00:00
Australia
0.65
0.35
2020-12-13 00:00:00
Australia
0.64
0.36
2020-12-14 00:00:00
Australia
0.64
0.36
2020-12-15 00:00:00
Australia
0.63
0.37
2020-12-16 00:00:00
Australia
0.63
0.37
2020-12-17 00:00:00
Australia
0.63
0.37
2020-12-18 00:00:00
Australia
0.63
0.37
2020-12-19 00:00:00
Australia
0.64
0.36
2020-12-20 00:00:00
Australia
0.64
0.36
2020-12-21 00:00:00
Australia
0.64
0.36
2020-12-22 00:00:00
Australia
0.64
0.36
2020-12-23 00:00:00
Australia
0.65
0.35
2020-12-24 00:00:00
Australia
0.65
0.35
2020-12-25 00:00:00
Australia
0.65
0.35
2020-12-26 00:00:00
Australia
0.65
0.35
2020-12-27 00:00:00
Australia
0.65
0.35
2020-12-28 00:00:00
Australia
0.65
0.35
2020-12-29 00:00:00
Australia
0.65
0.35
2020-12-30 00:00:00
Australia
0.65
0.35
2020-12-31 00:00:00
Australia
0.64
0.36
2021-01-01 00:00:00
Australia
0.64
0.36
2021-01-02 00:00:00
Australia
0.63
0.37
2021-01-03 00:00:00
Australia
0.63
0.37
2021-01-04 00:00:00
Australia
0.62
0.38
2021-01-05 00:00:00
Australia
0.62
0.38
2021-01-06 00:00:00
Australia
0.61
0.39
2021-01-07 00:00:00
Australia
0.61
0.39
2021-01-08 00:00:00
Australia
0.6
0.4
2021-01-09 00:00:00
Australia
0.61
0.39
2021-01-10 00:00:00
Australia
0.62
0.38
2021-01-11 00:00:00
Australia
0.62
0.38
2021-01-12 00:00:00
Australia
0.62
0.38
2021-01-13 00:00:00
Australia
0.62
0.38
2021-01-14 00:00:00
Australia
0.62
0.38
2021-01-15 00:00:00
Australia
0.62
0.38
2021-01-16 00:00:00
Australia
0.63
0.37
2021-01-17 00:00:00
Australia
0.63
0.37
2021-01-18 00:00:00
Australia
0.64
0.36
2021-01-19 00:00:00
Australia
0.63
0.37
2021-01-20 00:00:00
Australia
0.64
0.36
2021-01-21 00:00:00
Australia
0.65
0.35
2021-01-22 00:00:00
Australia
0.65
0.35
2021-01-23 00:00:00
Australia
0.65
0.35
2021-01-24 00:00:00
Australia
0.65
0.35
2021-01-25 00:00:00
Australia
0.65
0.35
2021-01-26 00:00:00
Australia
0.65
0.35
2021-01-27 00:00:00
Australia
0.65
0.35
2021-01-28 00:00:00
Australia
0.64
0.36
2021-01-29 00:00:00
Australia
0.65
0.35
2021-01-30 00:00:00
Australia
0.65
0.35
2021-01-31 00:00:00
Australia
0.64
0.36
2021-02-01 00:00:00
Australia
0.64
0.36
2021-02-02 00:00:00
Australia
0.64
0.36
2021-02-03 00:00:00
Australia
0.64
0.36
2021-02-04 00:00:00
Australia
0.64
0.36
2021-02-05 00:00:00
Australia
0.64
0.36
2021-02-06 00:00:00
Australia
0.64
0.36
2021-02-07 00:00:00
Australia
0.64
0.36
2021-02-08 00:00:00
Australia
0.64
0.36
2021-02-09 00:00:00
Australia
0.64
0.36
2021-02-10 00:00:00
Australia
0.64
0.36
2021-02-11 00:00:00
Australia
0.63
0.37
2021-02-12 00:00:00
Australia
0.63
0.37
2021-02-13 00:00:00
Australia
0.63
0.37
2021-02-14 00:00:00
Australia
0.63
0.37
2021-02-15 00:00:00
Australia
0.62
0.38
2021-02-16 00:00:00
Australia
0.62
0.38
2021-02-17 00:00:00
Australia
0.62
0.38
2021-02-18 00:00:00
Australia
0.61
0.39
2021-02-19 00:00:00
Australia
0.61
0.39
2021-02-20 00:00:00
Australia
0.62
0.38
2021-02-21 00:00:00
Australia
0.6
0.4
2021-02-22 00:00:00
Australia
0.61
0.39
2021-02-23 00:00:00
Australia
0.61
0.39
2021-02-24 00:00:00
Australia
0.61
0.39
2021-02-25 00:00:00
Australia
0.62
0.38
2021-02-26 00:00:00
Australia
0.61
0.39
2021-02-27 00:00:00
Australia
0.61
0.39
2021-02-28 00:00:00
Australia
0.62
0.38
2021-03-01 00:00:00
Australia
0.62
0.38
2021-03-02 00:00:00
Australia
0.61
0.39
2021-03-03 00:00:00
Australia
0.62
0.38
2021-03-04 00:00:00
Australia
0.62
0.38
2021-03-05 00:00:00
Australia
0.62
0.38
2021-03-06 00:00:00
Australia
0.63
0.37
2021-03-07 00:00:00
Australia
0.62
0.38
2021-03-08 00:00:00
Australia
0.62
0.38
2021-03-09 00:00:00
Australia
0.62
0.38
2021-03-10 00:00:00
Australia
0.63
0.37
2021-03-11 00:00:00
Australia
0.63
0.37
2021-03-12 00:00:00
Australia
0.62
0.38
2021-03-13 00:00:00
Australia
0.62
0.38
2021-03-14 00:00:00
Australia
0.62
0.38
2021-03-15 00:00:00
Australia
0.62
0.38
2021-03-16 00:00:00
Australia
0.62
0.38
2021-03-17 00:00:00
Australia
0.61
0.39
2021-03-18 00:00:00
Australia
0.61
0.39
2021-03-19 00:00:00
Australia
0.61
0.39
2021-03-20 00:00:00
Australia
0.62
0.38
2021-03-21 00:00:00
Australia
0.62
0.38
2021-03-22 00:00:00
Australia
0.63
0.37
2021-03-23 00:00:00
Australia
0.63
0.37
2021-03-24 00:00:00
Australia
0.63
0.37
2021-03-25 00:00:00
Australia
0.63
0.37
2021-03-26 00:00:00
Australia
0.62
0.38
2021-03-27 00:00:00
Australia
0.62
0.38
2021-03-28 00:00:00
Australia
0.61
0.39
2021-03-29 00:00:00
Australia
0.61
0.39
2021-03-30 00:00:00
Australia
0.61
0.39
2021-03-31 00:00:00
Australia
0.61
0.39
2021-04-01 00:00:00
Australia
0.61
0.39
2021-04-02 00:00:00
Australia
0.61
0.39
2021-04-03 00:00:00
Australia
0.61
0.39
2021-04-04 00:00:00
Australia
0.61
0.39
2021-04-05 00:00:00
Australia
0.62
0.38
2021-04-06 00:00:00
Australia
0.61
0.39
2021-04-07 00:00:00
Australia
0.62
0.38
2021-04-08 00:00:00
Australia
0.62
0.38
2021-04-09 00:00:00
Australia
0.61
0.39
2021-04-10 00:00:00
Australia
0.61
0.39
2021-04-11 00:00:00
Australia
0.61
0.39
2021-04-12 00:00:00
Australia
0.61
0.39
2021-04-13 00:00:00
Australia
0.62
0.38
2021-04-14 00:00:00
Australia
0.62
0.38
2021-04-15 00:00:00
Australia
0.62
0.38
2021-04-16 00:00:00
Australia
0.63
0.37
2021-04-17 00:00:00
Australia
0.63
0.37
2021-04-18 00:00:00
Australia
0.63
0.37
2021-04-19 00:00:00
Australia
0.62
0.38
2021-04-20 00:00:00
Australia
0.61
0.39
2021-04-21 00:00:00
Australia
0.62
0.38
2021-04-22 00:00:00
Australia
0.61
0.39
2021-04-23 00:00:00
Australia
0.61
0.39
2021-04-24 00:00:00
Australia
0.61
0.39
2021-04-25 00:00:00
Australia
0.6
0.4
2021-04-26 00:00:00
Australia
0.6
0.4
2021-04-27 00:00:00
Australia
0.6
0.4
2021-04-28 00:00:00
Australia
0.6
0.4
2021-04-29 00:00:00
Australia
0.6
0.4
2021-04-30 00:00:00
Australia
0.6
0.4
2021-05-01 00:00:00
Australia
0.6
0.4
2021-05-02 00:00:00
Australia
0.61
0.39
2021-05-03 00:00:00
Australia
0.61
0.39
2021-05-04 00:00:00
Australia
0.61
0.39
2021-05-05 00:00:00
Australia
0.61
0.39
2021-05-06 00:00:00
Australia
0.61
0.39
2021-05-07 00:00:00
Australia
0.61
0.39
2021-05-08 00:00:00
Australia
0.61
0.39
2021-05-09 00:00:00
Australia
0.61
0.39
2021-05-10 00:00:00
Australia
0.61
0.39
2021-05-11 00:00:00
Australia
0.61
0.39
2021-05-12 00:00:00
Australia
0.61
0.39
2021-05-13 00:00:00
Australia
0.61
0.39
2021-05-14 00:00:00
Australia
0.61
0.39
2021-05-15 00:00:00
Australia
0.61
0.39
2021-05-16 00:00:00
Australia
0.61
0.39
2021-05-17 00:00:00
Australia
0.61
0.39
2021-05-18 00:00:00
Australia
0.61
0.39
2021-05-19 00:00:00
Australia
0.61
0.39
2021-05-20 00:00:00
Australia
0.61
0.39
2021-05-21 00:00:00
Australia
0.61
0.39
2021-05-22 00:00:00
Australia
0.62
0.38
2021-05-23 00:00:00
Australia
0.62
0.38
2021-05-24 00:00:00
Australia
0.63
0.37
2021-05-25 00:00:00
Australia
0.63
0.37
2021-05-26 00:00:00
Australia
0.63
0.37
2021-05-27 00:00:00
Australia
0.63
0.37
2021-05-28 00:00:00
Australia
0.63
0.37
2021-05-29 00:00:00
Australia
0.63
0.37
2021-05-30 00:00:00
Australia
0.62
0.38
2021-05-31 00:00:00
Australia
0.61
0.39
2021-06-01 00:00:00
Australia
0.6
0.4
2021-06-02 00:00:00
Australia
0.6
0.4
2021-06-03 00:00:00
Australia
0.6
0.4
2021-06-04 00:00:00
Australia
0.6
0.4
2021-06-05 00:00:00
Australia
0.59
0.41
2021-06-06 00:00:00
Australia
0.59
0.41
2021-06-07 00:00:00
Australia
0.59
0.41
2021-06-08 00:00:00
Australia
0.59
0.41
2021-06-09 00:00:00
Australia
0.6
0.4
2021-06-10 00:00:00
Australia
0.6
0.4
2021-06-11 00:00:00
Australia
0.6
0.4
2021-06-12 00:00:00
Australia
0.61
0.39
2021-06-13 00:00:00
Australia
0.61
0.39
2021-06-14 00:00:00
Australia
0.61
0.39
2021-06-15 00:00:00
Australia
0.61
0.39
2021-06-16 00:00:00
Australia
0.6
0.4
2021-06-17 00:00:00
Australia
0.6
0.4
2021-06-18 00:00:00
Australia
0.6
0.4
2021-06-19 00:00:00
Australia
0.6
0.4
2021-06-20 00:00:00
Australia
0.61
0.39
2021-06-21 00:00:00
Australia
0.6
0.4
2021-06-22 00:00:00
Australia
0.6
0.4
2021-06-23 00:00:00
Australia
0.6
0.4
2021-06-24 00:00:00
Australia
0.6
0.4
2021-06-25 00:00:00
Australia
0.6
0.4
2021-06-26 00:00:00
Australia
0.59
0.41
2021-06-27 00:00:00
Australia
0.59
0.41
2021-06-28 00:00:00
Australia
0.59
0.41
2021-06-29 00:00:00
Australia
0.58
0.42
2021-06-30 00:00:00
Australia
0.57
0.43
2021-07-01 00:00:00
Australia
0.56
0.44
2021-07-02 00:00:00
Australia
0.56
0.44
2021-07-03 00:00:00
Australia
0.55
0.45
2021-07-04 00:00:00
Australia
0.55
0.45
2021-07-05 00:00:00
Australia
0.54
0.46
2021-07-06 00:00:00
Australia
0.55
0.45
2021-07-07 00:00:00
Australia
0.56
0.44
2021-07-08 00:00:00
Australia
0.56
0.44
2021-07-09 00:00:00
Australia
0.56
0.44
2021-07-10 00:00:00
Australia
0.56
0.44
2021-07-11 00:00:00
Australia
0.57
0.43
2021-07-12 00:00:00
Australia
0.57
0.43
2021-07-13 00:00:00
Australia
0.57
0.43
2021-07-14 00:00:00
Australia
0.55
0.45
2021-07-15 00:00:00
Australia
0.56
0.44
2021-07-16 00:00:00
Australia
0.56
0.44
2021-07-17 00:00:00
Australia
0.56
0.44
2021-07-18 00:00:00
Australia
0.54
0.46
2021-07-19 00:00:00
Australia
0.54
0.46
2021-07-20 00:00:00
Australia
0.54
0.46
2021-07-21 00:00:00
Australia
0.54
0.46
2021-07-22 00:00:00
Australia
0.53
0.47
2021-07-23 00:00:00
Australia
0.52
0.48
2021-07-24 00:00:00
Australia
0.52
0.48
2021-07-25 00:00:00
Australia
0.53
0.47
2021-07-26 00:00:00
Australia
0.52
0.48
2021-07-27 00:00:00
Australia
0.52
0.48
2021-07-28 00:00:00
Australia
0.52
0.48
2021-07-29 00:00:00
Australia
0.53
0.47
2021-07-30 00:00:00
Australia
0.54
0.46
2021-07-31 00:00:00
Australia
0.53
0.47
2021-08-01 00:00:00
Australia
0.53
0.47
2021-08-02 00:00:00
Australia
0.54
0.46
2021-08-03 00:00:00
Australia
0.54
0.46
2021-08-04 00:00:00
Australia
0.54
0.46
2021-08-05 00:00:00
Australia
0.53
0.47
2021-08-06 00:00:00
Australia
0.52
0.48
2021-08-07 00:00:00
Australia
0.52
0.48
2021-08-08 00:00:00
Australia
0.52
0.48
2021-08-09 00:00:00
Australia
0.52
0.48
2021-08-10 00:00:00
Australia
0.51
0.49
2021-08-11 00:00:00
Australia
0.51
0.49
2021-08-12 00:00:00
Australia
0.51
0.49
2021-08-13 00:00:00
Australia
0.51
0.49
2021-08-14 00:00:00
Australia
0.52
0.48
2021-08-15 00:00:00
Australia
0.52
0.48
2021-08-16 00:00:00
Australia
0.51
0.49
2021-08-17 00:00:00
Australia
0.51
0.49
2021-08-18 00:00:00
Australia
0.5
0.5
2021-08-19 00:00:00
Australia
0.51
0.49
2021-08-20 00:00:00
Australia
0.51
0.49
2021-08-21 00:00:00
Australia
0.5
0.5
2021-08-22 00:00:00
Australia
0.5
0.5
2021-08-23 00:00:00
Australia
0.5
0.5
2021-08-24 00:00:00
Australia
0.51
0.49
2021-08-25 00:00:00
Australia
0.51
0.49
2021-08-26 00:00:00
Australia
0.51
0.49
2021-08-27 00:00:00
Australia
0.5
0.5
2021-08-28 00:00:00
Australia
0.51
0.49
2021-08-29 00:00:00
Australia
0.5
0.5
2021-08-30 00:00:00
Australia
0.5
0.5
2021-08-31 00:00:00
Australia
0.49
0.51
2021-09-01 00:00:00
Australia
0.49
0.51
2021-09-02 00:00:00
Australia
0.49
0.51
2021-09-03 00:00:00
Australia
0.5
0.5
2021-09-04 00:00:00
Australia
0.49
0.51
2021-09-05 00:00:00
Australia
0.49
0.51
2021-09-06 00:00:00
Australia
0.5
0.5
2021-09-07 00:00:00
Australia
0.51
0.49
2021-09-08 00:00:00
Australia
0.51
0.49
2021-09-09 00:00:00
Australia
0.51
0.49
2021-09-10 00:00:00
Australia
0.51
0.49
2021-09-11 00:00:00
Australia
0.52
0.48
2021-09-12 00:00:00
Australia
0.52
0.48
2021-09-13 00:00:00
Australia
0.52
0.48
2021-09-14 00:00:00
Australia
0.52
0.48
2021-09-15 00:00:00
Australia
0.52
0.48
2021-09-16 00:00:00
Australia
0.53
0.47
2021-09-17 00:00:00
Australia
0.53
0.47
2021-09-18 00:00:00
Australia
0.53
0.47
2021-09-19 00:00:00
Australia
0.54
0.46
2021-09-20 00:00:00
Australia
0.53
0.47
2021-09-21 00:00:00
Australia
0.53
0.47
2021-09-22 00:00:00
Australia
0.53
0.47
2021-09-23 00:00:00
Australia
0.52
0.48
2021-09-24 00:00:00
Australia
0.52
0.48
2021-09-25 00:00:00
Australia
0.51
0.49
2021-09-26 00:00:00
Australia
0.51
0.49
2021-09-27 00:00:00
Australia
0.52
0.48
2021-09-28 00:00:00
Australia
0.52
0.48
2021-09-29 00:00:00
Australia
0.53
0.47
2021-09-30 00:00:00
Australia
0.52
0.48
2021-10-01 00:00:00
Australia
0.51
0.49
2021-10-02 00:00:00
Australia
0.52
0.48
2021-10-03 00:00:00
Australia
0.51
0.49
2021-10-04 00:00:00
Australia
0.51
0.49
2021-10-05 00:00:00
Australia
0.51
0.49
2021-10-06 00:00:00
Australia
0.5
0.5
2021-10-07 00:00:00
Australia
0.51
0.49
2021-10-08 00:00:00
Australia
0.52
0.48
2021-10-09 00:00:00
Australia
0.52
0.48
2021-10-10 00:00:00
Australia
0.52
0.48
2021-10-11 00:00:00
Australia
0.52
0.48
2021-10-12 00:00:00
Australia
0.52
0.48
2021-10-13 00:00:00
Australia
0.52
0.48
2021-10-14 00:00:00
Australia
0.52
0.48
2021-10-15 00:00:00
Australia
0.51
0.49
2021-10-16 00:00:00
Australia
0.52
0.48
2021-10-17 00:00:00
Australia
0.52
0.48
2021-10-18 00:00:00
Australia
0.52
0.48
2021-10-19 00:00:00
Australia
0.53
0.47
2021-10-20 00:00:00
Australia
0.53
0.47
2021-10-21 00:00:00
Australia
0.53
0.47
2021-10-22 00:00:00
Australia
0.53
0.47
2021-10-23 00:00:00
Australia
0.54
0.46
2021-10-24 00:00:00
Australia
0.54
0.46
2021-10-25 00:00:00
Australia
0.54
0.46
2021-10-26 00:00:00
Australia
0.54
0.46
2021-10-27 00:00:00
Australia
0.53
0.47
2021-10-28 00:00:00
Australia
0.54
0.46
2021-10-31 00:00:00
Australia
0.54
0.46
2021-11-01 00:00:00
Australia
0.54
0.46
2021-11-02 00:00:00
Australia
0.55
0.45
2021-11-03 00:00:00
Australia
0.55
0.45
2021-11-04 00:00:00
Australia
0.54
0.46
2021-11-05 00:00:00
Australia
0.54
0.46
2021-11-06 00:00:00
Australia
0.55
0.45
2021-11-07 00:00:00
Australia
0.54
0.46
2021-11-08 00:00:00
Australia
0.54
0.46
2021-11-09 00:00:00
Australia
0.54
0.46
2021-11-10 00:00:00
Australia
0.54
0.46
2021-11-11 00:00:00
Australia
0.54
0.46
2021-11-12 00:00:00
Australia
0.53
0.47
2021-11-13 00:00:00
Australia
0.52
0.48
2021-11-14 00:00:00
Australia
0.52
0.48
2021-11-15 00:00:00
Australia
0.53
0.47
2021-11-16 00:00:00
Australia
0.53
0.47
2021-11-17 00:00:00
Australia
0.52
0.48
2021-11-18 00:00:00
Australia
0.53
0.47
2021-11-19 00:00:00
Australia
0.54
0.46
2021-11-20 00:00:00
Australia
0.54
0.46
2021-11-21 00:00:00
Australia
0.54
0.46
2021-11-22 00:00:00
Australia
0.53
0.47
2021-11-23 00:00:00
Australia
0.53
0.47
2021-11-24 00:00:00
Australia
0.53
0.47
2021-11-25 00:00:00
Australia
0.53
0.47
2021-11-26 00:00:00
Australia
0.53
0.47
2021-11-27 00:00:00
Australia
0.53
0.47
2021-11-28 00:00:00
Australia
0.53
0.47
2021-11-29 00:00:00
Australia
0.54
0.46
2021-11-30 00:00:00
Australia
0.54
0.46
2021-12-01 00:00:00
Australia
0.53
0.47
2021-12-02 00:00:00
Australia
0.53
0.47
2021-12-03 00:00:00
Australia
0.54
0.46
2021-12-04 00:00:00
Australia
0.54
0.46
2021-12-05 00:00:00
Australia
0.54
0.46
2021-12-06 00:00:00
Australia
0.53
0.47
2021-12-07 00:00:00
Australia
0.53
0.47
2021-12-08 00:00:00
Australia
0.53
0.47
2021-12-09 00:00:00
Australia
0.54
0.46
2021-12-10 00:00:00
Australia
0.54
0.46
2021-12-11 00:00:00
Australia
0.53
0.47
2021-12-12 00:00:00
Australia
0.53
0.47
2021-12-13 00:00:00
Australia
0.54
0.46
2021-12-14 00:00:00
Australia
0.54
0.46
2021-12-15 00:00:00
Australia
0.54
0.46
2021-12-16 00:00:00
Australia
0.53
0.47
2021-12-17 00:00:00
Australia
0.53
0.47
2021-12-18 00:00:00
Australia
0.53
0.47
2021-12-19 00:00:00
Australia
0.53
0.47
2021-12-20 00:00:00
Australia
0.52
0.48
2021-12-21 00:00:00
Australia
0.51
0.49
2021-12-22 00:00:00
Australia
0.52
0.48
2021-12-23 00:00:00
Australia
0.52
0.48
2021-12-24 00:00:00
Australia
0.52
0.48
2021-12-25 00:00:00
Australia
0.53
0.47
2021-12-26 00:00:00
Australia
0.52
0.48
2021-12-27 00:00:00
Australia
0.52
0.48
2021-12-28 00:00:00
Australia
0.51
0.49
2021-12-29 00:00:00
Australia
0.5
0.5
2021-12-30 00:00:00
Australia
0.49
0.51
2021-12-31 00:00:00
Australia
0.49
0.51
2022-01-01 00:00:00
Australia
0.47
0.53
2022-01-02 00:00:00
Australia
0.47
0.53
2022-01-03 00:00:00
Australia
0.46
0.54
2022-01-04 00:00:00
Australia
0.47
0.53
2022-01-05 00:00:00
Australia
0.47
0.53
2022-01-06 00:00:00
Australia
0.47
0.53
2022-01-07 00:00:00
Australia
0.47
0.53
2022-01-08 00:00:00
Australia
0.47
0.53
2022-01-09 00:00:00
Australia
0.47
0.53
2022-01-10 00:00:00
Australia
0.47
0.53
2022-01-11 00:00:00
Australia
0.47
0.53
2022-01-12 00:00:00
Australia
0.46
0.54
2022-01-13 00:00:00
Australia
0.46
0.54
2022-01-14 00:00:00
Australia
0.45
0.55
2022-01-15 00:00:00
Australia
0.45
0.55
2022-01-16 00:00:00
Australia
0.45
0.55
2022-01-17 00:00:00
Australia
0.45
0.55
2022-01-18 00:00:00
Australia
0.46
0.54
2022-01-19 00:00:00
Australia
0.46
0.54
2022-01-20 00:00:00
Australia
0.45
0.55
2022-01-21 00:00:00
Australia
0.45
0.55
2022-01-22 00:00:00
Australia
0.45
0.55
2022-01-23 00:00:00
Australia
0.45
0.55
2022-01-24 00:00:00
Australia
0.46
0.54
2022-01-25 00:00:00
Australia
0.45
0.55
2020-01-06 00:00:00
Brazil
0.56
0.44
2020-01-07 00:00:00
Brazil
0.57
0.43
2020-01-08 00:00:00
Brazil
0.58
0.42
2020-01-09 00:00:00
Brazil
0.57
0.43
2020-01-10 00:00:00
Brazil
0.56
0.44
2020-01-11 00:00:00
Brazil
0.56
0.44
2020-01-12 00:00:00
Brazil
0.55
0.45
2020-01-13 00:00:00
Brazil
0.56
0.44
2020-01-14 00:00:00
Brazil
0.56
0.44
2020-01-15 00:00:00
Brazil
0.56
0.44
2020-01-16 00:00:00
Brazil
0.56
0.44
2020-01-17 00:00:00
Brazil
0.58
0.42
2020-01-18 00:00:00
Brazil
0.57
0.43
2020-01-19 00:00:00
Brazil
0.58
0.42
2020-01-20 00:00:00
Brazil
0.58
0.42
2020-01-21 00:00:00
Brazil
0.57
0.43
2020-01-22 00:00:00
Brazil
0.58
0.42
2020-01-23 00:00:00
Brazil
0.56
0.44
2020-01-24 00:00:00
Brazil
0.57
0.43
2020-01-25 00:00:00
Brazil
0.58
0.42
2020-01-26 00:00:00
Brazil
0.57
0.43
2020-01-27 00:00:00
Brazil
0.57
0.43
2020-01-28 00:00:00
Brazil
0.57
0.43
2020-01-29 00:00:00
Brazil
0.58
0.42
2020-01-30 00:00:00
Brazil
0.58
0.42
2020-01-31 00:00:00
Brazil
0.56
0.44
2020-02-01 00:00:00
Brazil
0.56
0.44
2020-02-02 00:00:00
Brazil
0.57
0.43
2020-02-03 00:00:00
Brazil
0.59
0.41
2020-02-04 00:00:00
Brazil
0.59
0.41
2020-02-05 00:00:00
Brazil
0.58
0.42
2020-02-06 00:00:00
Brazil
0.58
0.42
2020-02-07 00:00:00
Brazil
0.58
0.42
2020-02-08 00:00:00
Brazil
0.59
0.41
2020-02-09 00:00:00
Brazil
0.57
0.43
2020-02-10 00:00:00
Brazil
0.56
0.44
2020-02-11 00:00:00
Brazil
0.55
0.45
2020-02-12 00:00:00
Brazil
0.57
0.43
2020-02-13 00:00:00
Brazil
0.58
0.42
2020-02-14 00:00:00
Brazil
0.58
0.42
2020-02-15 00:00:00
Brazil
0.59
0.41
2020-02-16 00:00:00
Brazil
0.6
0.4
2020-02-17 00:00:00
Brazil
0.6
0.4
2020-02-18 00:00:00
Brazil
0.61
0.39
2020-02-19 00:00:00
Brazil
0.6
0.4
2020-02-20 00:00:00
Brazil
0.6
0.4
2020-02-21 00:00:00
Brazil
0.59
0.41
2020-02-22 00:00:00
Brazil
0.59
0.41
2020-02-23 00:00:00
Brazil
0.59
0.41
2020-02-24 00:00:00
Brazil
0.6
0.4
2020-02-25 00:00:00
Brazil
0.59
0.41
2020-02-26 00:00:00
Brazil
0.6
0.4
2020-02-27 00:00:00
Brazil
0.59
0.41
2020-02-28 00:00:00
Brazil
0.59
0.41
2020-02-29 00:00:00
Brazil
0.59
0.41
2020-03-01 00:00:00
Brazil
0.58
0.42
2020-03-02 00:00:00
Brazil
0.57
0.43
2020-03-03 00:00:00
Brazil
0.56
0.44
2020-03-04 00:00:00
Brazil
0.56
0.44
2020-03-05 00:00:00
Brazil
0.57
0.43
2020-03-06 00:00:00
Brazil
0.58
0.42
2020-03-07 00:00:00
Brazil
0.58
0.42
2020-03-08 00:00:00
Brazil
0.58
0.42
2020-03-09 00:00:00
Brazil
0.58
0.42
2020-03-10 00:00:00
Brazil
0.58
0.42
2020-03-11 00:00:00
Brazil
0.57
0.43
2020-03-12 00:00:00
Brazil
0.57
0.43
2020-03-13 00:00:00
Brazil
0.55
0.45
2020-03-14 00:00:00
Brazil
0.56
0.44
2020-03-15 00:00:00
Brazil
0.56
0.44
2020-03-16 00:00:00
Brazil
0.55
0.45
2020-03-17 00:00:00
Brazil
0.56
0.44
2020-03-18 00:00:00
Brazil
0.55
0.45
2020-03-19 00:00:00
Brazil
0.55
0.45
2020-03-20 00:00:00
Brazil
0.56
0.44
2020-03-21 00:00:00
Brazil
0.55
0.45
2020-03-22 00:00:00
Brazil
0.55
0.45
2020-03-23 00:00:00
Brazil
0.55
0.45
2020-03-24 00:00:00
Brazil
0.54
0.46
2020-03-25 00:00:00
Brazil
0.53
0.47
2020-03-26 00:00:00
Brazil
0.52
0.48
2020-03-27 00:00:00
Brazil
0.51
0.49
2020-03-28 00:00:00
Brazil
0.5
0.5
2020-03-29 00:00:00
Brazil
0.49
0.51
2020-03-30 00:00:00
Brazil
0.48
0.52
2020-03-31 00:00:00
Brazil
0.48
0.52
2020-04-01 00:00:00
Brazil
0.47
0.53
2020-04-02 00:00:00
Brazil
0.49
0.51
2020-04-03 00:00:00
Brazil
0.49
0.51
2020-04-04 00:00:00
Brazil
0.5
0.5
2020-04-05 00:00:00
Brazil
0.5
0.5
2020-04-06 00:00:00
Brazil
0.5
0.5
2020-04-07 00:00:00
Brazil
0.5
0.5
2020-04-08 00:00:00
Brazil
0.52
0.48
2020-04-09 00:00:00
Brazil
0.52
0.48
2020-04-10 00:00:00
Brazil
0.52
0.48
2020-04-11 00:00:00
Brazil
0.51
0.49
2020-04-12 00:00:00
Brazil
0.52
0.48
2020-04-13 00:00:00
Brazil
0.53
0.47
2020-04-14 00:00:00
Brazil
0.51
0.49
2020-04-15 00:00:00
Brazil
0.51
0.49
2020-04-16 00:00:00
Brazil
0.51
0.49
2020-04-17 00:00:00
Brazil
0.49
0.51
2020-04-18 00:00:00
Brazil
0.49
0.51
2020-04-19 00:00:00
Brazil
0.49
0.51
2020-04-20 00:00:00
Brazil
0.49
0.51
2020-04-21 00:00:00
Brazil
0.51
0.49
2020-04-22 00:00:00
Brazil
0.52
0.48
2020-04-23 00:00:00
Brazil
0.5
0.5
2020-04-24 00:00:00
Brazil
0.5
0.5
2020-04-25 00:00:00
Brazil
0.48
0.52
2020-04-26 00:00:00
Brazil
0.46
0.54
2020-04-27 00:00:00
Brazil
0.45
0.55
2020-04-28 00:00:00
Brazil
0.43
0.57
2020-04-29 00:00:00
Brazil
0.41
0.59
2020-04-30 00:00:00
Brazil
0.42
0.58
2020-05-01 00:00:00
Brazil
0.41
0.59
2020-05-02 00:00:00
Brazil
0.43
0.57
2020-05-03 00:00:00
Brazil
0.43
0.57
2020-05-04 00:00:00
Brazil
0.44
0.56
2020-05-05 00:00:00
Brazil
0.44
0.56
2020-05-06 00:00:00
Brazil
0.42
0.58
2020-05-07 00:00:00
Brazil
0.42
0.58
2020-05-08 00:00:00
Brazil
0.42
0.58
2020-05-09 00:00:00
Brazil
0.41
0.59
2020-05-10 00:00:00
Brazil
0.41
0.59
2020-05-11 00:00:00
Brazil
0.4
0.6
2020-05-12 00:00:00
Brazil
0.4
0.6
2020-05-13 00:00:00
Brazil
0.41
0.59
2020-05-14 00:00:00
Brazil
0.4
0.6
2020-05-15 00:00:00
Brazil
0.4
0.6
2020-05-16 00:00:00
Brazil
0.39
0.61
2020-05-17 00:00:00
Brazil
0.38
0.62
2020-05-18 00:00:00
Brazil
0.38
0.62
2020-05-19 00:00:00
Brazil
0.36
0.64
2020-05-20 00:00:00
Brazil
0.35
0.65
2020-05-21 00:00:00
Brazil
0.35
0.65
2020-05-22 00:00:00
Brazil
0.35
0.65
2020-05-23 00:00:00
Brazil
0.34
0.66
2020-05-24 00:00:00
Brazil
0.35
0.65
2020-05-25 00:00:00
Brazil
0.36
0.64
2020-05-26 00:00:00
Brazil
0.38
0.62
2020-05-27 00:00:00
Brazil
0.39
0.61
2020-05-28 00:00:00
Brazil
0.4
0.6
2020-05-29 00:00:00
Brazil
0.4
0.6
2020-05-30 00:00:00
Brazil
0.4
0.6
2020-05-31 00:00:00
Brazil
0.4
0.6
2020-06-01 00:00:00
Brazil
0.41
0.59
2020-06-02 00:00:00
Brazil
0.4
0.6
2020-06-03 00:00:00
Brazil
0.39
0.61
2020-06-04 00:00:00
Brazil
0.39
0.61
2020-06-05 00:00:00
Brazil
0.39
0.61
2020-06-06 00:00:00
Brazil
0.39
0.61
2020-06-07 00:00:00
Brazil
0.39
0.61
2020-06-08 00:00:00
Brazil
0.38
0.62
2020-06-09 00:00:00
Brazil
0.38
0.62
2020-06-10 00:00:00
Brazil
0.39
0.61
2020-06-11 00:00:00
Brazil
0.4
0.6
2020-06-12 00:00:00
Brazil
0.41
0.59
2020-06-13 00:00:00
Brazil
0.41
0.59
2020-06-14 00:00:00
Brazil
0.4
0.6
2020-06-15 00:00:00
Brazil
0.4
0.6
2020-06-16 00:00:00
Brazil
0.39
0.61
2020-06-17 00:00:00
Brazil
0.38
0.62
2020-06-18 00:00:00
Brazil
0.37
0.63
2020-06-19 00:00:00
Brazil
0.35
0.65
2020-06-20 00:00:00
Brazil
0.35
0.65
2020-06-21 00:00:00
Brazil
0.35
0.65
2020-06-22 00:00:00
Brazil
0.36
0.64
2020-06-23 00:00:00
Brazil
0.37
0.63
2020-06-24 00:00:00
Brazil
0.37
0.63
2020-06-25 00:00:00
Brazil
0.38
0.62
2020-06-26 00:00:00
Brazil
0.39
0.61
2020-06-27 00:00:00
Brazil
0.4
0.6
2020-06-28 00:00:00
Brazil
0.4
0.6
2020-06-29 00:00:00
Brazil
0.38
0.62
2020-06-30 00:00:00
Brazil
0.38
0.62
2020-07-01 00:00:00
Brazil
0.38
0.62
2020-07-02 00:00:00
Brazil
0.38
0.62
2020-07-03 00:00:00
Brazil
0.39
0.61
2020-07-04 00:00:00
Brazil
0.39
0.61
2020-07-05 00:00:00
Brazil
0.39
0.61
2020-07-06 00:00:00
Brazil
0.4
0.6
2020-07-07 00:00:00
Brazil
0.41
0.59
2020-07-08 00:00:00
Brazil
0.4
0.6
2020-07-09 00:00:00
Brazil
0.4
0.6
2020-07-10 00:00:00
Brazil
0.4
0.6
2020-07-11 00:00:00
Brazil
0.41
0.59
2020-07-12 00:00:00
Brazil
0.41
0.59
2020-07-13 00:00:00
Brazil
0.4
0.6
2020-07-14 00:00:00
Brazil
0.41
0.59
2020-07-15 00:00:00
Brazil
0.41
0.59
2020-07-16 00:00:00
Brazil
0.41
0.59
2020-07-17 00:00:00
Brazil
0.43
0.57
2020-07-18 00:00:00
Brazil
0.43
0.57
2020-07-19 00:00:00
Brazil
0.44
0.56
2020-07-20 00:00:00
Brazil
0.45
0.55
2020-07-21 00:00:00
Brazil
0.44
0.56
2020-07-22 00:00:00
Brazil
0.45
0.55
2020-07-23 00:00:00
Brazil
0.47
0.53
2020-07-24 00:00:00
Brazil
0.45
0.55
2020-07-25 00:00:00
Brazil
0.45
0.55
2020-07-26 00:00:00
Brazil
0.46
0.54
2020-07-27 00:00:00
Brazil
0.47
0.53
2020-07-28 00:00:00
Brazil
0.47
0.53
2020-07-29 00:00:00
Brazil
0.48
0.52
2020-07-30 00:00:00
Brazil
0.47
0.53
2020-07-31 00:00:00
Brazil
0.48
0.52
2020-08-01 00:00:00
Brazil
0.47
0.53
2020-08-02 00:00:00
Brazil
0.46
0.54
2020-08-03 00:00:00
Brazil
0.47
0.53
2020-08-04 00:00:00
Brazil
0.46
0.54
2020-08-05 00:00:00
Brazil
0.46
0.54
2020-08-06 00:00:00
Brazil
0.46
0.54
2020-08-07 00:00:00
Brazil
0.46
0.54
2020-08-08 00:00:00
Brazil
0.46
0.54
2020-08-09 00:00:00
Brazil
0.48
0.52
2020-08-10 00:00:00
Brazil
0.47
0.53
2020-08-11 00:00:00
Brazil
0.48
0.52
2020-08-12 00:00:00
Brazil
0.48
0.52
2020-08-13 00:00:00
Brazil
0.48
0.52
2020-08-14 00:00:00
Brazil
0.49
0.51
2020-08-15 00:00:00
Brazil
0.49
0.51
2020-08-16 00:00:00
Brazil
0.48
0.52
2020-08-17 00:00:00
Brazil
0.48
0.52
2020-08-18 00:00:00
Brazil
0.47
0.53
2020-08-19 00:00:00
Brazil
0.48
0.52
2020-08-20 00:00:00
Brazil
0.48
0.52
2020-08-21 00:00:00
Brazil
0.49
0.51
2020-08-22 00:00:00
Brazil
0.49
0.51
2020-08-23 00:00:00
Brazil
0.5
0.5
2020-08-24 00:00:00
Brazil
0.51
0.49
2020-08-25 00:00:00
Brazil
0.52
0.48
2020-08-26 00:00:00
Brazil
0.51
0.49
2020-08-27 00:00:00
Brazil
0.51
0.49
2020-08-28 00:00:00
Brazil
0.52
0.48
2020-08-29 00:00:00
Brazil
0.53
0.47
2020-08-30 00:00:00
Brazil
0.51
0.49
2020-08-31 00:00:00
Brazil
0.5
0.5
2020-09-01 00:00:00
Brazil
0.51
0.49
2020-09-02 00:00:00
Brazil
0.5
0.5
2020-09-03 00:00:00
Brazil
0.51
0.49
2020-09-04 00:00:00
Brazil
0.49
0.51
2020-09-05 00:00:00
Brazil
0.48
0.52
2020-09-06 00:00:00
Brazil
0.5
0.5
2020-09-07 00:00:00
Brazil
0.49
0.51
2020-09-08 00:00:00
Brazil
0.5
0.5
2020-09-09 00:00:00
Brazil
0.51
0.49
2020-09-10 00:00:00
Brazil
0.5
0.5
2020-09-11 00:00:00
Brazil
0.49
0.51
2020-09-12 00:00:00
Brazil
0.49
0.51
2020-09-13 00:00:00
Brazil
0.49
0.51
2020-09-14 00:00:00
Brazil
0.49
0.51
2020-09-15 00:00:00
Brazil
0.48
0.52
2020-09-16 00:00:00
Brazil
0.47
0.53
2020-09-17 00:00:00
Brazil
0.47
0.53
2020-09-18 00:00:00
Brazil
0.48
0.52
2020-09-19 00:00:00
Brazil
0.47
0.53
2020-09-20 00:00:00
Brazil
0.45
0.55
2020-09-21 00:00:00
Brazil
0.46
0.54
2020-09-22 00:00:00
Brazil
0.47
0.53
2020-09-23 00:00:00
Brazil
0.47
0.53
2020-09-24 00:00:00
Brazil
0.46
0.54
2020-09-25 00:00:00
Brazil
0.47
0.53
2020-09-26 00:00:00
Brazil
0.47
0.53
2020-09-27 00:00:00
Brazil
0.47
0.53
2020-09-28 00:00:00
Brazil
0.47
0.53
2020-09-29 00:00:00
Brazil
0.47
0.53
2020-09-30 00:00:00
Brazil
0.47
0.53
2020-10-01 00:00:00
Brazil
0.46
0.54
2020-10-02 00:00:00
Brazil
0.47
0.53
2020-10-03 00:00:00
Brazil
0.47
0.53
2020-10-04 00:00:00
Brazil
0.49
0.51
2020-10-05 00:00:00
Brazil
0.48
0.52
2020-10-06 00:00:00
Brazil
0.47
0.53
2020-10-07 00:00:00
Brazil
0.47
0.53
2020-10-08 00:00:00
Brazil
0.47
0.53
2020-10-09 00:00:00
Brazil
0.48
0.52
2020-10-10 00:00:00
Brazil
0.47
0.53
2020-10-11 00:00:00
Brazil
0.48
0.52
2020-10-12 00:00:00
Brazil
0.49
0.51
2020-10-13 00:00:00
Brazil
0.5
0.5
2020-10-14 00:00:00
Brazil
0.49
0.51
2020-10-15 00:00:00
Brazil
0.51
0.49
2020-10-16 00:00:00
Brazil
0.49
0.51
2020-10-17 00:00:00
Brazil
0.5
0.5
2020-10-18 00:00:00
Brazil
0.48
0.52
2020-10-19 00:00:00
Brazil
0.48
0.52
2020-10-20 00:00:00
Brazil
0.47
0.53
2020-10-21 00:00:00
Brazil
0.47
0.53
2020-10-22 00:00:00
Brazil
0.48
0.52
2020-10-23 00:00:00
Brazil
0.48
0.52
2020-10-24 00:00:00
Brazil
0.49
0.51
2020-10-25 00:00:00
Brazil
0.49
0.51
2020-10-26 00:00:00
Brazil
0.48
0.52
2020-10-27 00:00:00
Brazil
0.48
0.52
2020-10-28 00:00:00
Brazil
0.48
0.52
2020-10-29 00:00:00
Brazil
0.46
0.54
2020-10-30 00:00:00
Brazil
0.46
0.54
2020-10-31 00:00:00
Brazil
0.46
0.54
2020-11-01 00:00:00
Brazil
0.46
0.54
2020-11-02 00:00:00
Brazil
0.46
0.54
2020-11-03 00:00:00
Brazil
0.46
0.54
2020-11-04 00:00:00
Brazil
0.47
0.53
2020-11-05 00:00:00
Brazil
0.47
0.53
2020-11-06 00:00:00
Brazil
0.46
0.54
2020-11-07 00:00:00
Brazil
0.44
0.56
2020-11-08 00:00:00
Brazil
0.44
0.56
2020-11-09 00:00:00
Brazil
0.43
0.57
2020-11-10 00:00:00
Brazil
0.43
0.57
2020-11-11 00:00:00
Brazil
0.42
0.58
2020-11-12 00:00:00
Brazil
0.43
0.57
2020-11-13 00:00:00
Brazil
0.43
0.57
2020-11-14 00:00:00
Brazil
0.45
0.55
2020-11-15 00:00:00
Brazil
0.46
0.54
2020-11-16 00:00:00
Brazil
0.47
0.53
2020-11-17 00:00:00
Brazil
0.47
0.53
2020-11-18 00:00:00
Brazil
0.45
0.55
2020-11-19 00:00:00
Brazil
0.46
0.54
2020-11-20 00:00:00
Brazil
0.47
0.53
2020-11-21 00:00:00
Brazil
0.45
0.55
2020-11-22 00:00:00
Brazil
0.45
0.55
2020-11-23 00:00:00
Brazil
0.44
0.56
2020-11-24 00:00:00
Brazil
0.45
0.55
2020-11-25 00:00:00
Brazil
0.45
0.55
2020-11-26 00:00:00
Brazil
0.44
0.56
2020-11-27 00:00:00
Brazil
0.44
0.56
2020-11-28 00:00:00
Brazil
0.46
0.54
2020-11-29 00:00:00
Brazil
0.46
0.54
2020-11-30 00:00:00
Brazil
0.47
0.53
2020-12-01 00:00:00
Brazil
0.47
0.53
2020-12-02 00:00:00
Brazil
0.48
0.52
2020-12-03 00:00:00
Brazil
0.48
0.52
2020-12-04 00:00:00
Brazil
0.48
0.52
2020-12-05 00:00:00
Brazil
0.48
0.52
2020-12-06 00:00:00
Brazil
0.47
0.53
2020-12-07 00:00:00
Brazil
0.46
0.54
2020-12-08 00:00:00
Brazil
0.45
0.55
2020-12-09 00:00:00
Brazil
0.45
0.55
2020-12-10 00:00:00
Brazil
0.46
0.54
2020-12-11 00:00:00
Brazil
0.45
0.55
2020-12-12 00:00:00
Brazil
0.45
0.55
2020-12-13 00:00:00
Brazil
0.45
0.55
2020-12-14 00:00:00
Brazil
0.46
0.54
2020-12-15 00:00:00
Brazil
0.45
0.55
2020-12-16 00:00:00
Brazil
0.45
0.55
2020-12-17 00:00:00
Brazil
0.45
0.55
2020-12-18 00:00:00
Brazil
0.47
0.53
2020-12-19 00:00:00
Brazil
0.45
0.55
2020-12-20 00:00:00
Brazil
0.45
0.55
2020-12-21 00:00:00
Brazil
0.44
0.56
2020-12-22 00:00:00
Brazil
0.45
0.55
2020-12-23 00:00:00
Brazil
0.44
0.56
2020-12-24 00:00:00
Brazil
0.43
0.57
2020-12-25 00:00:00
Brazil
0.42
0.58
2020-12-26 00:00:00
Brazil
0.42
0.58
2020-12-27 00:00:00
Brazil
0.41
0.59
2020-12-28 00:00:00
Brazil
0.41
0.59
2020-12-29 00:00:00
Brazil
0.4
0.6
2020-12-30 00:00:00
Brazil
0.42
0.58
2020-12-31 00:00:00
Brazil
0.41
0.59
2021-01-01 00:00:00
Brazil
0.42
0.58
2021-01-02 00:00:00
Brazil
0.42
0.58
2021-01-03 00:00:00
Brazil
0.41
0.59
2021-01-04 00:00:00
Brazil
0.41
0.59
2021-01-05 00:00:00
Brazil
0.41
0.59
2021-01-06 00:00:00
Brazil
0.39
0.61
2021-01-07 00:00:00
Brazil
0.39
0.61
2021-01-08 00:00:00
Brazil
0.39
0.61
2021-01-09 00:00:00
Brazil
0.4
0.6
2021-01-10 00:00:00
Brazil
0.41
0.59
2021-01-11 00:00:00
Brazil
0.41
0.59
2021-01-12 00:00:00
Brazil
0.41
0.59
2021-01-13 00:00:00
Brazil
0.42
0.58
2021-01-14 00:00:00
Brazil
0.43
0.57
2021-01-15 00:00:00
Brazil
0.42
0.58
2021-01-16 00:00:00
Brazil
0.41
0.59
2021-01-17 00:00:00
Brazil
0.41
0.59
2021-01-18 00:00:00
Brazil
0.4
0.6
2021-01-19 00:00:00
Brazil
0.39
0.61
2021-01-20 00:00:00
Brazil
0.38
0.62
2021-01-21 00:00:00
Brazil
0.38
0.62
2021-01-22 00:00:00
Brazil
0.38
0.62
2021-01-23 00:00:00
Brazil
0.38
0.62
2021-01-24 00:00:00
Brazil
0.38
0.62
2021-01-25 00:00:00
Brazil
0.38
0.62
2021-01-26 00:00:00
Brazil
0.4
0.6
2021-01-27 00:00:00
Brazil
0.39
0.61
2021-01-28 00:00:00
Brazil
0.38
0.62
2021-01-29 00:00:00
Brazil
0.39
0.61
2021-01-30 00:00:00
Brazil
0.39
0.61
2021-01-31 00:00:00
Brazil
0.38
0.62
2021-02-01 00:00:00
Brazil
0.38
0.62
2021-02-02 00:00:00
Brazil
0.37
0.63
2021-02-03 00:00:00
Brazil
0.39
0.61
2021-02-04 00:00:00
Brazil
0.38
0.62
2021-02-05 00:00:00
Brazil
0.38
0.62
2021-02-06 00:00:00
Brazil
0.36
0.64
2021-02-07 00:00:00
Brazil
0.38
0.62
2021-02-08 00:00:00
Brazil
0.39
0.61
2021-02-09 00:00:00
Brazil
0.39
0.61
2021-02-10 00:00:00
Brazil
0.4
0.6
2021-02-11 00:00:00
Brazil
0.41
0.59
2021-02-12 00:00:00
Brazil
0.42
0.58
2021-02-13 00:00:00
Brazil
0.44
0.56
2021-02-14 00:00:00
Brazil
0.45
0.55
2021-02-15 00:00:00
Brazil
0.45
0.55
2021-02-16 00:00:00
Brazil
0.45
0.55
2021-02-17 00:00:00
Brazil
0.44
0.56
2021-02-18 00:00:00
Brazil
0.44
0.56
2021-02-19 00:00:00
Brazil
0.43
0.57
2021-02-20 00:00:00
Brazil
0.42
0.58
2021-02-21 00:00:00
Brazil
0.41
0.59
2021-02-22 00:00:00
Brazil
0.4
0.6
2021-02-23 00:00:00
Brazil
0.41
0.59
2021-02-24 00:00:00
Brazil
0.41
0.59
2021-02-25 00:00:00
Brazil
0.41
0.59
2021-02-26 00:00:00
Brazil
0.41
0.59
2021-02-27 00:00:00
Brazil
0.4
0.6
2021-02-28 00:00:00
Brazil
0.4
0.6
2021-03-01 00:00:00
Brazil
0.4
0.6
2021-03-02 00:00:00
Brazil
0.39
0.61
2021-03-03 00:00:00
Brazil
0.41
0.59
2021-03-04 00:00:00
Brazil
0.4
0.6
2021-03-05 00:00:00
Brazil
0.39
0.61
2021-03-06 00:00:00
Brazil
0.38
0.62
2021-03-07 00:00:00
Brazil
0.37
0.63
2021-03-08 00:00:00
Brazil
0.35
0.65
2021-03-09 00:00:00
Brazil
0.33
0.67
2021-03-10 00:00:00
Brazil
0.31
0.69
2021-03-11 00:00:00
Brazil
0.29
0.71
2021-03-12 00:00:00
Brazil
0.29
0.71
2021-03-13 00:00:00
Brazil
0.29
0.71
2021-03-14 00:00:00
Brazil
0.29
0.71
2021-03-15 00:00:00
Brazil
0.3
0.7
2021-03-16 00:00:00
Brazil
0.3
0.7
2021-03-17 00:00:00
Brazil
0.3
0.7
2021-03-18 00:00:00
Brazil
0.31
0.69
2021-03-19 00:00:00
Brazil
0.3
0.7
2021-03-20 00:00:00
Brazil
0.3
0.7
2021-03-21 00:00:00
Brazil
0.29
0.71
2021-03-22 00:00:00
Brazil
0.28
0.72
2021-03-23 00:00:00
Brazil
0.28
0.72
2021-03-24 00:00:00
Brazil
0.28
0.72
2021-03-25 00:00:00
Brazil
0.28
0.72
2021-03-26 00:00:00
Brazil
0.29
0.71
2021-03-27 00:00:00
Brazil
0.29
0.71
2021-03-28 00:00:00
Brazil
0.3
0.7
2021-03-29 00:00:00
Brazil
0.3
0.7
2021-03-30 00:00:00
Brazil
0.31
0.69
2021-03-31 00:00:00
Brazil
0.31
0.69
2021-04-01 00:00:00
Brazil
0.32
0.68
2021-04-02 00:00:00
Brazil
0.31
0.69
2021-04-03 00:00:00
Brazil
0.31
0.69
2021-04-04 00:00:00
Brazil
0.31
0.69
2021-04-05 00:00:00
Brazil
0.31
0.69
2021-04-06 00:00:00
Brazil
0.32
0.68
2021-04-07 00:00:00
Brazil
0.32
0.68
2021-04-08 00:00:00
Brazil
0.32
0.68
2021-04-09 00:00:00
Brazil
0.32
0.68
2021-04-10 00:00:00
Brazil
0.33
0.67
2021-04-11 00:00:00
Brazil
0.33
0.67
2021-04-12 00:00:00
Brazil
0.32
0.68
2021-04-13 00:00:00
Brazil
0.3
0.7
2021-04-14 00:00:00
Brazil
0.3
0.7
2021-04-15 00:00:00
Brazil
0.31
0.69
2021-04-16 00:00:00
Brazil
0.31
0.69
2021-04-17 00:00:00
Brazil
0.32
0.68
2021-04-18 00:00:00
Brazil
0.32
0.68
2021-04-19 00:00:00
Brazil
0.33
0.67
2021-04-20 00:00:00
Brazil
0.35
0.65
2021-04-21 00:00:00
Brazil
0.35
0.65
2021-04-22 00:00:00
Brazil
0.35
0.65
2021-04-23 00:00:00
Brazil
0.35
0.65
2021-04-24 00:00:00
Brazil
0.36
0.64
2021-04-25 00:00:00
Brazil
0.36
0.64
2021-04-26 00:00:00
Brazil
0.36
0.64
2021-04-27 00:00:00
Brazil
0.36
0.64
2021-04-28 00:00:00
Brazil
0.37
0.63
2021-04-29 00:00:00
Brazil
0.37
0.63
2021-04-30 00:00:00
Brazil
0.37
0.63
2021-05-01 00:00:00
Brazil
0.38
0.62
2021-05-02 00:00:00
Brazil
0.38
0.62
2021-05-03 00:00:00
Brazil
0.38
0.62
2021-05-04 00:00:00
Brazil
0.38
0.62
2021-05-05 00:00:00
Brazil
0.37
0.63
2021-05-06 00:00:00
Brazil
0.38
0.62
2021-05-07 00:00:00
Brazil
0.38
0.62
2021-05-08 00:00:00
Brazil
0.38
0.62
2021-05-09 00:00:00
Brazil
0.36
0.64
2021-05-10 00:00:00
Brazil
0.37
0.63
2021-05-11 00:00:00
Brazil
0.37
0.63
2021-05-12 00:00:00
Brazil
0.38
0.62
2021-05-13 00:00:00
Brazil
0.38
0.62
2021-05-14 00:00:00
Brazil
0.37
0.63
2021-05-15 00:00:00
Brazil
0.37
0.63
2021-05-16 00:00:00
Brazil
0.38
0.62
2021-05-17 00:00:00
Brazil
0.37
0.63
2021-05-18 00:00:00
Brazil
0.37
0.63
2021-05-19 00:00:00
Brazil
0.37
0.63
2021-05-20 00:00:00
Brazil
0.36
0.64
2021-05-21 00:00:00
Brazil
0.36
0.64
2021-05-22 00:00:00
Brazil
0.36
0.64
2021-05-23 00:00:00
Brazil
0.36
0.64
2021-05-24 00:00:00
Brazil
0.35
0.65
2021-05-25 00:00:00
Brazil
0.35
0.65
2021-05-26 00:00:00
Brazil
0.35
0.65
2021-05-27 00:00:00
Brazil
0.35
0.65
2021-05-28 00:00:00
Brazil
0.35
0.65
2021-05-29 00:00:00
Brazil
0.34
0.66
2021-05-30 00:00:00
Brazil
0.34
0.66
2021-05-31 00:00:00
Brazil
0.35
0.65
2021-06-01 00:00:00
Brazil
0.34
0.66
2021-06-02 00:00:00
Brazil
0.33
0.67
2021-06-03 00:00:00
Brazil
0.34
0.66
2021-06-04 00:00:00
Brazil
0.34
0.66
2021-06-05 00:00:00
Brazil
0.35
0.65
2021-06-06 00:00:00
Brazil
0.34
0.66
2021-06-07 00:00:00
Brazil
0.34
0.66
2021-06-08 00:00:00
Brazil
0.36
0.64
2021-06-09 00:00:00
Brazil
0.36
0.64
2021-06-10 00:00:00
Brazil
0.35
0.65
2021-06-11 00:00:00
Brazil
0.35
0.65
2021-06-12 00:00:00
Brazil
0.34
0.66
2021-06-13 00:00:00
Brazil
0.35
0.65
2021-06-14 00:00:00
Brazil
0.35
0.65
2021-06-15 00:00:00
Brazil
0.34
0.66
2021-06-16 00:00:00
Brazil
0.36
0.64
2021-06-17 00:00:00
Brazil
0.35
0.65
2021-06-18 00:00:00
Brazil
0.36
0.64
2021-06-19 00:00:00
Brazil
0.36
0.64
2021-06-20 00:00:00
Brazil
0.36
0.64
2021-06-21 00:00:00
Brazil
0.36
0.64
2021-06-22 00:00:00
Brazil
0.37
0.63
2021-06-23 00:00:00
Brazil
0.35
0.65
2021-06-24 00:00:00
Brazil
0.36
0.64
2021-06-25 00:00:00
Brazil
0.36
0.64
2021-06-26 00:00:00
Brazil
0.37
0.63
2021-06-27 00:00:00
Brazil
0.38
0.62
2021-06-28 00:00:00
Brazil
0.38
0.62
2021-06-29 00:00:00
Brazil
0.38
0.62
2021-06-30 00:00:00
Brazil
0.38
0.62
2021-07-01 00:00:00
Brazil
0.38
0.62
2021-07-02 00:00:00
Brazil
0.39
0.61
2021-07-03 00:00:00
Brazil
0.38
0.62
2021-07-04 00:00:00
Brazil
0.37
0.63
2021-07-05 00:00:00
Brazil
0.37
0.63
2021-07-06 00:00:00
Brazil
0.37
0.63
2021-07-07 00:00:00
Brazil
0.38
0.62
2021-07-08 00:00:00
Brazil
0.38
0.62
2021-07-09 00:00:00
Brazil
0.38
0.62
2021-07-10 00:00:00
Brazil
0.38
0.62
2021-07-11 00:00:00
Brazil
0.38
0.62
2021-07-12 00:00:00
Brazil
0.38
0.62
2021-07-13 00:00:00
Brazil
0.38
0.62
2021-07-14 00:00:00
Brazil
0.38
0.62
2021-07-15 00:00:00
Brazil
0.38
0.62
2021-07-16 00:00:00
Brazil
0.37
0.63
2021-07-17 00:00:00
Brazil
0.38
0.62
2021-07-18 00:00:00
Brazil
0.38
0.62
2021-07-19 00:00:00
Brazil
0.39
0.61
2021-07-20 00:00:00
Brazil
0.39
0.61
2021-07-21 00:00:00
Brazil
0.41
0.59
2021-07-22 00:00:00
Brazil
0.4
0.6
2021-07-23 00:00:00
Brazil
0.41
0.59
2021-07-24 00:00:00
Brazil
0.41
0.59
2021-07-25 00:00:00
Brazil
0.41
0.59
2021-07-26 00:00:00
Brazil
0.41
0.59
2021-07-27 00:00:00
Brazil
0.41
0.59
2021-07-28 00:00:00
Brazil
0.39
0.61
2021-07-29 00:00:00
Brazil
0.39
0.61
2021-07-30 00:00:00
Brazil
0.39
0.61
2021-07-31 00:00:00
Brazil
0.39
0.61
2021-08-01 00:00:00
Brazil
0.39
0.61
2021-08-02 00:00:00
Brazil
0.4
0.6
2021-08-03 00:00:00
Brazil
0.39
0.61
2021-08-04 00:00:00
Brazil
0.4
0.6
2021-08-05 00:00:00
Brazil
0.41
0.59
2021-08-06 00:00:00
Brazil
0.4
0.6
2021-08-07 00:00:00
Brazil
0.41
0.59
2021-08-08 00:00:00
Brazil
0.41
0.59
2021-08-09 00:00:00
Brazil
0.4
0.6
2021-08-10 00:00:00
Brazil
0.4
0.6
2021-08-11 00:00:00
Brazil
0.39
0.61
2021-08-12 00:00:00
Brazil
0.4
0.6
2021-08-13 00:00:00
Brazil
0.4
0.6
2021-08-14 00:00:00
Brazil
0.41
0.59
2021-08-15 00:00:00
Brazil
0.41
0.59
2021-08-16 00:00:00
Brazil
0.41
0.59
2021-08-17 00:00:00
Brazil
0.4
0.6
2021-08-18 00:00:00
Brazil
0.41
0.59
2021-08-19 00:00:00
Brazil
0.38
0.62
2021-08-20 00:00:00
Brazil
0.38
0.62
2021-08-21 00:00:00
Brazil
0.36
0.64
2021-08-22 00:00:00
Brazil
0.37
0.63
2021-08-23 00:00:00
Brazil
0.36
0.64
2021-08-24 00:00:00
Brazil
0.37
0.63
2021-08-25 00:00:00
Brazil
0.37
0.63
2021-08-26 00:00:00
Brazil
0.37
0.63
2021-08-27 00:00:00
Brazil
0.38
0.62
2021-08-28 00:00:00
Brazil
0.37
0.63
2021-08-29 00:00:00
Brazil
0.36
0.64
2021-08-30 00:00:00
Brazil
0.36
0.64
2021-08-31 00:00:00
Brazil
0.36
0.64
2021-09-01 00:00:00
Brazil
0.35
0.65
2021-09-02 00:00:00
Brazil
0.35
0.65
2021-09-03 00:00:00
Brazil
0.35
0.65
2021-09-04 00:00:00
Brazil
0.35
0.65
2021-09-05 00:00:00
Brazil
0.35
0.65
2021-09-06 00:00:00
Brazil
0.34
0.66
2021-09-07 00:00:00
Brazil
0.33
0.67
2021-09-08 00:00:00
Brazil
0.34
0.66
2021-09-09 00:00:00
Brazil
0.33
0.67
2021-09-10 00:00:00
Brazil
0.32
0.68
2021-09-11 00:00:00
Brazil
0.32
0.68
2021-09-12 00:00:00
Brazil
0.32
0.68
2021-09-13 00:00:00
Brazil
0.33
0.67
2021-09-14 00:00:00
Brazil
0.33
0.67
2021-09-15 00:00:00
Brazil
0.31
0.69
2021-09-16 00:00:00
Brazil
0.33
0.67
2021-09-17 00:00:00
Brazil
0.34
0.66
2021-09-18 00:00:00
Brazil
0.34
0.66
2021-09-19 00:00:00
Brazil
0.34
0.66
2021-09-20 00:00:00
Brazil
0.34
0.66
2021-09-21 00:00:00
Brazil
0.35
0.65
2021-09-22 00:00:00
Brazil
0.34
0.66
2021-09-23 00:00:00
Brazil
0.33
0.67
2021-09-24 00:00:00
Brazil
0.33
0.67
2021-09-25 00:00:00
Brazil
0.32
0.68
2021-09-26 00:00:00
Brazil
0.32
0.68
2021-09-27 00:00:00
Brazil
0.32
0.68
2021-09-28 00:00:00
Brazil
0.31
0.69
2021-09-29 00:00:00
Brazil
0.32
0.68
2021-09-30 00:00:00
Brazil
0.33
0.67
2021-10-01 00:00:00
Brazil
0.33
0.67
2021-10-02 00:00:00
Brazil
0.34
0.66
2021-10-03 00:00:00
Brazil
0.33
0.67
2021-10-04 00:00:00
Brazil
0.34
0.66
2021-10-05 00:00:00
Brazil
0.35
0.65
2021-10-06 00:00:00
Brazil
0.35
0.65
2021-10-07 00:00:00
Brazil
0.35
0.65
2021-10-08 00:00:00
Brazil
0.35
0.65
2021-10-09 00:00:00
Brazil
0.34
0.66
2021-10-10 00:00:00
Brazil
0.35
0.65
2021-10-11 00:00:00
Brazil
0.34
0.66
2021-10-12 00:00:00
Brazil
0.32
0.68
2021-10-13 00:00:00
Brazil
0.32
0.68
2021-10-14 00:00:00
Brazil
0.32
0.68
2021-10-15 00:00:00
Brazil
0.32
0.68
2021-10-16 00:00:00
Brazil
0.33
0.67
2021-10-17 00:00:00
Brazil
0.33
0.67
2021-10-18 00:00:00
Brazil
0.33
0.67
2021-10-19 00:00:00
Brazil
0.34
0.66
2021-10-20 00:00:00
Brazil
0.34
0.66
2021-10-21 00:00:00
Brazil
0.34
0.66
2021-10-22 00:00:00
Brazil
0.34
0.66
2021-10-23 00:00:00
Brazil
0.35
0.65
2021-10-24 00:00:00
Brazil
0.35
0.65
2021-10-25 00:00:00
Brazil
0.35
0.65
2021-10-26 00:00:00
Brazil
0.34
0.66
2021-10-27 00:00:00
Brazil
0.34
0.66
2021-10-28 00:00:00
Brazil
0.35
0.65
2021-10-31 00:00:00
Brazil
0.32
0.68
2021-11-01 00:00:00
Brazil
0.33
0.67
2021-11-02 00:00:00
Brazil
0.32
0.68
2021-11-03 00:00:00
Brazil
0.32
0.68
2021-11-04 00:00:00
Brazil
0.32
0.68
2021-11-05 00:00:00
Brazil
0.32
0.68
2021-11-06 00:00:00
Brazil
0.32
0.68
2021-11-07 00:00:00
Brazil
0.33
0.67
2021-11-08 00:00:00
Brazil
0.33
0.67
2021-11-09 00:00:00
Brazil
0.34
0.66
2021-11-10 00:00:00
Brazil
0.34
0.66
2021-11-11 00:00:00
Brazil
0.34
0.66
2021-11-12 00:00:00
Brazil
0.33
0.67
2021-11-13 00:00:00
Brazil
0.34
0.66
2021-11-14 00:00:00
Brazil
0.34
0.66
2021-11-15 00:00:00
Brazil
0.34
0.66
2021-11-16 00:00:00
Brazil
0.34
0.66
2021-11-17 00:00:00
Brazil
0.33
0.67
2021-11-18 00:00:00
Brazil
0.34
0.66
2021-11-19 00:00:00
Brazil
0.34
0.66
2021-11-20 00:00:00
Brazil
0.34
0.66
2021-11-21 00:00:00
Brazil
0.34
0.66
2021-11-22 00:00:00
Brazil
0.35
0.65
2021-11-23 00:00:00
Brazil
0.36
0.64
2021-11-24 00:00:00
Brazil
0.36
0.64
2021-11-25 00:00:00
Brazil
0.35
0.65
2021-11-26 00:00:00
Brazil
0.36
0.64
2021-11-27 00:00:00
Brazil
0.36
0.64
2021-11-28 00:00:00
Brazil
0.36
0.64
2021-11-29 00:00:00
Brazil
0.36
0.64
2021-11-30 00:00:00
Brazil
0.36
0.64
2021-12-01 00:00:00
Brazil
0.37
0.63
2021-12-02 00:00:00
Brazil
0.37
0.63
2021-12-03 00:00:00
Brazil
0.37
0.63
2021-12-04 00:00:00
Brazil
0.36
0.64
2021-12-05 00:00:00
Brazil
0.37
0.63
2021-12-06 00:00:00
Brazil
0.37
0.63
2021-12-07 00:00:00
Brazil
0.35
0.65
2021-12-08 00:00:00
Brazil
0.35
0.65
2021-12-09 00:00:00
Brazil
0.36
0.64
2021-12-10 00:00:00
Brazil
0.36
0.64
2021-12-11 00:00:00
Brazil
0.36
0.64
2021-12-12 00:00:00
Brazil
0.36
0.64
2021-12-13 00:00:00
Brazil
0.36
0.64
2021-12-14 00:00:00
Brazil
0.36
0.64
2021-12-15 00:00:00
Brazil
0.37
0.63
2021-12-16 00:00:00
Brazil
0.37
0.63
2021-12-17 00:00:00
Brazil
0.37
0.63
2021-12-18 00:00:00
Brazil
0.37
0.63
2021-12-19 00:00:00
Brazil
0.38
0.62
2021-12-20 00:00:00
Brazil
0.38
0.62
2021-12-21 00:00:00
Brazil
0.39
0.61
2021-12-22 00:00:00
Brazil
0.38
0.62
2021-12-23 00:00:00
Brazil
0.36
0.64
2021-12-24 00:00:00
Brazil
0.35
0.65
2021-12-25 00:00:00
Brazil
0.35
0.65
2021-12-26 00:00:00
Brazil
0.36
0.64
2021-12-27 00:00:00
Brazil
0.35
0.65
2021-12-28 00:00:00
Brazil
0.35
0.65
2021-12-29 00:00:00
Brazil
0.34
0.66
2021-12-30 00:00:00
Brazil
0.35
0.65
2021-12-31 00:00:00
Brazil
0.35
0.65
2022-01-01 00:00:00
Brazil
0.36
0.64
2022-01-02 00:00:00
Brazil
0.36
0.64
2022-01-03 00:00:00
Brazil
0.36
0.64
2022-01-04 00:00:00
Brazil
0.37
0.63
2022-01-05 00:00:00
Brazil
0.38
0.62
2022-01-06 00:00:00
Brazil
0.37
0.63
2022-01-07 00:00:00
Brazil
0.37
0.63
2022-01-08 00:00:00
Brazil
0.37
0.63
2022-01-09 00:00:00
Brazil
0.37
0.63
2022-01-10 00:00:00
Brazil
0.37
0.63
2022-01-11 00:00:00
Brazil
0.38
0.62
2022-01-12 00:00:00
Brazil
0.37
0.63
2022-01-13 00:00:00
Brazil
0.38
0.62
2022-01-14 00:00:00
Brazil
0.38
0.62
2022-01-15 00:00:00
Brazil
0.37
0.63
2022-01-16 00:00:00
Brazil
0.37
0.63
2022-01-17 00:00:00
Brazil
0.37
0.63
2022-01-18 00:00:00
Brazil
0.36
0.64
2022-01-19 00:00:00
Brazil
0.37
0.63
2022-01-20 00:00:00
Brazil
0.35
0.65
2022-01-21 00:00:00
Brazil
0.36
0.64
2022-01-22 00:00:00
Brazil
0.37
0.63
2022-01-23 00:00:00
Brazil
0.38
0.62
2022-01-24 00:00:00
Brazil
0.38
0.62
2022-01-25 00:00:00
Brazil
0.38
0.62
2020-01-06 00:00:00
Canada
0.46
0.54
2020-01-07 00:00:00
Canada
0.46
0.54
2020-01-08 00:00:00
Canada
0.46
0.54
2020-01-09 00:00:00
Canada
0.46
0.54
2020-01-10 00:00:00
Canada
0.44
0.56
2020-01-11 00:00:00
Canada
0.45
0.55
2020-01-12 00:00:00
Canada
0.45
0.55
2020-01-13 00:00:00
Canada
0.45
0.55
2020-01-14 00:00:00
Canada
0.45
0.55
2020-01-15 00:00:00
Canada
0.45
0.55
2020-01-16 00:00:00
Canada
0.45
0.55
2020-01-17 00:00:00
Canada
0.45
0.55
2020-01-18 00:00:00
Canada
0.45
0.55
2020-01-19 00:00:00
Canada
0.45
0.55
2020-01-20 00:00:00
Canada
0.45
0.55
2020-01-21 00:00:00
Canada
0.45
0.55
2020-01-22 00:00:00
Canada
0.45
0.55
2020-01-23 00:00:00
Canada
0.45
0.55
2020-01-24 00:00:00
Canada
0.45
0.55
2020-01-25 00:00:00
Canada
0.44
0.56
2020-01-26 00:00:00
Canada
0.43
0.57
2020-01-27 00:00:00
Canada
0.44
0.56
2020-01-28 00:00:00
Canada
0.44
0.56
2020-01-29 00:00:00
Canada
0.43
0.57
2020-01-30 00:00:00
Canada
0.44
0.56
2020-01-31 00:00:00
Canada
0.44
0.56
2020-02-01 00:00:00
Canada
0.45
0.55
2020-02-02 00:00:00
Canada
0.47
0.53
2020-02-03 00:00:00
Canada
0.47
0.53
2020-02-04 00:00:00
Canada
0.47
0.53
2020-02-05 00:00:00
Canada
0.48
0.52
2020-02-06 00:00:00
Canada
0.48
0.52
2020-02-07 00:00:00
Canada
0.47
0.53
2020-02-08 00:00:00
Canada
0.47
0.53
2020-02-09 00:00:00
Canada
0.45
0.55
2020-02-10 00:00:00
Canada
0.44
0.56
2020-02-11 00:00:00
Canada
0.44
0.56
2020-02-12 00:00:00
Canada
0.44
0.56
2020-02-13 00:00:00
Canada
0.43
0.57
2020-02-14 00:00:00
Canada
0.42
0.58
2020-02-15 00:00:00
Canada
0.42
0.58
2020-02-16 00:00:00
Canada
0.42
0.58
2020-02-17 00:00:00
Canada
0.42
0.58
2020-02-18 00:00:00
Canada
0.41
0.59
2020-02-19 00:00:00
Canada
0.4
0.6
2020-02-20 00:00:00
Canada
0.4
0.6
2020-02-21 00:00:00
Canada
0.4
0.6
2020-02-22 00:00:00
Canada
0.41
0.59
2020-02-23 00:00:00
Canada
0.41
0.59
2020-02-24 00:00:00
Canada
0.41
0.59
2020-02-25 00:00:00
Canada
0.41
0.59
2020-02-26 00:00:00
Canada
0.41
0.59
2020-02-27 00:00:00
Canada
0.41
0.59
2020-02-28 00:00:00
Canada
0.4
0.6
2020-02-29 00:00:00
Canada
0.39
0.61
2020-03-01 00:00:00
Canada
0.37
0.63
2020-03-02 00:00:00
Canada
0.37
0.63
2020-03-03 00:00:00
Canada
0.37
0.63
2020-03-04 00:00:00
Canada
0.37
0.63
2020-03-05 00:00:00
Canada
0.37
0.63
2020-03-06 00:00:00
Canada
0.38
0.62
2020-03-07 00:00:00
Canada
0.39
0.61
2020-03-08 00:00:00
Canada
0.41
0.59
2020-03-09 00:00:00
Canada
0.41
0.59
2020-03-10 00:00:00
Canada
0.41
0.59
2020-03-11 00:00:00
Canada
0.41
0.59
2020-03-12 00:00:00
Canada
0.41
0.59
2020-03-13 00:00:00
Canada
0.41
0.59
2020-03-14 00:00:00
Canada
0.4
0.6
2020-03-15 00:00:00
Canada
0.4
0.6
2020-03-16 00:00:00
Canada
0.4
0.6
2020-03-17 00:00:00
Canada
0.4
0.6
2020-03-18 00:00:00
Canada
0.41
0.59
2020-03-19 00:00:00
Canada
0.42
0.58
2020-03-20 00:00:00
Canada
0.44
0.56
2020-03-21 00:00:00
Canada
0.44
0.56
2020-03-22 00:00:00
Canada
0.44
0.56
2020-03-23 00:00:00
Canada
0.45
0.55
2020-03-24 00:00:00
Canada
0.45
0.55
2020-03-25 00:00:00
Canada
0.45
0.55
2020-03-26 00:00:00
Canada
0.44
0.56
2020-03-27 00:00:00
Canada
0.44
0.56
2020-03-28 00:00:00
Canada
0.44
0.56
2020-03-29 00:00:00
Canada
0.45
0.55
2020-03-30 00:00:00
Canada
0.45
0.55
2020-03-31 00:00:00
Canada
0.45
0.55
2020-04-01 00:00:00
Canada
0.46
0.54
2020-04-02 00:00:00
Canada
0.48
0.52
2020-04-03 00:00:00
Canada
0.48
0.52
2020-04-04 00:00:00
Canada
0.48
0.52
2020-04-05 00:00:00
Canada
0.48
0.52
2020-04-06 00:00:00
Canada
0.48
0.52
2020-04-07 00:00:00
Canada
0.5
0.5
2020-04-08 00:00:00
Canada
0.5
0.5
2020-04-09 00:00:00
Canada
0.5
0.5
2020-04-10 00:00:00
Canada
0.5
0.5
2020-04-11 00:00:00
Canada
0.5
0.5
2020-04-12 00:00:00
Canada
0.5
0.5
2020-04-13 00:00:00
Canada
0.49
0.51
2020-04-14 00:00:00
Canada
0.5
0.5
2020-04-15 00:00:00
Canada
0.5
0.5
2020-04-16 00:00:00
Canada
0.5
0.5
2020-04-17 00:00:00
Canada
0.51
0.49
2020-04-18 00:00:00
Canada
0.51
0.49
2020-04-19 00:00:00
Canada
0.52
0.48
2020-04-20 00:00:00
Canada
0.54
0.46
2020-04-21 00:00:00
Canada
0.52
0.48
2020-04-22 00:00:00
Canada
0.53
0.47
2020-04-23 00:00:00
Canada
0.53
0.47
2020-04-24 00:00:00
Canada
0.53
0.47
2020-04-25 00:00:00
Canada
0.54
0.46
2020-04-26 00:00:00
Canada
0.53
0.47
2020-04-27 00:00:00
Canada
0.53
0.47
2020-04-28 00:00:00
Canada
0.54
0.46
2020-04-29 00:00:00
Canada
0.53
0.47
2020-04-30 00:00:00
Canada
0.53
0.47
2020-05-01 00:00:00
Canada
0.53
0.47
2020-05-02 00:00:00
Canada
0.52
0.48
2020-05-03 00:00:00
Canada
0.52
0.48
2020-05-04 00:00:00
Canada
0.52
0.48
2020-05-05 00:00:00
Canada
0.52
0.48
2020-05-06 00:00:00
Canada
0.52
0.48
2020-05-07 00:00:00
Canada
0.51
0.49
2020-05-08 00:00:00
Canada
0.51
0.49
2020-05-09 00:00:00
Canada
0.52
0.48
2020-05-10 00:00:00
Canada
0.51
0.49
2020-05-11 00:00:00
Canada
0.52
0.48
2020-05-12 00:00:00
Canada
0.52
0.48
2020-05-13 00:00:00
Canada
0.53
0.47
2020-05-14 00:00:00
Canada
0.54
0.46
2020-05-15 00:00:00
Canada
0.55
0.45
2020-05-16 00:00:00
Canada
0.55
0.45
2020-05-17 00:00:00
Canada
0.55
0.45
2020-05-18 00:00:00
Canada
0.55
0.45
2020-05-19 00:00:00
Canada
0.56
0.44
2020-05-20 00:00:00
Canada
0.55
0.45
2020-05-21 00:00:00
Canada
0.55
0.45
2020-05-22 00:00:00
Canada
0.54
0.46
2020-05-23 00:00:00
Canada
0.53
0.47
2020-05-24 00:00:00
Canada
0.54
0.46
2020-05-25 00:00:00
Canada
0.54
0.46
2020-05-26 00:00:00
Canada
0.53
0.47
2020-05-27 00:00:00
Canada
0.54
0.46
2020-05-28 00:00:00
Canada
0.53
0.47
2020-05-29 00:00:00
Canada
0.54
0.46
2020-05-30 00:00:00
Canada
0.54
0.46
2020-05-31 00:00:00
Canada
0.54
0.46
2020-06-01 00:00:00
Canada
0.54
0.46
2020-06-02 00:00:00
Canada
0.53
0.47
2020-06-03 00:00:00
Canada
0.53
0.47
2020-06-04 00:00:00
Canada
0.51
0.49
2020-06-05 00:00:00
Canada
0.52
0.48
2020-06-06 00:00:00
Canada
0.51
0.49
2020-06-07 00:00:00
Canada
0.51
0.49
2020-06-08 00:00:00
Canada
0.5
0.5
2020-06-09 00:00:00
Canada
0.51
0.49
2020-06-10 00:00:00
Canada
0.53
0.47
2020-06-11 00:00:00
Canada
0.54
0.46
2020-06-12 00:00:00
Canada
0.53
0.47
2020-06-13 00:00:00
Canada
0.53
0.47
2020-06-14 00:00:00
Canada
0.53
0.47
2020-06-15 00:00:00
Canada
0.54
0.46
2020-06-16 00:00:00
Canada
0.53
0.47
2020-06-17 00:00:00
Canada
0.51
0.49
2020-06-18 00:00:00
Canada
0.52
0.48
2020-06-19 00:00:00
Canada
0.52
0.48
2020-06-20 00:00:00
Canada
0.51
0.49
2020-06-21 00:00:00
Canada
0.51
0.49
2020-06-22 00:00:00
Canada
0.5
0.5
2020-06-23 00:00:00
Canada
0.5
0.5
2020-06-24 00:00:00
Canada
0.51
0.49
2020-06-25 00:00:00
Canada
0.5
0.5
2020-06-26 00:00:00
Canada
0.5
0.5
2020-06-27 00:00:00
Canada
0.51
0.49
2020-06-28 00:00:00
Canada
0.52
0.48
2020-06-29 00:00:00
Canada
0.52
0.48
2020-06-30 00:00:00
Canada
0.53
0.47
2020-07-01 00:00:00
Canada
0.53
0.47
2020-07-02 00:00:00
Canada
0.52
0.48
2020-07-03 00:00:00
Canada
0.52
0.48
2020-07-04 00:00:00
Canada
0.52
0.48
2020-07-05 00:00:00
Canada
0.51
0.49
2020-07-06 00:00:00
Canada
0.52
0.48
2020-07-07 00:00:00
Canada
0.52
0.48
2020-07-08 00:00:00
Canada
0.52
0.48
2020-07-09 00:00:00
Canada
0.53
0.47
2020-07-10 00:00:00
Canada
0.52
0.48
2020-07-11 00:00:00
Canada
0.52
0.48
2020-07-12 00:00:00
Canada
0.51
0.49
2020-07-13 00:00:00
Canada
0.5
0.5
2020-07-14 00:00:00
Canada
0.49
0.51
2020-07-15 00:00:00
Canada
0.49
0.51
2020-07-16 00:00:00
Canada
0.48
0.52
2020-07-17 00:00:00
Canada
0.49
0.51
2020-07-18 00:00:00
Canada
0.5
0.5
2020-07-19 00:00:00
Canada
0.48
0.52
2020-07-20 00:00:00
Canada
0.49
0.51
2020-07-21 00:00:00
Canada
0.49
0.51
2020-07-22 00:00:00
Canada
0.51
0.49
2020-07-23 00:00:00
Canada
0.51
0.49
2020-07-24 00:00:00
Canada
0.5
0.5
2020-07-25 00:00:00
Canada
0.49
0.51
2020-07-26 00:00:00
Canada
0.5
0.5
2020-07-27 00:00:00
Canada
0.49
0.51
2020-07-28 00:00:00
Canada
0.5
0.5
2020-07-29 00:00:00
Canada
0.49
0.51
2020-07-30 00:00:00
Canada
0.48
0.52
2020-07-31 00:00:00
Canada
0.48
0.52
2020-08-01 00:00:00
Canada
0.49
0.51
2020-08-02 00:00:00
Canada
0.5
0.5
2020-08-03 00:00:00
Canada
0.5
0.5
2020-08-04 00:00:00
Canada
0.49
0.51
2020-08-05 00:00:00
Canada
0.49
0.51
2020-08-06 00:00:00
Canada
0.5
0.5
2020-08-07 00:00:00
Canada
0.51
0.49
2020-08-08 00:00:00
Canada
0.51
0.49
2020-08-09 00:00:00
Canada
0.52
0.48
2020-08-10 00:00:00
Canada
0.51
0.49
2020-08-11 00:00:00
Canada
0.52
0.48
2020-08-12 00:00:00
Canada
0.52
0.48
2020-08-13 00:00:00
Canada
0.52
0.48
2020-08-14 00:00:00
Canada
0.51
0.49
2020-08-15 00:00:00
Canada
0.51
0.49
2020-08-16 00:00:00
Canada
0.5
0.5
2020-08-17 00:00:00
Canada
0.51
0.49
2020-08-18 00:00:00
Canada
0.51
0.49
2020-08-19 00:00:00
Canada
0.51
0.49
2020-08-20 00:00:00
Canada
0.5
0.5
2020-08-21 00:00:00
Canada
0.51
0.49
2020-08-22 00:00:00
Canada
0.51
0.49
2020-08-23 00:00:00
Canada
0.5
0.5
2020-08-24 00:00:00
Canada
0.49
0.51
2020-08-25 00:00:00
Canada
0.49
0.51
2020-08-26 00:00:00
Canada
0.49
0.51
2020-08-27 00:00:00
Canada
0.49
0.51
2020-08-28 00:00:00
Canada
0.48
0.52
2020-08-29 00:00:00
Canada
0.49
0.51
2020-08-30 00:00:00
Canada
0.5
0.5
2020-08-31 00:00:00
Canada
0.51
0.49
2020-09-01 00:00:00
Canada
0.51
0.49
2020-09-02 00:00:00
Canada
0.51
0.49
2020-09-03 00:00:00
Canada
0.51
0.49
2020-09-04 00:00:00
Canada
0.51
0.49
2020-09-05 00:00:00
Canada
0.5
0.5
2020-09-06 00:00:00
Canada
0.5
0.5
2020-09-07 00:00:00
Canada
0.49
0.51
2020-09-08 00:00:00
Canada
0.48
0.52
2020-09-09 00:00:00
Canada
0.47
0.53
2020-09-10 00:00:00
Canada
0.47
0.53
2020-09-11 00:00:00
Canada
0.46
0.54
2020-09-12 00:00:00
Canada
0.46
0.54
2020-09-13 00:00:00
Canada
0.45
0.55
2020-09-14 00:00:00
Canada
0.46
0.54
2020-09-15 00:00:00
Canada
0.46
0.54
2020-09-16 00:00:00
Canada
0.46
0.54
2020-09-17 00:00:00
Canada
0.47
0.53
2020-09-18 00:00:00
Canada
0.47
0.53
2020-09-19 00:00:00
Canada
0.48
0.52
2020-09-20 00:00:00
Canada
0.47
0.53
2020-09-21 00:00:00
Canada
0.47
0.53
2020-09-22 00:00:00
Canada
0.46
0.54
2020-09-23 00:00:00
Canada
0.46
0.54
2020-09-24 00:00:00
Canada
0.46
0.54
2020-09-25 00:00:00
Canada
0.46
0.54
2020-09-26 00:00:00
Canada
0.45
0.55
2020-09-27 00:00:00
Canada
0.45
0.55
2020-09-28 00:00:00
Canada
0.44
0.56
2020-09-29 00:00:00
Canada
0.45
0.55
2020-09-30 00:00:00
Canada
0.44
0.56
2020-10-01 00:00:00
Canada
0.44
0.56
2020-10-02 00:00:00
Canada
0.44
0.56
2020-10-03 00:00:00
Canada
0.45
0.55
2020-10-04 00:00:00
Canada
0.45
0.55
2020-10-05 00:00:00
Canada
0.46
0.54
2020-10-06 00:00:00
Canada
0.46
0.54
2020-10-07 00:00:00
Canada
0.46
0.54
2020-10-08 00:00:00
Canada
0.47
0.53
2020-10-09 00:00:00
Canada
0.46
0.54
2020-10-10 00:00:00
Canada
0.46
0.54
2020-10-11 00:00:00
Canada
0.46
0.54
2020-10-12 00:00:00
Canada
0.46
0.54
2020-10-13 00:00:00
Canada
0.45
0.55
2020-10-14 00:00:00
Canada
0.44
0.56
2020-10-15 00:00:00
Canada
0.44
0.56
2020-10-16 00:00:00
Canada
0.44
0.56
2020-10-17 00:00:00
Canada
0.44
0.56
2020-10-18 00:00:00
Canada
0.44
0.56
2020-10-19 00:00:00
Canada
0.44
0.56
2020-10-20 00:00:00
Canada
0.44
0.56
2020-10-21 00:00:00
Canada
0.44
0.56
2020-10-22 00:00:00
Canada
0.44
0.56
2020-10-23 00:00:00
Canada
0.45
0.55
2020-10-24 00:00:00
Canada
0.45
0.55
2020-10-25 00:00:00
Canada
0.45
0.55
2020-10-26 00:00:00
Canada
0.45
0.55
2020-10-27 00:00:00
Canada
0.45
0.55
2020-10-28 00:00:00
Canada
0.44
0.56
2020-10-29 00:00:00
Canada
0.44
0.56
2020-10-30 00:00:00
Canada
0.44
0.56
2020-10-31 00:00:00
Canada
0.44
0.56
2020-11-01 00:00:00
Canada
0.43
0.57
2020-11-02 00:00:00
Canada
0.44
0.56
2020-11-03 00:00:00
Canada
0.44
0.56
2020-11-04 00:00:00
Canada
0.45
0.55
2020-11-05 00:00:00
Canada
0.45
0.55
2020-11-06 00:00:00
Canada
0.46
0.54
2020-11-07 00:00:00
Canada
0.46
0.54
2020-11-08 00:00:00
Canada
0.47
0.53
2020-11-09 00:00:00
Canada
0.47
0.53
2020-11-10 00:00:00
Canada
0.47
0.53
2020-11-11 00:00:00
Canada
0.46
0.54
2020-11-12 00:00:00
Canada
0.46
0.54
2020-11-13 00:00:00
Canada
0.46
0.54
2020-11-14 00:00:00
Canada
0.46
0.54
2020-11-15 00:00:00
Canada
0.46
0.54
2020-11-16 00:00:00
Canada
0.46
0.54
2020-11-17 00:00:00
Canada
0.46
0.54
2020-11-18 00:00:00
Canada
0.47
0.53
2020-11-19 00:00:00
Canada
0.47
0.53
2020-11-20 00:00:00
Canada
0.46
0.54
2020-11-21 00:00:00
Canada
0.47
0.53
2020-11-22 00:00:00
Canada
0.46
0.54
2020-11-23 00:00:00
Canada
0.46
0.54
2020-11-24 00:00:00
Canada
0.47
0.53
2020-11-25 00:00:00
Canada
0.46
0.54
2020-11-26 00:00:00
Canada
0.45
0.55
2020-11-27 00:00:00
Canada
0.46
0.54
2020-11-28 00:00:00
Canada
0.46
0.54
2020-11-29 00:00:00
Canada
0.45
0.55
2020-11-30 00:00:00
Canada
0.45
0.55
2020-12-01 00:00:00
Canada
0.43
0.57
2020-12-02 00:00:00
Canada
0.44
0.56
2020-12-03 00:00:00
Canada
0.43
0.57
2020-12-04 00:00:00
Canada
0.43
0.57
2020-12-05 00:00:00
Canada
0.44
0.56
2020-12-06 00:00:00
Canada
0.44
0.56
2020-12-07 00:00:00
Canada
0.44
0.56
2020-12-08 00:00:00
Canada
0.45
0.55
2020-12-09 00:00:00
Canada
0.46
0.54
2020-12-10 00:00:00
Canada
0.47
0.53
2020-12-11 00:00:00
Canada
0.47
0.53
2020-12-12 00:00:00
Canada
0.47
0.53
2020-12-13 00:00:00
Canada
0.47
0.53
2020-12-14 00:00:00
Canada
0.47
0.53
2020-12-15 00:00:00
Canada
0.46
0.54
2020-12-16 00:00:00
Canada
0.46
0.54
2020-12-17 00:00:00
Canada
0.45
0.55
2020-12-18 00:00:00
Canada
0.45
0.55
2020-12-19 00:00:00
Canada
0.44
0.56
2020-12-20 00:00:00
Canada
0.44
0.56
2020-12-21 00:00:00
Canada
0.45
0.55
2020-12-22 00:00:00
Canada
0.46
0.54
2020-12-23 00:00:00
Canada
0.46
0.54
2020-12-24 00:00:00
Canada
0.46
0.54
2020-12-25 00:00:00
Canada
0.46
0.54
2020-12-26 00:00:00
Canada
0.45
0.55
2020-12-27 00:00:00
Canada
0.46
0.54
2020-12-28 00:00:00
Canada
0.45
0.55
2020-12-29 00:00:00
Canada
0.45
0.55
2020-12-30 00:00:00
Canada
0.44
0.56
2020-12-31 00:00:00
Canada
0.44
0.56
2021-01-01 00:00:00
Canada
0.44
0.56
2021-01-02 00:00:00
Canada
0.45
0.55
2021-01-03 00:00:00
Canada
0.44
0.56
2021-01-04 00:00:00
Canada
0.45
0.55
2021-01-05 00:00:00
Canada
0.44
0.56
2021-01-06 00:00:00
Canada
0.44
0.56
2021-01-07 00:00:00
Canada
0.44
0.56
2021-01-08 00:00:00
Canada
0.45
0.55
2021-01-09 00:00:00
Canada
0.43
0.57
2021-01-10 00:00:00
Canada
0.43
0.57
2021-01-11 00:00:00
Canada
0.42
0.58
2021-01-12 00:00:00
Canada
0.43
0.57
2021-01-13 00:00:00
Canada
0.43
0.57
2021-01-14 00:00:00
Canada
0.43
0.57
2021-01-15 00:00:00
Canada
0.43
0.57
2021-01-16 00:00:00
Canada
0.43
0.57
2021-01-17 00:00:00
Canada
0.44
0.56
2021-01-18 00:00:00
Canada
0.44
0.56
2021-01-19 00:00:00
Canada
0.44
0.56
2021-01-20 00:00:00
Canada
0.44
0.56
2021-01-21 00:00:00
Canada
0.45
0.55
2021-01-22 00:00:00
Canada
0.45
0.55
2021-01-23 00:00:00
Canada
0.45
0.55
2021-01-24 00:00:00
Canada
0.45
0.55
2021-01-25 00:00:00
Canada
0.45
0.55
2021-01-26 00:00:00
Canada
0.45
0.55
2021-01-27 00:00:00
Canada
0.45
0.55
2021-01-28 00:00:00
Canada
0.45
0.55
2021-01-29 00:00:00
Canada
0.45
0.55
2021-01-30 00:00:00
Canada
0.45
0.55
2021-01-31 00:00:00
Canada
0.44
0.56
2021-02-01 00:00:00
Canada
0.46
0.54
2021-02-02 00:00:00
Canada
0.46
0.54
2021-02-03 00:00:00
Canada
0.45
0.55
2021-02-04 00:00:00
Canada
0.45
0.55
2021-02-05 00:00:00
Canada
0.46
0.54
2021-02-06 00:00:00
Canada
0.46
0.54
2021-02-07 00:00:00
Canada
0.45
0.55
2021-02-08 00:00:00
Canada
0.45
0.55
2021-02-09 00:00:00
Canada
0.44
0.56
2021-02-10 00:00:00
Canada
0.44
0.56
2021-02-11 00:00:00
Canada
0.44
0.56
2021-02-12 00:00:00
Canada
0.44
0.56
2021-02-13 00:00:00
Canada
0.44
0.56
2021-02-14 00:00:00
Canada
0.44
0.56
2021-02-15 00:00:00
Canada
0.44
0.56
2021-02-16 00:00:00
Canada
0.44
0.56
2021-02-17 00:00:00
Canada
0.43
0.57
2021-02-18 00:00:00
Canada
0.44
0.56
2021-02-19 00:00:00
Canada
0.44
0.56
2021-02-20 00:00:00
Canada
0.44
0.56
2021-02-21 00:00:00
Canada
0.44
0.56
2021-02-22 00:00:00
Canada
0.46
0.54
2021-02-23 00:00:00
Canada
0.46
0.54
2021-02-24 00:00:00
Canada
0.47
0.53
2021-02-25 00:00:00
Canada
0.46
0.54
2021-02-26 00:00:00
Canada
0.46
0.54
2021-02-27 00:00:00
Canada
0.48
0.52
2021-02-28 00:00:00
Canada
0.48
0.52
2021-03-01 00:00:00
Canada
0.48
0.52
2021-03-02 00:00:00
Canada
0.48
0.52
2021-03-03 00:00:00
Canada
0.48
0.52
2021-03-04 00:00:00
Canada
0.49
0.51
2021-03-05 00:00:00
Canada
0.49
0.51
2021-03-06 00:00:00
Canada
0.48
0.52
2021-03-07 00:00:00
Canada
0.48
0.52
2021-03-08 00:00:00
Canada
0.47
0.53
2021-03-09 00:00:00
Canada
0.48
0.52
2021-03-10 00:00:00
Canada
0.47
0.53
2021-03-11 00:00:00
Canada
0.47
0.53
2021-03-12 00:00:00
Canada
0.48
0.52
2021-03-13 00:00:00
Canada
0.48
0.52
2021-03-14 00:00:00
Canada
0.49
0.51
2021-03-15 00:00:00
Canada
0.48
0.52
2021-03-16 00:00:00
Canada
0.48
0.52
2021-03-17 00:00:00
Canada
0.49
0.51
2021-03-18 00:00:00
Canada
0.48
0.52
2021-03-19 00:00:00
Canada
0.47
0.53
2021-03-20 00:00:00
Canada
0.48
0.52
2021-03-21 00:00:00
Canada
0.47
0.53
2021-03-22 00:00:00
Canada
0.47
0.53
2021-03-23 00:00:00
Canada
0.47
0.53
2021-03-24 00:00:00
Canada
0.46
0.54
2021-03-25 00:00:00
Canada
0.46
0.54
2021-03-26 00:00:00
Canada
0.47
0.53
2021-03-27 00:00:00
Canada
0.47
0.53
2021-03-28 00:00:00
Canada
0.48
0.52
2021-03-29 00:00:00
Canada
0.48
0.52
2021-03-30 00:00:00
Canada
0.47
0.53
2021-03-31 00:00:00
Canada
0.47
0.53
2021-04-01 00:00:00
Canada
0.47
0.53
2021-04-02 00:00:00
Canada
0.46
0.54
2021-04-03 00:00:00
Canada
0.45
0.55
2021-04-04 00:00:00
Canada
0.44
0.56
2021-04-05 00:00:00
Canada
0.44
0.56
2021-04-06 00:00:00
Canada
0.45
0.55
2021-04-07 00:00:00
Canada
0.45
0.55
2021-04-08 00:00:00
Canada
0.45
0.55
2021-04-09 00:00:00
Canada
0.45
0.55
2021-04-10 00:00:00
Canada
0.44
0.56
2021-04-11 00:00:00
Canada
0.44
0.56
2021-04-12 00:00:00
Canada
0.43
0.57
2021-04-13 00:00:00
Canada
0.43
0.57
2021-04-14 00:00:00
Canada
0.42
0.58
2021-04-15 00:00:00
Canada
0.43
0.57
2021-04-16 00:00:00
Canada
0.43
0.57
2021-04-17 00:00:00
Canada
0.43
0.57
2021-04-18 00:00:00
Canada
0.43
0.57
2021-04-19 00:00:00
Canada
0.43
0.57
2021-04-20 00:00:00
Canada
0.43
0.57
2021-04-21 00:00:00
Canada
0.43
0.57
2021-04-22 00:00:00
Canada
0.42
0.58
2021-04-23 00:00:00
Canada
0.42
0.58
2021-04-24 00:00:00
Canada
0.43
0.57
2021-04-25 00:00:00
Canada
0.43
0.57
2021-04-26 00:00:00
Canada
0.44
0.56
2021-04-27 00:00:00
Canada
0.43
0.57
2021-04-28 00:00:00
Canada
0.42
0.58
2021-04-29 00:00:00
Canada
0.43
0.57
2021-04-30 00:00:00
Canada
0.44
0.56
2021-05-01 00:00:00
Canada
0.44
0.56
2021-05-02 00:00:00
Canada
0.44
0.56
2021-05-03 00:00:00
Canada
0.44
0.56
2021-05-04 00:00:00
Canada
0.45
0.55
2021-05-05 00:00:00
Canada
0.46
0.54
2021-05-06 00:00:00
Canada
0.45
0.55
2021-05-07 00:00:00
Canada
0.45
0.55
2021-05-08 00:00:00
Canada
0.45
0.55
2021-05-09 00:00:00
Canada
0.46
0.54
2021-05-10 00:00:00
Canada
0.46
0.54
2021-05-11 00:00:00
Canada
0.45
0.55
2021-05-12 00:00:00
Canada
0.46
0.54
2021-05-13 00:00:00
Canada
0.46
0.54
2021-05-14 00:00:00
Canada
0.45
0.55
2021-05-15 00:00:00
Canada
0.45
0.55
2021-05-16 00:00:00
Canada
0.45
0.55
2021-05-17 00:00:00
Canada
0.45
0.55
2021-05-18 00:00:00
Canada
0.46
0.54
2021-05-19 00:00:00
Canada
0.46
0.54
2021-05-20 00:00:00
Canada
0.48
0.52
2021-05-21 00:00:00
Canada
0.48
0.52
2021-05-22 00:00:00
Canada
0.48
0.52
2021-05-23 00:00:00
Canada
0.49
0.51
2021-05-24 00:00:00
Canada
0.48
0.52
2021-05-25 00:00:00
Canada
0.49
0.51
2021-05-26 00:00:00
Canada
0.49
0.51
2021-05-27 00:00:00
Canada
0.49
0.51
2021-05-28 00:00:00
Canada
0.49
0.51
2021-05-29 00:00:00
Canada
0.5
0.5
2021-05-30 00:00:00
Canada
0.51
0.49
2021-05-31 00:00:00
Canada
0.52
0.48
2021-06-01 00:00:00
Canada
0.51
0.49
2021-06-02 00:00:00
Canada
0.5
0.5
2021-06-03 00:00:00
Canada
0.49
0.51
2021-06-04 00:00:00
Canada
0.49
0.51
2021-06-05 00:00:00
Canada
0.49
0.51
2021-06-06 00:00:00
Canada
0.48
0.52
2021-06-07 00:00:00
Canada
0.46
0.54
2021-06-08 00:00:00
Canada
0.47
0.53
2021-06-09 00:00:00
Canada
0.48
0.52
2021-06-10 00:00:00
Canada
0.5
0.5
2021-06-11 00:00:00
Canada
0.5
0.5
2021-06-12 00:00:00
Canada
0.49
0.51
2021-06-13 00:00:00
Canada
0.51
0.49
2021-06-14 00:00:00
Canada
0.52
0.48
2021-06-15 00:00:00
Canada
0.51
0.49
2021-06-16 00:00:00
Canada
0.51
0.49
2021-06-17 00:00:00
Canada
0.52
0.48
2021-06-18 00:00:00
Canada
0.52
0.48
2021-06-19 00:00:00
Canada
0.52
0.48
2021-06-20 00:00:00
Canada
0.52
0.48
2021-06-21 00:00:00
Canada
0.52
0.48
2021-06-22 00:00:00
Canada
0.52
0.48
2021-06-23 00:00:00
Canada
0.52
0.48
2021-06-24 00:00:00
Canada
0.51
0.49
2021-06-25 00:00:00
Canada
0.52
0.48
2021-06-26 00:00:00
Canada
0.51
0.49
2021-06-27 00:00:00
Canada
0.52
0.48
2021-06-28 00:00:00
Canada
0.52
0.48
2021-06-29 00:00:00
Canada
0.51
0.49
2021-06-30 00:00:00
Canada
0.52
0.48
2021-07-01 00:00:00
Canada
0.51
0.49
2021-07-02 00:00:00
Canada
0.51
0.49
2021-07-03 00:00:00
Canada
0.52
0.48
2021-07-04 00:00:00
Canada
0.51
0.49
2021-07-05 00:00:00
Canada
0.51
0.49
2021-07-06 00:00:00
Canada
0.52
0.48
2021-07-07 00:00:00
Canada
0.52
0.48
2021-07-08 00:00:00
Canada
0.52
0.48
2021-07-09 00:00:00
Canada
0.52
0.48
2021-07-10 00:00:00
Canada
0.52
0.48
2021-07-11 00:00:00
Canada
0.51
0.49
2021-07-12 00:00:00
Canada
0.51
0.49
2021-07-13 00:00:00
Canada
0.52
0.48
2021-07-14 00:00:00
Canada
0.52
0.48
2021-07-15 00:00:00
Canada
0.52
0.48
2021-07-16 00:00:00
Canada
0.52
0.48
2021-07-17 00:00:00
Canada
0.53
0.47
2021-07-18 00:00:00
Canada
0.54
0.46
2021-07-19 00:00:00
Canada
0.52
0.48
2021-07-20 00:00:00
Canada
0.52
0.48
2021-07-21 00:00:00
Canada
0.52
0.48
2021-07-22 00:00:00
Canada
0.53
0.47
2021-07-23 00:00:00
Canada
0.53
0.47
2021-07-24 00:00:00
Canada
0.53
0.47
2021-07-25 00:00:00
Canada
0.54
0.46
2021-07-26 00:00:00
Canada
0.56
0.44
2021-07-27 00:00:00
Canada
0.56
0.44
2021-07-28 00:00:00
Canada
0.55
0.45
2021-07-29 00:00:00
Canada
0.54
0.46
2021-07-30 00:00:00
Canada
0.54
0.46
2021-07-31 00:00:00
Canada
0.55
0.45
2021-08-01 00:00:00
Canada
0.54
0.46
2021-08-02 00:00:00
Canada
0.53
0.47
2021-08-03 00:00:00
Canada
0.52
0.48
2021-08-04 00:00:00
Canada
0.52
0.48
2021-08-05 00:00:00
Canada
0.52
0.48
2021-08-06 00:00:00
Canada
0.51
0.49
2021-08-07 00:00:00
Canada
0.51
0.49
2021-08-08 00:00:00
Canada
0.51
0.49
2021-08-09 00:00:00
Canada
0.51
0.49
2021-08-10 00:00:00
Canada
0.5
0.5
2021-08-11 00:00:00
Canada
0.51
0.49
2021-08-12 00:00:00
Canada
0.51
0.49
2021-08-13 00:00:00
Canada
0.51
0.49
2021-08-14 00:00:00
Canada
0.49
0.51
2021-08-15 00:00:00
Canada
0.48
0.52
2021-08-16 00:00:00
Canada
0.47
0.53
2021-08-17 00:00:00
Canada
0.49
0.51
2021-08-18 00:00:00
Canada
0.47
0.53
2021-08-19 00:00:00
Canada
0.48
0.52
2021-08-20 00:00:00
Canada
0.47
0.53
2021-08-21 00:00:00
Canada
0.48
0.52
2021-08-22 00:00:00
Canada
0.48
0.52
2021-08-23 00:00:00
Canada
0.49
0.51
2021-08-24 00:00:00
Canada
0.46
0.54
2021-08-25 00:00:00
Canada
0.47
0.53
2021-08-26 00:00:00
Canada
0.46
0.54
2021-08-27 00:00:00
Canada
0.46
0.54
2021-08-28 00:00:00
Canada
0.46
0.54
2021-08-29 00:00:00
Canada
0.46
0.54
2021-08-30 00:00:00
Canada
0.46
0.54
2021-08-31 00:00:00
Canada
0.46
0.54
2021-09-01 00:00:00
Canada
0.47
0.53
2021-09-02 00:00:00
Canada
0.47
0.53
2021-09-03 00:00:00
Canada
0.46
0.54
2021-09-04 00:00:00
Canada
0.46
0.54
2021-09-05 00:00:00
Canada
0.45
0.55
2021-09-06 00:00:00
Canada
0.45
0.55
2021-09-07 00:00:00
Canada
0.46
0.54
2021-09-08 00:00:00
Canada
0.45
0.55
2021-09-09 00:00:00
Canada
0.44
0.56
2021-09-10 00:00:00
Canada
0.45
0.55
2021-09-11 00:00:00
Canada
0.46
0.54
2021-09-12 00:00:00
Canada
0.46
0.54
2021-09-13 00:00:00
Canada
0.45
0.55
2021-09-14 00:00:00
Canada
0.45
0.55
2021-09-15 00:00:00
Canada
0.45
0.55
2021-09-16 00:00:00
Canada
0.44
0.56
2021-09-17 00:00:00
Canada
0.44
0.56
2021-09-18 00:00:00
Canada
0.43
0.57
2021-09-19 00:00:00
Canada
0.44
0.56
2021-09-20 00:00:00
Canada
0.44
0.56
2021-09-21 00:00:00
Canada
0.45
0.55
2021-09-22 00:00:00
Canada
0.46
0.54
2021-09-23 00:00:00
Canada
0.46
0.54
2021-09-24 00:00:00
Canada
0.48
0.52
2021-09-25 00:00:00
Canada
0.48
0.52
2021-09-26 00:00:00
Canada
0.47
0.53
2021-09-27 00:00:00
Canada
0.47
0.53
2021-09-28 00:00:00
Canada
0.47
0.53
2021-09-29 00:00:00
Canada
0.47
0.53
2021-09-30 00:00:00
Canada
0.48
0.52
2021-10-01 00:00:00
Canada
0.49
0.51
2021-10-02 00:00:00
Canada
0.47
0.53
2021-10-03 00:00:00
Canada
0.47
0.53
2021-10-04 00:00:00
Canada
0.47
0.53
2021-10-05 00:00:00
Canada
0.46
0.54
2021-10-06 00:00:00
Canada
0.46
0.54
2021-10-07 00:00:00
Canada
0.45
0.55
2021-10-08 00:00:00
Canada
0.44
0.56
2021-10-09 00:00:00
Canada
0.45
0.55
2021-10-10 00:00:00
Canada
0.45
0.55
2021-10-11 00:00:00
Canada
0.45
0.55
2021-10-12 00:00:00
Canada
0.46
0.54
2021-10-13 00:00:00
Canada
0.46
0.54
2021-10-14 00:00:00
Canada
0.45
0.55
2021-10-15 00:00:00
Canada
0.46
0.54
2021-10-16 00:00:00
Canada
0.45
0.55
2021-10-17 00:00:00
Canada
0.46
0.54
2021-10-18 00:00:00
Canada
0.45
0.55
2021-10-19 00:00:00
Canada
0.45
0.55
2021-10-20 00:00:00
Canada
0.45
0.55
2021-10-21 00:00:00
Canada
0.45
0.55
2021-10-22 00:00:00
Canada
0.44
0.56
2021-10-23 00:00:00
Canada
0.45
0.55
2021-10-24 00:00:00
Canada
0.46
0.54
2021-10-25 00:00:00
Canada
0.46
0.54
2021-10-26 00:00:00
Canada
0.47
0.53
2021-10-27 00:00:00
Canada
0.47
0.53
2021-10-28 00:00:00
Canada
0.47
0.53
2021-10-31 00:00:00
Canada
0.46
0.54
2021-11-01 00:00:00
Canada
0.47
0.53
2021-11-02 00:00:00
Canada
0.46
0.54
2021-11-03 00:00:00
Canada
0.46
0.54
2021-11-04 00:00:00
Canada
0.47
0.53
2021-11-05 00:00:00
Canada
0.48
0.52
2021-11-06 00:00:00
Canada
0.49
0.51
2021-11-07 00:00:00
Canada
0.46
0.54
2021-11-08 00:00:00
Canada
0.46
0.54
2021-11-09 00:00:00
Canada
0.47
0.53
2021-11-10 00:00:00
Canada
0.47
0.53
2021-11-11 00:00:00
Canada
0.48
0.52
2021-11-12 00:00:00
Canada
0.47
0.53
2021-11-13 00:00:00
Canada
0.46
0.54
2021-11-14 00:00:00
Canada
0.47
0.53
2021-11-15 00:00:00
Canada
0.46
0.54
2021-11-16 00:00:00
Canada
0.47
0.53
2021-11-17 00:00:00
Canada
0.47
0.53
2021-11-18 00:00:00
Canada
0.47
0.53
2021-11-19 00:00:00
Canada
0.48
0.52
2021-11-20 00:00:00
Canada
0.47
0.53
2021-11-21 00:00:00
Canada
0.48
0.52
2021-11-22 00:00:00
Canada
0.48
0.52
2021-11-23 00:00:00
Canada
0.48
0.52
2021-11-24 00:00:00
Canada
0.48
0.52
2021-11-25 00:00:00
Canada
0.47
0.53
2021-11-26 00:00:00
Canada
0.47
0.53
2021-11-27 00:00:00
Canada
0.46
0.54
2021-11-28 00:00:00
Canada
0.46
0.54
2021-11-29 00:00:00
Canada
0.45
0.55
2021-11-30 00:00:00
Canada
0.45
0.55
2021-12-01 00:00:00
Canada
0.43
0.57
2021-12-02 00:00:00
Canada
0.43
0.57
2021-12-03 00:00:00
Canada
0.44
0.56
2021-12-04 00:00:00
Canada
0.44
0.56
2021-12-05 00:00:00
Canada
0.45
0.55
2021-12-06 00:00:00
Canada
0.45
0.55
2021-12-07 00:00:00
Canada
0.46
0.54
2021-12-08 00:00:00
Canada
0.46
0.54
2021-12-09 00:00:00
Canada
0.45
0.55
2021-12-10 00:00:00
Canada
0.43
0.57
2021-12-11 00:00:00
Canada
0.44
0.56
2021-12-12 00:00:00
Canada
0.45
0.55
2021-12-13 00:00:00
Canada
0.45
0.55
2021-12-14 00:00:00
Canada
0.45
0.55
2021-12-15 00:00:00
Canada
0.45
0.55
2021-12-16 00:00:00
Canada
0.45
0.55
2021-12-17 00:00:00
Canada
0.46
0.54
2021-12-18 00:00:00
Canada
0.45
0.55
2021-12-19 00:00:00
Canada
0.44
0.56
2021-12-20 00:00:00
Canada
0.43
0.57
2021-12-21 00:00:00
Canada
0.42
0.58
2021-12-22 00:00:00
Canada
0.42
0.58
2021-12-23 00:00:00
Canada
0.42
0.58
2021-12-24 00:00:00
Canada
0.42
0.58
2021-12-25 00:00:00
Canada
0.42
0.58
2021-12-26 00:00:00
Canada
0.41
0.59
2021-12-27 00:00:00
Canada
0.43
0.57
2021-12-28 00:00:00
Canada
0.42
0.58
2021-12-29 00:00:00
Canada
0.43
0.57
2021-12-30 00:00:00
Canada
0.43
0.57
2021-12-31 00:00:00
Canada
0.43
0.57
2022-01-01 00:00:00
Canada
0.44
0.56
2022-01-02 00:00:00
Canada
0.44
0.56
2022-01-03 00:00:00
Canada
0.44
0.56
2022-01-04 00:00:00
Canada
0.45
0.55
2022-01-05 00:00:00
Canada
0.44
0.56
2022-01-06 00:00:00
Canada
0.44
0.56
2022-01-07 00:00:00
Canada
0.44
0.56
2022-01-08 00:00:00
Canada
0.43
0.57
2022-01-09 00:00:00
Canada
0.43
0.57
2022-01-10 00:00:00
Canada
0.42
0.58
2022-01-11 00:00:00
Canada
0.41
0.59
2022-01-12 00:00:00
Canada
0.41
0.59
2022-01-13 00:00:00
Canada
0.41
0.59
2022-01-14 00:00:00
Canada
0.41
0.59
2022-01-15 00:00:00
Canada
0.4
0.6
2022-01-16 00:00:00
Canada
0.4
0.6
2022-01-17 00:00:00
Canada
0.4
0.6
2022-01-18 00:00:00
Canada
0.41
0.59
2022-01-19 00:00:00
Canada
0.4
0.6
2022-01-20 00:00:00
Canada
0.4
0.6
2022-01-21 00:00:00
Canada
0.41
0.59
2022-01-22 00:00:00
Canada
0.42
0.58
2022-01-23 00:00:00
Canada
0.42
0.58
2022-01-24 00:00:00
Canada
0.42
0.58
2022-01-25 00:00:00
Canada
0.43
0.57
2020-01-06 00:00:00
France
0.26
0.74
2020-01-07 00:00:00
France
0.26
0.74
2020-01-08 00:00:00
France
0.26
0.74
2020-01-09 00:00:00
France
0.25
0.75
2020-01-10 00:00:00
France
0.25
0.75
2020-01-11 00:00:00
France
0.26
0.74
2020-01-12 00:00:00
France
0.25
0.75
2020-01-13 00:00:00
France
0.26
0.74
2020-01-14 00:00:00
France
0.25
0.75
2020-01-15 00:00:00
France
0.25
0.75
2020-01-16 00:00:00
France
0.25
0.75
2020-01-17 00:00:00
France
0.25
0.75
2020-01-18 00:00:00
France
0.25
0.75
2020-01-19 00:00:00
France
0.24
0.76
2020-01-20 00:00:00
France
0.23
0.77
2020-01-21 00:00:00
France
0.23
0.77
2020-01-22 00:00:00
France
0.23
0.77
2020-01-23 00:00:00
France
0.23
0.77
2020-01-24 00:00:00
France
0.23
0.77
2020-01-25 00:00:00
France
0.23
0.77
2020-01-26 00:00:00
France
0.23
0.77
2020-01-27 00:00:00
France
0.24
0.76
2020-01-28 00:00:00
France
0.24
0.76
2020-01-29 00:00:00
France
0.24
0.76
2020-01-30 00:00:00
France
0.24
0.76
2020-01-31 00:00:00
France
0.23
0.77
2020-02-01 00:00:00
France
0.23
0.77
2020-02-02 00:00:00
France
0.24
0.76
2020-02-03 00:00:00
France
0.23
0.77
2020-02-04 00:00:00
France
0.24
0.76
2020-02-05 00:00:00
France
0.24
0.76
2020-02-06 00:00:00
France
0.25
0.75
2020-02-07 00:00:00
France
0.25
0.75
2020-02-08 00:00:00
France
0.25
0.75
2020-02-09 00:00:00
France
0.25
0.75
2020-02-10 00:00:00
France
0.26
0.74
2020-02-11 00:00:00
France
0.26
0.74
2020-02-12 00:00:00
France
0.26
0.74
2020-02-13 00:00:00
France
0.26
0.74
2020-02-14 00:00:00
France
0.25
0.75
2020-02-15 00:00:00
France
0.25
0.75
2020-02-16 00:00:00
France
0.25
0.75
2020-02-17 00:00:00
France
0.25
0.75
2020-02-18 00:00:00
France
0.25
0.75
2020-02-19 00:00:00
France
0.25
0.75
2020-02-20 00:00:00
France
0.24
0.76
2020-02-21 00:00:00
France
0.25
0.75
2020-02-22 00:00:00
France
0.26
0.74
2020-02-23 00:00:00
France
0.26
0.74
2020-02-24 00:00:00
France
0.26
0.74
2020-02-25 00:00:00
France
0.27
0.73
2020-02-26 00:00:00
France
0.26
0.74
2020-02-27 00:00:00
France
0.27
0.73
2020-02-28 00:00:00
France
0.26
0.74
2020-02-29 00:00:00
France
0.26
0.74
2020-03-01 00:00:00
France
0.26
0.74
2020-03-02 00:00:00
France
0.25
0.75
2020-03-03 00:00:00
France
0.24
0.76
2020-03-04 00:00:00
France
0.24
0.76
2020-03-05 00:00:00
France
0.24
0.76
2020-03-06 00:00:00
France
0.24
0.76
2020-03-07 00:00:00
France
0.23
0.77
2020-03-08 00:00:00
France
0.24
0.76
2020-03-09 00:00:00
France
0.25
0.75
2020-03-10 00:00:00
France
0.25
0.75
2020-03-11 00:00:00
France
0.26
0.74
2020-03-12 00:00:00
France
0.26
0.74
2020-03-13 00:00:00
France
0.26
0.74
2020-03-14 00:00:00
France
0.27
0.73
2020-03-15 00:00:00
France
0.27
0.73
2020-03-16 00:00:00
France
0.27
0.73
2020-03-17 00:00:00
France
0.27
0.73
2020-03-18 00:00:00
France
0.27
0.73
2020-03-19 00:00:00
France
0.28
0.72
2020-03-20 00:00:00
France
0.28
0.72
2020-03-21 00:00:00
France
0.28
0.72
2020-03-22 00:00:00
France
0.29
0.71
2020-03-23 00:00:00
France
0.29
0.71
2020-03-24 00:00:00
France
0.28
0.72
2020-03-25 00:00:00
France
0.28
0.72
2020-03-26 00:00:00
France
0.28
0.72
2020-03-27 00:00:00
France
0.27
0.73
2020-03-28 00:00:00
France
0.27
0.73
2020-03-29 00:00:00
France
0.27
0.73
2020-03-30 00:00:00
France
0.29
0.71
2020-03-31 00:00:00
France
0.3
0.7
2020-04-01 00:00:00
France
0.3
0.7
2020-04-02 00:00:00
France
0.3
0.7
2020-04-03 00:00:00
France
0.3
0.7
2020-04-04 00:00:00
France
0.31
0.69
2020-04-05 00:00:00
France
0.32
0.68
2020-04-06 00:00:00
France
0.31
0.69
2020-04-07 00:00:00
France
0.31
0.69
2020-04-08 00:00:00
France
0.31
0.69
2020-04-09 00:00:00
France
0.32
0.68
2020-04-10 00:00:00
France
0.32
0.68
2020-04-11 00:00:00
France
0.31
0.69
2020-04-12 00:00:00
France
0.31
0.69
2020-04-13 00:00:00
France
0.31
0.69
2020-04-14 00:00:00
France
0.31
0.69
2020-04-15 00:00:00
France
0.31
0.69
2020-04-16 00:00:00
France
0.31
0.69
2020-04-17 00:00:00
France
0.31
0.69
2020-04-18 00:00:00
France
0.31
0.69
2020-04-19 00:00:00
France
0.32
0.68
2020-04-20 00:00:00
France
0.32
0.68
2020-04-21 00:00:00
France
0.31
0.69
2020-04-22 00:00:00
France
0.3
0.7
2020-04-23 00:00:00
France
0.3
0.7
2020-04-24 00:00:00
France
0.29
0.71
2020-04-25 00:00:00
France
0.29
0.71
2020-04-26 00:00:00
France
0.28
0.72
2020-04-27 00:00:00
France
0.29
0.71
2020-04-28 00:00:00
France
0.28
0.72
2020-04-29 00:00:00
France
0.28
0.72
2020-04-30 00:00:00
France
0.29
0.71
2020-05-01 00:00:00
France
0.29
0.71
2020-05-02 00:00:00
France
0.29
0.71
2020-05-03 00:00:00
France
0.29
0.71
2020-05-04 00:00:00
France
0.28
0.72
2020-05-05 00:00:00
France
0.29
0.71
2020-05-06 00:00:00
France
0.29
0.71
2020-05-07 00:00:00
France
0.29
0.71
2020-05-08 00:00:00
France
0.29
0.71
2020-05-09 00:00:00
France
0.3
0.7
2020-05-10 00:00:00
France
0.3
0.7
2020-05-11 00:00:00
France
0.3
0.7
2020-05-12 00:00:00
France
0.3
0.7
2020-05-13 00:00:00
France
0.29
0.71
2020-05-14 00:00:00
France
0.29
0.71
2020-05-15 00:00:00
France
0.29
0.71
2020-05-16 00:00:00
France
0.27
0.73
2020-05-17 00:00:00
France
0.28
0.72
2020-05-18 00:00:00
France
0.28
0.72
2020-05-19 00:00:00
France
0.29
0.71
2020-05-20 00:00:00
France
0.29
0.71
2020-05-21 00:00:00
France
0.29
0.71
2020-05-22 00:00:00
France
0.29
0.71
2020-05-23 00:00:00
France
0.29
0.71
2020-05-24 00:00:00
France
0.3
0.7
2020-05-25 00:00:00
France
0.3
0.7
2020-05-26 00:00:00
France
0.29
0.71
2020-05-27 00:00:00
France
0.3
0.7
2020-05-28 00:00:00
France
0.3
0.7
2020-05-29 00:00:00
France
0.3
0.7
2020-05-30 00:00:00
France
0.31
0.69
2020-05-31 00:00:00
France
0.3
0.7
2020-06-01 00:00:00
France
0.3
0.7
2020-06-02 00:00:00
France
0.31
0.69
2020-06-03 00:00:00
France
0.3
0.7
2020-06-04 00:00:00
France
0.3
0.7
2020-06-05 00:00:00
France
0.3
0.7
2020-06-06 00:00:00
France
0.3
0.7
2020-06-07 00:00:00
France
0.3
0.7
2020-06-08 00:00:00
France
0.3
0.7
2020-06-09 00:00:00
France
0.29
0.71
2020-06-10 00:00:00
France
0.3
0.7
2020-06-11 00:00:00
France
0.3
0.7
2020-06-12 00:00:00
France
0.29
0.71
2020-06-13 00:00:00
France
0.29
0.71
2020-06-14 00:00:00
France
0.28
0.72
2020-06-15 00:00:00
France
0.29
0.71
2020-06-16 00:00:00
France
0.28
0.72
2020-06-17 00:00:00
France
0.28
0.72
2020-06-18 00:00:00
France
0.28
0.72
2020-06-19 00:00:00
France
0.29
0.71
2020-06-20 00:00:00
France
0.29
0.71
2020-06-21 00:00:00
France
0.29
0.71
2020-06-22 00:00:00
France
0.28
0.72
2020-06-23 00:00:00
France
0.29
0.71
2020-06-24 00:00:00
France
0.29
0.71
2020-06-25 00:00:00
France
0.29
0.71
2020-06-26 00:00:00
France
0.28
0.72
2020-06-27 00:00:00
France
0.28
0.72
2020-06-28 00:00:00
France
0.28
0.72
2020-06-29 00:00:00
France
0.27
0.73
2020-06-30 00:00:00
France
0.27
0.73
2020-07-01 00:00:00
France
0.26
0.74
2020-07-02 00:00:00
France
0.26
0.74
2020-07-03 00:00:00
France
0.26
0.74
2020-07-04 00:00:00
France
0.27
0.73
2020-07-05 00:00:00
France
0.27
0.73
2020-07-06 00:00:00
France
0.27
0.73
2020-07-07 00:00:00
France
0.27
0.73
2020-07-08 00:00:00
France
0.27
0.73
2020-07-09 00:00:00
France
0.28
0.72
2020-07-10 00:00:00
France
0.28
0.72
2020-07-11 00:00:00
France
0.27
0.73
2020-07-12 00:00:00
France
0.27
0.73
2020-07-13 00:00:00
France
0.27
0.73
2020-07-14 00:00:00
France
0.27
0.73
2020-07-15 00:00:00
France
0.28
0.72
2020-07-16 00:00:00
France
0.28
0.72
2020-07-17 00:00:00
France
0.29
0.71
2020-07-18 00:00:00
France
0.29
0.71
2020-07-19 00:00:00
France
0.28
0.72
2020-07-20 00:00:00
France
0.28
0.72
2020-07-21 00:00:00
France
0.29
0.71
2020-07-22 00:00:00
France
0.29
0.71
2020-07-23 00:00:00
France
0.29
0.71
2020-07-24 00:00:00
France
0.3
0.7
2020-07-25 00:00:00
France
0.29
0.71
2020-07-26 00:00:00
France
0.3
0.7
2020-07-27 00:00:00
France
0.3
0.7
2020-07-28 00:00:00
France
0.29
0.71
2020-07-29 00:00:00
France
0.29
0.71
2020-07-30 00:00:00
France
0.28
0.72
2020-07-31 00:00:00
France
0.28
0.72
2020-08-01 00:00:00
France
0.28
0.72
2020-08-02 00:00:00
France
0.28
0.72
2020-08-03 00:00:00
France
0.29
0.71
2020-08-04 00:00:00
France
0.29
0.71
2020-08-05 00:00:00
France
0.29
0.71
2020-08-06 00:00:00
France
0.28
0.72
2020-08-07 00:00:00
France
0.28
0.72
2020-08-08 00:00:00
France
0.29
0.71
2020-08-09 00:00:00
France
0.29
0.71
2020-08-10 00:00:00
France
0.28
0.72
2020-08-11 00:00:00
France
0.28
0.72
2020-08-12 00:00:00
France
0.28
0.72
2020-08-13 00:00:00
France
0.28
0.72
2020-08-14 00:00:00
France
0.28
0.72
2020-08-15 00:00:00
France
0.28
0.72
2020-08-16 00:00:00
France
0.28
0.72
2020-08-17 00:00:00
France
0.28
0.72
2020-08-18 00:00:00
France
0.28
0.72
2020-08-19 00:00:00
France
0.28
0.72
2020-08-20 00:00:00
France
0.28
0.72
2020-08-21 00:00:00
France
0.27
0.73
2020-08-22 00:00:00
France
0.27
0.73
2020-08-23 00:00:00
France
0.26
0.74
2020-08-24 00:00:00
France
0.26
0.74
2020-08-25 00:00:00
France
0.26
0.74
2020-08-26 00:00:00
France
0.26
0.74
2020-08-27 00:00:00
France
0.25
0.75
2020-08-28 00:00:00
France
0.26
0.74
2020-08-29 00:00:00
France
0.26
0.74
2020-08-30 00:00:00
France
0.27
0.73
2020-08-31 00:00:00
France
0.26
0.74
2020-09-01 00:00:00
France
0.26
0.74
2020-09-02 00:00:00
France
0.26
0.74
2020-09-03 00:00:00
France
0.25
0.75
2020-09-04 00:00:00
France
0.25
0.75
2020-09-05 00:00:00
France
0.25
0.75
2020-09-06 00:00:00
France
0.25
0.75
2020-09-07 00:00:00
France
0.25
0.75
2020-09-08 00:00:00
France
0.25
0.75
2020-09-09 00:00:00
France
0.26
0.74
2020-09-10 00:00:00
France
0.26
0.74
2020-09-11 00:00:00
France
0.25
0.75
2020-09-12 00:00:00
France
0.26
0.74
2020-09-13 00:00:00
France
0.25
0.75
2020-09-14 00:00:00
France
0.25
0.75
2020-09-15 00:00:00
France
0.25
0.75
2020-09-16 00:00:00
France
0.25
0.75
2020-09-17 00:00:00
France
0.24
0.76
2020-09-18 00:00:00
France
0.24
0.76
2020-09-19 00:00:00
France
0.24
0.76
2020-09-20 00:00:00
France
0.25
0.75
2020-09-21 00:00:00
France
0.25
0.75
2020-09-22 00:00:00
France
0.25
0.75
2020-09-23 00:00:00
France
0.25
0.75
2020-09-24 00:00:00
France
0.25
0.75
2020-09-25 00:00:00
France
0.25
0.75
2020-09-26 00:00:00
France
0.25
0.75
2020-09-27 00:00:00
France
0.25
0.75
2020-09-28 00:00:00
France
0.25
0.75
2020-09-29 00:00:00
France
0.24
0.76
2020-09-30 00:00:00
France
0.24
0.76
2020-10-01 00:00:00
France
0.24
0.76
2020-10-02 00:00:00
France
0.23
0.77
2020-10-03 00:00:00
France
0.23
0.77
2020-10-04 00:00:00
France
0.22
0.78
2020-10-05 00:00:00
France
0.23
0.77
2020-10-06 00:00:00
France
0.23
0.77
2020-10-07 00:00:00
France
0.23
0.77
2020-10-08 00:00:00
France
0.24
0.76
2020-10-09 00:00:00
France
0.24
0.76
2020-10-10 00:00:00
France
0.25
0.75
2020-10-11 00:00:00
France
0.25
0.75
2020-10-12 00:00:00
France
0.25
0.75
2020-10-13 00:00:00
France
0.24
0.76
2020-10-14 00:00:00
France
0.24
0.76
2020-10-15 00:00:00
France
0.24
0.76
2020-10-16 00:00:00
France
0.23
0.77
2020-10-17 00:00:00
France
0.23
0.77
2020-10-18 00:00:00
France
0.23
0.77
2020-10-19 00:00:00
France
0.23
0.77
2020-10-20 00:00:00
France
0.23
0.77
2020-10-21 00:00:00
France
0.23
0.77
2020-10-22 00:00:00
France
0.23
0.77
2020-10-23 00:00:00
France
0.23
0.77
2020-10-24 00:00:00
France
0.23
0.77
2020-10-25 00:00:00
France
0.22
0.78
2020-10-26 00:00:00
France
0.22
0.78
2020-10-27 00:00:00
France
0.22
0.78
2020-10-28 00:00:00
France
0.22
0.78
2020-10-29 00:00:00
France
0.22
0.78
2020-10-30 00:00:00
France
0.22
0.78
2020-10-31 00:00:00
France
0.22
0.78
2020-11-01 00:00:00
France
0.22
0.78
2020-11-02 00:00:00
France
0.22
0.78
2020-11-03 00:00:00
France
0.22
0.78
2020-11-04 00:00:00
France
0.22
0.78
2020-11-05 00:00:00
France
0.22
0.78
2020-11-06 00:00:00
France
0.22
0.78
2020-11-07 00:00:00
France
0.21
0.79
2020-11-08 00:00:00
France
0.21
0.79
2020-11-09 00:00:00
France
0.22
0.78
2020-11-10 00:00:00
France
0.22
0.78
2020-11-11 00:00:00
France
0.22
0.78
2020-11-12 00:00:00
France
0.23
0.77
2020-11-13 00:00:00
France
0.23
0.77
2020-11-14 00:00:00
France
0.24
0.76
2020-11-15 00:00:00
France
0.24
0.76
2020-11-16 00:00:00
France
0.25
0.75
2020-11-17 00:00:00
France
0.24
0.76
2020-11-18 00:00:00
France
0.24
0.76
2020-11-19 00:00:00
France
0.23
0.77
2020-11-20 00:00:00
France
0.24
0.76
2020-11-21 00:00:00
France
0.24
0.76
2020-11-22 00:00:00
France
0.24
0.76
2020-11-23 00:00:00
France
0.23
0.77
2020-11-24 00:00:00
France
0.23
0.77
2020-11-25 00:00:00
France
0.24
0.76
2020-11-26 00:00:00
France
0.24
0.76
2020-11-27 00:00:00
France
0.24
0.76
2020-11-28 00:00:00
France
0.24
0.76
2020-11-29 00:00:00
France
0.23
0.77
2020-11-30 00:00:00
France
0.24
0.76
2020-12-01 00:00:00
France
0.24
0.76
2020-12-02 00:00:00
France
0.24
0.76
2020-12-03 00:00:00
France
0.24
0.76
2020-12-04 00:00:00
France
0.24
0.76
2020-12-05 00:00:00
France
0.24
0.76
2020-12-06 00:00:00
France
0.24
0.76
2020-12-07 00:00:00
France
0.25
0.75
2020-12-08 00:00:00
France
0.24
0.76
2020-12-09 00:00:00
France
0.24
0.76
2020-12-10 00:00:00
France
0.24
0.76
2020-12-11 00:00:00
France
0.24
0.76
2020-12-12 00:00:00
France
0.24
0.76
2020-12-13 00:00:00
France
0.25
0.75
2020-12-14 00:00:00
France
0.24
0.76
2020-12-15 00:00:00
France
0.24
0.76
2020-12-16 00:00:00
France
0.24
0.76
2020-12-17 00:00:00
France
0.24
0.76
2020-12-18 00:00:00
France
0.23
0.77
2020-12-19 00:00:00
France
0.23
0.77
2020-12-20 00:00:00
France
0.23
0.77
2020-12-21 00:00:00
France
0.24
0.76
2020-12-22 00:00:00
France
0.24
0.76
2020-12-23 00:00:00
France
0.24
0.76
2020-12-24 00:00:00
France
0.24
0.76
2020-12-25 00:00:00
France
0.26
0.74
2020-12-26 00:00:00
France
0.26
0.74
2020-12-27 00:00:00
France
0.26
0.74
2020-12-28 00:00:00
France
0.26
0.74
2020-12-29 00:00:00
France
0.26
0.74
2020-12-30 00:00:00
France
0.27
0.73
2020-12-31 00:00:00
France
0.26
0.74
2021-01-01 00:00:00
France
0.26
0.74
2021-01-02 00:00:00
France
0.26
0.74
2021-01-03 00:00:00
France
0.26
0.74
2021-01-04 00:00:00
France
0.25
0.75
2021-01-05 00:00:00
France
0.25
0.75
2021-01-06 00:00:00
France
0.25
0.75
2021-01-07 00:00:00
France
0.25
0.75
2021-01-08 00:00:00
France
0.24
0.76
2021-01-09 00:00:00
France
0.25
0.75
2021-01-10 00:00:00
France
0.24
0.76
2021-01-11 00:00:00
France
0.24
0.76
2021-01-12 00:00:00
France
0.24
0.76
2021-01-13 00:00:00
France
0.24
0.76
2021-01-14 00:00:00
France
0.25
0.75
2021-01-15 00:00:00
France
0.25
0.75
2021-01-16 00:00:00
France
0.25
0.75
2021-01-17 00:00:00
France
0.25
0.75
2021-01-18 00:00:00
France
0.26
0.74
2021-01-19 00:00:00
France
0.26
0.74
2021-01-20 00:00:00
France
0.26
0.74
2021-01-21 00:00:00
France
0.25
0.75
2021-01-22 00:00:00
France
0.26
0.74
2021-01-23 00:00:00
France
0.25
0.75
2021-01-24 00:00:00
France
0.24
0.76
2021-01-25 00:00:00
France
0.23
0.77
2021-01-26 00:00:00
France
0.24
0.76
2021-01-27 00:00:00
France
0.23
0.77
2021-01-28 00:00:00
France
0.24
0.76
2021-01-29 00:00:00
France
0.24
0.76
2021-01-30 00:00:00
France
0.24
0.76
2021-01-31 00:00:00
France
0.25
0.75
2021-02-01 00:00:00
France
0.25
0.75
2021-02-02 00:00:00
France
0.25
0.75
2021-02-03 00:00:00
France
0.25
0.75
2021-02-04 00:00:00
France
0.24
0.76
2021-02-05 00:00:00
France
0.24
0.76
2021-02-06 00:00:00
France
0.25
0.75
2021-02-07 00:00:00
France
0.25
0.75
2021-02-08 00:00:00
France
0.25
0.75
2021-02-09 00:00:00
France
0.25
0.75
2021-02-10 00:00:00
France
0.26
0.74
2021-02-11 00:00:00
France
0.27
0.73
2021-02-12 00:00:00
France
0.27
0.73
2021-02-13 00:00:00
France
0.27
0.73
2021-02-14 00:00:00
France
0.27
0.73
2021-02-15 00:00:00
France
0.27
0.73
2021-02-16 00:00:00
France
0.27
0.73
2021-02-17 00:00:00
France
0.26
0.74
2021-02-18 00:00:00
France
0.26
0.74
2021-02-19 00:00:00
France
0.26
0.74
2021-02-20 00:00:00
France
0.27
0.73
2021-02-21 00:00:00
France
0.26
0.74
2021-02-22 00:00:00
France
0.26
0.74
2021-02-23 00:00:00
France
0.27
0.73
2021-02-24 00:00:00
France
0.26
0.74
2021-02-25 00:00:00
France
0.27
0.73
2021-02-26 00:00:00
France
0.27
0.73
2021-02-27 00:00:00
France
0.26
0.74
2021-02-28 00:00:00
France
0.26
0.74
2021-03-01 00:00:00
France
0.26
0.74
2021-03-02 00:00:00
France
0.26
0.74
2021-03-03 00:00:00
France
0.27
0.73
2021-03-04 00:00:00
France
0.25
0.75
2021-03-05 00:00:00
France
0.26
0.74
2021-03-06 00:00:00
France
0.26
0.74
2021-03-07 00:00:00
France
0.26
0.74
2021-03-08 00:00:00
France
0.26
0.74
2021-03-09 00:00:00
France
0.26
0.74
2021-03-10 00:00:00
France
0.25
0.75
2021-03-11 00:00:00
France
0.25
0.75
2021-03-12 00:00:00
France
0.26
0.74
2021-03-13 00:00:00
France
0.25
0.75
2021-03-14 00:00:00
France
0.26
0.74
2021-03-15 00:00:00
France
0.26
0.74
2021-03-16 00:00:00
France
0.25
0.75
2021-03-17 00:00:00
France
0.26
0.74
2021-03-18 00:00:00
France
0.26
0.74
2021-03-19 00:00:00
France
0.26
0.74
2021-03-20 00:00:00
France
0.26
0.74
2021-03-21 00:00:00
France
0.25
0.75
2021-03-22 00:00:00
France
0.25
0.75
2021-03-23 00:00:00
France
0.25
0.75
2021-03-24 00:00:00
France
0.24
0.76
2021-03-25 00:00:00
France
0.24
0.76
2021-03-26 00:00:00
France
0.24
0.76
2021-03-27 00:00:00
France
0.24
0.76
2021-03-28 00:00:00
France
0.24
0.76
2021-03-29 00:00:00
France
0.24
0.76
2021-03-30 00:00:00
France
0.24
0.76
2021-03-31 00:00:00
France
0.24
0.76
2021-04-01 00:00:00
France
0.24
0.76
2021-04-02 00:00:00
France
0.24
0.76
2021-04-03 00:00:00
France
0.24
0.76
2021-04-04 00:00:00
France
0.25
0.75
2021-04-05 00:00:00
France
0.25
0.75
2021-04-06 00:00:00
France
0.25
0.75
2021-04-07 00:00:00
France
0.26
0.74
2021-04-08 00:00:00
France
0.26
0.74
2021-04-09 00:00:00
France
0.25
0.75
2021-04-10 00:00:00
France
0.26
0.74
2021-04-11 00:00:00
France
0.26
0.74
2021-04-12 00:00:00
France
0.27
0.73
2021-04-13 00:00:00
France
0.27
0.73
2021-04-14 00:00:00
France
0.28
0.72
2021-04-15 00:00:00
France
0.28
0.72
2021-04-16 00:00:00
France
0.29
0.71
2021-04-17 00:00:00
France
0.28
0.72
2021-04-18 00:00:00
France
0.28
0.72
2021-04-19 00:00:00
France
0.28
0.72
2021-04-20 00:00:00
France
0.28
0.72
2021-04-21 00:00:00
France
0.27
0.73
2021-04-22 00:00:00
France
0.28
0.72
2021-04-23 00:00:00
France
0.28
0.72
2021-04-24 00:00:00
France
0.28
0.72
2021-04-25 00:00:00
France
0.28
0.72
2021-04-26 00:00:00
France
0.29
0.71
2021-04-27 00:00:00
France
0.28
0.72
2021-04-28 00:00:00
France
0.28
0.72
2021-04-29 00:00:00
France
0.27
0.73
2021-04-30 00:00:00
France
0.28
0.72
2021-05-01 00:00:00
France
0.28
0.72
2021-05-02 00:00:00
France
0.28
0.72
2021-05-03 00:00:00
France
0.29
0.71
2021-05-04 00:00:00
France
0.29
0.71
2021-05-05 00:00:00
France
0.29
0.71
2021-05-06 00:00:00
France
0.3
0.7
2021-05-07 00:00:00
France
0.29
0.71
2021-05-08 00:00:00
France
0.29
0.71
2021-05-09 00:00:00
France
0.28
0.72
2021-05-10 00:00:00
France
0.28
0.72
2021-05-11 00:00:00
France
0.28
0.72
2021-05-12 00:00:00
France
0.28
0.72
2021-05-13 00:00:00
France
0.28
0.72
2021-05-14 00:00:00
France
0.28
0.72
2021-05-15 00:00:00
France
0.28
0.72
2021-05-16 00:00:00
France
0.29
0.71
2021-05-17 00:00:00
France
0.29
0.71
2021-05-18 00:00:00
France
0.3
0.7
2021-05-19 00:00:00
France
0.3
0.7
2021-05-20 00:00:00
France
0.3
0.7
2021-05-21 00:00:00
France
0.3
0.7
2021-05-22 00:00:00
France
0.31
0.69
2021-05-23 00:00:00
France
0.3
0.7
2021-05-24 00:00:00
France
0.3
0.7
2021-05-25 00:00:00
France
0.31
0.69
2021-05-26 00:00:00
France
0.31
0.69
2021-05-27 00:00:00
France
0.32
0.68
2021-05-28 00:00:00
France
0.32
0.68
2021-05-29 00:00:00
France
0.32
0.68
2021-05-30 00:00:00
France
0.33
0.67
2021-05-31 00:00:00
France
0.33
0.67
2021-06-01 00:00:00
France
0.32
0.68
2021-06-02 00:00:00
France
0.33
0.67
2021-06-03 00:00:00
France
0.32
0.68
2021-06-04 00:00:00
France
0.32
0.68
2021-06-05 00:00:00
France
0.32
0.68
2021-06-06 00:00:00
France
0.32
0.68
2021-06-07 00:00:00
France
0.31
0.69
2021-06-08 00:00:00
France
0.32
0.68
2021-06-09 00:00:00
France
0.31
0.69
2021-06-10 00:00:00
France
0.32
0.68
2021-06-11 00:00:00
France
0.32
0.68
2021-06-12 00:00:00
France
0.32
0.68
2021-06-13 00:00:00
France
0.32
0.68
2021-06-14 00:00:00
France
0.33
0.67
2021-06-15 00:00:00
France
0.33
0.67
2021-06-16 00:00:00
France
0.33
0.67
2021-06-17 00:00:00
France
0.33
0.67
2021-06-18 00:00:00
France
0.34
0.66
2021-06-19 00:00:00
France
0.34
0.66
2021-06-20 00:00:00
France
0.34
0.66
2021-06-21 00:00:00
France
0.34
0.66
2021-06-22 00:00:00
France
0.34
0.66
2021-06-23 00:00:00
France
0.35
0.65
2021-06-24 00:00:00
France
0.33
0.67
2021-06-25 00:00:00
France
0.33
0.67
2021-06-26 00:00:00
France
0.32
0.68
2021-06-27 00:00:00
France
0.32
0.68
2021-06-28 00:00:00
France
0.32
0.68
2021-06-29 00:00:00
France
0.31
0.69
2021-06-30 00:00:00
France
0.31
0.69
2021-07-01 00:00:00
France
0.32
0.68
2021-07-02 00:00:00
France
0.32
0.68
2021-07-03 00:00:00
France
0.32
0.68
2021-07-04 00:00:00
France
0.32
0.68
2021-07-05 00:00:00
France
0.31
0.69
2021-07-06 00:00:00
France
0.31
0.69
2021-07-07 00:00:00
France
0.32
0.68
2021-07-08 00:00:00
France
0.31
0.69
2021-07-09 00:00:00
France
0.31
0.69
2021-07-10 00:00:00
France
0.3
0.7
2021-07-11 00:00:00
France
0.31
0.69
2021-07-12 00:00:00
France
0.31
0.69
2021-07-13 00:00:00
France
0.32
0.68
2021-07-14 00:00:00
France
0.32
0.68
2021-07-15 00:00:00
France
0.32
0.68
2021-07-16 00:00:00
France
0.32
0.68
2021-07-17 00:00:00
France
0.32
0.68
2021-07-18 00:00:00
France
0.32
0.68
2021-07-19 00:00:00
France
0.31
0.69
2021-07-20 00:00:00
France
0.31
0.69
2021-07-21 00:00:00
France
0.31
0.69
2021-07-22 00:00:00
France
0.3
0.7
2021-07-23 00:00:00
France
0.3
0.7
2021-07-24 00:00:00
France
0.3
0.7
2021-07-25 00:00:00
France
0.29
0.71
2021-07-26 00:00:00
France
0.29
0.71
2021-07-27 00:00:00
France
0.29
0.71
2021-07-28 00:00:00
France
0.29
0.71
2021-07-29 00:00:00
France
0.29
0.71
2021-07-30 00:00:00
France
0.29
0.71
2021-07-31 00:00:00
France
0.3
0.7
2021-08-01 00:00:00
France
0.3
0.7
2021-08-02 00:00:00
France
0.3
0.7
2021-08-03 00:00:00
France
0.31
0.69
2021-08-04 00:00:00
France
0.3
0.7
2021-08-05 00:00:00
France
0.31
0.69
2021-08-06 00:00:00
France
0.32
0.68
2021-08-07 00:00:00
France
0.32
0.68
2021-08-08 00:00:00
France
0.32
0.68
2021-08-09 00:00:00
France
0.32
0.68
2021-08-10 00:00:00
France
0.32
0.68
2021-08-11 00:00:00
France
0.33
0.67
2021-08-12 00:00:00
France
0.32
0.68
2021-08-13 00:00:00
France
0.31
0.69
2021-08-14 00:00:00
France
0.31
0.69
2021-08-15 00:00:00
France
0.32
0.68
2021-08-16 00:00:00
France
0.32
0.68
2021-08-17 00:00:00
France
0.31
0.69
2021-08-18 00:00:00
France
0.31
0.69
2021-08-19 00:00:00
France
0.31
0.69
2021-08-20 00:00:00
France
0.31
0.69
2021-08-21 00:00:00
France
0.31
0.69
2021-08-22 00:00:00
France
0.3
0.7
2021-08-23 00:00:00
France
0.3
0.7
2021-08-24 00:00:00
France
0.3
0.7
2021-08-25 00:00:00
France
0.3
0.7
2021-08-26 00:00:00
France
0.31
0.69
2021-08-27 00:00:00
France
0.31
0.69
2021-08-28 00:00:00
France
0.31
0.69
2021-08-29 00:00:00
France
0.32
0.68
2021-08-30 00:00:00
France
0.32
0.68
2021-08-31 00:00:00
France
0.32
0.68
2021-09-01 00:00:00
France
0.32
0.68
2021-09-02 00:00:00
France
0.32
0.68
2021-09-03 00:00:00
France
0.32
0.68
2021-09-04 00:00:00
France
0.32
0.68
2021-09-05 00:00:00
France
0.32
0.68
2021-09-06 00:00:00
France
0.33
0.67
2021-09-07 00:00:00
France
0.33
0.67
2021-09-08 00:00:00
France
0.33
0.67
2021-09-09 00:00:00
France
0.33
0.67
2021-09-10 00:00:00
France
0.33
0.67
2021-09-11 00:00:00
France
0.32
0.68
2021-09-12 00:00:00
France
0.32
0.68
2021-09-13 00:00:00
France
0.31
0.69
2021-09-14 00:00:00
France
0.31
0.69
2021-09-15 00:00:00
France
0.31
0.69
2021-09-16 00:00:00
France
0.31
0.69
2021-09-17 00:00:00
France
0.31
0.69
2021-09-18 00:00:00
France
0.32
0.68
2021-09-19 00:00:00
France
0.32
0.68
2021-09-20 00:00:00
France
0.32
0.68
2021-09-21 00:00:00
France
0.32
0.68
2021-09-22 00:00:00
France
0.32
0.68
2021-09-23 00:00:00
France
0.33
0.67
2021-09-24 00:00:00
France
0.33
0.67
2021-09-25 00:00:00
France
0.33
0.67
2021-09-26 00:00:00
France
0.33
0.67
2021-09-27 00:00:00
France
0.33
0.67
2021-09-28 00:00:00
France
0.33
0.67
2021-09-29 00:00:00
France
0.33
0.67
2021-09-30 00:00:00
France
0.32
0.68
2021-10-01 00:00:00
France
0.32
0.68
2021-10-02 00:00:00
France
0.32
0.68
2021-10-03 00:00:00
France
0.33
0.67
2021-10-04 00:00:00
France
0.32
0.68
2021-10-05 00:00:00
France
0.32
0.68
2021-10-06 00:00:00
France
0.32
0.68
2021-10-07 00:00:00
France
0.32
0.68
2021-10-08 00:00:00
France
0.32
0.68
2021-10-09 00:00:00
France
0.31
0.69
2021-10-10 00:00:00
France
0.31
0.69
2021-10-11 00:00:00
France
0.31
0.69
2021-10-12 00:00:00
France
0.31
0.69
2021-10-13 00:00:00
France
0.31
0.69
2021-10-14 00:00:00
France
0.31
0.69
2021-10-15 00:00:00
France
0.31
0.69
2021-10-16 00:00:00
France
0.31
0.69
2021-10-17 00:00:00
France
0.31
0.69
2021-10-18 00:00:00
France
0.31
0.69
2021-10-19 00:00:00
France
0.32
0.68
2021-10-20 00:00:00
France
0.32
0.68
2021-10-21 00:00:00
France
0.32
0.68
2021-10-22 00:00:00
France
0.32
0.68
2021-10-23 00:00:00
France
0.31
0.69
2021-10-24 00:00:00
France
0.31
0.69
2021-10-25 00:00:00
France
0.31
0.69
2021-10-26 00:00:00
France
0.31
0.69
2021-10-27 00:00:00
France
0.31
0.69
2021-10-28 00:00:00
France
0.31
0.69
2021-10-31 00:00:00
France
0.32
0.68
2021-11-01 00:00:00
France
0.32
0.68
2021-11-02 00:00:00
France
0.32
0.68
2021-11-03 00:00:00
France
0.32
0.68
2021-11-04 00:00:00
France
0.32
0.68
2021-11-05 00:00:00
France
0.32
0.68
2021-11-06 00:00:00
France
0.32
0.68
2021-11-07 00:00:00
France
0.31
0.69
2021-11-08 00:00:00
France
0.32
0.68
2021-11-09 00:00:00
France
0.31
0.69
2021-11-10 00:00:00
France
0.31
0.69
2021-11-11 00:00:00
France
0.32
0.68
2021-11-12 00:00:00
France
0.33
0.67
2021-11-13 00:00:00
France
0.33
0.67
2021-11-14 00:00:00
France
0.33
0.67
2021-11-15 00:00:00
France
0.34
0.66
2021-11-16 00:00:00
France
0.34
0.66
2021-11-17 00:00:00
France
0.34
0.66
2021-11-18 00:00:00
France
0.33
0.67
2021-11-19 00:00:00
France
0.33
0.67
2021-11-20 00:00:00
France
0.33
0.67
2021-11-21 00:00:00
France
0.33
0.67
2021-11-22 00:00:00
France
0.34
0.66
2021-11-23 00:00:00
France
0.33
0.67
2021-11-24 00:00:00
France
0.34
0.66
2021-11-25 00:00:00
France
0.33
0.67
2021-11-26 00:00:00
France
0.33
0.67
2021-11-27 00:00:00
France
0.33
0.67
2021-11-28 00:00:00
France
0.32
0.68
2021-11-29 00:00:00
France
0.32
0.68
2021-11-30 00:00:00
France
0.32
0.68
2021-12-01 00:00:00
France
0.32
0.68
2021-12-02 00:00:00
France
0.31
0.69
2021-12-03 00:00:00
France
0.32
0.68
2021-12-04 00:00:00
France
0.32
0.68
2021-12-05 00:00:00
France
0.33
0.67
2021-12-06 00:00:00
France
0.33
0.67
2021-12-07 00:00:00
France
0.32
0.68
2021-12-08 00:00:00
France
0.32
0.68
2021-12-09 00:00:00
France
0.33
0.67
2021-12-10 00:00:00
France
0.32
0.68
2021-12-11 00:00:00
France
0.33
0.67
2021-12-12 00:00:00
France
0.33
0.67
2021-12-13 00:00:00
France
0.34
0.66
2021-12-14 00:00:00
France
0.34
0.66
2021-12-15 00:00:00
France
0.35
0.65
2021-12-16 00:00:00
France
0.35
0.65
2021-12-17 00:00:00
France
0.35
0.65
2021-12-18 00:00:00
France
0.35
0.65
2021-12-19 00:00:00
France
0.35
0.65
2021-12-20 00:00:00
France
0.34
0.66
2021-12-21 00:00:00
France
0.34
0.66
2021-12-22 00:00:00
France
0.33
0.67
2021-12-23 00:00:00
France
0.33
0.67
2021-12-24 00:00:00
France
0.33
0.67
2021-12-25 00:00:00
France
0.33
0.67
2021-12-26 00:00:00
France
0.33
0.67
2021-12-27 00:00:00
France
0.33
0.67
2021-12-28 00:00:00
France
0.32
0.68
2021-12-29 00:00:00
France
0.32
0.68
2021-12-30 00:00:00
France
0.32
0.68
2021-12-31 00:00:00
France
0.32
0.68
2022-01-01 00:00:00
France
0.32
0.68
2022-01-02 00:00:00
France
0.33
0.67
2022-01-03 00:00:00
France
0.33
0.67
2022-01-04 00:00:00
France
0.32
0.68
2022-01-05 00:00:00
France
0.32
0.68
2022-01-06 00:00:00
France
0.33
0.67
2022-01-07 00:00:00
France
0.32
0.68
2022-01-08 00:00:00
France
0.32
0.68
2022-01-09 00:00:00
France
0.31
0.69
2022-01-10 00:00:00
France
0.31
0.69
2022-01-11 00:00:00
France
0.31
0.69
2022-01-12 00:00:00
France
0.32
0.68
2022-01-13 00:00:00
France
0.32
0.68
2022-01-14 00:00:00
France
0.32
0.68
2022-01-15 00:00:00
France
0.31
0.69
2022-01-16 00:00:00
France
0.31
0.69
2022-01-17 00:00:00
France
0.31
0.69
2022-01-18 00:00:00
France
0.3
0.7
2022-01-19 00:00:00
France
0.29
0.71
2022-01-20 00:00:00
France
0.29
0.71
2022-01-21 00:00:00
France
0.31
0.69
2022-01-22 00:00:00
France
0.32
0.68
2022-01-23 00:00:00
France
0.32
0.68
2022-01-24 00:00:00
France
0.32
0.68
2022-01-25 00:00:00
France
0.33
0.67
2020-01-06 00:00:00
Germany
0.34
0.66
2020-01-07 00:00:00
Germany
0.34
0.66
2020-01-08 00:00:00
Germany
0.34
0.66
2020-01-09 00:00:00
Germany
0.35
0.65
2020-01-10 00:00:00
Germany
0.34
0.66
2020-01-11 00:00:00
Germany
0.35
0.65
2020-01-12 00:00:00
Germany
0.35
0.65
2020-01-13 00:00:00
Germany
0.35
0.65
2020-01-14 00:00:00
Germany
0.34
0.66
2020-01-15 00:00:00
Germany
0.35
0.65
2020-01-16 00:00:00
Germany
0.35
0.65
2020-01-17 00:00:00
Germany
0.35
0.65
2020-01-18 00:00:00
Germany
0.35
0.65
2020-01-19 00:00:00
Germany
0.36
0.64
2020-01-20 00:00:00
Germany
0.35
0.65
2020-01-21 00:00:00
Germany
0.36
0.64
2020-01-22 00:00:00
Germany
0.36
0.64
2020-01-23 00:00:00
Germany
0.36
0.64
2020-01-24 00:00:00
Germany
0.36
0.64
2020-01-25 00:00:00
Germany
0.36
0.64
2020-01-26 00:00:00
Germany
0.36
0.64
2020-01-27 00:00:00
Germany
0.37
0.63
2020-01-28 00:00:00
Germany
0.36
0.64
2020-01-29 00:00:00
Germany
0.35
0.65
2020-01-30 00:00:00
Germany
0.35
0.65
2020-01-31 00:00:00
Germany
0.36
0.64
2020-02-01 00:00:00
Germany
0.36
0.64
2020-02-02 00:00:00
Germany
0.36
0.64
2020-02-03 00:00:00
Germany
0.36
0.64
2020-02-04 00:00:00
Germany
0.36
0.64
2020-02-05 00:00:00
Germany
0.36
0.64
2020-02-06 00:00:00
Germany
0.35
0.65
2020-02-07 00:00:00
Germany
0.35
0.65
2020-02-08 00:00:00
Germany
0.35
0.65
2020-02-09 00:00:00
Germany
0.35
0.65
2020-02-10 00:00:00
Germany
0.36
0.64
2020-02-11 00:00:00
Germany
0.35
0.65
2020-02-12 00:00:00
Germany
0.35
0.65
2020-02-13 00:00:00
Germany
0.35
0.65
2020-02-14 00:00:00
Germany
0.34
0.66
2020-02-15 00:00:00
Germany
0.34
0.66
2020-02-16 00:00:00
Germany
0.33
0.67
2020-02-17 00:00:00
Germany
0.33
0.67
2020-02-18 00:00:00
Germany
0.32
0.68
2020-02-19 00:00:00
Germany
0.33
0.67
2020-02-20 00:00:00
Germany
0.33
0.67
2020-02-21 00:00:00
Germany
0.33
0.67
2020-02-22 00:00:00
Germany
0.34
0.66
2020-02-23 00:00:00
Germany
0.34
0.66
2020-02-24 00:00:00
Germany
0.34
0.66
2020-02-25 00:00:00
Germany
0.34
0.66
2020-02-26 00:00:00
Germany
0.34
0.66
2020-02-27 00:00:00
Germany
0.34
0.66
2020-02-28 00:00:00
Germany
0.34
0.66
2020-02-29 00:00:00
Germany
0.34
0.66
2020-03-01 00:00:00
Germany
0.35
0.65
2020-03-02 00:00:00
Germany
0.34
0.66
2020-03-03 00:00:00
Germany
0.34
0.66
2020-03-04 00:00:00
Germany
0.34
0.66
2020-03-05 00:00:00
Germany
0.34
0.66
2020-03-06 00:00:00
Germany
0.33
0.67
2020-03-07 00:00:00
Germany
0.34
0.66
2020-03-08 00:00:00
Germany
0.34
0.66
2020-03-09 00:00:00
Germany
0.35
0.65
2020-03-10 00:00:00
Germany
0.35
0.65
2020-03-11 00:00:00
Germany
0.35
0.65
2020-03-12 00:00:00
Germany
0.35
0.65
2020-03-13 00:00:00
Germany
0.36
0.64
2020-03-14 00:00:00
Germany
0.36
0.64
2020-03-15 00:00:00
Germany
0.36
0.64
2020-03-16 00:00:00
Germany
0.37
0.63
2020-03-17 00:00:00
Germany
0.37
0.63
2020-03-18 00:00:00
Germany
0.38
0.62
2020-03-19 00:00:00
Germany
0.39
0.61
2020-03-20 00:00:00
Germany
0.41
0.59
2020-03-21 00:00:00
Germany
0.42
0.58
2020-03-22 00:00:00
Germany
0.42
0.58
2020-03-23 00:00:00
Germany
0.44
0.56
2020-03-24 00:00:00
Germany
0.45
0.55
2020-03-25 00:00:00
Germany
0.46
0.54
2020-03-26 00:00:00
Germany
0.47
0.53
2020-03-27 00:00:00
Germany
0.48
0.52
2020-03-28 00:00:00
Germany
0.49
0.51
2020-03-29 00:00:00
Germany
0.5
0.5
2020-03-30 00:00:00
Germany
0.5
0.5
2020-03-31 00:00:00
Germany
0.5
0.5
2020-04-01 00:00:00
Germany
0.5
0.5
2020-04-02 00:00:00
Germany
0.5
0.5
2020-04-03 00:00:00
Germany
0.51
0.49
2020-04-04 00:00:00
Germany
0.5
0.5
2020-04-05 00:00:00
Germany
0.51
0.49
2020-04-06 00:00:00
Germany
0.51
0.49
2020-04-07 00:00:00
Germany
0.52
0.48
2020-04-08 00:00:00
Germany
0.53
0.47
2020-04-09 00:00:00
Germany
0.53
0.47
2020-04-10 00:00:00
Germany
0.54
0.46
2020-04-11 00:00:00
Germany
0.55
0.45
2020-04-12 00:00:00
Germany
0.55
0.45
2020-04-13 00:00:00
Germany
0.54
0.46
2020-04-14 00:00:00
Germany
0.55
0.45
2020-04-15 00:00:00
Germany
0.54
0.46
2020-04-16 00:00:00
Germany
0.55
0.45
2020-04-17 00:00:00
Germany
0.54
0.46
2020-04-18 00:00:00
Germany
0.54
0.46
2020-04-19 00:00:00
Germany
0.55
0.45
2020-04-20 00:00:00
Germany
0.56
0.44
2020-04-21 00:00:00
Germany
0.56
0.44
2020-04-22 00:00:00
Germany
0.57
0.43
2020-04-23 00:00:00
Germany
0.56
0.44
2020-04-24 00:00:00
Germany
0.57
0.43
2020-04-25 00:00:00
Germany
0.57
0.43
2020-04-26 00:00:00
Germany
0.56
0.44
2020-04-27 00:00:00
Germany
0.55
0.45
2020-04-28 00:00:00
Germany
0.55
0.45
2020-04-29 00:00:00
Germany
0.54
0.46
2020-04-30 00:00:00
Germany
0.54
0.46
2020-05-01 00:00:00
Germany
0.54
0.46
2020-05-02 00:00:00
Germany
0.54
0.46
2020-05-03 00:00:00
Germany
0.53
0.47
2020-05-04 00:00:00
Germany
0.53
0.47
2020-05-05 00:00:00
Germany
0.53
0.47
2020-05-06 00:00:00
Germany
0.53
0.47
2020-05-07 00:00:00
Germany
0.54
0.46
2020-05-08 00:00:00
Germany
0.54
0.46
2020-05-09 00:00:00
Germany
0.54
0.46
2020-05-10 00:00:00
Germany
0.54
0.46
2020-05-11 00:00:00
Germany
0.54
0.46
2020-05-12 00:00:00
Germany
0.54
0.46
2020-05-13 00:00:00
Germany
0.54
0.46
2020-05-14 00:00:00
Germany
0.54
0.46
2020-05-15 00:00:00
Germany
0.53
0.47
2020-05-16 00:00:00
Germany
0.53
0.47
2020-05-17 00:00:00
Germany
0.53
0.47
2020-05-18 00:00:00
Germany
0.53
0.47
2020-05-19 00:00:00
Germany
0.53
0.47
2020-05-20 00:00:00
Germany
0.52
0.48
2020-05-21 00:00:00
Germany
0.52
0.48
2020-05-22 00:00:00
Germany
0.53
0.47
2020-05-23 00:00:00
Germany
0.53
0.47
2020-05-24 00:00:00
Germany
0.54
0.46
2020-05-25 00:00:00
Germany
0.53
0.47
2020-05-26 00:00:00
Germany
0.54
0.46
2020-05-27 00:00:00
Germany
0.54
0.46
2020-05-28 00:00:00
Germany
0.54
0.46
2020-05-29 00:00:00
Germany
0.54
0.46
2020-05-30 00:00:00
Germany
0.54
0.46
2020-05-31 00:00:00
Germany
0.54
0.46
2020-06-01 00:00:00
Germany
0.54
0.46
2020-06-02 00:00:00
Germany
0.54
0.46
2020-06-03 00:00:00
Germany
0.54
0.46
2020-06-04 00:00:00
Germany
0.54
0.46
2020-06-05 00:00:00
Germany
0.54
0.46
2020-06-06 00:00:00
Germany
0.54
0.46
2020-06-07 00:00:00
Germany
0.54
0.46
2020-06-08 00:00:00
Germany
0.55
0.45
2020-06-09 00:00:00
Germany
0.55
0.45
2020-06-10 00:00:00
Germany
0.55
0.45
2020-06-11 00:00:00
Germany
0.55
0.45
2020-06-12 00:00:00
Germany
0.55
0.45
2020-06-13 00:00:00
Germany
0.55
0.45
2020-06-14 00:00:00
Germany
0.56
0.44
2020-06-15 00:00:00
Germany
0.55
0.45
2020-06-16 00:00:00
Germany
0.56
0.44
2020-06-17 00:00:00
Germany
0.56
0.44
2020-06-18 00:00:00
Germany
0.56
0.44
2020-06-19 00:00:00
Germany
0.55
0.45
2020-06-20 00:00:00
Germany
0.55
0.45
2020-06-21 00:00:00
Germany
0.54
0.46
2020-06-22 00:00:00
Germany
0.53
0.47
2020-06-23 00:00:00
Germany
0.52
0.48
2020-06-24 00:00:00
Germany
0.52
0.48
2020-06-25 00:00:00
Germany
0.52
0.48
2020-06-26 00:00:00
Germany
0.52
0.48
2020-06-27 00:00:00
Germany
0.51
0.49
2020-06-28 00:00:00
Germany
0.52
0.48
2020-06-29 00:00:00
Germany
0.53
0.47
2020-06-30 00:00:00
Germany
0.52
0.48
2020-07-01 00:00:00
Germany
0.53
0.47
2020-07-02 00:00:00
Germany
0.53
0.47
2020-07-03 00:00:00
Germany
0.53
0.47
2020-07-04 00:00:00
Germany
0.53
0.47
2020-07-05 00:00:00
Germany
0.53
0.47
2020-07-06 00:00:00
Germany
0.53
0.47
2020-07-07 00:00:00
Germany
0.54
0.46
2020-07-08 00:00:00
Germany
0.54
0.46
2020-07-09 00:00:00
Germany
0.54
0.46
2020-07-10 00:00:00
Germany
0.55
0.45
2020-07-11 00:00:00
Germany
0.54
0.46
2020-07-12 00:00:00
Germany
0.54
0.46
2020-07-13 00:00:00
Germany
0.54
0.46
2020-07-14 00:00:00
Germany
0.54
0.46
2020-07-15 00:00:00
Germany
0.54
0.46
2020-07-16 00:00:00
Germany
0.54
0.46
2020-07-17 00:00:00
Germany
0.53
0.47
2020-07-18 00:00:00
Germany
0.53
0.47
2020-07-19 00:00:00
Germany
0.53
0.47
2020-07-20 00:00:00
Germany
0.53
0.47
2020-07-21 00:00:00
Germany
0.53
0.47
2020-07-22 00:00:00
Germany
0.52
0.48
2020-07-23 00:00:00
Germany
0.53
0.47
2020-07-24 00:00:00
Germany
0.53
0.47
2020-07-25 00:00:00
Germany
0.54
0.46
2020-07-26 00:00:00
Germany
0.54
0.46
2020-07-27 00:00:00
Germany
0.54
0.46
2020-07-28 00:00:00
Germany
0.55
0.45
2020-07-29 00:00:00
Germany
0.54
0.46
2020-07-30 00:00:00
Germany
0.53
0.47
2020-07-31 00:00:00
Germany
0.52
0.48
2020-08-01 00:00:00
Germany
0.52
0.48
2020-08-02 00:00:00
Germany
0.51
0.49
2020-08-03 00:00:00
Germany
0.51
0.49
2020-08-04 00:00:00
Germany
0.5
0.5
2020-08-05 00:00:00
Germany
0.51
0.49
2020-08-06 00:00:00
Germany
0.51
0.49
2020-08-07 00:00:00
Germany
0.52
0.48
2020-08-08 00:00:00
Germany
0.52
0.48
2020-08-09 00:00:00
Germany
0.53
0.47
2020-08-10 00:00:00
Germany
0.53
0.47
2020-08-11 00:00:00
Germany
0.53
0.47
2020-08-12 00:00:00
Germany
0.53
0.47
2020-08-13 00:00:00
Germany
0.53
0.47
2020-08-14 00:00:00
Germany
0.52
0.48
2020-08-15 00:00:00
Germany
0.53
0.47
2020-08-16 00:00:00
Germany
0.52
0.48
2020-08-17 00:00:00
Germany
0.51
0.49
2020-08-18 00:00:00
Germany
0.51
0.49
2020-08-19 00:00:00
Germany
0.51
0.49
2020-08-20 00:00:00
Germany
0.52
0.48
2020-08-21 00:00:00
Germany
0.52
0.48
2020-08-22 00:00:00
Germany
0.51
0.49
2020-08-23 00:00:00
Germany
0.51
0.49
2020-08-24 00:00:00
Germany
0.51
0.49
2020-08-25 00:00:00
Germany
0.52
0.48
2020-08-26 00:00:00
Germany
0.51
0.49
2020-08-27 00:00:00
Germany
0.51
0.49
2020-08-28 00:00:00
Germany
0.51
0.49
2020-08-29 00:00:00
Germany
0.51
0.49
2020-08-30 00:00:00
Germany
0.51
0.49
2020-08-31 00:00:00
Germany
0.52
0.48
2020-09-01 00:00:00
Germany
0.51
0.49
2020-09-02 00:00:00
Germany
0.51
0.49
2020-09-03 00:00:00
Germany
0.51
0.49
2020-09-04 00:00:00
Germany
0.51
0.49
2020-09-05 00:00:00
Germany
0.51
0.49
2020-09-06 00:00:00
Germany
0.52
0.48
2020-09-07 00:00:00
Germany
0.52
0.48
2020-09-08 00:00:00
Germany
0.52
0.48
2020-09-09 00:00:00
Germany
0.51
0.49
2020-09-10 00:00:00
Germany
0.51
0.49
2020-09-11 00:00:00
Germany
0.51
0.49
2020-09-12 00:00:00
Germany
0.51
0.49
2020-09-13 00:00:00
Germany
0.5
0.5
2020-09-14 00:00:00
Germany
0.5
0.5
2020-09-15 00:00:00
Germany
0.49
0.51
2020-09-16 00:00:00
Germany
0.49
0.51
2020-09-17 00:00:00
Germany
0.5
0.5
2020-09-18 00:00:00
Germany
0.49
0.51
2020-09-19 00:00:00
Germany
0.49
0.51
2020-09-20 00:00:00
Germany
0.49
0.51
2020-09-21 00:00:00
Germany
0.49
0.51
2020-09-22 00:00:00
Germany
0.49
0.51
2020-09-23 00:00:00
Germany
0.49
0.51
2020-09-24 00:00:00
Germany
0.49
0.51
2020-09-25 00:00:00
Germany
0.49
0.51
2020-09-26 00:00:00
Germany
0.5
0.5
2020-09-27 00:00:00
Germany
0.5
0.5
2020-09-28 00:00:00
Germany
0.5
0.5
2020-09-29 00:00:00
Germany
0.5
0.5
2020-09-30 00:00:00
Germany
0.5
0.5
2020-10-01 00:00:00
Germany
0.51
0.49
2020-10-02 00:00:00
Germany
0.51
0.49
2020-10-03 00:00:00
Germany
0.5
0.5
2020-10-04 00:00:00
Germany
0.5
0.5
2020-10-05 00:00:00
Germany
0.5
0.5
2020-10-06 00:00:00
Germany
0.5
0.5
2020-10-07 00:00:00
Germany
0.49
0.51
2020-10-08 00:00:00
Germany
0.49
0.51
2020-10-09 00:00:00
Germany
0.49
0.51
2020-10-10 00:00:00
Germany
0.49
0.51
2020-10-11 00:00:00
Germany
0.5
0.5
2020-10-12 00:00:00
Germany
0.5
0.5
2020-10-13 00:00:00
Germany
0.51
0.49
2020-10-14 00:00:00
Germany
0.51
0.49
2020-10-15 00:00:00
Germany
0.52
0.48
2020-10-16 00:00:00
Germany
0.52
0.48
2020-10-17 00:00:00
Germany
0.52
0.48
2020-10-18 00:00:00
Germany
0.51
0.49
2020-10-19 00:00:00
Germany
0.51
0.49
2020-10-20 00:00:00
Germany
0.51
0.49
2020-10-21 00:00:00
Germany
0.5
0.5
2020-10-22 00:00:00
Germany
0.5
0.5
2020-10-23 00:00:00
Germany
0.5
0.5
2020-10-24 00:00:00
Germany
0.51
0.49
2020-10-25 00:00:00
Germany
0.51
0.49
2020-10-26 00:00:00
Germany
0.51
0.49
2020-10-27 00:00:00
Germany
0.5
0.5
2020-10-28 00:00:00
Germany
0.49
0.51
2020-10-29 00:00:00
Germany
0.49
0.51
2020-10-30 00:00:00
Germany
0.49
0.51
2020-10-31 00:00:00
Germany
0.49
0.51
2020-11-01 00:00:00
Germany
0.49
0.51
2020-11-02 00:00:00
Germany
0.48
0.52
2020-11-03 00:00:00
Germany
0.5
0.5
2020-11-04 00:00:00
Germany
0.5
0.5
2020-11-05 00:00:00
Germany
0.5
0.5
2020-11-06 00:00:00
Germany
0.5
0.5
2020-11-07 00:00:00
Germany
0.5
0.5
2020-11-08 00:00:00
Germany
0.5
0.5
2020-11-09 00:00:00
Germany
0.51
0.49
2020-11-10 00:00:00
Germany
0.5
0.5
2020-11-11 00:00:00
Germany
0.5
0.5
2020-11-12 00:00:00
Germany
0.51
0.49
2020-11-13 00:00:00
Germany
0.51
0.49
2020-11-14 00:00:00
Germany
0.51
0.49
2020-11-15 00:00:00
Germany
0.51
0.49
2020-11-16 00:00:00
Germany
0.52
0.48
2020-11-17 00:00:00
Germany
0.53
0.47
2020-11-18 00:00:00
Germany
0.53
0.47
2020-11-19 00:00:00
Germany
0.54
0.46
2020-11-20 00:00:00
Germany
0.54
0.46
2020-11-21 00:00:00
Germany
0.54
0.46
2020-11-22 00:00:00
Germany
0.53
0.47
2020-11-23 00:00:00
Germany
0.53
0.47
2020-11-24 00:00:00
Germany
0.52
0.48
2020-11-25 00:00:00
Germany
0.52
0.48
2020-11-26 00:00:00
Germany
0.52
0.48
2020-11-27 00:00:00
Germany
0.52
0.48
2020-11-28 00:00:00
Germany
0.52
0.48
2020-11-29 00:00:00
Germany
0.53
0.47
2020-11-30 00:00:00
Germany
0.53
0.47
2020-12-01 00:00:00
Germany
0.52
0.48
2020-12-02 00:00:00
Germany
0.52
0.48
2020-12-03 00:00:00
Germany
0.51
0.49
2020-12-04 00:00:00
Germany
0.51
0.49
2020-12-05 00:00:00
Germany
0.51
0.49
2020-12-06 00:00:00
Germany
0.51
0.49
2020-12-07 00:00:00
Germany
0.51
0.49
2020-12-08 00:00:00
Germany
0.51
0.49
2020-12-09 00:00:00
Germany
0.51
0.49
2020-12-10 00:00:00
Germany
0.52
0.48
2020-12-11 00:00:00
Germany
0.51
0.49
2020-12-12 00:00:00
Germany
0.51
0.49
2020-12-13 00:00:00
Germany
0.51
0.49
2020-12-14 00:00:00
Germany
0.52
0.48
2020-12-15 00:00:00
Germany
0.52
0.48
2020-12-16 00:00:00
Germany
0.53
0.47
2020-12-17 00:00:00
Germany
0.52
0.48
2020-12-18 00:00:00
Germany
0.54
0.46
2020-12-19 00:00:00
Germany
0.54
0.46
2020-12-20 00:00:00
Germany
0.53
0.47
2020-12-21 00:00:00
Germany
0.52
0.48
2020-12-22 00:00:00
Germany
0.52
0.48
2020-12-23 00:00:00
Germany
0.52
0.48
2020-12-24 00:00:00
Germany
0.52
0.48
2020-12-25 00:00:00
Germany
0.51
0.49
2020-12-26 00:00:00
Germany
0.51
0.49
2020-12-27 00:00:00
Germany
0.51
0.49
2020-12-28 00:00:00
Germany
0.52
0.48
2020-12-29 00:00:00
Germany
0.53
0.47
2020-12-30 00:00:00
Germany
0.53
0.47
2020-12-31 00:00:00
Germany
0.53
0.47
2021-01-01 00:00:00
Germany
0.53
0.47
2021-01-02 00:00:00
Germany
0.54
0.46
2021-01-03 00:00:00
Germany
0.54
0.46
2021-01-04 00:00:00
Germany
0.53
0.47
2021-01-05 00:00:00
Germany
0.53
0.47
2021-01-06 00:00:00
Germany
0.53
0.47
2021-01-07 00:00:00
Germany
0.53
0.47
2021-01-08 00:00:00
Germany
0.54
0.46
2021-01-09 00:00:00
Germany
0.54
0.46
2021-01-10 00:00:00
Germany
0.54
0.46
2021-01-11 00:00:00
Germany
0.54
0.46
2021-01-12 00:00:00
Germany
0.54
0.46
2021-01-13 00:00:00
Germany
0.54
0.46
2021-01-14 00:00:00
Germany
0.54
0.46
2021-01-15 00:00:00
Germany
0.53
0.47
2021-01-16 00:00:00
Germany
0.52
0.48
2021-01-17 00:00:00
Germany
0.52
0.48
2021-01-18 00:00:00
Germany
0.52
0.48
2021-01-19 00:00:00
Germany
0.51
0.49
2021-01-20 00:00:00
Germany
0.51
0.49
2021-01-21 00:00:00
Germany
0.51
0.49
2021-01-22 00:00:00
Germany
0.52
0.48
2021-01-23 00:00:00
Germany
0.52
0.48
2021-01-24 00:00:00
Germany
0.52
0.48
2021-01-25 00:00:00
Germany
0.52
0.48
2021-01-26 00:00:00
Germany
0.52
0.48
2021-01-27 00:00:00
Germany
0.52
0.48
2021-01-28 00:00:00
Germany
0.52
0.48
2021-01-29 00:00:00
Germany
0.51
0.49
2021-01-30 00:00:00
Germany
0.52
0.48
2021-01-31 00:00:00
Germany
0.52
0.48
2021-02-01 00:00:00
Germany
0.52
0.48
2021-02-02 00:00:00
Germany
0.52
0.48
2021-02-03 00:00:00
Germany
0.53
0.47
2021-02-04 00:00:00
Germany
0.53
0.47
2021-02-05 00:00:00
Germany
0.53
0.47
2021-02-06 00:00:00
Germany
0.53
0.47
2021-02-07 00:00:00
Germany
0.53
0.47
2021-02-08 00:00:00
Germany
0.53
0.47
2021-02-09 00:00:00
Germany
0.54
0.46
2021-02-10 00:00:00
Germany
0.53
0.47
2021-02-11 00:00:00
Germany
0.53
0.47
2021-02-12 00:00:00
Germany
0.53
0.47
2021-02-13 00:00:00
Germany
0.53
0.47
2021-02-14 00:00:00
Germany
0.53
0.47
2021-02-15 00:00:00
Germany
0.52
0.48
2021-02-16 00:00:00
Germany
0.51
0.49
2021-02-17 00:00:00
Germany
0.51
0.49
2021-02-18 00:00:00
Germany
0.5
0.5
2021-02-19 00:00:00
Germany
0.5
0.5
2021-02-20 00:00:00
Germany
0.5
0.5
2021-02-21 00:00:00
Germany
0.5
0.5
2021-02-22 00:00:00
Germany
0.5
0.5
2021-02-23 00:00:00
Germany
0.5
0.5
2021-02-24 00:00:00
Germany
0.51
0.49
2021-02-25 00:00:00
Germany
0.5
0.5
2021-02-26 00:00:00
Germany
0.51
0.49
2021-02-27 00:00:00
Germany
0.51
0.49
2021-02-28 00:00:00
Germany
0.51
0.49
2021-03-01 00:00:00
Germany
0.5
0.5
2021-03-02 00:00:00
Germany
0.5
0.5
2021-03-03 00:00:00
Germany
0.5
0.5
2021-03-04 00:00:00
Germany
0.51
0.49
2021-03-05 00:00:00
Germany
0.5
0.5
2021-03-06 00:00:00
Germany
0.5
0.5
2021-03-07 00:00:00
Germany
0.49
0.51
2021-03-08 00:00:00
Germany
0.49
0.51
2021-03-09 00:00:00
Germany
0.49
0.51
2021-03-10 00:00:00
Germany
0.48
0.52
2021-03-11 00:00:00
Germany
0.47
0.53
2021-03-12 00:00:00
Germany
0.45
0.55
2021-03-13 00:00:00
Germany
0.45
0.55
2021-03-14 00:00:00
Germany
0.45
0.55
2021-03-15 00:00:00
Germany
0.44
0.56
2021-03-16 00:00:00
Germany
0.43
0.57
2021-03-17 00:00:00
Germany
0.43
0.57
2021-03-18 00:00:00
Germany
0.42
0.58
2021-03-19 00:00:00
Germany
0.43
0.57
2021-03-20 00:00:00
Germany
0.42
0.58
2021-03-21 00:00:00
Germany
0.43
0.57
2021-03-22 00:00:00
Germany
0.42
0.58
2021-03-23 00:00:00
Germany
0.42
0.58
2021-03-24 00:00:00
Germany
0.41
0.59
2021-03-25 00:00:00
Germany
0.41
0.59
2021-03-26 00:00:00
Germany
0.4
0.6
2021-03-27 00:00:00
Germany
0.4
0.6
2021-03-28 00:00:00
Germany
0.39
0.61
2021-03-29 00:00:00
Germany
0.39
0.61
2021-03-30 00:00:00
Germany
0.4
0.6
2021-03-31 00:00:00
Germany
0.41
0.59
2021-04-01 00:00:00
Germany
0.41
0.59
2021-04-02 00:00:00
Germany
0.41
0.59
2021-04-03 00:00:00
Germany
0.41
0.59
2021-04-04 00:00:00
Germany
0.42
0.58
2021-04-05 00:00:00
Germany
0.41
0.59
2021-04-06 00:00:00
Germany
0.41
0.59
2021-04-07 00:00:00
Germany
0.41
0.59
2021-04-08 00:00:00
Germany
0.41
0.59
2021-04-09 00:00:00
Germany
0.41
0.59
2021-04-10 00:00:00
Germany
0.4
0.6
2021-04-11 00:00:00
Germany
0.4
0.6
2021-04-12 00:00:00
Germany
0.4
0.6
2021-04-13 00:00:00
Germany
0.4
0.6
2021-04-14 00:00:00
Germany
0.4
0.6
2021-04-15 00:00:00
Germany
0.4
0.6
2021-04-16 00:00:00
Germany
0.4
0.6
2021-04-17 00:00:00
Germany
0.4
0.6
2021-04-18 00:00:00
Germany
0.4
0.6
2021-04-19 00:00:00
Germany
0.4
0.6
2021-04-20 00:00:00
Germany
0.4
0.6
2021-04-21 00:00:00
Germany
0.41
0.59
2021-04-22 00:00:00
Germany
0.4
0.6
2021-04-23 00:00:00
Germany
0.4
0.6
2021-04-24 00:00:00
Germany
0.41
0.59
2021-04-25 00:00:00
Germany
0.41
0.59
2021-04-26 00:00:00
Germany
0.41
0.59
2021-04-27 00:00:00
Germany
0.42
0.58
2021-04-28 00:00:00
Germany
0.42
0.58
2021-04-29 00:00:00
Germany
0.43
0.57
2021-04-30 00:00:00
Germany
0.43
0.57
2021-05-01 00:00:00
Germany
0.43
0.57
2021-05-02 00:00:00
Germany
0.44
0.56
2021-05-03 00:00:00
Germany
0.44
0.56
2021-05-04 00:00:00
Germany
0.44
0.56
2021-05-05 00:00:00
Germany
0.44
0.56
2021-05-06 00:00:00
Germany
0.44
0.56
2021-05-07 00:00:00
Germany
0.45
0.55
2021-05-08 00:00:00
Germany
0.45
0.55
2021-05-09 00:00:00
Germany
0.45
0.55
2021-05-10 00:00:00
Germany
0.46
0.54
2021-05-11 00:00:00
Germany
0.47
0.53
2021-05-12 00:00:00
Germany
0.47
0.53
2021-05-13 00:00:00
Germany
0.48
0.52
2021-05-14 00:00:00
Germany
0.47
0.53
2021-05-15 00:00:00
Germany
0.48
0.52
2021-05-16 00:00:00
Germany
0.48
0.52
2021-05-17 00:00:00
Germany
0.46
0.54
2021-05-18 00:00:00
Germany
0.46
0.54
2021-05-19 00:00:00
Germany
0.45
0.55
2021-05-20 00:00:00
Germany
0.45
0.55
2021-05-21 00:00:00
Germany
0.46
0.54
2021-05-22 00:00:00
Germany
0.46
0.54
2021-05-23 00:00:00
Germany
0.46
0.54
2021-05-24 00:00:00
Germany
0.48
0.52
2021-05-25 00:00:00
Germany
0.48
0.52
2021-05-26 00:00:00
Germany
0.49
0.51
2021-05-27 00:00:00
Germany
0.49
0.51
2021-05-28 00:00:00
Germany
0.49
0.51
2021-05-29 00:00:00
Germany
0.5
0.5
2021-05-30 00:00:00
Germany
0.5
0.5
2021-05-31 00:00:00
Germany
0.49
0.51
2021-06-01 00:00:00
Germany
0.49
0.51
2021-06-02 00:00:00
Germany
0.49
0.51
2021-06-03 00:00:00
Germany
0.5
0.5
2021-06-04 00:00:00
Germany
0.5
0.5
2021-06-05 00:00:00
Germany
0.49
0.51
2021-06-06 00:00:00
Germany
0.48
0.52
2021-06-07 00:00:00
Germany
0.49
0.51
2021-06-08 00:00:00
Germany
0.48
0.52
2021-06-09 00:00:00
Germany
0.48
0.52
2021-06-10 00:00:00
Germany
0.48
0.52
2021-06-11 00:00:00
Germany
0.48
0.52
2021-06-12 00:00:00
Germany
0.48
0.52
2021-06-13 00:00:00
Germany
0.49
0.51
2021-06-14 00:00:00
Germany
0.48
0.52
2021-06-15 00:00:00
Germany
0.48
0.52
2021-06-16 00:00:00
Germany
0.48
0.52
2021-06-17 00:00:00
Germany
0.48
0.52
2021-06-18 00:00:00
Germany
0.47
0.53
2021-06-19 00:00:00
Germany
0.47
0.53
2021-06-20 00:00:00
Germany
0.48
0.52
2021-06-21 00:00:00
Germany
0.48
0.52
2021-06-22 00:00:00
Germany
0.48
0.52
2021-06-23 00:00:00
Germany
0.47
0.53
2021-06-24 00:00:00
Germany
0.47
0.53
2021-06-25 00:00:00
Germany
0.48
0.52
2021-06-26 00:00:00
Germany
0.48
0.52
2021-06-27 00:00:00
Germany
0.48
0.52
2021-06-28 00:00:00
Germany
0.48
0.52
2021-06-29 00:00:00
Germany
0.49
0.51
2021-06-30 00:00:00
Germany
0.49
0.51
2021-07-01 00:00:00
Germany
0.49
0.51
2021-07-02 00:00:00
Germany
0.5
0.5
2021-07-03 00:00:00
Germany
0.5
0.5
2021-07-04 00:00:00
Germany
0.49
0.51
2021-07-05 00:00:00
Germany
0.49
0.51
2021-07-06 00:00:00
Germany
0.48
0.52
2021-07-07 00:00:00
Germany
0.49
0.51
2021-07-08 00:00:00
Germany
0.48
0.52
2021-07-09 00:00:00
Germany
0.47
0.53
2021-07-10 00:00:00
Germany
0.48
0.52
2021-07-11 00:00:00
Germany
0.48
0.52
2021-07-12 00:00:00
Germany
0.48
0.52
2021-07-13 00:00:00
Germany
0.48
0.52
2021-07-14 00:00:00
Germany
0.48
0.52
2021-07-15 00:00:00
Germany
0.48
0.52
2021-07-16 00:00:00
Germany
0.48
0.52
2021-07-17 00:00:00
Germany
0.48
0.52
2021-07-18 00:00:00
Germany
0.48
0.52
2021-07-19 00:00:00
Germany
0.48
0.52
2021-07-20 00:00:00
Germany
0.47
0.53
2021-07-21 00:00:00
Germany
0.47
0.53
2021-07-22 00:00:00
Germany
0.47
0.53
2021-07-23 00:00:00
Germany
0.47
0.53
2021-07-24 00:00:00
Germany
0.46
0.54
2021-07-25 00:00:00
Germany
0.46
0.54
2021-07-26 00:00:00
Germany
0.46
0.54
2021-07-27 00:00:00
Germany
0.47
0.53
2021-07-28 00:00:00
Germany
0.47
0.53
2021-07-29 00:00:00
Germany
0.46
0.54
2021-07-30 00:00:00
Germany
0.46
0.54
2021-07-31 00:00:00
Germany
0.46
0.54
2021-08-01 00:00:00
Germany
0.46
0.54
2021-08-02 00:00:00
Germany
0.46
0.54
2021-08-03 00:00:00
Germany
0.46
0.54
2021-08-04 00:00:00
Germany
0.45
0.55
2021-08-05 00:00:00
Germany
0.45
0.55
2021-08-06 00:00:00
Germany
0.45
0.55
2021-08-07 00:00:00
Germany
0.45
0.55
2021-08-08 00:00:00
Germany
0.45
0.55
2021-08-09 00:00:00
Germany
0.45
0.55
2021-08-10 00:00:00
Germany
0.44
0.56
2021-08-11 00:00:00
Germany
0.44
0.56
2021-08-12 00:00:00
Germany
0.44
0.56
2021-08-13 00:00:00
Germany
0.44
0.56
2021-08-14 00:00:00
Germany
0.44
0.56
2021-08-15 00:00:00
Germany
0.45
0.55
2021-08-16 00:00:00
Germany
0.45
0.55
2021-08-17 00:00:00
Germany
0.45
0.55
2021-08-18 00:00:00
Germany
0.44
0.56
2021-08-19 00:00:00
Germany
0.44
0.56
2021-08-20 00:00:00
Germany
0.44
0.56
2021-08-21 00:00:00
Germany
0.44
0.56
2021-08-22 00:00:00
Germany
0.43
0.57
2021-08-23 00:00:00
Germany
0.43
0.57
2021-08-24 00:00:00
Germany
0.43
0.57
2021-08-25 00:00:00
Germany
0.42
0.58
2021-08-26 00:00:00
Germany
0.43
0.57
2021-08-27 00:00:00
Germany
0.42
0.58
2021-08-28 00:00:00
Germany
0.42
0.58
2021-08-29 00:00:00
Germany
0.42
0.58
2021-08-30 00:00:00
Germany
0.42
0.58
2021-08-31 00:00:00
Germany
0.42
0.58
2021-09-01 00:00:00
Germany
0.42
0.58
2021-09-02 00:00:00
Germany
0.42
0.58
2021-09-03 00:00:00
Germany
0.42
0.58
2021-09-04 00:00:00
Germany
0.43
0.57
2021-09-05 00:00:00
Germany
0.42
0.58
2021-09-06 00:00:00
Germany
0.42
0.58
2021-09-07 00:00:00
Germany
0.42
0.58
2021-09-08 00:00:00
Germany
0.42
0.58
2021-09-09 00:00:00
Germany
0.41
0.59
2021-09-10 00:00:00
Germany
0.41
0.59
2021-09-11 00:00:00
Germany
0.41
0.59
2021-09-12 00:00:00
Germany
0.42
0.58
2021-09-13 00:00:00
Germany
0.42
0.58
2021-09-14 00:00:00
Germany
0.42
0.58
2021-09-15 00:00:00
Germany
0.42
0.58
2021-09-16 00:00:00
Germany
0.43
0.57
2021-09-17 00:00:00
Germany
0.43
0.57
2021-09-18 00:00:00
Germany
0.43
0.57
2021-09-19 00:00:00
Germany
0.43
0.57
2021-09-20 00:00:00
Germany
0.43
0.57
2021-09-21 00:00:00
Germany
0.43
0.57
2021-09-22 00:00:00
Germany
0.43
0.57
2021-09-23 00:00:00
Germany
0.43
0.57
2021-09-24 00:00:00
Germany
0.43
0.57
2021-09-25 00:00:00
Germany
0.43
0.57
2021-09-26 00:00:00
Germany
0.44
0.56
2021-09-27 00:00:00
Germany
0.44
0.56
2021-09-28 00:00:00
Germany
0.44
0.56
2021-09-29 00:00:00
Germany
0.44
0.56
2021-09-30 00:00:00
Germany
0.45
0.55
2021-10-01 00:00:00
Germany
0.45
0.55
2021-10-02 00:00:00
Germany
0.44
0.56
2021-10-03 00:00:00
Germany
0.45
0.55
2021-10-04 00:00:00
Germany
0.45
0.55
2021-10-05 00:00:00
Germany
0.45
0.55
2021-10-06 00:00:00
Germany
0.45
0.55
2021-10-07 00:00:00
Germany
0.45
0.55
2021-10-08 00:00:00
Germany
0.46
0.54
2021-10-09 00:00:00
Germany
0.46
0.54
2021-10-10 00:00:00
Germany
0.46
0.54
2021-10-11 00:00:00
Germany
0.45
0.55
2021-10-12 00:00:00
Germany
0.46
0.54
2021-10-13 00:00:00
Germany
0.46
0.54
2021-10-14 00:00:00
Germany
0.46
0.54
2021-10-15 00:00:00
Germany
0.46
0.54
2021-10-16 00:00:00
Germany
0.46
0.54
2021-10-17 00:00:00
Germany
0.46
0.54
2021-10-18 00:00:00
Germany
0.46
0.54
2021-10-19 00:00:00
Germany
0.46
0.54
2021-10-20 00:00:00
Germany
0.46
0.54
2021-10-21 00:00:00
Germany
0.46
0.54
2021-10-22 00:00:00
Germany
0.47
0.53
2021-10-23 00:00:00
Germany
0.47
0.53
2021-10-24 00:00:00
Germany
0.46
0.54
2021-10-25 00:00:00
Germany
0.46
0.54
2021-10-26 00:00:00
Germany
0.46
0.54
2021-10-27 00:00:00
Germany
0.46
0.54
2021-10-28 00:00:00
Germany
0.46
0.54
2021-10-31 00:00:00
Germany
0.46
0.54
2021-11-01 00:00:00
Germany
0.46
0.54
2021-11-02 00:00:00
Germany
0.46
0.54
2021-11-03 00:00:00
Germany
0.46
0.54
2021-11-04 00:00:00
Germany
0.45
0.55
2021-11-05 00:00:00
Germany
0.45
0.55
2021-11-06 00:00:00
Germany
0.45
0.55
2021-11-07 00:00:00
Germany
0.44
0.56
2021-11-08 00:00:00
Germany
0.44
0.56
2021-11-09 00:00:00
Germany
0.43
0.57
2021-11-10 00:00:00
Germany
0.42
0.58
2021-11-11 00:00:00
Germany
0.42
0.58
2021-11-12 00:00:00
Germany
0.42
0.58
2021-11-13 00:00:00
Germany
0.42
0.58
2021-11-14 00:00:00
Germany
0.41
0.59
2021-11-15 00:00:00
Germany
0.4
0.6
2021-11-16 00:00:00
Germany
0.4
0.6
2021-11-17 00:00:00
Germany
0.4
0.6
2021-11-18 00:00:00
Germany
0.39
0.61
2021-11-19 00:00:00
Germany
0.39
0.61
2021-11-20 00:00:00
Germany
0.39
0.61
2021-11-21 00:00:00
Germany
0.39
0.61
2021-11-22 00:00:00
Germany
0.38
0.62
2021-11-23 00:00:00
Germany
0.38
0.62
2021-11-24 00:00:00
Germany
0.38
0.62
2021-11-25 00:00:00
Germany
0.39
0.61
2021-11-26 00:00:00
Germany
0.39
0.61
2021-11-27 00:00:00
Germany
0.39
0.61
2021-11-28 00:00:00
Germany
0.39
0.61
2021-11-29 00:00:00
Germany
0.4
0.6
2021-11-30 00:00:00
Germany
0.4
0.6
2021-12-01 00:00:00
Germany
0.41
0.59
2021-12-02 00:00:00
Germany
0.4
0.6
2021-12-03 00:00:00
Germany
0.4
0.6
2021-12-04 00:00:00
Germany
0.4
0.6
2021-12-05 00:00:00
Germany
0.41
0.59
2021-12-06 00:00:00
Germany
0.42
0.58
2021-12-07 00:00:00
Germany
0.42
0.58
2021-12-08 00:00:00
Germany
0.43
0.57
2021-12-09 00:00:00
Germany
0.45
0.55
2021-12-10 00:00:00
Germany
0.45
0.55
2021-12-11 00:00:00
Germany
0.46
0.54
2021-12-12 00:00:00
Germany
0.46
0.54
2021-12-13 00:00:00
Germany
0.47
0.53
2021-12-14 00:00:00
Germany
0.47
0.53
2021-12-15 00:00:00
Germany
0.48
0.52
2021-12-16 00:00:00
Germany
0.48
0.52
2021-12-17 00:00:00
Germany
0.48
0.52
2021-12-18 00:00:00
Germany
0.48
0.52
2021-12-19 00:00:00
Germany
0.48
0.52
2021-12-20 00:00:00
Germany
0.48
0.52
2021-12-21 00:00:00
Germany
0.47
0.53
2021-12-22 00:00:00
Germany
0.47
0.53
2021-12-23 00:00:00
Germany
0.47
0.53
2021-12-24 00:00:00
Germany
0.47
0.53
2021-12-25 00:00:00
Germany
0.48
0.52
2021-12-26 00:00:00
Germany
0.48
0.52
2021-12-27 00:00:00
Germany
0.48
0.52
2021-12-28 00:00:00
Germany
0.48
0.52
2021-12-29 00:00:00
Germany
0.48
0.52
2021-12-30 00:00:00
Germany
0.49
0.51
2021-12-31 00:00:00
Germany
0.49
0.51
2022-01-01 00:00:00
Germany
0.49
0.51
2022-01-02 00:00:00
Germany
0.49
0.51
2022-01-03 00:00:00
Germany
0.49
0.51
2022-01-04 00:00:00
Germany
0.5
0.5
2022-01-05 00:00:00
Germany
0.5
0.5
2022-01-06 00:00:00
Germany
0.5
0.5
2022-01-07 00:00:00
Germany
0.49
0.51
2022-01-08 00:00:00
Germany
0.5
0.5
2022-01-09 00:00:00
Germany
0.49
0.51
2022-01-10 00:00:00
Germany
0.49
0.51
2022-01-11 00:00:00
Germany
0.48
0.52
2022-01-12 00:00:00
Germany
0.48
0.52
2022-01-13 00:00:00
Germany
0.48
0.52
2022-01-14 00:00:00
Germany
0.48
0.52
2022-01-15 00:00:00
Germany
0.47
0.53
2022-01-16 00:00:00
Germany
0.47
0.53
2022-01-17 00:00:00
Germany
0.47
0.53
2022-01-18 00:00:00
Germany
0.47
0.53
2022-01-19 00:00:00
Germany
0.47
0.53
2022-01-20 00:00:00
Germany
0.47
0.53
2022-01-21 00:00:00
Germany
0.47
0.53
2022-01-22 00:00:00
Germany
0.47
0.53
2022-01-23 00:00:00
Germany
0.47
0.53
2022-01-24 00:00:00
Germany
0.47
0.53
2022-01-25 00:00:00
Germany
0.46
0.54
2020-01-06 00:00:00
India
0.67
0.33
2020-01-07 00:00:00
India
0.67
0.33
2020-01-08 00:00:00
India
0.65
0.35
2020-01-09 00:00:00
India
0.65
0.35
2020-01-10 00:00:00
India
0.64
0.36
2020-01-11 00:00:00
India
0.63
0.37
2020-01-12 00:00:00
India
0.64
0.36
2020-01-13 00:00:00
India
0.64
0.36
2020-01-14 00:00:00
India
0.65
0.35
2020-01-15 00:00:00
India
0.66
0.34
2020-01-16 00:00:00
India
0.65
0.35
2020-01-17 00:00:00
India
0.66
0.34
2020-01-18 00:00:00
India
0.67
0.33
2020-01-19 00:00:00
India
0.67
0.33
2020-01-20 00:00:00
India
0.69
0.31
2020-01-21 00:00:00
India
0.7
0.3
2020-01-22 00:00:00