Poll: Women Less Likely to Support Trump, but Many Are Undecided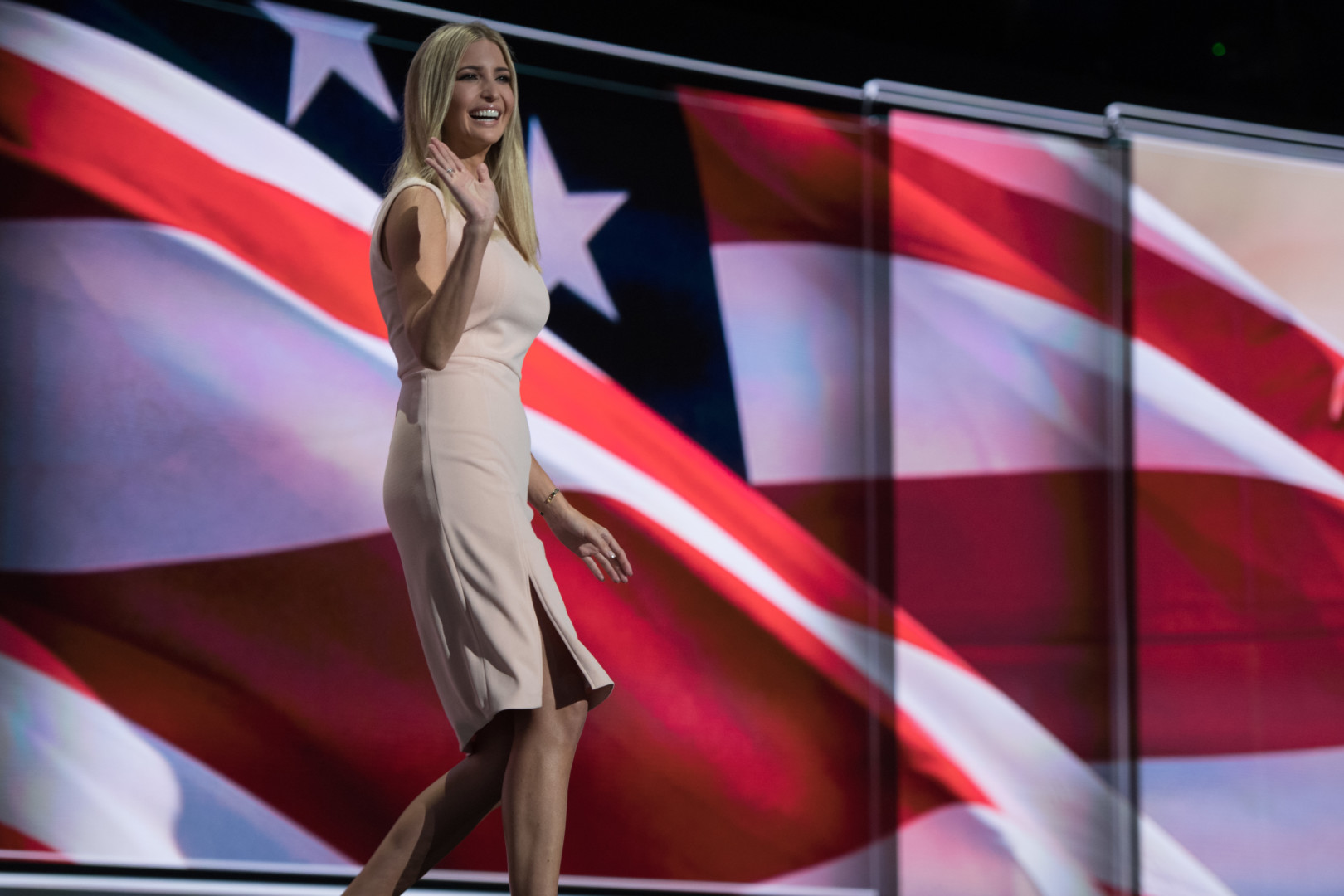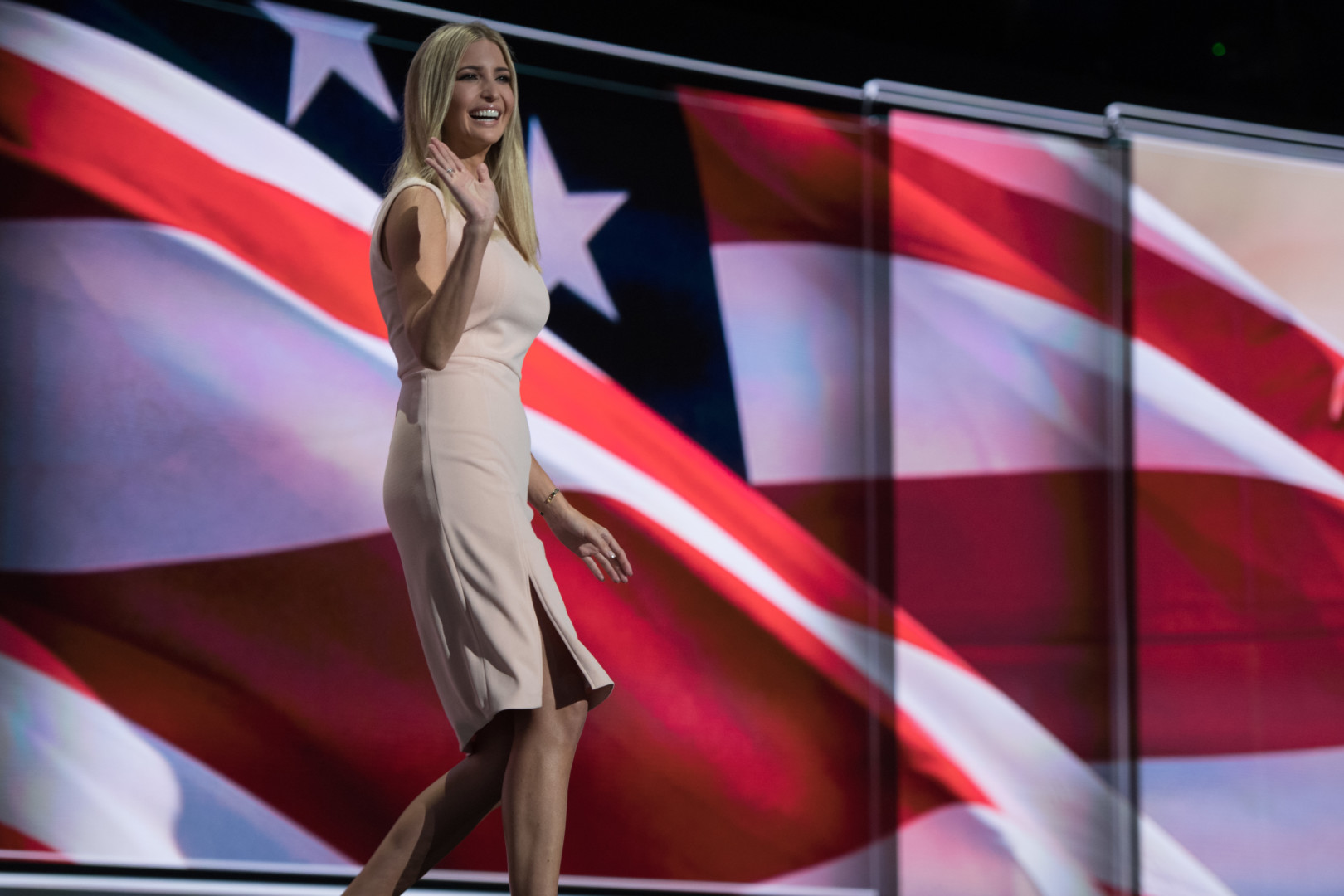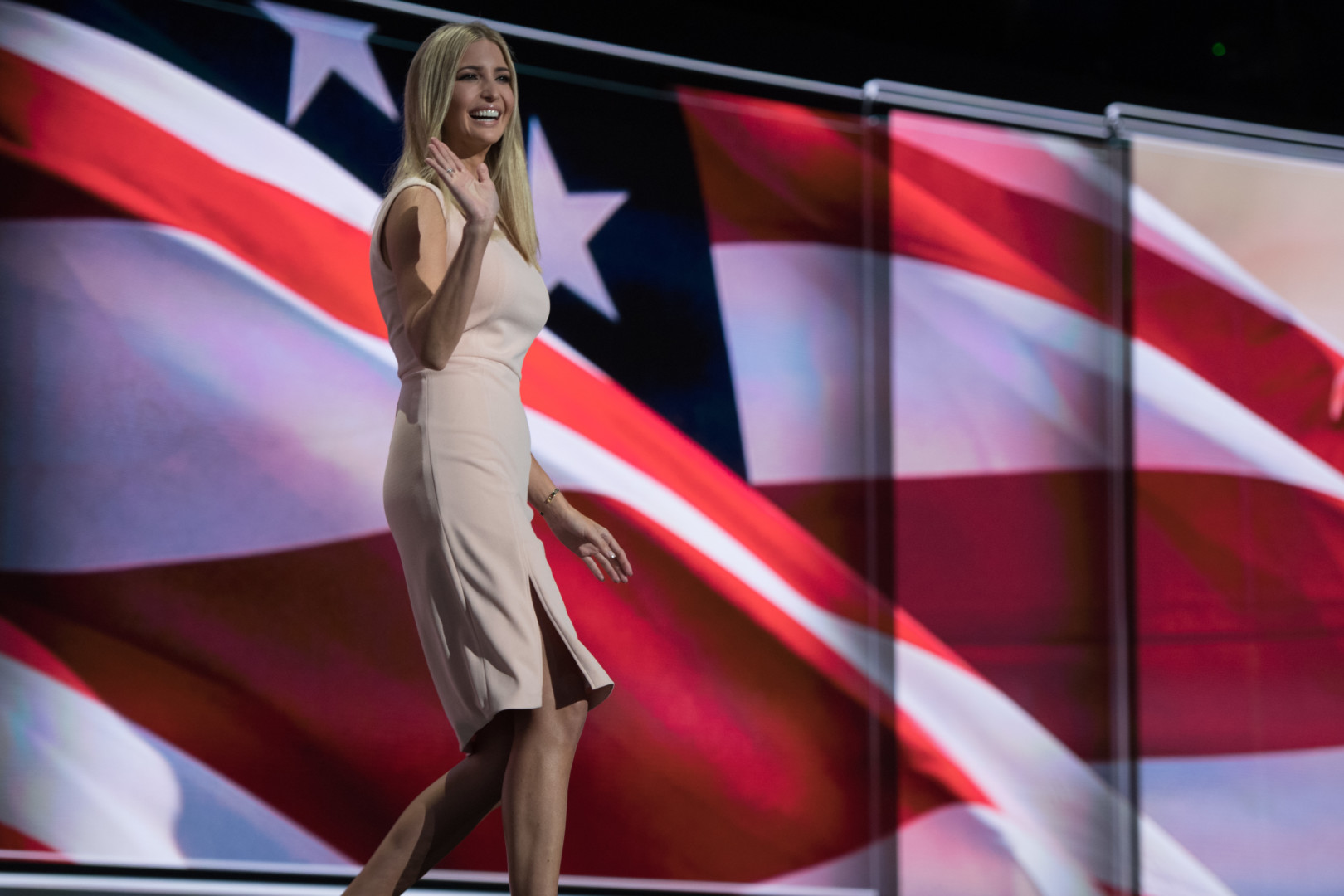 PHILADELPHIA — Hillary Clinton and her surrogates hope to make a powerful case for women voters here at the Democratic National Convention this week. There is an opportunity to do so. Morning Consult's polling shows that women, so far, have proven more reluctant to support Donald Trump than men.
In the weeks leading up to the Democratic and Republican national conventions, women were far less likely than men to say they supported Donald Trump. But there were also a lot more women who were undecided.
Only about one-third (36 percent) of women surveyed in June and the first two weeks of July said they supported Trump, while 44 percent of men were Trump supporters. But 21 percent of women said they didn't know or had no opinion about who should be the next president. Only 15 percent of men were undecided.
| period_end | leader | Approve | Disaprove |
| --- | --- | --- | --- |
| 2021-01-21 00:00:00 | Joe Biden | 0.50307242840331 | 0.2754392246027 |
| 2021-01-22 00:00:00 | Joe Biden | 0.51325543283052 | 0.28359960216164 |
| 2021-01-23 00:00:00 | Joe Biden | 0.52320086497561 | 0.29104494658453 |
| 2021-01-24 00:00:00 | Joe Biden | 0.52871143795916 | 0.29497002780667 |
| 2021-01-25 00:00:00 | Joe Biden | 0.53229372976089 | 0.29763535391042 |
| 2021-01-26 00:00:00 | Joe Biden | 0.53264298327621 | 0.30279814508471 |
| 2021-01-27 00:00:00 | Joe Biden | 0.53980642765189 | 0.30811855701225 |
| 2021-01-28 00:00:00 | Joe Biden | 0.54271764630599 | 0.31668577061496 |
| 2021-01-29 00:00:00 | Joe Biden | 0.54309851734535 | 0.31956455048906 |
| 2021-01-30 00:00:00 | Joe Biden | 0.54326718061899 | 0.32280657201099 |
| 2021-01-31 00:00:00 | Joe Biden | 0.54247078123124 | 0.32753024868111 |
| 2021-02-01 00:00:00 | Joe Biden | 0.54182774296314 | 0.33210116650845 |
| 2021-02-02 00:00:00 | Joe Biden | 0.54196448320914 | 0.33309779817761 |
| 2021-02-03 00:00:00 | Joe Biden | 0.54009533911164 | 0.33481442441121 |
| 2021-02-04 00:00:00 | Joe Biden | 0.54059800991893 | 0.33542964110833 |
| 2021-02-05 00:00:00 | Joe Biden | 0.53993798687586 | 0.33730016818918 |
| 2021-02-06 00:00:00 | Joe Biden | 0.54119963542967 | 0.33640714045794 |
| 2021-02-07 00:00:00 | Joe Biden | 0.54573503680434 | 0.33341049296909 |
| 2021-02-08 00:00:00 | Joe Biden | 0.54726193998689 | 0.33304030300831 |
| 2021-02-09 00:00:00 | Joe Biden | 0.54936064283891 | 0.3332215252816 |
| 2021-02-10 00:00:00 | Joe Biden | 0.55070975419582 | 0.33335599320923 |
| 2021-02-11 00:00:00 | Joe Biden | 0.55104819480678 | 0.33190990496554 |
| 2021-02-12 00:00:00 | Joe Biden | 0.55026913234802 | 0.3330970140525 |
| 2021-02-13 00:00:00 | Joe Biden | 0.54756884976343 | 0.33594098892176 |
| 2021-02-14 00:00:00 | Joe Biden | 0.54282402814811 | 0.34016716517841 |
| 2021-02-15 00:00:00 | Joe Biden | 0.54226746765031 | 0.34156728693516 |
| 2021-02-16 00:00:00 | Joe Biden | 0.54239487901728 | 0.34266768374325 |
| 2021-02-17 00:00:00 | Joe Biden | 0.54256739934603 | 0.34375042980445 |
| 2021-02-18 00:00:00 | Joe Biden | 0.54157980444508 | 0.34730265721149 |
| 2021-02-19 00:00:00 | Joe Biden | 0.54276145049145 | 0.34637926946528 |
| 2021-02-20 00:00:00 | Joe Biden | 0.54252763206052 | 0.34764629785218 |
| 2021-02-21 00:00:00 | Joe Biden | 0.54348074801531 | 0.34751131739744 |
| 2021-02-22 00:00:00 | Joe Biden | 0.54286482324703 | 0.34802537276507 |
| 2021-02-23 00:00:00 | Joe Biden | 0.54191937474896 | 0.3486183354237 |
| 2021-02-24 00:00:00 | Joe Biden | 0.53959582121786 | 0.34955297969271 |
| 2021-02-25 00:00:00 | Joe Biden | 0.54164345968274 | 0.34918050308156 |
| 2021-02-26 00:00:00 | Joe Biden | 0.54039094454494 | 0.35225423863622 |
| 2021-02-27 00:00:00 | Joe Biden | 0.5443450227238 | 0.35077972883637 |
| 2021-02-28 00:00:00 | Joe Biden | 0.54321073827801 | 0.35299378812466 |
| 2021-03-01 00:00:00 | Joe Biden | 0.54431408573189 | 0.35410564668517 |
| 2021-03-02 00:00:00 | Joe Biden | 0.54301523130367 | 0.35628182135168 |
| 2021-03-03 00:00:00 | Joe Biden | 0.54268576917674 | 0.35888259372944 |
| 2021-03-04 00:00:00 | Joe Biden | 0.53970209173062 | 0.36125978473625 |
| 2021-03-05 00:00:00 | Joe Biden | 0.54202401842347 | 0.35958170276038 |
| 2021-03-06 00:00:00 | Joe Biden | 0.54044964952108 | 0.36194860448988 |
| 2021-03-07 00:00:00 | Joe Biden | 0.54556121884718 | 0.35892581688061 |
| 2021-03-08 00:00:00 | Joe Biden | 0.54718948096776 | 0.355735671646 |
| 2021-03-09 00:00:00 | Joe Biden | 0.5474175622627 | 0.35754943598581 |
| 2021-03-10 00:00:00 | Joe Biden | 0.54739460435027 | 0.35872590639872 |
| 2021-03-11 00:00:00 | Joe Biden | 0.5503009618562 | 0.35589818162012 |
| 2021-03-12 00:00:00 | Joe Biden | 0.5517812032885 | 0.35536223331798 |
| 2021-03-13 00:00:00 | Joe Biden | 0.55540111094202 | 0.35174797659354 |
| 2021-03-14 00:00:00 | Joe Biden | 0.55719341883602 | 0.35142700934095 |
| 2021-03-15 00:00:00 | Joe Biden | 0.55448022874583 | 0.35539931151259 |
| 2021-03-16 00:00:00 | Joe Biden | 0.55733587246134 | 0.35277551042174 |
| 2021-03-17 00:00:00 | Joe Biden | 0.55946730114044 | 0.34992843726651 |
| 2021-03-18 00:00:00 | Joe Biden | 0.55989691499126 | 0.35003035792535 |
| 2021-03-19 00:00:00 | Joe Biden | 0.55969278679247 | 0.35073837660772 |
| 2021-03-20 00:00:00 | Joe Biden | 0.5569304529623 | 0.35427495771612 |
| 2021-03-21 00:00:00 | Joe Biden | 0.55411510877444 | 0.35661011135639 |
| 2021-03-22 00:00:00 | Joe Biden | 0.55634087350056 | 0.35572979945624 |
| 2021-03-23 00:00:00 | Joe Biden | 0.55480594479388 | 0.35655335658772 |
| 2021-03-24 00:00:00 | Joe Biden | 0.55493755406942 | 0.35532971899586 |
| 2021-03-25 00:00:00 | Joe Biden | 0.5550161493438 | 0.35631105691444 |
| 2021-03-26 00:00:00 | Joe Biden | 0.55225699268609 | 0.35945151981493 |
| 2021-03-27 00:00:00 | Joe Biden | 0.54698361362813 | 0.36229231044927 |
| 2021-03-28 00:00:00 | Joe Biden | 0.54249731756518 | 0.36452239257417 |
| 2021-03-29 00:00:00 | Joe Biden | 0.54052260096597 | 0.36393059731057 |
| 2021-03-30 00:00:00 | Joe Biden | 0.54085740670561 | 0.36382988877115 |
| 2021-03-31 00:00:00 | Joe Biden | 0.54046955421921 | 0.36477970769642 |
| 2021-04-01 00:00:00 | Joe Biden | 0.54065726263423 | 0.36416911977456 |
| 2021-04-02 00:00:00 | Joe Biden | 0.54039355186226 | 0.36175983444107 |
| 2021-04-03 00:00:00 | Joe Biden | 0.5443955798923 | 0.35865700054931 |
| 2021-04-04 00:00:00 | Joe Biden | 0.54985916552527 | 0.35632555852513 |
| 2021-04-05 00:00:00 | Joe Biden | 0.55014972605993 | 0.35955845524328 |
| 2021-04-06 00:00:00 | Joe Biden | 0.55003875252622 | 0.35945743523142 |
| 2021-04-07 00:00:00 | Joe Biden | 0.55080383732133 | 0.3592807432489 |
| 2021-04-08 00:00:00 | Joe Biden | 0.54897766640679 | 0.3608196906312 |
| 2021-04-09 00:00:00 | Joe Biden | 0.54854523866449 | 0.3629864759154 |
| 2021-04-10 00:00:00 | Joe Biden | 0.54921626663701 | 0.3636247829675 |
| 2021-04-11 00:00:00 | Joe Biden | 0.54353337862341 | 0.36806509469887 |
| 2021-04-12 00:00:00 | Joe Biden | 0.54705476861608 | 0.36309885143066 |
| 2021-04-13 00:00:00 | Joe Biden | 0.54785420213222 | 0.3623293695694 |
| 2021-04-14 00:00:00 | Joe Biden | 0.54379919455203 | 0.36522996200544 |
| 2021-04-15 00:00:00 | Joe Biden | 0.54362675094659 | 0.36770424337292 |
| 2021-04-16 00:00:00 | Joe Biden | 0.54512514836044 | 0.36659327347403 |
| 2021-04-17 00:00:00 | Joe Biden | 0.54036726573254 | 0.37101222203254 |
| 2021-04-18 00:00:00 | Joe Biden | 0.54140086673543 | 0.37222401945642 |
| 2021-04-19 00:00:00 | Joe Biden | 0.5357009095645 | 0.37551176798307 |
| 2021-04-20 00:00:00 | Joe Biden | 0.53363970253979 | 0.37635110438382 |
| 2021-04-21 00:00:00 | Joe Biden | 0.53510619543449 | 0.37485229337738 |
| 2021-04-22 00:00:00 | Joe Biden | 0.53758003582169 | 0.37117756148409 |
| 2021-04-23 00:00:00 | Joe Biden | 0.53866456501386 | 0.37014827136783 |
| 2021-04-24 00:00:00 | Joe Biden | 0.54185533258702 | 0.36592849458141 |
| 2021-04-25 00:00:00 | Joe Biden | 0.54239146065292 | 0.36301852200882 |
| 2021-04-26 00:00:00 | Joe Biden | 0.54829624474199 | 0.36081323279775 |
| 2021-04-27 00:00:00 | Joe Biden | 0.54970864004104 | 0.35955594137798 |
| 2021-04-28 00:00:00 | Joe Biden | 0.5529013901842 | 0.3574264275579 |
| 2021-04-29 00:00:00 | Joe Biden | 0.55408046409458 | 0.35680106791092 |
| 2021-04-30 00:00:00 | Joe Biden | 0.5540297181691 | 0.35797257041251 |
| 2021-05-01 00:00:00 | Joe Biden | 0.55585854715733 | 0.35759873644972 |
| 2021-05-02 00:00:00 | Joe Biden | 0.55875734487893 | 0.35725873755739 |
| 2021-05-03 00:00:00 | Joe Biden | 0.55682582706163 | 0.35704261932349 |
| 2021-05-04 00:00:00 | Joe Biden | 0.55897350530059 | 0.35711166234194 |
| 2021-05-05 00:00:00 | Joe Biden | 0.55732739382406 | 0.36060668933244 |
| 2021-05-06 00:00:00 | Joe Biden | 0.55766059748677 | 0.36264504975746 |
| 2021-05-07 00:00:00 | Joe Biden | 0.5568805400762 | 0.36230960737402 |
| 2021-05-08 00:00:00 | Joe Biden | 0.55497917682086 | 0.36388874064385 |
| 2021-05-09 00:00:00 | Joe Biden | 0.55343418965472 | 0.36445220409411 |
| 2021-05-10 00:00:00 | Joe Biden | 0.54985381502227 | 0.36804737177062 |
| 2021-05-11 00:00:00 | Joe Biden | 0.54763467148595 | 0.36934394227261 |
| 2021-05-12 00:00:00 | Joe Biden | 0.54579996558164 | 0.36970577527282 |
| 2021-05-13 00:00:00 | Joe Biden | 0.54166406599375 | 0.37133283451712 |
| 2021-05-14 00:00:00 | Joe Biden | 0.54266085878011 | 0.37162974305968 |
| 2021-05-15 00:00:00 | Joe Biden | 0.54215871160739 | 0.37186705947537 |
| 2021-05-16 00:00:00 | Joe Biden | 0.54096113432313 | 0.37373816704385 |
| 2021-05-17 00:00:00 | Joe Biden | 0.54140046156116 | 0.37387890831544 |
| 2021-05-18 00:00:00 | Joe Biden | 0.53915135130166 | 0.37780083610173 |
| 2021-05-19 00:00:00 | Joe Biden | 0.53905474626114 | 0.37979294804759 |
| 2021-05-20 00:00:00 | Joe Biden | 0.53703185155882 | 0.38294952256971 |
| 2021-05-21 00:00:00 | Joe Biden | 0.5364586272672 | 0.38265946470056 |
| 2021-05-22 00:00:00 | Joe Biden | 0.5357232766061 | 0.38518305876441 |
| 2021-05-23 00:00:00 | Joe Biden | 0.5353090062971 | 0.3856373951994 |
| 2021-05-24 00:00:00 | Joe Biden | 0.53577099309562 | 0.38527175654559 |
| 2021-05-25 00:00:00 | Joe Biden | 0.5370377933469 | 0.38369420488217 |
| 2021-05-26 00:00:00 | Joe Biden | 0.53745940058157 | 0.38165996645411 |
| 2021-05-27 00:00:00 | Joe Biden | 0.53743957730645 | 0.38052039043928 |
| 2021-05-28 00:00:00 | Joe Biden | 0.53758223052094 | 0.38055930101406 |
| 2021-05-29 00:00:00 | Joe Biden | 0.53612039788409 | 0.38021981475422 |
| 2021-05-30 00:00:00 | Joe Biden | 0.53597069588173 | 0.38083665639034 |
| 2021-05-31 00:00:00 | Joe Biden | 0.53600958140367 | 0.38046485387083 |
| 2021-06-01 00:00:00 | Joe Biden | 0.53446857354704 | 0.38167396922313 |
| 2021-06-02 00:00:00 | Joe Biden | 0.53285671346967 | 0.38386456181126 |
| 2021-06-03 00:00:00 | Joe Biden | 0.53329533105069 | 0.38456472679757 |
| 2021-06-04 00:00:00 | Joe Biden | 0.52962563578062 | 0.3881436561265 |
| 2021-06-05 00:00:00 | Joe Biden | 0.5293523329828 | 0.38895239928165 |
| 2021-06-06 00:00:00 | Joe Biden | 0.52843669857462 | 0.38788632510219 |
| 2021-06-07 00:00:00 | Joe Biden | 0.52661718376418 | 0.39042043419762 |
| 2021-06-08 00:00:00 | Joe Biden | 0.52386491345654 | 0.39069813298133 |
| 2021-06-09 00:00:00 | Joe Biden | 0.52402723061326 | 0.38907088789026 |
| 2021-06-10 00:00:00 | Joe Biden | 0.52457878392359 | 0.38752924575315 |
| 2021-06-11 00:00:00 | Joe Biden | 0.52583807853866 | 0.38737623367693 |
| 2021-06-12 00:00:00 | Joe Biden | 0.52628026389181 | 0.38625872767843 |
| 2021-06-13 00:00:00 | Joe Biden | 0.52541480019333 | 0.38861798881236 |
| 2021-06-14 00:00:00 | Joe Biden | 0.52337769211739 | 0.38977074441386 |
| 2021-06-15 00:00:00 | Joe Biden | 0.52510780727964 | 0.38945782937785 |
| 2021-06-16 00:00:00 | Joe Biden | 0.52678933874477 | 0.38882720369479 |
| 2021-06-17 00:00:00 | Joe Biden | 0.52906423829464 | 0.38724152706841 |
| 2021-06-18 00:00:00 | Joe Biden | 0.52892213885031 | 0.385746810401 |
| 2021-06-19 00:00:00 | Joe Biden | 0.53126360967903 | 0.38543937089656 |
| 2021-06-20 00:00:00 | Joe Biden | 0.53226092051273 | 0.38486562071792 |
| 2021-06-21 00:00:00 | Joe Biden | 0.53522811947225 | 0.38339459394502 |
| 2021-06-22 00:00:00 | Joe Biden | 0.53504102720686 | 0.38547127484148 |
| 2021-06-23 00:00:00 | Joe Biden | 0.53206050648296 | 0.38932596680492 |
| 2021-06-24 00:00:00 | Joe Biden | 0.52893700699269 | 0.3924126044749 |
| 2021-06-25 00:00:00 | Joe Biden | 0.53019394647696 | 0.39074498280958 |
| 2021-06-26 00:00:00 | Joe Biden | 0.52932413332618 | 0.39074069224299 |
| 2021-06-27 00:00:00 | Joe Biden | 0.52958519803751 | 0.38867546403002 |
| 2021-06-28 00:00:00 | Joe Biden | 0.52682809397558 | 0.38997538761437 |
| 2021-06-29 00:00:00 | Joe Biden | 0.52626936986019 | 0.38877978958197 |
| 2021-06-30 00:00:00 | Joe Biden | 0.52628856043698 | 0.38837204840039 |
| 2021-07-01 00:00:00 | Joe Biden | 0.52612082757673 | 0.38880050915599 |
| 2021-07-02 00:00:00 | Joe Biden | 0.52322351779766 | 0.3916281946504 |
| 2021-07-03 00:00:00 | Joe Biden | 0.52265792320474 | 0.39190594568658 |
| 2021-07-04 00:00:00 | Joe Biden | 0.52181649533324 | 0.39324963515905 |
| 2021-07-05 00:00:00 | Joe Biden | 0.52491224394069 | 0.39150297223188 |
| 2021-07-06 00:00:00 | Joe Biden | 0.52498265869202 | 0.39079308315456 |
| 2021-07-07 00:00:00 | Joe Biden | 0.52541047329921 | 0.38984289449854 |
| 2021-07-08 00:00:00 | Joe Biden | 0.52512624958307 | 0.38989314158399 |
| 2021-07-09 00:00:00 | Joe Biden | 0.52516876379968 | 0.38992690794174 |
| 2021-07-10 00:00:00 | Joe Biden | 0.5218945433283 | 0.39207210564977 |
| 2021-07-11 00:00:00 | Joe Biden | 0.52219653009703 | 0.39252775559143 |
| 2021-07-12 00:00:00 | Joe Biden | 0.52143338054873 | 0.39251171063313 |
| 2021-07-13 00:00:00 | Joe Biden | 0.52394554652454 | 0.3923784348138 |
| 2021-07-14 00:00:00 | Joe Biden | 0.52237937775444 | 0.39204061124433 |
| 2021-07-15 00:00:00 | Joe Biden | 0.52288021957805 | 0.39173336350643 |
| 2021-07-16 00:00:00 | Joe Biden | 0.5221806839914 | 0.39242513320894 |
| 2021-07-17 00:00:00 | Joe Biden | 0.52592188406329 | 0.39090870946941 |
| 2021-07-18 00:00:00 | Joe Biden | 0.52371774944254 | 0.3923545849136 |
| 2021-07-19 00:00:00 | Joe Biden | 0.52285710525416 | 0.39375171552207 |
| 2021-07-20 00:00:00 | Joe Biden | 0.51831640444056 | 0.39604566820994 |
| 2021-07-21 00:00:00 | Joe Biden | 0.51947869238096 | 0.39765610851734 |
| 2021-07-22 00:00:00 | Joe Biden | 0.51857908483411 | 0.39826560692778 |
| 2021-07-23 00:00:00 | Joe Biden | 0.52034103977558 | 0.39756907959776 |
| 2021-07-24 00:00:00 | Joe Biden | 0.51856288244776 | 0.39902152996224 |
| 2021-07-25 00:00:00 | Joe Biden | 0.51923853603326 | 0.39869123013261 |
| 2021-07-26 00:00:00 | Joe Biden | 0.51777090715009 | 0.39885086590523 |
| 2021-07-27 00:00:00 | Joe Biden | 0.52027119665861 | 0.39841626669419 |
| 2021-07-28 00:00:00 | Joe Biden | 0.51714562268942 | 0.40119226427546 |
| 2021-07-29 00:00:00 | Joe Biden | 0.51597588715594 | 0.40282151326248 |
| 2021-07-30 00:00:00 | Joe Biden | 0.5144187747321 | 0.40373300325977 |
| 2021-07-31 00:00:00 | Joe Biden | 0.51440032690982 | 0.40162833794584 |
| 2021-08-01 00:00:00 | Joe Biden | 0.51313735671972 | 0.40254118417512 |
| 2021-08-02 00:00:00 | Joe Biden | 0.51017798947483 | 0.40496741173104 |
| 2021-08-03 00:00:00 | Joe Biden | 0.5083279032718 | 0.40667783790282 |
| 2021-08-04 00:00:00 | Joe Biden | 0.5084514660275 | 0.40452933401524 |
| 2021-08-05 00:00:00 | Joe Biden | 0.50812849778878 | 0.40326560087514 |
| 2021-08-06 00:00:00 | Joe Biden | 0.50777771645459 | 0.40472844229774 |
| 2021-08-07 00:00:00 | Joe Biden | 0.5056446696228 | 0.40829192545885 |
| 2021-08-08 00:00:00 | Joe Biden | 0.50433761898469 | 0.40900040463572 |
| 2021-08-09 00:00:00 | Joe Biden | 0.50674907522627 | 0.40789926639506 |
| 2021-08-10 00:00:00 | Joe Biden | 0.50744100597223 | 0.40706753473911 |
| 2021-08-11 00:00:00 | Joe Biden | 0.5124710657013 | 0.40404583811805 |
| 2021-08-12 00:00:00 | Joe Biden | 0.51360078799421 | 0.40333016612805 |
| 2021-08-13 00:00:00 | Joe Biden | 0.51555144089989 | 0.40179076583867 |
| 2021-08-14 00:00:00 | Joe Biden | 0.51833984921802 | 0.39894216649038 |
| 2021-08-15 00:00:00 | Joe Biden | 0.51980704510093 | 0.39839655857297 |
| 2021-08-16 00:00:00 | Joe Biden | 0.51890508936594 | 0.39983181336941 |
| 2021-08-17 00:00:00 | Joe Biden | 0.51677517802892 | 0.40388029693068 |
| 2021-08-18 00:00:00 | Joe Biden | 0.51337731079507 | 0.40829537810934 |
| 2021-08-19 00:00:00 | Joe Biden | 0.51097401385751 | 0.41102642865105 |
| 2021-08-20 00:00:00 | Joe Biden | 0.50490974829191 | 0.41692532349349 |
| 2021-08-21 00:00:00 | Joe Biden | 0.50121083185664 | 0.42240182251551 |
| 2021-08-22 00:00:00 | Joe Biden | 0.49740697393994 | 0.42603982659244 |
| 2021-08-23 00:00:00 | Joe Biden | 0.49570051453189 | 0.42875944617492 |
| 2021-08-24 00:00:00 | Joe Biden | 0.49483925994147 | 0.42893749182996 |
| 2021-08-25 00:00:00 | Joe Biden | 0.49317940341449 | 0.4308093198138 |
| 2021-08-26 00:00:00 | Joe Biden | 0.49130012507094 | 0.43355225266412 |
| 2021-08-27 00:00:00 | Joe Biden | 0.49339036455055 | 0.43337492142408 |
| 2021-08-28 00:00:00 | Joe Biden | 0.49062404643836 | 0.43520004224871 |
| 2021-08-29 00:00:00 | Joe Biden | 0.48922261686536 | 0.43814903885955 |
| 2021-08-30 00:00:00 | Joe Biden | 0.48585524144026 | 0.44092135409617 |
| 2021-08-31 00:00:00 | Joe Biden | 0.48205009935444 | 0.44377328946431 |
| 2021-09-01 00:00:00 | Joe Biden | 0.47736405929955 | 0.44787564647358 |
| 2021-09-02 00:00:00 | Joe Biden | 0.47345493505753 | 0.4507399286316 |
| 2021-09-03 00:00:00 | Joe Biden | 0.46886848423735 | 0.4530672226961 |
| 2021-09-04 00:00:00 | Joe Biden | 0.46776482439688 | 0.4533229759722 |
| 2021-09-05 00:00:00 | Joe Biden | 0.4656145148639 | 0.453261348439 |
| 2021-09-06 00:00:00 | Joe Biden | 0.4641294137976 | 0.4546750002684 |
| 2021-09-07 00:00:00 | Joe Biden | 0.46451251167482 | 0.45486676171797 |
| 2021-09-08 00:00:00 | Joe Biden | 0.46632042259274 | 0.45359331058797 |
| 2021-09-09 00:00:00 | Joe Biden | 0.46809305655954 | 0.45177730289229 |
| 2021-09-10 00:00:00 | Joe Biden | 0.468819435731 | 0.45218523939829 |
| 2021-09-11 00:00:00 | Joe Biden | 0.46868229993801 | 0.45333320188029 |
| 2021-09-12 00:00:00 | Joe Biden | 0.4680492840526 | 0.45484566571484 |
| 2021-09-13 00:00:00 | Joe Biden | 0.46828430178868 | 0.45552646379124 |
| 2021-09-14 00:00:00 | Joe Biden | 0.46617348688973 | 0.45778803624106 |
| 2021-09-15 00:00:00 | Joe Biden | 0.46314353699151 | 0.46072277667785 |
| 2021-09-16 00:00:00 | Joe Biden | 0.46195669496457 | 0.46349450259089 |
| 2021-09-17 00:00:00 | Joe Biden | 0.46292188258789 | 0.46257370100116 |
| 2021-09-18 00:00:00 | Joe Biden | 0.46399119069269 | 0.46238670293226 |
| 2021-09-19 00:00:00 | Joe Biden | 0.46637719078999 | 0.46084202757545 |
| 2021-09-20 00:00:00 | Joe Biden | 0.46638430734245 | 0.45995668946782 |
| 2021-09-21 00:00:00 | Joe Biden | 0.468157119888 | 0.45786281751353 |
| 2021-09-22 00:00:00 | Joe Biden | 0.46806947165289 | 0.45780054237348 |
| 2021-09-23 00:00:00 | Joe Biden | 0.46784513134367 | 0.45717633365636 |
| 2021-09-24 00:00:00 | Joe Biden | 0.46371456935056 | 0.46051894451842 |
| 2021-09-25 00:00:00 | Joe Biden | 0.46204105949964 | 0.4627524691932 |
| 2021-09-26 00:00:00 | Joe Biden | 0.45647267004231 | 0.46766502197803 |
| 2021-09-27 00:00:00 | Joe Biden | 0.45499257780283 | 0.4700873778275 |
| 2021-09-28 00:00:00 | Joe Biden | 0.45335935017112 | 0.47127012934732 |
| 2021-09-29 00:00:00 | Joe Biden | 0.4530767799131 | 0.47211137662903 |
| 2021-09-30 00:00:00 | Joe Biden | 0.45235510745751 | 0.47328541731037 |
| 2021-10-01 00:00:00 | Joe Biden | 0.4540440678074 | 0.47156354026777 |
| 2021-10-02 00:00:00 | Joe Biden | 0.45275819994168 | 0.47175506813843 |
| 2021-10-03 00:00:00 | Joe Biden | 0.45546453287803 | 0.47034133871752 |
| 2021-10-04 00:00:00 | Joe Biden | 0.4570354198219 | 0.46797598234762 |
| 2021-10-05 00:00:00 | Joe Biden | 0.45616514866945 | 0.46871419536065 |
| 2021-10-06 00:00:00 | Joe Biden | 0.4546903147401 | 0.46914084953249 |
| 2021-10-07 00:00:00 | Joe Biden | 0.45463854687298 | 0.46933104818502 |
| 2021-10-08 00:00:00 | Joe Biden | 0.45521052748081 | 0.47018392687748 |
| 2021-10-09 00:00:00 | Joe Biden | 0.45685022965077 | 0.4693644264683 |
| 2021-10-10 00:00:00 | Joe Biden | 0.45531863086086 | 0.47141218235137 |
| 2021-10-11 00:00:00 | Joe Biden | 0.45511934163244 | 0.47325337738565 |
| 2021-10-12 00:00:00 | Joe Biden | 0.45548679602647 | 0.47362378133418 |
| 2021-10-13 00:00:00 | Joe Biden | 0.45644562268596 | 0.4726204575724 |
| 2021-10-14 00:00:00 | Joe Biden | 0.4577449864956 | 0.47110719622794 |
| 2021-10-15 00:00:00 | Joe Biden | 0.4594187998642 | 0.4695553970948 |
| 2021-10-16 00:00:00 | Joe Biden | 0.45617184715044 | 0.4707337826211 |
| 2021-10-17 00:00:00 | Joe Biden | 0.45666634338113 | 0.46876555628001 |
| 2021-10-18 00:00:00 | Joe Biden | 0.45648754347519 | 0.46845913330684 |
| 2021-10-19 00:00:00 | Joe Biden | 0.45639882545075 | 0.46793417617113 |
| 2021-10-20 00:00:00 | Joe Biden | 0.45798543826603 | 0.46730473830969 |
| 2021-10-21 00:00:00 | Joe Biden | 0.45665848013332 | 0.46997946999778 |
| 2021-10-22 00:00:00 | Joe Biden | 0.45433710746702 | 0.47110013730406 |
| 2021-10-23 00:00:00 | Joe Biden | 0.45524956339692 | 0.47223423876635 |
| 2021-10-24 00:00:00 | Joe Biden | 0.45289974445753 | 0.47521486302005 |
| 2021-10-25 00:00:00 | Joe Biden | 0.4520181415832 | 0.47540378668706 |
| 2021-10-26 00:00:00 | Joe Biden | 0.44983202744777 | 0.47770502466789 |
| 2021-10-27 00:00:00 | Joe Biden | 0.44754584950714 | 0.48035187794068 |
| 2021-10-28 00:00:00 | Joe Biden | 0.44637369325528 | 0.48003590560832 |
| 2021-10-29 00:00:00 | Joe Biden | 0.44649848837835 | 0.48065403065046 |
| 2021-10-30 00:00:00 | Joe Biden | 0.4452566448588 | 0.48062928335823 |
| 2021-10-31 00:00:00 | Joe Biden | 0.44676548273752 | 0.4791209958287 |
| 2021-11-01 00:00:00 | Joe Biden | 0.44187611649428 | 0.48288627874295 |
| 2021-11-02 00:00:00 | Joe Biden | 0.44257784075883 | 0.48206567080481 |
| 2021-11-03 00:00:00 | Joe Biden | 0.44403147352031 | 0.48036569728821 |
| 2021-11-04 00:00:00 | Joe Biden | 0.44374577655343 | 0.48134852723677 |
| 2021-11-05 00:00:00 | Joe Biden | 0.44170296645466 | 0.4838609097179 |
| 2021-11-06 00:00:00 | Joe Biden | 0.44051156077331 | 0.48522932060551 |
| 2021-11-07 00:00:00 | Joe Biden | 0.43975710508589 | 0.48567212952339 |
| 2021-11-08 00:00:00 | Joe Biden | 0.44141414151549 | 0.48346949323792 |
| 2021-11-09 00:00:00 | Joe Biden | 0.43931654505063 | 0.48567436801677 |
| 2021-11-10 00:00:00 | Joe Biden | 0.43906115772415 | 0.48610078231732 |
| 2021-11-11 00:00:00 | Joe Biden | 0.43871071562928 | 0.48584137654194 |
| 2021-11-12 00:00:00 | Joe Biden | 0.43902381374763 | 0.48460575158289 |
| 2021-11-13 00:00:00 | Joe Biden | 0.43858826668726 | 0.48501627702415 |
| 2021-11-14 00:00:00 | Joe Biden | 0.43674426007945 | 0.4872916139862 |
| 2021-11-15 00:00:00 | Joe Biden | 0.43964234881808 | 0.48678559071307 |
| 2021-11-16 00:00:00 | Joe Biden | 0.44397500921282 | 0.4834423101266 |
| 2021-11-17 00:00:00 | Joe Biden | 0.4422722662688 | 0.48579085511623 |
| 2021-11-18 00:00:00 | Joe Biden | 0.4397391406624 | 0.48605364122913 |
| 2021-11-19 00:00:00 | Joe Biden | 0.44075995871116 | 0.48602454306781 |
| 2021-11-20 00:00:00 | Joe Biden | 0.44412188091854 | 0.48180094488877 |
| 2021-11-21 00:00:00 | Joe Biden | 0.44601559511862 | 0.47998883931913 |
| 2021-11-22 00:00:00 | Joe Biden | 0.44205892429415 | 0.48311779231126 |
| 2021-11-23 00:00:00 | Joe Biden | 0.44134738348161 | 0.48426511879579 |
| 2021-11-24 00:00:00 | Joe Biden | 0.44221417982498 | 0.48196343488508 |
| 2021-11-25 00:00:00 | Joe Biden | 0.44708359574626 | 0.47989514711355 |
| 2021-11-26 00:00:00 | Joe Biden | 0.44700796258444 | 0.47937679231772 |
| 2021-11-27 00:00:00 | Joe Biden | 0.4432576182722 | 0.48432292591893 |
| 2021-11-28 00:00:00 | Joe Biden | 0.4407775539407 | 0.48606755607992 |
| 2021-11-29 00:00:00 | Joe Biden | 0.44425007492745 | 0.48271535655401 |
| 2021-11-30 00:00:00 | Joe Biden | 0.44126457076177 | 0.48508063232237 |
| 2021-12-01 00:00:00 | Joe Biden | 0.44299603307971 | 0.48544635652074 |
| 2021-12-02 00:00:00 | Joe Biden | 0.44099142967082 | 0.48709852499667 |
| 2021-12-03 00:00:00 | Joe Biden | 0.44057196179316 | 0.48638413823442 |
| 2021-12-04 00:00:00 | Joe Biden | 0.4422815486364 | 0.4850237210889 |
| 2021-12-05 00:00:00 | Joe Biden | 0.44114081804601 | 0.4858462390888 |
| 2021-12-06 00:00:00 | Joe Biden | 0.44054643207244 | 0.48727100146545 |
| 2021-12-07 00:00:00 | Joe Biden | 0.44346735440231 | 0.4846068077952 |
| 2021-12-08 00:00:00 | Joe Biden | 0.44103240314664 | 0.48475652154563 |
| 2021-12-09 00:00:00 | Joe Biden | 0.43880810919759 | 0.48733721370259 |
| 2021-12-10 00:00:00 | Joe Biden | 0.43841757876655 | 0.48845948820327 |
| 2021-12-11 00:00:00 | Joe Biden | 0.43992250319847 | 0.48690322218343 |
| 2021-12-12 00:00:00 | Joe Biden | 0.44191432984851 | 0.48463975505079 |
| 2021-12-13 00:00:00 | Joe Biden | 0.44037717453396 | 0.4847679627957 |
| 2021-12-14 00:00:00 | Joe Biden | 0.43917971055996 | 0.4843529688458 |
| 2021-12-15 00:00:00 | Joe Biden | 0.43935285064311 | 0.48430151414361 |
| 2021-12-16 00:00:00 | Joe Biden | 0.44227766339194 | 0.48093845068471 |
| 2021-12-17 00:00:00 | Joe Biden | 0.44174293531757 | 0.48098446901032 |
| 2021-12-18 00:00:00 | Joe Biden | 0.44345065754704 | 0.47971173784304 |
| 2021-12-19 00:00:00 | Joe Biden | 0.44649557033875 | 0.47855788520697 |
| 2021-12-20 00:00:00 | Joe Biden | 0.44614832187544 | 0.48041990820063 |
| 2021-12-21 00:00:00 | Joe Biden | 0.44505239209348 | 0.48334127192248 |
| 2021-12-22 00:00:00 | Joe Biden | 0.4439556389564 | 0.48523958773058 |
| 2021-12-23 00:00:00 | Joe Biden | 0.44570721392169 | 0.48398644272667 |
| 2021-12-24 00:00:00 | Joe Biden | 0.44686108858882 | 0.48362150672503 |
| 2021-12-25 00:00:00 | Joe Biden | 0.44374013457679 | 0.48496851243098 |
| 2021-12-26 00:00:00 | Joe Biden | 0.44155415476929 | 0.48580146568899 |
| 2021-12-27 00:00:00 | Joe Biden | 0.44085085890595 | 0.48485807458364 |
| 2021-12-28 00:00:00 | Joe Biden | 0.43811235659704 | 0.48592477242502 |
| 2021-12-29 00:00:00 | Joe Biden | 0.43763274281322 | 0.48550246039906 |
| 2021-12-30 00:00:00 | Joe Biden | 0.43353280910592 | 0.48899256925622 |
| 2021-12-31 00:00:00 | Joe Biden | 0.42904967798901 | 0.4926313656808 |
| 2022-01-01 00:00:00 | Joe Biden | 0.42579249245189 | 0.49564120836845 |
| 2022-01-02 00:00:00 | Joe Biden | 0.42254798963744 | 0.4970896699592 |
| 2022-01-03 00:00:00 | Joe Biden | 0.42249794220601 | 0.49673362702457 |
| 2022-01-04 00:00:00 | Joe Biden | 0.42375506838845 | 0.4950126452942 |
| 2022-01-05 00:00:00 | Joe Biden | 0.42351040039339 | 0.49513487183965 |
| 2022-01-06 00:00:00 | Joe Biden | 0.42519223477453 | 0.49323342325292 |
| 2022-01-07 00:00:00 | Joe Biden | 0.4292047568553 | 0.48917373726758 |
| 2022-01-08 00:00:00 | Joe Biden | 0.4314143596533 | 0.48708870514178 |
| 2022-01-09 00:00:00 | Joe Biden | 0.43252105722255 | 0.48612626648165 |
| 2022-01-10 00:00:00 | Joe Biden | 0.43255231118406 | 0.48528931950545 |
| 2022-01-11 00:00:00 | Joe Biden | 0.43316900646691 | 0.48509335462552 |
| 2022-01-12 00:00:00 | Joe Biden | 0.43233206341028 | 0.48381002463618 |
| 2022-01-13 00:00:00 | Joe Biden | 0.43196328571433 | 0.48419878593638 |
| 2022-01-14 00:00:00 | Joe Biden | 0.42857025300894 | 0.48537334889493 |
| 2022-01-15 00:00:00 | Joe Biden | 0.42676444552355 | 0.4859277061348 |
| 2022-01-16 00:00:00 | Joe Biden | 0.42688287403799 | 0.48615951078066 |
| 2022-01-17 00:00:00 | Joe Biden | 0.42844093291606 | 0.48740106834974 |
| 2022-01-18 00:00:00 | Joe Biden | 0.42851110846819 | 0.48770240882043 |
| 2022-01-19 00:00:00 | Joe Biden | 0.4280701503409 | 0.48967228772086 |
| 2022-01-20 00:00:00 | Joe Biden | 0.42596887713838 | 0.49194610240164 |
| 2022-01-21 00:00:00 | Joe Biden | 0.42812305359714 | 0.49133409743034 |
| 2022-01-22 00:00:00 | Joe Biden | 0.42696211171627 | 0.49293966054202 |
| 2022-01-23 00:00:00 | Joe Biden | 0.42368420472484 | 0.49728742826497 |
| 2022-01-24 00:00:00 | Joe Biden | 0.41947531955434 | 0.49874023556304 |
| 2022-01-25 00:00:00 | Joe Biden | 0.41675032748198 | 0.50048332072882 |
| 2022-01-26 00:00:00 | Joe Biden | 0.4158270201528 | 0.50162126528751 |
| 2022-01-27 00:00:00 | Joe Biden | 0.41390472948808 | 0.50303872736352 |
| 2022-01-28 00:00:00 | Joe Biden | 0.41071792587959 | 0.50720331177251 |
| 2022-01-29 00:00:00 | Joe Biden | 0.40967109239652 | 0.50878039645615 |
| 2022-01-30 00:00:00 | Joe Biden | 0.4095288310429 | 0.50743510202073 |
| 2022-01-31 00:00:00 | Joe Biden | 0.40949699320682 | 0.50811935146731 |
| 2022-02-01 00:00:00 | Joe Biden | 0.40821781423927 | 0.51000700378938 |
| 2022-02-02 00:00:00 | Joe Biden | 0.406637532078 | 0.51112947624917 |
| 2022-02-03 00:00:00 | Joe Biden | 0.40751216231288 | 0.51010558694386 |
| 2022-02-04 00:00:00 | Joe Biden | 0.4060305537607 | 0.50976136355985 |
| 2022-02-05 00:00:00 | Joe Biden | 0.40466430551784 | 0.51086878203667 |
| 2022-02-06 00:00:00 | Joe Biden | 0.40654588247674 | 0.5104026448525 |
| 2022-02-07 00:00:00 | Joe Biden | 0.40893436673842 | 0.5073105912068 |
| 2022-02-08 00:00:00 | Joe Biden | 0.41094559899962 | 0.50559523542478 |
| 2022-02-09 00:00:00 | Joe Biden | 0.41380153285063 | 0.50291919471085 |
| 2022-02-10 00:00:00 | Joe Biden | 0.41317507275595 | 0.50328016270232 |
| 2022-02-11 00:00:00 | Joe Biden | 0.41589069360878 | 0.50120721528891 |
| 2022-02-12 00:00:00 | Joe Biden | 0.41880435147092 | 0.49818965839704 |
| 2022-02-13 00:00:00 | Joe Biden | 0.41531818475076 | 0.5025006871586 |
| 2022-02-14 00:00:00 | Joe Biden | 0.41380559187837 | 0.50487089021159 |
| 2022-02-15 00:00:00 | Joe Biden | 0.41358002188048 | 0.50447235535357 |
| 2022-02-16 00:00:00 | Joe Biden | 0.41301632994816 | 0.50480339191221 |
| 2020-03-06 00:00:00 | Jair Bolsonaro | 0.55795891692108 | 0.35637546416428 |
| 2020-03-07 00:00:00 | Jair Bolsonaro | 0.55687586026118 | 0.36171729729749 |
| 2020-03-08 00:00:00 | Jair Bolsonaro | 0.5667007510246 | 0.35330214863466 |
| 2020-03-09 00:00:00 | Jair Bolsonaro | 0.56100406386448 | 0.36248606907368 |
| 2020-03-10 00:00:00 | Jair Bolsonaro | 0.54601174778102 | 0.37805135018799 |
| 2020-03-11 00:00:00 | Jair Bolsonaro | 0.54555774813744 | 0.37879857653283 |
| 2020-03-12 00:00:00 | Jair Bolsonaro | 0.54530909344694 | 0.37307027627908 |
| 2020-03-13 00:00:00 | Jair Bolsonaro | 0.5539649621712 | 0.36791147233907 |
| 2020-03-14 00:00:00 | Jair Bolsonaro | 0.5575290063167 | 0.36129271341204 |
| 2020-03-15 00:00:00 | Jair Bolsonaro | 0.56132283388559 | 0.36029921623859 |
| 2020-03-16 00:00:00 | Jair Bolsonaro | 0.55993776413947 | 0.35976121370306 |
| 2020-03-17 00:00:00 | Jair Bolsonaro | 0.57541760592667 | 0.34966361833847 |
| 2020-03-18 00:00:00 | Jair Bolsonaro | 0.58504664708733 | 0.33594163682411 |
| 2020-03-19 00:00:00 | Jair Bolsonaro | 0.58171195327817 | 0.34391412908865 |
| 2020-03-20 00:00:00 | Jair Bolsonaro | 0.58220670903592 | 0.3401300332244 |
| 2020-03-21 00:00:00 | Jair Bolsonaro | 0.58488496295069 | 0.34037198703862 |
| 2020-03-22 00:00:00 | Jair Bolsonaro | 0.57938446428708 | 0.34406166157354 |
| 2020-03-23 00:00:00 | Jair Bolsonaro | 0.57870129703076 | 0.33974696708429 |
| 2020-03-24 00:00:00 | Jair Bolsonaro | 0.55626156554894 | 0.36184248890287 |
| 2020-03-25 00:00:00 | Jair Bolsonaro | 0.54110628632544 | 0.38250664492502 |
| 2020-03-26 00:00:00 | Jair Bolsonaro | 0.53506309788864 | 0.3907684119199 |
| 2020-03-27 00:00:00 | Jair Bolsonaro | 0.51272004335039 | 0.41087097127524 |
| 2020-03-28 00:00:00 | Jair Bolsonaro | 0.50030415268612 | 0.42493657828917 |
| 2020-03-29 00:00:00 | Jair Bolsonaro | 0.49140934449824 | 0.43876846963114 |
| 2020-03-30 00:00:00 | Jair Bolsonaro | 0.47796204507653 | 0.4565939600219 |
| 2020-03-31 00:00:00 | Jair Bolsonaro | 0.47840058850861 | 0.45109708915446 |
| 2020-04-01 00:00:00 | Jair Bolsonaro | 0.47474587887001 | 0.4534933324607 |
| 2020-04-02 00:00:00 | Jair Bolsonaro | 0.4821009158632 | 0.44380176153366 |
| 2020-04-03 00:00:00 | Jair Bolsonaro | 0.49513571535746 | 0.43286862647492 |
| 2020-04-04 00:00:00 | Jair Bolsonaro | 0.50266078470565 | 0.42907740652717 |
| 2020-04-05 00:00:00 | Jair Bolsonaro | 0.49373158203528 | 0.44092928448927 |
| 2020-04-06 00:00:00 | Jair Bolsonaro | 0.5026914524299 | 0.4282174093724 |
| 2020-04-07 00:00:00 | Jair Bolsonaro | 0.51060028430027 | 0.42762516887544 |
| 2020-04-08 00:00:00 | Jair Bolsonaro | 0.51490034156458 | 0.42079577858397 |
| 2020-04-09 00:00:00 | Jair Bolsonaro | 0.51329800707024 | 0.4166967749737 |
| 2020-04-10 00:00:00 | Jair Bolsonaro | 0.51679813833741 | 0.41852080189176 |
| 2020-04-11 00:00:00 | Jair Bolsonaro | 0.51035565057132 | 0.4216683107826 |
| 2020-04-12 00:00:00 | Jair Bolsonaro | 0.52981710664485 | 0.40486668938916 |
| 2020-04-13 00:00:00 | Jair Bolsonaro | 0.5320430044705 | 0.40544227024549 |
| 2020-04-14 00:00:00 | Jair Bolsonaro | 0.52225447906666 | 0.41186960237984 |
| 2020-04-15 00:00:00 | Jair Bolsonaro | 0.53167907812377 | 0.40568940217315 |
| 2020-04-16 00:00:00 | Jair Bolsonaro | 0.52958482717241 | 0.41748056881338 |
| 2020-04-17 00:00:00 | Jair Bolsonaro | 0.51970568986606 | 0.42661068567094 |
| 2020-04-18 00:00:00 | Jair Bolsonaro | 0.51623657678558 | 0.42376731254535 |
| 2020-04-19 00:00:00 | Jair Bolsonaro | 0.52333781085585 | 0.41315354823107 |
| 2020-04-20 00:00:00 | Jair Bolsonaro | 0.52073080597505 | 0.41646042317957 |
| 2020-04-21 00:00:00 | Jair Bolsonaro | 0.52017791592114 | 0.41519825235211 |
| 2020-04-22 00:00:00 | Jair Bolsonaro | 0.50794880077006 | 0.42711624999301 |
| 2020-04-23 00:00:00 | Jair Bolsonaro | 0.49598490238019 | 0.43446285718326 |
| 2020-04-24 00:00:00 | Jair Bolsonaro | 0.48911662984472 | 0.43972513989535 |
| 2020-04-25 00:00:00 | Jair Bolsonaro | 0.47191434871829 | 0.46392365137116 |
| 2020-04-26 00:00:00 | Jair Bolsonaro | 0.44701880487668 | 0.48721433254994 |
| 2020-04-27 00:00:00 | Jair Bolsonaro | 0.43705568902668 | 0.49743426038383 |
| 2020-04-28 00:00:00 | Jair Bolsonaro | 0.44145949522231 | 0.49518523163552 |
| 2020-04-29 00:00:00 | Jair Bolsonaro | 0.44018879605642 | 0.4971527018853 |
| 2020-04-30 00:00:00 | Jair Bolsonaro | 0.44614945710485 | 0.49347983392436 |
| 2020-05-01 00:00:00 | Jair Bolsonaro | 0.45184331669892 | 0.48102638899412 |
| 2020-05-02 00:00:00 | Jair Bolsonaro | 0.46507990649958 | 0.46383713397954 |
| 2020-05-03 00:00:00 | Jair Bolsonaro | 0.47126994322605 | 0.45962322850896 |
| 2020-05-04 00:00:00 | Jair Bolsonaro | 0.47440038431023 | 0.45644779047619 |
| 2020-05-05 00:00:00 | Jair Bolsonaro | 0.46485471290518 | 0.46676285036762 |
| 2020-05-06 00:00:00 | Jair Bolsonaro | 0.44973615271614 | 0.47309570839863 |
| 2020-05-07 00:00:00 | Jair Bolsonaro | 0.4373374255974 | 0.4748293686149 |
| 2020-05-08 00:00:00 | Jair Bolsonaro | 0.42297855915314 | 0.49508519257277 |
| 2020-05-09 00:00:00 | Jair Bolsonaro | 0.41514402414078 | 0.50246467829473 |
| 2020-05-10 00:00:00 | Jair Bolsonaro | 0.41125046914927 | 0.50325274948277 |
| 2020-05-11 00:00:00 | Jair Bolsonaro | 0.40409126786206 | 0.51172451106506 |
| 2020-05-12 00:00:00 | Jair Bolsonaro | 0.4070186003979 | 0.51264605197417 |
| 2020-05-13 00:00:00 | Jair Bolsonaro | 0.41473573202199 | 0.51583016299019 |
| 2020-05-14 00:00:00 | Jair Bolsonaro | 0.41726159792251 | 0.52545567025498 |
| 2020-05-15 00:00:00 | Jair Bolsonaro | 0.41728669223205 | 0.52830288669367 |
| 2020-05-16 00:00:00 | Jair Bolsonaro | 0.42036370636775 | 0.53168307030875 |
| 2020-05-17 00:00:00 | Jair Bolsonaro | 0.41500892281776 | 0.53931434115216 |
| 2020-05-18 00:00:00 | Jair Bolsonaro | 0.41867409650269 | 0.54024176528684 |
| 2020-05-19 00:00:00 | Jair Bolsonaro | 0.41154948382892 | 0.54047573683329 |
| 2020-05-20 00:00:00 | Jair Bolsonaro | 0.41196350497527 | 0.53131803821171 |
| 2020-05-21 00:00:00 | Jair Bolsonaro | 0.41125982010679 | 0.5295895617762 |
| 2020-05-22 00:00:00 | Jair Bolsonaro | 0.40980884004724 | 0.52127614577224 |
| 2020-05-23 00:00:00 | Jair Bolsonaro | 0.41505907874696 | 0.51109937617081 |
| 2020-05-24 00:00:00 | Jair Bolsonaro | 0.42121734260181 | 0.5013132061869 |
| 2020-05-25 00:00:00 | Jair Bolsonaro | 0.41530596191695 | 0.49585426935396 |
| 2020-05-26 00:00:00 | Jair Bolsonaro | 0.42140437464296 | 0.49537234370934 |
| 2020-05-27 00:00:00 | Jair Bolsonaro | 0.41960487119477 | 0.4926373209705 |
| 2020-05-28 00:00:00 | Jair Bolsonaro | 0.4215862219771 | 0.48386337594299 |
| 2020-05-29 00:00:00 | Jair Bolsonaro | 0.43030113680908 | 0.48551221482597 |
| 2020-05-30 00:00:00 | Jair Bolsonaro | 0.42166115289867 | 0.49624708325115 |
| 2020-05-31 00:00:00 | Jair Bolsonaro | 0.42064180512209 | 0.50005749486523 |
| 2020-06-01 00:00:00 | Jair Bolsonaro | 0.43104279988319 | 0.49605501929005 |
| 2020-06-02 00:00:00 | Jair Bolsonaro | 0.43034920936822 | 0.497187356305 |
| 2020-06-03 00:00:00 | Jair Bolsonaro | 0.42375387039462 | 0.51486390547904 |
| 2020-06-04 00:00:00 | Jair Bolsonaro | 0.42012584753554 | 0.52994287696683 |
| 2020-06-05 00:00:00 | Jair Bolsonaro | 0.41666941020302 | 0.52617754081272 |
| 2020-06-06 00:00:00 | Jair Bolsonaro | 0.41605326783131 | 0.52251706706532 |
| 2020-06-07 00:00:00 | Jair Bolsonaro | 0.41281988921074 | 0.51938281160175 |
| 2020-06-08 00:00:00 | Jair Bolsonaro | 0.38661246444602 | 0.54795840337283 |
| 2020-06-09 00:00:00 | Jair Bolsonaro | 0.37635200386981 | 0.55026846575734 |
| 2020-06-10 00:00:00 | Jair Bolsonaro | 0.38715413441634 | 0.53904327295604 |
| 2020-06-11 00:00:00 | Jair Bolsonaro | 0.39915098491569 | 0.52566169284734 |
| 2020-06-12 00:00:00 | Jair Bolsonaro | 0.40211209154646 | 0.52950341960635 |
| 2020-06-13 00:00:00 | Jair Bolsonaro | 0.39957627233538 | 0.52810108144074 |
| 2020-06-14 00:00:00 | Jair Bolsonaro | 0.40311205103724 | 0.52817115609474 |
| 2020-06-15 00:00:00 | Jair Bolsonaro | 0.42077389941791 | 0.50711032713569 |
| 2020-06-16 00:00:00 | Jair Bolsonaro | 0.41851495868201 | 0.50885394517442 |
| 2020-06-17 00:00:00 | Jair Bolsonaro | 0.41436391509788 | 0.51424003160029 |
| 2020-06-18 00:00:00 | Jair Bolsonaro | 0.40513365612464 | 0.52292506865716 |
| 2020-06-19 00:00:00 | Jair Bolsonaro | 0.40458410087899 | 0.52027634241262 |
| 2020-06-20 00:00:00 | Jair Bolsonaro | 0.40531479078414 | 0.51915672867268 |
| 2020-06-21 00:00:00 | Jair Bolsonaro | 0.39841358056886 | 0.53094928044063 |
| 2020-06-22 00:00:00 | Jair Bolsonaro | 0.41576859835437 | 0.51474469524417 |
| 2020-06-23 00:00:00 | Jair Bolsonaro | 0.42798180291668 | 0.50983689483664 |
| 2020-06-24 00:00:00 | Jair Bolsonaro | 0.43288364255625 | 0.50141057633775 |
| 2020-06-25 00:00:00 | Jair Bolsonaro | 0.42900533427048 | 0.50139414502222 |
| 2020-06-26 00:00:00 | Jair Bolsonaro | 0.41488297962763 | 0.51464958028205 |
| 2020-06-27 00:00:00 | Jair Bolsonaro | 0.42453388951011 | 0.5069327692317 |
| 2020-06-28 00:00:00 | Jair Bolsonaro | 0.43068205599979 | 0.50019832041052 |
| 2020-06-29 00:00:00 | Jair Bolsonaro | 0.42061005863232 | 0.5064138376516 |
| 2020-06-30 00:00:00 | Jair Bolsonaro | 0.41737111854855 | 0.50420401782607 |
| 2020-07-01 00:00:00 | Jair Bolsonaro | 0.41745138560699 | 0.50636487570712 |
| 2020-07-02 00:00:00 | Jair Bolsonaro | 0.42701906831257 | 0.49774669477055 |
| 2020-07-03 00:00:00 | Jair Bolsonaro | 0.44411447669936 | 0.4773148493435 |
| 2020-07-04 00:00:00 | Jair Bolsonaro | 0.44552263164048 | 0.47959019076228 |
| 2020-07-05 00:00:00 | Jair Bolsonaro | 0.44615740965468 | 0.47256540576565 |
| 2020-07-06 00:00:00 | Jair Bolsonaro | 0.44458346012167 | 0.48316910611409 |
| 2020-07-07 00:00:00 | Jair Bolsonaro | 0.45352431319907 | 0.47626138860155 |
| 2020-07-08 00:00:00 | Jair Bolsonaro | 0.45856112410341 | 0.46960023862735 |
| 2020-07-09 00:00:00 | Jair Bolsonaro | 0.45498643310913 | 0.4758806868828 |
| 2020-07-10 00:00:00 | Jair Bolsonaro | 0.4563991517222 | 0.47522133878406 |
| 2020-07-11 00:00:00 | Jair Bolsonaro | 0.4616993552577 | 0.46960188596235 |
| 2020-07-12 00:00:00 | Jair Bolsonaro | 0.46195539190855 | 0.47433882927206 |
| 2020-07-13 00:00:00 | Jair Bolsonaro | 0.44929769082796 | 0.47606632233746 |
| 2020-07-14 00:00:00 | Jair Bolsonaro | 0.46632709578788 | 0.46264858427653 |
| 2020-07-15 00:00:00 | Jair Bolsonaro | 0.45526215899848 | 0.46291344011846 |
| 2020-07-16 00:00:00 | Jair Bolsonaro | 0.45255907509431 | 0.46778309513645 |
| 2020-07-17 00:00:00 | Jair Bolsonaro | 0.45390382482447 | 0.47139837443083 |
| 2020-07-18 00:00:00 | Jair Bolsonaro | 0.44965160407264 | 0.47303007350924 |
| 2020-07-19 00:00:00 | Jair Bolsonaro | 0.44733222260068 | 0.47639365604652 |
| 2020-07-20 00:00:00 | Jair Bolsonaro | 0.46851029097058 | 0.4664525293213 |
| 2020-07-21 00:00:00 | Jair Bolsonaro | 0.45028271884803 | 0.48275081872434 |
| 2020-07-22 00:00:00 | Jair Bolsonaro | 0.46522274994355 | 0.47776656841001 |
| 2020-07-23 00:00:00 | Jair Bolsonaro | 0.46833910766676 | 0.46861381103677 |
| 2020-07-24 00:00:00 | Jair Bolsonaro | 0.4602252229706 | 0.47219814941155 |
| 2020-07-25 00:00:00 | Jair Bolsonaro | 0.4580812437398 | 0.48003846879397 |
| 2020-07-26 00:00:00 | Jair Bolsonaro | 0.46687998803686 | 0.47651923832535 |
| 2020-07-27 00:00:00 | Jair Bolsonaro | 0.46612301827839 | 0.46780750286105 |
| 2020-07-28 00:00:00 | Jair Bolsonaro | 0.46599738251374 | 0.46959589583332 |
| 2020-07-29 00:00:00 | Jair Bolsonaro | 0.46561364290849 | 0.46997080930332 |
| 2020-07-30 00:00:00 | Jair Bolsonaro | 0.46917278301615 | 0.46861241701795 |
| 2020-07-31 00:00:00 | Jair Bolsonaro | 0.46767449312864 | 0.4679069184567 |
| 2020-08-01 00:00:00 | Jair Bolsonaro | 0.46864019940576 | 0.45947416585806 |
| 2020-08-02 00:00:00 | Jair Bolsonaro | 0.46277896583406 | 0.45432075793116 |
| 2020-08-03 00:00:00 | Jair Bolsonaro | 0.45927257285285 | 0.4646996149257 |
| 2020-08-04 00:00:00 | Jair Bolsonaro | 0.46496412530606 | 0.45946921799338 |
| 2020-08-05 00:00:00 | Jair Bolsonaro | 0.45650878149649 | 0.46761761309835 |
| 2020-08-06 00:00:00 | Jair Bolsonaro | 0.45711072039987 | 0.46510230735815 |
| 2020-08-07 00:00:00 | Jair Bolsonaro | 0.45719572780007 | 0.47084926228175 |
| 2020-08-08 00:00:00 | Jair Bolsonaro | 0.4573934532152 | 0.47686953002976 |
| 2020-08-09 00:00:00 | Jair Bolsonaro | 0.46578957476842 | 0.47067858137797 |
| 2020-08-10 00:00:00 | Jair Bolsonaro | 0.46621932701824 | 0.46543863016888 |
| 2020-08-11 00:00:00 | Jair Bolsonaro | 0.45870028269993 | 0.47218109428399 |
| 2020-08-12 00:00:00 | Jair Bolsonaro | 0.46231872814288 | 0.47248139595576 |
| 2020-08-13 00:00:00 | Jair Bolsonaro | 0.46378416119232 | 0.47379079197368 |
| 2020-08-14 00:00:00 | Jair Bolsonaro | 0.4667754752335 | 0.4707100094987 |
| 2020-08-15 00:00:00 | Jair Bolsonaro | 0.48429617210688 | 0.4532749764937 |
| 2020-08-16 00:00:00 | Jair Bolsonaro | 0.47668276536306 | 0.46266891080673 |
| 2020-08-17 00:00:00 | Jair Bolsonaro | 0.47323035991494 | 0.46316805494732 |
| 2020-08-18 00:00:00 | Jair Bolsonaro | 0.47917199945787 | 0.4589486067993 |
| 2020-08-19 00:00:00 | Jair Bolsonaro | 0.48541983839175 | 0.45213828292806 |
| 2020-08-20 00:00:00 | Jair Bolsonaro | 0.48489830730695 | 0.45136662180517 |
| 2020-08-21 00:00:00 | Jair Bolsonaro | 0.49817432875234 | 0.43680958901804 |
| 2020-08-22 00:00:00 | Jair Bolsonaro | 0.48350514880276 | 0.445026357361 |
| 2020-08-23 00:00:00 | Jair Bolsonaro | 0.49300875791961 | 0.4364300403581 |
| 2020-08-24 00:00:00 | Jair Bolsonaro | 0.50321485772422 | 0.43371814143135 |
| 2020-08-25 00:00:00 | Jair Bolsonaro | 0.49825594766908 | 0.43798285675408 |
| 2020-08-26 00:00:00 | Jair Bolsonaro | 0.49911812728203 | 0.43838159042586 |
| 2020-08-27 00:00:00 | Jair Bolsonaro | 0.50477565855721 | 0.43252097549655 |
| 2020-08-28 00:00:00 | Jair Bolsonaro | 0.5030258059603 | 0.43427591525885 |
| 2020-08-29 00:00:00 | Jair Bolsonaro | 0.50804715752421 | 0.43367548039544 |
| 2020-08-30 00:00:00 | Jair Bolsonaro | 0.50092581285618 | 0.43368189041521 |
| 2020-08-31 00:00:00 | Jair Bolsonaro | 0.49091012531072 | 0.43391432049991 |
| 2020-09-01 00:00:00 | Jair Bolsonaro | 0.49673586167133 | 0.42212418089821 |
| 2020-09-02 00:00:00 | Jair Bolsonaro | 0.49030133058889 | 0.42539817446816 |
| 2020-09-03 00:00:00 | Jair Bolsonaro | 0.49242640058492 | 0.42534546822275 |
| 2020-09-04 00:00:00 | Jair Bolsonaro | 0.47619856174602 | 0.43833435160374 |
| 2020-09-05 00:00:00 | Jair Bolsonaro | 0.47226736219518 | 0.44328337012217 |
| 2020-09-06 00:00:00 | Jair Bolsonaro | 0.47991045136832 | 0.43830441965699 |
| 2020-09-07 00:00:00 | Jair Bolsonaro | 0.47599816951239 | 0.44103262377336 |
| 2020-09-08 00:00:00 | Jair Bolsonaro | 0.47907981338629 | 0.43890843334484 |
| 2020-09-09 00:00:00 | Jair Bolsonaro | 0.47682404246313 | 0.43593839929907 |
| 2020-09-10 00:00:00 | Jair Bolsonaro | 0.47988435097726 | 0.43217644894085 |
| 2020-09-11 00:00:00 | Jair Bolsonaro | 0.48484253607312 | 0.42916032685138 |
| 2020-09-12 00:00:00 | Jair Bolsonaro | 0.48606410467462 | 0.42707178496945 |
| 2020-09-13 00:00:00 | Jair Bolsonaro | 0.48662242615553 | 0.42970110036368 |
| 2020-09-14 00:00:00 | Jair Bolsonaro | 0.49229334578984 | 0.42644957728491 |
| 2020-09-15 00:00:00 | Jair Bolsonaro | 0.48807955186225 | 0.424941410339 |
| 2020-09-16 00:00:00 | Jair Bolsonaro | 0.49175721935229 | 0.42262486844006 |
| 2020-09-17 00:00:00 | Jair Bolsonaro | 0.48690823165081 | 0.42871843976522 |
| 2020-09-18 00:00:00 | Jair Bolsonaro | 0.49274555581449 | 0.42545852520864 |
| 2020-09-19 00:00:00 | Jair Bolsonaro | 0.48202786917787 | 0.43507803582459 |
| 2020-09-20 00:00:00 | Jair Bolsonaro | 0.47022601074585 | 0.44321464771602 |
| 2020-09-21 00:00:00 | Jair Bolsonaro | 0.4701619836563 | 0.44857762620587 |
| 2020-09-22 00:00:00 | Jair Bolsonaro | 0.47264949139314 | 0.45345279957125 |
| 2020-09-23 00:00:00 | Jair Bolsonaro | 0.47630987107667 | 0.45138540117164 |
| 2020-09-24 00:00:00 | Jair Bolsonaro | 0.46245511199507 | 0.4575604092173 |
| 2020-09-25 00:00:00 | Jair Bolsonaro | 0.46667384727342 | 0.45209241372657 |
| 2020-09-26 00:00:00 | Jair Bolsonaro | 0.48086170239813 | 0.43511643806617 |
| 2020-09-27 00:00:00 | Jair Bolsonaro | 0.47488517793716 | 0.4419396847437 |
| 2020-09-28 00:00:00 | Jair Bolsonaro | 0.47397088499133 | 0.44020417565245 |
| 2020-09-29 00:00:00 | Jair Bolsonaro | 0.47073394397313 | 0.43524373624471 |
| 2020-09-30 00:00:00 | Jair Bolsonaro | 0.46806842135364 | 0.43055703959681 |
| 2020-10-01 00:00:00 | Jair Bolsonaro | 0.47060938224019 | 0.42714990735484 |
| 2020-10-02 00:00:00 | Jair Bolsonaro | 0.47565133295468 | 0.42230420303275 |
| 2020-10-03 00:00:00 | Jair Bolsonaro | 0.47975938580697 | 0.41617819118309 |
| 2020-10-04 00:00:00 | Jair Bolsonaro | 0.50100388075944 | 0.39696252568942 |
| 2020-10-05 00:00:00 | Jair Bolsonaro | 0.49834437995373 | 0.39943649635631 |
| 2020-10-06 00:00:00 | Jair Bolsonaro | 0.49827292883519 | 0.40277798035878 |
| 2020-10-07 00:00:00 | Jair Bolsonaro | 0.49314683755836 | 0.4105198350531 |
| 2020-10-08 00:00:00 | Jair Bolsonaro | 0.49331268805475 | 0.41966849349042 |
| 2020-10-09 00:00:00 | Jair Bolsonaro | 0.49576594080684 | 0.4105588014217 |
| 2020-10-10 00:00:00 | Jair Bolsonaro | 0.48188955819709 | 0.43497804061 |
| 2020-10-11 00:00:00 | Jair Bolsonaro | 0.48547743810803 | 0.43120131839656 |
| 2020-10-12 00:00:00 | Jair Bolsonaro | 0.48721419363354 | 0.4248024551533 |
| 2020-10-13 00:00:00 | Jair Bolsonaro | 0.48861249633228 | 0.42274915124228 |
| 2020-10-14 00:00:00 | Jair Bolsonaro | 0.49338118411255 | 0.41954902949399 |
| 2020-10-15 00:00:00 | Jair Bolsonaro | 0.50113670918878 | 0.40966315368112 |
| 2020-10-16 00:00:00 | Jair Bolsonaro | 0.49976878789826 | 0.41278662602777 |
| 2020-10-17 00:00:00 | Jair Bolsonaro | 0.51100714887707 | 0.39518953669667 |
| 2020-10-18 00:00:00 | Jair Bolsonaro | 0.49051340770114 | 0.41666480022403 |
| 2020-10-19 00:00:00 | Jair Bolsonaro | 0.49002612851665 | 0.42574190815522 |
| 2020-10-20 00:00:00 | Jair Bolsonaro | 0.4873841033617 | 0.43430577093353 |
| 2020-10-21 00:00:00 | Jair Bolsonaro | 0.49080255601679 | 0.43643179853502 |
| 2020-10-22 00:00:00 | Jair Bolsonaro | 0.49053938318843 | 0.43007369508454 |
| 2020-10-23 00:00:00 | Jair Bolsonaro | 0.48655028619985 | 0.43306546026381 |
| 2020-10-24 00:00:00 | Jair Bolsonaro | 0.47852705320589 | 0.44509144170094 |
| 2020-10-25 00:00:00 | Jair Bolsonaro | 0.4649768948192 | 0.45549041153777 |
| 2020-10-26 00:00:00 | Jair Bolsonaro | 0.4587241028991 | 0.46075277312941 |
| 2020-10-27 00:00:00 | Jair Bolsonaro | 0.45629114402658 | 0.46179698671889 |
| 2020-10-28 00:00:00 | Jair Bolsonaro | 0.45166695750688 | 0.46279725821678 |
| 2020-10-29 00:00:00 | Jair Bolsonaro | 0.44994905444014 | 0.46956366401147 |
| 2020-10-30 00:00:00 | Jair Bolsonaro | 0.44040948578515 | 0.48712842026132 |
| 2020-10-31 00:00:00 | Jair Bolsonaro | 0.44279700489076 | 0.48156581674906 |
| 2020-11-01 00:00:00 | Jair Bolsonaro | 0.46366048614089 | 0.46008138865898 |
| 2020-11-02 00:00:00 | Jair Bolsonaro | 0.46421650362081 | 0.44904534451027 |
| 2020-11-03 00:00:00 | Jair Bolsonaro | 0.46162108547971 | 0.45326409912265 |
| 2020-11-04 00:00:00 | Jair Bolsonaro | 0.45754275953954 | 0.45881496347046 |
| 2020-11-05 00:00:00 | Jair Bolsonaro | 0.45496756622928 | 0.45735785884407 |
| 2020-11-06 00:00:00 | Jair Bolsonaro | 0.45771593511079 | 0.44844753709563 |
| 2020-11-07 00:00:00 | Jair Bolsonaro | 0.44578875448137 | 0.46066370556783 |
| 2020-11-08 00:00:00 | Jair Bolsonaro | 0.43505728073776 | 0.47753681325618 |
| 2020-11-09 00:00:00 | Jair Bolsonaro | 0.43804876581527 | 0.48465287380574 |
| 2020-11-10 00:00:00 | Jair Bolsonaro | 0.45295056225207 | 0.46836003215343 |
| 2020-11-11 00:00:00 | Jair Bolsonaro | 0.45922010855689 | 0.45805834800623 |
| 2020-11-12 00:00:00 | Jair Bolsonaro | 0.45986480627184 | 0.45999366987901 |
| 2020-11-13 00:00:00 | Jair Bolsonaro | 0.45048879225517 | 0.47038888337944 |
| 2020-11-14 00:00:00 | Jair Bolsonaro | 0.47148923333582 | 0.4507405830605 |
| 2020-11-15 00:00:00 | Jair Bolsonaro | 0.47908287121411 | 0.44110218553442 |
| 2020-11-16 00:00:00 | Jair Bolsonaro | 0.48270878944272 | 0.4379672526806 |
| 2020-11-17 00:00:00 | Jair Bolsonaro | 0.46740164534079 | 0.45142159471006 |
| 2020-11-18 00:00:00 | Jair Bolsonaro | 0.45896365620278 | 0.46569438452648 |
| 2020-11-19 00:00:00 | Jair Bolsonaro | 0.46365702579128 | 0.46402218680559 |
| 2020-11-20 00:00:00 | Jair Bolsonaro | 0.47673822168299 | 0.44669278535447 |
| 2020-11-21 00:00:00 | Jair Bolsonaro | 0.45204285941639 | 0.46760921336032 |
| 2020-11-22 00:00:00 | Jair Bolsonaro | 0.45241651309304 | 0.465941523149 |
| 2020-11-23 00:00:00 | Jair Bolsonaro | 0.44716181324981 | 0.47664532917933 |
| 2020-11-24 00:00:00 | Jair Bolsonaro | 0.45630017626615 | 0.46574877515993 |
| 2020-11-25 00:00:00 | Jair Bolsonaro | 0.45718059507001 | 0.46125980633489 |
| 2020-11-26 00:00:00 | Jair Bolsonaro | 0.44505163596482 | 0.47006110890855 |
| 2020-11-27 00:00:00 | Jair Bolsonaro | 0.44632798409879 | 0.48006884430862 |
| 2020-11-28 00:00:00 | Jair Bolsonaro | 0.45676038202974 | 0.47131983726727 |
| 2020-11-29 00:00:00 | Jair Bolsonaro | 0.45840556860303 | 0.46488189976579 |
| 2020-11-30 00:00:00 | Jair Bolsonaro | 0.46830723246125 | 0.44293038472393 |
| 2020-12-01 00:00:00 | Jair Bolsonaro | 0.46454921082268 | 0.44909808005367 |
| 2020-12-02 00:00:00 | Jair Bolsonaro | 0.46531621348826 | 0.44495874131771 |
| 2020-12-03 00:00:00 | Jair Bolsonaro | 0.47085877580481 | 0.44126021378123 |
| 2020-12-04 00:00:00 | Jair Bolsonaro | 0.46579025673903 | 0.44080642883622 |
| 2020-12-05 00:00:00 | Jair Bolsonaro | 0.47552454066409 | 0.43084502667598 |
| 2020-12-06 00:00:00 | Jair Bolsonaro | 0.47968544053413 | 0.43046128397792 |
| 2020-12-07 00:00:00 | Jair Bolsonaro | 0.47108885761016 | 0.44533925576427 |
| 2020-12-08 00:00:00 | Jair Bolsonaro | 0.46740083295226 | 0.4521957231672 |
| 2020-12-09 00:00:00 | Jair Bolsonaro | 0.46864804248359 | 0.46085238817261 |
| 2020-12-10 00:00:00 | Jair Bolsonaro | 0.47009496507652 | 0.45816443129993 |
| 2020-12-11 00:00:00 | Jair Bolsonaro | 0.46585818588528 | 0.4645967005872 |
| 2020-12-12 00:00:00 | Jair Bolsonaro | 0.46055634913034 | 0.47320536207518 |
| 2020-12-13 00:00:00 | Jair Bolsonaro | 0.45444011764677 | 0.47839534164464 |
| 2020-12-14 00:00:00 | Jair Bolsonaro | 0.45132010051948 | 0.48275350729244 |
| 2020-12-15 00:00:00 | Jair Bolsonaro | 0.4436668856862 | 0.48726972964581 |
| 2020-12-16 00:00:00 | Jair Bolsonaro | 0.4480808013812 | 0.48174988805851 |
| 2020-12-17 00:00:00 | Jair Bolsonaro | 0.45035290298671 | 0.47827636353109 |
| 2020-12-18 00:00:00 | Jair Bolsonaro | 0.45881458327872 | 0.4696057177952 |
| 2020-12-19 00:00:00 | Jair Bolsonaro | 0.44929230800494 | 0.4752118121939 |
| 2020-12-20 00:00:00 | Jair Bolsonaro | 0.44776230474199 | 0.48132927121976 |
| 2020-12-21 00:00:00 | Jair Bolsonaro | 0.44526273205171 | 0.4815237906383 |
| 2020-12-22 00:00:00 | Jair Bolsonaro | 0.44900274318948 | 0.47497845852606 |
| 2020-12-23 00:00:00 | Jair Bolsonaro | 0.43845668965341 | 0.48046660878772 |
| 2020-12-24 00:00:00 | Jair Bolsonaro | 0.42847455148663 | 0.48401816214236 |
| 2020-12-25 00:00:00 | Jair Bolsonaro | 0.41738156815106 | 0.4937032843493 |
| 2020-12-26 00:00:00 | Jair Bolsonaro | 0.40721609768051 | 0.49549013230283 |
| 2020-12-27 00:00:00 | Jair Bolsonaro | 0.39741546160285 | 0.50266050375816 |
| 2020-12-28 00:00:00 | Jair Bolsonaro | 0.40978255575908 | 0.49461805666295 |
| 2020-12-29 00:00:00 | Jair Bolsonaro | 0.41054643569119 | 0.49974908913464 |
| 2020-12-30 00:00:00 | Jair Bolsonaro | 0.41463551304524 | 0.49540235168858 |
| 2020-12-31 00:00:00 | Jair Bolsonaro | 0.41825946410879 | 0.50460113888322 |
| 2021-01-01 00:00:00 | Jair Bolsonaro | 0.42604762380614 | 0.49465592084961 |
| 2021-01-02 00:00:00 | Jair Bolsonaro | 0.42909561027559 | 0.48948604195678 |
| 2021-01-03 00:00:00 | Jair Bolsonaro | 0.4260069334547 | 0.48339852175431 |
| 2021-01-04 00:00:00 | Jair Bolsonaro | 0.42057111293619 | 0.48739942731802 |
| 2021-01-05 00:00:00 | Jair Bolsonaro | 0.4162131711748 | 0.4917603618758 |
| 2021-01-06 00:00:00 | Jair Bolsonaro | 0.40750405832403 | 0.50517874916369 |
| 2021-01-07 00:00:00 | Jair Bolsonaro | 0.39808199962789 | 0.50778607365563 |
| 2021-01-08 00:00:00 | Jair Bolsonaro | 0.38999858895412 | 0.51508007158918 |
| 2021-01-09 00:00:00 | Jair Bolsonaro | 0.39891737963311 | 0.51653477463478 |
| 2021-01-10 00:00:00 | Jair Bolsonaro | 0.41220157931444 | 0.51857862108964 |
| 2021-01-11 00:00:00 | Jair Bolsonaro | 0.41227352148024 | 0.52260306959364 |
| 2021-01-12 00:00:00 | Jair Bolsonaro | 0.4230513393333 | 0.51047239308519 |
| 2021-01-13 00:00:00 | Jair Bolsonaro | 0.42550192599875 | 0.5083430999528 |
| 2021-01-14 00:00:00 | Jair Bolsonaro | 0.43504298641783 | 0.50739733775136 |
| 2021-01-15 00:00:00 | Jair Bolsonaro | 0.43010327371085 | 0.51605511342273 |
| 2021-01-16 00:00:00 | Jair Bolsonaro | 0.43001896859167 | 0.51872283650504 |
| 2021-01-17 00:00:00 | Jair Bolsonaro | 0.42508060777206 | 0.52055416130064 |
| 2021-01-18 00:00:00 | Jair Bolsonaro | 0.41894060380136 | 0.51731400705101 |
| 2021-01-19 00:00:00 | Jair Bolsonaro | 0.39902267495783 | 0.5386150530021 |
| 2021-01-20 00:00:00 | Jair Bolsonaro | 0.3999482564696 | 0.5385159967567 |
| 2021-01-21 00:00:00 | Jair Bolsonaro | 0.39944400173908 | 0.53595902926492 |
| 2021-01-22 00:00:00 | Jair Bolsonaro | 0.39889618882595 | 0.53956303585184 |
| 2021-01-23 00:00:00 | Jair Bolsonaro | 0.40528923164088 | 0.53630479524155 |
| 2021-01-24 00:00:00 | Jair Bolsonaro | 0.40046199446974 | 0.54445441875557 |
| 2021-01-25 00:00:00 | Jair Bolsonaro | 0.39592918817914 | 0.54910158582207 |
| 2021-01-26 00:00:00 | Jair Bolsonaro | 0.41327423500362 | 0.52305985902185 |
| 2021-01-27 00:00:00 | Jair Bolsonaro | 0.40476934739935 | 0.53100540418088 |
| 2021-01-28 00:00:00 | Jair Bolsonaro | 0.39445747567487 | 0.53835901279093 |
| 2021-01-29 00:00:00 | Jair Bolsonaro | 0.3975753353043 | 0.53172716841911 |
| 2021-01-30 00:00:00 | Jair Bolsonaro | 0.39961510484187 | 0.53018038123213 |
| 2021-01-31 00:00:00 | Jair Bolsonaro | 0.39797162494784 | 0.52099336326538 |
| 2021-02-01 00:00:00 | Jair Bolsonaro | 0.39687467504525 | 0.52356945878624 |
| 2021-02-02 00:00:00 | Jair Bolsonaro | 0.38641675747162 | 0.53750843628257 |
| 2021-02-03 00:00:00 | Jair Bolsonaro | 0.39314139066081 | 0.53122294621559 |
| 2021-02-04 00:00:00 | Jair Bolsonaro | 0.39685587914755 | 0.52376737660134 |
| 2021-02-05 00:00:00 | Jair Bolsonaro | 0.39398108833053 | 0.5288594638335 |
| 2021-02-06 00:00:00 | Jair Bolsonaro | 0.38639382703807 | 0.53224207045018 |
| 2021-02-07 00:00:00 | Jair Bolsonaro | 0.3977157958147 | 0.52677228634008 |
| 2021-02-08 00:00:00 | Jair Bolsonaro | 0.40513571789642 | 0.51991667119731 |
| 2021-02-09 00:00:00 | Jair Bolsonaro | 0.4055358360787 | 0.52112808543869 |
| 2021-02-10 00:00:00 | Jair Bolsonaro | 0.41717317262892 | 0.50580669532507 |
| 2021-02-11 00:00:00 | Jair Bolsonaro | 0.42717939671839 | 0.50373437769836 |
| 2021-02-12 00:00:00 | Jair Bolsonaro | 0.43855897456696 | 0.48976249936201 |
| 2021-02-13 00:00:00 | Jair Bolsonaro | 0.44484224028215 | 0.4840918408988 |
| 2021-02-14 00:00:00 | Jair Bolsonaro | 0.45140607326909 | 0.47669088377242 |
| 2021-02-15 00:00:00 | Jair Bolsonaro | 0.45435117520415 | 0.47456451632663 |
| 2021-02-16 00:00:00 | Jair Bolsonaro | 0.4663326568497 | 0.46620145750309 |
| 2021-02-17 00:00:00 | Jair Bolsonaro | 0.45027264165092 | 0.47902817103797 |
| 2021-02-18 00:00:00 | Jair Bolsonaro | 0.44396722530044 | 0.4784520479198 |
| 2021-02-19 00:00:00 | Jair Bolsonaro | 0.43901684306778 | 0.48284511511232 |
| 2021-02-20 00:00:00 | Jair Bolsonaro | 0.43257943832356 | 0.4892222179658 |
| 2021-02-21 00:00:00 | Jair Bolsonaro | 0.4240455020916 | 0.50134842027662 |
| 2021-02-22 00:00:00 | Jair Bolsonaro | 0.42454979770808 | 0.50099984896768 |
| 2021-02-23 00:00:00 | Jair Bolsonaro | 0.42513431834797 | 0.49334789326558 |
| 2021-02-24 00:00:00 | Jair Bolsonaro | 0.43050140733821 | 0.48817558429072 |
| 2021-02-25 00:00:00 | Jair Bolsonaro | 0.43624038514229 | 0.48417809248029 |
| 2021-02-26 00:00:00 | Jair Bolsonaro | 0.43745147737237 | 0.47996168198548 |
| 2021-02-27 00:00:00 | Jair Bolsonaro | 0.4384938858908 | 0.48442158458201 |
| 2021-02-28 00:00:00 | Jair Bolsonaro | 0.44804881054398 | 0.47149499971344 |
| 2021-03-01 00:00:00 | Jair Bolsonaro | 0.44901786242521 | 0.47088174723049 |
| 2021-03-02 00:00:00 | Jair Bolsonaro | 0.44825028641711 | 0.47514472113284 |
| 2021-03-03 00:00:00 | Jair Bolsonaro | 0.46721321489753 | 0.46387174101783 |
| 2021-03-04 00:00:00 | Jair Bolsonaro | 0.46456087302007 | 0.4709485930042 |
| 2021-03-05 00:00:00 | Jair Bolsonaro | 0.45694796369162 | 0.48322643091589 |
| 2021-03-06 00:00:00 | Jair Bolsonaro | 0.44463352147164 | 0.49146553804835 |
| 2021-03-07 00:00:00 | Jair Bolsonaro | 0.42215948851526 | 0.50930862234189 |
| 2021-03-08 00:00:00 | Jair Bolsonaro | 0.41600336042919 | 0.51888468731703 |
| 2021-03-09 00:00:00 | Jair Bolsonaro | 0.4076922920446 | 0.53130688931445 |
| 2021-03-10 00:00:00 | Jair Bolsonaro | 0.38668113257244 | 0.54701794786111 |
| 2021-03-11 00:00:00 | Jair Bolsonaro | 0.38352059530763 | 0.55237204320281 |
| 2021-03-12 00:00:00 | Jair Bolsonaro | 0.3801625486066 | 0.55572744120497 |
| 2021-03-13 00:00:00 | Jair Bolsonaro | 0.38384178748168 | 0.55032977583783 |
| 2021-03-14 00:00:00 | Jair Bolsonaro | 0.38535651260187 | 0.55828243788735 |
| 2021-03-15 00:00:00 | Jair Bolsonaro | 0.38168061091545 | 0.55771630379879 |
| 2021-03-16 00:00:00 | Jair Bolsonaro | 0.38784849432864 | 0.55195842752561 |
| 2021-03-17 00:00:00 | Jair Bolsonaro | 0.38250512297013 | 0.55866997793977 |
| 2021-03-18 00:00:00 | Jair Bolsonaro | 0.37340410301712 | 0.55939724246526 |
| 2021-03-19 00:00:00 | Jair Bolsonaro | 0.37376835386465 | 0.55464084355325 |
| 2021-03-20 00:00:00 | Jair Bolsonaro | 0.37306158992367 | 0.54860598094573 |
| 2021-03-21 00:00:00 | Jair Bolsonaro | 0.37767118834511 | 0.5433956923186 |
| 2021-03-22 00:00:00 | Jair Bolsonaro | 0.38023038575064 | 0.54154479371399 |
| 2021-03-23 00:00:00 | Jair Bolsonaro | 0.37125061550612 | 0.54663338565303 |
| 2021-03-24 00:00:00 | Jair Bolsonaro | 0.3725773665628 | 0.54225820812594 |
| 2021-03-25 00:00:00 | Jair Bolsonaro | 0.37602351253921 | 0.54277987999824 |
| 2021-03-26 00:00:00 | Jair Bolsonaro | 0.38681176151213 | 0.53571115974943 |
| 2021-03-27 00:00:00 | Jair Bolsonaro | 0.38493602227023 | 0.54472051752401 |
| 2021-03-28 00:00:00 | Jair Bolsonaro | 0.38670236818274 | 0.540240192114 |
| 2021-03-29 00:00:00 | Jair Bolsonaro | 0.37815231405401 | 0.54863246488661 |
| 2021-03-30 00:00:00 | Jair Bolsonaro | 0.38013835461915 | 0.54014778917707 |
| 2021-03-31 00:00:00 | Jair Bolsonaro | 0.3796746526653 | 0.54181804639001 |
| 2021-04-01 00:00:00 | Jair Bolsonaro | 0.38656791853419 | 0.53466165446681 |
| 2021-04-02 00:00:00 | Jair Bolsonaro | 0.37523279500598 | 0.54740336910648 |
| 2021-04-03 00:00:00 | Jair Bolsonaro | 0.37471286618647 | 0.5471098796757 |
| 2021-04-04 00:00:00 | Jair Bolsonaro | 0.37197282681531 | 0.54831794160159 |
| 2021-04-05 00:00:00 | Jair Bolsonaro | 0.37461766574098 | 0.54174348560136 |
| 2021-04-06 00:00:00 | Jair Bolsonaro | 0.38122511978722 | 0.54707923059377 |
| 2021-04-07 00:00:00 | Jair Bolsonaro | 0.37985017635149 | 0.55305655165315 |
| 2021-04-08 00:00:00 | Jair Bolsonaro | 0.37432426330273 | 0.55633653833921 |
| 2021-04-09 00:00:00 | Jair Bolsonaro | 0.38065817407487 | 0.54585446838879 |
| 2021-04-10 00:00:00 | Jair Bolsonaro | 0.39202335757719 | 0.53874290507713 |
| 2021-04-11 00:00:00 | Jair Bolsonaro | 0.39651670255407 | 0.53692257491946 |
| 2021-04-12 00:00:00 | Jair Bolsonaro | 0.39952209020667 | 0.5386285332159 |
| 2021-04-13 00:00:00 | Jair Bolsonaro | 0.38327071453579 | 0.55415942873039 |
| 2021-04-14 00:00:00 | Jair Bolsonaro | 0.3819620356036 | 0.55006202553805 |
| 2021-04-15 00:00:00 | Jair Bolsonaro | 0.38629619374631 | 0.55449354499784 |
| 2021-04-16 00:00:00 | Jair Bolsonaro | 0.38532332406947 | 0.56081106391864 |
| 2021-04-17 00:00:00 | Jair Bolsonaro | 0.38556890106615 | 0.55646427086946 |
| 2021-04-18 00:00:00 | Jair Bolsonaro | 0.38571956535253 | 0.55757561635729 |
| 2021-04-19 00:00:00 | Jair Bolsonaro | 0.39404683513403 | 0.54902096253086 |
| 2021-04-20 00:00:00 | Jair Bolsonaro | 0.41232424045013 | 0.52958572746622 |
| 2021-04-21 00:00:00 | Jair Bolsonaro | 0.42402153285499 | 0.52250328587399 |
| 2021-04-22 00:00:00 | Jair Bolsonaro | 0.42827281401638 | 0.51396827386636 |
| 2021-04-23 00:00:00 | Jair Bolsonaro | 0.42801038812072 | 0.5116819687916 |
| 2021-04-24 00:00:00 | Jair Bolsonaro | 0.4220116176386 | 0.52060012898474 |
| 2021-04-25 00:00:00 | Jair Bolsonaro | 0.41949876551924 | 0.51877335042074 |
| 2021-04-26 00:00:00 | Jair Bolsonaro | 0.4199549646106 | 0.52253779596398 |
| 2021-04-27 00:00:00 | Jair Bolsonaro | 0.41895652949557 | 0.51846340057776 |
| 2021-04-28 00:00:00 | Jair Bolsonaro | 0.41549804708561 | 0.51745203042895 |
| 2021-04-29 00:00:00 | Jair Bolsonaro | 0.40909300737929 | 0.51658975804148 |
| 2021-04-30 00:00:00 | Jair Bolsonaro | 0.41424754396054 | 0.50933511923675 |
| 2021-05-01 00:00:00 | Jair Bolsonaro | 0.42395203946075 | 0.49953433487998 |
| 2021-05-02 00:00:00 | Jair Bolsonaro | 0.4256709874266 | 0.49582598148232 |
| 2021-05-03 00:00:00 | Jair Bolsonaro | 0.41313893313513 | 0.50373583955569 |
| 2021-05-04 00:00:00 | Jair Bolsonaro | 0.40908271320943 | 0.50825118316711 |
| 2021-05-05 00:00:00 | Jair Bolsonaro | 0.40448521487155 | 0.51115503522588 |
| 2021-05-06 00:00:00 | Jair Bolsonaro | 0.41036564101764 | 0.51106086872608 |
| 2021-05-07 00:00:00 | Jair Bolsonaro | 0.39735402673726 | 0.51991837656804 |
| 2021-05-08 00:00:00 | Jair Bolsonaro | 0.39449795712614 | 0.52254058104011 |
| 2021-05-09 00:00:00 | Jair Bolsonaro | 0.37941848077267 | 0.53746745492639 |
| 2021-05-10 00:00:00 | Jair Bolsonaro | 0.38823703407983 | 0.530998201341 |
| 2021-05-11 00:00:00 | Jair Bolsonaro | 0.38632951381962 | 0.53356766821135 |
| 2021-05-12 00:00:00 | Jair Bolsonaro | 0.39318210463043 | 0.5329932039729 |
| 2021-05-13 00:00:00 | Jair Bolsonaro | 0.38855147784229 | 0.53357811508599 |
| 2021-05-14 00:00:00 | Jair Bolsonaro | 0.38612575892824 | 0.54348461266734 |
| 2021-05-15 00:00:00 | Jair Bolsonaro | 0.38768412395909 | 0.53846302934789 |
| 2021-05-16 00:00:00 | Jair Bolsonaro | 0.39661771307649 | 0.53364320459424 |
| 2021-05-17 00:00:00 | Jair Bolsonaro | 0.4018860613655 | 0.52845561793498 |
| 2021-05-18 00:00:00 | Jair Bolsonaro | 0.39930950450101 | 0.53018519653114 |
| 2021-05-19 00:00:00 | Jair Bolsonaro | 0.39767193651955 | 0.52770415358124 |
| 2021-05-20 00:00:00 | Jair Bolsonaro | 0.3964650549267 | 0.53065686252754 |
| 2021-05-21 00:00:00 | Jair Bolsonaro | 0.40302768837787 | 0.52223974941004 |
| 2021-05-22 00:00:00 | Jair Bolsonaro | 0.39785098248526 | 0.52950720159256 |
| 2021-05-23 00:00:00 | Jair Bolsonaro | 0.39999678838611 | 0.52548595722155 |
| 2021-05-24 00:00:00 | Jair Bolsonaro | 0.38492318508322 | 0.53692508472296 |
| 2021-05-25 00:00:00 | Jair Bolsonaro | 0.38373660868283 | 0.54245881437821 |
| 2021-05-26 00:00:00 | Jair Bolsonaro | 0.37258299047481 | 0.54837533769099 |
| 2021-05-27 00:00:00 | Jair Bolsonaro | 0.37552493608386 | 0.54967511183254 |
| 2021-05-28 00:00:00 | Jair Bolsonaro | 0.37804676981293 | 0.54824264904196 |
| 2021-05-29 00:00:00 | Jair Bolsonaro | 0.3755876730895 | 0.55102388580463 |
| 2021-05-30 00:00:00 | Jair Bolsonaro | 0.373755208254 | 0.54986709042711 |
| 2021-05-31 00:00:00 | Jair Bolsonaro | 0.3811221799296 | 0.54236250877263 |
| 2021-06-01 00:00:00 | Jair Bolsonaro | 0.38008866509497 | 0.54099778169479 |
| 2021-06-02 00:00:00 | Jair Bolsonaro | 0.3824004049309 | 0.54635856218259 |
| 2021-06-03 00:00:00 | Jair Bolsonaro | 0.37470353734718 | 0.55354280514067 |
| 2021-06-04 00:00:00 | Jair Bolsonaro | 0.37348386132749 | 0.55123172015726 |
| 2021-06-05 00:00:00 | Jair Bolsonaro | 0.3732505137318 | 0.55200212869383 |
| 2021-06-06 00:00:00 | Jair Bolsonaro | 0.3701215280064 | 0.56302583127647 |
| 2021-06-07 00:00:00 | Jair Bolsonaro | 0.36753115424564 | 0.56438628064078 |
| 2021-06-08 00:00:00 | Jair Bolsonaro | 0.37097015708243 | 0.56366804531226 |
| 2021-06-09 00:00:00 | Jair Bolsonaro | 0.36904764815039 | 0.56394106189258 |
| 2021-06-10 00:00:00 | Jair Bolsonaro | 0.37309029495175 | 0.55840691096245 |
| 2021-06-11 00:00:00 | Jair Bolsonaro | 0.37244745967143 | 0.56273715903852 |
| 2021-06-12 00:00:00 | Jair Bolsonaro | 0.37317893899095 | 0.55917649496975 |
| 2021-06-13 00:00:00 | Jair Bolsonaro | 0.3697735018883 | 0.56216378138856 |
| 2021-06-14 00:00:00 | Jair Bolsonaro | 0.36388821132605 | 0.56940200608426 |
| 2021-06-15 00:00:00 | Jair Bolsonaro | 0.35302026388297 | 0.57447769221926 |
| 2021-06-16 00:00:00 | Jair Bolsonaro | 0.3648879128557 | 0.56268045050404 |
| 2021-06-17 00:00:00 | Jair Bolsonaro | 0.35462154517092 | 0.56983466850213 |
| 2021-06-18 00:00:00 | Jair Bolsonaro | 0.34934578787364 | 0.5757107426934 |
| 2021-06-19 00:00:00 | Jair Bolsonaro | 0.34007513814477 | 0.58602956114113 |
| 2021-06-20 00:00:00 | Jair Bolsonaro | 0.34408381087573 | 0.58256497818722 |
| 2021-06-21 00:00:00 | Jair Bolsonaro | 0.34920627413303 | 0.57996972689239 |
| 2021-06-22 00:00:00 | Jair Bolsonaro | 0.35547833116886 | 0.57567079696685 |
| 2021-06-23 00:00:00 | Jair Bolsonaro | 0.3461453753101 | 0.58798623336035 |
| 2021-06-24 00:00:00 | Jair Bolsonaro | 0.35436076126003 | 0.58347123507025 |
| 2021-06-25 00:00:00 | Jair Bolsonaro | 0.36478364824907 | 0.56960382499179 |
| 2021-06-26 00:00:00 | Jair Bolsonaro | 0.37065297316391 | 0.56015881582129 |
| 2021-06-27 00:00:00 | Jair Bolsonaro | 0.37193683847144 | 0.55401308229182 |
| 2021-06-28 00:00:00 | Jair Bolsonaro | 0.37139226594194 | 0.55605749366411 |
| 2021-06-29 00:00:00 | Jair Bolsonaro | 0.37264349715562 | 0.55717906212991 |
| 2021-06-30 00:00:00 | Jair Bolsonaro | 0.37255401945833 | 0.55097727206677 |
| 2021-07-01 00:00:00 | Jair Bolsonaro | 0.36918958009164 | 0.55676747491791 |
| 2021-07-02 00:00:00 | Jair Bolsonaro | 0.36114913101403 | 0.56942049355544 |
| 2021-07-03 00:00:00 | Jair Bolsonaro | 0.36376941931731 | 0.57229872893243 |
| 2021-07-04 00:00:00 | Jair Bolsonaro | 0.35707205921169 | 0.58081740259825 |
| 2021-07-05 00:00:00 | Jair Bolsonaro | 0.36302754540826 | 0.57291719133081 |
| 2021-07-06 00:00:00 | Jair Bolsonaro | 0.36227043735988 | 0.57541222676228 |
| 2021-07-07 00:00:00 | Jair Bolsonaro | 0.3667382300307 | 0.5721024554328 |
| 2021-07-08 00:00:00 | Jair Bolsonaro | 0.36913603505904 | 0.56452414547176 |
| 2021-07-09 00:00:00 | Jair Bolsonaro | 0.37658330595275 | 0.55297151144328 |
| 2021-07-10 00:00:00 | Jair Bolsonaro | 0.36448253147453 | 0.56114534454801 |
| 2021-07-11 00:00:00 | Jair Bolsonaro | 0.37152620706939 | 0.55530907058091 |
| 2021-07-12 00:00:00 | Jair Bolsonaro | 0.37121145416215 | 0.55562890073926 |
| 2021-07-13 00:00:00 | Jair Bolsonaro | 0.37761694711742 | 0.54785035631392 |
| 2021-07-14 00:00:00 | Jair Bolsonaro | 0.376062928367 | 0.55290647008356 |
| 2021-07-15 00:00:00 | Jair Bolsonaro | 0.37788847115784 | 0.55556723021736 |
| 2021-07-16 00:00:00 | Jair Bolsonaro | 0.3787536736463 | 0.5570430619829 |
| 2021-07-17 00:00:00 | Jair Bolsonaro | 0.39514744489233 | 0.54285639157009 |
| 2021-07-18 00:00:00 | Jair Bolsonaro | 0.3892913220423 | 0.5414950371807 |
| 2021-07-19 00:00:00 | Jair Bolsonaro | 0.39551458067765 | 0.53608374650111 |
| 2021-07-20 00:00:00 | Jair Bolsonaro | 0.3974383404039 | 0.53223429006248 |
| 2021-07-21 00:00:00 | Jair Bolsonaro | 0.40617560345375 | 0.52467131334234 |
| 2021-07-22 00:00:00 | Jair Bolsonaro | 0.4056708224474 | 0.52003862764802 |
| 2021-07-23 00:00:00 | Jair Bolsonaro | 0.4018734928728 | 0.52031738226432 |
| 2021-07-24 00:00:00 | Jair Bolsonaro | 0.39492566128903 | 0.52787295046276 |
| 2021-07-25 00:00:00 | Jair Bolsonaro | 0.406077112879 | 0.52151879531028 |
| 2021-07-26 00:00:00 | Jair Bolsonaro | 0.40334500258698 | 0.52666137429759 |
| 2021-07-27 00:00:00 | Jair Bolsonaro | 0.40157575818019 | 0.5313186164386 |
| 2021-07-28 00:00:00 | Jair Bolsonaro | 0.39286131714071 | 0.53448359016962 |
| 2021-07-29 00:00:00 | Jair Bolsonaro | 0.38922353198138 | 0.54146132607626 |
| 2021-07-30 00:00:00 | Jair Bolsonaro | 0.39417716151311 | 0.53702887989776 |
| 2021-07-31 00:00:00 | Jair Bolsonaro | 0.39014395945548 | 0.54259989791533 |
| 2021-08-01 00:00:00 | Jair Bolsonaro | 0.38404217237152 | 0.54909587550094 |
| 2021-08-02 00:00:00 | Jair Bolsonaro | 0.38403410013957 | 0.54329393094603 |
| 2021-08-03 00:00:00 | Jair Bolsonaro | 0.37422308781843 | 0.54764709214463 |
| 2021-08-04 00:00:00 | Jair Bolsonaro | 0.37635956018129 | 0.54656826445694 |
| 2021-08-05 00:00:00 | Jair Bolsonaro | 0.38432590507822 | 0.53539966029785 |
| 2021-08-06 00:00:00 | Jair Bolsonaro | 0.37522958480854 | 0.54884925187909 |
| 2021-08-07 00:00:00 | Jair Bolsonaro | 0.38759001599105 | 0.53517056628506 |
| 2021-08-08 00:00:00 | Jair Bolsonaro | 0.38922312982682 | 0.5326630665104 |
| 2021-08-09 00:00:00 | Jair Bolsonaro | 0.38425883767896 | 0.54391658044059 |
| 2021-08-10 00:00:00 | Jair Bolsonaro | 0.39269883014753 | 0.53920111465002 |
| 2021-08-11 00:00:00 | Jair Bolsonaro | 0.39403762345388 | 0.53889938022865 |
| 2021-08-12 00:00:00 | Jair Bolsonaro | 0.39394183914264 | 0.5404843142552 |
| 2021-08-13 00:00:00 | Jair Bolsonaro | 0.40607848319372 | 0.52727835927813 |
| 2021-08-14 00:00:00 | Jair Bolsonaro | 0.40632900856334 | 0.52869893609073 |
| 2021-08-15 00:00:00 | Jair Bolsonaro | 0.40937084800337 | 0.52335849693568 |
| 2021-08-16 00:00:00 | Jair Bolsonaro | 0.40980960008469 | 0.52025294953129 |
| 2021-08-17 00:00:00 | Jair Bolsonaro | 0.4076441278409 | 0.52064745357889 |
| 2021-08-18 00:00:00 | Jair Bolsonaro | 0.4037689571142 | 0.52164409297427 |
| 2021-08-19 00:00:00 | Jair Bolsonaro | 0.39619949405342 | 0.52927131857536 |
| 2021-08-20 00:00:00 | Jair Bolsonaro | 0.38977318174657 | 0.53333393242674 |
| 2021-08-21 00:00:00 | Jair Bolsonaro | 0.38533894580633 | 0.53625928421914 |
| 2021-08-22 00:00:00 | Jair Bolsonaro | 0.39299499345008 | 0.53027878887885 |
| 2021-08-23 00:00:00 | Jair Bolsonaro | 0.38885375017476 | 0.52909792233124 |
| 2021-08-24 00:00:00 | Jair Bolsonaro | 0.38593120455332 | 0.53460116221195 |
| 2021-08-25 00:00:00 | Jair Bolsonaro | 0.38448920246175 | 0.54040018636384 |
| 2021-08-26 00:00:00 | Jair Bolsonaro | 0.38267254577009 | 0.5393200056872 |
| 2021-08-27 00:00:00 | Jair Bolsonaro | 0.3808307798871 | 0.54141072444998 |
| 2021-08-28 00:00:00 | Jair Bolsonaro | 0.37903634084884 | 0.54160959718722 |
| 2021-08-29 00:00:00 | Jair Bolsonaro | 0.37327085616277 | 0.55084391795524 |
| 2021-08-30 00:00:00 | Jair Bolsonaro | 0.37523296460768 | 0.55158498826693 |
| 2021-08-31 00:00:00 | Jair Bolsonaro | 0.38770010773478 | 0.53965064730582 |
| 2021-09-01 00:00:00 | Jair Bolsonaro | 0.38412586277399 | 0.53906550280508 |
| 2021-09-02 00:00:00 | Jair Bolsonaro | 0.38989059526628 | 0.53277077826788 |
| 2021-09-03 00:00:00 | Jair Bolsonaro | 0.38549130888342 | 0.53377093360057 |
| 2021-09-04 00:00:00 | Jair Bolsonaro | 0.38122144271498 | 0.53802719433094 |
| 2021-09-05 00:00:00 | Jair Bolsonaro | 0.37571359359025 | 0.54125600953263 |
| 2021-09-06 00:00:00 | Jair Bolsonaro | 0.36810630728584 | 0.54466628591854 |
| 2021-09-07 00:00:00 | Jair Bolsonaro | 0.35547554976723 | 0.55902036332846 |
| 2021-09-08 00:00:00 | Jair Bolsonaro | 0.36582912312425 | 0.54888599734309 |
| 2021-09-09 00:00:00 | Jair Bolsonaro | 0.35848185302077 | 0.56115353671084 |
| 2021-09-10 00:00:00 | Jair Bolsonaro | 0.36128364487901 | 0.56103345591457 |
| 2021-09-11 00:00:00 | Jair Bolsonaro | 0.36022846608166 | 0.55905453662084 |
| 2021-09-12 00:00:00 | Jair Bolsonaro | 0.35738627274089 | 0.5573421058865 |
| 2021-09-13 00:00:00 | Jair Bolsonaro | 0.3648032432252 | 0.5566627335508 |
| 2021-09-14 00:00:00 | Jair Bolsonaro | 0.36651423834295 | 0.55240080314903 |
| 2021-09-15 00:00:00 | Jair Bolsonaro | 0.35800533891966 | 0.56319143096383 |
| 2021-09-16 00:00:00 | Jair Bolsonaro | 0.36400305017186 | 0.55841507083106 |
| 2021-09-17 00:00:00 | Jair Bolsonaro | 0.36805682006896 | 0.55625557010348 |
| 2021-09-18 00:00:00 | Jair Bolsonaro | 0.37319011040436 | 0.55712388863076 |
| 2021-09-19 00:00:00 | Jair Bolsonaro | 0.3716984735298 | 0.56182063815895 |
| 2021-09-20 00:00:00 | Jair Bolsonaro | 0.37377906924362 | 0.56260326252932 |
| 2021-09-21 00:00:00 | Jair Bolsonaro | 0.36771856128215 | 0.56455573609764 |
| 2021-09-22 00:00:00 | Jair Bolsonaro | 0.3609354424721 | 0.57530636247207 |
| 2021-09-23 00:00:00 | Jair Bolsonaro | 0.35239218491529 | 0.58021134958121 |
| 2021-09-24 00:00:00 | Jair Bolsonaro | 0.34001069423043 | 0.59103606988319 |
| 2021-09-25 00:00:00 | Jair Bolsonaro | 0.33478917223425 | 0.59706481344312 |
| 2021-09-26 00:00:00 | Jair Bolsonaro | 0.3346623287364 | 0.59930200550743 |
| 2021-09-27 00:00:00 | Jair Bolsonaro | 0.32719224522224 | 0.60221121248305 |
| 2021-09-28 00:00:00 | Jair Bolsonaro | 0.33445425912879 | 0.60142713502153 |
| 2021-09-29 00:00:00 | Jair Bolsonaro | 0.34286741862918 | 0.59165714922745 |
| 2021-09-30 00:00:00 | Jair Bolsonaro | 0.34586484716956 | 0.58964806131678 |
| 2021-10-01 00:00:00 | Jair Bolsonaro | 0.35506570573064 | 0.58699066378736 |
| 2021-10-02 00:00:00 | Jair Bolsonaro | 0.36321358133876 | 0.57620459854042 |
| 2021-10-03 00:00:00 | Jair Bolsonaro | 0.36068879714925 | 0.57831583772811 |
| 2021-10-04 00:00:00 | Jair Bolsonaro | 0.36778593865539 | 0.57224099314084 |
| 2021-10-05 00:00:00 | Jair Bolsonaro | 0.36168889442694 | 0.57483653316493 |
| 2021-10-06 00:00:00 | Jair Bolsonaro | 0.36369165703914 | 0.57184996200694 |
| 2021-10-07 00:00:00 | Jair Bolsonaro | 0.37315675885915 | 0.56311640784078 |
| 2021-10-08 00:00:00 | Jair Bolsonaro | 0.36778283322326 | 0.56028140241308 |
| 2021-10-09 00:00:00 | Jair Bolsonaro | 0.35793874935442 | 0.57168269247716 |
| 2021-10-10 00:00:00 | Jair Bolsonaro | 0.36124146144589 | 0.56771905330773 |
| 2021-10-11 00:00:00 | Jair Bolsonaro | 0.35585336134174 | 0.57276595824803 |
| 2021-10-12 00:00:00 | Jair Bolsonaro | 0.34971623918719 | 0.57429354526381 |
| 2021-10-13 00:00:00 | Jair Bolsonaro | 0.33983039219167 | 0.58446610820664 |
| 2021-10-14 00:00:00 | Jair Bolsonaro | 0.330921889681 | 0.59118805806915 |
| 2021-10-15 00:00:00 | Jair Bolsonaro | 0.33446912649272 | 0.58872142618574 |
| 2021-10-16 00:00:00 | Jair Bolsonaro | 0.34030244809547 | 0.58226984092146 |
| 2021-10-17 00:00:00 | Jair Bolsonaro | 0.34141553181311 | 0.57809382411595 |
| 2021-10-18 00:00:00 | Jair Bolsonaro | 0.34101588418427 | 0.5797846278978 |
| 2021-10-19 00:00:00 | Jair Bolsonaro | 0.34751158079607 | 0.57972425031085 |
| 2021-10-20 00:00:00 | Jair Bolsonaro | 0.36320698796591 | 0.5611241330176 |
| 2021-10-21 00:00:00 | Jair Bolsonaro | 0.36316898297916 | 0.56006835593558 |
| 2021-10-22 00:00:00 | Jair Bolsonaro | 0.36663211919867 | 0.5625493434493 |
| 2021-10-23 00:00:00 | Jair Bolsonaro | 0.36661857333671 | 0.55652017673119 |
| 2021-10-24 00:00:00 | Jair Bolsonaro | 0.36666381010643 | 0.55952061247797 |
| 2021-10-25 00:00:00 | Jair Bolsonaro | 0.36110435884535 | 0.56488158825136 |
| 2021-10-26 00:00:00 | Jair Bolsonaro | 0.35945937261728 | 0.56813611583698 |
| 2021-10-27 00:00:00 | Jair Bolsonaro | 0.35193821917659 | 0.57829466225939 |
| 2021-10-28 00:00:00 | Jair Bolsonaro | 0.35700579888108 | 0.57608909153 |
| 2021-10-29 00:00:00 | Jair Bolsonaro | 0.35698230477684 | 0.57109892404103 |
| 2021-10-30 00:00:00 | Jair Bolsonaro | 0.34798945159095 | 0.58608148187394 |
| 2021-10-31 00:00:00 | Jair Bolsonaro | 0.34954283049428 | 0.58660058181543 |
| 2021-11-01 00:00:00 | Jair Bolsonaro | 0.3558790130899 | 0.5813628432894 |
| 2021-11-02 00:00:00 | Jair Bolsonaro | 0.35233202453058 | 0.58607131775098 |
| 2021-11-03 00:00:00 | Jair Bolsonaro | 0.35492736417428 | 0.58406776603944 |
| 2021-11-04 00:00:00 | Jair Bolsonaro | 0.34519100612955 | 0.59152756926272 |
| 2021-11-05 00:00:00 | Jair Bolsonaro | 0.34804668153469 | 0.59104322260467 |
| 2021-11-06 00:00:00 | Jair Bolsonaro | 0.35448147172269 | 0.57942402578936 |
| 2021-11-07 00:00:00 | Jair Bolsonaro | 0.35697470688405 | 0.57322468362164 |
| 2021-11-08 00:00:00 | Jair Bolsonaro | 0.36136423041773 | 0.56794985618239 |
| 2021-11-09 00:00:00 | Jair Bolsonaro | 0.37807098293088 | 0.54915519424916 |
| 2021-11-10 00:00:00 | Jair Bolsonaro | 0.3743089529642 | 0.55112713457647 |
| 2021-11-11 00:00:00 | Jair Bolsonaro | 0.38478896521872 | 0.54447218719057 |
| 2021-11-12 00:00:00 | Jair Bolsonaro | 0.37505138893512 | 0.55457679774895 |
| 2021-11-13 00:00:00 | Jair Bolsonaro | 0.37683967596121 | 0.55451244652114 |
| 2021-11-14 00:00:00 | Jair Bolsonaro | 0.37431329454776 | 0.56039258627215 |
| 2021-11-15 00:00:00 | Jair Bolsonaro | 0.36596562930773 | 0.57018795762506 |
| 2021-11-16 00:00:00 | Jair Bolsonaro | 0.35962388123995 | 0.57528642501829 |
| 2021-11-17 00:00:00 | Jair Bolsonaro | 0.3569644593296 | 0.5755197283817 |
| 2021-11-18 00:00:00 | Jair Bolsonaro | 0.35272570257092 | 0.57812313744992 |
| 2021-11-19 00:00:00 | Jair Bolsonaro | 0.35748935858234 | 0.57000465787409 |
| 2021-11-20 00:00:00 | Jair Bolsonaro | 0.35975077893574 | 0.57011285982991 |
| 2021-11-21 00:00:00 | Jair Bolsonaro | 0.35982620576552 | 0.5620539233763 |
| 2021-11-22 00:00:00 | Jair Bolsonaro | 0.36896323145838 | 0.55397394120876 |
| 2021-11-23 00:00:00 | Jair Bolsonaro | 0.3643865404236 | 0.5595848890378 |
| 2021-11-24 00:00:00 | Jair Bolsonaro | 0.36336426845829 | 0.56003737842292 |
| 2021-11-25 00:00:00 | Jair Bolsonaro | 0.35669024317655 | 0.56966251370654 |
| 2021-11-26 00:00:00 | Jair Bolsonaro | 0.35787140579518 | 0.5691690210382 |
| 2021-11-27 00:00:00 | Jair Bolsonaro | 0.35812363727243 | 0.56745767174747 |
| 2021-11-28 00:00:00 | Jair Bolsonaro | 0.35541483295028 | 0.57841481458578 |
| 2021-11-29 00:00:00 | Jair Bolsonaro | 0.35383501481499 | 0.57765355379481 |
| 2021-11-30 00:00:00 | Jair Bolsonaro | 0.36031727538134 | 0.57474016181328 |
| 2021-12-01 00:00:00 | Jair Bolsonaro | 0.36314093753179 | 0.57569844195676 |
| 2021-12-02 00:00:00 | Jair Bolsonaro | 0.37584090277035 | 0.56377088380876 |
| 2021-12-03 00:00:00 | Jair Bolsonaro | 0.37301066120641 | 0.56693801207534 |
| 2021-12-04 00:00:00 | Jair Bolsonaro | 0.36707566652136 | 0.57193790867102 |
| 2021-12-05 00:00:00 | Jair Bolsonaro | 0.38304184297578 | 0.55732821135275 |
| 2021-12-06 00:00:00 | Jair Bolsonaro | 0.37830085145247 | 0.56092528490648 |
| 2021-12-07 00:00:00 | Jair Bolsonaro | 0.37425793636037 | 0.55633526286335 |
| 2021-12-08 00:00:00 | Jair Bolsonaro | 0.37672322212756 | 0.55426424821695 |
| 2021-12-09 00:00:00 | Jair Bolsonaro | 0.37956581765386 | 0.5477717981074 |
| 2021-12-10 00:00:00 | Jair Bolsonaro | 0.38709341336262 | 0.54423072370492 |
| 2021-12-11 00:00:00 | Jair Bolsonaro | 0.38955016201739 | 0.5460592951919 |
| 2021-12-12 00:00:00 | Jair Bolsonaro | 0.37842383888086 | 0.55531976830889 |
| 2021-12-13 00:00:00 | Jair Bolsonaro | 0.37907923972141 | 0.55786686203875 |
| 2021-12-14 00:00:00 | Jair Bolsonaro | 0.3753164657417 | 0.56464823369205 |
| 2021-12-15 00:00:00 | Jair Bolsonaro | 0.38479249572984 | 0.55376748061311 |
| 2021-12-16 00:00:00 | Jair Bolsonaro | 0.38541240907153 | 0.54973383143444 |
| 2021-12-17 00:00:00 | Jair Bolsonaro | 0.38594359001219 | 0.54686996648845 |
| 2021-12-18 00:00:00 | Jair Bolsonaro | 0.38629459917729 | 0.54529792247734 |
| 2021-12-19 00:00:00 | Jair Bolsonaro | 0.38366430204997 | 0.54312359335027 |
| 2021-12-20 00:00:00 | Jair Bolsonaro | 0.38568397905305 | 0.53510163940502 |
| 2021-12-21 00:00:00 | Jair Bolsonaro | 0.38942411110641 | 0.53214741114531 |
| 2021-12-22 00:00:00 | Jair Bolsonaro | 0.39171384539781 | 0.52775651331322 |
| 2021-12-23 00:00:00 | Jair Bolsonaro | 0.37864131868749 | 0.54644748907765 |
| 2021-12-24 00:00:00 | Jair Bolsonaro | 0.36597383078449 | 0.55738157896182 |
| 2021-12-25 00:00:00 | Jair Bolsonaro | 0.3674599496102 | 0.5552222147056 |
| 2021-12-26 00:00:00 | Jair Bolsonaro | 0.37190607417788 | 0.55244305517682 |
| 2021-12-27 00:00:00 | Jair Bolsonaro | 0.37101353511428 | 0.55333355395038 |
| 2021-12-28 00:00:00 | Jair Bolsonaro | 0.3732934120286 | 0.55033945180645 |
| 2021-12-29 00:00:00 | Jair Bolsonaro | 0.35767288350667 | 0.5684686422798 |
| 2021-12-30 00:00:00 | Jair Bolsonaro | 0.3598020602432 | 0.56410505669022 |
| 2021-12-31 00:00:00 | Jair Bolsonaro | 0.36114297754382 | 0.55786691709765 |
| 2022-01-01 00:00:00 | Jair Bolsonaro | 0.36424278105657 | 0.55413996478028 |
| 2022-01-02 00:00:00 | Jair Bolsonaro | 0.36780110154249 | 0.55140300991088 |
| 2022-01-03 00:00:00 | Jair Bolsonaro | 0.363840590709 | 0.55595583050923 |
| 2022-01-04 00:00:00 | Jair Bolsonaro | 0.36080900884449 | 0.55777190961846 |
| 2022-01-05 00:00:00 | Jair Bolsonaro | 0.36803426722651 | 0.55013932129512 |
| 2022-01-06 00:00:00 | Jair Bolsonaro | 0.36828642851068 | 0.55325383670463 |
| 2022-01-07 00:00:00 | Jair Bolsonaro | 0.36643306365983 | 0.55815276161221 |
| 2022-01-08 00:00:00 | Jair Bolsonaro | 0.36325640519601 | 0.55925616919077 |
| 2022-01-09 00:00:00 | Jair Bolsonaro | 0.35290309816857 | 0.56603934894626 |
| 2022-01-10 00:00:00 | Jair Bolsonaro | 0.36178323970251 | 0.55730683707199 |
| 2022-01-11 00:00:00 | Jair Bolsonaro | 0.3662654631222 | 0.55113316922296 |
| 2022-01-12 00:00:00 | Jair Bolsonaro | 0.35268855367112 | 0.56764998026745 |
| 2022-01-13 00:00:00 | Jair Bolsonaro | 0.36377823422913 | 0.55416652415227 |
| 2022-01-14 00:00:00 | Jair Bolsonaro | 0.37066151730383 | 0.54975900920676 |
| 2022-01-15 00:00:00 | Jair Bolsonaro | 0.36606215296439 | 0.56002989946324 |
| 2022-01-16 00:00:00 | Jair Bolsonaro | 0.36782125914826 | 0.56120053928673 |
| 2022-01-17 00:00:00 | Jair Bolsonaro | 0.3669214521217 | 0.55719842948616 |
| 2022-01-18 00:00:00 | Jair Bolsonaro | 0.37067847321872 | 0.55588229492629 |
| 2022-01-19 00:00:00 | Jair Bolsonaro | 0.37789946915655 | 0.54754839922237 |
| 2022-01-20 00:00:00 | Jair Bolsonaro | 0.3685767692896 | 0.55897019007188 |
| 2022-01-21 00:00:00 | Jair Bolsonaro | 0.38252880950029 | 0.54684608406935 |
| 2022-01-22 00:00:00 | Jair Bolsonaro | 0.39103986835585 | 0.53629099491435 |
| 2022-01-23 00:00:00 | Jair Bolsonaro | 0.4061937861561 | 0.52162735172376 |
| 2022-01-24 00:00:00 | Jair Bolsonaro | 0.39977370885299 | 0.53083146895142 |
| 2022-01-25 00:00:00 | Jair Bolsonaro | 0.39677380273388 | 0.53467572664407 |
| 2022-01-26 00:00:00 | Jair Bolsonaro | 0.39653537039437 | 0.5298088603093 |
| 2022-01-27 00:00:00 | Jair Bolsonaro | 0.40314467194766 | 0.52620283155882 |
| 2022-01-28 00:00:00 | Jair Bolsonaro | 0.38231559554704 | 0.54306306133927 |
| 2022-01-29 00:00:00 | Jair Bolsonaro | 0.37404937268506 | 0.55286758876718 |
| 2022-01-30 00:00:00 | Jair Bolsonaro | 0.35466375022111 | 0.56760670680392 |
| 2022-01-31 00:00:00 | Jair Bolsonaro | 0.35224102470597 | 0.57233487137171 |
| 2022-02-01 00:00:00 | Jair Bolsonaro | 0.35524610101839 | 0.56858663625072 |
| 2022-02-02 00:00:00 | Jair Bolsonaro | 0.36071572749787 | 0.56378624732784 |
| 2022-02-03 00:00:00 | Jair Bolsonaro | 0.35217784287867 | 0.56649109661608 |
| 2022-02-04 00:00:00 | Jair Bolsonaro | 0.36456184253936 | 0.55508705910119 |
| 2022-02-05 00:00:00 | Jair Bolsonaro | 0.36668798601244 | 0.55053919952071 |
| 2022-02-06 00:00:00 | Jair Bolsonaro | 0.37307916050815 | 0.54959553376147 |
| 2022-02-07 00:00:00 | Jair Bolsonaro | 0.37614447406053 | 0.54709088296481 |
| 2022-02-08 00:00:00 | Jair Bolsonaro | 0.37146917267841 | 0.55421156447051 |
| 2022-02-09 00:00:00 | Jair Bolsonaro | 0.37455529648191 | 0.55374861063658 |
| 2022-02-10 00:00:00 | Jair Bolsonaro | 0.38468944724666 | 0.54336990992369 |
| 2022-02-11 00:00:00 | Jair Bolsonaro | 0.37597650910184 | 0.54483481375252 |
| 2022-02-12 00:00:00 | Jair Bolsonaro | 0.37691046654809 | 0.53862889176139 |
| 2022-02-13 00:00:00 | Jair Bolsonaro | 0.37345865111644 | 0.53858121618181 |
| 2022-02-14 00:00:00 | Jair Bolsonaro | 0.38046456978151 | 0.52956534320073 |
| 2022-02-15 00:00:00 | Jair Bolsonaro | 0.37945594330052 | 0.52767373132025 |
| 2022-02-16 00:00:00 | Jair Bolsonaro | 0.37943901335477 | 0.52374121357072 |
| 2021-02-17 00:00:00 | Mario Draghi | 0.47171677694573 | 0.22803127938065 |
| 2021-02-18 00:00:00 | Mario Draghi | 0.49797403059269 | 0.23588235103351 |
| 2021-02-19 00:00:00 | Mario Draghi | 0.53257867269845 | 0.22081221721375 |
| 2021-02-20 00:00:00 | Mario Draghi | 0.53499887205916 | 0.2222765591475 |
| 2021-02-21 00:00:00 | Mario Draghi | 0.52725816745529 | 0.23050524422016 |
| 2021-02-22 00:00:00 | Mario Draghi | 0.53682290712785 | 0.22939212236843 |
| 2021-02-23 00:00:00 | Mario Draghi | 0.54042077059094 | 0.22848531400295 |
| 2021-02-24 00:00:00 | Mario Draghi | 0.54043602711072 | 0.24213579141863 |
| 2021-02-25 00:00:00 | Mario Draghi | 0.54480015041932 | 0.24289835798035 |
| 2021-02-26 00:00:00 | Mario Draghi | 0.53711707587815 | 0.25268216630505 |
| 2021-02-27 00:00:00 | Mario Draghi | 0.53936195237592 | 0.26285234073639 |
| 2021-02-28 00:00:00 | Mario Draghi | 0.53677962078671 | 0.2708247210878 |
| 2021-03-01 00:00:00 | Mario Draghi | 0.5321131188174 | 0.28014626133708 |
| 2021-03-02 00:00:00 | Mario Draghi | 0.53661704799777 | 0.28876923335066 |
| 2021-03-03 00:00:00 | Mario Draghi | 0.54211815851213 | 0.28626309634564 |
| 2021-03-04 00:00:00 | Mario Draghi | 0.54107620694159 | 0.29308597643196 |
| 2021-03-05 00:00:00 | Mario Draghi | 0.54753011986423 | 0.2958653013846 |
| 2021-03-06 00:00:00 | Mario Draghi | 0.54754226315099 | 0.29756088665805 |
| 2021-03-07 00:00:00 | Mario Draghi | 0.55666272012931 | 0.29496742142701 |
| 2021-03-08 00:00:00 | Mario Draghi | 0.55369688274655 | 0.3002250504518 |
| 2021-03-09 00:00:00 | Mario Draghi | 0.5559965211527 | 0.29884241151185 |
| 2021-03-10 00:00:00 | Mario Draghi | 0.55877828922756 | 0.29651882400652 |
| 2021-03-11 00:00:00 | Mario Draghi | 0.55692354420467 | 0.29948924196427 |
| 2021-03-12 00:00:00 | Mario Draghi | 0.55079286485058 | 0.3037309768281 |
| 2021-03-13 00:00:00 | Mario Draghi | 0.55570124935801 | 0.30190649621486 |
| 2021-03-14 00:00:00 | Mario Draghi | 0.55752113681336 | 0.31008072327242 |
| 2021-03-15 00:00:00 | Mario Draghi | 0.56270252481797 | 0.30801869666979 |
| 2021-03-16 00:00:00 | Mario Draghi | 0.55968429457259 | 0.31447896389424 |
| 2021-03-17 00:00:00 | Mario Draghi | 0.56566072703176 | 0.31995913214191 |
| 2021-03-18 00:00:00 | Mario Draghi | 0.56880308880447 | 0.32620956591578 |
| 2021-03-19 00:00:00 | Mario Draghi | 0.56541455301199 | 0.33239846377651 |
| 2021-03-20 00:00:00 | Mario Draghi | 0.56129952772911 | 0.33474958097697 |
| 2021-03-21 00:00:00 | Mario Draghi | 0.55843466246749 | 0.33386218546774 |
| 2021-03-22 00:00:00 | Mario Draghi | 0.55027095995733 | 0.33870735711947 |
| 2021-03-23 00:00:00 | Mario Draghi | 0.54663531318769 | 0.34217414576485 |
| 2021-03-24 00:00:00 | Mario Draghi | 0.54602671923289 | 0.34526687646226 |
| 2021-03-25 00:00:00 | Mario Draghi | 0.54444340387662 | 0.34517326486939 |
| 2021-03-26 00:00:00 | Mario Draghi | 0.54712862819562 | 0.34364911577577 |
| 2021-03-27 00:00:00 | Mario Draghi | 0.54763409507242 | 0.35070729377332 |
| 2021-03-28 00:00:00 | Mario Draghi | 0.56116400091186 | 0.34644870019908 |
| 2021-03-29 00:00:00 | Mario Draghi | 0.57636148537248 | 0.34353367687674 |
| 2021-03-30 00:00:00 | Mario Draghi | 0.57893433201026 | 0.34353862131303 |
| 2021-03-31 00:00:00 | Mario Draghi | 0.57768969372277 | 0.3460910398222 |
| 2021-04-01 00:00:00 | Mario Draghi | 0.57467074082868 | 0.3535034433514 |
| 2021-04-02 00:00:00 | Mario Draghi | 0.56492482972378 | 0.36587067331451 |
| 2021-04-03 00:00:00 | Mario Draghi | 0.55176650823653 | 0.37689156925522 |
| 2021-04-04 00:00:00 | Mario Draghi | 0.53545406566594 | 0.39015335139816 |
| 2021-04-05 00:00:00 | Mario Draghi | 0.52549496199712 | 0.39259561645738 |
| 2021-04-06 00:00:00 | Mario Draghi | 0.52012370044264 | 0.3989866276979 |
| 2021-04-07 00:00:00 | Mario Draghi | 0.50801268607931 | 0.41288233263978 |
| 2021-04-08 00:00:00 | Mario Draghi | 0.50670691865361 | 0.41129922939107 |
| 2021-04-09 00:00:00 | Mario Draghi | 0.51371461356834 | 0.40679559966948 |
| 2021-04-10 00:00:00 | Mario Draghi | 0.51995714303118 | 0.40339581414804 |
| 2021-04-11 00:00:00 | Mario Draghi | 0.52814629170138 | 0.39365135925427 |
| 2021-04-12 00:00:00 | Mario Draghi | 0.52181357521738 | 0.40417072980238 |
| 2021-04-13 00:00:00 | Mario Draghi | 0.52491422725573 | 0.40206624433625 |
| 2021-04-14 00:00:00 | Mario Draghi | 0.52635013507697 | 0.39404406388949 |
| 2021-04-15 00:00:00 | Mario Draghi | 0.53307404194442 | 0.38966299758366 |
| 2021-04-16 00:00:00 | Mario Draghi | 0.53492912674721 | 0.38815524791272 |
| 2021-04-17 00:00:00 | Mario Draghi | 0.53669254188533 | 0.38706071659738 |
| 2021-04-18 00:00:00 | Mario Draghi | 0.53487764872662 | 0.39444095995816 |
| 2021-04-19 00:00:00 | Mario Draghi | 0.54290411617832 | 0.38846563313978 |
| 2021-04-20 00:00:00 | Mario Draghi | 0.54378425411353 | 0.38962730419949 |
| 2021-04-21 00:00:00 | Mario Draghi | 0.54657302644145 | 0.39194149661795 |
| 2021-04-22 00:00:00 | Mario Draghi | 0.53769998335367 | 0.39992386435631 |
| 2021-04-23 00:00:00 | Mario Draghi | 0.52960187961924 | 0.41069011455453 |
| 2021-04-24 00:00:00 | Mario Draghi | 0.52547193651951 | 0.41497270971177 |
| 2021-04-25 00:00:00 | Mario Draghi | 0.51196099713618 | 0.42428953919085 |
| 2021-04-26 00:00:00 | Mario Draghi | 0.50775490888994 | 0.42817978155714 |
| 2021-04-27 00:00:00 | Mario Draghi | 0.50681352017812 | 0.43123295968823 |
| 2021-04-28 00:00:00 | Mario Draghi | 0.51115007979369 | 0.4299223709777 |
| 2021-04-29 00:00:00 | Mario Draghi | 0.51588541746686 | 0.427339887246 |
| 2021-04-30 00:00:00 | Mario Draghi | 0.51737872763858 | 0.42279399398376 |
| 2021-05-01 00:00:00 | Mario Draghi | 0.52017036963499 | 0.41710054201857 |
| 2021-05-02 00:00:00 | Mario Draghi | 0.53167453319727 | 0.40624934983904 |
| 2021-05-03 00:00:00 | Mario Draghi | 0.5325121385841 | 0.4030190719658 |
| 2021-05-04 00:00:00 | Mario Draghi | 0.53609642419915 | 0.39832754902158 |
| 2021-05-05 00:00:00 | Mario Draghi | 0.53194406208474 | 0.40330365669551 |
| 2021-05-06 00:00:00 | Mario Draghi | 0.53677108215414 | 0.39519114083689 |
| 2021-05-07 00:00:00 | Mario Draghi | 0.54333257725094 | 0.38819310530678 |
| 2021-05-08 00:00:00 | Mario Draghi | 0.54943444607019 | 0.38543380162697 |
| 2021-05-09 00:00:00 | Mario Draghi | 0.55362559778921 | 0.38309660587209 |
| 2021-05-10 00:00:00 | Mario Draghi | 0.56137199699059 | 0.37806185574391 |
| 2021-05-11 00:00:00 | Mario Draghi | 0.56803048203022 | 0.37135322842632 |
| 2021-05-12 00:00:00 | Mario Draghi | 0.57242591684425 | 0.36471606501667 |
| 2021-05-13 00:00:00 | Mario Draghi | 0.574958315012 | 0.36564961542627 |
| 2021-05-14 00:00:00 | Mario Draghi | 0.57893898126723 | 0.36454854826416 |
| 2021-05-15 00:00:00 | Mario Draghi | 0.58933076586011 | 0.35449226592711 |
| 2021-05-16 00:00:00 | Mario Draghi | 0.59081550955073 | 0.35045980987499 |
| 2021-05-17 00:00:00 | Mario Draghi | 0.59042480425747 | 0.34827784987148 |
| 2021-05-18 00:00:00 | Mario Draghi | 0.59307862731855 | 0.34641517639033 |
| 2021-05-19 00:00:00 | Mario Draghi | 0.604099584871 | 0.33316164969098 |
| 2021-05-20 00:00:00 | Mario Draghi | 0.60120509657195 | 0.33442963476068 |
| 2021-05-21 00:00:00 | Mario Draghi | 0.60894987178026 | 0.32776101426009 |
| 2021-05-22 00:00:00 | Mario Draghi | 0.60685170086004 | 0.32783118373665 |
| 2021-05-23 00:00:00 | Mario Draghi | 0.60915411641391 | 0.3247937102869 |
| 2021-05-24 00:00:00 | Mario Draghi | 0.61935561799406 | 0.31875547897167 |
| 2021-05-25 00:00:00 | Mario Draghi | 0.62108795646583 | 0.31361259173988 |
| 2021-05-26 00:00:00 | Mario Draghi | 0.61932732258945 | 0.31650297917328 |
| 2021-05-27 00:00:00 | Mario Draghi | 0.62875963040512 | 0.31029394940247 |
| 2021-05-28 00:00:00 | Mario Draghi | 0.62391584774124 | 0.31009594751526 |
| 2021-05-29 00:00:00 | Mario Draghi | 0.62808824298239 | 0.30493066636594 |
| 2021-05-30 00:00:00 | Mario Draghi | 0.63005835878682 | 0.30405937735666 |
| 2021-05-31 00:00:00 | Mario Draghi | 0.62326357218974 | 0.30626566091259 |
| 2021-06-01 00:00:00 | Mario Draghi | 0.63046486236905 | 0.30275092480193 |
| 2021-06-02 00:00:00 | Mario Draghi | 0.63515010194662 | 0.29900145590065 |
| 2021-06-03 00:00:00 | Mario Draghi | 0.63223964018028 | 0.30066589503794 |
| 2021-06-04 00:00:00 | Mario Draghi | 0.63558894910804 | 0.30113294055412 |
| 2021-06-05 00:00:00 | Mario Draghi | 0.6333301310549 | 0.30351454873901 |
| 2021-06-06 00:00:00 | Mario Draghi | 0.64220097916061 | 0.29363754812459 |
| 2021-06-07 00:00:00 | Mario Draghi | 0.65087368170649 | 0.28794883491354 |
| 2021-06-08 00:00:00 | Mario Draghi | 0.64959302214122 | 0.28458835709065 |
| 2021-06-09 00:00:00 | Mario Draghi | 0.64905121081297 | 0.28028645623462 |
| 2021-06-10 00:00:00 | Mario Draghi | 0.65433673535277 | 0.27473982268501 |
| 2021-06-11 00:00:00 | Mario Draghi | 0.65970285176373 | 0.26810782085911 |
| 2021-06-12 00:00:00 | Mario Draghi | 0.6570583198393 | 0.27377898908061 |
| 2021-06-13 00:00:00 | Mario Draghi | 0.65117376072287 | 0.28301122818159 |
| 2021-06-14 00:00:00 | Mario Draghi | 0.65115794947513 | 0.28240941020014 |
| 2021-06-15 00:00:00 | Mario Draghi | 0.65189167452426 | 0.2841842981311 |
| 2021-06-16 00:00:00 | Mario Draghi | 0.65478276948483 | 0.28845456693923 |
| 2021-06-17 00:00:00 | Mario Draghi | 0.6521312046204 | 0.29051403407458 |
| 2021-06-18 00:00:00 | Mario Draghi | 0.64987574114727 | 0.29215974128879 |
| 2021-06-19 00:00:00 | Mario Draghi | 0.65574665231827 | 0.28357766681681 |
| 2021-06-20 00:00:00 | Mario Draghi | 0.65620800407885 | 0.28309981332091 |
| 2021-06-21 00:00:00 | Mario Draghi | 0.65623226772361 | 0.28281391688666 |
| 2021-06-22 00:00:00 | Mario Draghi | 0.65500047341976 | 0.28416480118032 |
| 2021-06-23 00:00:00 | Mario Draghi | 0.65399966565897 | 0.28136243984022 |
| 2021-06-24 00:00:00 | Mario Draghi | 0.66267819821283 | 0.27518234730447 |
| 2021-06-25 00:00:00 | Mario Draghi | 0.66612334894754 | 0.27190837535284 |
| 2021-06-26 00:00:00 | Mario Draghi | 0.66849657981584 | 0.27059096525931 |
| 2021-06-27 00:00:00 | Mario Draghi | 0.66764863029655 | 0.27253874509251 |
| 2021-06-28 00:00:00 | Mario Draghi | 0.66508982661039 | 0.27502960792844 |
| 2021-06-29 00:00:00 | Mario Draghi | 0.66283526650417 | 0.27757146666735 |
| 2021-06-30 00:00:00 | Mario Draghi | 0.66411370241868 | 0.27986458018188 |
| 2021-07-01 00:00:00 | Mario Draghi | 0.65919833619382 | 0.27991087594144 |
| 2021-07-02 00:00:00 | Mario Draghi | 0.65176890940332 | 0.28808216947879 |
| 2021-07-03 00:00:00 | Mario Draghi | 0.64446521141886 | 0.29182710488688 |
| 2021-07-04 00:00:00 | Mario Draghi | 0.64904798634735 | 0.2855883577311 |
| 2021-07-05 00:00:00 | Mario Draghi | 0.64887476550978 | 0.28659445878059 |
| 2021-07-06 00:00:00 | Mario Draghi | 0.65106941514246 | 0.28668603969955 |
| 2021-07-07 00:00:00 | Mario Draghi | 0.65200150674112 | 0.28696797008693 |
| 2021-07-08 00:00:00 | Mario Draghi | 0.64645798217585 | 0.28762319591139 |
| 2021-07-09 00:00:00 | Mario Draghi | 0.65006206646493 | 0.28194784860589 |
| 2021-07-10 00:00:00 | Mario Draghi | 0.65512080237607 | 0.27941745980644 |
| 2021-07-11 00:00:00 | Mario Draghi | 0.65295687052485 | 0.2805003483639 |
| 2021-07-12 00:00:00 | Mario Draghi | 0.65375722606531 | 0.28158587676131 |
| 2021-07-13 00:00:00 | Mario Draghi | 0.65307762576638 | 0.28198848218324 |
| 2021-07-14 00:00:00 | Mario Draghi | 0.66381836979223 | 0.26785135946041 |
| 2021-07-15 00:00:00 | Mario Draghi | 0.66800220783968 | 0.27212845561344 |
| 2021-07-16 00:00:00 | Mario Draghi | 0.67067059464209 | 0.27126477214602 |
| 2021-07-17 00:00:00 | Mario Draghi | 0.66248804375929 | 0.2795274284339 |
| 2021-07-18 00:00:00 | Mario Draghi | 0.65608186433335 | 0.2864144309528 |
| 2021-07-19 00:00:00 | Mario Draghi | 0.65180769346465 | 0.28941537970505 |
| 2021-07-20 00:00:00 | Mario Draghi | 0.6541654606544 | 0.28630869452144 |
| 2021-07-21 00:00:00 | Mario Draghi | 0.63721938588367 | 0.30283619613801 |
| 2021-07-22 00:00:00 | Mario Draghi | 0.63411625537633 | 0.30582321534292 |
| 2021-07-23 00:00:00 | Mario Draghi | 0.62895104490726 | 0.30833117501109 |
| 2021-07-24 00:00:00 | Mario Draghi | 0.62646796362107 | 0.31078130192094 |
| 2021-07-25 00:00:00 | Mario Draghi | 0.6317472175458 | 0.30577128629632 |
| 2021-07-26 00:00:00 | Mario Draghi | 0.63387120555361 | 0.30672008138309 |
| 2021-07-27 00:00:00 | Mario Draghi | 0.62360341736923 | 0.31524012091922 |
| 2021-07-28 00:00:00 | Mario Draghi | 0.62332058267112 | 0.31526271618249 |
| 2021-07-29 00:00:00 | Mario Draghi | 0.62316988759838 | 0.31382808203169 |
| 2021-07-30 00:00:00 | Mario Draghi | 0.62117689782382 | 0.31656889859858 |
| 2021-07-31 00:00:00 | Mario Draghi | 0.62443033253539 | 0.31626936604508 |
| 2021-08-01 00:00:00 | Mario Draghi | 0.61535617496663 | 0.32343606159925 |
| 2021-08-02 00:00:00 | Mario Draghi | 0.62585981440571 | 0.31293105259265 |
| 2021-08-03 00:00:00 | Mario Draghi | 0.62308359147696 | 0.31354141578936 |
| 2021-08-04 00:00:00 | Mario Draghi | 0.62405277647181 | 0.31299176886561 |
| 2021-08-05 00:00:00 | Mario Draghi | 0.62201910907082 | 0.31689620695706 |
| 2021-08-06 00:00:00 | Mario Draghi | 0.62282884954782 | 0.31677726362952 |
| 2021-08-07 00:00:00 | Mario Draghi | 0.62030611595056 | 0.31629962839294 |
| 2021-08-08 00:00:00 | Mario Draghi | 0.62340765533192 | 0.31373874636317 |
| 2021-08-09 00:00:00 | Mario Draghi | 0.61033367631771 | 0.32587344738911 |
| 2021-08-10 00:00:00 | Mario Draghi | 0.62069242348434 | 0.31847698131197 |
| 2021-08-11 00:00:00 | Mario Draghi | 0.61937962384289 | 0.32182119486622 |
| 2021-08-12 00:00:00 | Mario Draghi | 0.61651355595856 | 0.32397817301575 |
| 2021-08-13 00:00:00 | Mario Draghi | 0.61481894364156 | 0.32855621544321 |
| 2021-08-14 00:00:00 | Mario Draghi | 0.6206049092123 | 0.32689973334784 |
| 2021-08-15 00:00:00 | Mario Draghi | 0.63112141342594 | 0.31638789116652 |
| 2021-08-16 00:00:00 | Mario Draghi | 0.63340600744547 | 0.31045707618035 |
| 2021-08-17 00:00:00 | Mario Draghi | 0.62574116068176 | 0.31419802486069 |
| 2021-08-18 00:00:00 | Mario Draghi | 0.62468797991247 | 0.31268720369608 |
| 2021-08-19 00:00:00 | Mario Draghi | 0.63084062539541 | 0.30760223628481 |
| 2021-08-20 00:00:00 | Mario Draghi | 0.63472514645281 | 0.3039342785751 |
| 2021-08-21 00:00:00 | Mario Draghi | 0.6303997259805 | 0.30087942473679 |
| 2021-08-22 00:00:00 | Mario Draghi | 0.62469921098953 | 0.30823854181155 |
| 2021-08-23 00:00:00 | Mario Draghi | 0.62155288841413 | 0.31224662352415 |
| 2021-08-24 00:00:00 | Mario Draghi | 0.62024027515566 | 0.3153537684438 |
| 2021-08-25 00:00:00 | Mario Draghi | 0.62280026321633 | 0.31395366624572 |
| 2021-08-26 00:00:00 | Mario Draghi | 0.61854427564667 | 0.31464177216594 |
| 2021-08-27 00:00:00 | Mario Draghi | 0.61911039075262 | 0.31404475791216 |
| 2021-08-28 00:00:00 | Mario Draghi | 0.62394624400645 | 0.31470449834199 |
| 2021-08-29 00:00:00 | Mario Draghi | 0.6285068316989 | 0.30844161441097 |
| 2021-08-30 00:00:00 | Mario Draghi | 0.62555085157617 | 0.30907817264611 |
| 2021-08-31 00:00:00 | Mario Draghi | 0.62942611075226 | 0.30970671142855 |
| 2021-09-01 00:00:00 | Mario Draghi | 0.63000856845164 | 0.3104483795341 |
| 2021-09-02 00:00:00 | Mario Draghi | 0.63433038049183 | 0.30750864335255 |
| 2021-09-03 00:00:00 | Mario Draghi | 0.62552266928193 | 0.31642341093081 |
| 2021-09-04 00:00:00 | Mario Draghi | 0.62509414942716 | 0.31792845207018 |
| 2021-09-05 00:00:00 | Mario Draghi | 0.61749124850951 | 0.32885284116491 |
| 2021-09-06 00:00:00 | Mario Draghi | 0.62311155122849 | 0.32617100218134 |
| 2021-09-07 00:00:00 | Mario Draghi | 0.62754037973874 | 0.32065216420956 |
| 2021-09-08 00:00:00 | Mario Draghi | 0.6302665802566 | 0.31804354019644 |
| 2021-09-09 00:00:00 | Mario Draghi | 0.63156035634141 | 0.31700439244156 |
| 2021-09-10 00:00:00 | Mario Draghi | 0.63385335849662 | 0.30781060540184 |
| 2021-09-11 00:00:00 | Mario Draghi | 0.62001875636984 | 0.31573355968738 |
| 2021-09-12 00:00:00 | Mario Draghi | 0.61953331827865 | 0.31482417270523 |
| 2021-09-13 00:00:00 | Mario Draghi | 0.61491014628313 | 0.3210117158976 |
| 2021-09-14 00:00:00 | Mario Draghi | 0.61347420332257 | 0.32362613339847 |
| 2021-09-15 00:00:00 | Mario Draghi | 0.61157620308067 | 0.32718624500019 |
| 2021-09-16 00:00:00 | Mario Draghi | 0.61306430302221 | 0.32713171668293 |
| 2021-09-17 00:00:00 | Mario Draghi | 0.61767886089707 | 0.3287392071111 |
| 2021-09-18 00:00:00 | Mario Draghi | 0.62591211723522 | 0.3225146659858 |
| 2021-09-19 00:00:00 | Mario Draghi | 0.61671418614634 | 0.32746760781728 |
| 2021-09-20 00:00:00 | Mario Draghi | 0.6192219285082 | 0.32454511169193 |
| 2021-09-21 00:00:00 | Mario Draghi | 0.61650796698365 | 0.32692934433167 |
| 2021-09-22 00:00:00 | Mario Draghi | 0.60780901596867 | 0.33242692162281 |
| 2021-09-23 00:00:00 | Mario Draghi | 0.60224148280627 | 0.33903695191403 |
| 2021-09-24 00:00:00 | Mario Draghi | 0.59836355884729 | 0.34054224353204 |
| 2021-09-25 00:00:00 | Mario Draghi | 0.59468093864993 | 0.34607303731008 |
| 2021-09-26 00:00:00 | Mario Draghi | 0.59703347240118 | 0.34597763884525 |
| 2021-09-27 00:00:00 | Mario Draghi | 0.59209804624753 | 0.34923019877715 |
| 2021-09-28 00:00:00 | Mario Draghi | 0.59130227374543 | 0.35004135335158 |
| 2021-09-29 00:00:00 | Mario Draghi | 0.59561335511492 | 0.34581286112727 |
| 2021-09-30 00:00:00 | Mario Draghi | 0.60011952585206 | 0.33997843744289 |
| 2021-10-01 00:00:00 | Mario Draghi | 0.59879670149597 | 0.34242710046262 |
| 2021-10-02 00:00:00 | Mario Draghi | 0.60237675731918 | 0.33875906859519 |
| 2021-10-03 00:00:00 | Mario Draghi | 0.60600787399752 | 0.33604280261844 |
| 2021-10-04 00:00:00 | Mario Draghi | 0.60985743618487 | 0.33522172394771 |
| 2021-10-05 00:00:00 | Mario Draghi | 0.60590921966095 | 0.33484251239951 |
| 2021-10-06 00:00:00 | Mario Draghi | 0.60896868588398 | 0.33252846926301 |
| 2021-10-07 00:00:00 | Mario Draghi | 0.60131190516292 | 0.34078462632397 |
| 2021-10-08 00:00:00 | Mario Draghi | 0.60731270301564 | 0.33738975517696 |
| 2021-10-09 00:00:00 | Mario Draghi | 0.60960134621346 | 0.33436481117136 |
| 2021-10-10 00:00:00 | Mario Draghi | 0.61331720629792 | 0.32914267395079 |
| 2021-10-11 00:00:00 | Mario Draghi | 0.6122966769853 | 0.32783423905716 |
| 2021-10-12 00:00:00 | Mario Draghi | 0.61461132038037 | 0.32616611502482 |
| 2021-10-13 00:00:00 | Mario Draghi | 0.61111192177522 | 0.32857869580779 |
| 2021-10-14 00:00:00 | Mario Draghi | 0.60554379344504 | 0.33192502615014 |
| 2021-10-15 00:00:00 | Mario Draghi | 0.59261137023557 | 0.34222649149118 |
| 2021-10-16 00:00:00 | Mario Draghi | 0.59352920739537 | 0.34398603563136 |
| 2021-10-17 00:00:00 | Mario Draghi | 0.58698174501092 | 0.35389132947681 |
| 2021-10-18 00:00:00 | Mario Draghi | 0.58712036048232 | 0.352818808095 |
| 2021-10-19 00:00:00 | Mario Draghi | 0.58439070285974 | 0.35727185949785 |
| 2021-10-20 00:00:00 | Mario Draghi | 0.57992135196063 | 0.35803586984616 |
| 2021-10-21 00:00:00 | Mario Draghi | 0.58594621057935 | 0.34972426385877 |
| 2021-10-22 00:00:00 | Mario Draghi | 0.5953054387507 | 0.34331582303039 |
| 2021-10-23 00:00:00 | Mario Draghi | 0.59167393191627 | 0.34553246084717 |
| 2021-10-24 00:00:00 | Mario Draghi | 0.60119262457272 | 0.33955156327561 |
| 2021-10-25 00:00:00 | Mario Draghi | 0.60068851639992 | 0.34268619725141 |
| 2021-10-26 00:00:00 | Mario Draghi | 0.60032187510962 | 0.34273291370198 |
| 2021-10-27 00:00:00 | Mario Draghi | 0.60026661143475 | 0.34343098311914 |
| 2021-10-28 00:00:00 | Mario Draghi | 0.59697745780057 | 0.34960857865831 |
| 2021-10-29 00:00:00 | Mario Draghi | 0.59253846634779 | 0.35228023662695 |
| 2021-10-30 00:00:00 | Mario Draghi | 0.59392339660539 | 0.35390282611584 |
| 2021-10-31 00:00:00 | Mario Draghi | 0.5843148418472 | 0.35482962936208 |
| 2021-11-01 00:00:00 | Mario Draghi | 0.5768764393789 | 0.3597530950932 |
| 2021-11-02 00:00:00 | Mario Draghi | 0.57693535408943 | 0.3587905437418 |
| 2021-11-03 00:00:00 | Mario Draghi | 0.58490040403009 | 0.35631028997947 |
| 2021-11-04 00:00:00 | Mario Draghi | 0.58847353571086 | 0.35544759888668 |
| 2021-11-05 00:00:00 | Mario Draghi | 0.59001446461066 | 0.35061078118447 |
| 2021-11-06 00:00:00 | Mario Draghi | 0.58723015214169 | 0.34851568071949 |
| 2021-11-07 00:00:00 | Mario Draghi | 0.58651197053525 | 0.35109581563418 |
| 2021-11-08 00:00:00 | Mario Draghi | 0.58683084947684 | 0.34652119683324 |
| 2021-11-09 00:00:00 | Mario Draghi | 0.58497445151306 | 0.34821411845862 |
| 2021-11-10 00:00:00 | Mario Draghi | 0.58328537522561 | 0.34816257453269 |
| 2021-11-11 00:00:00 | Mario Draghi | 0.59286820067371 | 0.33926791663908 |
| 2021-11-12 00:00:00 | Mario Draghi | 0.5960611141329 | 0.33820672279838 |
| 2021-11-13 00:00:00 | Mario Draghi | 0.5944471486838 | 0.33697658560702 |
| 2021-11-14 00:00:00 | Mario Draghi | 0.59297092629657 | 0.33767487680651 |
| 2021-11-15 00:00:00 | Mario Draghi | 0.60193100491959 | 0.33667497157451 |
| 2021-11-16 00:00:00 | Mario Draghi | 0.60826947108418 | 0.33194720547465 |
| 2021-11-17 00:00:00 | Mario Draghi | 0.59849657760203 | 0.33984591814288 |
| 2021-11-18 00:00:00 | Mario Draghi | 0.58670705228317 | 0.34886229165386 |
| 2021-11-19 00:00:00 | Mario Draghi | 0.59135265740882 | 0.34805204356596 |
| 2021-11-20 00:00:00 | Mario Draghi | 0.59352359852088 | 0.34617268939968 |
| 2021-11-21 00:00:00 | Mario Draghi | 0.5995338781799 | 0.33973711364609 |
| 2021-11-22 00:00:00 | Mario Draghi | 0.59103583783645 | 0.34593879037269 |
| 2021-11-23 00:00:00 | Mario Draghi | 0.59138577689688 | 0.3472566392473 |
| 2021-11-24 00:00:00 | Mario Draghi | 0.59462863720004 | 0.34524598175091 |
| 2021-11-25 00:00:00 | Mario Draghi | 0.59429090786541 | 0.34561134527929 |
| 2021-11-26 00:00:00 | Mario Draghi | 0.59213522171982 | 0.34589343641595 |
| 2021-11-27 00:00:00 | Mario Draghi | 0.59662520813911 | 0.34510775197774 |
| 2021-11-28 00:00:00 | Mario Draghi | 0.59200396032235 | 0.34810840603826 |
| 2021-11-29 00:00:00 | Mario Draghi | 0.5904460608618 | 0.34894428492639 |
| 2021-11-30 00:00:00 | Mario Draghi | 0.5786435715519 | 0.35861617252615 |
| 2021-12-01 00:00:00 | Mario Draghi | 0.57830014790399 | 0.3599463743046 |
| 2021-12-02 00:00:00 | Mario Draghi | 0.57980291429071 | 0.35752267292624 |
| 2021-12-03 00:00:00 | Mario Draghi | 0.57683763755857 | 0.36053181838075 |
| 2021-12-04 00:00:00 | Mario Draghi | 0.56742350989188 | 0.36599701900082 |
| 2021-12-05 00:00:00 | Mario Draghi | 0.56892681229777 | 0.36543850070653 |
| 2021-12-06 00:00:00 | Mario Draghi | 0.57927510387232 | 0.35604859842084 |
| 2021-12-07 00:00:00 | Mario Draghi | 0.59027316279337 | 0.34671978050227 |
| 2021-12-08 00:00:00 | Mario Draghi | 0.58973288099389 | 0.34839716793065 |
| 2021-12-09 00:00:00 | Mario Draghi | 0.59029178147464 | 0.34852392607221 |
| 2021-12-10 00:00:00 | Mario Draghi | 0.58565197028279 | 0.34728960370436 |
| 2021-12-11 00:00:00 | Mario Draghi | 0.59222847710635 | 0.34709032388028 |
| 2021-12-12 00:00:00 | Mario Draghi | 0.59333743297775 | 0.34590455103353 |
| 2021-12-13 00:00:00 | Mario Draghi | 0.59251016893762 | 0.34465566101197 |
| 2021-12-14 00:00:00 | Mario Draghi | 0.59134404897601 | 0.34497540372972 |
| 2021-12-15 00:00:00 | Mario Draghi | 0.5938719034027 | 0.34080803159017 |
| 2021-12-16 00:00:00 | Mario Draghi | 0.59025057803547 | 0.34416320240714 |
| 2021-12-17 00:00:00 | Mario Draghi | 0.5960370375925 | 0.34486016348255 |
| 2021-12-18 00:00:00 | Mario Draghi | 0.58788299573577 | 0.34775268765762 |
| 2021-12-19 00:00:00 | Mario Draghi | 0.58638705778487 | 0.3491708858446 |
| 2021-12-20 00:00:00 | Mario Draghi | 0.58652774466618 | 0.35317431147035 |
| 2021-12-21 00:00:00 | Mario Draghi | 0.5907737763108 | 0.34771625677253 |
| 2021-12-22 00:00:00 | Mario Draghi | 0.59774609584718 | 0.33989980629901 |
| 2021-12-23 00:00:00 | Mario Draghi | 0.60864932804198 | 0.32661372009029 |
| 2021-12-24 00:00:00 | Mario Draghi | 0.61014711300193 | 0.3245007783179 |
| 2021-12-25 00:00:00 | Mario Draghi | 0.61403908058626 | 0.3189100240595 |
| 2021-12-26 00:00:00 | Mario Draghi | 0.61597015869893 | 0.31901450566852 |
| 2021-12-27 00:00:00 | Mario Draghi | 0.62005218593725 | 0.31137210562154 |
| 2021-12-28 00:00:00 | Mario Draghi | 0.61703966181642 | 0.31690128141588 |
| 2021-12-29 00:00:00 | Mario Draghi | 0.61639027937643 | 0.31793128226866 |
| 2021-12-30 00:00:00 | Mario Draghi | 0.60011874868082 | 0.33080343628372 |
| 2021-12-31 00:00:00 | Mario Draghi | 0.60121000252086 | 0.32902055302812 |
| 2022-01-01 00:00:00 | Mario Draghi | 0.60652945888168 | 0.32800102022135 |
| 2022-01-02 00:00:00 | Mario Draghi | 0.61012464691653 | 0.32365529974004 |
| 2022-01-03 00:00:00 | Mario Draghi | 0.60533817530982 | 0.3301940805147 |
| 2022-01-04 00:00:00 | Mario Draghi | 0.60434594142256 | 0.32859297256923 |
| 2022-01-05 00:00:00 | Mario Draghi | 0.60347075197136 | 0.3269250203356 |
| 2022-01-06 00:00:00 | Mario Draghi | 0.60594393115803 | 0.33172147807353 |
| 2022-01-07 00:00:00 | Mario Draghi | 0.60374578658972 | 0.33334233078813 |
| 2022-01-08 00:00:00 | Mario Draghi | 0.59833672230322 | 0.33571315647128 |
| 2022-01-09 00:00:00 | Mario Draghi | 0.59184626708978 | 0.34046333666732 |
| 2022-01-10 00:00:00 | Mario Draghi | 0.58662358494208 | 0.34518668365909 |
| 2022-01-11 00:00:00 | Mario Draghi | 0.58803056552665 | 0.3474787026272 |
| 2022-01-12 00:00:00 | Mario Draghi | 0.58173217926092 | 0.35509438134626 |
| 2022-01-13 00:00:00 | Mario Draghi | 0.59032348621895 | 0.34246375211388 |
| 2022-01-14 00:00:00 | Mario Draghi | 0.58797077878646 | 0.34424435274697 |
| 2022-01-15 00:00:00 | Mario Draghi | 0.59007666543848 | 0.34581827960809 |
| 2022-01-16 00:00:00 | Mario Draghi | 0.59342938907053 | 0.34270914705596 |
| 2022-01-17 00:00:00 | Mario Draghi | 0.60192739688563 | 0.33392311358063 |
| 2022-01-18 00:00:00 | Mario Draghi | 0.59983059751823 | 0.33418144371202 |
| 2022-01-19 00:00:00 | Mario Draghi | 0.60119862728383 | 0.33437196525698 |
| 2022-01-20 00:00:00 | Mario Draghi | 0.59474676318678 | 0.34487368630883 |
| 2022-01-21 00:00:00 | Mario Draghi | 0.59363950101666 | 0.34506763624682 |
| 2022-01-22 00:00:00 | Mario Draghi | 0.58822799651355 | 0.34828740243201 |
| 2022-01-23 00:00:00 | Mario Draghi | 0.58575133767519 | 0.35338016539967 |
| 2022-01-24 00:00:00 | Mario Draghi | 0.57876848315518 | 0.35981997841082 |
| 2022-01-25 00:00:00 | Mario Draghi | 0.58185352743612 | 0.35147377993662 |
| 2022-01-26 00:00:00 | Mario Draghi | 0.57494362492104 | 0.35604961901135 |
| 2022-01-27 00:00:00 | Mario Draghi | 0.58164440623382 | 0.34182116039225 |
| 2022-01-28 00:00:00 | Mario Draghi | 0.57059192036768 | 0.35416805617857 |
| 2022-01-29 00:00:00 | Mario Draghi | 0.57763130161872 | 0.34744736451211 |
| 2022-01-30 00:00:00 | Mario Draghi | 0.57863158918398 | 0.34382550521772 |
| 2022-01-31 00:00:00 | Mario Draghi | 0.57627124360354 | 0.3451939629091 |
| 2022-02-01 00:00:00 | Mario Draghi | 0.57223613133985 | 0.35327103254678 |
| 2022-02-02 00:00:00 | Mario Draghi | 0.57849405515036 | 0.34887120582333 |
| 2022-02-03 00:00:00 | Mario Draghi | 0.57998653031497 | 0.3513339925894 |
| 2022-02-04 00:00:00 | Mario Draghi | 0.59554575719213 | 0.33695662207873 |
| 2022-02-05 00:00:00 | Mario Draghi | 0.59291540201174 | 0.34097280361194 |
| 2022-02-06 00:00:00 | Mario Draghi | 0.59643077551455 | 0.33936453214482 |
| 2022-02-07 00:00:00 | Mario Draghi | 0.59923345241403 | 0.33815686740487 |
| 2022-02-08 00:00:00 | Mario Draghi | 0.60150190076041 | 0.33781251920303 |
| 2022-02-09 00:00:00 | Mario Draghi | 0.60022977225083 | 0.33941656065767 |
| 2022-02-10 00:00:00 | Mario Draghi | 0.59519996179934 | 0.3478244042298 |
| 2022-02-11 00:00:00 | Mario Draghi | 0.59108486615526 | 0.34718764768701 |
| 2022-02-12 00:00:00 | Mario Draghi | 0.58995404546996 | 0.34912611312773 |
| 2022-02-13 00:00:00 | Mario Draghi | 0.58885581067252 | 0.35262313663903 |
| 2022-02-14 00:00:00 | Mario Draghi | 0.59100602632635 | 0.35203574467631 |
| 2022-02-15 00:00:00 | Mario Draghi | 0.58899752584775 | 0.3506092216729 |
| 2022-02-16 00:00:00 | Mario Draghi | 0.59184599017396 | 0.34780840348011 |
| 2020-03-06 00:00:00 | Boris Johnson | 0.47066605344094 | 0.44121105937853 |
| 2020-03-07 00:00:00 | Boris Johnson | 0.46834954668333 | 0.44022653370998 |
| 2020-03-08 00:00:00 | Boris Johnson | 0.46603409623444 | 0.44165283630488 |
| 2020-03-09 00:00:00 | Boris Johnson | 0.46849846273624 | 0.43722734202936 |
| 2020-03-10 00:00:00 | Boris Johnson | 0.46917209069531 | 0.43964849912283 |
| 2020-03-11 00:00:00 | Boris Johnson | 0.46245979519133 | 0.44194337797462 |
| 2020-03-12 00:00:00 | Boris Johnson | 0.4596379096661 | 0.44348605582564 |
| 2020-03-13 00:00:00 | Boris Johnson | 0.46079350204163 | 0.43829974929073 |
| 2020-03-14 00:00:00 | Boris Johnson | 0.46094039639585 | 0.4440572879388 |
| 2020-03-15 00:00:00 | Boris Johnson | 0.46299799206347 | 0.44289733870547 |
| 2020-03-16 00:00:00 | Boris Johnson | 0.46102348913546 | 0.44591503766481 |
| 2020-03-17 00:00:00 | Boris Johnson | 0.46180256010035 | 0.44824384579427 |
| 2020-03-18 00:00:00 | Boris Johnson | 0.46147856430277 | 0.45176386676976 |
| 2020-03-19 00:00:00 | Boris Johnson | 0.47476761141426 | 0.44226652904018 |
| 2020-03-20 00:00:00 | Boris Johnson | 0.47526041315059 | 0.44380225213014 |
| 2020-03-21 00:00:00 | Boris Johnson | 0.49519410971772 | 0.42554020022833 |
| 2020-03-22 00:00:00 | Boris Johnson | 0.50991428134862 | 0.41072309648705 |
| 2020-03-23 00:00:00 | Boris Johnson | 0.53245173117782 | 0.39280463668701 |
| 2020-03-24 00:00:00 | Boris Johnson | 0.55971569387674 | 0.36501024963466 |
| 2020-03-25 00:00:00 | Boris Johnson | 0.58040486070578 | 0.33942490761343 |
| 2020-03-26 00:00:00 | Boris Johnson | 0.5943810056762 | 0.32822495771365 |
| 2020-03-27 00:00:00 | Boris Johnson | 0.61999722694254 | 0.31219754224571 |
| 2020-03-28 00:00:00 | Boris Johnson | 0.62903836820323 | 0.30302304605731 |
| 2020-03-29 00:00:00 | Boris Johnson | 0.63127785811603 | 0.29543626812749 |
| 2020-03-30 00:00:00 | Boris Johnson | 0.62990520875292 | 0.29676893417181 |
| 2020-03-31 00:00:00 | Boris Johnson | 0.62105215304913 | 0.30924909378024 |
| 2020-04-01 00:00:00 | Boris Johnson | 0.61948088867373 | 0.31334007622182 |
| 2020-04-02 00:00:00 | Boris Johnson | 0.60855648575765 | 0.32026377043786 |
| 2020-04-03 00:00:00 | Boris Johnson | 0.60658028443004 | 0.31892897257527 |
| 2020-04-04 00:00:00 | Boris Johnson | 0.60710206878476 | 0.32155421097234 |
| 2020-04-05 00:00:00 | Boris Johnson | 0.6058705227124 | 0.32737474110763 |
| 2020-04-06 00:00:00 | Boris Johnson | 0.6014124618786 | 0.33132441726859 |
| 2020-04-07 00:00:00 | Boris Johnson | 0.61138945781707 | 0.31961161790011 |
| 2020-04-08 00:00:00 | Boris Johnson | 0.62240912058267 | 0.31179687494295 |
| 2020-04-09 00:00:00 | Boris Johnson | 0.63832203514474 | 0.29151311458687 |
| 2020-04-10 00:00:00 | Boris Johnson | 0.64367695744991 | 0.28833092922062 |
| 2020-04-11 00:00:00 | Boris Johnson | 0.64512131751223 | 0.28246698160013 |
| 2020-04-12 00:00:00 | Boris Johnson | 0.65693886428159 | 0.27513766210056 |
| 2020-04-13 00:00:00 | Boris Johnson | 0.66017251554311 | 0.2678728422074 |
| 2020-04-14 00:00:00 | Boris Johnson | 0.65610234395157 | 0.27273524759126 |
| 2020-04-15 00:00:00 | Boris Johnson | 0.64887030265267 | 0.28016481120703 |
| 2020-04-16 00:00:00 | Boris Johnson | 0.65030798623994 | 0.28472600959436 |
| 2020-04-17 00:00:00 | Boris Johnson | 0.65211237602105 | 0.28253691684486 |
| 2020-04-18 00:00:00 | Boris Johnson | 0.65124672656071 | 0.28181664992189 |
| 2020-04-19 00:00:00 | Boris Johnson | 0.65296252072289 | 0.28117065385656 |
| 2020-04-20 00:00:00 | Boris Johnson | 0.64965917647505 | 0.28491242372963 |
| 2020-04-21 00:00:00 | Boris Johnson | 0.64328246370162 | 0.29126222375795 |
| 2020-04-22 00:00:00 | Boris Johnson | 0.63791642701016 | 0.29279019192629 |
| 2020-04-23 00:00:00 | Boris Johnson | 0.63184401808581 | 0.30026309023246 |
| 2020-04-24 00:00:00 | Boris Johnson | 0.61483745276543 | 0.31509242049589 |
| 2020-04-25 00:00:00 | Boris Johnson | 0.61126153499373 | 0.31897849271866 |
| 2020-04-26 00:00:00 | Boris Johnson | 0.60287047440853 | 0.32353656343771 |
| 2020-04-27 00:00:00 | Boris Johnson | 0.60043988890425 | 0.32812116345177 |
| 2020-04-28 00:00:00 | Boris Johnson | 0.60254536822761 | 0.31979811116982 |
| 2020-04-29 00:00:00 | Boris Johnson | 0.60057543683888 | 0.32344534658125 |
| 2020-04-30 00:00:00 | Boris Johnson | 0.60798184675116 | 0.31587217935622 |
| 2020-05-01 00:00:00 | Boris Johnson | 0.61195776984874 | 0.31164629767399 |
| 2020-05-02 00:00:00 | Boris Johnson | 0.60571375324867 | 0.31678629050335 |
| 2020-05-03 00:00:00 | Boris Johnson | 0.61120891409299 | 0.31667314555685 |
| 2020-05-04 00:00:00 | Boris Johnson | 0.62011085503785 | 0.3072303809931 |
| 2020-05-05 00:00:00 | Boris Johnson | 0.61492922326866 | 0.31992471589184 |
| 2020-05-06 00:00:00 | Boris Johnson | 0.61772088397063 | 0.3165216696814 |
| 2020-05-07 00:00:00 | Boris Johnson | 0.6024286445068 | 0.33320553567309 |
| 2020-05-08 00:00:00 | Boris Johnson | 0.60121554415482 | 0.34014659632537 |
| 2020-05-09 00:00:00 | Boris Johnson | 0.59929428114864 | 0.34733323353921 |
| 2020-05-10 00:00:00 | Boris Johnson | 0.58791660620109 | 0.35290647887939 |
| 2020-05-11 00:00:00 | Boris Johnson | 0.57580864342608 | 0.36707263012802 |
| 2020-05-12 00:00:00 | Boris Johnson | 0.57232348421823 | 0.37381945736507 |
| 2020-05-13 00:00:00 | Boris Johnson | 0.56189921412551 | 0.38725990651962 |
| 2020-05-14 00:00:00 | Boris Johnson | 0.56034699959473 | 0.3841651882451 |
| 2020-05-15 00:00:00 | Boris Johnson | 0.5567457892199 | 0.38159123149475 |
| 2020-05-16 00:00:00 | Boris Johnson | 0.55649648681293 | 0.38467046998867 |
| 2020-05-17 00:00:00 | Boris Johnson | 0.55210054537187 | 0.39260563651993 |
| 2020-05-18 00:00:00 | Boris Johnson | 0.54672458664556 | 0.39462226895493 |
| 2020-05-19 00:00:00 | Boris Johnson | 0.546346830931 | 0.38960735580021 |
| 2020-05-20 00:00:00 | Boris Johnson | 0.54839332807951 | 0.3901077443287 |
| 2020-05-21 00:00:00 | Boris Johnson | 0.54438163374558 | 0.39851631977068 |
| 2020-05-22 00:00:00 | Boris Johnson | 0.53171705775298 | 0.40890202918827 |
| 2020-05-23 00:00:00 | Boris Johnson | 0.53472513438012 | 0.40448177908738 |
| 2020-05-24 00:00:00 | Boris Johnson | 0.53364084941902 | 0.40519301430667 |
| 2020-05-25 00:00:00 | Boris Johnson | 0.52670121016277 | 0.41061569624256 |
| 2020-05-26 00:00:00 | Boris Johnson | 0.51976095386649 | 0.41508687686864 |
| 2020-05-27 00:00:00 | Boris Johnson | 0.51402075176023 | 0.41802115562006 |
| 2020-05-28 00:00:00 | Boris Johnson | 0.49922509895593 | 0.42884197871938 |
| 2020-05-29 00:00:00 | Boris Johnson | 0.50061407890364 | 0.43472204031078 |
| 2020-05-30 00:00:00 | Boris Johnson | 0.49207010438509 | 0.43864814623329 |
| 2020-05-31 00:00:00 | Boris Johnson | 0.4814158444243 | 0.44984498139949 |
| 2020-06-01 00:00:00 | Boris Johnson | 0.47293066470715 | 0.46238469863711 |
| 2020-06-02 00:00:00 | Boris Johnson | 0.47173553295933 | 0.46938505338548 |
| 2020-06-03 00:00:00 | Boris Johnson | 0.46295744485114 | 0.47200018668202 |
| 2020-06-04 00:00:00 | Boris Johnson | 0.46785270282582 | 0.46701424062008 |
| 2020-06-05 00:00:00 | Boris Johnson | 0.46052043341547 | 0.46848126131077 |
| 2020-06-06 00:00:00 | Boris Johnson | 0.44106122142942 | 0.4918949627792 |
| 2020-06-07 00:00:00 | Boris Johnson | 0.44370845359212 | 0.48977819775454 |
| 2020-06-08 00:00:00 | Boris Johnson | 0.44524898150413 | 0.48934998441246 |
| 2020-06-09 00:00:00 | Boris Johnson | 0.44033560834996 | 0.49557827213931 |
| 2020-06-10 00:00:00 | Boris Johnson | 0.43436832370185 | 0.50378358198865 |
| 2020-06-11 00:00:00 | Boris Johnson | 0.4370031726438 | 0.50282155288238 |
| 2020-06-12 00:00:00 | Boris Johnson | 0.43624790996176 | 0.50569177644929 |
| 2020-06-13 00:00:00 | Boris Johnson | 0.44061156951065 | 0.49736419867263 |
| 2020-06-14 00:00:00 | Boris Johnson | 0.44221608509221 | 0.49551020601349 |
| 2020-06-15 00:00:00 | Boris Johnson | 0.44727754992141 | 0.48694508934978 |
| 2020-06-16 00:00:00 | Boris Johnson | 0.451825486915 | 0.48189595802896 |
| 2020-06-17 00:00:00 | Boris Johnson | 0.45679889404216 | 0.47800670551099 |
| 2020-06-18 00:00:00 | Boris Johnson | 0.46091140020077 | 0.46957105185749 |
| 2020-06-19 00:00:00 | Boris Johnson | 0.45936875222841 | 0.47172082609596 |
| 2020-06-20 00:00:00 | Boris Johnson | 0.46380558477014 | 0.46514005409145 |
| 2020-06-21 00:00:00 | Boris Johnson | 0.45653932501114 | 0.46961511140044 |
| 2020-06-22 00:00:00 | Boris Johnson | 0.45090518025593 | 0.48222229088459 |
| 2020-06-23 00:00:00 | Boris Johnson | 0.44896387018876 | 0.4808095056027 |
| 2020-06-24 00:00:00 | Boris Johnson | 0.46405527188755 | 0.46944867249209 |
| 2020-06-25 00:00:00 | Boris Johnson | 0.45808257336459 | 0.48340893634485 |
| 2020-06-26 00:00:00 | Boris Johnson | 0.46210451062176 | 0.47555733739446 |
| 2020-06-27 00:00:00 | Boris Johnson | 0.45568287331306 | 0.48402605106427 |
| 2020-06-28 00:00:00 | Boris Johnson | 0.46425601330429 | 0.47844035887893 |
| 2020-06-29 00:00:00 | Boris Johnson | 0.4704818728309 | 0.46772756777337 |
| 2020-06-30 00:00:00 | Boris Johnson | 0.46486173866893 | 0.47559637706482 |
| 2020-07-01 00:00:00 | Boris Johnson | 0.45125531942201 | 0.49027766838529 |
| 2020-07-02 00:00:00 | Boris Johnson | 0.4556280142637 | 0.48347716816851 |
| 2020-07-03 00:00:00 | Boris Johnson | 0.45725289259073 | 0.48618491964907 |
| 2020-07-04 00:00:00 | Boris Johnson | 0.46482144952712 | 0.47961237571651 |
| 2020-07-05 00:00:00 | Boris Johnson | 0.4581297633996 | 0.48610309293718 |
| 2020-07-06 00:00:00 | Boris Johnson | 0.450333037519 | 0.48960098762852 |
| 2020-07-07 00:00:00 | Boris Johnson | 0.45091149796955 | 0.49020969813494 |
| 2020-07-08 00:00:00 | Boris Johnson | 0.45518016647252 | 0.4854429070863 |
| 2020-07-09 00:00:00 | Boris Johnson | 0.45253253083626 | 0.4893209984805 |
| 2020-07-10 00:00:00 | Boris Johnson | 0.44854593625628 | 0.49189909537987 |
| 2020-07-11 00:00:00 | Boris Johnson | 0.4485569620395 | 0.49556853380609 |
| 2020-07-12 00:00:00 | Boris Johnson | 0.43803194550304 | 0.49717796137093 |
| 2020-07-13 00:00:00 | Boris Johnson | 0.44294476502058 | 0.49754121826857 |
| 2020-07-14 00:00:00 | Boris Johnson | 0.44524812539886 | 0.4920755013313 |
| 2020-07-15 00:00:00 | Boris Johnson | 0.44461281768764 | 0.49032973761274 |
| 2020-07-16 00:00:00 | Boris Johnson | 0.43330362170497 | 0.49880599429032 |
| 2020-07-17 00:00:00 | Boris Johnson | 0.44151952147121 | 0.4892215954418 |
| 2020-07-18 00:00:00 | Boris Johnson | 0.44389824045598 | 0.48396410334445 |
| 2020-07-19 00:00:00 | Boris Johnson | 0.45489774416435 | 0.47860243349459 |
| 2020-07-20 00:00:00 | Boris Johnson | 0.44987606401496 | 0.48244891746184 |
| 2020-07-21 00:00:00 | Boris Johnson | 0.44663626160439 | 0.48969060193668 |
| 2020-07-22 00:00:00 | Boris Johnson | 0.43638052658068 | 0.49752657020819 |
| 2020-07-23 00:00:00 | Boris Johnson | 0.43996908498791 | 0.49844522101143 |
| 2020-07-24 00:00:00 | Boris Johnson | 0.43948857427005 | 0.5031648241998 |
| 2020-07-25 00:00:00 | Boris Johnson | 0.43388938732699 | 0.50770927839537 |
| 2020-07-26 00:00:00 | Boris Johnson | 0.42866220266026 | 0.51512729278211 |
| 2020-07-27 00:00:00 | Boris Johnson | 0.43256507056853 | 0.5129011334013 |
| 2020-07-28 00:00:00 | Boris Johnson | 0.43559169026824 | 0.50690093998879 |
| 2020-07-29 00:00:00 | Boris Johnson | 0.43786709864181 | 0.50967673322095 |
| 2020-07-30 00:00:00 | Boris Johnson | 0.44032790372755 | 0.50378391194052 |
| 2020-07-31 00:00:00 | Boris Johnson | 0.43319334088721 | 0.50967081364528 |
| 2020-08-01 00:00:00 | Boris Johnson | 0.42316926385963 | 0.51917094423364 |
| 2020-08-02 00:00:00 | Boris Johnson | 0.42122876235395 | 0.52319084675268 |
| 2020-08-03 00:00:00 | Boris Johnson | 0.41587188761801 | 0.52293551536727 |
| 2020-08-04 00:00:00 | Boris Johnson | 0.40712167800689 | 0.52912022574268 |
| 2020-08-05 00:00:00 | Boris Johnson | 0.40852882311966 | 0.52639777678397 |
| 2020-08-06 00:00:00 | Boris Johnson | 0.40933790828477 | 0.52914812733382 |
| 2020-08-07 00:00:00 | Boris Johnson | 0.40651006245639 | 0.53057462133202 |
| 2020-08-08 00:00:00 | Boris Johnson | 0.40891759309549 | 0.526352098937 |
| 2020-08-09 00:00:00 | Boris Johnson | 0.4095758555371 | 0.52366446744812 |
| 2020-08-10 00:00:00 | Boris Johnson | 0.41354592181932 | 0.52581601438506 |
| 2020-08-11 00:00:00 | Boris Johnson | 0.41894379779827 | 0.52315906051474 |
| 2020-08-12 00:00:00 | Boris Johnson | 0.4174032673257 | 0.52173538150472 |
| 2020-08-13 00:00:00 | Boris Johnson | 0.41897733884765 | 0.5160598356089 |
| 2020-08-14 00:00:00 | Boris Johnson | 0.42133707592744 | 0.5154948434273 |
| 2020-08-15 00:00:00 | Boris Johnson | 0.42481611964472 | 0.51879501505265 |
| 2020-08-16 00:00:00 | Boris Johnson | 0.42823057740711 | 0.51567744685645 |
| 2020-08-17 00:00:00 | Boris Johnson | 0.41980605890748 | 0.52312086621692 |
| 2020-08-18 00:00:00 | Boris Johnson | 0.41184020303737 | 0.53192365977359 |
| 2020-08-19 00:00:00 | Boris Johnson | 0.41576399811416 | 0.53112768883709 |
| 2020-08-20 00:00:00 | Boris Johnson | 0.40042309161661 | 0.54671971789351 |
| 2020-08-21 00:00:00 | Boris Johnson | 0.39632799792176 | 0.54923002077265 |
| 2020-08-22 00:00:00 | Boris Johnson | 0.39510029294693 | 0.54564967177095 |
| 2020-08-23 00:00:00 | Boris Johnson | 0.38199651324361 | 0.55784008927186 |
| 2020-08-24 00:00:00 | Boris Johnson | 0.37513863249979 | 0.55681313968462 |
| 2020-08-25 00:00:00 | Boris Johnson | 0.37854178386441 | 0.55100841221396 |
| 2020-08-26 00:00:00 | Boris Johnson | 0.37600732578525 | 0.55032418739555 |
| 2020-08-27 00:00:00 | Boris Johnson | 0.38484023599265 | 0.54540171992641 |
| 2020-08-28 00:00:00 | Boris Johnson | 0.3820671677449 | 0.54378076247878 |
| 2020-08-29 00:00:00 | Boris Johnson | 0.38852378362166 | 0.53884985864342 |
| 2020-08-30 00:00:00 | Boris Johnson | 0.40116068368797 | 0.52459241751909 |
| 2020-08-31 00:00:00 | Boris Johnson | 0.41276301611915 | 0.52029408442153 |
| 2020-09-01 00:00:00 | Boris Johnson | 0.4100901469318 | 0.51948040298571 |
| 2020-09-02 00:00:00 | Boris Johnson | 0.4088802974817 | 0.52346786317077 |
| 2020-09-03 00:00:00 | Boris Johnson | 0.40724610070245 | 0.52250093736701 |
| 2020-09-04 00:00:00 | Boris Johnson | 0.40723302146447 | 0.52486099941332 |
| 2020-09-05 00:00:00 | Boris Johnson | 0.40751600749246 | 0.52554580959959 |
| 2020-09-06 00:00:00 | Boris Johnson | 0.40161047121159 | 0.53406209798242 |
| 2020-09-07 00:00:00 | Boris Johnson | 0.39859791301074 | 0.5403239116968 |
| 2020-09-08 00:00:00 | Boris Johnson | 0.40097683702368 | 0.54593944355764 |
| 2020-09-09 00:00:00 | Boris Johnson | 0.39534273318775 | 0.54757511615712 |
| 2020-09-10 00:00:00 | Boris Johnson | 0.39681239028449 | 0.54903674114677 |
| 2020-09-11 00:00:00 | Boris Johnson | 0.39565193136679 | 0.54871873226321 |
| 2020-09-12 00:00:00 | Boris Johnson | 0.39313751890159 | 0.55352054840785 |
| 2020-09-13 00:00:00 | Boris Johnson | 0.38778762794712 | 0.56063596418544 |
| 2020-09-14 00:00:00 | Boris Johnson | 0.38309367191261 | 0.56335932538798 |
| 2020-09-15 00:00:00 | Boris Johnson | 0.38438749579939 | 0.55909315801776 |
| 2020-09-16 00:00:00 | Boris Johnson | 0.38005057950736 | 0.56654629820238 |
| 2020-09-17 00:00:00 | Boris Johnson | 0.37460406240729 | 0.56959037239717 |
| 2020-09-18 00:00:00 | Boris Johnson | 0.37422414660724 | 0.57604993329805 |
| 2020-09-19 00:00:00 | Boris Johnson | 0.36049588784795 | 0.59143961257167 |
| 2020-09-20 00:00:00 | Boris Johnson | 0.35919067429252 | 0.58851761174865 |
| 2020-09-21 00:00:00 | Boris Johnson | 0.35361549257714 | 0.59345866948118 |
| 2020-09-22 00:00:00 | Boris Johnson | 0.35292751203304 | 0.59225935557131 |
| 2020-09-23 00:00:00 | Boris Johnson | 0.35850145766824 | 0.59086136449189 |
| 2020-09-24 00:00:00 | Boris Johnson | 0.36435625378616 | 0.58629295606146 |
| 2020-09-25 00:00:00 | Boris Johnson | 0.3669993553228 | 0.58291632941315 |
| 2020-09-26 00:00:00 | Boris Johnson | 0.37044942890145 | 0.57218879450142 |
| 2020-09-27 00:00:00 | Boris Johnson | 0.37608235713288 | 0.56866478797513 |
| 2020-09-28 00:00:00 | Boris Johnson | 0.3806726674492 | 0.56497213594972 |
| 2020-09-29 00:00:00 | Boris Johnson | 0.38115923529441 | 0.56701794566145 |
| 2020-09-30 00:00:00 | Boris Johnson | 0.38201320003195 | 0.56128935940759 |
| 2020-10-01 00:00:00 | Boris Johnson | 0.37494241394249 | 0.56511080779568 |
| 2020-10-02 00:00:00 | Boris Johnson | 0.37147201109799 | 0.56763639501572 |
| 2020-10-03 00:00:00 | Boris Johnson | 0.37475501108593 | 0.56615167372137 |
| 2020-10-04 00:00:00 | Boris Johnson | 0.37242514797986 | 0.5664201913641 |
| 2020-10-05 00:00:00 | Boris Johnson | 0.37443911623773 | 0.5659052166754 |
| 2020-10-06 00:00:00 | Boris Johnson | 0.36623177083776 | 0.57659362184578 |
| 2020-10-07 00:00:00 | Boris Johnson | 0.36665698558778 | 0.57975792533426 |
| 2020-10-08 00:00:00 | Boris Johnson | 0.37410196023819 | 0.57281040731206 |
| 2020-10-09 00:00:00 | Boris Johnson | 0.37825043896633 | 0.57156481146027 |
| 2020-10-10 00:00:00 | Boris Johnson | 0.37340391009507 | 0.57783011685976 |
| 2020-10-11 00:00:00 | Boris Johnson | 0.37393068700677 | 0.58076787655682 |
| 2020-10-12 00:00:00 | Boris Johnson | 0.37302403510677 | 0.57976781621272 |
| 2020-10-13 00:00:00 | Boris Johnson | 0.38146831454146 | 0.56386481421678 |
| 2020-10-14 00:00:00 | Boris Johnson | 0.37612306460005 | 0.56526068699675 |
| 2020-10-15 00:00:00 | Boris Johnson | 0.36549859119611 | 0.57706116826412 |
| 2020-10-16 00:00:00 | Boris Johnson | 0.36327815764463 | 0.57739235935954 |
| 2020-10-17 00:00:00 | Boris Johnson | 0.36161168572234 | 0.57764829304836 |
| 2020-10-18 00:00:00 | Boris Johnson | 0.36816307161403 | 0.57205450278275 |
| 2020-10-19 00:00:00 | Boris Johnson | 0.36647860854003 | 0.57488833975074 |
| 2020-10-20 00:00:00 | Boris Johnson | 0.36247828308186 | 0.58352034349896 |
| 2020-10-21 00:00:00 | Boris Johnson | 0.36187779839001 | 0.58279491388617 |
| 2020-10-22 00:00:00 | Boris Johnson | 0.37119198732561 | 0.5694777938039 |
| 2020-10-23 00:00:00 | Boris Johnson | 0.37991740756647 | 0.56112106090241 |
| 2020-10-24 00:00:00 | Boris Johnson | 0.38383146315703 | 0.55978077334144 |
| 2020-10-25 00:00:00 | Boris Johnson | 0.37624366419204 | 0.56424309115632 |
| 2020-10-26 00:00:00 | Boris Johnson | 0.38014498883106 | 0.56088254541825 |
| 2020-10-27 00:00:00 | Boris Johnson | 0.3791262972551 | 0.55846298621341 |
| 2020-10-28 00:00:00 | Boris Johnson | 0.38411171384047 | 0.55549170798186 |
| 2020-10-29 00:00:00 | Boris Johnson | 0.37580008379824 | 0.56582689070204 |
| 2020-10-30 00:00:00 | Boris Johnson | 0.36935693497309 | 0.5716287416708 |
| 2020-10-31 00:00:00 | Boris Johnson | 0.37234205079507 | 0.56809712944288 |
| 2020-11-01 00:00:00 | Boris Johnson | 0.37500329147725 | 0.56432429405051 |
| 2020-11-02 00:00:00 | Boris Johnson | 0.37306262977771 | 0.56663903413866 |
| 2020-11-03 00:00:00 | Boris Johnson | 0.36920020000223 | 0.5726595217961 |
| 2020-11-04 00:00:00 | Boris Johnson | 0.37301841089658 | 0.57027462328514 |
| 2020-11-05 00:00:00 | Boris Johnson | 0.3846634434356 | 0.56199823306747 |
| 2020-11-06 00:00:00 | Boris Johnson | 0.38715494327743 | 0.56139505578545 |
| 2020-11-07 00:00:00 | Boris Johnson | 0.37925558570121 | 0.56438296194624 |
| 2020-11-08 00:00:00 | Boris Johnson | 0.38306550989601 | 0.56148505535571 |
| 2020-11-09 00:00:00 | Boris Johnson | 0.38816126757077 | 0.55247902241317 |
| 2020-11-10 00:00:00 | Boris Johnson | 0.40002410568481 | 0.54228012105904 |
| 2020-11-11 00:00:00 | Boris Johnson | 0.40045421144311 | 0.54114442787964 |
| 2020-11-12 00:00:00 | Boris Johnson | 0.39052462688669 | 0.55077112114502 |
| 2020-11-13 00:00:00 | Boris Johnson | 0.38971120109014 | 0.5480640902159 |
| 2020-11-14 00:00:00 | Boris Johnson | 0.39807308895245 | 0.54528824772753 |
| 2020-11-15 00:00:00 | Boris Johnson | 0.39056769700739 | 0.55394174596434 |
| 2020-11-16 00:00:00 | Boris Johnson | 0.39126690180178 | 0.55447650930167 |
| 2020-11-17 00:00:00 | Boris Johnson | 0.38448234366604 | 0.55943330882258 |
| 2020-11-18 00:00:00 | Boris Johnson | 0.37339742929728 | 0.57275206488694 |
| 2020-11-19 00:00:00 | Boris Johnson | 0.38129965192024 | 0.56371804196647 |
| 2020-11-20 00:00:00 | Boris Johnson | 0.37585907316522 | 0.56745598767836 |
| 2020-11-21 00:00:00 | Boris Johnson | 0.3700819304283 | 0.57556223307559 |
| 2020-11-22 00:00:00 | Boris Johnson | 0.3802665505468 | 0.56389964368795 |
| 2020-11-23 00:00:00 | Boris Johnson | 0.37339769860895 | 0.56986685460653 |
| 2020-11-24 00:00:00 | Boris Johnson | 0.36627833197304 | 0.57408129873351 |
| 2020-11-25 00:00:00 | Boris Johnson | 0.38139517780802 | 0.55814965732719 |
| 2020-11-26 00:00:00 | Boris Johnson | 0.37924492788522 | 0.55556446294498 |
| 2020-11-27 00:00:00 | Boris Johnson | 0.38501370134178 | 0.55501259168553 |
| 2020-11-28 00:00:00 | Boris Johnson | 0.38360553068032 | 0.55339083447414 |
| 2020-11-29 00:00:00 | Boris Johnson | 0.37477309002961 | 0.56230419500662 |
| 2020-11-30 00:00:00 | Boris Johnson | 0.37100669926941 | 0.56527713675962 |
| 2020-12-01 00:00:00 | Boris Johnson | 0.37828424757267 | 0.55639023652288 |
| 2020-12-02 00:00:00 | Boris Johnson | 0.36932047986138 | 0.56586320431711 |
| 2020-12-03 00:00:00 | Boris Johnson | 0.37147961138606 | 0.5651043404273 |
| 2020-12-04 00:00:00 | Boris Johnson | 0.37850254561042 | 0.55663261963274 |
| 2020-12-05 00:00:00 | Boris Johnson | 0.3872423964793 | 0.54567217558804 |
| 2020-12-06 00:00:00 | Boris Johnson | 0.38722398008049 | 0.54610201906514 |
| 2020-12-07 00:00:00 | Boris Johnson | 0.39668381895418 | 0.53351333348793 |
| 2020-12-08 00:00:00 | Boris Johnson | 0.40087761470511 | 0.53286662100046 |
| 2020-12-09 00:00:00 | Boris Johnson | 0.40171111944334 | 0.53034583268478 |
| 2020-12-10 00:00:00 | Boris Johnson | 0.40260444068304 | 0.529131645238 |
| 2020-12-11 00:00:00 | Boris Johnson | 0.39340622932816 | 0.53369311722682 |
| 2020-12-12 00:00:00 | Boris Johnson | 0.39285595182235 | 0.53637610598923 |
| 2020-12-13 00:00:00 | Boris Johnson | 0.39655739551999 | 0.53011730128257 |
| 2020-12-14 00:00:00 | Boris Johnson | 0.38920330462748 | 0.5365788564249 |
| 2020-12-15 00:00:00 | Boris Johnson | 0.38830145244505 | 0.53719547744711 |
| 2020-12-16 00:00:00 | Boris Johnson | 0.39142605982484 | 0.53554855809684 |
| 2020-12-17 00:00:00 | Boris Johnson | 0.39074941023444 | 0.53606561952475 |
| 2020-12-18 00:00:00 | Boris Johnson | 0.39144656064742 | 0.53881714514601 |
| 2020-12-19 00:00:00 | Boris Johnson | 0.38771012667348 | 0.54244591346161 |
| 2020-12-20 00:00:00 | Boris Johnson | 0.38486033951031 | 0.55161060224785 |
| 2020-12-21 00:00:00 | Boris Johnson | 0.38417896534494 | 0.55441689295921 |
| 2020-12-22 00:00:00 | Boris Johnson | 0.37890305177427 | 0.56063057211821 |
| 2020-12-23 00:00:00 | Boris Johnson | 0.37861917559616 | 0.56055980096178 |
| 2020-12-24 00:00:00 | Boris Johnson | 0.36711183473869 | 0.57441127175527 |
| 2020-12-25 00:00:00 | Boris Johnson | 0.36286180712253 | 0.57673658223697 |
| 2020-12-26 00:00:00 | Boris Johnson | 0.36586504844909 | 0.57602701912083 |
| 2020-12-27 00:00:00 | Boris Johnson | 0.36780727597782 | 0.56911831578557 |
| 2020-12-28 00:00:00 | Boris Johnson | 0.36749355511732 | 0.56467445693152 |
| 2020-12-29 00:00:00 | Boris Johnson | 0.37003544563377 | 0.56374392858312 |
| 2020-12-30 00:00:00 | Boris Johnson | 0.36318258484592 | 0.56793034368168 |
| 2020-12-31 00:00:00 | Boris Johnson | 0.37276718341492 | 0.55777455500852 |
| 2021-01-01 00:00:00 | Boris Johnson | 0.38219907794455 | 0.55089770121768 |
| 2021-01-02 00:00:00 | Boris Johnson | 0.38093902486628 | 0.55248879613052 |
| 2021-01-03 00:00:00 | Boris Johnson | 0.38249021117192 | 0.55271801780197 |
| 2021-01-04 00:00:00 | Boris Johnson | 0.38269258264441 | 0.55836395467803 |
| 2021-01-05 00:00:00 | Boris Johnson | 0.38425309497447 | 0.55751120845438 |
| 2021-01-06 00:00:00 | Boris Johnson | 0.38987525033135 | 0.55408051218382 |
| 2021-01-07 00:00:00 | Boris Johnson | 0.38644002376942 | 0.56098481451964 |
| 2021-01-08 00:00:00 | Boris Johnson | 0.38577919941262 | 0.56449807851043 |
| 2021-01-09 00:00:00 | Boris Johnson | 0.38720825661313 | 0.5576103581915 |
| 2021-01-10 00:00:00 | Boris Johnson | 0.38976746787894 | 0.55319944280981 |
| 2021-01-11 00:00:00 | Boris Johnson | 0.39520856184809 | 0.54861434709914 |
| 2021-01-12 00:00:00 | Boris Johnson | 0.40411924130025 | 0.54097986403404 |
| 2021-01-13 00:00:00 | Boris Johnson | 0.39848745872532 | 0.5494661585851 |
| 2021-01-14 00:00:00 | Boris Johnson | 0.40844584269897 | 0.53664773212844 |
| 2021-01-15 00:00:00 | Boris Johnson | 0.40745584433725 | 0.53787816554935 |
| 2021-01-16 00:00:00 | Boris Johnson | 0.41150003790874 | 0.5370810191231 |
| 2021-01-17 00:00:00 | Boris Johnson | 0.4100828799983 | 0.53863316677747 |
| 2021-01-18 00:00:00 | Boris Johnson | 0.41248475794097 | 0.53356588851812 |
| 2021-01-19 00:00:00 | Boris Johnson | 0.40056493899972 | 0.53907636651564 |
| 2021-01-20 00:00:00 | Boris Johnson | 0.40743347007781 | 0.53032975733327 |
| 2021-01-21 00:00:00 | Boris Johnson | 0.40439605704195 | 0.53354510969429 |
| 2021-01-22 00:00:00 | Boris Johnson | 0.40594402211147 | 0.53065998253293 |
| 2021-01-23 00:00:00 | Boris Johnson | 0.40806475628822 | 0.52984966423102 |
| 2021-01-24 00:00:00 | Boris Johnson | 0.40085843635968 | 0.5363050960475 |
| 2021-01-25 00:00:00 | Boris Johnson | 0.40241937383859 | 0.53738298078481 |
| 2021-01-26 00:00:00 | Boris Johnson | 0.40171145789918 | 0.54056065314981 |
| 2021-01-27 00:00:00 | Boris Johnson | 0.39649329405066 | 0.54894187728746 |
| 2021-01-28 00:00:00 | Boris Johnson | 0.39274821515945 | 0.55562016307118 |
| 2021-01-29 00:00:00 | Boris Johnson | 0.38941384388779 | 0.55847606525723 |
| 2021-01-30 00:00:00 | Boris Johnson | 0.38792494265114 | 0.55807425050574 |
| 2021-01-31 00:00:00 | Boris Johnson | 0.39911020034025 | 0.54808630297415 |
| 2021-02-01 00:00:00 | Boris Johnson | 0.39492993956685 | 0.5479919809944 |
| 2021-02-02 00:00:00 | Boris Johnson | 0.40788317143124 | 0.53781459023035 |
| 2021-02-03 00:00:00 | Boris Johnson | 0.4125276016715 | 0.53133250642381 |
| 2021-02-04 00:00:00 | Boris Johnson | 0.42224322034453 | 0.52158975711193 |
| 2021-02-05 00:00:00 | Boris Johnson | 0.42480040872962 | 0.51641356078624 |
| 2021-02-06 00:00:00 | Boris Johnson | 0.43250203880668 | 0.50945470144237 |
| 2021-02-07 00:00:00 | Boris Johnson | 0.42589824846351 | 0.51281228529723 |
| 2021-02-08 00:00:00 | Boris Johnson | 0.43122369541935 | 0.51083839453385 |
| 2021-02-09 00:00:00 | Boris Johnson | 0.42551997966224 | 0.5130537469152 |
| 2021-02-10 00:00:00 | Boris Johnson | 0.41953528552679 | 0.5157530871717 |
| 2021-02-11 00:00:00 | Boris Johnson | 0.41626238288134 | 0.51619361222734 |
| 2021-02-12 00:00:00 | Boris Johnson | 0.41712491461078 | 0.51557926303168 |
| 2021-02-13 00:00:00 | Boris Johnson | 0.40759326267865 | 0.5244890982341 |
| 2021-02-14 00:00:00 | Boris Johnson | 0.4118302980803 | 0.52666696889612 |
| 2021-02-15 00:00:00 | Boris Johnson | 0.41985652315621 | 0.52329708006829 |
| 2021-02-16 00:00:00 | Boris Johnson | 0.42495614265673 | 0.52075366737118 |
| 2021-02-17 00:00:00 | Boris Johnson | 0.43218040398544 | 0.51217535277655 |
| 2021-02-18 00:00:00 | Boris Johnson | 0.43343403091965 | 0.510677950202 |
| 2021-02-19 00:00:00 | Boris Johnson | 0.43824082770709 | 0.50587696038437 |
| 2021-02-20 00:00:00 | Boris Johnson | 0.44156093869268 | 0.50473982318484 |
| 2021-02-21 00:00:00 | Boris Johnson | 0.44379623278173 | 0.49835380363115 |
| 2021-02-22 00:00:00 | Boris Johnson | 0.44218743035371 | 0.49685468657264 |
| 2021-02-23 00:00:00 | Boris Johnson | 0.4492311152621 | 0.48885259252251 |
| 2021-02-24 00:00:00 | Boris Johnson | 0.45074763587606 | 0.489544937147 |
| 2021-02-25 00:00:00 | Boris Johnson | 0.44745027537262 | 0.49290627881181 |
| 2021-02-26 00:00:00 | Boris Johnson | 0.45353711079402 | 0.48941394205377 |
| 2021-02-27 00:00:00 | Boris Johnson | 0.45840973878282 | 0.47772848544518 |
| 2021-02-28 00:00:00 | Boris Johnson | 0.46442400837383 | 0.47561650114543 |
| 2021-03-01 00:00:00 | Boris Johnson | 0.45629555023535 | 0.4823819248733 |
| 2021-03-02 00:00:00 | Boris Johnson | 0.45001426768725 | 0.489183649363 |
| 2021-03-03 00:00:00 | Boris Johnson | 0.45183154010753 | 0.48425225167081 |
| 2021-03-04 00:00:00 | Boris Johnson | 0.45266799103381 | 0.48105941087469 |
| 2021-03-05 00:00:00 | Boris Johnson | 0.44650005885808 | 0.48889682391045 |
| 2021-03-06 00:00:00 | Boris Johnson | 0.44576806875385 | 0.49769510688421 |
| 2021-03-07 00:00:00 | Boris Johnson | 0.44199997828491 | 0.4969038244198 |
| 2021-03-08 00:00:00 | Boris Johnson | 0.44162557220394 | 0.49704781697591 |
| 2021-03-09 00:00:00 | Boris Johnson | 0.44394538493253 | 0.49715092431979 |
| 2021-03-10 00:00:00 | Boris Johnson | 0.44648698839374 | 0.49579121725096 |
| 2021-03-11 00:00:00 | Boris Johnson | 0.44580309400685 | 0.49787248658361 |
| 2021-03-12 00:00:00 | Boris Johnson | 0.44485501731095 | 0.49627416788659 |
| 2021-03-13 00:00:00 | Boris Johnson | 0.44478905654638 | 0.4932326696483 |
| 2021-03-14 00:00:00 | Boris Johnson | 0.44255459462784 | 0.49500956126651 |
| 2021-03-15 00:00:00 | Boris Johnson | 0.44657052663157 | 0.4935429422768 |
| 2021-03-16 00:00:00 | Boris Johnson | 0.44728504800985 | 0.49455600085394 |
| 2021-03-17 00:00:00 | Boris Johnson | 0.44604207553506 | 0.49677609638961 |
| 2021-03-18 00:00:00 | Boris Johnson | 0.4519352296211 | 0.49131754595748 |
| 2021-03-19 00:00:00 | Boris Johnson | 0.45209901468039 | 0.48904154144981 |
| 2021-03-20 00:00:00 | Boris Johnson | 0.45744279398899 | 0.48617610529041 |
| 2021-03-21 00:00:00 | Boris Johnson | 0.4573446236744 | 0.48576044699528 |
| 2021-03-22 00:00:00 | Boris Johnson | 0.45827807338324 | 0.48097618758053 |
| 2021-03-23 00:00:00 | Boris Johnson | 0.45609226419804 | 0.47829914766035 |
| 2021-03-24 00:00:00 | Boris Johnson | 0.45610718541943 | 0.47616613138795 |
| 2021-03-25 00:00:00 | Boris Johnson | 0.45293114603887 | 0.4799249622291 |
| 2021-03-26 00:00:00 | Boris Johnson | 0.45504741366314 | 0.47955029819061 |
| 2021-03-27 00:00:00 | Boris Johnson | 0.45535027994366 | 0.47929392750528 |
| 2021-03-28 00:00:00 | Boris Johnson | 0.46361548813861 | 0.47069738741985 |
| 2021-03-29 00:00:00 | Boris Johnson | 0.46285433333021 | 0.47354578578503 |
| 2021-03-30 00:00:00 | Boris Johnson | 0.46367930691072 | 0.47080558757644 |
| 2021-03-31 00:00:00 | Boris Johnson | 0.46982682647731 | 0.46986501783309 |
| 2021-04-01 00:00:00 | Boris Johnson | 0.47354385688664 | 0.46762189276837 |
| 2021-04-02 00:00:00 | Boris Johnson | 0.47856169217101 | 0.46346391741432 |
| 2021-04-03 00:00:00 | Boris Johnson | 0.4725195855096 | 0.46425083349154 |
| 2021-04-04 00:00:00 | Boris Johnson | 0.46295463628996 | 0.47292835193608 |
| 2021-04-05 00:00:00 | Boris Johnson | 0.46594881291956 | 0.47070805093645 |
| 2021-04-06 00:00:00 | Boris Johnson | 0.47383227652665 | 0.46463809381721 |
| 2021-04-07 00:00:00 | Boris Johnson | 0.47362761774676 | 0.46268686925532 |
| 2021-04-08 00:00:00 | Boris Johnson | 0.4725969638553 | 0.46306519968375 |
| 2021-04-09 00:00:00 | Boris Johnson | 0.47403057027947 | 0.46075746016399 |
| 2021-04-10 00:00:00 | Boris Johnson | 0.47481288416732 | 0.45900347480188 |
| 2021-04-11 00:00:00 | Boris Johnson | 0.47796350792465 | 0.45846735321695 |
| 2021-04-12 00:00:00 | Boris Johnson | 0.47313825560886 | 0.45711333358125 |
| 2021-04-13 00:00:00 | Boris Johnson | 0.46866390115132 | 0.45863522537061 |
| 2021-04-14 00:00:00 | Boris Johnson | 0.46952537268872 | 0.45787327815043 |
| 2021-04-15 00:00:00 | Boris Johnson | 0.46976807955831 | 0.45544522143257 |
| 2021-04-16 00:00:00 | Boris Johnson | 0.47042095586439 | 0.45104003171886 |
| 2021-04-17 00:00:00 | Boris Johnson | 0.46988330646336 | 0.45723544845686 |
| 2021-04-18 00:00:00 | Boris Johnson | 0.46930589039075 | 0.45785208504595 |
| 2021-04-19 00:00:00 | Boris Johnson | 0.46913456482898 | 0.4607664228937 |
| 2021-04-20 00:00:00 | Boris Johnson | 0.46756820504265 | 0.46325890034864 |
| 2021-04-21 00:00:00 | Boris Johnson | 0.47018908080533 | 0.46187197237269 |
| 2021-04-22 00:00:00 | Boris Johnson | 0.47380128976861 | 0.46034594404387 |
| 2021-04-23 00:00:00 | Boris Johnson | 0.46395868643258 | 0.47209412039318 |
| 2021-04-24 00:00:00 | Boris Johnson | 0.46457362270238 | 0.4684019582486 |
| 2021-04-25 00:00:00 | Boris Johnson | 0.47259458211972 | 0.46059563055703 |
| 2021-04-26 00:00:00 | Boris Johnson | 0.47899060699066 | 0.45546934772302 |
| 2021-04-27 00:00:00 | Boris Johnson | 0.48095114460659 | 0.45901474997262 |
| 2021-04-28 00:00:00 | Boris Johnson | 0.46866203470788 | 0.46715160363903 |
| 2021-04-29 00:00:00 | Boris Johnson | 0.46264844482897 | 0.47018742297181 |
| 2021-04-30 00:00:00 | Boris Johnson | 0.47275193623044 | 0.46055409640418 |
| 2021-05-01 00:00:00 | Boris Johnson | 0.47530754457595 | 0.45710221074837 |
| 2021-05-02 00:00:00 | Boris Johnson | 0.47004704449289 | 0.46394285778876 |
| 2021-05-03 00:00:00 | Boris Johnson | 0.471978472766 | 0.46025422717101 |
| 2021-05-04 00:00:00 | Boris Johnson | 0.47071493956267 | 0.46150229961676 |
| 2021-05-05 00:00:00 | Boris Johnson | 0.47590462161131 | 0.45904118473397 |
| 2021-05-06 00:00:00 | Boris Johnson | 0.47470758066409 | 0.45946413749955 |
| 2021-05-07 00:00:00 | Boris Johnson | 0.47116955515943 | 0.46357900379715 |
| 2021-05-08 00:00:00 | Boris Johnson | 0.47300322658572 | 0.46539929032634 |
| 2021-05-09 00:00:00 | Boris Johnson | 0.47444863594364 | 0.45622022659822 |
| 2021-05-10 00:00:00 | Boris Johnson | 0.4697567839555 | 0.46611983662026 |
| 2021-05-11 00:00:00 | Boris Johnson | 0.47104677326367 | 0.46093294854001 |
| 2021-05-12 00:00:00 | Boris Johnson | 0.47370462340334 | 0.4544245152931 |
| 2021-05-13 00:00:00 | Boris Johnson | 0.48259497217179 | 0.45343778260724 |
| 2021-05-14 00:00:00 | Boris Johnson | 0.48213448393558 | 0.45541591745329 |
| 2021-05-15 00:00:00 | Boris Johnson | 0.48753078962976 | 0.44687752477788 |
| 2021-05-16 00:00:00 | Boris Johnson | 0.48533681969333 | 0.45176786862872 |
| 2021-05-17 00:00:00 | Boris Johnson | 0.48694291001579 | 0.4498242030881 |
| 2021-05-18 00:00:00 | Boris Johnson | 0.48679653999785 | 0.45332309688537 |
| 2021-05-19 00:00:00 | Boris Johnson | 0.48841078636527 | 0.45775249157848 |
| 2021-05-20 00:00:00 | Boris Johnson | 0.48687976014746 | 0.45234429143332 |
| 2021-05-21 00:00:00 | Boris Johnson | 0.4919380476483 | 0.44692196522659 |
| 2021-05-22 00:00:00 | Boris Johnson | 0.48379663510355 | 0.45003124915568 |
| 2021-05-23 00:00:00 | Boris Johnson | 0.49269662850223 | 0.44522711893806 |
| 2021-05-24 00:00:00 | Boris Johnson | 0.49790027569664 | 0.43603642173836 |
| 2021-05-25 00:00:00 | Boris Johnson | 0.49825478395621 | 0.43369910780247 |
| 2021-05-26 00:00:00 | Boris Johnson | 0.48979617374999 | 0.4413869172486 |
| 2021-05-27 00:00:00 | Boris Johnson | 0.4865954811219 | 0.44672106550989 |
| 2021-05-28 00:00:00 | Boris Johnson | 0.4772769616025 | 0.45386983416656 |
| 2021-05-29 00:00:00 | Boris Johnson | 0.47477126763999 | 0.46434930373216 |
| 2021-05-30 00:00:00 | Boris Johnson | 0.46527905526864 | 0.47678407353795 |
| 2021-05-31 00:00:00 | Boris Johnson | 0.4566197214392 | 0.48407859423129 |
| 2021-06-01 00:00:00 | Boris Johnson | 0.45190624394393 | 0.48653983616273 |
| 2021-06-02 00:00:00 | Boris Johnson | 0.4557716671804 | 0.4783754670152 |
| 2021-06-03 00:00:00 | Boris Johnson | 0.45815187035794 | 0.47716741118134 |
| 2021-06-04 00:00:00 | Boris Johnson | 0.45825879145473 | 0.47828254412638 |
| 2021-06-05 00:00:00 | Boris Johnson | 0.45704441192318 | 0.47383805284284 |
| 2021-06-06 00:00:00 | Boris Johnson | 0.4621814013226 | 0.46314443395078 |
| 2021-06-07 00:00:00 | Boris Johnson | 0.46363398534249 | 0.46608820195586 |
| 2021-06-08 00:00:00 | Boris Johnson | 0.46514869254105 | 0.464632794156 |
| 2021-06-09 00:00:00 | Boris Johnson | 0.46103491708144 | 0.46696738370385 |
| 2021-06-10 00:00:00 | Boris Johnson | 0.45429637841616 | 0.47483846120475 |
| 2021-06-11 00:00:00 | Boris Johnson | 0.45480887391262 | 0.47152294627989 |
| 2021-06-12 00:00:00 | Boris Johnson | 0.46056739497326 | 0.46956547838977 |
| 2021-06-13 00:00:00 | Boris Johnson | 0.44792888758707 | 0.4804386938637 |
| 2021-06-14 00:00:00 | Boris Johnson | 0.44495294562576 | 0.48460434151455 |
| 2021-06-15 00:00:00 | Boris Johnson | 0.44367268659034 | 0.49108259338432 |
| 2021-06-16 00:00:00 | Boris Johnson | 0.44611134859029 | 0.49466853778433 |
| 2021-06-17 00:00:00 | Boris Johnson | 0.44944059199024 | 0.48664072741316 |
| 2021-06-18 00:00:00 | Boris Johnson | 0.44830905973897 | 0.48708017056754 |
| 2021-06-19 00:00:00 | Boris Johnson | 0.44156371619903 | 0.49232978032219 |
| 2021-06-20 00:00:00 | Boris Johnson | 0.45042434270581 | 0.48999148533058 |
| 2021-06-21 00:00:00 | Boris Johnson | 0.44233991196997 | 0.49607483781436 |
| 2021-06-22 00:00:00 | Boris Johnson | 0.44007095060668 | 0.49468056480081 |
| 2021-06-23 00:00:00 | Boris Johnson | 0.44431785933694 | 0.49053348044051 |
| 2021-06-24 00:00:00 | Boris Johnson | 0.44653931682359 | 0.49208270002431 |
| 2021-06-25 00:00:00 | Boris Johnson | 0.44696890580458 | 0.49736959970321 |
| 2021-06-26 00:00:00 | Boris Johnson | 0.4421548217531 | 0.50064142858782 |
| 2021-06-27 00:00:00 | Boris Johnson | 0.44519077641727 | 0.49415421894772 |
| 2021-06-28 00:00:00 | Boris Johnson | 0.45662364424594 | 0.48497002700693 |
| 2021-06-29 00:00:00 | Boris Johnson | 0.44479785345346 | 0.4939311255419 |
| 2021-06-30 00:00:00 | Boris Johnson | 0.43670499587745 | 0.50063837234654 |
| 2021-07-01 00:00:00 | Boris Johnson | 0.43369196743527 | 0.50231585770157 |
| 2021-07-02 00:00:00 | Boris Johnson | 0.43401341731107 | 0.49938887190585 |
| 2021-07-03 00:00:00 | Boris Johnson | 0.43461135579522 | 0.49850146034093 |
| 2021-07-04 00:00:00 | Boris Johnson | 0.42799664082764 | 0.5017198298975 |
| 2021-07-05 00:00:00 | Boris Johnson | 0.42384988040336 | 0.50108618371113 |
| 2021-07-06 00:00:00 | Boris Johnson | 0.42851687586299 | 0.50213703380669 |
| 2021-07-07 00:00:00 | Boris Johnson | 0.42550488258499 | 0.50427219450857 |
| 2021-07-08 00:00:00 | Boris Johnson | 0.42589363049074 | 0.50490733437503 |
| 2021-07-09 00:00:00 | Boris Johnson | 0.43008095109517 | 0.50032561575795 |
| 2021-07-10 00:00:00 | Boris Johnson | 0.44242986509729 | 0.49245333948738 |
| 2021-07-11 00:00:00 | Boris Johnson | 0.44171257832748 | 0.49607285702216 |
| 2021-07-12 00:00:00 | Boris Johnson | 0.44245964031786 | 0.49583303527867 |
| 2021-07-13 00:00:00 | Boris Johnson | 0.44183294475332 | 0.49560342412996 |
| 2021-07-14 00:00:00 | Boris Johnson | 0.44202517041544 | 0.49375296928177 |
| 2021-07-15 00:00:00 | Boris Johnson | 0.43649739817241 | 0.49591695916741 |
| 2021-07-16 00:00:00 | Boris Johnson | 0.42442346887797 | 0.50643171078584 |
| 2021-07-17 00:00:00 | Boris Johnson | 0.4145310695876 | 0.51165723102992 |
| 2021-07-18 00:00:00 | Boris Johnson | 0.41752905010387 | 0.51044672133736 |
| 2021-07-19 00:00:00 | Boris Johnson | 0.41359642352445 | 0.51773445744558 |
| 2021-07-20 00:00:00 | Boris Johnson | 0.41828086867268 | 0.51510652250882 |
| 2021-07-21 00:00:00 | Boris Johnson | 0.41530675361451 | 0.51803946771168 |
| 2021-07-22 00:00:00 | Boris Johnson | 0.41648529144363 | 0.51886150539867 |
| 2021-07-23 00:00:00 | Boris Johnson | 0.42155286243466 | 0.51664749914164 |
| 2021-07-24 00:00:00 | Boris Johnson | 0.42110112001519 | 0.51984803935786 |
| 2021-07-25 00:00:00 | Boris Johnson | 0.41034846449952 | 0.53121110844245 |
| 2021-07-26 00:00:00 | Boris Johnson | 0.4116237888863 | 0.53045996635822 |
| 2021-07-27 00:00:00 | Boris Johnson | 0.40975249458318 | 0.53070271966537 |
| 2021-07-28 00:00:00 | Boris Johnson | 0.41684666986576 | 0.52608411479378 |
| 2021-07-29 00:00:00 | Boris Johnson | 0.41418745709733 | 0.52680136572948 |
| 2021-07-30 00:00:00 | Boris Johnson | 0.41212297544007 | 0.52601621986382 |
| 2021-07-31 00:00:00 | Boris Johnson | 0.41078383875939 | 0.52526180138402 |
| 2021-08-01 00:00:00 | Boris Johnson | 0.42166928523822 | 0.5088075739717 |
| 2021-08-02 00:00:00 | Boris Johnson | 0.4134824595294 | 0.51442464648049 |
| 2021-08-03 00:00:00 | Boris Johnson | 0.41370857259957 | 0.51486744034135 |
| 2021-08-04 00:00:00 | Boris Johnson | 0.40938397497572 | 0.5185566167864 |
| 2021-08-05 00:00:00 | Boris Johnson | 0.41215446566659 | 0.51646425986109 |
| 2021-08-06 00:00:00 | Boris Johnson | 0.41438011763989 | 0.51514671799594 |
| 2021-08-07 00:00:00 | Boris Johnson | 0.41857627792653 | 0.51256432443559 |
| 2021-08-08 00:00:00 | Boris Johnson | 0.41400136245158 | 0.51698861877867 |
| 2021-08-09 00:00:00 | Boris Johnson | 0.4213790530308 | 0.50857712116461 |
| 2021-08-10 00:00:00 | Boris Johnson | 0.42050834696235 | 0.50909581064747 |
| 2021-08-11 00:00:00 | Boris Johnson | 0.4275568165237 | 0.50186740230541 |
| 2021-08-12 00:00:00 | Boris Johnson | 0.42151577441231 | 0.50924946682257 |
| 2021-08-13 00:00:00 | Boris Johnson | 0.42619629177222 | 0.50622714849184 |
| 2021-08-14 00:00:00 | Boris Johnson | 0.4244492931446 | 0.50519910358027 |
| 2021-08-15 00:00:00 | Boris Johnson | 0.41874901579539 | 0.51278204031761 |
| 2021-08-16 00:00:00 | Boris Johnson | 0.41625876364235 | 0.5161930900904 |
| 2021-08-17 00:00:00 | Boris Johnson | 0.41756546633785 | 0.51492665101537 |
| 2021-08-18 00:00:00 | Boris Johnson | 0.41309675560212 | 0.51968268809494 |
| 2021-08-19 00:00:00 | Boris Johnson | 0.41891622523883 | 0.5146752817829 |
| 2021-08-20 00:00:00 | Boris Johnson | 0.41787930478171 | 0.51431280547913 |
| 2021-08-21 00:00:00 | Boris Johnson | 0.41288928789871 | 0.52203661608331 |
| 2021-08-22 00:00:00 | Boris Johnson | 0.41680265746095 | 0.51756331362296 |
| 2021-08-23 00:00:00 | Boris Johnson | 0.41667478859825 | 0.51612505876674 |
| 2021-08-24 00:00:00 | Boris Johnson | 0.42181403535984 | 0.5116359466095 |
| 2021-08-25 00:00:00 | Boris Johnson | 0.41858899465246 | 0.513705730291 |
| 2021-08-26 00:00:00 | Boris Johnson | 0.41848853522655 | 0.51070236362464 |
| 2021-08-27 00:00:00 | Boris Johnson | 0.41266316466431 | 0.51392506176728 |
| 2021-08-28 00:00:00 | Boris Johnson | 0.40912614130018 | 0.51067493909677 |
| 2021-08-29 00:00:00 | Boris Johnson | 0.41228087308131 | 0.50970042560058 |
| 2021-08-30 00:00:00 | Boris Johnson | 0.40959019472878 | 0.51371309003441 |
| 2021-08-31 00:00:00 | Boris Johnson | 0.40703732482791 | 0.51635497043118 |
| 2021-09-01 00:00:00 | Boris Johnson | 0.41540274188947 | 0.51190381429654 |
| 2021-09-02 00:00:00 | Boris Johnson | 0.40955423568894 | 0.51642452658003 |
| 2021-09-03 00:00:00 | Boris Johnson | 0.41529622521017 | 0.51384319474715 |
| 2021-09-04 00:00:00 | Boris Johnson | 0.41944523245592 | 0.51032146866383 |
| 2021-09-05 00:00:00 | Boris Johnson | 0.41569016774553 | 0.51114994418073 |
| 2021-09-06 00:00:00 | Boris Johnson | 0.42023075471564 | 0.50839942108214 |
| 2021-09-07 00:00:00 | Boris Johnson | 0.41503438964588 | 0.50898060858924 |
| 2021-09-08 00:00:00 | Boris Johnson | 0.40636851329282 | 0.51534296285865 |
| 2021-09-09 00:00:00 | Boris Johnson | 0.41085103779468 | 0.51715269496639 |
| 2021-09-10 00:00:00 | Boris Johnson | 0.40527284114176 | 0.52231285125061 |
| 2021-09-11 00:00:00 | Boris Johnson | 0.40477560104361 | 0.52697543975825 |
| 2021-09-12 00:00:00 | Boris Johnson | 0.40495231992775 | 0.52623834011135 |
| 2021-09-13 00:00:00 | Boris Johnson | 0.40474290445435 | 0.52431512264922 |
| 2021-09-14 00:00:00 | Boris Johnson | 0.40900554394817 | 0.52675314130498 |
| 2021-09-15 00:00:00 | Boris Johnson | 0.40397072636079 | 0.52736745193208 |
| 2021-09-16 00:00:00 | Boris Johnson | 0.40266240485674 | 0.52621984317859 |
| 2021-09-17 00:00:00 | Boris Johnson | 0.40355392585481 | 0.52735279683833 |
| 2021-09-18 00:00:00 | Boris Johnson | 0.39900389185323 | 0.53513255819282 |
| 2021-09-19 00:00:00 | Boris Johnson | 0.40485512664721 | 0.53438717972952 |
| 2021-09-20 00:00:00 | Boris Johnson | 0.40006163552456 | 0.53950115378629 |
| 2021-09-21 00:00:00 | Boris Johnson | 0.3959309189786 | 0.53984748578465 |
| 2021-09-22 00:00:00 | Boris Johnson | 0.40879302580758 | 0.52972608949817 |
| 2021-09-23 00:00:00 | Boris Johnson | 0.41320771704178 | 0.5231763679175 |
| 2021-09-24 00:00:00 | Boris Johnson | 0.41190495294452 | 0.52475959440871 |
| 2021-09-25 00:00:00 | Boris Johnson | 0.4139099790393 | 0.51737690872891 |
| 2021-09-26 00:00:00 | Boris Johnson | 0.40145842019287 | 0.52792075554 |
| 2021-09-27 00:00:00 | Boris Johnson | 0.4045875511237 | 0.52880264129576 |
| 2021-09-28 00:00:00 | Boris Johnson | 0.40545384944531 | 0.52521947006188 |
| 2021-09-29 00:00:00 | Boris Johnson | 0.40164652002307 | 0.53325406963021 |
| 2021-09-30 00:00:00 | Boris Johnson | 0.40014602718492 | 0.53772645105779 |
| 2021-10-01 00:00:00 | Boris Johnson | 0.40242543302533 | 0.5350352799144 |
| 2021-10-02 00:00:00 | Boris Johnson | 0.39729687793878 | 0.54181683302307 |
| 2021-10-03 00:00:00 | Boris Johnson | 0.39760547088696 | 0.53929602744926 |
| 2021-10-04 00:00:00 | Boris Johnson | 0.39852598216292 | 0.53765046129967 |
| 2021-10-05 00:00:00 | Boris Johnson | 0.39425097142569 | 0.54192445036668 |
| 2021-10-06 00:00:00 | Boris Johnson | 0.38653028764618 | 0.54385284348605 |
| 2021-10-07 00:00:00 | Boris Johnson | 0.38223163725183 | 0.54821334786999 |
| 2021-10-08 00:00:00 | Boris Johnson | 0.3736827072785 | 0.5529794551894 |
| 2021-10-09 00:00:00 | Boris Johnson | 0.38122345324983 | 0.54640742864643 |
| 2021-10-10 00:00:00 | Boris Johnson | 0.38217101673004 | 0.5444164896251 |
| 2021-10-11 00:00:00 | Boris Johnson | 0.37953749016871 | 0.54247485090741 |
| 2021-10-12 00:00:00 | Boris Johnson | 0.38343210141707 | 0.54185442216157 |
| 2021-10-13 00:00:00 | Boris Johnson | 0.38118520459079 | 0.54809230743749 |
| 2021-10-14 00:00:00 | Boris Johnson | 0.38498416163004 | 0.54325395603305 |
| 2021-10-15 00:00:00 | Boris Johnson | 0.39150948117562 | 0.53683318241357 |
| 2021-10-16 00:00:00 | Boris Johnson | 0.3832890827902 | 0.54599349684331 |
| 2021-10-17 00:00:00 | Boris Johnson | 0.37775354305228 | 0.55300254735422 |
| 2021-10-18 00:00:00 | Boris Johnson | 0.37615461858108 | 0.55461734140132 |
| 2021-10-19 00:00:00 | Boris Johnson | 0.37996182136937 | 0.55211818257343 |
| 2021-10-20 00:00:00 | Boris Johnson | 0.38750881889996 | 0.5422207953669 |
| 2021-10-21 00:00:00 | Boris Johnson | 0.38889074518117 | 0.54269779803994 |
| 2021-10-22 00:00:00 | Boris Johnson | 0.38945326483097 | 0.54371592527355 |
| 2021-10-23 00:00:00 | Boris Johnson | 0.39271107771418 | 0.53928826902387 |
| 2021-10-24 00:00:00 | Boris Johnson | 0.3974390988389 | 0.53710579281946 |
| 2021-10-25 00:00:00 | Boris Johnson | 0.3962907966729 | 0.54022525521913 |
| 2021-10-26 00:00:00 | Boris Johnson | 0.39377283775985 | 0.53912006173589 |
| 2021-10-27 00:00:00 | Boris Johnson | 0.39505917436605 | 0.53749512639551 |
| 2021-10-28 00:00:00 | Boris Johnson | 0.38924196358596 | 0.53948922401097 |
| 2021-10-29 00:00:00 | Boris Johnson | 0.39391537326976 | 0.53534970029907 |
| 2021-10-30 00:00:00 | Boris Johnson | 0.4004348883972 | 0.52865563602926 |
| 2021-10-31 00:00:00 | Boris Johnson | 0.39992050202548 | 0.52404682224474 |
| 2021-11-01 00:00:00 | Boris Johnson | 0.40551825768058 | 0.52102775479732 |
| 2021-11-02 00:00:00 | Boris Johnson | 0.40306551381512 | 0.52259779206376 |
| 2021-11-03 00:00:00 | Boris Johnson | 0.39708579026048 | 0.53111182976819 |
| 2021-11-04 00:00:00 | Boris Johnson | 0.40444223010218 | 0.52609730278363 |
| 2021-11-05 00:00:00 | Boris Johnson | 0.3956275039846 | 0.5366688607794 |
| 2021-11-06 00:00:00 | Boris Johnson | 0.39272538198298 | 0.53910070871026 |
| 2021-11-07 00:00:00 | Boris Johnson | 0.38910259654876 | 0.54650162944908 |
| 2021-11-08 00:00:00 | Boris Johnson | 0.37927091173352 | 0.55448148191848 |
| 2021-11-09 00:00:00 | Boris Johnson | 0.37446715670943 | 0.55988955101768 |
| 2021-11-10 00:00:00 | Boris Johnson | 0.3691265926121 | 0.56371425718302 |
| 2021-11-11 00:00:00 | Boris Johnson | 0.36663044469558 | 0.56494464138393 |
| 2021-11-12 00:00:00 | Boris Johnson | 0.36567958599842 | 0.56593582932804 |
| 2021-11-13 00:00:00 | Boris Johnson | 0.36350015467937 | 0.56696353228762 |
| 2021-11-14 00:00:00 | Boris Johnson | 0.36846820561624 | 0.56128872407018 |
| 2021-11-15 00:00:00 | Boris Johnson | 0.36473207246387 | 0.56254431067798 |
| 2021-11-16 00:00:00 | Boris Johnson | 0.37098469221257 | 0.55560060076773 |
| 2021-11-17 00:00:00 | Boris Johnson | 0.37372552824022 | 0.55050813475661 |
| 2021-11-18 00:00:00 | Boris Johnson | 0.3706846200535 | 0.55313541704403 |
| 2021-11-19 00:00:00 | Boris Johnson | 0.37105889547972 | 0.55056798586665 |
| 2021-11-20 00:00:00 | Boris Johnson | 0.37054881293477 | 0.5537200336656 |
| 2021-11-21 00:00:00 | Boris Johnson | 0.36427051533375 | 0.56068515665785 |
| 2021-11-22 00:00:00 | Boris Johnson | 0.37460088344933 | 0.55064302791838 |
| 2021-11-23 00:00:00 | Boris Johnson | 0.3682379322634 | 0.56020400576097 |
| 2021-11-24 00:00:00 | Boris Johnson | 0.37172315113453 | 0.55907356589755 |
| 2021-11-25 00:00:00 | Boris Johnson | 0.37473701027443 | 0.55762776943073 |
| 2021-11-26 00:00:00 | Boris Johnson | 0.37620904946414 | 0.55789440232165 |
| 2021-11-27 00:00:00 | Boris Johnson | 0.37468251605876 | 0.55643220309812 |
| 2021-11-28 00:00:00 | Boris Johnson | 0.37995351543597 | 0.55209376603518 |
| 2021-11-29 00:00:00 | Boris Johnson | 0.37559508580202 | 0.5593397471685 |
| 2021-11-30 00:00:00 | Boris Johnson | 0.37935594125416 | 0.55041657966961 |
| 2021-12-01 00:00:00 | Boris Johnson | 0.38031646003605 | 0.55061835131523 |
| 2021-12-02 00:00:00 | Boris Johnson | 0.36867312763382 | 0.55921871302498 |
| 2021-12-03 00:00:00 | Boris Johnson | 0.36943529820053 | 0.55856286366396 |
| 2021-12-04 00:00:00 | Boris Johnson | 0.36919497633826 | 0.56353617942232 |
| 2021-12-05 00:00:00 | Boris Johnson | 0.36758503516391 | 0.56681249013862 |
| 2021-12-06 00:00:00 | Boris Johnson | 0.3732697072273 | 0.5614255858191 |
| 2021-12-07 00:00:00 | Boris Johnson | 0.37253481253783 | 0.56766745196603 |
| 2021-12-08 00:00:00 | Boris Johnson | 0.36913715737266 | 0.56969010014391 |
| 2021-12-09 00:00:00 | Boris Johnson | 0.36896587543458 | 0.57311630321609 |
| 2021-12-10 00:00:00 | Boris Johnson | 0.35846950552202 | 0.58494427323861 |
| 2021-12-11 00:00:00 | Boris Johnson | 0.34262338068358 | 0.59696719303047 |
| 2021-12-12 00:00:00 | Boris Johnson | 0.3319320858342 | 0.60535773950301 |
| 2021-12-13 00:00:00 | Boris Johnson | 0.31633076898106 | 0.62336754430734 |
| 2021-12-14 00:00:00 | Boris Johnson | 0.3004809972935 | 0.63903187371279 |
| 2021-12-15 00:00:00 | Boris Johnson | 0.2979867084404 | 0.64239179405529 |
| 2021-12-16 00:00:00 | Boris Johnson | 0.30212327763013 | 0.6370344110582 |
| 2021-12-17 00:00:00 | Boris Johnson | 0.31058958420867 | 0.62396312629447 |
| 2021-12-18 00:00:00 | Boris Johnson | 0.31902641383933 | 0.61840999905599 |
| 2021-12-19 00:00:00 | Boris Johnson | 0.31227967472654 | 0.62687447973387 |
| 2021-12-20 00:00:00 | Boris Johnson | 0.30885860127723 | 0.62574028931695 |
| 2021-12-21 00:00:00 | Boris Johnson | 0.3097675904524 | 0.62288371381881 |
| 2021-12-22 00:00:00 | Boris Johnson | 0.30532558841411 | 0.62873826585001 |
| 2021-12-23 00:00:00 | Boris Johnson | 0.30043498706397 | 0.6340480513419 |
| 2021-12-24 00:00:00 | Boris Johnson | 0.29946664864099 | 0.63523338439395 |
| 2021-12-25 00:00:00 | Boris Johnson | 0.29547418925158 | 0.63122474970319 |
| 2021-12-26 00:00:00 | Boris Johnson | 0.306803106613 | 0.61924714192478 |
| 2021-12-27 00:00:00 | Boris Johnson | 0.31726316786851 | 0.61147418347545 |
| 2021-12-28 00:00:00 | Boris Johnson | 0.32436190477281 | 0.60514586064401 |
| 2021-12-29 00:00:00 | Boris Johnson | 0.3277560731838 | 0.60182812992324 |
| 2021-12-30 00:00:00 | Boris Johnson | 0.32795580385273 | 0.60039957092253 |
| 2021-12-31 00:00:00 | Boris Johnson | 0.32641485100071 | 0.60088337203022 |
| 2022-01-01 00:00:00 | Boris Johnson | 0.33705126458596 | 0.59788909048655 |
| 2022-01-02 00:00:00 | Boris Johnson | 0.33109697291573 | 0.60234266802903 |
| 2022-01-03 00:00:00 | Boris Johnson | 0.31812812731339 | 0.61116196558551 |
| 2022-01-04 00:00:00 | Boris Johnson | 0.31898222817047 | 0.61259236586585 |
| 2022-01-05 00:00:00 | Boris Johnson | 0.32221477411538 | 0.61032057887007 |
| 2022-01-06 00:00:00 | Boris Johnson | 0.33086072518712 | 0.60681360633738 |
| 2022-01-07 00:00:00 | Boris Johnson | 0.32711763477428 | 0.61407423126745 |
| 2022-01-08 00:00:00 | Boris Johnson | 0.32707941178232 | 0.61090557479045 |
| 2022-01-09 00:00:00 | Boris Johnson | 0.33057879200432 | 0.60594652718562 |
| 2022-01-10 00:00:00 | Boris Johnson | 0.34034471971857 | 0.60060426488031 |
| 2022-01-11 00:00:00 | Boris Johnson | 0.3377150397375 | 0.60168675504546 |
| 2022-01-12 00:00:00 | Boris Johnson | 0.3212384531765 | 0.6185024143854 |
| 2022-01-13 00:00:00 | Boris Johnson | 0.31319224449018 | 0.6252887282087 |
| 2022-01-14 00:00:00 | Boris Johnson | 0.312396431347 | 0.62971921523498 |
| 2022-01-15 00:00:00 | Boris Johnson | 0.29388218684071 | 0.65133002118588 |
| 2022-01-16 00:00:00 | Boris Johnson | 0.27771481011066 | 0.67394941273566 |
| 2022-01-17 00:00:00 | Boris Johnson | 0.2634970013029 | 0.68624699579003 |
| 2022-01-18 00:00:00 | Boris Johnson | 0.25637356726382 | 0.6907878272576 |
| 2022-01-19 00:00:00 | Boris Johnson | 0.26174394180797 | 0.68429226288241 |
| 2022-01-20 00:00:00 | Boris Johnson | 0.25818690848217 | 0.68998412353368 |
| 2022-01-21 00:00:00 | Boris Johnson | 0.26354457921002 | 0.6841674164515 |
| 2022-01-22 00:00:00 | Boris Johnson | 0.2734526453219 | 0.67393092272512 |
| 2022-01-23 00:00:00 | Boris Johnson | 0.28123937213847 | 0.66216246396697 |
| 2022-01-24 00:00:00 | Boris Johnson | 0.29080552365548 | 0.6524057840891 |
| 2022-01-25 00:00:00 | Boris Johnson | 0.2915220554576 | 0.6556864266989 |
| 2022-01-26 00:00:00 | Boris Johnson | 0.29483260843286 | 0.6555719102265 |
| 2022-01-27 00:00:00 | Boris Johnson | 0.29676101857479 | 0.64842057330901 |
| 2022-01-28 00:00:00 | Boris Johnson | 0.29160550492025 | 0.65291726581214 |
| 2022-01-29 00:00:00 | Boris Johnson | 0.29426996658228 | 0.64957310175257 |
| 2022-01-30 00:00:00 | Boris Johnson | 0.30106799631457 | 0.64477672121324 |
| 2022-01-31 00:00:00 | Boris Johnson | 0.30818227223157 | 0.64137133798965 |
| 2022-02-01 00:00:00 | Boris Johnson | 0.30085224410177 | 0.65031832459811 |
| 2022-02-02 00:00:00 | Boris Johnson | 0.2984358398267 | 0.65014282383533 |
| 2022-02-03 00:00:00 | Boris Johnson | 0.29694529125061 | 0.65407848099614 |
| 2022-02-04 00:00:00 | Boris Johnson | 0.29664309683773 | 0.65648038090405 |
| 2022-02-05 00:00:00 | Boris Johnson | 0.28629173592319 | 0.67049691466934 |
| 2022-02-06 00:00:00 | Boris Johnson | 0.28891612005257 | 0.67003866947161 |
| 2022-02-07 00:00:00 | Boris Johnson | 0.27932106620274 | 0.67934115578216 |
| 2022-02-08 00:00:00 | Boris Johnson | 0.2893586991533 | 0.66922119585681 |
| 2022-02-09 00:00:00 | Boris Johnson | 0.28456994605967 | 0.66914230178684 |
| 2022-02-10 00:00:00 | Boris Johnson | 0.28533162789014 | 0.66893847724661 |
| 2022-02-11 00:00:00 | Boris Johnson | 0.28959177515246 | 0.66283362630729 |
| 2022-02-12 00:00:00 | Boris Johnson | 0.29428026264038 | 0.65472731252281 |
| 2022-02-13 00:00:00 | Boris Johnson | 0.28945392614326 | 0.65620938392255 |
| 2022-02-14 00:00:00 | Boris Johnson | 0.28634463061932 | 0.65975906481014 |
| 2022-02-15 00:00:00 | Boris Johnson | 0.28996915334811 | 0.65329237417418 |
| 2022-02-16 00:00:00 | Boris Johnson | 0.29934241738423 | 0.6501510312723 |
| 2021-10-07 00:00:00 | Fumio Kishida | 0.42201150817222 | 0.27840839812392 |
| 2021-10-08 00:00:00 | Fumio Kishida | 0.41686127982735 | 0.27520304286822 |
| 2021-10-09 00:00:00 | Fumio Kishida | 0.4084180100056 | 0.28358017627185 |
| 2021-10-10 00:00:00 | Fumio Kishida | 0.40375618852745 | 0.27395044243586 |
| 2021-10-11 00:00:00 | Fumio Kishida | 0.40424689466499 | 0.2739841433043 |
| 2021-10-12 00:00:00 | Fumio Kishida | 0.40455063180043 | 0.2804840708884 |
| 2021-10-13 00:00:00 | Fumio Kishida | 0.39522986813285 | 0.29706540249027 |
| 2021-10-14 00:00:00 | Fumio Kishida | 0.39447154721153 | 0.30416695915984 |
| 2021-10-15 00:00:00 | Fumio Kishida | 0.39817049203973 | 0.31609717835895 |
| 2021-10-16 00:00:00 | Fumio Kishida | 0.40298691434072 | 0.32881373218047 |
| 2021-10-17 00:00:00 | Fumio Kishida | 0.40560066353182 | 0.34273141129066 |
| 2021-10-18 00:00:00 | Fumio Kishida | 0.40224905900327 | 0.35925793499671 |
| 2021-10-19 00:00:00 | Fumio Kishida | 0.40326778422545 | 0.36074083442424 |
| 2021-10-20 00:00:00 | Fumio Kishida | 0.41335038319168 | 0.35536545582096 |
| 2021-10-21 00:00:00 | Fumio Kishida | 0.41495312478309 | 0.35599431010875 |
| 2021-10-22 00:00:00 | Fumio Kishida | 0.41328363035142 | 0.35961414432339 |
| 2021-10-23 00:00:00 | Fumio Kishida | 0.40991242973411 | 0.35493795415461 |
| 2021-10-24 00:00:00 | Fumio Kishida | 0.42149606137099 | 0.35381259691783 |
| 2021-10-25 00:00:00 | Fumio Kishida | 0.42658294049963 | 0.35137316302741 |
| 2021-10-26 00:00:00 | Fumio Kishida | 0.43438797590071 | 0.35007573763173 |
| 2021-10-27 00:00:00 | Fumio Kishida | 0.43166834375069 | 0.35205121641662 |
| 2021-10-28 00:00:00 | Fumio Kishida | 0.42427750147177 | 0.35528407283897 |
| 2021-10-29 00:00:00 | Fumio Kishida | 0.42071993414673 | 0.3495717998159 |
| 2021-10-30 00:00:00 | Fumio Kishida | 0.43362580053187 | 0.34882955840082 |
| 2021-10-31 00:00:00 | Fumio Kishida | 0.41408647337367 | 0.36218652904117 |
| 2021-11-01 00:00:00 | Fumio Kishida | 0.41811313173054 | 0.3560135152167 |
| 2021-11-02 00:00:00 | Fumio Kishida | 0.42432512950062 | 0.35245075498746 |
| 2021-11-03 00:00:00 | Fumio Kishida | 0.43627151872146 | 0.34596879198401 |
| 2021-11-04 00:00:00 | Fumio Kishida | 0.43944377009502 | 0.3422119340659 |
| 2021-11-05 00:00:00 | Fumio Kishida | 0.44922783543835 | 0.34163770964751 |
| 2021-11-06 00:00:00 | Fumio Kishida | 0.4374618758231 | 0.34922670992522 |
| 2021-11-07 00:00:00 | Fumio Kishida | 0.46110716512446 | 0.3332019321718 |
| 2021-11-08 00:00:00 | Fumio Kishida | 0.46038551211859 | 0.33869205858946 |
| 2021-11-09 00:00:00 | Fumio Kishida | 0.45304132713863 | 0.35194225863254 |
| 2021-11-10 00:00:00 | Fumio Kishida | 0.44172270730734 | 0.36602590030939 |
| 2021-11-11 00:00:00 | Fumio Kishida | 0.4451923248738 | 0.37005758635423 |
| 2021-11-12 00:00:00 | Fumio Kishida | 0.44116457732696 | 0.38382723311027 |
| 2021-11-13 00:00:00 | Fumio Kishida | 0.44742517887334 | 0.38115242695016 |
| 2021-11-14 00:00:00 | Fumio Kishida | 0.43299104407704 | 0.39601271323455 |
| 2021-11-15 00:00:00 | Fumio Kishida | 0.43599901379875 | 0.39044355235789 |
| 2021-11-16 00:00:00 | Fumio Kishida | 0.43310949874983 | 0.38525023934393 |
| 2021-11-17 00:00:00 | Fumio Kishida | 0.42937395194936 | 0.38618581301409 |
| 2021-11-18 00:00:00 | Fumio Kishida | 0.42478004698801 | 0.39011222537545 |
| 2021-11-19 00:00:00 | Fumio Kishida | 0.41640353139584 | 0.39467110408834 |
| 2021-11-20 00:00:00 | Fumio Kishida | 0.41445729654398 | 0.3947147359273 |
| 2021-11-21 00:00:00 | Fumio Kishida | 0.41510552879488 | 0.39445011924815 |
| 2021-11-22 00:00:00 | Fumio Kishida | 0.40721612093429 | 0.4050781363126 |
| 2021-11-23 00:00:00 | Fumio Kishida | 0.4095645557702 | 0.41258152287329 |
| 2021-11-24 00:00:00 | Fumio Kishida | 0.40828628835156 | 0.41843800242116 |
| 2021-11-25 00:00:00 | Fumio Kishida | 0.4157232645363 | 0.41507241298263 |
| 2021-11-26 00:00:00 | Fumio Kishida | 0.42129465211991 | 0.41142828348138 |
| 2021-11-27 00:00:00 | Fumio Kishida | 0.4119542677124 | 0.42433796321321 |
| 2021-11-28 00:00:00 | Fumio Kishida | 0.40956305019402 | 0.42749917878733 |
| 2021-11-29 00:00:00 | Fumio Kishida | 0.41340074122307 | 0.42763241167652 |
| 2021-11-30 00:00:00 | Fumio Kishida | 0.42002574006573 | 0.41998003548268 |
| 2021-12-01 00:00:00 | Fumio Kishida | 0.43351902069015 | 0.40926636571981 |
| 2021-12-02 00:00:00 | Fumio Kishida | 0.43130792020444 | 0.41095507568201 |
| 2021-12-03 00:00:00 | Fumio Kishida | 0.4321405261794 | 0.40706920008295 |
| 2021-12-04 00:00:00 | Fumio Kishida | 0.44408590764138 | 0.39026543428105 |
| 2021-12-05 00:00:00 | Fumio Kishida | 0.45304344923531 | 0.37903098126159 |
| 2021-12-06 00:00:00 | Fumio Kishida | 0.46544247832938 | 0.36769712525492 |
| 2021-12-07 00:00:00 | Fumio Kishida | 0.46077447927665 | 0.37127184287356 |
| 2021-12-08 00:00:00 | Fumio Kishida | 0.46317362681353 | 0.36899672841006 |
| 2021-12-09 00:00:00 | Fumio Kishida | 0.46586668939046 | 0.36867539220602 |
| 2021-12-10 00:00:00 | Fumio Kishida | 0.47129120167301 | 0.36787368785886 |
| 2021-12-11 00:00:00 | Fumio Kishida | 0.47452450184266 | 0.37458755682175 |
| 2021-12-12 00:00:00 | Fumio Kishida | 0.47480754153819 | 0.38312008911393 |
| 2021-12-13 00:00:00 | Fumio Kishida | 0.46647358020145 | 0.39431688403001 |
| 2021-12-14 00:00:00 | Fumio Kishida | 0.47801429886664 | 0.38818220640425 |
| 2021-12-15 00:00:00 | Fumio Kishida | 0.47454658868028 | 0.39424819867243 |
| 2021-12-16 00:00:00 | Fumio Kishida | 0.48182501916413 | 0.39231834523953 |
| 2021-12-17 00:00:00 | Fumio Kishida | 0.48564140355743 | 0.38707448588915 |
| 2021-12-18 00:00:00 | Fumio Kishida | 0.48128950810434 | 0.38097895288867 |
| 2021-12-19 00:00:00 | Fumio Kishida | 0.49351493936456 | 0.36684924594446 |
| 2021-12-20 00:00:00 | Fumio Kishida | 0.49514624902084 | 0.36989147848413 |
| 2021-12-21 00:00:00 | Fumio Kishida | 0.48494733990919 | 0.37751805817087 |
| 2021-12-22 00:00:00 | Fumio Kishida | 0.4880988477951 | 0.37153989018586 |
| 2021-12-23 00:00:00 | Fumio Kishida | 0.48495288337693 | 0.37641452640365 |
| 2021-12-24 00:00:00 | Fumio Kishida | 0.4870886395291 | 0.37795439513617 |
| 2021-12-25 00:00:00 | Fumio Kishida | 0.4922572375024 | 0.37745228916708 |
| 2021-12-26 00:00:00 | Fumio Kishida | 0.48845403747328 | 0.3793375337564 |
| 2021-12-27 00:00:00 | Fumio Kishida | 0.49333551454603 | 0.37037285591214 |
| 2021-12-28 00:00:00 | Fumio Kishida | 0.50121021619387 | 0.36257834235557 |
| 2021-12-29 00:00:00 | Fumio Kishida | 0.50482173968826 | 0.36002473354414 |
| 2021-12-30 00:00:00 | Fumio Kishida | 0.51144316082816 | 0.3431034141463 |
| 2021-12-31 00:00:00 | Fumio Kishida | 0.50236208156871 | 0.33412061775469 |
| 2022-01-01 00:00:00 | Fumio Kishida | 0.49790331618309 | 0.33665679532354 |
| 2022-01-02 00:00:00 | Fumio Kishida | 0.49226008638754 | 0.34000016223321 |
| 2022-01-03 00:00:00 | Fumio Kishida | 0.48360018926655 | 0.34226311619942 |
| 2022-01-04 00:00:00 | Fumio Kishida | 0.47322244606038 | 0.34475096352479 |
| 2022-01-05 00:00:00 | Fumio Kishida | 0.47431668030735 | 0.34099798715227 |
| 2022-01-06 00:00:00 | Fumio Kishida | 0.47233462608367 | 0.34962112712366 |
| 2022-01-07 00:00:00 | Fumio Kishida | 0.48873386562723 | 0.34655717318851 |
| 2022-01-08 00:00:00 | Fumio Kishida | 0.50213156819602 | 0.33398639773844 |
| 2022-01-09 00:00:00 | Fumio Kishida | 0.51011480430322 | 0.32922274470558 |
| 2022-01-10 00:00:00 | Fumio Kishida | 0.51220634673141 | 0.32497689554336 |
| 2022-01-11 00:00:00 | Fumio Kishida | 0.51428700786741 | 0.3284444783247 |
| 2022-01-12 00:00:00 | Fumio Kishida | 0.49903580367141 | 0.34843428485223 |
| 2022-01-13 00:00:00 | Fumio Kishida | 0.48620361741586 | 0.35047793908863 |
| 2022-01-14 00:00:00 | Fumio Kishida | 0.47317799893531 | 0.36268164075177 |
| 2022-01-15 00:00:00 | Fumio Kishida | 0.47149977232416 | 0.36187501344397 |
| 2022-01-16 00:00:00 | Fumio Kishida | 0.46917327036371 | 0.36333010450656 |
| 2022-01-17 00:00:00 | Fumio Kishida | 0.47440933542631 | 0.36779036048308 |
| 2022-01-18 00:00:00 | Fumio Kishida | 0.4777349362186 | 0.36328931222067 |
| 2022-01-19 00:00:00 | Fumio Kishida | 0.48349521587462 | 0.35728971832188 |
| 2022-01-20 00:00:00 | Fumio Kishida | 0.50044125595784 | 0.3504753768574 |
| 2022-01-21 00:00:00 | Fumio Kishida | 0.49589312715513 | 0.34573258893056 |
| 2022-01-22 00:00:00 | Fumio Kishida | 0.48995871278333 | 0.35340070608516 |
| 2022-01-23 00:00:00 | Fumio Kishida | 0.48168648515849 | 0.36267320173083 |
| 2022-01-24 00:00:00 | Fumio Kishida | 0.47671232754332 | 0.35597157428462 |
| 2022-01-25 00:00:00 | Fumio Kishida | 0.47294421021063 | 0.36190894029613 |
| 2022-01-26 00:00:00 | Fumio Kishida | 0.47818702924856 | 0.35430023270213 |
| 2022-01-27 00:00:00 | Fumio Kishida | 0.47695194151179 | 0.35735154269152 |
| 2022-01-28 00:00:00 | Fumio Kishida | 0.47587801000515 | 0.36393250303265 |
| 2022-01-29 00:00:00 | Fumio Kishida | 0.47516482013942 | 0.37044478458742 |
| 2022-01-30 00:00:00 | Fumio Kishida | 0.47030588737995 | 0.37381374486717 |
| 2022-01-31 00:00:00 | Fumio Kishida | 0.47147169346832 | 0.37783907512792 |
| 2022-02-01 00:00:00 | Fumio Kishida | 0.47156889761917 | 0.37850831169629 |
| 2022-02-02 00:00:00 | Fumio Kishida | 0.4696889122234 | 0.38208625089903 |
| 2022-02-03 00:00:00 | Fumio Kishida | 0.45890404772646 | 0.3884416402156 |
| 2022-02-04 00:00:00 | Fumio Kishida | 0.45958714688867 | 0.39603926714834 |
| 2022-02-05 00:00:00 | Fumio Kishida | 0.45552146584124 | 0.39650260372557 |
| 2022-02-06 00:00:00 | Fumio Kishida | 0.45261415825877 | 0.39693827005907 |
| 2022-02-07 00:00:00 | Fumio Kishida | 0.44446117366272 | 0.40483587616217 |
| 2022-02-08 00:00:00 | Fumio Kishida | 0.43723409976603 | 0.4085121392593 |
| 2022-02-09 00:00:00 | Fumio Kishida | 0.4254954099457 | 0.42047822447754 |
| 2022-02-10 00:00:00 | Fumio Kishida | 0.41828863033514 | 0.42813216133277 |
| 2022-02-11 00:00:00 | Fumio Kishida | 0.42060646177447 | 0.42227323539714 |
| 2022-02-12 00:00:00 | Fumio Kishida | 0.41260968200775 | 0.42642112882435 |
| 2022-02-13 00:00:00 | Fumio Kishida | 0.40326144216535 | 0.4384595942421 |
| 2022-02-14 00:00:00 | Fumio Kishida | 0.40687965412311 | 0.44052895193144 |
| 2022-02-15 00:00:00 | Fumio Kishida | 0.40327259202996 | 0.4427210157559 |
| 2022-02-16 00:00:00 | Fumio Kishida | 0.40479538422654 | 0.43702933662442 |
| 2020-03-06 00:00:00 | Andrés Manuel López Obrador | 0.608962474 | 0.310612823 |
| 2020-03-07 00:00:00 | Andrés Manuel López Obrador | 0.605241513 | 0.310155561 |
| 2020-03-08 00:00:00 | Andrés Manuel López Obrador | 0.600129129 | 0.308708316 |
| 2020-03-09 00:00:00 | Andrés Manuel López Obrador | 0.598874196 | 0.31754122 |
| 2020-03-10 00:00:00 | Andrés Manuel López Obrador | 0.612079237 | 0.309506969 |
| 2020-03-11 00:00:00 | Andrés Manuel López Obrador | 0.619533347 | 0.307250958 |
| 2020-03-12 00:00:00 | Andrés Manuel López Obrador | 0.605654633 | 0.313992228 |
| 2020-03-13 00:00:00 | Andrés Manuel López Obrador | 0.601856715 | 0.312668767 |
| 2020-03-14 00:00:00 | Andrés Manuel López Obrador | 0.604748778 | 0.321336848 |
| 2020-03-15 00:00:00 | Andrés Manuel López Obrador | 0.615717606 | 0.319211329 |
| 2020-03-16 00:00:00 | Andrés Manuel López Obrador | 0.623982247 | 0.305496128 |
| 2020-03-17 00:00:00 | Andrés Manuel López Obrador | 0.614533119 | 0.305727988 |
| 2020-03-18 00:00:00 | Andrés Manuel López Obrador | 0.614740139 | 0.303417753 |
| 2020-03-19 00:00:00 | Andrés Manuel López Obrador | 0.626771268 | 0.296451501 |
| 2020-03-20 00:00:00 | Andrés Manuel López Obrador | 0.627238638 | 0.288831113 |
| 2020-03-21 00:00:00 | Andrés Manuel López Obrador | 0.635623141 | 0.277922289 |
| 2020-03-22 00:00:00 | Andrés Manuel López Obrador | 0.630983286 | 0.267116971 |
| 2020-03-23 00:00:00 | Andrés Manuel López Obrador | 0.610614524 | 0.287144084 |
| 2020-03-24 00:00:00 | Andrés Manuel López Obrador | 0.607100699 | 0.285384859 |
| 2020-03-25 00:00:00 | Andrés Manuel López Obrador | 0.596130276 | 0.295776391 |
| 2020-03-26 00:00:00 | Andrés Manuel López Obrador | 0.606560982 | 0.2883202 |
| 2020-03-27 00:00:00 | Andrés Manuel López Obrador | 0.603372348 | 0.301382333 |
| 2020-03-28 00:00:00 | Andrés Manuel López Obrador | 0.594334621 | 0.308889322 |
| 2020-03-29 00:00:00 | Andrés Manuel López Obrador | 0.595025303 | 0.317357988 |
| 2020-03-30 00:00:00 | Andrés Manuel López Obrador | 0.614153075 | 0.300079981 |
| 2020-03-31 00:00:00 | Andrés Manuel López Obrador | 0.613097351 | 0.307032628 |
| 2020-04-01 00:00:00 | Andrés Manuel López Obrador | 0.614900548 | 0.304733241 |
| 2020-04-02 00:00:00 | Andrés Manuel López Obrador | 0.595303777 | 0.317379 |
| 2020-04-03 00:00:00 | Andrés Manuel López Obrador | 0.602686388 | 0.312448435 |
| 2020-04-04 00:00:00 | Andrés Manuel López Obrador | 0.60192258 | 0.318739006 |
| 2020-04-05 00:00:00 | Andrés Manuel López Obrador | 0.60270146 | 0.315227268 |
| 2020-04-06 00:00:00 | Andrés Manuel López Obrador | 0.59979696 | 0.318270901 |
| 2020-04-07 00:00:00 | Andrés Manuel López Obrador | 0.597927367 | 0.318457035 |
| 2020-04-08 00:00:00 | Andrés Manuel López Obrador | 0.603843856 | 0.302854003 |
| 2020-04-09 00:00:00 | Andrés Manuel López Obrador | 0.625213963 | 0.285336612 |
| 2020-04-10 00:00:00 | Andrés Manuel López Obrador | 0.620697817 | 0.290171346 |
| 2020-04-11 00:00:00 | Andrés Manuel López Obrador | 0.623255645 | 0.279076533 |
| 2020-04-12 00:00:00 | Andrés Manuel López Obrador | 0.629853679 | 0.281321756 |
| 2020-04-13 00:00:00 | Andrés Manuel López Obrador | 0.634288241 | 0.282578089 |
| 2020-04-14 00:00:00 | Andrés Manuel López Obrador | 0.643039774 | 0.280011935 |
| 2020-04-15 00:00:00 | Andrés Manuel López Obrador | 0.627790356 | 0.299545545 |
| 2020-04-16 00:00:00 | Andrés Manuel López Obrador | 0.625536047 | 0.300700824 |
| 2020-04-17 00:00:00 | Andrés Manuel López Obrador | 0.625357119 | 0.297658645 |
| 2020-04-18 00:00:00 | Andrés Manuel López Obrador | 0.627201146 | 0.304071146 |
| 2020-04-19 00:00:00 | Andrés Manuel López Obrador | 0.617116988 | 0.305750152 |
| 2020-04-20 00:00:00 | Andrés Manuel López Obrador | 0.614198231 | 0.301621824 |
| 2020-04-21 00:00:00 | Andrés Manuel López Obrador | 0.619874116 | 0.29807312 |
| 2020-04-22 00:00:00 | Andrés Manuel López Obrador | 0.634754163 | 0.28711368 |
| 2020-04-23 00:00:00 | Andrés Manuel López Obrador | 0.64147737 | 0.282110194 |
| 2020-04-24 00:00:00 | Andrés Manuel López Obrador | 0.649460943 | 0.273619175 |
| 2020-04-25 00:00:00 | Andrés Manuel López Obrador | 0.654158942 | 0.265837615 |
| 2020-04-26 00:00:00 | Andrés Manuel López Obrador | 0.658580332 | 0.267060224 |
| 2020-04-27 00:00:00 | Andrés Manuel López Obrador | 0.661094807 | 0.26745635 |
| 2020-04-28 00:00:00 | Andrés Manuel López Obrador | 0.65167945 | 0.277706452 |
| 2020-04-29 00:00:00 | Andrés Manuel López Obrador | 0.645797106 | 0.281149568 |
| 2020-04-30 00:00:00 | Andrés Manuel López Obrador | 0.627445356 | 0.29570144 |
| 2020-05-01 00:00:00 | Andrés Manuel López Obrador | 0.617509869 | 0.304904749 |
| 2020-05-02 00:00:00 | Andrés Manuel López Obrador | 0.606495082 | 0.307400115 |
| 2020-05-03 00:00:00 | Andrés Manuel López Obrador | 0.612042329 | 0.296680016 |
| 2020-05-04 00:00:00 | Andrés Manuel López Obrador | 0.604099112 | 0.303777486 |
| 2020-05-05 00:00:00 | Andrés Manuel López Obrador | 0.604750378 | 0.295390748 |
| 2020-05-06 00:00:00 | Andrés Manuel López Obrador | 0.610704022 | 0.29259142 |
| 2020-05-07 00:00:00 | Andrés Manuel López Obrador | 0.622617537 | 0.281331518 |
| 2020-05-08 00:00:00 | Andrés Manuel López Obrador | 0.628692523 | 0.277208432 |
| 2020-05-09 00:00:00 | Andrés Manuel López Obrador | 0.631327247 | 0.282353655 |
| 2020-05-10 00:00:00 | Andrés Manuel López Obrador | 0.619903554 | 0.290650011 |
| 2020-05-11 00:00:00 | Andrés Manuel López Obrador | 0.610944356 | 0.299057658 |
| 2020-05-12 00:00:00 | Andrés Manuel López Obrador | 0.613110687 | 0.297498413 |
| 2020-05-13 00:00:00 | Andrés Manuel López Obrador | 0.607758749 | 0.304380809 |
| 2020-05-14 00:00:00 | Andrés Manuel López Obrador | 0.604276915 | 0.310848562 |
| 2020-05-15 00:00:00 | Andrés Manuel López Obrador | 0.594343755 | 0.313199821 |
| 2020-05-16 00:00:00 | Andrés Manuel López Obrador | 0.594631254 | 0.306808976 |
| 2020-05-17 00:00:00 | Andrés Manuel López Obrador | 0.602542019 | 0.309948217 |
| 2020-05-18 00:00:00 | Andrés Manuel López Obrador | 0.601080094 | 0.308808377 |
| 2020-05-19 00:00:00 | Andrés Manuel López Obrador | 0.588565958 | 0.32090949 |
| 2020-05-20 00:00:00 | Andrés Manuel López Obrador | 0.585615484 | 0.31949289 |
| 2020-05-21 00:00:00 | Andrés Manuel López Obrador | 0.586262316 | 0.318854209 |
| 2020-05-22 00:00:00 | Andrés Manuel López Obrador | 0.591541607 | 0.312221829 |
| 2020-05-23 00:00:00 | Andrés Manuel López Obrador | 0.591805971 | 0.314727558 |
| 2020-05-24 00:00:00 | Andrés Manuel López Obrador | 0.584107149 | 0.325638597 |
| 2020-05-25 00:00:00 | Andrés Manuel López Obrador | 0.59710081 | 0.321289994 |
| 2020-05-26 00:00:00 | Andrés Manuel López Obrador | 0.592716806 | 0.328496894 |
| 2020-05-27 00:00:00 | Andrés Manuel López Obrador | 0.605324894 | 0.318891137 |
| 2020-05-28 00:00:00 | Andrés Manuel López Obrador | 0.597860859 | 0.325229588 |
| 2020-05-29 00:00:00 | Andrés Manuel López Obrador | 0.598505828 | 0.331896169 |
| 2020-05-30 00:00:00 | Andrés Manuel López Obrador | 0.588642077 | 0.339033087 |
| 2020-05-31 00:00:00 | Andrés Manuel López Obrador | 0.584735255 | 0.330230104 |
| 2020-06-01 00:00:00 | Andrés Manuel López Obrador | 0.580791255 | 0.328523148 |
| 2020-06-02 00:00:00 | Andrés Manuel López Obrador | 0.595073874 | 0.319579458 |
| 2020-06-03 00:00:00 | Andrés Manuel López Obrador | 0.569756972 | 0.339819793 |
| 2020-06-04 00:00:00 | Andrés Manuel López Obrador | 0.555043919 | 0.348294488 |
| 2020-06-05 00:00:00 | Andrés Manuel López Obrador | 0.549433201 | 0.35457399 |
| 2020-06-06 00:00:00 | Andrés Manuel López Obrador | 0.552531553 | 0.362040854 |
| 2020-06-07 00:00:00 | Andrés Manuel López Obrador | 0.548466799 | 0.368912305 |
| 2020-06-08 00:00:00 | Andrés Manuel López Obrador | 0.53701485 | 0.371930289 |
| 2020-06-09 00:00:00 | Andrés Manuel López Obrador | 0.537086206 | 0.366161303 |
| 2020-06-10 00:00:00 | Andrés Manuel López Obrador | 0.54335516 | 0.365755125 |
| 2020-06-11 00:00:00 | Andrés Manuel López Obrador | 0.546797944 | 0.367821816 |
| 2020-06-12 00:00:00 | Andrés Manuel López Obrador | 0.56068017 | 0.359215038 |
| 2020-06-13 00:00:00 | Andrés Manuel López Obrador | 0.575009501 | 0.340763809 |
| 2020-06-14 00:00:00 | Andrés Manuel López Obrador | 0.586536938 | 0.328760949 |
| 2020-06-15 00:00:00 | Andrés Manuel López Obrador | 0.596077224 | 0.332037841 |
| 2020-06-16 00:00:00 | Andrés Manuel López Obrador | 0.590944821 | 0.338046338 |
| 2020-06-17 00:00:00 | Andrés Manuel López Obrador | 0.599889667 | 0.328035528 |
| 2020-06-18 00:00:00 | Andrés Manuel López Obrador | 0.622303919 | 0.314122258 |
| 2020-06-19 00:00:00 | Andrés Manuel López Obrador | 0.616929765 | 0.318340879 |
| 2020-06-20 00:00:00 | Andrés Manuel López Obrador | 0.59989343 | 0.337114049 |
| 2020-06-21 00:00:00 | Andrés Manuel López Obrador | 0.590928444 | 0.346043696 |
| 2020-06-22 00:00:00 | Andrés Manuel López Obrador | 0.587110062 | 0.339256423 |
| 2020-06-23 00:00:00 | Andrés Manuel López Obrador | 0.582554419 | 0.344541836 |
| 2020-06-24 00:00:00 | Andrés Manuel López Obrador | 0.580961503 | 0.343974548 |
| 2020-06-25 00:00:00 | Andrés Manuel López Obrador | 0.554138071 | 0.363287216 |
| 2020-06-26 00:00:00 | Andrés Manuel López Obrador | 0.555198747 | 0.361183843 |
| 2020-06-27 00:00:00 | Andrés Manuel López Obrador | 0.567670615 | 0.348471242 |
| 2020-06-28 00:00:00 | Andrés Manuel López Obrador | 0.560147219 | 0.357111079 |
| 2020-06-29 00:00:00 | Andrés Manuel López Obrador | 0.562297306 | 0.360127843 |
| 2020-06-30 00:00:00 | Andrés Manuel López Obrador | 0.575960763 | 0.3466849 |
| 2020-07-01 00:00:00 | Andrés Manuel López Obrador | 0.57135256 | 0.353885087 |
| 2020-07-02 00:00:00 | Andrés Manuel López Obrador | 0.590049506 | 0.336058073 |
| 2020-07-03 00:00:00 | Andrés Manuel López Obrador | 0.578540254 | 0.339330327 |
| 2020-07-04 00:00:00 | Andrés Manuel López Obrador | 0.568517054 | 0.343382996 |
| 2020-07-05 00:00:00 | Andrés Manuel López Obrador | 0.590269318 | 0.323741161 |
| 2020-07-06 00:00:00 | Andrés Manuel López Obrador | 0.589019196 | 0.324809538 |
| 2020-07-07 00:00:00 | Andrés Manuel López Obrador | 0.58233487 | 0.331721342 |
| 2020-07-08 00:00:00 | Andrés Manuel López Obrador | 0.586332137 | 0.322082808 |
| 2020-07-09 00:00:00 | Andrés Manuel López Obrador | 0.58812379 | 0.320021714 |
| 2020-07-10 00:00:00 | Andrés Manuel López Obrador | 0.595413839 | 0.321294633 |
| 2020-07-11 00:00:00 | Andrés Manuel López Obrador | 0.590582665 | 0.327634828 |
| 2020-07-12 00:00:00 | Andrés Manuel López Obrador | 0.587432428 | 0.332276236 |
| 2020-07-13 00:00:00 | Andrés Manuel López Obrador | 0.59265592 | 0.328132958 |
| 2020-07-14 00:00:00 | Andrés Manuel López Obrador | 0.583602474 | 0.332614372 |
| 2020-07-15 00:00:00 | Andrés Manuel López Obrador | 0.588726074 | 0.331718617 |
| 2020-07-16 00:00:00 | Andrés Manuel López Obrador | 0.575005699 | 0.348658957 |
| 2020-07-17 00:00:00 | Andrés Manuel López Obrador | 0.57502406 | 0.351042898 |
| 2020-07-18 00:00:00 | Andrés Manuel López Obrador | 0.589451997 | 0.330820665 |
| 2020-07-19 00:00:00 | Andrés Manuel López Obrador | 0.579463302 | 0.334587102 |
| 2020-07-20 00:00:00 | Andrés Manuel López Obrador | 0.572142984 | 0.338276808 |
| 2020-07-21 00:00:00 | Andrés Manuel López Obrador | 0.588059085 | 0.328984367 |
| 2020-07-22 00:00:00 | Andrés Manuel López Obrador | 0.588279009 | 0.332612276 |
| 2020-07-23 00:00:00 | Andrés Manuel López Obrador | 0.608556212 | 0.308660362 |
| 2020-07-24 00:00:00 | Andrés Manuel López Obrador | 0.596408752 | 0.314415825 |
| 2020-07-25 00:00:00 | Andrés Manuel López Obrador | 0.597164333 | 0.317441236 |
| 2020-07-26 00:00:00 | Andrés Manuel López Obrador | 0.592086904 | 0.322093583 |
| 2020-07-27 00:00:00 | Andrés Manuel López Obrador | 0.597058017 | 0.323915245 |
| 2020-07-28 00:00:00 | Andrés Manuel López Obrador | 0.578146313 | 0.339267339 |
| 2020-07-29 00:00:00 | Andrés Manuel López Obrador | 0.580636014 | 0.33543327 |
| 2020-07-30 00:00:00 | Andrés Manuel López Obrador | 0.56937922 | 0.34374641 |
| 2020-07-31 00:00:00 | Andrés Manuel López Obrador | 0.589080317 | 0.326540136 |
| 2020-08-01 00:00:00 | Andrés Manuel López Obrador | 0.58551743 | 0.330524008 |
| 2020-08-02 00:00:00 | Andrés Manuel López Obrador | 0.598911457 | 0.318231502 |
| 2020-08-03 00:00:00 | Andrés Manuel López Obrador | 0.606648919 | 0.307019122 |
| 2020-08-04 00:00:00 | Andrés Manuel López Obrador | 0.622740924 | 0.292955331 |
| 2020-08-05 00:00:00 | Andrés Manuel López Obrador | 0.614978928 | 0.298184224 |
| 2020-08-06 00:00:00 | Andrés Manuel López Obrador | 0.608832342 | 0.305453896 |
| 2020-08-07 00:00:00 | Andrés Manuel López Obrador | 0.612321091 | 0.30327939 |
| 2020-08-08 00:00:00 | Andrés Manuel López Obrador | 0.6089821 | 0.309635874 |
| 2020-08-09 00:00:00 | Andrés Manuel López Obrador | 0.603589262 | 0.3147181 |
| 2020-08-10 00:00:00 | Andrés Manuel López Obrador | 0.595495928 | 0.326106973 |
| 2020-08-11 00:00:00 | Andrés Manuel López Obrador | 0.58636013 | 0.334621669 |
| 2020-08-12 00:00:00 | Andrés Manuel López Obrador | 0.596079224 | 0.331826167 |
| 2020-08-13 00:00:00 | Andrés Manuel López Obrador | 0.607680361 | 0.321708589 |
| 2020-08-14 00:00:00 | Andrés Manuel López Obrador | 0.589678656 | 0.336334977 |
| 2020-08-15 00:00:00 | Andrés Manuel López Obrador | 0.601522949 | 0.325422451 |
| 2020-08-16 00:00:00 | Andrés Manuel López Obrador | 0.603931888 | 0.324131493 |
| 2020-08-17 00:00:00 | Andrés Manuel López Obrador | 0.611207329 | 0.317774004 |
| 2020-08-18 00:00:00 | Andrés Manuel López Obrador | 0.610809274 | 0.312938923 |
| 2020-08-19 00:00:00 | Andrés Manuel López Obrador | 0.607122011 | 0.311883061 |
| 2020-08-20 00:00:00 | Andrés Manuel López Obrador | 0.602276146 | 0.317355483 |
| 2020-08-21 00:00:00 | Andrés Manuel López Obrador | 0.613650135 | 0.309233571 |
| 2020-08-22 00:00:00 | Andrés Manuel López Obrador | 0.608340491 | 0.312353383 |
| 2020-08-23 00:00:00 | Andrés Manuel López Obrador | 0.600619632 | 0.320472204 |
| 2020-08-24 00:00:00 | Andrés Manuel López Obrador | 0.596720627 | 0.325209266 |
| 2020-08-25 00:00:00 | Andrés Manuel López Obrador | 0.605417519 | 0.322276274 |
| 2020-08-26 00:00:00 | Andrés Manuel López Obrador | 0.598875354 | 0.328768986 |
| 2020-08-27 00:00:00 | Andrés Manuel López Obrador | 0.606629742 | 0.322962103 |
| 2020-08-28 00:00:00 | Andrés Manuel López Obrador | 0.604265898 | 0.319623659 |
| 2020-08-29 00:00:00 | Andrés Manuel López Obrador | 0.59866875 | 0.32191223 |
| 2020-08-30 00:00:00 | Andrés Manuel López Obrador | 0.60953849 | 0.312091655 |
| 2020-08-31 00:00:00 | Andrés Manuel López Obrador | 0.61340505 | 0.304695884 |
| 2020-09-01 00:00:00 | Andrés Manuel López Obrador | 0.616919374 | 0.298566928 |
| 2020-09-02 00:00:00 | Andrés Manuel López Obrador | 0.620328054 | 0.292646926 |
| 2020-09-03 00:00:00 | Andrés Manuel López Obrador | 0.603986106 | 0.308432576 |
| 2020-09-04 00:00:00 | Andrés Manuel López Obrador | 0.608105334 | 0.310613039 |
| 2020-09-05 00:00:00 | Andrés Manuel López Obrador | 0.607643667 | 0.315402828 |
| 2020-09-06 00:00:00 | Andrés Manuel López Obrador | 0.604431712 | 0.317899735 |
| 2020-09-07 00:00:00 | Andrés Manuel López Obrador | 0.591131828 | 0.33371469 |
| 2020-09-08 00:00:00 | Andrés Manuel López Obrador | 0.585049317 | 0.344433707 |
| 2020-09-09 00:00:00 | Andrés Manuel López Obrador | 0.588044264 | 0.344719884 |
| 2020-09-10 00:00:00 | Andrés Manuel López Obrador | 0.588187737 | 0.337621136 |
| 2020-09-11 00:00:00 | Andrés Manuel López Obrador | 0.586857127 | 0.336093898 |
| 2020-09-12 00:00:00 | Andrés Manuel López Obrador | 0.594855567 | 0.332842297 |
| 2020-09-13 00:00:00 | Andrés Manuel López Obrador | 0.597765893 | 0.331970312 |
| 2020-09-14 00:00:00 | Andrés Manuel López Obrador | 0.598563152 | 0.322728118 |
| 2020-09-15 00:00:00 | Andrés Manuel López Obrador | 0.592786678 | 0.327910845 |
| 2020-09-16 00:00:00 | Andrés Manuel López Obrador | 0.588846924 | 0.329636133 |
| 2020-09-17 00:00:00 | Andrés Manuel López Obrador | 0.59042567 | 0.331979232 |
| 2020-09-18 00:00:00 | Andrés Manuel López Obrador | 0.580281231 | 0.340817806 |
| 2020-09-19 00:00:00 | Andrés Manuel López Obrador | 0.568997513 | 0.345186074 |
| 2020-09-20 00:00:00 | Andrés Manuel López Obrador | 0.564234135 | 0.348066726 |
| 2020-09-21 00:00:00 | Andrés Manuel López Obrador | 0.572005122 | 0.349821593 |
| 2020-09-22 00:00:00 | Andrés Manuel López Obrador | 0.585732835 | 0.337854461 |
| 2020-09-23 00:00:00 | Andrés Manuel López Obrador | 0.584629515 | 0.339317405 |
| 2020-09-24 00:00:00 | Andrés Manuel López Obrador | 0.588706334 | 0.337281593 |
| 2020-09-25 00:00:00 | Andrés Manuel López Obrador | 0.595814989 | 0.327424953 |
| 2020-09-26 00:00:00 | Andrés Manuel López Obrador | 0.597604075 | 0.332418359 |
| 2020-09-27 00:00:00 | Andrés Manuel López Obrador | 0.597292677 | 0.334837085 |
| 2020-09-28 00:00:00 | Andrés Manuel López Obrador | 0.594954242 | 0.332446661 |
| 2020-09-29 00:00:00 | Andrés Manuel López Obrador | 0.595216298 | 0.328984315 |
| 2020-09-30 00:00:00 | Andrés Manuel López Obrador | 0.594277181 | 0.326699817 |
| 2020-10-01 00:00:00 | Andrés Manuel López Obrador | 0.592286649 | 0.330373243 |
| 2020-10-02 00:00:00 | Andrés Manuel López Obrador | 0.59959787 | 0.325485455 |
| 2020-10-03 00:00:00 | Andrés Manuel López Obrador | 0.609208778 | 0.308030633 |
| 2020-10-04 00:00:00 | Andrés Manuel López Obrador | 0.617622144 | 0.29857978 |
| 2020-10-05 00:00:00 | Andrés Manuel López Obrador | 0.623678781 | 0.291627318 |
| 2020-10-06 00:00:00 | Andrés Manuel López Obrador | 0.610945023 | 0.303693667 |
| 2020-10-07 00:00:00 | Andrés Manuel López Obrador | 0.611926347 | 0.30576707 |
| 2020-10-08 00:00:00 | Andrés Manuel López Obrador | 0.620149538 | 0.299559662 |
| 2020-10-09 00:00:00 | Andrés Manuel López Obrador | 0.609050041 | 0.315774792 |
| 2020-10-10 00:00:00 | Andrés Manuel López Obrador | 0.604345974 | 0.322093811 |
| 2020-10-11 00:00:00 | Andrés Manuel López Obrador | 0.604715242 | 0.322252018 |
| 2020-10-12 00:00:00 | Andrés Manuel López Obrador | 0.600885031 | 0.328082961 |
| 2020-10-13 00:00:00 | Andrés Manuel López Obrador | 0.613084089 | 0.319256116 |
| 2020-10-14 00:00:00 | Andrés Manuel López Obrador | 0.618032672 | 0.3169124 |
| 2020-10-15 00:00:00 | Andrés Manuel López Obrador | 0.609298509 | 0.315564884 |
| 2020-10-16 00:00:00 | Andrés Manuel López Obrador | 0.607071718 | 0.311544352 |
| 2020-10-17 00:00:00 | Andrés Manuel López Obrador | 0.611853972 | 0.306107592 |
| 2020-10-18 00:00:00 | Andrés Manuel López Obrador | 0.621405481 | 0.298755407 |
| 2020-10-19 00:00:00 | Andrés Manuel López Obrador | 0.616892404 | 0.300235535 |
| 2020-10-20 00:00:00 | Andrés Manuel López Obrador | 0.604128526 | 0.309165658 |
| 2020-10-21 00:00:00 | Andrés Manuel López Obrador | 0.599734241 | 0.314572455 |
| 2020-10-22 00:00:00 | Andrés Manuel López Obrador | 0.609388577 | 0.317329437 |
| 2020-10-23 00:00:00 | Andrés Manuel López Obrador | 0.612411126 | 0.311461445 |
| 2020-10-24 00:00:00 | Andrés Manuel López Obrador | 0.60353974 | 0.317500256 |
| 2020-10-25 00:00:00 | Andrés Manuel López Obrador | 0.589042787 | 0.331019969 |
| 2020-10-26 00:00:00 | Andrés Manuel López Obrador | 0.58411864 | 0.336898539 |
| 2020-10-27 00:00:00 | Andrés Manuel López Obrador | 0.589416771 | 0.333241053 |
| 2020-10-28 00:00:00 | Andrés Manuel López Obrador | 0.585645357 | 0.328194417 |
| 2020-10-29 00:00:00 | Andrés Manuel López Obrador | 0.583248817 | 0.325611344 |
| 2020-10-30 00:00:00 | Andrés Manuel López Obrador | 0.582967683 | 0.329829132 |
| 2020-10-31 00:00:00 | Andrés Manuel López Obrador | 0.578152295 | 0.341385975 |
| 2020-11-01 00:00:00 | Andrés Manuel López Obrador | 0.574606415 | 0.34446382 |
| 2020-11-02 00:00:00 | Andrés Manuel López Obrador | 0.587470641 | 0.333441325 |
| 2020-11-03 00:00:00 | Andrés Manuel López Obrador | 0.584205766 | 0.329620897 |
| 2020-11-04 00:00:00 | Andrés Manuel López Obrador | 0.576959861 | 0.336582053 |
| 2020-11-05 00:00:00 | Andrés Manuel López Obrador | 0.576608045 | 0.343353491 |
| 2020-11-06 00:00:00 | Andrés Manuel López Obrador | 0.582855154 | 0.338432485 |
| 2020-11-07 00:00:00 | Andrés Manuel López Obrador | 0.583042557 | 0.331522849 |
| 2020-11-08 00:00:00 | Andrés Manuel López Obrador | 0.591412409 | 0.322052408 |
| 2020-11-09 00:00:00 | Andrés Manuel López Obrador | 0.597744385 | 0.316778725 |
| 2020-11-10 00:00:00 | Andrés Manuel López Obrador | 0.595338887 | 0.317591872 |
| 2020-11-11 00:00:00 | Andrés Manuel López Obrador | 0.608315999 | 0.309478403 |
| 2020-11-12 00:00:00 | Andrés Manuel López Obrador | 0.605142723 | 0.308017492 |
| 2020-11-13 00:00:00 | Andrés Manuel López Obrador | 0.599187145 | 0.308870844 |
| 2020-11-14 00:00:00 | Andrés Manuel López Obrador | 0.614865291 | 0.297312142 |
| 2020-11-15 00:00:00 | Andrés Manuel López Obrador | 0.606090304 | 0.310182316 |
| 2020-11-16 00:00:00 | Andrés Manuel López Obrador | 0.601295829 | 0.314343731 |
| 2020-11-17 00:00:00 | Andrés Manuel López Obrador | 0.599985814 | 0.324088313 |
| 2020-11-18 00:00:00 | Andrés Manuel López Obrador | 0.61006093 | 0.318495691 |
| 2020-11-19 00:00:00 | Andrés Manuel López Obrador | 0.620313276 | 0.303202187 |
| 2020-11-20 00:00:00 | Andrés Manuel López Obrador | 0.627221629 | 0.296775197 |
| 2020-11-21 00:00:00 | Andrés Manuel López Obrador | 0.628639067 | 0.300821861 |
| 2020-11-22 00:00:00 | Andrés Manuel López Obrador | 0.638129852 | 0.285602411 |
| 2020-11-23 00:00:00 | Andrés Manuel López Obrador | 0.635398339 | 0.290725905 |
| 2020-11-24 00:00:00 | Andrés Manuel López Obrador | 0.643633039 | 0.278306303 |
| 2020-11-25 00:00:00 | Andrés Manuel López Obrador | 0.634966384 | 0.273887428 |
| 2020-11-26 00:00:00 | Andrés Manuel López Obrador | 0.609612764 | 0.293680804 |
| 2020-11-27 00:00:00 | Andrés Manuel López Obrador | 0.610247224 | 0.299300986 |
| 2020-11-28 00:00:00 | Andrés Manuel López Obrador | 0.612731987 | 0.293526974 |
| 2020-11-29 00:00:00 | Andrés Manuel López Obrador | 0.600421824 | 0.299886663 |
| 2020-11-30 00:00:00 | Andrés Manuel López Obrador | 0.602416582 | 0.297272893 |
| 2020-12-01 00:00:00 | Andrés Manuel López Obrador | 0.592481952 | 0.30440742 |
| 2020-12-02 00:00:00 | Andrés Manuel López Obrador | 0.595501163 | 0.315294468 |
| 2020-12-03 00:00:00 | Andrés Manuel López Obrador | 0.614848468 | 0.29926656 |
| 2020-12-04 00:00:00 | Andrés Manuel López Obrador | 0.608573672 | 0.300345837 |
| 2020-12-05 00:00:00 | Andrés Manuel López Obrador | 0.611126347 | 0.299143403 |
| 2020-12-06 00:00:00 | Andrés Manuel López Obrador | 0.621734464 | 0.296183926 |
| 2020-12-07 00:00:00 | Andrés Manuel López Obrador | 0.623200213 | 0.290977966 |
| 2020-12-08 00:00:00 | Andrés Manuel López Obrador | 0.629003265 | 0.286692868 |
| 2020-12-09 00:00:00 | Andrés Manuel López Obrador | 0.638050572 | 0.273697705 |
| 2020-12-10 00:00:00 | Andrés Manuel López Obrador | 0.636635375 | 0.283689878 |
| 2020-12-11 00:00:00 | Andrés Manuel López Obrador | 0.635528827 | 0.292478158 |
| 2020-12-12 00:00:00 | Andrés Manuel López Obrador | 0.627865158 | 0.301974081 |
| 2020-12-13 00:00:00 | Andrés Manuel López Obrador | 0.635641857 | 0.297840657 |
| 2020-12-14 00:00:00 | Andrés Manuel López Obrador | 0.639152269 | 0.290202303 |
| 2020-12-15 00:00:00 | Andrés Manuel López Obrador | 0.639950058 | 0.283941571 |
| 2020-12-16 00:00:00 | Andrés Manuel López Obrador | 0.632198815 | 0.29610292 |
| 2020-12-17 00:00:00 | Andrés Manuel López Obrador | 0.626005497 | 0.301714219 |
| 2020-12-18 00:00:00 | Andrés Manuel López Obrador | 0.63356292 | 0.297888049 |
| 2020-12-19 00:00:00 | Andrés Manuel López Obrador | 0.632818784 | 0.295703021 |
| 2020-12-20 00:00:00 | Andrés Manuel López Obrador | 0.616920079 | 0.312529393 |
| 2020-12-21 00:00:00 | Andrés Manuel López Obrador | 0.614585505 | 0.3286755 |
| 2020-12-22 00:00:00 | Andrés Manuel López Obrador | 0.62162644 | 0.33107118 |
| 2020-12-23 00:00:00 | Andrés Manuel López Obrador | 0.623181529 | 0.32523618 |
| 2020-12-24 00:00:00 | Andrés Manuel López Obrador | 0.632835315 | 0.305053724 |
| 2020-12-25 00:00:00 | Andrés Manuel López Obrador | 0.638635198 | 0.291730751 |
| 2020-12-26 00:00:00 | Andrés Manuel López Obrador | 0.641103455 | 0.282065675 |
| 2020-12-27 00:00:00 | Andrés Manuel López Obrador | 0.640091868 | 0.274661229 |
| 2020-12-28 00:00:00 | Andrés Manuel López Obrador | 0.643636945 | 0.261883775 |
| 2020-12-29 00:00:00 | Andrés Manuel López Obrador | 0.647403767 | 0.252477705 |
| 2020-12-30 00:00:00 | Andrés Manuel López Obrador | 0.639549967 | 0.259557608 |
| 2020-12-31 00:00:00 | Andrés Manuel López Obrador | 0.637430078 | 0.27387348 |
| 2021-01-01 00:00:00 | Andrés Manuel López Obrador | 0.635156709 | 0.281827385 |
| 2021-01-02 00:00:00 | Andrés Manuel López Obrador | 0.633116368 | 0.283525314 |
| 2021-01-03 00:00:00 | Andrés Manuel López Obrador | 0.646317871 | 0.268762589 |
| 2021-01-04 00:00:00 | Andrés Manuel López Obrador | 0.646470174 | 0.267487864 |
| 2021-01-05 00:00:00 | Andrés Manuel López Obrador | 0.644236817 | 0.280540435 |
| 2021-01-06 00:00:00 | Andrés Manuel López Obrador | 0.64393135 | 0.277190409 |
| 2021-01-07 00:00:00 | Andrés Manuel López Obrador | 0.639700276 | 0.271744767 |
| 2021-01-08 00:00:00 | Andrés Manuel López Obrador | 0.629193301 | 0.276321365 |
| 2021-01-09 00:00:00 | Andrés Manuel López Obrador | 0.633102626 | 0.280711819 |
| 2021-01-10 00:00:00 | Andrés Manuel López Obrador | 0.625431083 | 0.298223563 |
| 2021-01-11 00:00:00 | Andrés Manuel López Obrador | 0.616563518 | 0.306812694 |
| 2021-01-12 00:00:00 | Andrés Manuel López Obrador | 0.607262911 | 0.309392201 |
| 2021-01-13 00:00:00 | Andrés Manuel López Obrador | 0.615773453 | 0.306055338 |
| 2021-01-14 00:00:00 | Andrés Manuel López Obrador | 0.610381024 | 0.316217985 |
| 2021-01-15 00:00:00 | Andrés Manuel López Obrador | 0.617218283 | 0.31323212 |
| 2021-01-16 00:00:00 | Andrés Manuel López Obrador | 0.615471388 | 0.310834622 |
| 2021-01-17 00:00:00 | Andrés Manuel López Obrador | 0.621339844 | 0.298543263 |
| 2021-01-18 00:00:00 | Andrés Manuel López Obrador | 0.622677235 | 0.300354239 |
| 2021-01-19 00:00:00 | Andrés Manuel López Obrador | 0.631477035 | 0.29133256 |
| 2021-01-20 00:00:00 | Andrés Manuel López Obrador | 0.636266512 | 0.284539258 |
| 2021-01-21 00:00:00 | Andrés Manuel López Obrador | 0.657353031 | 0.265978441 |
| 2021-01-22 00:00:00 | Andrés Manuel López Obrador | 0.660633215 | 0.262552664 |
| 2021-01-23 00:00:00 | Andrés Manuel López Obrador | 0.659789175 | 0.259448336 |
| 2021-01-24 00:00:00 | Andrés Manuel López Obrador | 0.65443558 | 0.265748195 |
| 2021-01-25 00:00:00 | Andrés Manuel López Obrador | 0.662593873 | 0.254886578 |
| 2021-01-26 00:00:00 | Andrés Manuel López Obrador | 0.665775174 | 0.256811078 |
| 2021-01-27 00:00:00 | Andrés Manuel López Obrador | 0.650322743 | 0.268685624 |
| 2021-01-28 00:00:00 | Andrés Manuel López Obrador | 0.640135202 | 0.271777991 |
| 2021-01-29 00:00:00 | Andrés Manuel López Obrador | 0.622965712 | 0.280223417 |
| 2021-01-30 00:00:00 | Andrés Manuel López Obrador | 0.622917675 | 0.28420709 |
| 2021-01-31 00:00:00 | Andrés Manuel López Obrador | 0.62216805 | 0.281409841 |
| 2021-02-01 00:00:00 | Andrés Manuel López Obrador | 0.609286829 | 0.300782278 |
| 2021-02-02 00:00:00 | Andrés Manuel López Obrador | 0.606242229 | 0.302297737 |
| 2021-02-03 00:00:00 | Andrés Manuel López Obrador | 0.613577053 | 0.297786057 |
| 2021-02-04 00:00:00 | Andrés Manuel López Obrador | 0.613973601 | 0.305882182 |
| 2021-02-05 00:00:00 | Andrés Manuel López Obrador | 0.621154174 | 0.307429825 |
| 2021-02-06 00:00:00 | Andrés Manuel López Obrador | 0.614545197 | 0.30848349 |
| 2021-02-07 00:00:00 | Andrés Manuel López Obrador | 0.619678199 | 0.304170075 |
| 2021-02-08 00:00:00 | Andrés Manuel López Obrador | 0.62500338 | 0.283504172 |
| 2021-02-09 00:00:00 | Andrés Manuel López Obrador | 0.62259549 | 0.281631437 |
| 2021-02-10 00:00:00 | Andrés Manuel López Obrador | 0.62694439 | 0.281977434 |
| 2021-02-11 00:00:00 | Andrés Manuel López Obrador | 0.620944419 | 0.280112318 |
| 2021-02-12 00:00:00 | Andrés Manuel López Obrador | 0.613973567 | 0.277504072 |
| 2021-02-13 00:00:00 | Andrés Manuel López Obrador | 0.618579647 | 0.28008004 |
| 2021-02-14 00:00:00 | Andrés Manuel López Obrador | 0.622326672 | 0.282519301 |
| 2021-02-15 00:00:00 | Andrés Manuel López Obrador | 0.615773441 | 0.298035771 |
| 2021-02-16 00:00:00 | Andrés Manuel López Obrador | 0.613246366 | 0.300578556 |
| 2021-02-17 00:00:00 | Andrés Manuel López Obrador | 0.611657961 | 0.302374847 |
| 2021-02-18 00:00:00 | Andrés Manuel López Obrador | 0.623840745 | 0.295600389 |
| 2021-02-19 00:00:00 | Andrés Manuel López Obrador | 0.640580387 | 0.288783693 |
| 2021-02-20 00:00:00 | Andrés Manuel López Obrador | 0.636913937 | 0.28608826 |
| 2021-02-21 00:00:00 | Andrés Manuel López Obrador | 0.62845124 | 0.287678507 |
| 2021-02-22 00:00:00 | Andrés Manuel López Obrador | 0.634421636 | 0.284241955 |
| 2021-02-23 00:00:00 | Andrés Manuel López Obrador | 0.64363879 | 0.277645853 |
| 2021-02-24 00:00:00 | Andrés Manuel López Obrador | 0.646632751 | 0.267443078 |
| 2021-02-25 00:00:00 | Andrés Manuel López Obrador | 0.631839726 | 0.273361518 |
| 2021-02-26 00:00:00 | Andrés Manuel López Obrador | 0.619947883 | 0.279120834 |
| 2021-02-27 00:00:00 | Andrés Manuel López Obrador | 0.617876371 | 0.283926099 |
| 2021-02-28 00:00:00 | Andrés Manuel López Obrador | 0.616029979 | 0.28586692 |
| 2021-03-01 00:00:00 | Andrés Manuel López Obrador | 0.609617898 | 0.287113883 |
| 2021-03-02 00:00:00 | Andrés Manuel López Obrador | 0.597932098 | 0.297538666 |
| 2021-03-03 00:00:00 | Andrés Manuel López Obrador | 0.584382033 | 0.309951268 |
| 2021-03-04 00:00:00 | Andrés Manuel López Obrador | 0.58493234 | 0.310229094 |
| 2021-03-05 00:00:00 | Andrés Manuel López Obrador | 0.596595554 | 0.301276492 |
| 2021-03-06 00:00:00 | Andrés Manuel López Obrador | 0.599423936 | 0.299746427 |
| 2021-03-07 00:00:00 | Andrés Manuel López Obrador | 0.611800404 | 0.293889668 |
| 2021-03-08 00:00:00 | Andrés Manuel López Obrador | 0.62213422 | 0.289469521 |
| 2021-03-09 00:00:00 | Andrés Manuel López Obrador | 0.643555233 | 0.274325258 |
| 2021-03-10 00:00:00 | Andrés Manuel López Obrador | 0.646857517 | 0.270871305 |
| 2021-03-11 00:00:00 | Andrés Manuel López Obrador | 0.655126332 | 0.26813175 |
| 2021-03-12 00:00:00 | Andrés Manuel López Obrador | 0.642094227 | 0.276011895 |
| 2021-03-13 00:00:00 | Andrés Manuel López Obrador | 0.635365234 | 0.278821232 |
| 2021-03-14 00:00:00 | Andrés Manuel López Obrador | 0.631476356 | 0.280707892 |
| 2021-03-15 00:00:00 | Andrés Manuel López Obrador | 0.618113991 | 0.285833827 |
| 2021-03-16 00:00:00 | Andrés Manuel López Obrador | 0.607686456 | 0.296174506 |
| 2021-03-17 00:00:00 | Andrés Manuel López Obrador | 0.610344807 | 0.300001345 |
| 2021-03-18 00:00:00 | Andrés Manuel López Obrador | 0.59296728 | 0.310452117 |
| 2021-03-19 00:00:00 | Andrés Manuel López Obrador | 0.586994231 | 0.306688604 |
| 2021-03-20 00:00:00 | Andrés Manuel López Obrador | 0.595515833 | 0.302839544 |
| 2021-03-21 00:00:00 | Andrés Manuel López Obrador | 0.590983409 | 0.302317087 |
| 2021-03-22 00:00:00 | Andrés Manuel López Obrador | 0.591234677 | 0.294667678 |
| 2021-03-23 00:00:00 | Andrés Manuel López Obrador | 0.582653767 | 0.296075539 |
| 2021-03-24 00:00:00 | Andrés Manuel López Obrador | 0.575594942 | 0.295054678 |
| 2021-03-25 00:00:00 | Andrés Manuel López Obrador | 0.589238399 | 0.289384532 |
| 2021-03-26 00:00:00 | Andrés Manuel López Obrador | 0.594534619 | 0.291998108 |
| 2021-03-27 00:00:00 | Andrés Manuel López Obrador | 0.589062832 | 0.295929516 |
| 2021-03-28 00:00:00 | Andrés Manuel López Obrador | 0.584629697 | 0.299304404 |
| 2021-03-29 00:00:00 | Andrés Manuel López Obrador | 0.584627126 | 0.310139937 |
| 2021-03-30 00:00:00 | Andrés Manuel López Obrador | 0.585164682 | 0.306451499 |
| 2021-03-31 00:00:00 | Andrés Manuel López Obrador | 0.580718463 | 0.309960664 |
| 2021-04-01 00:00:00 | Andrés Manuel López Obrador | 0.588991039 | 0.301835193 |
| 2021-04-02 00:00:00 | Andrés Manuel López Obrador | 0.591162666 | 0.302208698 |
| 2021-04-03 00:00:00 | Andrés Manuel López Obrador | 0.598964193 | 0.296360526 |
| 2021-04-04 00:00:00 | Andrés Manuel López Obrador | 0.60964308 | 0.292119232 |
| 2021-04-05 00:00:00 | Andrés Manuel López Obrador | 0.612832347 | 0.289968244 |
| 2021-04-06 00:00:00 | Andrés Manuel López Obrador | 0.611184335 | 0.284284737 |
| 2021-04-07 00:00:00 | Andrés Manuel López Obrador | 0.626281951 | 0.279003469 |
| 2021-04-08 00:00:00 | Andrés Manuel López Obrador | 0.604882894 | 0.296149652 |
| 2021-04-09 00:00:00 | Andrés Manuel López Obrador | 0.598943551 | 0.299770002 |
| 2021-04-10 00:00:00 | Andrés Manuel López Obrador | 0.607144498 | 0.294076587 |
| 2021-04-11 00:00:00 | Andrés Manuel López Obrador | 0.587987854 | 0.31239422 |
| 2021-04-12 00:00:00 | Andrés Manuel López Obrador | 0.590134887 | 0.308270065 |
| 2021-04-13 00:00:00 | Andrés Manuel López Obrador | 0.593820343 | 0.311210682 |
| 2021-04-14 00:00:00 | Andrés Manuel López Obrador | 0.596135662 | 0.308545509 |
| 2021-04-15 00:00:00 | Andrés Manuel López Obrador | 0.610099684 | 0.295310768 |
| 2021-04-16 00:00:00 | Andrés Manuel López Obrador | 0.620297369 | 0.295909232 |
| 2021-04-17 00:00:00 | Andrés Manuel López Obrador | 0.601625625 | 0.309399204 |
| 2021-04-18 00:00:00 | Andrés Manuel López Obrador | 0.613172797 | 0.295575513 |
| 2021-04-19 00:00:00 | Andrés Manuel López Obrador | 0.623360814 | 0.29254171 |
| 2021-04-20 00:00:00 | Andrés Manuel López Obrador | 0.623750881 | 0.301083302 |
| 2021-04-21 00:00:00 | Andrés Manuel López Obrador | 0.608475519 | 0.311323171 |
| 2021-04-22 00:00:00 | Andrés Manuel López Obrador | 0.607263231 | 0.318375658 |
| 2021-04-23 00:00:00 | Andrés Manuel López Obrador | 0.610965708 | 0.307880434 |
| 2021-04-24 00:00:00 | Andrés Manuel López Obrador | 0.606747691 | 0.310523214 |
| 2021-04-25 00:00:00 | Andrés Manuel López Obrador | 0.605031458 | 0.313436667 |
| 2021-04-26 00:00:00 | Andrés Manuel López Obrador | 0.596759434 | 0.317579444 |
| 2021-04-27 00:00:00 | Andrés Manuel López Obrador | 0.589411 | 0.320242765 |
| 2021-04-28 00:00:00 | Andrés Manuel López Obrador | 0.60101386 | 0.308364393 |
| 2021-04-29 00:00:00 | Andrés Manuel López Obrador | 0.604220663 | 0.301936088 |
| 2021-04-30 00:00:00 | Andrés Manuel López Obrador | 0.602495352 | 0.307247985 |
| 2021-05-01 00:00:00 | Andrés Manuel López Obrador | 0.620600711 | 0.296251643 |
| 2021-05-02 00:00:00 | Andrés Manuel López Obrador | 0.624755172 | 0.297352243 |
| 2021-05-03 00:00:00 | Andrés Manuel López Obrador | 0.618726136 | 0.303651437 |
| 2021-05-04 00:00:00 | Andrés Manuel López Obrador | 0.635381763 | 0.291349158 |
| 2021-05-05 00:00:00 | Andrés Manuel López Obrador | 0.630742374 | 0.298533596 |
| 2021-05-06 00:00:00 | Andrés Manuel López Obrador | 0.628823764 | 0.297967738 |
| 2021-05-07 00:00:00 | Andrés Manuel López Obrador | 0.626197013 | 0.29747456 |
| 2021-05-08 00:00:00 | Andrés Manuel López Obrador | 0.62045385 | 0.29897899 |
| 2021-05-09 00:00:00 | Andrés Manuel López Obrador | 0.617624488 | 0.298869298 |
| 2021-05-10 00:00:00 | Andrés Manuel López Obrador | 0.621627065 | 0.292870371 |
| 2021-05-11 00:00:00 | Andrés Manuel López Obrador | 0.60296329 | 0.302961479 |
| 2021-05-12 00:00:00 | Andrés Manuel López Obrador | 0.600782148 | 0.305437846 |
| 2021-05-13 00:00:00 | Andrés Manuel López Obrador | 0.592351224 | 0.30968483 |
| 2021-05-14 00:00:00 | Andrés Manuel López Obrador | 0.574487776 | 0.327198882 |
| 2021-05-15 00:00:00 | Andrés Manuel López Obrador | 0.572094469 | 0.331722289 |
| 2021-05-16 00:00:00 | Andrés Manuel López Obrador | 0.56514125 | 0.338424432 |
| 2021-05-17 00:00:00 | Andrés Manuel López Obrador | 0.5633334 | 0.339960192 |
| 2021-05-18 00:00:00 | Andrés Manuel López Obrador | 0.572888335 | 0.333300066 |
| 2021-05-19 00:00:00 | Andrés Manuel López Obrador | 0.578763351 | 0.329913052 |
| 2021-05-20 00:00:00 | Andrés Manuel López Obrador | 0.585693267 | 0.32502769 |
| 2021-05-21 00:00:00 | Andrés Manuel López Obrador | 0.60253363 | 0.303213677 |
| 2021-05-22 00:00:00 | Andrés Manuel López Obrador | 0.605931814 | 0.295940648 |
| 2021-05-23 00:00:00 | Andrés Manuel López Obrador | 0.612778857 | 0.284946386 |
| 2021-05-24 00:00:00 | Andrés Manuel López Obrador | 0.625401294 | 0.279276083 |
| 2021-05-25 00:00:00 | Andrés Manuel López Obrador | 0.620744028 | 0.274454403 |
| 2021-05-26 00:00:00 | Andrés Manuel López Obrador | 0.614865086 | 0.275288029 |
| 2021-05-27 00:00:00 | Andrés Manuel López Obrador | 0.620942879 | 0.274328711 |
| 2021-05-28 00:00:00 | Andrés Manuel López Obrador | 0.621352545 | 0.280712354 |
| 2021-05-29 00:00:00 | Andrés Manuel López Obrador | 0.614585398 | 0.287342481 |
| 2021-05-30 00:00:00 | Andrés Manuel López Obrador | 0.61761347 | 0.291255064 |
| 2021-05-31 00:00:00 | Andrés Manuel López Obrador | 0.604837688 | 0.296189846 |
| 2021-06-01 00:00:00 | Andrés Manuel López Obrador | 0.618116422 | 0.302096594 |
| 2021-06-02 00:00:00 | Andrés Manuel López Obrador | 0.625653677 | 0.303750945 |
| 2021-06-03 00:00:00 | Andrés Manuel López Obrador | 0.628344009 | 0.302237823 |
| 2021-06-04 00:00:00 | Andrés Manuel López Obrador | 0.629395239 | 0.300441527 |
| 2021-06-05 00:00:00 | Andrés Manuel López Obrador | 0.628618078 | 0.30650955 |
| 2021-06-06 00:00:00 | Andrés Manuel López Obrador | 0.62131632 | 0.310042968 |
| 2021-06-07 00:00:00 | Andrés Manuel López Obrador | 0.632209109 | 0.303178784 |
| 2021-06-08 00:00:00 | Andrés Manuel López Obrador | 0.622558712 | 0.297822538 |
| 2021-06-09 00:00:00 | Andrés Manuel López Obrador | 0.622554124 | 0.287331228 |
| 2021-06-10 00:00:00 | Andrés Manuel López Obrador | 0.622144655 | 0.289410002 |
| 2021-06-11 00:00:00 | Andrés Manuel López Obrador | 0.627651736 | 0.281198308 |
| 2021-06-12 00:00:00 | Andrés Manuel López Obrador | 0.630017758 | 0.269339656 |
| 2021-06-13 00:00:00 | Andrés Manuel López Obrador | 0.631630521 | 0.26385568 |
| 2021-06-14 00:00:00 | Andrés Manuel López Obrador | 0.629145783 | 0.260141826 |
| 2021-06-15 00:00:00 | Andrés Manuel López Obrador | 0.626887247 | 0.268604075 |
| 2021-06-16 00:00:00 | Andrés Manuel López Obrador | 0.62139401 | 0.270354764 |
| 2021-06-17 00:00:00 | Andrés Manuel López Obrador | 0.624163866 | 0.267837307 |
| 2021-06-18 00:00:00 | Andrés Manuel López Obrador | 0.623118191 | 0.273027252 |
| 2021-06-19 00:00:00 | Andrés Manuel López Obrador | 0.633692547 | 0.27274831 |
| 2021-06-20 00:00:00 | Andrés Manuel López Obrador | 0.63268544 | 0.268653402 |
| 2021-06-21 00:00:00 | Andrés Manuel López Obrador | 0.631553273 | 0.269128377 |
| 2021-06-22 00:00:00 | Andrés Manuel López Obrador | 0.639807984 | 0.265218368 |
| 2021-06-23 00:00:00 | Andrés Manuel López Obrador | 0.641586046 | 0.266490438 |
| 2021-06-24 00:00:00 | Andrés Manuel López Obrador | 0.634516194 | 0.267022274 |
| 2021-06-25 00:00:00 | Andrés Manuel López Obrador | 0.64117729 | 0.260308068 |
| 2021-06-26 00:00:00 | Andrés Manuel López Obrador | 0.640589704 | 0.261384172 |
| 2021-06-27 00:00:00 | Andrés Manuel López Obrador | 0.66160875 | 0.249834726 |
| 2021-06-28 00:00:00 | Andrés Manuel López Obrador | 0.65708612 | 0.258819105 |
| 2021-06-29 00:00:00 | Andrés Manuel López Obrador | 0.6599104 | 0.256891452 |
| 2021-06-30 00:00:00 | Andrés Manuel López Obrador | 0.663879822 | 0.254303199 |
| 2021-07-01 00:00:00 | Andrés Manuel López Obrador | 0.668151071 | 0.252911944 |
| 2021-07-02 00:00:00 | Andrés Manuel López Obrador | 0.662397745 | 0.259611389 |
| 2021-07-03 00:00:00 | Andrés Manuel López Obrador | 0.659319452 | 0.261575842 |
| 2021-07-04 00:00:00 | Andrés Manuel López Obrador | 0.656634263 | 0.264632405 |
| 2021-07-05 00:00:00 | Andrés Manuel López Obrador | 0.665792385 | 0.257989872 |
| 2021-07-06 00:00:00 | Andrés Manuel López Obrador | 0.659014332 | 0.259532435 |
| 2021-07-07 00:00:00 | Andrés Manuel López Obrador | 0.661756292 | 0.264144312 |
| 2021-07-08 00:00:00 | Andrés Manuel López Obrador | 0.661552882 | 0.26581823 |
| 2021-07-09 00:00:00 | Andrés Manuel López Obrador | 0.65784084 | 0.26616005 |
| 2021-07-10 00:00:00 | Andrés Manuel López Obrador | 0.660124771 | 0.261700303 |
| 2021-07-11 00:00:00 | Andrés Manuel López Obrador | 0.652033147 | 0.264577322 |
| 2021-07-12 00:00:00 | Andrés Manuel López Obrador | 0.641440162 | 0.266440989 |
| 2021-07-13 00:00:00 | Andrés Manuel López Obrador | 0.638410191 | 0.265080256 |
| 2021-07-14 00:00:00 | Andrés Manuel López Obrador | 0.637059453 | 0.263197628 |
| 2021-07-15 00:00:00 | Andrés Manuel López Obrador | 0.631243445 | 0.25595424 |
| 2021-07-16 00:00:00 | Andrés Manuel López Obrador | 0.626044065 | 0.26168573 |
| 2021-07-17 00:00:00 | Andrés Manuel López Obrador | 0.625507545 | 0.26771621 |
| 2021-07-18 00:00:00 | Andrés Manuel López Obrador | 0.624874033 | 0.272250448 |
| 2021-07-19 00:00:00 | Andrés Manuel López Obrador | 0.637000596 | 0.267851046 |
| 2021-07-20 00:00:00 | Andrés Manuel López Obrador | 0.645027641 | 0.265428041 |
| 2021-07-21 00:00:00 | Andrés Manuel López Obrador | 0.654135387 | 0.257762624 |
| 2021-07-22 00:00:00 | Andrés Manuel López Obrador | 0.656713376 | 0.270867383 |
| 2021-07-23 00:00:00 | Andrés Manuel López Obrador | 0.66255982 | 0.271761304 |
| 2021-07-24 00:00:00 | Andrés Manuel López Obrador | 0.656215761 | 0.269954188 |
| 2021-07-25 00:00:00 | Andrés Manuel López Obrador | 0.656473948 | 0.267708069 |
| 2021-07-26 00:00:00 | Andrés Manuel López Obrador | 0.655820309 | 0.267172035 |
| 2021-07-27 00:00:00 | Andrés Manuel López Obrador | 0.648741141 | 0.272117246 |
| 2021-07-28 00:00:00 | Andrés Manuel López Obrador | 0.632633431 | 0.284267587 |
| 2021-07-29 00:00:00 | Andrés Manuel López Obrador | 0.639458429 | 0.272905881 |
| 2021-07-30 00:00:00 | Andrés Manuel López Obrador | 0.637997042 | 0.27345408 |
| 2021-07-31 00:00:00 | Andrés Manuel López Obrador | 0.633722166 | 0.277179321 |
| 2021-08-01 00:00:00 | Andrés Manuel López Obrador | 0.638984934 | 0.275208958 |
| 2021-08-02 00:00:00 | Andrés Manuel López Obrador | 0.63467147 | 0.27755358 |
| 2021-08-03 00:00:00 | Andrés Manuel López Obrador | 0.635026756 | 0.277308987 |
| 2021-08-04 00:00:00 | Andrés Manuel López Obrador | 0.653693698 | 0.263405114 |
| 2021-08-05 00:00:00 | Andrés Manuel López Obrador | 0.649556803 | 0.271744999 |
| 2021-08-06 00:00:00 | Andrés Manuel López Obrador | 0.655705514 | 0.262366676 |
| 2021-08-07 00:00:00 | Andrés Manuel López Obrador | 0.657337465 | 0.265269346 |
| 2021-08-08 00:00:00 | Andrés Manuel López Obrador | 0.650370686 | 0.269175416 |
| 2021-08-09 00:00:00 | Andrés Manuel López Obrador | 0.658010156 | 0.263729241 |
| 2021-08-10 00:00:00 | Andrés Manuel López Obrador | 0.654514686 | 0.274219878 |
| 2021-08-11 00:00:00 | Andrés Manuel López Obrador | 0.647803227 | 0.281081606 |
| 2021-08-12 00:00:00 | Andrés Manuel López Obrador | 0.647142386 | 0.278986196 |
| 2021-08-13 00:00:00 | Andrés Manuel López Obrador | 0.638280936 | 0.285125768 |
| 2021-08-14 00:00:00 | Andrés Manuel López Obrador | 0.633905619 | 0.280779945 |
| 2021-08-15 00:00:00 | Andrés Manuel López Obrador | 0.631519351 | 0.286562407 |
| 2021-08-16 00:00:00 | Andrés Manuel López Obrador | 0.624827396 | 0.297261363 |
| 2021-08-17 00:00:00 | Andrés Manuel López Obrador | 0.623521771 | 0.291848055 |
| 2021-08-18 00:00:00 | Andrés Manuel López Obrador | 0.604763448 | 0.304247301 |
| 2021-08-19 00:00:00 | Andrés Manuel López Obrador | 0.600052432 | 0.30881546 |
| 2021-08-20 00:00:00 | Andrés Manuel López Obrador | 0.607950303 | 0.299045172 |
| 2021-08-21 00:00:00 | Andrés Manuel López Obrador | 0.619029579 | 0.293563196 |
| 2021-08-22 00:00:00 | Andrés Manuel López Obrador | 0.624863739 | 0.284970488 |
| 2021-08-23 00:00:00 | Andrés Manuel López Obrador | 0.616995855 | 0.292229509 |
| 2021-08-24 00:00:00 | Andrés Manuel López Obrador | 0.620473232 | 0.291602548 |
| 2021-08-25 00:00:00 | Andrés Manuel López Obrador | 0.634979846 | 0.274679089 |
| 2021-08-26 00:00:00 | Andrés Manuel López Obrador | 0.642144893 | 0.270037469 |
| 2021-08-27 00:00:00 | Andrés Manuel López Obrador | 0.636363637 | 0.280275904 |
| 2021-08-28 00:00:00 | Andrés Manuel López Obrador | 0.650255892 | 0.272975056 |
| 2021-08-29 00:00:00 | Andrés Manuel López Obrador | 0.651328531 | 0.274792075 |
| 2021-08-30 00:00:00 | Andrés Manuel López Obrador | 0.650268006 | 0.269952728 |
| 2021-08-31 00:00:00 | Andrés Manuel López Obrador | 0.643803198 | 0.271484311 |
| 2021-09-01 00:00:00 | Andrés Manuel López Obrador | 0.638155853 | 0.281660149 |
| 2021-09-02 00:00:00 | Andrés Manuel López Obrador | 0.634902543 | 0.276325461 |
| 2021-09-03 00:00:00 | Andrés Manuel López Obrador | 0.634324833 | 0.271262092 |
| 2021-09-04 00:00:00 | Andrés Manuel López Obrador | 0.629154355 | 0.27858955 |
| 2021-09-05 00:00:00 | Andrés Manuel López Obrador | 0.629027899 | 0.277142821 |
| 2021-09-06 00:00:00 | Andrés Manuel López Obrador | 0.646004617 | 0.269299021 |
| 2021-09-07 00:00:00 | Andrés Manuel López Obrador | 0.654018173 | 0.26302262 |
| 2021-09-08 00:00:00 | Andrés Manuel López Obrador | 0.655517941 | 0.257355367 |
| 2021-09-09 00:00:00 | Andrés Manuel López Obrador | 0.655356681 | 0.26504296 |
| 2021-09-10 00:00:00 | Andrés Manuel López Obrador | 0.665199841 | 0.260544886 |
| 2021-09-11 00:00:00 | Andrés Manuel López Obrador | 0.652738861 | 0.264937156 |
| 2021-09-12 00:00:00 | Andrés Manuel López Obrador | 0.65471742 | 0.265788304 |
| 2021-09-13 00:00:00 | Andrés Manuel López Obrador | 0.645599716 | 0.273788973 |
| 2021-09-14 00:00:00 | Andrés Manuel López Obrador | 0.649429094 | 0.277548799 |
| 2021-09-15 00:00:00 | Andrés Manuel López Obrador | 0.648654798 | 0.285437481 |
| 2021-09-16 00:00:00 | Andrés Manuel López Obrador | 0.651006906 | 0.281009362 |
| 2021-09-17 00:00:00 | Andrés Manuel López Obrador | 0.651106914 | 0.288703409 |
| 2021-09-18 00:00:00 | Andrés Manuel López Obrador | 0.652839778 | 0.288351035 |
| 2021-09-19 00:00:00 | Andrés Manuel López Obrador | 0.652813361 | 0.288090848 |
| 2021-09-20 00:00:00 | Andrés Manuel López Obrador | 0.65790586 | 0.28008873 |
| 2021-09-21 00:00:00 | Andrés Manuel López Obrador | 0.65145899111218 | 0.27987729462603 |
| 2021-09-22 00:00:00 | Andrés Manuel López Obrador | 0.65746026228991 | 0.27137048191297 |
| 2021-09-23 00:00:00 | Andrés Manuel López Obrador | 0.64027522347499 | 0.28428075491767 |
| 2021-09-24 00:00:00 | Andrés Manuel López Obrador | 0.62675705246904 | 0.2885883301251 |
| 2021-09-25 00:00:00 | Andrés Manuel López Obrador | 0.62661551077038 | 0.28447314450903 |
| 2021-09-26 00:00:00 | Andrés Manuel López Obrador | 0.62111780216116 | 0.2849490401422 |
| 2021-09-27 00:00:00 | Andrés Manuel López Obrador | 0.61141270998521 | 0.29465661159096 |
| 2021-09-28 00:00:00 | Andrés Manuel López Obrador | 0.61713171457204 | 0.29501196565871 |
| 2021-09-29 00:00:00 | Andrés Manuel López Obrador | 0.61378746653483 | 0.29988813562971 |
| 2021-09-30 00:00:00 | Andrés Manuel López Obrador | 0.62783835111017 | 0.29093171823986 |
| 2021-10-01 00:00:00 | Andrés Manuel López Obrador | 0.64000264330839 | 0.28658064755623 |
| 2021-10-02 00:00:00 | Andrés Manuel López Obrador | 0.65109267961684 | 0.28500762671994 |
| 2021-10-03 00:00:00 | Andrés Manuel López Obrador | 0.6531040598333 | 0.287770470365 |
| 2021-10-04 00:00:00 | Andrés Manuel López Obrador | 0.66361900145999 | 0.27215955764472 |
| 2021-10-05 00:00:00 | Andrés Manuel López Obrador | 0.66546121913426 | 0.26986215307031 |
| 2021-10-06 00:00:00 | Andrés Manuel López Obrador | 0.67198263149148 | 0.26448009536504 |
| 2021-10-07 00:00:00 | Andrés Manuel López Obrador | 0.65297235950111 | 0.27630178555062 |
| 2021-10-08 00:00:00 | Andrés Manuel López Obrador | 0.64946914001495 | 0.27111306943589 |
| 2021-10-09 00:00:00 | Andrés Manuel López Obrador | 0.63758178441245 | 0.27676126309844 |
| 2021-10-10 00:00:00 | Andrés Manuel López Obrador | 0.6354864975971 | 0.27867413983671 |
| 2021-10-11 00:00:00 | Andrés Manuel López Obrador | 0.62827177251239 | 0.29199256475216 |
| 2021-10-12 00:00:00 | Andrés Manuel López Obrador | 0.63068948003578 | 0.28246978180648 |
| 2021-10-13 00:00:00 | Andrés Manuel López Obrador | 0.62768971405786 | 0.28297344071316 |
| 2021-10-14 00:00:00 | Andrés Manuel López Obrador | 0.64247287705668 | 0.27036819545256 |
| 2021-10-15 00:00:00 | Andrés Manuel López Obrador | 0.64963422418292 | 0.27143565578949 |
| 2021-10-16 00:00:00 | Andrés Manuel López Obrador | 0.64669894430472 | 0.27370840851659 |
| 2021-10-17 00:00:00 | Andrés Manuel López Obrador | 0.64973900024863 | 0.26353293508089 |
| 2021-10-18 00:00:00 | Andrés Manuel López Obrador | 0.65011266399616 | 0.25917118737782 |
| 2021-10-19 00:00:00 | Andrés Manuel López Obrador | 0.64901227180157 | 0.26486381368423 |
| 2021-10-20 00:00:00 | Andrés Manuel López Obrador | 0.65101720916073 | 0.26825567516569 |
| 2021-10-21 00:00:00 | Andrés Manuel López Obrador | 0.65602369588819 | 0.26666693081961 |
| 2021-10-22 00:00:00 | Andrés Manuel López Obrador | 0.6571491697522 | 0.25706514298903 |
| 2021-10-23 00:00:00 | Andrés Manuel López Obrador | 0.66599054913712 | 0.24891116591586 |
| 2021-10-24 00:00:00 | Andrés Manuel López Obrador | 0.6607775090645 | 0.25851866407941 |
| 2021-10-25 00:00:00 | Andrés Manuel López Obrador | 0.66521879233916 | 0.2504493754085 |
| 2021-10-26 00:00:00 | Andrés Manuel López Obrador | 0.66889524283571 | 0.25350492718967 |
| 2021-10-27 00:00:00 | Andrés Manuel López Obrador | 0.67917324150023 | 0.24301002084256 |
| 2021-10-28 00:00:00 | Andrés Manuel López Obrador | 0.66788051728114 | 0.24811953039352 |
| 2021-10-29 00:00:00 | Andrés Manuel López Obrador | 0.66000368165922 | 0.26119268759357 |
| 2021-10-30 00:00:00 | Andrés Manuel López Obrador | 0.66494156763045 | 0.25423386819625 |
| 2021-10-31 00:00:00 | Andrés Manuel López Obrador | 0.66680423441692 | 0.25616977687649 |
| 2021-11-01 00:00:00 | Andrés Manuel López Obrador | 0.67540352918826 | 0.25284648584621 |
| 2021-11-02 00:00:00 | Andrés Manuel López Obrador | 0.66070848605048 | 0.25340082497133 |
| 2021-11-03 00:00:00 | Andrés Manuel López Obrador | 0.64406343935302 | 0.26493406177767 |
| 2021-11-04 00:00:00 | Andrés Manuel López Obrador | 0.65385455148519 | 0.26170800971893 |
| 2021-11-05 00:00:00 | Andrés Manuel López Obrador | 0.65596747653045 | 0.25900797556468 |
| 2021-11-06 00:00:00 | Andrés Manuel López Obrador | 0.65034230892695 | 0.26051092597788 |
| 2021-11-07 00:00:00 | Andrés Manuel López Obrador | 0.6450945608645 | 0.26344576219721 |
| 2021-11-08 00:00:00 | Andrés Manuel López Obrador | 0.63203098122244 | 0.26937122864092 |
| 2021-11-09 00:00:00 | Andrés Manuel López Obrador | 0.64614562740999 | 0.26109238502722 |
| 2021-11-10 00:00:00 | Andrés Manuel López Obrador | 0.65440769069183 | 0.25185296565152 |
| 2021-11-11 00:00:00 | Andrés Manuel López Obrador | 0.65183921454729 | 0.25529733601333 |
| 2021-11-12 00:00:00 | Andrés Manuel López Obrador | 0.65250733790358 | 0.25624135301286 |
| 2021-11-13 00:00:00 | Andrés Manuel López Obrador | 0.65102272033475 | 0.26491022799246 |
| 2021-11-14 00:00:00 | Andrés Manuel López Obrador | 0.66071011197391 | 0.24982870518648 |
| 2021-11-15 00:00:00 | Andrés Manuel López Obrador | 0.66742667800891 | 0.25019565731495 |
| 2021-11-16 00:00:00 | Andrés Manuel López Obrador | 0.66856570321268 | 0.25210956012613 |
| 2021-11-17 00:00:00 | Andrés Manuel López Obrador | 0.67291741195325 | 0.25478097578764 |
| 2021-11-18 00:00:00 | Andrés Manuel López Obrador | 0.68021281822006 | 0.24394577993593 |
| 2021-11-19 00:00:00 | Andrés Manuel López Obrador | 0.68085389147362 | 0.24134012810381 |
| 2021-11-20 00:00:00 | Andrés Manuel López Obrador | 0.6894272234308 | 0.23660243610865 |
| 2021-11-21 00:00:00 | Andrés Manuel López Obrador | 0.68607682497459 | 0.24019600339249 |
| 2021-11-22 00:00:00 | Andrés Manuel López Obrador | 0.68484891533511 | 0.24196740668987 |
| 2021-11-23 00:00:00 | Andrés Manuel López Obrador | 0.67848992350817 | 0.24658202754284 |
| 2021-11-24 00:00:00 | Andrés Manuel López Obrador | 0.67469640767595 | 0.24939690706951 |
| 2021-11-25 00:00:00 | Andrés Manuel López Obrador | 0.66936310503497 | 0.25673626907873 |
| 2021-11-26 00:00:00 | Andrés Manuel López Obrador | 0.66193761152447 | 0.25831219814202 |
| 2021-11-27 00:00:00 | Andrés Manuel López Obrador | 0.66028523221656 | 0.25638417775751 |
| 2021-11-28 00:00:00 | Andrés Manuel López Obrador | 0.66906697600862 | 0.25313611055319 |
| 2021-11-29 00:00:00 | Andrés Manuel López Obrador | 0.66092762566816 | 0.25521640504055 |
| 2021-11-30 00:00:00 | Andrés Manuel López Obrador | 0.66815926398042 | 0.25083382023486 |
| 2021-12-01 00:00:00 | Andrés Manuel López Obrador | 0.66395811596548 | 0.25180039409372 |
| 2021-12-02 00:00:00 | Andrés Manuel López Obrador | 0.6627692962823 | 0.25114826017155 |
| 2021-12-03 00:00:00 | Andrés Manuel López Obrador | 0.66734168182233 | 0.24800620746085 |
| 2021-12-04 00:00:00 | Andrés Manuel López Obrador | 0.66486294227978 | 0.25214724386494 |
| 2021-12-05 00:00:00 | Andrés Manuel López Obrador | 0.66427971621579 | 0.25257476790291 |
| 2021-12-06 00:00:00 | Andrés Manuel López Obrador | 0.6695362306275 | 0.25636144669809 |
| 2021-12-07 00:00:00 | Andrés Manuel López Obrador | 0.66064600547089 | 0.26266410701965 |
| 2021-12-08 00:00:00 | Andrés Manuel López Obrador | 0.66029315388337 | 0.26118118235966 |
| 2021-12-09 00:00:00 | Andrés Manuel López Obrador | 0.67652925980891 | 0.249488208239 |
| 2021-12-10 00:00:00 | Andrés Manuel López Obrador | 0.68347446830384 | 0.2454855661845 |
| 2021-12-11 00:00:00 | Andrés Manuel López Obrador | 0.67897224083442 | 0.24783394537651 |
| 2021-12-12 00:00:00 | Andrés Manuel López Obrador | 0.67105671502212 | 0.25680664333146 |
| 2021-12-13 00:00:00 | Andrés Manuel López Obrador | 0.67646375975188 | 0.24534920244248 |
| 2021-12-14 00:00:00 | Andrés Manuel López Obrador | 0.68827850465171 | 0.235223521078 |
| 2021-12-15 00:00:00 | Andrés Manuel López Obrador | 0.68709966735794 | 0.23770562253338 |
| 2021-12-16 00:00:00 | Andrés Manuel López Obrador | 0.67564333817454 | 0.24591350708364 |
| 2021-12-17 00:00:00 | Andrés Manuel López Obrador | 0.67432044840727 | 0.24910874020195 |
| 2021-12-18 00:00:00 | Andrés Manuel López Obrador | 0.67787894016243 | 0.24769019017526 |
| 2021-12-19 00:00:00 | Andrés Manuel López Obrador | 0.68109895299752 | 0.24414248162742 |
| 2021-12-20 00:00:00 | Andrés Manuel López Obrador | 0.67318233469046 | 0.25094623350689 |
| 2021-12-21 00:00:00 | Andrés Manuel López Obrador | 0.67006568961339 | 0.2532714811015 |
| 2021-12-22 00:00:00 | Andrés Manuel López Obrador | 0.66971884235523 | 0.24965553552632 |
| 2021-12-23 00:00:00 | Andrés Manuel López Obrador | 0.67838800422745 | 0.24647574151538 |
| 2021-12-24 00:00:00 | Andrés Manuel López Obrador | 0.67234023890481 | 0.25123237894786 |
| 2021-12-25 00:00:00 | Andrés Manuel López Obrador | 0.66989390522162 | 0.25082370250967 |
| 2021-12-26 00:00:00 | Andrés Manuel López Obrador | 0.6700506586368 | 0.2488189451933 |
| 2021-12-27 00:00:00 | Andrés Manuel López Obrador | 0.66929707822025 | 0.25074776862354 |
| 2021-12-28 00:00:00 | Andrés Manuel López Obrador | 0.67592849166104 | 0.24701248358643 |
| 2021-12-29 00:00:00 | Andrés Manuel López Obrador | 0.67362236315423 | 0.2505788306221 |
| 2021-12-30 00:00:00 | Andrés Manuel López Obrador | 0.66329422836842 | 0.25899969714979 |
| 2021-12-31 00:00:00 | Andrés Manuel López Obrador | 0.67264496469264 | 0.25144147734382 |
| 2022-01-01 00:00:00 | Andrés Manuel López Obrador | 0.67771935801412 | 0.24475223655021 |
| 2022-01-02 00:00:00 | Andrés Manuel López Obrador | 0.6791674088378 | 0.24492332835997 |
| 2022-01-03 00:00:00 | Andrés Manuel López Obrador | 0.67141034688266 | 0.25582088429231 |
| 2022-01-04 00:00:00 | Andrés Manuel López Obrador | 0.65574615125966 | 0.26293194076891 |
| 2022-01-05 00:00:00 | Andrés Manuel López Obrador | 0.66142137616586 | 0.25896701778968 |
| 2022-01-06 00:00:00 | Andrés Manuel López Obrador | 0.66486139577518 | 0.25721823329175 |
| 2022-01-07 00:00:00 | Andrés Manuel López Obrador | 0.6549514254453 | 0.26780693772026 |
| 2022-01-08 00:00:00 | Andrés Manuel López Obrador | 0.64843023872522 | 0.27897045747674 |
| 2022-01-09 00:00:00 | Andrés Manuel López Obrador | 0.6533214223677 | 0.2743392567509 |
| 2022-01-10 00:00:00 | Andrés Manuel López Obrador | 0.66904040316572 | 0.26233713193714 |
| 2022-01-11 00:00:00 | Andrés Manuel López Obrador | 0.67204153690646 | 0.25700556391302 |
| 2022-01-12 00:00:00 | Andrés Manuel López Obrador | 0.6663475056753 | 0.26429325618708 |
| 2022-01-13 00:00:00 | Andrés Manuel López Obrador | 0.66414200196454 | 0.2608377521404 |
| 2022-01-14 00:00:00 | Andrés Manuel López Obrador | 0.66838670423984 | 0.25694252231289 |
| 2022-01-15 00:00:00 | Andrés Manuel López Obrador | 0.66327243856182 | 0.25990537346312 |
| 2022-01-16 00:00:00 | Andrés Manuel López Obrador | 0.65211892605017 | 0.26406600295941 |
| 2022-01-17 00:00:00 | Andrés Manuel López Obrador | 0.65313287193572 | 0.26041670572793 |
| 2022-01-18 00:00:00 | Andrés Manuel López Obrador | 0.65960458212273 | 0.2601424042077 |
| 2022-01-19 00:00:00 | Andrés Manuel López Obrador | 0.65513294129285 | 0.25776581417085 |
| 2022-01-20 00:00:00 | Andrés Manuel López Obrador | 0.6550500919471 | 0.25433148767641 |
| 2022-01-21 00:00:00 | Andrés Manuel López Obrador | 0.65862744941084 | 0.25143245099458 |
| 2022-01-22 00:00:00 | Andrés Manuel López Obrador | 0.67251243935404 | 0.23896869284436 |
| 2022-01-23 00:00:00 | Andrés Manuel López Obrador | 0.67786171486098 | 0.24337661936549 |
| 2022-01-24 00:00:00 | Andrés Manuel López Obrador | 0.67919120618978 | 0.23984179655237 |
| 2022-01-25 00:00:00 | Andrés Manuel López Obrador | 0.67829231523156 | 0.24341248970151 |
| 2022-01-26 00:00:00 | Andrés Manuel López Obrador | 0.68641586497902 | 0.23833567994927 |
| 2022-01-27 00:00:00 | Andrés Manuel López Obrador | 0.68815843036953 | 0.23792901584483 |
| 2022-01-28 00:00:00 | Andrés Manuel López Obrador | 0.68145367606235 | 0.23966283672058 |
| 2022-01-29 00:00:00 | Andrés Manuel López Obrador | 0.66590098119923 | 0.24581752692829 |
| 2022-01-30 00:00:00 | Andrés Manuel López Obrador | 0.6727306442746 | 0.23625412741946 |
| 2022-01-31 00:00:00 | Andrés Manuel López Obrador | 0.65538430065925 | 0.2472342652916 |
| 2022-02-01 00:00:00 | Andrés Manuel López Obrador | 0.6406322361932 | 0.25798536759863 |
| 2022-02-02 00:00:00 | Andrés Manuel López Obrador | 0.64880671418528 | 0.2552128102555 |
| 2022-02-03 00:00:00 | Andrés Manuel López Obrador | 0.64856434806096 | 0.2571122527505 |
| 2022-02-04 00:00:00 | Andrés Manuel López Obrador | 0.64823384890487 | 0.25407338937251 |
| 2022-02-05 00:00:00 | Andrés Manuel López Obrador | 0.65309531501544 | 0.25300943854154 |
| 2022-02-06 00:00:00 | Andrés Manuel López Obrador | 0.65135748538764 | 0.25919838165903 |
| 2022-02-07 00:00:00 | Andrés Manuel López Obrador | 0.66196592801301 | 0.25830744285724 |
| 2022-02-08 00:00:00 | Andrés Manuel López Obrador | 0.67102425644004 | 0.2469100687609 |
| 2022-02-09 00:00:00 | Andrés Manuel López Obrador | 0.66958390054518 | 0.24963780207814 |
| 2022-02-10 00:00:00 | Andrés Manuel López Obrador | 0.66271888816314 | 0.26117291506856 |
| 2022-02-11 00:00:00 | Andrés Manuel López Obrador | 0.66354260344515 | 0.26741956585185 |
| 2022-02-12 00:00:00 | Andrés Manuel López Obrador | 0.66325330707997 | 0.26854229006229 |
| 2022-02-13 00:00:00 | Andrés Manuel López Obrador | 0.65742734760464 | 0.26956799069682 |
| 2022-02-14 00:00:00 | Andrés Manuel López Obrador | 0.65310021790219 | 0.26419261397634 |
| 2022-02-15 00:00:00 | Andrés Manuel López Obrador | 0.64654656447144 | 0.27122343122597 |
| 2022-02-16 00:00:00 | Andrés Manuel López Obrador | 0.64070494907161 | 0.27575241155373 |
| 2021-12-08 00:00:00 | Olaf Scholz | 0.40919326806759 | 0.28514706973928 |
| 2021-12-09 00:00:00 | Olaf Scholz | 0.41839211169104 | 0.25307376548833 |
| 2021-12-10 00:00:00 | Olaf Scholz | 0.40859517503089 | 0.27102823074452 |
| 2021-12-11 00:00:00 | Olaf Scholz | 0.40818916919784 | 0.28436455565109 |
| 2021-12-12 00:00:00 | Olaf Scholz | 0.41614496471842 | 0.28698955767405 |
| 2021-12-13 00:00:00 | Olaf Scholz | 0.41616995393027 | 0.29491108147981 |
| 2021-12-14 00:00:00 | Olaf Scholz | 0.41780066254283 | 0.29502186390337 |
| 2021-12-15 00:00:00 | Olaf Scholz | 0.42273462906584 | 0.29869057244262 |
| 2021-12-16 00:00:00 | Olaf Scholz | 0.42697237823586 | 0.31113395569851 |
| 2021-12-17 00:00:00 | Olaf Scholz | 0.43636978814357 | 0.3144735539339 |
| 2021-12-18 00:00:00 | Olaf Scholz | 0.4437591365308 | 0.31254683919033 |
| 2021-12-19 00:00:00 | Olaf Scholz | 0.4478522545593 | 0.31402527453033 |
| 2021-12-20 00:00:00 | Olaf Scholz | 0.45366557129981 | 0.31060178180155 |
| 2021-12-21 00:00:00 | Olaf Scholz | 0.45962318725128 | 0.31755166259935 |
| 2021-12-22 00:00:00 | Olaf Scholz | 0.45658664096214 | 0.32170280372037 |
| 2021-12-23 00:00:00 | Olaf Scholz | 0.45614505790504 | 0.32672091445267 |
| 2021-12-24 00:00:00 | Olaf Scholz | 0.45046793799891 | 0.33640839486835 |
| 2021-12-25 00:00:00 | Olaf Scholz | 0.45290992047285 | 0.33957207544146 |
| 2021-12-26 00:00:00 | Olaf Scholz | 0.45137692535055 | 0.34151207239763 |
| 2021-12-27 00:00:00 | Olaf Scholz | 0.45149296606194 | 0.34566961087518 |
| 2021-12-28 00:00:00 | Olaf Scholz | 0.45345558806444 | 0.34228472552715 |
| 2021-12-29 00:00:00 | Olaf Scholz | 0.46020520240703 | 0.3417762741083 |
| 2021-12-30 00:00:00 | Olaf Scholz | 0.46325259254254 | 0.33690489826904 |
| 2021-12-31 00:00:00 | Olaf Scholz | 0.46437026003406 | 0.33529465002132 |
| 2022-01-01 00:00:00 | Olaf Scholz | 0.45890479229278 | 0.34086774406227 |
| 2022-01-02 00:00:00 | Olaf Scholz | 0.46012609926346 | 0.34232172680322 |
| 2022-01-03 00:00:00 | Olaf Scholz | 0.46669542793298 | 0.3416449085501 |
| 2022-01-04 00:00:00 | Olaf Scholz | 0.46265947592443 | 0.34959960738349 |
| 2022-01-05 00:00:00 | Olaf Scholz | 0.46150362143993 | 0.34617349474505 |
| 2022-01-06 00:00:00 | Olaf Scholz | 0.46014036042728 | 0.34844485729661 |
| 2022-01-07 00:00:00 | Olaf Scholz | 0.46559874110731 | 0.34793130493533 |
| 2022-01-08 00:00:00 | Olaf Scholz | 0.47417878141918 | 0.34824574262369 |
| 2022-01-09 00:00:00 | Olaf Scholz | 0.47292642077422 | 0.35587310159972 |
| 2022-01-10 00:00:00 | Olaf Scholz | 0.46358014079558 | 0.36327444568958 |
| 2022-01-11 00:00:00 | Olaf Scholz | 0.46518976496424 | 0.36305536726204 |
| 2022-01-12 00:00:00 | Olaf Scholz | 0.46100619601832 | 0.37628313723674 |
| 2022-01-13 00:00:00 | Olaf Scholz | 0.45599049532742 | 0.38332813597875 |
| 2022-01-14 00:00:00 | Olaf Scholz | 0.452635884739 | 0.38764111872669 |
| 2022-01-15 00:00:00 | Olaf Scholz | 0.44576265862312 | 0.39537032232609 |
| 2022-01-16 00:00:00 | Olaf Scholz | 0.44364578487134 | 0.39691688210413 |
| 2022-01-17 00:00:00 | Olaf Scholz | 0.44500749667439 | 0.40183654111818 |
| 2022-01-18 00:00:00 | Olaf Scholz | 0.44455032400024 | 0.40326943003873 |
| 2022-01-19 00:00:00 | Olaf Scholz | 0.4441385551163 | 0.39939557161792 |
| 2022-01-20 00:00:00 | Olaf Scholz | 0.44526385837165 | 0.40201308368024 |
| 2022-01-21 00:00:00 | Olaf Scholz | 0.44421240436697 | 0.4065738731786 |
| 2022-01-22 00:00:00 | Olaf Scholz | 0.44184862795825 | 0.41196036370226 |
| 2022-01-23 00:00:00 | Olaf Scholz | 0.44489137833739 | 0.41841657341575 |
| 2022-01-24 00:00:00 | Olaf Scholz | 0.44407113621327 | 0.42020737009854 |
| 2022-01-25 00:00:00 | Olaf Scholz | 0.43812969043814 | 0.42649310345658 |
| 2022-01-26 00:00:00 | Olaf Scholz | 0.43847163814492 | 0.43215581485715 |
| 2022-01-27 00:00:00 | Olaf Scholz | 0.43320839088939 | 0.4422877374329 |
| 2022-01-28 00:00:00 | Olaf Scholz | 0.42780503663306 | 0.45092267298259 |
| 2022-01-29 00:00:00 | Olaf Scholz | 0.4254665804057 | 0.45505124297216 |
| 2022-01-30 00:00:00 | Olaf Scholz | 0.41987988005819 | 0.458236847708 |
| 2022-01-31 00:00:00 | Olaf Scholz | 0.42031007349017 | 0.46200220241593 |
| 2022-02-01 00:00:00 | Olaf Scholz | 0.41702802406222 | 0.46488006735217 |
| 2022-02-02 00:00:00 | Olaf Scholz | 0.41616303654972 | 0.4686606256911 |
| 2022-02-03 00:00:00 | Olaf Scholz | 0.41542342922362 | 0.46714527713322 |
| 2022-02-04 00:00:00 | Olaf Scholz | 0.41460904321062 | 0.46932805006662 |
| 2022-02-05 00:00:00 | Olaf Scholz | 0.40807150760388 | 0.47551653954047 |
| 2022-02-06 00:00:00 | Olaf Scholz | 0.40045281636073 | 0.48297027019861 |
| 2022-02-07 00:00:00 | Olaf Scholz | 0.39127393564163 | 0.4860586106392 |
| 2022-02-08 00:00:00 | Olaf Scholz | 0.38257901103049 | 0.5003986780619 |
| 2022-02-09 00:00:00 | Olaf Scholz | 0.37668343069886 | 0.50498529874353 |
| 2022-02-10 00:00:00 | Olaf Scholz | 0.37561273718153 | 0.50950297205829 |
| 2022-02-11 00:00:00 | Olaf Scholz | 0.37390749698671 | 0.5082096552153 |
| 2022-02-12 00:00:00 | Olaf Scholz | 0.37519946497429 | 0.50901754350202 |
| 2022-02-13 00:00:00 | Olaf Scholz | 0.37579915847851 | 0.51085121599591 |
| 2022-02-14 00:00:00 | Olaf Scholz | 0.37954743793364 | 0.51198499653387 |
| 2022-02-15 00:00:00 | Olaf Scholz | 0.3896824770213 | 0.5020351160646 |
| 2022-02-16 00:00:00 | Olaf Scholz | 0.39837453648169 | 0.49126690040014 |
| 2020-03-06 00:00:00 | Emmanuel Macron | 0.2385789601194 | 0.67686870267341 |
| 2020-03-07 00:00:00 | Emmanuel Macron | 0.23762517673061 | 0.68051322263137 |
| 2020-03-08 00:00:00 | Emmanuel Macron | 0.24589513707749 | 0.67690768676791 |
| 2020-03-09 00:00:00 | Emmanuel Macron | 0.25116849754262 | 0.67170032757903 |
| 2020-03-10 00:00:00 | Emmanuel Macron | 0.25140388394319 | 0.6725488623065 |
| 2020-03-11 00:00:00 | Emmanuel Macron | 0.25883045347752 | 0.66422738563684 |
| 2020-03-12 00:00:00 | Emmanuel Macron | 0.26210069440637 | 0.66287547231123 |
| 2020-03-13 00:00:00 | Emmanuel Macron | 0.26197098399669 | 0.66495633055075 |
| 2020-03-14 00:00:00 | Emmanuel Macron | 0.27796302702474 | 0.64768194229415 |
| 2020-03-15 00:00:00 | Emmanuel Macron | 0.27647532737371 | 0.64733781784676 |
| 2020-03-16 00:00:00 | Emmanuel Macron | 0.28401427410215 | 0.64276737184043 |
| 2020-03-17 00:00:00 | Emmanuel Macron | 0.29301927636661 | 0.63100624030743 |
| 2020-03-18 00:00:00 | Emmanuel Macron | 0.3058674718299 | 0.61760844262621 |
| 2020-03-19 00:00:00 | Emmanuel Macron | 0.31620183032225 | 0.60265344191675 |
| 2020-03-20 00:00:00 | Emmanuel Macron | 0.33022156795369 | 0.59092273496651 |
| 2020-03-21 00:00:00 | Emmanuel Macron | 0.33772366200576 | 0.5838102302829 |
| 2020-03-22 00:00:00 | Emmanuel Macron | 0.34978473204583 | 0.57575786050077 |
| 2020-03-23 00:00:00 | Emmanuel Macron | 0.35355926937188 | 0.5718244784024 |
| 2020-03-24 00:00:00 | Emmanuel Macron | 0.35437527997927 | 0.57447713820222 |
| 2020-03-25 00:00:00 | Emmanuel Macron | 0.35093740670715 | 0.57916559925228 |
| 2020-03-26 00:00:00 | Emmanuel Macron | 0.34915747223696 | 0.58284163159861 |
| 2020-03-27 00:00:00 | Emmanuel Macron | 0.34138587510106 | 0.59334464045394 |
| 2020-03-28 00:00:00 | Emmanuel Macron | 0.33261611804607 | 0.60390337421003 |
| 2020-03-29 00:00:00 | Emmanuel Macron | 0.32514908036173 | 0.6007700434809 |
| 2020-03-30 00:00:00 | Emmanuel Macron | 0.33126606277468 | 0.59281764320815 |
| 2020-03-31 00:00:00 | Emmanuel Macron | 0.33379719331725 | 0.58068991738741 |
| 2020-04-01 00:00:00 | Emmanuel Macron | 0.33804671096432 | 0.56927957500837 |
| 2020-04-02 00:00:00 | Emmanuel Macron | 0.34362251392568 | 0.56430805100603 |
| 2020-04-03 00:00:00 | Emmanuel Macron | 0.34358786205077 | 0.55404699161202 |
| 2020-04-04 00:00:00 | Emmanuel Macron | 0.35033424113931 | 0.54471234062093 |
| 2020-04-05 00:00:00 | Emmanuel Macron | 0.36354369551262 | 0.53709974942647 |
| 2020-04-06 00:00:00 | Emmanuel Macron | 0.3586595913353 | 0.54316680366712 |
| 2020-04-07 00:00:00 | Emmanuel Macron | 0.36029458780652 | 0.54738468056633 |
| 2020-04-08 00:00:00 | Emmanuel Macron | 0.3571991945096 | 0.55929834858754 |
| 2020-04-09 00:00:00 | Emmanuel Macron | 0.35641383339092 | 0.56017930787208 |
| 2020-04-10 00:00:00 | Emmanuel Macron | 0.3598095606476 | 0.56037527231182 |
| 2020-04-11 00:00:00 | Emmanuel Macron | 0.35364019253256 | 0.56935571317172 |
| 2020-04-12 00:00:00 | Emmanuel Macron | 0.34388969978255 | 0.58282444565668 |
| 2020-04-13 00:00:00 | Emmanuel Macron | 0.34555191003438 | 0.58178549176769 |
| 2020-04-14 00:00:00 | Emmanuel Macron | 0.35518298296913 | 0.57306067446564 |
| 2020-04-15 00:00:00 | Emmanuel Macron | 0.35959533131382 | 0.56675293660191 |
| 2020-04-16 00:00:00 | Emmanuel Macron | 0.3592645784365 | 0.56828502641868 |
| 2020-04-17 00:00:00 | Emmanuel Macron | 0.36345411432575 | 0.57226572076977 |
| 2020-04-18 00:00:00 | Emmanuel Macron | 0.36193772832334 | 0.57186658633554 |
| 2020-04-19 00:00:00 | Emmanuel Macron | 0.36875861803282 | 0.56168043295625 |
| 2020-04-20 00:00:00 | Emmanuel Macron | 0.3708918699646 | 0.55855778775144 |
| 2020-04-21 00:00:00 | Emmanuel Macron | 0.35400261105464 | 0.57765975442872 |
| 2020-04-22 00:00:00 | Emmanuel Macron | 0.34846752585692 | 0.58001407152721 |
| 2020-04-23 00:00:00 | Emmanuel Macron | 0.34115109993524 | 0.58433591850371 |
| 2020-04-24 00:00:00 | Emmanuel Macron | 0.33797193928514 | 0.57942556365705 |
| 2020-04-25 00:00:00 | Emmanuel Macron | 0.34181760537792 | 0.57418541625333 |
| 2020-04-26 00:00:00 | Emmanuel Macron | 0.3356778140117 | 0.58341318460639 |
| 2020-04-27 00:00:00 | Emmanuel Macron | 0.32847430712471 | 0.59248776910448 |
| 2020-04-28 00:00:00 | Emmanuel Macron | 0.33769528373509 | 0.58622295223547 |
| 2020-04-29 00:00:00 | Emmanuel Macron | 0.33233673841842 | 0.59484464195515 |
| 2020-04-30 00:00:00 | Emmanuel Macron | 0.33785306539393 | 0.5930819546966 |
| 2020-05-01 00:00:00 | Emmanuel Macron | 0.33545060153246 | 0.59952420677936 |
| 2020-05-02 00:00:00 | Emmanuel Macron | 0.34314943323866 | 0.59816545201539 |
| 2020-05-03 00:00:00 | Emmanuel Macron | 0.34201399431514 | 0.60063450420294 |
| 2020-05-04 00:00:00 | Emmanuel Macron | 0.34450650923743 | 0.60089030264973 |
| 2020-05-05 00:00:00 | Emmanuel Macron | 0.34226242715522 | 0.59993682669313 |
| 2020-05-06 00:00:00 | Emmanuel Macron | 0.34851128090832 | 0.59177627362592 |
| 2020-05-07 00:00:00 | Emmanuel Macron | 0.35416363488219 | 0.58294617748017 |
| 2020-05-08 00:00:00 | Emmanuel Macron | 0.35266984904586 | 0.57966070959925 |
| 2020-05-09 00:00:00 | Emmanuel Macron | 0.35446615536657 | 0.57587136136074 |
| 2020-05-10 00:00:00 | Emmanuel Macron | 0.35313561193788 | 0.57230758950579 |
| 2020-05-11 00:00:00 | Emmanuel Macron | 0.34861695338199 | 0.57197004164434 |
| 2020-05-12 00:00:00 | Emmanuel Macron | 0.34505148446912 | 0.57362895684504 |
| 2020-05-13 00:00:00 | Emmanuel Macron | 0.33886754274918 | 0.57904005716155 |
| 2020-05-14 00:00:00 | Emmanuel Macron | 0.33382515786769 | 0.58363521812082 |
| 2020-05-15 00:00:00 | Emmanuel Macron | 0.33773686483055 | 0.58299253852367 |
| 2020-05-16 00:00:00 | Emmanuel Macron | 0.3194812217195 | 0.59866464035129 |
| 2020-05-17 00:00:00 | Emmanuel Macron | 0.32275122522516 | 0.59474093241487 |
| 2020-05-18 00:00:00 | Emmanuel Macron | 0.32783585904208 | 0.58689242693902 |
| 2020-05-19 00:00:00 | Emmanuel Macron | 0.33295747827231 | 0.58126708606782 |
| 2020-05-20 00:00:00 | Emmanuel Macron | 0.33468409918126 | 0.58322535070333 |
| 2020-05-21 00:00:00 | Emmanuel Macron | 0.33294998612996 | 0.58611044865051 |
| 2020-05-22 00:00:00 | Emmanuel Macron | 0.32891449208873 | 0.59215411452951 |
| 2020-05-23 00:00:00 | Emmanuel Macron | 0.33840549596945 | 0.58232514224057 |
| 2020-05-24 00:00:00 | Emmanuel Macron | 0.33690085406817 | 0.58195130010426 |
| 2020-05-25 00:00:00 | Emmanuel Macron | 0.33816829812227 | 0.58206187728816 |
| 2020-05-26 00:00:00 | Emmanuel Macron | 0.33090713225615 | 0.58792792697039 |
| 2020-05-27 00:00:00 | Emmanuel Macron | 0.3287074149478 | 0.58756301315097 |
| 2020-05-28 00:00:00 | Emmanuel Macron | 0.33158855709532 | 0.58437891852396 |
| 2020-05-29 00:00:00 | Emmanuel Macron | 0.33553635512492 | 0.57908298916657 |
| 2020-05-30 00:00:00 | Emmanuel Macron | 0.33822133807042 | 0.57522970405921 |
| 2020-05-31 00:00:00 | Emmanuel Macron | 0.33787211398717 | 0.58044897481875 |
| 2020-06-01 00:00:00 | Emmanuel Macron | 0.33574937791159 | 0.58577429825349 |
| 2020-06-02 00:00:00 | Emmanuel Macron | 0.33560983696502 | 0.58812322748501 |
| 2020-06-03 00:00:00 | Emmanuel Macron | 0.3374285468063 | 0.59015970737758 |
| 2020-06-04 00:00:00 | Emmanuel Macron | 0.33407360838627 | 0.59476125919029 |
| 2020-06-05 00:00:00 | Emmanuel Macron | 0.33273642907876 | 0.59446503101792 |
| 2020-06-06 00:00:00 | Emmanuel Macron | 0.33038264428918 | 0.59778570463471 |
| 2020-06-07 00:00:00 | Emmanuel Macron | 0.32914419357443 | 0.59838405924248 |
| 2020-06-08 00:00:00 | Emmanuel Macron | 0.32295085998538 | 0.59933767059212 |
| 2020-06-09 00:00:00 | Emmanuel Macron | 0.32306941831928 | 0.59841761679365 |
| 2020-06-10 00:00:00 | Emmanuel Macron | 0.31951085566647 | 0.59621022189136 |
| 2020-06-11 00:00:00 | Emmanuel Macron | 0.31956324615426 | 0.59719876001537 |
| 2020-06-12 00:00:00 | Emmanuel Macron | 0.31481103764757 | 0.59883009910994 |
| 2020-06-13 00:00:00 | Emmanuel Macron | 0.31094773957134 | 0.60481182018652 |
| 2020-06-14 00:00:00 | Emmanuel Macron | 0.31440859277987 | 0.60250520995664 |
| 2020-06-15 00:00:00 | Emmanuel Macron | 0.31985922383449 | 0.59708099838028 |
| 2020-06-16 00:00:00 | Emmanuel Macron | 0.31171523962495 | 0.60588258968031 |
| 2020-06-17 00:00:00 | Emmanuel Macron | 0.31491126995049 | 0.60748983118177 |
| 2020-06-18 00:00:00 | Emmanuel Macron | 0.31292148140303 | 0.60893895735203 |
| 2020-06-19 00:00:00 | Emmanuel Macron | 0.31403244164481 | 0.61109656263696 |
| 2020-06-20 00:00:00 | Emmanuel Macron | 0.3215720423737 | 0.60277867768887 |
| 2020-06-21 00:00:00 | Emmanuel Macron | 0.31816661607871 | 0.60579487630199 |
| 2020-06-22 00:00:00 | Emmanuel Macron | 0.31297565322566 | 0.61394754547933 |
| 2020-06-23 00:00:00 | Emmanuel Macron | 0.32304490003727 | 0.6034418143439 |
| 2020-06-24 00:00:00 | Emmanuel Macron | 0.32145430452662 | 0.60079279075906 |
| 2020-06-25 00:00:00 | Emmanuel Macron | 0.31811082180443 | 0.60124292762318 |
| 2020-06-26 00:00:00 | Emmanuel Macron | 0.32138500932364 | 0.59955890788804 |
| 2020-06-27 00:00:00 | Emmanuel Macron | 0.31234211557296 | 0.60778476458969 |
| 2020-06-28 00:00:00 | Emmanuel Macron | 0.31152024224367 | 0.60910932256878 |
| 2020-06-29 00:00:00 | Emmanuel Macron | 0.31017369514868 | 0.61083822817001 |
| 2020-06-30 00:00:00 | Emmanuel Macron | 0.30387308272956 | 0.61476134015857 |
| 2020-07-01 00:00:00 | Emmanuel Macron | 0.30307842389739 | 0.6181020050596 |
| 2020-07-02 00:00:00 | Emmanuel Macron | 0.29924984339356 | 0.62130324432742 |
| 2020-07-03 00:00:00 | Emmanuel Macron | 0.29875434904994 | 0.62078650495281 |
| 2020-07-04 00:00:00 | Emmanuel Macron | 0.30751268843429 | 0.61282181121012 |
| 2020-07-05 00:00:00 | Emmanuel Macron | 0.30772025367458 | 0.61305778568247 |
| 2020-07-06 00:00:00 | Emmanuel Macron | 0.30997854531036 | 0.61136302477558 |
| 2020-07-07 00:00:00 | Emmanuel Macron | 0.31031283113832 | 0.61041426357756 |
| 2020-07-08 00:00:00 | Emmanuel Macron | 0.31373517796971 | 0.60870356325717 |
| 2020-07-09 00:00:00 | Emmanuel Macron | 0.31219288721718 | 0.6136369054252 |
| 2020-07-10 00:00:00 | Emmanuel Macron | 0.30000441609407 | 0.62580865751143 |
| 2020-07-11 00:00:00 | Emmanuel Macron | 0.29550181753748 | 0.62970947590264 |
| 2020-07-12 00:00:00 | Emmanuel Macron | 0.29634080404193 | 0.62762903623894 |
| 2020-07-13 00:00:00 | Emmanuel Macron | 0.29830089224784 | 0.62769581301199 |
| 2020-07-14 00:00:00 | Emmanuel Macron | 0.30231508169455 | 0.62505401341679 |
| 2020-07-15 00:00:00 | Emmanuel Macron | 0.30690515054923 | 0.62212195927262 |
| 2020-07-16 00:00:00 | Emmanuel Macron | 0.3196341935616 | 0.60581251759343 |
| 2020-07-17 00:00:00 | Emmanuel Macron | 0.33065988635036 | 0.59520435576843 |
| 2020-07-18 00:00:00 | Emmanuel Macron | 0.32969550265076 | 0.59503594118765 |
| 2020-07-19 00:00:00 | Emmanuel Macron | 0.32671634764244 | 0.59908286879856 |
| 2020-07-20 00:00:00 | Emmanuel Macron | 0.3197805247864 | 0.60454496516476 |
| 2020-07-21 00:00:00 | Emmanuel Macron | 0.32500772777781 | 0.59985243827775 |
| 2020-07-22 00:00:00 | Emmanuel Macron | 0.31657182542928 | 0.60273899420129 |
| 2020-07-23 00:00:00 | Emmanuel Macron | 0.31561381708 | 0.60496431933883 |
| 2020-07-24 00:00:00 | Emmanuel Macron | 0.31709220310777 | 0.60153560272958 |
| 2020-07-25 00:00:00 | Emmanuel Macron | 0.31492786735168 | 0.60395667240298 |
| 2020-07-26 00:00:00 | Emmanuel Macron | 0.31944607654627 | 0.59573414327156 |
| 2020-07-27 00:00:00 | Emmanuel Macron | 0.32673841388066 | 0.58594688124312 |
| 2020-07-28 00:00:00 | Emmanuel Macron | 0.32333478906703 | 0.59279847716825 |
| 2020-07-29 00:00:00 | Emmanuel Macron | 0.32400516755853 | 0.59409096951947 |
| 2020-07-30 00:00:00 | Emmanuel Macron | 0.32552127312505 | 0.59342392712233 |
| 2020-07-31 00:00:00 | Emmanuel Macron | 0.32452364352053 | 0.59634474927135 |
| 2020-08-01 00:00:00 | Emmanuel Macron | 0.32539241696186 | 0.59444864544635 |
| 2020-08-02 00:00:00 | Emmanuel Macron | 0.32352985720835 | 0.59703912676364 |
| 2020-08-03 00:00:00 | Emmanuel Macron | 0.32250159451563 | 0.59833698588329 |
| 2020-08-04 00:00:00 | Emmanuel Macron | 0.32524983097602 | 0.59283485980292 |
| 2020-08-05 00:00:00 | Emmanuel Macron | 0.32926492478211 | 0.59069144655159 |
| 2020-08-06 00:00:00 | Emmanuel Macron | 0.3241602719089 | 0.59337723200944 |
| 2020-08-07 00:00:00 | Emmanuel Macron | 0.32703004502858 | 0.59039375216612 |
| 2020-08-08 00:00:00 | Emmanuel Macron | 0.32987496324769 | 0.58894554596199 |
| 2020-08-09 00:00:00 | Emmanuel Macron | 0.33054908862925 | 0.58687020978382 |
| 2020-08-10 00:00:00 | Emmanuel Macron | 0.33380996115447 | 0.58257283912249 |
| 2020-08-11 00:00:00 | Emmanuel Macron | 0.32866669099527 | 0.58897457662874 |
| 2020-08-12 00:00:00 | Emmanuel Macron | 0.33018467724287 | 0.58812661040511 |
| 2020-08-13 00:00:00 | Emmanuel Macron | 0.33343283152658 | 0.58825815837592 |
| 2020-08-14 00:00:00 | Emmanuel Macron | 0.32920989585734 | 0.59013441452502 |
| 2020-08-15 00:00:00 | Emmanuel Macron | 0.3307860475785 | 0.58587975513483 |
| 2020-08-16 00:00:00 | Emmanuel Macron | 0.32678541201256 | 0.5913466627407 |
| 2020-08-17 00:00:00 | Emmanuel Macron | 0.32325192467693 | 0.59697274372945 |
| 2020-08-18 00:00:00 | Emmanuel Macron | 0.32875971928695 | 0.59276807154544 |
| 2020-08-19 00:00:00 | Emmanuel Macron | 0.33103139976715 | 0.59056659283009 |
| 2020-08-20 00:00:00 | Emmanuel Macron | 0.33771798656941 | 0.5812959531273 |
| 2020-08-21 00:00:00 | Emmanuel Macron | 0.33913373662456 | 0.57928403721112 |
| 2020-08-22 00:00:00 | Emmanuel Macron | 0.33556372196473 | 0.58496017328116 |
| 2020-08-23 00:00:00 | Emmanuel Macron | 0.34245837250221 | 0.57954800355501 |
| 2020-08-24 00:00:00 | Emmanuel Macron | 0.34412292537014 | 0.58020724584002 |
| 2020-08-25 00:00:00 | Emmanuel Macron | 0.33698740342683 | 0.58180776056495 |
| 2020-08-26 00:00:00 | Emmanuel Macron | 0.32848343659451 | 0.58640627277531 |
| 2020-08-27 00:00:00 | Emmanuel Macron | 0.32609925083129 | 0.5865860637028 |
| 2020-08-28 00:00:00 | Emmanuel Macron | 0.32317684967645 | 0.58952687262537 |
| 2020-08-29 00:00:00 | Emmanuel Macron | 0.32230717207756 | 0.59098461598212 |
| 2020-08-30 00:00:00 | Emmanuel Macron | 0.32004615632966 | 0.59199864519322 |
| 2020-08-31 00:00:00 | Emmanuel Macron | 0.31858828548696 | 0.59199898344742 |
| 2020-09-01 00:00:00 | Emmanuel Macron | 0.32309637839049 | 0.59103574345763 |
| 2020-09-02 00:00:00 | Emmanuel Macron | 0.32031475891035 | 0.59674025394484 |
| 2020-09-03 00:00:00 | Emmanuel Macron | 0.31074909774383 | 0.60519039458797 |
| 2020-09-04 00:00:00 | Emmanuel Macron | 0.31220249373798 | 0.60671352310678 |
| 2020-09-05 00:00:00 | Emmanuel Macron | 0.31224847670809 | 0.60571818025616 |
| 2020-09-06 00:00:00 | Emmanuel Macron | 0.30852559198692 | 0.60717708098555 |
| 2020-09-07 00:00:00 | Emmanuel Macron | 0.3076527149845 | 0.60687136579411 |
| 2020-09-08 00:00:00 | Emmanuel Macron | 0.30982674320392 | 0.59961118937995 |
| 2020-09-09 00:00:00 | Emmanuel Macron | 0.31456958926339 | 0.58941750122717 |
| 2020-09-10 00:00:00 | Emmanuel Macron | 0.31825580017023 | 0.58940504138195 |
| 2020-09-11 00:00:00 | Emmanuel Macron | 0.31746101249757 | 0.58902276448892 |
| 2020-09-12 00:00:00 | Emmanuel Macron | 0.32000473993898 | 0.58785454643738 |
| 2020-09-13 00:00:00 | Emmanuel Macron | 0.3158334242415 | 0.58871886416939 |
| 2020-09-14 00:00:00 | Emmanuel Macron | 0.31348243620699 | 0.58764276226105 |
| 2020-09-15 00:00:00 | Emmanuel Macron | 0.30756426916542 | 0.58993435172997 |
| 2020-09-16 00:00:00 | Emmanuel Macron | 0.30778283651115 | 0.59328178775606 |
| 2020-09-17 00:00:00 | Emmanuel Macron | 0.30646534735076 | 0.59081702477549 |
| 2020-09-18 00:00:00 | Emmanuel Macron | 0.30358267238631 | 0.59133908647272 |
| 2020-09-19 00:00:00 | Emmanuel Macron | 0.30365554271478 | 0.58681357341035 |
| 2020-09-20 00:00:00 | Emmanuel Macron | 0.30828783632298 | 0.5846176434763 |
| 2020-09-21 00:00:00 | Emmanuel Macron | 0.31322502252425 | 0.58350760532107 |
| 2020-09-22 00:00:00 | Emmanuel Macron | 0.31222200568229 | 0.59224837260382 |
| 2020-09-23 00:00:00 | Emmanuel Macron | 0.31493664395345 | 0.58962152392696 |
| 2020-09-24 00:00:00 | Emmanuel Macron | 0.3095598799022 | 0.59607057321594 |
| 2020-09-25 00:00:00 | Emmanuel Macron | 0.30991420114178 | 0.59633671624207 |
| 2020-09-26 00:00:00 | Emmanuel Macron | 0.30786813426354 | 0.59934039834201 |
| 2020-09-27 00:00:00 | Emmanuel Macron | 0.30673358775143 | 0.60303465577743 |
| 2020-09-28 00:00:00 | Emmanuel Macron | 0.29799125037981 | 0.60981721631564 |
| 2020-09-29 00:00:00 | Emmanuel Macron | 0.30032080605941 | 0.60734699811651 |
| 2020-09-30 00:00:00 | Emmanuel Macron | 0.30000634166098 | 0.60907718156871 |
| 2020-10-01 00:00:00 | Emmanuel Macron | 0.30411947333511 | 0.60730721935057 |
| 2020-10-02 00:00:00 | Emmanuel Macron | 0.30347707840978 | 0.61106491100767 |
| 2020-10-03 00:00:00 | Emmanuel Macron | 0.29713446957127 | 0.61815302979881 |
| 2020-10-04 00:00:00 | Emmanuel Macron | 0.2914779556688 | 0.62219581434709 |
| 2020-10-05 00:00:00 | Emmanuel Macron | 0.29324082805316 | 0.62077653269351 |
| 2020-10-06 00:00:00 | Emmanuel Macron | 0.29311037520215 | 0.61903404719273 |
| 2020-10-07 00:00:00 | Emmanuel Macron | 0.29303084326781 | 0.6188009287342 |
| 2020-10-08 00:00:00 | Emmanuel Macron | 0.2933269589554 | 0.61755374887929 |
| 2020-10-09 00:00:00 | Emmanuel Macron | 0.29059145102394 | 0.61679116176938 |
| 2020-10-10 00:00:00 | Emmanuel Macron | 0.29422156191783 | 0.61307058964128 |
| 2020-10-11 00:00:00 | Emmanuel Macron | 0.29880762304812 | 0.60855350291831 |
| 2020-10-12 00:00:00 | Emmanuel Macron | 0.30314548963745 | 0.60602916716275 |
| 2020-10-13 00:00:00 | Emmanuel Macron | 0.29924012229407 | 0.60971328708686 |
| 2020-10-14 00:00:00 | Emmanuel Macron | 0.29860106738356 | 0.61032442429586 |
| 2020-10-15 00:00:00 | Emmanuel Macron | 0.29782294958539 | 0.6121761623578 |
| 2020-10-16 00:00:00 | Emmanuel Macron | 0.3094345980303 | 0.60460644546876 |
| 2020-10-17 00:00:00 | Emmanuel Macron | 0.31135260105345 | 0.60125660655564 |
| 2020-10-18 00:00:00 | Emmanuel Macron | 0.31714662251351 | 0.59896891106977 |
| 2020-10-19 00:00:00 | Emmanuel Macron | 0.31752384047626 | 0.59600993484321 |
| 2020-10-20 00:00:00 | Emmanuel Macron | 0.3167645950836 | 0.59518035658312 |
| 2020-10-21 00:00:00 | Emmanuel Macron | 0.31635866251365 | 0.59435975650898 |
| 2020-10-22 00:00:00 | Emmanuel Macron | 0.31634711280997 | 0.59459306892144 |
| 2020-10-23 00:00:00 | Emmanuel Macron | 0.31340626826418 | 0.59714631459519 |
| 2020-10-24 00:00:00 | Emmanuel Macron | 0.31545924627635 | 0.5976383139222 |
| 2020-10-25 00:00:00 | Emmanuel Macron | 0.30981743404223 | 0.59989883307376 |
| 2020-10-26 00:00:00 | Emmanuel Macron | 0.31180023321852 | 0.60091963983906 |
| 2020-10-27 00:00:00 | Emmanuel Macron | 0.31569110003836 | 0.60120013418535 |
| 2020-10-28 00:00:00 | Emmanuel Macron | 0.31883505607937 | 0.59958090435144 |
| 2020-10-29 00:00:00 | Emmanuel Macron | 0.32508433985606 | 0.59334330544999 |
| 2020-10-30 00:00:00 | Emmanuel Macron | 0.32542330943064 | 0.58930618960819 |
| 2020-10-31 00:00:00 | Emmanuel Macron | 0.32794943026758 | 0.58561498892128 |
| 2020-11-01 00:00:00 | Emmanuel Macron | 0.33299152816095 | 0.58280397453609 |
| 2020-11-02 00:00:00 | Emmanuel Macron | 0.3303942602493 | 0.58180828113851 |
| 2020-11-03 00:00:00 | Emmanuel Macron | 0.33402435244854 | 0.57700438776964 |
| 2020-11-04 00:00:00 | Emmanuel Macron | 0.32869011009907 | 0.58020183485423 |
| 2020-11-05 00:00:00 | Emmanuel Macron | 0.32362256915095 | 0.58521894833137 |
| 2020-11-06 00:00:00 | Emmanuel Macron | 0.32151429933479 | 0.58875730438316 |
| 2020-11-07 00:00:00 | Emmanuel Macron | 0.31897909097202 | 0.59055649483531 |
| 2020-11-08 00:00:00 | Emmanuel Macron | 0.3178682106371 | 0.59094401245718 |
| 2020-11-09 00:00:00 | Emmanuel Macron | 0.3172020763368 | 0.59457681778852 |
| 2020-11-10 00:00:00 | Emmanuel Macron | 0.31787075146255 | 0.59321856528995 |
| 2020-11-11 00:00:00 | Emmanuel Macron | 0.33214518018957 | 0.57842564268649 |
| 2020-11-12 00:00:00 | Emmanuel Macron | 0.34162767877885 | 0.5667009764703 |
| 2020-11-13 00:00:00 | Emmanuel Macron | 0.33944945826677 | 0.57368957688369 |
| 2020-11-14 00:00:00 | Emmanuel Macron | 0.33957927270966 | 0.57507190164244 |
| 2020-11-15 00:00:00 | Emmanuel Macron | 0.34105941158694 | 0.57491001542353 |
| 2020-11-16 00:00:00 | Emmanuel Macron | 0.34834217864335 | 0.57001095841892 |
| 2020-11-17 00:00:00 | Emmanuel Macron | 0.35009635426889 | 0.5695968807479 |
| 2020-11-18 00:00:00 | Emmanuel Macron | 0.33845781776334 | 0.58183858890516 |
| 2020-11-19 00:00:00 | Emmanuel Macron | 0.33250988751262 | 0.59247236146928 |
| 2020-11-20 00:00:00 | Emmanuel Macron | 0.33983310234663 | 0.58141051626463 |
| 2020-11-21 00:00:00 | Emmanuel Macron | 0.33817652019002 | 0.58392556544837 |
| 2020-11-22 00:00:00 | Emmanuel Macron | 0.33226769832065 | 0.58930509716391 |
| 2020-11-23 00:00:00 | Emmanuel Macron | 0.32142068418088 | 0.59710730486239 |
| 2020-11-24 00:00:00 | Emmanuel Macron | 0.31239473391262 | 0.60399789361926 |
| 2020-11-25 00:00:00 | Emmanuel Macron | 0.31819587618062 | 0.59836716061345 |
| 2020-11-26 00:00:00 | Emmanuel Macron | 0.31252957939706 | 0.59827310564192 |
| 2020-11-27 00:00:00 | Emmanuel Macron | 0.31132410628951 | 0.59751598131848 |
| 2020-11-28 00:00:00 | Emmanuel Macron | 0.30672685667929 | 0.59876524709706 |
| 2020-11-29 00:00:00 | Emmanuel Macron | 0.30706259480793 | 0.59698507042352 |
| 2020-11-30 00:00:00 | Emmanuel Macron | 0.31246098159146 | 0.59059621451686 |
| 2020-12-01 00:00:00 | Emmanuel Macron | 0.32391821714497 | 0.58409552771801 |
| 2020-12-02 00:00:00 | Emmanuel Macron | 0.31877310712177 | 0.58959216161768 |
| 2020-12-03 00:00:00 | Emmanuel Macron | 0.3218415870272 | 0.58872012287552 |
| 2020-12-04 00:00:00 | Emmanuel Macron | 0.32676732002204 | 0.58734172320221 |
| 2020-12-05 00:00:00 | Emmanuel Macron | 0.33117447774529 | 0.58313810301256 |
| 2020-12-06 00:00:00 | Emmanuel Macron | 0.33319421048264 | 0.58152378264843 |
| 2020-12-07 00:00:00 | Emmanuel Macron | 0.33363601143649 | 0.58396453547118 |
| 2020-12-08 00:00:00 | Emmanuel Macron | 0.32556205330652 | 0.59096622138552 |
| 2020-12-09 00:00:00 | Emmanuel Macron | 0.32882030101593 | 0.59089145943621 |
| 2020-12-10 00:00:00 | Emmanuel Macron | 0.33354395320217 | 0.58916040659225 |
| 2020-12-11 00:00:00 | Emmanuel Macron | 0.31775103411365 | 0.60361492351839 |
| 2020-12-12 00:00:00 | Emmanuel Macron | 0.31394392455993 | 0.61349228230621 |
| 2020-12-13 00:00:00 | Emmanuel Macron | 0.31981419611751 | 0.61162576019318 |
| 2020-12-14 00:00:00 | Emmanuel Macron | 0.31594843027708 | 0.61400879367882 |
| 2020-12-15 00:00:00 | Emmanuel Macron | 0.31402680037964 | 0.61295305854474 |
| 2020-12-16 00:00:00 | Emmanuel Macron | 0.3097229647559 | 0.61545378577388 |
| 2020-12-17 00:00:00 | Emmanuel Macron | 0.30867447304023 | 0.61256757362344 |
| 2020-12-18 00:00:00 | Emmanuel Macron | 0.31621142725502 | 0.60479831182439 |
| 2020-12-19 00:00:00 | Emmanuel Macron | 0.32074205391895 | 0.59695920505263 |
| 2020-12-20 00:00:00 | Emmanuel Macron | 0.31984430857205 | 0.5940861457146 |
| 2020-12-21 00:00:00 | Emmanuel Macron | 0.32568335351163 | 0.58695065290671 |
| 2020-12-22 00:00:00 | Emmanuel Macron | 0.33319216307822 | 0.58344096923458 |
| 2020-12-23 00:00:00 | Emmanuel Macron | 0.33217604539723 | 0.5815149946721 |
| 2020-12-24 00:00:00 | Emmanuel Macron | 0.32855724938171 | 0.58050170708698 |
| 2020-12-25 00:00:00 | Emmanuel Macron | 0.32745719526609 | 0.57577081617326 |
| 2020-12-26 00:00:00 | Emmanuel Macron | 0.32969337699858 | 0.57379188955981 |
| 2020-12-27 00:00:00 | Emmanuel Macron | 0.32998417036069 | 0.57577022393934 |
| 2020-12-28 00:00:00 | Emmanuel Macron | 0.33411045834304 | 0.57267636075357 |
| 2020-12-29 00:00:00 | Emmanuel Macron | 0.33282721179498 | 0.56488433072167 |
| 2020-12-30 00:00:00 | Emmanuel Macron | 0.34163227896087 | 0.55753268739673 |
| 2020-12-31 00:00:00 | Emmanuel Macron | 0.34233921822495 | 0.56142162540346 |
| 2021-01-01 00:00:00 | Emmanuel Macron | 0.34901825763522 | 0.55708362430941 |
| 2021-01-02 00:00:00 | Emmanuel Macron | 0.35245493457321 | 0.55365872585186 |
| 2021-01-03 00:00:00 | Emmanuel Macron | 0.35588046782405 | 0.54815273669902 |
| 2021-01-04 00:00:00 | Emmanuel Macron | 0.34840882143056 | 0.55606842774064 |
| 2021-01-05 00:00:00 | Emmanuel Macron | 0.34131737076407 | 0.56688268202977 |
| 2021-01-06 00:00:00 | Emmanuel Macron | 0.34024174125821 | 0.56891256119346 |
| 2021-01-07 00:00:00 | Emmanuel Macron | 0.34268790810721 | 0.56715836442507 |
| 2021-01-08 00:00:00 | Emmanuel Macron | 0.33278779920619 | 0.57847969288436 |
| 2021-01-09 00:00:00 | Emmanuel Macron | 0.33106670140274 | 0.57737916278018 |
| 2021-01-10 00:00:00 | Emmanuel Macron | 0.32409676427948 | 0.58409701786229 |
| 2021-01-11 00:00:00 | Emmanuel Macron | 0.31956357200394 | 0.58444632898569 |
| 2021-01-12 00:00:00 | Emmanuel Macron | 0.325385241592 | 0.57770674890373 |
| 2021-01-13 00:00:00 | Emmanuel Macron | 0.32131028472272 | 0.58013215831157 |
| 2021-01-14 00:00:00 | Emmanuel Macron | 0.32252499183177 | 0.58034140960983 |
| 2021-01-15 00:00:00 | Emmanuel Macron | 0.32535051581691 | 0.58151859064225 |
| 2021-01-16 00:00:00 | Emmanuel Macron | 0.3166737088723 | 0.59317480993333 |
| 2021-01-17 00:00:00 | Emmanuel Macron | 0.31646531458883 | 0.59705702166661 |
| 2021-01-18 00:00:00 | Emmanuel Macron | 0.32521459386937 | 0.59005608702556 |
| 2021-01-19 00:00:00 | Emmanuel Macron | 0.32641844789277 | 0.59212652947331 |
| 2021-01-20 00:00:00 | Emmanuel Macron | 0.32969113999778 | 0.5893660820864 |
| 2021-01-21 00:00:00 | Emmanuel Macron | 0.33113929156043 | 0.58607037123143 |
| 2021-01-22 00:00:00 | Emmanuel Macron | 0.33977358252693 | 0.5774045397891 |
| 2021-01-23 00:00:00 | Emmanuel Macron | 0.34395346406292 | 0.57145578565389 |
| 2021-01-24 00:00:00 | Emmanuel Macron | 0.33465061721129 | 0.57276786709756 |
| 2021-01-25 00:00:00 | Emmanuel Macron | 0.33282126840945 | 0.57154112291503 |
| 2021-01-26 00:00:00 | Emmanuel Macron | 0.33801150177153 | 0.56430461800356 |
| 2021-01-27 00:00:00 | Emmanuel Macron | 0.33282384310792 | 0.56922244725368 |
| 2021-01-28 00:00:00 | Emmanuel Macron | 0.33483018170231 | 0.57068160367941 |
| 2021-01-29 00:00:00 | Emmanuel Macron | 0.32780751158703 | 0.57495404974835 |
| 2021-01-30 00:00:00 | Emmanuel Macron | 0.32647578179337 | 0.57715972602139 |
| 2021-01-31 00:00:00 | Emmanuel Macron | 0.34376419576396 | 0.5662933954063 |
| 2021-02-01 00:00:00 | Emmanuel Macron | 0.34482233716794 | 0.57049114931589 |
| 2021-02-02 00:00:00 | Emmanuel Macron | 0.33933772933139 | 0.5783827482989 |
| 2021-02-03 00:00:00 | Emmanuel Macron | 0.34032321764847 | 0.57605435333099 |
| 2021-02-04 00:00:00 | Emmanuel Macron | 0.33367873432481 | 0.58001368504683 |
| 2021-02-05 00:00:00 | Emmanuel Macron | 0.33023485490043 | 0.58226664515319 |
| 2021-02-06 00:00:00 | Emmanuel Macron | 0.32991106219475 | 0.57918747968281 |
| 2021-02-07 00:00:00 | Emmanuel Macron | 0.32325583064987 | 0.5870035248028 |
| 2021-02-08 00:00:00 | Emmanuel Macron | 0.32319642918501 | 0.58599548981314 |
| 2021-02-09 00:00:00 | Emmanuel Macron | 0.32502957715691 | 0.57993592940379 |
| 2021-02-10 00:00:00 | Emmanuel Macron | 0.32967339902744 | 0.57564359322611 |
| 2021-02-11 00:00:00 | Emmanuel Macron | 0.34028613857625 | 0.56486819838653 |
| 2021-02-12 00:00:00 | Emmanuel Macron | 0.33822092576457 | 0.56494698969553 |
| 2021-02-13 00:00:00 | Emmanuel Macron | 0.3441193235061 | 0.55897024598368 |
| 2021-02-14 00:00:00 | Emmanuel Macron | 0.34661328041459 | 0.55407353753848 |
| 2021-02-15 00:00:00 | Emmanuel Macron | 0.34846180138984 | 0.55335076409215 |
| 2021-02-16 00:00:00 | Emmanuel Macron | 0.34528535376654 | 0.55731658777895 |
| 2021-02-17 00:00:00 | Emmanuel Macron | 0.34530738096562 | 0.55844587878403 |
| 2021-02-18 00:00:00 | Emmanuel Macron | 0.33568319738462 | 0.56660924246484 |
| 2021-02-19 00:00:00 | Emmanuel Macron | 0.34142733961437 | 0.56390135449445 |
| 2021-02-20 00:00:00 | Emmanuel Macron | 0.3447946976744 | 0.56393823384179 |
| 2021-02-21 00:00:00 | Emmanuel Macron | 0.34173260146666 | 0.5662949135549 |
| 2021-02-22 00:00:00 | Emmanuel Macron | 0.33988244110477 | 0.56635829180391 |
| 2021-02-23 00:00:00 | Emmanuel Macron | 0.34129808937034 | 0.56391225952198 |
| 2021-02-24 00:00:00 | Emmanuel Macron | 0.33998623801928 | 0.56381600298458 |
| 2021-02-25 00:00:00 | Emmanuel Macron | 0.34887071075198 | 0.55445320096173 |
| 2021-02-26 00:00:00 | Emmanuel Macron | 0.34471834054257 | 0.55831562257103 |
| 2021-02-27 00:00:00 | Emmanuel Macron | 0.33812443961538 | 0.56567103159805 |
| 2021-02-28 00:00:00 | Emmanuel Macron | 0.33747678421152 | 0.56222971920224 |
| 2021-03-01 00:00:00 | Emmanuel Macron | 0.33665554026567 | 0.56408899502233 |
| 2021-03-02 00:00:00 | Emmanuel Macron | 0.34038080157217 | 0.55911850101487 |
| 2021-03-03 00:00:00 | Emmanuel Macron | 0.34322566795052 | 0.55591505442586 |
| 2021-03-04 00:00:00 | Emmanuel Macron | 0.33275677423272 | 0.56837204321436 |
| 2021-03-05 00:00:00 | Emmanuel Macron | 0.33720885866732 | 0.56516717400817 |
| 2021-03-06 00:00:00 | Emmanuel Macron | 0.33912022190947 | 0.56018763406644 |
| 2021-03-07 00:00:00 | Emmanuel Macron | 0.34695298437844 | 0.55660469809456 |
| 2021-03-08 00:00:00 | Emmanuel Macron | 0.34478260484614 | 0.56016330407278 |
| 2021-03-09 00:00:00 | Emmanuel Macron | 0.34325367416064 | 0.56521931838626 |
| 2021-03-10 00:00:00 | Emmanuel Macron | 0.33397258249061 | 0.57408212337393 |
| 2021-03-11 00:00:00 | Emmanuel Macron | 0.33615034755411 | 0.5710031567465 |
| 2021-03-12 00:00:00 | Emmanuel Macron | 0.33768673834953 | 0.56861319290527 |
| 2021-03-13 00:00:00 | Emmanuel Macron | 0.3322842654975 | 0.57402605667533 |
| 2021-03-14 00:00:00 | Emmanuel Macron | 0.32812120683164 | 0.57825194545017 |
| 2021-03-15 00:00:00 | Emmanuel Macron | 0.33202427635399 | 0.5721681066575 |
| 2021-03-16 00:00:00 | Emmanuel Macron | 0.32663932929243 | 0.57918032353563 |
| 2021-03-17 00:00:00 | Emmanuel Macron | 0.33527200166601 | 0.57425065403 |
| 2021-03-18 00:00:00 | Emmanuel Macron | 0.33827261103179 | 0.57416706327801 |
| 2021-03-19 00:00:00 | Emmanuel Macron | 0.33869524290378 | 0.57649565231309 |
| 2021-03-20 00:00:00 | Emmanuel Macron | 0.33516890972025 | 0.58065499998447 |
| 2021-03-21 00:00:00 | Emmanuel Macron | 0.32920367732304 | 0.58498265738286 |
| 2021-03-22 00:00:00 | Emmanuel Macron | 0.32135107882906 | 0.59533406963852 |
| 2021-03-23 00:00:00 | Emmanuel Macron | 0.32521490376374 | 0.59243990032715 |
| 2021-03-24 00:00:00 | Emmanuel Macron | 0.31781156080834 | 0.60039044222773 |
| 2021-03-25 00:00:00 | Emmanuel Macron | 0.31498422310778 | 0.60331397595565 |
| 2021-03-26 00:00:00 | Emmanuel Macron | 0.31218247436138 | 0.60514181991529 |
| 2021-03-27 00:00:00 | Emmanuel Macron | 0.3179617717002 | 0.60189488897197 |
| 2021-03-28 00:00:00 | Emmanuel Macron | 0.31668189081898 | 0.60205405877576 |
| 2021-03-29 00:00:00 | Emmanuel Macron | 0.32209704479798 | 0.59450998332162 |
| 2021-03-30 00:00:00 | Emmanuel Macron | 0.31844148331515 | 0.59396638259582 |
| 2021-03-31 00:00:00 | Emmanuel Macron | 0.31596721315663 | 0.59362436917617 |
| 2021-04-01 00:00:00 | Emmanuel Macron | 0.31270783011385 | 0.59550687737329 |
| 2021-04-02 00:00:00 | Emmanuel Macron | 0.31207058718649 | 0.59393532749789 |
| 2021-04-03 00:00:00 | Emmanuel Macron | 0.31662987667444 | 0.58849383974253 |
| 2021-04-04 00:00:00 | Emmanuel Macron | 0.32477729816138 | 0.58298814330447 |
| 2021-04-05 00:00:00 | Emmanuel Macron | 0.32224842751666 | 0.58893388801197 |
| 2021-04-06 00:00:00 | Emmanuel Macron | 0.32238568456276 | 0.59208211804419 |
| 2021-04-07 00:00:00 | Emmanuel Macron | 0.32649786866594 | 0.59011356284407 |
| 2021-04-08 00:00:00 | Emmanuel Macron | 0.32846274222741 | 0.58833904717509 |
| 2021-04-09 00:00:00 | Emmanuel Macron | 0.32689021042645 | 0.59237526827256 |
| 2021-04-10 00:00:00 | Emmanuel Macron | 0.327470419835 | 0.59550203831419 |
| 2021-04-11 00:00:00 | Emmanuel Macron | 0.32165335057121 | 0.59961683776538 |
| 2021-04-12 00:00:00 | Emmanuel Macron | 0.3270758364469 | 0.59383215819695 |
| 2021-04-13 00:00:00 | Emmanuel Macron | 0.33134644112423 | 0.58970342226847 |
| 2021-04-14 00:00:00 | Emmanuel Macron | 0.33502577975278 | 0.58347098771249 |
| 2021-04-15 00:00:00 | Emmanuel Macron | 0.33525310464984 | 0.58367847385153 |
| 2021-04-16 00:00:00 | Emmanuel Macron | 0.34336932413229 | 0.57513183301751 |
| 2021-04-17 00:00:00 | Emmanuel Macron | 0.34218725895408 | 0.57344863194235 |
| 2021-04-18 00:00:00 | Emmanuel Macron | 0.34245992282139 | 0.57303587856038 |
| 2021-04-19 00:00:00 | Emmanuel Macron | 0.33296288815239 | 0.58075515969269 |
| 2021-04-20 00:00:00 | Emmanuel Macron | 0.33567578173115 | 0.57762997713895 |
| 2021-04-21 00:00:00 | Emmanuel Macron | 0.3331161057696 | 0.58217642760513 |
| 2021-04-22 00:00:00 | Emmanuel Macron | 0.3375121221551 | 0.57717906870732 |
| 2021-04-23 00:00:00 | Emmanuel Macron | 0.33307802778874 | 0.58398298424067 |
| 2021-04-24 00:00:00 | Emmanuel Macron | 0.3271698953525 | 0.58956197150674 |
| 2021-04-25 00:00:00 | Emmanuel Macron | 0.32839769286262 | 0.58858624209126 |
| 2021-04-26 00:00:00 | Emmanuel Macron | 0.33803916520111 | 0.57922639697038 |
| 2021-04-27 00:00:00 | Emmanuel Macron | 0.33154652628412 | 0.58254959277634 |
| 2021-04-28 00:00:00 | Emmanuel Macron | 0.33626806417701 | 0.5798354560153 |
| 2021-04-29 00:00:00 | Emmanuel Macron | 0.32902787339675 | 0.5872569220347 |
| 2021-04-30 00:00:00 | Emmanuel Macron | 0.33086621223013 | 0.57932681514777 |
| 2021-05-01 00:00:00 | Emmanuel Macron | 0.33641667829765 | 0.57611500043538 |
| 2021-05-02 00:00:00 | Emmanuel Macron | 0.34222527903334 | 0.57602601212299 |
| 2021-05-03 00:00:00 | Emmanuel Macron | 0.33769295397573 | 0.5805841617635 |
| 2021-05-04 00:00:00 | Emmanuel Macron | 0.34394962987324 | 0.578369280859 |
| 2021-05-05 00:00:00 | Emmanuel Macron | 0.34393744239778 | 0.57900428947372 |
| 2021-05-06 00:00:00 | Emmanuel Macron | 0.35098260604086 | 0.57303837941961 |
| 2021-05-07 00:00:00 | Emmanuel Macron | 0.34986140385222 | 0.57321776755053 |
| 2021-05-08 00:00:00 | Emmanuel Macron | 0.35170277513549 | 0.57033610729975 |
| 2021-05-09 00:00:00 | Emmanuel Macron | 0.34118076454986 | 0.57569657458364 |
| 2021-05-10 00:00:00 | Emmanuel Macron | 0.34449071196661 | 0.57351179199485 |
| 2021-05-11 00:00:00 | Emmanuel Macron | 0.34152633215335 | 0.57610604568257 |
| 2021-05-12 00:00:00 | Emmanuel Macron | 0.34244105708596 | 0.57481229649204 |
| 2021-05-13 00:00:00 | Emmanuel Macron | 0.34145256346986 | 0.57269933767629 |
| 2021-05-14 00:00:00 | Emmanuel Macron | 0.33713817736816 | 0.58253954805244 |
| 2021-05-15 00:00:00 | Emmanuel Macron | 0.33134111810219 | 0.59031681839227 |
| 2021-05-16 00:00:00 | Emmanuel Macron | 0.33696626169429 | 0.58790191584406 |
| 2021-05-17 00:00:00 | Emmanuel Macron | 0.33646197217136 | 0.58566936881643 |
| 2021-05-18 00:00:00 | Emmanuel Macron | 0.33695310287523 | 0.58544832755419 |
| 2021-05-19 00:00:00 | Emmanuel Macron | 0.33430163121977 | 0.58972238049573 |
| 2021-05-20 00:00:00 | Emmanuel Macron | 0.33572259510466 | 0.59126511237155 |
| 2021-05-21 00:00:00 | Emmanuel Macron | 0.33923272751165 | 0.58845397133211 |
| 2021-05-22 00:00:00 | Emmanuel Macron | 0.34209908367278 | 0.58602631305326 |
| 2021-05-23 00:00:00 | Emmanuel Macron | 0.3460054369596 | 0.57613511078119 |
| 2021-05-24 00:00:00 | Emmanuel Macron | 0.34925816631778 | 0.57211059398303 |
| 2021-05-25 00:00:00 | Emmanuel Macron | 0.35469664196395 | 0.56579623721402 |
| 2021-05-26 00:00:00 | Emmanuel Macron | 0.35543898902388 | 0.56348872719481 |
| 2021-05-27 00:00:00 | Emmanuel Macron | 0.35909267660642 | 0.55534823274511 |
| 2021-05-28 00:00:00 | Emmanuel Macron | 0.3606791676298 | 0.55002366419662 |
| 2021-05-29 00:00:00 | Emmanuel Macron | 0.36456809955977 | 0.54553782296952 |
| 2021-05-30 00:00:00 | Emmanuel Macron | 0.36308602031689 | 0.55241007965962 |
| 2021-05-31 00:00:00 | Emmanuel Macron | 0.35811878257287 | 0.55903466463812 |
| 2021-06-01 00:00:00 | Emmanuel Macron | 0.35063510420436 | 0.56584131059663 |
| 2021-06-02 00:00:00 | Emmanuel Macron | 0.34774677670653 | 0.56901120143364 |
| 2021-06-03 00:00:00 | Emmanuel Macron | 0.34225610481883 | 0.57251404309431 |
| 2021-06-04 00:00:00 | Emmanuel Macron | 0.3490189743573 | 0.56930177261509 |
| 2021-06-05 00:00:00 | Emmanuel Macron | 0.35077004458292 | 0.56426011969295 |
| 2021-06-06 00:00:00 | Emmanuel Macron | 0.35033505126502 | 0.55852617388135 |
| 2021-06-07 00:00:00 | Emmanuel Macron | 0.35009637893847 | 0.56017385283749 |
| 2021-06-08 00:00:00 | Emmanuel Macron | 0.35463905953779 | 0.55609364494843 |
| 2021-06-09 00:00:00 | Emmanuel Macron | 0.35287413511498 | 0.55288318997973 |
| 2021-06-10 00:00:00 | Emmanuel Macron | 0.35452934476515 | 0.55116628169627 |
| 2021-06-11 00:00:00 | Emmanuel Macron | 0.34786176032756 | 0.55229256837195 |
| 2021-06-12 00:00:00 | Emmanuel Macron | 0.34666636317713 | 0.55273150255979 |
| 2021-06-13 00:00:00 | Emmanuel Macron | 0.34872281812049 | 0.55560645953136 |
| 2021-06-14 00:00:00 | Emmanuel Macron | 0.35053192840589 | 0.54963686432471 |
| 2021-06-15 00:00:00 | Emmanuel Macron | 0.34504896945529 | 0.5535579847714 |
| 2021-06-16 00:00:00 | Emmanuel Macron | 0.34564686981991 | 0.55368536136448 |
| 2021-06-17 00:00:00 | Emmanuel Macron | 0.34844739862937 | 0.55434948264954 |
| 2021-06-18 00:00:00 | Emmanuel Macron | 0.34356914464754 | 0.55962826893692 |
| 2021-06-19 00:00:00 | Emmanuel Macron | 0.3438317461349 | 0.5564582479447 |
| 2021-06-20 00:00:00 | Emmanuel Macron | 0.34328736265754 | 0.5568634961242 |
| 2021-06-21 00:00:00 | Emmanuel Macron | 0.34510895718226 | 0.55624172052921 |
| 2021-06-22 00:00:00 | Emmanuel Macron | 0.34764575498189 | 0.5538032837554 |
| 2021-06-23 00:00:00 | Emmanuel Macron | 0.35479116281445 | 0.55167426604961 |
| 2021-06-24 00:00:00 | Emmanuel Macron | 0.35062396850242 | 0.55744107691464 |
| 2021-06-25 00:00:00 | Emmanuel Macron | 0.35016704546701 | 0.55676684363097 |
| 2021-06-26 00:00:00 | Emmanuel Macron | 0.34940014922242 | 0.5633966187063 |
| 2021-06-27 00:00:00 | Emmanuel Macron | 0.350110017673 | 0.56248995727437 |
| 2021-06-28 00:00:00 | Emmanuel Macron | 0.35003517165631 | 0.56018571224404 |
| 2021-06-29 00:00:00 | Emmanuel Macron | 0.3469740668069 | 0.56416578024044 |
| 2021-06-30 00:00:00 | Emmanuel Macron | 0.33732407356317 | 0.56996427492903 |
| 2021-07-01 00:00:00 | Emmanuel Macron | 0.3413155730463 | 0.56470647524623 |
| 2021-07-02 00:00:00 | Emmanuel Macron | 0.34812239618302 | 0.56186214692079 |
| 2021-07-03 00:00:00 | Emmanuel Macron | 0.34923653438832 | 0.55802359439576 |
| 2021-07-04 00:00:00 | Emmanuel Macron | 0.34683821210478 | 0.55762406687601 |
| 2021-07-05 00:00:00 | Emmanuel Macron | 0.34204021214112 | 0.56403530070007 |
| 2021-07-06 00:00:00 | Emmanuel Macron | 0.3489509471602 | 0.55942888682596 |
| 2021-07-07 00:00:00 | Emmanuel Macron | 0.35611541586676 | 0.55264466979026 |
| 2021-07-08 00:00:00 | Emmanuel Macron | 0.35559346229709 | 0.55519925903428 |
| 2021-07-09 00:00:00 | Emmanuel Macron | 0.35159607475515 | 0.55310688317216 |
| 2021-07-10 00:00:00 | Emmanuel Macron | 0.34564758485801 | 0.56097448906079 |
| 2021-07-11 00:00:00 | Emmanuel Macron | 0.35210393853036 | 0.55590353574137 |
| 2021-07-12 00:00:00 | Emmanuel Macron | 0.35781695115745 | 0.55004224565327 |
| 2021-07-13 00:00:00 | Emmanuel Macron | 0.35871312574634 | 0.55078981172109 |
| 2021-07-14 00:00:00 | Emmanuel Macron | 0.35868035063474 | 0.5520804703597 |
| 2021-07-15 00:00:00 | Emmanuel Macron | 0.35590631368617 | 0.55636952134563 |
| 2021-07-16 00:00:00 | Emmanuel Macron | 0.35249354032077 | 0.56838279772291 |
| 2021-07-17 00:00:00 | Emmanuel Macron | 0.34999973901275 | 0.57006411014669 |
| 2021-07-18 00:00:00 | Emmanuel Macron | 0.34410778600838 | 0.57485767254539 |
| 2021-07-19 00:00:00 | Emmanuel Macron | 0.33536563112438 | 0.58946492576652 |
| 2021-07-20 00:00:00 | Emmanuel Macron | 0.33094334272433 | 0.59411543191473 |
| 2021-07-21 00:00:00 | Emmanuel Macron | 0.32757123576538 | 0.59589811042932 |
| 2021-07-22 00:00:00 | Emmanuel Macron | 0.32819320700323 | 0.59418098764998 |
| 2021-07-23 00:00:00 | Emmanuel Macron | 0.33625865509255 | 0.58637660651871 |
| 2021-07-24 00:00:00 | Emmanuel Macron | 0.33469515443865 | 0.59114703195501 |
| 2021-07-25 00:00:00 | Emmanuel Macron | 0.3310902178728 | 0.60045481701831 |
| 2021-07-26 00:00:00 | Emmanuel Macron | 0.33353817086273 | 0.59215183610688 |
| 2021-07-27 00:00:00 | Emmanuel Macron | 0.33185760195984 | 0.59349833339572 |
| 2021-07-28 00:00:00 | Emmanuel Macron | 0.33187326016867 | 0.59540985361463 |
| 2021-07-29 00:00:00 | Emmanuel Macron | 0.32332487823449 | 0.60224040286428 |
| 2021-07-30 00:00:00 | Emmanuel Macron | 0.32221221312521 | 0.59860882003923 |
| 2021-07-31 00:00:00 | Emmanuel Macron | 0.32850778364105 | 0.59003562623424 |
| 2021-08-01 00:00:00 | Emmanuel Macron | 0.33200570529386 | 0.58483889303387 |
| 2021-08-02 00:00:00 | Emmanuel Macron | 0.33050847109243 | 0.59023452097268 |
| 2021-08-03 00:00:00 | Emmanuel Macron | 0.33204447755828 | 0.58372414343486 |
| 2021-08-04 00:00:00 | Emmanuel Macron | 0.33171018470383 | 0.58283015017859 |
| 2021-08-05 00:00:00 | Emmanuel Macron | 0.33544820974808 | 0.57693362454489 |
| 2021-08-06 00:00:00 | Emmanuel Macron | 0.33539928452682 | 0.57935835484101 |
| 2021-08-07 00:00:00 | Emmanuel Macron | 0.33426821987534 | 0.58299446123082 |
| 2021-08-08 00:00:00 | Emmanuel Macron | 0.33480494669627 | 0.58424007108588 |
| 2021-08-09 00:00:00 | Emmanuel Macron | 0.34270696073762 | 0.57402861752174 |
| 2021-08-10 00:00:00 | Emmanuel Macron | 0.34250162313983 | 0.57648413215333 |
| 2021-08-11 00:00:00 | Emmanuel Macron | 0.34791582015238 | 0.573984305239 |
| 2021-08-12 00:00:00 | Emmanuel Macron | 0.34884816842873 | 0.58110274024538 |
| 2021-08-13 00:00:00 | Emmanuel Macron | 0.34580091608225 | 0.58243234438583 |
| 2021-08-14 00:00:00 | Emmanuel Macron | 0.34388544821152 | 0.58058760127124 |
| 2021-08-15 00:00:00 | Emmanuel Macron | 0.34448842611235 | 0.575503930415 |
| 2021-08-16 00:00:00 | Emmanuel Macron | 0.34354495010873 | 0.57692612519225 |
| 2021-08-17 00:00:00 | Emmanuel Macron | 0.35002186563119 | 0.57136631548015 |
| 2021-08-18 00:00:00 | Emmanuel Macron | 0.34707887495496 | 0.57377135535666 |
| 2021-08-19 00:00:00 | Emmanuel Macron | 0.34306513746699 | 0.57291279556195 |
| 2021-08-20 00:00:00 | Emmanuel Macron | 0.34621835313899 | 0.57394814856509 |
| 2021-08-21 00:00:00 | Emmanuel Macron | 0.3442378475066 | 0.57401299752575 |
| 2021-08-22 00:00:00 | Emmanuel Macron | 0.33929868078501 | 0.58046100583683 |
| 2021-08-23 00:00:00 | Emmanuel Macron | 0.33680158316252 | 0.58400157390984 |
| 2021-08-24 00:00:00 | Emmanuel Macron | 0.33155850030755 | 0.58594438639889 |
| 2021-08-25 00:00:00 | Emmanuel Macron | 0.32778283951861 | 0.58550421605208 |
| 2021-08-26 00:00:00 | Emmanuel Macron | 0.33444938719066 | 0.57765806741242 |
| 2021-08-27 00:00:00 | Emmanuel Macron | 0.33805204173964 | 0.57351897215308 |
| 2021-08-28 00:00:00 | Emmanuel Macron | 0.34319558486109 | 0.5701473510503 |
| 2021-08-29 00:00:00 | Emmanuel Macron | 0.34606262802907 | 0.56552389717757 |
| 2021-08-30 00:00:00 | Emmanuel Macron | 0.34738528928387 | 0.56231296881917 |
| 2021-08-31 00:00:00 | Emmanuel Macron | 0.3436858327481 | 0.56732620058996 |
| 2021-09-01 00:00:00 | Emmanuel Macron | 0.3503661743888 | 0.56606559032496 |
| 2021-09-02 00:00:00 | Emmanuel Macron | 0.34832121360229 | 0.5692380392289 |
| 2021-09-03 00:00:00 | Emmanuel Macron | 0.34468866744769 | 0.56787216405666 |
| 2021-09-04 00:00:00 | Emmanuel Macron | 0.34149749780599 | 0.57186391411483 |
| 2021-09-05 00:00:00 | Emmanuel Macron | 0.34653216350699 | 0.56883439279915 |
| 2021-09-06 00:00:00 | Emmanuel Macron | 0.3472952647834 | 0.56884101849956 |
| 2021-09-07 00:00:00 | Emmanuel Macron | 0.35072658086031 | 0.56324703900966 |
| 2021-09-08 00:00:00 | Emmanuel Macron | 0.34682492138983 | 0.56341723737292 |
| 2021-09-09 00:00:00 | Emmanuel Macron | 0.34941252629683 | 0.56241352450696 |
| 2021-09-10 00:00:00 | Emmanuel Macron | 0.34899076688223 | 0.5656401875611 |
| 2021-09-11 00:00:00 | Emmanuel Macron | 0.34627647158156 | 0.56882533980255 |
| 2021-09-12 00:00:00 | Emmanuel Macron | 0.34054470266822 | 0.57731336332097 |
| 2021-09-13 00:00:00 | Emmanuel Macron | 0.3363636622927 | 0.57894951741829 |
| 2021-09-14 00:00:00 | Emmanuel Macron | 0.3352401446319 | 0.58141129291006 |
| 2021-09-15 00:00:00 | Emmanuel Macron | 0.33838522166838 | 0.57749504705431 |
| 2021-09-16 00:00:00 | Emmanuel Macron | 0.33634110617907 | 0.57684623839687 |
| 2021-09-17 00:00:00 | Emmanuel Macron | 0.3412863327977 | 0.5738491976932 |
| 2021-09-18 00:00:00 | Emmanuel Macron | 0.35229350374206 | 0.56237996290015 |
| 2021-09-19 00:00:00 | Emmanuel Macron | 0.35099742327187 | 0.56306480138551 |
| 2021-09-20 00:00:00 | Emmanuel Macron | 0.3528526255371 | 0.56384116289376 |
| 2021-09-21 00:00:00 | Emmanuel Macron | 0.35167529119602 | 0.56902898117368 |
| 2021-09-22 00:00:00 | Emmanuel Macron | 0.34609310342773 | 0.57915203161778 |
| 2021-09-23 00:00:00 | Emmanuel Macron | 0.34957231977184 | 0.57562030647217 |
| 2021-09-24 00:00:00 | Emmanuel Macron | 0.34339395788788 | 0.58207810821183 |
| 2021-09-25 00:00:00 | Emmanuel Macron | 0.34205043360276 | 0.58599271048869 |
| 2021-09-26 00:00:00 | Emmanuel Macron | 0.34614230540243 | 0.58063651150593 |
| 2021-09-27 00:00:00 | Emmanuel Macron | 0.34914331701366 | 0.57582684779615 |
| 2021-09-28 00:00:00 | Emmanuel Macron | 0.34844467759276 | 0.57357658119941 |
| 2021-09-29 00:00:00 | Emmanuel Macron | 0.35513311778049 | 0.56263306192242 |
| 2021-09-30 00:00:00 | Emmanuel Macron | 0.35308950042015 | 0.56644057098068 |
| 2021-10-01 00:00:00 | Emmanuel Macron | 0.35382566355291 | 0.56057850926902 |
| 2021-10-02 00:00:00 | Emmanuel Macron | 0.35952919161062 | 0.54862634009837 |
| 2021-10-03 00:00:00 | Emmanuel Macron | 0.36146158790876 | 0.5406292494747 |
| 2021-10-04 00:00:00 | Emmanuel Macron | 0.35928937137225 | 0.54446934855757 |
| 2021-10-05 00:00:00 | Emmanuel Macron | 0.3612672389628 | 0.53927232909555 |
| 2021-10-06 00:00:00 | Emmanuel Macron | 0.36137253354534 | 0.53715991720044 |
| 2021-10-07 00:00:00 | Emmanuel Macron | 0.36566101494137 | 0.53522061674119 |
| 2021-10-08 00:00:00 | Emmanuel Macron | 0.36369573382606 | 0.53897896704638 |
| 2021-10-09 00:00:00 | Emmanuel Macron | 0.35256665036047 | 0.55175530241681 |
| 2021-10-10 00:00:00 | Emmanuel Macron | 0.35319515387367 | 0.55698676995224 |
| 2021-10-11 00:00:00 | Emmanuel Macron | 0.35581382497553 | 0.55289197937098 |
| 2021-10-12 00:00:00 | Emmanuel Macron | 0.35866535686105 | 0.55410127525135 |
| 2021-10-13 00:00:00 | Emmanuel Macron | 0.35644835650886 | 0.55951656988421 |
| 2021-10-14 00:00:00 | Emmanuel Macron | 0.35055141117828 | 0.56255745611186 |
| 2021-10-15 00:00:00 | Emmanuel Macron | 0.35247513325541 | 0.56010294136511 |
| 2021-10-16 00:00:00 | Emmanuel Macron | 0.35234900252141 | 0.5605168447397 |
| 2021-10-17 00:00:00 | Emmanuel Macron | 0.35157637617288 | 0.55435233465278 |
| 2021-10-18 00:00:00 | Emmanuel Macron | 0.35132263202276 | 0.55322007565319 |
| 2021-10-19 00:00:00 | Emmanuel Macron | 0.35363128784118 | 0.54997313131292 |
| 2021-10-20 00:00:00 | Emmanuel Macron | 0.35505729837727 | 0.54713161908626 |
| 2021-10-21 00:00:00 | Emmanuel Macron | 0.36070394216188 | 0.54532161468164 |
| 2021-10-22 00:00:00 | Emmanuel Macron | 0.36103324222993 | 0.54758843094039 |
| 2021-10-23 00:00:00 | Emmanuel Macron | 0.36194239776006 | 0.55034703225843 |
| 2021-10-24 00:00:00 | Emmanuel Macron | 0.34949080088903 | 0.56822577872878 |
| 2021-10-25 00:00:00 | Emmanuel Macron | 0.34918882512925 | 0.56850374881305 |
| 2021-10-26 00:00:00 | Emmanuel Macron | 0.3499781301009 | 0.56742736422627 |
| 2021-10-27 00:00:00 | Emmanuel Macron | 0.34980153715098 | 0.57000178580318 |
| 2021-10-28 00:00:00 | Emmanuel Macron | 0.34664450022698 | 0.56678241953577 |
| 2021-10-29 00:00:00 | Emmanuel Macron | 0.34753899069622 | 0.56276745623892 |
| 2021-10-30 00:00:00 | Emmanuel Macron | 0.35191001549286 | 0.55714749611578 |
| 2021-10-31 00:00:00 | Emmanuel Macron | 0.36152550296557 | 0.54574902401476 |
| 2021-11-01 00:00:00 | Emmanuel Macron | 0.35785682292709 | 0.55263338248785 |
| 2021-11-02 00:00:00 | Emmanuel Macron | 0.36246141079364 | 0.55385617211692 |
| 2021-11-03 00:00:00 | Emmanuel Macron | 0.36242585036038 | 0.55295218347933 |
| 2021-11-04 00:00:00 | Emmanuel Macron | 0.36659073081163 | 0.55178040274107 |
| 2021-11-05 00:00:00 | Emmanuel Macron | 0.3672377797878 | 0.55263180741411 |
| 2021-11-06 00:00:00 | Emmanuel Macron | 0.36574113595532 | 0.55645726266064 |
| 2021-11-07 00:00:00 | Emmanuel Macron | 0.36182079099526 | 0.5657584036639 |
| 2021-11-08 00:00:00 | Emmanuel Macron | 0.36773645415585 | 0.56324060070723 |
| 2021-11-09 00:00:00 | Emmanuel Macron | 0.36064643494428 | 0.56483284544057 |
| 2021-11-10 00:00:00 | Emmanuel Macron | 0.36022334765301 | 0.56596519805145 |
| 2021-11-11 00:00:00 | Emmanuel Macron | 0.35933387934958 | 0.56687008428536 |
| 2021-11-12 00:00:00 | Emmanuel Macron | 0.36057268944821 | 0.5639714933375 |
| 2021-11-13 00:00:00 | Emmanuel Macron | 0.36361442629345 | 0.55894732065363 |
| 2021-11-14 00:00:00 | Emmanuel Macron | 0.37169488011199 | 0.54802455377246 |
| 2021-11-15 00:00:00 | Emmanuel Macron | 0.3697956071244 | 0.54723533941213 |
| 2021-11-16 00:00:00 | Emmanuel Macron | 0.36674026957721 | 0.55231515453419 |
| 2021-11-17 00:00:00 | Emmanuel Macron | 0.36774098582326 | 0.55343773171019 |
| 2021-11-18 00:00:00 | Emmanuel Macron | 0.36600411158392 | 0.55357183252052 |
| 2021-11-19 00:00:00 | Emmanuel Macron | 0.36142432491821 | 0.56260330829846 |
| 2021-11-20 00:00:00 | Emmanuel Macron | 0.36039526303509 | 0.56343203362166 |
| 2021-11-21 00:00:00 | Emmanuel Macron | 0.35783020760753 | 0.56771248517393 |
| 2021-11-22 00:00:00 | Emmanuel Macron | 0.36456635806865 | 0.56406335568156 |
| 2021-11-23 00:00:00 | Emmanuel Macron | 0.36935582644768 | 0.56054205804158 |
| 2021-11-24 00:00:00 | Emmanuel Macron | 0.37032233084234 | 0.55846415059326 |
| 2021-11-25 00:00:00 | Emmanuel Macron | 0.37096829272882 | 0.55675568994439 |
| 2021-11-26 00:00:00 | Emmanuel Macron | 0.37121781453895 | 0.55315599244248 |
| 2021-11-27 00:00:00 | Emmanuel Macron | 0.36816105425305 | 0.55376917165275 |
| 2021-11-28 00:00:00 | Emmanuel Macron | 0.36639762002062 | 0.5557911134447 |
| 2021-11-29 00:00:00 | Emmanuel Macron | 0.35824716271058 | 0.56310514818556 |
| 2021-11-30 00:00:00 | Emmanuel Macron | 0.3613610968176 | 0.56119446818547 |
| 2021-12-01 00:00:00 | Emmanuel Macron | 0.3603133551667 | 0.5627733624973 |
| 2021-12-02 00:00:00 | Emmanuel Macron | 0.35756366417044 | 0.57146506007863 |
| 2021-12-03 00:00:00 | Emmanuel Macron | 0.36749669710911 | 0.56694066515178 |
| 2021-12-04 00:00:00 | Emmanuel Macron | 0.36801338047665 | 0.56791954923127 |
| 2021-12-05 00:00:00 | Emmanuel Macron | 0.37224845288864 | 0.55967957998061 |
| 2021-12-06 00:00:00 | Emmanuel Macron | 0.37162777251942 | 0.55682664622987 |
| 2021-12-07 00:00:00 | Emmanuel Macron | 0.36299207817441 | 0.56315262770291 |
| 2021-12-08 00:00:00 | Emmanuel Macron | 0.36377732998166 | 0.55852190884177 |
| 2021-12-09 00:00:00 | Emmanuel Macron | 0.36700092776899 | 0.5502369946609 |
| 2021-12-10 00:00:00 | Emmanuel Macron | 0.36016760499177 | 0.55446657385589 |
| 2021-12-11 00:00:00 | Emmanuel Macron | 0.36339089567148 | 0.54935275151448 |
| 2021-12-12 00:00:00 | Emmanuel Macron | 0.36854849246461 | 0.54568294770939 |
| 2021-12-13 00:00:00 | Emmanuel Macron | 0.37471308946355 | 0.54019559121776 |
| 2021-12-14 00:00:00 | Emmanuel Macron | 0.38172203405569 | 0.53509195318223 |
| 2021-12-15 00:00:00 | Emmanuel Macron | 0.38423096321821 | 0.53679635777808 |
| 2021-12-16 00:00:00 | Emmanuel Macron | 0.38936090581082 | 0.53256797998395 |
| 2021-12-17 00:00:00 | Emmanuel Macron | 0.39497952376276 | 0.5281885821874 |
| 2021-12-18 00:00:00 | Emmanuel Macron | 0.39425242770476 | 0.53513581280175 |
| 2021-12-19 00:00:00 | Emmanuel Macron | 0.39135325271571 | 0.54152654590268 |
| 2021-12-20 00:00:00 | Emmanuel Macron | 0.38992356944828 | 0.54394034843256 |
| 2021-12-21 00:00:00 | Emmanuel Macron | 0.38575622993792 | 0.54426998424374 |
| 2021-12-22 00:00:00 | Emmanuel Macron | 0.38239936312914 | 0.54633166371472 |
| 2021-12-23 00:00:00 | Emmanuel Macron | 0.37637209184663 | 0.55310286013362 |
| 2021-12-24 00:00:00 | Emmanuel Macron | 0.37638968359342 | 0.55325358892596 |
| 2021-12-25 00:00:00 | Emmanuel Macron | 0.37691804106553 | 0.54879909265045 |
| 2021-12-26 00:00:00 | Emmanuel Macron | 0.37457659253112 | 0.5477134677307 |
| 2021-12-27 00:00:00 | Emmanuel Macron | 0.38146976748816 | 0.54160431149578 |
| 2021-12-28 00:00:00 | Emmanuel Macron | 0.38471090444146 | 0.54276589550826 |
| 2021-12-29 00:00:00 | Emmanuel Macron | 0.38466357173189 | 0.54200534557471 |
| 2021-12-30 00:00:00 | Emmanuel Macron | 0.38246645296023 | 0.54597277037211 |
| 2021-12-31 00:00:00 | Emmanuel Macron | 0.37781924422334 | 0.54871028104683 |
| 2022-01-01 00:00:00 | Emmanuel Macron | 0.37884987075318 | 0.54906879626159 |
| 2022-01-02 00:00:00 | Emmanuel Macron | 0.38354749078586 | 0.54207981545839 |
| 2022-01-03 00:00:00 | Emmanuel Macron | 0.37593290417731 | 0.5475654898068 |
| 2022-01-04 00:00:00 | Emmanuel Macron | 0.374077405978 | 0.54707736437049 |
| 2022-01-05 00:00:00 | Emmanuel Macron | 0.36894887586957 | 0.55036234725402 |
| 2022-01-06 00:00:00 | Emmanuel Macron | 0.37004779605985 | 0.54806221346302 |
| 2022-01-07 00:00:00 | Emmanuel Macron | 0.36921995218828 | 0.55140948434328 |
| 2022-01-08 00:00:00 | Emmanuel Macron | 0.36591017389018 | 0.55472472877255 |
| 2022-01-09 00:00:00 | Emmanuel Macron | 0.35885826126423 | 0.56458727844728 |
| 2022-01-10 00:00:00 | Emmanuel Macron | 0.35569009827369 | 0.56855066504608 |
| 2022-01-11 00:00:00 | Emmanuel Macron | 0.35324820565935 | 0.57281137063258 |
| 2022-01-12 00:00:00 | Emmanuel Macron | 0.36088688098038 | 0.56837207448658 |
| 2022-01-13 00:00:00 | Emmanuel Macron | 0.36186797028727 | 0.57111293689431 |
| 2022-01-14 00:00:00 | Emmanuel Macron | 0.35909639432918 | 0.57353658791991 |
| 2022-01-15 00:00:00 | Emmanuel Macron | 0.34985298727524 | 0.58086585933239 |
| 2022-01-16 00:00:00 | Emmanuel Macron | 0.34725578717371 | 0.58408055449261 |
| 2022-01-17 00:00:00 | Emmanuel Macron | 0.34637027129232 | 0.58455165436577 |
| 2022-01-18 00:00:00 | Emmanuel Macron | 0.34266990629948 | 0.58927845272207 |
| 2022-01-19 00:00:00 | Emmanuel Macron | 0.33571285123845 | 0.59170084643443 |
| 2022-01-20 00:00:00 | Emmanuel Macron | 0.33416828757701 | 0.58805981402613 |
| 2022-01-21 00:00:00 | Emmanuel Macron | 0.3320465389677 | 0.587366881049 |
| 2022-01-22 00:00:00 | Emmanuel Macron | 0.341511662692 | 0.57899651637617 |
| 2022-01-23 00:00:00 | Emmanuel Macron | 0.34792338506479 | 0.57514620457122 |
| 2022-01-24 00:00:00 | Emmanuel Macron | 0.34900321087168 | 0.57345075029352 |
| 2022-01-25 00:00:00 | Emmanuel Macron | 0.36060269829728 | 0.56005521805806 |
| 2022-01-26 00:00:00 | Emmanuel Macron | 0.35722145319414 | 0.56715067600911 |
| 2022-01-27 00:00:00 | Emmanuel Macron | 0.35132353243372 | 0.57420062302013 |
| 2022-01-28 00:00:00 | Emmanuel Macron | 0.35481457640975 | 0.57277282978728 |
| 2022-01-29 00:00:00 | Emmanuel Macron | 0.35631881236866 | 0.57229134945306 |
| 2022-01-30 00:00:00 | Emmanuel Macron | 0.35458042571349 | 0.57388370246966 |
| 2022-01-31 00:00:00 | Emmanuel Macron | 0.35240361407326 | 0.57812134271171 |
| 2022-02-01 00:00:00 | Emmanuel Macron | 0.34804208594625 | 0.58385243595415 |
| 2022-02-02 00:00:00 | Emmanuel Macron | 0.35517036304787 | 0.57786220882503 |
| 2022-02-03 00:00:00 | Emmanuel Macron | 0.36307803292198 | 0.57056859033561 |
| 2022-02-04 00:00:00 | Emmanuel Macron | 0.36206477909885 | 0.5713513880955 |
| 2022-02-05 00:00:00 | Emmanuel Macron | 0.35644384407717 | 0.57470626113601 |
| 2022-02-06 00:00:00 | Emmanuel Macron | 0.35148090734244 | 0.57763126431631 |
| 2022-02-07 00:00:00 | Emmanuel Macron | 0.35551468726643 | 0.57516878191263 |
| 2022-02-08 00:00:00 | Emmanuel Macron | 0.35668868831118 | 0.57093713613134 |
| 2022-02-09 00:00:00 | Emmanuel Macron | 0.35939986316979 | 0.56997719612737 |
| 2022-02-10 00:00:00 | Emmanuel Macron | 0.36078835093201 | 0.57103636924665 |
| 2022-02-11 00:00:00 | Emmanuel Macron | 0.36376235545278 | 0.56926297994634 |
| 2022-02-12 00:00:00 | Emmanuel Macron | 0.3698801694868 | 0.56402889322021 |
| 2022-02-13 00:00:00 | Emmanuel Macron | 0.37344132932298 | 0.55776339910724 |
| 2022-02-14 00:00:00 | Emmanuel Macron | 0.36973070080957 | 0.56059105332804 |
| 2022-02-15 00:00:00 | Emmanuel Macron | 0.36953768464362 | 0.56302516174742 |
| 2022-02-16 00:00:00 | Emmanuel Macron | 0.36517727030983 | 0.56417132397976 |
| 2020-03-06 00:00:00 | Narendra Modi | 0.70891434251046 | 0.22606964020399 |
| 2020-03-07 00:00:00 | Narendra Modi | 0.71114968095429 | 0.22462679331893 |
| 2020-03-08 00:00:00 | Narendra Modi | 0.70575792188976 | 0.2278551439808 |
| 2020-03-09 00:00:00 | Narendra Modi | 0.69695931010629 | 0.23280741230342 |
| 2020-03-10 00:00:00 | Narendra Modi | 0.69929012692803 | 0.23171526149047 |
| 2020-03-11 00:00:00 | Narendra Modi | 0.70292957427978 | 0.23012648020221 |
| 2020-03-12 00:00:00 | Narendra Modi | 0.71547305618514 | 0.22562261819531 |
| 2020-03-13 00:00:00 | Narendra Modi | 0.72132781952339 | 0.22300564317149 |
| 2020-03-14 00:00:00 | Narendra Modi | 0.73422076809709 | 0.21190732468765 |
| 2020-03-15 00:00:00 | Narendra Modi | 0.73985553671681 | 0.20474001041502 |
| 2020-03-16 00:00:00 | Narendra Modi | 0.74578421580802 | 0.19993983572436 |
| 2020-03-17 00:00:00 | Narendra Modi | 0.73542135718194 | 0.2068128826603 |
| 2020-03-18 00:00:00 | Narendra Modi | 0.73032318229589 | 0.21165221284278 |
| 2020-03-19 00:00:00 | Narendra Modi | 0.72941857851629 | 0.2107574718605 |
| 2020-03-20 00:00:00 | Narendra Modi | 0.73352166229518 | 0.2085622267046 |
| 2020-03-21 00:00:00 | Narendra Modi | 0.73100925670721 | 0.21097282680925 |
| 2020-03-22 00:00:00 | Narendra Modi | 0.7415273704788 | 0.20611534891704 |
| 2020-03-23 00:00:00 | Narendra Modi | 0.74694801582207 | 0.20579684676397 |
| 2020-03-24 00:00:00 | Narendra Modi | 0.7645346302988 | 0.19240494207122 |
| 2020-03-25 00:00:00 | Narendra Modi | 0.77796339633258 | 0.18136969390801 |
| 2020-03-26 00:00:00 | Narendra Modi | 0.78460481431161 | 0.17535522017558 |
| 2020-03-27 00:00:00 | Narendra Modi | 0.794438434683 | 0.16437496461461 |
| 2020-03-28 00:00:00 | Narendra Modi | 0.8008614267402 | 0.16130833997784 |
| 2020-03-29 00:00:00 | Narendra Modi | 0.81203428111631 | 0.15019515838512 |
| 2020-03-30 00:00:00 | Narendra Modi | 0.81708551287159 | 0.14330748560254 |
| 2020-03-31 00:00:00 | Narendra Modi | 0.81570779395686 | 0.14500719867939 |
| 2020-04-01 00:00:00 | Narendra Modi | 0.81195937479724 | 0.14635818438727 |
| 2020-04-02 00:00:00 | Narendra Modi | 0.8074608055722 | 0.15145150697955 |
| 2020-04-03 00:00:00 | Narendra Modi | 0.80953117277138 | 0.15022505876636 |
| 2020-04-04 00:00:00 | Narendra Modi | 0.80968078303442 | 0.14816643493675 |
| 2020-04-05 00:00:00 | Narendra Modi | 0.80481471039349 | 0.15106491458872 |
| 2020-04-06 00:00:00 | Narendra Modi | 0.80001390317507 | 0.15667565992959 |
| 2020-04-07 00:00:00 | Narendra Modi | 0.80115893788036 | 0.15369852962119 |
| 2020-04-08 00:00:00 | Narendra Modi | 0.80033976480469 | 0.15663363986386 |
| 2020-04-09 00:00:00 | Narendra Modi | 0.80290392333476 | 0.15377524679269 |
| 2020-04-10 00:00:00 | Narendra Modi | 0.79294281968564 | 0.16588316997544 |
| 2020-04-11 00:00:00 | Narendra Modi | 0.7947972897374 | 0.16402907706052 |
| 2020-04-12 00:00:00 | Narendra Modi | 0.79281230153634 | 0.16574052692242 |
| 2020-04-13 00:00:00 | Narendra Modi | 0.80055532406525 | 0.15774892933994 |
| 2020-04-14 00:00:00 | Narendra Modi | 0.80624437024977 | 0.15646220518091 |
| 2020-04-15 00:00:00 | Narendra Modi | 0.81469062629616 | 0.14847051909253 |
| 2020-04-16 00:00:00 | Narendra Modi | 0.82099832794926 | 0.14276580984821 |
| 2020-04-17 00:00:00 | Narendra Modi | 0.82453684014379 | 0.13899369724311 |
| 2020-04-18 00:00:00 | Narendra Modi | 0.82848982784644 | 0.13840726317082 |
| 2020-04-19 00:00:00 | Narendra Modi | 0.83346432463438 | 0.13657138447132 |
| 2020-04-20 00:00:00 | Narendra Modi | 0.82709072042872 | 0.14078131475268 |
| 2020-04-21 00:00:00 | Narendra Modi | 0.82640098541791 | 0.1398270874438 |
| 2020-04-22 00:00:00 | Narendra Modi | 0.82610738812926 | 0.13986160940731 |
| 2020-04-23 00:00:00 | Narendra Modi | 0.81649487681801 | 0.14828698731036 |
| 2020-04-24 00:00:00 | Narendra Modi | 0.81741080462843 | 0.14557126105165 |
| 2020-04-25 00:00:00 | Narendra Modi | 0.80554660267376 | 0.15146173954169 |
| 2020-04-26 00:00:00 | Narendra Modi | 0.80560110819578 | 0.14955674212124 |
| 2020-04-27 00:00:00 | Narendra Modi | 0.81712864105046 | 0.14281011665921 |
| 2020-04-28 00:00:00 | Narendra Modi | 0.82342314944715 | 0.13885803569188 |
| 2020-04-29 00:00:00 | Narendra Modi | 0.82316482616651 | 0.13713387239049 |
| 2020-04-30 00:00:00 | Narendra Modi | 0.83478056842616 | 0.12555694787732 |
| 2020-05-01 00:00:00 | Narendra Modi | 0.83454509147925 | 0.1266092662878 |
| 2020-05-02 00:00:00 | Narendra Modi | 0.84251155405742 | 0.12039216052852 |
| 2020-05-03 00:00:00 | Narendra Modi | 0.84337252713316 | 0.11764076999165 |
| 2020-05-04 00:00:00 | Narendra Modi | 0.82919710613643 | 0.12718087704417 |
| 2020-05-05 00:00:00 | Narendra Modi | 0.81740142262545 | 0.13491613687773 |
| 2020-05-06 00:00:00 | Narendra Modi | 0.80990696923218 | 0.1439149600568 |
| 2020-05-07 00:00:00 | Narendra Modi | 0.80378504535187 | 0.14786062838326 |
| 2020-05-08 00:00:00 | Narendra Modi | 0.80615470586088 | 0.14834986473208 |
| 2020-05-09 00:00:00 | Narendra Modi | 0.80406181271571 | 0.14791703228194 |
| 2020-05-10 00:00:00 | Narendra Modi | 0.80076417932668 | 0.15257215553237 |
| 2020-05-11 00:00:00 | Narendra Modi | 0.80068640204511 | 0.15490905386899 |
| 2020-05-12 00:00:00 | Narendra Modi | 0.80443470587721 | 0.15197168770115 |
| 2020-05-13 00:00:00 | Narendra Modi | 0.81227632741213 | 0.14605675284169 |
| 2020-05-14 00:00:00 | Narendra Modi | 0.81018269820066 | 0.14890176173851 |
| 2020-05-15 00:00:00 | Narendra Modi | 0.80534392898884 | 0.15038094267521 |
| 2020-05-16 00:00:00 | Narendra Modi | 0.81164706471632 | 0.14961800286938 |
| 2020-05-17 00:00:00 | Narendra Modi | 0.80534935554535 | 0.15555732950077 |
| 2020-05-18 00:00:00 | Narendra Modi | 0.81339855518178 | 0.14920077144449 |
| 2020-05-19 00:00:00 | Narendra Modi | 0.81683255722697 | 0.14763738257108 |
| 2020-05-20 00:00:00 | Narendra Modi | 0.80934870158431 | 0.15182780870792 |
| 2020-05-21 00:00:00 | Narendra Modi | 0.81177875548928 | 0.15200498188612 |
| 2020-05-22 00:00:00 | Narendra Modi | 0.82147072100497 | 0.14553952433369 |
| 2020-05-23 00:00:00 | Narendra Modi | 0.8141902502693 | 0.15034804765746 |
| 2020-05-24 00:00:00 | Narendra Modi | 0.81665301731564 | 0.14852429445971 |
| 2020-05-25 00:00:00 | Narendra Modi | 0.81116414935874 | 0.15132132099893 |
| 2020-05-26 00:00:00 | Narendra Modi | 0.8052267352838 | 0.15399884968397 |
| 2020-05-27 00:00:00 | Narendra Modi | 0.80831649932783 | 0.15276668004332 |
| 2020-05-28 00:00:00 | Narendra Modi | 0.79680703762822 | 0.15965745601063 |
| 2020-05-29 00:00:00 | Narendra Modi | 0.790805149292 | 0.16384300803438 |
| 2020-05-30 00:00:00 | Narendra Modi | 0.7921159134723 | 0.16438786933493 |
| 2020-05-31 00:00:00 | Narendra Modi | 0.78945546850177 | 0.16783121358306 |
| 2020-06-01 00:00:00 | Narendra Modi | 0.78239418761588 | 0.17388546697067 |
| 2020-06-02 00:00:00 | Narendra Modi | 0.77748940857516 | 0.17932135578067 |
| 2020-06-03 00:00:00 | Narendra Modi | 0.7726660627329 | 0.18229437937676 |
| 2020-06-04 00:00:00 | Narendra Modi | 0.77836649801438 | 0.18277532998947 |
| 2020-06-05 00:00:00 | Narendra Modi | 0.76718819943123 | 0.19182775433485 |
| 2020-06-06 00:00:00 | Narendra Modi | 0.7591934452641 | 0.19433974350527 |
| 2020-06-07 00:00:00 | Narendra Modi | 0.75513998253003 | 0.19516634298143 |
| 2020-06-08 00:00:00 | Narendra Modi | 0.75890665386162 | 0.18951294153303 |
| 2020-06-09 00:00:00 | Narendra Modi | 0.75435403221032 | 0.19459706503428 |
| 2020-06-10 00:00:00 | Narendra Modi | 0.75458417608044 | 0.19534857317127 |
| 2020-06-11 00:00:00 | Narendra Modi | 0.75145946809283 | 0.19338617506673 |
| 2020-06-12 00:00:00 | Narendra Modi | 0.75182958083775 | 0.19358752310707 |
| 2020-06-13 00:00:00 | Narendra Modi | 0.75327196796557 | 0.19579229095119 |
| 2020-06-14 00:00:00 | Narendra Modi | 0.7516628526436 | 0.20090038232182 |
| 2020-06-15 00:00:00 | Narendra Modi | 0.74908493719721 | 0.20616084092731 |
| 2020-06-16 00:00:00 | Narendra Modi | 0.74552428992393 | 0.21005961634996 |
| 2020-06-17 00:00:00 | Narendra Modi | 0.75115394532334 | 0.204380776505 |
| 2020-06-18 00:00:00 | Narendra Modi | 0.75460174764945 | 0.20170662723658 |
| 2020-06-19 00:00:00 | Narendra Modi | 0.75144392312499 | 0.20371904416391 |
| 2020-06-20 00:00:00 | Narendra Modi | 0.7550845395313 | 0.19709952359506 |
| 2020-06-21 00:00:00 | Narendra Modi | 0.75864939161541 | 0.19243664934823 |
| 2020-06-22 00:00:00 | Narendra Modi | 0.76197838725447 | 0.18995377736688 |
| 2020-06-23 00:00:00 | Narendra Modi | 0.76605547611895 | 0.18518934612898 |
| 2020-06-24 00:00:00 | Narendra Modi | 0.75714447862295 | 0.1929604519529 |
| 2020-06-25 00:00:00 | Narendra Modi | 0.75594785685321 | 0.1961566358155 |
| 2020-06-26 00:00:00 | Narendra Modi | 0.75346049674606 | 0.19883567566722 |
| 2020-06-27 00:00:00 | Narendra Modi | 0.75512080013282 | 0.20067011322289 |
| 2020-06-28 00:00:00 | Narendra Modi | 0.74564467993887 | 0.21024074483985 |
| 2020-06-29 00:00:00 | Narendra Modi | 0.73744156670387 | 0.21462858569168 |
| 2020-06-30 00:00:00 | Narendra Modi | 0.74463571988596 | 0.20521511531636 |
| 2020-07-01 00:00:00 | Narendra Modi | 0.75006911889331 | 0.2005653281832 |
| 2020-07-02 00:00:00 | Narendra Modi | 0.74359619352492 | 0.20539231171478 |
| 2020-07-03 00:00:00 | Narendra Modi | 0.75522271876888 | 0.19157570324583 |
| 2020-07-04 00:00:00 | Narendra Modi | 0.75564791257944 | 0.19230552465049 |
| 2020-07-05 00:00:00 | Narendra Modi | 0.77104855756481 | 0.17772308089185 |
| 2020-07-06 00:00:00 | Narendra Modi | 0.77527342656194 | 0.1743573887889 |
| 2020-07-07 00:00:00 | Narendra Modi | 0.77345242431872 | 0.17930511789269 |
| 2020-07-08 00:00:00 | Narendra Modi | 0.76967345825079 | 0.18238516683693 |
| 2020-07-09 00:00:00 | Narendra Modi | 0.77619153465178 | 0.17663465603859 |
| 2020-07-10 00:00:00 | Narendra Modi | 0.777739407005 | 0.17821528008415 |
| 2020-07-11 00:00:00 | Narendra Modi | 0.77146976583607 | 0.17691026940687 |
| 2020-07-12 00:00:00 | Narendra Modi | 0.76336432833129 | 0.18074265707983 |
| 2020-07-13 00:00:00 | Narendra Modi | 0.77018603982312 | 0.17169354075747 |
| 2020-07-14 00:00:00 | Narendra Modi | 0.76217299296332 | 0.17811926307057 |
| 2020-07-15 00:00:00 | Narendra Modi | 0.76299475508113 | 0.17613458602965 |
| 2020-07-16 00:00:00 | Narendra Modi | 0.76688151705775 | 0.17037023479773 |
| 2020-07-17 00:00:00 | Narendra Modi | 0.76286604972933 | 0.17537534140164 |
| 2020-07-18 00:00:00 | Narendra Modi | 0.75929845137895 | 0.1836160724659 |
| 2020-07-19 00:00:00 | Narendra Modi | 0.76733611047666 | 0.17696614647793 |
| 2020-07-20 00:00:00 | Narendra Modi | 0.76165089482031 | 0.18570571988575 |
| 2020-07-21 00:00:00 | Narendra Modi | 0.77052922855352 | 0.17522854780169 |
| 2020-07-22 00:00:00 | Narendra Modi | 0.77411941429962 | 0.17394848928271 |
| 2020-07-23 00:00:00 | Narendra Modi | 0.77286855045885 | 0.17862045619309 |
| 2020-07-24 00:00:00 | Narendra Modi | 0.77306154289994 | 0.17796242638759 |
| 2020-07-25 00:00:00 | Narendra Modi | 0.77893486086757 | 0.17441898118829 |
| 2020-07-26 00:00:00 | Narendra Modi | 0.7749906734276 | 0.18022238339859 |
| 2020-07-27 00:00:00 | Narendra Modi | 0.77858834423659 | 0.17888879828884 |
| 2020-07-28 00:00:00 | Narendra Modi | 0.77195299271019 | 0.18790463952156 |
| 2020-07-29 00:00:00 | Narendra Modi | 0.76501327405029 | 0.19483148938557 |
| 2020-07-30 00:00:00 | Narendra Modi | 0.7598239084445 | 0.19577343618441 |
| 2020-07-31 00:00:00 | Narendra Modi | 0.76104265054659 | 0.19481266884556 |
| 2020-08-01 00:00:00 | Narendra Modi | 0.76080051736118 | 0.19416226723946 |
| 2020-08-02 00:00:00 | Narendra Modi | 0.7577936013121 | 0.19574831755778 |
| 2020-08-03 00:00:00 | Narendra Modi | 0.74983611701439 | 0.19906149686878 |
| 2020-08-04 00:00:00 | Narendra Modi | 0.75411454417743 | 0.19498311959263 |
| 2020-08-05 00:00:00 | Narendra Modi | 0.75546727645752 | 0.19132302083823 |
| 2020-08-06 00:00:00 | Narendra Modi | 0.75675839499103 | 0.19247368188699 |
| 2020-08-07 00:00:00 | Narendra Modi | 0.75826160613144 | 0.19114911339218 |
| 2020-08-08 00:00:00 | Narendra Modi | 0.75998460718789 | 0.18985653052905 |
| 2020-08-09 00:00:00 | Narendra Modi | 0.77014618487635 | 0.18086137402338 |
| 2020-08-10 00:00:00 | Narendra Modi | 0.77840441647319 | 0.17635483367423 |
| 2020-08-11 00:00:00 | Narendra Modi | 0.77899683479824 | 0.17615971002524 |
| 2020-08-12 00:00:00 | Narendra Modi | 0.78223302304347 | 0.17514855923367 |
| 2020-08-13 00:00:00 | Narendra Modi | 0.77994640687655 | 0.17640949339713 |
| 2020-08-14 00:00:00 | Narendra Modi | 0.77681258969869 | 0.17960648477658 |
| 2020-08-15 00:00:00 | Narendra Modi | 0.77714295962815 | 0.17813412891157 |
| 2020-08-16 00:00:00 | Narendra Modi | 0.76891409604587 | 0.18677129976281 |
| 2020-08-17 00:00:00 | Narendra Modi | 0.76962028187337 | 0.18779704829457 |
| 2020-08-18 00:00:00 | Narendra Modi | 0.76413519436879 | 0.19236715804997 |
| 2020-08-19 00:00:00 | Narendra Modi | 0.7579617991602 | 0.19603356229864 |
| 2020-08-20 00:00:00 | Narendra Modi | 0.75819702146265 | 0.19569998206028 |
| 2020-08-21 00:00:00 | Narendra Modi | 0.76373461805635 | 0.19074240030352 |
| 2020-08-22 00:00:00 | Narendra Modi | 0.76157952727917 | 0.19256938669341 |
| 2020-08-23 00:00:00 | Narendra Modi | 0.76193280331542 | 0.1901502225027 |
| 2020-08-24 00:00:00 | Narendra Modi | 0.76297801263444 | 0.18747567111696 |
| 2020-08-25 00:00:00 | Narendra Modi | 0.76850443117592 | 0.18203286019969 |
| 2020-08-26 00:00:00 | Narendra Modi | 0.77142769103066 | 0.17879359224413 |
| 2020-08-27 00:00:00 | Narendra Modi | 0.77522050376636 | 0.17755356517284 |
| 2020-08-28 00:00:00 | Narendra Modi | 0.76908929240848 | 0.1848400045034 |
| 2020-08-29 00:00:00 | Narendra Modi | 0.76038633302237 | 0.19222273590011 |
| 2020-08-30 00:00:00 | Narendra Modi | 0.75971951370248 | 0.19153083561721 |
| 2020-08-31 00:00:00 | Narendra Modi | 0.75427952415316 | 0.19422580947152 |
| 2020-09-01 00:00:00 | Narendra Modi | 0.75107549810951 | 0.19847377510583 |
| 2020-09-02 00:00:00 | Narendra Modi | 0.75376937147466 | 0.2001137231516 |
| 2020-09-03 00:00:00 | Narendra Modi | 0.74603421840045 | 0.20475670901727 |
| 2020-09-04 00:00:00 | Narendra Modi | 0.74359515370009 | 0.20083496950477 |
| 2020-09-05 00:00:00 | Narendra Modi | 0.7464589992093 | 0.20037237038444 |
| 2020-09-06 00:00:00 | Narendra Modi | 0.74428929721069 | 0.20456889958276 |
| 2020-09-07 00:00:00 | Narendra Modi | 0.73814875510881 | 0.21413555579607 |
| 2020-09-08 00:00:00 | Narendra Modi | 0.73642430439925 | 0.2155135506947 |
| 2020-09-09 00:00:00 | Narendra Modi | 0.72653227376908 | 0.2197205724512 |
| 2020-09-10 00:00:00 | Narendra Modi | 0.7324511419138 | 0.21558316228683 |
| 2020-09-11 00:00:00 | Narendra Modi | 0.73053258911992 | 0.22128886342241 |
| 2020-09-12 00:00:00 | Narendra Modi | 0.7279072567398 | 0.2214074923853 |
| 2020-09-13 00:00:00 | Narendra Modi | 0.72715236244938 | 0.22117791323581 |
| 2020-09-14 00:00:00 | Narendra Modi | 0.72922809691936 | 0.21931679489244 |
| 2020-09-15 00:00:00 | Narendra Modi | 0.72834094624286 | 0.21707057708691 |
| 2020-09-16 00:00:00 | Narendra Modi | 0.73931106476489 | 0.2063542148518 |
| 2020-09-17 00:00:00 | Narendra Modi | 0.740623065021 | 0.205792905038 |
| 2020-09-18 00:00:00 | Narendra Modi | 0.74132131755532 | 0.2041091497278 |
| 2020-09-19 00:00:00 | Narendra Modi | 0.74619275828469 | 0.20165420648107 |
| 2020-09-20 00:00:00 | Narendra Modi | 0.74863278793373 | 0.20163555417563 |
| 2020-09-21 00:00:00 | Narendra Modi | 0.75130041326114 | 0.19593056396055 |
| 2020-09-22 00:00:00 | Narendra Modi | 0.74656898416853 | 0.20349158319644 |
| 2020-09-23 00:00:00 | Narendra Modi | 0.73737859417294 | 0.21689594407531 |
| 2020-09-24 00:00:00 | Narendra Modi | 0.73436686321834 | 0.2191283054962 |
| 2020-09-25 00:00:00 | Narendra Modi | 0.73226409036038 | 0.22196605384619 |
| 2020-09-26 00:00:00 | Narendra Modi | 0.7273724124425 | 0.22441894177162 |
| 2020-09-27 00:00:00 | Narendra Modi | 0.72979597184352 | 0.22069513226218 |
| 2020-09-28 00:00:00 | Narendra Modi | 0.72890957512186 | 0.22501008592595 |
| 2020-09-29 00:00:00 | Narendra Modi | 0.73635425159228 | 0.21546543772522 |
| 2020-09-30 00:00:00 | Narendra Modi | 0.73339296106195 | 0.21769635041678 |
| 2020-10-01 00:00:00 | Narendra Modi | 0.7277177826737 | 0.2241975244822 |
| 2020-10-02 00:00:00 | Narendra Modi | 0.73068961964535 | 0.21916402239495 |
| 2020-10-03 00:00:00 | Narendra Modi | 0.73370702590904 | 0.21952941589594 |
| 2020-10-04 00:00:00 | Narendra Modi | 0.72396817314381 | 0.22833474584485 |
| 2020-10-05 00:00:00 | Narendra Modi | 0.71890986408081 | 0.2295295826487 |
| 2020-10-06 00:00:00 | Narendra Modi | 0.70989708862303 | 0.23788015349727 |
| 2020-10-07 00:00:00 | Narendra Modi | 0.71083146780385 | 0.23737974311082 |
| 2020-10-08 00:00:00 | Narendra Modi | 0.71060522366547 | 0.23488839492432 |
| 2020-10-09 00:00:00 | Narendra Modi | 0.70966560981998 | 0.23977532778125 |
| 2020-10-10 00:00:00 | Narendra Modi | 0.70971361158031 | 0.23723548409749 |
| 2020-10-11 00:00:00 | Narendra Modi | 0.71781294261145 | 0.22963505870768 |
| 2020-10-12 00:00:00 | Narendra Modi | 0.72655988381316 | 0.22567721074527 |
| 2020-10-13 00:00:00 | Narendra Modi | 0.73329508058711 | 0.22159574049782 |
| 2020-10-14 00:00:00 | Narendra Modi | 0.7413962662799 | 0.21222912955675 |
| 2020-10-15 00:00:00 | Narendra Modi | 0.74250740591766 | 0.21232760980811 |
| 2020-10-16 00:00:00 | Narendra Modi | 0.74274424171367 | 0.20915599681505 |
| 2020-10-17 00:00:00 | Narendra Modi | 0.74177454315594 | 0.21049544126535 |
| 2020-10-18 00:00:00 | Narendra Modi | 0.74021849112015 | 0.21122813017286 |
| 2020-10-19 00:00:00 | Narendra Modi | 0.73604949664709 | 0.21014711931386 |
| 2020-10-20 00:00:00 | Narendra Modi | 0.73375399030276 | 0.20955825233162 |
| 2020-10-21 00:00:00 | Narendra Modi | 0.73061131719022 | 0.2125760033176 |
| 2020-10-22 00:00:00 | Narendra Modi | 0.73347800978043 | 0.20747658594194 |
| 2020-10-23 00:00:00 | Narendra Modi | 0.73182446531889 | 0.21010600895626 |
| 2020-10-24 00:00:00 | Narendra Modi | 0.73463152219496 | 0.20888141584475 |
| 2020-10-25 00:00:00 | Narendra Modi | 0.73088707959291 | 0.21124386714976 |
| 2020-10-26 00:00:00 | Narendra Modi | 0.72763642772118 | 0.21608648357821 |
| 2020-10-27 00:00:00 | Narendra Modi | 0.73137189196298 | 0.21466467114624 |
| 2020-10-28 00:00:00 | Narendra Modi | 0.73490977521947 | 0.21311825856069 |
| 2020-10-29 00:00:00 | Narendra Modi | 0.73597622622507 | 0.21484280152824 |
| 2020-10-30 00:00:00 | Narendra Modi | 0.73712101673446 | 0.21435215771032 |
| 2020-10-31 00:00:00 | Narendra Modi | 0.74035571655553 | 0.20846039325225 |
| 2020-11-01 00:00:00 | Narendra Modi | 0.74229287252035 | 0.20670639444307 |
| 2020-11-02 00:00:00 | Narendra Modi | 0.7432811931612 | 0.20127792035667 |
| 2020-11-03 00:00:00 | Narendra Modi | 0.74100367370564 | 0.20591413044552 |
| 2020-11-04 00:00:00 | Narendra Modi | 0.73961975103388 | 0.20376452805007 |
| 2020-11-05 00:00:00 | Narendra Modi | 0.74322652555464 | 0.20006530013404 |
| 2020-11-06 00:00:00 | Narendra Modi | 0.74722335888325 | 0.19641899366406 |
| 2020-11-07 00:00:00 | Narendra Modi | 0.74102816263104 | 0.20246448539196 |
| 2020-11-08 00:00:00 | Narendra Modi | 0.73912623936497 | 0.20625947864201 |
| 2020-11-09 00:00:00 | Narendra Modi | 0.74062944349685 | 0.2105505933235 |
| 2020-11-10 00:00:00 | Narendra Modi | 0.7377587242486 | 0.21207819407236 |
| 2020-11-11 00:00:00 | Narendra Modi | 0.73911913981655 | 0.21281925986599 |
| 2020-11-12 00:00:00 | Narendra Modi | 0.73378879596564 | 0.21735993610888 |
| 2020-11-13 00:00:00 | Narendra Modi | 0.73396006489016 | 0.2140693534194 |
| 2020-11-14 00:00:00 | Narendra Modi | 0.72834891944363 | 0.22086095934763 |
| 2020-11-15 00:00:00 | Narendra Modi | 0.73256633436915 | 0.21787182734514 |
| 2020-11-16 00:00:00 | Narendra Modi | 0.73654131506863 | 0.21427567239635 |
| 2020-11-17 00:00:00 | Narendra Modi | 0.74422274126654 | 0.20665019341401 |
| 2020-11-18 00:00:00 | Narendra Modi | 0.74532444371567 | 0.20668551355072 |
| 2020-11-19 00:00:00 | Narendra Modi | 0.7501785629471 | 0.20484868515036 |
| 2020-11-20 00:00:00 | Narendra Modi | 0.74701255575793 | 0.20917556135044 |
| 2020-11-21 00:00:00 | Narendra Modi | 0.75167348689082 | 0.20540867755815 |
| 2020-11-22 00:00:00 | Narendra Modi | 0.74936497491015 | 0.20608860360162 |
| 2020-11-23 00:00:00 | Narendra Modi | 0.74631825859132 | 0.20517440171101 |
| 2020-11-24 00:00:00 | Narendra Modi | 0.75001674764996 | 0.20119930367716 |
| 2020-11-25 00:00:00 | Narendra Modi | 0.74654593578592 | 0.20361944246 |
| 2020-11-26 00:00:00 | Narendra Modi | 0.74495656907324 | 0.20159815813575 |
| 2020-11-27 00:00:00 | Narendra Modi | 0.74230002247715 | 0.2039927911882 |
| 2020-11-28 00:00:00 | Narendra Modi | 0.73631156694283 | 0.20513302289404 |
| 2020-11-29 00:00:00 | Narendra Modi | 0.73303046752745 | 0.21137622020862 |
| 2020-11-30 00:00:00 | Narendra Modi | 0.73629856656734 | 0.2133014157591 |
| 2020-12-01 00:00:00 | Narendra Modi | 0.7336942437452 | 0.21585097957 |
| 2020-12-02 00:00:00 | Narendra Modi | 0.74008080482625 | 0.21138054663082 |
| 2020-12-03 00:00:00 | Narendra Modi | 0.73665258887401 | 0.21410268750295 |
| 2020-12-04 00:00:00 | Narendra Modi | 0.73724572269303 | 0.21467396256752 |
| 2020-12-05 00:00:00 | Narendra Modi | 0.74689647571626 | 0.20894043146309 |
| 2020-12-06 00:00:00 | Narendra Modi | 0.74824153741774 | 0.20538367982159 |
| 2020-12-07 00:00:00 | Narendra Modi | 0.74786646841878 | 0.20176674518635 |
| 2020-12-08 00:00:00 | Narendra Modi | 0.74295784349681 | 0.20579619160516 |
| 2020-12-09 00:00:00 | Narendra Modi | 0.73468624715155 | 0.21221532112207 |
| 2020-12-10 00:00:00 | Narendra Modi | 0.74106280881575 | 0.20860188375556 |
| 2020-12-11 00:00:00 | Narendra Modi | 0.74374988867369 | 0.2052490725207 |
| 2020-12-12 00:00:00 | Narendra Modi | 0.74363989569003 | 0.20433186686141 |
| 2020-12-13 00:00:00 | Narendra Modi | 0.74159527358715 | 0.20425488598913 |
| 2020-12-14 00:00:00 | Narendra Modi | 0.74041101593424 | 0.20880044708234 |
| 2020-12-15 00:00:00 | Narendra Modi | 0.74742855562629 | 0.20387908113186 |
| 2020-12-16 00:00:00 | Narendra Modi | 0.75630628629453 | 0.19671024414996 |
| 2020-12-17 00:00:00 | Narendra Modi | 0.75350882957084 | 0.20099658007007 |
| 2020-12-18 00:00:00 | Narendra Modi | 0.75095378314348 | 0.20556297263852 |
| 2020-12-19 00:00:00 | Narendra Modi | 0.74216623241443 | 0.21110264359396 |
| 2020-12-20 00:00:00 | Narendra Modi | 0.75063996536315 | 0.2042114477753 |
| 2020-12-21 00:00:00 | Narendra Modi | 0.75197969113163 | 0.20128628874668 |
| 2020-12-22 00:00:00 | Narendra Modi | 0.75106680219604 | 0.19915234606876 |
| 2020-12-23 00:00:00 | Narendra Modi | 0.73986715577191 | 0.20892333958456 |
| 2020-12-24 00:00:00 | Narendra Modi | 0.74208492566115 | 0.20572599433044 |
| 2020-12-25 00:00:00 | Narendra Modi | 0.73945506008309 | 0.20554168939108 |
| 2020-12-26 00:00:00 | Narendra Modi | 0.7528046242038 | 0.19615003792232 |
| 2020-12-27 00:00:00 | Narendra Modi | 0.74689525142253 | 0.20287023401821 |
| 2020-12-28 00:00:00 | Narendra Modi | 0.74855529837172 | 0.20139812342944 |
| 2020-12-29 00:00:00 | Narendra Modi | 0.74890389114281 | 0.2030946126379 |
| 2020-12-30 00:00:00 | Narendra Modi | 0.75593176323112 | 0.19584117942953 |
| 2020-12-31 00:00:00 | Narendra Modi | 0.75446820169073 | 0.1950753057208 |
| 2021-01-01 00:00:00 | Narendra Modi | 0.76107979561643 | 0.18941758959429 |
| 2021-01-02 00:00:00 | Narendra Modi | 0.75701622158937 | 0.19392511526811 |
| 2021-01-03 00:00:00 | Narendra Modi | 0.76011033878627 | 0.19066980943179 |
| 2021-01-04 00:00:00 | Narendra Modi | 0.76397177730491 | 0.18896590984193 |
| 2021-01-05 00:00:00 | Narendra Modi | 0.765221275617 | 0.18889671710818 |
| 2021-01-06 00:00:00 | Narendra Modi | 0.76450362161339 | 0.19016384300552 |
| 2021-01-07 00:00:00 | Narendra Modi | 0.76523005718404 | 0.19189886450602 |
| 2021-01-08 00:00:00 | Narendra Modi | 0.76644908017361 | 0.19289810014889 |
| 2021-01-09 00:00:00 | Narendra Modi | 0.76420540271443 | 0.19173996472594 |
| 2021-01-10 00:00:00 | Narendra Modi | 0.77292849657219 | 0.18487227161448 |
| 2021-01-11 00:00:00 | Narendra Modi | 0.76802574450742 | 0.18634883794879 |
| 2021-01-12 00:00:00 | Narendra Modi | 0.76421371747318 | 0.18537345876868 |
| 2021-01-13 00:00:00 | Narendra Modi | 0.77221408599371 | 0.17911219858007 |
| 2021-01-14 00:00:00 | Narendra Modi | 0.76533601553275 | 0.18466872483576 |
| 2021-01-15 00:00:00 | Narendra Modi | 0.76606489936873 | 0.183281045249 |
| 2021-01-16 00:00:00 | Narendra Modi | 0.77005499445601 | 0.18267241724137 |
| 2021-01-17 00:00:00 | Narendra Modi | 0.76146905103473 | 0.19013266092372 |
| 2021-01-18 00:00:00 | Narendra Modi | 0.75985826883727 | 0.19344511488241 |
| 2021-01-19 00:00:00 | Narendra Modi | 0.76441297675842 | 0.19290337503868 |
| 2021-01-20 00:00:00 | Narendra Modi | 0.75261438337828 | 0.20288231068732 |
| 2021-01-21 00:00:00 | Narendra Modi | 0.75660416912918 | 0.19892475806875 |
| 2021-01-22 00:00:00 | Narendra Modi | 0.75632091234626 | 0.19722165427093 |
| 2021-01-23 00:00:00 | Narendra Modi | 0.76006452826451 | 0.19216610949767 |
| 2021-01-24 00:00:00 | Narendra Modi | 0.7641992656402 | 0.1876436927266 |
| 2021-01-25 00:00:00 | Narendra Modi | 0.76951345543039 | 0.18268622268422 |
| 2021-01-26 00:00:00 | Narendra Modi | 0.76354787755163 | 0.18477763556514 |
| 2021-01-27 00:00:00 | Narendra Modi | 0.7695111946312 | 0.18069579336756 |
| 2021-01-28 00:00:00 | Narendra Modi | 0.76641915259009 | 0.18434271501758 |
| 2021-01-29 00:00:00 | Narendra Modi | 0.77231322173979 | 0.18218556898662 |
| 2021-01-30 00:00:00 | Narendra Modi | 0.76305910006717 | 0.19017788356311 |
| 2021-01-31 00:00:00 | Narendra Modi | 0.75481782412008 | 0.19789748137981 |
| 2021-02-01 00:00:00 | Narendra Modi | 0.75000414997233 | 0.19816257071473 |
| 2021-02-02 00:00:00 | Narendra Modi | 0.7549779975601 | 0.19904098852802 |
| 2021-02-03 00:00:00 | Narendra Modi | 0.75492786830135 | 0.19697436842901 |
| 2021-02-04 00:00:00 | Narendra Modi | 0.76004187250303 | 0.19022488895816 |
| 2021-02-05 00:00:00 | Narendra Modi | 0.74888752352893 | 0.19936755977651 |
| 2021-02-06 00:00:00 | Narendra Modi | 0.75563656399819 | 0.19531811646803 |
| 2021-02-07 00:00:00 | Narendra Modi | 0.76035536485754 | 0.19204597525494 |
| 2021-02-08 00:00:00 | Narendra Modi | 0.75942852545355 | 0.19775964649213 |
| 2021-02-09 00:00:00 | Narendra Modi | 0.75617409850775 | 0.19830884303127 |
| 2021-02-10 00:00:00 | Narendra Modi | 0.75583841696031 | 0.20153330863428 |
| 2021-02-11 00:00:00 | Narendra Modi | 0.7535464832756 | 0.20674311462041 |
| 2021-02-12 00:00:00 | Narendra Modi | 0.75628625548646 | 0.20314792766314 |
| 2021-02-13 00:00:00 | Narendra Modi | 0.75363941534194 | 0.20521402846377 |
| 2021-02-14 00:00:00 | Narendra Modi | 0.75589730560685 | 0.20288923488097 |
| 2021-02-15 00:00:00 | Narendra Modi | 0.75969544908595 | 0.19818536520288 |
| 2021-02-16 00:00:00 | Narendra Modi | 0.75543971182552 | 0.20095993792853 |
| 2021-02-17 00:00:00 | Narendra Modi | 0.75426464145381 | 0.20203568878083 |
| 2021-02-18 00:00:00 | Narendra Modi | 0.74956085849877 | 0.20148880877215 |
| 2021-02-19 00:00:00 | Narendra Modi | 0.74709154286963 | 0.20162186718852 |
| 2021-02-20 00:00:00 | Narendra Modi | 0.74693921101172 | 0.20177830105089 |
| 2021-02-21 00:00:00 | Narendra Modi | 0.74575492620794 | 0.19889473715199 |
| 2021-02-22 00:00:00 | Narendra Modi | 0.74474247424311 | 0.19980088955869 |
| 2021-02-23 00:00:00 | Narendra Modi | 0.74504926485204 | 0.19940936198369 |
| 2021-02-24 00:00:00 | Narendra Modi | 0.74007856372117 | 0.19967257298732 |
| 2021-02-25 00:00:00 | Narendra Modi | 0.74364724471237 | 0.20050657768998 |
| 2021-02-26 00:00:00 | Narendra Modi | 0.74873359533062 | 0.19778707438574 |
| 2021-02-27 00:00:00 | Narendra Modi | 0.7439412097687 | 0.19998896482556 |
| 2021-02-28 00:00:00 | Narendra Modi | 0.74186846661982 | 0.20801571174401 |
| 2021-03-01 00:00:00 | Narendra Modi | 0.73731518651138 | 0.21229812867251 |
| 2021-03-02 00:00:00 | Narendra Modi | 0.73247609629921 | 0.21704258888921 |
| 2021-03-03 00:00:00 | Narendra Modi | 0.7423776055609 | 0.21125729259011 |
| 2021-03-04 00:00:00 | Narendra Modi | 0.73576960431744 | 0.21526982392753 |
| 2021-03-05 00:00:00 | Narendra Modi | 0.72354687453052 | 0.22535329649753 |
| 2021-03-06 00:00:00 | Narendra Modi | 0.72045460515321 | 0.22932261925745 |
| 2021-03-07 00:00:00 | Narendra Modi | 0.70775493065358 | 0.23379549732622 |
| 2021-03-08 00:00:00 | Narendra Modi | 0.70260288893936 | 0.24169719707491 |
| 2021-03-09 00:00:00 | Narendra Modi | 0.70993259851687 | 0.23850875501512 |
| 2021-03-10 00:00:00 | Narendra Modi | 0.70165650602861 | 0.24316525903169 |
| 2021-03-11 00:00:00 | Narendra Modi | 0.70820183348259 | 0.23842365227044 |
| 2021-03-12 00:00:00 | Narendra Modi | 0.70834630960656 | 0.23716701853733 |
| 2021-03-13 00:00:00 | Narendra Modi | 0.71014083009758 | 0.23721860923651 |
| 2021-03-14 00:00:00 | Narendra Modi | 0.72116990446213 | 0.22978600635038 |
| 2021-03-15 00:00:00 | Narendra Modi | 0.72743760165216 | 0.21855680699104 |
| 2021-03-16 00:00:00 | Narendra Modi | 0.71411733921068 | 0.2252074915816 |
| 2021-03-17 00:00:00 | Narendra Modi | 0.71618754585152 | 0.22403134077392 |
| 2021-03-18 00:00:00 | Narendra Modi | 0.7104751250489 | 0.22798300836867 |
| 2021-03-19 00:00:00 | Narendra Modi | 0.71418288959909 | 0.22685067425447 |
| 2021-03-20 00:00:00 | Narendra Modi | 0.71596531554858 | 0.2242403368023 |
| 2021-03-21 00:00:00 | Narendra Modi | 0.71685312122119 | 0.22487243766772 |
| 2021-03-22 00:00:00 | Narendra Modi | 0.71223183878883 | 0.22930425338997 |
| 2021-03-23 00:00:00 | Narendra Modi | 0.72148135399436 | 0.22221069933459 |
| 2021-03-24 00:00:00 | Narendra Modi | 0.72018815981121 | 0.22458629217012 |
| 2021-03-25 00:00:00 | Narendra Modi | 0.72586319998227 | 0.21717857619115 |
| 2021-03-26 00:00:00 | Narendra Modi | 0.73164180782609 | 0.21296757297353 |
| 2021-03-27 00:00:00 | Narendra Modi | 0.73558832740202 | 0.2084297650837 |
| 2021-03-28 00:00:00 | Narendra Modi | 0.73218968560561 | 0.20804112761394 |
| 2021-03-29 00:00:00 | Narendra Modi | 0.73696074802896 | 0.20403073299824 |
| 2021-03-30 00:00:00 | Narendra Modi | 0.7357808714463 | 0.20568244553255 |
| 2021-03-31 00:00:00 | Narendra Modi | 0.73554515389442 | 0.20351955352592 |
| 2021-04-01 00:00:00 | Narendra Modi | 0.73285451609473 | 0.20554862508056 |
| 2021-04-02 00:00:00 | Narendra Modi | 0.73339491772944 | 0.20392949091211 |
| 2021-04-03 00:00:00 | Narendra Modi | 0.72708690602688 | 0.21153700613093 |
| 2021-04-04 00:00:00 | Narendra Modi | 0.7240728781741 | 0.21497883175633 |
| 2021-04-05 00:00:00 | Narendra Modi | 0.72611741011728 | 0.21279526307695 |
| 2021-04-06 00:00:00 | Narendra Modi | 0.72531168288506 | 0.21125016215439 |
| 2021-04-07 00:00:00 | Narendra Modi | 0.7247887157436 | 0.21513842116371 |
| 2021-04-08 00:00:00 | Narendra Modi | 0.7235634172228 | 0.21732141735196 |
| 2021-04-09 00:00:00 | Narendra Modi | 0.71792112473286 | 0.222695122085 |
| 2021-04-10 00:00:00 | Narendra Modi | 0.7240134427799 | 0.213646393952 |
| 2021-04-11 00:00:00 | Narendra Modi | 0.7219533534751 | 0.21731018556988 |
| 2021-04-12 00:00:00 | Narendra Modi | 0.71578883833157 | 0.22114508534804 |
| 2021-04-13 00:00:00 | Narendra Modi | 0.71976687893133 | 0.2218385318497 |
| 2021-04-14 00:00:00 | Narendra Modi | 0.71395104196697 | 0.22386029549885 |
| 2021-04-15 00:00:00 | Narendra Modi | 0.71362925344889 | 0.22482173188399 |
| 2021-04-16 00:00:00 | Narendra Modi | 0.71245248204981 | 0.22567155139264 |
| 2021-04-17 00:00:00 | Narendra Modi | 0.70528316479146 | 0.23508406156893 |
| 2021-04-18 00:00:00 | Narendra Modi | 0.70818619221666 | 0.23403480765188 |
| 2021-04-19 00:00:00 | Narendra Modi | 0.70332209311762 | 0.24394438556091 |
| 2021-04-20 00:00:00 | Narendra Modi | 0.70016391732537 | 0.24581200763183 |
| 2021-04-21 00:00:00 | Narendra Modi | 0.6931590364831 | 0.25420308329693 |
| 2021-04-22 00:00:00 | Narendra Modi | 0.68620339363831 | 0.25947980425154 |
| 2021-04-23 00:00:00 | Narendra Modi | 0.67966250417835 | 0.26461043078177 |
| 2021-04-24 00:00:00 | Narendra Modi | 0.68153038288835 | 0.26582142550079 |
| 2021-04-25 00:00:00 | Narendra Modi | 0.67739657727085 | 0.2691224389296 |
| 2021-04-26 00:00:00 | Narendra Modi | 0.67337430243351 | 0.27145003215707 |
| 2021-04-27 00:00:00 | Narendra Modi | 0.66798453418074 | 0.27561059153475 |
| 2021-04-28 00:00:00 | Narendra Modi | 0.67237981738966 | 0.27143815804237 |
| 2021-04-29 00:00:00 | Narendra Modi | 0.67265159957439 | 0.27630686800821 |
| 2021-04-30 00:00:00 | Narendra Modi | 0.67160794388153 | 0.27789770801327 |
| 2021-05-01 00:00:00 | Narendra Modi | 0.66290037006159 | 0.28218342491692 |
| 2021-05-02 00:00:00 | Narendra Modi | 0.65914944976472 | 0.28731506700918 |
| 2021-05-03 00:00:00 | Narendra Modi | 0.6569449706572 | 0.28896105555823 |
| 2021-05-04 00:00:00 | Narendra Modi | 0.6531865118778 | 0.29448701555476 |
| 2021-05-05 00:00:00 | Narendra Modi | 0.64328672379446 | 0.3038854339139 |
| 2021-05-06 00:00:00 | Narendra Modi | 0.63846216227701 | 0.30708590051194 |
| 2021-05-07 00:00:00 | Narendra Modi | 0.63413325891046 | 0.31119714207393 |
| 2021-05-08 00:00:00 | Narendra Modi | 0.63001141073002 | 0.31557689300659 |
| 2021-05-09 00:00:00 | Narendra Modi | 0.62872435193941 | 0.31316081799467 |
| 2021-05-10 00:00:00 | Narendra Modi | 0.62682369464364 | 0.31675696498511 |
| 2021-05-11 00:00:00 | Narendra Modi | 0.62698716772053 | 0.31417493827604 |
| 2021-05-12 00:00:00 | Narendra Modi | 0.63304682249503 | 0.310412433212 |
| 2021-05-13 00:00:00 | Narendra Modi | 0.63046108583758 | 0.31078667517316 |
| 2021-05-14 00:00:00 | Narendra Modi | 0.63827227268693 | 0.30273449584978 |
| 2021-05-15 00:00:00 | Narendra Modi | 0.63951880585674 | 0.30066165542842 |
| 2021-05-16 00:00:00 | Narendra Modi | 0.63304631630704 | 0.30861687480701 |
| 2021-05-17 00:00:00 | Narendra Modi | 0.63169145344036 | 0.30716009861806 |
| 2021-05-18 00:00:00 | Narendra Modi | 0.63744186964641 | 0.30359950465433 |
| 2021-05-19 00:00:00 | Narendra Modi | 0.63858369322669 | 0.29871206846644 |
| 2021-05-20 00:00:00 | Narendra Modi | 0.64238710996652 | 0.2950635731045 |
| 2021-05-21 00:00:00 | Narendra Modi | 0.63556235196897 | 0.30181170976157 |
| 2021-05-22 00:00:00 | Narendra Modi | 0.63903036239838 | 0.30395317836746 |
| 2021-05-23 00:00:00 | Narendra Modi | 0.64422775256062 | 0.30044706242038 |
| 2021-05-24 00:00:00 | Narendra Modi | 0.650403373883 | 0.29497269639438 |
| 2021-05-25 00:00:00 | Narendra Modi | 0.63525292750385 | 0.30781249530553 |
| 2021-05-26 00:00:00 | Narendra Modi | 0.63828214909502 | 0.30690820442753 |
| 2021-05-27 00:00:00 | Narendra Modi | 0.63891673440457 | 0.30701924484982 |
| 2021-05-28 00:00:00 | Narendra Modi | 0.64015102518985 | 0.30598444142143 |
| 2021-05-29 00:00:00 | Narendra Modi | 0.63287211473458 | 0.30523116895496 |
| 2021-05-30 00:00:00 | Narendra Modi | 0.63233202957712 | 0.30425560814529 |
| 2021-05-31 00:00:00 | Narendra Modi | 0.63143790612624 | 0.30578550418552 |
| 2021-06-01 00:00:00 | Narendra Modi | 0.63685352312294 | 0.30014993890961 |
| 2021-06-02 00:00:00 | Narendra Modi | 0.62799680133675 | 0.30617236897699 |
| 2021-06-03 00:00:00 | Narendra Modi | 0.62758099907072 | 0.30400012241418 |
| 2021-06-04 00:00:00 | Narendra Modi | 0.62796400671618 | 0.30553968874712 |
| 2021-06-05 00:00:00 | Narendra Modi | 0.6358758870069 | 0.30385863429063 |
| 2021-06-06 00:00:00 | Narendra Modi | 0.64223271942217 | 0.2981027776024 |
| 2021-06-07 00:00:00 | Narendra Modi | 0.64632717799987 | 0.29158693215477 |
| 2021-06-08 00:00:00 | Narendra Modi | 0.65531169544732 | 0.28316637163705 |
| 2021-06-09 00:00:00 | Narendra Modi | 0.65665552208057 | 0.28418496627704 |
| 2021-06-10 00:00:00 | Narendra Modi | 0.65633579304275 | 0.28531455741614 |
| 2021-06-11 00:00:00 | Narendra Modi | 0.66168143503893 | 0.27805348063451 |
| 2021-06-12 00:00:00 | Narendra Modi | 0.65653895012814 | 0.27707841712395 |
| 2021-06-13 00:00:00 | Narendra Modi | 0.6551745380919 | 0.2789620799001 |
| 2021-06-14 00:00:00 | Narendra Modi | 0.65519087011288 | 0.27988472110608 |
| 2021-06-15 00:00:00 | Narendra Modi | 0.65629948337077 | 0.28018178150047 |
| 2021-06-16 00:00:00 | Narendra Modi | 0.6681809833441 | 0.2700119418167 |
| 2021-06-17 00:00:00 | Narendra Modi | 0.67000396412633 | 0.26812526699873 |
| 2021-06-18 00:00:00 | Narendra Modi | 0.65952380224322 | 0.27746448312704 |
| 2021-06-19 00:00:00 | Narendra Modi | 0.65849228819996 | 0.28039686513019 |
| 2021-06-20 00:00:00 | Narendra Modi | 0.65093574544884 | 0.28617347321206 |
| 2021-06-21 00:00:00 | Narendra Modi | 0.64692388929587 | 0.28886441331069 |
| 2021-06-22 00:00:00 | Narendra Modi | 0.6386906458662 | 0.29429581566788 |
| 2021-06-23 00:00:00 | Narendra Modi | 0.63207499037072 | 0.29863629947567 |
| 2021-06-24 00:00:00 | Narendra Modi | 0.63624630254062 | 0.29758306479271 |
| 2021-06-25 00:00:00 | Narendra Modi | 0.6465184098689 | 0.29062271046519 |
| 2021-06-26 00:00:00 | Narendra Modi | 0.65381192441651 | 0.28381170972299 |
| 2021-06-27 00:00:00 | Narendra Modi | 0.66351119978036 | 0.27871190244452 |
| 2021-06-28 00:00:00 | Narendra Modi | 0.66668489799086 | 0.27668670248076 |
| 2021-06-29 00:00:00 | Narendra Modi | 0.66746821842441 | 0.2765508628844 |
| 2021-06-30 00:00:00 | Narendra Modi | 0.67341664232451 | 0.27056591932004 |
| 2021-07-01 00:00:00 | Narendra Modi | 0.67467414691274 | 0.26454058157146 |
| 2021-07-02 00:00:00 | Narendra Modi | 0.66903325282932 | 0.26655817493065 |
| 2021-07-03 00:00:00 | Narendra Modi | 0.67533709433297 | 0.26354100235484 |
| 2021-07-04 00:00:00 | Narendra Modi | 0.67535120886837 | 0.25964107733154 |
| 2021-07-05 00:00:00 | Narendra Modi | 0.67655081705933 | 0.25951615304871 |
| 2021-07-06 00:00:00 | Narendra Modi | 0.68229698556044 | 0.25451630415046 |
| 2021-07-07 00:00:00 | Narendra Modi | 0.67806079145103 | 0.25804453599032 |
| 2021-07-08 00:00:00 | Narendra Modi | 0.67708804152277 | 0.26065695026201 |
| 2021-07-09 00:00:00 | Narendra Modi | 0.68185400437163 | 0.25771283828906 |
| 2021-07-10 00:00:00 | Narendra Modi | 0.68002862882909 | 0.25587428491717 |
| 2021-07-11 00:00:00 | Narendra Modi | 0.67729276947033 | 0.25812171701856 |
| 2021-07-12 00:00:00 | Narendra Modi | 0.67695944502203 | 0.25814256774625 |
| 2021-07-13 00:00:00 | Narendra Modi | 0.67309391238899 | 0.26282253542697 |
| 2021-07-14 00:00:00 | Narendra Modi | 0.66716970245848 | 0.26908041146676 |
| 2021-07-15 00:00:00 | Narendra Modi | 0.66096110037305 | 0.27516749119733 |
| 2021-07-16 00:00:00 | Narendra Modi | 0.66196255234024 | 0.27430725017452 |
| 2021-07-17 00:00:00 | Narendra Modi | 0.65710382363017 | 0.28027897984571 |
| 2021-07-18 00:00:00 | Narendra Modi | 0.66409451527623 | 0.27513255488622 |
| 2021-07-19 00:00:00 | Narendra Modi | 0.66233626091978 | 0.27688051580433 |
| 2021-07-20 00:00:00 | Narendra Modi | 0.66639184169592 | 0.27089645129957 |
| 2021-07-21 00:00:00 | Narendra Modi | 0.66988846371209 | 0.26867226923213 |
| 2021-07-22 00:00:00 | Narendra Modi | 0.68259544036038 | 0.25927590485153 |
| 2021-07-23 00:00:00 | Narendra Modi | 0.68749842574342 | 0.25595034824064 |
| 2021-07-24 00:00:00 | Narendra Modi | 0.69061770543779 | 0.25296889499735 |
| 2021-07-25 00:00:00 | Narendra Modi | 0.68920238550375 | 0.25297984227929 |
| 2021-07-26 00:00:00 | Narendra Modi | 0.6894295990734 | 0.25089572504723 |
| 2021-07-27 00:00:00 | Narendra Modi | 0.68490318448287 | 0.25620678828324 |
| 2021-07-28 00:00:00 | Narendra Modi | 0.68698866683869 | 0.25075454343346 |
| 2021-07-29 00:00:00 | Narendra Modi | 0.67559749043939 | 0.25554043198084 |
| 2021-07-30 00:00:00 | Narendra Modi | 0.671582068848 | 0.2584426388737 |
| 2021-07-31 00:00:00 | Narendra Modi | 0.66263289311652 | 0.2659214048265 |
| 2021-08-01 00:00:00 | Narendra Modi | 0.65924318327897 | 0.26798514739898 |
| 2021-08-02 00:00:00 | Narendra Modi | 0.66774560088197 | 0.26227509456129 |
| 2021-08-03 00:00:00 | Narendra Modi | 0.66892790281462 | 0.25800489088648 |
| 2021-08-04 00:00:00 | Narendra Modi | 0.67551017435922 | 0.25790678582847 |
| 2021-08-05 00:00:00 | Narendra Modi | 0.67501462669443 | 0.26278129617834 |
| 2021-08-06 00:00:00 | Narendra Modi | 0.67647454063204 | 0.25711551295886 |
| 2021-08-07 00:00:00 | Narendra Modi | 0.68438476319852 | 0.24899704530315 |
| 2021-08-08 00:00:00 | Narendra Modi | 0.68012417857243 | 0.25225308035486 |
| 2021-08-09 00:00:00 | Narendra Modi | 0.6772021139885 | 0.25595820016907 |
| 2021-08-10 00:00:00 | Narendra Modi | 0.68602759916298 | 0.25490753675188 |
| 2021-08-11 00:00:00 | Narendra Modi | 0.6844938080819 | 0.25410265395085 |
| 2021-08-12 00:00:00 | Narendra Modi | 0.68789502563439 | 0.25173452685386 |
| 2021-08-13 00:00:00 | Narendra Modi | 0.68785153552163 | 0.25582022142858 |
| 2021-08-14 00:00:00 | Narendra Modi | 0.68622411551289 | 0.25630849674053 |
| 2021-08-15 00:00:00 | Narendra Modi | 0.69214050896062 | 0.24995265184712 |
| 2021-08-16 00:00:00 | Narendra Modi | 0.69641938003512 | 0.24692293387887 |
| 2021-08-17 00:00:00 | Narendra Modi | 0.70208910820551 | 0.23583571967554 |
| 2021-08-18 00:00:00 | Narendra Modi | 0.70708853589454 | 0.22975385459193 |
| 2021-08-19 00:00:00 | Narendra Modi | 0.71451544342277 | 0.22412653656067 |
| 2021-08-20 00:00:00 | Narendra Modi | 0.71618735502239 | 0.21995093875293 |
| 2021-08-21 00:00:00 | Narendra Modi | 0.7196060064404 | 0.22072813458949 |
| 2021-08-22 00:00:00 | Narendra Modi | 0.72300204336431 | 0.2214760590795 |
| 2021-08-23 00:00:00 | Narendra Modi | 0.72127716655549 | 0.22274923853088 |
| 2021-08-24 00:00:00 | Narendra Modi | 0.71299319541535 | 0.23197745482832 |
| 2021-08-25 00:00:00 | Narendra Modi | 0.70010382269083 | 0.24405744446839 |
| 2021-08-26 00:00:00 | Narendra Modi | 0.69961987978742 | 0.24122026782151 |
| 2021-08-27 00:00:00 | Narendra Modi | 0.70461716529052 | 0.24085256404847 |
| 2021-08-28 00:00:00 | Narendra Modi | 0.7009429675611 | 0.24383985730492 |
| 2021-08-29 00:00:00 | Narendra Modi | 0.69750358846009 | 0.24823300384982 |
| 2021-08-30 00:00:00 | Narendra Modi | 0.69577083588208 | 0.24991621153407 |
| 2021-08-31 00:00:00 | Narendra Modi | 0.69876124846743 | 0.2468189468156 |
| 2021-09-01 00:00:00 | Narendra Modi | 0.71050237320875 | 0.23523170109413 |
| 2021-09-02 00:00:00 | Narendra Modi | 0.70859187945568 | 0.23832561678217 |
| 2021-09-03 00:00:00 | Narendra Modi | 0.7064423801351 | 0.24003527623377 |
| 2021-09-04 00:00:00 | Narendra Modi | 0.71407689799988 | 0.23270878329684 |
| 2021-09-05 00:00:00 | Narendra Modi | 0.71223900924963 | 0.2333765754588 |
| 2021-09-06 00:00:00 | Narendra Modi | 0.70895049818225 | 0.23381985831932 |
| 2021-09-07 00:00:00 | Narendra Modi | 0.70923915164526 | 0.23340331389606 |
| 2021-09-08 00:00:00 | Narendra Modi | 0.70548082299288 | 0.23605255457594 |
| 2021-09-09 00:00:00 | Narendra Modi | 0.70618759536498 | 0.23719008275666 |
| 2021-09-10 00:00:00 | Narendra Modi | 0.70307270295164 | 0.23687230533536 |
| 2021-09-11 00:00:00 | Narendra Modi | 0.70393251928733 | 0.23528490600508 |
| 2021-09-12 00:00:00 | Narendra Modi | 0.71023405907245 | 0.22666503000175 |
| 2021-09-13 00:00:00 | Narendra Modi | 0.71452959712554 | 0.22121575906503 |
| 2021-09-14 00:00:00 | Narendra Modi | 0.71487117784746 | 0.22228265395961 |
| 2021-09-15 00:00:00 | Narendra Modi | 0.72248469034747 | 0.21501635015163 |
| 2021-09-16 00:00:00 | Narendra Modi | 0.73034964811788 | 0.20499133093464 |
| 2021-09-17 00:00:00 | Narendra Modi | 0.73397986735699 | 0.20595563943425 |
| 2021-09-18 00:00:00 | Narendra Modi | 0.72772178091569 | 0.2109792349922 |
| 2021-09-19 00:00:00 | Narendra Modi | 0.72964218610161 | 0.21017575986261 |
| 2021-09-20 00:00:00 | Narendra Modi | 0.73471188891389 | 0.20879890509969 |
| 2021-09-21 00:00:00 | Narendra Modi | 0.72827066334653 | 0.21626785885709 |
| 2021-09-22 00:00:00 | Narendra Modi | 0.72047022743726 | 0.22527258766441 |
| 2021-09-23 00:00:00 | Narendra Modi | 0.71227981837269 | 0.23381786338708 |
| 2021-09-24 00:00:00 | Narendra Modi | 0.712136095053 | 0.23153217177292 |
| 2021-09-25 00:00:00 | Narendra Modi | 0.71742885695157 | 0.22934231084671 |
| 2021-09-26 00:00:00 | Narendra Modi | 0.71658569422217 | 0.2300142442085 |
| 2021-09-27 00:00:00 | Narendra Modi | 0.71539926767022 | 0.2307880118423 |
| 2021-09-28 00:00:00 | Narendra Modi | 0.7234181999591 | 0.2179481231471 |
| 2021-09-29 00:00:00 | Narendra Modi | 0.71864481311593 | 0.21988050778715 |
| 2021-09-30 00:00:00 | Narendra Modi | 0.72027985589954 | 0.2199514858924 |
| 2021-10-01 00:00:00 | Narendra Modi | 0.71593809602761 | 0.22297275563542 |
| 2021-10-02 00:00:00 | Narendra Modi | 0.71654708829116 | 0.2221628977016 |
| 2021-10-03 00:00:00 | Narendra Modi | 0.71999806009766 | 0.21925089206518 |
| 2021-10-04 00:00:00 | Narendra Modi | 0.71638649172957 | 0.22328154226205 |
| 2021-10-05 00:00:00 | Narendra Modi | 0.717472719515 | 0.22579962309061 |
| 2021-10-06 00:00:00 | Narendra Modi | 0.72709485732472 | 0.2191576609726 |
| 2021-10-07 00:00:00 | Narendra Modi | 0.72578658175482 | 0.21917386077793 |
| 2021-10-08 00:00:00 | Narendra Modi | 0.73498822694606 | 0.21515256408044 |
| 2021-10-09 00:00:00 | Narendra Modi | 0.72934591327824 | 0.21981012711903 |
| 2021-10-10 00:00:00 | Narendra Modi | 0.71906432193858 | 0.22946601641117 |
| 2021-10-11 00:00:00 | Narendra Modi | 0.72359292123065 | 0.22523736175903 |
| 2021-10-12 00:00:00 | Narendra Modi | 0.71979121288933 | 0.23149871338131 |
| 2021-10-13 00:00:00 | Narendra Modi | 0.71715148451224 | 0.23408336401355 |
| 2021-10-14 00:00:00 | Narendra Modi | 0.71880988781735 | 0.23176257297819 |
| 2021-10-15 00:00:00 | Narendra Modi | 0.70938642630972 | 0.23430890851102 |
| 2021-10-16 00:00:00 | Narendra Modi | 0.71280728281128 | 0.22781982376026 |
| 2021-10-17 00:00:00 | Narendra Modi | 0.71801391965644 | 0.22345253907947 |
| 2021-10-18 00:00:00 | Narendra Modi | 0.71450971548816 | 0.22679204192123 |
| 2021-10-19 00:00:00 | Narendra Modi | 0.71456454888995 | 0.22356535408776 |
| 2021-10-20 00:00:00 | Narendra Modi | 0.72016911829714 | 0.21961166524967 |
| 2021-10-21 00:00:00 | Narendra Modi | 0.71806656833816 | 0.22042607977158 |
| 2021-10-22 00:00:00 | Narendra Modi | 0.71717224583013 | 0.22184688097233 |
| 2021-10-23 00:00:00 | Narendra Modi | 0.71557547925677 | 0.22743522214343 |
| 2021-10-24 00:00:00 | Narendra Modi | 0.71099105090991 | 0.22996763618133 |
| 2021-10-25 00:00:00 | Narendra Modi | 0.70329130313234 | 0.23418584048037 |
| 2021-10-26 00:00:00 | Narendra Modi | 0.69755269963719 | 0.2388518311158 |
| 2021-10-27 00:00:00 | Narendra Modi | 0.69107242174794 | 0.24198223131808 |
| 2021-10-28 00:00:00 | Narendra Modi | 0.69296133074576 | 0.24370340050707 |
| 2021-10-29 00:00:00 | Narendra Modi | 0.69291616568009 | 0.24598145177719 |
| 2021-10-30 00:00:00 | Narendra Modi | 0.68939046418171 | 0.25026879345301 |
| 2021-10-31 00:00:00 | Narendra Modi | 0.68702271811793 | 0.25498787507278 |
| 2021-11-01 00:00:00 | Narendra Modi | 0.69198698630857 | 0.25062972808096 |
| 2021-11-02 00:00:00 | Narendra Modi | 0.70176913439805 | 0.24340552309484 |
| 2021-11-03 00:00:00 | Narendra Modi | 0.70559384452605 | 0.24420563876019 |
| 2021-11-04 00:00:00 | Narendra Modi | 0.69634669083264 | 0.24724231534313 |
| 2021-11-05 00:00:00 | Narendra Modi | 0.69671487742939 | 0.24904456736396 |
| 2021-11-06 00:00:00 | Narendra Modi | 0.700238384634 | 0.24330116545187 |
| 2021-11-07 00:00:00 | Narendra Modi | 0.70010598582574 | 0.23749161054641 |
| 2021-11-08 00:00:00 | Narendra Modi | 0.6947699742547 | 0.24198326072856 |
| 2021-11-09 00:00:00 | Narendra Modi | 0.68275165033123 | 0.24817891476138 |
| 2021-11-10 00:00:00 | Narendra Modi | 0.6716439235341 | 0.25595740757474 |
| 2021-11-11 00:00:00 | Narendra Modi | 0.67919804758579 | 0.25494730436637 |
| 2021-11-12 00:00:00 | Narendra Modi | 0.6823979274421 | 0.24737959960709 |
| 2021-11-13 00:00:00 | Narendra Modi | 0.68472438823349 | 0.2444366549971 |
| 2021-11-14 00:00:00 | Narendra Modi | 0.69236849456844 | 0.2434950611458 |
| 2021-11-15 00:00:00 | Narendra Modi | 0.69391122590892 | 0.24328529647721 |
| 2021-11-16 00:00:00 | Narendra Modi | 0.69715808402408 | 0.24437169051449 |
| 2021-11-17 00:00:00 | Narendra Modi | 0.70033343902579 | 0.24041539547045 |
| 2021-11-18 00:00:00 | Narendra Modi | 0.70353021175063 | 0.23569901262409 |
| 2021-11-19 00:00:00 | Narendra Modi | 0.70011883454976 | 0.2402567026393 |
| 2021-11-20 00:00:00 | Narendra Modi | 0.70028163862652 | 0.23947201214272 |
| 2021-11-21 00:00:00 | Narendra Modi | 0.70233436385967 | 0.23332159036113 |
| 2021-11-22 00:00:00 | Narendra Modi | 0.70593085954509 | 0.23160139977024 |
| 2021-11-23 00:00:00 | Narendra Modi | 0.7090977500829 | 0.23070987479878 |
| 2021-11-24 00:00:00 | Narendra Modi | 0.71019470997245 | 0.22563706527274 |
| 2021-11-25 00:00:00 | Narendra Modi | 0.70887717176896 | 0.22479263492388 |
| 2021-11-26 00:00:00 | Narendra Modi | 0.70552930883009 | 0.22890584542768 |
| 2021-11-27 00:00:00 | Narendra Modi | 0.70246329796995 | 0.23188317262874 |
| 2021-11-28 00:00:00 | Narendra Modi | 0.69533691099145 | 0.24480717396867 |
| 2021-11-29 00:00:00 | Narendra Modi | 0.68698827666899 | 0.24982852637629 |
| 2021-11-30 00:00:00 | Narendra Modi | 0.6924741389805 | 0.24383342809042 |
| 2021-12-01 00:00:00 | Narendra Modi | 0.70378202738567 | 0.2398994669039 |
| 2021-12-02 00:00:00 | Narendra Modi | 0.70491323994068 | 0.23787613097747 |
| 2021-12-03 00:00:00 | Narendra Modi | 0.70809988087391 | 0.23673226530341 |
| 2021-12-04 00:00:00 | Narendra Modi | 0.71359723348313 | 0.23449401385551 |
| 2021-12-05 00:00:00 | Narendra Modi | 0.71795294199326 | 0.22826774072119 |
| 2021-12-06 00:00:00 | Narendra Modi | 0.72678056236277 | 0.21999917626138 |
| 2021-12-07 00:00:00 | Narendra Modi | 0.72322743132242 | 0.21934346950325 |
| 2021-12-08 00:00:00 | Narendra Modi | 0.70821113833596 | 0.23029606855387 |
| 2021-12-09 00:00:00 | Narendra Modi | 0.70811759997083 | 0.23226631361154 |
| 2021-12-10 00:00:00 | Narendra Modi | 0.71333562107291 | 0.22547700803866 |
| 2021-12-11 00:00:00 | Narendra Modi | 0.70867188027695 | 0.22576592854527 |
| 2021-12-12 00:00:00 | Narendra Modi | 0.70468822711701 | 0.22699137489891 |
| 2021-12-13 00:00:00 | Narendra Modi | 0.70746318252073 | 0.22262394454138 |
| 2021-12-14 00:00:00 | Narendra Modi | 0.70787166133327 | 0.22543798309402 |
| 2021-12-15 00:00:00 | Narendra Modi | 0.71789110821509 | 0.21901293486451 |
| 2021-12-16 00:00:00 | Narendra Modi | 0.72125212005514 | 0.21511997581886 |
| 2021-12-17 00:00:00 | Narendra Modi | 0.72376710917457 | 0.21194531199635 |
| 2021-12-18 00:00:00 | Narendra Modi | 0.72615067812689 | 0.20894719566357 |
| 2021-12-19 00:00:00 | Narendra Modi | 0.72873299674968 | 0.20845641903967 |
| 2021-12-20 00:00:00 | Narendra Modi | 0.72772734935813 | 0.2144862589442 |
| 2021-12-21 00:00:00 | Narendra Modi | 0.73261562964369 | 0.21065104858592 |
| 2021-12-22 00:00:00 | Narendra Modi | 0.73374449332171 | 0.20714328313739 |
| 2021-12-23 00:00:00 | Narendra Modi | 0.72936334436515 | 0.21221862403865 |
| 2021-12-24 00:00:00 | Narendra Modi | 0.72496687729219 | 0.21727181385599 |
| 2021-12-25 00:00:00 | Narendra Modi | 0.72646928487973 | 0.21693789750412 |
| 2021-12-26 00:00:00 | Narendra Modi | 0.72778062967931 | 0.21124768949796 |
| 2021-12-27 00:00:00 | Narendra Modi | 0.7242330039657 | 0.21293165915106 |
| 2021-12-28 00:00:00 | Narendra Modi | 0.72215773272254 | 0.21290730436971 |
| 2021-12-29 00:00:00 | Narendra Modi | 0.71892323406197 | 0.21471016871369 |
| 2021-12-30 00:00:00 | Narendra Modi | 0.72290323692588 | 0.20925296640579 |
| 2021-12-31 00:00:00 | Narendra Modi | 0.72138938246399 | 0.20800553965626 |
| 2022-01-01 00:00:00 | Narendra Modi | 0.71815051891818 | 0.21081340885915 |
| 2022-01-02 00:00:00 | Narendra Modi | 0.72329298386033 | 0.20963225778242 |
| 2022-01-03 00:00:00 | Narendra Modi | 0.72987728150314 | 0.20040067377638 |
| 2022-01-04 00:00:00 | Narendra Modi | 0.72491557641108 | 0.20408006020868 |
| 2022-01-05 00:00:00 | Narendra Modi | 0.72267667002699 | 0.20678689016693 |
| 2022-01-06 00:00:00 | Narendra Modi | 0.72288862068605 | 0.20859638919573 |
| 2022-01-07 00:00:00 | Narendra Modi | 0.71881917559958 | 0.21329930449035 |
| 2022-01-08 00:00:00 | Narendra Modi | 0.72104064318539 | 0.21182992218347 |
| 2022-01-09 00:00:00 | Narendra Modi | 0.71913181983512 | 0.2116360601086 |
| 2022-01-10 00:00:00 | Narendra Modi | 0.71639210604126 | 0.21764711317099 |
| 2022-01-11 00:00:00 | Narendra Modi | 0.72102916416984 | 0.21394074569 |
| 2022-01-12 00:00:00 | Narendra Modi | 0.72349423259763 | 0.21127094711076 |
| 2022-01-13 00:00:00 | Narendra Modi | 0.72129335796585 | 0.21207631871996 |
| 2022-01-14 00:00:00 | Narendra Modi | 0.71971511334685 | 0.20893094778525 |
| 2022-01-15 00:00:00 | Narendra Modi | 0.71649954239957 | 0.21244245994093 |
| 2022-01-16 00:00:00 | Narendra Modi | 0.7123351717758 | 0.21725254058707 |
| 2022-01-17 00:00:00 | Narendra Modi | 0.71339179033602 | 0.214179239108 |
| 2022-01-18 00:00:00 | Narendra Modi | 0.71474047163501 | 0.21380152983869 |
| 2022-01-19 00:00:00 | Narendra Modi | 0.71033312027369 | 0.21931240341837 |
| 2022-01-20 00:00:00 | Narendra Modi | 0.71144072769672 | 0.21765753796425 |
| 2022-01-21 00:00:00 | Narendra Modi | 0.72185038614686 | 0.21392678443296 |
| 2022-01-22 00:00:00 | Narendra Modi | 0.72004698316276 | 0.21363794233226 |
| 2022-01-23 00:00:00 | Narendra Modi | 0.72397192589381 | 0.20909709601635 |
| 2022-01-24 00:00:00 | Narendra Modi | 0.72219866687414 | 0.20971643508125 |
| 2022-01-25 00:00:00 | Narendra Modi | 0.72060425557896 | 0.21156685856759 |
| 2022-01-26 00:00:00 | Narendra Modi | 0.71998591357371 | 0.20989433400324 |
| 2022-01-27 00:00:00 | Narendra Modi | 0.71482874395074 | 0.21321951189254 |
| 2022-01-28 00:00:00 | Narendra Modi | 0.71634262367126 | 0.21181425983088 |
| 2022-01-29 00:00:00 | Narendra Modi | 0.72338973406894 | 0.20528044285116 |
| 2022-01-30 00:00:00 | Narendra Modi | 0.7220278506514 | 0.20713090997928 |
| 2022-01-31 00:00:00 | Narendra Modi | 0.72606879638448 | 0.20453576770345 |
| 2022-02-01 00:00:00 | Narendra Modi | 0.72304814316272 | 0.20668023706328 |
| 2022-02-02 00:00:00 | Narendra Modi | 0.73074430031197 | 0.20222848430107 |
| 2022-02-03 00:00:00 | Narendra Modi | 0.73510459015883 | 0.20102624736562 |
| 2022-02-04 00:00:00 | Narendra Modi | 0.73436046182837 | 0.20014477819291 |
| 2022-02-05 00:00:00 | Narendra Modi | 0.74133794060257 | 0.19668531135586 |
| 2022-02-06 00:00:00 | Narendra Modi | 0.74655422963666 | 0.19340408814333 |
| 2022-02-07 00:00:00 | Narendra Modi | 0.74331360193153 | 0.19636934928224 |
| 2022-02-08 00:00:00 | Narendra Modi | 0.74845887674335 | 0.19247009683388 |
| 2022-02-09 00:00:00 | Narendra Modi | 0.75012810637366 | 0.18981202914203 |
| 2022-02-10 00:00:00 | Narendra Modi | 0.75123507274004 | 0.18868738200096 |
| 2022-02-11 00:00:00 | Narendra Modi | 0.74436399485598 | 0.1967693996786 |
| 2022-02-12 00:00:00 | Narendra Modi | 0.73657743475136 | 0.20211946561641 |
| 2022-02-13 00:00:00 | Narendra Modi | 0.72753628492556 | 0.21028755578353 |
| 2022-02-14 00:00:00 | Narendra Modi | 0.73240101239251 | 0.20806324065233 |
| 2022-02-15 00:00:00 | Narendra Modi | 0.72637774524787 | 0.21514980321771 |
| 2022-02-16 00:00:00 | Narendra Modi | 0.72107508718492 | 0.21814869174487 |
| 2020-06-11 00:00:00 | Moon Jae-in | 0.54896482440603 | 0.3614277539662 |
| 2020-06-12 00:00:00 | Moon Jae-in | 0.56832729908431 | 0.346595864969 |