Inside the RNC's (Literal) Convention Boxing Ring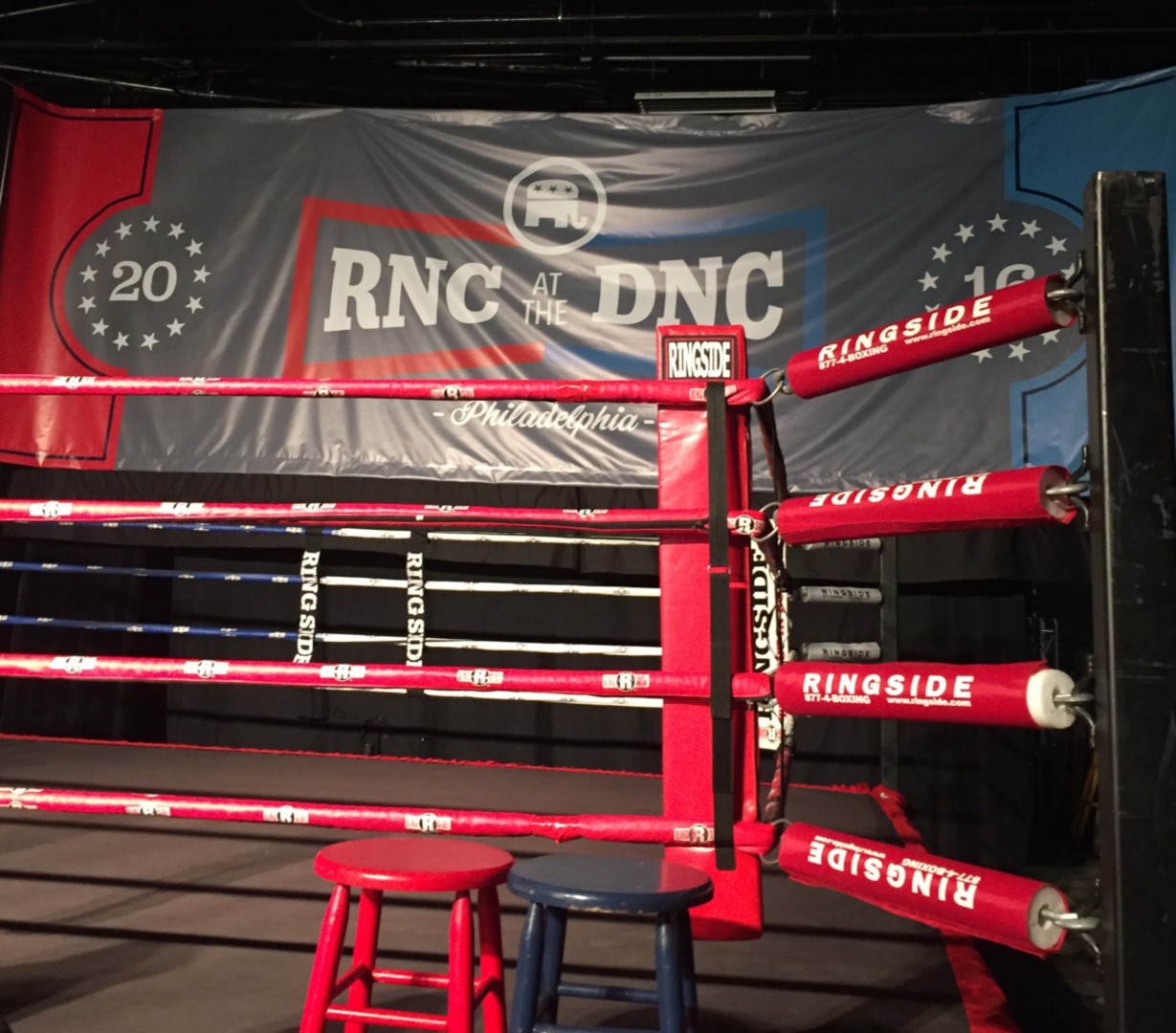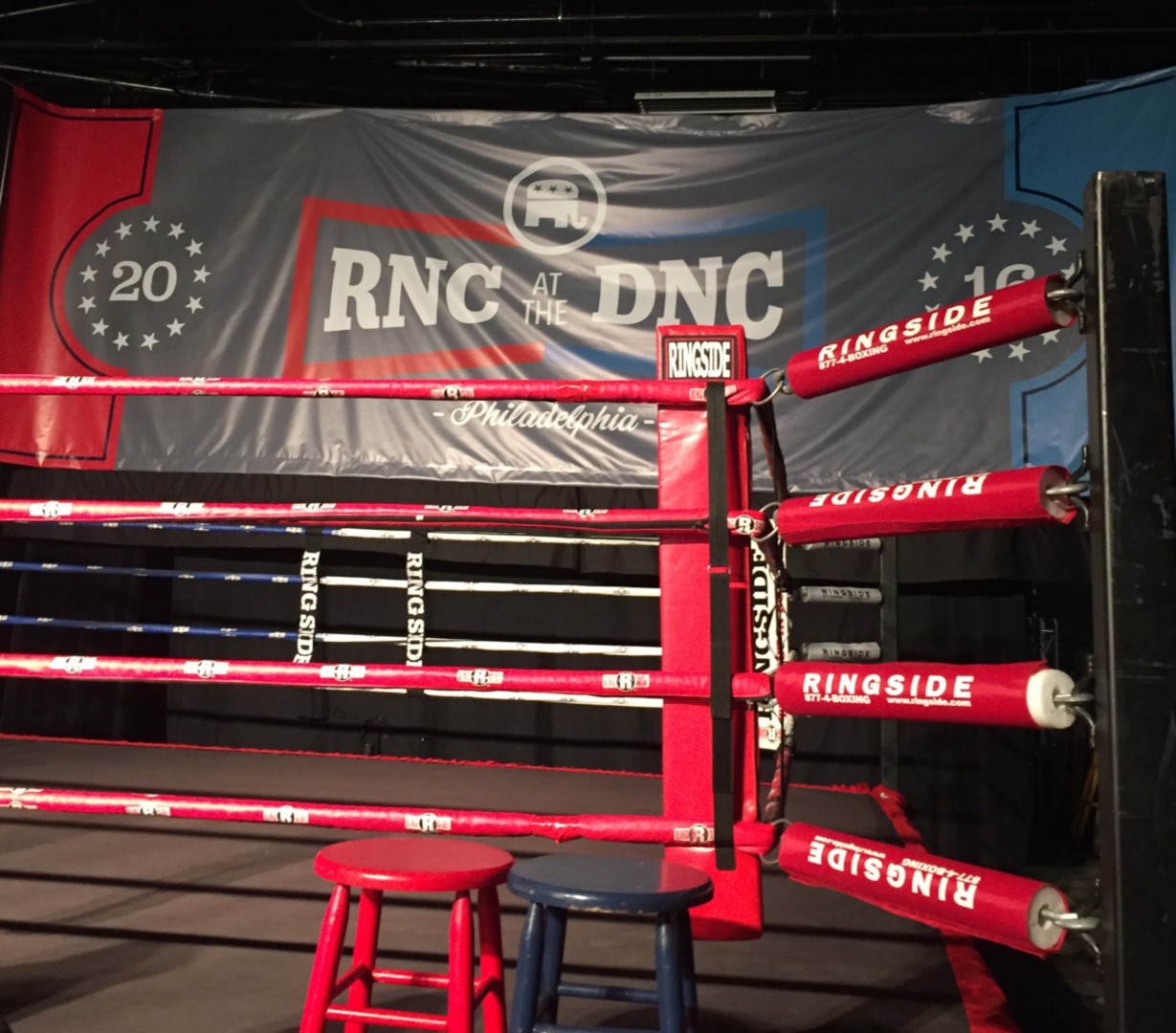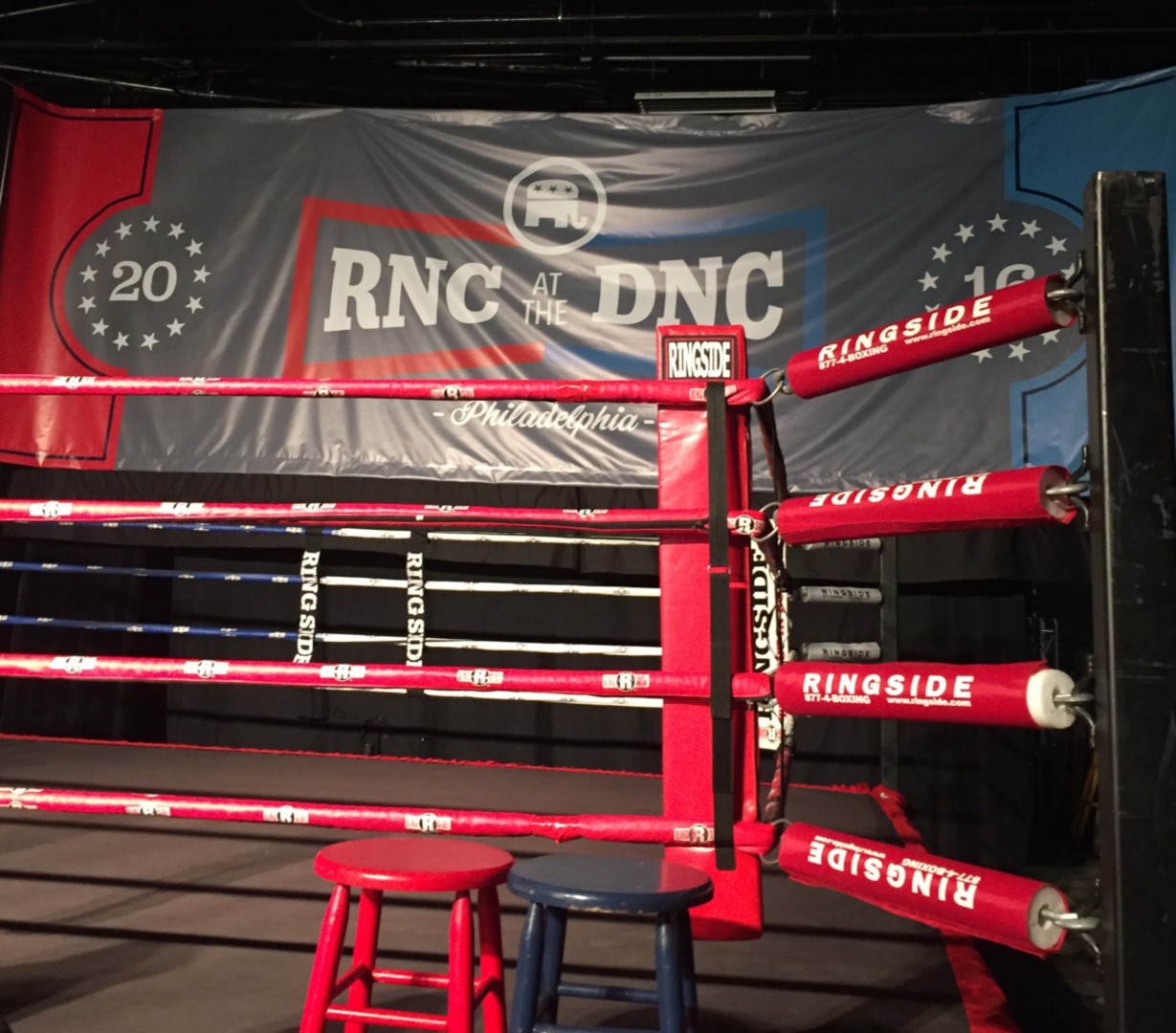 PHILADELPHIA — If you feel like you're walking through an abandoned back alley, you're in the right place. The Republican National Committee's "RNC at the DNC" rapid-response operation to the Democratic National Convention, is headquartered at a warehouse in South Philly that normally hosts boxing matches.
"Our contract here expires midnight on Thursday. Friday night, there's a fight here. I think it's boxing," said Sean Spicer, the RNC's spokesman.
Republicans took advantage of the boxing ring already present in their sprawling 20,000-square-foot temporary space to illustrate the metaphor of battle. "The idea that there is this fight within the Democratic Party, it tied in very nicely," Spicer said.
Republicans are gleefully playing up the ferocity of Bernie Sanders' supporters who are angry that Democrats are convened here to nominate Hillary Clinton for president. In addition to the boxing ring, the RNC warehouse staff has set up cornhole and roulette games that are "rigged" in Clinton's favor. The beanbag hole on the Vermont independent's cornhole board is taped over, for example.
This is standard operating procedure for the RNC, which set up rapid response teams in similar facilities at the last several Democratic conventions. The Democratic National Committee also has rapid response operations.
Whether it's by design or circumstance, this RNC temporary headquarters is far away from the action of the Democratic convention. In contrast to the cramped, sometimes mob-like and party feel of the Democrats' convention hall, the RNC's large black box feels almost abandoned. There are a few scattered tables where staffers and volunteers can get coffee and cookies. There is a highway overpass behind the space and a shuttered clothing factory warehouse next to it. The surrounding neighborhood isn't much to look at either. There is a Dollar Store and a Western Union and a self storage facility within walking distance.
"I thought I was going to get robbed," said one reporter after Wednesday's daily press conference designed to counter the Democratic message.
"My cab driver kept asking me, 'Are you sure this is where you want to go?'" said another a day earlier.
Nonetheless, the RNC-at-the-DNC press conferences that host a lineup of Donald Trump surrogates and supporters have managed to fill at least half of the press seats in the facility. There are a lot of TV cameras. Former New York Mayor Rudy Giuliani and Americans for Tax Reform President Grover Norquist were the stars of Wednesday's event. On Tuesday, the lineup included Trump senior adviser and pollster Kellyanne Conway and David Bossie, president of Citizens United.
The goal for Republicans here is to focus negative energy on Clinton rather than discussing a Trump presidency. For example, anti-tax evangelist Norquist said Clinton would impose $1 trillion in new taxes on Americans through a variety of her programs, including a carbon tax and a gun tax. Asked multiple times about Trump's possible ties to Russian President Vladimir Putin, Bossie would talk only about the content of the emails. "Whoever did the hack did not write those emails," he said.
The most recent leak of internal emails from the DNC fanned the flames for both Republicans and the die-hardest of Sanders' supporters, who claim that Clinton won the nomination unfairly. "It's a rigged system," said RNC Chief of Staff Katie Walsh, using the same language Sanders' supporters have cried in the streets. "Our board games. They're all rigged in favor of Hillary."
The RNC team also is ferrying two mobile billboards around the city, mainly targeting Sanders supporters. The black billboards simply say "ENOUGH" with a downward red arrow through the "H."
"We had a bunch of cheers from Bernie guys gathered around it. I'm not sure if they really knew that it was us that was sending around the message, but we have gotten a positive reaction from Bernie supporters," Spicer said.
There is a website in smaller print at the bottom of the billboard identifying the GOP.
The RNC is targeting Sanders' supporters who they believe could be persuaded to vote for Trump. Spicer acknowledged that is a tall order, but he said there are at least some Sanders supporters who respond positively to a Trump message.
"We believe there is a bigger and bigger slice this cycle of frustrated voters [who are] with Bernie that have ruled out ever voting for Hillary. The question is how many of those can you turn," he said.
Sanders' supporters aren't likely to be venturing into South Philly to pose in the boxing ring. The press conferences are mainly to throw out as many negative Clinton messages as possible for the thousands of journalists here.
The speakers at those events are not as scripted as perhaps the the RNC staff would like. When asked whether Trump would move some of his overseas operations back to the United States, Trump surrogate Boris Epshteyn talked about how the Republican nominee looks out for himself. "Look, Donald Trump is a business man. He's in the business of making money for himself."
Norquist, who is supporting Trump largely because he can't stomach Clinton's economic policies, was candid with Morning Consult about his own potential disagreements with Trump on issues such as trade and immigration. "When you get down to two candidates, you have to decide which are your vote-moving issues and what can you put up with," he said.