Years After the First Clinton, Another Embraces Gun Reforms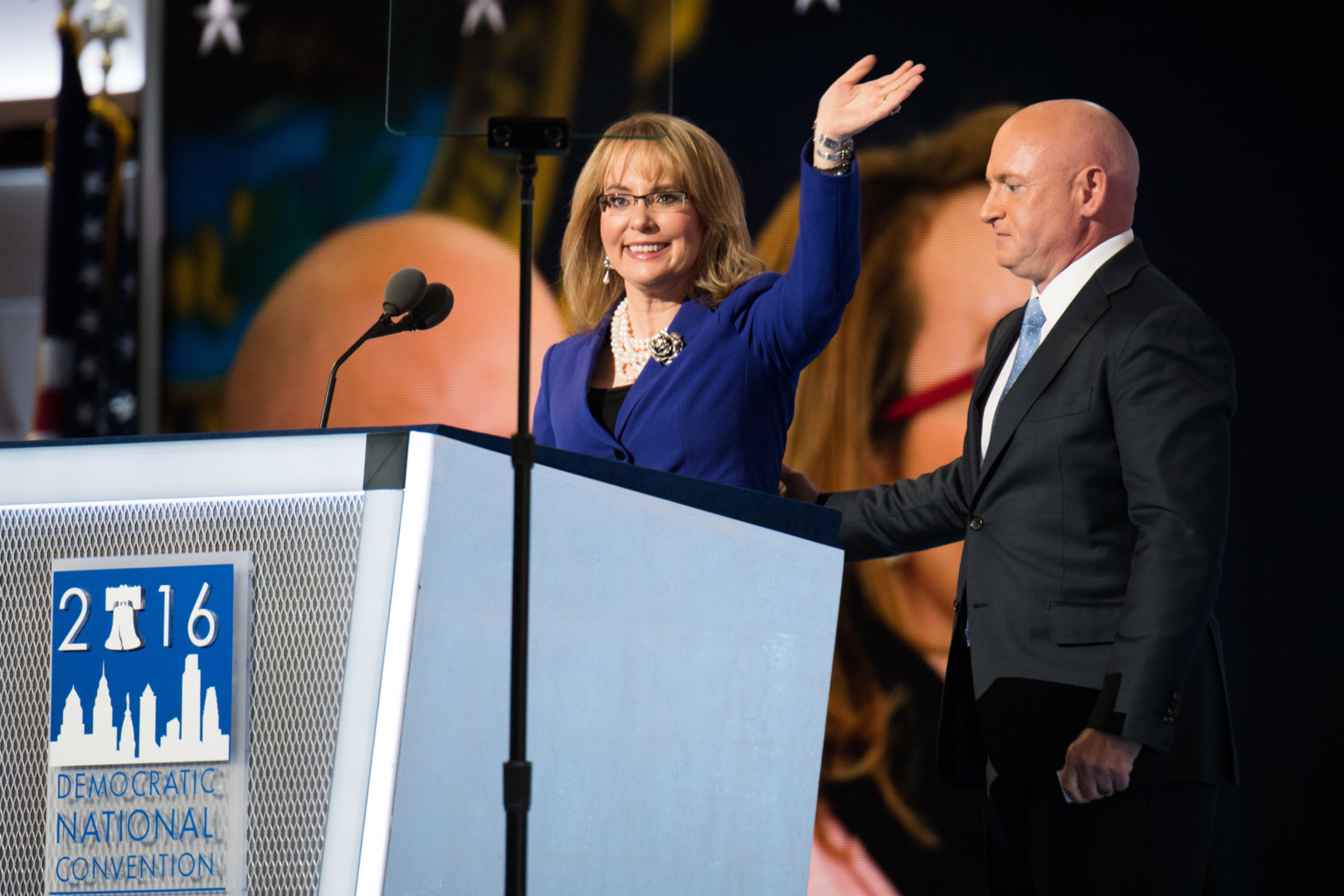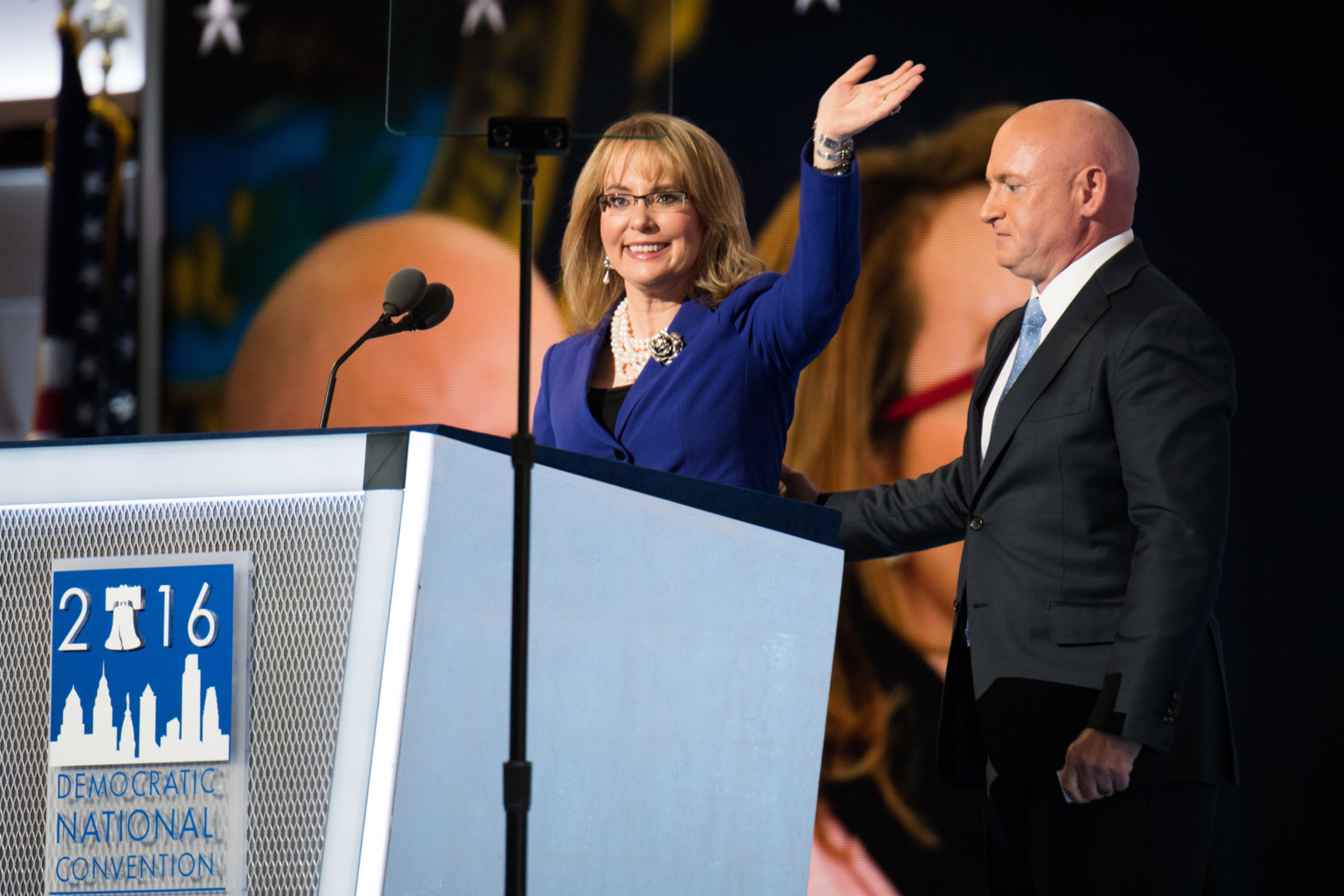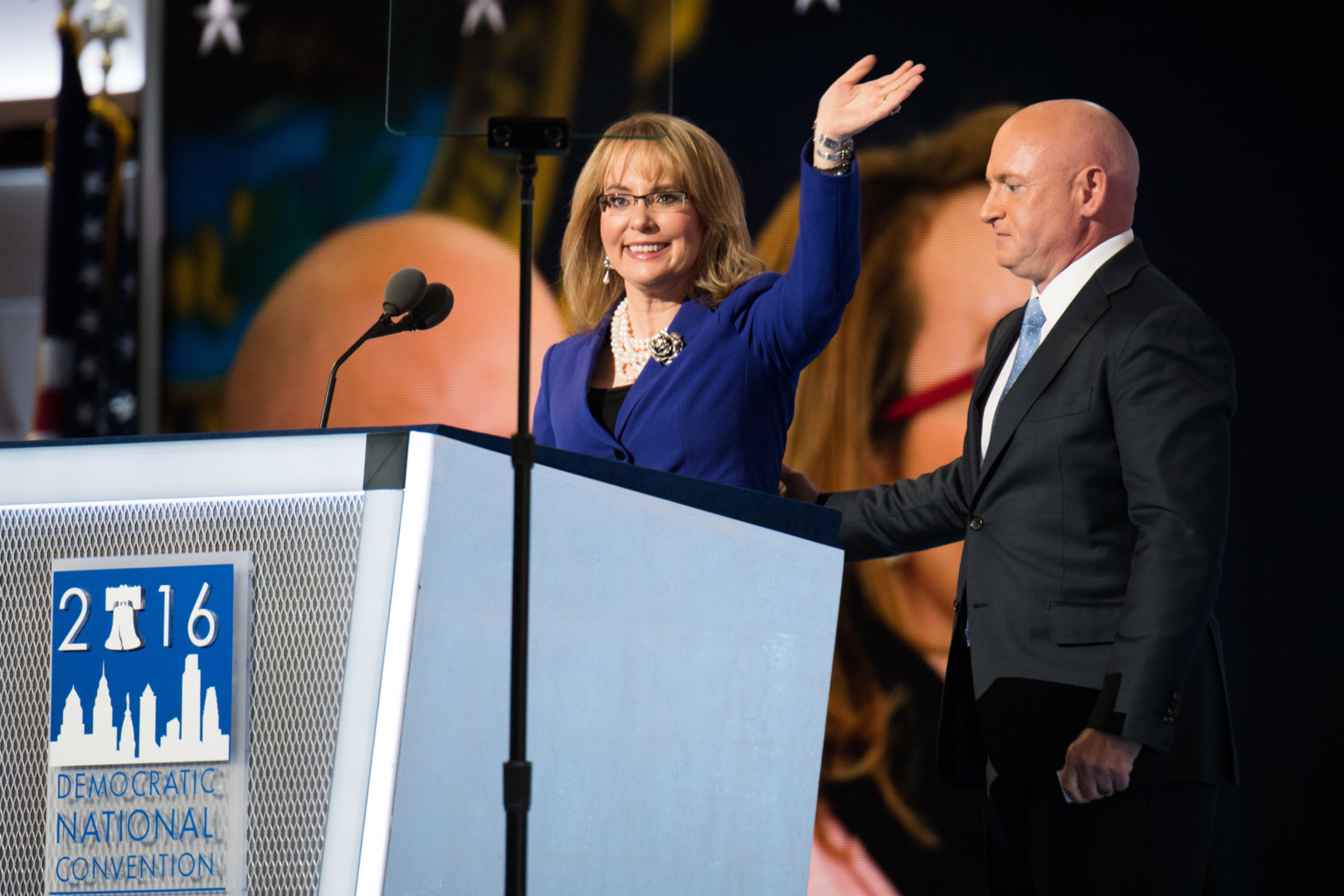 PHILADELPHIA — After Democrats lost the House to Republicans in the 1994 elections, President Bill Clinton mused that the gains were driven, in part, by the Democratic Party's support for legislation that restricted the sale of guns.
But as he watched the remarks on stage at the Democratic National Convention that has nominated his wife, Hillary Clinton, as the party's choice to be the 45th president, he might have noticed many Democrats here are leaning in on the issue rather than hiding from it after a string of high-profile, violent shootings.
"It is not 1994 anymore," Mark Kelly, an astronaut whose wife, former Rep. Gabby Giffords (D-Ariz.), was nearly assassinated during a mass shooting in Arizona, said to reporters this week.
Joining Giffords and Kelly at the convention podium Wednesday were Erica Smegielski — the daughter of former Sandy Hook Elementary Principal Dawn Hochsprung, who was killed during a shooting there in 2012 — and Sen. Chris Murphy (D-Conn.).
During a presentation earlier in the week on the shifting politics surrounding guns, Murphy noted the wide open embrace of gun control measures by Democrats, even some who hail from red and rural states.
"Almost every member of the Democratic caucus came down to speak at our filibuster," he said, referring to his very own 15-hour attempt to draw attention to Congress' decision not to tighten restrictions. Pointing to a "sit-in" protest orchestrated in the House, he added, "The same thing happened a week later on the House floor."
At the top of the ticket, Clinton has embraced gun reforms such as one measure that seeks to strengthen background checks and another that would prevent domestic abusers and people on the terrorist watch list from purchasing guns.
"People are very scared that terrorists are turning to assault weapons instead of airplanes," Murphy said.
Ever since the San Bernardino, Calif., shooting of a holiday office party in December, Democrats have sought to frame the gun debate in the context of terrorism. A Morning Consult survey earlier this month found that a third of voters were worried that either they or someone they know would be a victim of a terror attack or gun violence.
The survey also found the public largely in support of policy proposals backed by Clinton, even though they have not found similar support in Congress – inaction that has earned vulnerable Republicans well-funded rival campaigns.
In New Hampshire, Republican Sen. Kelly Ayotte has taken heat for her reluctance on the issue, including a big money television ad campaign funded by Americans for Responsible Solutions, a PAC that was started by Kelly. The group's ad forced her to cut one of her own featuring police chiefs and even some of the rhetoric used by Kelly's organization.
Still, in this state's marquee Senate race, Kelly was willing to throw another vulnerable Republican, Sen. Pat Toomey, a bone for his efforts with Democrats to address the watch list issue.
"You have to give him a little credit," he said. "To have Katie McGinty and Pat Toomey in Pennsylvania is great for folks in Pennsylvania. To have two people who are on the same side of this issue is in the best interest for communities in Pennsylvania."
As Clinton and other Democrats have openly embraced gun restrictions, Matt Canter, a Democratic strategist who once helped lead the campaign arm of the Senate Democrats, said the issue has gone through a drastic shift in the eyes of voters nearly unrivaled by others that have dominated the political debate.
"It's almost like LGBT equality in terms of how fast the issue has moved before our eyes," he told reporters at a briefing hosted by the Democratic Senatorial Campaign Committee.