Trump's Immigration Stance Isn't Hurting Him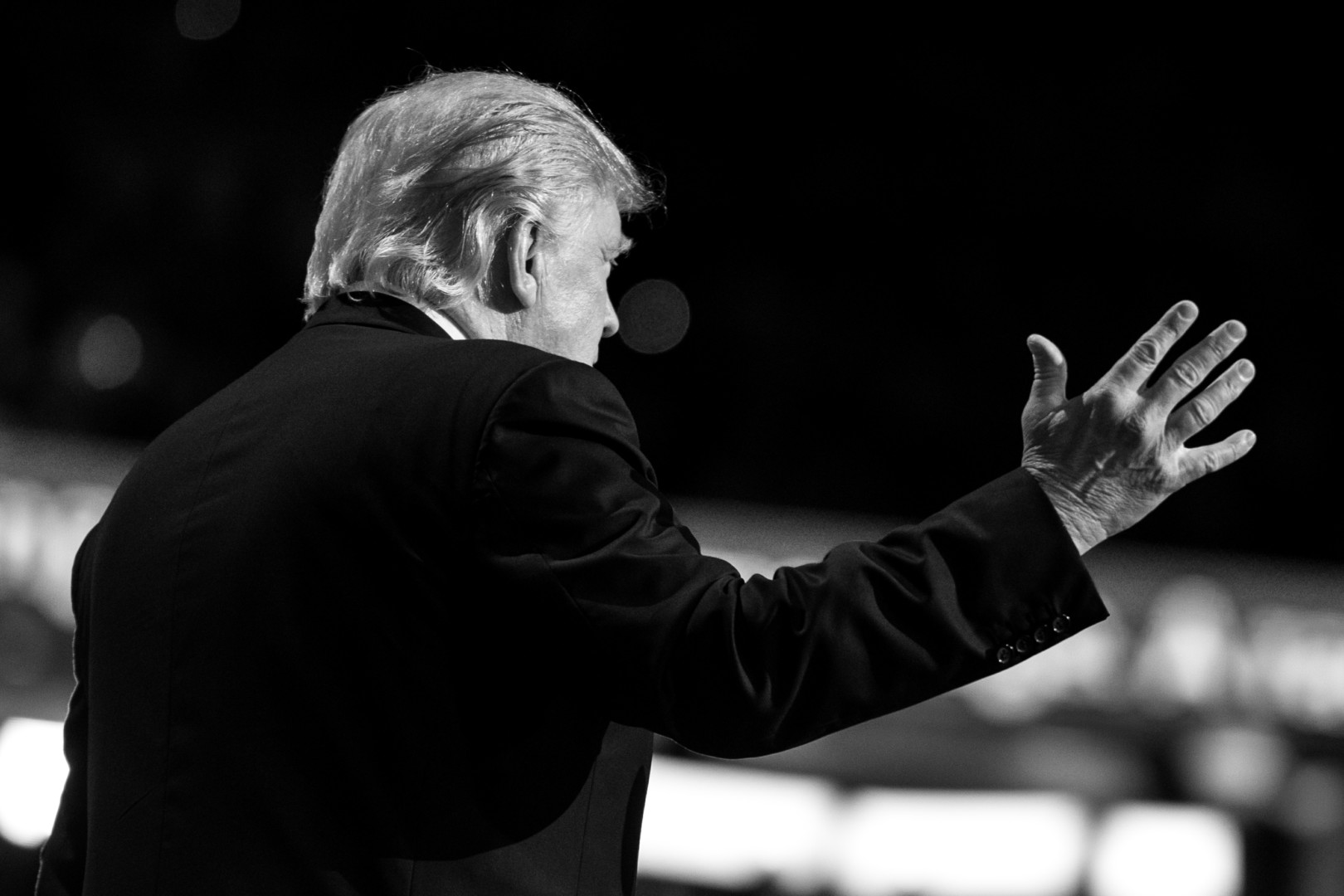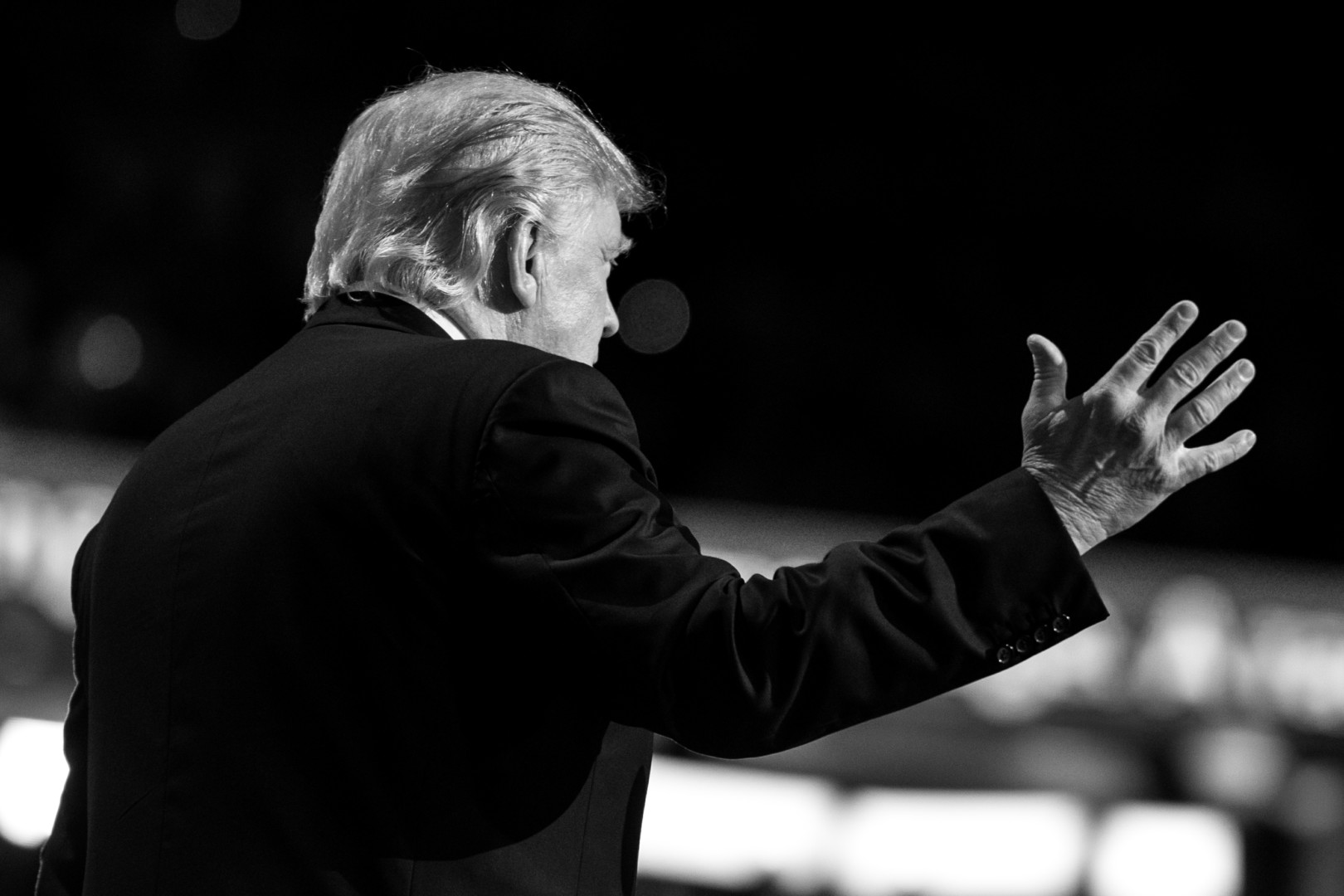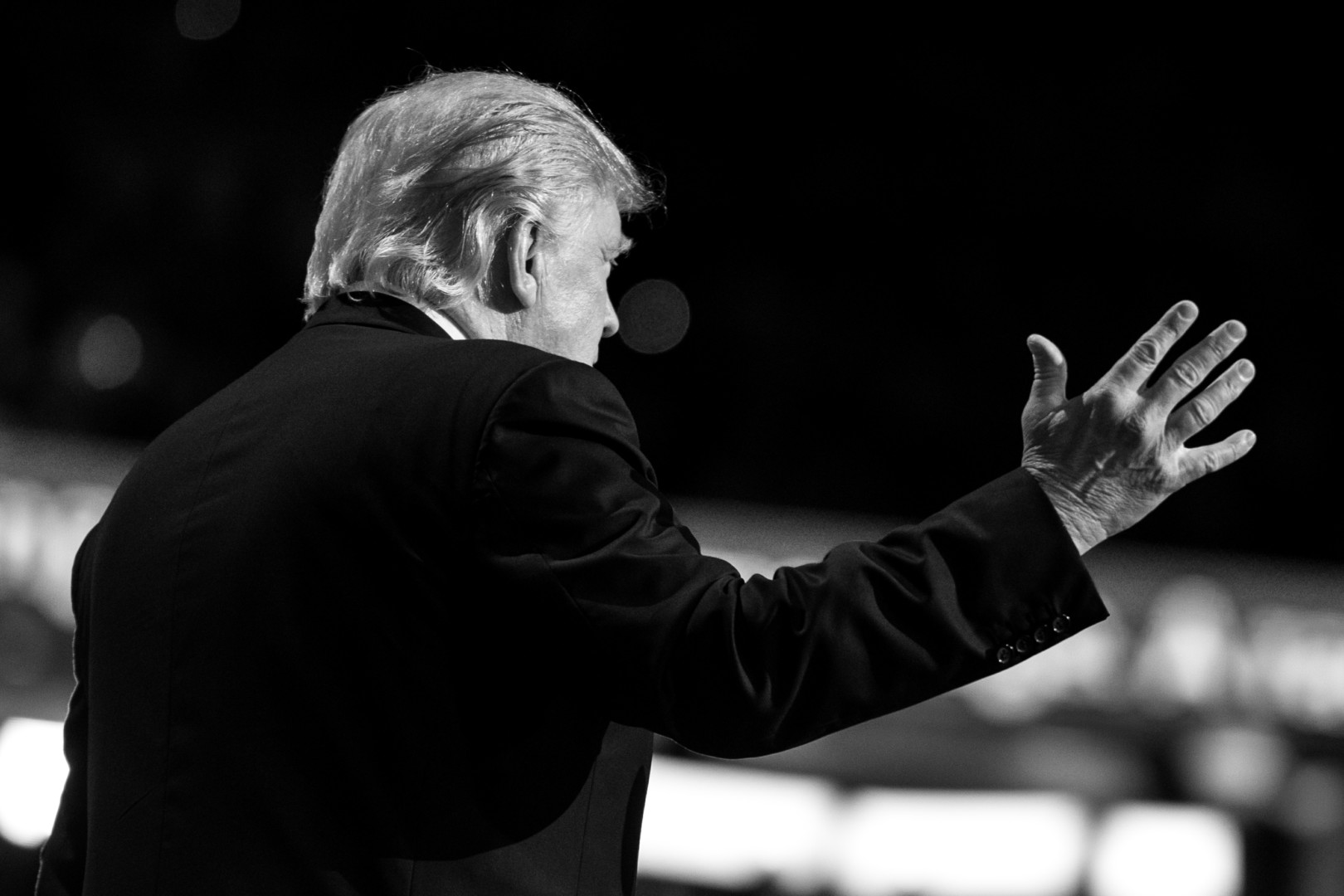 A week that saw Donald Trump solidly embrace his well-known harsh rhetoric on immigration has done little to change his standing among the public. After flirting with, but ultimately rejecting, a "softening" of his previous statements that all unauthorized immigrants must leave the country, the Republican businessman is within the margin of error in a head-to-head matchup with his opponent Hillary Clinton, according to Morning Consult's new poll.
Among Hispanic voters, the matchup has barely changed since last week, when Trump was actively courting Latino leaders.
Meanwhile, the public's views on the various immigration policies floated by both presidential candidates can best be described as schizophrenic. A solid majority favors allowing qualified illegal immigrants to remain in the country legally, for example, but almost the same percentage favors a deportation task force.
Trump trails Clinton by only 2 percentage points, 42 percent to 40 percent, in a poll taken Sept. 1 through Sept. 2. That's little changed from a week earlier, when the GOP nominee was behind the Democratic rival by 3 points. Almost one-fifth of registered voters (18 percent) still don't know or have no opinion, despite Election Day being roughly two months away.
| Name | Approve | Don't Know / No Opinion | Disapprove | Net Value |
| --- | --- | --- | --- | --- |
| Joe Biden | 42 | 8 | 50 | -9 |
| Jair Bolsonaro | 41 | 7 | 53 | -12 |
| Mario Draghi | 54 | 6 | 40 | 14 |
| Boris Johnson | 33 | 7 | 60 | -27 |
| Fumio Kishida | 43 | 18 | 39 | 4 |
| Andrés Manuel López Obrador | 68 | 8 | 24 | 44 |
| Emmanuel Macron | 40 | 6 | 54 | -14 |
| Narendra Modi | 77 | 5 | 17 | 60 |
| Moon Jae-in | 40 | 5 | 55 | -15 |
| Scott Morrison | 42 | 7 | 51 | -10 |
| Pedro Sánchez | 34 | 7 | 59 | -25 |
| Olaf Scholz | 45 | 8 | 47 | -2 |
| Justin Trudeau | 41 | 6 | 53 | -12 |
Hispanic voters favor Clinton over Trump by a wide margin, 61 percent to 21 percent. But that ratio barely differs from a week earlier, when 58 percent of Latino voters put themselves in Clinton's camp and 21 percent put themselves in Trump's.
The upshot may be that for as much furor as Trump created by taking a brief trip to Mexico and then returning to his customary hard-line immigration comments, the public is worried about other things. Almost half of voters say the most important issues that they will weigh in this election are about the economy (35 percent) or national security (21 percent). Immigration policy plays into both those areas, but the issue is several degrees away from the raw notions of jobs and safety that drive most voters.
The next most popular issues for voters are seniors' issues (14 percent) and health care (12 percent). After that it drops into single digits.
The electorate is also collectively muddled about what it wants on immigration. When asked about various policy ideas that have been floated by both presidential candidates or their surrogates, registered voters are most enthusiastic about local and federal coordination on immigration enforcement and allowing foreign workers to come to the U.S. if they can show that they will contribute to the economy and share American values.
Coordinating local and federal officials on immigration enforcement has been used under both Republican and Democratic administrations, but it is opposed by immigration-reform advocates and Latino groups who fear that police will be frozen out of Hispanic neighborhoods when fighting crime. Dubbed "Secure Communities," the policy gives local police the ability to apprehend people who they suspect are in the country illegally if they are detaining them for another reason. It is one of Trump's immigration proposals, and more than three-fourths of respondents (78 percent) support such a policy.
Well over two-thirds of voters (68 percent) also support allowing foreign workers to come to the country if they meet economic and value-based criteria. That prospect hasn't been explicitly embraced by either candidate, in part because lobbying groups such as unions and anti-immigration opponents are wary of making it easy for foreigners to work in the country. Yet Trump has made reference to "a big door" on the wall he wants to construct on the southern border of the U.S., while Clinton has said that coming to the country legally would be easier under her administration.
Speaking of Trump's border wall, the public is evenly split on the idea, with 46 percent in favor and 45 percent opposed.
Voters are keener on a general idea supported by Democrats and Clinton (and many Republicans in Congress) — allowing noncriminal undocumented immigrants to remain legally in the United States if they meet certain criteria. Well over half of respondents (58 percent) support that proposal, while 33 percent oppose it.
Here's where the schizophrenia comes in. Almost the same percentage of voters favor Trump's declaration that all undocumented immigrants must return to their home countries and reapply to come back legally. That proposal is favored by 56 percent of respondents, while 37 percent oppose it.
Without altering the way people can enter the country legally, the "leave and reapply" process that Trump embraces would effectively amount to either a massive roundup of the undocumented population or "self-deportation," an idea backed by Republican presidential nominee Mitt Romney in the 2012 election. Immigrants residing in the country illegally who opted to leave (or were forced to go) would need to wait years, sometimes decades, to return legally.
One of the biggest problems with legal immigration in the United States is that there are far fewer slots available for people to come than the demand. It would ease much of the pressure on businesses and families that hope to either hire workers or reunite with their loved ones if the number of people who are allowed to come into the country increased. But that idea doesn't seem to fly with the American public. Only 35 percent of respondents favor increasing legal immigration, while 52 percent support decreasing legal immigration.
Polling over the past 10 years has shown that the public wants to see an end to illegal immigration and a more rational system put in place. How to make that happen has stymied policy-makers in Congress and the advocacy community for years. It's no wonder the public is divided and, in some cases, confused.
Morning Consult's polling does make it clear that voters want Congress to be involved in the decision. Only about one-third of voters (35 percent) support Clinton's promise to expand President Obama's executive actions on immigration if Congress fails to act; 57 percent are opposed to that idea.
| period_end | company | Right Direction | Wrong Track |
| --- | --- | --- | --- |
| 2020-01-06 00:00:00 | The United States | 0.389956 | 0.610044 |
| 2020-01-07 00:00:00 | The United States | 0.387966 | 0.612034 |
| 2020-01-08 00:00:00 | The United States | 0.3858 | 0.6142 |
| 2020-01-09 00:00:00 | The United States | 0.383584 | 0.616416 |
| 2020-01-10 00:00:00 | The United States | 0.380226 | 0.619774 |
| 2020-01-11 00:00:00 | The United States | 0.381588 | 0.618412 |
| 2020-01-12 00:00:00 | The United States | 0.381554 | 0.618446 |
| 2020-01-13 00:00:00 | The United States | 0.382027 | 0.617973 |
| 2020-01-14 00:00:00 | The United States | 0.382248 | 0.617752 |
| 2020-01-15 00:00:00 | The United States | 0.385737 | 0.614263 |
| 2020-01-16 00:00:00 | The United States | 0.386602 | 0.613398 |
| 2020-01-17 00:00:00 | The United States | 0.387452 | 0.612548 |
| 2020-01-18 00:00:00 | The United States | 0.385416 | 0.614584 |
| 2020-01-19 00:00:00 | The United States | 0.385756 | 0.614244 |
| 2020-01-20 00:00:00 | The United States | 0.385173 | 0.614827 |
| 2020-01-21 00:00:00 | The United States | 0.386405 | 0.613595 |
| 2020-01-22 00:00:00 | The United States | 0.384744 | 0.615256 |
| 2020-01-23 00:00:00 | The United States | 0.383603 | 0.616397 |
| 2020-01-24 00:00:00 | The United States | 0.383974 | 0.616026 |
| 2020-01-25 00:00:00 | The United States | 0.383306 | 0.616694 |
| 2020-01-26 00:00:00 | The United States | 0.384763 | 0.615237 |
| 2020-01-27 00:00:00 | The United States | 0.384809 | 0.615191 |
| 2020-01-28 00:00:00 | The United States | 0.381407 | 0.618593 |
| 2020-01-29 00:00:00 | The United States | 0.381554 | 0.618446 |
| 2020-01-30 00:00:00 | The United States | 0.383541 | 0.616459 |
| 2020-01-31 00:00:00 | The United States | 0.384121 | 0.615879 |
| 2020-02-01 00:00:00 | The United States | 0.384425 | 0.615575 |
| 2020-02-02 00:00:00 | The United States | 0.384045 | 0.615955 |
| 2020-02-03 00:00:00 | The United States | 0.385433 | 0.614567 |
| 2020-02-04 00:00:00 | The United States | 0.388159 | 0.611841 |
| 2020-02-05 00:00:00 | The United States | 0.391845 | 0.608155 |
| 2020-02-06 00:00:00 | The United States | 0.394243 | 0.605757 |
| 2020-02-07 00:00:00 | The United States | 0.399815 | 0.600185 |
| 2020-02-08 00:00:00 | The United States | 0.405014 | 0.594986 |
| 2020-02-09 00:00:00 | The United States | 0.408806 | 0.591194 |
| 2020-02-10 00:00:00 | The United States | 0.411882 | 0.588118 |
| 2020-02-11 00:00:00 | The United States | 0.416334 | 0.583666 |
| 2020-02-12 00:00:00 | The United States | 0.416918 | 0.583082 |
| 2020-02-13 00:00:00 | The United States | 0.41906 | 0.58094 |
| 2020-02-14 00:00:00 | The United States | 0.418013 | 0.581987 |
| 2020-02-15 00:00:00 | The United States | 0.416526 | 0.583474 |
| 2020-02-16 00:00:00 | The United States | 0.415762 | 0.584238 |
| 2020-02-17 00:00:00 | The United States | 0.416469 | 0.583531 |
| 2020-02-18 00:00:00 | The United States | 0.415315 | 0.584685 |
| 2020-02-19 00:00:00 | The United States | 0.413538 | 0.586462 |
| 2020-02-20 00:00:00 | The United States | 0.409808 | 0.590192 |
| 2020-02-21 00:00:00 | The United States | 0.409317 | 0.590683 |
| 2020-02-22 00:00:00 | The United States | 0.409658 | 0.590342 |
| 2020-02-23 00:00:00 | The United States | 0.409589 | 0.590411 |
| 2020-02-24 00:00:00 | The United States | 0.408404 | 0.591596 |
| 2020-02-25 00:00:00 | The United States | 0.406643 | 0.593357 |
| 2020-02-26 00:00:00 | The United States | 0.405344 | 0.594656 |
| 2020-02-27 00:00:00 | The United States | 0.407472 | 0.592528 |
| 2020-02-28 00:00:00 | The United States | 0.407968 | 0.592032 |
| 2020-02-29 00:00:00 | The United States | 0.406254 | 0.593746 |
| 2020-03-01 00:00:00 | The United States | 0.405448 | 0.594552 |
| 2020-03-02 00:00:00 | The United States | 0.404174 | 0.595826 |
| 2020-03-03 00:00:00 | The United States | 0.406496 | 0.593504 |
| 2020-03-04 00:00:00 | The United States | 0.408467 | 0.591533 |
| 2020-03-05 00:00:00 | The United States | 0.40554 | 0.59446 |
| 2020-03-06 00:00:00 | The United States | 0.403092 | 0.596908 |
| 2020-03-07 00:00:00 | The United States | 0.403679 | 0.596321 |
| 2020-03-08 00:00:00 | The United States | 0.402839 | 0.597161 |
| 2020-03-09 00:00:00 | The United States | 0.403253 | 0.596747 |
| 2020-03-10 00:00:00 | The United States | 0.399942 | 0.600058 |
| 2020-03-11 00:00:00 | The United States | 0.398736 | 0.601264 |
| 2020-03-12 00:00:00 | The United States | 0.398069 | 0.601931 |
| 2020-03-13 00:00:00 | The United States | 0.396111 | 0.603889 |
| 2020-03-14 00:00:00 | The United States | 0.393553 | 0.606447 |
| 2020-03-15 00:00:00 | The United States | 0.390639 | 0.609361 |
| 2020-03-16 00:00:00 | The United States | 0.385808 | 0.614192 |
| 2020-03-17 00:00:00 | The United States | 0.381557 | 0.618443 |
| 2020-03-18 00:00:00 | The United States | 0.379772 | 0.620228 |
| 2020-03-19 00:00:00 | The United States | 0.377695 | 0.622305 |
| 2020-03-20 00:00:00 | The United States | 0.374744 | 0.625256 |
| 2020-03-21 00:00:00 | The United States | 0.370891 | 0.629109 |
| 2020-03-22 00:00:00 | The United States | 0.370034 | 0.629966 |
| 2020-03-23 00:00:00 | The United States | 0.366051 | 0.633949 |
| 2020-03-24 00:00:00 | The United States | 0.363887 | 0.636113 |
| 2020-03-25 00:00:00 | The United States | 0.360322 | 0.639678 |
| 2020-03-26 00:00:00 | The United States | 0.358543 | 0.641457 |
| 2020-03-27 00:00:00 | The United States | 0.359272 | 0.640728 |
| 2020-03-28 00:00:00 | The United States | 0.359928 | 0.640072 |
| 2020-03-29 00:00:00 | The United States | 0.35885 | 0.64115 |
| 2020-03-30 00:00:00 | The United States | 0.362465 | 0.637535 |
| 2020-03-31 00:00:00 | The United States | 0.363114 | 0.636886 |
| 2020-04-01 00:00:00 | The United States | 0.364259 | 0.635741 |
| 2020-04-02 00:00:00 | The United States | 0.364034 | 0.635966 |
| 2020-04-03 00:00:00 | The United States | 0.362274 | 0.637726 |
| 2020-04-04 00:00:00 | The United States | 0.359967 | 0.640033 |
| 2020-04-05 00:00:00 | The United States | 0.357582 | 0.642418 |
| 2020-04-06 00:00:00 | The United States | 0.355018 | 0.644982 |
| 2020-04-07 00:00:00 | The United States | 0.35601 | 0.64399 |
| 2020-04-08 00:00:00 | The United States | 0.353243 | 0.646757 |
| 2020-04-09 00:00:00 | The United States | 0.352277 | 0.647723 |
| 2020-04-10 00:00:00 | The United States | 0.353336 | 0.646664 |
| 2020-04-11 00:00:00 | The United States | 0.355175 | 0.644825 |
| 2020-04-12 00:00:00 | The United States | 0.357945 | 0.642055 |
| 2020-04-13 00:00:00 | The United States | 0.360555 | 0.639445 |
| 2020-04-14 00:00:00 | The United States | 0.362471 | 0.637529 |
| 2020-04-15 00:00:00 | The United States | 0.362071 | 0.637929 |
| 2020-04-16 00:00:00 | The United States | 0.363589 | 0.636411 |
| 2020-04-17 00:00:00 | The United States | 0.363997 | 0.636003 |
| 2020-04-18 00:00:00 | The United States | 0.362069 | 0.637931 |
| 2020-04-19 00:00:00 | The United States | 0.361409 | 0.638591 |
| 2020-04-20 00:00:00 | The United States | 0.361019 | 0.638981 |
| 2020-04-21 00:00:00 | The United States | 0.360178 | 0.639822 |
| 2020-04-22 00:00:00 | The United States | 0.360997 | 0.639003 |
| 2020-04-23 00:00:00 | The United States | 0.362303 | 0.637697 |
| 2020-04-24 00:00:00 | The United States | 0.362983 | 0.637017 |
| 2020-04-25 00:00:00 | The United States | 0.366147 | 0.633853 |
| 2020-04-26 00:00:00 | The United States | 0.362607 | 0.637393 |
| 2020-04-27 00:00:00 | The United States | 0.361436 | 0.638564 |
| 2020-04-28 00:00:00 | The United States | 0.3605 | 0.6395 |
| 2020-04-29 00:00:00 | The United States | 0.360646 | 0.639354 |
| 2020-04-30 00:00:00 | The United States | 0.359532 | 0.640468 |
| 2020-05-01 00:00:00 | The United States | 0.36028 | 0.63972 |
| 2020-05-02 00:00:00 | The United States | 0.359066 | 0.640934 |
| 2020-05-03 00:00:00 | The United States | 0.359805 | 0.640195 |
| 2020-05-04 00:00:00 | The United States | 0.361144 | 0.638856 |
| 2020-05-05 00:00:00 | The United States | 0.358377 | 0.641623 |
| 2020-05-06 00:00:00 | The United States | 0.356136 | 0.643864 |
| 2020-05-07 00:00:00 | The United States | 0.355022 | 0.644978 |
| 2020-05-08 00:00:00 | The United States | 0.350114 | 0.649886 |
| 2020-05-09 00:00:00 | The United States | 0.348476 | 0.651524 |
| 2020-05-10 00:00:00 | The United States | 0.34925 | 0.65075 |
| 2020-05-11 00:00:00 | The United States | 0.346992 | 0.653008 |
| 2020-05-12 00:00:00 | The United States | 0.34828 | 0.65172 |
| 2020-05-13 00:00:00 | The United States | 0.349008 | 0.650992 |
| 2020-05-14 00:00:00 | The United States | 0.346423 | 0.653577 |
| 2020-05-15 00:00:00 | The United States | 0.347359 | 0.652641 |
| 2020-05-16 00:00:00 | The United States | 0.345798 | 0.654202 |
| 2020-05-17 00:00:00 | The United States | 0.344432 | 0.655568 |
| 2020-05-18 00:00:00 | The United States | 0.343008 | 0.656992 |
| 2020-05-19 00:00:00 | The United States | 0.3431 | 0.6569 |
| 2020-05-20 00:00:00 | The United States | 0.34129 | 0.65871 |
| 2020-05-21 00:00:00 | The United States | 0.342549 | 0.657451 |
| 2020-05-22 00:00:00 | The United States | 0.342937 | 0.657063 |
| 2020-05-23 00:00:00 | The United States | 0.343723 | 0.656277 |
| 2020-05-24 00:00:00 | The United States | 0.343474 | 0.656526 |
| 2020-05-25 00:00:00 | The United States | 0.345999 | 0.654001 |
| 2020-05-26 00:00:00 | The United States | 0.346274 | 0.653726 |
| 2020-05-27 00:00:00 | The United States | 0.347807 | 0.652193 |
| 2020-05-28 00:00:00 | The United States | 0.347312 | 0.652688 |
| 2020-05-29 00:00:00 | The United States | 0.346405 | 0.653595 |
| 2020-05-30 00:00:00 | The United States | 0.342887 | 0.657113 |
| 2020-05-31 00:00:00 | The United States | 0.339761 | 0.660239 |
| 2020-06-01 00:00:00 | The United States | 0.329595 | 0.670405 |
| 2020-06-02 00:00:00 | The United States | 0.315663 | 0.684337 |
| 2020-06-03 00:00:00 | The United States | 0.307643 | 0.692357 |
| 2020-06-04 00:00:00 | The United States | 0.296455 | 0.703545 |
| 2020-06-05 00:00:00 | The United States | 0.292141 | 0.707859 |
| 2020-06-06 00:00:00 | The United States | 0.284521 | 0.715479 |
| 2020-06-07 00:00:00 | The United States | 0.278798 | 0.721202 |
| 2020-06-08 00:00:00 | The United States | 0.277561 | 0.722439 |
| 2020-06-09 00:00:00 | The United States | 0.280796 | 0.719204 |
| 2020-06-10 00:00:00 | The United States | 0.278757 | 0.721243 |
| 2020-06-11 00:00:00 | The United States | 0.281067 | 0.718933 |
| 2020-06-12 00:00:00 | The United States | 0.279954 | 0.720046 |
| 2020-06-13 00:00:00 | The United States | 0.280531 | 0.719469 |
| 2020-06-14 00:00:00 | The United States | 0.278742 | 0.721258 |
| 2020-06-15 00:00:00 | The United States | 0.280046 | 0.719954 |
| 2020-06-16 00:00:00 | The United States | 0.279319 | 0.720681 |
| 2020-06-17 00:00:00 | The United States | 0.279527 | 0.720473 |
| 2020-06-18 00:00:00 | The United States | 0.279193 | 0.720807 |
| 2020-06-19 00:00:00 | The United States | 0.275235 | 0.724765 |
| 2020-06-20 00:00:00 | The United States | 0.275384 | 0.724616 |
| 2020-06-21 00:00:00 | The United States | 0.275247 | 0.724753 |
| 2020-06-22 00:00:00 | The United States | 0.274652 | 0.725348 |
| 2020-06-23 00:00:00 | The United States | 0.27478 | 0.72522 |
| 2020-06-24 00:00:00 | The United States | 0.272381 | 0.727619 |
| 2020-06-25 00:00:00 | The United States | 0.271193 | 0.728807 |
| 2020-06-26 00:00:00 | The United States | 0.272687 | 0.727313 |
| 2020-06-27 00:00:00 | The United States | 0.271263 | 0.728737 |
| 2020-06-28 00:00:00 | The United States | 0.270574 | 0.729426 |
| 2020-06-29 00:00:00 | The United States | 0.268156 | 0.731844 |
| 2020-06-30 00:00:00 | The United States | 0.264845 | 0.735155 |
| 2020-07-01 00:00:00 | The United States | 0.262396 | 0.737604 |
| 2020-07-02 00:00:00 | The United States | 0.261938 | 0.738062 |
| 2020-07-03 00:00:00 | The United States | 0.258216 | 0.741784 |
| 2020-07-04 00:00:00 | The United States | 0.25663 | 0.74337 |
| 2020-07-05 00:00:00 | The United States | 0.254661 | 0.745339 |
| 2020-07-06 00:00:00 | The United States | 0.253441 | 0.746559 |
| 2020-07-07 00:00:00 | The United States | 0.254332 | 0.745668 |
| 2020-07-08 00:00:00 | The United States | 0.255731 | 0.744269 |
| 2020-07-09 00:00:00 | The United States | 0.254311 | 0.745689 |
| 2020-07-10 00:00:00 | The United States | 0.255818 | 0.744182 |
| 2020-07-11 00:00:00 | The United States | 0.256491 | 0.743509 |
| 2020-07-12 00:00:00 | The United States | 0.255907 | 0.744093 |
| 2020-07-13 00:00:00 | The United States | 0.254818 | 0.745182 |
| 2020-07-14 00:00:00 | The United States | 0.252843 | 0.747157 |
| 2020-07-15 00:00:00 | The United States | 0.252849 | 0.747151 |
| 2020-07-16 00:00:00 | The United States | 0.253805 | 0.746195 |
| 2020-07-17 00:00:00 | The United States | 0.254361 | 0.745639 |
| 2020-07-18 00:00:00 | The United States | 0.252607 | 0.747393 |
| 2020-07-19 00:00:00 | The United States | 0.251784 | 0.748216 |
| 2020-07-20 00:00:00 | The United States | 0.252081 | 0.747919 |
| 2020-07-21 00:00:00 | The United States | 0.253276 | 0.746724 |
| 2020-07-22 00:00:00 | The United States | 0.251495 | 0.748505 |
| 2020-07-23 00:00:00 | The United States | 0.251268 | 0.748732 |
| 2020-07-24 00:00:00 | The United States | 0.250095 | 0.749905 |
| 2020-07-25 00:00:00 | The United States | 0.250762 | 0.749238 |
| 2020-07-26 00:00:00 | The United States | 0.250386 | 0.749614 |
| 2020-07-27 00:00:00 | The United States | 0.248324 | 0.751676 |
| 2020-07-28 00:00:00 | The United States | 0.247765 | 0.752235 |
| 2020-07-29 00:00:00 | The United States | 0.247822 | 0.752178 |
| 2020-07-30 00:00:00 | The United States | 0.248844 | 0.751156 |
| 2020-07-31 00:00:00 | The United States | 0.249405 | 0.750595 |
| 2020-08-01 00:00:00 | The United States | 0.247476 | 0.752524 |
| 2020-08-02 00:00:00 | The United States | 0.24639 | 0.75361 |
| 2020-08-03 00:00:00 | The United States | 0.246905 | 0.753095 |
| 2020-08-04 00:00:00 | The United States | 0.247226 | 0.752774 |
| 2020-08-05 00:00:00 | The United States | 0.24777 | 0.75223 |
| 2020-08-06 00:00:00 | The United States | 0.247442 | 0.752558 |
| 2020-08-07 00:00:00 | The United States | 0.247776 | 0.752224 |
| 2020-08-08 00:00:00 | The United States | 0.251103 | 0.748897 |
| 2020-08-09 00:00:00 | The United States | 0.255304 | 0.744696 |
| 2020-08-10 00:00:00 | The United States | 0.256831 | 0.743169 |
| 2020-08-11 00:00:00 | The United States | 0.25698 | 0.74302 |
| 2020-08-12 00:00:00 | The United States | 0.258224 | 0.741776 |
| 2020-08-13 00:00:00 | The United States | 0.257419 | 0.742581 |
| 2020-08-14 00:00:00 | The United States | 0.257211 | 0.742789 |
| 2020-08-15 00:00:00 | The United States | 0.257861 | 0.742139 |
| 2020-08-16 00:00:00 | The United States | 0.257338 | 0.742662 |
| 2020-08-17 00:00:00 | The United States | 0.259156 | 0.740844 |
| 2020-08-18 00:00:00 | The United States | 0.261974 | 0.738026 |
| 2020-08-19 00:00:00 | The United States | 0.262849 | 0.737151 |
| 2020-08-20 00:00:00 | The United States | 0.264889 | 0.735111 |
| 2020-08-21 00:00:00 | The United States | 0.266224 | 0.733776 |
| 2020-08-22 00:00:00 | The United States | 0.266319 | 0.733681 |
| 2020-08-23 00:00:00 | The United States | 0.267779 | 0.732221 |
| 2020-08-24 00:00:00 | The United States | 0.271428 | 0.728572 |
| 2020-08-25 00:00:00 | The United States | 0.274149 | 0.725851 |
| 2020-08-26 00:00:00 | The United States | 0.276544 | 0.723456 |
| 2020-08-27 00:00:00 | The United States | 0.277404 | 0.722596 |
| 2020-08-28 00:00:00 | The United States | 0.276964 | 0.723036 |
| 2020-08-29 00:00:00 | The United States | 0.27857 | 0.72143 |
| 2020-08-30 00:00:00 | The United States | 0.277664 | 0.722336 |
| 2020-08-31 00:00:00 | The United States | 0.274547 | 0.725453 |
| 2020-09-01 00:00:00 | The United States | 0.271668 | 0.728332 |
| 2020-09-02 00:00:00 | The United States | 0.268537 | 0.731463 |
| 2020-09-03 00:00:00 | The United States | 0.268662 | 0.731338 |
| 2020-09-04 00:00:00 | The United States | 0.270297 | 0.729703 |
| 2020-09-05 00:00:00 | The United States | 0.270866 | 0.729134 |
| 2020-09-06 00:00:00 | The United States | 0.27196 | 0.72804 |
| 2020-09-07 00:00:00 | The United States | 0.273862 | 0.726138 |
| 2020-09-08 00:00:00 | The United States | 0.276479 | 0.723521 |
| 2020-09-09 00:00:00 | The United States | 0.278398 | 0.721602 |
| 2020-09-10 00:00:00 | The United States | 0.278495 | 0.721505 |
| 2020-09-11 00:00:00 | The United States | 0.279566 | 0.720434 |
| 2020-09-12 00:00:00 | The United States | 0.279288 | 0.720712 |
| 2020-09-13 00:00:00 | The United States | 0.280849 | 0.719151 |
| 2020-09-14 00:00:00 | The United States | 0.281044 | 0.718956 |
| 2020-09-15 00:00:00 | The United States | 0.278369 | 0.721631 |
| 2020-09-16 00:00:00 | The United States | 0.279766 | 0.720234 |
| 2020-09-17 00:00:00 | The United States | 0.279343 | 0.720657 |
| 2020-09-18 00:00:00 | The United States | 0.278144 | 0.721856 |
| 2020-09-19 00:00:00 | The United States | 0.277872 | 0.722128 |
| 2020-09-20 00:00:00 | The United States | 0.277859 | 0.722141 |
| 2020-09-21 00:00:00 | The United States | 0.279097 | 0.720903 |
| 2020-09-22 00:00:00 | The United States | 0.281169 | 0.718831 |
| 2020-09-23 00:00:00 | The United States | 0.281493 | 0.718507 |
| 2020-09-24 00:00:00 | The United States | 0.281018 | 0.718982 |
| 2020-09-25 00:00:00 | The United States | 0.281285 | 0.718715 |
| 2020-09-26 00:00:00 | The United States | 0.283396 | 0.716604 |
| 2020-09-27 00:00:00 | The United States | 0.286417 | 0.713583 |
| 2020-09-28 00:00:00 | The United States | 0.285255 | 0.714745 |
| 2020-09-29 00:00:00 | The United States | 0.286636 | 0.713364 |
| 2020-09-30 00:00:00 | The United States | 0.28839 | 0.71161 |
| 2020-10-01 00:00:00 | The United States | 0.289669 | 0.710331 |
| 2020-10-02 00:00:00 | The United States | 0.291141 | 0.708859 |
| 2020-10-03 00:00:00 | The United States | 0.291286 | 0.708714 |
| 2020-10-04 00:00:00 | The United States | 0.288752 | 0.711248 |
| 2020-10-05 00:00:00 | The United States | 0.289351 | 0.710649 |
| 2020-10-06 00:00:00 | The United States | 0.287729 | 0.712271 |
| 2020-10-07 00:00:00 | The United States | 0.287094 | 0.712906 |
| 2020-10-08 00:00:00 | The United States | 0.288475 | 0.711525 |
| 2020-10-09 00:00:00 | The United States | 0.289662 | 0.710338 |
| 2020-10-10 00:00:00 | The United States | 0.289408 | 0.710592 |
| 2020-10-11 00:00:00 | The United States | 0.291356 | 0.708644 |
| 2020-10-12 00:00:00 | The United States | 0.291896 | 0.708104 |
| 2020-10-13 00:00:00 | The United States | 0.295084 | 0.704916 |
| 2020-10-14 00:00:00 | The United States | 0.296354 | 0.703646 |
| 2020-10-15 00:00:00 | The United States | 0.296538 | 0.703462 |
| 2020-10-16 00:00:00 | The United States | 0.296799 | 0.703201 |
| 2020-10-17 00:00:00 | The United States | 0.297434 | 0.702566 |
| 2020-10-18 00:00:00 | The United States | 0.298877 | 0.701123 |
| 2020-10-19 00:00:00 | The United States | 0.300304 | 0.699696 |
| 2020-10-20 00:00:00 | The United States | 0.298341 | 0.701659 |
| 2020-10-21 00:00:00 | The United States | 0.297255 | 0.702745 |
| 2020-10-22 00:00:00 | The United States | 0.297744 | 0.702256 |
| 2020-10-23 00:00:00 | The United States | 0.29971 | 0.70029 |
| 2020-10-24 00:00:00 | The United States | 0.299639 | 0.700361 |
| 2020-10-25 00:00:00 | The United States | 0.297434 | 0.702566 |
| 2020-10-26 00:00:00 | The United States | 0.299775 | 0.700225 |
| 2020-10-27 00:00:00 | The United States | 0.302809 | 0.697191 |
| 2020-10-28 00:00:00 | The United States | 0.304855 | 0.695145 |
| 2020-10-29 00:00:00 | The United States | 0.306307 | 0.693693 |
| 2020-10-30 00:00:00 | The United States | 0.30594 | 0.69406 |
| 2020-10-31 00:00:00 | The United States | 0.308132 | 0.691868 |
| 2020-11-01 00:00:00 | The United States | 0.310756 | 0.689244 |
| 2020-11-02 00:00:00 | The United States | 0.310023 | 0.689977 |
| 2020-11-03 00:00:00 | The United States | 0.310638 | 0.689362 |
| 2020-11-04 00:00:00 | The United States | 0.312125 | 0.687875 |
| 2020-11-05 00:00:00 | The United States | 0.311446 | 0.688554 |
| 2020-11-06 00:00:00 | The United States | 0.305195 | 0.694805 |
| 2020-11-07 00:00:00 | The United States | 0.302614 | 0.697386 |
| 2020-11-08 00:00:00 | The United States | 0.305127 | 0.694873 |
| 2020-11-09 00:00:00 | The United States | 0.301281 | 0.698719 |
| 2020-11-10 00:00:00 | The United States | 0.300467 | 0.699533 |
| 2020-11-11 00:00:00 | The United States | 0.29872 | 0.70128 |
| 2020-11-12 00:00:00 | The United States | 0.300376 | 0.699624 |
| 2020-11-13 00:00:00 | The United States | 0.301437 | 0.698563 |
| 2020-11-14 00:00:00 | The United States | 0.297609 | 0.702391 |
| 2020-11-15 00:00:00 | The United States | 0.291721 | 0.708279 |
| 2020-11-16 00:00:00 | The United States | 0.290596 | 0.709404 |
| 2020-11-17 00:00:00 | The United States | 0.285103 | 0.714897 |
| 2020-11-18 00:00:00 | The United States | 0.282264 | 0.717736 |
| 2020-11-19 00:00:00 | The United States | 0.27749 | 0.72251 |
| 2020-11-20 00:00:00 | The United States | 0.276315 | 0.723685 |
| 2020-11-21 00:00:00 | The United States | 0.272279 | 0.727721 |
| 2020-11-22 00:00:00 | The United States | 0.271025 | 0.728975 |
| 2020-11-23 00:00:00 | The United States | 0.268932 | 0.731068 |
| 2020-11-24 00:00:00 | The United States | 0.270556 | 0.729444 |
| 2020-11-25 00:00:00 | The United States | 0.269171 | 0.730829 |
| 2020-11-26 00:00:00 | The United States | 0.273281 | 0.726719 |
| 2020-11-27 00:00:00 | The United States | 0.275683 | 0.724317 |
| 2020-11-28 00:00:00 | The United States | 0.279777 | 0.720223 |
| 2020-11-29 00:00:00 | The United States | 0.281048 | 0.718952 |
| 2020-11-30 00:00:00 | The United States | 0.283413 | 0.716587 |
| 2020-12-01 00:00:00 | The United States | 0.284511 | 0.715489 |
| 2020-12-02 00:00:00 | The United States | 0.284779 | 0.715221 |
| 2020-12-03 00:00:00 | The United States | 0.28103 | 0.71897 |
| 2020-12-04 00:00:00 | The United States | 0.279757 | 0.720243 |
| 2020-12-05 00:00:00 | The United States | 0.276871 | 0.723129 |
| 2020-12-06 00:00:00 | The United States | 0.275323 | 0.724677 |
| 2020-12-07 00:00:00 | The United States | 0.273758 | 0.726242 |
| 2020-12-08 00:00:00 | The United States | 0.269367 | 0.730633 |
| 2020-12-09 00:00:00 | The United States | 0.26887 | 0.73113 |
| 2020-12-10 00:00:00 | The United States | 0.268784 | 0.731216 |
| 2020-12-11 00:00:00 | The United States | 0.269054 | 0.730946 |
| 2020-12-12 00:00:00 | The United States | 0.271584 | 0.728416 |
| 2020-12-13 00:00:00 | The United States | 0.271972 | 0.728028 |
| 2020-12-14 00:00:00 | The United States | 0.270942 | 0.729058 |
| 2020-12-15 00:00:00 | The United States | 0.274068 | 0.725932 |
| 2020-12-16 00:00:00 | The United States | 0.275045 | 0.724955 |
| 2020-12-17 00:00:00 | The United States | 0.277329 | 0.722671 |
| 2020-12-18 00:00:00 | The United States | 0.275815 | 0.724185 |
| 2020-12-19 00:00:00 | The United States | 0.275436 | 0.724564 |
| 2020-12-20 00:00:00 | The United States | 0.274395 | 0.725605 |
| 2020-12-21 00:00:00 | The United States | 0.273954 | 0.726046 |
| 2020-12-22 00:00:00 | The United States | 0.273262 | 0.726738 |
| 2020-12-23 00:00:00 | The United States | 0.271415 | 0.728585 |
| 2020-12-24 00:00:00 | The United States | 0.268502 | 0.731498 |
| 2020-12-25 00:00:00 | The United States | 0.267239 | 0.732761 |
| 2020-12-26 00:00:00 | The United States | 0.266573 | 0.733427 |
| 2020-12-27 00:00:00 | The United States | 0.266384 | 0.733616 |
| 2020-12-28 00:00:00 | The United States | 0.265788 | 0.734212 |
| 2020-12-29 00:00:00 | The United States | 0.264055 | 0.735945 |
| 2020-12-30 00:00:00 | The United States | 0.265526 | 0.734474 |
| 2020-12-31 00:00:00 | The United States | 0.264331 | 0.735669 |
| 2021-01-01 00:00:00 | The United States | 0.266202 | 0.733798 |
| 2021-01-02 00:00:00 | The United States | 0.26599 | 0.73401 |
| 2021-01-03 00:00:00 | The United States | 0.266154 | 0.733846 |
| 2021-01-04 00:00:00 | The United States | 0.266761 | 0.733239 |
| 2021-01-05 00:00:00 | The United States | 0.265609 | 0.734391 |
| 2021-01-06 00:00:00 | The United States | 0.261903 | 0.738097 |
| 2021-01-07 00:00:00 | The United States | 0.25607 | 0.74393 |
| 2021-01-08 00:00:00 | The United States | 0.249451 | 0.750549 |
| 2021-01-09 00:00:00 | The United States | 0.240759 | 0.759241 |
| 2021-01-10 00:00:00 | The United States | 0.230815 | 0.769185 |
| 2021-01-11 00:00:00 | The United States | 0.222284 | 0.777716 |
| 2021-01-12 00:00:00 | The United States | 0.214765 | 0.785235 |
| 2021-01-13 00:00:00 | The United States | 0.207071 | 0.792929 |
| 2021-01-14 00:00:00 | The United States | 0.206366 | 0.793634 |
| 2021-01-15 00:00:00 | The United States | 0.203199 | 0.796801 |
| 2021-01-16 00:00:00 | The United States | 0.204163 | 0.795837 |
| 2021-01-17 00:00:00 | The United States | 0.205102 | 0.794898 |
| 2021-01-18 00:00:00 | The United States | 0.208065 | 0.791935 |
| 2021-01-19 00:00:00 | The United States | 0.212422 | 0.787578 |
| 2021-01-20 00:00:00 | The United States | 0.227992 | 0.772008 |
| 2021-01-21 00:00:00 | The United States | 0.250441 | 0.749559 |
| 2021-01-22 00:00:00 | The United States | 0.271903 | 0.728097 |
| 2021-01-23 00:00:00 | The United States | 0.29883 | 0.70117 |
| 2021-01-24 00:00:00 | The United States | 0.330489 | 0.669511 |
| 2021-01-25 00:00:00 | The United States | 0.360112 | 0.639888 |
| 2021-01-26 00:00:00 | The United States | 0.389739 | 0.610261 |
| 2021-01-27 00:00:00 | The United States | 0.403019 | 0.596981 |
| 2021-01-28 00:00:00 | The United States | 0.403722 | 0.596278 |
| 2021-01-29 00:00:00 | The United States | 0.402909 | 0.597091 |
| 2021-01-30 00:00:00 | The United States | 0.400724 | 0.599276 |
| 2021-01-31 00:00:00 | The United States | 0.39978 | 0.60022 |
| 2021-02-01 00:00:00 | The United States | 0.399802 | 0.600198 |
| 2021-02-02 00:00:00 | The United States | 0.399098 | 0.600902 |
| 2021-02-03 00:00:00 | The United States | 0.399993 | 0.600007 |
| 2021-02-04 00:00:00 | The United States | 0.401334 | 0.598666 |
| 2021-02-05 00:00:00 | The United States | 0.404462 | 0.595538 |
| 2021-02-06 00:00:00 | The United States | 0.412345 | 0.587655 |
| 2021-02-07 00:00:00 | The United States | 0.422229 | 0.577771 |
| 2021-02-08 00:00:00 | The United States | 0.426046 | 0.573954 |
| 2021-02-09 00:00:00 | The United States | 0.430012 | 0.569988 |
| 2021-02-10 00:00:00 | The United States | 0.431715 | 0.568285 |
| 2021-02-11 00:00:00 | The United States | 0.431056 | 0.568944 |
| 2021-02-12 00:00:00 | The United States | 0.430465 | 0.569535 |
| 2021-02-13 00:00:00 | The United States | 0.426211 | 0.573789 |
| 2021-02-14 00:00:00 | The United States | 0.419476 | 0.580524 |
| 2021-02-15 00:00:00 | The United States | 0.419923 | 0.580077 |
| 2021-02-16 00:00:00 | The United States | 0.418938 | 0.581062 |
| 2021-02-17 00:00:00 | The United States | 0.420626 | 0.579374 |
| 2021-02-18 00:00:00 | The United States | 0.422811 | 0.577189 |
| 2021-02-19 00:00:00 | The United States | 0.424689 | 0.575311 |
| 2021-02-20 00:00:00 | The United States | 0.427955 | 0.572045 |
| 2021-02-21 00:00:00 | The United States | 0.433413 | 0.566587 |
| 2021-02-22 00:00:00 | The United States | 0.433442 | 0.566558 |
| 2021-02-23 00:00:00 | The United States | 0.43579 | 0.56421 |
| 2021-02-24 00:00:00 | The United States | 0.436817 | 0.563183 |
| 2021-02-25 00:00:00 | The United States | 0.44185 | 0.55815 |
| 2021-02-26 00:00:00 | The United States | 0.441856 | 0.558144 |
| 2021-02-27 00:00:00 | The United States | 0.446165 | 0.553835 |
| 2021-02-28 00:00:00 | The United States | 0.444823 | 0.555177 |
| 2021-03-01 00:00:00 | The United States | 0.448018 | 0.551982 |
| 2021-03-02 00:00:00 | The United States | 0.450172 | 0.549828 |
| 2021-03-03 00:00:00 | The United States | 0.450192 | 0.549808 |
| 2021-03-04 00:00:00 | The United States | 0.450233 | 0.549767 |
| 2021-03-05 00:00:00 | The United States | 0.452412 | 0.547588 |
| 2021-03-06 00:00:00 | The United States | 0.45261 | 0.54739 |
| 2021-03-07 00:00:00 | The United States | 0.457832 | 0.542168 |
| 2021-03-08 00:00:00 | The United States | 0.461501 | 0.538499 |
| 2021-03-09 00:00:00 | The United States | 0.462726 | 0.537274 |
| 2021-03-10 00:00:00 | The United States | 0.465046 | 0.534954 |
| 2021-03-11 00:00:00 | The United States | 0.466742 | 0.533258 |
| 2021-03-12 00:00:00 | The United States | 0.471922 | 0.528078 |
| 2021-03-13 00:00:00 | The United States | 0.479973 | 0.520027 |
| 2021-03-14 00:00:00 | The United States | 0.485906 | 0.514094 |
| 2021-03-15 00:00:00 | The United States | 0.48772 | 0.51228 |
| 2021-03-16 00:00:00 | The United States | 0.491554 | 0.508446 |
| 2021-03-17 00:00:00 | The United States | 0.493691 | 0.506309 |
| 2021-03-18 00:00:00 | The United States | 0.496141 | 0.503859 |
| 2021-03-19 00:00:00 | The United States | 0.496559 | 0.503441 |
| 2021-03-20 00:00:00 | The United States | 0.491783 | 0.508217 |
| 2021-03-21 00:00:00 | The United States | 0.490151 | 0.509849 |
| 2021-03-22 00:00:00 | The United States | 0.488706 | 0.511294 |
| 2021-03-23 00:00:00 | The United States | 0.486753 | 0.513247 |
| 2021-03-24 00:00:00 | The United States | 0.486245 | 0.513755 |
| 2021-03-25 00:00:00 | The United States | 0.484105 | 0.515895 |
| 2021-03-26 00:00:00 | The United States | 0.479616 | 0.520384 |
| 2021-03-27 00:00:00 | The United States | 0.476244 | 0.523756 |
| 2021-03-28 00:00:00 | The United States | 0.471168 | 0.528832 |
| 2021-03-29 00:00:00 | The United States | 0.468261 | 0.531739 |
| 2021-03-30 00:00:00 | The United States | 0.466547 | 0.533453 |
| 2021-03-31 00:00:00 | The United States | 0.46495 | 0.53505 |
| 2021-04-01 00:00:00 | The United States | 0.465937 | 0.534063 |
| 2021-04-02 00:00:00 | The United States | 0.467267 | 0.532733 |
| 2021-04-03 00:00:00 | The United States | 0.470985 | 0.529015 |
| 2021-04-04 00:00:00 | The United States | 0.47395 | 0.52605 |
| 2021-04-05 00:00:00 | The United States | 0.473968 | 0.526032 |
| 2021-04-06 00:00:00 | The United States | 0.476791 | 0.523209 |
| 2021-04-07 00:00:00 | The United States | 0.479764 | 0.520236 |
| 2021-04-08 00:00:00 | The United States | 0.479688 | 0.520312 |
| 2021-04-09 00:00:00 | The United States | 0.478493 | 0.521507 |
| 2021-04-10 00:00:00 | The United States | 0.478397 | 0.521603 |
| 2021-04-11 00:00:00 | The United States | 0.477121 | 0.522879 |
| 2021-04-12 00:00:00 | The United States | 0.48202 | 0.51798 |
| 2021-04-13 00:00:00 | The United States | 0.482576 | 0.517424 |
| 2021-04-14 00:00:00 | The United States | 0.478916 | 0.521084 |
| 2021-04-15 00:00:00 | The United States | 0.475724 | 0.524276 |
| 2021-04-16 00:00:00 | The United States | 0.474297 | 0.525703 |
| 2021-04-17 00:00:00 | The United States | 0.468343 | 0.531657 |
| 2021-04-18 00:00:00 | The United States | 0.46601 | 0.53399 |
| 2021-04-19 00:00:00 | The United States | 0.459754 | 0.540246 |
| 2021-04-20 00:00:00 | The United States | 0.455339 | 0.544661 |
| 2021-04-21 00:00:00 | The United States | 0.454883 | 0.545117 |
| 2021-04-22 00:00:00 | The United States | 0.454774 | 0.545226 |
| 2021-04-23 00:00:00 | The United States | 0.457626 | 0.542374 |
| 2021-04-24 00:00:00 | The United States | 0.461301 | 0.538699 |
| 2021-04-25 00:00:00 | The United States | 0.464715 | 0.535285 |
| 2021-04-26 00:00:00 | The United States | 0.471496 | 0.528504 |
| 2021-04-27 00:00:00 | The United States | 0.474301 | 0.525699 |
| 2021-04-28 00:00:00 | The United States | 0.479079 | 0.520921 |
| 2021-04-29 00:00:00 | The United States | 0.483613 | 0.516387 |
| 2021-04-30 00:00:00 | The United States | 0.486866 | 0.513134 |
| 2021-05-01 00:00:00 | The United States | 0.492153 | 0.507847 |
| 2021-05-02 00:00:00 | The United States | 0.496151 | 0.503849 |
| 2021-05-03 00:00:00 | The United States | 0.494726 | 0.505274 |
| 2021-05-04 00:00:00 | The United States | 0.497176 | 0.502824 |
| 2021-05-05 00:00:00 | The United States | 0.495344 | 0.504656 |
| 2021-05-06 00:00:00 | The United States | 0.495038 | 0.504962 |
| 2021-05-07 00:00:00 | The United States | 0.493691 | 0.506309 |
| 2021-05-08 00:00:00 | The United States | 0.490252 | 0.509748 |
| 2021-05-09 00:00:00 | The United States | 0.489777 | 0.510223 |
| 2021-05-10 00:00:00 | The United States | 0.48693 | 0.51307 |
| 2021-05-11 00:00:00 | The United States | 0.483499 | 0.516501 |
| 2021-05-12 00:00:00 | The United States | 0.479247 | 0.520753 |
| 2021-05-13 00:00:00 | The United States | 0.474317 | 0.525683 |
| 2021-05-14 00:00:00 | The United States | 0.474403 | 0.525597 |
| 2021-05-15 00:00:00 | The United States | 0.474029 | 0.525971 |
| 2021-05-16 00:00:00 | The United States | 0.471849 | 0.528151 |
| 2021-05-17 00:00:00 | The United States | 0.473402 | 0.526598 |
| 2021-05-18 00:00:00 | The United States | 0.472759 | 0.527241 |
| 2021-05-19 00:00:00 | The United States | 0.475645 | 0.524355 |
| 2021-05-20 00:00:00 | The United States | 0.47599 | 0.52401 |
| 2021-05-21 00:00:00 | The United States | 0.475451 | 0.524549 |
| 2021-05-22 00:00:00 | The United States | 0.476876 | 0.523124 |
| 2021-05-23 00:00:00 | The United States | 0.476509 | 0.523491 |
| 2021-05-24 00:00:00 | The United States | 0.476999 | 0.523001 |
| 2021-05-25 00:00:00 | The United States | 0.4773 | 0.5227 |
| 2021-05-26 00:00:00 | The United States | 0.479475 | 0.520525 |
| 2021-05-27 00:00:00 | The United States | 0.480348 | 0.519652 |
| 2021-05-28 00:00:00 | The United States | 0.478902 | 0.521098 |
| 2021-05-29 00:00:00 | The United States | 0.4762 | 0.5238 |
| 2021-05-30 00:00:00 | The United States | 0.475634 | 0.524366 |
| 2021-05-31 00:00:00 | The United States | 0.47553 | 0.52447 |
| 2021-06-01 00:00:00 | The United States | 0.47397 | 0.52603 |
| 2021-06-02 00:00:00 | The United States | 0.470962 | 0.529038 |
| 2021-06-03 00:00:00 | The United States | 0.470964 | 0.529036 |
| 2021-06-04 00:00:00 | The United States | 0.468254 | 0.531746 |
| 2021-06-05 00:00:00 | The United States | 0.467509 | 0.532491 |
| 2021-06-06 00:00:00 | The United States | 0.469527 | 0.530473 |
| 2021-06-07 00:00:00 | The United States | 0.468603 | 0.531397 |
| 2021-06-08 00:00:00 | The United States | 0.468005 | 0.531995 |
| 2021-06-09 00:00:00 | The United States | 0.468645 | 0.531355 |
| 2021-06-10 00:00:00 | The United States | 0.468678 | 0.531322 |
| 2021-06-11 00:00:00 | The United States | 0.473106 | 0.526894 |
| 2021-06-12 00:00:00 | The United States | 0.475272 | 0.524728 |
| 2021-06-13 00:00:00 | The United States | 0.473214 | 0.526786 |
| 2021-06-14 00:00:00 | The United States | 0.471768 | 0.528232 |
| 2021-06-15 00:00:00 | The United States | 0.472845 | 0.527155 |
| 2021-06-16 00:00:00 | The United States | 0.474858 | 0.525142 |
| 2021-06-17 00:00:00 | The United States | 0.478137 | 0.521863 |
| 2021-06-18 00:00:00 | The United States | 0.477486 | 0.522514 |
| 2021-06-19 00:00:00 | The United States | 0.479423 | 0.520577 |
| 2021-06-20 00:00:00 | The United States | 0.480148 | 0.519852 |
| 2021-06-21 00:00:00 | The United States | 0.483142 | 0.516858 |
| 2021-06-22 00:00:00 | The United States | 0.482229 | 0.517771 |
| 2021-06-23 00:00:00 | The United States | 0.480035 | 0.519965 |
| 2021-06-24 00:00:00 | The United States | 0.47658 | 0.52342 |
| 2021-06-25 00:00:00 | The United States | 0.476945 | 0.523055 |
| 2021-06-26 00:00:00 | The United States | 0.477057 | 0.522943 |
| 2021-06-27 00:00:00 | The United States | 0.479893 | 0.520107 |
| 2021-06-28 00:00:00 | The United States | 0.478618 | 0.521382 |
| 2021-06-29 00:00:00 | The United States | 0.479991 | 0.520009 |
| 2021-06-30 00:00:00 | The United States | 0.477589 | 0.522411 |
| 2021-07-01 00:00:00 | The United States | 0.478983 | 0.521017 |
| 2021-07-02 00:00:00 | The United States | 0.477696 | 0.522304 |
| 2021-07-03 00:00:00 | The United States | 0.475912 | 0.524088 |
| 2021-07-04 00:00:00 | The United States | 0.472037 | 0.527963 |
| 2021-07-05 00:00:00 | The United States | 0.47297 | 0.52703 |
| 2021-07-06 00:00:00 | The United States | 0.472767 | 0.527233 |
| 2021-07-07 00:00:00 | The United States | 0.475845 | 0.524155 |
| 2021-07-08 00:00:00 | The United States | 0.473864 | 0.526136 |
| 2021-07-09 00:00:00 | The United States | 0.471764 | 0.528236 |
| 2021-07-10 00:00:00 | The United States | 0.47029 | 0.52971 |
| 2021-07-11 00:00:00 | The United States | 0.470579 | 0.529421 |
| 2021-07-12 00:00:00 | The United States | 0.468291 | 0.531709 |
| 2021-07-13 00:00:00 | The United States | 0.469552 | 0.530448 |
| 2021-07-14 00:00:00 | The United States | 0.466075 | 0.533925 |
| 2021-07-15 00:00:00 | The United States | 0.463381 | 0.536619 |
| 2021-07-16 00:00:00 | The United States | 0.46271 | 0.53729 |
| 2021-07-17 00:00:00 | The United States | 0.461413 | 0.538587 |
| 2021-07-18 00:00:00 | The United States | 0.459548 | 0.540452 |
| 2021-07-19 00:00:00 | The United States | 0.45717 | 0.54283 |
| 2021-07-20 00:00:00 | The United States | 0.451514 | 0.548486 |
| 2021-07-21 00:00:00 | The United States | 0.450698 | 0.549302 |
| 2021-07-22 00:00:00 | The United States | 0.450097 | 0.549903 |
| 2021-07-23 00:00:00 | The United States | 0.45054 | 0.54946 |
| 2021-07-24 00:00:00 | The United States | 0.44831 | 0.55169 |
| 2021-07-25 00:00:00 | The United States | 0.445107 | 0.554893 |
| 2021-07-26 00:00:00 | The United States | 0.444939 | 0.555061 |
| 2021-07-27 00:00:00 | The United States | 0.444717 | 0.555283 |
| 2021-07-28 00:00:00 | The United States | 0.440212 | 0.559788 |
| 2021-07-29 00:00:00 | The United States | 0.437455 | 0.562545 |
| 2021-07-30 00:00:00 | The United States | 0.433509 | 0.566491 |
| 2021-07-31 00:00:00 | The United States | 0.434025 | 0.565975 |
| 2021-08-01 00:00:00 | The United States | 0.432368 | 0.567632 |
| 2021-08-02 00:00:00 | The United States | 0.429508 | 0.570492 |
| 2021-08-03 00:00:00 | The United States | 0.427418 | 0.572582 |
| 2021-08-04 00:00:00 | The United States | 0.428244 | 0.571756 |
| 2021-08-05 00:00:00 | The United States | 0.428245 | 0.571755 |
| 2021-08-06 00:00:00 | The United States | 0.427182 | 0.572818 |
| 2021-08-07 00:00:00 | The United States | 0.424992 | 0.575008 |
| 2021-08-08 00:00:00 | The United States | 0.423209 | 0.576791 |
| 2021-08-09 00:00:00 | The United States | 0.423899 | 0.576101 |
| 2021-08-10 00:00:00 | The United States | 0.423783 | 0.576217 |
| 2021-08-11 00:00:00 | The United States | 0.425668 | 0.574332 |
| 2021-08-12 00:00:00 | The United States | 0.427688 | 0.572312 |
| 2021-08-13 00:00:00 | The United States | 0.429046 | 0.570954 |
| 2021-08-14 00:00:00 | The United States | 0.430021 | 0.569979 |
| 2021-08-15 00:00:00 | The United States | 0.432245 | 0.567755 |
| 2021-08-16 00:00:00 | The United States | 0.430639 | 0.569361 |
| 2021-08-17 00:00:00 | The United States | 0.429551 | 0.570449 |
| 2021-08-18 00:00:00 | The United States | 0.427442 | 0.572558 |
| 2021-08-19 00:00:00 | The United States | 0.423487 | 0.576513 |
| 2021-08-20 00:00:00 | The United States | 0.419374 | 0.580626 |
| 2021-08-21 00:00:00 | The United States | 0.417706 | 0.582294 |
| 2021-08-22 00:00:00 | The United States | 0.413231 | 0.586769 |
| 2021-08-23 00:00:00 | The United States | 0.411288 | 0.588712 |
| 2021-08-24 00:00:00 | The United States | 0.40936 | 0.59064 |
| 2021-08-25 00:00:00 | The United States | 0.408264 | 0.591736 |
| 2021-08-26 00:00:00 | The United States | 0.407722 | 0.592278 |
| 2021-08-27 00:00:00 | The United States | 0.408199 | 0.591801 |
| 2021-08-28 00:00:00 | The United States | 0.405378 | 0.594622 |
| 2021-08-29 00:00:00 | The United States | 0.40476 | 0.59524 |
| 2021-08-30 00:00:00 | The United States | 0.403167 | 0.596833 |
| 2021-08-31 00:00:00 | The United States | 0.401952 | 0.598048 |
| 2021-09-01 00:00:00 | The United States | 0.398957 | 0.601043 |
| 2021-09-02 00:00:00 | The United States | 0.395365 | 0.604635 |
| 2021-09-03 00:00:00 | The United States | 0.390852 | 0.609148 |
| 2021-09-04 00:00:00 | The United States | 0.389538 | 0.610462 |
| 2021-09-05 00:00:00 | The United States | 0.389428 | 0.610572 |
| 2021-09-06 00:00:00 | The United States | 0.387769 | 0.612231 |
| 2021-09-07 00:00:00 | The United States | 0.386216 | 0.613784 |
| 2021-09-08 00:00:00 | The United States | 0.385964 | 0.614036 |
| 2021-09-09 00:00:00 | The United States | 0.387283 | 0.612717 |
| 2021-09-10 00:00:00 | The United States | 0.390097 | 0.609903 |
| 2021-09-11 00:00:00 | The United States | 0.389559 | 0.610441 |
| 2021-09-12 00:00:00 | The United States | 0.387071 | 0.612929 |
| 2021-09-13 00:00:00 | The United States | 0.386726 | 0.613274 |
| 2021-09-14 00:00:00 | The United States | 0.384116 | 0.615884 |
| 2021-09-15 00:00:00 | The United States | 0.383549 | 0.616451 |
| 2021-09-16 00:00:00 | The United States | 0.384274 | 0.615726 |
| 2021-09-17 00:00:00 | The United States | 0.385201 | 0.614799 |
| 2021-09-18 00:00:00 | The United States | 0.386857 | 0.613143 |
| 2021-09-19 00:00:00 | The United States | 0.390117 | 0.609883 |
| 2021-09-20 00:00:00 | The United States | 0.390335 | 0.609665 |
| 2021-09-21 00:00:00 | The United States | 0.39412154109769 | 0.60587845890231 |
| 2021-09-22 00:00:00 | The United States | 0.39352945736496 | 0.60647054263504 |
| 2021-09-23 00:00:00 | The United States | 0.39255058393556 | 0.60744941606444 |
| 2021-09-24 00:00:00 | The United States | 0.38666126408098 | 0.61333873591902 |
| 2021-09-25 00:00:00 | The United States | 0.3841917366353 | 0.61580826336469 |
| 2021-09-26 00:00:00 | The United States | 0.37996021373035 | 0.62003978626965 |
| 2021-09-27 00:00:00 | The United States | 0.37855829150035 | 0.62144170849965 |
| 2021-09-28 00:00:00 | The United States | 0.37847616182434 | 0.62152383817566 |
| 2021-09-29 00:00:00 | The United States | 0.37688436030565 | 0.62311563969435 |
| 2021-09-30 00:00:00 | The United States | 0.37696988235974 | 0.62303011764026 |
| 2021-10-01 00:00:00 | The United States | 0.37859537889045 | 0.62140462110955 |
| 2021-10-02 00:00:00 | The United States | 0.37845541501212 | 0.62154458498788 |
| 2021-10-03 00:00:00 | The United States | 0.38030040538297 | 0.61969959461703 |
| 2021-10-04 00:00:00 | The United States | 0.3827106363426 | 0.6172893636574 |
| 2021-10-05 00:00:00 | The United States | 0.38178064697918 | 0.61821935302082 |
| 2021-10-06 00:00:00 | The United States | 0.38051240525379 | 0.6194875947462 |
| 2021-10-07 00:00:00 | The United States | 0.37972491468513 | 0.62027508531486 |
| 2021-10-08 00:00:00 | The United States | 0.38146677559709 | 0.61853322440291 |
| 2021-10-09 00:00:00 | The United States | 0.38454125604049 | 0.61545874395951 |
| 2021-10-10 00:00:00 | The United States | 0.38506036886196 | 0.61493963113804 |
| 2021-10-11 00:00:00 | The United States | 0.38393694456137 | 0.61606305543863 |
| 2021-10-12 00:00:00 | The United States | 0.38302698154337 | 0.61697301845663 |
| 2021-10-13 00:00:00 | The United States | 0.38681438719299 | 0.61318561280701 |
| 2021-10-14 00:00:00 | The United States | 0.38908925782898 | 0.61091074217102 |
| 2021-10-15 00:00:00 | The United States | 0.39162577241446 | 0.60837422758554 |
| 2021-10-16 00:00:00 | The United States | 0.38970621828281 | 0.61029378171719 |
| 2021-10-17 00:00:00 | The United States | 0.38916786744289 | 0.61083213255711 |
| 2021-10-18 00:00:00 | The United States | 0.38837196881448 | 0.61162803118552 |
| 2021-10-19 00:00:00 | The United States | 0.38960904705181 | 0.61039095294819 |
| 2021-10-20 00:00:00 | The United States | 0.38985989911202 | 0.61014010088798 |
| 2021-10-21 00:00:00 | The United States | 0.38860133589378 | 0.61139866410622 |
| 2021-10-22 00:00:00 | The United States | 0.38546283403271 | 0.61453716596729 |
| 2021-10-23 00:00:00 | The United States | 0.38247328165709 | 0.6175267183429 |
| 2021-10-24 00:00:00 | The United States | 0.37985099123237 | 0.62014900876763 |
| 2021-10-25 00:00:00 | The United States | 0.38025063235701 | 0.61974936764299 |
| 2021-10-26 00:00:00 | The United States | 0.37757888024407 | 0.62242111975593 |
| 2021-10-27 00:00:00 | The United States | 0.37585900289878 | 0.62414099710122 |
| 2021-10-28 00:00:00 | The United States | 0.37489813463606 | 0.62510186536394 |
| 2021-10-31 00:00:00 | The United States | 0.37786292948 | 0.62213707052 |
| 2021-11-01 00:00:00 | The United States | 0.37302104877417 | 0.62697895122583 |
| 2021-11-02 00:00:00 | The United States | 0.37370104776852 | 0.62629895223148 |
| 2021-11-03 00:00:00 | The United States | 0.37658491479474 | 0.62341508520526 |
| 2021-11-04 00:00:00 | The United States | 0.37535001619003 | 0.62464998380997 |
| 2021-11-05 00:00:00 | The United States | 0.37710784470598 | 0.62289215529402 |
| 2021-11-06 00:00:00 | The United States | 0.37690139876783 | 0.62309860123217 |
| 2021-11-07 00:00:00 | The United States | 0.38251237973703 | 0.61748762026297 |
| 2021-11-08 00:00:00 | The United States | 0.38302022091401 | 0.61697977908599 |
| 2021-11-09 00:00:00 | The United States | 0.38254267698519 | 0.61745732301481 |
| 2021-11-10 00:00:00 | The United States | 0.38326379193851 | 0.61673620806149 |
| 2021-11-11 00:00:00 | The United States | 0.38337768567505 | 0.61662231432495 |
| 2021-11-12 00:00:00 | The United States | 0.38172782982083 | 0.61827217017917 |
| 2021-11-13 00:00:00 | The United States | 0.38139067277879 | 0.61860932722121 |
| 2021-11-14 00:00:00 | The United States | 0.38212764516217 | 0.61787235483783 |
| 2021-11-15 00:00:00 | The United States | 0.3852391005565 | 0.6147608994435 |
| 2021-11-16 00:00:00 | The United States | 0.38364016518854 | 0.61635983481146 |
| 2021-11-17 00:00:00 | The United States | 0.37965896968517 | 0.62034103031483 |
| 2021-11-18 00:00:00 | The United States | 0.3824107529486 | 0.6175892470514 |
| 2021-11-19 00:00:00 | The United States | 0.38346578017515 | 0.61653421982485 |
| 2021-11-20 00:00:00 | The United States | 0.38418645482206 | 0.61581354517793 |
| 2021-11-21 00:00:00 | The United States | 0.38053000145295 | 0.61946999854705 |
| 2021-11-22 00:00:00 | The United States | 0.37935805677381 | 0.62064194322619 |
| 2021-11-23 00:00:00 | The United States | 0.38004412472422 | 0.61995587527578 |
| 2021-11-24 00:00:00 | The United States | 0.3868690055225 | 0.6131309944775 |
| 2021-11-25 00:00:00 | The United States | 0.3863030885994 | 0.6136969114006 |
| 2021-11-26 00:00:00 | The United States | 0.38412621803902 | 0.61587378196098 |
| 2021-11-27 00:00:00 | The United States | 0.38309580657429 | 0.61690419342571 |
| 2021-11-28 00:00:00 | The United States | 0.3858934472161 | 0.6141065527839 |
| 2021-11-29 00:00:00 | The United States | 0.38216728391563 | 0.61783271608436 |
| 2021-11-30 00:00:00 | The United States | 0.38216728391563 | 0.61783271608436 |
| 2021-12-01 00:00:00 | The United States | 0.38325252344315 | 0.61674747655685 |
| 2021-12-02 00:00:00 | The United States | 0.38002802158212 | 0.61997197841788 |
| 2021-12-03 00:00:00 | The United States | 0.37944966430507 | 0.62055033569493 |
| 2021-12-04 00:00:00 | The United States | 0.38097804624274 | 0.61902195375726 |
| 2021-12-05 00:00:00 | The United States | 0.37908721847169 | 0.62091278152831 |
| 2021-12-06 00:00:00 | The United States | 0.37733965319194 | 0.62266034680806 |
| 2021-12-07 00:00:00 | The United States | 0.37939732200149 | 0.62060267799851 |
| 2021-12-08 00:00:00 | The United States | 0.37795393258248 | 0.62204606741752 |
| 2021-12-09 00:00:00 | The United States | 0.37600924229013 | 0.62399075770987 |
| 2021-12-10 00:00:00 | The United States | 0.37383684175358 | 0.62616315824642 |
| 2021-12-11 00:00:00 | The United States | 0.3736330139933 | 0.6263669860067 |
| 2021-12-12 00:00:00 | The United States | 0.37280585531164 | 0.62719414468836 |
| 2021-12-13 00:00:00 | The United States | 0.37291251376217 | 0.62708748623783 |
| 2021-12-14 00:00:00 | The United States | 0.37280449112607 | 0.62719550887392 |
| 2021-12-15 00:00:00 | The United States | 0.37054019755847 | 0.62945980244153 |
| 2021-12-16 00:00:00 | The United States | 0.37489037645282 | 0.62510962354718 |
| 2021-12-17 00:00:00 | The United States | 0.3769059903845 | 0.6230940096155 |
| 2021-12-18 00:00:00 | The United States | 0.37858557821356 | 0.62141442178644 |
| 2021-12-19 00:00:00 | The United States | 0.38277824751783 | 0.61722175248217 |
| 2021-12-20 00:00:00 | The United States | 0.38154658892132 | 0.61845341107868 |
| 2021-12-21 00:00:00 | The United States | 0.37980449952345 | 0.62019550047655 |
| 2021-12-22 00:00:00 | The United States | 0.38025498913559 | 0.61974501086441 |
| 2021-12-23 00:00:00 | The United States | 0.37904538261313 | 0.62095461738687 |
| 2021-12-24 00:00:00 | The United States | 0.37854146513586 | 0.62145853486414 |
| 2021-12-25 00:00:00 | The United States | 0.37504852284399 | 0.62495147715601 |
| 2021-12-26 00:00:00 | The United States | 0.37267790621173 | 0.62732209378827 |
| 2021-12-27 00:00:00 | The United States | 0.36991822127999 | 0.63008177872001 |
| 2021-12-28 00:00:00 | The United States | 0.36650966063443 | 0.63349033936557 |
| 2021-12-29 00:00:00 | The United States | 0.36590368896038 | 0.63409631103961 |
| 2021-12-30 00:00:00 | The United States | 0.36152224509529 | 0.63847775490471 |
| 2021-12-31 00:00:00 | The United States | 0.35624578131203 | 0.64375421868797 |
| 2022-01-01 00:00:00 | The United States | 0.35321235540099 | 0.64678764459901 |
| 2022-01-02 00:00:00 | The United States | 0.35105593990527 | 0.64894406009473 |
| 2022-01-03 00:00:00 | The United States | 0.35105593990527 | 0.64894406009473 |
| 2022-01-04 00:00:00 | The United States | 0.35264224246356 | 0.64735775753644 |
| 2022-01-05 00:00:00 | The United States | 0.35129506712032 | 0.64870493287968 |
| 2022-01-06 00:00:00 | The United States | 0.35286018237266 | 0.64713981762733 |
| 2022-01-07 00:00:00 | The United States | 0.3560107327216 | 0.6439892672784 |
| 2022-01-08 00:00:00 | The United States | 0.35909025788495 | 0.64090974211505 |
| 2022-01-09 00:00:00 | The United States | 0.35796310070768 | 0.64203689929232 |
| 2022-01-10 00:00:00 | The United States | 0.35859742859301 | 0.64140257140699 |
| 2022-01-11 00:00:00 | The United States | 0.35926092055248 | 0.64073907944751 |
| 2022-01-12 00:00:00 | The United States | 0.35901894489939 | 0.64098105510061 |
| 2022-01-13 00:00:00 | The United States | 0.35732185852343 | 0.64267814147657 |
| 2022-01-14 00:00:00 | The United States | 0.35433658513584 | 0.64566341486416 |
| 2022-01-15 00:00:00 | The United States | 0.35037054818659 | 0.64962945181341 |
| 2022-01-16 00:00:00 | The United States | 0.35031310686203 | 0.64968689313797 |
| 2022-01-17 00:00:00 | The United States | 0.34977623983515 | 0.65022376016484 |
| 2022-01-18 00:00:00 | The United States | 0.35044495416008 | 0.64955504583992 |
| 2022-01-19 00:00:00 | The United States | 0.35052250517842 | 0.64947749482158 |
| 2022-01-20 00:00:00 | The United States | 0.34907453032416 | 0.65092546967584 |
| 2022-01-21 00:00:00 | The United States | 0.35152895176372 | 0.64847104823628 |
| 2022-01-22 00:00:00 | The United States | 0.35004879362628 | 0.64995120637372 |
| 2022-01-23 00:00:00 | The United States | 0.34783936447911 | 0.65216063552089 |
| 2022-01-24 00:00:00 | The United States | 0.34459221705096 | 0.65540778294904 |
| 2022-01-25 00:00:00 | The United States | 0.34056995837602 | 0.65943004162398 |
| 2022-01-26 00:00:00 | The United States | 0.33861683704746 | 0.66138316295254 |
| 2022-01-27 00:00:00 | The United States | 0.33845606056228 | 0.66154393943772 |
| 2022-01-28 00:00:00 | The United States | 0.33424184791672 | 0.66575815208328 |
| 2022-01-29 00:00:00 | The United States | 0.33608914928003 | 0.66391085071997 |
| 2022-01-30 00:00:00 | The United States | 0.33582377362062 | 0.66417622637938 |
| 2022-01-31 00:00:00 | The United States | 0.33697894499197 | 0.66302105500803 |
| 2022-02-01 00:00:00 | The United States | 0.33692002041408 | 0.66307997958592 |
| 2022-02-02 00:00:00 | The United States | 0.3358459732154 | 0.6641540267846 |
| 2022-02-03 00:00:00 | The United States | 0.33425130049038 | 0.66574869950962 |
| 2022-02-04 00:00:00 | The United States | 0.33478359304848 | 0.66521640695152 |
| 2022-02-05 00:00:00 | The United States | 0.33347271955834 | 0.66652728044166 |
| 2022-02-06 00:00:00 | The United States | 0.33571291950474 | 0.66428708049526 |
| 2022-02-07 00:00:00 | The United States | 0.33882534705038 | 0.66117465294962 |
| 2022-02-08 00:00:00 | The United States | 0.34212246580571 | 0.65787753419429 |
| 2022-02-09 00:00:00 | The United States | 0.34588848479921 | 0.65411151520079 |
| 2022-02-10 00:00:00 | The United States | 0.3485367914778 | 0.6514632085222 |
| 2022-02-11 00:00:00 | The United States | 0.35107745570523 | 0.64892254429477 |
| 2022-02-12 00:00:00 | The United States | 0.35154399630454 | 0.64845600369546 |
| 2022-02-13 00:00:00 | The United States | 0.34981452026198 | 0.65018547973802 |
| 2022-02-14 00:00:00 | The United States | 0.34799705899276 | 0.65200294100724 |
| 2022-02-15 00:00:00 | The United States | 0.34575919176179 | 0.65424080823821 |
| 2022-02-16 00:00:00 | The United States | 0.34453170104146 | 0.65546829895854 |
| 2022-02-17 00:00:00 | The United States | 0.34517779406416 | 0.65482220593584 |
| 2022-02-18 00:00:00 | The United States | 0.34548641588374 | 0.65451358411626 |
| 2022-02-19 00:00:00 | The United States | 0.34794006785149 | 0.65205993214851 |
| 2022-02-20 00:00:00 | The United States | 0.34889600336279 | 0.65110399663721 |
| 2022-02-21 00:00:00 | The United States | 0.3484599338992 | 0.6515400661008 |
| 2022-02-22 00:00:00 | The United States | 0.34962392212616 | 0.65037607787384 |
| 2022-02-23 00:00:00 | The United States | 0.34741760618983 | 0.65258239381017 |
| 2022-02-24 00:00:00 | The United States | 0.34770793629567 | 0.65229206370433 |
| 2022-02-25 00:00:00 | The United States | 0.34712789002288 | 0.65287210997712 |
| 2022-02-26 00:00:00 | The United States | 0.34606758761089 | 0.65393241238911 |
| 2022-02-27 00:00:00 | The United States | 0.34757953889668 | 0.65242046110332 |
| 2022-02-28 00:00:00 | The United States | 0.34790101820492 | 0.65209898179508 |
| 2022-03-01 00:00:00 | The United States | 0.34671756212519 | 0.65328243787481 |
| 2022-03-02 00:00:00 | The United States | 0.34989051058943 | 0.65010948941057 |
| 2022-03-03 00:00:00 | The United States | 0.34808445183505 | 0.65191554816495 |
| 2022-03-04 00:00:00 | The United States | 0.34961086094486 | 0.65038913905514 |
| 2022-03-05 00:00:00 | The United States | 0.35027860134875 | 0.64972139865125 |
| 2022-03-06 00:00:00 | The United States | 0.35246999035724 | 0.64753000964276 |
| 2022-03-07 00:00:00 | The United States | 0.35199214721381 | 0.64800785278619 |
| 2022-03-08 00:00:00 | The United States | 0.35015525064594 | 0.64984474935406 |
| 2022-03-09 00:00:00 | The United States | 0.34740977877513 | 0.65259022122487 |
| 2022-03-10 00:00:00 | The United States | 0.35025073713484 | 0.64974926286516 |
| 2022-03-11 00:00:00 | The United States | 0.34623623349806 | 0.65376376650194 |
| 2022-03-12 00:00:00 | The United States | 0.34339347836444 | 0.65660652163556 |
| 2022-03-13 00:00:00 | The United States | 0.33647036664315 | 0.66352963335685 |
| 2022-03-14 00:00:00 | The United States | 0.33786406291498 | 0.66213593708502 |
| 2022-03-15 00:00:00 | The United States | 0.33652944473353 | 0.66347055526647 |
| 2022-03-16 00:00:00 | The United States | 0.33646010875045 | 0.66353989124955 |
| 2022-03-17 00:00:00 | The United States | 0.33644874822969 | 0.66355125177031 |
| 2022-03-18 00:00:00 | The United States | 0.33770356622217 | 0.66229643377783 |
| 2022-03-19 00:00:00 | The United States | 0.33906718890354 | 0.66093281109646 |
| 2022-03-20 00:00:00 | The United States | 0.34174519123902 | 0.65825480876098 |
| 2022-03-21 00:00:00 | The United States | 0.3387292020869 | 0.6612707979131 |
| 2022-03-22 00:00:00 | The United States | 0.33897255125767 | 0.66102744874233 |
| 2022-03-23 00:00:00 | The United States | 0.33994026690533 | 0.66005973309467 |
| 2022-03-24 00:00:00 | The United States | 0.33650709486204 | 0.66349290513796 |
| 2022-03-25 00:00:00 | The United States | 0.33883043042796 | 0.66116956957204 |
| 2022-03-26 00:00:00 | The United States | 0.33789629792407 | 0.66210370207593 |
| 2022-03-27 00:00:00 | The United States | 0.33991773845816 | 0.66008226154184 |
| 2022-03-28 00:00:00 | The United States | 0.34045595727589 | 0.65954404272411 |
| 2022-03-29 00:00:00 | The United States | 0.34315092903048 | 0.65684907096952 |
| 2020-01-06 00:00:00 | The United Kingdom | 0.44310854029004 | 0.55689145970996 |
| 2020-01-07 00:00:00 | The United Kingdom | 0.44525668992589 | 0.55474331007411 |
| 2020-01-08 00:00:00 | The United Kingdom | 0.4377805050528 | 0.5622194949472 |
| 2020-01-09 00:00:00 | The United Kingdom | 0.43692429756587 | 0.56307570243412 |
| 2020-01-10 00:00:00 | The United Kingdom | 0.43561125367914 | 0.56438874632086 |
| 2020-01-11 00:00:00 | The United Kingdom | 0.43380523298475 | 0.56619476701525 |
| 2020-01-12 00:00:00 | The United Kingdom | 0.43757656041089 | 0.56242343958911 |
| 2020-01-13 00:00:00 | The United Kingdom | 0.43760330055459 | 0.56239669944541 |
| 2020-01-14 00:00:00 | The United Kingdom | 0.42934482867762 | 0.57065517132238 |
| 2020-01-15 00:00:00 | The United Kingdom | 0.43014915065956 | 0.56985084934044 |
| 2020-01-16 00:00:00 | The United Kingdom | 0.4322196635856 | 0.5677803364144 |
| 2020-01-17 00:00:00 | The United Kingdom | 0.42541036210937 | 0.57458963789063 |
| 2020-01-18 00:00:00 | The United Kingdom | 0.42908733070782 | 0.57091266929218 |
| 2020-01-19 00:00:00 | The United Kingdom | 0.42362777245442 | 0.57637222754558 |
| 2020-01-20 00:00:00 | The United Kingdom | 0.42375636753456 | 0.57624363246544 |
| 2020-01-21 00:00:00 | The United Kingdom | 0.4407505723286 | 0.5592494276714 |
| 2020-01-22 00:00:00 | The United Kingdom | 0.44208982991475 | 0.55791017008525 |
| 2020-01-23 00:00:00 | The United Kingdom | 0.4470812845059 | 0.5529187154941 |
| 2020-01-24 00:00:00 | The United Kingdom | 0.45007691004895 | 0.54992308995105 |
| 2020-01-25 00:00:00 | The United Kingdom | 0.43875230599385 | 0.56124769400615 |
| 2020-01-26 00:00:00 | The United Kingdom | 0.44452033415048 | 0.55547966584952 |
| 2020-01-27 00:00:00 | The United Kingdom | 0.45557755750584 | 0.54442244249416 |
| 2020-01-28 00:00:00 | The United Kingdom | 0.45092408101776 | 0.54907591898224 |
| 2020-01-29 00:00:00 | The United Kingdom | 0.45723454580645 | 0.54276545419355 |
| 2020-01-30 00:00:00 | The United Kingdom | 0.45648522701202 | 0.54351477298798 |
| 2020-01-31 00:00:00 | The United Kingdom | 0.4493421667752 | 0.5506578332248 |
| 2020-02-01 00:00:00 | The United Kingdom | 0.46274257199082 | 0.53725742800918 |
| 2020-02-02 00:00:00 | The United Kingdom | 0.46803838486477 | 0.53196161513523 |
| 2020-02-03 00:00:00 | The United Kingdom | 0.46413111320603 | 0.53586888679397 |
| 2020-02-04 00:00:00 | The United Kingdom | 0.46286288522431 | 0.53713711477569 |
| 2020-02-05 00:00:00 | The United Kingdom | 0.45965514773667 | 0.54034485226333 |
| 2020-02-06 00:00:00 | The United Kingdom | 0.45782408190728 | 0.54217591809272 |
| 2020-02-07 00:00:00 | The United Kingdom | 0.46455871377617 | 0.53544128622383 |
| 2020-02-08 00:00:00 | The United Kingdom | 0.4550755010234 | 0.5449244989766 |
| 2020-02-09 00:00:00 | The United Kingdom | 0.44568209317642 | 0.55431790682358 |
| 2020-02-10 00:00:00 | The United Kingdom | 0.45287545395604 | 0.54712454604396 |
| 2020-02-11 00:00:00 | The United Kingdom | 0.45336435221586 | 0.54663564778414 |
| 2020-02-12 00:00:00 | The United Kingdom | 0.45105186754366 | 0.54894813245634 |
| 2020-02-13 00:00:00 | The United Kingdom | 0.45538202751345 | 0.54461797248655 |
| 2020-02-14 00:00:00 | The United Kingdom | 0.46425161174513 | 0.53574838825488 |
| 2020-02-15 00:00:00 | The United Kingdom | 0.47659690363982 | 0.52340309636018 |
| 2020-02-16 00:00:00 | The United Kingdom | 0.4741163532203 | 0.5258836467797 |
| 2020-02-17 00:00:00 | The United Kingdom | 0.47324196469527 | 0.52675803530473 |
| 2020-02-18 00:00:00 | The United Kingdom | 0.47195742411269 | 0.52804257588731 |
| 2020-02-19 00:00:00 | The United Kingdom | 0.47453958882563 | 0.52546041117437 |
| 2020-02-20 00:00:00 | The United Kingdom | 0.47762481090988 | 0.52237518909012 |
| 2020-02-21 00:00:00 | The United Kingdom | 0.47705991777621 | 0.52294008222379 |
| 2020-02-22 00:00:00 | The United Kingdom | 0.46858670252794 | 0.53141329747206 |
| 2020-02-23 00:00:00 | The United Kingdom | 0.47400167420907 | 0.52599832579093 |
| 2020-02-24 00:00:00 | The United Kingdom | 0.47094509014419 | 0.5290549098558 |
| 2020-02-25 00:00:00 | The United Kingdom | 0.47482759192002 | 0.52517240807998 |
| 2020-02-26 00:00:00 | The United Kingdom | 0.47263816749757 | 0.52736183250243 |
| 2020-02-27 00:00:00 | The United Kingdom | 0.46650964824855 | 0.53349035175145 |
| 2020-02-28 00:00:00 | The United Kingdom | 0.45329906772306 | 0.54670093227694 |
| 2020-02-29 00:00:00 | The United Kingdom | 0.45447751727959 | 0.54552248272041 |
| 2020-03-01 00:00:00 | The United Kingdom | 0.45547248314115 | 0.54452751685885 |
| 2020-03-02 00:00:00 | The United Kingdom | 0.45350605277746 | 0.54649394722254 |
| 2020-03-03 00:00:00 | The United Kingdom | 0.44944291011937 | 0.55055708988063 |
| 2020-03-04 00:00:00 | The United Kingdom | 0.45213485015 | 0.54786514985 |
| 2020-03-05 00:00:00 | The United Kingdom | 0.44868747141432 | 0.55131252858568 |
| 2020-03-06 00:00:00 | The United Kingdom | 0.45375924062808 | 0.54624075937192 |
| 2020-03-07 00:00:00 | The United Kingdom | 0.45702010385807 | 0.54297989614193 |
| 2020-03-08 00:00:00 | The United Kingdom | 0.45645945312181 | 0.54354054687819 |
| 2020-03-09 00:00:00 | The United Kingdom | 0.45458609480873 | 0.54541390519127 |
| 2020-03-10 00:00:00 | The United Kingdom | 0.45366304493298 | 0.54633695506702 |
| 2020-03-11 00:00:00 | The United Kingdom | 0.454758377981 | 0.545241622019 |
| 2020-03-12 00:00:00 | The United Kingdom | 0.4553785280832 | 0.5446214719168 |
| 2020-03-13 00:00:00 | The United Kingdom | 0.45605926238786 | 0.54394073761214 |
| 2020-03-14 00:00:00 | The United Kingdom | 0.44949286601165 | 0.55050713398835 |
| 2020-03-15 00:00:00 | The United Kingdom | 0.44787169927862 | 0.55212830072138 |
| 2020-03-16 00:00:00 | The United Kingdom | 0.44676893182057 | 0.55323106817943 |
| 2020-03-17 00:00:00 | The United Kingdom | 0.44101910924789 | 0.55898089075211 |
| 2020-03-18 00:00:00 | The United Kingdom | 0.43433782965295 | 0.56566217034705 |
| 2020-03-19 00:00:00 | The United Kingdom | 0.43802262269061 | 0.56197737730939 |
| 2020-03-20 00:00:00 | The United Kingdom | 0.43327431864143 | 0.56672568135857 |
| 2020-03-21 00:00:00 | The United Kingdom | 0.4334366314636 | 0.5665633685364 |
| 2020-03-22 00:00:00 | The United Kingdom | 0.4389519707207 | 0.5610480292793 |
| 2020-03-23 00:00:00 | The United Kingdom | 0.44440050014961 | 0.55559949985039 |
| 2020-03-24 00:00:00 | The United Kingdom | 0.45628695436532 | 0.54371304563468 |
| 2020-03-25 00:00:00 | The United Kingdom | 0.47599132287789 | 0.52400867712211 |
| 2020-03-26 00:00:00 | The United Kingdom | 0.48394007470483 | 0.51605992529517 |
| 2020-03-27 00:00:00 | The United Kingdom | 0.49507721462216 | 0.50492278537784 |
| 2020-03-28 00:00:00 | The United Kingdom | 0.51014855928349 | 0.48985144071651 |
| 2020-03-29 00:00:00 | The United Kingdom | 0.51167771518207 | 0.48832228481793 |
| 2020-03-30 00:00:00 | The United Kingdom | 0.512101751504 | 0.487898248496 |
| 2020-03-31 00:00:00 | The United Kingdom | 0.50799625965424 | 0.49200374034576 |
| 2020-04-01 00:00:00 | The United Kingdom | 0.49618325333066 | 0.50381674666934 |
| 2020-04-02 00:00:00 | The United Kingdom | 0.4833740725436 | 0.5166259274564 |
| 2020-04-03 00:00:00 | The United Kingdom | 0.48327154621468 | 0.51672845378532 |
| 2020-04-04 00:00:00 | The United Kingdom | 0.47587205075942 | 0.52412794924058 |
| 2020-04-05 00:00:00 | The United Kingdom | 0.4720549058719 | 0.5279450941281 |
| 2020-04-06 00:00:00 | The United Kingdom | 0.46359461636078 | 0.53640538363922 |
| 2020-04-07 00:00:00 | The United Kingdom | 0.47366225394996 | 0.52633774605003 |
| 2020-04-08 00:00:00 | The United Kingdom | 0.4809237546704 | 0.5190762453296 |
| 2020-04-09 00:00:00 | The United Kingdom | 0.48614559927037 | 0.51385440072963 |
| 2020-04-10 00:00:00 | The United Kingdom | 0.48045280967788 | 0.51954719032212 |
| 2020-04-11 00:00:00 | The United Kingdom | 0.48402876471338 | 0.51597123528662 |
| 2020-04-12 00:00:00 | The United Kingdom | 0.48981917287093 | 0.51018082712907 |
| 2020-04-13 00:00:00 | The United Kingdom | 0.49989762409939 | 0.50010237590061 |
| 2020-04-14 00:00:00 | The United Kingdom | 0.48972973629707 | 0.51027026370293 |
| 2020-04-15 00:00:00 | The United Kingdom | 0.48281463536257 | 0.51718536463743 |
| 2020-04-16 00:00:00 | The United Kingdom | 0.48692975668974 | 0.51307024331026 |
| 2020-04-17 00:00:00 | The United Kingdom | 0.48014609375778 | 0.51985390624222 |
| 2020-04-18 00:00:00 | The United Kingdom | 0.47424848415105 | 0.52575151584895 |
| 2020-04-19 00:00:00 | The United Kingdom | 0.47092734634345 | 0.52907265365655 |
| 2020-04-20 00:00:00 | The United Kingdom | 0.46796241793352 | 0.53203758206648 |
| 2020-04-21 00:00:00 | The United Kingdom | 0.46597111167348 | 0.53402888832651 |
| 2020-04-22 00:00:00 | The United Kingdom | 0.46780574550254 | 0.53219425449746 |
| 2020-04-23 00:00:00 | The United Kingdom | 0.46410984076308 | 0.53589015923692 |
| 2020-04-24 00:00:00 | The United Kingdom | 0.46762947799186 | 0.53237052200814 |
| 2020-04-25 00:00:00 | The United Kingdom | 0.4635589313286 | 0.5364410686714 |
| 2020-04-26 00:00:00 | The United Kingdom | 0.46077493549221 | 0.53922506450779 |
| 2020-04-27 00:00:00 | The United Kingdom | 0.46143327666864 | 0.53856672333136 |
| 2020-04-28 00:00:00 | The United Kingdom | 0.47208352092436 | 0.52791647907564 |
| 2020-04-29 00:00:00 | The United Kingdom | 0.46965777352982 | 0.53034222647018 |
| 2020-04-30 00:00:00 | The United Kingdom | 0.47106578223776 | 0.52893421776224 |
| 2020-05-01 00:00:00 | The United Kingdom | 0.47735168333742 | 0.52264831666258 |
| 2020-05-02 00:00:00 | The United Kingdom | 0.48438992558892 | 0.51561007441108 |
| 2020-05-03 00:00:00 | The United Kingdom | 0.49001070291489 | 0.50998929708511 |
| 2020-05-04 00:00:00 | The United Kingdom | 0.49468578511776 | 0.50531421488224 |
| 2020-05-05 00:00:00 | The United Kingdom | 0.4817681044016 | 0.5182318955984 |
| 2020-05-06 00:00:00 | The United Kingdom | 0.48058863241003 | 0.51941136758997 |
| 2020-05-07 00:00:00 | The United Kingdom | 0.48276415985105 | 0.51723584014895 |
| 2020-05-08 00:00:00 | The United Kingdom | 0.47947206254002 | 0.52052793745998 |
| 2020-05-09 00:00:00 | The United Kingdom | 0.47629102899846 | 0.52370897100154 |
| 2020-05-10 00:00:00 | The United Kingdom | 0.46384593569834 | 0.53615406430166 |
| 2020-05-11 00:00:00 | The United Kingdom | 0.45321552039539 | 0.54678447960461 |
| 2020-05-12 00:00:00 | The United Kingdom | 0.45728346891103 | 0.54271653108897 |
| 2020-05-13 00:00:00 | The United Kingdom | 0.4528737219552 | 0.5471262780448 |
| 2020-05-14 00:00:00 | The United Kingdom | 0.45219239306439 | 0.54780760693562 |
| 2020-05-15 00:00:00 | The United Kingdom | 0.44626079357158 | 0.55373920642842 |
| 2020-05-16 00:00:00 | The United Kingdom | 0.44319117919996 | 0.55680882080004 |
| 2020-05-17 00:00:00 | The United Kingdom | 0.44339786372828 | 0.55660213627172 |
| 2020-05-18 00:00:00 | The United Kingdom | 0.44090262697194 | 0.55909737302806 |
| 2020-05-19 00:00:00 | The United Kingdom | 0.43676751185691 | 0.56323248814309 |
| 2020-05-20 00:00:00 | The United Kingdom | 0.43387097217719 | 0.56612902782281 |
| 2020-05-21 00:00:00 | The United Kingdom | 0.43121374304552 | 0.56878625695449 |
| 2020-05-22 00:00:00 | The United Kingdom | 0.43505552849557 | 0.56494447150443 |
| 2020-05-23 00:00:00 | The United Kingdom | 0.42986984655487 | 0.57013015344513 |
| 2020-05-24 00:00:00 | The United Kingdom | 0.43119651600642 | 0.56880348399358 |
| 2020-05-25 00:00:00 | The United Kingdom | 0.42512865813537 | 0.57487134186463 |
| 2020-05-26 00:00:00 | The United Kingdom | 0.42614039048989 | 0.57385960951011 |
| 2020-05-27 00:00:00 | The United Kingdom | 0.42841014586036 | 0.57158985413964 |
| 2020-05-28 00:00:00 | The United Kingdom | 0.41661283589549 | 0.58338716410451 |
| 2020-05-29 00:00:00 | The United Kingdom | 0.41362475630513 | 0.58637524369487 |
| 2020-05-30 00:00:00 | The United Kingdom | 0.4176306939155 | 0.5823693060845 |
| 2020-05-31 00:00:00 | The United Kingdom | 0.4125134588988 | 0.5874865411012 |
| 2020-06-01 00:00:00 | The United Kingdom | 0.41434915606663 | 0.58565084393337 |
| 2020-06-02 00:00:00 | The United Kingdom | 0.40337841144627 | 0.59662158855373 |
| 2020-06-03 00:00:00 | The United Kingdom | 0.40170899551616 | 0.59829100448384 |
| 2020-06-04 00:00:00 | The United Kingdom | 0.40731742563338 | 0.59268257436662 |
| 2020-06-05 00:00:00 | The United Kingdom | 0.39882625769314 | 0.60117374230686 |
| 2020-06-06 00:00:00 | The United Kingdom | 0.3827916969833 | 0.6172083030167 |
| 2020-06-07 00:00:00 | The United Kingdom | 0.37565497293112 | 0.62434502706887 |
| 2020-06-08 00:00:00 | The United Kingdom | 0.36938508556177 | 0.63061491443823 |
| 2020-06-09 00:00:00 | The United Kingdom | 0.36698746864169 | 0.63301253135831 |
| 2020-06-10 00:00:00 | The United Kingdom | 0.35843310090328 | 0.64156689909672 |
| 2020-06-11 00:00:00 | The United Kingdom | 0.35340750497312 | 0.64659249502688 |
| 2020-06-12 00:00:00 | The United Kingdom | 0.35407145968375 | 0.64592854031625 |
| 2020-06-13 00:00:00 | The United Kingdom | 0.3580799628476 | 0.6419200371524 |
| 2020-06-14 00:00:00 | The United Kingdom | 0.36481416407158 | 0.63518583592843 |
| 2020-06-15 00:00:00 | The United Kingdom | 0.36738596283204 | 0.63261403716796 |
| 2020-06-16 00:00:00 | The United Kingdom | 0.37358760618481 | 0.62641239381519 |
| 2020-06-17 00:00:00 | The United Kingdom | 0.3774414838075 | 0.6225585161925 |
| 2020-06-18 00:00:00 | The United Kingdom | 0.38468639751943 | 0.61531360248057 |
| 2020-06-19 00:00:00 | The United Kingdom | 0.38075548454101 | 0.61924451545899 |
| 2020-06-20 00:00:00 | The United Kingdom | 0.38674213653279 | 0.61325786346721 |
| 2020-06-21 00:00:00 | The United Kingdom | 0.38651299256178 | 0.61348700743822 |
| 2020-06-22 00:00:00 | The United Kingdom | 0.39102029721497 | 0.60897970278503 |
| 2020-06-23 00:00:00 | The United Kingdom | 0.3938808111548 | 0.6061191888452 |
| 2020-06-24 00:00:00 | The United Kingdom | 0.40579604412332 | 0.59420395587667 |
| 2020-06-25 00:00:00 | The United Kingdom | 0.40071151688806 | 0.59928848311194 |
| 2020-06-26 00:00:00 | The United Kingdom | 0.41337250458235 | 0.58662749541765 |
| 2020-06-27 00:00:00 | The United Kingdom | 0.40815451682255 | 0.59184548317745 |
| 2020-06-28 00:00:00 | The United Kingdom | 0.41251229860784 | 0.58748770139216 |
| 2020-06-29 00:00:00 | The United Kingdom | 0.4117179452396 | 0.5882820547604 |
| 2020-06-30 00:00:00 | The United Kingdom | 0.40832146842807 | 0.59167853157193 |
| 2020-07-01 00:00:00 | The United Kingdom | 0.3998595079602 | 0.6001404920398 |
| 2020-07-02 00:00:00 | The United Kingdom | 0.40044954844816 | 0.59955045155184 |
| 2020-07-03 00:00:00 | The United Kingdom | 0.39105805444957 | 0.60894194555043 |
| 2020-07-04 00:00:00 | The United Kingdom | 0.39783340764277 | 0.60216659235723 |
| 2020-07-05 00:00:00 | The United Kingdom | 0.39106184938421 | 0.60893815061579 |
| 2020-07-06 00:00:00 | The United Kingdom | 0.38476379368481 | 0.61523620631519 |
| 2020-07-07 00:00:00 | The United Kingdom | 0.3822473515248 | 0.6177526484752 |
| 2020-07-08 00:00:00 | The United Kingdom | 0.38079722294523 | 0.61920277705477 |
| 2020-07-09 00:00:00 | The United Kingdom | 0.38594412109004 | 0.61405587890996 |
| 2020-07-10 00:00:00 | The United Kingdom | 0.39090501155537 | 0.60909498844463 |
| 2020-07-11 00:00:00 | The United Kingdom | 0.39111484731138 | 0.60888515268862 |
| 2020-07-12 00:00:00 | The United Kingdom | 0.38185564762266 | 0.61814435237734 |
| 2020-07-13 00:00:00 | The United Kingdom | 0.38770631658173 | 0.61229368341827 |
| 2020-07-14 00:00:00 | The United Kingdom | 0.39621977491792 | 0.60378022508208 |
| 2020-07-15 00:00:00 | The United Kingdom | 0.40660683349128 | 0.59339316650872 |
| 2020-07-16 00:00:00 | The United Kingdom | 0.40088173367446 | 0.59911826632554 |
| 2020-07-17 00:00:00 | The United Kingdom | 0.40209411439285 | 0.59790588560715 |
| 2020-07-18 00:00:00 | The United Kingdom | 0.41015572289778 | 0.58984427710222 |
| 2020-07-19 00:00:00 | The United Kingdom | 0.42591705962317 | 0.57408294037683 |
| 2020-07-20 00:00:00 | The United Kingdom | 0.41877968911718 | 0.58122031088282 |
| 2020-07-21 00:00:00 | The United Kingdom | 0.41263590181242 | 0.58736409818758 |
| 2020-07-22 00:00:00 | The United Kingdom | 0.40380637485884 | 0.59619362514116 |
| 2020-07-23 00:00:00 | The United Kingdom | 0.40136795622631 | 0.59863204377369 |
| 2020-07-24 00:00:00 | The United Kingdom | 0.40300483465201 | 0.59699516534799 |
| 2020-07-25 00:00:00 | The United Kingdom | 0.39352539326249 | 0.60647460673751 |
| 2020-07-26 00:00:00 | The United Kingdom | 0.38735447755869 | 0.61264552244131 |
| 2020-07-27 00:00:00 | The United Kingdom | 0.38991231319477 | 0.61008768680523 |
| 2020-07-28 00:00:00 | The United Kingdom | 0.39034331117274 | 0.60965668882726 |
| 2020-07-29 00:00:00 | The United Kingdom | 0.38465961275502 | 0.61534038724498 |
| 2020-07-30 00:00:00 | The United Kingdom | 0.38558461400372 | 0.61441538599628 |
| 2020-07-31 00:00:00 | The United Kingdom | 0.37596576109277 | 0.62403423890723 |
| 2020-08-01 00:00:00 | The United Kingdom | 0.36606272202205 | 0.63393727797795 |
| 2020-08-02 00:00:00 | The United Kingdom | 0.3581281524149 | 0.6418718475851 |
| 2020-08-03 00:00:00 | The United Kingdom | 0.35977524400756 | 0.64022475599244 |
| 2020-08-04 00:00:00 | The United Kingdom | 0.35013827685519 | 0.64986172314481 |
| 2020-08-05 00:00:00 | The United Kingdom | 0.34473362925519 | 0.65526637074481 |
| 2020-08-06 00:00:00 | The United Kingdom | 0.34348344460887 | 0.65651655539113 |
| 2020-08-07 00:00:00 | The United Kingdom | 0.34677272529579 | 0.65322727470421 |
| 2020-08-08 00:00:00 | The United Kingdom | 0.35953509176127 | 0.64046490823873 |
| 2020-08-09 00:00:00 | The United Kingdom | 0.36213467143569 | 0.63786532856431 |
| 2020-08-10 00:00:00 | The United Kingdom | 0.36093009984044 | 0.63906990015956 |
| 2020-08-11 00:00:00 | The United Kingdom | 0.36377929892378 | 0.63622070107622 |
| 2020-08-12 00:00:00 | The United Kingdom | 0.36858237436745 | 0.63141762563255 |
| 2020-08-13 00:00:00 | The United Kingdom | 0.36273614671808 | 0.63726385328192 |
| 2020-08-14 00:00:00 | The United Kingdom | 0.36288942733346 | 0.63711057266654 |
| 2020-08-15 00:00:00 | The United Kingdom | 0.34462291388592 | 0.65537708611408 |
| 2020-08-16 00:00:00 | The United Kingdom | 0.34308105873142 | 0.65691894126858 |
| 2020-08-17 00:00:00 | The United Kingdom | 0.33592835307451 | 0.66407164692549 |
| 2020-08-18 00:00:00 | The United Kingdom | 0.32923704840786 | 0.67076295159214 |
| 2020-08-19 00:00:00 | The United Kingdom | 0.33819387876656 | 0.66180612123344 |
| 2020-08-20 00:00:00 | The United Kingdom | 0.3363853162421 | 0.6636146837579 |
| 2020-08-21 00:00:00 | The United Kingdom | 0.33126366459328 | 0.66873633540672 |
| 2020-08-22 00:00:00 | The United Kingdom | 0.34060670507905 | 0.65939329492095 |
| 2020-08-23 00:00:00 | The United Kingdom | 0.33748993869476 | 0.66251006130524 |
| 2020-08-24 00:00:00 | The United Kingdom | 0.33006516193242 | 0.66993483806758 |
| 2020-08-25 00:00:00 | The United Kingdom | 0.33213179636406 | 0.66786820363594 |
| 2020-08-26 00:00:00 | The United Kingdom | 0.32952701174693 | 0.67047298825307 |
| 2020-08-27 00:00:00 | The United Kingdom | 0.33137962563763 | 0.66862037436237 |
| 2020-08-28 00:00:00 | The United Kingdom | 0.33331235798767 | 0.66668764201233 |
| 2020-08-29 00:00:00 | The United Kingdom | 0.3338137942848 | 0.6661862057152 |
| 2020-08-30 00:00:00 | The United Kingdom | 0.34400855040517 | 0.65599144959483 |
| 2020-08-31 00:00:00 | The United Kingdom | 0.35749582752406 | 0.64250417247594 |
| 2020-09-01 00:00:00 | The United Kingdom | 0.3625896611264 | 0.6374103388736 |
| 2020-09-02 00:00:00 | The United Kingdom | 0.35904511437273 | 0.64095488562727 |
| 2020-09-03 00:00:00 | The United Kingdom | 0.35827313987728 | 0.64172686012272 |
| 2020-09-04 00:00:00 | The United Kingdom | 0.35901183180084 | 0.64098816819916 |
| 2020-09-05 00:00:00 | The United Kingdom | 0.36006830868684 | 0.63993169131316 |
| 2020-09-06 00:00:00 | The United Kingdom | 0.34770748940163 | 0.65229251059837 |
| 2020-09-07 00:00:00 | The United Kingdom | 0.34316000658457 | 0.65683999341543 |
| 2020-09-08 00:00:00 | The United Kingdom | 0.3375597970723 | 0.6624402029277 |
| 2020-09-09 00:00:00 | The United Kingdom | 0.33381301345414 | 0.66618698654586 |
| 2020-09-10 00:00:00 | The United Kingdom | 0.329144774798 | 0.670855225202 |
| 2020-09-11 00:00:00 | The United Kingdom | 0.31694656730335 | 0.68305343269665 |
| 2020-09-12 00:00:00 | The United Kingdom | 0.3105974268307 | 0.6894025731693 |
| 2020-09-13 00:00:00 | The United Kingdom | 0.30925068720169 | 0.69074931279831 |
| 2020-09-14 00:00:00 | The United Kingdom | 0.30010555684295 | 0.69989444315705 |
| 2020-09-15 00:00:00 | The United Kingdom | 0.29420468934545 | 0.70579531065455 |
| 2020-09-16 00:00:00 | The United Kingdom | 0.28217072622436 | 0.71782927377564 |
| 2020-09-17 00:00:00 | The United Kingdom | 0.28533732452224 | 0.71466267547776 |
| 2020-09-18 00:00:00 | The United Kingdom | 0.2795989422271 | 0.7204010577729 |
| 2020-09-19 00:00:00 | The United Kingdom | 0.26484271847645 | 0.73515728152355 |
| 2020-09-20 00:00:00 | The United Kingdom | 0.26361659935516 | 0.73638340064484 |
| 2020-09-21 00:00:00 | The United Kingdom | 0.2631499265539 | 0.7368500734461 |
| 2020-09-22 00:00:00 | The United Kingdom | 0.26596534029897 | 0.73403465970103 |
| 2020-09-23 00:00:00 | The United Kingdom | 0.26989739474157 | 0.73010260525843 |
| 2020-09-24 00:00:00 | The United Kingdom | 0.27713625643542 | 0.72286374356457 |
| 2020-09-25 00:00:00 | The United Kingdom | 0.2845873176822 | 0.7154126823178 |
| 2020-09-26 00:00:00 | The United Kingdom | 0.2957465948037 | 0.7042534051963 |
| 2020-09-27 00:00:00 | The United Kingdom | 0.29928613879104 | 0.70071386120896 |
| 2020-09-28 00:00:00 | The United Kingdom | 0.29812657223757 | 0.70187342776243 |
| 2020-09-29 00:00:00 | The United Kingdom | 0.29611408844575 | 0.70388591155425 |
| 2020-09-30 00:00:00 | The United Kingdom | 0.29404286047076 | 0.70595713952924 |
| 2020-10-01 00:00:00 | The United Kingdom | 0.28127173195558 | 0.71872826804442 |
| 2020-10-02 00:00:00 | The United Kingdom | 0.28078351072273 | 0.71921648927727 |
| 2020-10-03 00:00:00 | The United Kingdom | 0.27434472136826 | 0.72565527863174 |
| 2020-10-04 00:00:00 | The United Kingdom | 0.27365262996294 | 0.72634737003706 |
| 2020-10-05 00:00:00 | The United Kingdom | 0.27392977388829 | 0.72607022611171 |
| 2020-10-06 00:00:00 | The United Kingdom | 0.27473028896656 | 0.72526971103344 |
| 2020-10-07 00:00:00 | The United Kingdom | 0.2787676559207 | 0.7212323440793 |
| 2020-10-08 00:00:00 | The United Kingdom | 0.28334383394205 | 0.71665616605795 |
| 2020-10-09 00:00:00 | The United Kingdom | 0.28280026904169 | 0.71719973095831 |
| 2020-10-10 00:00:00 | The United Kingdom | 0.28408800669546 | 0.71591199330454 |
| 2020-10-11 00:00:00 | The United Kingdom | 0.28010303817522 | 0.71989696182478 |
| 2020-10-12 00:00:00 | The United Kingdom | 0.27805905463975 | 0.72194094536025 |
| 2020-10-13 00:00:00 | The United Kingdom | 0.28298310751952 | 0.71701689248048 |
| 2020-10-14 00:00:00 | The United Kingdom | 0.27858151054757 | 0.72141848945243 |
| 2020-10-15 00:00:00 | The United Kingdom | 0.2721741641057 | 0.7278258358943 |
| 2020-10-16 00:00:00 | The United Kingdom | 0.27179374190691 | 0.72820625809309 |
| 2020-10-17 00:00:00 | The United Kingdom | 0.26838861575371 | 0.73161138424629 |
| 2020-10-18 00:00:00 | The United Kingdom | 0.2681618642529 | 0.7318381357471 |
| 2020-10-19 00:00:00 | The United Kingdom | 0.27299388453018 | 0.72700611546982 |
| 2020-10-20 00:00:00 | The United Kingdom | 0.27220216484659 | 0.72779783515341 |
| 2020-10-21 00:00:00 | The United Kingdom | 0.27050432138831 | 0.72949567861169 |
| 2020-10-22 00:00:00 | The United Kingdom | 0.28146084932983 | 0.71853915067017 |
| 2020-10-23 00:00:00 | The United Kingdom | 0.28631685946432 | 0.71368314053568 |
| 2020-10-24 00:00:00 | The United Kingdom | 0.29135698149707 | 0.70864301850293 |
| 2020-10-25 00:00:00 | The United Kingdom | 0.29236405842724 | 0.70763594157276 |
| 2020-10-26 00:00:00 | The United Kingdom | 0.28978789324431 | 0.71021210675569 |
| 2020-10-27 00:00:00 | The United Kingdom | 0.28401407074732 | 0.71598592925268 |
| 2020-10-28 00:00:00 | The United Kingdom | 0.28537658576026 | 0.71462341423974 |
| 2020-10-29 00:00:00 | The United Kingdom | 0.27368954441042 | 0.72631045558958 |
| 2020-10-30 00:00:00 | The United Kingdom | 0.26669163089552 | 0.73330836910448 |
| 2020-10-31 00:00:00 | The United Kingdom | 0.26796951433609 | 0.73203048566391 |
| 2020-11-01 00:00:00 | The United Kingdom | 0.26930733959188 | 0.73069266040812 |
| 2020-11-02 00:00:00 | The United Kingdom | 0.27528886844577 | 0.72471113155423 |
| 2020-11-03 00:00:00 | The United Kingdom | 0.27298604736505 | 0.72701395263495 |
| 2020-11-04 00:00:00 | The United Kingdom | 0.27788206186439 | 0.72211793813561 |
| 2020-11-05 00:00:00 | The United Kingdom | 0.28925636498182 | 0.71074363501818 |
| 2020-11-06 00:00:00 | The United Kingdom | 0.29493825888855 | 0.70506174111145 |
| 2020-11-07 00:00:00 | The United Kingdom | 0.29172128339458 | 0.70827871660542 |
| 2020-11-08 00:00:00 | The United Kingdom | 0.29804899537461 | 0.70195100462539 |
| 2020-11-09 00:00:00 | The United Kingdom | 0.29467240754846 | 0.70532759245154 |
| 2020-11-10 00:00:00 | The United Kingdom | 0.30050047380613 | 0.69949952619387 |
| 2020-11-11 00:00:00 | The United Kingdom | 0.30024409359876 | 0.69975590640124 |
| 2020-11-12 00:00:00 | The United Kingdom | 0.29504571976057 | 0.70495428023943 |
| 2020-11-13 00:00:00 | The United Kingdom | 0.29776932513477 | 0.70223067486523 |
| 2020-11-14 00:00:00 | The United Kingdom | 0.30368763518649 | 0.69631236481351 |
| 2020-11-15 00:00:00 | The United Kingdom | 0.30522294118172 | 0.69477705881828 |
| 2020-11-16 00:00:00 | The United Kingdom | 0.31560926469193 | 0.68439073530807 |
| 2020-11-17 00:00:00 | The United Kingdom | 0.32624406849815 | 0.67375593150185 |
| 2020-11-18 00:00:00 | The United Kingdom | 0.32567028231778 | 0.67432971768222 |
| 2020-11-19 00:00:00 | The United Kingdom | 0.33486478091392 | 0.66513521908608 |
| 2020-11-20 00:00:00 | The United Kingdom | 0.33695865459384 | 0.66304134540616 |
| 2020-11-21 00:00:00 | The United Kingdom | 0.33640537301711 | 0.66359462698288 |
| 2020-11-22 00:00:00 | The United Kingdom | 0.33699272007455 | 0.66300727992545 |
| 2020-11-23 00:00:00 | The United Kingdom | 0.32717956747429 | 0.67282043252571 |
| 2020-11-24 00:00:00 | The United Kingdom | 0.31962077468364 | 0.68037922531636 |
| 2020-11-25 00:00:00 | The United Kingdom | 0.32179934464985 | 0.67820065535014 |
| 2020-11-26 00:00:00 | The United Kingdom | 0.32201498152142 | 0.67798501847858 |
| 2020-11-27 00:00:00 | The United Kingdom | 0.31946640226447 | 0.68053359773553 |
| 2020-11-28 00:00:00 | The United Kingdom | 0.31765116724141 | 0.6823488327586 |
| 2020-11-29 00:00:00 | The United Kingdom | 0.31702525877063 | 0.68297474122937 |
| 2020-11-30 00:00:00 | The United Kingdom | 0.32390248574388 | 0.67609751425612 |
| 2020-12-01 00:00:00 | The United Kingdom | 0.32695552881092 | 0.67304447118908 |
| 2020-12-02 00:00:00 | The United Kingdom | 0.33374577817816 | 0.66625422182184 |
| 2020-12-03 00:00:00 | The United Kingdom | 0.33250533620444 | 0.66749466379556 |
| 2020-12-04 00:00:00 | The United Kingdom | 0.34061988753183 | 0.65938011246817 |
| 2020-12-05 00:00:00 | The United Kingdom | 0.34740848891657 | 0.65259151108344 |
| 2020-12-06 00:00:00 | The United Kingdom | 0.34890271380152 | 0.65109728619848 |
| 2020-12-07 00:00:00 | The United Kingdom | 0.34790767274127 | 0.65209232725873 |
| 2020-12-08 00:00:00 | The United Kingdom | 0.36005189641687 | 0.63994810358313 |
| 2020-12-09 00:00:00 | The United Kingdom | 0.35615523429707 | 0.64384476570293 |
| 2020-12-10 00:00:00 | The United Kingdom | 0.35991099835859 | 0.64008900164142 |
| 2020-12-11 00:00:00 | The United Kingdom | 0.35635027919044 | 0.64364972080956 |
| 2020-12-12 00:00:00 | The United Kingdom | 0.36106422231956 | 0.63893577768044 |
| 2020-12-13 00:00:00 | The United Kingdom | 0.35606524908699 | 0.64393475091301 |
| 2020-12-14 00:00:00 | The United Kingdom | 0.34833356143011 | 0.65166643856989 |
| 2020-12-15 00:00:00 | The United Kingdom | 0.33960286375578 | 0.66039713624422 |
| 2020-12-16 00:00:00 | The United Kingdom | 0.34076939369378 | 0.65923060630622 |
| 2020-12-17 00:00:00 | The United Kingdom | 0.33836759896019 | 0.66163240103981 |
| 2020-12-18 00:00:00 | The United Kingdom | 0.33176727717733 | 0.66823272282267 |
| 2020-12-19 00:00:00 | The United Kingdom | 0.32941733261352 | 0.67058266738648 |
| 2020-12-20 00:00:00 | The United Kingdom | 0.327254586371 | 0.672745413629 |
| 2020-12-21 00:00:00 | The United Kingdom | 0.32546672147561 | 0.67453327852439 |
| 2020-12-22 00:00:00 | The United Kingdom | 0.31539630107613 | 0.68460369892387 |
| 2020-12-23 00:00:00 | The United Kingdom | 0.30630423317423 | 0.69369576682577 |
| 2020-12-24 00:00:00 | The United Kingdom | 0.30223479834457 | 0.69776520165543 |
| 2020-12-25 00:00:00 | The United Kingdom | 0.30414091336861 | 0.69585908663139 |
| 2020-12-26 00:00:00 | The United Kingdom | 0.31119895946119 | 0.68880104053881 |
| 2020-12-27 00:00:00 | The United Kingdom | 0.32005143389367 | 0.67994856610633 |
| 2020-12-28 00:00:00 | The United Kingdom | 0.32887979924298 | 0.67112020075702 |
| 2020-12-29 00:00:00 | The United Kingdom | 0.33106670672684 | 0.66893329327316 |
| 2020-12-30 00:00:00 | The United Kingdom | 0.33751951098337 | 0.66248048901663 |
| 2020-12-31 00:00:00 | The United Kingdom | 0.34683492814661 | 0.65316507185339 |
| 2021-01-01 00:00:00 | The United Kingdom | 0.36065461366289 | 0.63934538633711 |
| 2021-01-02 00:00:00 | The United Kingdom | 0.34802363062031 | 0.65197636937969 |
| 2021-01-03 00:00:00 | The United Kingdom | 0.34245066846737 | 0.65754933153263 |
| 2021-01-04 00:00:00 | The United Kingdom | 0.34063731316221 | 0.65936268683779 |
| 2021-01-05 00:00:00 | The United Kingdom | 0.34338062121417 | 0.65661937878583 |
| 2021-01-06 00:00:00 | The United Kingdom | 0.34425127888293 | 0.65574872111707 |
| 2021-01-07 00:00:00 | The United Kingdom | 0.33439038368644 | 0.66560961631356 |
| 2021-01-08 00:00:00 | The United Kingdom | 0.32797975008625 | 0.67202024991375 |
| 2021-01-09 00:00:00 | The United Kingdom | 0.32928320437066 | 0.67071679562934 |
| 2021-01-10 00:00:00 | The United Kingdom | 0.32738136546008 | 0.67261863453992 |
| 2021-01-11 00:00:00 | The United Kingdom | 0.32958246918172 | 0.67041753081828 |
| 2021-01-12 00:00:00 | The United Kingdom | 0.32813485921336 | 0.67186514078664 |
| 2021-01-13 00:00:00 | The United Kingdom | 0.32735959747588 | 0.67264040252412 |
| 2021-01-14 00:00:00 | The United Kingdom | 0.3329292180826 | 0.6670707819174 |
| 2021-01-15 00:00:00 | The United Kingdom | 0.32806061088744 | 0.67193938911256 |
| 2021-01-16 00:00:00 | The United Kingdom | 0.33022440931293 | 0.66977559068707 |
| 2021-01-17 00:00:00 | The United Kingdom | 0.33600517743124 | 0.66399482256876 |
| 2021-01-18 00:00:00 | The United Kingdom | 0.33826001152816 | 0.66173998847184 |
| 2021-01-19 00:00:00 | The United Kingdom | 0.33915335557313 | 0.66084664442687 |
| 2021-01-20 00:00:00 | The United Kingdom | 0.34296387390579 | 0.65703612609421 |
| 2021-01-21 00:00:00 | The United Kingdom | 0.3444345100505 | 0.6555654899495 |
| 2021-01-22 00:00:00 | The United Kingdom | 0.34744183988898 | 0.65255816011102 |
| 2021-01-23 00:00:00 | The United Kingdom | 0.35023678213654 | 0.64976321786346 |
| 2021-01-24 00:00:00 | The United Kingdom | 0.34210889684309 | 0.65789110315691 |
| 2021-01-25 00:00:00 | The United Kingdom | 0.3443313462622 | 0.6556686537378 |
| 2021-01-26 00:00:00 | The United Kingdom | 0.34301699090974 | 0.65698300909026 |
| 2021-01-27 00:00:00 | The United Kingdom | 0.33534710639188 | 0.66465289360812 |
| 2021-01-28 00:00:00 | The United Kingdom | 0.32935794891573 | 0.67064205108427 |
| 2021-01-29 00:00:00 | The United Kingdom | 0.33007017514627 | 0.66992982485373 |
| 2021-01-30 00:00:00 | The United Kingdom | 0.33644786481821 | 0.66355213518179 |
| 2021-01-31 00:00:00 | The United Kingdom | 0.3492508074505 | 0.6507491925495 |
| 2021-02-01 00:00:00 | The United Kingdom | 0.34594722895301 | 0.65405277104699 |
| 2021-02-02 00:00:00 | The United Kingdom | 0.35566108773101 | 0.64433891226899 |
| 2021-02-03 00:00:00 | The United Kingdom | 0.36516983311225 | 0.63483016688775 |
| 2021-02-04 00:00:00 | The United Kingdom | 0.37776776563672 | 0.62223223436328 |
| 2021-02-05 00:00:00 | The United Kingdom | 0.38216073715847 | 0.61783926284153 |
| 2021-02-06 00:00:00 | The United Kingdom | 0.38777619283147 | 0.61222380716853 |
| 2021-02-07 00:00:00 | The United Kingdom | 0.38674176015029 | 0.61325823984971 |
| 2021-02-08 00:00:00 | The United Kingdom | 0.39571512724798 | 0.60428487275202 |
| 2021-02-09 00:00:00 | The United Kingdom | 0.39090630440439 | 0.60909369559561 |
| 2021-02-10 00:00:00 | The United Kingdom | 0.38838804642513 | 0.61161195357487 |
| 2021-02-11 00:00:00 | The United Kingdom | 0.39002011570158 | 0.60997988429842 |
| 2021-02-12 00:00:00 | The United Kingdom | 0.38879552390402 | 0.61120447609598 |
| 2021-02-13 00:00:00 | The United Kingdom | 0.38179006993359 | 0.61820993006641 |
| 2021-02-14 00:00:00 | The United Kingdom | 0.38566913215984 | 0.61433086784016 |
| 2021-02-15 00:00:00 | The United Kingdom | 0.38742647774135 | 0.61257352225865 |
| 2021-02-16 00:00:00 | The United Kingdom | 0.39793849600196 | 0.60206150399804 |
| 2021-02-17 00:00:00 | The United Kingdom | 0.41069387556264 | 0.58930612443736 |
| 2021-02-18 00:00:00 | The United Kingdom | 0.41396832669353 | 0.58603167330647 |
| 2021-02-19 00:00:00 | The United Kingdom | 0.41784512650055 | 0.58215487349945 |
| 2021-02-20 00:00:00 | The United Kingdom | 0.42385332388125 | 0.57614667611876 |
| 2021-02-21 00:00:00 | The United Kingdom | 0.4258762444505 | 0.5741237555495 |
| 2021-02-22 00:00:00 | The United Kingdom | 0.43018031222966 | 0.56981968777034 |
| 2021-02-23 00:00:00 | The United Kingdom | 0.4306374133027 | 0.5693625866973 |
| 2021-02-24 00:00:00 | The United Kingdom | 0.43216290022953 | 0.56783709977047 |
| 2021-02-25 00:00:00 | The United Kingdom | 0.42907568822633 | 0.57092431177367 |
| 2021-02-26 00:00:00 | The United Kingdom | 0.44147544127794 | 0.55852455872206 |
| 2021-02-27 00:00:00 | The United Kingdom | 0.45473107094619 | 0.54526892905381 |
| 2021-02-28 00:00:00 | The United Kingdom | 0.46385704945617 | 0.53614295054383 |
| 2021-03-01 00:00:00 | The United Kingdom | 0.46449357661301 | 0.53550642338699 |
| 2021-03-02 00:00:00 | The United Kingdom | 0.46733617918221 | 0.53266382081779 |
| 2021-03-03 00:00:00 | The United Kingdom | 0.46686290874314 | 0.53313709125686 |
| 2021-03-04 00:00:00 | The United Kingdom | 0.4733484818727 | 0.5266515181273 |
| 2021-03-05 00:00:00 | The United Kingdom | 0.46926821456809 | 0.53073178543191 |
| 2021-03-06 00:00:00 | The United Kingdom | 0.45628416895742 | 0.54371583104258 |
| 2021-03-07 00:00:00 | The United Kingdom | 0.45712346022576 | 0.54287653977424 |
| 2021-03-08 00:00:00 | The United Kingdom | 0.45729566393554 | 0.54270433606446 |
| 2021-03-09 00:00:00 | The United Kingdom | 0.45645757406246 | 0.54354242593754 |
| 2021-03-10 00:00:00 | The United Kingdom | 0.45657123934897 | 0.54342876065103 |
| 2021-03-11 00:00:00 | The United Kingdom | 0.45159585309814 | 0.54840414690186 |
| 2021-03-12 00:00:00 | The United Kingdom | 0.4490060854333 | 0.5509939145667 |
| 2021-03-13 00:00:00 | The United Kingdom | 0.45720663879383 | 0.54279336120617 |
| 2021-03-14 00:00:00 | The United Kingdom | 0.45163965076592 | 0.54836034923408 |
| 2021-03-15 00:00:00 | The United Kingdom | 0.45193691395806 | 0.54806308604194 |
| 2021-03-16 00:00:00 | The United Kingdom | 0.45440796052705 | 0.54559203947295 |
| 2021-03-17 00:00:00 | The United Kingdom | 0.4531079134762 | 0.5468920865238 |
| 2021-03-18 00:00:00 | The United Kingdom | 0.45634608528576 | 0.54365391471424 |
| 2021-03-19 00:00:00 | The United Kingdom | 0.45655664948318 | 0.54344335051682 |
| 2021-03-20 00:00:00 | The United Kingdom | 0.45927149646771 | 0.54072850353229 |
| 2021-03-21 00:00:00 | The United Kingdom | 0.4549906330141 | 0.5450093669859 |
| 2021-03-22 00:00:00 | The United Kingdom | 0.45528525426301 | 0.54471474573699 |
| 2021-03-23 00:00:00 | The United Kingdom | 0.45478778384126 | 0.54521221615874 |
| 2021-03-24 00:00:00 | The United Kingdom | 0.45195870453233 | 0.54804129546767 |
| 2021-03-25 00:00:00 | The United Kingdom | 0.44996788589521 | 0.55003211410479 |
| 2021-03-26 00:00:00 | The United Kingdom | 0.46025478370808 | 0.53974521629192 |
| 2021-03-27 00:00:00 | The United Kingdom | 0.46197689085778 | 0.53802310914222 |
| 2021-03-28 00:00:00 | The United Kingdom | 0.47064350642674 | 0.52935649357326 |
| 2021-03-29 00:00:00 | The United Kingdom | 0.47267473588199 | 0.52732526411801 |
| 2021-03-30 00:00:00 | The United Kingdom | 0.47120789694273 | 0.52879210305727 |
| 2021-03-31 00:00:00 | The United Kingdom | 0.4876066814923 | 0.5123933185077 |
| 2021-04-01 00:00:00 | The United Kingdom | 0.49412254708778 | 0.50587745291222 |
| 2021-04-02 00:00:00 | The United Kingdom | 0.48312883050803 | 0.51687116949197 |
| 2021-04-03 00:00:00 | The United Kingdom | 0.48629175916501 | 0.51370824083499 |
| 2021-04-04 00:00:00 | The United Kingdom | 0.48135695649518 | 0.51864304350482 |
| 2021-04-05 00:00:00 | The United Kingdom | 0.48324687345101 | 0.51675312654899 |
| 2021-04-06 00:00:00 | The United Kingdom | 0.49474549483648 | 0.50525450516352 |
| 2021-04-07 00:00:00 | The United Kingdom | 0.4910178361362 | 0.5089821638638 |
| 2021-04-08 00:00:00 | The United Kingdom | 0.48701456788941 | 0.51298543211059 |
| 2021-04-09 00:00:00 | The United Kingdom | 0.49739748939517 | 0.50260251060483 |
| 2021-04-10 00:00:00 | The United Kingdom | 0.49150495844796 | 0.50849504155204 |
| 2021-04-11 00:00:00 | The United Kingdom | 0.49501622381147 | 0.50498377618853 |
| 2021-04-12 00:00:00 | The United Kingdom | 0.50020333238925 | 0.49979666761075 |
| 2021-04-13 00:00:00 | The United Kingdom | 0.49700630069372 | 0.50299369930628 |
| 2021-04-14 00:00:00 | The United Kingdom | 0.50000835161342 | 0.49999164838658 |
| 2021-04-15 00:00:00 | The United Kingdom | 0.50648006315633 | 0.49351993684367 |
| 2021-04-16 00:00:00 | The United Kingdom | 0.50938940378208 | 0.49061059621792 |
| 2021-04-17 00:00:00 | The United Kingdom | 0.50887031975115 | 0.49112968024885 |
| 2021-04-18 00:00:00 | The United Kingdom | 0.50936011193618 | 0.49063988806382 |
| 2021-04-19 00:00:00 | The United Kingdom | 0.50172824617036 | 0.49827175382964 |
| 2021-04-20 00:00:00 | The United Kingdom | 0.49953020047165 | 0.50046979952835 |
| 2021-04-21 00:00:00 | The United Kingdom | 0.49790421154766 | 0.50209578845234 |
| 2021-04-22 00:00:00 | The United Kingdom | 0.50070880401439 | 0.49929119598561 |
| 2021-04-23 00:00:00 | The United Kingdom | 0.49800122456665 | 0.50199877543335 |
| 2021-04-24 00:00:00 | The United Kingdom | 0.49870741032409 | 0.50129258967591 |
| 2021-04-25 00:00:00 | The United Kingdom | 0.50564697612334 | 0.49435302387666 |
| 2021-04-26 00:00:00 | The United Kingdom | 0.50757548873899 | 0.49242451126101 |
| 2021-04-27 00:00:00 | The United Kingdom | 0.50995498231331 | 0.49004501768669 |
| 2021-04-28 00:00:00 | The United Kingdom | 0.50698606827712 | 0.49301393172288 |
| 2021-04-29 00:00:00 | The United Kingdom | 0.49918475738763 | 0.50081524261237 |
| 2021-04-30 00:00:00 | The United Kingdom | 0.49541243688102 | 0.50458756311898 |
| 2021-05-01 00:00:00 | The United Kingdom | 0.50065702477276 | 0.49934297522724 |
| 2021-05-02 00:00:00 | The United Kingdom | 0.49724568071149 | 0.50275431928851 |
| 2021-05-03 00:00:00 | The United Kingdom | 0.50278253906345 | 0.49721746093655 |
| 2021-05-04 00:00:00 | The United Kingdom | 0.50548618065301 | 0.49451381934699 |
| 2021-05-05 00:00:00 | The United Kingdom | 0.50361423332158 | 0.49638576667842 |
| 2021-05-06 00:00:00 | The United Kingdom | 0.50627166827768 | 0.49372833172232 |
| 2021-05-07 00:00:00 | The United Kingdom | 0.50567426937695 | 0.49432573062306 |
| 2021-05-08 00:00:00 | The United Kingdom | 0.50518813825341 | 0.49481186174659 |
| 2021-05-09 00:00:00 | The United Kingdom | 0.5102023398572 | 0.4897976601428 |
| 2021-05-10 00:00:00 | The United Kingdom | 0.50884076673554 | 0.49115923326446 |
| 2021-05-11 00:00:00 | The United Kingdom | 0.51291267249264 | 0.48708732750736 |
| 2021-05-12 00:00:00 | The United Kingdom | 0.52110022193527 | 0.47889977806473 |
| 2021-05-13 00:00:00 | The United Kingdom | 0.526034029888 | 0.473965970112 |
| 2021-05-14 00:00:00 | The United Kingdom | 0.52985084563161 | 0.47014915436839 |
| 2021-05-15 00:00:00 | The United Kingdom | 0.53543826723718 | 0.46456173276282 |
| 2021-05-16 00:00:00 | The United Kingdom | 0.52992338545356 | 0.47007661454644 |
| 2021-05-17 00:00:00 | The United Kingdom | 0.53165295864407 | 0.46834704135593 |
| 2021-05-18 00:00:00 | The United Kingdom | 0.52608981815929 | 0.47391018184071 |
| 2021-05-19 00:00:00 | The United Kingdom | 0.52314475137236 | 0.47685524862764 |
| 2021-05-20 00:00:00 | The United Kingdom | 0.51938564169019 | 0.48061435830981 |
| 2021-05-21 00:00:00 | The United Kingdom | 0.524542979684 | 0.475457020316 |
| 2021-05-22 00:00:00 | The United Kingdom | 0.51959143956511 | 0.48040856043489 |
| 2021-05-23 00:00:00 | The United Kingdom | 0.52551702459146 | 0.47448297540854 |
| 2021-05-24 00:00:00 | The United Kingdom | 0.52562600532029 | 0.47437399467971 |
| 2021-05-25 00:00:00 | The United Kingdom | 0.52795076954446 | 0.47204923045554 |
| 2021-05-26 00:00:00 | The United Kingdom | 0.52299844184537 | 0.47700155815463 |
| 2021-05-27 00:00:00 | The United Kingdom | 0.52065049999585 | 0.47934950000415 |
| 2021-05-28 00:00:00 | The United Kingdom | 0.51297861569983 | 0.48702138430017 |
| 2021-05-29 00:00:00 | The United Kingdom | 0.50632748881327 | 0.49367251118673 |
| 2021-05-30 00:00:00 | The United Kingdom | 0.50208516948576 | 0.49791483051424 |
| 2021-05-31 00:00:00 | The United Kingdom | 0.49353946243848 | 0.50646053756152 |
| 2021-06-01 00:00:00 | The United Kingdom | 0.4876316522403 | 0.5123683477597 |
| 2021-06-02 00:00:00 | The United Kingdom | 0.49175239991892 | 0.50824760008108 |
| 2021-06-03 00:00:00 | The United Kingdom | 0.49649615192136 | 0.50350384807864 |
| 2021-06-04 00:00:00 | The United Kingdom | 0.49654189441024 | 0.50345810558976 |
| 2021-06-05 00:00:00 | The United Kingdom | 0.49989085830396 | 0.50010914169605 |
| 2021-06-06 00:00:00 | The United Kingdom | 0.50037184507842 | 0.49962815492158 |
| 2021-06-07 00:00:00 | The United Kingdom | 0.50539656163787 | 0.49460343836213 |
| 2021-06-08 00:00:00 | The United Kingdom | 0.50183141895136 | 0.49816858104864 |
| 2021-06-09 00:00:00 | The United Kingdom | 0.49521364470517 | 0.50478635529483 |
| 2021-06-10 00:00:00 | The United Kingdom | 0.49124185914388 | 0.50875814085612 |
| 2021-06-11 00:00:00 | The United Kingdom | 0.498283594479 | 0.501716405521 |
| 2021-06-12 00:00:00 | The United Kingdom | 0.49762826315692 | 0.50237173684308 |
| 2021-06-13 00:00:00 | The United Kingdom | 0.49359485597544 | 0.50640514402456 |
| 2021-06-14 00:00:00 | The United Kingdom | 0.48759053804066 | 0.51240946195934 |
| 2021-06-15 00:00:00 | The United Kingdom | 0.48717188682129 | 0.51282811317871 |
| 2021-06-16 00:00:00 | The United Kingdom | 0.49038720381905 | 0.50961279618095 |
| 2021-06-17 00:00:00 | The United Kingdom | 0.4846841530457 | 0.5153158469543 |
| 2021-06-18 00:00:00 | The United Kingdom | 0.46894668549442 | 0.53105331450558 |
| 2021-06-19 00:00:00 | The United Kingdom | 0.46650345677339 | 0.53349654322661 |
| 2021-06-20 00:00:00 | The United Kingdom | 0.46654772088036 | 0.53345227911964 |
| 2021-06-21 00:00:00 | The United Kingdom | 0.46431485787961 | 0.53568514212039 |
| 2021-06-22 00:00:00 | The United Kingdom | 0.4667400594414 | 0.5332599405586 |
| 2021-06-23 00:00:00 | The United Kingdom | 0.47270381530954 | 0.52729618469046 |
| 2021-06-24 00:00:00 | The United Kingdom | 0.47997059195485 | 0.52002940804515 |
| 2021-06-25 00:00:00 | The United Kingdom | 0.48426841545036 | 0.51573158454964 |
| 2021-06-26 00:00:00 | The United Kingdom | 0.48183076021394 | 0.51816923978606 |
| 2021-06-27 00:00:00 | The United Kingdom | 0.48162205841468 | 0.51837794158532 |
| 2021-06-28 00:00:00 | The United Kingdom | 0.48147340647013 | 0.51852659352987 |
| 2021-06-29 00:00:00 | The United Kingdom | 0.46988956016462 | 0.53011043983538 |
| 2021-06-30 00:00:00 | The United Kingdom | 0.46312484963118 | 0.53687515036882 |
| 2021-07-01 00:00:00 | The United Kingdom | 0.45896904180108 | 0.54103095819892 |
| 2021-07-02 00:00:00 | The United Kingdom | 0.45531766287164 | 0.54468233712836 |
| 2021-07-03 00:00:00 | The United Kingdom | 0.460984863259 | 0.539015136741 |
| 2021-07-04 00:00:00 | The United Kingdom | 0.46324767306061 | 0.53675232693939 |
| 2021-07-05 00:00:00 | The United Kingdom | 0.4692500109212 | 0.5307499890788 |
| 2021-07-06 00:00:00 | The United Kingdom | 0.47097512130256 | 0.52902487869744 |
| 2021-07-07 00:00:00 | The United Kingdom | 0.46275361413653 | 0.53724638586346 |
| 2021-07-08 00:00:00 | The United Kingdom | 0.46402256696856 | 0.53597743303144 |
| 2021-07-09 00:00:00 | The United Kingdom | 0.47240443723127 | 0.52759556276873 |
| 2021-07-10 00:00:00 | The United Kingdom | 0.47300899483259 | 0.52699100516741 |
| 2021-07-11 00:00:00 | The United Kingdom | 0.47031770765724 | 0.52968229234276 |
| 2021-07-12 00:00:00 | The United Kingdom | 0.46727238968429 | 0.53272761031571 |
| 2021-07-13 00:00:00 | The United Kingdom | 0.4723923973885 | 0.5276076026115 |
| 2021-07-14 00:00:00 | The United Kingdom | 0.47609525313196 | 0.52390474686804 |
| 2021-07-15 00:00:00 | The United Kingdom | 0.47224960296357 | 0.52775039703643 |
| 2021-07-16 00:00:00 | The United Kingdom | 0.46154238308568 | 0.53845761691432 |
| 2021-07-17 00:00:00 | The United Kingdom | 0.46169444429807 | 0.53830555570193 |
| 2021-07-18 00:00:00 | The United Kingdom | 0.45843965372257 | 0.54156034627743 |
| 2021-07-19 00:00:00 | The United Kingdom | 0.44379562107752 | 0.55620437892248 |
| 2021-07-20 00:00:00 | The United Kingdom | 0.4384000477318 | 0.5615999522682 |
| 2021-07-21 00:00:00 | The United Kingdom | 0.43469227340186 | 0.56530772659814 |
| 2021-07-22 00:00:00 | The United Kingdom | 0.42775882741426 | 0.57224117258574 |
| 2021-07-23 00:00:00 | The United Kingdom | 0.42448099144733 | 0.57551900855267 |
| 2021-07-24 00:00:00 | The United Kingdom | 0.41446424727327 | 0.58553575272673 |
| 2021-07-25 00:00:00 | The United Kingdom | 0.40946506754897 | 0.59053493245103 |
| 2021-07-26 00:00:00 | The United Kingdom | 0.4183023023175 | 0.5816976976825 |
| 2021-07-27 00:00:00 | The United Kingdom | 0.42221040610739 | 0.57778959389261 |
| 2021-07-28 00:00:00 | The United Kingdom | 0.42600164494347 | 0.57399835505653 |
| 2021-07-29 00:00:00 | The United Kingdom | 0.42880089563775 | 0.57119910436225 |
| 2021-07-30 00:00:00 | The United Kingdom | 0.43669872647374 | 0.56330127352626 |
| 2021-07-31 00:00:00 | The United Kingdom | 0.44267763628133 | 0.55732236371867 |
| 2021-08-01 00:00:00 | The United Kingdom | 0.44812253803354 | 0.55187746196646 |
| 2021-08-02 00:00:00 | The United Kingdom | 0.44919976328445 | 0.55080023671555 |
| 2021-08-03 00:00:00 | The United Kingdom | 0.44597746783464 | 0.55402253216536 |
| 2021-08-04 00:00:00 | The United Kingdom | 0.44150475325609 | 0.55849524674391 |
| 2021-08-05 00:00:00 | The United Kingdom | 0.44562427021211 | 0.55437572978789 |
| 2021-08-06 00:00:00 | The United Kingdom | 0.44532036885066 | 0.55467963114934 |
| 2021-08-07 00:00:00 | The United Kingdom | 0.45111653798542 | 0.54888346201458 |
| 2021-08-08 00:00:00 | The United Kingdom | 0.45379024857785 | 0.54620975142215 |
| 2021-08-09 00:00:00 | The United Kingdom | 0.4512798606197 | 0.5487201393803 |
| 2021-08-10 00:00:00 | The United Kingdom | 0.45302721129957 | 0.54697278870043 |
| 2021-08-11 00:00:00 | The United Kingdom | 0.45841513838132 | 0.54158486161868 |
| 2021-08-12 00:00:00 | The United Kingdom | 0.45039387301418 | 0.54960612698582 |
| 2021-08-13 00:00:00 | The United Kingdom | 0.45596126534279 | 0.54403873465721 |
| 2021-08-14 00:00:00 | The United Kingdom | 0.4510806777286 | 0.5489193222714 |
| 2021-08-15 00:00:00 | The United Kingdom | 0.44775602240522 | 0.55224397759478 |
| 2021-08-16 00:00:00 | The United Kingdom | 0.44708087604383 | 0.55291912395617 |
| 2021-08-17 00:00:00 | The United Kingdom | 0.44670548847138 | 0.55329451152862 |
| 2021-08-18 00:00:00 | The United Kingdom | 0.44955550385492 | 0.55044449614508 |
| 2021-08-19 00:00:00 | The United Kingdom | 0.45068378840933 | 0.54931621159067 |
| 2021-08-20 00:00:00 | The United Kingdom | 0.44898008728753 | 0.55101991271247 |
| 2021-08-21 00:00:00 | The United Kingdom | 0.44105028657347 | 0.55894971342653 |
| 2021-08-22 00:00:00 | The United Kingdom | 0.44008831383902 | 0.55991168616098 |
| 2021-08-23 00:00:00 | The United Kingdom | 0.44108965144232 | 0.55891034855768 |
| 2021-08-24 00:00:00 | The United Kingdom | 0.44351718027603 | 0.55648281972396 |
| 2021-08-25 00:00:00 | The United Kingdom | 0.43423399236577 | 0.56576600763423 |
| 2021-08-26 00:00:00 | The United Kingdom | 0.43731762850602 | 0.56268237149398 |
| 2021-08-27 00:00:00 | The United Kingdom | 0.43597775283295 | 0.56402224716705 |
| 2021-08-28 00:00:00 | The United Kingdom | 0.44151537637759 | 0.55848462362241 |
| 2021-08-29 00:00:00 | The United Kingdom | 0.44652560226434 | 0.55347439773566 |
| 2021-08-30 00:00:00 | The United Kingdom | 0.43899714089077 | 0.56100285910923 |
| 2021-08-31 00:00:00 | The United Kingdom | 0.4330699267323 | 0.5669300732677 |
| 2021-09-01 00:00:00 | The United Kingdom | 0.4414354209988 | 0.5585645790012 |
| 2021-09-02 00:00:00 | The United Kingdom | 0.4399759280132 | 0.5600240719868 |
| 2021-09-03 00:00:00 | The United Kingdom | 0.44045620608623 | 0.55954379391376 |
| 2021-09-04 00:00:00 | The United Kingdom | 0.43941946504166 | 0.56058053495834 |
| 2021-09-05 00:00:00 | The United Kingdom | 0.43864324531648 | 0.56135675468352 |
| 2021-09-06 00:00:00 | The United Kingdom | 0.44743213726167 | 0.55256786273833 |
| 2021-09-07 00:00:00 | The United Kingdom | 0.45245400326023 | 0.54754599673977 |
| 2021-09-08 00:00:00 | The United Kingdom | 0.44778727946682 | 0.55221272053318 |
| 2021-09-09 00:00:00 | The United Kingdom | 0.45449264121687 | 0.54550735878314 |
| 2021-09-10 00:00:00 | The United Kingdom | 0.44545134718291 | 0.55454865281709 |
| 2021-09-11 00:00:00 | The United Kingdom | 0.44188096111609 | 0.55811903888391 |
| 2021-09-12 00:00:00 | The United Kingdom | 0.43345418856215 | 0.56654581143785 |
| 2021-09-13 00:00:00 | The United Kingdom | 0.43120791727105 | 0.56879208272895 |
| 2021-09-14 00:00:00 | The United Kingdom | 0.43115450933096 | 0.56884549066904 |
| 2021-09-15 00:00:00 | The United Kingdom | 0.4260730626718 | 0.5739269373282 |
| 2021-09-16 00:00:00 | The United Kingdom | 0.41988740491388 | 0.58011259508612 |
| 2021-09-17 00:00:00 | The United Kingdom | 0.42302697428415 | 0.57697302571585 |
| 2021-09-18 00:00:00 | The United Kingdom | 0.42252165892284 | 0.57747834107716 |
| 2021-09-19 00:00:00 | The United Kingdom | 0.42998545158656 | 0.57001454841344 |
| 2021-09-20 00:00:00 | The United Kingdom | 0.42658157828621 | 0.57341842171379 |
| 2021-09-21 00:00:00 | The United Kingdom | 0.4228410235326 | 0.5771589764674 |
| 2021-09-22 00:00:00 | The United Kingdom | 0.42741161472608 | 0.57258838527392 |
| 2021-09-23 00:00:00 | The United Kingdom | 0.42899050013561 | 0.57100949986439 |
| 2021-09-24 00:00:00 | The United Kingdom | 0.4240407088467 | 0.5759592911533 |
| 2021-09-25 00:00:00 | The United Kingdom | 0.4194330411128 | 0.5805669588872 |
| 2021-09-26 00:00:00 | The United Kingdom | 0.40593175093065 | 0.59406824906935 |
| 2021-09-27 00:00:00 | The United Kingdom | 0.40318101495517 | 0.59681898504483 |
| 2021-09-28 00:00:00 | The United Kingdom | 0.39960732304159 | 0.60039267695841 |
| 2021-09-29 00:00:00 | The United Kingdom | 0.39692094914329 | 0.60307905085671 |
| 2021-09-30 00:00:00 | The United Kingdom | 0.39441404911453 | 0.60558595088547 |
| 2021-10-01 00:00:00 | The United Kingdom | 0.39818865403946 | 0.60181134596054 |
| 2021-10-02 00:00:00 | The United Kingdom | 0.39460902693956 | 0.60539097306044 |
| 2021-10-03 00:00:00 | The United Kingdom | 0.39384569142877 | 0.60615430857123 |
| 2021-10-04 00:00:00 | The United Kingdom | 0.39887299866186 | 0.60112700133814 |
| 2021-10-05 00:00:00 | The United Kingdom | 0.39348268437884 | 0.60651731562116 |
| 2021-10-06 00:00:00 | The United Kingdom | 0.3862132817763 | 0.6137867182237 |
| 2021-10-07 00:00:00 | The United Kingdom | 0.38317935365058 | 0.61682064634942 |
| 2021-10-08 00:00:00 | The United Kingdom | 0.37498921087519 | 0.62501078912481 |
| 2021-10-09 00:00:00 | The United Kingdom | 0.37981965965103 | 0.62018034034897 |
| 2021-10-10 00:00:00 | The United Kingdom | 0.37918263866445 | 0.62081736133555 |
| 2021-10-11 00:00:00 | The United Kingdom | 0.36687535376872 | 0.63312464623128 |
| 2021-10-12 00:00:00 | The United Kingdom | 0.37154319603698 | 0.62845680396302 |
| 2021-10-13 00:00:00 | The United Kingdom | 0.37155877285077 | 0.62844122714923 |
| 2021-10-14 00:00:00 | The United Kingdom | 0.37685030750451 | 0.62314969249549 |
| 2021-10-15 00:00:00 | The United Kingdom | 0.38476492768571 | 0.61523507231429 |
| 2021-10-16 00:00:00 | The United Kingdom | 0.3761181538138 | 0.6238818461862 |
| 2021-10-17 00:00:00 | The United Kingdom | 0.37791385015232 | 0.62208614984768 |
| 2021-10-18 00:00:00 | The United Kingdom | 0.38497725900076 | 0.61502274099924 |
| 2021-10-19 00:00:00 | The United Kingdom | 0.38535890952391 | 0.6146410904761 |
| 2021-10-20 00:00:00 | The United Kingdom | 0.38634422093745 | 0.61365577906255 |
| 2021-10-21 00:00:00 | The United Kingdom | 0.38055184766513 | 0.61944815233487 |
| 2021-10-22 00:00:00 | The United Kingdom | 0.37847787205597 | 0.62152212794403 |
| 2021-10-23 00:00:00 | The United Kingdom | 0.38166267670396 | 0.61833732329604 |
| 2021-10-24 00:00:00 | The United Kingdom | 0.38247198371364 | 0.61752801628636 |
| 2021-10-25 00:00:00 | The United Kingdom | 0.37837068635417 | 0.62162931364583 |
| 2021-10-26 00:00:00 | The United Kingdom | 0.37541230740945 | 0.62458769259055 |
| 2021-10-27 00:00:00 | The United Kingdom | 0.38171009033903 | 0.61828990966097 |
| 2021-10-28 00:00:00 | The United Kingdom | 0.38967973390652 | 0.61032026609348 |
| 2021-10-31 00:00:00 | The United Kingdom | 0.40160767128919 | 0.59839232871081 |
| 2021-11-01 00:00:00 | The United Kingdom | 0.40155875443229 | 0.59844124556771 |
| 2021-11-02 00:00:00 | The United Kingdom | 0.40471559324919 | 0.5952844067508 |
| 2021-11-03 00:00:00 | The United Kingdom | 0.39657820213153 | 0.60342179786847 |
| 2021-11-04 00:00:00 | The United Kingdom | 0.39935688731051 | 0.60064311268949 |
| 2021-11-05 00:00:00 | The United Kingdom | 0.38847764462494 | 0.61152235537506 |
| 2021-11-06 00:00:00 | The United Kingdom | 0.3877252298373 | 0.6122747701627 |
| 2021-11-07 00:00:00 | The United Kingdom | 0.38658818715319 | 0.61341181284681 |
| 2021-11-08 00:00:00 | The United Kingdom | 0.39009978190402 | 0.60990021809598 |
| 2021-11-09 00:00:00 | The United Kingdom | 0.38780178174104 | 0.61219821825896 |
| 2021-11-10 00:00:00 | The United Kingdom | 0.39353579594352 | 0.60646420405648 |
| 2021-11-11 00:00:00 | The United Kingdom | 0.3827716313787 | 0.6172283686213 |
| 2021-11-12 00:00:00 | The United Kingdom | 0.38248196911861 | 0.61751803088139 |
| 2021-11-13 00:00:00 | The United Kingdom | 0.38386987749385 | 0.61613012250614 |
| 2021-11-14 00:00:00 | The United Kingdom | 0.38269170789627 | 0.61730829210373 |
| 2021-11-15 00:00:00 | The United Kingdom | 0.38114176726726 | 0.61885823273274 |
| 2021-11-16 00:00:00 | The United Kingdom | 0.38492635015968 | 0.61507364984032 |
| 2021-11-17 00:00:00 | The United Kingdom | 0.37920677095344 | 0.62079322904656 |
| 2021-11-18 00:00:00 | The United Kingdom | 0.38172631533126 | 0.61827368466874 |
| 2021-11-19 00:00:00 | The United Kingdom | 0.37879796067998 | 0.62120203932002 |
| 2021-11-20 00:00:00 | The United Kingdom | 0.38100659476057 | 0.61899340523943 |
| 2021-11-21 00:00:00 | The United Kingdom | 0.38465198659923 | 0.61534801340077 |
| 2021-11-22 00:00:00 | The United Kingdom | 0.37922564976145 | 0.62077435023855 |
| 2021-11-23 00:00:00 | The United Kingdom | 0.38454064126491 | 0.61545935873508 |
| 2021-11-24 00:00:00 | The United Kingdom | 0.3857916209305 | 0.6142083790695 |
| 2021-11-25 00:00:00 | The United Kingdom | 0.38931610295098 | 0.61068389704902 |
| 2021-11-26 00:00:00 | The United Kingdom | 0.39177298221392 | 0.60822701778608 |
| 2021-11-27 00:00:00 | The United Kingdom | 0.39144155621612 | 0.60855844378388 |
| 2021-11-28 00:00:00 | The United Kingdom | 0.3839230057796 | 0.6160769942204 |
| 2021-11-29 00:00:00 | The United Kingdom | 0.384153143589 | 0.615846856411 |
| 2021-11-30 00:00:00 | The United Kingdom | 0.384153143589 | 0.615846856411 |
| 2021-12-01 00:00:00 | The United Kingdom | 0.38273660175392 | 0.61726339824608 |
| 2021-12-02 00:00:00 | The United Kingdom | 0.37697102252446 | 0.62302897747554 |
| 2021-12-03 00:00:00 | The United Kingdom | 0.37791598471847 | 0.62208401528153 |
| 2021-12-04 00:00:00 | The United Kingdom | 0.37182925828732 | 0.62817074171268 |
| 2021-12-05 00:00:00 | The United Kingdom | 0.37103079996651 | 0.62896920003349 |
| 2021-12-06 00:00:00 | The United Kingdom | 0.37889066682304 | 0.62110933317696 |
| 2021-12-07 00:00:00 | The United Kingdom | 0.38206033796265 | 0.61793966203735 |
| 2021-12-08 00:00:00 | The United Kingdom | 0.38260329502267 | 0.61739670497733 |
| 2021-12-09 00:00:00 | The United Kingdom | 0.38160042697888 | 0.61839957302112 |
| 2021-12-10 00:00:00 | The United Kingdom | 0.37747053838107 | 0.62252946161893 |
| 2021-12-11 00:00:00 | The United Kingdom | 0.36697344664671 | 0.63302655335329 |
| 2021-12-12 00:00:00 | The United Kingdom | 0.36221919851949 | 0.63778080148051 |
| 2021-12-13 00:00:00 | The United Kingdom | 0.34919681333269 | 0.6508031866673 |
| 2021-12-14 00:00:00 | The United Kingdom | 0.33846819739521 | 0.66153180260479 |
| 2021-12-15 00:00:00 | The United Kingdom | 0.33128509509639 | 0.66871490490361 |
| 2021-12-16 00:00:00 | The United Kingdom | 0.32992243505569 | 0.67007756494431 |
| 2021-12-17 00:00:00 | The United Kingdom | 0.33262527269589 | 0.66737472730411 |
| 2021-12-18 00:00:00 | The United Kingdom | 0.34086618378879 | 0.65913381621121 |
| 2021-12-19 00:00:00 | The United Kingdom | 0.32737393706829 | 0.67262606293171 |
| 2021-12-20 00:00:00 | The United Kingdom | 0.32218977866415 | 0.67781022133585 |
| 2021-12-21 00:00:00 | The United Kingdom | 0.32063167250633 | 0.67936832749367 |
| 2021-12-22 00:00:00 | The United Kingdom | 0.31994088221807 | 0.68005911778193 |
| 2021-12-23 00:00:00 | The United Kingdom | 0.31954361667736 | 0.68045638332264 |
| 2021-12-24 00:00:00 | The United Kingdom | 0.32245095751156 | 0.67754904248844 |
| 2021-12-25 00:00:00 | The United Kingdom | 0.32240308123371 | 0.67759691876629 |
| 2021-12-26 00:00:00 | The United Kingdom | 0.3396223200046 | 0.6603776799954 |
| 2021-12-27 00:00:00 | The United Kingdom | 0.35008921439689 | 0.64991078560311 |
| 2021-12-28 00:00:00 | The United Kingdom | 0.35652300258707 | 0.64347699741293 |
| 2021-12-29 00:00:00 | The United Kingdom | 0.36157828873463 | 0.63842171126537 |
| 2021-12-30 00:00:00 | The United Kingdom | 0.36525624336184 | 0.63474375663816 |
| 2021-12-31 00:00:00 | The United Kingdom | 0.35922174705324 | 0.64077825294676 |
| 2022-01-01 00:00:00 | The United Kingdom | 0.36560830864018 | 0.63439169135982 |
| 2022-01-02 00:00:00 | The United Kingdom | 0.35604308367762 | 0.64395691632237 |
| 2022-01-03 00:00:00 | The United Kingdom | 0.35604308367762 | 0.64395691632237 |
| 2022-01-04 00:00:00 | The United Kingdom | 0.35008887571679 | 0.64991112428321 |
| 2022-01-05 00:00:00 | The United Kingdom | 0.34782765591404 | 0.65217234408596 |
| 2022-01-06 00:00:00 | The United Kingdom | 0.35475229856343 | 0.64524770143657 |
| 2022-01-07 00:00:00 | The United Kingdom | 0.35164000418921 | 0.64835999581079 |
| 2022-01-08 00:00:00 | The United Kingdom | 0.34679959953334 | 0.65320040046666 |
| 2022-01-09 00:00:00 | The United Kingdom | 0.34984874409549 | 0.65015125590451 |
| 2022-01-10 00:00:00 | The United Kingdom | 0.35352617865895 | 0.64647382134105 |
| 2022-01-11 00:00:00 | The United Kingdom | 0.35360325699059 | 0.64639674300941 |
| 2022-01-12 00:00:00 | The United Kingdom | 0.35101064636781 | 0.64898935363219 |
| 2022-01-13 00:00:00 | The United Kingdom | 0.346679576772 | 0.653320423228 |
| 2022-01-14 00:00:00 | The United Kingdom | 0.34905448166377 | 0.65094551833623 |
| 2022-01-15 00:00:00 | The United Kingdom | 0.34159166794101 | 0.65840833205899 |
| 2022-01-16 00:00:00 | The United Kingdom | 0.33486124447252 | 0.66513875552748 |
| 2022-01-17 00:00:00 | The United Kingdom | 0.33470434575115 | 0.66529565424885 |
| 2022-01-18 00:00:00 | The United Kingdom | 0.3330635222836 | 0.6669364777164 |
| 2022-01-19 00:00:00 | The United Kingdom | 0.33122084912998 | 0.66877915087003 |
| 2022-01-20 00:00:00 | The United Kingdom | 0.32726316469532 | 0.67273683530468 |
| 2022-01-21 00:00:00 | The United Kingdom | 0.33342632393942 | 0.66657367606058 |
| 2022-01-22 00:00:00 | The United Kingdom | 0.34046602626799 | 0.65953397373201 |
| 2022-01-23 00:00:00 | The United Kingdom | 0.34617193517719 | 0.65382806482281 |
| 2022-01-24 00:00:00 | The United Kingdom | 0.34368878940575 | 0.65631121059425 |
| 2022-01-25 00:00:00 | The United Kingdom | 0.34361944767842 | 0.65638055232158 |
| 2022-01-26 00:00:00 | The United Kingdom | 0.34766693184399 | 0.65233306815601 |
| 2022-01-27 00:00:00 | The United Kingdom | 0.35155524563298 | 0.64844475436702 |
| 2022-01-28 00:00:00 | The United Kingdom | 0.34859026976026 | 0.65140973023974 |
| 2022-01-29 00:00:00 | The United Kingdom | 0.3505565817748 | 0.6494434182252 |
| 2022-01-30 00:00:00 | The United Kingdom | 0.35198513271741 | 0.64801486728259 |
| 2022-01-31 00:00:00 | The United Kingdom | 0.35683782897292 | 0.64316217102708 |
| 2022-02-01 00:00:00 | The United Kingdom | 0.34578064600378 | 0.65421935399622 |
| 2022-02-02 00:00:00 | The United Kingdom | 0.34206511013619 | 0.65793488986381 |
| 2022-02-03 00:00:00 | The United Kingdom | 0.33549038863793 | 0.66450961136207 |
| 2022-02-04 00:00:00 | The United Kingdom | 0.33112794255277 | 0.66887205744723 |
| 2022-02-05 00:00:00 | The United Kingdom | 0.32255236378673 | 0.67744763621327 |
| 2022-02-06 00:00:00 | The United Kingdom | 0.32195870613493 | 0.67804129386507 |
| 2022-02-07 00:00:00 | The United Kingdom | 0.3154837154127 | 0.6845162845873 |
| 2022-02-08 00:00:00 | The United Kingdom | 0.32128402013017 | 0.67871597986983 |
| 2022-02-09 00:00:00 | The United Kingdom | 0.3200256377143 | 0.6799743622857 |
| 2022-02-10 00:00:00 | The United Kingdom | 0.32244366493838 | 0.67755633506162 |
| 2022-02-11 00:00:00 | The United Kingdom | 0.33187983027801 | 0.66812016972198 |
| 2022-02-12 00:00:00 | The United Kingdom | 0.33698691593215 | 0.66301308406785 |
| 2022-02-13 00:00:00 | The United Kingdom | 0.32961585758806 | 0.67038414241194 |
| 2022-02-14 00:00:00 | The United Kingdom | 0.3249212580232 | 0.6750787419768 |
| 2022-02-15 00:00:00 | The United Kingdom | 0.33404764300217 | 0.66595235699783 |
| 2022-02-16 00:00:00 | The United Kingdom | 0.33970701986467 | 0.66029298013533 |
| 2022-02-17 00:00:00 | The United Kingdom | 0.34016552881212 | 0.65983447118788 |
| 2022-02-18 00:00:00 | The United Kingdom | 0.32875026040518 | 0.67124973959482 |
| 2022-02-19 00:00:00 | The United Kingdom | 0.32750230014973 | 0.67249769985027 |
| 2022-02-20 00:00:00 | The United Kingdom | 0.33605716573577 | 0.66394283426423 |
| 2022-02-21 00:00:00 | The United Kingdom | 0.3438455262356 | 0.6561544737644 |
| 2022-02-22 00:00:00 | The United Kingdom | 0.33607102823934 | 0.66392897176066 |
| 2022-02-23 00:00:00 | The United Kingdom | 0.33886335325295 | 0.66113664674705 |
| 2022-02-24 00:00:00 | The United Kingdom | 0.33997793008064 | 0.66002206991936 |
| 2022-02-25 00:00:00 | The United Kingdom | 0.34421356055135 | 0.65578643944865 |
| 2022-02-26 00:00:00 | The United Kingdom | 0.34778067374772 | 0.65221932625228 |
| 2022-02-27 00:00:00 | The United Kingdom | 0.34694814773861 | 0.65305185226139 |
| 2022-02-28 00:00:00 | The United Kingdom | 0.35043190908766 | 0.64956809091234 |
| 2022-03-01 00:00:00 | The United Kingdom | 0.36092313642222 | 0.63907686357779 |
| 2022-03-02 00:00:00 | The United Kingdom | 0.35896725376038 | 0.64103274623962 |
| 2022-03-03 00:00:00 | The United Kingdom | 0.36145149444882 | 0.63854850555118 |
| 2022-03-04 00:00:00 | The United Kingdom | 0.37053429532562 | 0.62946570467438 |
| 2022-03-05 00:00:00 | The United Kingdom | 0.36973213403429 | 0.63026786596571 |
| 2022-03-06 00:00:00 | The United Kingdom | 0.36553016414065 | 0.63446983585935 |
| 2022-03-07 00:00:00 | The United Kingdom | 0.36429053681521 | 0.63570946318479 |
| 2022-03-08 00:00:00 | The United Kingdom | 0.35499502470714 | 0.64500497529286 |
| 2022-03-09 00:00:00 | The United Kingdom | 0.35583463261095 | 0.64416536738905 |
| 2022-03-10 00:00:00 | The United Kingdom | 0.34989226402098 | 0.65010773597902 |
| 2022-03-11 00:00:00 | The United Kingdom | 0.33644526478892 | 0.66355473521108 |
| 2022-03-12 00:00:00 | The United Kingdom | 0.33431886811678 | 0.66568113188322 |
| 2022-03-13 00:00:00 | The United Kingdom | 0.33491728682135 | 0.66508271317865 |
| 2022-03-14 00:00:00 | The United Kingdom | 0.33426011327856 | 0.66573988672144 |
| 2022-03-15 00:00:00 | The United Kingdom | 0.33662262807667 | 0.66337737192333 |
| 2022-03-16 00:00:00 | The United Kingdom | 0.34434417360983 | 0.65565582639017 |
| 2022-03-17 00:00:00 | The United Kingdom | 0.34390930875628 | 0.65609069124372 |
| 2022-03-18 00:00:00 | The United Kingdom | 0.34694634391827 | 0.65305365608173 |
| 2022-03-19 00:00:00 | The United Kingdom | 0.3464832768312 | 0.6535167231688 |
| 2022-03-20 00:00:00 | The United Kingdom | 0.3413829304535 | 0.6586170695465 |
| 2022-03-21 00:00:00 | The United Kingdom | 0.33523390614527 | 0.66476609385473 |
| 2022-03-22 00:00:00 | The United Kingdom | 0.32958928789448 | 0.67041071210552 |
| 2022-03-23 00:00:00 | The United Kingdom | 0.31400807722103 | 0.68599192277897 |
| 2022-03-24 00:00:00 | The United Kingdom | 0.3193208674903 | 0.6806791325097 |
| 2022-03-25 00:00:00 | The United Kingdom | 0.31910129558498 | 0.68089870441502 |
| 2022-03-26 00:00:00 | The United Kingdom | 0.31608262088921 | 0.68391737911079 |
| 2022-03-27 00:00:00 | The United Kingdom | 0.31469658928626 | 0.68530341071374 |
| 2022-03-28 00:00:00 | The United Kingdom | 0.31881960649626 | 0.68118039350374 |
| 2022-03-29 00:00:00 | The United Kingdom | 0.31783640182962 | 0.68216359817038 |
| 2020-01-06 00:00:00 | Australia | 0.37168725834499 | 0.62831274165501 |
| 2020-01-07 00:00:00 | Australia | 0.3587429666529 | 0.6412570333471 |
| 2020-01-08 00:00:00 | Australia | 0.35590940886382 | 0.64409059113618 |
| 2020-01-09 00:00:00 | Australia | 0.35528528214959 | 0.64471471785041 |
| 2020-01-10 00:00:00 | Australia | 0.36029792445607 | 0.63970207554393 |
| 2020-01-11 00:00:00 | Australia | 0.37197430703403 | 0.62802569296597 |
| 2020-01-12 00:00:00 | Australia | 0.36561288155766 | 0.63438711844234 |
| 2020-01-13 00:00:00 | Australia | 0.36356460450611 | 0.63643539549389 |
| 2020-01-14 00:00:00 | Australia | 0.37408541039979 | 0.62591458960021 |
| 2020-01-15 00:00:00 | Australia | 0.37488652766617 | 0.62511347233383 |
| 2020-01-16 00:00:00 | Australia | 0.37370018276912 | 0.62629981723088 |
| 2020-01-17 00:00:00 | Australia | 0.37154741249479 | 0.62845258750522 |
| 2020-01-18 00:00:00 | Australia | 0.36834615098453 | 0.63165384901547 |
| 2020-01-19 00:00:00 | Australia | 0.37392071349993 | 0.62607928650007 |
| 2020-01-20 00:00:00 | Australia | 0.38486838876422 | 0.61513161123578 |
| 2020-01-21 00:00:00 | Australia | 0.38840918576999 | 0.61159081423001 |
| 2020-01-22 00:00:00 | Australia | 0.39464635978245 | 0.60535364021755 |
| 2020-01-23 00:00:00 | Australia | 0.39369677691128 | 0.60630322308872 |
| 2020-01-24 00:00:00 | Australia | 0.38796959052973 | 0.61203040947027 |
| 2020-01-25 00:00:00 | Australia | 0.38926786316354 | 0.61073213683646 |
| 2020-01-26 00:00:00 | Australia | 0.39586151152959 | 0.60413848847041 |
| 2020-01-27 00:00:00 | Australia | 0.39053238272086 | 0.60946761727914 |
| 2020-01-28 00:00:00 | Australia | 0.3851420306603 | 0.6148579693397 |
| 2020-01-29 00:00:00 | Australia | 0.38382223798625 | 0.61617776201375 |
| 2020-01-30 00:00:00 | Australia | 0.39083664601073 | 0.60916335398927 |
| 2020-01-31 00:00:00 | Australia | 0.39655538911744 | 0.60344461088256 |
| 2020-02-01 00:00:00 | Australia | 0.3862203415311 | 0.6137796584689 |
| 2020-02-02 00:00:00 | Australia | 0.38146645680897 | 0.61853354319103 |
| 2020-02-03 00:00:00 | Australia | 0.38264986847765 | 0.61735013152235 |
| 2020-02-04 00:00:00 | Australia | 0.3861396982182 | 0.6138603017818 |
| 2020-02-05 00:00:00 | Australia | 0.38740819768963 | 0.61259180231037 |
| 2020-02-06 00:00:00 | Australia | 0.37969803823757 | 0.62030196176243 |
| 2020-02-07 00:00:00 | Australia | 0.37757056764088 | 0.62242943235912 |
| 2020-02-08 00:00:00 | Australia | 0.39140104839847 | 0.60859895160153 |
| 2020-02-09 00:00:00 | Australia | 0.39230822381787 | 0.60769177618213 |
| 2020-02-10 00:00:00 | Australia | 0.39677785799029 | 0.60322214200971 |
| 2020-02-11 00:00:00 | Australia | 0.3954095658863 | 0.60459043411369 |
| 2020-02-12 00:00:00 | Australia | 0.39533557005343 | 0.60466442994657 |
| 2020-02-13 00:00:00 | Australia | 0.39737707782694 | 0.60262292217306 |
| 2020-02-14 00:00:00 | Australia | 0.39720830939705 | 0.60279169060295 |
| 2020-02-15 00:00:00 | Australia | 0.39137320101487 | 0.60862679898513 |
| 2020-02-16 00:00:00 | Australia | 0.38876957914587 | 0.61123042085413 |
| 2020-02-17 00:00:00 | Australia | 0.38416511341362 | 0.61583488658638 |
| 2020-02-18 00:00:00 | Australia | 0.37940922873632 | 0.62059077126368 |
| 2020-02-19 00:00:00 | Australia | 0.38335969765165 | 0.61664030234835 |
| 2020-02-20 00:00:00 | Australia | 0.39432755887865 | 0.60567244112135 |
| 2020-02-21 00:00:00 | Australia | 0.39479696673549 | 0.60520303326451 |
| 2020-02-22 00:00:00 | Australia | 0.39887290768921 | 0.60112709231079 |
| 2020-02-23 00:00:00 | Australia | 0.39990554033113 | 0.60009445966887 |
| 2020-02-24 00:00:00 | Australia | 0.40758861303365 | 0.59241138696635 |
| 2020-02-25 00:00:00 | Australia | 0.41392501995896 | 0.58607498004104 |
| 2020-02-26 00:00:00 | Australia | 0.40686101787272 | 0.59313898212728 |
| 2020-02-27 00:00:00 | Australia | 0.40159921518645 | 0.59840078481355 |
| 2020-02-28 00:00:00 | Australia | 0.40654134728631 | 0.59345865271369 |
| 2020-02-29 00:00:00 | Australia | 0.40733976233173 | 0.59266023766827 |
| 2020-03-01 00:00:00 | Australia | 0.4051278900606 | 0.5948721099394 |
| 2020-03-02 00:00:00 | Australia | 0.4011153674582 | 0.5988846325418 |
| 2020-03-03 00:00:00 | Australia | 0.40404707345127 | 0.59595292654873 |
| 2020-03-04 00:00:00 | Australia | 0.40235630038593 | 0.59764369961407 |
| 2020-03-05 00:00:00 | Australia | 0.39952253217122 | 0.60047746782878 |
| 2020-03-06 00:00:00 | Australia | 0.39400497467161 | 0.60599502532839 |
| 2020-03-07 00:00:00 | Australia | 0.3857410694032 | 0.6142589305968 |
| 2020-03-08 00:00:00 | Australia | 0.39011248176401 | 0.60988751823599 |
| 2020-03-09 00:00:00 | Australia | 0.38535494687785 | 0.61464505312215 |
| 2020-03-10 00:00:00 | Australia | 0.37502010316512 | 0.62497989683488 |
| 2020-03-11 00:00:00 | Australia | 0.38064100589237 | 0.61935899410763 |
| 2020-03-12 00:00:00 | Australia | 0.37317025960545 | 0.62682974039455 |
| 2020-03-13 00:00:00 | Australia | 0.37769808003537 | 0.62230191996463 |
| 2020-03-14 00:00:00 | Australia | 0.38144042470029 | 0.61855957529971 |
| 2020-03-15 00:00:00 | Australia | 0.37898349206075 | 0.62101650793925 |
| 2020-03-16 00:00:00 | Australia | 0.37861600822569 | 0.62138399177431 |
| 2020-03-17 00:00:00 | Australia | 0.37955034294308 | 0.62044965705692 |
| 2020-03-18 00:00:00 | Australia | 0.37941209968624 | 0.62058790031376 |
| 2020-03-19 00:00:00 | Australia | 0.38769131165112 | 0.61230868834888 |
| 2020-03-20 00:00:00 | Australia | 0.38754493988961 | 0.61245506011039 |
| 2020-03-21 00:00:00 | Australia | 0.38448747616189 | 0.61551252383811 |
| 2020-03-22 00:00:00 | Australia | 0.39300055348923 | 0.60699944651077 |
| 2020-03-23 00:00:00 | Australia | 0.40305424447704 | 0.59694575552296 |
| 2020-03-24 00:00:00 | Australia | 0.41379081532131 | 0.58620918467869 |
| 2020-03-25 00:00:00 | Australia | 0.42207397131836 | 0.57792602868164 |
| 2020-03-26 00:00:00 | Australia | 0.42009377210603 | 0.57990622789397 |
| 2020-03-27 00:00:00 | Australia | 0.41669345223346 | 0.58330654776654 |
| 2020-03-28 00:00:00 | Australia | 0.42968134226956 | 0.57031865773044 |
| 2020-03-29 00:00:00 | Australia | 0.43149531873117 | 0.56850468126883 |
| 2020-03-30 00:00:00 | Australia | 0.43822116204468 | 0.56177883795532 |
| 2020-03-31 00:00:00 | Australia | 0.4442669958343 | 0.5557330041657 |
| 2020-04-01 00:00:00 | Australia | 0.44849813763705 | 0.55150186236295 |
| 2020-04-02 00:00:00 | Australia | 0.45951594322572 | 0.54048405677428 |
| 2020-04-03 00:00:00 | Australia | 0.47035358409865 | 0.52964641590135 |
| 2020-04-04 00:00:00 | Australia | 0.47615507659563 | 0.52384492340437 |
| 2020-04-05 00:00:00 | Australia | 0.4881981411867 | 0.5118018588133 |
| 2020-04-06 00:00:00 | Australia | 0.49405199727369 | 0.50594800272631 |
| 2020-04-07 00:00:00 | Australia | 0.50985980897806 | 0.49014019102194 |
| 2020-04-08 00:00:00 | Australia | 0.5098885132149 | 0.4901114867851 |
| 2020-04-09 00:00:00 | Australia | 0.51374923323475 | 0.48625076676525 |
| 2020-04-10 00:00:00 | Australia | 0.52297386943768 | 0.47702613056232 |
| 2020-04-11 00:00:00 | Australia | 0.52933762533526 | 0.47066237466474 |
| 2020-04-12 00:00:00 | Australia | 0.52932594009462 | 0.47067405990537 |
| 2020-04-13 00:00:00 | Australia | 0.53359394734308 | 0.46640605265692 |
| 2020-04-14 00:00:00 | Australia | 0.52677828590351 | 0.47322171409649 |
| 2020-04-15 00:00:00 | Australia | 0.5382243241818 | 0.4617756758182 |
| 2020-04-16 00:00:00 | Australia | 0.54806320460142 | 0.45193679539858 |
| 2020-04-17 00:00:00 | Australia | 0.56039941378229 | 0.43960058621771 |
| 2020-04-18 00:00:00 | Australia | 0.56560861832335 | 0.43439138167665 |
| 2020-04-19 00:00:00 | Australia | 0.56887784197095 | 0.43112215802905 |
| 2020-04-20 00:00:00 | Australia | 0.5690968860388 | 0.4309031139612 |
| 2020-04-21 00:00:00 | Australia | 0.57436171758379 | 0.42563828241621 |
| 2020-04-22 00:00:00 | Australia | 0.57395127061644 | 0.42604872938356 |
| 2020-04-23 00:00:00 | Australia | 0.57658874074082 | 0.42341125925918 |
| 2020-04-24 00:00:00 | Australia | 0.57151492219423 | 0.42848507780577 |
| 2020-04-25 00:00:00 | Australia | 0.57977775174432 | 0.42022224825568 |
| 2020-04-26 00:00:00 | Australia | 0.59534910428728 | 0.40465089571272 |
| 2020-04-27 00:00:00 | Australia | 0.60281537538196 | 0.39718462461804 |
| 2020-04-28 00:00:00 | Australia | 0.61239018447706 | 0.38760981552294 |
| 2020-04-29 00:00:00 | Australia | 0.61584925143688 | 0.38415074856312 |
| 2020-04-30 00:00:00 | Australia | 0.61537991580267 | 0.38462008419733 |
| 2020-05-01 00:00:00 | Australia | 0.61743973615328 | 0.38256026384672 |
| 2020-05-02 00:00:00 | Australia | 0.62745529537966 | 0.37254470462034 |
| 2020-05-03 00:00:00 | Australia | 0.61918424052679 | 0.38081575947321 |
| 2020-05-04 00:00:00 | Australia | 0.61973007028149 | 0.38026992971851 |
| 2020-05-05 00:00:00 | Australia | 0.61738061084055 | 0.38261938915945 |
| 2020-05-06 00:00:00 | Australia | 0.61751784195677 | 0.38248215804323 |
| 2020-05-07 00:00:00 | Australia | 0.61893860159838 | 0.38106139840162 |
| 2020-05-08 00:00:00 | Australia | 0.62178560995574 | 0.37821439004425 |
| 2020-05-09 00:00:00 | Australia | 0.61611761790989 | 0.38388238209011 |
| 2020-05-10 00:00:00 | Australia | 0.60669374717715 | 0.39330625282285 |
| 2020-05-11 00:00:00 | Australia | 0.60926965919195 | 0.39073034080805 |
| 2020-05-12 00:00:00 | Australia | 0.60428758197832 | 0.39571241802168 |
| 2020-05-13 00:00:00 | Australia | 0.59838479106551 | 0.40161520893449 |
| 2020-05-14 00:00:00 | Australia | 0.60476041160708 | 0.39523958839292 |
| 2020-05-15 00:00:00 | Australia | 0.61250271102702 | 0.38749728897298 |
| 2020-05-16 00:00:00 | Australia | 0.61063868888086 | 0.38936131111914 |
| 2020-05-17 00:00:00 | Australia | 0.62486547462867 | 0.37513452537133 |
| 2020-05-18 00:00:00 | Australia | 0.62761233393898 | 0.37238766606102 |
| 2020-05-19 00:00:00 | Australia | 0.62081163483684 | 0.37918836516316 |
| 2020-05-20 00:00:00 | Australia | 0.62537444896443 | 0.37462555103557 |
| 2020-05-21 00:00:00 | Australia | 0.62425470042212 | 0.37574529957788 |
| 2020-05-22 00:00:00 | Australia | 0.61013703799173 | 0.38986296200827 |
| 2020-05-23 00:00:00 | Australia | 0.61269070073852 | 0.38730929926148 |
| 2020-05-24 00:00:00 | Australia | 0.60696039119639 | 0.39303960880361 |
| 2020-05-25 00:00:00 | Australia | 0.5957707664857 | 0.4042292335143 |
| 2020-05-26 00:00:00 | Australia | 0.61199258572619 | 0.38800741427381 |
| 2020-05-27 00:00:00 | Australia | 0.62746422815651 | 0.37253577184349 |
| 2020-05-28 00:00:00 | Australia | 0.6248692859532 | 0.3751307140468 |
| 2020-05-29 00:00:00 | Australia | 0.63064237718583 | 0.36935762281417 |
| 2020-05-30 00:00:00 | Australia | 0.62422049348163 | 0.37577950651837 |
| 2020-05-31 00:00:00 | Australia | 0.62718209668934 | 0.37281790331066 |
| 2020-06-01 00:00:00 | Australia | 0.6301409395654 | 0.3698590604346 |
| 2020-06-02 00:00:00 | Australia | 0.62323517473675 | 0.37676482526325 |
| 2020-06-03 00:00:00 | Australia | 0.60318733162879 | 0.39681266837121 |
| 2020-06-04 00:00:00 | Australia | 0.5953860126719 | 0.4046139873281 |
| 2020-06-05 00:00:00 | Australia | 0.5897871537983 | 0.4102128462017 |
| 2020-06-06 00:00:00 | Australia | 0.58450118045473 | 0.41549881954527 |
| 2020-06-07 00:00:00 | Australia | 0.58034478882327 | 0.41965521117673 |
| 2020-06-08 00:00:00 | Australia | 0.58070648270663 | 0.41929351729337 |
| 2020-06-09 00:00:00 | Australia | 0.58726184933841 | 0.41273815066159 |
| 2020-06-10 00:00:00 | Australia | 0.58781955769168 | 0.41218044230832 |
| 2020-06-11 00:00:00 | Australia | 0.59502031903297 | 0.40497968096703 |
| 2020-06-12 00:00:00 | Australia | 0.59767096525824 | 0.40232903474176 |
| 2020-06-13 00:00:00 | Australia | 0.59799906729483 | 0.40200093270517 |
| 2020-06-14 00:00:00 | Australia | 0.597368233073 | 0.402631766927 |
| 2020-06-15 00:00:00 | Australia | 0.59701511695425 | 0.40298488304575 |
| 2020-06-16 00:00:00 | Australia | 0.58566232350758 | 0.41433767649242 |
| 2020-06-17 00:00:00 | Australia | 0.58294206768844 | 0.41705793231156 |
| 2020-06-18 00:00:00 | Australia | 0.58232778801885 | 0.41767221198115 |
| 2020-06-19 00:00:00 | Australia | 0.5821941432166 | 0.4178058567834 |
| 2020-06-20 00:00:00 | Australia | 0.5764933943707 | 0.4235066056293 |
| 2020-06-21 00:00:00 | Australia | 0.57182207181113 | 0.42817792818887 |
| 2020-06-22 00:00:00 | Australia | 0.56098340412601 | 0.43901659587399 |
| 2020-06-23 00:00:00 | Australia | 0.57106463982783 | 0.42893536017217 |
| 2020-06-24 00:00:00 | Australia | 0.58054439966559 | 0.41945560033441 |
| 2020-06-25 00:00:00 | Australia | 0.58106961604623 | 0.41893038395377 |
| 2020-06-26 00:00:00 | Australia | 0.5759358950364 | 0.4240641049636 |
| 2020-06-27 00:00:00 | Australia | 0.58319511014624 | 0.41680488985376 |
| 2020-06-28 00:00:00 | Australia | 0.58780105601645 | 0.41219894398355 |
| 2020-06-29 00:00:00 | Australia | 0.59802616891581 | 0.40197383108419 |
| 2020-06-30 00:00:00 | Australia | 0.59902734549122 | 0.40097265450878 |
| 2020-07-01 00:00:00 | Australia | 0.59352140015309 | 0.40647859984691 |
| 2020-07-02 00:00:00 | Australia | 0.59154474416765 | 0.40845525583235 |
| 2020-07-03 00:00:00 | Australia | 0.59240030983884 | 0.40759969016115 |
| 2020-07-04 00:00:00 | Australia | 0.58832746342677 | 0.41167253657323 |
| 2020-07-05 00:00:00 | Australia | 0.59091315120257 | 0.40908684879743 |
| 2020-07-06 00:00:00 | Australia | 0.58604866219236 | 0.41395133780764 |
| 2020-07-07 00:00:00 | Australia | 0.58559661978121 | 0.41440338021879 |
| 2020-07-08 00:00:00 | Australia | 0.58232300517901 | 0.41767699482099 |
| 2020-07-09 00:00:00 | Australia | 0.5764256872205 | 0.4235743127795 |
| 2020-07-10 00:00:00 | Australia | 0.57839666182022 | 0.42160333817978 |
| 2020-07-11 00:00:00 | Australia | 0.56856740501476 | 0.43143259498524 |
| 2020-07-12 00:00:00 | Australia | 0.56218335167648 | 0.43781664832352 |
| 2020-07-13 00:00:00 | Australia | 0.56468261509385 | 0.43531738490615 |
| 2020-07-14 00:00:00 | Australia | 0.5635251780171 | 0.4364748219829 |
| 2020-07-15 00:00:00 | Australia | 0.55828055997414 | 0.44171944002586 |
| 2020-07-16 00:00:00 | Australia | 0.56095901318738 | 0.43904098681262 |
| 2020-07-17 00:00:00 | Australia | 0.55878711124229 | 0.44121288875771 |
| 2020-07-18 00:00:00 | Australia | 0.56943355153193 | 0.43056644846807 |
| 2020-07-19 00:00:00 | Australia | 0.56246372590187 | 0.43753627409813 |
| 2020-07-20 00:00:00 | Australia | 0.55467931517097 | 0.44532068482903 |
| 2020-07-21 00:00:00 | Australia | 0.55529486406541 | 0.44470513593459 |
| 2020-07-22 00:00:00 | Australia | 0.56173854524841 | 0.4382614547516 |
| 2020-07-23 00:00:00 | Australia | 0.5549450926792 | 0.4450549073208 |
| 2020-07-24 00:00:00 | Australia | 0.54990234591246 | 0.45009765408754 |
| 2020-07-25 00:00:00 | Australia | 0.54375635524846 | 0.45624364475154 |
| 2020-07-26 00:00:00 | Australia | 0.54445966405942 | 0.45554033594058 |
| 2020-07-27 00:00:00 | Australia | 0.54689784561204 | 0.45310215438796 |
| 2020-07-28 00:00:00 | Australia | 0.52965096702393 | 0.47034903297607 |
| 2020-07-29 00:00:00 | Australia | 0.52049129479261 | 0.47950870520739 |
| 2020-07-30 00:00:00 | Australia | 0.5255800796121 | 0.4744199203879 |
| 2020-07-31 00:00:00 | Australia | 0.52089785332915 | 0.47910214667085 |
| 2020-08-01 00:00:00 | Australia | 0.51659905703012 | 0.48340094296988 |
| 2020-08-02 00:00:00 | Australia | 0.50642059313554 | 0.49357940686446 |
| 2020-08-03 00:00:00 | Australia | 0.51104105659313 | 0.48895894340687 |
| 2020-08-04 00:00:00 | Australia | 0.50856092890289 | 0.49143907109711 |
| 2020-08-05 00:00:00 | Australia | 0.51365234794849 | 0.48634765205151 |
| 2020-08-06 00:00:00 | Australia | 0.50784557429855 | 0.49215442570145 |
| 2020-08-07 00:00:00 | Australia | 0.51448621556711 | 0.4855137844329 |
| 2020-08-08 00:00:00 | Australia | 0.51367565142276 | 0.48632434857724 |
| 2020-08-09 00:00:00 | Australia | 0.52037041579246 | 0.47962958420754 |
| 2020-08-10 00:00:00 | Australia | 0.51225326938513 | 0.48774673061487 |
| 2020-08-11 00:00:00 | Australia | 0.52158123590044 | 0.47841876409956 |
| 2020-08-12 00:00:00 | Australia | 0.51952871298899 | 0.48047128701101 |
| 2020-08-13 00:00:00 | Australia | 0.5233315781773 | 0.47666842182271 |
| 2020-08-14 00:00:00 | Australia | 0.52468340900725 | 0.47531659099275 |
| 2020-08-15 00:00:00 | Australia | 0.53295247261604 | 0.46704752738396 |
| 2020-08-16 00:00:00 | Australia | 0.53561149726086 | 0.46438850273914 |
| 2020-08-17 00:00:00 | Australia | 0.54734944571386 | 0.45265055428614 |
| 2020-08-18 00:00:00 | Australia | 0.54871203569082 | 0.45128796430918 |
| 2020-08-19 00:00:00 | Australia | 0.55511209483799 | 0.44488790516201 |
| 2020-08-20 00:00:00 | Australia | 0.55090035715692 | 0.44909964284308 |
| 2020-08-21 00:00:00 | Australia | 0.54811085465539 | 0.45188914534461 |
| 2020-08-22 00:00:00 | Australia | 0.54826994914103 | 0.45173005085897 |
| 2020-08-23 00:00:00 | Australia | 0.56037867375551 | 0.43962132624449 |
| 2020-08-24 00:00:00 | Australia | 0.56764750511456 | 0.43235249488544 |
| 2020-08-25 00:00:00 | Australia | 0.57880771797789 | 0.42119228202211 |
| 2020-08-26 00:00:00 | Australia | 0.58773751223117 | 0.41226248776883 |
| 2020-08-27 00:00:00 | Australia | 0.59582976133555 | 0.40417023866445 |
| 2020-08-28 00:00:00 | Australia | 0.60488587466956 | 0.39511412533044 |
| 2020-08-29 00:00:00 | Australia | 0.60465050963629 | 0.3953494903637 |
| 2020-08-30 00:00:00 | Australia | 0.59665242026157 | 0.40334757973843 |
| 2020-08-31 00:00:00 | Australia | 0.57637566583351 | 0.42362433416649 |
| 2020-09-01 00:00:00 | Australia | 0.56290756712603 | 0.43709243287396 |
| 2020-09-02 00:00:00 | Australia | 0.54992023861903 | 0.45007976138097 |
| 2020-09-03 00:00:00 | Australia | 0.54380710190133 | 0.45619289809867 |
| 2020-09-04 00:00:00 | Australia | 0.5409651391747 | 0.4590348608253 |
| 2020-09-05 00:00:00 | Australia | 0.53309342295361 | 0.46690657704639 |
| 2020-09-06 00:00:00 | Australia | 0.52853043404875 | 0.47146956595125 |
| 2020-09-07 00:00:00 | Australia | 0.5313681013211 | 0.4686318986789 |
| 2020-09-08 00:00:00 | Australia | 0.53180193425196 | 0.46819806574804 |
| 2020-09-09 00:00:00 | Australia | 0.53197191129647 | 0.46802808870353 |
| 2020-09-10 00:00:00 | Australia | 0.53515036523878 | 0.46484963476122 |
| 2020-09-11 00:00:00 | Australia | 0.53042246520604 | 0.46957753479396 |
| 2020-09-12 00:00:00 | Australia | 0.53656242676166 | 0.46343757323834 |
| 2020-09-13 00:00:00 | Australia | 0.53801232198041 | 0.46198767801959 |
| 2020-09-14 00:00:00 | Australia | 0.54225811068931 | 0.45774188931069 |
| 2020-09-15 00:00:00 | Australia | 0.54717269537459 | 0.45282730462541 |
| 2020-09-16 00:00:00 | Australia | 0.54282593373543 | 0.45717406626457 |
| 2020-09-17 00:00:00 | Australia | 0.54702891638401 | 0.45297108361599 |
| 2020-09-18 00:00:00 | Australia | 0.55034878959565 | 0.44965121040435 |
| 2020-09-19 00:00:00 | Australia | 0.54952908451382 | 0.45047091548618 |
| 2020-09-20 00:00:00 | Australia | 0.55045111979198 | 0.44954888020803 |
| 2020-09-21 00:00:00 | Australia | 0.54883454177854 | 0.45116545822146 |
| 2020-09-22 00:00:00 | Australia | 0.55253467135079 | 0.44746532864921 |
| 2020-09-23 00:00:00 | Australia | 0.56053032192191 | 0.43946967807809 |
| 2020-09-24 00:00:00 | Australia | 0.56311120768003 | 0.43688879231997 |
| 2020-09-25 00:00:00 | Australia | 0.56829376221047 | 0.43170623778953 |
| 2020-09-26 00:00:00 | Australia | 0.56992049288322 | 0.43007950711678 |
| 2020-09-27 00:00:00 | Australia | 0.57187813636161 | 0.42812186363839 |
| 2020-09-28 00:00:00 | Australia | 0.57683958964524 | 0.42316041035476 |
| 2020-09-29 00:00:00 | Australia | 0.57356305942208 | 0.42643694057792 |
| 2020-09-30 00:00:00 | Australia | 0.58005421020398 | 0.41994578979602 |
| 2020-10-01 00:00:00 | Australia | 0.57691907862731 | 0.42308092137269 |
| 2020-10-02 00:00:00 | Australia | 0.57726542662107 | 0.42273457337893 |
| 2020-10-03 00:00:00 | Australia | 0.58501096294772 | 0.41498903705228 |
| 2020-10-04 00:00:00 | Australia | 0.58804827859086 | 0.41195172140914 |
| 2020-10-05 00:00:00 | Australia | 0.58392893447694 | 0.41607106552306 |
| 2020-10-06 00:00:00 | Australia | 0.58976330670074 | 0.41023669329926 |
| 2020-10-07 00:00:00 | Australia | 0.58773422158451 | 0.41226577841549 |
| 2020-10-08 00:00:00 | Australia | 0.58802207911191 | 0.41197792088809 |
| 2020-10-09 00:00:00 | Australia | 0.58246852347641 | 0.41753147652359 |
| 2020-10-10 00:00:00 | Australia | 0.57513710903774 | 0.42486289096226 |
| 2020-10-11 00:00:00 | Australia | 0.57011426674897 | 0.42988573325103 |
| 2020-10-12 00:00:00 | Australia | 0.57544566723267 | 0.42455433276733 |
| 2020-10-13 00:00:00 | Australia | 0.56981190850458 | 0.43018809149542 |
| 2020-10-14 00:00:00 | Australia | 0.56532168318418 | 0.43467831681582 |
| 2020-10-15 00:00:00 | Australia | 0.57128676977629 | 0.42871323022371 |
| 2020-10-16 00:00:00 | Australia | 0.56878556525419 | 0.43121443474581 |
| 2020-10-17 00:00:00 | Australia | 0.56717912484249 | 0.43282087515751 |
| 2020-10-18 00:00:00 | Australia | 0.57382201746332 | 0.42617798253667 |
| 2020-10-19 00:00:00 | Australia | 0.5706493407506 | 0.4293506592494 |
| 2020-10-20 00:00:00 | Australia | 0.56448842679188 | 0.43551157320812 |
| 2020-10-21 00:00:00 | Australia | 0.56178179696911 | 0.43821820303089 |
| 2020-10-22 00:00:00 | Australia | 0.55760986682101 | 0.44239013317899 |
| 2020-10-23 00:00:00 | Australia | 0.56428051195091 | 0.43571948804909 |
| 2020-10-24 00:00:00 | Australia | 0.56425341276803 | 0.43574658723197 |
| 2020-10-25 00:00:00 | Australia | 0.56350010598497 | 0.43649989401503 |
| 2020-10-26 00:00:00 | Australia | 0.57324843289324 | 0.42675156710676 |
| 2020-10-27 00:00:00 | Australia | 0.58601640588648 | 0.41398359411352 |
| 2020-10-28 00:00:00 | Australia | 0.59640501789651 | 0.40359498210349 |
| 2020-10-29 00:00:00 | Australia | 0.60085738688791 | 0.39914261311209 |
| 2020-10-30 00:00:00 | Australia | 0.60232660757786 | 0.39767339242214 |
| 2020-10-31 00:00:00 | Australia | 0.61210457715692 | 0.38789542284308 |
| 2020-11-01 00:00:00 | Australia | 0.61422891701068 | 0.38577108298932 |
| 2020-11-02 00:00:00 | Australia | 0.60318491338631 | 0.39681508661369 |
| 2020-11-03 00:00:00 | Australia | 0.60745975143755 | 0.39254024856245 |
| 2020-11-04 00:00:00 | Australia | 0.5979053425122 | 0.4020946574878 |
| 2020-11-05 00:00:00 | Australia | 0.5981375713224 | 0.4018624286776 |
| 2020-11-06 00:00:00 | Australia | 0.60535285066918 | 0.39464714933082 |
| 2020-11-07 00:00:00 | Australia | 0.6122528112446 | 0.3877471887554 |
| 2020-11-08 00:00:00 | Australia | 0.62294636053462 | 0.37705363946538 |
| 2020-11-09 00:00:00 | Australia | 0.6315379924215 | 0.3684620075785 |
| 2020-11-10 00:00:00 | Australia | 0.6351285452866 | 0.3648714547134 |
| 2020-11-11 00:00:00 | Australia | 0.65022166236049 | 0.34977833763951 |
| 2020-11-12 00:00:00 | Australia | 0.65244533434202 | 0.34755466565798 |
| 2020-11-13 00:00:00 | Australia | 0.65206910195508 | 0.34793089804492 |
| 2020-11-14 00:00:00 | Australia | 0.6549490434822 | 0.3450509565178 |
| 2020-11-15 00:00:00 | Australia | 0.64352412167395 | 0.35647587832605 |
| 2020-11-16 00:00:00 | Australia | 0.6508322778832 | 0.3491677221168 |
| 2020-11-17 00:00:00 | Australia | 0.64781134813333 | 0.35218865186666 |
| 2020-11-18 00:00:00 | Australia | 0.6464746424073 | 0.3535253575927 |
| 2020-11-19 00:00:00 | Australia | 0.6477226653928 | 0.3522773346072 |
| 2020-11-20 00:00:00 | Australia | 0.6513305072947 | 0.3486694927053 |
| 2020-11-21 00:00:00 | Australia | 0.63996991524116 | 0.36003008475884 |
| 2020-11-22 00:00:00 | Australia | 0.65263896910005 | 0.34736103089995 |
| 2020-11-23 00:00:00 | Australia | 0.65011718611156 | 0.34988281388844 |
| 2020-11-24 00:00:00 | Australia | 0.65484102391056 | 0.34515897608944 |
| 2020-11-25 00:00:00 | Australia | 0.65690424305911 | 0.34309575694089 |
| 2020-11-26 00:00:00 | Australia | 0.65060927415358 | 0.34939072584642 |
| 2020-11-27 00:00:00 | Australia | 0.65187168324481 | 0.34812831675519 |
| 2020-11-28 00:00:00 | Australia | 0.65773735456582 | 0.34226264543418 |
| 2020-11-29 00:00:00 | Australia | 0.65342715117496 | 0.34657284882504 |
| 2020-11-30 00:00:00 | Australia | 0.64411883781609 | 0.35588116218391 |
| 2020-12-01 00:00:00 | Australia | 0.63724054333768 | 0.36275945666232 |
| 2020-12-02 00:00:00 | Australia | 0.64137375060018 | 0.35862624939982 |
| 2020-12-03 00:00:00 | Australia | 0.64875125664332 | 0.35124874335668 |
| 2020-12-04 00:00:00 | Australia | 0.64876293977255 | 0.35123706022745 |
| 2020-12-05 00:00:00 | Australia | 0.65567308875825 | 0.34432691124175 |
| 2020-12-06 00:00:00 | Australia | 0.66653362113461 | 0.33346637886539 |
| 2020-12-07 00:00:00 | Australia | 0.67292036006865 | 0.32707963993135 |
| 2020-12-08 00:00:00 | Australia | 0.67940618262205 | 0.32059381737795 |
| 2020-12-09 00:00:00 | Australia | 0.67705638754142 | 0.32294361245858 |
| 2020-12-10 00:00:00 | Australia | 0.67408419483424 | 0.32591580516576 |
| 2020-12-11 00:00:00 | Australia | 0.66909997785979 | 0.33090002214021 |
| 2020-12-12 00:00:00 | Australia | 0.65306491536046 | 0.34693508463954 |
| 2020-12-13 00:00:00 | Australia | 0.63915938785438 | 0.36084061214562 |
| 2020-12-14 00:00:00 | Australia | 0.63791382516028 | 0.36208617483972 |
| 2020-12-15 00:00:00 | Australia | 0.63089615933463 | 0.36910384066537 |
| 2020-12-16 00:00:00 | Australia | 0.62612791299273 | 0.37387208700727 |
| 2020-12-17 00:00:00 | Australia | 0.62767254383767 | 0.37232745616233 |
| 2020-12-18 00:00:00 | Australia | 0.62945165893366 | 0.37054834106634 |
| 2020-12-19 00:00:00 | Australia | 0.63765524486249 | 0.36234475513751 |
| 2020-12-20 00:00:00 | Australia | 0.63577424137078 | 0.36422575862922 |
| 2020-12-21 00:00:00 | Australia | 0.64023524614094 | 0.35976475385906 |
| 2020-12-22 00:00:00 | Australia | 0.63865735621366 | 0.36134264378634 |
| 2020-12-23 00:00:00 | Australia | 0.64942083044689 | 0.35057916955311 |
| 2020-12-24 00:00:00 | Australia | 0.65086953378756 | 0.34913046621244 |
| 2020-12-25 00:00:00 | Australia | 0.65323186003731 | 0.34676813996269 |
| 2020-12-26 00:00:00 | Australia | 0.64962323489148 | 0.35037676510852 |
| 2020-12-27 00:00:00 | Australia | 0.64774827095313 | 0.35225172904687 |
| 2020-12-28 00:00:00 | Australia | 0.65122841522114 | 0.34877158477886 |
| 2020-12-29 00:00:00 | Australia | 0.65058830101745 | 0.34941169898255 |
| 2020-12-30 00:00:00 | Australia | 0.64559151354141 | 0.35440848645859 |
| 2020-12-31 00:00:00 | Australia | 0.63892685241812 | 0.36107314758188 |
| 2021-01-01 00:00:00 | Australia | 0.63792537676154 | 0.36207462323846 |
| 2021-01-02 00:00:00 | Australia | 0.63062094942543 | 0.36937905057457 |
| 2021-01-03 00:00:00 | Australia | 0.62528800321378 | 0.37471199678622 |
| 2021-01-04 00:00:00 | Australia | 0.6183985729503 | 0.3816014270497 |
| 2021-01-05 00:00:00 | Australia | 0.61683182330571 | 0.38316817669429 |
| 2021-01-06 00:00:00 | Australia | 0.61334017244932 | 0.38665982755068 |
| 2021-01-07 00:00:00 | Australia | 0.61308925745183 | 0.38691074254817 |
| 2021-01-08 00:00:00 | Australia | 0.6038925660913 | 0.3961074339087 |
| 2021-01-09 00:00:00 | Australia | 0.61219255541429 | 0.38780744458571 |
| 2021-01-10 00:00:00 | Australia | 0.61719455140452 | 0.38280544859548 |
| 2021-01-11 00:00:00 | Australia | 0.61776012299557 | 0.38223987700443 |
| 2021-01-12 00:00:00 | Australia | 0.61963811136074 | 0.38036188863926 |
| 2021-01-13 00:00:00 | Australia | 0.61729779963089 | 0.38270220036911 |
| 2021-01-14 00:00:00 | Australia | 0.61845011320435 | 0.38154988679565 |
| 2021-01-15 00:00:00 | Australia | 0.62110345323756 | 0.37889654676244 |
| 2021-01-16 00:00:00 | Australia | 0.62649530256298 | 0.37350469743702 |
| 2021-01-17 00:00:00 | Australia | 0.63007616109428 | 0.36992383890572 |
| 2021-01-18 00:00:00 | Australia | 0.63595417302666 | 0.36404582697334 |
| 2021-01-19 00:00:00 | Australia | 0.63157344282544 | 0.36842655717456 |
| 2021-01-20 00:00:00 | Australia | 0.6401353610719 | 0.3598646389281 |
| 2021-01-21 00:00:00 | Australia | 0.6492647863243 | 0.3507352136757 |
| 2021-01-22 00:00:00 | Australia | 0.65204602532676 | 0.34795397467325 |
| 2021-01-23 00:00:00 | Australia | 0.65152142121516 | 0.34847857878484 |
| 2021-01-24 00:00:00 | Australia | 0.65313963122366 | 0.34686036877634 |
| 2021-01-25 00:00:00 | Australia | 0.645942804418 | 0.354057195582 |
| 2021-01-26 00:00:00 | Australia | 0.65219237870256 | 0.34780762129744 |
| 2021-01-27 00:00:00 | Australia | 0.64725535828397 | 0.35274464171603 |
| 2021-01-28 00:00:00 | Australia | 0.64081797931733 | 0.35918202068267 |
| 2021-01-29 00:00:00 | Australia | 0.64541257191132 | 0.35458742808868 |
| 2021-01-30 00:00:00 | Australia | 0.64614488102093 | 0.35385511897907 |
| 2021-01-31 00:00:00 | Australia | 0.64220512147687 | 0.35779487852313 |
| 2021-02-01 00:00:00 | Australia | 0.64058037770944 | 0.35941962229056 |
| 2021-02-02 00:00:00 | Australia | 0.63688803979367 | 0.36311196020633 |
| 2021-02-03 00:00:00 | Australia | 0.63787810874447 | 0.36212189125553 |
| 2021-02-04 00:00:00 | Australia | 0.64417953345847 | 0.35582046654153 |
| 2021-02-05 00:00:00 | Australia | 0.64344447853215 | 0.35655552146785 |
| 2021-02-06 00:00:00 | Australia | 0.63630000449177 | 0.36369999550823 |
| 2021-02-07 00:00:00 | Australia | 0.6369630856599 | 0.3630369143401 |
| 2021-02-08 00:00:00 | Australia | 0.64375576672248 | 0.35624423327752 |
| 2021-02-09 00:00:00 | Australia | 0.63997525429366 | 0.36002474570634 |
| 2021-02-10 00:00:00 | Australia | 0.63529478432182 | 0.36470521567818 |
| 2021-02-11 00:00:00 | Australia | 0.62843716172446 | 0.37156283827554 |
| 2021-02-12 00:00:00 | Australia | 0.62544312369494 | 0.37455687630506 |
| 2021-02-13 00:00:00 | Australia | 0.62664075948235 | 0.37335924051765 |
| 2021-02-14 00:00:00 | Australia | 0.6299754959999 | 0.3700245040001 |
| 2021-02-15 00:00:00 | Australia | 0.6158851375724 | 0.3841148624276 |
| 2021-02-16 00:00:00 | Australia | 0.61939925315084 | 0.38060074684916 |
| 2021-02-17 00:00:00 | Australia | 0.61505198507277 | 0.38494801492723 |
| 2021-02-18 00:00:00 | Australia | 0.6097033928209 | 0.3902966071791 |
| 2021-02-19 00:00:00 | Australia | 0.61104641065779 | 0.38895358934221 |
| 2021-02-20 00:00:00 | Australia | 0.61701111363926 | 0.38298888636074 |
| 2021-02-21 00:00:00 | Australia | 0.60099840126013 | 0.39900159873987 |
| 2021-02-22 00:00:00 | Australia | 0.60544324254805 | 0.39455675745195 |
| 2021-02-23 00:00:00 | Australia | 0.60809759126519 | 0.39190240873481 |
| 2021-02-24 00:00:00 | Australia | 0.61298671390457 | 0.38701328609543 |
| 2021-02-25 00:00:00 | Australia | 0.61860297776557 | 0.38139702223443 |
| 2021-02-26 00:00:00 | Australia | 0.61227416703816 | 0.38772583296184 |
| 2021-02-27 00:00:00 | Australia | 0.6054706562162 | 0.3945293437838 |
| 2021-02-28 00:00:00 | Australia | 0.61754676274334 | 0.38245323725665 |
| 2021-03-01 00:00:00 | Australia | 0.62122422687926 | 0.37877577312074 |
| 2021-03-02 00:00:00 | Australia | 0.61445731826533 | 0.38554268173467 |
| 2021-03-03 00:00:00 | Australia | 0.61653155985516 | 0.38346844014484 |
| 2021-03-04 00:00:00 | Australia | 0.61752924689755 | 0.38247075310245 |
| 2021-03-05 00:00:00 | Australia | 0.62393025134727 | 0.37606974865273 |
| 2021-03-06 00:00:00 | Australia | 0.62617306760239 | 0.37382693239761 |
| 2021-03-07 00:00:00 | Australia | 0.6194846869901 | 0.3805153130099 |
| 2021-03-08 00:00:00 | Australia | 0.62273167822802 | 0.37726832177198 |
| 2021-03-09 00:00:00 | Australia | 0.62391814899977 | 0.37608185100023 |
| 2021-03-10 00:00:00 | Australia | 0.62706926630634 | 0.37293073369366 |
| 2021-03-11 00:00:00 | Australia | 0.6278431891793 | 0.3721568108207 |
| 2021-03-12 00:00:00 | Australia | 0.62473767829761 | 0.37526232170239 |
| 2021-03-13 00:00:00 | Australia | 0.62107584967977 | 0.37892415032023 |
| 2021-03-14 00:00:00 | Australia | 0.62315960806845 | 0.37684039193155 |
| 2021-03-15 00:00:00 | Australia | 0.61665373943595 | 0.38334626056405 |
| 2021-03-16 00:00:00 | Australia | 0.61638010291807 | 0.38361989708193 |
| 2021-03-17 00:00:00 | Australia | 0.60815288404765 | 0.39184711595235 |
| 2021-03-18 00:00:00 | Australia | 0.60879768090273 | 0.39120231909727 |
| 2021-03-19 00:00:00 | Australia | 0.61409390021941 | 0.38590609978059 |
| 2021-03-20 00:00:00 | Australia | 0.61549470852844 | 0.38450529147156 |
| 2021-03-21 00:00:00 | Australia | 0.62447264171907 | 0.37552735828093 |
| 2021-03-22 00:00:00 | Australia | 0.6279844099514 | 0.3720155900486 |
| 2021-03-23 00:00:00 | Australia | 0.62867512448044 | 0.37132487551957 |
| 2021-03-24 00:00:00 | Australia | 0.63206001301545 | 0.36793998698455 |
| 2021-03-25 00:00:00 | Australia | 0.62793093712264 | 0.37206906287736 |
| 2021-03-26 00:00:00 | Australia | 0.62039068551183 | 0.37960931448817 |
| 2021-03-27 00:00:00 | Australia | 0.62146405918237 | 0.37853594081763 |
| 2021-03-28 00:00:00 | Australia | 0.61356811997507 | 0.38643188002493 |
| 2021-03-29 00:00:00 | Australia | 0.60990510818536 | 0.39009489181464 |
| 2021-03-30 00:00:00 | Australia | 0.61440614020792 | 0.38559385979208 |
| 2021-03-31 00:00:00 | Australia | 0.6121420057499 | 0.3878579942501 |
| 2021-04-01 00:00:00 | Australia | 0.61120057215996 | 0.38879942784004 |
| 2021-04-02 00:00:00 | Australia | 0.61327058162362 | 0.38672941837638 |
| 2021-04-03 00:00:00 | Australia | 0.60600121265539 | 0.39399878734461 |
| 2021-04-04 00:00:00 | Australia | 0.61067209257591 | 0.38932790742409 |
| 2021-04-05 00:00:00 | Australia | 0.61527403853695 | 0.38472596146305 |
| 2021-04-06 00:00:00 | Australia | 0.61425293022263 | 0.38574706977737 |
| 2021-04-07 00:00:00 | Australia | 0.61818583748365 | 0.38181416251635 |
| 2021-04-08 00:00:00 | Australia | 0.61826296956219 | 0.38173703043781 |
| 2021-04-09 00:00:00 | Australia | 0.61344408663843 | 0.38655591336157 |
| 2021-04-10 00:00:00 | Australia | 0.61479167124501 | 0.38520832875499 |
| 2021-04-11 00:00:00 | Australia | 0.61392465461396 | 0.38607534538604 |
| 2021-04-12 00:00:00 | Australia | 0.61385390885473 | 0.38614609114527 |
| 2021-04-13 00:00:00 | Australia | 0.61951477888881 | 0.38048522111119 |
| 2021-04-14 00:00:00 | Australia | 0.61632406460959 | 0.38367593539041 |
| 2021-04-15 00:00:00 | Australia | 0.62105938226576 | 0.37894061773423 |
| 2021-04-16 00:00:00 | Australia | 0.6303809840974 | 0.3696190159026 |
| 2021-04-17 00:00:00 | Australia | 0.62953370795722 | 0.37046629204278 |
| 2021-04-18 00:00:00 | Australia | 0.62552641777134 | 0.37447358222866 |
| 2021-04-19 00:00:00 | Australia | 0.62250275428034 | 0.37749724571966 |
| 2021-04-20 00:00:00 | Australia | 0.61104077876903 | 0.38895922123097 |
| 2021-04-21 00:00:00 | Australia | 0.61548265082275 | 0.38451734917725 |
| 2021-04-22 00:00:00 | Australia | 0.60959915407645 | 0.39040084592355 |
| 2021-04-23 00:00:00 | Australia | 0.60564048156959 | 0.39435951843042 |
| 2021-04-24 00:00:00 | Australia | 0.6067461864956 | 0.3932538135044 |
| 2021-04-25 00:00:00 | Australia | 0.59885936800271 | 0.40114063199729 |
| 2021-04-26 00:00:00 | Australia | 0.59680537487782 | 0.40319462512218 |
| 2021-04-27 00:00:00 | Australia | 0.60447747844888 | 0.39552252155112 |
| 2021-04-28 00:00:00 | Australia | 0.59999360792467 | 0.40000639207533 |
| 2021-04-29 00:00:00 | Australia | 0.60297663752614 | 0.39702336247386 |
| 2021-04-30 00:00:00 | Australia | 0.59881319652419 | 0.40118680347581 |
| 2021-05-01 00:00:00 | Australia | 0.60074799045195 | 0.39925200954805 |
| 2021-05-02 00:00:00 | Australia | 0.60856010119719 | 0.3914398988028 |
| 2021-05-03 00:00:00 | Australia | 0.61284433532751 | 0.3871556646725 |
| 2021-05-04 00:00:00 | Australia | 0.6077197149653 | 0.3922802850347 |
| 2021-05-05 00:00:00 | Australia | 0.60919302545932 | 0.39080697454068 |
| 2021-05-06 00:00:00 | Australia | 0.6061475128387 | 0.3938524871613 |
| 2021-05-07 00:00:00 | Australia | 0.60807374124803 | 0.39192625875198 |
| 2021-05-08 00:00:00 | Australia | 0.60966657461184 | 0.39033342538816 |
| 2021-05-09 00:00:00 | Australia | 0.61187106181509 | 0.38812893818491 |
| 2021-05-10 00:00:00 | Australia | 0.60805364708383 | 0.39194635291617 |
| 2021-05-11 00:00:00 | Australia | 0.61133888322357 | 0.38866111677643 |
| 2021-05-12 00:00:00 | Australia | 0.60899273308332 | 0.39100726691668 |
| 2021-05-13 00:00:00 | Australia | 0.60936834095459 | 0.39063165904542 |
| 2021-05-14 00:00:00 | Australia | 0.61118784914112 | 0.38881215085888 |
| 2021-05-15 00:00:00 | Australia | 0.60991944606624 | 0.39008055393376 |
| 2021-05-16 00:00:00 | Australia | 0.60522955558 | 0.39477044442 |
| 2021-05-17 00:00:00 | Australia | 0.60787133479494 | 0.39212866520507 |
| 2021-05-18 00:00:00 | Australia | 0.61121490146481 | 0.38878509853519 |
| 2021-05-19 00:00:00 | Australia | 0.61097922770617 | 0.38902077229383 |
| 2021-05-20 00:00:00 | Australia | 0.61138443518119 | 0.38861556481881 |
| 2021-05-21 00:00:00 | Australia | 0.61232497644068 | 0.38767502355932 |
| 2021-05-22 00:00:00 | Australia | 0.61500468103827 | 0.38499531896173 |
| 2021-05-23 00:00:00 | Australia | 0.62460645534154 | 0.37539354465846 |
| 2021-05-24 00:00:00 | Australia | 0.62767280651043 | 0.37232719348957 |
| 2021-05-25 00:00:00 | Australia | 0.62666070873854 | 0.37333929126146 |
| 2021-05-26 00:00:00 | Australia | 0.63077826402201 | 0.36922173597799 |
| 2021-05-27 00:00:00 | Australia | 0.63176205862208 | 0.36823794137792 |
| 2021-05-28 00:00:00 | Australia | 0.62913757601696 | 0.37086242398304 |
| 2021-05-29 00:00:00 | Australia | 0.62935319769449 | 0.37064680230551 |
| 2021-05-30 00:00:00 | Australia | 0.62137007526186 | 0.37862992473814 |
| 2021-05-31 00:00:00 | Australia | 0.61463804932101 | 0.38536195067899 |
| 2021-06-01 00:00:00 | Australia | 0.60486177885641 | 0.39513822114359 |
| 2021-06-02 00:00:00 | Australia | 0.59947719466967 | 0.40052280533033 |
| 2021-06-03 00:00:00 | Australia | 0.59778207492153 | 0.40221792507847 |
| 2021-06-04 00:00:00 | Australia | 0.59738708694373 | 0.40261291305627 |
| 2021-06-05 00:00:00 | Australia | 0.59037121625056 | 0.40962878374944 |
| 2021-06-06 00:00:00 | Australia | 0.58685707211165 | 0.41314292788835 |
| 2021-06-07 00:00:00 | Australia | 0.58719992893036 | 0.41280007106964 |
| 2021-06-08 00:00:00 | Australia | 0.59088519283486 | 0.40911480716514 |
| 2021-06-09 00:00:00 | Australia | 0.59676530328654 | 0.40323469671346 |
| 2021-06-10 00:00:00 | Australia | 0.59933215168914 | 0.40066784831086 |
| 2021-06-11 00:00:00 | Australia | 0.60241247826474 | 0.39758752173526 |
| 2021-06-12 00:00:00 | Australia | 0.60519150156758 | 0.39480849843242 |
| 2021-06-13 00:00:00 | Australia | 0.60554424583501 | 0.39445575416499 |
| 2021-06-14 00:00:00 | Australia | 0.60752828416722 | 0.39247171583278 |
| 2021-06-15 00:00:00 | Australia | 0.60803822625806 | 0.39196177374194 |
| 2021-06-16 00:00:00 | Australia | 0.60417796437913 | 0.39582203562087 |
| 2021-06-17 00:00:00 | Australia | 0.60057395578987 | 0.39942604421013 |
| 2021-06-18 00:00:00 | Australia | 0.59710762075408 | 0.40289237924592 |
| 2021-06-19 00:00:00 | Australia | 0.60180420271392 | 0.39819579728608 |
| 2021-06-20 00:00:00 | Australia | 0.60746346899421 | 0.39253653100579 |
| 2021-06-21 00:00:00 | Australia | 0.59991787092076 | 0.40008212907924 |
| 2021-06-22 00:00:00 | Australia | 0.59864070874743 | 0.40135929125257 |
| 2021-06-23 00:00:00 | Australia | 0.60077477516352 | 0.39922522483648 |
| 2021-06-24 00:00:00 | Australia | 0.60060001952811 | 0.39939998047189 |
| 2021-06-25 00:00:00 | Australia | 0.59981977532829 | 0.40018022467171 |
| 2021-06-26 00:00:00 | Australia | 0.59144886379768 | 0.40855113620232 |
| 2021-06-27 00:00:00 | Australia | 0.58524811567449 | 0.41475188432551 |
| 2021-06-28 00:00:00 | Australia | 0.59055860213859 | 0.40944139786141 |
| 2021-06-29 00:00:00 | Australia | 0.58223490371175 | 0.41776509628825 |
| 2021-06-30 00:00:00 | Australia | 0.57050207181591 | 0.42949792818409 |
| 2021-07-01 00:00:00 | Australia | 0.56226307802026 | 0.43773692197974 |
| 2021-07-02 00:00:00 | Australia | 0.55779072375429 | 0.44220927624571 |
| 2021-07-03 00:00:00 | Australia | 0.55293171546007 | 0.44706828453994 |
| 2021-07-04 00:00:00 | Australia | 0.54677252235639 | 0.45322747764361 |
| 2021-07-05 00:00:00 | Australia | 0.54489730946885 | 0.45510269053115 |
| 2021-07-06 00:00:00 | Australia | 0.54954677735457 | 0.45045322264544 |
| 2021-07-07 00:00:00 | Australia | 0.55950589205272 | 0.44049410794728 |
| 2021-07-08 00:00:00 | Australia | 0.5604638306382 | 0.43953616936181 |
| 2021-07-09 00:00:00 | Australia | 0.55711193523928 | 0.44288806476072 |
| 2021-07-10 00:00:00 | Australia | 0.56097601444341 | 0.43902398555659 |
| 2021-07-11 00:00:00 | Australia | 0.56925671194387 | 0.43074328805613 |
| 2021-07-12 00:00:00 | Australia | 0.57035393467498 | 0.42964606532502 |
| 2021-07-13 00:00:00 | Australia | 0.56663342723649 | 0.43336657276351 |
| 2021-07-14 00:00:00 | Australia | 0.55398122420719 | 0.44601877579281 |
| 2021-07-15 00:00:00 | Australia | 0.55981437856406 | 0.44018562143594 |
| 2021-07-16 00:00:00 | Australia | 0.56260659427111 | 0.43739340572889 |
| 2021-07-17 00:00:00 | Australia | 0.55556824485013 | 0.44443175514987 |
| 2021-07-18 00:00:00 | Australia | 0.54253204029209 | 0.45746795970791 |
| 2021-07-19 00:00:00 | Australia | 0.53667570876162 | 0.46332429123838 |
| 2021-07-20 00:00:00 | Australia | 0.5353154403178 | 0.4646845596822 |
| 2021-07-21 00:00:00 | Australia | 0.54059271596516 | 0.45940728403484 |
| 2021-07-22 00:00:00 | Australia | 0.52743173268125 | 0.47256826731875 |
| 2021-07-23 00:00:00 | Australia | 0.52191762677101 | 0.47808237322899 |
| 2021-07-24 00:00:00 | Australia | 0.52245209717758 | 0.47754790282242 |
| 2021-07-25 00:00:00 | Australia | 0.52676083230797 | 0.47323916769203 |
| 2021-07-26 00:00:00 | Australia | 0.52477085014795 | 0.47522914985205 |
| 2021-07-27 00:00:00 | Australia | 0.52374212259869 | 0.47625787740131 |
| 2021-07-28 00:00:00 | Australia | 0.52033255315097 | 0.47966744684904 |
| 2021-07-29 00:00:00 | Australia | 0.53138075907539 | 0.46861924092461 |
| 2021-07-30 00:00:00 | Australia | 0.5356391908081 | 0.46436080919189 |
| 2021-07-31 00:00:00 | Australia | 0.53135498391627 | 0.46864501608373 |
| 2021-08-01 00:00:00 | Australia | 0.53271214147767 | 0.46728785852233 |
| 2021-08-02 00:00:00 | Australia | 0.53762205885865 | 0.46237794114135 |
| 2021-08-03 00:00:00 | Australia | 0.53858936129453 | 0.46141063870547 |
| 2021-08-04 00:00:00 | Australia | 0.53628114470303 | 0.46371885529697 |
| 2021-08-05 00:00:00 | Australia | 0.52954135849605 | 0.47045864150395 |
| 2021-08-06 00:00:00 | Australia | 0.52148605500642 | 0.47851394499358 |
| 2021-08-07 00:00:00 | Australia | 0.52168000368133 | 0.47831999631867 |
| 2021-08-08 00:00:00 | Australia | 0.51534072790733 | 0.48465927209267 |
| 2021-08-09 00:00:00 | Australia | 0.51617739441191 | 0.48382260558809 |
| 2021-08-10 00:00:00 | Australia | 0.51291187217879 | 0.4870881278212 |
| 2021-08-11 00:00:00 | Australia | 0.51059295140525 | 0.48940704859475 |
| 2021-08-12 00:00:00 | Australia | 0.51025098447343 | 0.48974901552657 |
| 2021-08-13 00:00:00 | Australia | 0.51269229266142 | 0.48730770733858 |
| 2021-08-14 00:00:00 | Australia | 0.51692894525543 | 0.48307105474457 |
| 2021-08-15 00:00:00 | Australia | 0.51798951107302 | 0.48201048892698 |
| 2021-08-16 00:00:00 | Australia | 0.51111811510128 | 0.48888188489872 |
| 2021-08-17 00:00:00 | Australia | 0.51130662888069 | 0.48869337111931 |
| 2021-08-18 00:00:00 | Australia | 0.50488156696541 | 0.49511843303459 |
| 2021-08-19 00:00:00 | Australia | 0.50909666436642 | 0.49090333563358 |
| 2021-08-20 00:00:00 | Australia | 0.51049259064079 | 0.48950740935921 |
| 2021-08-21 00:00:00 | Australia | 0.50089012636018 | 0.49910987363982 |
| 2021-08-22 00:00:00 | Australia | 0.50248910361371 | 0.49751089638629 |
| 2021-08-23 00:00:00 | Australia | 0.50289233431692 | 0.49710766568308 |
| 2021-08-24 00:00:00 | Australia | 0.50584570053731 | 0.4941542994627 |
| 2021-08-25 00:00:00 | Australia | 0.51257364776295 | 0.48742635223705 |
| 2021-08-26 00:00:00 | Australia | 0.50737708368795 | 0.49262291631205 |
| 2021-08-27 00:00:00 | Australia | 0.50230752164728 | 0.49769247835272 |
| 2021-08-28 00:00:00 | Australia | 0.50525587838829 | 0.49474412161171 |
| 2021-08-29 00:00:00 | Australia | 0.50433825644831 | 0.49566174355169 |
| 2021-08-30 00:00:00 | Australia | 0.49795398375463 | 0.50204601624537 |
| 2021-08-31 00:00:00 | Australia | 0.48990309644039 | 0.51009690355961 |
| 2021-09-01 00:00:00 | Australia | 0.48961561790913 | 0.51038438209087 |
| 2021-09-02 00:00:00 | Australia | 0.48676452009027 | 0.51323547990973 |
| 2021-09-03 00:00:00 | Australia | 0.49536532141784 | 0.50463467858216 |
| 2021-09-04 00:00:00 | Australia | 0.49464182166733 | 0.50535817833267 |
| 2021-09-05 00:00:00 | Australia | 0.49233624787241 | 0.50766375212758 |
| 2021-09-06 00:00:00 | Australia | 0.50268284782628 | 0.49731715217372 |
| 2021-09-07 00:00:00 | Australia | 0.5073430934257 | 0.4926569065743 |
| 2021-09-08 00:00:00 | Australia | 0.50790166832405 | 0.49209833167596 |
| 2021-09-09 00:00:00 | Australia | 0.51041840618529 | 0.48958159381471 |
| 2021-09-10 00:00:00 | Australia | 0.51138916742469 | 0.48861083257531 |
| 2021-09-11 00:00:00 | Australia | 0.51544034420468 | 0.48455965579532 |
| 2021-09-12 00:00:00 | Australia | 0.51560820698027 | 0.48439179301973 |
| 2021-09-13 00:00:00 | Australia | 0.51539316446884 | 0.48460683553116 |
| 2021-09-14 00:00:00 | Australia | 0.51753850412807 | 0.48246149587193 |
| 2021-09-15 00:00:00 | Australia | 0.52101221702756 | 0.47898778297244 |
| 2021-09-16 00:00:00 | Australia | 0.5263857427968 | 0.4736142572032 |
| 2021-09-17 00:00:00 | Australia | 0.52895537720615 | 0.47104462279385 |
| 2021-09-18 00:00:00 | Australia | 0.53216644210747 | 0.46783355789253 |
| 2021-09-19 00:00:00 | Australia | 0.53609885222554 | 0.46390114777446 |
| 2021-09-20 00:00:00 | Australia | 0.53454350593377 | 0.46545649406623 |
| 2021-09-21 00:00:00 | Australia | 0.52968851946264 | 0.47031148053735 |
| 2021-09-22 00:00:00 | Australia | 0.5275429019542 | 0.4724570980458 |
| 2021-09-23 00:00:00 | Australia | 0.52283406293963 | 0.47716593706037 |
| 2021-09-24 00:00:00 | Australia | 0.51982987362232 | 0.48017012637768 |
| 2021-09-25 00:00:00 | Australia | 0.5117700382761 | 0.4882299617239 |
| 2021-09-26 00:00:00 | Australia | 0.51199369040259 | 0.48800630959741 |
| 2021-09-27 00:00:00 | Australia | 0.51549673309337 | 0.48450326690663 |
| 2021-09-28 00:00:00 | Australia | 0.52232147145739 | 0.47767852854261 |
| 2021-09-29 00:00:00 | Australia | 0.52543648440025 | 0.47456351559975 |
| 2021-09-30 00:00:00 | Australia | 0.52214398354469 | 0.47785601645531 |
| 2021-10-01 00:00:00 | Australia | 0.51256152941395 | 0.48743847058605 |
| 2021-10-02 00:00:00 | Australia | 0.51521454018995 | 0.48478545981005 |
| 2021-10-03 00:00:00 | Australia | 0.51233795217693 | 0.48766204782307 |
| 2021-10-04 00:00:00 | Australia | 0.50778120174275 | 0.49221879825725 |
| 2021-10-05 00:00:00 | Australia | 0.50703571360502 | 0.49296428639498 |
| 2021-10-06 00:00:00 | Australia | 0.50449082245251 | 0.49550917754749 |
| 2021-10-07 00:00:00 | Australia | 0.50915751552278 | 0.49084248447722 |
| 2021-10-08 00:00:00 | Australia | 0.5177626333677 | 0.4822373666323 |
| 2021-10-09 00:00:00 | Australia | 0.51988068254454 | 0.48011931745546 |
| 2021-10-10 00:00:00 | Australia | 0.52229229539361 | 0.47770770460639 |
| 2021-10-11 00:00:00 | Australia | 0.52313122539428 | 0.47686877460573 |
| 2021-10-12 00:00:00 | Australia | 0.51940999171841 | 0.48059000828159 |
| 2021-10-13 00:00:00 | Australia | 0.52275339068764 | 0.47724660931236 |
| 2021-10-14 00:00:00 | Australia | 0.51815524124251 | 0.48184475875749 |
| 2021-10-15 00:00:00 | Australia | 0.51338945671812 | 0.48661054328188 |
| 2021-10-16 00:00:00 | Australia | 0.51511133155547 | 0.48488866844453 |
| 2021-10-17 00:00:00 | Australia | 0.52115498866039 | 0.47884501133961 |
| 2021-10-18 00:00:00 | Australia | 0.52333811445516 | 0.47666188554484 |
| 2021-10-19 00:00:00 | Australia | 0.52965354140082 | 0.47034645859918 |
| 2021-10-20 00:00:00 | Australia | 0.52935356053763 | 0.47064643946237 |
| 2021-10-21 00:00:00 | Australia | 0.53490819956037 | 0.46509180043963 |
| 2021-10-22 00:00:00 | Australia | 0.5348293918867 | 0.4651706081133 |
| 2021-10-23 00:00:00 | Australia | 0.53880219053963 | 0.46119780946037 |
| 2021-10-24 00:00:00 | Australia | 0.54404358303026 | 0.45595641696974 |
| 2021-10-25 00:00:00 | Australia | 0.54211453681949 | 0.45788546318051 |
| 2021-10-26 00:00:00 | Australia | 0.53710348168621 | 0.46289651831379 |
| 2021-10-27 00:00:00 | Australia | 0.53478922799511 | 0.46521077200489 |
| 2021-10-28 00:00:00 | Australia | 0.54121076404633 | 0.45878923595367 |
| 2021-10-31 00:00:00 | Australia | 0.53805727277168 | 0.46194272722832 |
| 2021-11-01 00:00:00 | Australia | 0.54041157740482 | 0.45958842259518 |
| 2021-11-02 00:00:00 | Australia | 0.54509299317595 | 0.45490700682405 |
| 2021-11-03 00:00:00 | Australia | 0.54930763875058 | 0.45069236124942 |
| 2021-11-04 00:00:00 | Australia | 0.53854933602649 | 0.46145066397351 |
| 2021-11-05 00:00:00 | Australia | 0.5425991167893 | 0.4574008832107 |
| 2021-11-06 00:00:00 | Australia | 0.54515527398403 | 0.45484472601597 |
| 2021-11-07 00:00:00 | Australia | 0.53777058113137 | 0.46222941886863 |
| 2021-11-08 00:00:00 | Australia | 0.53937059827519 | 0.46062940172481 |
| 2021-11-09 00:00:00 | Australia | 0.53661562229996 | 0.46338437770004 |
| 2021-11-10 00:00:00 | Australia | 0.53616631405747 | 0.46383368594253 |
| 2021-11-11 00:00:00 | Australia | 0.54199763014331 | 0.4580023698567 |
| 2021-11-12 00:00:00 | Australia | 0.53456119750997 | 0.46543880249003 |
| 2021-11-13 00:00:00 | Australia | 0.52178032036022 | 0.47821967963978 |
| 2021-11-14 00:00:00 | Australia | 0.52379146780753 | 0.47620853219247 |
| 2021-11-15 00:00:00 | Australia | 0.52523404604374 | 0.47476595395626 |
| 2021-11-16 00:00:00 | Australia | 0.52831954873135 | 0.47168045126865 |
| 2021-11-17 00:00:00 | Australia | 0.52313313304852 | 0.47686686695148 |
| 2021-11-18 00:00:00 | Australia | 0.52882433139208 | 0.47117566860792 |
| 2021-11-19 00:00:00 | Australia | 0.54102337890877 | 0.45897662109123 |
| 2021-11-20 00:00:00 | Australia | 0.53921370709116 | 0.46078629290884 |
| 2021-11-21 00:00:00 | Australia | 0.53547479438849 | 0.46452520561151 |
| 2021-11-22 00:00:00 | Australia | 0.52880697562981 | 0.47119302437019 |
| 2021-11-23 00:00:00 | Australia | 0.53383556644624 | 0.46616443355376 |
| 2021-11-24 00:00:00 | Australia | 0.53175898281522 | 0.46824101718478 |
| 2021-11-25 00:00:00 | Australia | 0.52883885090716 | 0.47116114909284 |
| 2021-11-26 00:00:00 | Australia | 0.52912564955689 | 0.47087435044311 |
| 2021-11-27 00:00:00 | Australia | 0.53203414652351 | 0.46796585347649 |
| 2021-11-28 00:00:00 | Australia | 0.53106886572154 | 0.46893113427846 |
| 2021-11-29 00:00:00 | Australia | 0.53577364151413 | 0.46422635848587 |
| 2021-11-30 00:00:00 | Australia | 0.53577364151413 | 0.46422635848587 |
| 2021-12-01 00:00:00 | Australia | 0.53366618741867 | 0.46633381258133 |
| 2021-12-02 00:00:00 | Australia | 0.53406131086703 | 0.46593868913297 |
| 2021-12-03 00:00:00 | Australia | 0.53576968263596 | 0.46423031736404 |
| 2021-12-04 00:00:00 | Australia | 0.53717778321351 | 0.46282221678649 |
| 2021-12-05 00:00:00 | Australia | 0.53562148191728 | 0.46437851808272 |
| 2021-12-06 00:00:00 | Australia | 0.53389773943798 | 0.46610226056202 |
| 2021-12-07 00:00:00 | Australia | 0.53336186976656 | 0.46663813023344 |
| 2021-12-08 00:00:00 | Australia | 0.53406642040949 | 0.46593357959051 |
| 2021-12-09 00:00:00 | Australia | 0.54014681098431 | 0.45985318901569 |
| 2021-12-10 00:00:00 | Australia | 0.5379289359925 | 0.4620710640075 |
| 2021-12-11 00:00:00 | Australia | 0.53029310196424 | 0.46970689803576 |
| 2021-12-12 00:00:00 | Australia | 0.52708883300013 | 0.47291116699987 |
| 2021-12-13 00:00:00 | Australia | 0.53906645886682 | 0.46093354113318 |
| 2021-12-14 00:00:00 | Australia | 0.54164578271454 | 0.45835421728546 |
| 2021-12-15 00:00:00 | Australia | 0.53506708960858 | 0.46493291039142 |
| 2021-12-16 00:00:00 | Australia | 0.53022378760878 | 0.46977621239121 |
| 2021-12-17 00:00:00 | Australia | 0.52508289650765 | 0.47491710349235 |
| 2021-12-18 00:00:00 | Australia | 0.53024002150215 | 0.46975997849785 |
| 2021-12-19 00:00:00 | Australia | 0.5270818012002 | 0.4729181987998 |
| 2021-12-20 00:00:00 | Australia | 0.5179045725687 | 0.4820954274313 |
| 2021-12-21 00:00:00 | Australia | 0.51479086729967 | 0.48520913270033 |
| 2021-12-22 00:00:00 | Australia | 0.51870833282442 | 0.48129166717558 |
| 2021-12-23 00:00:00 | Australia | 0.52005418736181 | 0.47994581263819 |
| 2021-12-24 00:00:00 | Australia | 0.52089242124271 | 0.47910757875729 |
| 2021-12-25 00:00:00 | Australia | 0.52575223400634 | 0.47424776599366 |
| 2021-12-26 00:00:00 | Australia | 0.52432739474167 | 0.47567260525833 |
| 2021-12-27 00:00:00 | Australia | 0.51718000362321 | 0.4828199963768 |
| 2021-12-28 00:00:00 | Australia | 0.50719013915943 | 0.49280986084057 |
| 2021-12-29 00:00:00 | Australia | 0.49793918040761 | 0.50206081959239 |
| 2021-12-30 00:00:00 | Australia | 0.49014438881953 | 0.50985561118047 |
| 2021-12-31 00:00:00 | Australia | 0.4852308979289 | 0.5147691020711 |
| 2022-01-01 00:00:00 | Australia | 0.46993351245306 | 0.53006648754694 |
| 2022-01-02 00:00:00 | Australia | 0.4651357481109 | 0.5348642518891 |
| 2022-01-03 00:00:00 | Australia | 0.46215575328847 | 0.53784424671153 |
| 2022-01-04 00:00:00 | Australia | 0.47346224465104 | 0.52653775534896 |
| 2022-01-05 00:00:00 | Australia | 0.4652396773601 | 0.5347603226399 |
| 2022-01-06 00:00:00 | Australia | 0.46780901344002 | 0.53219098655998 |
| 2022-01-07 00:00:00 | Australia | 0.47115883177791 | 0.52884116822209 |
| 2022-01-08 00:00:00 | Australia | 0.47245945614963 | 0.52754054385037 |
| 2022-01-09 00:00:00 | Australia | 0.46886476052881 | 0.53113523947119 |
| 2022-01-10 00:00:00 | Australia | 0.47129675419134 | 0.52870324580866 |
| 2022-01-11 00:00:00 | Australia | 0.46657539295116 | 0.53342460704884 |
| 2022-01-12 00:00:00 | Australia | 0.460004795783 | 0.539995204217 |
| 2022-01-13 00:00:00 | Australia | 0.45648726334065 | 0.54351273665934 |
| 2022-01-14 00:00:00 | Australia | 0.45293688623466 | 0.54706311376534 |
| 2022-01-15 00:00:00 | Australia | 0.4509469652177 | 0.5490530347823 |
| 2022-01-16 00:00:00 | Australia | 0.45057592749698 | 0.54942407250302 |
| 2022-01-17 00:00:00 | Australia | 0.45234437183956 | 0.54765562816044 |
| 2022-01-18 00:00:00 | Australia | 0.45819386632008 | 0.54180613367992 |
| 2022-01-19 00:00:00 | Australia | 0.45887160597094 | 0.54112839402906 |
| 2022-01-20 00:00:00 | Australia | 0.45046861103256 | 0.54953138896744 |
| 2022-01-21 00:00:00 | Australia | 0.44889461551619 | 0.55110538448381 |
| 2022-01-22 00:00:00 | Australia | 0.44962683209044 | 0.55037316790956 |
| 2022-01-23 00:00:00 | Australia | 0.45130091934945 | 0.54869908065055 |
| 2022-01-24 00:00:00 | Australia | 0.45539292856231 | 0.54460707143769 |
| 2022-01-25 00:00:00 | Australia | 0.45471680564619 | 0.54528319435381 |
| 2022-01-26 00:00:00 | Australia | 0.45866504781286 | 0.54133495218714 |
| 2022-01-27 00:00:00 | Australia | 0.46481142744688 | 0.53518857255312 |
| 2022-01-28 00:00:00 | Australia | 0.46824655412333 | 0.53175344587667 |
| 2022-01-29 00:00:00 | Australia | 0.46678552866834 | 0.53321447133166 |
| 2022-01-30 00:00:00 | Australia | 0.47321394249754 | 0.52678605750246 |
| 2022-01-31 00:00:00 | Australia | 0.46744559422373 | 0.53255440577627 |
| 2022-02-01 00:00:00 | Australia | 0.47346139135879 | 0.52653860864121 |
| 2022-02-02 00:00:00 | Australia | 0.47541884679377 | 0.52458115320623 |
| 2022-02-03 00:00:00 | Australia | 0.48111726178283 | 0.51888273821717 |
| 2022-02-04 00:00:00 | Australia | 0.47350124986222 | 0.52649875013778 |
| 2022-02-05 00:00:00 | Australia | 0.47558248619293 | 0.52441751380707 |
| 2022-02-06 00:00:00 | Australia | 0.47106732131923 | 0.52893267868077 |
| 2022-02-07 00:00:00 | Australia | 0.4732547272517 | 0.5267452727483 |
| 2022-02-08 00:00:00 | Australia | 0.46122753897926 | 0.53877246102074 |
| 2022-02-09 00:00:00 | Australia | 0.46271541478213 | 0.53728458521787 |
| 2022-02-10 00:00:00 | Australia | 0.45669777083477 | 0.54330222916522 |
| 2022-02-11 00:00:00 | Australia | 0.45981301716322 | 0.54018698283678 |
| 2022-02-12 00:00:00 | Australia | 0.46502676670362 | 0.53497323329638 |
| 2022-02-13 00:00:00 | Australia | 0.47314071038444 | 0.52685928961556 |
| 2022-02-14 00:00:00 | Australia | 0.46917307807123 | 0.53082692192877 |
| 2022-02-15 00:00:00 | Australia | 0.47596486636109 | 0.52403513363891 |
| 2022-02-16 00:00:00 | Australia | 0.47367086772598 | 0.52632913227402 |
| 2022-02-17 00:00:00 | Australia | 0.47635509256647 | 0.52364490743353 |
| 2022-02-18 00:00:00 | Australia | 0.48005809811093 | 0.51994190188907 |
| 2022-02-19 00:00:00 | Australia | 0.47777556103175 | 0.52222443896825 |
| 2022-02-20 00:00:00 | Australia | 0.47624613417037 | 0.52375386582963 |
| 2022-02-21 00:00:00 | Australia | 0.47287409046511 | 0.52712590953489 |
| 2022-02-22 00:00:00 | Australia | 0.4724756285137 | 0.5275243714863 |
| 2022-02-23 00:00:00 | Australia | 0.46732740138962 | 0.53267259861038 |
| 2022-02-24 00:00:00 | Australia | 0.46016592595779 | 0.53983407404221 |
| 2022-02-25 00:00:00 | Australia | 0.45944941076063 | 0.54055058923937 |
| 2022-02-26 00:00:00 | Australia | 0.46110912766177 | 0.53889087233823 |
| 2022-02-27 00:00:00 | Australia | 0.45757212634363 | 0.54242787365637 |
| 2022-02-28 00:00:00 | Australia | 0.4672546525907 | 0.5327453474093 |
| 2022-03-01 00:00:00 | Australia | 0.46769976810965 | 0.53230023189035 |
| 2022-03-02 00:00:00 | Australia | 0.47223108614208 | 0.52776891385792 |
| 2022-03-03 00:00:00 | Australia | 0.47641330999094 | 0.52358669000906 |
| 2022-03-04 00:00:00 | Australia | 0.47602173738555 | 0.52397826261445 |
| 2022-03-05 00:00:00 | Australia | 0.48036964852322 | 0.51963035147678 |
| 2022-03-06 00:00:00 | Australia | 0.48072083942983 | 0.51927916057017 |
| 2022-03-07 00:00:00 | Australia | 0.47503428280725 | 0.52496571719275 |
| 2022-03-08 00:00:00 | Australia | 0.47073873261753 | 0.52926126738247 |
| 2022-03-09 00:00:00 | Australia | 0.4681418387098 | 0.5318581612902 |
| 2022-03-10 00:00:00 | Australia | 0.47022091011657 | 0.52977908988343 |
| 2022-03-11 00:00:00 | Australia | 0.46808282156887 | 0.53191717843113 |
| 2022-03-12 00:00:00 | Australia | 0.45469434855865 | 0.54530565144135 |
| 2022-03-13 00:00:00 | Australia | 0.45600348557957 | 0.54399651442043 |
| 2022-03-14 00:00:00 | Australia | 0.4576023160439 | 0.5423976839561 |
| 2022-03-15 00:00:00 | Australia | 0.46192391849861 | 0.53807608150139 |
| 2022-03-16 00:00:00 | Australia | 0.46145121186005 | 0.53854878813995 |
| 2022-03-17 00:00:00 | Australia | 0.45982253489987 | 0.54017746510013 |
| 2022-03-18 00:00:00 | Australia | 0.46096828327082 | 0.53903171672918 |
| 2022-03-19 00:00:00 | Australia | 0.46867479708932 | 0.53132520291068 |
| 2022-03-20 00:00:00 | Australia | 0.46128865200835 | 0.53871134799165 |
| 2022-03-21 00:00:00 | Australia | 0.45512473323131 | 0.54487526676869 |
| 2022-03-22 00:00:00 | Australia | 0.45229760164356 | 0.54770239835644 |
| 2022-03-23 00:00:00 | Australia | 0.45526898544222 | 0.54473101455777 |
| 2022-03-24 00:00:00 | Australia | 0.45770913846436 | 0.54229086153564 |
| 2022-03-25 00:00:00 | Australia | 0.46319289916952 | 0.53680710083048 |
| 2022-03-26 00:00:00 | Australia | 0.46173683662682 | 0.53826316337318 |
| 2022-03-27 00:00:00 | Australia | 0.46710316400519 | 0.53289683599481 |
| 2022-03-28 00:00:00 | Australia | 0.47413778444331 | 0.52586221555669 |
| 2022-03-29 00:00:00 | Australia | 0.48121535950505 | 0.51878464049495 |
| 2020-01-06 00:00:00 | Brazil | 0.56103128594821 | 0.43896871405179 |
| 2020-01-07 00:00:00 | Brazil | 0.57273856544194 | 0.42726143455806 |
| 2020-01-08 00:00:00 | Brazil | 0.57587497381629 | 0.42412502618371 |
| 2020-01-09 00:00:00 | Brazil | 0.56969629345616 | 0.43030370654384 |
| 2020-01-10 00:00:00 | Brazil | 0.55846950115038 | 0.44153049884962 |
| 2020-01-11 00:00:00 | Brazil | 0.55712478070163 | 0.44287521929837 |
| 2020-01-12 00:00:00 | Brazil | 0.55202345918068 | 0.44797654081932 |
| 2020-01-13 00:00:00 | Brazil | 0.56180162218339 | 0.43819837781661 |
| 2020-01-14 00:00:00 | Brazil | 0.5626418942772 | 0.4373581057228 |
| 2020-01-15 00:00:00 | Brazil | 0.55956585230472 | 0.44043414769528 |
| 2020-01-16 00:00:00 | Brazil | 0.56368341115766 | 0.43631658884234 |
| 2020-01-17 00:00:00 | Brazil | 0.5752331042789 | 0.4247668957211 |
| 2020-01-18 00:00:00 | Brazil | 0.5709358966663 | 0.4290641033337 |
| 2020-01-19 00:00:00 | Brazil | 0.57616552094594 | 0.42383447905406 |
| 2020-01-20 00:00:00 | Brazil | 0.5782217782933 | 0.4217782217067 |
| 2020-01-21 00:00:00 | Brazil | 0.56948804576199 | 0.43051195423801 |
| 2020-01-22 00:00:00 | Brazil | 0.57655081199392 | 0.42344918800608 |
| 2020-01-23 00:00:00 | Brazil | 0.56397718044191 | 0.43602281955809 |
| 2020-01-24 00:00:00 | Brazil | 0.57317265361195 | 0.42682734638805 |
| 2020-01-25 00:00:00 | Brazil | 0.57833873923267 | 0.42166126076733 |
| 2020-01-26 00:00:00 | Brazil | 0.57324957431108 | 0.42675042568893 |
| 2020-01-27 00:00:00 | Brazil | 0.57364757256501 | 0.42635242743499 |
| 2020-01-28 00:00:00 | Brazil | 0.5730574214059 | 0.4269425785941 |
| 2020-01-29 00:00:00 | Brazil | 0.58115514373711 | 0.41884485626289 |
| 2020-01-30 00:00:00 | Brazil | 0.57730637608686 | 0.42269362391314 |
| 2020-01-31 00:00:00 | Brazil | 0.5628779289346 | 0.4371220710654 |
| 2020-02-01 00:00:00 | Brazil | 0.55650237315517 | 0.44349762684483 |
| 2020-02-02 00:00:00 | Brazil | 0.5672613930996 | 0.4327386069004 |
| 2020-02-03 00:00:00 | Brazil | 0.58530377011456 | 0.41469622988544 |
| 2020-02-04 00:00:00 | Brazil | 0.59495259164784 | 0.40504740835216 |
| 2020-02-05 00:00:00 | Brazil | 0.58268836145694 | 0.41731163854306 |
| 2020-02-06 00:00:00 | Brazil | 0.57753165035909 | 0.42246834964091 |
| 2020-02-07 00:00:00 | Brazil | 0.58473372872737 | 0.41526627127263 |
| 2020-02-08 00:00:00 | Brazil | 0.58527962202207 | 0.41472037797793 |
| 2020-02-09 00:00:00 | Brazil | 0.57089127272017 | 0.42910872727983 |
| 2020-02-10 00:00:00 | Brazil | 0.55898579566153 | 0.44101420433846 |
| 2020-02-11 00:00:00 | Brazil | 0.55171394204023 | 0.44828605795977 |
| 2020-02-12 00:00:00 | Brazil | 0.56561214912301 | 0.43438785087699 |
| 2020-02-13 00:00:00 | Brazil | 0.58439110782673 | 0.41560889217327 |
| 2020-02-14 00:00:00 | Brazil | 0.57819361434009 | 0.42180638565991 |
| 2020-02-15 00:00:00 | Brazil | 0.58687279031336 | 0.41312720968664 |
| 2020-02-16 00:00:00 | Brazil | 0.60021775625696 | 0.39978224374304 |
| 2020-02-17 00:00:00 | Brazil | 0.5989838199801 | 0.4010161800199 |
| 2020-02-18 00:00:00 | Brazil | 0.60908460729694 | 0.39091539270306 |
| 2020-02-19 00:00:00 | Brazil | 0.60047562172153 | 0.39952437827847 |
| 2020-02-20 00:00:00 | Brazil | 0.59614829027782 | 0.40385170972218 |
| 2020-02-21 00:00:00 | Brazil | 0.58791520047345 | 0.41208479952655 |
| 2020-02-22 00:00:00 | Brazil | 0.58586886135848 | 0.41413113864152 |
| 2020-02-23 00:00:00 | Brazil | 0.58866337205634 | 0.41133662794366 |
| 2020-02-24 00:00:00 | Brazil | 0.59650180507804 | 0.40349819492196 |
| 2020-02-25 00:00:00 | Brazil | 0.59306226799062 | 0.40693773200938 |
| 2020-02-26 00:00:00 | Brazil | 0.59950844614933 | 0.40049155385067 |
| 2020-02-27 00:00:00 | Brazil | 0.5873618541998 | 0.4126381458002 |
| 2020-02-28 00:00:00 | Brazil | 0.59204571607062 | 0.40795428392938 |
| 2020-02-29 00:00:00 | Brazil | 0.58902033336143 | 0.41097966663857 |
| 2020-03-01 00:00:00 | Brazil | 0.57932725615018 | 0.42067274384982 |
| 2020-03-02 00:00:00 | Brazil | 0.56917857630029 | 0.43082142369971 |
| 2020-03-03 00:00:00 | Brazil | 0.5603525031345 | 0.4396474968655 |
| 2020-03-04 00:00:00 | Brazil | 0.5581183549762 | 0.4418816450238 |
| 2020-03-05 00:00:00 | Brazil | 0.56902428306884 | 0.43097571693116 |
| 2020-03-06 00:00:00 | Brazil | 0.57837063589885 | 0.42162936410115 |
| 2020-03-07 00:00:00 | Brazil | 0.57625103485279 | 0.42374896514721 |
| 2020-03-08 00:00:00 | Brazil | 0.57710966974857 | 0.42289033025143 |
| 2020-03-09 00:00:00 | Brazil | 0.57724445153639 | 0.42275554846361 |
| 2020-03-10 00:00:00 | Brazil | 0.58007441183542 | 0.41992558816458 |
| 2020-03-11 00:00:00 | Brazil | 0.57414195561775 | 0.42585804438225 |
| 2020-03-12 00:00:00 | Brazil | 0.56878083794718 | 0.43121916205282 |
| 2020-03-13 00:00:00 | Brazil | 0.55305228242323 | 0.44694771757677 |
| 2020-03-14 00:00:00 | Brazil | 0.55984590089517 | 0.44015409910483 |
| 2020-03-15 00:00:00 | Brazil | 0.55934864718954 | 0.44065135281046 |
| 2020-03-16 00:00:00 | Brazil | 0.55174517291589 | 0.44825482708411 |
| 2020-03-17 00:00:00 | Brazil | 0.55711236152879 | 0.44288763847121 |
| 2020-03-18 00:00:00 | Brazil | 0.55289590662056 | 0.44710409337944 |
| 2020-03-19 00:00:00 | Brazil | 0.55057449697213 | 0.44942550302787 |
| 2020-03-20 00:00:00 | Brazil | 0.55927222706345 | 0.44072777293656 |
| 2020-03-21 00:00:00 | Brazil | 0.55350958263405 | 0.44649041736595 |
| 2020-03-22 00:00:00 | Brazil | 0.55322117494386 | 0.44677882505614 |
| 2020-03-23 00:00:00 | Brazil | 0.55120209877979 | 0.44879790122021 |
| 2020-03-24 00:00:00 | Brazil | 0.53966145534515 | 0.46033854465485 |
| 2020-03-25 00:00:00 | Brazil | 0.53251725356665 | 0.46748274643335 |
| 2020-03-26 00:00:00 | Brazil | 0.52326172197255 | 0.47673827802745 |
| 2020-03-27 00:00:00 | Brazil | 0.51302611192359 | 0.48697388807641 |
| 2020-03-28 00:00:00 | Brazil | 0.5009860985366 | 0.4990139014634 |
| 2020-03-29 00:00:00 | Brazil | 0.48802342548525 | 0.51197657451475 |
| 2020-03-30 00:00:00 | Brazil | 0.48452378628103 | 0.51547621371897 |
| 2020-03-31 00:00:00 | Brazil | 0.47583392561325 | 0.52416607438675 |
| 2020-04-01 00:00:00 | Brazil | 0.46917817467588 | 0.53082182532412 |
| 2020-04-02 00:00:00 | Brazil | 0.48534373720095 | 0.51465626279905 |
| 2020-04-03 00:00:00 | Brazil | 0.49349700448684 | 0.50650299551316 |
| 2020-04-04 00:00:00 | Brazil | 0.49572386716871 | 0.50427613283129 |
| 2020-04-05 00:00:00 | Brazil | 0.49595711399239 | 0.50404288600761 |
| 2020-04-06 00:00:00 | Brazil | 0.49540605566874 | 0.50459394433126 |
| 2020-04-07 00:00:00 | Brazil | 0.50435571632793 | 0.49564428367207 |
| 2020-04-08 00:00:00 | Brazil | 0.51556488217317 | 0.48443511782683 |
| 2020-04-09 00:00:00 | Brazil | 0.51603052836159 | 0.48396947163841 |
| 2020-04-10 00:00:00 | Brazil | 0.51822965998292 | 0.48177034001708 |
| 2020-04-11 00:00:00 | Brazil | 0.51373325972388 | 0.48626674027612 |
| 2020-04-12 00:00:00 | Brazil | 0.52339117843271 | 0.47660882156729 |
| 2020-04-13 00:00:00 | Brazil | 0.5260037609287 | 0.4739962390713 |
| 2020-04-14 00:00:00 | Brazil | 0.50757687092337 | 0.49242312907663 |
| 2020-04-15 00:00:00 | Brazil | 0.50605827087961 | 0.49394172912039 |
| 2020-04-16 00:00:00 | Brazil | 0.50572400560009 | 0.49427599439991 |
| 2020-04-17 00:00:00 | Brazil | 0.48664751757337 | 0.51335248242663 |
| 2020-04-18 00:00:00 | Brazil | 0.48964336007534 | 0.51035663992466 |
| 2020-04-19 00:00:00 | Brazil | 0.49365638137547 | 0.50634361862453 |
| 2020-04-20 00:00:00 | Brazil | 0.49121475469786 | 0.50878524530214 |
| 2020-04-21 00:00:00 | Brazil | 0.51143484708563 | 0.48856515291438 |
| 2020-04-22 00:00:00 | Brazil | 0.52184131920666 | 0.47815868079334 |
| 2020-04-23 00:00:00 | Brazil | 0.49907241106896 | 0.50092758893104 |
| 2020-04-24 00:00:00 | Brazil | 0.50456656148539 | 0.49543343851461 |
| 2020-04-25 00:00:00 | Brazil | 0.48104776616297 | 0.51895223383704 |
| 2020-04-26 00:00:00 | Brazil | 0.46402022287398 | 0.53597977712602 |
| 2020-04-27 00:00:00 | Brazil | 0.45305506920606 | 0.54694493079394 |
| 2020-04-28 00:00:00 | Brazil | 0.43446633565539 | 0.56553366434461 |
| 2020-04-29 00:00:00 | Brazil | 0.41405587968225 | 0.58594412031775 |
| 2020-04-30 00:00:00 | Brazil | 0.4216416849457 | 0.5783583150543 |
| 2020-05-01 00:00:00 | Brazil | 0.41271877619698 | 0.58728122380302 |
| 2020-05-02 00:00:00 | Brazil | 0.43058174668791 | 0.56941825331209 |
| 2020-05-03 00:00:00 | Brazil | 0.43212030208539 | 0.56787969791461 |
| 2020-05-04 00:00:00 | Brazil | 0.43765029540627 | 0.56234970459373 |
| 2020-05-05 00:00:00 | Brazil | 0.43702767263352 | 0.56297232736648 |
| 2020-05-06 00:00:00 | Brazil | 0.42459777009553 | 0.57540222990447 |
| 2020-05-07 00:00:00 | Brazil | 0.42094668919195 | 0.57905331080805 |
| 2020-05-08 00:00:00 | Brazil | 0.41792733207221 | 0.58207266792779 |
| 2020-05-09 00:00:00 | Brazil | 0.41366236375687 | 0.58633763624313 |
| 2020-05-10 00:00:00 | Brazil | 0.41212994179932 | 0.58787005820068 |
| 2020-05-11 00:00:00 | Brazil | 0.4020961633115 | 0.5979038366885 |
| 2020-05-12 00:00:00 | Brazil | 0.40383146807469 | 0.59616853192531 |
| 2020-05-13 00:00:00 | Brazil | 0.41212025559294 | 0.58787974440706 |
| 2020-05-14 00:00:00 | Brazil | 0.39899737027166 | 0.60100262972834 |
| 2020-05-15 00:00:00 | Brazil | 0.39621842485897 | 0.60378157514103 |
| 2020-05-16 00:00:00 | Brazil | 0.38943935295853 | 0.61056064704147 |
| 2020-05-17 00:00:00 | Brazil | 0.37730139650398 | 0.62269860349602 |
| 2020-05-18 00:00:00 | Brazil | 0.37629569382518 | 0.62370430617482 |
| 2020-05-19 00:00:00 | Brazil | 0.36117344778362 | 0.63882655221638 |
| 2020-05-20 00:00:00 | Brazil | 0.35241602198181 | 0.64758397801819 |
| 2020-05-21 00:00:00 | Brazil | 0.34969031383062 | 0.65030968616938 |
| 2020-05-22 00:00:00 | Brazil | 0.34632982304171 | 0.65367017695829 |
| 2020-05-23 00:00:00 | Brazil | 0.3443879716531 | 0.6556120283469 |
| 2020-05-24 00:00:00 | Brazil | 0.35214712101086 | 0.64785287898914 |
| 2020-05-25 00:00:00 | Brazil | 0.36268204824604 | 0.63731795175396 |
| 2020-05-26 00:00:00 | Brazil | 0.37675479353069 | 0.62324520646931 |
| 2020-05-27 00:00:00 | Brazil | 0.39328574890361 | 0.60671425109639 |
| 2020-05-28 00:00:00 | Brazil | 0.39869234245558 | 0.60130765754442 |
| 2020-05-29 00:00:00 | Brazil | 0.39943073280218 | 0.60056926719782 |
| 2020-05-30 00:00:00 | Brazil | 0.40355920017543 | 0.59644079982457 |
| 2020-05-31 00:00:00 | Brazil | 0.4021074075958 | 0.5978925924042 |
| 2020-06-01 00:00:00 | Brazil | 0.40529795712034 | 0.59470204287966 |
| 2020-06-02 00:00:00 | Brazil | 0.40061125177103 | 0.59938874822897 |
| 2020-06-03 00:00:00 | Brazil | 0.39307049167533 | 0.60692950832467 |
| 2020-06-04 00:00:00 | Brazil | 0.39198957363579 | 0.60801042636421 |
| 2020-06-05 00:00:00 | Brazil | 0.39115653504373 | 0.60884346495627 |
| 2020-06-06 00:00:00 | Brazil | 0.38854723327059 | 0.61145276672941 |
| 2020-06-07 00:00:00 | Brazil | 0.39204691601073 | 0.60795308398927 |
| 2020-06-08 00:00:00 | Brazil | 0.37757322238924 | 0.62242677761076 |
| 2020-06-09 00:00:00 | Brazil | 0.38016333939754 | 0.61983666060246 |
| 2020-06-10 00:00:00 | Brazil | 0.38902442790219 | 0.61097557209781 |
| 2020-06-11 00:00:00 | Brazil | 0.39533986895024 | 0.60466013104976 |
| 2020-06-12 00:00:00 | Brazil | 0.4088063854727 | 0.5911936145273 |
| 2020-06-13 00:00:00 | Brazil | 0.40889442832248 | 0.59110557167752 |
| 2020-06-14 00:00:00 | Brazil | 0.39835382495564 | 0.60164617504436 |
| 2020-06-15 00:00:00 | Brazil | 0.40117282012417 | 0.59882717987583 |
| 2020-06-16 00:00:00 | Brazil | 0.39258258579852 | 0.60741741420148 |
| 2020-06-17 00:00:00 | Brazil | 0.38143016719455 | 0.61856983280545 |
| 2020-06-18 00:00:00 | Brazil | 0.3690609677231 | 0.6309390322769 |
| 2020-06-19 00:00:00 | Brazil | 0.35191993475174 | 0.64808006524826 |
| 2020-06-20 00:00:00 | Brazil | 0.34907769344837 | 0.65092230655163 |
| 2020-06-21 00:00:00 | Brazil | 0.34703774610482 | 0.65296225389518 |
| 2020-06-22 00:00:00 | Brazil | 0.35844096087743 | 0.64155903912257 |
| 2020-06-23 00:00:00 | Brazil | 0.36863065275145 | 0.63136934724855 |
| 2020-06-24 00:00:00 | Brazil | 0.36829826748852 | 0.63170173251148 |
| 2020-06-25 00:00:00 | Brazil | 0.37752312188758 | 0.62247687811242 |
| 2020-06-26 00:00:00 | Brazil | 0.38570523096735 | 0.61429476903265 |
| 2020-06-27 00:00:00 | Brazil | 0.39712393449196 | 0.60287606550804 |
| 2020-06-28 00:00:00 | Brazil | 0.40032135048075 | 0.59967864951925 |
| 2020-06-29 00:00:00 | Brazil | 0.38451199898841 | 0.61548800101159 |
| 2020-06-30 00:00:00 | Brazil | 0.37609368417337 | 0.62390631582663 |
| 2020-07-01 00:00:00 | Brazil | 0.37659982260566 | 0.62340017739434 |
| 2020-07-02 00:00:00 | Brazil | 0.38447911298755 | 0.61552088701245 |
| 2020-07-03 00:00:00 | Brazil | 0.38662904943064 | 0.61337095056936 |
| 2020-07-04 00:00:00 | Brazil | 0.38891827828755 | 0.61108172171245 |
| 2020-07-05 00:00:00 | Brazil | 0.39215474086871 | 0.60784525913129 |
| 2020-07-06 00:00:00 | Brazil | 0.40057771196552 | 0.59942228803448 |
| 2020-07-07 00:00:00 | Brazil | 0.40885796575748 | 0.59114203424252 |
| 2020-07-08 00:00:00 | Brazil | 0.40469241254939 | 0.59530758745061 |
| 2020-07-09 00:00:00 | Brazil | 0.40421311963606 | 0.59578688036394 |
| 2020-07-10 00:00:00 | Brazil | 0.40450800601752 | 0.59549199398248 |
| 2020-07-11 00:00:00 | Brazil | 0.4078795203939 | 0.5921204796061 |
| 2020-07-12 00:00:00 | Brazil | 0.40601616015632 | 0.59398383984368 |
| 2020-07-13 00:00:00 | Brazil | 0.40228673194031 | 0.5977132680597 |
| 2020-07-14 00:00:00 | Brazil | 0.41295835409393 | 0.58704164590607 |
| 2020-07-15 00:00:00 | Brazil | 0.41384568014267 | 0.58615431985733 |
| 2020-07-16 00:00:00 | Brazil | 0.41128428085013 | 0.58871571914987 |
| 2020-07-17 00:00:00 | Brazil | 0.43022872213249 | 0.56977127786751 |
| 2020-07-18 00:00:00 | Brazil | 0.43419153816905 | 0.56580846183095 |
| 2020-07-19 00:00:00 | Brazil | 0.43892240555703 | 0.56107759444297 |
| 2020-07-20 00:00:00 | Brazil | 0.44891164541834 | 0.55108835458166 |
| 2020-07-21 00:00:00 | Brazil | 0.44251877430166 | 0.55748122569834 |
| 2020-07-22 00:00:00 | Brazil | 0.45206937839379 | 0.54793062160621 |
| 2020-07-23 00:00:00 | Brazil | 0.4669814868588 | 0.5330185131412 |
| 2020-07-24 00:00:00 | Brazil | 0.44704911603226 | 0.55295088396774 |
| 2020-07-25 00:00:00 | Brazil | 0.44837732541002 | 0.55162267458999 |
| 2020-07-26 00:00:00 | Brazil | 0.4649423545099 | 0.5350576454901 |
| 2020-07-27 00:00:00 | Brazil | 0.46511509855137 | 0.53488490144863 |
| 2020-07-28 00:00:00 | Brazil | 0.46668749378023 | 0.53331250621977 |
| 2020-07-29 00:00:00 | Brazil | 0.48144160543097 | 0.51855839456903 |
| 2020-07-30 00:00:00 | Brazil | 0.47052358577226 | 0.52947641422775 |
| 2020-07-31 00:00:00 | Brazil | 0.47572610692426 | 0.52427389307574 |
| 2020-08-01 00:00:00 | Brazil | 0.47468387479761 | 0.52531612520239 |
| 2020-08-02 00:00:00 | Brazil | 0.4614750906894 | 0.5385249093106 |
| 2020-08-03 00:00:00 | Brazil | 0.46749993046239 | 0.53250006953761 |
| 2020-08-04 00:00:00 | Brazil | 0.46327227917649 | 0.53672772082351 |
| 2020-08-05 00:00:00 | Brazil | 0.45704454410889 | 0.54295545589111 |
| 2020-08-06 00:00:00 | Brazil | 0.46486676475695 | 0.53513323524305 |
| 2020-08-07 00:00:00 | Brazil | 0.45993462882437 | 0.54006537117563 |
| 2020-08-08 00:00:00 | Brazil | 0.45947222733831 | 0.54052777266169 |
| 2020-08-09 00:00:00 | Brazil | 0.47524830187562 | 0.52475169812438 |
| 2020-08-10 00:00:00 | Brazil | 0.47249160679428 | 0.52750839320571 |
| 2020-08-11 00:00:00 | Brazil | 0.47923581257175 | 0.52076418742825 |
| 2020-08-12 00:00:00 | Brazil | 0.47942796269619 | 0.52057203730381 |
| 2020-08-13 00:00:00 | Brazil | 0.48156297837765 | 0.51843702162235 |
| 2020-08-14 00:00:00 | Brazil | 0.48515641096895 | 0.51484358903105 |
| 2020-08-15 00:00:00 | Brazil | 0.49214042389963 | 0.50785957610037 |
| 2020-08-16 00:00:00 | Brazil | 0.4819968080424 | 0.5180031919576 |
| 2020-08-17 00:00:00 | Brazil | 0.47578890676467 | 0.52421109323533 |
| 2020-08-18 00:00:00 | Brazil | 0.47292488644291 | 0.52707511355709 |
| 2020-08-19 00:00:00 | Brazil | 0.47576978745919 | 0.52423021254081 |
| 2020-08-20 00:00:00 | Brazil | 0.4757837350674 | 0.5242162649326 |
| 2020-08-21 00:00:00 | Brazil | 0.49347282429543 | 0.50652717570456 |
| 2020-08-22 00:00:00 | Brazil | 0.49088296898178 | 0.50911703101822 |
| 2020-08-23 00:00:00 | Brazil | 0.4988690576856 | 0.5011309423144 |
| 2020-08-24 00:00:00 | Brazil | 0.51391625910089 | 0.48608374089911 |
| 2020-08-25 00:00:00 | Brazil | 0.51563120262198 | 0.48436879737802 |
| 2020-08-26 00:00:00 | Brazil | 0.51300936628125 | 0.48699063371875 |
| 2020-08-27 00:00:00 | Brazil | 0.51324506039675 | 0.48675493960325 |
| 2020-08-28 00:00:00 | Brazil | 0.52354708784073 | 0.47645291215927 |
| 2020-08-29 00:00:00 | Brazil | 0.52751666684165 | 0.47248333315835 |
| 2020-08-30 00:00:00 | Brazil | 0.51187566490386 | 0.48812433509614 |
| 2020-08-31 00:00:00 | Brazil | 0.50449524497355 | 0.49550475502645 |
| 2020-09-01 00:00:00 | Brazil | 0.50985028106512 | 0.49014971893488 |
| 2020-09-02 00:00:00 | Brazil | 0.50382454890432 | 0.49617545109568 |
| 2020-09-03 00:00:00 | Brazil | 0.5088774299794 | 0.4911225700206 |
| 2020-09-04 00:00:00 | Brazil | 0.49066082766684 | 0.50933917233316 |
| 2020-09-05 00:00:00 | Brazil | 0.4805632835141 | 0.5194367164859 |
| 2020-09-06 00:00:00 | Brazil | 0.49696748821319 | 0.5030325117868 |
| 2020-09-07 00:00:00 | Brazil | 0.49346375362911 | 0.50653624637089 |
| 2020-09-08 00:00:00 | Brazil | 0.49532490028606 | 0.50467509971394 |
| 2020-09-09 00:00:00 | Brazil | 0.50729740050764 | 0.49270259949236 |
| 2020-09-10 00:00:00 | Brazil | 0.50083835319781 | 0.49916164680219 |
| 2020-09-11 00:00:00 | Brazil | 0.4928636630152 | 0.5071363369848 |
| 2020-09-12 00:00:00 | Brazil | 0.49181584850773 | 0.50818415149227 |
| 2020-09-13 00:00:00 | Brazil | 0.48991142398931 | 0.51008857601069 |
| 2020-09-14 00:00:00 | Brazil | 0.49299640586143 | 0.50700359413857 |
| 2020-09-15 00:00:00 | Brazil | 0.48014684100848 | 0.51985315899152 |
| 2020-09-16 00:00:00 | Brazil | 0.46871029621077 | 0.53128970378923 |
| 2020-09-17 00:00:00 | Brazil | 0.47077465594822 | 0.52922534405178 |
| 2020-09-18 00:00:00 | Brazil | 0.477377243297 | 0.522622756703 |
| 2020-09-19 00:00:00 | Brazil | 0.47364972205945 | 0.52635027794055 |
| 2020-09-20 00:00:00 | Brazil | 0.45452877887683 | 0.54547122112317 |
| 2020-09-21 00:00:00 | Brazil | 0.45575326555598 | 0.54424673444402 |
| 2020-09-22 00:00:00 | Brazil | 0.46805862985607 | 0.53194137014392 |
| 2020-09-23 00:00:00 | Brazil | 0.47234723953517 | 0.52765276046483 |
| 2020-09-24 00:00:00 | Brazil | 0.46471671404891 | 0.53528328595109 |
| 2020-09-25 00:00:00 | Brazil | 0.46923234864498 | 0.53076765135502 |
| 2020-09-26 00:00:00 | Brazil | 0.47152967649006 | 0.52847032350993 |
| 2020-09-27 00:00:00 | Brazil | 0.47468340230072 | 0.52531659769928 |
| 2020-09-28 00:00:00 | Brazil | 0.46902833827136 | 0.53097166172864 |
| 2020-09-29 00:00:00 | Brazil | 0.46541975094775 | 0.53458024905225 |
| 2020-09-30 00:00:00 | Brazil | 0.47110639464461 | 0.52889360535539 |
| 2020-10-01 00:00:00 | Brazil | 0.46364995149186 | 0.53635004850814 |
| 2020-10-02 00:00:00 | Brazil | 0.46918116118402 | 0.53081883881598 |
| 2020-10-03 00:00:00 | Brazil | 0.47334897040492 | 0.52665102959509 |
| 2020-10-04 00:00:00 | Brazil | 0.48804238570353 | 0.51195761429647 |
| 2020-10-05 00:00:00 | Brazil | 0.4822604254521 | 0.5177395745479 |
| 2020-10-06 00:00:00 | Brazil | 0.47427913350525 | 0.52572086649475 |
| 2020-10-07 00:00:00 | Brazil | 0.47233482038487 | 0.52766517961513 |
| 2020-10-08 00:00:00 | Brazil | 0.47095576144023 | 0.52904423855977 |
| 2020-10-09 00:00:00 | Brazil | 0.47892559981178 | 0.52107440018823 |
| 2020-10-10 00:00:00 | Brazil | 0.47152693133382 | 0.52847306866619 |
| 2020-10-11 00:00:00 | Brazil | 0.47649254168142 | 0.52350745831858 |
| 2020-10-12 00:00:00 | Brazil | 0.4864726416933 | 0.5135273583067 |
| 2020-10-13 00:00:00 | Brazil | 0.49717831960138 | 0.50282168039861 |
| 2020-10-14 00:00:00 | Brazil | 0.4928963440513 | 0.5071036559487 |
| 2020-10-15 00:00:00 | Brazil | 0.50686057264417 | 0.49313942735583 |
| 2020-10-16 00:00:00 | Brazil | 0.4911066196841 | 0.5088933803159 |
| 2020-10-17 00:00:00 | Brazil | 0.4954789467343 | 0.50452105326569 |
| 2020-10-18 00:00:00 | Brazil | 0.48288700444826 | 0.51711299555174 |
| 2020-10-19 00:00:00 | Brazil | 0.47957786722852 | 0.52042213277148 |
| 2020-10-20 00:00:00 | Brazil | 0.47182665309355 | 0.52817334690645 |
| 2020-10-21 00:00:00 | Brazil | 0.47040192181254 | 0.52959807818746 |
| 2020-10-22 00:00:00 | Brazil | 0.47645277940035 | 0.52354722059965 |
| 2020-10-23 00:00:00 | Brazil | 0.48344228197149 | 0.51655771802851 |
| 2020-10-24 00:00:00 | Brazil | 0.48994702185392 | 0.51005297814608 |
| 2020-10-25 00:00:00 | Brazil | 0.4869737659137 | 0.5130262340863 |
| 2020-10-26 00:00:00 | Brazil | 0.47615147612693 | 0.52384852387307 |
| 2020-10-27 00:00:00 | Brazil | 0.47986860964748 | 0.52013139035252 |
| 2020-10-28 00:00:00 | Brazil | 0.47516398335452 | 0.52483601664548 |
| 2020-10-29 00:00:00 | Brazil | 0.46068925971424 | 0.53931074028576 |
| 2020-10-30 00:00:00 | Brazil | 0.45706078346766 | 0.54293921653234 |
| 2020-10-31 00:00:00 | Brazil | 0.45953655908437 | 0.54046344091563 |
| 2020-11-01 00:00:00 | Brazil | 0.45656737462878 | 0.54343262537122 |
| 2020-11-02 00:00:00 | Brazil | 0.46486486419215 | 0.53513513580785 |
| 2020-11-03 00:00:00 | Brazil | 0.4604791562658 | 0.5395208437342 |
| 2020-11-04 00:00:00 | Brazil | 0.46913785190877 | 0.53086214809123 |
| 2020-11-05 00:00:00 | Brazil | 0.47013845725251 | 0.52986154274749 |
| 2020-11-06 00:00:00 | Brazil | 0.45538243697851 | 0.54461756302149 |
| 2020-11-07 00:00:00 | Brazil | 0.43878811343821 | 0.56121188656178 |
| 2020-11-08 00:00:00 | Brazil | 0.44294203334018 | 0.55705796665982 |
| 2020-11-09 00:00:00 | Brazil | 0.43183980290186 | 0.56816019709814 |
| 2020-11-10 00:00:00 | Brazil | 0.43219603842261 | 0.56780396157739 |
| 2020-11-11 00:00:00 | Brazil | 0.42372742870181 | 0.57627257129819 |
| 2020-11-12 00:00:00 | Brazil | 0.42717245656621 | 0.57282754343379 |
| 2020-11-13 00:00:00 | Brazil | 0.43196871921859 | 0.56803128078141 |
| 2020-11-14 00:00:00 | Brazil | 0.45169291967577 | 0.54830708032423 |
| 2020-11-15 00:00:00 | Brazil | 0.45603886395269 | 0.54396113604731 |
| 2020-11-16 00:00:00 | Brazil | 0.4710945805833 | 0.5289054194167 |
| 2020-11-17 00:00:00 | Brazil | 0.46663011347226 | 0.53336988652774 |
| 2020-11-18 00:00:00 | Brazil | 0.45475936186252 | 0.54524063813748 |
| 2020-11-19 00:00:00 | Brazil | 0.46162186707648 | 0.53837813292352 |
| 2020-11-20 00:00:00 | Brazil | 0.46928879629092 | 0.53071120370908 |
| 2020-11-21 00:00:00 | Brazil | 0.44519785646486 | 0.55480214353514 |
| 2020-11-22 00:00:00 | Brazil | 0.44672202850925 | 0.55327797149075 |
| 2020-11-23 00:00:00 | Brazil | 0.43654820051382 | 0.56345179948618 |
| 2020-11-24 00:00:00 | Brazil | 0.4482928848985 | 0.5517071151015 |
| 2020-11-25 00:00:00 | Brazil | 0.45194447645179 | 0.5480555235482 |
| 2020-11-26 00:00:00 | Brazil | 0.43834090786114 | 0.56165909213886 |
| 2020-11-27 00:00:00 | Brazil | 0.44240933197872 | 0.55759066802128 |
| 2020-11-28 00:00:00 | Brazil | 0.45887314815835 | 0.54112685184165 |
| 2020-11-29 00:00:00 | Brazil | 0.46114947392288 | 0.53885052607712 |
| 2020-11-30 00:00:00 | Brazil | 0.4736270291329 | 0.5263729708671 |
| 2020-12-01 00:00:00 | Brazil | 0.47182218904838 | 0.52817781095162 |
| 2020-12-02 00:00:00 | Brazil | 0.4819311546716 | 0.5180688453284 |
| 2020-12-03 00:00:00 | Brazil | 0.47842951689991 | 0.52157048310009 |
| 2020-12-04 00:00:00 | Brazil | 0.47756087973135 | 0.52243912026865 |
| 2020-12-05 00:00:00 | Brazil | 0.47643432068015 | 0.52356567931985 |
| 2020-12-06 00:00:00 | Brazil | 0.47040937166182 | 0.52959062833818 |
| 2020-12-07 00:00:00 | Brazil | 0.45661314686078 | 0.54338685313922 |
| 2020-12-08 00:00:00 | Brazil | 0.45396872082133 | 0.54603127917867 |
| 2020-12-09 00:00:00 | Brazil | 0.45406410069531 | 0.54593589930469 |
| 2020-12-10 00:00:00 | Brazil | 0.46456671011603 | 0.53543328988397 |
| 2020-12-11 00:00:00 | Brazil | 0.44520501691716 | 0.55479498308284 |
| 2020-12-12 00:00:00 | Brazil | 0.44689702553452 | 0.55310297446548 |
| 2020-12-13 00:00:00 | Brazil | 0.4453571883536 | 0.5546428116464 |
| 2020-12-14 00:00:00 | Brazil | 0.46115172852257 | 0.53884827147743 |
| 2020-12-15 00:00:00 | Brazil | 0.44676729593989 | 0.55323270406011 |
| 2020-12-16 00:00:00 | Brazil | 0.45257144981142 | 0.54742855018859 |
| 2020-12-17 00:00:00 | Brazil | 0.44863713749468 | 0.55136286250532 |
| 2020-12-18 00:00:00 | Brazil | 0.46583228695693 | 0.53416771304307 |
| 2020-12-19 00:00:00 | Brazil | 0.44974348180552 | 0.55025651819448 |
| 2020-12-20 00:00:00 | Brazil | 0.45412494542368 | 0.54587505457632 |
| 2020-12-21 00:00:00 | Brazil | 0.44098791902501 | 0.55901208097499 |
| 2020-12-22 00:00:00 | Brazil | 0.45092935492664 | 0.54907064507336 |
| 2020-12-23 00:00:00 | Brazil | 0.43627002533487 | 0.56372997466513 |
| 2020-12-24 00:00:00 | Brazil | 0.43445325083436 | 0.56554674916564 |
| 2020-12-25 00:00:00 | Brazil | 0.41736461319699 | 0.58263538680301 |
| 2020-12-26 00:00:00 | Brazil | 0.41602696351374 | 0.58397303648626 |
| 2020-12-27 00:00:00 | Brazil | 0.40793465443862 | 0.59206534556138 |
| 2020-12-28 00:00:00 | Brazil | 0.41070428691492 | 0.58929571308508 |
| 2020-12-29 00:00:00 | Brazil | 0.40479852078276 | 0.59520147921724 |
| 2020-12-30 00:00:00 | Brazil | 0.41661541510911 | 0.58338458489088 |
| 2020-12-31 00:00:00 | Brazil | 0.41427746028406 | 0.58572253971594 |
| 2021-01-01 00:00:00 | Brazil | 0.42254710204752 | 0.57745289795248 |
| 2021-01-02 00:00:00 | Brazil | 0.41913446949238 | 0.58086553050762 |
| 2021-01-03 00:00:00 | Brazil | 0.41262505543652 | 0.58737494456348 |
| 2021-01-04 00:00:00 | Brazil | 0.40930099155701 | 0.59069900844299 |
| 2021-01-05 00:00:00 | Brazil | 0.40738806820535 | 0.59261193179465 |
| 2021-01-06 00:00:00 | Brazil | 0.39474432715391 | 0.60525567284609 |
| 2021-01-07 00:00:00 | Brazil | 0.38884298288237 | 0.61115701711763 |
| 2021-01-08 00:00:00 | Brazil | 0.38647305203782 | 0.61352694796218 |
| 2021-01-09 00:00:00 | Brazil | 0.40457796503507 | 0.59542203496493 |
| 2021-01-10 00:00:00 | Brazil | 0.41080772765061 | 0.58919227234939 |
| 2021-01-11 00:00:00 | Brazil | 0.41112459285989 | 0.58887540714011 |
| 2021-01-12 00:00:00 | Brazil | 0.40891027650122 | 0.59108972349878 |
| 2021-01-13 00:00:00 | Brazil | 0.41661670773873 | 0.58338329226127 |
| 2021-01-14 00:00:00 | Brazil | 0.42905006269999 | 0.57094993730001 |
| 2021-01-15 00:00:00 | Brazil | 0.42252421152262 | 0.57747578847738 |
| 2021-01-16 00:00:00 | Brazil | 0.40894071811329 | 0.59105928188671 |
| 2021-01-17 00:00:00 | Brazil | 0.40627928207491 | 0.59372071792509 |
| 2021-01-18 00:00:00 | Brazil | 0.39732132889476 | 0.60267867110524 |
| 2021-01-19 00:00:00 | Brazil | 0.39061320830219 | 0.60938679169781 |
| 2021-01-20 00:00:00 | Brazil | 0.38345723043862 | 0.61654276956138 |
| 2021-01-21 00:00:00 | Brazil | 0.38040638351649 | 0.61959361648351 |
| 2021-01-22 00:00:00 | Brazil | 0.37738644500924 | 0.62261355499076 |
| 2021-01-23 00:00:00 | Brazil | 0.38425793098746 | 0.61574206901254 |
| 2021-01-24 00:00:00 | Brazil | 0.38111099983357 | 0.61888900016643 |
| 2021-01-25 00:00:00 | Brazil | 0.38476919569773 | 0.61523080430227 |
| 2021-01-26 00:00:00 | Brazil | 0.40070938564368 | 0.59929061435632 |
| 2021-01-27 00:00:00 | Brazil | 0.38508957175897 | 0.61491042824103 |
| 2021-01-28 00:00:00 | Brazil | 0.37782822252927 | 0.62217177747073 |
| 2021-01-29 00:00:00 | Brazil | 0.38717731770864 | 0.61282268229136 |
| 2021-01-30 00:00:00 | Brazil | 0.39167011450107 | 0.60832988549893 |
| 2021-01-31 00:00:00 | Brazil | 0.38365529560255 | 0.61634470439745 |
| 2021-02-01 00:00:00 | Brazil | 0.37851808463328 | 0.62148191536672 |
| 2021-02-02 00:00:00 | Brazil | 0.37110723828149 | 0.62889276171852 |
| 2021-02-03 00:00:00 | Brazil | 0.38550493558986 | 0.61449506441014 |
| 2021-02-04 00:00:00 | Brazil | 0.37969720753457 | 0.62030279246543 |
| 2021-02-05 00:00:00 | Brazil | 0.37677140688226 | 0.62322859311775 |
| 2021-02-06 00:00:00 | Brazil | 0.36434119883124 | 0.63565880116876 |
| 2021-02-07 00:00:00 | Brazil | 0.38135847930749 | 0.61864152069251 |
| 2021-02-08 00:00:00 | Brazil | 0.38958161763269 | 0.61041838236731 |
| 2021-02-09 00:00:00 | Brazil | 0.39274937208184 | 0.60725062791816 |
| 2021-02-10 00:00:00 | Brazil | 0.40261493619812 | 0.59738506380188 |
| 2021-02-11 00:00:00 | Brazil | 0.41035311443211 | 0.58964688556789 |
| 2021-02-12 00:00:00 | Brazil | 0.42183167184382 | 0.57816832815618 |
| 2021-02-13 00:00:00 | Brazil | 0.43824692536424 | 0.56175307463576 |
| 2021-02-14 00:00:00 | Brazil | 0.44607208589175 | 0.55392791410825 |
| 2021-02-15 00:00:00 | Brazil | 0.45070469103781 | 0.54929530896219 |
| 2021-02-16 00:00:00 | Brazil | 0.45204734552677 | 0.54795265447323 |
| 2021-02-17 00:00:00 | Brazil | 0.43695218783621 | 0.56304781216378 |
| 2021-02-18 00:00:00 | Brazil | 0.43987014847024 | 0.56012985152976 |
| 2021-02-19 00:00:00 | Brazil | 0.42679482711357 | 0.57320517288643 |
| 2021-02-20 00:00:00 | Brazil | 0.41626600676459 | 0.58373399323541 |
| 2021-02-21 00:00:00 | Brazil | 0.40502664588779 | 0.59497335411221 |
| 2021-02-22 00:00:00 | Brazil | 0.40288471005133 | 0.59711528994867 |
| 2021-02-23 00:00:00 | Brazil | 0.40934088328776 | 0.59065911671224 |
| 2021-02-24 00:00:00 | Brazil | 0.40565744935277 | 0.59434255064723 |
| 2021-02-25 00:00:00 | Brazil | 0.40968261019664 | 0.59031738980336 |
| 2021-02-26 00:00:00 | Brazil | 0.4101065629578 | 0.5898934370422 |
| 2021-02-27 00:00:00 | Brazil | 0.40403765707212 | 0.59596234292788 |
| 2021-02-28 00:00:00 | Brazil | 0.40438548856462 | 0.59561451143538 |
| 2021-03-01 00:00:00 | Brazil | 0.39824459797135 | 0.60175540202865 |
| 2021-03-02 00:00:00 | Brazil | 0.39046078706434 | 0.60953921293567 |
| 2021-03-03 00:00:00 | Brazil | 0.4135907852567 | 0.5864092147433 |
| 2021-03-04 00:00:00 | Brazil | 0.40055222327061 | 0.59944777672939 |
| 2021-03-05 00:00:00 | Brazil | 0.3907935407402 | 0.6092064592598 |
| 2021-03-06 00:00:00 | Brazil | 0.38264621172862 | 0.61735378827138 |
| 2021-03-07 00:00:00 | Brazil | 0.36576780727062 | 0.63423219272938 |
| 2021-03-08 00:00:00 | Brazil | 0.3531097419782 | 0.6468902580218 |
| 2021-03-09 00:00:00 | Brazil | 0.33348229648877 | 0.66651770351123 |
| 2021-03-10 00:00:00 | Brazil | 0.30655948016314 | 0.69344051983686 |
| 2021-03-11 00:00:00 | Brazil | 0.29397737559936 | 0.70602262440064 |
| 2021-03-12 00:00:00 | Brazil | 0.28949370468222 | 0.71050629531778 |
| 2021-03-13 00:00:00 | Brazil | 0.2883034098992 | 0.7116965901008 |
| 2021-03-14 00:00:00 | Brazil | 0.29393496030338 | 0.70606503969662 |
| 2021-03-15 00:00:00 | Brazil | 0.29812130691607 | 0.70187869308393 |
| 2021-03-16 00:00:00 | Brazil | 0.30269586344536 | 0.69730413655464 |
| 2021-03-17 00:00:00 | Brazil | 0.30152734546446 | 0.69847265453554 |
| 2021-03-18 00:00:00 | Brazil | 0.30501372087636 | 0.69498627912364 |
| 2021-03-19 00:00:00 | Brazil | 0.30423870501943 | 0.69576129498057 |
| 2021-03-20 00:00:00 | Brazil | 0.2965752659419 | 0.7034247340581 |
| 2021-03-21 00:00:00 | Brazil | 0.28509402517574 | 0.71490597482426 |
| 2021-03-22 00:00:00 | Brazil | 0.2839653411517 | 0.7160346588483 |
| 2021-03-23 00:00:00 | Brazil | 0.28025218989663 | 0.71974781010337 |
| 2021-03-24 00:00:00 | Brazil | 0.27938841025212 | 0.72061158974788 |
| 2021-03-25 00:00:00 | Brazil | 0.27701877293594 | 0.72298122706406 |
| 2021-03-26 00:00:00 | Brazil | 0.28673930863961 | 0.71326069136038 |
| 2021-03-27 00:00:00 | Brazil | 0.29462186607291 | 0.7053781339271 |
| 2021-03-28 00:00:00 | Brazil | 0.30301737141333 | 0.69698262858667 |
| 2021-03-29 00:00:00 | Brazil | 0.30289322434096 | 0.69710677565904 |
| 2021-03-30 00:00:00 | Brazil | 0.31470538063067 | 0.68529461936933 |
| 2021-03-31 00:00:00 | Brazil | 0.30778861039723 | 0.69221138960277 |
| 2021-04-01 00:00:00 | Brazil | 0.3183149123218 | 0.6816850876782 |
| 2021-04-02 00:00:00 | Brazil | 0.30928033508302 | 0.69071966491698 |
| 2021-04-03 00:00:00 | Brazil | 0.30952750475268 | 0.69047249524732 |
| 2021-04-04 00:00:00 | Brazil | 0.31155905093273 | 0.68844094906727 |
| 2021-04-05 00:00:00 | Brazil | 0.31195863719129 | 0.68804136280871 |
| 2021-04-06 00:00:00 | Brazil | 0.32095659682173 | 0.67904340317827 |
| 2021-04-07 00:00:00 | Brazil | 0.32405810184025 | 0.67594189815975 |
| 2021-04-08 00:00:00 | Brazil | 0.31869736433461 | 0.68130263566539 |
| 2021-04-09 00:00:00 | Brazil | 0.32386151190556 | 0.67613848809444 |
| 2021-04-10 00:00:00 | Brazil | 0.32708461084035 | 0.67291538915965 |
| 2021-04-11 00:00:00 | Brazil | 0.32809023975605 | 0.67190976024395 |
| 2021-04-12 00:00:00 | Brazil | 0.32440187769567 | 0.67559812230433 |
| 2021-04-13 00:00:00 | Brazil | 0.30227827332515 | 0.69772172667485 |
| 2021-04-14 00:00:00 | Brazil | 0.30375358488806 | 0.69624641511194 |
| 2021-04-15 00:00:00 | Brazil | 0.30873254684035 | 0.69126745315965 |
| 2021-04-16 00:00:00 | Brazil | 0.31452193198332 | 0.68547806801668 |
| 2021-04-17 00:00:00 | Brazil | 0.31689421281081 | 0.68310578718919 |
| 2021-04-18 00:00:00 | Brazil | 0.31789230561402 | 0.68210769438598 |
| 2021-04-19 00:00:00 | Brazil | 0.32579661220986 | 0.67420338779014 |
| 2021-04-20 00:00:00 | Brazil | 0.34566747403575 | 0.65433252596425 |
| 2021-04-21 00:00:00 | Brazil | 0.3516032781475 | 0.6483967218525 |
| 2021-04-22 00:00:00 | Brazil | 0.3536833818995 | 0.6463166181005 |
| 2021-04-23 00:00:00 | Brazil | 0.35498292445867 | 0.64501707554133 |
| 2021-04-24 00:00:00 | Brazil | 0.35569241945283 | 0.64430758054717 |
| 2021-04-25 00:00:00 | Brazil | 0.36040850086337 | 0.63959149913663 |
| 2021-04-26 00:00:00 | Brazil | 0.36467736659413 | 0.63532263340587 |
| 2021-04-27 00:00:00 | Brazil | 0.36422622592722 | 0.63577377407278 |
| 2021-04-28 00:00:00 | Brazil | 0.36952266369933 | 0.63047733630068 |
| 2021-04-29 00:00:00 | Brazil | 0.37255159395325 | 0.62744840604675 |
| 2021-04-30 00:00:00 | Brazil | 0.36961579621758 | 0.63038420378242 |
| 2021-05-01 00:00:00 | Brazil | 0.37834752194683 | 0.62165247805317 |
| 2021-05-02 00:00:00 | Brazil | 0.38280576970066 | 0.61719423029934 |
| 2021-05-03 00:00:00 | Brazil | 0.37903205248862 | 0.62096794751138 |
| 2021-05-04 00:00:00 | Brazil | 0.37804744503879 | 0.62195255496121 |
| 2021-05-05 00:00:00 | Brazil | 0.37375086744958 | 0.62624913255042 |
| 2021-05-06 00:00:00 | Brazil | 0.37685275764996 | 0.62314724235004 |
| 2021-05-07 00:00:00 | Brazil | 0.37934094697154 | 0.62065905302846 |
| 2021-05-08 00:00:00 | Brazil | 0.37585820527647 | 0.62414179472353 |
| 2021-05-09 00:00:00 | Brazil | 0.36141370753668 | 0.63858629246332 |
| 2021-05-10 00:00:00 | Brazil | 0.37333196286969 | 0.62666803713031 |
| 2021-05-11 00:00:00 | Brazil | 0.37088509428074 | 0.62911490571926 |
| 2021-05-12 00:00:00 | Brazil | 0.37817446370657 | 0.62182553629343 |
| 2021-05-13 00:00:00 | Brazil | 0.37501544984689 | 0.6249845501531 |
| 2021-05-14 00:00:00 | Brazil | 0.36788051512404 | 0.63211948487596 |
| 2021-05-15 00:00:00 | Brazil | 0.36896392124879 | 0.63103607875121 |
| 2021-05-16 00:00:00 | Brazil | 0.37847943445543 | 0.62152056554457 |
| 2021-05-17 00:00:00 | Brazil | 0.37401420347944 | 0.62598579652056 |
| 2021-05-18 00:00:00 | Brazil | 0.37119804386745 | 0.62880195613255 |
| 2021-05-19 00:00:00 | Brazil | 0.36551911104163 | 0.63448088895837 |
| 2021-05-20 00:00:00 | Brazil | 0.3587203688529 | 0.6412796311471 |
| 2021-05-21 00:00:00 | Brazil | 0.36331678537195 | 0.63668321462805 |
| 2021-05-22 00:00:00 | Brazil | 0.36207014025931 | 0.63792985974069 |
| 2021-05-23 00:00:00 | Brazil | 0.36171802395676 | 0.63828197604324 |
| 2021-05-24 00:00:00 | Brazil | 0.34735395375391 | 0.65264604624609 |
| 2021-05-25 00:00:00 | Brazil | 0.34942042998208 | 0.65057957001792 |
| 2021-05-26 00:00:00 | Brazil | 0.34979907493586 | 0.65020092506414 |
| 2021-05-27 00:00:00 | Brazil | 0.35131825099642 | 0.64868174900358 |
| 2021-05-28 00:00:00 | Brazil | 0.3484487583904 | 0.6515512416096 |
| 2021-05-29 00:00:00 | Brazil | 0.34499744355736 | 0.65500255644265 |
| 2021-05-30 00:00:00 | Brazil | 0.34376877660361 | 0.65623122339639 |
| 2021-05-31 00:00:00 | Brazil | 0.35067518254091 | 0.64932481745909 |
| 2021-06-01 00:00:00 | Brazil | 0.34123541332336 | 0.65876458667664 |
| 2021-06-02 00:00:00 | Brazil | 0.33403014544458 | 0.66596985455542 |
| 2021-06-03 00:00:00 | Brazil | 0.33928737349656 | 0.66071262650344 |
| 2021-06-04 00:00:00 | Brazil | 0.34138118376625 | 0.65861881623375 |
| 2021-06-05 00:00:00 | Brazil | 0.34918771896487 | 0.65081228103513 |
| 2021-06-06 00:00:00 | Brazil | 0.34311072803348 | 0.65688927196652 |
| 2021-06-07 00:00:00 | Brazil | 0.34058354666161 | 0.65941645333839 |
| 2021-06-08 00:00:00 | Brazil | 0.35832285476148 | 0.64167714523852 |
| 2021-06-09 00:00:00 | Brazil | 0.36267417505188 | 0.63732582494812 |
| 2021-06-10 00:00:00 | Brazil | 0.35449604395096 | 0.64550395604904 |
| 2021-06-11 00:00:00 | Brazil | 0.35254800327804 | 0.64745199672195 |
| 2021-06-12 00:00:00 | Brazil | 0.34220198907215 | 0.65779801092785 |
| 2021-06-13 00:00:00 | Brazil | 0.34617530341335 | 0.65382469658665 |
| 2021-06-14 00:00:00 | Brazil | 0.35137892411765 | 0.64862107588235 |
| 2021-06-15 00:00:00 | Brazil | 0.34040728173513 | 0.65959271826487 |
| 2021-06-16 00:00:00 | Brazil | 0.35549984769089 | 0.64450015230911 |
| 2021-06-17 00:00:00 | Brazil | 0.35162863485464 | 0.64837136514536 |
| 2021-06-18 00:00:00 | Brazil | 0.3626685147768 | 0.6373314852232 |
| 2021-06-19 00:00:00 | Brazil | 0.36358149001065 | 0.63641850998935 |
| 2021-06-20 00:00:00 | Brazil | 0.36016070969239 | 0.63983929030761 |
| 2021-06-21 00:00:00 | Brazil | 0.36119694908997 | 0.63880305091003 |
| 2021-06-22 00:00:00 | Brazil | 0.36585242966965 | 0.63414757033035 |
| 2021-06-23 00:00:00 | Brazil | 0.34936568189785 | 0.65063431810215 |
| 2021-06-24 00:00:00 | Brazil | 0.35849453501776 | 0.64150546498225 |
| 2021-06-25 00:00:00 | Brazil | 0.35720194108482 | 0.64279805891519 |
| 2021-06-26 00:00:00 | Brazil | 0.36872153914832 | 0.63127846085168 |
| 2021-06-27 00:00:00 | Brazil | 0.38237826419609 | 0.61762173580391 |
| 2021-06-28 00:00:00 | Brazil | 0.3830502444326 | 0.6169497555674 |
| 2021-06-29 00:00:00 | Brazil | 0.37968941673243 | 0.62031058326757 |
| 2021-06-30 00:00:00 | Brazil | 0.38152114672753 | 0.61847885327247 |
| 2021-07-01 00:00:00 | Brazil | 0.38363998694098 | 0.61636001305902 |
| 2021-07-02 00:00:00 | Brazil | 0.38766786604345 | 0.61233213395655 |
| 2021-07-03 00:00:00 | Brazil | 0.37804161632203 | 0.62195838367797 |
| 2021-07-04 00:00:00 | Brazil | 0.3674660781719 | 0.6325339218281 |
| 2021-07-05 00:00:00 | Brazil | 0.36728268441042 | 0.63271731558958 |
| 2021-07-06 00:00:00 | Brazil | 0.3706638202856 | 0.6293361797144 |
| 2021-07-07 00:00:00 | Brazil | 0.37891646674851 | 0.62108353325149 |
| 2021-07-08 00:00:00 | Brazil | 0.37772928316615 | 0.62227071683385 |
| 2021-07-09 00:00:00 | Brazil | 0.37790458930509 | 0.62209541069491 |
| 2021-07-10 00:00:00 | Brazil | 0.3769742289733 | 0.6230257710267 |
| 2021-07-11 00:00:00 | Brazil | 0.37533431817159 | 0.62466568182841 |
| 2021-07-12 00:00:00 | Brazil | 0.38038646862092 | 0.61961353137909 |
| 2021-07-13 00:00:00 | Brazil | 0.38298077595819 | 0.61701922404181 |
| 2021-07-14 00:00:00 | Brazil | 0.37731527226003 | 0.62268472773997 |
| 2021-07-15 00:00:00 | Brazil | 0.38296109035206 | 0.61703890964794 |
| 2021-07-16 00:00:00 | Brazil | 0.37368625740404 | 0.62631374259596 |
| 2021-07-17 00:00:00 | Brazil | 0.37922020222583 | 0.62077979777417 |
| 2021-07-18 00:00:00 | Brazil | 0.38449631161194 | 0.61550368838806 |
| 2021-07-19 00:00:00 | Brazil | 0.38740220204121 | 0.61259779795879 |
| 2021-07-20 00:00:00 | Brazil | 0.38912271515906 | 0.61087728484093 |
| 2021-07-21 00:00:00 | Brazil | 0.40513401006114 | 0.59486598993886 |
| 2021-07-22 00:00:00 | Brazil | 0.40317931164781 | 0.59682068835219 |
| 2021-07-23 00:00:00 | Brazil | 0.41089738849661 | 0.58910261150339 |
| 2021-07-24 00:00:00 | Brazil | 0.41131941507753 | 0.58868058492247 |
| 2021-07-25 00:00:00 | Brazil | 0.4146422271203 | 0.5853577728797 |
| 2021-07-26 00:00:00 | Brazil | 0.40872708681174 | 0.59127291318826 |
| 2021-07-27 00:00:00 | Brazil | 0.4094137106112 | 0.5905862893888 |
| 2021-07-28 00:00:00 | Brazil | 0.39047656253727 | 0.60952343746273 |
| 2021-07-29 00:00:00 | Brazil | 0.38737626941115 | 0.61262373058885 |
| 2021-07-30 00:00:00 | Brazil | 0.3909631748176 | 0.6090368251824 |
| 2021-07-31 00:00:00 | Brazil | 0.38574774752229 | 0.61425225247771 |
| 2021-08-01 00:00:00 | Brazil | 0.38720432874728 | 0.61279567125271 |
| 2021-08-02 00:00:00 | Brazil | 0.39761625868278 | 0.60238374131722 |
| 2021-08-03 00:00:00 | Brazil | 0.39083421497033 | 0.60916578502967 |
| 2021-08-04 00:00:00 | Brazil | 0.40281296488844 | 0.59718703511156 |
| 2021-08-05 00:00:00 | Brazil | 0.40961199509477 | 0.59038800490523 |
| 2021-08-06 00:00:00 | Brazil | 0.4006347868413 | 0.5993652131587 |
| 2021-08-07 00:00:00 | Brazil | 0.40745934007173 | 0.59254065992827 |
| 2021-08-08 00:00:00 | Brazil | 0.40763545746056 | 0.59236454253944 |
| 2021-08-09 00:00:00 | Brazil | 0.39621390711052 | 0.60378609288948 |
| 2021-08-10 00:00:00 | Brazil | 0.40211683757746 | 0.59788316242254 |
| 2021-08-11 00:00:00 | Brazil | 0.38986253793906 | 0.61013746206094 |
| 2021-08-12 00:00:00 | Brazil | 0.39996308685302 | 0.60003691314698 |
| 2021-08-13 00:00:00 | Brazil | 0.40409388153445 | 0.59590611846555 |
| 2021-08-14 00:00:00 | Brazil | 0.40764997626099 | 0.59235002373901 |
| 2021-08-15 00:00:00 | Brazil | 0.40541978378034 | 0.59458021621966 |
| 2021-08-16 00:00:00 | Brazil | 0.40943573808769 | 0.59056426191231 |
| 2021-08-17 00:00:00 | Brazil | 0.40235695989983 | 0.59764304010017 |
| 2021-08-18 00:00:00 | Brazil | 0.40535391846162 | 0.59464608153838 |
| 2021-08-19 00:00:00 | Brazil | 0.38095557817634 | 0.61904442182366 |
| 2021-08-20 00:00:00 | Brazil | 0.3757900430687 | 0.6242099569313 |
| 2021-08-21 00:00:00 | Brazil | 0.36481270595995 | 0.63518729404005 |
| 2021-08-22 00:00:00 | Brazil | 0.36725416109488 | 0.63274583890512 |
| 2021-08-23 00:00:00 | Brazil | 0.36324692280924 | 0.63675307719076 |
| 2021-08-24 00:00:00 | Brazil | 0.36523013597808 | 0.63476986402192 |
| 2021-08-25 00:00:00 | Brazil | 0.36867302979322 | 0.63132697020678 |
| 2021-08-26 00:00:00 | Brazil | 0.37475906387047 | 0.62524093612953 |
| 2021-08-27 00:00:00 | Brazil | 0.37841986966531 | 0.62158013033469 |
| 2021-08-28 00:00:00 | Brazil | 0.37251865514491 | 0.62748134485509 |
| 2021-08-29 00:00:00 | Brazil | 0.35917264369989 | 0.64082735630011 |
| 2021-08-30 00:00:00 | Brazil | 0.3582714947149 | 0.6417285052851 |
| 2021-08-31 00:00:00 | Brazil | 0.35969542317369 | 0.64030457682631 |
| 2021-09-01 00:00:00 | Brazil | 0.35224315887686 | 0.64775684112314 |
| 2021-09-02 00:00:00 | Brazil | 0.35478702524501 | 0.64521297475499 |
| 2021-09-03 00:00:00 | Brazil | 0.3486699809428 | 0.6513300190572 |
| 2021-09-04 00:00:00 | Brazil | 0.35104500082889 | 0.64895499917111 |
| 2021-09-05 00:00:00 | Brazil | 0.3500921378407 | 0.6499078621593 |
| 2021-09-06 00:00:00 | Brazil | 0.33731011224773 | 0.66268988775227 |
| 2021-09-07 00:00:00 | Brazil | 0.33453425205687 | 0.66546574794313 |
| 2021-09-08 00:00:00 | Brazil | 0.34310690381664 | 0.65689309618336 |
| 2021-09-09 00:00:00 | Brazil | 0.3301521009591 | 0.6698478990409 |
| 2021-09-10 00:00:00 | Brazil | 0.31850018632639 | 0.68149981367361 |
| 2021-09-11 00:00:00 | Brazil | 0.31887530458809 | 0.68112469541191 |
| 2021-09-12 00:00:00 | Brazil | 0.31812613662565 | 0.68187386337435 |
| 2021-09-13 00:00:00 | Brazil | 0.33265276687942 | 0.66734723312058 |
| 2021-09-14 00:00:00 | Brazil | 0.32512762767082 | 0.67487237232918 |
| 2021-09-15 00:00:00 | Brazil | 0.31471625169822 | 0.68528374830178 |
| 2021-09-16 00:00:00 | Brazil | 0.32615900408531 | 0.67384099591469 |
| 2021-09-17 00:00:00 | Brazil | 0.33795355483911 | 0.66204644516089 |
| 2021-09-18 00:00:00 | Brazil | 0.3403229345125 | 0.6596770654875 |
| 2021-09-19 00:00:00 | Brazil | 0.34402434715127 | 0.65597565284873 |
| 2021-09-20 00:00:00 | Brazil | 0.3438497533109 | 0.65615024668911 |
| 2021-09-21 00:00:00 | Brazil | 0.34516284746041 | 0.65483715253959 |
| 2021-09-22 00:00:00 | Brazil | 0.34050667519988 | 0.65949332480012 |
| 2021-09-23 00:00:00 | Brazil | 0.32693991122007 | 0.67306008877993 |
| 2021-09-24 00:00:00 | Brazil | 0.32616449482365 | 0.67383550517635 |
| 2021-09-25 00:00:00 | Brazil | 0.32451708860045 | 0.67548291139955 |
| 2021-09-26 00:00:00 | Brazil | 0.32497545996593 | 0.67502454003407 |
| 2021-09-27 00:00:00 | Brazil | 0.31505616595693 | 0.68494383404307 |
| 2021-09-28 00:00:00 | Brazil | 0.3140611113327 | 0.6859388886673 |
| 2021-09-29 00:00:00 | Brazil | 0.32154646213593 | 0.67845353786407 |
| 2021-09-30 00:00:00 | Brazil | 0.33189346190215 | 0.66810653809785 |
| 2021-10-01 00:00:00 | Brazil | 0.33497202473336 | 0.66502797526664 |
| 2021-10-02 00:00:00 | Brazil | 0.33893301972886 | 0.66106698027114 |
| 2021-10-03 00:00:00 | Brazil | 0.32900422245288 | 0.67099577754712 |
| 2021-10-04 00:00:00 | Brazil | 0.34050198010153 | 0.65949801989847 |
| 2021-10-05 00:00:00 | Brazil | 0.34729508250659 | 0.65270491749341 |
| 2021-10-06 00:00:00 | Brazil | 0.34568043645664 | 0.65431956354336 |
| 2021-10-07 00:00:00 | Brazil | 0.3503355268514 | 0.6496644731486 |
| 2021-10-08 00:00:00 | Brazil | 0.34548213630267 | 0.65451786369733 |
| 2021-10-09 00:00:00 | Brazil | 0.3419760326661 | 0.6580239673339 |
| 2021-10-10 00:00:00 | Brazil | 0.35018662950345 | 0.64981337049655 |
| 2021-10-11 00:00:00 | Brazil | 0.33923977392067 | 0.66076022607934 |
| 2021-10-12 00:00:00 | Brazil | 0.32294982191644 | 0.67705017808356 |
| 2021-10-13 00:00:00 | Brazil | 0.32483086553259 | 0.67516913446741 |
| 2021-10-14 00:00:00 | Brazil | 0.31793116491089 | 0.68206883508911 |
| 2021-10-15 00:00:00 | Brazil | 0.32098015532296 | 0.67901984467704 |
| 2021-10-16 00:00:00 | Brazil | 0.32879059169217 | 0.67120940830783 |
| 2021-10-17 00:00:00 | Brazil | 0.33070003446331 | 0.66929996553669 |
| 2021-10-18 00:00:00 | Brazil | 0.33061907169667 | 0.66938092830333 |
| 2021-10-19 00:00:00 | Brazil | 0.34228634487569 | 0.65771365512431 |
| 2021-10-20 00:00:00 | Brazil | 0.34275214672351 | 0.65724785327649 |
| 2021-10-21 00:00:00 | Brazil | 0.34030004535856 | 0.65969995464144 |
| 2021-10-22 00:00:00 | Brazil | 0.34097730704733 | 0.65902269295267 |
| 2021-10-23 00:00:00 | Brazil | 0.34908840919707 | 0.65091159080293 |
| 2021-10-24 00:00:00 | Brazil | 0.34937174168558 | 0.65062825831442 |
| 2021-10-25 00:00:00 | Brazil | 0.34824850541271 | 0.65175149458729 |
| 2021-10-26 00:00:00 | Brazil | 0.34349617176385 | 0.65650382823615 |
| 2021-10-27 00:00:00 | Brazil | 0.34275361797233 | 0.65724638202767 |
| 2021-10-28 00:00:00 | Brazil | 0.35049130567162 | 0.64950869432838 |
| 2021-10-31 00:00:00 | Brazil | 0.32316726957281 | 0.67683273042719 |
| 2021-11-01 00:00:00 | Brazil | 0.32528238623426 | 0.67471761376574 |
| 2021-11-02 00:00:00 | Brazil | 0.32065358224163 | 0.67934641775837 |
| 2021-11-03 00:00:00 | Brazil | 0.32491097141575 | 0.67508902858425 |
| 2021-11-04 00:00:00 | Brazil | 0.3179711688705 | 0.6820288311295 |
| 2021-11-05 00:00:00 | Brazil | 0.31991933814265 | 0.68008066185736 |
| 2021-11-06 00:00:00 | Brazil | 0.32261324509101 | 0.67738675490899 |
| 2021-11-07 00:00:00 | Brazil | 0.32762566299214 | 0.67237433700786 |
| 2021-11-08 00:00:00 | Brazil | 0.33162862243705 | 0.66837137756295 |
| 2021-11-09 00:00:00 | Brazil | 0.34130347913203 | 0.65869652086797 |
| 2021-11-10 00:00:00 | Brazil | 0.33883691933556 | 0.66116308066444 |
| 2021-11-11 00:00:00 | Brazil | 0.34439840903978 | 0.65560159096022 |
| 2021-11-12 00:00:00 | Brazil | 0.33313225039365 | 0.66686774960635 |
| 2021-11-13 00:00:00 | Brazil | 0.34064714970692 | 0.65935285029308 |
| 2021-11-14 00:00:00 | Brazil | 0.34412234428699 | 0.65587765571301 |
| 2021-11-15 00:00:00 | Brazil | 0.33701013206478 | 0.66298986793522 |
| 2021-11-16 00:00:00 | Brazil | 0.34052782136863 | 0.65947217863137 |
| 2021-11-17 00:00:00 | Brazil | 0.33477557234557 | 0.66522442765443 |
| 2021-11-18 00:00:00 | Brazil | 0.34155204398295 | 0.65844795601705 |
| 2021-11-19 00:00:00 | Brazil | 0.34155204398295 | 0.65844795601705 |
| 2021-11-20 00:00:00 | Brazil | 0.33967300755129 | 0.6603269924487 |
| 2021-11-21 00:00:00 | Brazil | 0.34251595816823 | 0.65748404183177 |
| 2021-11-22 00:00:00 | Brazil | 0.35085599282928 | 0.64914400717072 |
| 2021-11-23 00:00:00 | Brazil | 0.35845447740734 | 0.64154552259266 |
| 2021-11-24 00:00:00 | Brazil | 0.35890755359945 | 0.64109244640055 |
| 2021-11-25 00:00:00 | Brazil | 0.35362050540212 | 0.64637949459788 |
| 2021-11-26 00:00:00 | Brazil | 0.35880220691278 | 0.64119779308722 |
| 2021-11-27 00:00:00 | Brazil | 0.36315334655361 | 0.63684665344639 |
| 2021-11-28 00:00:00 | Brazil | 0.35897754698023 | 0.64102245301977 |
| 2021-11-29 00:00:00 | Brazil | 0.35964285380203 | 0.64035714619797 |
| 2021-11-30 00:00:00 | Brazil | 0.36078576553263 | 0.63921423446737 |
| 2021-12-01 00:00:00 | Brazil | 0.36531356355187 | 0.63468643644812 |
| 2021-12-02 00:00:00 | Brazil | 0.37390567178282 | 0.62609432821718 |
| 2021-12-03 00:00:00 | Brazil | 0.3698706729586 | 0.6301293270414 |
| 2021-12-04 00:00:00 | Brazil | 0.36414378812022 | 0.63585621187978 |
| 2021-12-05 00:00:00 | Brazil | 0.36603003373675 | 0.63396996626325 |
| 2021-12-06 00:00:00 | Brazil | 0.36541518996379 | 0.63458481003621 |
| 2021-12-07 00:00:00 | Brazil | 0.34986160728504 | 0.65013839271496 |
| 2021-12-08 00:00:00 | Brazil | 0.34836834607319 | 0.65163165392681 |
| 2021-12-09 00:00:00 | Brazil | 0.35646817661799 | 0.64353182338201 |
| 2021-12-10 00:00:00 | Brazil | 0.35862062971584 | 0.64137937028416 |
| 2021-12-11 00:00:00 | Brazil | 0.3607869918974 | 0.6392130081026 |
| 2021-12-12 00:00:00 | Brazil | 0.35897326085234 | 0.64102673914766 |
| 2021-12-13 00:00:00 | Brazil | 0.35539251825377 | 0.64460748174623 |
| 2021-12-14 00:00:00 | Brazil | 0.35677686004708 | 0.64322313995292 |
| 2021-12-15 00:00:00 | Brazil | 0.36632958 | 0.63367042 |
| 2021-12-16 00:00:00 | Brazil | 0.36851756 | 0.63148244 |
| 2021-12-17 00:00:00 | Brazil | 0.37249331 | 0.62750669 |
| 2021-12-18 00:00:00 | Brazil | 0.37188563 | 0.62811437 |
| 2021-12-19 00:00:00 | Brazil | 0.37524885 | 0.62475115 |
| 2021-12-20 00:00:00 | Brazil | 0.37844049 | 0.62155951 |
| 2021-12-21 00:00:00 | Brazil | 0.38754459 | 0.61245541 |
| 2021-12-22 00:00:00 | Brazil | 0.3821977 | 0.6178023 |
| 2021-12-23 00:00:00 | Brazil | 0.36398662 | 0.63601338 |
| 2021-12-24 00:00:00 | Brazil | 0.35052865 | 0.64947135 |
| 2021-12-25 00:00:00 | Brazil | 0.35248197 | 0.64751803 |
| 2021-12-26 00:00:00 | Brazil | 0.3573973 | 0.6426027 |
| 2021-12-27 00:00:00 | Brazil | 0.35258236 | 0.64741764 |
| 2021-12-28 00:00:00 | Brazil | 0.34706117 | 0.65293883 |
| 2021-12-29 00:00:00 | Brazil | 0.34376663 | 0.65623337 |
| 2021-12-30 00:00:00 | Brazil | 0.34945904 | 0.65054096 |
| 2021-12-31 00:00:00 | Brazil | 0.35247212 | 0.64752788 |
| 2022-01-01 00:00:00 | Brazil | 0.36317557 | 0.63682443 |
| 2022-01-02 00:00:00 | Brazil | 0.3596147 | 0.6403853 |
| 2022-01-03 00:00:00 | Brazil | 0.3596147 | 0.6403853 |
| 2022-01-04 00:00:00 | Brazil | 0.36690355 | 0.63309645 |
| 2022-01-05 00:00:00 | Brazil | 0.37580308850986 | 0.62419691149014 |
| 2022-01-06 00:00:00 | Brazil | 0.36892129719549 | 0.63107870280451 |
| 2022-01-07 00:00:00 | Brazil | 0.37463720853636 | 0.62536279146364 |
| 2022-01-08 00:00:00 | Brazil | 0.37103048770972 | 0.62896951229028 |
| 2022-01-09 00:00:00 | Brazil | 0.36715026428922 | 0.63284973571078 |
| 2022-01-10 00:00:00 | Brazil | 0.37399134004249 | 0.62600865995751 |
| 2022-01-11 00:00:00 | Brazil | 0.37875008995231 | 0.62124991004769 |
| 2022-01-12 00:00:00 | Brazil | 0.3716181403244 | 0.6283818596756 |
| 2022-01-13 00:00:00 | Brazil | 0.38272393199391 | 0.61727606800609 |
| 2022-01-14 00:00:00 | Brazil | 0.37617440565478 | 0.62382559434522 |
| 2022-01-15 00:00:00 | Brazil | 0.36961077524996 | 0.63038922475004 |
| 2022-01-16 00:00:00 | Brazil | 0.37001574194469 | 0.62998425805531 |
| 2022-01-17 00:00:00 | Brazil | 0.36825848037907 | 0.63174151962093 |
| 2022-01-18 00:00:00 | Brazil | 0.3608759042515 | 0.6391240957485 |
| 2022-01-19 00:00:00 | Brazil | 0.3654094487249 | 0.6345905512751 |
| 2022-01-20 00:00:00 | Brazil | 0.35397107429301 | 0.64602892570699 |
| 2022-01-21 00:00:00 | Brazil | 0.36311623436784 | 0.63688376563216 |
| 2022-01-22 00:00:00 | Brazil | 0.37255889115884 | 0.62744110884116 |
| 2022-01-23 00:00:00 | Brazil | 0.37764115155028 | 0.62235884844972 |
| 2022-01-24 00:00:00 | Brazil | 0.37781306800991 | 0.62218693199009 |
| 2022-01-25 00:00:00 | Brazil | 0.38037659198361 | 0.61962340801639 |
| 2022-01-26 00:00:00 | Brazil | 0.37798300800587 | 0.62201699199413 |
| 2022-01-27 00:00:00 | Brazil | 0.3866409524168 | 0.6133590475832 |
| 2022-01-28 00:00:00 | Brazil | 0.3783651532882 | 0.6216348467118 |
| 2022-01-29 00:00:00 | Brazil | 0.37385360856258 | 0.62614639143742 |
| 2022-01-30 00:00:00 | Brazil | 0.36648862206986 | 0.63351137793014 |
| 2022-01-31 00:00:00 | Brazil | 0.36051297090343 | 0.63948702909657 |
| 2022-02-01 00:00:00 | Brazil | 0.36677779228275 | 0.63322220771725 |
| 2022-02-02 00:00:00 | Brazil | 0.36979106069951 | 0.6302089393005 |
| 2022-02-03 00:00:00 | Brazil | 0.36793275316056 | 0.63206724683944 |
| 2022-02-04 00:00:00 | Brazil | 0.37288026381873 | 0.62711973618127 |
| 2022-02-05 00:00:00 | Brazil | 0.37208648809279 | 0.62791351190721 |
| 2022-02-06 00:00:00 | Brazil | 0.38183284315453 | 0.61816715684547 |
| 2022-02-07 00:00:00 | Brazil | 0.37928518589947 | 0.62071481410053 |
| 2022-02-08 00:00:00 | Brazil | 0.37266948603999 | 0.62733051396001 |
| 2022-02-09 00:00:00 | Brazil | 0.37968332207777 | 0.62031667792223 |
| 2022-02-10 00:00:00 | Brazil | 0.38443610566576 | 0.61556389433424 |
| 2022-02-11 00:00:00 | Brazil | 0.38338288976905 | 0.61661711023095 |
| 2022-02-12 00:00:00 | Brazil | 0.38234147039514 | 0.61765852960486 |
| 2022-02-13 00:00:00 | Brazil | 0.38149572412481 | 0.61850427587519 |
| 2022-02-14 00:00:00 | Brazil | 0.393157156146 | 0.606842843854 |
| 2022-02-15 00:00:00 | Brazil | 0.39532613808082 | 0.60467386191919 |
| 2022-02-16 00:00:00 | Brazil | 0.39413354624378 | 0.60586645375622 |
| 2022-02-17 00:00:00 | Brazil | 0.39363672703754 | 0.60636327296246 |
| 2022-02-18 00:00:00 | Brazil | 0.40009640480778 | 0.59990359519222 |
| 2022-02-19 00:00:00 | Brazil | 0.39942712173783 | 0.60057287826217 |
| 2022-02-20 00:00:00 | Brazil | 0.39567785691977 | 0.60432214308023 |
| 2022-02-21 00:00:00 | Brazil | 0.3945217176721 | 0.6054782823279 |
| 2022-02-22 00:00:00 | Brazil | 0.39644889360549 | 0.60355110639451 |
| 2022-02-23 00:00:00 | Brazil | 0.39605262990862 | 0.60394737009138 |
| 2022-02-24 00:00:00 | Brazil | 0.38512207727271 | 0.61487792272729 |
| 2022-02-25 00:00:00 | Brazil | 0.38064273654019 | 0.61935726345981 |
| 2022-02-26 00:00:00 | Brazil | 0.38961156756283 | 0.61038843243717 |
| 2022-02-27 00:00:00 | Brazil | 0.3903487520324 | 0.6096512479676 |
| 2022-02-28 00:00:00 | Brazil | 0.3879894603957 | 0.6120105396043 |
| 2022-03-01 00:00:00 | Brazil | 0.38460200485249 | 0.61539799514751 |
| 2022-03-02 00:00:00 | Brazil | 0.38067007961851 | 0.61932992038149 |
| 2022-03-03 00:00:00 | Brazil | 0.3962849344062 | 0.6037150655938 |
| 2022-03-04 00:00:00 | Brazil | 0.39260998091219 | 0.60739001908781 |
| 2022-03-05 00:00:00 | Brazil | 0.39408836775994 | 0.60591163224006 |
| 2022-03-06 00:00:00 | Brazil | 0.39522628650886 | 0.60477371349114 |
| 2022-03-07 00:00:00 | Brazil | 0.40002763794499 | 0.59997236205501 |
| 2022-03-08 00:00:00 | Brazil | 0.40794005321361 | 0.59205994678639 |
| 2022-03-09 00:00:00 | Brazil | 0.40639825981561 | 0.59360174018439 |
| 2022-03-10 00:00:00 | Brazil | 0.41480811264991 | 0.58519188735009 |
| 2022-03-11 00:00:00 | Brazil | 0.40583528269363 | 0.59416471730637 |
| 2022-03-12 00:00:00 | Brazil | 0.38715647327014 | 0.61284352672986 |
| 2022-03-13 00:00:00 | Brazil | 0.38097526550343 | 0.61902473449657 |
| 2022-03-14 00:00:00 | Brazil | 0.37370809307163 | 0.62629190692837 |
| 2022-03-15 00:00:00 | Brazil | 0.36363569319165 | 0.63636430680835 |
| 2022-03-16 00:00:00 | Brazil | 0.36257236554399 | 0.63742763445601 |
| 2022-03-17 00:00:00 | Brazil | 0.35702457076392 | 0.64297542923608 |
| 2022-03-18 00:00:00 | Brazil | 0.36520671316669 | 0.63479328683331 |
| 2022-03-19 00:00:00 | Brazil | 0.37199934698927 | 0.62800065301073 |
| 2022-03-20 00:00:00 | Brazil | 0.37425529796361 | 0.62574470203639 |
| 2022-03-21 00:00:00 | Brazil | 0.3732623356654 | 0.6267376643346 |
| 2022-03-22 00:00:00 | Brazil | 0.37635213453776 | 0.62364786546225 |
| 2022-03-23 00:00:00 | Brazil | 0.37637181828212 | 0.62362818171789 |
| 2022-03-24 00:00:00 | Brazil | 0.35494666773317 | 0.64505333226683 |
| 2022-03-25 00:00:00 | Brazil | 0.35873554814054 | 0.64126445185946 |
| 2022-03-26 00:00:00 | Brazil | 0.37229770781064 | 0.62770229218936 |
| 2022-03-27 00:00:00 | Brazil | 0.36927961511886 | 0.63072038488114 |
| 2022-03-28 00:00:00 | Brazil | 0.37797867476708 | 0.62202132523292 |
| 2022-03-29 00:00:00 | Brazil | 0.38565704174759 | 0.61434295825241 |
| 2020-01-06 00:00:00 | Canada | 0.46023940371335 | 0.53976059628665 |
| 2020-01-07 00:00:00 | Canada | 0.46186773048682 | 0.53813226951318 |
| 2020-01-08 00:00:00 | Canada | 0.46473635256015 | 0.53526364743985 |
| 2020-01-09 00:00:00 | Canada | 0.46078586894964 | 0.53921413105036 |
| 2020-01-10 00:00:00 | Canada | 0.4447233385487 | 0.5552766614513 |
| 2020-01-11 00:00:00 | Canada | 0.44992434654765 | 0.55007565345235 |
| 2020-01-12 00:00:00 | Canada | 0.45344641993211 | 0.54655358006789 |
| 2020-01-13 00:00:00 | Canada | 0.44922208989858 | 0.55077791010142 |
| 2020-01-14 00:00:00 | Canada | 0.4532336500116 | 0.5467663499884 |
| 2020-01-15 00:00:00 | Canada | 0.44629185568216 | 0.55370814431784 |
| 2020-01-16 00:00:00 | Canada | 0.44932952222962 | 0.55067047777038 |
| 2020-01-17 00:00:00 | Canada | 0.45061324570658 | 0.54938675429342 |
| 2020-01-18 00:00:00 | Canada | 0.45401091104779 | 0.54598908895221 |
| 2020-01-19 00:00:00 | Canada | 0.44941015452111 | 0.55058984547889 |
| 2020-01-20 00:00:00 | Canada | 0.45083490728309 | 0.54916509271691 |
| 2020-01-21 00:00:00 | Canada | 0.44546448959818 | 0.55453551040182 |
| 2020-01-22 00:00:00 | Canada | 0.45329653690494 | 0.54670346309506 |
| 2020-01-23 00:00:00 | Canada | 0.44761395798037 | 0.55238604201963 |
| 2020-01-24 00:00:00 | Canada | 0.44937781385954 | 0.55062218614046 |
| 2020-01-25 00:00:00 | Canada | 0.43988223692857 | 0.56011776307143 |
| 2020-01-26 00:00:00 | Canada | 0.43047187687239 | 0.56952812312761 |
| 2020-01-27 00:00:00 | Canada | 0.43886990998189 | 0.56113009001811 |
| 2020-01-28 00:00:00 | Canada | 0.43645008661571 | 0.56354991338429 |
| 2020-01-29 00:00:00 | Canada | 0.42854060998158 | 0.57145939001842 |
| 2020-01-30 00:00:00 | Canada | 0.43729533801832 | 0.56270466198168 |
| 2020-01-31 00:00:00 | Canada | 0.44428806949469 | 0.55571193050531 |
| 2020-02-01 00:00:00 | Canada | 0.44932693566393 | 0.55067306433607 |
| 2020-02-02 00:00:00 | Canada | 0.46936803024305 | 0.53063196975695 |
| 2020-02-03 00:00:00 | Canada | 0.46678765165659 | 0.53321234834341 |
| 2020-02-04 00:00:00 | Canada | 0.47346352134409 | 0.52653647865591 |
| 2020-02-05 00:00:00 | Canada | 0.47728919519576 | 0.52271080480424 |
| 2020-02-06 00:00:00 | Canada | 0.47679699495598 | 0.52320300504402 |
| 2020-02-07 00:00:00 | Canada | 0.47114196203166 | 0.52885803796834 |
| 2020-02-08 00:00:00 | Canada | 0.46596564983781 | 0.53403435016219 |
| 2020-02-09 00:00:00 | Canada | 0.45136471723789 | 0.54863528276212 |
| 2020-02-10 00:00:00 | Canada | 0.44461356948783 | 0.55538643051217 |
| 2020-02-11 00:00:00 | Canada | 0.44345408609722 | 0.55654591390278 |
| 2020-02-12 00:00:00 | Canada | 0.44256200708325 | 0.55743799291675 |
| 2020-02-13 00:00:00 | Canada | 0.42689858339735 | 0.57310141660265 |
| 2020-02-14 00:00:00 | Canada | 0.4179864086356 | 0.5820135913644 |
| 2020-02-15 00:00:00 | Canada | 0.41565150248439 | 0.58434849751561 |
| 2020-02-16 00:00:00 | Canada | 0.42196755977664 | 0.57803244022336 |
| 2020-02-17 00:00:00 | Canada | 0.42304622232212 | 0.57695377767788 |
| 2020-02-18 00:00:00 | Canada | 0.41009908657006 | 0.58990091342994 |
| 2020-02-19 00:00:00 | Canada | 0.39710302625919 | 0.60289697374081 |
| 2020-02-20 00:00:00 | Canada | 0.40015210213373 | 0.59984789786627 |
| 2020-02-21 00:00:00 | Canada | 0.40465649879161 | 0.59534350120839 |
| 2020-02-22 00:00:00 | Canada | 0.41175083707798 | 0.58824916292202 |
| 2020-02-23 00:00:00 | Canada | 0.40943915839998 | 0.59056084160002 |
| 2020-02-24 00:00:00 | Canada | 0.40615781974634 | 0.59384218025366 |
| 2020-02-25 00:00:00 | Canada | 0.40542446957736 | 0.59457553042264 |
| 2020-02-26 00:00:00 | Canada | 0.41125044782958 | 0.58874955217042 |
| 2020-02-27 00:00:00 | Canada | 0.40889721244603 | 0.59110278755397 |
| 2020-02-28 00:00:00 | Canada | 0.40163403817251 | 0.59836596182749 |
| 2020-02-29 00:00:00 | Canada | 0.38563859444861 | 0.61436140555139 |
| 2020-03-01 00:00:00 | Canada | 0.37382267896897 | 0.62617732103102 |
| 2020-03-02 00:00:00 | Canada | 0.36897304979851 | 0.63102695020149 |
| 2020-03-03 00:00:00 | Canada | 0.37364765644843 | 0.62635234355157 |
| 2020-03-04 00:00:00 | Canada | 0.37090749179498 | 0.62909250820502 |
| 2020-03-05 00:00:00 | Canada | 0.36953612270098 | 0.63046387729902 |
| 2020-03-06 00:00:00 | Canada | 0.37831944827234 | 0.62168055172766 |
| 2020-03-07 00:00:00 | Canada | 0.39072892078829 | 0.60927107921171 |
| 2020-03-08 00:00:00 | Canada | 0.40550079121554 | 0.59449920878446 |
| 2020-03-09 00:00:00 | Canada | 0.40510729155517 | 0.59489270844483 |
| 2020-03-10 00:00:00 | Canada | 0.40758309884938 | 0.59241690115062 |
| 2020-03-11 00:00:00 | Canada | 0.41044335058971 | 0.58955664941029 |
| 2020-03-12 00:00:00 | Canada | 0.40967546668324 | 0.59032453331676 |
| 2020-03-13 00:00:00 | Canada | 0.40644426456099 | 0.59355573543901 |
| 2020-03-14 00:00:00 | Canada | 0.40157854935507 | 0.59842145064493 |
| 2020-03-15 00:00:00 | Canada | 0.39628580971201 | 0.60371419028799 |
| 2020-03-16 00:00:00 | Canada | 0.40056483469784 | 0.59943516530216 |
| 2020-03-17 00:00:00 | Canada | 0.40037533885922 | 0.59962466114077 |
| 2020-03-18 00:00:00 | Canada | 0.4087316657929 | 0.5912683342071 |
| 2020-03-19 00:00:00 | Canada | 0.42407052826145 | 0.57592947173855 |
| 2020-03-20 00:00:00 | Canada | 0.43512742807618 | 0.56487257192382 |
| 2020-03-21 00:00:00 | Canada | 0.44269335944491 | 0.55730664055509 |
| 2020-03-22 00:00:00 | Canada | 0.44357960386806 | 0.55642039613195 |
| 2020-03-23 00:00:00 | Canada | 0.4479975384849 | 0.5520024615151 |
| 2020-03-24 00:00:00 | Canada | 0.44920808670118 | 0.55079191329882 |
| 2020-03-25 00:00:00 | Canada | 0.44838909087201 | 0.55161090912799 |
| 2020-03-26 00:00:00 | Canada | 0.43572291338697 | 0.56427708661303 |
| 2020-03-27 00:00:00 | Canada | 0.4391970774661 | 0.5608029225339 |
| 2020-03-28 00:00:00 | Canada | 0.4416227713361 | 0.5583772286639 |
| 2020-03-29 00:00:00 | Canada | 0.44895490736947 | 0.55104509263053 |
| 2020-03-30 00:00:00 | Canada | 0.45240320705028 | 0.54759679294972 |
| 2020-03-31 00:00:00 | Canada | 0.4547746895581 | 0.5452253104419 |
| 2020-04-01 00:00:00 | Canada | 0.46094934173561 | 0.53905065826439 |
| 2020-04-02 00:00:00 | Canada | 0.47782898598439 | 0.52217101401561 |
| 2020-04-03 00:00:00 | Canada | 0.48195490396134 | 0.51804509603866 |
| 2020-04-04 00:00:00 | Canada | 0.48022606848479 | 0.51977393151521 |
| 2020-04-05 00:00:00 | Canada | 0.48043371747122 | 0.51956628252878 |
| 2020-04-06 00:00:00 | Canada | 0.48398025544642 | 0.51601974455358 |
| 2020-04-07 00:00:00 | Canada | 0.49878258649646 | 0.50121741350354 |
| 2020-04-08 00:00:00 | Canada | 0.49764726734278 | 0.50235273265722 |
| 2020-04-09 00:00:00 | Canada | 0.50194299211999 | 0.49805700788001 |
| 2020-04-10 00:00:00 | Canada | 0.49940849265877 | 0.50059150734123 |
| 2020-04-11 00:00:00 | Canada | 0.49952695572443 | 0.50047304427557 |
| 2020-04-12 00:00:00 | Canada | 0.50152262209784 | 0.49847737790216 |
| 2020-04-13 00:00:00 | Canada | 0.49484352194432 | 0.50515647805568 |
| 2020-04-14 00:00:00 | Canada | 0.49698924459485 | 0.50301075540515 |
| 2020-04-15 00:00:00 | Canada | 0.50007070564134 | 0.49992929435866 |
| 2020-04-16 00:00:00 | Canada | 0.50346170798858 | 0.49653829201142 |
| 2020-04-17 00:00:00 | Canada | 0.50621770656059 | 0.49378229343941 |
| 2020-04-18 00:00:00 | Canada | 0.51373787725148 | 0.48626212274852 |
| 2020-04-19 00:00:00 | Canada | 0.52285098236345 | 0.47714901763654 |
| 2020-04-20 00:00:00 | Canada | 0.53571348055537 | 0.46428651944463 |
| 2020-04-21 00:00:00 | Canada | 0.52265585007762 | 0.47734414992238 |
| 2020-04-22 00:00:00 | Canada | 0.53108112784791 | 0.46891887215209 |
| 2020-04-23 00:00:00 | Canada | 0.53328470796656 | 0.46671529203344 |
| 2020-04-24 00:00:00 | Canada | 0.53311251278791 | 0.46688748721209 |
| 2020-04-25 00:00:00 | Canada | 0.53762966447484 | 0.46237033552515 |
| 2020-04-26 00:00:00 | Canada | 0.53368421682677 | 0.46631578317323 |
| 2020-04-27 00:00:00 | Canada | 0.53078283324075 | 0.46921716675925 |
| 2020-04-28 00:00:00 | Canada | 0.53736147652816 | 0.46263852347184 |
| 2020-04-29 00:00:00 | Canada | 0.5296510423471 | 0.4703489576529 |
| 2020-04-30 00:00:00 | Canada | 0.52853960144274 | 0.47146039855726 |
| 2020-05-01 00:00:00 | Canada | 0.53066195551769 | 0.46933804448231 |
| 2020-05-02 00:00:00 | Canada | 0.51912975570993 | 0.48087024429008 |
| 2020-05-03 00:00:00 | Canada | 0.51950520610793 | 0.48049479389207 |
| 2020-05-04 00:00:00 | Canada | 0.51517275790501 | 0.48482724209499 |
| 2020-05-05 00:00:00 | Canada | 0.51777686982655 | 0.48222313017345 |
| 2020-05-06 00:00:00 | Canada | 0.52409203239437 | 0.47590796760563 |
| 2020-05-07 00:00:00 | Canada | 0.51169704755118 | 0.48830295244882 |
| 2020-05-08 00:00:00 | Canada | 0.50915034089604 | 0.49084965910396 |
| 2020-05-09 00:00:00 | Canada | 0.51851782707801 | 0.48148217292199 |
| 2020-05-10 00:00:00 | Canada | 0.51168345604843 | 0.48831654395157 |
| 2020-05-11 00:00:00 | Canada | 0.51970837625828 | 0.48029162374172 |
| 2020-05-12 00:00:00 | Canada | 0.52190124317952 | 0.47809875682048 |
| 2020-05-13 00:00:00 | Canada | 0.52580584875713 | 0.47419415124287 |
| 2020-05-14 00:00:00 | Canada | 0.54317710483143 | 0.45682289516857 |
| 2020-05-15 00:00:00 | Canada | 0.54875223204064 | 0.45124776795936 |
| 2020-05-16 00:00:00 | Canada | 0.55063593396811 | 0.44936406603189 |
| 2020-05-17 00:00:00 | Canada | 0.55343893783457 | 0.44656106216543 |
| 2020-05-18 00:00:00 | Canada | 0.55245836697866 | 0.44754163302134 |
| 2020-05-19 00:00:00 | Canada | 0.55830677609745 | 0.44169322390255 |
| 2020-05-20 00:00:00 | Canada | 0.5492074162057 | 0.4507925837943 |
| 2020-05-21 00:00:00 | Canada | 0.54665813114016 | 0.45334186885984 |
| 2020-05-22 00:00:00 | Canada | 0.53595780136933 | 0.46404219863067 |
| 2020-05-23 00:00:00 | Canada | 0.52984435492923 | 0.47015564507077 |
| 2020-05-24 00:00:00 | Canada | 0.53615109068714 | 0.46384890931286 |
| 2020-05-25 00:00:00 | Canada | 0.54415264208629 | 0.45584735791371 |
| 2020-05-26 00:00:00 | Canada | 0.53467845144495 | 0.46532154855505 |
| 2020-05-27 00:00:00 | Canada | 0.53909828074126 | 0.46090171925874 |
| 2020-05-28 00:00:00 | Canada | 0.53426301551944 | 0.46573698448056 |
| 2020-05-29 00:00:00 | Canada | 0.53942355366124 | 0.46057644633875 |
| 2020-05-30 00:00:00 | Canada | 0.54485254536157 | 0.45514745463843 |
| 2020-05-31 00:00:00 | Canada | 0.54277486707441 | 0.45722513292559 |
| 2020-06-01 00:00:00 | Canada | 0.5388115732312 | 0.4611884267688 |
| 2020-06-02 00:00:00 | Canada | 0.53484934743355 | 0.46515065256645 |
| 2020-06-03 00:00:00 | Canada | 0.52731323318244 | 0.47268676681756 |
| 2020-06-04 00:00:00 | Canada | 0.51154968072555 | 0.48845031927445 |
| 2020-06-05 00:00:00 | Canada | 0.51769351260154 | 0.48230648739846 |
| 2020-06-06 00:00:00 | Canada | 0.51358564404739 | 0.48641435595261 |
| 2020-06-07 00:00:00 | Canada | 0.50634629311929 | 0.49365370688071 |
| 2020-06-08 00:00:00 | Canada | 0.49975154640475 | 0.50024845359525 |
| 2020-06-09 00:00:00 | Canada | 0.512728807394 | 0.487271192606 |
| 2020-06-10 00:00:00 | Canada | 0.52503278674462 | 0.47496721325538 |
| 2020-06-11 00:00:00 | Canada | 0.53710766023046 | 0.46289233976954 |
| 2020-06-12 00:00:00 | Canada | 0.52591437642253 | 0.47408562357747 |
| 2020-06-13 00:00:00 | Canada | 0.53151893487696 | 0.46848106512304 |
| 2020-06-14 00:00:00 | Canada | 0.53341877266078 | 0.46658122733922 |
| 2020-06-15 00:00:00 | Canada | 0.53698467095338 | 0.46301532904662 |
| 2020-06-16 00:00:00 | Canada | 0.52624465415709 | 0.47375534584291 |
| 2020-06-17 00:00:00 | Canada | 0.51225589427431 | 0.48774410572569 |
| 2020-06-18 00:00:00 | Canada | 0.5164096625794 | 0.4835903374206 |
| 2020-06-19 00:00:00 | Canada | 0.52497866252733 | 0.47502133747267 |
| 2020-06-20 00:00:00 | Canada | 0.51262679474464 | 0.48737320525536 |
| 2020-06-21 00:00:00 | Canada | 0.51061144328205 | 0.48938855671795 |
| 2020-06-22 00:00:00 | Canada | 0.5009110299755 | 0.4990889700245 |
| 2020-06-23 00:00:00 | Canada | 0.50254115930799 | 0.49745884069201 |
| 2020-06-24 00:00:00 | Canada | 0.50796483845788 | 0.49203516154212 |
| 2020-06-25 00:00:00 | Canada | 0.50150817152531 | 0.49849182847469 |
| 2020-06-26 00:00:00 | Canada | 0.50441543595833 | 0.49558456404168 |
| 2020-06-27 00:00:00 | Canada | 0.5095125805107 | 0.4904874194893 |
| 2020-06-28 00:00:00 | Canada | 0.51680366530424 | 0.48319633469576 |
| 2020-06-29 00:00:00 | Canada | 0.5249374816664 | 0.4750625183336 |
| 2020-06-30 00:00:00 | Canada | 0.53080979255427 | 0.46919020744573 |
| 2020-07-01 00:00:00 | Canada | 0.52702905874852 | 0.47297094125148 |
| 2020-07-02 00:00:00 | Canada | 0.52066138708436 | 0.47933861291564 |
| 2020-07-03 00:00:00 | Canada | 0.51725865114822 | 0.48274134885178 |
| 2020-07-04 00:00:00 | Canada | 0.51793671592571 | 0.48206328407429 |
| 2020-07-05 00:00:00 | Canada | 0.51490503302876 | 0.48509496697124 |
| 2020-07-06 00:00:00 | Canada | 0.51955140787993 | 0.48044859212007 |
| 2020-07-07 00:00:00 | Canada | 0.51714004951643 | 0.48285995048357 |
| 2020-07-08 00:00:00 | Canada | 0.52042959852329 | 0.47957040147671 |
| 2020-07-09 00:00:00 | Canada | 0.52782175830887 | 0.47217824169113 |
| 2020-07-10 00:00:00 | Canada | 0.52376672933748 | 0.47623327066252 |
| 2020-07-11 00:00:00 | Canada | 0.51590761372587 | 0.48409238627413 |
| 2020-07-12 00:00:00 | Canada | 0.51475622552873 | 0.48524377447127 |
| 2020-07-13 00:00:00 | Canada | 0.50370215840274 | 0.49629784159726 |
| 2020-07-14 00:00:00 | Canada | 0.49393096328491 | 0.50606903671509 |
| 2020-07-15 00:00:00 | Canada | 0.48552096214543 | 0.51447903785457 |
| 2020-07-16 00:00:00 | Canada | 0.48378897152639 | 0.51621102847361 |
| 2020-07-17 00:00:00 | Canada | 0.48989942791325 | 0.51010057208675 |
| 2020-07-18 00:00:00 | Canada | 0.49545747615441 | 0.50454252384559 |
| 2020-07-19 00:00:00 | Canada | 0.48178257292504 | 0.51821742707496 |
| 2020-07-20 00:00:00 | Canada | 0.48766456609256 | 0.51233543390744 |
| 2020-07-21 00:00:00 | Canada | 0.49354068780371 | 0.50645931219629 |
| 2020-07-22 00:00:00 | Canada | 0.50608227177987 | 0.49391772822013 |
| 2020-07-23 00:00:00 | Canada | 0.50696180884427 | 0.49303819115573 |
| 2020-07-24 00:00:00 | Canada | 0.49708494888793 | 0.50291505111207 |
| 2020-07-25 00:00:00 | Canada | 0.49319674085752 | 0.50680325914248 |
| 2020-07-26 00:00:00 | Canada | 0.49677543609658 | 0.50322456390342 |
| 2020-07-27 00:00:00 | Canada | 0.49449470296555 | 0.50550529703445 |
| 2020-07-28 00:00:00 | Canada | 0.49579995933081 | 0.50420004066919 |
| 2020-07-29 00:00:00 | Canada | 0.48948188814143 | 0.51051811185857 |
| 2020-07-30 00:00:00 | Canada | 0.48125216439454 | 0.51874783560546 |
| 2020-07-31 00:00:00 | Canada | 0.4816503233144 | 0.51834967668559 |
| 2020-08-01 00:00:00 | Canada | 0.48731514022078 | 0.51268485977922 |
| 2020-08-02 00:00:00 | Canada | 0.4960274394138 | 0.5039725605862 |
| 2020-08-03 00:00:00 | Canada | 0.49681714577696 | 0.50318285422304 |
| 2020-08-04 00:00:00 | Canada | 0.4915021170497 | 0.5084978829503 |
| 2020-08-05 00:00:00 | Canada | 0.48858559334074 | 0.51141440665926 |
| 2020-08-06 00:00:00 | Canada | 0.50300178818103 | 0.49699821181898 |
| 2020-08-07 00:00:00 | Canada | 0.51373957552116 | 0.48626042447884 |
| 2020-08-08 00:00:00 | Canada | 0.50863330581439 | 0.49136669418561 |
| 2020-08-09 00:00:00 | Canada | 0.51632389987302 | 0.48367610012698 |
| 2020-08-10 00:00:00 | Canada | 0.51234969142639 | 0.4876503085736 |
| 2020-08-11 00:00:00 | Canada | 0.51594164914644 | 0.48405835085356 |
| 2020-08-12 00:00:00 | Canada | 0.52326970725843 | 0.47673029274157 |
| 2020-08-13 00:00:00 | Canada | 0.51915886079173 | 0.48084113920827 |
| 2020-08-14 00:00:00 | Canada | 0.50982246123029 | 0.49017753876971 |
| 2020-08-15 00:00:00 | Canada | 0.51201103991551 | 0.48798896008449 |
| 2020-08-16 00:00:00 | Canada | 0.50429310858774 | 0.49570689141226 |
| 2020-08-17 00:00:00 | Canada | 0.51404404779984 | 0.48595595220016 |
| 2020-08-18 00:00:00 | Canada | 0.50951925105497 | 0.49048074894503 |
| 2020-08-19 00:00:00 | Canada | 0.50628344113921 | 0.49371655886079 |
| 2020-08-20 00:00:00 | Canada | 0.49952576006277 | 0.50047423993722 |
| 2020-08-21 00:00:00 | Canada | 0.51043156198614 | 0.48956843801386 |
| 2020-08-22 00:00:00 | Canada | 0.50731790305776 | 0.49268209694224 |
| 2020-08-23 00:00:00 | Canada | 0.50091418301695 | 0.49908581698305 |
| 2020-08-24 00:00:00 | Canada | 0.49203982032263 | 0.50796017967736 |
| 2020-08-25 00:00:00 | Canada | 0.49135238089951 | 0.50864761910049 |
| 2020-08-26 00:00:00 | Canada | 0.48518014300218 | 0.51481985699782 |
| 2020-08-27 00:00:00 | Canada | 0.48796203116028 | 0.51203796883972 |
| 2020-08-28 00:00:00 | Canada | 0.4791233607609 | 0.5208766392391 |
| 2020-08-29 00:00:00 | Canada | 0.49145149521334 | 0.50854850478666 |
| 2020-08-30 00:00:00 | Canada | 0.50045727913377 | 0.49954272086623 |
| 2020-08-31 00:00:00 | Canada | 0.50640291778878 | 0.49359708221122 |
| 2020-09-01 00:00:00 | Canada | 0.50564246097088 | 0.49435753902912 |
| 2020-09-02 00:00:00 | Canada | 0.5085650701943 | 0.4914349298057 |
| 2020-09-03 00:00:00 | Canada | 0.5065397295753 | 0.4934602704247 |
| 2020-09-04 00:00:00 | Canada | 0.50671082177167 | 0.49328917822833 |
| 2020-09-05 00:00:00 | Canada | 0.4966263974884 | 0.5033736025116 |
| 2020-09-06 00:00:00 | Canada | 0.4964287672416 | 0.5035712327584 |
| 2020-09-07 00:00:00 | Canada | 0.48607865978968 | 0.51392134021032 |
| 2020-09-08 00:00:00 | Canada | 0.48465393567977 | 0.51534606432023 |
| 2020-09-09 00:00:00 | Canada | 0.47393731050499 | 0.52606268949501 |
| 2020-09-10 00:00:00 | Canada | 0.46688017038036 | 0.53311982961964 |
| 2020-09-11 00:00:00 | Canada | 0.46172524918928 | 0.53827475081072 |
| 2020-09-12 00:00:00 | Canada | 0.4616773242354 | 0.5383226757646 |
| 2020-09-13 00:00:00 | Canada | 0.45200724278235 | 0.54799275721765 |
| 2020-09-14 00:00:00 | Canada | 0.45585851089923 | 0.54414148910077 |
| 2020-09-15 00:00:00 | Canada | 0.45888401962834 | 0.54111598037166 |
| 2020-09-16 00:00:00 | Canada | 0.46474657172889 | 0.53525342827111 |
| 2020-09-17 00:00:00 | Canada | 0.46766201850571 | 0.53233798149429 |
| 2020-09-18 00:00:00 | Canada | 0.47353778640943 | 0.52646221359057 |
| 2020-09-19 00:00:00 | Canada | 0.47617323042113 | 0.52382676957887 |
| 2020-09-20 00:00:00 | Canada | 0.46740365642143 | 0.53259634357857 |
| 2020-09-21 00:00:00 | Canada | 0.46537523044219 | 0.53462476955781 |
| 2020-09-22 00:00:00 | Canada | 0.46104617638059 | 0.53895382361941 |
| 2020-09-23 00:00:00 | Canada | 0.45922457065628 | 0.54077542934372 |
| 2020-09-24 00:00:00 | Canada | 0.46494392206069 | 0.53505607793931 |
| 2020-09-25 00:00:00 | Canada | 0.45809835797219 | 0.54190164202781 |
| 2020-09-26 00:00:00 | Canada | 0.44860074167667 | 0.55139925832333 |
| 2020-09-27 00:00:00 | Canada | 0.45484066103158 | 0.54515933896842 |
| 2020-09-28 00:00:00 | Canada | 0.44113349300854 | 0.55886650699146 |
| 2020-09-29 00:00:00 | Canada | 0.44513437531096 | 0.55486562468904 |
| 2020-09-30 00:00:00 | Canada | 0.44411893930956 | 0.55588106069044 |
| 2020-10-01 00:00:00 | Canada | 0.44046243713643 | 0.55953756286357 |
| 2020-10-02 00:00:00 | Canada | 0.44239133441189 | 0.55760866558811 |
| 2020-10-03 00:00:00 | Canada | 0.44652233298777 | 0.55347766701223 |
| 2020-10-04 00:00:00 | Canada | 0.44816592242952 | 0.55183407757048 |
| 2020-10-05 00:00:00 | Canada | 0.45833698808552 | 0.54166301191448 |
| 2020-10-06 00:00:00 | Canada | 0.45758610567056 | 0.54241389432944 |
| 2020-10-07 00:00:00 | Canada | 0.4618184192685 | 0.5381815807315 |
| 2020-10-08 00:00:00 | Canada | 0.46737187559326 | 0.53262812440674 |
| 2020-10-09 00:00:00 | Canada | 0.45816842755603 | 0.54183157244397 |
| 2020-10-10 00:00:00 | Canada | 0.45808653681533 | 0.54191346318467 |
| 2020-10-11 00:00:00 | Canada | 0.45573066643598 | 0.54426933356402 |
| 2020-10-12 00:00:00 | Canada | 0.45539053481259 | 0.54460946518741 |
| 2020-10-13 00:00:00 | Canada | 0.44891073744113 | 0.55108926255887 |
| 2020-10-14 00:00:00 | Canada | 0.44145777821822 | 0.55854222178178 |
| 2020-10-15 00:00:00 | Canada | 0.43570138011299 | 0.56429861988701 |
| 2020-10-16 00:00:00 | Canada | 0.43893829519707 | 0.56106170480293 |
| 2020-10-17 00:00:00 | Canada | 0.43946637257852 | 0.56053362742148 |
| 2020-10-18 00:00:00 | Canada | 0.44042833233853 | 0.55957166766147 |
| 2020-10-19 00:00:00 | Canada | 0.43662789043451 | 0.56337210956549 |
| 2020-10-20 00:00:00 | Canada | 0.43636957272524 | 0.56363042727476 |
| 2020-10-21 00:00:00 | Canada | 0.44373712400943 | 0.55626287599057 |
| 2020-10-22 00:00:00 | Canada | 0.44462188611433 | 0.55537811388567 |
| 2020-10-23 00:00:00 | Canada | 0.44601448901527 | 0.55398551098473 |
| 2020-10-24 00:00:00 | Canada | 0.44827274041313 | 0.55172725958687 |
| 2020-10-25 00:00:00 | Canada | 0.44987609471512 | 0.55012390528488 |
| 2020-10-26 00:00:00 | Canada | 0.45069743091787 | 0.54930256908213 |
| 2020-10-27 00:00:00 | Canada | 0.44966922887935 | 0.55033077112065 |
| 2020-10-28 00:00:00 | Canada | 0.44439562226225 | 0.55560437773775 |
| 2020-10-29 00:00:00 | Canada | 0.44126759273098 | 0.55873240726902 |
| 2020-10-30 00:00:00 | Canada | 0.44289743755872 | 0.55710256244128 |
| 2020-10-31 00:00:00 | Canada | 0.43685435882339 | 0.56314564117661 |
| 2020-11-01 00:00:00 | Canada | 0.43442193363992 | 0.56557806636008 |
| 2020-11-02 00:00:00 | Canada | 0.43842504923009 | 0.56157495076991 |
| 2020-11-03 00:00:00 | Canada | 0.4428654635057 | 0.5571345364943 |
| 2020-11-04 00:00:00 | Canada | 0.45173969316741 | 0.54826030683259 |
| 2020-11-05 00:00:00 | Canada | 0.45339470625094 | 0.54660529374906 |
| 2020-11-06 00:00:00 | Canada | 0.4563121839963 | 0.5436878160037 |
| 2020-11-07 00:00:00 | Canada | 0.4596414733509 | 0.5403585266491 |
| 2020-11-08 00:00:00 | Canada | 0.46555611513536 | 0.53444388486464 |
| 2020-11-09 00:00:00 | Canada | 0.46823754605315 | 0.53176245394685 |
| 2020-11-10 00:00:00 | Canada | 0.47114738462018 | 0.52885261537982 |
| 2020-11-11 00:00:00 | Canada | 0.46372522214964 | 0.53627477785036 |
| 2020-11-12 00:00:00 | Canada | 0.46238149932635 | 0.53761850067365 |
| 2020-11-13 00:00:00 | Canada | 0.4622331806214 | 0.5377668193786 |
| 2020-11-14 00:00:00 | Canada | 0.45675568352345 | 0.54324431647655 |
| 2020-11-15 00:00:00 | Canada | 0.46245441094106 | 0.53754558905894 |
| 2020-11-16 00:00:00 | Canada | 0.46230491627075 | 0.53769508372925 |
| 2020-11-17 00:00:00 | Canada | 0.45981776159137 | 0.54018223840863 |
| 2020-11-18 00:00:00 | Canada | 0.46557773094577 | 0.53442226905423 |
| 2020-11-19 00:00:00 | Canada | 0.46716027104081 | 0.53283972895919 |
| 2020-11-20 00:00:00 | Canada | 0.4635393637108 | 0.5364606362892 |
| 2020-11-21 00:00:00 | Canada | 0.46533089740808 | 0.53466910259192 |
| 2020-11-22 00:00:00 | Canada | 0.45934097569019 | 0.54065902430981 |
| 2020-11-23 00:00:00 | Canada | 0.45982537071852 | 0.54017462928148 |
| 2020-11-24 00:00:00 | Canada | 0.4675002619736 | 0.5324997380264 |
| 2020-11-25 00:00:00 | Canada | 0.45849950061451 | 0.54150049938549 |
| 2020-11-26 00:00:00 | Canada | 0.45451173708372 | 0.54548826291628 |
| 2020-11-27 00:00:00 | Canada | 0.4586710611972 | 0.5413289388028 |
| 2020-11-28 00:00:00 | Canada | 0.45895528666077 | 0.54104471333923 |
| 2020-11-29 00:00:00 | Canada | 0.45335277645741 | 0.54664722354259 |
| 2020-11-30 00:00:00 | Canada | 0.45104691863486 | 0.54895308136514 |
| 2020-12-01 00:00:00 | Canada | 0.43491028318241 | 0.56508971681759 |
| 2020-12-02 00:00:00 | Canada | 0.4361854723983 | 0.5638145276017 |
| 2020-12-03 00:00:00 | Canada | 0.43200204547303 | 0.56799795452697 |
| 2020-12-04 00:00:00 | Canada | 0.43342596713998 | 0.56657403286002 |
| 2020-12-05 00:00:00 | Canada | 0.44035827040678 | 0.55964172959322 |
| 2020-12-06 00:00:00 | Canada | 0.44087932285548 | 0.55912067714452 |
| 2020-12-07 00:00:00 | Canada | 0.44358144367639 | 0.55641855632361 |
| 2020-12-08 00:00:00 | Canada | 0.4518003171579 | 0.5481996828421 |
| 2020-12-09 00:00:00 | Canada | 0.45566976530389 | 0.54433023469611 |
| 2020-12-10 00:00:00 | Canada | 0.46516705974479 | 0.53483294025521 |
| 2020-12-11 00:00:00 | Canada | 0.46644185110238 | 0.53355814889762 |
| 2020-12-12 00:00:00 | Canada | 0.4728204709984 | 0.5271795290016 |
| 2020-12-13 00:00:00 | Canada | 0.47497608594982 | 0.52502391405018 |
| 2020-12-14 00:00:00 | Canada | 0.4681390563048 | 0.5318609436952 |
| 2020-12-15 00:00:00 | Canada | 0.46349539871444 | 0.53650460128556 |
| 2020-12-16 00:00:00 | Canada | 0.45858150869211 | 0.54141849130789 |
| 2020-12-17 00:00:00 | Canada | 0.45158634421472 | 0.54841365578528 |
| 2020-12-18 00:00:00 | Canada | 0.44786100694309 | 0.55213899305691 |
| 2020-12-19 00:00:00 | Canada | 0.43942313557812 | 0.56057686442188 |
| 2020-12-20 00:00:00 | Canada | 0.44263717184085 | 0.55736282815915 |
| 2020-12-21 00:00:00 | Canada | 0.44543068903874 | 0.55456931096126 |
| 2020-12-22 00:00:00 | Canada | 0.45645678521506 | 0.54354321478493 |
| 2020-12-23 00:00:00 | Canada | 0.4589806967711 | 0.5410193032289 |
| 2020-12-24 00:00:00 | Canada | 0.46136176510795 | 0.53863823489205 |
| 2020-12-25 00:00:00 | Canada | 0.46148035989943 | 0.53851964010057 |
| 2020-12-26 00:00:00 | Canada | 0.45447005128105 | 0.54552994871895 |
| 2020-12-27 00:00:00 | Canada | 0.45780282453962 | 0.54219717546038 |
| 2020-12-28 00:00:00 | Canada | 0.45405296702053 | 0.54594703297947 |
| 2020-12-29 00:00:00 | Canada | 0.44965087236662 | 0.55034912763338 |
| 2020-12-30 00:00:00 | Canada | 0.443973215944 | 0.556026784056 |
| 2020-12-31 00:00:00 | Canada | 0.43595230804458 | 0.56404769195542 |
| 2021-01-01 00:00:00 | Canada | 0.43640578697652 | 0.56359421302348 |
| 2021-01-02 00:00:00 | Canada | 0.44594898465063 | 0.55405101534937 |
| 2021-01-03 00:00:00 | Canada | 0.44176863316904 | 0.55823136683096 |
| 2021-01-04 00:00:00 | Canada | 0.44712236240192 | 0.55287763759808 |
| 2021-01-05 00:00:00 | Canada | 0.44071640074648 | 0.55928359925352 |
| 2021-01-06 00:00:00 | Canada | 0.43750965621036 | 0.56249034378964 |
| 2021-01-07 00:00:00 | Canada | 0.44209117314945 | 0.55790882685055 |
| 2021-01-08 00:00:00 | Canada | 0.44675263751449 | 0.55324736248551 |
| 2021-01-09 00:00:00 | Canada | 0.43418036071943 | 0.56581963928057 |
| 2021-01-10 00:00:00 | Canada | 0.42826956232248 | 0.57173043767752 |
| 2021-01-11 00:00:00 | Canada | 0.42062902072329 | 0.57937097927671 |
| 2021-01-12 00:00:00 | Canada | 0.42649458006272 | 0.57350541993728 |
| 2021-01-13 00:00:00 | Canada | 0.4300533601168 | 0.5699466398832 |
| 2021-01-14 00:00:00 | Canada | 0.43322611863852 | 0.56677388136148 |
| 2021-01-15 00:00:00 | Canada | 0.42927510660291 | 0.57072489339709 |
| 2021-01-16 00:00:00 | Canada | 0.43116039139105 | 0.56883960860895 |
| 2021-01-17 00:00:00 | Canada | 0.43634946629423 | 0.56365053370577 |
| 2021-01-18 00:00:00 | Canada | 0.43844676550347 | 0.56155323449653 |
| 2021-01-19 00:00:00 | Canada | 0.43800828724846 | 0.56199171275154 |
| 2021-01-20 00:00:00 | Canada | 0.44457534853724 | 0.55542465146276 |
| 2021-01-21 00:00:00 | Canada | 0.44588784433829 | 0.55411215566171 |
| 2021-01-22 00:00:00 | Canada | 0.44510393839258 | 0.55489606160742 |
| 2021-01-23 00:00:00 | Canada | 0.45111543831021 | 0.54888456168979 |
| 2021-01-24 00:00:00 | Canada | 0.45119247496344 | 0.54880752503656 |
| 2021-01-25 00:00:00 | Canada | 0.44738420204803 | 0.55261579795197 |
| 2021-01-26 00:00:00 | Canada | 0.44679179884249 | 0.55320820115751 |
| 2021-01-27 00:00:00 | Canada | 0.44938476597166 | 0.55061523402834 |
| 2021-01-28 00:00:00 | Canada | 0.44870284035576 | 0.55129715964424 |
| 2021-01-29 00:00:00 | Canada | 0.44836396048249 | 0.55163603951751 |
| 2021-01-30 00:00:00 | Canada | 0.44529101763969 | 0.55470898236031 |
| 2021-01-31 00:00:00 | Canada | 0.44398455059899 | 0.55601544940101 |
| 2021-02-01 00:00:00 | Canada | 0.45605113926599 | 0.54394886073401 |
| 2021-02-02 00:00:00 | Canada | 0.45729131119096 | 0.54270868880904 |
| 2021-02-03 00:00:00 | Canada | 0.45181463205393 | 0.54818536794607 |
| 2021-02-04 00:00:00 | Canada | 0.45398669772088 | 0.54601330227913 |
| 2021-02-05 00:00:00 | Canada | 0.45584375669868 | 0.54415624330132 |
| 2021-02-06 00:00:00 | Canada | 0.45630908098051 | 0.54369091901949 |
| 2021-02-07 00:00:00 | Canada | 0.45323502983881 | 0.54676497016119 |
| 2021-02-08 00:00:00 | Canada | 0.44547841679461 | 0.55452158320539 |
| 2021-02-09 00:00:00 | Canada | 0.43858479144947 | 0.56141520855053 |
| 2021-02-10 00:00:00 | Canada | 0.44343913490861 | 0.55656086509139 |
| 2021-02-11 00:00:00 | Canada | 0.43913044576827 | 0.56086955423173 |
| 2021-02-12 00:00:00 | Canada | 0.43720787623992 | 0.56279212376008 |
| 2021-02-13 00:00:00 | Canada | 0.43856253495182 | 0.56143746504818 |
| 2021-02-14 00:00:00 | Canada | 0.44155609294516 | 0.55844390705484 |
| 2021-02-15 00:00:00 | Canada | 0.43804431995273 | 0.56195568004727 |
| 2021-02-16 00:00:00 | Canada | 0.4363291404193 | 0.5636708595807 |
| 2021-02-17 00:00:00 | Canada | 0.43435362980687 | 0.56564637019313 |
| 2021-02-18 00:00:00 | Canada | 0.44054215135282 | 0.55945784864718 |
| 2021-02-19 00:00:00 | Canada | 0.44108733816562 | 0.55891266183438 |
| 2021-02-20 00:00:00 | Canada | 0.43978557140231 | 0.56021442859769 |
| 2021-02-21 00:00:00 | Canada | 0.44480417042398 | 0.55519582957602 |
| 2021-02-22 00:00:00 | Canada | 0.45666493475029 | 0.54333506524971 |
| 2021-02-23 00:00:00 | Canada | 0.46449752584316 | 0.53550247415685 |
| 2021-02-24 00:00:00 | Canada | 0.46814980578371 | 0.53185019421629 |
| 2021-02-25 00:00:00 | Canada | 0.46231740069061 | 0.53768259930939 |
| 2021-02-26 00:00:00 | Canada | 0.46284457424535 | 0.53715542575465 |
| 2021-02-27 00:00:00 | Canada | 0.47921468761017 | 0.52078531238983 |
| 2021-02-28 00:00:00 | Canada | 0.48233239104611 | 0.51766760895389 |
| 2021-03-01 00:00:00 | Canada | 0.48410248498178 | 0.51589751501822 |
| 2021-03-02 00:00:00 | Canada | 0.4780792208458 | 0.5219207791542 |
| 2021-03-03 00:00:00 | Canada | 0.48225594461016 | 0.51774405538984 |
| 2021-03-04 00:00:00 | Canada | 0.49275283080811 | 0.50724716919189 |
| 2021-03-05 00:00:00 | Canada | 0.49010970218699 | 0.50989029781301 |
| 2021-03-06 00:00:00 | Canada | 0.48162387786884 | 0.51837612213117 |
| 2021-03-07 00:00:00 | Canada | 0.47620733050316 | 0.52379266949684 |
| 2021-03-08 00:00:00 | Canada | 0.46767415127492 | 0.53232584872508 |
| 2021-03-09 00:00:00 | Canada | 0.47992831867037 | 0.52007168132963 |
| 2021-03-10 00:00:00 | Canada | 0.46600752511421 | 0.53399247488579 |
| 2021-03-11 00:00:00 | Canada | 0.46983497977674 | 0.53016502022326 |
| 2021-03-12 00:00:00 | Canada | 0.4838164858955 | 0.5161835141045 |
| 2021-03-13 00:00:00 | Canada | 0.47920205603197 | 0.52079794396803 |
| 2021-03-14 00:00:00 | Canada | 0.48502956483023 | 0.51497043516977 |
| 2021-03-15 00:00:00 | Canada | 0.48409470825056 | 0.51590529174944 |
| 2021-03-16 00:00:00 | Canada | 0.48174199246925 | 0.51825800753075 |
| 2021-03-17 00:00:00 | Canada | 0.48985358018582 | 0.51014641981418 |
| 2021-03-18 00:00:00 | Canada | 0.47969141704138 | 0.52030858295863 |
| 2021-03-19 00:00:00 | Canada | 0.4678746461339 | 0.5321253538661 |
| 2021-03-20 00:00:00 | Canada | 0.47591970670833 | 0.52408029329167 |
| 2021-03-21 00:00:00 | Canada | 0.46657605628945 | 0.53342394371055 |
| 2021-03-22 00:00:00 | Canada | 0.46791716093935 | 0.53208283906065 |
| 2021-03-23 00:00:00 | Canada | 0.4672943207486 | 0.5327056792514 |
| 2021-03-24 00:00:00 | Canada | 0.45893241647755 | 0.54106758352245 |
| 2021-03-25 00:00:00 | Canada | 0.46384890397673 | 0.53615109602327 |
| 2021-03-26 00:00:00 | Canada | 0.46948649562472 | 0.53051350437528 |
| 2021-03-27 00:00:00 | Canada | 0.47186050992877 | 0.52813949007123 |
| 2021-03-28 00:00:00 | Canada | 0.476260381409 | 0.523739618591 |
| 2021-03-29 00:00:00 | Canada | 0.47551072071951 | 0.52448927928049 |
| 2021-03-30 00:00:00 | Canada | 0.46561378485096 | 0.53438621514904 |
| 2021-03-31 00:00:00 | Canada | 0.47269096803895 | 0.52730903196105 |
| 2021-04-01 00:00:00 | Canada | 0.46951818023964 | 0.53048181976036 |
| 2021-04-02 00:00:00 | Canada | 0.46140356421226 | 0.53859643578774 |
| 2021-04-03 00:00:00 | Canada | 0.44873159069333 | 0.55126840930667 |
| 2021-04-04 00:00:00 | Canada | 0.44348610118467 | 0.55651389881533 |
| 2021-04-05 00:00:00 | Canada | 0.44319137155716 | 0.55680862844284 |
| 2021-04-06 00:00:00 | Canada | 0.44953993003264 | 0.55046006996736 |
| 2021-04-07 00:00:00 | Canada | 0.45214743757433 | 0.54785256242567 |
| 2021-04-08 00:00:00 | Canada | 0.44749985046766 | 0.55250014953234 |
| 2021-04-09 00:00:00 | Canada | 0.44534638012038 | 0.55465361987962 |
| 2021-04-10 00:00:00 | Canada | 0.44195057110405 | 0.55804942889595 |
| 2021-04-11 00:00:00 | Canada | 0.43990022924434 | 0.56009977075566 |
| 2021-04-12 00:00:00 | Canada | 0.42788197616739 | 0.57211802383261 |
| 2021-04-13 00:00:00 | Canada | 0.43055739811419 | 0.56944260188581 |
| 2021-04-14 00:00:00 | Canada | 0.42286873172446 | 0.57713126827553 |
| 2021-04-15 00:00:00 | Canada | 0.42612072883796 | 0.57387927116204 |
| 2021-04-16 00:00:00 | Canada | 0.43231236325251 | 0.56768763674749 |
| 2021-04-17 00:00:00 | Canada | 0.43373345741916 | 0.56626654258084 |
| 2021-04-18 00:00:00 | Canada | 0.42951916508246 | 0.57048083491754 |
| 2021-04-19 00:00:00 | Canada | 0.42994401823514 | 0.57005598176486 |
| 2021-04-20 00:00:00 | Canada | 0.42636960090803 | 0.57363039909197 |
| 2021-04-21 00:00:00 | Canada | 0.42897587285287 | 0.57102412714713 |
| 2021-04-22 00:00:00 | Canada | 0.42487140803426 | 0.57512859196574 |
| 2021-04-23 00:00:00 | Canada | 0.41934975418474 | 0.58065024581526 |
| 2021-04-24 00:00:00 | Canada | 0.43097003965994 | 0.56902996034006 |
| 2021-04-25 00:00:00 | Canada | 0.43138569910375 | 0.56861430089625 |
| 2021-04-26 00:00:00 | Canada | 0.43854670394139 | 0.5614532960586 |
| 2021-04-27 00:00:00 | Canada | 0.4272290883113 | 0.5727709116887 |
| 2021-04-28 00:00:00 | Canada | 0.4230876380351 | 0.5769123619649 |
| 2021-04-29 00:00:00 | Canada | 0.43061503444165 | 0.56938496555835 |
| 2021-04-30 00:00:00 | Canada | 0.43685282900917 | 0.56314717099083 |
| 2021-05-01 00:00:00 | Canada | 0.43548682853529 | 0.56451317146471 |
| 2021-05-02 00:00:00 | Canada | 0.4375240344817 | 0.5624759655183 |
| 2021-05-03 00:00:00 | Canada | 0.44210954759027 | 0.55789045240973 |
| 2021-05-04 00:00:00 | Canada | 0.4542103450966 | 0.54578965490341 |
| 2021-05-05 00:00:00 | Canada | 0.45560102281095 | 0.54439897718905 |
| 2021-05-06 00:00:00 | Canada | 0.45063950164629 | 0.54936049835371 |
| 2021-05-07 00:00:00 | Canada | 0.45347973780366 | 0.54652026219634 |
| 2021-05-08 00:00:00 | Canada | 0.44909855217049 | 0.55090144782951 |
| 2021-05-09 00:00:00 | Canada | 0.45816907777734 | 0.54183092222266 |
| 2021-05-10 00:00:00 | Canada | 0.45637616250504 | 0.54362383749496 |
| 2021-05-11 00:00:00 | Canada | 0.45304094198337 | 0.54695905801663 |
| 2021-05-12 00:00:00 | Canada | 0.45798998710453 | 0.54201001289547 |
| 2021-05-13 00:00:00 | Canada | 0.45902493951232 | 0.54097506048768 |
| 2021-05-14 00:00:00 | Canada | 0.45119839902325 | 0.54880160097675 |
| 2021-05-15 00:00:00 | Canada | 0.45251009574708 | 0.54748990425292 |
| 2021-05-16 00:00:00 | Canada | 0.44764498428841 | 0.55235501571159 |
| 2021-05-17 00:00:00 | Canada | 0.45477436016251 | 0.54522563983749 |
| 2021-05-18 00:00:00 | Canada | 0.45933359557888 | 0.54066640442112 |
| 2021-05-19 00:00:00 | Canada | 0.46483234580313 | 0.53516765419687 |
| 2021-05-20 00:00:00 | Canada | 0.4752694425147 | 0.5247305574853 |
| 2021-05-21 00:00:00 | Canada | 0.48304512104347 | 0.51695487895653 |
| 2021-05-22 00:00:00 | Canada | 0.48052358698171 | 0.51947641301829 |
| 2021-05-23 00:00:00 | Canada | 0.48555191285585 | 0.51444808714415 |
| 2021-05-24 00:00:00 | Canada | 0.48365622576123 | 0.51634377423877 |
| 2021-05-25 00:00:00 | Canada | 0.49193455359936 | 0.50806544640064 |
| 2021-05-26 00:00:00 | Canada | 0.48990958276695 | 0.51009041723305 |
| 2021-05-27 00:00:00 | Canada | 0.48852832567551 | 0.51147167432449 |
| 2021-05-28 00:00:00 | Canada | 0.48511566310195 | 0.51488433689805 |
| 2021-05-29 00:00:00 | Canada | 0.49592838902265 | 0.50407161097735 |
| 2021-05-30 00:00:00 | Canada | 0.50671867108508 | 0.49328132891492 |
| 2021-05-31 00:00:00 | Canada | 0.52010060207395 | 0.47989939792605 |
| 2021-06-01 00:00:00 | Canada | 0.51313366384741 | 0.48686633615259 |
| 2021-06-02 00:00:00 | Canada | 0.50217247686531 | 0.49782752313469 |
| 2021-06-03 00:00:00 | Canada | 0.48504271840012 | 0.51495728159988 |
| 2021-06-04 00:00:00 | Canada | 0.48505078964123 | 0.51494921035877 |
| 2021-06-05 00:00:00 | Canada | 0.48931336538935 | 0.51068663461065 |
| 2021-06-06 00:00:00 | Canada | 0.47852024957076 | 0.52147975042924 |
| 2021-06-07 00:00:00 | Canada | 0.46399562073762 | 0.53600437926238 |
| 2021-06-08 00:00:00 | Canada | 0.467851315563 | 0.532148684437 |
| 2021-06-09 00:00:00 | Canada | 0.48481379493956 | 0.51518620506044 |
| 2021-06-10 00:00:00 | Canada | 0.49787610363551 | 0.50212389636449 |
| 2021-06-11 00:00:00 | Canada | 0.50452169139048 | 0.49547830860952 |
| 2021-06-12 00:00:00 | Canada | 0.49475698235821 | 0.50524301764179 |
| 2021-06-13 00:00:00 | Canada | 0.50551572354238 | 0.49448427645762 |
| 2021-06-14 00:00:00 | Canada | 0.51588411721847 | 0.48411588278154 |
| 2021-06-15 00:00:00 | Canada | 0.51454366401037 | 0.48545633598963 |
| 2021-06-16 00:00:00 | Canada | 0.50952792766185 | 0.49047207233815 |
| 2021-06-17 00:00:00 | Canada | 0.51516131999895 | 0.48483868000105 |
| 2021-06-18 00:00:00 | Canada | 0.51556626510356 | 0.48443373489644 |
| 2021-06-19 00:00:00 | Canada | 0.51736477169104 | 0.48263522830896 |
| 2021-06-20 00:00:00 | Canada | 0.51747096071901 | 0.48252903928099 |
| 2021-06-21 00:00:00 | Canada | 0.51555124691095 | 0.48444875308905 |
| 2021-06-22 00:00:00 | Canada | 0.51554882699862 | 0.48445117300138 |
| 2021-06-23 00:00:00 | Canada | 0.51612602748628 | 0.48387397251372 |
| 2021-06-24 00:00:00 | Canada | 0.51299161785241 | 0.48700838214759 |
| 2021-06-25 00:00:00 | Canada | 0.5160088065773 | 0.4839911934227 |
| 2021-06-26 00:00:00 | Canada | 0.51221654709531 | 0.48778345290468 |
| 2021-06-27 00:00:00 | Canada | 0.51512032212236 | 0.48487967787764 |
| 2021-06-28 00:00:00 | Canada | 0.51545115784001 | 0.48454884215999 |
| 2021-06-29 00:00:00 | Canada | 0.51271953119518 | 0.48728046880482 |
| 2021-06-30 00:00:00 | Canada | 0.51833501906519 | 0.48166498093481 |
| 2021-07-01 00:00:00 | Canada | 0.51412395753495 | 0.48587604246505 |
| 2021-07-02 00:00:00 | Canada | 0.5086904879663 | 0.4913095120337 |
| 2021-07-03 00:00:00 | Canada | 0.52079470406807 | 0.47920529593193 |
| 2021-07-04 00:00:00 | Canada | 0.51360815288368 | 0.48639184711632 |
| 2021-07-05 00:00:00 | Canada | 0.5149054635061 | 0.4850945364939 |
| 2021-07-06 00:00:00 | Canada | 0.51867319408099 | 0.48132680591901 |
| 2021-07-07 00:00:00 | Canada | 0.51992885401912 | 0.48007114598088 |
| 2021-07-08 00:00:00 | Canada | 0.51713613864058 | 0.48286386135942 |
| 2021-07-09 00:00:00 | Canada | 0.52303800461876 | 0.47696199538124 |
| 2021-07-10 00:00:00 | Canada | 0.51504652594492 | 0.48495347405508 |
| 2021-07-11 00:00:00 | Canada | 0.50606879539272 | 0.49393120460728 |
| 2021-07-12 00:00:00 | Canada | 0.51040703890979 | 0.48959296109021 |
| 2021-07-13 00:00:00 | Canada | 0.51865999435796 | 0.48134000564204 |
| 2021-07-14 00:00:00 | Canada | 0.51523489934748 | 0.48476510065252 |
| 2021-07-15 00:00:00 | Canada | 0.52408425974671 | 0.47591574025329 |
| 2021-07-16 00:00:00 | Canada | 0.52025612999175 | 0.47974387000825 |
| 2021-07-17 00:00:00 | Canada | 0.52741518577194 | 0.47258481422806 |
| 2021-07-18 00:00:00 | Canada | 0.53721959332708 | 0.46278040667292 |
| 2021-07-19 00:00:00 | Canada | 0.52374322792732 | 0.47625677207268 |
| 2021-07-20 00:00:00 | Canada | 0.51831108528165 | 0.48168891471835 |
| 2021-07-21 00:00:00 | Canada | 0.52123757724094 | 0.47876242275906 |
| 2021-07-22 00:00:00 | Canada | 0.5329805715959 | 0.4670194284041 |
| 2021-07-23 00:00:00 | Canada | 0.53171765669094 | 0.46828234330905 |
| 2021-07-24 00:00:00 | Canada | 0.52559885209099 | 0.47440114790901 |
| 2021-07-25 00:00:00 | Canada | 0.54081805311417 | 0.45918194688583 |
| 2021-07-26 00:00:00 | Canada | 0.55636467251428 | 0.44363532748572 |
| 2021-07-27 00:00:00 | Canada | 0.56308777479485 | 0.43691222520515 |
| 2021-07-28 00:00:00 | Canada | 0.55310922629324 | 0.44689077370676 |
| 2021-07-29 00:00:00 | Canada | 0.54315057250143 | 0.45684942749857 |
| 2021-07-30 00:00:00 | Canada | 0.54183897822337 | 0.45816102177663 |
| 2021-07-31 00:00:00 | Canada | 0.55208185727861 | 0.4479181427214 |
| 2021-08-01 00:00:00 | Canada | 0.53535522654229 | 0.46464477345771 |
| 2021-08-02 00:00:00 | Canada | 0.5331290169318 | 0.46687098306821 |
| 2021-08-03 00:00:00 | Canada | 0.52166010424261 | 0.47833989575739 |
| 2021-08-04 00:00:00 | Canada | 0.52312091081084 | 0.47687908918916 |
| 2021-08-05 00:00:00 | Canada | 0.51536225103844 | 0.48463774896156 |
| 2021-08-06 00:00:00 | Canada | 0.51328409143829 | 0.48671590856171 |
| 2021-08-07 00:00:00 | Canada | 0.51165186684706 | 0.48834813315294 |
| 2021-08-08 00:00:00 | Canada | 0.51395963288793 | 0.48604036711207 |
| 2021-08-09 00:00:00 | Canada | 0.50771986466254 | 0.49228013533746 |
| 2021-08-10 00:00:00 | Canada | 0.5011416534067 | 0.4988583465933 |
| 2021-08-11 00:00:00 | Canada | 0.50663378768147 | 0.49336621231853 |
| 2021-08-12 00:00:00 | Canada | 0.51062987398722 | 0.48937012601278 |
| 2021-08-13 00:00:00 | Canada | 0.50858065477696 | 0.49141934522304 |
| 2021-08-14 00:00:00 | Canada | 0.49163836511641 | 0.50836163488359 |
| 2021-08-15 00:00:00 | Canada | 0.48459956870979 | 0.51540043129021 |
| 2021-08-16 00:00:00 | Canada | 0.47268413097324 | 0.52731586902676 |
| 2021-08-17 00:00:00 | Canada | 0.4893997260304 | 0.5106002739696 |
| 2021-08-18 00:00:00 | Canada | 0.47484551424357 | 0.52515448575643 |
| 2021-08-19 00:00:00 | Canada | 0.47671629041874 | 0.52328370958126 |
| 2021-08-20 00:00:00 | Canada | 0.47323247575561 | 0.52676752424439 |
| 2021-08-21 00:00:00 | Canada | 0.48328118660883 | 0.51671881339117 |
| 2021-08-22 00:00:00 | Canada | 0.4800909039237 | 0.5199090960763 |
| 2021-08-23 00:00:00 | Canada | 0.48848331031602 | 0.51151668968398 |
| 2021-08-24 00:00:00 | Canada | 0.4647776640922 | 0.5352223359078 |
| 2021-08-25 00:00:00 | Canada | 0.46630548859477 | 0.53369451140523 |
| 2021-08-26 00:00:00 | Canada | 0.46065374129115 | 0.53934625870885 |
| 2021-08-27 00:00:00 | Canada | 0.46139277663744 | 0.53860722336256 |
| 2021-08-28 00:00:00 | Canada | 0.45687600367409 | 0.54312399632591 |
| 2021-08-29 00:00:00 | Canada | 0.46079474830443 | 0.53920525169557 |
| 2021-08-30 00:00:00 | Canada | 0.45816950796733 | 0.54183049203267 |
| 2021-08-31 00:00:00 | Canada | 0.45674834349057 | 0.54325165650943 |
| 2021-09-01 00:00:00 | Canada | 0.46704794495758 | 0.53295205504242 |
| 2021-09-02 00:00:00 | Canada | 0.47097368199597 | 0.52902631800403 |
| 2021-09-03 00:00:00 | Canada | 0.46339898990286 | 0.53660101009714 |
| 2021-09-04 00:00:00 | Canada | 0.45601818439555 | 0.54398181560445 |
| 2021-09-05 00:00:00 | Canada | 0.44870996949337 | 0.55129003050663 |
| 2021-09-06 00:00:00 | Canada | 0.44942284299611 | 0.55057715700389 |
| 2021-09-07 00:00:00 | Canada | 0.45723929021853 | 0.54276070978147 |
| 2021-09-08 00:00:00 | Canada | 0.4455495266832 | 0.5544504733168 |
| 2021-09-09 00:00:00 | Canada | 0.43858514708145 | 0.56141485291855 |
| 2021-09-10 00:00:00 | Canada | 0.44751320518591 | 0.55248679481409 |
| 2021-09-11 00:00:00 | Canada | 0.46116558782247 | 0.53883441217753 |
| 2021-09-12 00:00:00 | Canada | 0.45768265758058 | 0.54231734241942 |
| 2021-09-13 00:00:00 | Canada | 0.45317902784825 | 0.54682097215175 |
| 2021-09-14 00:00:00 | Canada | 0.44900994012511 | 0.55099005987489 |
| 2021-09-15 00:00:00 | Canada | 0.44639484489618 | 0.55360515510382 |
| 2021-09-16 00:00:00 | Canada | 0.44376437957745 | 0.55623562042255 |
| 2021-09-17 00:00:00 | Canada | 0.43513302239457 | 0.56486697760543 |
| 2021-09-18 00:00:00 | Canada | 0.42703152000018 | 0.57296847999982 |
| 2021-09-19 00:00:00 | Canada | 0.44132725332323 | 0.55867274667677 |
| 2021-09-20 00:00:00 | Canada | 0.43827405399953 | 0.56172594600047 |
| 2021-09-21 00:00:00 | Canada | 0.45324210966839 | 0.54675789033161 |
| 2021-09-22 00:00:00 | Canada | 0.46031419856657 | 0.53968580143343 |
| 2021-09-23 00:00:00 | Canada | 0.46461133406822 | 0.53538866593178 |
| 2021-09-24 00:00:00 | Canada | 0.47526559032533 | 0.52473440967467 |
| 2021-09-25 00:00:00 | Canada | 0.48310564747549 | 0.51689435252451 |
| 2021-09-26 00:00:00 | Canada | 0.46985317188323 | 0.53014682811677 |
| 2021-09-27 00:00:00 | Canada | 0.47266388847057 | 0.52733611152944 |
| 2021-09-28 00:00:00 | Canada | 0.46991767446245 | 0.53008232553755 |
| 2021-09-29 00:00:00 | Canada | 0.47256014876198 | 0.52743985123802 |
| 2021-09-30 00:00:00 | Canada | 0.47859839114961 | 0.52140160885039 |
| 2021-10-01 00:00:00 | Canada | 0.48621184208622 | 0.51378815791378 |
| 2021-10-02 00:00:00 | Canada | 0.47347101508018 | 0.52652898491982 |
| 2021-10-03 00:00:00 | Canada | 0.47468421700606 | 0.52531578299394 |
| 2021-10-04 00:00:00 | Canada | 0.4730012885217 | 0.5269987114783 |
| 2021-10-05 00:00:00 | Canada | 0.46109899946719 | 0.53890100053281 |
| 2021-10-06 00:00:00 | Canada | 0.45805341342875 | 0.54194658657125 |
| 2021-10-07 00:00:00 | Canada | 0.45259173602648 | 0.54740826397352 |
| 2021-10-08 00:00:00 | Canada | 0.43812616697486 | 0.56187383302514 |
| 2021-10-09 00:00:00 | Canada | 0.44789234796565 | 0.55210765203435 |
| 2021-10-10 00:00:00 | Canada | 0.44754015775816 | 0.55245984224184 |
| 2021-10-11 00:00:00 | Canada | 0.44934320209951 | 0.55065679790049 |
| 2021-10-12 00:00:00 | Canada | 0.45621997530772 | 0.54378002469228 |
| 2021-10-13 00:00:00 | Canada | 0.45635159224846 | 0.54364840775154 |
| 2021-10-14 00:00:00 | Canada | 0.44852275748044 | 0.55147724251956 |
| 2021-10-15 00:00:00 | Canada | 0.45612806948258 | 0.54387193051742 |
| 2021-10-16 00:00:00 | Canada | 0.44697070718113 | 0.55302929281887 |
| 2021-10-17 00:00:00 | Canada | 0.45548329966022 | 0.54451670033978 |
| 2021-10-18 00:00:00 | Canada | 0.45300325843172 | 0.54699674156828 |
| 2021-10-19 00:00:00 | Canada | 0.45224366605318 | 0.54775633394682 |
| 2021-10-20 00:00:00 | Canada | 0.44539242047876 | 0.55460757952124 |
| 2021-10-21 00:00:00 | Canada | 0.44878891978929 | 0.55121108021071 |
| 2021-10-22 00:00:00 | Canada | 0.43973294377925 | 0.56026705622075 |
| 2021-10-23 00:00:00 | Canada | 0.4530135334339 | 0.5469864665661 |
| 2021-10-24 00:00:00 | Canada | 0.4608478905185 | 0.5391521094815 |
| 2021-10-25 00:00:00 | Canada | 0.46286983479617 | 0.53713016520384 |
| 2021-10-26 00:00:00 | Canada | 0.4673188867494 | 0.5326811132506 |
| 2021-10-27 00:00:00 | Canada | 0.47320170449571 | 0.52679829550429 |
| 2021-10-28 00:00:00 | Canada | 0.46904621312476 | 0.53095378687524 |
| 2021-10-31 00:00:00 | Canada | 0.46045432705387 | 0.53954567294613 |
| 2021-11-01 00:00:00 | Canada | 0.46698282222291 | 0.53301717777709 |
| 2021-11-02 00:00:00 | Canada | 0.45992839586785 | 0.54007160413215 |
| 2021-11-03 00:00:00 | Canada | 0.46495909637038 | 0.53504090362962 |
| 2021-11-04 00:00:00 | Canada | 0.46658810861862 | 0.53341189138138 |
| 2021-11-05 00:00:00 | Canada | 0.47566443108688 | 0.52433556891312 |
| 2021-11-06 00:00:00 | Canada | 0.48572924252934 | 0.51427075747066 |
| 2021-11-07 00:00:00 | Canada | 0.46479264814175 | 0.53520735185825 |
| 2021-11-08 00:00:00 | Canada | 0.46068583151129 | 0.53931416848871 |
| 2021-11-09 00:00:00 | Canada | 0.46554101777013 | 0.53445898222987 |
| 2021-11-10 00:00:00 | Canada | 0.47124539475279 | 0.52875460524721 |
| 2021-11-11 00:00:00 | Canada | 0.47896564041888 | 0.52103435958112 |
| 2021-11-12 00:00:00 | Canada | 0.47219353915705 | 0.52780646084295 |
| 2021-11-13 00:00:00 | Canada | 0.45529170982327 | 0.54470829017674 |
| 2021-11-14 00:00:00 | Canada | 0.4681330615487 | 0.5318669384513 |
| 2021-11-15 00:00:00 | Canada | 0.46442791646414 | 0.53557208353586 |
| 2021-11-16 00:00:00 | Canada | 0.466959227669 | 0.533040772331 |
| 2021-11-17 00:00:00 | Canada | 0.4668708483701 | 0.5331291516299 |
| 2021-11-18 00:00:00 | Canada | 0.46713844746245 | 0.53286155253755 |
| 2021-11-19 00:00:00 | Canada | 0.47795875817845 | 0.52204124182155 |
| 2021-11-20 00:00:00 | Canada | 0.47456098927162 | 0.52543901072838 |
| 2021-11-21 00:00:00 | Canada | 0.47621369599964 | 0.52378630400036 |
| 2021-11-22 00:00:00 | Canada | 0.47892954323051 | 0.52107045676949 |
| 2021-11-23 00:00:00 | Canada | 0.47982907362948 | 0.52017092637052 |
| 2021-11-24 00:00:00 | Canada | 0.47837468043093 | 0.52162531956907 |
| 2021-11-25 00:00:00 | Canada | 0.47360675751735 | 0.52639324248265 |
| 2021-11-26 00:00:00 | Canada | 0.47059200130175 | 0.52940799869825 |
| 2021-11-27 00:00:00 | Canada | 0.45892145062355 | 0.54107854937645 |
| 2021-11-28 00:00:00 | Canada | 0.4580435833595 | 0.5419564166405 |
| 2021-11-29 00:00:00 | Canada | 0.44869190888058 | 0.55130809111942 |
| 2021-11-30 00:00:00 | Canada | 0.44869190888058 | 0.55130809111942 |
| 2021-12-01 00:00:00 | Canada | 0.43168771920583 | 0.56831228079417 |
| 2021-12-02 00:00:00 | Canada | 0.43445540354653 | 0.56554459645347 |
| 2021-12-03 00:00:00 | Canada | 0.44493853779042 | 0.55506146220958 |
| 2021-12-04 00:00:00 | Canada | 0.44046024941051 | 0.55953975058949 |
| 2021-12-05 00:00:00 | Canada | 0.45072528187806 | 0.54927471812194 |
| 2021-12-06 00:00:00 | Canada | 0.45003158384914 | 0.54996841615086 |
| 2021-12-07 00:00:00 | Canada | 0.45534236875596 | 0.54465763124404 |
| 2021-12-08 00:00:00 | Canada | 0.45690560372298 | 0.54309439627702 |
| 2021-12-09 00:00:00 | Canada | 0.44500182676536 | 0.55499817323464 |
| 2021-12-10 00:00:00 | Canada | 0.43132678787144 | 0.56867321212856 |
| 2021-12-11 00:00:00 | Canada | 0.43893966083262 | 0.56106033916738 |
| 2021-12-12 00:00:00 | Canada | 0.44578404754522 | 0.55421595245478 |
| 2021-12-13 00:00:00 | Canada | 0.4502026120829 | 0.5497973879171 |
| 2021-12-14 00:00:00 | Canada | 0.44539451278226 | 0.55460548721774 |
| 2021-12-15 00:00:00 | Canada | 0.44887640276185 | 0.55112359723815 |
| 2021-12-16 00:00:00 | Canada | 0.45484924404348 | 0.54515075595652 |
| 2021-12-17 00:00:00 | Canada | 0.46038369645173 | 0.53961630354827 |
| 2021-12-18 00:00:00 | Canada | 0.45130673532065 | 0.54869326467935 |
| 2021-12-19 00:00:00 | Canada | 0.4432025210426 | 0.5567974789574 |
| 2021-12-20 00:00:00 | Canada | 0.42824742391304 | 0.57175257608696 |
| 2021-12-21 00:00:00 | Canada | 0.42403469491108 | 0.57596530508892 |
| 2021-12-22 00:00:00 | Canada | 0.41897168172166 | 0.58102831827834 |
| 2021-12-23 00:00:00 | Canada | 0.41699817551075 | 0.58300182448925 |
| 2021-12-24 00:00:00 | Canada | 0.41506637774215 | 0.58493362225785 |
| 2021-12-25 00:00:00 | Canada | 0.41680985830588 | 0.58319014169412 |
| 2021-12-26 00:00:00 | Canada | 0.4104873568363 | 0.5895126431637 |
| 2021-12-27 00:00:00 | Canada | 0.42678328150164 | 0.57321671849836 |
| 2021-12-28 00:00:00 | Canada | 0.42368134621204 | 0.57631865378796 |
| 2021-12-29 00:00:00 | Canada | 0.42910369604877 | 0.57089630395123 |
| 2021-12-30 00:00:00 | Canada | 0.42852635632586 | 0.57147364367414 |
| 2021-12-31 00:00:00 | Canada | 0.43011765496895 | 0.56988234503105 |
| 2022-01-01 00:00:00 | Canada | 0.43854241294019 | 0.56145758705981 |
| 2022-01-02 00:00:00 | Canada | 0.44339034056675 | 0.55660965943325 |
| 2022-01-03 00:00:00 | Canada | 0.44339034056675 | 0.55660965943325 |
| 2022-01-04 00:00:00 | Canada | 0.44589836754227 | 0.55410163245773 |
| 2022-01-05 00:00:00 | Canada | 0.4393407521724 | 0.5606592478276 |
| 2022-01-06 00:00:00 | Canada | 0.44097088737585 | 0.55902911262415 |
| 2022-01-07 00:00:00 | Canada | 0.43877985658991 | 0.56122014341009 |
| 2022-01-08 00:00:00 | Canada | 0.42794580280025 | 0.57205419719975 |
| 2022-01-09 00:00:00 | Canada | 0.42759666368623 | 0.57240333631378 |
| 2022-01-10 00:00:00 | Canada | 0.4226134417816 | 0.5773865582184 |
| 2022-01-11 00:00:00 | Canada | 0.41427577347133 | 0.58572422652867 |
| 2022-01-12 00:00:00 | Canada | 0.41305595376693 | 0.58694404623307 |
| 2022-01-13 00:00:00 | Canada | 0.41329777749745 | 0.58670222250255 |
| 2022-01-14 00:00:00 | Canada | 0.40974201141874 | 0.59025798858126 |
| 2022-01-15 00:00:00 | Canada | 0.40159674504444 | 0.59840325495556 |
| 2022-01-16 00:00:00 | Canada | 0.39685318066238 | 0.60314681933762 |
| 2022-01-17 00:00:00 | Canada | 0.40250161599461 | 0.59749838400539 |
| 2022-01-18 00:00:00 | Canada | 0.40552371600945 | 0.59447628399055 |
| 2022-01-19 00:00:00 | Canada | 0.40153799582073 | 0.59846200417927 |
| 2022-01-20 00:00:00 | Canada | 0.40463292266921 | 0.59536707733079 |
| 2022-01-21 00:00:00 | Canada | 0.41047574000831 | 0.58952425999169 |
| 2022-01-22 00:00:00 | Canada | 0.42112937959147 | 0.57887062040853 |
| 2022-01-23 00:00:00 | Canada | 0.41901943442976 | 0.58098056557024 |
| 2022-01-24 00:00:00 | Canada | 0.41972226962719 | 0.58027773037281 |
| 2022-01-25 00:00:00 | Canada | 0.42542966245719 | 0.5745703375428 |
| 2022-01-26 00:00:00 | Canada | 0.43414576592604 | 0.56585423407396 |
| 2022-01-27 00:00:00 | Canada | 0.43266608520714 | 0.56733391479286 |
| 2022-01-28 00:00:00 | Canada | 0.42983000138556 | 0.57016999861444 |
| 2022-01-29 00:00:00 | Canada | 0.42692444576039 | 0.57307555423961 |
| 2022-01-30 00:00:00 | Canada | 0.42638048915768 | 0.57361951084232 |
| 2022-01-31 00:00:00 | Canada | 0.41762424534889 | 0.58237575465111 |
| 2022-02-01 00:00:00 | Canada | 0.40603501701886 | 0.59396498298114 |
| 2022-02-02 00:00:00 | Canada | 0.40373309530127 | 0.59626690469873 |
| 2022-02-03 00:00:00 | Canada | 0.40113939007444 | 0.59886060992556 |
| 2022-02-04 00:00:00 | Canada | 0.40270563753704 | 0.59729436246296 |
| 2022-02-05 00:00:00 | Canada | 0.39971256935931 | 0.60028743064069 |
| 2022-02-06 00:00:00 | Canada | 0.39588480253316 | 0.60411519746684 |
| 2022-02-07 00:00:00 | Canada | 0.40076773634403 | 0.59923226365597 |
| 2022-02-08 00:00:00 | Canada | 0.40176471894291 | 0.59823528105709 |
| 2022-02-09 00:00:00 | Canada | 0.39565679241067 | 0.60434320758933 |
| 2022-02-10 00:00:00 | Canada | 0.39379311364362 | 0.60620688635638 |
| 2022-02-11 00:00:00 | Canada | 0.38375128360128 | 0.61624871639872 |
| 2022-02-12 00:00:00 | Canada | 0.37792742735662 | 0.62207257264338 |
| 2022-02-13 00:00:00 | Canada | 0.37586726682752 | 0.62413273317248 |
| 2022-02-14 00:00:00 | Canada | 0.37190759188956 | 0.62809240811044 |
| 2022-02-15 00:00:00 | Canada | 0.37560811968457 | 0.62439188031543 |
| 2022-02-16 00:00:00 | Canada | 0.38398832199987 | 0.61601167800013 |
| 2022-02-17 00:00:00 | Canada | 0.37883657460338 | 0.62116342539662 |
| 2022-02-18 00:00:00 | Canada | 0.38343156397871 | 0.61656843602128 |
| 2022-02-19 00:00:00 | Canada | 0.38581240703533 | 0.61418759296466 |
| 2022-02-20 00:00:00 | Canada | 0.38408873488743 | 0.61591126511257 |
| 2022-02-21 00:00:00 | Canada | 0.38097790572498 | 0.61902209427502 |
| 2022-02-22 00:00:00 | Canada | 0.37168308971208 | 0.62831691028792 |
| 2022-02-23 00:00:00 | Canada | 0.35960907368902 | 0.64039092631098 |
| 2022-02-24 00:00:00 | Canada | 0.37098562677302 | 0.62901437322698 |
| 2022-02-25 00:00:00 | Canada | 0.37300668576562 | 0.62699331423438 |
| 2022-02-26 00:00:00 | Canada | 0.37757829154709 | 0.62242170845291 |
| 2022-02-27 00:00:00 | Canada | 0.3896254964251 | 0.6103745035749 |
| 2022-02-28 00:00:00 | Canada | 0.39456011841461 | 0.60543988158539 |
| 2022-03-01 00:00:00 | Canada | 0.40999350641529 | 0.59000649358471 |
| 2022-03-02 00:00:00 | Canada | 0.41550343262692 | 0.58449656737308 |
| 2022-03-03 00:00:00 | Canada | 0.41058060551339 | 0.58941939448661 |
| 2022-03-04 00:00:00 | Canada | 0.41346927189599 | 0.58653072810401 |
| 2022-03-05 00:00:00 | Canada | 0.41247170108315 | 0.58752829891685 |
| 2022-03-06 00:00:00 | Canada | 0.41075381175727 | 0.58924618824273 |
| 2022-03-07 00:00:00 | Canada | 0.41281104334952 | 0.58718895665048 |
| 2022-03-08 00:00:00 | Canada | 0.41151343425759 | 0.58848656574241 |
| 2022-03-09 00:00:00 | Canada | 0.41634438426694 | 0.58365561573306 |
| 2022-03-10 00:00:00 | Canada | 0.41775805337661 | 0.58224194662339 |
| 2022-03-11 00:00:00 | Canada | 0.41901027236521 | 0.58098972763479 |
| 2022-03-12 00:00:00 | Canada | 0.42729219457335 | 0.57270780542665 |
| 2022-03-13 00:00:00 | Canada | 0.42196651366398 | 0.57803348633602 |
| 2022-03-14 00:00:00 | Canada | 0.41739505994741 | 0.58260494005259 |
| 2022-03-15 00:00:00 | Canada | 0.41669621889482 | 0.58330378110518 |
| 2022-03-16 00:00:00 | Canada | 0.41967653286558 | 0.58032346713442 |
| 2022-03-17 00:00:00 | Canada | 0.41998920740116 | 0.58001079259884 |
| 2022-03-18 00:00:00 | Canada | 0.42253056914186 | 0.57746943085814 |
| 2022-03-19 00:00:00 | Canada | 0.42005794080088 | 0.57994205919912 |
| 2022-03-20 00:00:00 | Canada | 0.42973701773384 | 0.57026298226616 |
| 2022-03-21 00:00:00 | Canada | 0.439492418225 | 0.560507581775 |
| 2022-03-22 00:00:00 | Canada | 0.44134905090544 | 0.55865094909456 |
| 2022-03-23 00:00:00 | Canada | 0.44141645833247 | 0.55858354166753 |
| 2022-03-24 00:00:00 | Canada | 0.44144288978329 | 0.55855711021671 |
| 2022-03-25 00:00:00 | Canada | 0.43992363319933 | 0.56007636680067 |
| 2022-03-26 00:00:00 | Canada | 0.43774040930691 | 0.56225959069309 |
| 2022-03-27 00:00:00 | Canada | 0.43072091057725 | 0.56927908942275 |
| 2022-03-28 00:00:00 | Canada | 0.4314237870863 | 0.5685762129137 |
| 2022-03-29 00:00:00 | Canada | 0.42157012060402 | 0.57842987939598 |
| 2020-01-06 00:00:00 | France | 0.26060258842313 | 0.73939741157687 |
| 2020-01-07 00:00:00 | France | 0.2613016574756 | 0.7386983425244 |
| 2020-01-08 00:00:00 | France | 0.25830683437775 | 0.74169316562225 |
| 2020-01-09 00:00:00 | France | 0.24914292557408 | 0.75085707442591 |
| 2020-01-10 00:00:00 | France | 0.24830367782705 | 0.75169632217295 |
| 2020-01-11 00:00:00 | France | 0.25519517374067 | 0.74480482625933 |
| 2020-01-12 00:00:00 | France | 0.25473808623421 | 0.74526191376579 |
| 2020-01-13 00:00:00 | France | 0.25747589646792 | 0.74252410353208 |
| 2020-01-14 00:00:00 | France | 0.252192303192 | 0.747807696808 |
| 2020-01-15 00:00:00 | France | 0.24861306705799 | 0.751386932942 |
| 2020-01-16 00:00:00 | France | 0.25156288465949 | 0.74843711534051 |
| 2020-01-17 00:00:00 | France | 0.25347777022377 | 0.74652222977623 |
| 2020-01-18 00:00:00 | France | 0.24858917764711 | 0.75141082235289 |
| 2020-01-19 00:00:00 | France | 0.24152248492558 | 0.75847751507442 |
| 2020-01-20 00:00:00 | France | 0.23038173644637 | 0.76961826355362 |
| 2020-01-21 00:00:00 | France | 0.22658633933463 | 0.77341366066537 |
| 2020-01-22 00:00:00 | France | 0.22742115615045 | 0.77257884384955 |
| 2020-01-23 00:00:00 | France | 0.23256036205731 | 0.76743963794269 |
| 2020-01-24 00:00:00 | France | 0.23254127322636 | 0.76745872677364 |
| 2020-01-25 00:00:00 | France | 0.23295224731454 | 0.76704775268546 |
| 2020-01-26 00:00:00 | France | 0.23432393892541 | 0.76567606107459 |
| 2020-01-27 00:00:00 | France | 0.24115082405951 | 0.75884917594049 |
| 2020-01-28 00:00:00 | France | 0.24385641837927 | 0.75614358162073 |
| 2020-01-29 00:00:00 | France | 0.24294608300463 | 0.75705391699538 |
| 2020-01-30 00:00:00 | France | 0.23921372948034 | 0.76078627051966 |
| 2020-01-31 00:00:00 | France | 0.23365101449991 | 0.76634898550009 |
| 2020-02-01 00:00:00 | France | 0.23290934076334 | 0.76709065923666 |
| 2020-02-02 00:00:00 | France | 0.23525166908619 | 0.76474833091381 |
| 2020-02-03 00:00:00 | France | 0.23298116564212 | 0.76701883435788 |
| 2020-02-04 00:00:00 | France | 0.23876463360706 | 0.76123536639294 |
| 2020-02-05 00:00:00 | France | 0.24213553548572 | 0.75786446451428 |
| 2020-02-06 00:00:00 | France | 0.24541050183393 | 0.75458949816607 |
| 2020-02-07 00:00:00 | France | 0.24753840036728 | 0.75246159963272 |
| 2020-02-08 00:00:00 | France | 0.2548110311704 | 0.7451889688296 |
| 2020-02-09 00:00:00 | France | 0.25013170021254 | 0.74986829978747 |
| 2020-02-10 00:00:00 | France | 0.25961616169338 | 0.74038383830662 |
| 2020-02-11 00:00:00 | France | 0.25620152267869 | 0.74379847732131 |
| 2020-02-12 00:00:00 | France | 0.25623067344887 | 0.74376932655113 |
| 2020-02-13 00:00:00 | France | 0.25744295424989 | 0.74255704575011 |
| 2020-02-14 00:00:00 | France | 0.25406646508276 | 0.74593353491724 |
| 2020-02-15 00:00:00 | France | 0.24968864632049 | 0.75031135367951 |
| 2020-02-16 00:00:00 | France | 0.25279980685379 | 0.74720019314621 |
| 2020-02-17 00:00:00 | France | 0.25256340370639 | 0.74743659629361 |
| 2020-02-18 00:00:00 | France | 0.24968745138605 | 0.75031254861395 |
| 2020-02-19 00:00:00 | France | 0.25024664017094 | 0.74975335982906 |
| 2020-02-20 00:00:00 | France | 0.24470535706932 | 0.75529464293069 |
| 2020-02-21 00:00:00 | France | 0.25471794801238 | 0.74528205198762 |
| 2020-02-22 00:00:00 | France | 0.25565884817171 | 0.74434115182829 |
| 2020-02-23 00:00:00 | France | 0.25850302666667 | 0.74149697333333 |
| 2020-02-24 00:00:00 | France | 0.25592422951141 | 0.74407577048859 |
| 2020-02-25 00:00:00 | France | 0.26569646951738 | 0.73430353048262 |
| 2020-02-26 00:00:00 | France | 0.26199274803352 | 0.73800725196648 |
| 2020-02-27 00:00:00 | France | 0.26507681498321 | 0.73492318501679 |
| 2020-02-28 00:00:00 | France | 0.26396663705001 | 0.73603336294999 |
| 2020-02-29 00:00:00 | France | 0.26001777348641 | 0.73998222651359 |
| 2020-03-01 00:00:00 | France | 0.25607250592714 | 0.74392749407286 |
| 2020-03-02 00:00:00 | France | 0.24840360837077 | 0.75159639162923 |
| 2020-03-03 00:00:00 | France | 0.24415837663811 | 0.75584162336189 |
| 2020-03-04 00:00:00 | France | 0.24295951480673 | 0.75704048519328 |
| 2020-03-05 00:00:00 | France | 0.23842730255003 | 0.76157269744997 |
| 2020-03-06 00:00:00 | France | 0.23528704322694 | 0.76471295677306 |
| 2020-03-07 00:00:00 | France | 0.23293507957175 | 0.76706492042825 |
| 2020-03-08 00:00:00 | France | 0.24021173163229 | 0.75978826836771 |
| 2020-03-09 00:00:00 | France | 0.24737260932344 | 0.75262739067656 |
| 2020-03-10 00:00:00 | France | 0.24785723055664 | 0.75214276944336 |
| 2020-03-11 00:00:00 | France | 0.25777899900222 | 0.74222100099778 |
| 2020-03-12 00:00:00 | France | 0.26168686077926 | 0.73831313922075 |
| 2020-03-13 00:00:00 | France | 0.25827190561147 | 0.74172809438853 |
| 2020-03-14 00:00:00 | France | 0.27055234845891 | 0.72944765154109 |
| 2020-03-15 00:00:00 | France | 0.26849797168358 | 0.73150202831642 |
| 2020-03-16 00:00:00 | France | 0.26828681191156 | 0.73171318808844 |
| 2020-03-17 00:00:00 | France | 0.26998110410611 | 0.73001889589389 |
| 2020-03-18 00:00:00 | France | 0.26932901189992 | 0.73067098810008 |
| 2020-03-19 00:00:00 | France | 0.27747292662499 | 0.72252707337501 |
| 2020-03-20 00:00:00 | France | 0.28429852471365 | 0.71570147528635 |
| 2020-03-21 00:00:00 | France | 0.28209739500606 | 0.71790260499394 |
| 2020-03-22 00:00:00 | France | 0.28571077332206 | 0.71428922667794 |
| 2020-03-23 00:00:00 | France | 0.2871225990647 | 0.7128774009353 |
| 2020-03-24 00:00:00 | France | 0.28143236217099 | 0.71856763782901 |
| 2020-03-25 00:00:00 | France | 0.28288997709183 | 0.71711002290817 |
| 2020-03-26 00:00:00 | France | 0.27910537553819 | 0.72089462446181 |
| 2020-03-27 00:00:00 | France | 0.27044241750464 | 0.72955758249536 |
| 2020-03-28 00:00:00 | France | 0.26989005236551 | 0.73010994763449 |
| 2020-03-29 00:00:00 | France | 0.27275782509705 | 0.72724217490295 |
| 2020-03-30 00:00:00 | France | 0.28774820876933 | 0.71225179123067 |
| 2020-03-31 00:00:00 | France | 0.29725662773323 | 0.70274337226677 |
| 2020-04-01 00:00:00 | France | 0.30075848912762 | 0.69924151087238 |
| 2020-04-02 00:00:00 | France | 0.30021879834662 | 0.69978120165338 |
| 2020-04-03 00:00:00 | France | 0.30417870941644 | 0.69582129058356 |
| 2020-04-04 00:00:00 | France | 0.31338462024265 | 0.68661537975735 |
| 2020-04-05 00:00:00 | France | 0.31833755324719 | 0.68166244675281 |
| 2020-04-06 00:00:00 | France | 0.31046683658255 | 0.68953316341745 |
| 2020-04-07 00:00:00 | France | 0.31184337743778 | 0.68815662256222 |
| 2020-04-08 00:00:00 | France | 0.31236004429001 | 0.68763995571 |
| 2020-04-09 00:00:00 | France | 0.31643557243083 | 0.68356442756917 |
| 2020-04-10 00:00:00 | France | 0.32486236339549 | 0.67513763660451 |
| 2020-04-11 00:00:00 | France | 0.31432518280626 | 0.68567481719374 |
| 2020-04-12 00:00:00 | France | 0.30761228370135 | 0.69238771629865 |
| 2020-04-13 00:00:00 | France | 0.30501712678689 | 0.69498287321311 |
| 2020-04-14 00:00:00 | France | 0.31344787961702 | 0.68655212038298 |
| 2020-04-15 00:00:00 | France | 0.31109059175016 | 0.68890940824984 |
| 2020-04-16 00:00:00 | France | 0.31018799380784 | 0.68981200619216 |
| 2020-04-17 00:00:00 | France | 0.31191151260458 | 0.68808848739543 |
| 2020-04-18 00:00:00 | France | 0.3143502807606 | 0.6856497192394 |
| 2020-04-19 00:00:00 | France | 0.31806558953669 | 0.68193441046331 |
| 2020-04-20 00:00:00 | France | 0.3176705740359 | 0.6823294259641 |
| 2020-04-21 00:00:00 | France | 0.30657431382224 | 0.69342568617776 |
| 2020-04-22 00:00:00 | France | 0.30189804344 | 0.69810195656 |
| 2020-04-23 00:00:00 | France | 0.29702083642776 | 0.70297916357224 |
| 2020-04-24 00:00:00 | France | 0.29203547984891 | 0.70796452015109 |
| 2020-04-25 00:00:00 | France | 0.29179930606852 | 0.70820069393148 |
| 2020-04-26 00:00:00 | France | 0.28340362705362 | 0.71659637294638 |
| 2020-04-27 00:00:00 | France | 0.28517619311148 | 0.71482380688852 |
| 2020-04-28 00:00:00 | France | 0.28401343912215 | 0.71598656087784 |
| 2020-04-29 00:00:00 | France | 0.28338532458454 | 0.71661467541546 |
| 2020-04-30 00:00:00 | France | 0.28956282562465 | 0.71043717437536 |
| 2020-05-01 00:00:00 | France | 0.28893959700033 | 0.71106040299967 |
| 2020-05-02 00:00:00 | France | 0.2878156269474 | 0.7121843730526 |
| 2020-05-03 00:00:00 | France | 0.28612215098113 | 0.71387784901887 |
| 2020-05-04 00:00:00 | France | 0.281418044774 | 0.718581955226 |
| 2020-05-05 00:00:00 | France | 0.28648247743124 | 0.71351752256876 |
| 2020-05-06 00:00:00 | France | 0.28710221009589 | 0.71289778990411 |
| 2020-05-07 00:00:00 | France | 0.2871679915455 | 0.7128320084545 |
| 2020-05-08 00:00:00 | France | 0.29329376294526 | 0.70670623705474 |
| 2020-05-09 00:00:00 | France | 0.30179883425811 | 0.69820116574189 |
| 2020-05-10 00:00:00 | France | 0.30046032884707 | 0.69953967115293 |
| 2020-05-11 00:00:00 | France | 0.30296810097325 | 0.69703189902675 |
| 2020-05-12 00:00:00 | France | 0.29727720683989 | 0.70272279316011 |
| 2020-05-13 00:00:00 | France | 0.28977218169377 | 0.71022781830623 |
| 2020-05-14 00:00:00 | France | 0.28685409142386 | 0.71314590857614 |
| 2020-05-15 00:00:00 | France | 0.28560660380749 | 0.71439339619251 |
| 2020-05-16 00:00:00 | France | 0.27193084217356 | 0.72806915782644 |
| 2020-05-17 00:00:00 | France | 0.27748310184618 | 0.72251689815382 |
| 2020-05-18 00:00:00 | France | 0.28003786676361 | 0.71996213323639 |
| 2020-05-19 00:00:00 | France | 0.2877492770196 | 0.7122507229804 |
| 2020-05-20 00:00:00 | France | 0.29367681292397 | 0.70632318707603 |
| 2020-05-21 00:00:00 | France | 0.29191344609426 | 0.70808655390574 |
| 2020-05-22 00:00:00 | France | 0.2889175965375 | 0.7110824034625 |
| 2020-05-23 00:00:00 | France | 0.2937198906718 | 0.7062801093282 |
| 2020-05-24 00:00:00 | France | 0.29801230665855 | 0.70198769334145 |
| 2020-05-25 00:00:00 | France | 0.29868792949273 | 0.70131207050727 |
| 2020-05-26 00:00:00 | France | 0.29140407378833 | 0.70859592621167 |
| 2020-05-27 00:00:00 | France | 0.29601638245128 | 0.70398361754872 |
| 2020-05-28 00:00:00 | France | 0.30115462235005 | 0.69884537764996 |
| 2020-05-29 00:00:00 | France | 0.30486024019731 | 0.69513975980269 |
| 2020-05-30 00:00:00 | France | 0.30915597810294 | 0.69084402189706 |
| 2020-05-31 00:00:00 | France | 0.30433461635795 | 0.69566538364205 |
| 2020-06-01 00:00:00 | France | 0.30484835228627 | 0.69515164771373 |
| 2020-06-02 00:00:00 | France | 0.30958917634818 | 0.69041082365182 |
| 2020-06-03 00:00:00 | France | 0.3022657781698 | 0.6977342218302 |
| 2020-06-04 00:00:00 | France | 0.29971725964492 | 0.70028274035508 |
| 2020-06-05 00:00:00 | France | 0.2958126201109 | 0.7041873798891 |
| 2020-06-06 00:00:00 | France | 0.29640612764311 | 0.70359387235689 |
| 2020-06-07 00:00:00 | France | 0.30163307688612 | 0.69836692311388 |
| 2020-06-08 00:00:00 | France | 0.29512596343634 | 0.70487403656366 |
| 2020-06-09 00:00:00 | France | 0.29482277092376 | 0.70517722907624 |
| 2020-06-10 00:00:00 | France | 0.29520618570869 | 0.70479381429131 |
| 2020-06-11 00:00:00 | France | 0.29857155947699 | 0.70142844052301 |
| 2020-06-12 00:00:00 | France | 0.29165707677747 | 0.70834292322253 |
| 2020-06-13 00:00:00 | France | 0.28501208533881 | 0.71498791466119 |
| 2020-06-14 00:00:00 | France | 0.27813637688144 | 0.72186362311856 |
| 2020-06-15 00:00:00 | France | 0.29085561427676 | 0.70914438572324 |
| 2020-06-16 00:00:00 | France | 0.28235361790291 | 0.71764638209709 |
| 2020-06-17 00:00:00 | France | 0.28318662042373 | 0.71681337957627 |
| 2020-06-18 00:00:00 | France | 0.27594835341425 | 0.72405164658575 |
| 2020-06-19 00:00:00 | France | 0.28664791163745 | 0.71335208836255 |
| 2020-06-20 00:00:00 | France | 0.2892464988099 | 0.7107535011901 |
| 2020-06-21 00:00:00 | France | 0.29232558050267 | 0.70767441949733 |
| 2020-06-22 00:00:00 | France | 0.28130183646688 | 0.71869816353312 |
| 2020-06-23 00:00:00 | France | 0.28793059215142 | 0.71206940784858 |
| 2020-06-24 00:00:00 | France | 0.29210764027101 | 0.70789235972899 |
| 2020-06-25 00:00:00 | France | 0.29000091692958 | 0.70999908307042 |
| 2020-06-26 00:00:00 | France | 0.28278786129368 | 0.71721213870632 |
| 2020-06-27 00:00:00 | France | 0.28202219126327 | 0.71797780873673 |
| 2020-06-28 00:00:00 | France | 0.27769506144911 | 0.72230493855089 |
| 2020-06-29 00:00:00 | France | 0.27401533860497 | 0.72598466139503 |
| 2020-06-30 00:00:00 | France | 0.26759068394656 | 0.73240931605344 |
| 2020-07-01 00:00:00 | France | 0.26128559808879 | 0.73871440191121 |
| 2020-07-02 00:00:00 | France | 0.261128748953 | 0.738871251047 |
| 2020-07-03 00:00:00 | France | 0.26116148504294 | 0.73883851495706 |
| 2020-07-04 00:00:00 | France | 0.26549174232373 | 0.73450825767628 |
| 2020-07-05 00:00:00 | France | 0.26779555388365 | 0.73220444611635 |
| 2020-07-06 00:00:00 | France | 0.26887404843623 | 0.73112595156377 |
| 2020-07-07 00:00:00 | France | 0.2738298602768 | 0.7261701397232 |
| 2020-07-08 00:00:00 | France | 0.27461343594383 | 0.72538656405617 |
| 2020-07-09 00:00:00 | France | 0.27699845984036 | 0.72300154015964 |
| 2020-07-10 00:00:00 | France | 0.27510460068298 | 0.72489539931702 |
| 2020-07-11 00:00:00 | France | 0.27267830677429 | 0.72732169322571 |
| 2020-07-12 00:00:00 | France | 0.26848363915655 | 0.73151636084345 |
| 2020-07-13 00:00:00 | France | 0.27093373884064 | 0.72906626115936 |
| 2020-07-14 00:00:00 | France | 0.27021155299982 | 0.72978844700018 |
| 2020-07-15 00:00:00 | France | 0.27672163186428 | 0.72327836813572 |
| 2020-07-16 00:00:00 | France | 0.28331578932615 | 0.71668421067385 |
| 2020-07-17 00:00:00 | France | 0.28786762769263 | 0.71213237230738 |
| 2020-07-18 00:00:00 | France | 0.28785594213543 | 0.71214405786457 |
| 2020-07-19 00:00:00 | France | 0.28494680101479 | 0.71505319898521 |
| 2020-07-20 00:00:00 | France | 0.27990599765948 | 0.72009400234052 |
| 2020-07-21 00:00:00 | France | 0.28930278163209 | 0.71069721836791 |
| 2020-07-22 00:00:00 | France | 0.28775844567369 | 0.71224155432631 |
| 2020-07-23 00:00:00 | France | 0.2914095980737 | 0.7085904019263 |
| 2020-07-24 00:00:00 | France | 0.29652128121562 | 0.70347871878438 |
| 2020-07-25 00:00:00 | France | 0.29212378964256 | 0.70787621035744 |
| 2020-07-26 00:00:00 | France | 0.29543338527924 | 0.70456661472076 |
| 2020-07-27 00:00:00 | France | 0.29803341534183 | 0.70196658465817 |
| 2020-07-28 00:00:00 | France | 0.29281874258543 | 0.70718125741458 |
| 2020-07-29 00:00:00 | France | 0.29029809388753 | 0.70970190611247 |
| 2020-07-30 00:00:00 | France | 0.2838089375802 | 0.7161910624198 |
| 2020-07-31 00:00:00 | France | 0.27711572825045 | 0.72288427174955 |
| 2020-08-01 00:00:00 | France | 0.27666164960895 | 0.72333835039105 |
| 2020-08-02 00:00:00 | France | 0.27690167913804 | 0.72309832086196 |
| 2020-08-03 00:00:00 | France | 0.28547189227806 | 0.71452810772194 |
| 2020-08-04 00:00:00 | France | 0.28514867741575 | 0.71485132258425 |
| 2020-08-05 00:00:00 | France | 0.28568613708203 | 0.71431386291797 |
| 2020-08-06 00:00:00 | France | 0.28110572822595 | 0.71889427177405 |
| 2020-08-07 00:00:00 | France | 0.28159233705873 | 0.71840766294127 |
| 2020-08-08 00:00:00 | France | 0.28978435806915 | 0.71021564193085 |
| 2020-08-09 00:00:00 | France | 0.28989791748888 | 0.71010208251112 |
| 2020-08-10 00:00:00 | France | 0.28297189846417 | 0.71702810153583 |
| 2020-08-11 00:00:00 | France | 0.27820253410955 | 0.72179746589045 |
| 2020-08-12 00:00:00 | France | 0.27818016571542 | 0.72181983428458 |
| 2020-08-13 00:00:00 | France | 0.28347384473243 | 0.71652615526757 |
| 2020-08-14 00:00:00 | France | 0.28293825953262 | 0.71706174046738 |
| 2020-08-15 00:00:00 | France | 0.27920267250017 | 0.72079732749983 |
| 2020-08-16 00:00:00 | France | 0.27889719887629 | 0.72110280112371 |
| 2020-08-17 00:00:00 | France | 0.28133069802873 | 0.71866930197127 |
| 2020-08-18 00:00:00 | France | 0.2787279694293 | 0.7212720305707 |
| 2020-08-19 00:00:00 | France | 0.27592625971449 | 0.72407374028551 |
| 2020-08-20 00:00:00 | France | 0.27928190716621 | 0.72071809283379 |
| 2020-08-21 00:00:00 | France | 0.27474812928804 | 0.72525187071196 |
| 2020-08-22 00:00:00 | France | 0.26766299637838 | 0.73233700362162 |
| 2020-08-23 00:00:00 | France | 0.26196384377845 | 0.73803615622155 |
| 2020-08-24 00:00:00 | France | 0.25700618422172 | 0.74299381577829 |
| 2020-08-25 00:00:00 | France | 0.26065400901521 | 0.73934599098479 |
| 2020-08-26 00:00:00 | France | 0.25908411692262 | 0.74091588307738 |
| 2020-08-27 00:00:00 | France | 0.25228577755353 | 0.74771422244647 |
| 2020-08-28 00:00:00 | France | 0.25572703284806 | 0.74427296715194 |
| 2020-08-29 00:00:00 | France | 0.26022441035518 | 0.73977558964482 |
| 2020-08-30 00:00:00 | France | 0.26612839388391 | 0.73387160611609 |
| 2020-08-31 00:00:00 | France | 0.26229365854687 | 0.73770634145313 |
| 2020-09-01 00:00:00 | France | 0.26161260835136 | 0.73838739164864 |
| 2020-09-02 00:00:00 | France | 0.25669531808358 | 0.74330468191642 |
| 2020-09-03 00:00:00 | France | 0.25453597324087 | 0.74546402675913 |
| 2020-09-04 00:00:00 | France | 0.25365228673659 | 0.74634771326341 |
| 2020-09-05 00:00:00 | France | 0.25286376792211 | 0.74713623207789 |
| 2020-09-06 00:00:00 | France | 0.24792618947111 | 0.75207381052889 |
| 2020-09-07 00:00:00 | France | 0.25099553933415 | 0.74900446066585 |
| 2020-09-08 00:00:00 | France | 0.24930499770634 | 0.75069500229366 |
| 2020-09-09 00:00:00 | France | 0.2591644530954 | 0.7408355469046 |
| 2020-09-10 00:00:00 | France | 0.25961897612674 | 0.74038102387326 |
| 2020-09-11 00:00:00 | France | 0.25486277946933 | 0.74513722053067 |
| 2020-09-12 00:00:00 | France | 0.25604715312042 | 0.74395284687958 |
| 2020-09-13 00:00:00 | France | 0.25137421940433 | 0.74862578059567 |
| 2020-09-14 00:00:00 | France | 0.24749935204544 | 0.75250064795456 |
| 2020-09-15 00:00:00 | France | 0.24765639658554 | 0.75234360341447 |
| 2020-09-16 00:00:00 | France | 0.24514630127201 | 0.75485369872799 |
| 2020-09-17 00:00:00 | France | 0.2412647691194 | 0.7587352308806 |
| 2020-09-18 00:00:00 | France | 0.24449832810306 | 0.75550167189694 |
| 2020-09-19 00:00:00 | France | 0.24498419521969 | 0.75501580478031 |
| 2020-09-20 00:00:00 | France | 0.24843958323699 | 0.75156041676301 |
| 2020-09-21 00:00:00 | France | 0.25358232291455 | 0.74641767708545 |
| 2020-09-22 00:00:00 | France | 0.25381126581606 | 0.74618873418395 |
| 2020-09-23 00:00:00 | France | 0.25287403163854 | 0.74712596836146 |
| 2020-09-24 00:00:00 | France | 0.25418464000986 | 0.74581535999014 |
| 2020-09-25 00:00:00 | France | 0.25205131450688 | 0.74794868549312 |
| 2020-09-26 00:00:00 | France | 0.2507042356388 | 0.7492957643612 |
| 2020-09-27 00:00:00 | France | 0.25328592866028 | 0.74671407133972 |
| 2020-09-28 00:00:00 | France | 0.24693963333737 | 0.75306036666263 |
| 2020-09-29 00:00:00 | France | 0.24032826021604 | 0.75967173978396 |
| 2020-09-30 00:00:00 | France | 0.23897979698689 | 0.76102020301311 |
| 2020-10-01 00:00:00 | France | 0.23881240178909 | 0.76118759821091 |
| 2020-10-02 00:00:00 | France | 0.23433558634105 | 0.76566441365895 |
| 2020-10-03 00:00:00 | France | 0.22740904356858 | 0.77259095643142 |
| 2020-10-04 00:00:00 | France | 0.22353957358451 | 0.77646042641549 |
| 2020-10-05 00:00:00 | France | 0.22779456445675 | 0.77220543554324 |
| 2020-10-06 00:00:00 | France | 0.23051012721412 | 0.76948987278588 |
| 2020-10-07 00:00:00 | France | 0.2325686238443 | 0.7674313761557 |
| 2020-10-08 00:00:00 | France | 0.23680817257985 | 0.76319182742015 |
| 2020-10-09 00:00:00 | France | 0.24214236959312 | 0.75785763040688 |
| 2020-10-10 00:00:00 | France | 0.24741243966649 | 0.75258756033351 |
| 2020-10-11 00:00:00 | France | 0.25063602911603 | 0.74936397088397 |
| 2020-10-12 00:00:00 | France | 0.24998523007464 | 0.75001476992536 |
| 2020-10-13 00:00:00 | France | 0.24413164535324 | 0.75586835464675 |
| 2020-10-14 00:00:00 | France | 0.24124041163138 | 0.75875958836862 |
| 2020-10-15 00:00:00 | France | 0.23721660027053 | 0.76278339972947 |
| 2020-10-16 00:00:00 | France | 0.23317321949661 | 0.76682678050339 |
| 2020-10-17 00:00:00 | France | 0.22965125934793 | 0.77034874065207 |
| 2020-10-18 00:00:00 | France | 0.23138605058996 | 0.76861394941004 |
| 2020-10-19 00:00:00 | France | 0.23198511910556 | 0.76801488089444 |
| 2020-10-20 00:00:00 | France | 0.23285829864917 | 0.76714170135083 |
| 2020-10-21 00:00:00 | France | 0.23107914550512 | 0.76892085449488 |
| 2020-10-22 00:00:00 | France | 0.22585455105916 | 0.77414544894085 |
| 2020-10-23 00:00:00 | France | 0.23020827379225 | 0.76979172620775 |
| 2020-10-24 00:00:00 | France | 0.23044035407483 | 0.76955964592517 |
| 2020-10-25 00:00:00 | France | 0.22414605662048 | 0.77585394337952 |
| 2020-10-26 00:00:00 | France | 0.22001483861463 | 0.77998516138537 |
| 2020-10-27 00:00:00 | France | 0.22088928604225 | 0.77911071395775 |
| 2020-10-28 00:00:00 | France | 0.22229936141651 | 0.77770063858349 |
| 2020-10-29 00:00:00 | France | 0.22266390425749 | 0.77733609574251 |
| 2020-10-30 00:00:00 | France | 0.22139837881366 | 0.77860162118634 |
| 2020-10-31 00:00:00 | France | 0.22216728402834 | 0.77783271597166 |
| 2020-11-01 00:00:00 | France | 0.22489191790801 | 0.77510808209199 |
| 2020-11-02 00:00:00 | France | 0.22269423843551 | 0.77730576156449 |
| 2020-11-03 00:00:00 | France | 0.22170015246445 | 0.77829984753555 |
| 2020-11-04 00:00:00 | France | 0.22120852343548 | 0.77879147656452 |
| 2020-11-05 00:00:00 | France | 0.22078510238787 | 0.77921489761213 |
| 2020-11-06 00:00:00 | France | 0.21843991875113 | 0.78156008124887 |
| 2020-11-07 00:00:00 | France | 0.21382751912665 | 0.78617248087335 |
| 2020-11-08 00:00:00 | France | 0.21080863411049 | 0.78919136588951 |
| 2020-11-09 00:00:00 | France | 0.21580446995432 | 0.78419553004568 |
| 2020-11-10 00:00:00 | France | 0.2191388502988 | 0.7808611497012 |
| 2020-11-11 00:00:00 | France | 0.21931489299298 | 0.78068510700702 |
| 2020-11-12 00:00:00 | France | 0.22940779771413 | 0.77059220228587 |
| 2020-11-13 00:00:00 | France | 0.23062871555567 | 0.76937128444433 |
| 2020-11-14 00:00:00 | France | 0.23583271719824 | 0.76416728280176 |
| 2020-11-15 00:00:00 | France | 0.24228559408665 | 0.75771440591335 |
| 2020-11-16 00:00:00 | France | 0.24821459813119 | 0.75178540186881 |
| 2020-11-17 00:00:00 | France | 0.24486275801336 | 0.75513724198664 |
| 2020-11-18 00:00:00 | France | 0.24056574019148 | 0.75943425980851 |
| 2020-11-19 00:00:00 | France | 0.23120130406203 | 0.76879869593797 |
| 2020-11-20 00:00:00 | France | 0.23552622311284 | 0.76447377688716 |
| 2020-11-21 00:00:00 | France | 0.23754079975563 | 0.76245920024437 |
| 2020-11-22 00:00:00 | France | 0.23860925446032 | 0.76139074553968 |
| 2020-11-23 00:00:00 | France | 0.22736076915972 | 0.77263923084028 |
| 2020-11-24 00:00:00 | France | 0.23188191944589 | 0.76811808055411 |
| 2020-11-25 00:00:00 | France | 0.24068845977798 | 0.75931154022202 |
| 2020-11-26 00:00:00 | France | 0.24224728613242 | 0.75775271386758 |
| 2020-11-27 00:00:00 | France | 0.24204315719335 | 0.75795684280665 |
| 2020-11-28 00:00:00 | France | 0.23949731701875 | 0.76050268298125 |
| 2020-11-29 00:00:00 | France | 0.23046768958032 | 0.76953231041968 |
| 2020-11-30 00:00:00 | France | 0.23534615662126 | 0.76465384337874 |
| 2020-12-01 00:00:00 | France | 0.24298974467843 | 0.75701025532157 |
| 2020-12-02 00:00:00 | France | 0.23793703381721 | 0.76206296618279 |
| 2020-12-03 00:00:00 | France | 0.24053665931133 | 0.75946334068867 |
| 2020-12-04 00:00:00 | France | 0.24041506848491 | 0.75958493151509 |
| 2020-12-05 00:00:00 | France | 0.24163067677605 | 0.75836932322395 |
| 2020-12-06 00:00:00 | France | 0.24443940737851 | 0.75556059262149 |
| 2020-12-07 00:00:00 | France | 0.2457236402684 | 0.7542763597316 |
| 2020-12-08 00:00:00 | France | 0.23676800176197 | 0.76323199823803 |
| 2020-12-09 00:00:00 | France | 0.23916608288154 | 0.76083391711846 |
| 2020-12-10 00:00:00 | France | 0.24487179101448 | 0.75512820898552 |
| 2020-12-11 00:00:00 | France | 0.23969530326735 | 0.76030469673265 |
| 2020-12-12 00:00:00 | France | 0.23943015312444 | 0.76056984687556 |
| 2020-12-13 00:00:00 | France | 0.24530288987942 | 0.75469711012058 |
| 2020-12-14 00:00:00 | France | 0.24137586636129 | 0.75862413363871 |
| 2020-12-15 00:00:00 | France | 0.24287319769435 | 0.75712680230565 |
| 2020-12-16 00:00:00 | France | 0.23717278813755 | 0.76282721186244 |
| 2020-12-17 00:00:00 | France | 0.23517901906422 | 0.76482098093578 |
| 2020-12-18 00:00:00 | France | 0.23284410440399 | 0.76715589559601 |
| 2020-12-19 00:00:00 | France | 0.23441802647497 | 0.76558197352503 |
| 2020-12-20 00:00:00 | France | 0.23399523371796 | 0.76600476628204 |
| 2020-12-21 00:00:00 | France | 0.23636827956021 | 0.76363172043979 |
| 2020-12-22 00:00:00 | France | 0.23833687539397 | 0.76166312460603 |
| 2020-12-23 00:00:00 | France | 0.24174992221669 | 0.75825007778331 |
| 2020-12-24 00:00:00 | France | 0.24382054174989 | 0.75617945825011 |
| 2020-12-25 00:00:00 | France | 0.25531412922888 | 0.74468587077112 |
| 2020-12-26 00:00:00 | France | 0.25606436822592 | 0.74393563177408 |
| 2020-12-27 00:00:00 | France | 0.25772334395053 | 0.74227665604947 |
| 2020-12-28 00:00:00 | France | 0.26419229159874 | 0.73580770840126 |
| 2020-12-29 00:00:00 | France | 0.26388772535448 | 0.73611227464552 |
| 2020-12-30 00:00:00 | France | 0.26612315014511 | 0.73387684985489 |
| 2020-12-31 00:00:00 | France | 0.26024945343622 | 0.73975054656378 |
| 2021-01-01 00:00:00 | France | 0.25981641769696 | 0.74018358230304 |
| 2021-01-02 00:00:00 | France | 0.25658365212694 | 0.74341634787306 |
| 2021-01-03 00:00:00 | France | 0.25849822288588 | 0.74150177711412 |
| 2021-01-04 00:00:00 | France | 0.25422618644852 | 0.74577381355148 |
| 2021-01-05 00:00:00 | France | 0.25499468935342 | 0.74500531064658 |
| 2021-01-06 00:00:00 | France | 0.25279588825336 | 0.74720411174664 |
| 2021-01-07 00:00:00 | France | 0.2516460887775 | 0.7483539112225 |
| 2021-01-08 00:00:00 | France | 0.2435800196329 | 0.7564199803671 |
| 2021-01-09 00:00:00 | France | 0.24745884244209 | 0.75254115755791 |
| 2021-01-10 00:00:00 | France | 0.24265713753812 | 0.75734286246188 |
| 2021-01-11 00:00:00 | France | 0.24018525729611 | 0.75981474270389 |
| 2021-01-12 00:00:00 | France | 0.23940613938863 | 0.76059386061137 |
| 2021-01-13 00:00:00 | France | 0.24483669882034 | 0.75516330117966 |
| 2021-01-14 00:00:00 | France | 0.24902927644344 | 0.75097072355656 |
| 2021-01-15 00:00:00 | France | 0.24936262511497 | 0.75063737488503 |
| 2021-01-16 00:00:00 | France | 0.25209252878756 | 0.74790747121244 |
| 2021-01-17 00:00:00 | France | 0.25373504480076 | 0.74626495519924 |
| 2021-01-18 00:00:00 | France | 0.26121394062769 | 0.73878605937231 |
| 2021-01-19 00:00:00 | France | 0.2633130879858 | 0.7366869120142 |
| 2021-01-20 00:00:00 | France | 0.26182590464991 | 0.73817409535009 |
| 2021-01-21 00:00:00 | France | 0.25467202684528 | 0.74532797315472 |
| 2021-01-22 00:00:00 | France | 0.25564728425364 | 0.74435271574636 |
| 2021-01-23 00:00:00 | France | 0.24954265760187 | 0.75045734239813 |
| 2021-01-24 00:00:00 | France | 0.23873509927023 | 0.76126490072977 |
| 2021-01-25 00:00:00 | France | 0.23268631705279 | 0.76731368294721 |
| 2021-01-26 00:00:00 | France | 0.23736768097866 | 0.76263231902134 |
| 2021-01-27 00:00:00 | France | 0.23381504284706 | 0.76618495715294 |
| 2021-01-28 00:00:00 | France | 0.24484052755271 | 0.75515947244729 |
| 2021-01-29 00:00:00 | France | 0.24235919275434 | 0.75764080724566 |
| 2021-01-30 00:00:00 | France | 0.24164422794886 | 0.75835577205114 |
| 2021-01-31 00:00:00 | France | 0.25278226799419 | 0.74721773200581 |
| 2021-02-01 00:00:00 | France | 0.25079927515981 | 0.74920072484019 |
| 2021-02-02 00:00:00 | France | 0.24645787481994 | 0.75354212518006 |
| 2021-02-03 00:00:00 | France | 0.24560366191426 | 0.75439633808575 |
| 2021-02-04 00:00:00 | France | 0.24062839423097 | 0.75937160576903 |
| 2021-02-05 00:00:00 | France | 0.24296828054218 | 0.75703171945782 |
| 2021-02-06 00:00:00 | France | 0.24738854429385 | 0.75261145570615 |
| 2021-02-07 00:00:00 | France | 0.24728518635752 | 0.75271481364248 |
| 2021-02-08 00:00:00 | France | 0.25328369075714 | 0.74671630924286 |
| 2021-02-09 00:00:00 | France | 0.25325998983301 | 0.74674001016699 |
| 2021-02-10 00:00:00 | France | 0.26187356804955 | 0.73812643195044 |
| 2021-02-11 00:00:00 | France | 0.27068591087112 | 0.72931408912887 |
| 2021-02-12 00:00:00 | France | 0.27049913804789 | 0.72950086195212 |
| 2021-02-13 00:00:00 | France | 0.268029390346 | 0.731970609654 |
| 2021-02-14 00:00:00 | France | 0.2707299277534 | 0.7292700722466 |
| 2021-02-15 00:00:00 | France | 0.26934991508118 | 0.73065008491882 |
| 2021-02-16 00:00:00 | France | 0.2675593048997 | 0.7324406951003 |
| 2021-02-17 00:00:00 | France | 0.26487267285765 | 0.73512732714235 |
| 2021-02-18 00:00:00 | France | 0.25966183795569 | 0.74033816204431 |
| 2021-02-19 00:00:00 | France | 0.26182905297797 | 0.73817094702203 |
| 2021-02-20 00:00:00 | France | 0.26775275996129 | 0.73224724003871 |
| 2021-02-21 00:00:00 | France | 0.26273986126163 | 0.73726013873838 |
| 2021-02-22 00:00:00 | France | 0.2619159287755 | 0.73808407122451 |
| 2021-02-23 00:00:00 | France | 0.26568765689083 | 0.73431234310918 |
| 2021-02-24 00:00:00 | France | 0.26394175205284 | 0.73605824794716 |
| 2021-02-25 00:00:00 | France | 0.27084329211232 | 0.72915670788769 |
| 2021-02-26 00:00:00 | France | 0.26611061350726 | 0.73388938649274 |
| 2021-02-27 00:00:00 | France | 0.26298773516867 | 0.73701226483133 |
| 2021-02-28 00:00:00 | France | 0.26372361914956 | 0.73627638085044 |
| 2021-03-01 00:00:00 | France | 0.26423690312751 | 0.73576309687249 |
| 2021-03-02 00:00:00 | France | 0.26185868433346 | 0.73814131566654 |
| 2021-03-03 00:00:00 | France | 0.26763194835638 | 0.73236805164362 |
| 2021-03-04 00:00:00 | France | 0.25417663838221 | 0.74582336161779 |
| 2021-03-05 00:00:00 | France | 0.25952008620074 | 0.74047991379926 |
| 2021-03-06 00:00:00 | France | 0.2571408816388 | 0.7428591183612 |
| 2021-03-07 00:00:00 | France | 0.25885113186038 | 0.74114886813962 |
| 2021-03-08 00:00:00 | France | 0.25882535942402 | 0.74117464057598 |
| 2021-03-09 00:00:00 | France | 0.26396398978718 | 0.73603601021282 |
| 2021-03-10 00:00:00 | France | 0.25252860414766 | 0.74747139585234 |
| 2021-03-11 00:00:00 | France | 0.25227908762048 | 0.74772091237952 |
| 2021-03-12 00:00:00 | France | 0.25522335281181 | 0.74477664718819 |
| 2021-03-13 00:00:00 | France | 0.25479201459863 | 0.74520798540137 |
| 2021-03-14 00:00:00 | France | 0.25541446571389 | 0.7445855342861 |
| 2021-03-15 00:00:00 | France | 0.25543972693228 | 0.74456027306772 |
| 2021-03-16 00:00:00 | France | 0.24766415043294 | 0.75233584956706 |
| 2021-03-17 00:00:00 | France | 0.25975586736562 | 0.74024413263439 |
| 2021-03-18 00:00:00 | France | 0.2648185865149 | 0.7351814134851 |
| 2021-03-19 00:00:00 | France | 0.25914597678423 | 0.74085402321577 |
| 2021-03-20 00:00:00 | France | 0.2579383619066 | 0.7420616380934 |
| 2021-03-21 00:00:00 | France | 0.25346178835414 | 0.74653821164586 |
| 2021-03-22 00:00:00 | France | 0.24974178023836 | 0.75025821976164 |
| 2021-03-23 00:00:00 | France | 0.25203802689416 | 0.74796197310584 |
| 2021-03-24 00:00:00 | France | 0.24213725750147 | 0.75786274249854 |
| 2021-03-25 00:00:00 | France | 0.23744636140805 | 0.76255363859195 |
| 2021-03-26 00:00:00 | France | 0.2405418871187 | 0.7594581128813 |
| 2021-03-27 00:00:00 | France | 0.23654881853113 | 0.76345118146887 |
| 2021-03-28 00:00:00 | France | 0.23818511990421 | 0.76181488009579 |
| 2021-03-29 00:00:00 | France | 0.23615683074992 | 0.76384316925008 |
| 2021-03-30 00:00:00 | France | 0.23580969506563 | 0.76419030493437 |
| 2021-03-31 00:00:00 | France | 0.2360589077089 | 0.7639410922911 |
| 2021-04-01 00:00:00 | France | 0.24087564493573 | 0.75912435506427 |
| 2021-04-02 00:00:00 | France | 0.24144087965454 | 0.75855912034546 |
| 2021-04-03 00:00:00 | France | 0.24484097507436 | 0.75515902492564 |
| 2021-04-04 00:00:00 | France | 0.2520883447864 | 0.7479116552136 |
| 2021-04-05 00:00:00 | France | 0.25433606661015 | 0.74566393338985 |
| 2021-04-06 00:00:00 | France | 0.25411020001703 | 0.74588979998297 |
| 2021-04-07 00:00:00 | France | 0.25588018231843 | 0.74411981768157 |
| 2021-04-08 00:00:00 | France | 0.25863997263068 | 0.74136002736932 |
| 2021-04-09 00:00:00 | France | 0.25473841484826 | 0.74526158515174 |
| 2021-04-10 00:00:00 | France | 0.26485604669774 | 0.73514395330226 |
| 2021-04-11 00:00:00 | France | 0.2601032157053 | 0.7398967842947 |
| 2021-04-12 00:00:00 | France | 0.26542410343491 | 0.73457589656509 |
| 2021-04-13 00:00:00 | France | 0.27247465800001 | 0.72752534199999 |
| 2021-04-14 00:00:00 | France | 0.28242791187869 | 0.71757208812131 |
| 2021-04-15 00:00:00 | France | 0.27933387164215 | 0.72066612835785 |
| 2021-04-16 00:00:00 | France | 0.28742155012812 | 0.71257844987188 |
| 2021-04-17 00:00:00 | France | 0.28077147814939 | 0.71922852185061 |
| 2021-04-18 00:00:00 | France | 0.28287326100027 | 0.71712673899973 |
| 2021-04-19 00:00:00 | France | 0.27679597182028 | 0.72320402817972 |
| 2021-04-20 00:00:00 | France | 0.27714177348069 | 0.72285822651931 |
| 2021-04-21 00:00:00 | France | 0.27119896748092 | 0.72880103251908 |
| 2021-04-22 00:00:00 | France | 0.2784296798203 | 0.7215703201797 |
| 2021-04-23 00:00:00 | France | 0.27695758967161 | 0.72304241032839 |
| 2021-04-24 00:00:00 | France | 0.28231201342736 | 0.71768798657264 |
| 2021-04-25 00:00:00 | France | 0.28178339160377 | 0.71821660839623 |
| 2021-04-26 00:00:00 | France | 0.28853741761917 | 0.71146258238083 |
| 2021-04-27 00:00:00 | France | 0.28298200738589 | 0.71701799261412 |
| 2021-04-28 00:00:00 | France | 0.28288947143197 | 0.71711052856803 |
| 2021-04-29 00:00:00 | France | 0.27426247328733 | 0.72573752671267 |
| 2021-04-30 00:00:00 | France | 0.27889660585585 | 0.72110339414415 |
| 2021-05-01 00:00:00 | France | 0.27856970686917 | 0.72143029313083 |
| 2021-05-02 00:00:00 | France | 0.28475571194771 | 0.71524428805229 |
| 2021-05-03 00:00:00 | France | 0.28856181798004 | 0.71143818201996 |
| 2021-05-04 00:00:00 | France | 0.29260767036202 | 0.70739232963798 |
| 2021-05-05 00:00:00 | France | 0.29237326135378 | 0.70762673864622 |
| 2021-05-06 00:00:00 | France | 0.29813115625078 | 0.70186884374922 |
| 2021-05-07 00:00:00 | France | 0.29308992140606 | 0.70691007859394 |
| 2021-05-08 00:00:00 | France | 0.29050586040263 | 0.70949413959737 |
| 2021-05-09 00:00:00 | France | 0.28020202410404 | 0.71979797589595 |
| 2021-05-10 00:00:00 | France | 0.27967920770542 | 0.72032079229458 |
| 2021-05-11 00:00:00 | France | 0.27772507634991 | 0.72227492365009 |
| 2021-05-12 00:00:00 | France | 0.28288375851399 | 0.71711624148601 |
| 2021-05-13 00:00:00 | France | 0.28041808696079 | 0.71958191303921 |
| 2021-05-14 00:00:00 | France | 0.28233261010419 | 0.71766738989581 |
| 2021-05-15 00:00:00 | France | 0.28139351292658 | 0.71860648707342 |
| 2021-05-16 00:00:00 | France | 0.29215374873232 | 0.70784625126768 |
| 2021-05-17 00:00:00 | France | 0.29347969357114 | 0.70652030642887 |
| 2021-05-18 00:00:00 | France | 0.29526523084655 | 0.70473476915345 |
| 2021-05-19 00:00:00 | France | 0.29612034252395 | 0.70387965747605 |
| 2021-05-20 00:00:00 | France | 0.29869734824914 | 0.70130265175086 |
| 2021-05-21 00:00:00 | France | 0.30038143883147 | 0.69961856116853 |
| 2021-05-22 00:00:00 | France | 0.3054536754767 | 0.6945463245233 |
| 2021-05-23 00:00:00 | France | 0.30218473391628 | 0.69781526608372 |
| 2021-05-24 00:00:00 | France | 0.30305449688518 | 0.69694550311481 |
| 2021-05-25 00:00:00 | France | 0.31158508355442 | 0.68841491644558 |
| 2021-05-26 00:00:00 | France | 0.30927218050619 | 0.69072781949381 |
| 2021-05-27 00:00:00 | France | 0.31729237599013 | 0.68270762400987 |
| 2021-05-28 00:00:00 | France | 0.31921003319838 | 0.68078996680161 |
| 2021-05-29 00:00:00 | France | 0.3242151517788 | 0.6757848482212 |
| 2021-05-30 00:00:00 | France | 0.32807036545492 | 0.67192963454508 |
| 2021-05-31 00:00:00 | France | 0.33032485519531 | 0.66967514480469 |
| 2021-06-01 00:00:00 | France | 0.32116625251918 | 0.67883374748082 |
| 2021-06-02 00:00:00 | France | 0.32563050114123 | 0.67436949885877 |
| 2021-06-03 00:00:00 | France | 0.31671828144288 | 0.68328171855712 |
| 2021-06-04 00:00:00 | France | 0.32278327251057 | 0.67721672748943 |
| 2021-06-05 00:00:00 | France | 0.3213253347497 | 0.6786746652503 |
| 2021-06-06 00:00:00 | France | 0.32020509137662 | 0.67979490862338 |
| 2021-06-07 00:00:00 | France | 0.31343611050312 | 0.68656388949688 |
| 2021-06-08 00:00:00 | France | 0.31858822900203 | 0.68141177099797 |
| 2021-06-09 00:00:00 | France | 0.31313769386959 | 0.68686230613041 |
| 2021-06-10 00:00:00 | France | 0.32209295774388 | 0.67790704225612 |
| 2021-06-11 00:00:00 | France | 0.31745465243324 | 0.68254534756676 |
| 2021-06-12 00:00:00 | France | 0.31723840802477 | 0.68276159197523 |
| 2021-06-13 00:00:00 | France | 0.32189140859164 | 0.67810859140836 |
| 2021-06-14 00:00:00 | France | 0.32790173372994 | 0.67209826627006 |
| 2021-06-15 00:00:00 | France | 0.32788924389205 | 0.67211075610795 |
| 2021-06-16 00:00:00 | France | 0.32830136311233 | 0.67169863688767 |
| 2021-06-17 00:00:00 | France | 0.33288324331009 | 0.66711675668991 |
| 2021-06-18 00:00:00 | France | 0.33528958902968 | 0.66471041097032 |
| 2021-06-19 00:00:00 | France | 0.33798455010167 | 0.66201544989833 |
| 2021-06-20 00:00:00 | France | 0.33696112079191 | 0.66303887920809 |
| 2021-06-21 00:00:00 | France | 0.33899701769 | 0.66100298231 |
| 2021-06-22 00:00:00 | France | 0.34252103559734 | 0.65747896440266 |
| 2021-06-23 00:00:00 | France | 0.34546861938641 | 0.65453138061359 |
| 2021-06-24 00:00:00 | France | 0.33123389676131 | 0.66876610323869 |
| 2021-06-25 00:00:00 | France | 0.3282404459648 | 0.6717595540352 |
| 2021-06-26 00:00:00 | France | 0.3234869236772 | 0.6765130763228 |
| 2021-06-27 00:00:00 | France | 0.32050652910271 | 0.67949347089729 |
| 2021-06-28 00:00:00 | France | 0.31972251229031 | 0.68027748770969 |
| 2021-06-29 00:00:00 | France | 0.31240602592394 | 0.68759397407606 |
| 2021-06-30 00:00:00 | France | 0.30650869078361 | 0.69349130921639 |
| 2021-07-01 00:00:00 | France | 0.3182230445995 | 0.6817769554005 |
| 2021-07-02 00:00:00 | France | 0.31666622280354 | 0.68333377719646 |
| 2021-07-03 00:00:00 | France | 0.32122583741624 | 0.67877416258376 |
| 2021-07-04 00:00:00 | France | 0.31832668021957 | 0.68167331978043 |
| 2021-07-05 00:00:00 | France | 0.31431585850924 | 0.68568414149076 |
| 2021-07-06 00:00:00 | France | 0.31405440485093 | 0.68594559514907 |
| 2021-07-07 00:00:00 | France | 0.32007749074359 | 0.6799225092564 |
| 2021-07-08 00:00:00 | France | 0.31268586666013 | 0.68731413333987 |
| 2021-07-09 00:00:00 | France | 0.31312616725939 | 0.68687383274061 |
| 2021-07-10 00:00:00 | France | 0.30410167736181 | 0.69589832263819 |
| 2021-07-11 00:00:00 | France | 0.3086531890502 | 0.6913468109498 |
| 2021-07-12 00:00:00 | France | 0.30966802949433 | 0.69033197050567 |
| 2021-07-13 00:00:00 | France | 0.3170920248778 | 0.6829079751222 |
| 2021-07-14 00:00:00 | France | 0.31974558041557 | 0.68025441958443 |
| 2021-07-15 00:00:00 | France | 0.32279774338087 | 0.67720225661913 |
| 2021-07-16 00:00:00 | France | 0.320207187621 | 0.679792812379 |
| 2021-07-17 00:00:00 | France | 0.32435078408459 | 0.67564921591541 |
| 2021-07-18 00:00:00 | France | 0.32160280976824 | 0.6783971 |