Clinton Continues Post-Debate Surge Over Trump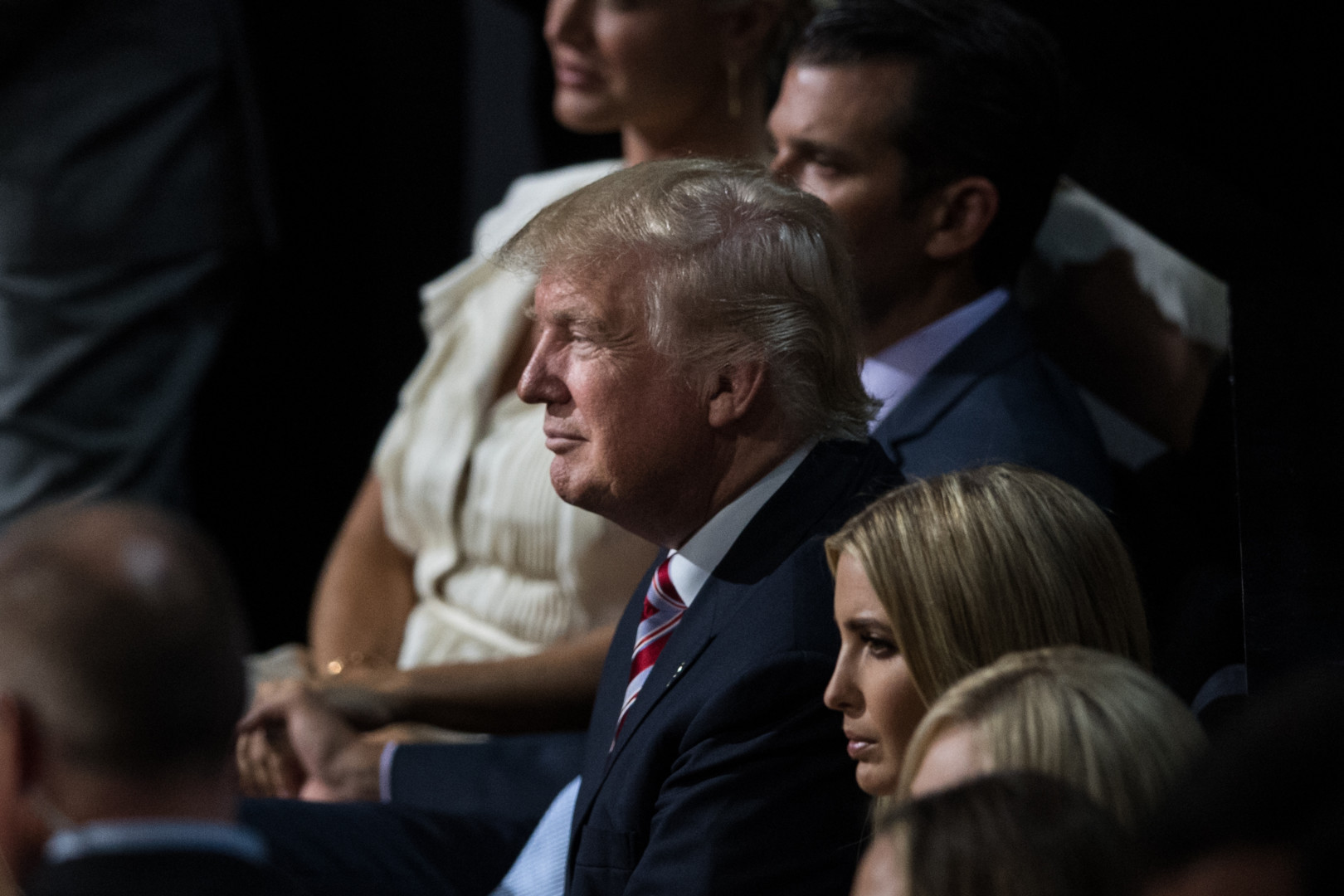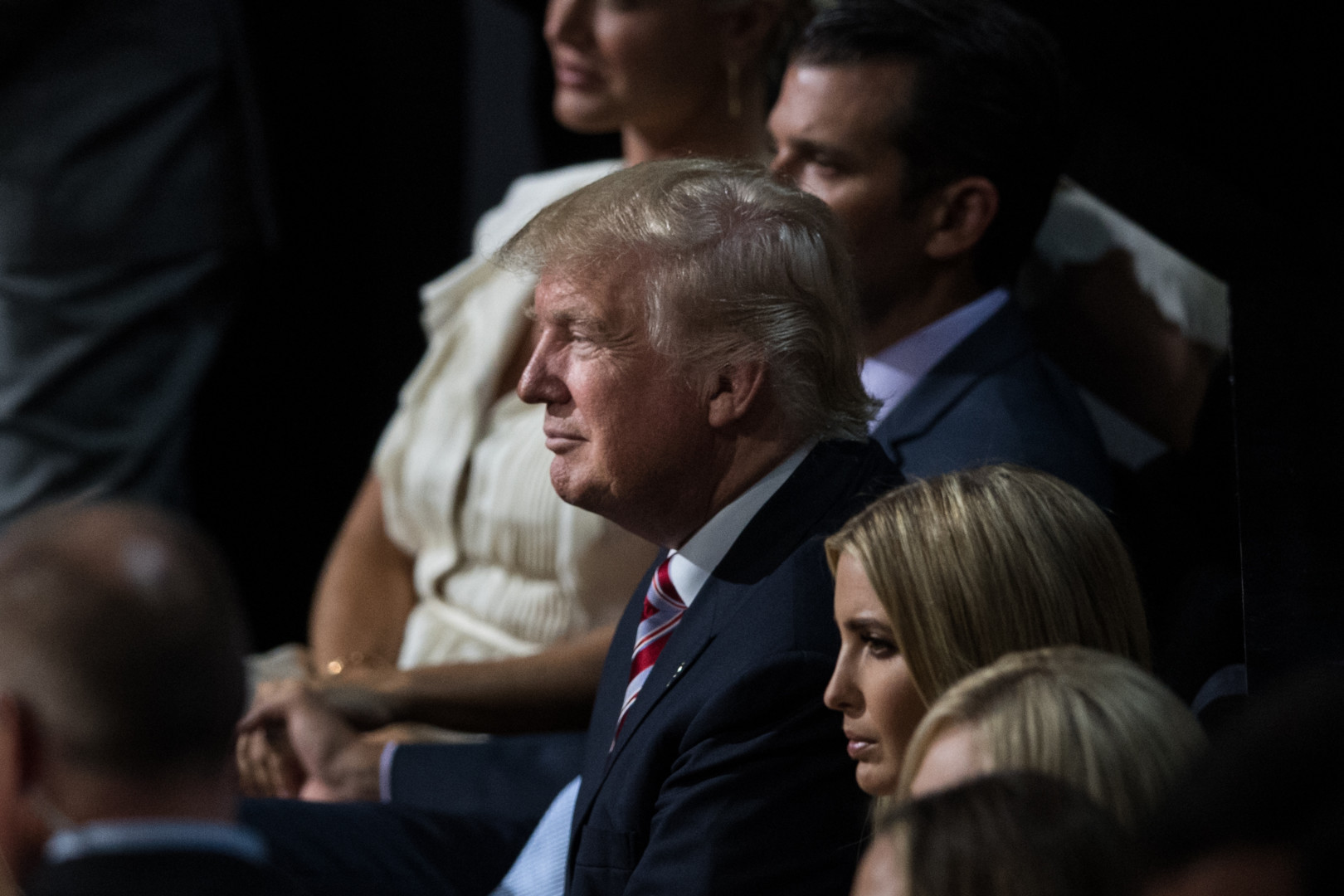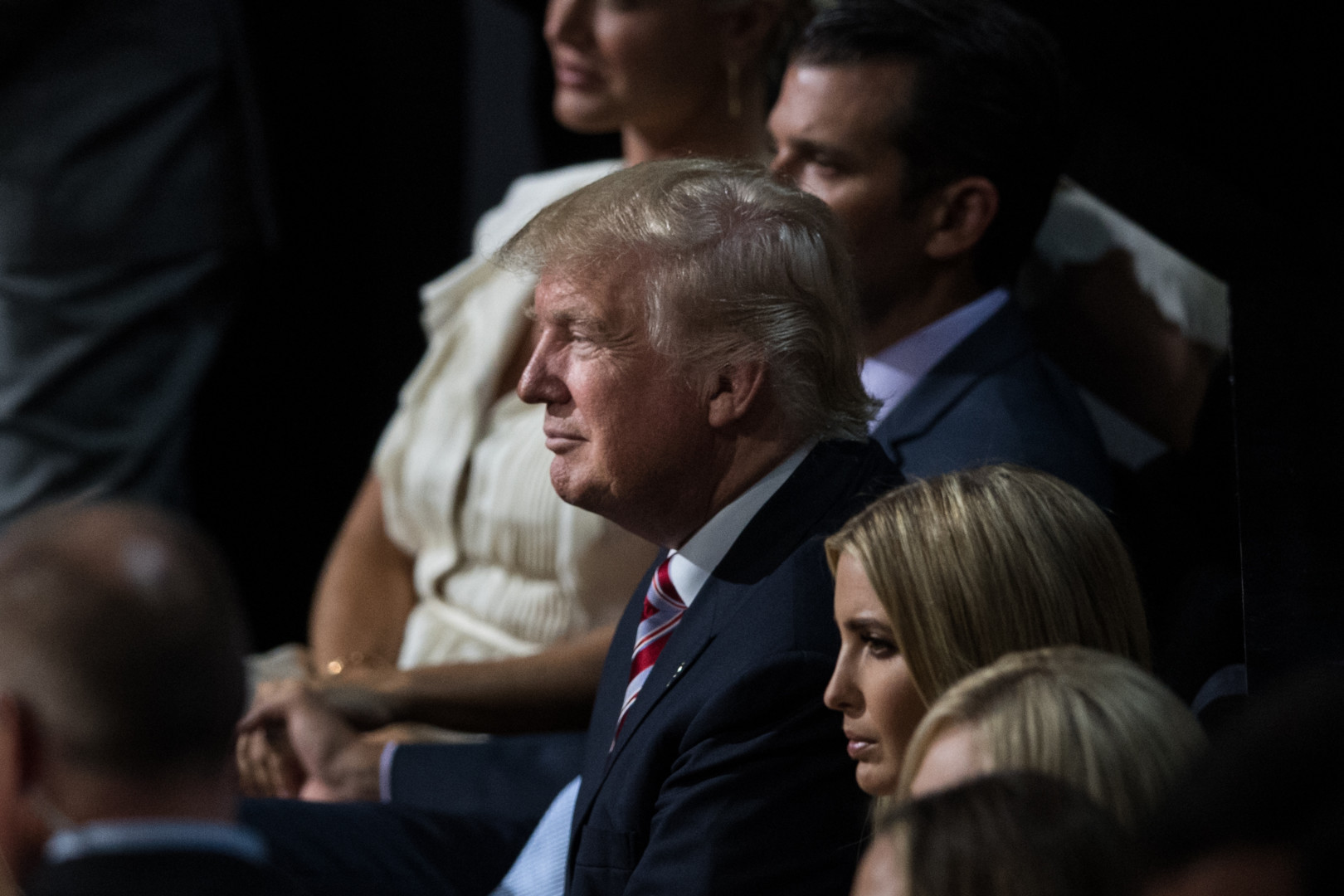 Hillary Clinton continues to widen her lead over Donald Trump after the presidential candidates shared the debate stage for the first time one week ago.
In a new Politico/Morning Consult survey of likely voters taken Sept. 30 through Oct. 2, the Democratic nominee leads her Republican rival by 6 points, 42 percent to 36 percent. It's a sizable swing since the pre-debate poll which showed Trump leading by 1 point, underlining what a rough week it was for the New York business mogul.
Related: Clinton Bests Trump in Debate, Half of Likely Voters Say
period_end
leader
Approve
Disaprove
1/1/22 0:00
Magdalena Andersson
0.53
0.21
1/2/22 0:00
Magdalena Andersson
0.51
0.22
1/3/22 0:00
Magdalena Andersson
0.49
0.23
1/4/22 0:00
Magdalena Andersson
0.48
0.23
1/5/22 0:00
Magdalena Andersson
0.48
0.24
1/6/22 0:00
Magdalena Andersson
0.47
0.24
1/7/22 0:00
Magdalena Andersson
0.47
0.24
1/8/22 0:00
Magdalena Andersson
0.47
0.25
1/9/22 0:00
Magdalena Andersson
0.48
0.25
1/10/22 0:00
Magdalena Andersson
0.48
0.25
1/11/22 0:00
Magdalena Andersson
0.48
0.26
1/12/22 0:00
Magdalena Andersson
0.48
0.27
1/13/22 0:00
Magdalena Andersson
0.48
0.27
1/14/22 0:00
Magdalena Andersson
0.48
0.27
1/15/22 0:00
Magdalena Andersson
0.48
0.27
1/16/22 0:00
Magdalena Andersson
0.47
0.29
1/17/22 0:00
Magdalena Andersson
0.47
0.30
1/18/22 0:00
Magdalena Andersson
0.47
0.30
1/19/22 0:00
Magdalena Andersson
0.48
0.30
1/20/22 0:00
Magdalena Andersson
0.48
0.31
1/21/22 0:00
Magdalena Andersson
0.48
0.31
1/22/22 0:00
Magdalena Andersson
0.47
0.32
1/23/22 0:00
Magdalena Andersson
0.49
0.30
1/24/22 0:00
Magdalena Andersson
0.50
0.30
1/25/22 0:00
Magdalena Andersson
0.50
0.31
1/26/22 0:00
Magdalena Andersson
0.49
0.31
1/27/22 0:00
Magdalena Andersson
0.48
0.31
1/28/22 0:00
Magdalena Andersson
0.48
0.31
1/29/22 0:00
Magdalena Andersson
0.48
0.31
1/30/22 0:00
Magdalena Andersson
0.47
0.31
1/31/22 0:00
Magdalena Andersson
0.48
0.31
2/1/22 0:00
Magdalena Andersson
0.49
0.30
2/2/22 0:00
Magdalena Andersson
0.49
0.30
2/3/22 0:00
Magdalena Andersson
0.50
0.29
2/4/22 0:00
Magdalena Andersson
0.50
0.28
2/5/22 0:00
Magdalena Andersson
0.49
0.29
2/6/22 0:00
Magdalena Andersson
0.50
0.29
2/7/22 0:00
Magdalena Andersson
0.49
0.29
2/8/22 0:00
Magdalena Andersson
0.48
0.30
2/9/22 0:00
Magdalena Andersson
0.49
0.29
2/10/22 0:00
Magdalena Andersson
0.48
0.30
2/11/22 0:00
Magdalena Andersson
0.49
0.30
2/12/22 0:00
Magdalena Andersson
0.52
0.29
2/13/22 0:00
Magdalena Andersson
0.51
0.30
2/14/22 0:00
Magdalena Andersson
0.52
0.30
2/15/22 0:00
Magdalena Andersson
0.53
0.30
2/16/22 0:00
Magdalena Andersson
0.52
0.30
2/17/22 0:00
Magdalena Andersson
0.51
0.31
2/18/22 0:00
Magdalena Andersson
0.51
0.32
2/19/22 0:00
Magdalena Andersson
0.51
0.32
2/20/22 0:00
Magdalena Andersson
0.52
0.31
2/21/22 0:00
Magdalena Andersson
0.52
0.31
2/22/22 0:00
Magdalena Andersson
0.51
0.32
2/23/22 0:00
Magdalena Andersson
0.52
0.32
2/24/22 0:00
Magdalena Andersson
0.52
0.32
2/25/22 0:00
Magdalena Andersson
0.52
0.31
2/26/22 0:00
Magdalena Andersson
0.52
0.32
2/27/22 0:00
Magdalena Andersson
0.53
0.31
2/28/22 0:00
Magdalena Andersson
0.53
0.29
3/1/22 0:00
Magdalena Andersson
0.54
0.28
3/2/22 0:00
Magdalena Andersson
0.55
0.28
3/3/22 0:00
Magdalena Andersson
0.57
0.27
3/4/22 0:00
Magdalena Andersson
0.57
0.27
3/5/22 0:00
Magdalena Andersson
0.57
0.28
3/6/22 0:00
Magdalena Andersson
0.57
0.28
3/7/22 0:00
Magdalena Andersson
0.56
0.28
3/8/22 0:00
Magdalena Andersson
0.56
0.28
3/9/22 0:00
Magdalena Andersson
0.57
0.28
3/10/22 0:00
Magdalena Andersson
0.56
0.29
3/11/22 0:00
Magdalena Andersson
0.56
0.30
3/12/22 0:00
Magdalena Andersson
0.57
0.29
3/13/22 0:00
Magdalena Andersson
0.57
0.30
3/14/22 0:00
Magdalena Andersson
0.58
0.30
3/15/22 0:00
Magdalena Andersson
0.59
0.30
3/16/22 0:00
Magdalena Andersson
0.60
0.28
3/17/22 0:00
Magdalena Andersson
0.59
0.28
3/18/22 0:00
Magdalena Andersson
0.59
0.28
3/19/22 0:00
Magdalena Andersson
0.60
0.27
3/20/22 0:00
Magdalena Andersson
0.59
0.27
3/21/22 0:00
Magdalena Andersson
0.59
0.27
3/22/22 0:00
Magdalena Andersson
0.58
0.28
3/23/22 0:00
Magdalena Andersson
0.56
0.29
3/24/22 0:00
Magdalena Andersson
0.57
0.28
3/25/22 0:00
Magdalena Andersson
0.58
0.28
3/26/22 0:00
Magdalena Andersson
0.57
0.29
3/27/22 0:00
Magdalena Andersson
0.59
0.28
3/28/22 0:00
Magdalena Andersson
0.59
0.28
3/29/22 0:00
Magdalena Andersson
0.60
0.28
3/30/22 0:00
Magdalena Andersson
0.60
0.28
3/31/22 0:00
Magdalena Andersson
0.59
0.28
4/1/22 0:00
Magdalena Andersson
0.59
0.28
4/2/22 0:00
Magdalena Andersson
0.59
0.27
4/3/22 0:00
Magdalena Andersson
0.59
0.27
4/4/22 0:00
Magdalena Andersson
0.58
0.28
4/5/22 0:00
Magdalena Andersson
0.57
0.29
4/6/22 0:00
Magdalena Andersson
0.59
0.28
4/7/22 0:00
Magdalena Andersson
0.58
0.28
4/8/22 0:00
Magdalena Andersson
0.58
0.28
4/9/22 0:00
Magdalena Andersson
0.58
0.29
4/10/22 0:00
Magdalena Andersson
0.58
0.29
4/11/22 0:00
Magdalena Andersson
0.58
0.28
4/12/22 0:00
Magdalena Andersson
0.58
0.28
4/13/22 0:00
Magdalena Andersson
0.57
0.29
4/14/22 0:00
Magdalena Andersson
0.59
0.28
4/15/22 0:00
Magdalena Andersson
0.58
0.29
4/16/22 0:00
Magdalena Andersson
0.58
0.28
4/17/22 0:00
Magdalena Andersson
0.57
0.29
4/18/22 0:00
Magdalena Andersson
0.58
0.29
4/19/22 0:00
Magdalena Andersson
0.58
0.29
1/21/21 0:00
Joe Biden
0.50
0.28
1/22/21 0:00
Joe Biden
0.51
0.28
1/23/21 0:00
Joe Biden
0.52
0.29
1/24/21 0:00
Joe Biden
0.53
0.29
1/25/21 0:00
Joe Biden
0.53
0.30
1/26/21 0:00
Joe Biden
0.53
0.30
1/27/21 0:00
Joe Biden
0.54
0.31
1/28/21 0:00
Joe Biden
0.54
0.32
1/29/21 0:00
Joe Biden
0.54
0.32
1/30/21 0:00
Joe Biden
0.54
0.32
1/31/21 0:00
Joe Biden
0.54
0.33
2/1/21 0:00
Joe Biden
0.54
0.33
2/2/21 0:00
Joe Biden
0.54
0.33
2/3/21 0:00
Joe Biden
0.54
0.33
2/4/21 0:00
Joe Biden
0.54
0.34
2/5/21 0:00
Joe Biden
0.54
0.34
2/6/21 0:00
Joe Biden
0.54
0.34
2/7/21 0:00
Joe Biden
0.55
0.33
2/8/21 0:00
Joe Biden
0.55
0.33
2/9/21 0:00
Joe Biden
0.55
0.33
2/10/21 0:00
Joe Biden
0.55
0.33
2/11/21 0:00
Joe Biden
0.55
0.33
2/12/21 0:00
Joe Biden
0.55
0.33
2/13/21 0:00
Joe Biden
0.55
0.34
2/14/21 0:00
Joe Biden
0.54
0.34
2/15/21 0:00
Joe Biden
0.54
0.34
2/16/21 0:00
Joe Biden
0.54
0.34
2/17/21 0:00
Joe Biden
0.54
0.34
2/18/21 0:00
Joe Biden
0.54
0.35
2/19/21 0:00
Joe Biden
0.54
0.35
2/20/21 0:00
Joe Biden
0.54
0.35
2/21/21 0:00
Joe Biden
0.54
0.35
2/22/21 0:00
Joe Biden
0.54
0.35
2/23/21 0:00
Joe Biden
0.54
0.35
2/24/21 0:00
Joe Biden
0.54
0.35
2/25/21 0:00
Joe Biden
0.54
0.35
2/26/21 0:00
Joe Biden
0.54
0.35
2/27/21 0:00
Joe Biden
0.54
0.35
2/28/21 0:00
Joe Biden
0.54
0.35
3/1/21 0:00
Joe Biden
0.54
0.35
3/2/21 0:00
Joe Biden
0.54
0.36
3/3/21 0:00
Joe Biden
0.54
0.36
3/4/21 0:00
Joe Biden
0.54
0.36
3/5/21 0:00
Joe Biden
0.54
0.36
3/6/21 0:00
Joe Biden
0.54
0.36
3/7/21 0:00
Joe Biden
0.55
0.36
3/8/21 0:00
Joe Biden
0.55
0.36
3/9/21 0:00
Joe Biden
0.55
0.36
3/10/21 0:00
Joe Biden
0.55
0.36
3/11/21 0:00
Joe Biden
0.55
0.36
3/12/21 0:00
Joe Biden
0.55
0.36
3/13/21 0:00
Joe Biden
0.56
0.35
3/14/21 0:00
Joe Biden
0.56
0.35
3/15/21 0:00
Joe Biden
0.55
0.36
3/16/21 0:00
Joe Biden
0.56
0.35
3/17/21 0:00
Joe Biden
0.56
0.35
3/18/21 0:00
Joe Biden
0.56
0.35
3/19/21 0:00
Joe Biden
0.56
0.35
3/20/21 0:00
Joe Biden
0.56
0.35
3/21/21 0:00
Joe Biden
0.55
0.36
3/22/21 0:00
Joe Biden
0.56
0.36
3/23/21 0:00
Joe Biden
0.55
0.36
3/24/21 0:00
Joe Biden
0.55
0.36
3/25/21 0:00
Joe Biden
0.56
0.36
3/26/21 0:00
Joe Biden
0.55
0.36
3/27/21 0:00
Joe Biden
0.55
0.36
3/28/21 0:00
Joe Biden
0.54
0.36
3/29/21 0:00
Joe Biden
0.54
0.36
3/30/21 0:00
Joe Biden
0.54
0.36
3/31/21 0:00
Joe Biden
0.54
0.36
4/1/21 0:00
Joe Biden
0.54
0.36
4/2/21 0:00
Joe Biden
0.54
0.36
4/3/21 0:00
Joe Biden
0.54
0.36
4/4/21 0:00
Joe Biden
0.55
0.36
4/5/21 0:00
Joe Biden
0.55
0.36
4/6/21 0:00
Joe Biden
0.55
0.36
4/7/21 0:00
Joe Biden
0.55
0.36
4/8/21 0:00
Joe Biden
0.55
0.36
4/9/21 0:00
Joe Biden
0.55
0.36
4/10/21 0:00
Joe Biden
0.55
0.36
4/11/21 0:00
Joe Biden
0.54
0.37
4/12/21 0:00
Joe Biden
0.55
0.36
4/13/21 0:00
Joe Biden
0.55
0.36
4/14/21 0:00
Joe Biden
0.54
0.37
4/15/21 0:00
Joe Biden
0.54
0.37
4/16/21 0:00
Joe Biden
0.55
0.37
4/17/21 0:00
Joe Biden
0.54
0.37
4/18/21 0:00
Joe Biden
0.54
0.37
4/19/21 0:00
Joe Biden
0.54
0.38
4/20/21 0:00
Joe Biden
0.53
0.38
4/21/21 0:00
Joe Biden
0.54
0.37
4/22/21 0:00
Joe Biden
0.54
0.37
4/23/21 0:00
Joe Biden
0.54
0.37
4/24/21 0:00
Joe Biden
0.54
0.37
4/25/21 0:00
Joe Biden
0.54
0.36
4/26/21 0:00
Joe Biden
0.55
0.36
4/27/21 0:00
Joe Biden
0.55
0.36
4/28/21 0:00
Joe Biden
0.55
0.36
4/29/21 0:00
Joe Biden
0.55
0.36
4/30/21 0:00
Joe Biden
0.55
0.36
5/1/21 0:00
Joe Biden
0.56
0.36
5/2/21 0:00
Joe Biden
0.56
0.36
5/3/21 0:00
Joe Biden
0.56
0.36
5/4/21 0:00
Joe Biden
0.56
0.36
5/5/21 0:00
Joe Biden
0.56
0.36
5/6/21 0:00
Joe Biden
0.56
0.36
5/7/21 0:00
Joe Biden
0.56
0.36
5/8/21 0:00
Joe Biden
0.55
0.36
5/9/21 0:00
Joe Biden
0.55
0.36
5/10/21 0:00
Joe Biden
0.55
0.37
5/11/21 0:00
Joe Biden
0.55
0.37
5/12/21 0:00
Joe Biden
0.55
0.37
5/13/21 0:00
Joe Biden
0.54
0.37
5/14/21 0:00
Joe Biden
0.54
0.37
5/15/21 0:00
Joe Biden
0.54
0.37
5/16/21 0:00
Joe Biden
0.54
0.37
5/17/21 0:00
Joe Biden
0.54
0.37
5/18/21 0:00
Joe Biden
0.54
0.38
5/19/21 0:00
Joe Biden
0.54
0.38
5/20/21 0:00
Joe Biden
0.54
0.38
5/21/21 0:00
Joe Biden
0.54
0.38
5/22/21 0:00
Joe Biden
0.54
0.39
5/23/21 0:00
Joe Biden
0.54
0.39
5/24/21 0:00
Joe Biden
0.54
0.39
5/25/21 0:00
Joe Biden
0.54
0.38
5/26/21 0:00
Joe Biden
0.54
0.38
5/27/21 0:00
Joe Biden
0.54
0.38
5/28/21 0:00
Joe Biden
0.54
0.38
5/29/21 0:00
Joe Biden
0.54
0.38
5/30/21 0:00
Joe Biden
0.54
0.38
5/31/21 0:00
Joe Biden
0.54
0.38
6/1/21 0:00
Joe Biden
0.53
0.38
6/2/21 0:00
Joe Biden
0.53
0.38
6/3/21 0:00
Joe Biden
0.53
0.38
6/4/21 0:00
Joe Biden
0.53
0.39
6/5/21 0:00
Joe Biden
0.53
0.39
6/6/21 0:00
Joe Biden
0.53
0.39
6/7/21 0:00
Joe Biden
0.53
0.39
6/8/21 0:00
Joe Biden
0.52
0.39
6/9/21 0:00
Joe Biden
0.52
0.39
6/10/21 0:00
Joe Biden
0.52
0.39
6/11/21 0:00
Joe Biden
0.53
0.39
6/12/21 0:00
Joe Biden
0.53
0.39
6/13/21 0:00
Joe Biden
0.53
0.39
6/14/21 0:00
Joe Biden
0.52
0.39
6/15/21 0:00
Joe Biden
0.53
0.39
6/16/21 0:00
Joe Biden
0.53
0.39
6/17/21 0:00
Joe Biden
0.53
0.39
6/18/21 0:00
Joe Biden
0.53
0.39
6/19/21 0:00
Joe Biden
0.53
0.39
6/20/21 0:00
Joe Biden
0.53
0.38
6/21/21 0:00
Joe Biden
0.54
0.38
6/22/21 0:00
Joe Biden
0.54
0.39
6/23/21 0:00
Joe Biden
0.53
0.39
6/24/21 0:00
Joe Biden
0.53
0.39
6/25/21 0:00
Joe Biden
0.53
0.39
6/26/21 0:00
Joe Biden
0.53
0.39
6/27/21 0:00
Joe Biden
0.53
0.39
6/28/21 0:00
Joe Biden
0.53
0.39
6/29/21 0:00
Joe Biden
0.53
0.39
6/30/21 0:00
Joe Biden
0.53
0.39
7/1/21 0:00
Joe Biden
0.53
0.39
7/2/21 0:00
Joe Biden
0.52
0.39
7/3/21 0:00
Joe Biden
0.52
0.39
7/4/21 0:00
Joe Biden
0.52
0.39
7/5/21 0:00
Joe Biden
0.52
0.39
7/6/21 0:00
Joe Biden
0.52
0.39
7/7/21 0:00
Joe Biden
0.53
0.39
7/8/21 0:00
Joe Biden
0.53
0.39
7/9/21 0:00
Joe Biden
0.53
0.39
7/10/21 0:00
Joe Biden
0.52
0.39
7/11/21 0:00
Joe Biden
0.52
0.39
7/12/21 0:00
Joe Biden
0.52
0.39
7/13/21 0:00
Joe Biden
0.52
0.39
7/14/21 0:00
Joe Biden
0.52
0.39
7/15/21 0:00
Joe Biden
0.52
0.39
7/16/21 0:00
Joe Biden
0.52
0.39
7/17/21 0:00
Joe Biden
0.53
0.39
7/18/21 0:00
Joe Biden
0.52
0.39
7/19/21 0:00
Joe Biden
0.52
0.39
7/20/21 0:00
Joe Biden
0.52
0.40
7/21/21 0:00
Joe Biden
0.52
0.40
7/22/21 0:00
Joe Biden
0.52
0.40
7/23/21 0:00
Joe Biden
0.52
0.40
7/24/21 0:00
Joe Biden
0.52
0.40
7/25/21 0:00
Joe Biden
0.52
0.40
7/26/21 0:00
Joe Biden
0.52
0.40
7/27/21 0:00
Joe Biden
0.52
0.40
7/28/21 0:00
Joe Biden
0.52
0.40
7/29/21 0:00
Joe Biden
0.52
0.40
7/30/21 0:00
Joe Biden
0.51
0.40
7/31/21 0:00
Joe Biden
0.51
0.40
8/1/21 0:00
Joe Biden
0.51
0.40
8/2/21 0:00
Joe Biden
0.51
0.40
8/3/21 0:00
Joe Biden
0.51
0.41
8/4/21 0:00
Joe Biden
0.51
0.40
8/5/21 0:00
Joe Biden
0.51
0.40
8/6/21 0:00
Joe Biden
0.51
0.40
8/7/21 0:00
Joe Biden
0.51
0.41
8/8/21 0:00
Joe Biden
0.50
0.41
8/9/21 0:00
Joe Biden
0.51
0.41
8/10/21 0:00
Joe Biden
0.51
0.41
8/11/21 0:00
Joe Biden
0.51
0.40
8/12/21 0:00
Joe Biden
0.51
0.40
8/13/21 0:00
Joe Biden
0.52
0.40
8/14/21 0:00
Joe Biden
0.52
0.40
8/15/21 0:00
Joe Biden
0.52
0.40
8/16/21 0:00
Joe Biden
0.52
0.40
8/17/21 0:00
Joe Biden
0.52
0.40
8/18/21 0:00
Joe Biden
0.51
0.41
8/19/21 0:00
Joe Biden
0.51
0.41
8/20/21 0:00
Joe Biden
0.50
0.42
8/21/21 0:00
Joe Biden
0.50
0.42
8/22/21 0:00
Joe Biden
0.50
0.43
8/23/21 0:00
Joe Biden
0.50
0.43
8/24/21 0:00
Joe Biden
0.49
0.43
8/25/21 0:00
Joe Biden
0.49
0.43
8/26/21 0:00
Joe Biden
0.49
0.43
8/27/21 0:00
Joe Biden
0.49
0.43
8/28/21 0:00
Joe Biden
0.49
0.44
8/29/21 0:00
Joe Biden
0.49
0.44
8/30/21 0:00
Joe Biden
0.49
0.44
8/31/21 0:00
Joe Biden
0.48
0.44
9/1/21 0:00
Joe Biden
0.48
0.45
9/2/21 0:00
Joe Biden
0.47
0.45
9/3/21 0:00
Joe Biden
0.47
0.45
9/4/21 0:00
Joe Biden
0.47
0.45
9/5/21 0:00
Joe Biden
0.47
0.45
9/6/21 0:00
Joe Biden
0.46
0.45
9/7/21 0:00
Joe Biden
0.46
0.45
9/8/21 0:00
Joe Biden
0.47
0.45
9/9/21 0:00
Joe Biden
0.47
0.45
9/10/21 0:00
Joe Biden
0.47
0.45
9/11/21 0:00
Joe Biden
0.47
0.45
9/12/21 0:00
Joe Biden
0.47
0.45
9/13/21 0:00
Joe Biden
0.47
0.46
9/14/21 0:00
Joe Biden
0.47
0.46
9/15/21 0:00
Joe Biden
0.46
0.46
9/16/21 0:00
Joe Biden
0.46
0.46
9/17/21 0:00
Joe Biden
0.46
0.46
9/18/21 0:00
Joe Biden
0.46
0.46
9/19/21 0:00
Joe Biden
0.47
0.46
9/20/21 0:00
Joe Biden
0.47
0.46
9/21/21 0:00
Joe Biden
0.47
0.46
9/22/21 0:00
Joe Biden
0.47
0.46
9/23/21 0:00
Joe Biden
0.47
0.46
9/24/21 0:00
Joe Biden
0.46
0.46
9/25/21 0:00
Joe Biden
0.46
0.46
9/26/21 0:00
Joe Biden
0.46
0.47
9/27/21 0:00
Joe Biden
0.45
0.47
9/28/21 0:00
Joe Biden
0.45
0.47
9/29/21 0:00
Joe Biden
0.45
0.47
9/30/21 0:00
Joe Biden
0.45
0.47
10/1/21 0:00
Joe Biden
0.45
0.47
10/2/21 0:00
Joe Biden
0.45
0.47
10/3/21 0:00
Joe Biden
0.46
0.47
10/4/21 0:00
Joe Biden
0.46
0.47
10/5/21 0:00
Joe Biden
0.46
0.47
10/6/21 0:00
Joe Biden
0.45
0.47
10/7/21 0:00
Joe Biden
0.45
0.47
10/8/21 0:00
Joe Biden
0.46
0.47
10/9/21 0:00
Joe Biden
0.46
0.47
10/10/21 0:00
Joe Biden
0.46
0.47
10/11/21 0:00
Joe Biden
0.46
0.47
10/12/21 0:00
Joe Biden
0.46
0.47
10/13/21 0:00
Joe Biden
0.46
0.47
10/14/21 0:00
Joe Biden
0.46
0.47
10/15/21 0:00
Joe Biden
0.46
0.47
10/16/21 0:00
Joe Biden
0.46
0.47
10/17/21 0:00
Joe Biden
0.46
0.47
10/18/21 0:00
Joe Biden
0.46
0.47
10/19/21 0:00
Joe Biden
0.46
0.47
10/20/21 0:00
Joe Biden
0.46
0.47
10/21/21 0:00
Joe Biden
0.46
0.47
10/22/21 0:00
Joe Biden
0.45
0.47
10/23/21 0:00
Joe Biden
0.46
0.47
10/24/21 0:00
Joe Biden
0.45
0.48
10/25/21 0:00
Joe Biden
0.45
0.48
10/26/21 0:00
Joe Biden
0.45
0.48
10/27/21 0:00
Joe Biden
0.45
0.48
10/28/21 0:00
Joe Biden
0.45
0.48
10/29/21 0:00
Joe Biden
0.45
0.48
10/30/21 0:00
Joe Biden
0.45
0.48
10/31/21 0:00
Joe Biden
0.45
0.48
11/1/21 0:00
Joe Biden
0.44
0.48
11/2/21 0:00
Joe Biden
0.44
0.48
11/3/21 0:00
Joe Biden
0.44
0.48
11/4/21 0:00
Joe Biden
0.44
0.48
11/5/21 0:00
Joe Biden
0.44
0.48
11/6/21 0:00
Joe Biden
0.44
0.49
11/7/21 0:00
Joe Biden
0.44
0.49
11/8/21 0:00
Joe Biden
0.44
0.48
11/9/21 0:00
Joe Biden
0.44
0.49
11/10/21 0:00
Joe Biden
0.44
0.49
11/11/21 0:00
Joe Biden
0.44
0.49
11/12/21 0:00
Joe Biden
0.44
0.48
11/13/21 0:00
Joe Biden
0.44
0.49
11/14/21 0:00
Joe Biden
0.44
0.49
11/15/21 0:00
Joe Biden
0.44
0.49
11/16/21 0:00
Joe Biden
0.44
0.48
11/17/21 0:00
Joe Biden
0.44
0.49
11/18/21 0:00
Joe Biden
0.44
0.49
11/19/21 0:00
Joe Biden
0.44
0.49
11/20/21 0:00
Joe Biden
0.44
0.48
11/21/21 0:00
Joe Biden
0.45
0.48
11/22/21 0:00
Joe Biden
0.44
0.48
11/23/21 0:00
Joe Biden
0.44
0.48
11/24/21 0:00
Joe Biden
0.44
0.48
11/25/21 0:00
Joe Biden
0.45
0.48
11/26/21 0:00
Joe Biden
0.45
0.48
11/27/21 0:00
Joe Biden
0.44
0.48
11/28/21 0:00
Joe Biden
0.44
0.49
11/29/21 0:00
Joe Biden
0.44
0.48
11/30/21 0:00
Joe Biden
0.44
0.49
12/1/21 0:00
Joe Biden
0.44
0.49
12/2/21 0:00
Joe Biden
0.44
0.49
12/3/21 0:00
Joe Biden
0.44
0.49
12/4/21 0:00
Joe Biden
0.44
0.49
12/5/21 0:00
Joe Biden
0.44
0.49
12/6/21 0:00
Joe Biden
0.44
0.49
12/7/21 0:00
Joe Biden
0.44
0.48
12/8/21 0:00
Joe Biden
0.44
0.48
12/9/21 0:00
Joe Biden
0.44
0.49
12/10/21 0:00
Joe Biden
0.44
0.49
12/11/21 0:00
Joe Biden
0.44
0.49
12/12/21 0:00
Joe Biden
0.44
0.48
12/13/21 0:00
Joe Biden
0.44
0.48
12/14/21 0:00
Joe Biden
0.44
0.48
12/15/21 0:00
Joe Biden
0.44
0.48
12/16/21 0:00
Joe Biden
0.44
0.48
12/17/21 0:00
Joe Biden
0.44
0.48
12/18/21 0:00
Joe Biden
0.44
0.48
12/19/21 0:00
Joe Biden
0.45
0.48
12/20/21 0:00
Joe Biden
0.45
0.48
12/21/21 0:00
Joe Biden
0.45
0.48
12/22/21 0:00
Joe Biden
0.44
0.49
12/23/21 0:00
Joe Biden
0.45
0.48
12/24/21 0:00
Joe Biden
0.45
0.48
12/25/21 0:00
Joe Biden
0.44
0.48
12/26/21 0:00
Joe Biden
0.44
0.49
12/27/21 0:00
Joe Biden
0.44
0.48
12/28/21 0:00
Joe Biden
0.44
0.49
12/29/21 0:00
Joe Biden
0.44
0.49
12/30/21 0:00
Joe Biden
0.43
0.49
12/31/21 0:00
Joe Biden
0.43
0.49
1/1/22 0:00
Joe Biden
0.43
0.50
1/2/22 0:00
Joe Biden
0.42
0.50
1/3/22 0:00
Joe Biden
0.42
0.50
1/4/22 0:00
Joe Biden
0.42
0.50
1/5/22 0:00
Joe Biden
0.42
0.50
1/6/22 0:00
Joe Biden
0.43
0.49
1/7/22 0:00
Joe Biden
0.43
0.49
1/8/22 0:00
Joe Biden
0.43
0.49
1/9/22 0:00
Joe Biden
0.43
0.49
1/10/22 0:00
Joe Biden
0.43
0.49
1/11/22 0:00
Joe Biden
0.43
0.49
1/12/22 0:00
Joe Biden
0.43
0.48
1/13/22 0:00
Joe Biden
0.43
0.48
1/14/22 0:00
Joe Biden
0.43
0.49
1/15/22 0:00
Joe Biden
0.43
0.49
1/16/22 0:00
Joe Biden
0.43
0.49
1/17/22 0:00
Joe Biden
0.43
0.49
1/18/22 0:00
Joe Biden
0.43
0.49
1/19/22 0:00
Joe Biden
0.43
0.49
1/20/22 0:00
Joe Biden
0.43
0.49
1/21/22 0:00
Joe Biden
0.43
0.49
1/22/22 0:00
Joe Biden
0.43
0.49
1/23/22 0:00
Joe Biden
0.42
0.50
1/24/22 0:00
Joe Biden
0.42
0.50
1/25/22 0:00
Joe Biden
0.42
0.50
1/26/22 0:00
Joe Biden
0.42
0.50
1/27/22 0:00
Joe Biden
0.41
0.50
1/28/22 0:00
Joe Biden
0.41
0.51
1/29/22 0:00
Joe Biden
0.41
0.51
1/30/22 0:00
Joe Biden
0.41
0.51
1/31/22 0:00
Joe Biden
0.41
0.51
2/1/22 0:00
Joe Biden
0.41
0.51
2/2/22 0:00
Joe Biden
0.41
0.51
2/3/22 0:00
Joe Biden
0.41
0.51
2/4/22 0:00
Joe Biden
0.41
0.51
2/5/22 0:00
Joe Biden
0.40
0.51
2/6/22 0:00
Joe Biden
0.41
0.51
2/7/22 0:00
Joe Biden
0.41
0.51
2/8/22 0:00
Joe Biden
0.41
0.51
2/9/22 0:00
Joe Biden
0.41
0.50
2/10/22 0:00
Joe Biden
0.41
0.50
2/11/22 0:00
Joe Biden
0.42
0.50
2/12/22 0:00
Joe Biden
0.42
0.50
2/13/22 0:00
Joe Biden
0.42
0.50
2/14/22 0:00
Joe Biden
0.41
0.50
2/15/22 0:00
Joe Biden
0.41
0.50
2/16/22 0:00
Joe Biden
0.41
0.50
2/17/22 0:00
Joe Biden
0.41
0.50
2/18/22 0:00
Joe Biden
0.41
0.50
2/19/22 0:00
Joe Biden
0.41
0.50
2/20/22 0:00
Joe Biden
0.42
0.50
2/21/22 0:00
Joe Biden
0.42
0.50
2/22/22 0:00
Joe Biden
0.42
0.50
2/23/22 0:00
Joe Biden
0.42
0.50
2/24/22 0:00
Joe Biden
0.42
0.50
2/25/22 0:00
Joe Biden
0.42
0.50
2/26/22 0:00
Joe Biden
0.42
0.50
2/27/22 0:00
Joe Biden
0.42
0.50
2/28/22 0:00
Joe Biden
0.42
0.50
3/1/22 0:00
Joe Biden
0.42
0.50
3/2/22 0:00
Joe Biden
0.42
0.50
3/3/22 0:00
Joe Biden
0.42
0.50
3/4/22 0:00
Joe Biden
0.42
0.50
3/5/22 0:00
Joe Biden
0.42
0.50
3/6/22 0:00
Joe Biden
0.42
0.50
3/7/22 0:00
Joe Biden
0.42
0.50
3/8/22 0:00
Joe Biden
0.42
0.50
3/9/22 0:00
Joe Biden
0.42
0.50
3/10/22 0:00
Joe Biden
0.42
0.50
3/11/22 0:00
Joe Biden
0.42
0.50
3/12/22 0:00
Joe Biden
0.42
0.51
3/13/22 0:00
Joe Biden
0.41
0.51
3/14/22 0:00
Joe Biden
0.41
0.51
3/15/22 0:00
Joe Biden
0.41
0.51
3/16/22 0:00
Joe Biden
0.41
0.51
3/17/22 0:00
Joe Biden
0.41
0.51
3/18/22 0:00
Joe Biden
0.41
0.51
3/19/22 0:00
Joe Biden
0.41
0.51
3/20/22 0:00
Joe Biden
0.41
0.51
3/21/22 0:00
Joe Biden
0.41
0.51
3/22/22 0:00
Joe Biden
0.41
0.50
3/23/22 0:00
Joe Biden
0.41
0.50
3/24/22 0:00
Joe Biden
0.41
0.51
3/25/22 0:00
Joe Biden
0.41
0.50
3/26/22 0:00
Joe Biden
0.41
0.51
3/27/22 0:00
Joe Biden
0.42
0.50
3/28/22 0:00
Joe Biden
0.42
0.51
3/29/22 0:00
Joe Biden
0.42
0.50
3/30/22 0:00
Joe Biden
0.42
0.50
3/31/22 0:00
Joe Biden
0.42
0.50
4/1/22 0:00
Joe Biden
0.43
0.50
4/2/22 0:00
Joe Biden
0.43
0.49
4/3/22 0:00
Joe Biden
0.44
0.49
4/4/22 0:00
Joe Biden
0.44
0.48
4/5/22 0:00
Joe Biden
0.44
0.48
4/6/22 0:00
Joe Biden
0.44
0.48
4/7/22 0:00
Joe Biden
0.44
0.48
4/8/22 0:00
Joe Biden
0.44
0.48
4/9/22 0:00
Joe Biden
0.43
0.49
4/10/22 0:00
Joe Biden
0.43
0.49
4/11/22 0:00
Joe Biden
0.42
0.50
4/12/22 0:00
Joe Biden
0.42
0.50
4/13/22 0:00
Joe Biden
0.41
0.50
4/14/22 0:00
Joe Biden
0.41
0.51
4/15/22 0:00
Joe Biden
0.41
0.51
4/16/22 0:00
Joe Biden
0.40
0.51
4/17/22 0:00
Joe Biden
0.40
0.51
4/18/22 0:00
Joe Biden
0.40
0.51
4/19/22 0:00
Joe Biden
0.40
0.52
3/6/20 0:00
Jair Bolsonaro
0.56
0.36
3/7/20 0:00
Jair Bolsonaro
0.56
0.36
3/8/20 0:00
Jair Bolsonaro
0.57
0.35
3/9/20 0:00
Jair Bolsonaro
0.56
0.36
3/10/20 0:00
Jair Bolsonaro
0.55
0.38
3/11/20 0:00
Jair Bolsonaro
0.55
0.38
3/12/20 0:00
Jair Bolsonaro
0.55
0.37
3/13/20 0:00
Jair Bolsonaro
0.55
0.37
3/14/20 0:00
Jair Bolsonaro
0.56
0.36
3/15/20 0:00
Jair Bolsonaro
0.56
0.36
3/16/20 0:00
Jair Bolsonaro
0.56
0.36
3/17/20 0:00
Jair Bolsonaro
0.58
0.35
3/18/20 0:00
Jair Bolsonaro
0.59
0.34
3/19/20 0:00
Jair Bolsonaro
0.58
0.34
3/20/20 0:00
Jair Bolsonaro
0.58
0.34
3/21/20 0:00
Jair Bolsonaro
0.58
0.34
3/22/20 0:00
Jair Bolsonaro
0.58
0.34
3/23/20 0:00
Jair Bolsonaro
0.58
0.34
3/24/20 0:00
Jair Bolsonaro
0.56
0.36
3/25/20 0:00
Jair Bolsonaro
0.54
0.38
3/26/20 0:00
Jair Bolsonaro
0.54
0.39
3/27/20 0:00
Jair Bolsonaro
0.51
0.41
3/28/20 0:00
Jair Bolsonaro
0.50
0.42
3/29/20 0:00
Jair Bolsonaro
0.49
0.44
3/30/20 0:00
Jair Bolsonaro
0.48
0.46
3/31/20 0:00
Jair Bolsonaro
0.48
0.45
4/1/20 0:00
Jair Bolsonaro
0.47
0.45
4/2/20 0:00
Jair Bolsonaro
0.48
0.44
4/3/20 0:00
Jair Bolsonaro
0.50
0.43
4/4/20 0:00
Jair Bolsonaro
0.50
0.43
4/5/20 0:00
Jair Bolsonaro
0.49
0.44
4/6/20 0:00
Jair Bolsonaro
0.50
0.43
4/7/20 0:00
Jair Bolsonaro
0.51
0.43
4/8/20 0:00
Jair Bolsonaro
0.51
0.42
4/9/20 0:00
Jair Bolsonaro
0.51
0.42
4/10/20 0:00
Jair Bolsonaro
0.52
0.42
4/11/20 0:00
Jair Bolsonaro
0.51
0.42
4/12/20 0:00
Jair Bolsonaro
0.53
0.40
4/13/20 0:00
Jair Bolsonaro
0.53
0.41
4/14/20 0:00
Jair Bolsonaro
0.52
0.41
4/15/20 0:00
Jair Bolsonaro
0.53
0.41
4/16/20 0:00
Jair Bolsonaro
0.53
0.42
4/17/20 0:00
Jair Bolsonaro
0.52
0.43
4/18/20 0:00
Jair Bolsonaro
0.52
0.42
4/19/20 0:00
Jair Bolsonaro
0.52
0.41
4/20/20 0:00
Jair Bolsonaro
0.52
0.42
4/21/20 0:00
Jair Bolsonaro
0.52
0.42
4/22/20 0:00
Jair Bolsonaro
0.51
0.43
4/23/20 0:00
Jair Bolsonaro
0.50
0.43
4/24/20 0:00
Jair Bolsonaro
0.49
0.44
4/25/20 0:00
Jair Bolsonaro
0.47
0.46
4/26/20 0:00
Jair Bolsonaro
0.45
0.49
4/27/20 0:00
Jair Bolsonaro
0.44
0.50
4/28/20 0:00
Jair Bolsonaro
0.44
0.50
4/29/20 0:00
Jair Bolsonaro
0.44
0.50
4/30/20 0:00
Jair Bolsonaro
0.45
0.49
5/1/20 0:00
Jair Bolsonaro
0.45
0.48
5/2/20 0:00
Jair Bolsonaro
0.47
0.46
5/3/20 0:00
Jair Bolsonaro
0.47
0.46
5/4/20 0:00
Jair Bolsonaro
0.47
0.46
5/5/20 0:00
Jair Bolsonaro
0.46
0.47
5/6/20 0:00
Jair Bolsonaro
0.45
0.47
5/7/20 0:00
Jair Bolsonaro
0.44
0.47
5/8/20 0:00
Jair Bolsonaro
0.42
0.50
5/9/20 0:00
Jair Bolsonaro
0.42
0.50
5/10/20 0:00
Jair Bolsonaro
0.41
0.50
5/11/20 0:00
Jair Bolsonaro
0.40
0.51
5/12/20 0:00
Jair Bolsonaro
0.41
0.51
5/13/20 0:00
Jair Bolsonaro
0.41
0.52
5/14/20 0:00
Jair Bolsonaro
0.42
0.53
5/15/20 0:00
Jair Bolsonaro
0.42
0.53
5/16/20 0:00
Jair Bolsonaro
0.42
0.53
5/17/20 0:00
Jair Bolsonaro
0.42
0.54
5/18/20 0:00
Jair Bolsonaro
0.42
0.54
5/19/20 0:00
Jair Bolsonaro
0.41
0.54
5/20/20 0:00
Jair Bolsonaro
0.41
0.53
5/21/20 0:00
Jair Bolsonaro
0.41
0.53
5/22/20 0:00
Jair Bolsonaro
0.41
0.52
5/23/20 0:00
Jair Bolsonaro
0.42
0.51
5/24/20 0:00
Jair Bolsonaro
0.42
0.50
5/25/20 0:00
Jair Bolsonaro
0.42
0.50
5/26/20 0:00
Jair Bolsonaro
0.42
0.50
5/27/20 0:00
Jair Bolsonaro
0.42
0.49
5/28/20 0:00
Jair Bolsonaro
0.42
0.48
5/29/20 0:00
Jair Bolsonaro
0.43
0.49
5/30/20 0:00
Jair Bolsonaro
0.42
0.50
5/31/20 0:00
Jair Bolsonaro
0.42
0.50
6/1/20 0:00
Jair Bolsonaro
0.43
0.50
6/2/20 0:00
Jair Bolsonaro
0.43
0.50
6/3/20 0:00
Jair Bolsonaro
0.42
0.51
6/4/20 0:00
Jair Bolsonaro
0.42
0.53
6/5/20 0:00
Jair Bolsonaro
0.42
0.53
6/6/20 0:00
Jair Bolsonaro
0.42
0.52
6/7/20 0:00
Jair Bolsonaro
0.41
0.52
6/8/20 0:00
Jair Bolsonaro
0.39
0.55
6/9/20 0:00
Jair Bolsonaro
0.38
0.55
6/10/20 0:00
Jair Bolsonaro
0.39
0.54
6/11/20 0:00
Jair Bolsonaro
0.40
0.53
6/12/20 0:00
Jair Bolsonaro
0.40
0.53
6/13/20 0:00
Jair Bolsonaro
0.40
0.53
6/14/20 0:00
Jair Bolsonaro
0.40
0.53
6/15/20 0:00
Jair Bolsonaro
0.42
0.51
6/16/20 0:00
Jair Bolsonaro
0.42
0.51
6/17/20 0:00
Jair Bolsonaro
0.41
0.51
6/18/20 0:00
Jair Bolsonaro
0.41
0.52
6/19/20 0:00
Jair Bolsonaro
0.40
0.52
6/20/20 0:00
Jair Bolsonaro
0.41
0.52
6/21/20 0:00
Jair Bolsonaro
0.40
0.53
6/22/20 0:00
Jair Bolsonaro
0.42
0.51
6/23/20 0:00
Jair Bolsonaro
0.43
0.51
6/24/20 0:00
Jair Bolsonaro
0.43
0.50
6/25/20 0:00
Jair Bolsonaro
0.43
0.50
6/26/20 0:00
Jair Bolsonaro
0.41
0.51
6/27/20 0:00
Jair Bolsonaro
0.42
0.51
6/28/20 0:00
Jair Bolsonaro
0.43
0.50
6/29/20 0:00
Jair Bolsonaro
0.42
0.51
6/30/20 0:00
Jair Bolsonaro
0.42
0.50
7/1/20 0:00
Jair Bolsonaro
0.42
0.51
7/2/20 0:00
Jair Bolsonaro
0.43
0.50
7/3/20 0:00
Jair Bolsonaro
0.44
0.48
7/4/20 0:00
Jair Bolsonaro
0.45
0.48
7/5/20 0:00
Jair Bolsonaro
0.45
0.47
7/6/20 0:00
Jair Bolsonaro
0.44
0.48
7/7/20 0:00
Jair Bolsonaro
0.45
0.48
7/8/20 0:00
Jair Bolsonaro
0.46
0.47
7/9/20 0:00
Jair Bolsonaro
0.45
0.48
7/10/20 0:00
Jair Bolsonaro
0.46
0.48
7/11/20 0:00
Jair Bolsonaro
0.46
0.47
7/12/20 0:00
Jair Bolsonaro
0.46
0.47
7/13/20 0:00
Jair Bolsonaro
0.45
0.48
7/14/20 0:00
Jair Bolsonaro
0.47
0.46
7/15/20 0:00
Jair Bolsonaro
0.46
0.46
7/16/20 0:00
Jair Bolsonaro
0.45
0.47
7/17/20 0:00
Jair Bolsonaro
0.45
0.47
7/18/20 0:00
Jair Bolsonaro
0.45
0.47
7/19/20 0:00
Jair Bolsonaro
0.45
0.48
7/20/20 0:00
Jair Bolsonaro
0.47
0.47
7/21/20 0:00
Jair Bolsonaro
0.45
0.48
7/22/20 0:00
Jair Bolsonaro
0.47
0.48
7/23/20 0:00
Jair Bolsonaro
0.47
0.47
7/24/20 0:00
Jair Bolsonaro
0.46
0.47
7/25/20 0:00
Jair Bolsonaro
0.46
0.48
7/26/20 0:00
Jair Bolsonaro
0.47
0.48
7/27/20 0:00
Jair Bolsonaro
0.47
0.47
7/28/20 0:00
Jair Bolsonaro
0.47
0.47
7/29/20 0:00
Jair Bolsonaro
0.47
0.47
7/30/20 0:00
Jair Bolsonaro
0.47
0.47
7/31/20 0:00
Jair Bolsonaro
0.47
0.47
8/1/20 0:00
Jair Bolsonaro
0.47
0.46
8/2/20 0:00
Jair Bolsonaro
0.46
0.45
8/3/20 0:00
Jair Bolsonaro
0.46
0.46
8/4/20 0:00
Jair Bolsonaro
0.46
0.46
8/5/20 0:00
Jair Bolsonaro
0.46
0.47
8/6/20 0:00
Jair Bolsonaro
0.46
0.47
8/7/20 0:00
Jair Bolsonaro
0.46
0.47
8/8/20 0:00
Jair Bolsonaro
0.46
0.48
8/9/20 0:00
Jair Bolsonaro
0.47
0.47
8/10/20 0:00
Jair Bolsonaro
0.47
0.47
8/11/20 0:00
Jair Bolsonaro
0.46
0.47
8/12/20 0:00
Jair Bolsonaro
0.46
0.47
8/13/20 0:00
Jair Bolsonaro
0.46
0.47
8/14/20 0:00
Jair Bolsonaro
0.47
0.47
8/15/20 0:00
Jair Bolsonaro
0.48
0.45
8/16/20 0:00
Jair Bolsonaro
0.48
0.46
8/17/20 0:00
Jair Bolsonaro
0.47
0.46
8/18/20 0:00
Jair Bolsonaro
0.48
0.46
8/19/20 0:00
Jair Bolsonaro
0.49
0.45
8/20/20 0:00
Jair Bolsonaro
0.48
0.45
8/21/20 0:00
Jair Bolsonaro
0.50
0.44
8/22/20 0:00
Jair Bolsonaro
0.48
0.45
8/23/20 0:00
Jair Bolsonaro
0.49
0.44
8/24/20 0:00
Jair Bolsonaro
0.50
0.43
8/25/20 0:00
Jair Bolsonaro
0.50
0.44
8/26/20 0:00
Jair Bolsonaro
0.50
0.44
8/27/20 0:00
Jair Bolsonaro
0.50
0.43
8/28/20 0:00
Jair Bolsonaro
0.50
0.43
8/29/20 0:00
Jair Bolsonaro
0.51
0.43
8/30/20 0:00
Jair Bolsonaro
0.50
0.43
8/31/20 0:00
Jair Bolsonaro
0.49
0.43
9/1/20 0:00
Jair Bolsonaro
0.50
0.42
9/2/20 0:00
Jair Bolsonaro
0.49
0.43
9/3/20 0:00
Jair Bolsonaro
0.49
0.43
9/4/20 0:00
Jair Bolsonaro
0.48
0.44
9/5/20 0:00
Jair Bolsonaro
0.47
0.44
9/6/20 0:00
Jair Bolsonaro
0.48
0.44
9/7/20 0:00
Jair Bolsonaro
0.48
0.44
9/8/20 0:00
Jair Bolsonaro
0.48
0.44
9/9/20 0:00
Jair Bolsonaro
0.48
0.44
9/10/20 0:00
Jair Bolsonaro
0.48
0.43
9/11/20 0:00
Jair Bolsonaro
0.48
0.43
9/12/20 0:00
Jair Bolsonaro
0.49
0.43
9/13/20 0:00
Jair Bolsonaro
0.49
0.43
9/14/20 0:00
Jair Bolsonaro
0.49
0.43
9/15/20 0:00
Jair Bolsonaro
0.49
0.42
9/16/20 0:00
Jair Bolsonaro
0.49
0.42
9/17/20 0:00
Jair Bolsonaro
0.49
0.43
9/18/20 0:00
Jair Bolsonaro
0.49
0.43
9/19/20 0:00
Jair Bolsonaro
0.48
0.44
9/20/20 0:00
Jair Bolsonaro
0.47
0.44
9/21/20 0:00
Jair Bolsonaro
0.47
0.45
9/22/20 0:00
Jair Bolsonaro
0.47
0.45
9/23/20 0:00
Jair Bolsonaro
0.48
0.45
9/24/20 0:00
Jair Bolsonaro
0.46
0.46
9/25/20 0:00
Jair Bolsonaro
0.47
0.45
9/26/20 0:00
Jair Bolsonaro
0.48
0.44
9/27/20 0:00
Jair Bolsonaro
0.47
0.44
9/28/20 0:00
Jair Bolsonaro
0.47
0.44
9/29/20 0:00
Jair Bolsonaro
0.47
0.44
9/30/20 0:00
Jair Bolsonaro
0.47
0.43
10/1/20 0:00
Jair Bolsonaro
0.47
0.43
10/2/20 0:00
Jair Bolsonaro
0.48
0.42
10/3/20 0:00
Jair Bolsonaro
0.48
0.42
10/4/20 0:00
Jair Bolsonaro
0.50
0.40
10/5/20 0:00
Jair Bolsonaro
0.50
0.40
10/6/20 0:00
Jair Bolsonaro
0.50
0.40
10/7/20 0:00
Jair Bolsonaro
0.49
0.41
10/8/20 0:00
Jair Bolsonaro
0.49
0.42
10/9/20 0:00
Jair Bolsonaro
0.50
0.41
10/10/20 0:00
Jair Bolsonaro
0.48
0.43
10/11/20 0:00
Jair Bolsonaro
0.49
0.43
10/12/20 0:00
Jair Bolsonaro
0.49
0.42
10/13/20 0:00
Jair Bolsonaro
0.49
0.42
10/14/20 0:00
Jair Bolsonaro
0.49
0.42
10/15/20 0:00
Jair Bolsonaro
0.50
0.41
10/16/20 0:00
Jair Bolsonaro
0.50
0.41
10/17/20 0:00
Jair Bolsonaro
0.51
0.40
10/18/20 0:00
Jair Bolsonaro
0.49
0.42
10/19/20 0:00
Jair Bolsonaro
0.49
0.43
10/20/20 0:00
Jair Bolsonaro
0.49
0.43
10/21/20 0:00
Jair Bolsonaro
0.49
0.44
10/22/20 0:00
Jair Bolsonaro
0.49
0.43
10/23/20 0:00
Jair Bolsonaro
0.49
0.43
10/24/20 0:00
Jair Bolsonaro
0.48
0.45
10/25/20 0:00
Jair Bolsonaro
0.46
0.46
10/26/20 0:00
Jair Bolsonaro
0.46
0.46
10/27/20 0:00
Jair Bolsonaro
0.46
0.46
10/28/20 0:00
Jair Bolsonaro
0.45
0.46
10/29/20 0:00
Jair Bolsonaro
0.45
0.47
10/30/20 0:00
Jair Bolsonaro
0.44
0.49
10/31/20 0:00
Jair Bolsonaro
0.44
0.48
11/1/20 0:00
Jair Bolsonaro
0.46
0.46
11/2/20 0:00
Jair Bolsonaro
0.46
0.45
11/3/20 0:00
Jair Bolsonaro
0.46
0.45
11/4/20 0:00
Jair Bolsonaro
0.46
0.46
11/5/20 0:00
Jair Bolsonaro
0.45
0.46
11/6/20 0:00
Jair Bolsonaro
0.46
0.45
11/7/20 0:00
Jair Bolsonaro
0.45
0.46
11/8/20 0:00
Jair Bolsonaro
0.44
0.48
11/9/20 0:00
Jair Bolsonaro
0.44
0.48
11/10/20 0:00
Jair Bolsonaro
0.45
0.47
11/11/20 0:00
Jair Bolsonaro
0.46
0.46
11/12/20 0:00
Jair Bolsonaro
0.46
0.46
11/13/20 0:00
Jair Bolsonaro
0.45
0.47
11/14/20 0:00
Jair Bolsonaro
0.47
0.45
11/15/20 0:00
Jair Bolsonaro
0.48
0.44
11/16/20 0:00
Jair Bolsonaro
0.48
0.44
11/17/20 0:00
Jair Bolsonaro
0.47
0.45
11/18/20 0:00
Jair Bolsonaro
0.46
0.47
11/19/20 0:00
Jair Bolsonaro
0.46
0.46
11/20/20 0:00
Jair Bolsonaro
0.48
0.45
11/21/20 0:00
Jair Bolsonaro
0.45
0.47
11/22/20 0:00
Jair Bolsonaro
0.45
0.47
11/23/20 0:00
Jair Bolsonaro
0.45
0.48
11/24/20 0:00
Jair Bolsonaro
0.46
0.47
11/25/20 0:00
Jair Bolsonaro
0.46
0.46
11/26/20 0:00
Jair Bolsonaro
0.45
0.47
11/27/20 0:00
Jair Bolsonaro
0.45
0.48
11/28/20 0:00
Jair Bolsonaro
0.46
0.47
11/29/20 0:00
Jair Bolsonaro
0.46
0.46
11/30/20 0:00
Jair Bolsonaro
0.47
0.44
12/1/20 0:00
Jair Bolsonaro
0.46
0.45
12/2/20 0:00
Jair Bolsonaro
0.47
0.44
12/3/20 0:00
Jair Bolsonaro
0.47
0.44
12/4/20 0:00
Jair Bolsonaro
0.47
0.44
12/5/20 0:00
Jair Bolsonaro
0.48
0.43
12/6/20 0:00
Jair Bolsonaro
0.48
0.43
12/7/20 0:00
Jair Bolsonaro
0.47
0.45
12/8/20 0:00
Jair Bolsonaro
0.47
0.45
12/9/20 0:00
Jair Bolsonaro
0.47
0.46
12/10/20 0:00
Jair Bolsonaro
0.47
0.46
12/11/20 0:00
Jair Bolsonaro
0.47
0.46
12/12/20 0:00
Jair Bolsonaro
0.46
0.47
12/13/20 0:00
Jair Bolsonaro
0.45
0.48
12/14/20 0:00
Jair Bolsonaro
0.45
0.48
12/15/20 0:00
Jair Bolsonaro
0.44
0.49
12/16/20 0:00
Jair Bolsonaro
0.45
0.48
12/17/20 0:00
Jair Bolsonaro
0.45
0.48
12/18/20 0:00
Jair Bolsonaro
0.46
0.47
12/19/20 0:00
Jair Bolsonaro
0.45
0.48
12/20/20 0:00
Jair Bolsonaro
0.45
0.48
12/21/20 0:00
Jair Bolsonaro
0.45
0.48
12/22/20 0:00
Jair Bolsonaro
0.45
0.47
12/23/20 0:00
Jair Bolsonaro
0.44
0.48
12/24/20 0:00
Jair Bolsonaro
0.43
0.48
12/25/20 0:00
Jair Bolsonaro
0.42
0.49
12/26/20 0:00
Jair Bolsonaro
0.41
0.50
12/27/20 0:00
Jair Bolsonaro
0.40
0.50
12/28/20 0:00
Jair Bolsonaro
0.41
0.49
12/29/20 0:00
Jair Bolsonaro
0.41
0.50
12/30/20 0:00
Jair Bolsonaro
0.41
0.50
12/31/20 0:00
Jair Bolsonaro
0.42
0.50
1/1/21 0:00
Jair Bolsonaro
0.43
0.49
1/2/21 0:00
Jair Bolsonaro
0.43
0.49
1/3/21 0:00
Jair Bolsonaro
0.43
0.48
1/4/21 0:00
Jair Bolsonaro
0.42
0.49
1/5/21 0:00
Jair Bolsonaro
0.42
0.49
1/6/21 0:00
Jair Bolsonaro
0.41
0.51
1/7/21 0:00
Jair Bolsonaro
0.40
0.51
1/8/21 0:00
Jair Bolsonaro
0.39
0.52
1/9/21 0:00
Jair Bolsonaro
0.40
0.52
1/10/21 0:00
Jair Bolsonaro
0.41
0.52
1/11/21 0:00
Jair Bolsonaro
0.41
0.52
1/12/21 0:00
Jair Bolsonaro
0.42
0.51
1/13/21 0:00
Jair Bolsonaro
0.43
0.51
1/14/21 0:00
Jair Bolsonaro
0.44
0.51
1/15/21 0:00
Jair Bolsonaro
0.43
0.52
1/16/21 0:00
Jair Bolsonaro
0.43
0.52
1/17/21 0:00
Jair Bolsonaro
0.43
0.52
1/18/21 0:00
Jair Bolsonaro
0.42
0.52
1/19/21 0:00
Jair Bolsonaro
0.40
0.54
1/20/21 0:00
Jair Bolsonaro
0.40
0.54
1/21/21 0:00
Jair Bolsonaro
0.40
0.54
1/22/21 0:00
Jair Bolsonaro
0.40
0.54
1/23/21 0:00
Jair Bolsonaro
0.41
0.54
1/24/21 0:00
Jair Bolsonaro
0.40
0.54
1/25/21 0:00
Jair Bolsonaro
0.40
0.55
1/26/21 0:00
Jair Bolsonaro
0.41
0.52
1/27/21 0:00
Jair Bolsonaro
0.40
0.53
1/28/21 0:00
Jair Bolsonaro
0.39
0.54
1/29/21 0:00
Jair Bolsonaro
0.40
0.53
1/30/21 0:00
Jair Bolsonaro
0.40
0.53
1/31/21 0:00
Jair Bolsonaro
0.40
0.52
2/1/21 0:00
Jair Bolsonaro
0.40
0.52
2/2/21 0:00
Jair Bolsonaro
0.39
0.54
2/3/21 0:00
Jair Bolsonaro
0.39
0.53
2/4/21 0:00
Jair Bolsonaro
0.40
0.52
2/5/21 0:00
Jair Bolsonaro
0.39
0.53
2/6/21 0:00
Jair Bolsonaro
0.39
0.53
2/7/21 0:00
Jair Bolsonaro
0.40
0.53
2/8/21 0:00
Jair Bolsonaro
0.41
0.52
2/9/21 0:00
Jair Bolsonaro
0.41
0.52
2/10/21 0:00
Jair Bolsonaro
0.42
0.51
2/11/21 0:00
Jair Bolsonaro
0.43
0.50
2/12/21 0:00
Jair Bolsonaro
0.44
0.49
2/13/21 0:00
Jair Bolsonaro
0.44
0.48
2/14/21 0:00
Jair Bolsonaro
0.45
0.48
2/15/21 0:00
Jair Bolsonaro
0.45
0.47
2/16/21 0:00
Jair Bolsonaro
0.47
0.47
2/17/21 0:00
Jair Bolsonaro
0.45
0.48
2/18/21 0:00
Jair Bolsonaro
0.44
0.48
2/19/21 0:00
Jair Bolsonaro
0.44
0.48
2/20/21 0:00
Jair Bolsonaro
0.43
0.49
2/21/21 0:00
Jair Bolsonaro
0.42
0.50
2/22/21 0:00
Jair Bolsonaro
0.42
0.50
2/23/21 0:00
Jair Bolsonaro
0.43
0.49
2/24/21 0:00
Jair Bolsonaro
0.43
0.49
2/25/21 0:00
Jair Bolsonaro
0.44
0.48
2/26/21 0:00
Jair Bolsonaro
0.44
0.48
2/27/21 0:00
Jair Bolsonaro
0.44
0.48
2/28/21 0:00
Jair Bolsonaro
0.45
0.47
3/1/21 0:00
Jair Bolsonaro
0.45
0.47
3/2/21 0:00
Jair Bolsonaro
0.45
0.48
3/3/21 0:00
Jair Bolsonaro
0.47
0.46
3/4/21 0:00
Jair Bolsonaro
0.46
0.47
3/5/21 0:00
Jair Bolsonaro
0.46
0.48
3/6/21 0:00
Jair Bolsonaro
0.44
0.49
3/7/21 0:00
Jair Bolsonaro
0.42
0.51
3/8/21 0:00
Jair Bolsonaro
0.42
0.52
3/9/21 0:00
Jair Bolsonaro
0.41
0.53
3/10/21 0:00
Jair Bolsonaro
0.39
0.55
3/11/21 0:00
Jair Bolsonaro
0.38
0.55
3/12/21 0:00
Jair Bolsonaro
0.38
0.56
3/13/21 0:00
Jair Bolsonaro
0.38
0.55
3/14/21 0:00
Jair Bolsonaro
0.39
0.56
3/15/21 0:00
Jair Bolsonaro
0.38
0.56
3/16/21 0:00
Jair Bolsonaro
0.39
0.55
3/17/21 0:00
Jair Bolsonaro
0.38
0.56
3/18/21 0:00
Jair Bolsonaro
0.37
0.56
3/19/21 0:00
Jair Bolsonaro
0.37
0.55
3/20/21 0:00
Jair Bolsonaro
0.37
0.55
3/21/21 0:00
Jair Bolsonaro
0.38
0.54
3/22/21 0:00
Jair Bolsonaro
0.38
0.54
3/23/21 0:00
Jair Bolsonaro
0.37
0.55
3/24/21 0:00
Jair Bolsonaro
0.37
0.54
3/25/21 0:00
Jair Bolsonaro
0.38
0.54
3/26/21 0:00
Jair Bolsonaro
0.39
0.54
3/27/21 0:00
Jair Bolsonaro
0.38
0.54
3/28/21 0:00
Jair Bolsonaro
0.39
0.54
3/29/21 0:00
Jair Bolsonaro
0.38
0.55
3/30/21 0:00
Jair Bolsonaro
0.38
0.54
3/31/21 0:00
Jair Bolsonaro
0.38
0.54
4/1/21 0:00
Jair Bolsonaro
0.39
0.53
4/2/21 0:00
Jair Bolsonaro
0.38
0.55
4/3/21 0:00
Jair Bolsonaro
0.37
0.55
4/4/21 0:00
Jair Bolsonaro
0.37
0.55
4/5/21 0:00
Jair Bolsonaro
0.37
0.54
4/6/21 0:00
Jair Bolsonaro
0.38
0.55
4/7/21 0:00
Jair Bolsonaro
0.38
0.55
4/8/21 0:00
Jair Bolsonaro
0.37
0.56
4/9/21 0:00
Jair Bolsonaro
0.38
0.55
4/10/21 0:00
Jair Bolsonaro
0.39
0.54
4/11/21 0:00
Jair Bolsonaro
0.40
0.54
4/12/21 0:00
Jair Bolsonaro
0.40
0.54
4/13/21 0:00
Jair Bolsonaro
0.38
0.55
4/14/21 0:00
Jair Bolsonaro
0.38
0.55
4/15/21 0:00
Jair Bolsonaro
0.39
0.55
4/16/21 0:00
Jair Bolsonaro
0.39
0.56
4/17/21 0:00
Jair Bolsonaro
0.39
0.56
4/18/21 0:00
Jair Bolsonaro
0.39
0.56
4/19/21 0:00
Jair Bolsonaro
0.39
0.55
4/20/21 0:00
Jair Bolsonaro
0.41
0.53
4/21/21 0:00
Jair Bolsonaro
0.42
0.52
4/22/21 0:00
Jair Bolsonaro
0.43
0.51
4/23/21 0:00
Jair Bolsonaro
0.43
0.51
4/24/21 0:00
Jair Bolsonaro
0.42
0.52
4/25/21 0:00
Jair Bolsonaro
0.42
0.52
4/26/21 0:00
Jair Bolsonaro
0.42
0.52
4/27/21 0:00
Jair Bolsonaro
0.42
0.52
4/28/21 0:00
Jair Bolsonaro
0.42
0.52
4/29/21 0:00
Jair Bolsonaro
0.41
0.52
4/30/21 0:00
Jair Bolsonaro
0.41
0.51
5/1/21 0:00
Jair Bolsonaro
0.42
0.50
5/2/21 0:00
Jair Bolsonaro
0.43
0.50
5/3/21 0:00
Jair Bolsonaro
0.41
0.50
5/4/21 0:00
Jair Bolsonaro
0.41
0.51
5/5/21 0:00
Jair Bolsonaro
0.40
0.51
5/6/21 0:00
Jair Bolsonaro
0.41
0.51
5/7/21 0:00
Jair Bolsonaro
0.40
0.52
5/8/21 0:00
Jair Bolsonaro
0.39
0.52
5/9/21 0:00
Jair Bolsonaro
0.38
0.54
5/10/21 0:00
Jair Bolsonaro
0.39
0.53
5/11/21 0:00
Jair Bolsonaro
0.39
0.53
5/12/21 0:00
Jair Bolsonaro
0.39
0.53
5/13/21 0:00
Jair Bolsonaro
0.39
0.53
5/14/21 0:00
Jair Bolsonaro
0.39
0.54
5/15/21 0:00
Jair Bolsonaro
0.39
0.54
5/16/21 0:00
Jair Bolsonaro
0.40
0.53
5/17/21 0:00
Jair Bolsonaro
0.40
0.53
5/18/21 0:00
Jair Bolsonaro
0.40
0.53
5/19/21 0:00
Jair Bolsonaro
0.40
0.53
5/20/21 0:00
Jair Bolsonaro
0.40
0.53
5/21/21 0:00
Jair Bolsonaro
0.40
0.52
5/22/21 0:00
Jair Bolsonaro
0.40
0.53
5/23/21 0:00
Jair Bolsonaro
0.40
0.53
5/24/21 0:00
Jair Bolsonaro
0.38
0.54
5/25/21 0:00
Jair Bolsonaro
0.38
0.54
5/26/21 0:00
Jair Bolsonaro
0.37
0.55
5/27/21 0:00
Jair Bolsonaro
0.38
0.55
5/28/21 0:00
Jair Bolsonaro
0.38
0.55
5/29/21 0:00
Jair Bolsonaro
0.38
0.55
5/30/21 0:00
Jair Bolsonaro
0.37
0.55
5/31/21 0:00
Jair Bolsonaro
0.38
0.54
6/1/21 0:00
Jair Bolsonaro
0.38
0.54
6/2/21 0:00
Jair Bolsonaro
0.38
0.55
6/3/21 0:00
Jair Bolsonaro
0.37
0.55
6/4/21 0:00
Jair Bolsonaro
0.37
0.55
6/5/21 0:00
Jair Bolsonaro
0.37
0.55
6/6/21 0:00
Jair Bolsonaro
0.37
0.56
6/7/21 0:00
Jair Bolsonaro
0.37
0.56
6/8/21 0:00
Jair Bolsonaro
0.37
0.56
6/9/21 0:00
Jair Bolsonaro
0.37
0.56
6/10/21 0:00
Jair Bolsonaro
0.37
0.56
6/11/21 0:00
Jair Bolsonaro
0.37
0.56
6/12/21 0:00
Jair Bolsonaro
0.37
0.56
6/13/21 0:00
Jair Bolsonaro
0.37
0.56
6/14/21 0:00
Jair Bolsonaro
0.36
0.57
6/15/21 0:00
Jair Bolsonaro
0.35
0.57
6/16/21 0:00
Jair Bolsonaro
0.36
0.56
6/17/21 0:00
Jair Bolsonaro
0.35
0.57
6/18/21 0:00
Jair Bolsonaro
0.35
0.58
6/19/21 0:00
Jair Bolsonaro
0.34
0.59
6/20/21 0:00
Jair Bolsonaro
0.34
0.58
6/21/21 0:00
Jair Bolsonaro
0.35
0.58
6/22/21 0:00
Jair Bolsonaro
0.36
0.58
6/23/21 0:00
Jair Bolsonaro
0.35
0.59
6/24/21 0:00
Jair Bolsonaro
0.35
0.58
6/25/21 0:00
Jair Bolsonaro
0.36
0.57
6/26/21 0:00
Jair Bolsonaro
0.37
0.56
6/27/21 0:00
Jair Bolsonaro
0.37
0.55
6/28/21 0:00
Jair Bolsonaro
0.37
0.56
6/29/21 0:00
Jair Bolsonaro
0.37
0.56
6/30/21 0:00
Jair Bolsonaro
0.37
0.55
7/1/21 0:00
Jair Bolsonaro
0.37
0.56
7/2/21 0:00
Jair Bolsonaro
0.36
0.57
7/3/21 0:00
Jair Bolsonaro
0.36
0.57
7/4/21 0:00
Jair Bolsonaro
0.36
0.58
7/5/21 0:00
Jair Bolsonaro
0.36
0.57
7/6/21 0:00
Jair Bolsonaro
0.36
0.58
7/7/21 0:00
Jair Bolsonaro
0.37
0.57
7/8/21 0:00
Jair Bolsonaro
0.37
0.56
7/9/21 0:00
Jair Bolsonaro
0.38
0.55
7/10/21 0:00
Jair Bolsonaro
0.36
0.56
7/11/21 0:00
Jair Bolsonaro
0.37
0.56
7/12/21 0:00
Jair Bolsonaro
0.37
0.56
7/13/21 0:00
Jair Bolsonaro
0.38
0.55
7/14/21 0:00
Jair Bolsonaro
0.38
0.55
7/15/21 0:00
Jair Bolsonaro
0.38
0.56
7/16/21 0:00
Jair Bolsonaro
0.38
0.56
7/17/21 0:00
Jair Bolsonaro
0.40
0.54
7/18/21 0:00
Jair Bolsonaro
0.39
0.54
7/19/21 0:00
Jair Bolsonaro
0.40
0.54
7/20/21 0:00
Jair Bolsonaro
0.40
0.53
7/21/21 0:00
Jair Bolsonaro
0.41
0.52
7/22/21 0:00
Jair Bolsonaro
0.41
0.52
7/23/21 0:00
Jair Bolsonaro
0.40
0.52
7/24/21 0:00
Jair Bolsonaro
0.39
0.53
7/25/21 0:00
Jair Bolsonaro
0.41
0.52
7/26/21 0:00
Jair Bolsonaro
0.40
0.53
7/27/21 0:00
Jair Bolsonaro
0.40
0.53
7/28/21 0:00
Jair Bolsonaro
0.39
0.53
7/29/21 0:00
Jair Bolsonaro
0.39
0.54
7/30/21 0:00
Jair Bolsonaro
0.39
0.54
7/31/21 0:00
Jair Bolsonaro
0.39
0.54
8/1/21 0:00
Jair Bolsonaro
0.38
0.55
8/2/21 0:00
Jair Bolsonaro
0.38
0.54
8/3/21 0:00
Jair Bolsonaro
0.37
0.55
8/4/21 0:00
Jair Bolsonaro
0.38
0.55
8/5/21 0:00
Jair Bolsonaro
0.38
0.54
8/6/21 0:00
Jair Bolsonaro
0.38
0.55
8/7/21 0:00
Jair Bolsonaro
0.39
0.54
8/8/21 0:00
Jair Bolsonaro
0.39
0.53
8/9/21 0:00
Jair Bolsonaro
0.38
0.54
8/10/21 0:00
Jair Bolsonaro
0.39
0.54
8/11/21 0:00
Jair Bolsonaro
0.39
0.54
8/12/21 0:00
Jair Bolsonaro
0.39
0.54
8/13/21 0:00
Jair Bolsonaro
0.41
0.53
8/14/21 0:00
Jair Bolsonaro
0.41
0.53
8/15/21 0:00
Jair Bolsonaro
0.41
0.52
8/16/21 0:00
Jair Bolsonaro
0.41
0.52
8/17/21 0:00
Jair Bolsonaro
0.41
0.52
8/18/21 0:00
Jair Bolsonaro
0.40
0.52
8/19/21 0:00
Jair Bolsonaro
0.40
0.53
8/20/21 0:00
Jair Bolsonaro
0.39
0.53
8/21/21 0:00
Jair Bolsonaro
0.39
0.54
8/22/21 0:00
Jair Bolsonaro
0.39
0.53
8/23/21 0:00
Jair Bolsonaro
0.39
0.53
8/24/21 0:00
Jair Bolsonaro
0.39
0.53
8/25/21 0:00
Jair Bolsonaro
0.38
0.54
8/26/21 0:00
Jair Bolsonaro
0.38
0.54
8/27/21 0:00
Jair Bolsonaro
0.38
0.54
8/28/21 0:00
Jair Bolsonaro
0.38
0.54
8/29/21 0:00
Jair Bolsonaro
0.37
0.55
8/30/21 0:00
Jair Bolsonaro
0.38
0.55
8/31/21 0:00
Jair Bolsonaro
0.39
0.54
9/1/21 0:00
Jair Bolsonaro
0.38
0.54
9/2/21 0:00
Jair Bolsonaro
0.39
0.53
9/3/21 0:00
Jair Bolsonaro
0.39
0.53
9/4/21 0:00
Jair Bolsonaro
0.38
0.54
9/5/21 0:00
Jair Bolsonaro
0.38
0.54
9/6/21 0:00
Jair Bolsonaro
0.37
0.54
9/7/21 0:00
Jair Bolsonaro
0.36
0.56
9/8/21 0:00
Jair Bolsonaro
0.37
0.55
9/9/21 0:00
Jair Bolsonaro
0.36
0.56
9/10/21 0:00
Jair Bolsonaro
0.36
0.56
9/11/21 0:00
Jair Bolsonaro
0.36
0.56
9/12/21 0:00
Jair Bolsonaro
0.36
0.56
9/13/21 0:00
Jair Bolsonaro
0.36
0.56
9/14/21 0:00
Jair Bolsonaro
0.37
0.55
9/15/21 0:00
Jair Bolsonaro
0.36
0.56
9/16/21 0:00
Jair Bolsonaro
0.36
0.56
9/17/21 0:00
Jair Bolsonaro
0.37
0.56
9/18/21 0:00
Jair Bolsonaro
0.37
0.56
9/19/21 0:00
Jair Bolsonaro
0.37
0.56
9/20/21 0:00
Jair Bolsonaro
0.37
0.56
9/21/21 0:00
Jair Bolsonaro
0.37
0.56
9/22/21 0:00
Jair Bolsonaro
0.36
0.58
9/23/21 0:00
Jair Bolsonaro
0.35
0.58
9/24/21 0:00
Jair Bolsonaro
0.34
0.59
9/25/21 0:00
Jair Bolsonaro
0.33
0.60
9/26/21 0:00
Jair Bolsonaro
0.33
0.60
9/27/21 0:00
Jair Bolsonaro
0.33
0.60
9/28/21 0:00
Jair Bolsonaro
0.33
0.60
9/29/21 0:00
Jair Bolsonaro
0.34
0.59
9/30/21 0:00
Jair Bolsonaro
0.35
0.59
10/1/21 0:00
Jair Bolsonaro
0.36
0.59
10/2/21 0:00
Jair Bolsonaro
0.36
0.58
10/3/21 0:00
Jair Bolsonaro
0.36
0.58
10/4/21 0:00
Jair Bolsonaro
0.37
0.57
10/5/21 0:00
Jair Bolsonaro
0.36
0.57
10/6/21 0:00
Jair Bolsonaro
0.36
0.57
10/7/21 0:00
Jair Bolsonaro
0.37
0.56
10/8/21 0:00
Jair Bolsonaro
0.37
0.56
10/9/21 0:00
Jair Bolsonaro
0.36
0.57
10/10/21 0:00
Jair Bolsonaro
0.36
0.57
10/11/21 0:00
Jair Bolsonaro
0.36
0.57
10/12/21 0:00
Jair Bolsonaro
0.35
0.57
10/13/21 0:00
Jair Bolsonaro
0.34
0.58
10/14/21 0:00
Jair Bolsonaro
0.33
0.59
10/15/21 0:00
Jair Bolsonaro
0.33
0.59
10/16/21 0:00
Jair Bolsonaro
0.34
0.58
10/17/21 0:00
Jair Bolsonaro
0.34
0.58
10/18/21 0:00
Jair Bolsonaro
0.34
0.58
10/19/21 0:00
Jair Bolsonaro
0.35
0.58
10/20/21 0:00
Jair Bolsonaro
0.36
0.56
10/21/21 0:00
Jair Bolsonaro
0.36
0.56
10/22/21 0:00
Jair Bolsonaro
0.37
0.56
10/23/21 0:00
Jair Bolsonaro
0.37
0.56
10/24/21 0:00
Jair Bolsonaro
0.37
0.56
10/25/21 0:00
Jair Bolsonaro
0.36
0.56
10/26/21 0:00
Jair Bolsonaro
0.36
0.57
10/27/21 0:00
Jair Bolsonaro
0.35
0.58
10/28/21 0:00
Jair Bolsonaro
0.36
0.58
10/29/21 0:00
Jair Bolsonaro
0.36
0.57
10/30/21 0:00
Jair Bolsonaro
0.35
0.59
10/31/21 0:00
Jair Bolsonaro
0.35
0.59
11/1/21 0:00
Jair Bolsonaro
0.36
0.58
11/2/21 0:00
Jair Bolsonaro
0.35
0.59
11/3/21 0:00
Jair Bolsonaro
0.35
0.58
11/4/21 0:00
Jair Bolsonaro
0.35
0.59
11/5/21 0:00
Jair Bolsonaro
0.35
0.59
11/6/21 0:00
Jair Bolsonaro
0.35
0.58
11/7/21 0:00
Jair Bolsonaro
0.36
0.57
11/8/21 0:00
Jair Bolsonaro
0.36
0.57
11/9/21 0:00
Jair Bolsonaro
0.38
0.55
11/10/21 0:00
Jair Bolsonaro
0.37
0.55
11/11/21 0:00
Jair Bolsonaro
0.38
0.54
11/12/21 0:00
Jair Bolsonaro
0.38
0.55
11/13/21 0:00
Jair Bolsonaro
0.38
0.55
11/14/21 0:00
Jair Bolsonaro
0.37
0.56
11/15/21 0:00
Jair Bolsonaro
0.37
0.57
11/16/21 0:00
Jair Bolsonaro
0.36
0.58
11/17/21 0:00
Jair Bolsonaro
0.36
0.58
11/18/21 0:00
Jair Bolsonaro
0.35
0.58
11/19/21 0:00
Jair Bolsonaro
0.36
0.57
11/20/21 0:00
Jair Bolsonaro
0.36
0.57
11/21/21 0:00
Jair Bolsonaro
0.36
0.56
11/22/21 0:00
Jair Bolsonaro
0.37
0.55
11/23/21 0:00
Jair Bolsonaro
0.36
0.56
11/24/21 0:00
Jair Bolsonaro
0.36
0.56
11/25/21 0:00
Jair Bolsonaro
0.36
0.57
11/26/21 0:00
Jair Bolsonaro
0.36
0.57
11/27/21 0:00
Jair Bolsonaro
0.36
0.57
11/28/21 0:00
Jair Bolsonaro
0.36
0.58
11/29/21 0:00
Jair Bolsonaro
0.35
0.58
11/30/21 0:00
Jair Bolsonaro
0.36
0.57
12/1/21 0:00
Jair Bolsonaro
0.36
0.58
12/2/21 0:00
Jair Bolsonaro
0.38
0.56
12/3/21 0:00
Jair Bolsonaro
0.37
0.57
12/4/21 0:00
Jair Bolsonaro
0.37
0.57
12/5/21 0:00
Jair Bolsonaro
0.38
0.56
12/6/21 0:00
Jair Bolsonaro
0.38
0.56
12/7/21 0:00
Jair Bolsonaro
0.37
0.56
12/8/21 0:00
Jair Bolsonaro
0.38
0.55
12/9/21 0:00
Jair Bolsonaro
0.38
0.55
12/10/21 0:00
Jair Bolsonaro
0.39
0.54
12/11/21 0:00
Jair Bolsonaro
0.39
0.55
12/12/21 0:00
Jair Bolsonaro
0.38
0.56
12/13/21 0:00
Jair Bolsonaro
0.38
0.56
12/14/21 0:00
Jair Bolsonaro
0.38
0.56
12/15/21 0:00
Jair Bolsonaro
0.38
0.55
12/16/21 0:00
Jair Bolsonaro
0.39
0.55
12/17/21 0:00
Jair Bolsonaro
0.39
0.55
12/18/21 0:00
Jair Bolsonaro
0.39
0.55
12/19/21 0:00
Jair Bolsonaro
0.38
0.54
12/20/21 0:00
Jair Bolsonaro
0.39
0.54
12/21/21 0:00
Jair Bolsonaro
0.39
0.53
12/22/21 0:00
Jair Bolsonaro
0.39
0.53
12/23/21 0:00
Jair Bolsonaro
0.38
0.55
12/24/21 0:00
Jair Bolsonaro
0.37
0.56
12/25/21 0:00
Jair Bolsonaro
0.37
0.56
12/26/21 0:00
Jair Bolsonaro
0.37
0.55
12/27/21 0:00
Jair Bolsonaro
0.37
0.55
12/28/21 0:00
Jair Bolsonaro
0.37
0.55
12/29/21 0:00
Jair Bolsonaro
0.36
0.57
12/30/21 0:00
Jair Bolsonaro
0.36
0.56
12/31/21 0:00
Jair Bolsonaro
0.36
0.56
1/1/22 0:00
Jair Bolsonaro
0.36
0.55
1/2/22 0:00
Jair Bolsonaro
0.37
0.55
1/3/22 0:00
Jair Bolsonaro
0.36
0.56
1/4/22 0:00
Jair Bolsonaro
0.36
0.56
1/5/22 0:00
Jair Bolsonaro
0.37
0.55
1/6/22 0:00
Jair Bolsonaro
0.37
0.55
1/7/22 0:00
Jair Bolsonaro
0.37
0.56
1/8/22 0:00
Jair Bolsonaro
0.36
0.56
1/9/22 0:00
Jair Bolsonaro
0.35
0.57
1/10/22 0:00
Jair Bolsonaro
0.36
0.56
1/11/22 0:00
Jair Bolsonaro
0.37
0.55
1/12/22 0:00
Jair Bolsonaro
0.35
0.57
1/13/22 0:00
Jair Bolsonaro
0.36
0.55
1/14/22 0:00
Jair Bolsonaro
0.37
0.55
1/15/22 0:00
Jair Bolsonaro
0.37
0.56
1/16/22 0:00
Jair Bolsonaro
0.37
0.56
1/17/22 0:00
Jair Bolsonaro
0.37
0.56
1/18/22 0:00
Jair Bolsonaro
0.37
0.56
1/19/22 0:00
Jair Bolsonaro
0.38
0.55
1/20/22 0:00
Jair Bolsonaro
0.37
0.56
1/21/22 0:00
Jair Bolsonaro
0.38
0.55
1/22/22 0:00
Jair Bolsonaro
0.39
0.54
1/23/22 0:00
Jair Bolsonaro
0.41
0.52
1/24/22 0:00
Jair Bolsonaro
0.40
0.53
1/25/22 0:00
Jair Bolsonaro
0.40
0.53
1/26/22 0:00
Jair Bolsonaro
0.40
0.53
1/27/22 0:00
Jair Bolsonaro
0.40
0.53
1/28/22 0:00
Jair Bolsonaro
0.38
0.54
1/29/22 0:00
Jair Bolsonaro
0.37
0.55
1/30/22 0:00
Jair Bolsonaro
0.35
0.57
1/31/22 0:00
Jair Bolsonaro
0.35
0.57
2/1/22 0:00
Jair Bolsonaro
0.36
0.57
2/2/22 0:00
Jair Bolsonaro
0.36
0.56
2/3/22 0:00
Jair Bolsonaro
0.35
0.57
2/4/22 0:00
Jair Bolsonaro
0.36
0.56
2/5/22 0:00
Jair Bolsonaro
0.37
0.55
2/6/22 0:00
Jair Bolsonaro
0.37
0.55
2/7/22 0:00
Jair Bolsonaro
0.38
0.55
2/8/22 0:00
Jair Bolsonaro
0.37
0.55
2/9/22 0:00
Jair Bolsonaro
0.37
0.55
2/10/22 0:00
Jair Bolsonaro
0.38
0.54
2/11/22 0:00
Jair Bolsonaro
0.38
0.54
2/12/22 0:00
Jair Bolsonaro
0.38
0.54
2/13/22 0:00
Jair Bolsonaro
0.37
0.54
2/14/22 0:00
Jair Bolsonaro
0.38
0.53
2/15/22 0:00
Jair Bolsonaro
0.38
0.53
2/16/22 0:00
Jair Bolsonaro
0.38
0.52
2/17/22 0:00
Jair Bolsonaro
0.38
0.52
2/18/22 0:00
Jair Bolsonaro
0.39
0.52
2/19/22 0:00
Jair Bolsonaro
0.40
0.52
2/20/22 0:00
Jair Bolsonaro
0.41
0.51
2/21/22 0:00
Jair Bolsonaro
0.41
0.51
2/22/22 0:00
Jair Bolsonaro
0.42
0.50
2/23/22 0:00
Jair Bolsonaro
0.42
0.50
2/24/22 0:00
Jair Bolsonaro
0.41
0.51
2/25/22 0:00
Jair Bolsonaro
0.41
0.51
2/26/22 0:00
Jair Bolsonaro
0.41
0.52
2/27/22 0:00
Jair Bolsonaro
0.41
0.52
2/28/22 0:00
Jair Bolsonaro
0.40
0.53
3/1/22 0:00
Jair Bolsonaro
0.40
0.54
3/2/22 0:00
Jair Bolsonaro
0.39
0.54
3/3/22 0:00
Jair Bolsonaro
0.40
0.54
3/4/22 0:00
Jair Bolsonaro
0.39
0.55
3/5/22 0:00
Jair Bolsonaro
0.39
0.55
3/6/22 0:00
Jair Bolsonaro
0.39
0.55
3/7/22 0:00
Jair Bolsonaro
0.40
0.55
3/8/22 0:00
Jair Bolsonaro
0.40
0.54
3/9/22 0:00
Jair Bolsonaro
0.40
0.53
3/10/22 0:00
Jair Bolsonaro
0.40
0.53
3/11/22 0:00
Jair Bolsonaro
0.41
0.52
3/12/22 0:00
Jair Bolsonaro
0.39
0.53
3/13/22 0:00
Jair Bolsonaro
0.39
0.54
3/14/22 0:00
Jair Bolsonaro
0.39
0.53
3/15/22 0:00
Jair Bolsonaro
0.39
0.53
3/16/22 0:00
Jair Bolsonaro
0.39
0.53
3/17/22 0:00
Jair Bolsonaro
0.39
0.53
3/18/22 0:00
Jair Bolsonaro
0.38
0.53
3/19/22 0:00
Jair Bolsonaro
0.39
0.53
3/20/22 0:00
Jair Bolsonaro
0.39
0.53
3/21/22 0:00
Jair Bolsonaro
0.38
0.54
3/22/22 0:00
Jair Bolsonaro
0.38
0.54
3/23/22 0:00
Jair Bolsonaro
0.38
0.55
3/24/22 0:00
Jair Bolsonaro
0.37
0.56
3/25/22 0:00
Jair Bolsonaro
0.38
0.55
3/26/22 0:00
Jair Bolsonaro
0.39
0.54
3/27/22 0:00
Jair Bolsonaro
0.39
0.54
3/28/22 0:00
Jair Bolsonaro
0.40
0.54
3/29/22 0:00
Jair Bolsonaro
0.41
0.53
3/30/22 0:00
Jair Bolsonaro
0.42
0.52
3/31/22 0:00
Jair Bolsonaro
0.42
0.51
4/1/22 0:00
Jair Bolsonaro
0.42
0.52
4/2/22 0:00
Jair Bolsonaro
0.41
0.51
4/3/22 0:00
Jair Bolsonaro
0.42
0.51
4/4/22 0:00
Jair Bolsonaro
0.41
0.51
4/5/22 0:00
Jair Bolsonaro
0.40
0.52
4/6/22 0:00
Jair Bolsonaro
0.39
0.53
4/7/22 0:00
Jair Bolsonaro
0.40
0.52
4/8/22 0:00
Jair Bolsonaro
0.40
0.51
4/9/22 0:00
Jair Bolsonaro
0.40
0.51
4/10/22 0:00
Jair Bolsonaro
0.40
0.51
4/11/22 0:00
Jair Bolsonaro
0.41
0.51
4/12/22 0:00
Jair Bolsonaro
0.42
0.49
4/13/22 0:00
Jair Bolsonaro
0.42
0.50
4/14/22 0:00
Jair Bolsonaro
0.42
0.50
4/15/22 0:00
Jair Bolsonaro
0.41
0.51
4/16/22 0:00
Jair Bolsonaro
0.41
0.52
4/17/22 0:00
Jair Bolsonaro
0.40
0.53
4/18/22 0:00
Jair Bolsonaro
0.40
0.53
4/19/22 0:00
Jair Bolsonaro
0.39
0.54
1/4/22 0:00
Ignazio Cassis
0.38
0.25
1/5/22 0:00
Ignazio Cassis
0.50
0.25
1/6/22 0:00
Ignazio Cassis
0.52
0.22
1/7/22 0:00
Ignazio Cassis
0.53
0.20
1/8/22 0:00
Ignazio Cassis
0.53
0.21
1/9/22 0:00
Ignazio Cassis
0.52
0.21
1/10/22 0:00
Ignazio Cassis
0.52
0.22
1/11/22 0:00
Ignazio Cassis
0.51
0.22
1/12/22 0:00
Ignazio Cassis
0.50
0.21
1/13/22 0:00
Ignazio Cassis
0.50
0.23
1/14/22 0:00
Ignazio Cassis
0.49
0.24
1/15/22 0:00
Ignazio Cassis
0.49
0.24
1/16/22 0:00
Ignazio Cassis
0.48
0.23
1/17/22 0:00
Ignazio Cassis
0.49
0.22
1/18/22 0:00
Ignazio Cassis
0.50
0.22
1/19/22 0:00
Ignazio Cassis
0.50
0.23
1/20/22 0:00
Ignazio Cassis
0.49
0.22
1/21/22 0:00
Ignazio Cassis
0.48
0.23
1/22/22 0:00
Ignazio Cassis
0.50
0.23
1/23/22 0:00
Ignazio Cassis
0.52
0.23
1/24/22 0:00
Ignazio Cassis
0.51
0.24
1/25/22 0:00
Ignazio Cassis
0.52
0.24
1/26/22 0:00
Ignazio Cassis
0.55
0.23
1/27/22 0:00
Ignazio Cassis
0.56
0.22
1/28/22 0:00
Ignazio Cassis
0.56
0.21
1/29/22 0:00
Ignazio Cassis
0.55
0.21
1/30/22 0:00
Ignazio Cassis
0.53
0.23
1/31/22 0:00
Ignazio Cassis
0.53
0.23
2/1/22 0:00
Ignazio Cassis
0.53
0.22
2/2/22 0:00
Ignazio Cassis
0.51
0.23
2/3/22 0:00
Ignazio Cassis
0.54
0.22
2/4/22 0:00
Ignazio Cassis
0.54
0.22
2/5/22 0:00
Ignazio Cassis
0.54
0.23
2/6/22 0:00
Ignazio Cassis
0.54
0.21
2/7/22 0:00
Ignazio Cassis
0.54
0.22
2/8/22 0:00
Ignazio Cassis
0.55
0.22
2/9/22 0:00
Ignazio Cassis
0.57
0.21
2/10/22 0:00
Ignazio Cassis
0.56
0.22
2/11/22 0:00
Ignazio Cassis
0.56
0.23
2/12/22 0:00
Ignazio Cassis
0.57
0.22
2/13/22 0:00
Ignazio Cassis
0.59
0.21
2/14/22 0:00
Ignazio Cassis
0.59
0.21
2/15/22 0:00
Ignazio Cassis
0.58
0.22
2/16/22 0:00
Ignazio Cassis
0.59
0.22
2/17/22 0:00
Ignazio Cassis
0.58
0.23
2/18/22 0:00
Ignazio Cassis
0.59
0.21
2/19/22 0:00
Ignazio Cassis
0.59
0.20
2/20/22 0:00
Ignazio Cassis
0.59
0.21
2/21/22 0:00
Ignazio Cassis
0.59
0.21
2/22/22 0:00
Ignazio Cassis
0.58
0.21
2/23/22 0:00
Ignazio Cassis
0.57
0.22
2/24/22 0:00
Ignazio Cassis
0.58
0.21
2/25/22 0:00
Ignazio Cassis
0.58
0.23
2/26/22 0:00
Ignazio Cassis
0.57
0.25
2/27/22 0:00
Ignazio Cassis
0.58
0.25
2/28/22 0:00
Ignazio Cassis
0.59
0.23
3/1/22 0:00
Ignazio Cassis
0.61
0.22
3/2/22 0:00
Ignazio Cassis
0.62
0.22
3/3/22 0:00
Ignazio Cassis
0.62
0.21
3/4/22 0:00
Ignazio Cassis
0.62
0.20
3/5/22 0:00
Ignazio Cassis
0.63
0.19
3/6/22 0:00
Ignazio Cassis
0.61
0.21
3/7/22 0:00
Ignazio Cassis
0.61
0.22
3/8/22 0:00
Ignazio Cassis
0.61
0.22
3/9/22 0:00
Ignazio Cassis
0.61
0.24
3/10/22 0:00
Ignazio Cassis
0.62
0.24
3/11/22 0:00
Ignazio Cassis
0.63
0.24
3/12/22 0:00
Ignazio Cassis
0.61
0.25
3/13/22 0:00
Ignazio Cassis
0.62
0.24
3/14/22 0:00
Ignazio Cassis
0.60
0.24
3/15/22 0:00
Ignazio Cassis
0.58
0.25
3/16/22 0:00
Ignazio Cassis
0.57
0.26
3/17/22 0:00
Ignazio Cassis
0.57
0.26
3/18/22 0:00
Ignazio Cassis
0.55
0.27
3/19/22 0:00
Ignazio Cassis
0.57
0.26
3/20/22 0:00
Ignazio Cassis
0.58
0.26
3/21/22 0:00
Ignazio Cassis
0.59
0.26
3/22/22 0:00
Ignazio Cassis
0.59
0.25
3/23/22 0:00
Ignazio Cassis
0.60
0.24
3/24/22 0:00
Ignazio Cassis
0.60
0.24
3/25/22 0:00
Ignazio Cassis
0.60
0.23
3/26/22 0:00
Ignazio Cassis
0.61
0.22
3/27/22 0:00
Ignazio Cassis
0.59
0.23
3/28/22 0:00
Ignazio Cassis
0.61
0.22
3/29/22 0:00
Ignazio Cassis
0.61
0.21
3/30/22 0:00
Ignazio Cassis
0.61
0.22
3/31/22 0:00
Ignazio Cassis
0.61
0.22
4/1/22 0:00
Ignazio Cassis
0.63
0.21
4/2/22 0:00
Ignazio Cassis
0.61
0.21
4/3/22 0:00
Ignazio Cassis
0.60
0.22
4/4/22 0:00
Ignazio Cassis
0.60
0.23
4/5/22 0:00
Ignazio Cassis
0.60
0.24
4/6/22 0:00
Ignazio Cassis
0.59
0.24
4/7/22 0:00
Ignazio Cassis
0.59
0.24
4/8/22 0:00
Ignazio Cassis
0.58
0.25
4/9/22 0:00
Ignazio Cassis
0.58
0.27
4/10/22 0:00
Ignazio Cassis
0.59
0.26
4/11/22 0:00
Ignazio Cassis
0.58
0.28
4/12/22 0:00
Ignazio Cassis
0.58
0.26
4/13/22 0:00
Ignazio Cassis
0.60
0.27
4/14/22 0:00
Ignazio Cassis
0.59
0.25
4/15/22 0:00
Ignazio Cassis
0.59
0.26
4/16/22 0:00
Ignazio Cassis
0.60
0.24
4/17/22 0:00
Ignazio Cassis
0.60
0.23
4/18/22 0:00
Ignazio Cassis
0.58
0.24
4/19/22 0:00
Ignazio Cassis
0.57
0.25
1/1/22 0:00
Alexander De Croo
0.41
0.43
1/2/22 0:00
Alexander De Croo
0.39
0.44
1/3/22 0:00
Alexander De Croo
0.38
0.45
1/4/22 0:00
Alexander De Croo
0.38
0.45
1/5/22 0:00
Alexander De Croo
0.39
0.44
1/6/22 0:00
Alexander De Croo
0.39
0.44
1/7/22 0:00
Alexander De Croo
0.40
0.44
1/8/22 0:00
Alexander De Croo
0.40
0.44
1/9/22 0:00
Alexander De Croo
0.41
0.43
1/10/22 0:00
Alexander De Croo
0.43
0.42
1/11/22 0:00
Alexander De Croo
0.44
0.41
1/12/22 0:00
Alexander De Croo
0.43
0.42
1/13/22 0:00
Alexander De Croo
0.42
0.44
1/14/22 0:00
Alexander De Croo
0.42
0.44
1/15/22 0:00
Alexander De Croo
0.42
0.44
1/16/22 0:00
Alexander De Croo
0.41
0.45
1/17/22 0:00
Alexander De Croo
0.39
0.46
1/18/22 0:00
Alexander De Croo
0.37
0.46
1/19/22 0:00
Alexander De Croo
0.38
0.46
1/20/22 0:00
Alexander De Croo
0.38
0.45
1/21/22 0:00
Alexander De Croo
0.39
0.45
1/22/22 0:00
Alexander De Croo
0.40
0.44
1/23/22 0:00
Alexander De Croo
0.41
0.42
1/24/22 0:00
Alexander De Croo
0.43
0.42
1/25/22 0:00
Alexander De Croo
0.43
0.42
1/26/22 0:00
Alexander De Croo
0.44
0.42
1/27/22 0:00
Alexander De Croo
0.44
0.41
1/28/22 0:00
Alexander De Croo
0.44
0.41
1/29/22 0:00
Alexander De Croo
0.44
0.42
1/30/22 0:00
Alexander De Croo
0.43
0.43
1/31/22 0:00
Alexander De Croo
0.43
0.43
2/1/22 0:00
Alexander De Croo
0.43
0.43
2/2/22 0:00
Alexander De Croo
0.43
0.43
2/3/22 0:00
Alexander De Croo
0.42
0.44
2/4/22 0:00
Alexander De Croo
0.41
0.45
2/5/22 0:00
Alexander De Croo
0.40
0.46
2/6/22 0:00
Alexander De Croo
0.40
0.46
2/7/22 0:00
Alexander De Croo
0.40
0.47
2/8/22 0:00
Alexander De Croo
0.40
0.47
2/9/22 0:00
Alexander De Croo
0.39
0.47
2/10/22 0:00
Alexander De Croo
0.38
0.47
2/11/22 0:00
Alexander De Croo
0.39
0.47
2/12/22 0:00
Alexander De Croo
0.40
0.46
2/13/22 0:00
Alexander De Croo
0.41
0.45
2/14/22 0:00
Alexander De Croo
0.41
0.44
2/15/22 0:00
Alexander De Croo
0.41
0.45
2/16/22 0:00
Alexander De Croo
0.41
0.45
2/17/22 0:00
Alexander De Croo
0.44
0.44
2/18/22 0:00
Alexander De Croo
0.44
0.43
2/19/22 0:00
Alexander De Croo
0.43
0.43
2/20/22 0:00
Alexander De Croo
0.42
0.43
2/21/22 0:00
Alexander De Croo
0.41
0.43
2/22/22 0:00
Alexander De Croo
0.41
0.43
2/23/22 0:00
Alexander De Croo
0.41
0.43
2/24/22 0:00
Alexander De Croo
0.40
0.44
2/25/22 0:00
Alexander De Croo
0.41
0.45
2/26/22 0:00
Alexander De Croo
0.41
0.45
2/27/22 0:00
Alexander De Croo
0.42
0.45
2/28/22 0:00
Alexander De Croo
0.43
0.44
3/1/22 0:00
Alexander De Croo
0.43
0.43
3/2/22 0:00
Alexander De Croo
0.44
0.43
3/3/22 0:00
Alexander De Croo
0.45
0.42
3/4/22 0:00
Alexander De Croo
0.44
0.41
3/5/22 0:00
Alexander De Croo
0.46
0.40
3/6/22 0:00
Alexander De Croo
0.44
0.40
3/7/22 0:00
Alexander De Croo
0.45
0.40
3/8/22 0:00
Alexander De Croo
0.46
0.40
3/9/22 0:00
Alexander De Croo
0.45
0.41
3/10/22 0:00
Alexander De Croo
0.45
0.41
3/11/22 0:00
Alexander De Croo
0.45
0.42
3/12/22 0:00
Alexander De Croo
0.44
0.43
3/13/22 0:00
Alexander De Croo
0.45
0.43
3/14/22 0:00
Alexander De Croo
0.44
0.43
3/15/22 0:00
Alexander De Croo
0.44
0.44
3/16/22 0:00
Alexander De Croo
0.44
0.43
3/17/22 0:00
Alexander De Croo
0.45
0.42
3/18/22 0:00
Alexander De Croo
0.45
0.41
3/19/22 0:00
Alexander De Croo
0.44
0.40
3/20/22 0:00
Alexander De Croo
0.43
0.41
3/21/22 0:00
Alexander De Croo
0.43
0.41
3/22/22 0:00
Alexander De Croo
0.42
0.42
3/23/22 0:00
Alexander De Croo
0.43
0.41
3/24/22 0:00
Alexander De Croo
0.42
0.42
3/25/22 0:00
Alexander De Croo
0.43
0.42
3/26/22 0:00
Alexander De Croo
0.46
0.40
3/27/22 0:00
Alexander De Croo
0.47
0.40
3/28/22 0:00
Alexander De Croo
0.48
0.40
3/29/22 0:00
Alexander De Croo
0.49
0.39
3/30/22 0:00
Alexander De Croo
0.47
0.41
3/31/22 0:00
Alexander De Croo
0.47
0.39
4/1/22 0:00
Alexander De Croo
0.46
0.41
4/2/22 0:00
Alexander De Croo
0.45
0.41
4/3/22 0:00
Alexander De Croo
0.44
0.41
4/4/22 0:00
Alexander De Croo
0.43
0.41
4/5/22 0:00
Alexander De Croo
0.44
0.40
4/6/22 0:00
Alexander De Croo
0.46
0.39
4/7/22 0:00
Alexander De Croo
0.46
0.40
4/8/22 0:00
Alexander De Croo
0.46
0.39
4/9/22 0:00
Alexander De Croo
0.46
0.40
4/10/22 0:00
Alexander De Croo
0.46
0.39
4/11/22 0:00
Alexander De Croo
0.46
0.39
4/12/22 0:00
Alexander De Croo
0.46
0.40
4/13/22 0:00
Alexander De Croo
0.46
0.40
4/14/22 0:00
Alexander De Croo
0.46
0.39
4/15/22 0:00
Alexander De Croo
0.47
0.38
4/16/22 0:00
Alexander De Croo
0.45
0.40
4/17/22 0:00
Alexander De Croo
0.44
0.40
4/18/22 0:00
Alexander De Croo
0.45
0.38
4/19/22 0:00
Alexander De Croo
0.45
0.39
2/17/21 0:00
Mario Draghi
0.47
0.23
2/18/21 0:00
Mario Draghi
0.50
0.24
2/19/21 0:00
Mario Draghi
0.53
0.22
2/20/21 0:00
Mario Draghi
0.53
0.22
2/21/21 0:00
Mario Draghi
0.53
0.23
2/22/21 0:00
Mario Draghi
0.54
0.23
2/23/21 0:00
Mario Draghi
0.54
0.23
2/24/21 0:00
Mario Draghi
0.54
0.24
2/25/21 0:00
Mario Draghi
0.54
0.24
2/26/21 0:00
Mario Draghi
0.54
0.25
2/27/21 0:00
Mario Draghi
0.54
0.26
2/28/21 0:00
Mario Draghi
0.54
0.27
3/1/21 0:00
Mario Draghi
0.53
0.28
3/2/21 0:00
Mario Draghi
0.54
0.29
3/3/21 0:00
Mario Draghi
0.54
0.29
3/4/21 0:00
Mario Draghi
0.54
0.29
3/5/21 0:00
Mario Draghi
0.55
0.30
3/6/21 0:00
Mario Draghi
0.55
0.30
3/7/21 0:00
Mario Draghi
0.56
0.29
3/8/21 0:00
Mario Draghi
0.55
0.30
3/9/21 0:00
Mario Draghi
0.56
0.30
3/10/21 0:00
Mario Draghi
0.56
0.30
3/11/21 0:00
Mario Draghi
0.56
0.30
3/12/21 0:00
Mario Draghi
0.55
0.30
3/13/21 0:00
Mario Draghi
0.56
0.30
3/14/21 0:00
Mario Draghi
0.56
0.31
3/15/21 0:00
Mario Draghi
0.56
0.31
3/16/21 0:00
Mario Draghi
0.56
0.31
3/17/21 0:00
Mario Draghi
0.57
0.32
3/18/21 0:00
Mario Draghi
0.57
0.33
3/19/21 0:00
Mario Draghi
0.57
0.33
3/20/21 0:00
Mario Draghi
0.56
0.33
3/21/21 0:00
Mario Draghi
0.56
0.33
3/22/21 0:00
Mario Draghi
0.55
0.34
3/23/21 0:00
Mario Draghi
0.55
0.34
3/24/21 0:00
Mario Draghi
0.55
0.35
3/25/21 0:00
Mario Draghi
0.54
0.35
3/26/21 0:00
Mario Draghi
0.55
0.34
3/27/21 0:00
Mario Draghi
0.55
0.35
3/28/21 0:00
Mario Draghi
0.56
0.35
3/29/21 0:00
Mario Draghi
0.58
0.34
3/30/21 0:00
Mario Draghi
0.58
0.34
3/31/21 0:00
Mario Draghi
0.58
0.35
4/1/21 0:00
Mario Draghi
0.57
0.35
4/2/21 0:00
Mario Draghi
0.56
0.37
4/3/21 0:00
Mario Draghi
0.55
0.38
4/4/21 0:00
Mario Draghi
0.54
0.39
4/5/21 0:00
Mario Draghi
0.53
0.39
4/6/21 0:00
Mario Draghi
0.52
0.40
4/7/21 0:00
Mario Draghi
0.51
0.41
4/8/21 0:00
Mario Draghi
0.51
0.41
4/9/21 0:00
Mario Draghi
0.51
0.41
4/10/21 0:00
Mario Draghi
0.52
0.40
4/11/21 0:00
Mario Draghi
0.53
0.39
4/12/21 0:00
Mario Draghi
0.52
0.40
4/13/21 0:00
Mario Draghi
0.52
0.40
4/14/21 0:00
Mario Draghi
0.53
0.39
4/15/21 0:00
Mario Draghi
0.53
0.39
4/16/21 0:00
Mario Draghi
0.53
0.39
4/17/21 0:00
Mario Draghi
0.54
0.39
4/18/21 0:00
Mario Draghi
0.53
0.39
4/19/21 0:00
Mario Draghi
0.54
0.39
4/20/21 0:00
Mario Draghi
0.54
0.39
4/21/21 0:00
Mario Draghi
0.55
0.39
4/22/21 0:00
Mario Draghi
0.54
0.40
4/23/21 0:00
Mario Draghi
0.53
0.41
4/24/21 0:00
Mario Draghi
0.53
0.41
4/25/21 0:00
Mario Draghi
0.51
0.42
4/26/21 0:00
Mario Draghi
0.51
0.43
4/27/21 0:00
Mario Draghi
0.51
0.43
4/28/21 0:00
Mario Draghi
0.51
0.43
4/29/21 0:00
Mario Draghi
0.52
0.43
4/30/21 0:00
Mario Draghi
0.52
0.42
5/1/21 0:00
Mario Draghi
0.52
0.42
5/2/21 0:00
Mario Draghi
0.53
0.41
5/3/21 0:00
Mario Draghi
0.53
0.40
5/4/21 0:00
Mario Draghi
0.54
0.40
5/5/21 0:00
Mario Draghi
0.53
0.40
5/6/21 0:00
Mario Draghi
0.54
0.40
5/7/21 0:00
Mario Draghi
0.54
0.39
5/8/21 0:00
Mario Draghi
0.55
0.39
5/9/21 0:00
Mario Draghi
0.55
0.38
5/10/21 0:00
Mario Draghi
0.56
0.38
5/11/21 0:00
Mario Draghi
0.57
0.37
5/12/21 0:00
Mario Draghi
0.57
0.36
5/13/21 0:00
Mario Draghi
0.57
0.37
5/14/21 0:00
Mario Draghi
0.58
0.36
5/15/21 0:00
Mario Draghi
0.59
0.35
5/16/21 0:00
Mario Draghi
0.59
0.35
5/17/21 0:00
Mario Draghi
0.59
0.35
5/18/21 0:00
Mario Draghi
0.59
0.35
5/19/21 0:00
Mario Draghi
0.60
0.33
5/20/21 0:00
Mario Draghi
0.60
0.33
5/21/21 0:00
Mario Draghi
0.61
0.33
5/22/21 0:00
Mario Draghi
0.61
0.33
5/23/21 0:00
Mario Draghi
0.61
0.32
5/24/21 0:00
Mario Draghi
0.62
0.32
5/25/21 0:00
Mario Draghi
0.62
0.31
5/26/21 0:00
Mario Draghi
0.62
0.32
5/27/21 0:00
Mario Draghi
0.63
0.31
5/28/21 0:00
Mario Draghi
0.62
0.31
5/29/21 0:00
Mario Draghi
0.63
0.30
5/30/21 0:00
Mario Draghi
0.63
0.30
5/31/21 0:00
Mario Draghi
0.62
0.31
6/1/21 0:00
Mario Draghi
0.63
0.30
6/2/21 0:00
Mario Draghi
0.64
0.30
6/3/21 0:00
Mario Draghi
0.63
0.30
6/4/21 0:00
Mario Draghi
0.64
0.30
6/5/21 0:00
Mario Draghi
0.63
0.30
6/6/21 0:00
Mario Draghi
0.64
0.29
6/7/21 0:00
Mario Draghi
0.65
0.29
6/8/21 0:00
Mario Draghi
0.65
0.28
6/9/21 0:00
Mario Draghi
0.65
0.28
6/10/21 0:00
Mario Draghi
0.65
0.27
6/11/21 0:00
Mario Draghi
0.66
0.27
6/12/21 0:00
Mario Draghi
0.66
0.27
6/13/21 0:00
Mario Draghi
0.65
0.28
6/14/21 0:00
Mario Draghi
0.65
0.28
6/15/21 0:00
Mario Draghi
0.65
0.28
6/16/21 0:00
Mario Draghi
0.65
0.29
6/17/21 0:00
Mario Draghi
0.65
0.29
6/18/21 0:00
Mario Draghi
0.65
0.29
6/19/21 0:00
Mario Draghi
0.66
0.28
6/20/21 0:00
Mario Draghi
0.66
0.28
6/21/21 0:00
Mario Draghi
0.66
0.28
6/22/21 0:00
Mario Draghi
0.66
0.28
6/23/21 0:00
Mario Draghi
0.65
0.28
6/24/21 0:00
Mario Draghi
0.66
0.28
6/25/21 0:00
Mario Draghi
0.67
0.27
6/26/21 0:00
Mario Draghi
0.67
0.27
6/27/21 0:00
Mario Draghi
0.67
0.27
6/28/21 0:00
Mario Draghi
0.67
0.28
6/29/21 0:00
Mario Draghi
0.66
0.28
6/30/21 0:00
Mario Draghi
0.66
0.28
7/1/21 0:00
Mario Draghi
0.66
0.28
7/2/21 0:00
Mario Draghi
0.65
0.29
7/3/21 0:00
Mario Draghi
0.64
0.29
7/4/21 0:00
Mario Draghi
0.65
0.29
7/5/21 0:00
Mario Draghi
0.65
0.29
7/6/21 0:00
Mario Draghi
0.65
0.29
7/7/21 0:00
Mario Draghi
0.65
0.29
7/8/21 0:00
Mario Draghi
0.65
0.29
7/9/21 0:00
Mario Draghi
0.65
0.28
7/10/21 0:00
Mario Draghi
0.66
0.28
7/11/21 0:00
Mario Draghi
0.65
0.28
7/12/21 0:00
Mario Draghi
0.65
0.28
7/13/21 0:00
Mario Draghi
0.65
0.28
7/14/21 0:00
Mario Draghi
0.66
0.27
7/15/21 0:00
Mario Draghi
0.67
0.27
7/16/21 0:00
Mario Draghi
0.67
0.27
7/17/21 0:00
Mario Draghi
0.66
0.28
7/18/21 0:00
Mario Draghi
0.66
0.29
7/19/21 0:00
Mario Draghi
0.65
0.29
7/20/21 0:00
Mario Draghi
0.65
0.29
7/21/21 0:00
Mario Draghi
0.64
0.30
7/22/21 0:00
Mario Draghi
0.63
0.31
7/23/21 0:00
Mario Draghi
0.63
0.31
7/24/21 0:00
Mario Draghi
0.63
0.31
7/25/21 0:00
Mario Draghi
0.63
0.31
7/26/21 0:00
Mario Draghi
0.63
0.31
7/27/21 0:00
Mario Draghi
0.62
0.32
7/28/21 0:00
Mario Draghi
0.62
0.32
7/29/21 0:00
Mario Draghi
0.62
0.31
7/30/21 0:00
Mario Draghi
0.62
0.32
7/31/21 0:00
Mario Draghi
0.62
0.32
8/1/21 0:00
Mario Draghi
0.62
0.32
8/2/21 0:00
Mario Draghi
0.63
0.31
8/3/21 0:00
Mario Draghi
0.62
0.31
8/4/21 0:00
Mario Draghi
0.62
0.31
8/5/21 0:00
Mario Draghi
0.62
0.32
8/6/21 0:00
Mario Draghi
0.62
0.32
8/7/21 0:00
Mario Draghi
0.62
0.32
8/8/21 0:00
Mario Draghi
0.62
0.31
8/9/21 0:00
Mario Draghi
0.61
0.33
8/10/21 0:00
Mario Draghi
0.62
0.32
8/11/21 0:00
Mario Draghi
0.62
0.32
8/12/21 0:00
Mario Draghi
0.62
0.32
8/13/21 0:00
Mario Draghi
0.61
0.33
8/14/21 0:00
Mario Draghi
0.62
0.33
8/15/21 0:00
Mario Draghi
0.63
0.32
8/16/21 0:00
Mario Draghi
0.63
0.31
8/17/21 0:00
Mario Draghi
0.63
0.31
8/18/21 0:00
Mario Draghi
0.62
0.31
8/19/21 0:00
Mario Draghi
0.63
0.31
8/20/21 0:00
Mario Draghi
0.63
0.30
8/21/21 0:00
Mario Draghi
0.63
0.30
8/22/21 0:00
Mario Draghi
0.62
0.31
8/23/21 0:00
Mario Draghi
0.62
0.31
8/24/21 0:00
Mario Draghi
0.62
0.32
8/25/21 0:00
Mario Draghi
0.62
0.31
8/26/21 0:00
Mario Draghi
0.62
0.31
8/27/21 0:00
Mario Draghi
0.62
0.31
8/28/21 0:00
Mario Draghi
0.62
0.31
8/29/21 0:00
Mario Draghi
0.63
0.31
8/30/21 0:00
Mario Draghi
0.63
0.31
8/31/21 0:00
Mario Draghi
0.63
0.31
9/1/21 0:00
Mario Draghi
0.63
0.31
9/2/21 0:00
Mario Draghi
0.63
0.31
9/3/21 0:00
Mario Draghi
0.63
0.32
9/4/21 0:00
Mario Draghi
0.63
0.32
9/5/21 0:00
Mario Draghi
0.62
0.33
9/6/21 0:00
Mario Draghi
0.62
0.33
9/7/21 0:00
Mario Draghi
0.63
0.32
9/8/21 0:00
Mario Draghi
0.63
0.32
9/9/21 0:00
Mario Draghi
0.63
0.32
9/10/21 0:00
Mario Draghi
0.63
0.31
9/11/21 0:00
Mario Draghi
0.62
0.32
9/12/21 0:00
Mario Draghi
0.62
0.31
9/13/21 0:00
Mario Draghi
0.61
0.32
9/14/21 0:00
Mario Draghi
0.61
0.32
9/15/21 0:00
Mario Draghi
0.61
0.33
9/16/21 0:00
Mario Draghi
0.61
0.33
9/17/21 0:00
Mario Draghi
0.62
0.33
9/18/21 0:00
Mario Draghi
0.63
0.32
9/19/21 0:00
Mario Draghi
0.62
0.33
9/20/21 0:00
Mario Draghi
0.62
0.32
9/21/21 0:00
Mario Draghi
0.62
0.33
9/22/21 0:00
Mario Draghi
0.61
0.33
9/23/21 0:00
Mario Draghi
0.60
0.34
9/24/21 0:00
Mario Draghi
0.60
0.34
9/25/21 0:00
Mario Draghi
0.59
0.35
9/26/21 0:00
Mario Draghi
0.60
0.35
9/27/21 0:00
Mario Draghi
0.59
0.35
9/28/21 0:00
Mario Draghi
0.59
0.35
9/29/21 0:00
Mario Draghi
0.60
0.35
9/30/21 0:00
Mario Draghi
0.60
0.34
10/1/21 0:00
Mario Draghi
0.60
0.34
10/2/21 0:00
Mario Draghi
0.60
0.34
10/3/21 0:00
Mario Draghi
0.61
0.34
10/4/21 0:00
Mario Draghi
0.61
0.34
10/5/21 0:00
Mario Draghi
0.61
0.33
10/6/21 0:00
Mario Draghi
0.61
0.33
10/7/21 0:00
Mario Draghi
0.60
0.34
10/8/21 0:00
Mario Draghi
0.61
0.34
10/9/21 0:00
Mario Draghi
0.61
0.33
10/10/21 0:00
Mario Draghi
0.61
0.33
10/11/21 0:00
Mario Draghi
0.61
0.33
10/12/21 0:00
Mario Draghi
0.61
0.33
10/13/21 0:00
Mario Draghi
0.61
0.33
10/14/21 0:00
Mario Draghi
0.61
0.33
10/15/21 0:00
Mario Draghi
0.59
0.34
10/16/21 0:00
Mario Draghi
0.59
0.34
10/17/21 0:00
Mario Draghi
0.59
0.35
10/18/21 0:00
Mario Draghi
0.59
0.35
10/19/21 0:00
Mario Draghi
0.58
0.36
10/20/21 0:00
Mario Draghi
0.58
0.36
10/21/21 0:00
Mario Draghi
0.59
0.35
10/22/21 0:00
Mario Draghi
0.60
0.34
10/23/21 0:00
Mario Draghi
0.59
0.35
10/24/21 0:00
Mario Draghi
0.60
0.34
10/25/21 0:00
Mario Draghi
0.60
0.34
10/26/21 0:00
Mario Draghi
0.60
0.34
10/27/21 0:00
Mario Draghi
0.60
0.34
10/28/21 0:00
Mario Draghi
0.60
0.35
10/29/21 0:00
Mario Draghi
0.59
0.35
10/30/21 0:00
Mario Draghi
0.59
0.35
10/31/21 0:00
Mario Draghi
0.58
0.35
11/1/21 0:00
Mario Draghi
0.58
0.36
11/2/21 0:00
Mario Draghi
0.58
0.36
11/3/21 0:00
Mario Draghi
0.58
0.36
11/4/21 0:00
Mario Draghi
0.59
0.36
11/5/21 0:00
Mario Draghi
0.59
0.35
11/6/21 0:00
Mario Draghi
0.59
0.35
11/7/21 0:00
Mario Draghi
0.59
0.35
11/8/21 0:00
Mario Draghi
0.59
0.35
11/9/21 0:00
Mario Draghi
0.58
0.35
11/10/21 0:00
Mario Draghi
0.58
0.35
11/11/21 0:00
Mario Draghi
0.59
0.34
11/12/21 0:00
Mario Draghi
0.60
0.34
11/13/21 0:00
Mario Draghi
0.59
0.34
11/14/21 0:00
Mario Draghi
0.59
0.34
11/15/21 0:00
Mario Draghi
0.60
0.34
11/16/21 0:00
Mario Draghi
0.61
0.33
11/17/21 0:00
Mario Draghi
0.60
0.34
11/18/21 0:00
Mario Draghi
0.59
0.35
11/19/21 0:00
Mario Draghi
0.59
0.35
11/20/21 0:00
Mario Draghi
0.59
0.35
11/21/21 0:00
Mario Draghi
0.60
0.34
11/22/21 0:00
Mario Draghi
0.59
0.35
11/23/21 0:00
Mario Draghi
0.59
0.35
11/24/21 0:00
Mario Draghi
0.59
0.35
11/25/21 0:00
Mario Draghi
0.59
0.35
11/26/21 0:00
Mario Draghi
0.59
0.35
11/27/21 0:00
Mario Draghi
0.60
0.35
11/28/21 0:00
Mario Draghi
0.59
0.35
11/29/21 0:00
Mario Draghi
0.59
0.35
11/30/21 0:00
Mario Draghi
0.58
0.36
12/1/21 0:00
Mario Draghi
0.58
0.36
12/2/21 0:00
Mario Draghi
0.58
0.36
12/3/21 0:00
Mario Draghi
0.58
0.36
12/4/21 0:00
Mario Draghi
0.57
0.37
12/5/21 0:00
Mario Draghi
0.57
0.37
12/6/21 0:00
Mario Draghi
0.58
0.36
12/7/21 0:00
Mario Draghi
0.59
0.35
12/8/21 0:00
Mario Draghi
0.59
0.35
12/9/21 0:00
Mario Draghi
0.59
0.35
12/10/21 0:00
Mario Draghi
0.59
0.35
12/11/21 0:00
Mario Draghi
0.59
0.35
12/12/21 0:00
Mario Draghi
0.59
0.35
12/13/21 0:00
Mario Draghi
0.59
0.34
12/14/21 0:00
Mario Draghi
0.59
0.34
12/15/21 0:00
Mario Draghi
0.59
0.34
12/16/21 0:00
Mario Draghi
0.59
0.34
12/17/21 0:00
Mario Draghi
0.60
0.34
12/18/21 0:00
Mario Draghi
0.59
0.35
12/19/21 0:00
Mario Draghi
0.59
0.35
12/20/21 0:00
Mario Draghi
0.59
0.35
12/21/21 0:00
Mario Draghi
0.59
0.35
12/22/21 0:00
Mario Draghi
0.60
0.34
12/23/21 0:00
Mario Draghi
0.61
0.33
12/24/21 0:00
Mario Draghi
0.61
0.32
12/25/21 0:00
Mario Draghi
0.61
0.32
12/26/21 0:00
Mario Draghi
0.62
0.32
12/27/21 0:00
Mario Draghi
0.62
0.31
12/28/21 0:00
Mario Draghi
0.62
0.32
12/29/21 0:00
Mario Draghi
0.62
0.32
12/30/21 0:00
Mario Draghi
0.60
0.33
12/31/21 0:00
Mario Draghi
0.60
0.33
1/1/22 0:00
Mario Draghi
0.61
0.33
1/2/22 0:00
Mario Draghi
0.61
0.32
1/3/22 0:00
Mario Draghi
0.61
0.33
1/4/22 0:00
Mario Draghi
0.60
0.33
1/5/22 0:00
Mario Draghi
0.60
0.33
1/6/22 0:00
Mario Draghi
0.61
0.33
1/7/22 0:00
Mario Draghi
0.60
0.33
1/8/22 0:00
Mario Draghi
0.60
0.34
1/9/22 0:00
Mario Draghi
0.59
0.34
1/10/22 0:00
Mario Draghi
0.59
0.35
1/11/22 0:00
Mario Draghi
0.59
0.35
1/12/22 0:00
Mario Draghi
0.58
0.36
1/13/22 0:00
Mario Draghi
0.59
0.34
1/14/22 0:00
Mario Draghi
0.59
0.34
1/15/22 0:00
Mario Draghi
0.59
0.35
1/16/22 0:00
Mario Draghi
0.59
0.34
1/17/22 0:00
Mario Draghi
0.60
0.33
1/18/22 0:00
Mario Draghi
0.60
0.33
1/19/22 0:00
Mario Draghi
0.60
0.33
1/20/22 0:00
Mario Draghi
0.59
0.34
1/21/22 0:00
Mario Draghi
0.59
0.35
1/22/22 0:00
Mario Draghi
0.59
0.35
1/23/22 0:00
Mario Draghi
0.59
0.35
1/24/22 0:00
Mario Draghi
0.58
0.36
1/25/22 0:00
Mario Draghi
0.58
0.35
1/26/22 0:00
Mario Draghi
0.57
0.36
1/27/22 0:00
Mario Draghi
0.58
0.34
1/28/22 0:00
Mario Draghi
0.57
0.35
1/29/22 0:00
Mario Draghi
0.58
0.35
1/30/22 0:00
Mario Draghi
0.58
0.34
1/31/22 0:00
Mario Draghi
0.58
0.35
2/1/22 0:00
Mario Draghi
0.57
0.35
2/2/22 0:00
Mario Draghi
0.58
0.35
2/3/22 0:00
Mario Draghi
0.58
0.35
2/4/22 0:00
Mario Draghi
0.60
0.34
2/5/22 0:00
Mario Draghi
0.59
0.34
2/6/22 0:00
Mario Draghi
0.60
0.34
2/7/22 0:00
Mario Draghi
0.60
0.34
2/8/22 0:00
Mario Draghi
0.60
0.34
2/9/22 0:00
Mario Draghi
0.60
0.34
2/10/22 0:00
Mario Draghi
0.60
0.35
2/11/22 0:00
Mario Draghi
0.59
0.35
2/12/22 0:00
Mario Draghi
0.59
0.35
2/13/22 0:00
Mario Draghi
0.59
0.35
2/14/22 0:00
Mario Draghi
0.59
0.35
2/15/22 0:00
Mario Draghi
0.59
0.35
2/16/22 0:00
Mario Draghi
0.59
0.35
2/17/22 0:00
Mario Draghi
0.59
0.35
2/18/22 0:00
Mario Draghi
0.59
0.36
2/19/22 0:00
Mario Draghi
0.59
0.35
2/20/22 0:00
Mario Draghi
0.58
0.36
2/21/22 0:00
Mario Draghi
0.58
0.37
2/22/22 0:00
Mario Draghi
0.57
0.37
2/23/22 0:00
Mario Draghi
0.58
0.37
2/24/22 0:00
Mario Draghi
0.57
0.38
2/25/22 0:00
Mario Draghi
0.57
0.38
2/26/22 0:00
Mario Draghi
0.57
0.38
2/27/22 0:00
Mario Draghi
0.58
0.37
2/28/22 0:00
Mario Draghi
0.58
0.37
3/1/22 0:00
Mario Draghi
0.59
0.36
3/2/22 0:00
Mario Draghi
0.59
0.35
3/3/22 0:00
Mario Draghi
0.59
0.35
3/4/22 0:00
Mario Draghi
0.60
0.35
3/5/22 0:00
Mario Draghi
0.60
0.34
3/6/22 0:00
Mario Draghi
0.60
0.34
3/7/22 0:00
Mario Draghi
0.60
0.34
3/8/22 0:00
Mario Draghi
0.59
0.35
3/9/22 0:00
Mario Draghi
0.59
0.36
3/10/22 0:00
Mario Draghi
0.58
0.36
3/11/22 0:00
Mario Draghi
0.58
0.37
3/12/22 0:00
Mario Draghi
0.56
0.38
3/13/22 0:00
Mario Draghi
0.56
0.39
3/14/22 0:00
Mario Draghi
0.54
0.40
3/15/22 0:00
Mario Draghi
0.54
0.40
3/16/22 0:00
Mario Draghi
0.55
0.40
3/17/22 0:00
Mario Draghi
0.53
0.41
3/18/22 0:00
Mario Draghi
0.54
0.41
3/19/22 0:00
Mario Draghi
0.54
0.40
3/20/22 0:00
Mario Draghi
0.54
0.41
3/21/22 0:00
Mario Draghi
0.55
0.40
3/22/22 0:00
Mario Draghi
0.54
0.40
3/23/22 0:00
Mario Draghi
0.53
0.40
3/24/22 0:00
Mario Draghi
0.54
0.40
3/25/22 0:00
Mario Draghi
0.54
0.40
3/26/22 0:00
Mario Draghi
0.54
0.41
3/27/22 0:00
Mario Draghi
0.54
0.40
3/28/22 0:00
Mario Draghi
0.54
0.40
3/29/22 0:00
Mario Draghi
0.54
0.40
3/30/22 0:00
Mario Draghi
0.53
0.40
3/31/22 0:00
Mario Draghi
0.54
0.40
4/1/22 0:00
Mario Draghi
0.54
0.41
4/2/22 0:00
Mario Draghi
0.54
0.40
4/3/22 0:00
Mario Draghi
0.54
0.40
4/4/22 0:00
Mario Draghi
0.54
0.40
4/5/22 0:00
Mario Draghi
0.54
0.40
4/6/22 0:00
Mario Draghi
0.55
0.39
4/7/22 0:00
Mario Draghi
0.54
0.39
4/8/22 0:00
Mario Draghi
0.54
0.39
4/9/22 0:00
Mario Draghi
0.54
0.40
4/10/22 0:00
Mario Draghi
0.54
0.40
4/11/22 0:00
Mario Draghi
0.54
0.39
4/12/22 0:00
Mario Draghi
0.54
0.40
4/13/22 0:00
Mario Draghi
0.54
0.40
4/14/22 0:00
Mario Draghi
0.54
0.40
4/15/22 0:00
Mario Draghi
0.54
0.41
4/16/22 0:00
Mario Draghi
0.54
0.41
4/17/22 0:00
Mario Draghi
0.54
0.40
4/18/22 0:00
Mario Draghi
0.54
0.41
4/19/22 0:00
Mario Draghi
0.53
0.41
1/1/22 0:00
Andrzej Duda
0.34
0.58
1/2/22 0:00
Andrzej Duda
0.34
0.57
1/3/22 0:00
Andrzej Duda
0.35
0.57
1/4/22 0:00
Andrzej Duda
0.33
0.58
1/5/22 0:00
Andrzej Duda
0.31
0.60
1/6/22 0:00
Andrzej Duda
0.32
0.58
1/7/22 0:00
Andrzej Duda
0.32
0.57
1/8/22 0:00
Andrzej Duda
0.33
0.57
1/9/22 0:00
Andrzej Duda
0.32
0.58
1/10/22 0:00
Andrzej Duda
0.32
0.58
1/11/22 0:00
Andrzej Duda
0.33
0.58
1/12/22 0:00
Andrzej Duda
0.35
0.57
1/13/22 0:00
Andrzej Duda
0.34
0.58
1/14/22 0:00
Andrzej Duda
0.34
0.59
1/15/22 0:00
Andrzej Duda
0.32
0.59
1/16/22 0:00
Andrzej Duda
0.34
0.58
1/17/22 0:00
Andrzej Duda
0.34
0.57
1/18/22 0:00
Andrzej Duda
0.34
0.58
1/19/22 0:00
Andrzej Duda
0.33
0.58
1/20/22 0:00
Andrzej Duda
0.32
0.58
1/21/22 0:00
Andrzej Duda
0.32
0.57
1/22/22 0:00
Andrzej Duda
0.33
0.58
1/23/22 0:00
Andrzej Duda
0.32
0.59
1/24/22 0:00
Andrzej Duda
0.32
0.59
1/25/22 0:00
Andrzej Duda
0.32
0.58
1/26/22 0:00
Andrzej Duda
0.33
0.58
1/27/22 0:00
Andrzej Duda
0.33
0.59
1/28/22 0:00
Andrzej Duda
0.32
0.59
1/29/22 0:00
Andrzej Duda
0.32
0.60
1/30/22 0:00
Andrzej Duda
0.32
0.60
1/31/22 0:00
Andrzej Duda
0.32
0.60
2/1/22 0:00
Andrzej Duda
0.33
0.60
2/2/22 0:00
Andrzej Duda
0.33
0.59
2/3/22 0:00
Andrzej Duda
0.33
0.59
2/4/22 0:00
Andrzej Duda
0.34
0.59
2/5/22 0:00
Andrzej Duda
0.36
0.56
2/6/22 0:00
Andrzej Duda
0.36
0.55
2/7/22 0:00
Andrzej Duda
0.35
0.56
2/8/22 0:00
Andrzej Duda
0.35
0.56
2/9/22 0:00
Andrzej Duda
0.35
0.57
2/10/22 0:00
Andrzej Duda
0.36
0.57
2/11/22 0:00
Andrzej Duda
0.37
0.57
2/12/22 0:00
Andrzej Duda
0.35
0.58
2/13/22 0:00
Andrzej Duda
0.35
0.58
2/14/22 0:00
Andrzej Duda
0.34
0.59
2/15/22 0:00
Andrzej Duda
0.34
0.59
2/16/22 0:00
Andrzej Duda
0.33
0.60
2/17/22 0:00
Andrzej Duda
0.32
0.60
2/18/22 0:00
Andrzej Duda
0.31
0.60
2/19/22 0:00
Andrzej Duda
0.32
0.60
2/20/22 0:00
Andrzej Duda
0.32
0.59
2/21/22 0:00
Andrzej Duda
0.34
0.58
2/22/22 0:00
Andrzej Duda
0.34
0.58
2/23/22 0:00
Andrzej Duda
0.34
0.59
2/24/22 0:00
Andrzej Duda
0.34
0.58
2/25/22 0:00
Andrzej Duda
0.35
0.57
2/26/22 0:00
Andrzej Duda
0.34
0.58
2/27/22 0:00
Andrzej Duda
0.35
0.58
2/28/22 0:00
Andrzej Duda
0.35
0.57
3/1/22 0:00
Andrzej Duda
0.37
0.55
3/2/22 0:00
Andrzej Duda
0.38
0.54
3/3/22 0:00
Andrzej Duda
0.39
0.54
3/4/22 0:00
Andrzej Duda
0.39
0.54
3/5/22 0:00
Andrzej Duda
0.39
0.53
3/6/22 0:00
Andrzej Duda
0.39
0.52
3/7/22 0:00
Andrzej Duda
0.39
0.53
3/8/22 0:00
Andrzej Duda
0.38
0.54
3/9/22 0:00
Andrzej Duda
0.39
0.53
3/10/22 0:00
Andrzej Duda
0.38
0.55
3/11/22 0:00
Andrzej Duda
0.38
0.55
3/12/22 0:00
Andrzej Duda
0.39
0.54
3/13/22 0:00
Andrzej Duda
0.38
0.55
3/14/22 0:00
Andrzej Duda
0.38
0.55
3/15/22 0:00
Andrzej Duda
0.37
0.55
3/16/22 0:00
Andrzej Duda
0.35
0.56
3/17/22 0:00
Andrzej Duda
0.36
0.55
3/18/22 0:00
Andrzej Duda
0.36
0.55
3/19/22 0:00
Andrzej Duda
0.36
0.55
3/20/22 0:00
Andrzej Duda
0.37
0.53
3/21/22 0:00
Andrzej Duda
0.38
0.53
3/22/22 0:00
Andrzej Duda
0.39
0.52
3/23/22 0:00
Andrzej Duda
0.40
0.52
3/24/22 0:00
Andrzej Duda
0.40
0.52
3/25/22 0:00
Andrzej Duda
0.40
0.52
3/26/22 0:00
Andrzej Duda
0.39
0.53
3/27/22 0:00
Andrzej Duda
0.39
0.54
3/28/22 0:00
Andrzej Duda
0.38
0.54
3/29/22 0:00
Andrzej Duda
0.38
0.54
3/30/22 0:00
Andrzej Duda
0.37
0.55
3/31/22 0:00
Andrzej Duda
0.37
0.54
4/1/22 0:00
Andrzej Duda
0.38
0.54
4/2/22 0:00
Andrzej Duda
0.40
0.53
4/3/22 0:00
Andrzej Duda
0.40
0.53
4/4/22 0:00
Andrzej Duda
0.40
0.52
4/5/22 0:00
Andrzej Duda
0.40
0.52
4/6/22 0:00
Andrzej Duda
0.41
0.52
4/7/22 0:00
Andrzej Duda
0.41
0.52
4/8/22 0:00
Andrzej Duda
0.40
0.52
4/9/22 0:00
Andrzej Duda
0.40
0.53
4/10/22 0:00
Andrzej Duda
0.40
0.53
4/11/22 0:00
Andrzej Duda
0.40
0.53
4/12/22 0:00
Andrzej Duda
0.40
0.53
4/13/22 0:00
Andrzej Duda
0.40
0.52
4/14/22 0:00
Andrzej Duda
0.41
0.52
4/15/22 0:00
Andrzej Duda
0.41
0.51
4/16/22 0:00
Andrzej Duda
0.41
0.51
4/17/22 0:00
Andrzej Duda
0.42
0.50
4/18/22 0:00
Andrzej Duda
0.43
0.49
4/19/22 0:00
Andrzej Duda
0.44
0.49
1/1/22 0:00
Petr Fiala
0.32
0.45
1/2/22 0:00
Petr Fiala
0.33
0.43
1/3/22 0:00
Petr Fiala
0.34
0.43
1/4/22 0:00
Petr Fiala
0.35
0.43
1/5/22 0:00
Petr Fiala
0.34
0.43
1/6/22 0:00
Petr Fiala
0.35
0.43
1/7/22 0:00
Petr Fiala
0.35
0.43
1/8/22 0:00
Petr Fiala
0.33
0.45
1/9/22 0:00
Petr Fiala
0.33
0.47
1/10/22 0:00
Petr Fiala
0.32
0.47
1/11/22 0:00
Petr Fiala
0.31
0.48
1/12/22 0:00
Petr Fiala
0.32
0.48
1/13/22 0:00
Petr Fiala
0.33
0.48
1/14/22 0:00
Petr Fiala
0.33
0.48
1/15/22 0:00
Petr Fiala
0.34
0.47
1/16/22 0:00
Petr Fiala
0.34
0.46
1/17/22 0:00
Petr Fiala
0.35
0.46
1/18/22 0:00
Petr Fiala
0.35
0.46
1/19/22 0:00
Petr Fiala
0.35
0.46
1/20/22 0:00
Petr Fiala
0.34
0.46
1/21/22 0:00
Petr Fiala
0.34
0.46
1/22/22 0:00
Petr Fiala
0.34
0.47
1/23/22 0:00
Petr Fiala
0.35
0.46
1/24/22 0:00
Petr Fiala
0.33
0.47
1/25/22 0:00
Petr Fiala
0.33
0.48
1/26/22 0:00
Petr Fiala
0.33
0.49
1/27/22 0:00
Petr Fiala
0.33
0.49
1/28/22 0:00
Petr Fiala
0.32
0.51
1/29/22 0:00
Petr Fiala
0.33
0.51
1/30/22 0:00
Petr Fiala
0.32
0.51
1/31/22 0:00
Petr Fiala
0.33
0.52
2/1/22 0:00
Petr Fiala
0.33
0.51
2/2/22 0:00
Petr Fiala
0.33
0.50
2/3/22 0:00
Petr Fiala
0.33
0.50
2/4/22 0:00
Petr Fiala
0.33
0.51
2/5/22 0:00
Petr Fiala
0.33
0.51
2/6/22 0:00
Petr Fiala
0.35
0.50
2/7/22 0:00
Petr Fiala
0.35
0.50
2/8/22 0:00
Petr Fiala
0.34
0.51
2/9/22 0:00
Petr Fiala
0.35
0.49
2/10/22 0:00
Petr Fiala
0.36
0.49
2/11/22 0:00
Petr Fiala
0.36
0.47
2/12/22 0:00
Petr Fiala
0.36
0.48
2/13/22 0:00
Petr Fiala
0.35
0.49
2/14/22 0:00
Petr Fiala
0.34
0.49
2/15/22 0:00
Petr Fiala
0.33
0.50
2/16/22 0:00
Petr Fiala
0.33
0.51
2/17/22 0:00
Petr Fiala
0.33
0.51
2/18/22 0:00
Petr Fiala
0.33
0.52
2/19/22 0:00
Petr Fiala
0.31
0.52
2/20/22 0:00
Petr Fiala
0.31
0.53
2/21/22 0:00
Petr Fiala
0.32
0.52
2/22/22 0:00
Petr Fiala
0.32
0.51
2/23/22 0:00
Petr Fiala
0.30
0.53
2/24/22 0:00
Petr Fiala
0.29
0.54
2/25/22 0:00
Petr Fiala
0.30
0.54
2/26/22 0:00
Petr Fiala
0.31
0.53
2/27/22 0:00
Petr Fiala
0.32
0.52
2/28/22 0:00
Petr Fiala
0.33
0.51
3/1/22 0:00
Petr Fiala
0.35
0.51
3/2/22 0:00
Petr Fiala
0.37
0.48
3/3/22 0:00
Petr Fiala
0.39
0.46
3/4/22 0:00
Petr Fiala
0.41
0.44
3/5/22 0:00
Petr Fiala
0.41
0.43
3/6/22 0:00
Petr Fiala
0.41
0.45
3/7/22 0:00
Petr Fiala
0.38
0.46
3/8/22 0:00
Petr Fiala
0.39
0.45
3/9/22 0:00
Petr Fiala
0.37
0.47
3/10/22 0:00
Petr Fiala
0.36
0.49
3/11/22 0:00
Petr Fiala
0.34
0.51
3/12/22 0:00
Petr Fiala
0.34
0.52
3/13/22 0:00
Petr Fiala
0.35
0.51
3/14/22 0:00
Petr Fiala
0.35
0.52
3/15/22 0:00
Petr Fiala
0.34
0.53
3/16/22 0:00
Petr Fiala
0.35
0.53
3/17/22 0:00
Petr Fiala
0.34
0.54
3/18/22 0:00
Petr Fiala
0.36
0.53
3/19/22 0:00
Petr Fiala
0.36
0.54
3/20/22 0:00
Petr Fiala
0.36
0.53
3/21/22 0:00
Petr Fiala
0.38
0.52
3/22/22 0:00
Petr Fiala
0.38
0.52
3/23/22 0:00
Petr Fiala
0.38
0.52
3/24/22 0:00
Petr Fiala
0.39
0.52
3/25/22 0:00
Petr Fiala
0.39
0.51
3/26/22 0:00
Petr Fiala
0.38
0.51
3/27/22 0:00
Petr Fiala
0.37
0.52
3/28/22 0:00
Petr Fiala
0.37
0.53
3/29/22 0:00
Petr Fiala
0.37
0.53
3/30/22 0:00
Petr Fiala
0.37
0.53
3/31/22 0:00
Petr Fiala
0.35
0.54
4/1/22 0:00
Petr Fiala
0.34
0.55
4/2/22 0:00
Petr Fiala
0.34
0.55
4/3/22 0:00
Petr Fiala
0.34
0.54
4/4/22 0:00
Petr Fiala
0.34
0.56
4/5/22 0:00
Petr Fiala
0.33
0.56
4/6/22 0:00
Petr Fiala
0.33
0.56
4/7/22 0:00
Petr Fiala
0.34
0.56
4/8/22 0:00
Petr Fiala
0.35
0.55
4/9/22 0:00
Petr Fiala
0.34
0.55
4/10/22 0:00
Petr Fiala
0.35
0.55
4/11/22 0:00
Petr Fiala
0.36
0.54
4/12/22 0:00
Petr Fiala
0.36
0.53
4/13/22 0:00
Petr Fiala
0.36
0.53
4/14/22 0:00
Petr Fiala
0.36
0.53
4/15/22 0:00
Petr Fiala
0.35
0.53
4/16/22 0:00
Petr Fiala
0.37
0.52
4/17/22 0:00
Petr Fiala
0.36
0.52
4/18/22 0:00
Petr Fiala
0.35
0.53
4/19/22 0:00
Petr Fiala
0.36
0.53
3/6/20 0:00
Boris Johnson
0.47
0.44
3/7/20 0:00
Boris Johnson
0.47
0.44
3/8/20 0:00
Boris Johnson
0.47
0.44
3/9/20 0:00
Boris Johnson
0.47
0.44
3/10/20 0:00
Boris Johnson
0.47
0.44
3/11/20 0:00
Boris Johnson
0.46
0.44
3/12/20 0:00
Boris Johnson
0.46
0.44
3/13/20 0:00
Boris Johnson
0.46
0.44
3/14/20 0:00
Boris Johnson
0.46
0.44
3/15/20 0:00
Boris Johnson
0.46
0.44
3/16/20 0:00
Boris Johnson
0.46
0.45
3/17/20 0:00
Boris Johnson
0.46
0.45
3/18/20 0:00
Boris Johnson
0.46
0.45
3/19/20 0:00
Boris Johnson
0.47
0.44
3/20/20 0:00
Boris Johnson
0.48
0.44
3/21/20 0:00
Boris Johnson
0.50
0.43
3/22/20 0:00
Boris Johnson
0.51
0.41
3/23/20 0:00
Boris Johnson
0.53
0.39
3/24/20 0:00
Boris Johnson
0.56
0.37
3/25/20 0:00
Boris Johnson
0.58
0.34
3/26/20 0:00
Boris Johnson
0.59
0.33
3/27/20 0:00
Boris Johnson
0.62
0.31
3/28/20 0:00
Boris Johnson
0.63
0.30
3/29/20 0:00
Boris Johnson
0.63
0.30
3/30/20 0:00
Boris Johnson
0.63
0.30
3/31/20 0:00
Boris Johnson
0.62
0.31
4/1/20 0:00
Boris Johnson
0.62
0.31
4/2/20 0:00
Boris Johnson
0.61
0.32
4/3/20 0:00
Boris Johnson
0.61
0.32
4/4/20 0:00
Boris Johnson
0.61
0.32
4/5/20 0:00
Boris Johnson
0.61
0.33
4/6/20 0:00
Boris Johnson
0.60
0.33
4/7/20 0:00
Boris Johnson
0.61
0.32
4/8/20 0:00
Boris Johnson
0.62
0.31
4/9/20 0:00
Boris Johnson
0.64
0.29
4/10/20 0:00
Boris Johnson
0.64
0.29
4/11/20 0:00
Boris Johnson
0.65
0.28
4/12/20 0:00
Boris Johnson
0.66
0.28
4/13/20 0:00
Boris Johnson
0.66
0.27
4/14/20 0:00
Boris Johnson
0.66
0.27
4/15/20 0:00
Boris Johnson
0.65
0.28
4/16/20 0:00
Boris Johnson
0.65
0.28
4/17/20 0:00
Boris Johnson
0.65
0.28
4/18/20 0:00
Boris Johnson
0.65
0.28
4/19/20 0:00
Boris Johnson
0.65
0.28
4/20/20 0:00
Boris Johnson
0.65
0.28
4/21/20 0:00
Boris Johnson
0.64
0.29
4/22/20 0:00
Boris Johnson
0.64
0.29
4/23/20 0:00
Boris Johnson
0.63
0.30
4/24/20 0:00
Boris Johnson
0.61
0.32
4/25/20 0:00
Boris Johnson
0.61
0.32
4/26/20 0:00
Boris Johnson
0.60
0.32
4/27/20 0:00
Boris Johnson
0.60
0.33
4/28/20 0:00
Boris Johnson
0.60
0.32
4/29/20 0:00
Boris Johnson
0.60
0.32
4/30/20 0:00
Boris Johnson
0.61
0.32
5/1/20 0:00
Boris Johnson
0.61
0.31
5/2/20 0:00
Boris Johnson
0.61
0.32
5/3/20 0:00
Boris Johnson
0.61
0.32
5/4/20 0:00
Boris Johnson
0.62
0.31
5/5/20 0:00
Boris Johnson
0.61
0.32
5/6/20 0:00
Boris Johnson
0.62
0.32
5/7/20 0:00
Boris Johnson
0.60
0.33
5/8/20 0:00
Boris Johnson
0.60
0.34
5/9/20 0:00
Boris Johnson
0.60
0.35
5/10/20 0:00
Boris Johnson
0.59
0.35
5/11/20 0:00
Boris Johnson
0.58
0.37
5/12/20 0:00
Boris Johnson
0.57
0.37
5/13/20 0:00
Boris Johnson
0.56
0.39
5/14/20 0:00
Boris Johnson
0.56
0.38
5/15/20 0:00
Boris Johnson
0.56
0.38
5/16/20 0:00
Boris Johnson
0.56
0.38
5/17/20 0:00
Boris Johnson
0.55
0.39
5/18/20 0:00
Boris Johnson
0.55
0.39
5/19/20 0:00
Boris Johnson
0.55
0.39
5/20/20 0:00
Boris Johnson
0.55
0.39
5/21/20 0:00
Boris Johnson
0.54
0.40
5/22/20 0:00
Boris Johnson
0.53
0.41
5/23/20 0:00
Boris Johnson
0.53
0.40
5/24/20 0:00
Boris Johnson
0.53
0.41
5/25/20 0:00
Boris Johnson
0.53
0.41
5/26/20 0:00
Boris Johnson
0.52
0.42
5/27/20 0:00
Boris Johnson
0.51
0.42
5/28/20 0:00
Boris Johnson
0.50
0.43
5/29/20 0:00
Boris Johnson
0.50
0.43
5/30/20 0:00
Boris Johnson
0.49
0.44
5/31/20 0:00
Boris Johnson
0.48
0.45
6/1/20 0:00
Boris Johnson
0.47
0.46
6/2/20 0:00
Boris Johnson
0.47
0.47
6/3/20 0:00
Boris Johnson
0.46
0.47
6/4/20 0:00
Boris Johnson
0.47
0.47
6/5/20 0:00
Boris Johnson
0.46
0.47
6/6/20 0:00
Boris Johnson
0.44
0.49
6/7/20 0:00
Boris Johnson
0.44
0.49
6/8/20 0:00
Boris Johnson
0.45
0.49
6/9/20 0:00
Boris Johnson
0.44
0.50
6/10/20 0:00
Boris Johnson
0.43
0.50
6/11/20 0:00
Boris Johnson
0.44
0.50
6/12/20 0:00
Boris Johnson
0.44
0.51
6/13/20 0:00
Boris Johnson
0.44
0.50
6/14/20 0:00
Boris Johnson
0.44
0.50
6/15/20 0:00
Boris Johnson
0.45
0.49
6/16/20 0:00
Boris Johnson
0.45
0.48
6/17/20 0:00
Boris Johnson
0.46
0.48
6/18/20 0:00
Boris Johnson
0.46
0.47
6/19/20 0:00
Boris Johnson
0.46
0.47
6/20/20 0:00
Boris Johnson
0.46
0.47
6/21/20 0:00
Boris Johnson
0.46
0.47
6/22/20 0:00
Boris Johnson
0.45
0.48
6/23/20 0:00
Boris Johnson
0.45
0.48
6/24/20 0:00
Boris Johnson
0.46
0.47
6/25/20 0:00
Boris Johnson
0.46
0.48
6/26/20 0:00
Boris Johnson
0.46
0.48
6/27/20 0:00
Boris Johnson
0.46
0.48
6/28/20 0:00
Boris Johnson
0.46
0.48
6/29/20 0:00
Boris Johnson
0.47
0.47
6/30/20 0:00
Boris Johnson
0.46
0.48
7/1/20 0:00
Boris Johnson
0.45
0.49
7/2/20 0:00
Boris Johnson
0.46
0.48
7/3/20 0:00
Boris Johnson
0.46
0.49
7/4/20 0:00
Boris Johnson
0.46
0.48
7/5/20 0:00
Boris Johnson
0.46
0.49
7/6/20 0:00
Boris Johnson
0.45
0.49
7/7/20 0:00
Boris Johnson
0.45
0.49
7/8/20 0:00
Boris Johnson
0.46
0.49
7/9/20 0:00
Boris Johnson
0.45
0.49
7/10/20 0:00
Boris Johnson
0.45
0.49
7/11/20 0:00
Boris Johnson
0.45
0.50
7/12/20 0:00
Boris Johnson
0.44
0.50
7/13/20 0:00
Boris Johnson
0.44
0.50
7/14/20 0:00
Boris Johnson
0.45
0.49
7/15/20 0:00
Boris Johnson
0.44
0.49
7/16/20 0:00
Boris Johnson
0.43
0.50
7/17/20 0:00
Boris Johnson
0.44
0.49
7/18/20 0:00
Boris Johnson
0.44
0.48
7/19/20 0:00
Boris Johnson
0.45
0.48
7/20/20 0:00
Boris Johnson
0.45
0.48
7/21/20 0:00
Boris Johnson
0.45
0.49
7/22/20 0:00
Boris Johnson
0.44
0.50
7/23/20 0:00
Boris Johnson
0.44
0.50
7/24/20 0:00
Boris Johnson
0.44
0.50
7/25/20 0:00
Boris Johnson
0.43
0.51
7/26/20 0:00
Boris Johnson
0.43
0.52
7/27/20 0:00
Boris Johnson
0.43
0.51
7/28/20 0:00
Boris Johnson
0.44
0.51
7/29/20 0:00
Boris Johnson
0.44
0.51
7/30/20 0:00
Boris Johnson
0.44
0.50
7/31/20 0:00
Boris Johnson
0.43
0.51
8/1/20 0:00
Boris Johnson
0.42
0.52
8/2/20 0:00
Boris Johnson
0.42
0.52
8/3/20 0:00
Boris Johnson
0.42
0.52
8/4/20 0:00
Boris Johnson
0.41
0.53
8/5/20 0:00
Boris Johnson
0.41
0.53
8/6/20 0:00
Boris Johnson
0.41
0.53
8/7/20 0:00
Boris Johnson
0.41
0.53
8/8/20 0:00
Boris Johnson
0.41
0.53
8/9/20 0:00
Boris Johnson
0.41
0.52
8/10/20 0:00
Boris Johnson
0.41
0.53
8/11/20 0:00
Boris Johnson
0.42
0.52
8/12/20 0:00
Boris Johnson
0.42
0.52
8/13/20 0:00
Boris Johnson
0.42
0.52
8/14/20 0:00
Boris Johnson
0.42
0.52
8/15/20 0:00
Boris Johnson
0.42
0.52
8/16/20 0:00
Boris Johnson
0.43
0.52
8/17/20 0:00
Boris Johnson
0.42
0.52
8/18/20 0:00
Boris Johnson
0.41
0.53
8/19/20 0:00
Boris Johnson
0.42
0.53
8/20/20 0:00
Boris Johnson
0.40
0.55
8/21/20 0:00
Boris Johnson
0.40
0.55
8/22/20 0:00
Boris Johnson
0.40
0.55
8/23/20 0:00
Boris Johnson
0.38
0.56
8/24/20 0:00
Boris Johnson
0.38
0.56
8/25/20 0:00
Boris Johnson
0.38
0.55
8/26/20 0:00
Boris Johnson
0.38
0.55
8/27/20 0:00
Boris Johnson
0.38
0.55
8/28/20 0:00
Boris Johnson
0.38
0.54
8/29/20 0:00
Boris Johnson
0.39
0.54
8/30/20 0:00
Boris Johnson
0.40
0.52
8/31/20 0:00
Boris Johnson
0.41
0.52
9/1/20 0:00
Boris Johnson
0.41
0.52
9/2/20 0:00
Boris Johnson
0.41
0.52
9/3/20 0:00
Boris Johnson
0.41
0.52
9/4/20 0:00
Boris Johnson
0.41
0.52
9/5/20 0:00
Boris Johnson
0.41
0.53
9/6/20 0:00
Boris Johnson
0.40
0.53
9/7/20 0:00
Boris Johnson
0.40
0.54
9/8/20 0:00
Boris Johnson
0.40
0.55
9/9/20 0:00
Boris Johnson
0.40
0.55
9/10/20 0:00
Boris Johnson
0.40
0.55
9/11/20 0:00
Boris Johnson
0.40
0.55
9/12/20 0:00
Boris Johnson
0.39
0.55
9/13/20 0:00
Boris Johnson
0.39
0.56
9/14/20 0:00
Boris Johnson
0.38
0.56
9/15/20 0:00
Boris Johnson
0.38
0.56
9/16/20 0:00
Boris Johnson
0.38
0.57
9/17/20 0:00
Boris Johnson
0.37
0.57
9/18/20 0:00
Boris Johnson
0.37
0.58
9/19/20 0:00
Boris Johnson
0.36
0.59
9/20/20 0:00
Boris Johnson
0.36
0.59
9/21/20 0:00
Boris Johnson
0.35
0.59
9/22/20 0:00
Boris Johnson
0.35
0.59
9/23/20 0:00
Boris Johnson
0.36
0.59
9/24/20 0:00
Boris Johnson
0.36
0.59
9/25/20 0:00
Boris Johnson
0.37
0.58
9/26/20 0:00
Boris Johnson
0.37
0.57
9/27/20 0:00
Boris Johnson
0.38
0.57
9/28/20 0:00
Boris Johnson
0.38
0.56
9/29/20 0:00
Boris Johnson
0.38
0.57
9/30/20 0:00
Boris Johnson
0.38
0.56
10/1/20 0:00
Boris Johnson
0.37
0.57
10/2/20 0:00
Boris Johnson
0.37
0.57
10/3/20 0:00
Boris Johnson
0.37
0.57
10/4/20 0:00
Boris Johnson
0.37
0.57
10/5/20 0:00
Boris Johnson
0.37
0.57
10/6/20 0:00
Boris Johnson
0.37
0.58
10/7/20 0:00
Boris Johnson
0.37
0.58
10/8/20 0:00
Boris Johnson
0.37
0.57
10/9/20 0:00
Boris Johnson
0.38
0.57
10/10/20 0:00
Boris Johnson
0.37
0.58
10/11/20 0:00
Boris Johnson
0.37
0.58
10/12/20 0:00
Boris Johnson
0.37
0.58
10/13/20 0:00
Boris Johnson
0.38
0.56
10/14/20 0:00
Boris Johnson
0.38
0.57
10/15/20 0:00
Boris Johnson
0.37
0.58
10/16/20 0:00
Boris Johnson
0.36
0.58
10/17/20 0:00
Boris Johnson
0.36
0.58
10/18/20 0:00
Boris Johnson
0.37
0.57
10/19/20 0:00
Boris Johnson
0.37
0.57
10/20/20 0:00
Boris Johnson
0.36
0.58
10/21/20 0:00
Boris Johnson
0.36
0.58
10/22/20 0:00
Boris Johnson
0.37
0.57
10/23/20 0:00
Boris Johnson
0.38
0.56
10/24/20 0:00
Boris Johnson
0.38
0.56
10/25/20 0:00
Boris Johnson
0.38
0.56
10/26/20 0:00
Boris Johnson
0.38
0.56
10/27/20 0:00
Boris Johnson
0.38
0.56
10/28/20 0:00
Boris Johnson
0.38
0.56
10/29/20 0:00
Boris Johnson
0.38
0.57
10/30/20 0:00
Boris Johnson
0.37
0.57
10/31/20 0:00
Boris Johnson
0.37
0.57
11/1/20 0:00
Boris Johnson
0.38
0.56
11/2/20 0:00
Boris Johnson
0.37
0.57
11/3/20 0:00
Boris Johnson
0.37
0.57
11/4/20 0:00
Boris Johnson
0.37
0.57
11/5/20 0:00
Boris Johnson
0.38
0.56
11/6/20 0:00
Boris Johnson
0.39
0.56
11/7/20 0:00
Boris Johnson
0.38
0.56
11/8/20 0:00
Boris Johnson
0.38
0.56
11/9/20 0:00
Boris Johnson
0.39
0.55
11/10/20 0:00
Boris Johnson
0.40
0.54
11/11/20 0:00
Boris Johnson
0.40
0.54
11/12/20 0:00
Boris Johnson
0.39
0.55
11/13/20 0:00
Boris Johnson
0.39
0.55
11/14/20 0:00
Boris Johnson
0.40
0.55
11/15/20 0:00
Boris Johnson
0.39
0.55
11/16/20 0:00
Boris Johnson
0.39
0.55
11/17/20 0:00
Boris Johnson
0.38
0.56
11/18/20 0:00
Boris Johnson
0.37
0.57
11/19/20 0:00
Boris Johnson
0.38
0.56
11/20/20 0:00
Boris Johnson
0.38
0.57
11/21/20 0:00
Boris Johnson
0.37
0.58
11/22/20 0:00
Boris Johnson
0.38
0.56
11/23/20 0:00
Boris Johnson
0.37
0.57
11/24/20 0:00
Boris Johnson
0.37
0.57
11/25/20 0:00
Boris Johnson
0.38
0.56
11/26/20 0:00
Boris Johnson
0.38
0.56
11/27/20 0:00
Boris Johnson
0.39
0.56
11/28/20 0:00
Boris Johnson
0.38
0.55
11/29/20 0:00
Boris Johnson
0.37
0.56
11/30/20 0:00
Boris Johnson
0.37
0.57
12/1/20 0:00
Boris Johnson
0.38
0.56
12/2/20 0:00
Boris Johnson
0.37
0.57
12/3/20 0:00
Boris Johnson
0.37
0.57
12/4/20 0:00
Boris Johnson
0.38
0.56
12/5/20 0:00
Boris Johnson
0.39
0.55
12/6/20 0:00
Boris Johnson
0.39
0.55
12/7/20 0:00
Boris Johnson
0.40
0.53
12/8/20 0:00
Boris Johnson
0.40
0.53
12/9/20 0:00
Boris Johnson
0.40
0.53
12/10/20 0:00
Boris Johnson
0.40
0.53
12/11/20 0:00
Boris Johnson
0.39
0.53
12/12/20 0:00
Boris Johnson
0.39
0.54
12/13/20 0:00
Boris Johnson
0.40
0.53
12/14/20 0:00
Boris Johnson
0.39
0.54
12/15/20 0:00
Boris Johnson
0.39
0.54
12/16/20 0:00
Boris Johnson
0.39
0.54
12/17/20 0:00
Boris Johnson
0.39
0.54
12/18/20 0:00
Boris Johnson
0.39
0.54
12/19/20 0:00
Boris Johnson
0.39
0.54
12/20/20 0:00
Boris Johnson
0.38
0.55
12/21/20 0:00
Boris Johnson
0.38
0.55
12/22/20 0:00
Boris Johnson
0.38
0.56
12/23/20 0:00
Boris Johnson
0.38
0.56
12/24/20 0:00
Boris Johnson
0.37
0.57
12/25/20 0:00
Boris Johnson
0.36
0.58
12/26/20 0:00
Boris Johnson
0.37
0.58
12/27/20 0:00
Boris Johnson
0.37
0.57
12/28/20 0:00
Boris Johnson
0.37
0.56
12/29/20 0:00
Boris Johnson
0.37
0.56
12/30/20 0:00
Boris Johnson
0.36
0.57
12/31/20 0:00
Boris Johnson
0.37
0.56
1/1/21 0:00
Boris Johnson
0.38
0.55
1/2/21 0:00
Boris Johnson
0.38
0.55
1/3/21 0:00
Boris Johnson
0.38
0.55
1/4/21 0:00
Boris Johnson
0.38
0.56
1/5/21 0:00
Boris Johnson
0.38
0.56
1/6/21 0:00
Boris Johnson
0.39
0.55
1/7/21 0:00
Boris Johnson
0.39
0.56
1/8/21 0:00
Boris Johnson
0.39
0.56
1/9/21 0:00
Boris Johnson
0.39
0.56
1/10/21 0:00
Boris Johnson
0.39
0.55
1/11/21 0:00
Boris Johnson
0.40
0.55
1/12/21 0:00
Boris Johnson
0.40
0.54
1/13/21 0:00
Boris Johnson
0.40
0.55
1/14/21 0:00
Boris Johnson
0.41
0.54
1/15/21 0:00
Boris Johnson
0.41
0.54
1/16/21 0:00
Boris Johnson
0.41
0.54
1/17/21 0:00
Boris Johnson
0.41
0.54
1/18/21 0:00
Boris Johnson
0.41
0.53
1/19/21 0:00
Boris Johnson
0.40
0.54
1/20/21 0:00
Boris Johnson
0.41
0.53
1/21/21 0:00
Boris Johnson
0.40
0.53
1/22/21 0:00
Boris Johnson
0.41
0.53
1/23/21 0:00
Boris Johnson
0.41
0.53
1/24/21 0:00
Boris Johnson
0.40
0.54
1/25/21 0:00
Boris Johnson
0.40
0.54
1/26/21 0:00
Boris Johnson
0.40
0.54
1/27/21 0:00
Boris Johnson
0.40
0.55
1/28/21 0:00
Boris Johnson
0.39
0.56
1/29/21 0:00
Boris Johnson
0.39
0.56
1/30/21 0:00
Boris Johnson
0.39
0.56
1/31/21 0:00
Boris Johnson
0.40
0.55
2/1/21 0:00
Boris Johnson
0.39
0.55
2/2/21 0:00
Boris Johnson
0.41
0.54
2/3/21 0:00
Boris Johnson
0.41
0.53
2/4/21 0:00
Boris Johnson
0.42
0.52
2/5/21 0:00
Boris Johnson
0.42
0.52
2/6/21 0:00
Boris Johnson
0.43
0.51
2/7/21 0:00
Boris Johnson
0.43
0.51
2/8/21 0:00
Boris Johnson
0.43
0.51
2/9/21 0:00
Boris Johnson
0.43
0.51
2/10/21 0:00
Boris Johnson
0.42
0.52
2/11/21 0:00
Boris Johnson
0.42
0.52
2/12/21 0:00
Boris Johnson
0.42
0.52
2/13/21 0:00
Boris Johnson
0.41
0.52
2/14/21 0:00
Boris Johnson
0.41
0.53
2/15/21 0:00
Boris Johnson
0.42
0.52
2/16/21 0:00
Boris Johnson
0.42
0.52
2/17/21 0:00
Boris Johnson
0.43
0.51
2/18/21 0:00
Boris Johnson
0.43
0.51
2/19/21 0:00
Boris Johnson
0.44
0.51
2/20/21 0:00
Boris Johnson
0.44
0.50
2/21/21 0:00
Boris Johnson
0.44
0.50
2/22/21 0:00
Boris Johnson
0.44
0.50
2/23/21 0:00
Boris Johnson
0.45
0.49
2/24/21 0:00
Boris Johnson
0.45
0.49
2/25/21 0:00
Boris Johnson
0.45
0.49
2/26/21 0:00
Boris Johnson
0.45
0.49
2/27/21 0:00
Boris Johnson
0.46
0.48
2/28/21 0:00
Boris Johnson
0.46
0.48
3/1/21 0:00
Boris Johnson
0.46
0.48
3/2/21 0:00
Boris Johnson
0.45
0.49
3/3/21 0:00
Boris Johnson
0.45
0.48
3/4/21 0:00
Boris Johnson
0.45
0.48
3/5/21 0:00
Boris Johnson
0.45
0.49
3/6/21 0:00
Boris Johnson
0.45
0.50
3/7/21 0:00
Boris Johnson
0.44
0.50
3/8/21 0:00
Boris Johnson
0.44
0.50
3/9/21 0:00
Boris Johnson
0.44
0.50
3/10/21 0:00
Boris Johnson
0.45
0.50
3/11/21 0:00
Boris Johnson
0.45
0.50
3/12/21 0:00
Boris Johnson
0.44
0.50
3/13/21 0:00
Boris Johnson
0.44
0.49
3/14/21 0:00
Boris Johnson
0.44
0.50
3/15/21 0:00
Boris Johnson
0.45
0.49
3/16/21 0:00
Boris Johnson
0.45
0.49
3/17/21 0:00
Boris Johnson
0.45
0.50
3/18/21 0:00
Boris Johnson
0.45
0.49
3/19/21 0:00
Boris Johnson
0.45
0.49
3/20/21 0:00
Boris Johnson
0.46
0.49
3/21/21 0:00
Boris Johnson
0.46
0.49
3/22/21 0:00
Boris Johnson
0.46
0.48
3/23/21 0:00
Boris Johnson
0.46
0.48
3/24/21 0:00
Boris Johnson
0.46
0.48
3/25/21 0:00
Boris Johnson
0.45
0.48
3/26/21 0:00
Boris Johnson
0.46
0.48
3/27/21 0:00
Boris Johnson
0.46
0.48
3/28/21 0:00
Boris Johnson
0.46
0.47
3/29/21 0:00
Boris Johnson
0.46
0.47
3/30/21 0:00
Boris Johnson
0.46
0.47
3/31/21 0:00
Boris Johnson
0.47
0.47
4/1/21 0:00
Boris Johnson
0.47
0.47
4/2/21 0:00
Boris Johnson
0.48
0.46
4/3/21 0:00
Boris Johnson
0.47
0.46
4/4/21 0:00
Boris Johnson
0.46
0.47
4/5/21 0:00
Boris Johnson
0.47
0.47
4/6/21 0:00
Boris Johnson
0.47
0.46
4/7/21 0:00
Boris Johnson
0.47
0.46
4/8/21 0:00
Boris Johnson
0.47
0.46
4/9/21 0:00
Boris Johnson
0.47
0.46
4/10/21 0:00
Boris Johnson
0.47
0.46
4/11/21 0:00
Boris Johnson
0.48
0.46
4/12/21 0:00
Boris Johnson
0.47
0.46
4/13/21 0:00
Boris Johnson
0.47
0.46
4/14/21 0:00
Boris Johnson
0.47
0.46
4/15/21 0:00
Boris Johnson
0.47
0.46
4/16/21 0:00
Boris Johnson
0.47
0.45
4/17/21 0:00
Boris Johnson
0.47
0.46
4/18/21 0:00
Boris Johnson
0.47
0.46
4/19/21 0:00
Boris Johnson
0.47
0.46
4/20/21 0:00
Boris Johnson
0.47
0.46
4/21/21 0:00
Boris Johnson
0.47
0.46
4/22/21 0:00
Boris Johnson
0.47
0.46
4/23/21 0:00
Boris Johnson
0.46
0.47
4/24/21 0:00
Boris Johnson
0.46
0.47
4/25/21 0:00
Boris Johnson
0.47
0.46
4/26/21 0:00
Boris Johnson
0.48
0.46
4/27/21 0:00
Boris Johnson
0.48
0.46
4/28/21 0:00
Boris Johnson
0.47
0.47
4/29/21 0:00
Boris Johnson
0.46
0.47
4/30/21 0:00
Boris Johnson
0.47
0.46
5/1/21 0:00
Boris Johnson
0.48
0.46
5/2/21 0:00
Boris Johnson
0.47
0.46
5/3/21 0:00
Boris Johnson
0.47
0.46
5/4/21 0:00
Boris Johnson
0.47
0.46
5/5/21 0:00
Boris Johnson
0.48
0.46
5/6/21 0:00
Boris Johnson
0.47
0.46
5/7/21 0:00
Boris Johnson
0.47
0.46
5/8/21 0:00
Boris Johnson
0.47
0.47
5/9/21 0:00
Boris Johnson
0.47
0.46
5/10/21 0:00
Boris Johnson
0.47
0.47
5/11/21 0:00
Boris Johnson
0.47
0.46
5/12/21 0:00
Boris Johnson
0.47
0.45
5/13/21 0:00
Boris Johnson
0.48
0.45
5/14/21 0:00
Boris Johnson
0.48
0.46
5/15/21 0:00
Boris Johnson
0.49
0.45
5/16/21 0:00
Boris Johnson
0.49
0.45
5/17/21 0:00
Boris Johnson
0.49
0.45
5/18/21 0:00
Boris Johnson
0.49
0.45
5/19/21 0:00
Boris Johnson
0.49
0.46
5/20/21 0:00
Boris Johnson
0.49
0.45
5/21/21 0:00
Boris Johnson
0.49
0.45
5/22/21 0:00
Boris Johnson
0.48
0.45
5/23/21 0:00
Boris Johnson
0.49
0.45
5/24/21 0:00
Boris Johnson
0.50
0.44
5/25/21 0:00
Boris Johnson
0.50
0.43
5/26/21 0:00
Boris Johnson
0.49
0.44
5/27/21 0:00
Boris Johnson
0.49
0.45
5/28/21 0:00
Boris Johnson
0.48
0.45
5/29/21 0:00
Boris Johnson
0.47
0.46
5/30/21 0:00
Boris Johnson
0.47
0.48
5/31/21 0:00
Boris Johnson
0.46
0.48
6/1/21 0:00
Boris Johnson
0.45
0.49
6/2/21 0:00
Boris Johnson
0.46
0.48
6/3/21 0:00
Boris Johnson
0.46
0.48
6/4/21 0:00
Boris Johnson
0.46
0.48
6/5/21 0:00
Boris Johnson
0.46
0.47
6/6/21 0:00
Boris Johnson
0.46
0.46
6/7/21 0:00
Boris Johnson
0.46
0.47
6/8/21 0:00
Boris Johnson
0.47
0.46
6/9/21 0:00
Boris Johnson
0.46
0.47
6/10/21 0:00
Boris Johnson
0.45
0.47
6/11/21 0:00
Boris Johnson
0.45
0.47
6/12/21 0:00
Boris Johnson
0.46
0.47
6/13/21 0:00
Boris Johnson
0.45
0.48
6/14/21 0:00
Boris Johnson
0.44
0.48
6/15/21 0:00
Boris Johnson
0.44
0.49
6/16/21 0:00
Boris Johnson
0.45
0.49
6/17/21 0:00
Boris Johnson
0.45
0.49
6/18/21 0:00
Boris Johnson
0.45
0.49
6/19/21 0:00
Boris Johnson
0.44
0.49
6/20/21 0:00
Boris Johnson
0.45
0.49
6/21/21 0:00
Boris Johnson
0.44
0.50
6/22/21 0:00
Boris Johnson
0.44
0.49
6/23/21 0:00
Boris Johnson
0.44
0.49
6/24/21 0:00
Boris Johnson
0.45
0.49
6/25/21 0:00
Boris Johnson
0.45
0.50
6/26/21 0:00
Boris Johnson
0.44
0.50
6/27/21 0:00
Boris Johnson
0.45
0.49
6/28/21 0:00
Boris Johnson
0.46
0.48
6/29/21 0:00
Boris Johnson
0.44
0.49
6/30/21 0:00
Boris Johnson
0.44
0.50
7/1/21 0:00
Boris Johnson
0.43
0.50
7/2/21 0:00
Boris Johnson
0.43
0.50
7/3/21 0:00
Boris Johnson
0.43
0.50
7/4/21 0:00
Boris Johnson
0.43
0.50
7/5/21 0:00
Boris Johnson
0.42
0.50
7/6/21 0:00
Boris Johnson
0.43
0.50
7/7/21 0:00
Boris Johnson
0.43
0.50
7/8/21 0:00
Boris Johnson
0.43
0.50
7/9/21 0:00
Boris Johnson
0.43
0.50
7/10/21 0:00
Boris Johnson
0.44
0.49
7/11/21 0:00
Boris Johnson
0.44
0.50
7/12/21 0:00
Boris Johnson
0.44
0.50
7/13/21 0:00
Boris Johnson
0.44
0.50
7/14/21 0:00
Boris Johnson
0.44
0.49
7/15/21 0:00
Boris Johnson
0.44
0.50
7/16/21 0:00
Boris Johnson
0.42
0.51
7/17/21 0:00
Boris Johnson
0.41
0.51
7/18/21 0:00
Boris Johnson
0.42
0.51
7/19/21 0:00
Boris Johnson
0.41
0.52
7/20/21 0:00
Boris Johnson
0.42
0.52
7/21/21 0:00
Boris Johnson
0.42
0.52
7/22/21 0:00
Boris Johnson
0.42
0.52
7/23/21 0:00
Boris Johnson
0.42
0.52
7/24/21 0:00
Boris Johnson
0.42
0.52
7/25/21 0:00
Boris Johnson
0.41
0.53
7/26/21 0:00
Boris Johnson
0.41
0.53
7/27/21 0:00
Boris Johnson
0.41
0.53
7/28/21 0:00
Boris Johnson
0.42
0.53
7/29/21 0:00
Boris Johnson
0.41
0.53
7/30/21 0:00
Boris Johnson
0.41
0.53
7/31/21 0:00
Boris Johnson
0.41
0.53
8/1/21 0:00
Boris Johnson
0.42
0.51
8/2/21 0:00
Boris Johnson
0.41
0.51
8/3/21 0:00
Boris Johnson
0.41
0.51
8/4/21 0:00
Boris Johnson
0.41
0.52
8/5/21 0:00
Boris Johnson
0.41
0.52
8/6/21 0:00
Boris Johnson
0.41
0.52
8/7/21 0:00
Boris Johnson
0.42
0.51
8/8/21 0:00
Boris Johnson
0.41
0.52
8/9/21 0:00
Boris Johnson
0.42
0.51
8/10/21 0:00
Boris Johnson
0.42
0.51
8/11/21 0:00
Boris Johnson
0.43
0.50
8/12/21 0:00
Boris Johnson
0.42
0.51
8/13/21 0:00
Boris Johnson
0.43
0.51
8/14/21 0:00
Boris Johnson
0.42
0.51
8/15/21 0:00
Boris Johnson
0.42
0.51
8/16/21 0:00
Boris Johnson
0.42
0.52
8/17/21 0:00
Boris Johnson
0.42
0.51
8/18/21 0:00
Boris Johnson
0.41
0.52
8/19/21 0:00
Boris Johnson
0.42
0.51
8/20/21 0:00
Boris Johnson
0.42
0.51
8/21/21 0:00
Boris Johnson
0.41
0.52
8/22/21 0:00
Boris Johnson
0.42
0.52
8/23/21 0:00
Boris Johnson
0.42
0.52
8/24/21 0:00
Boris Johnson
0.42
0.51
8/25/21 0:00
Boris Johnson
0.42
0.51
8/26/21 0:00
Boris Johnson
0.42
0.51
8/27/21 0:00
Boris Johnson
0.41
0.51
8/28/21 0:00
Boris Johnson
0.41
0.51
8/29/21 0:00
Boris Johnson
0.41
0.51
8/30/21 0:00
Boris Johnson
0.41
0.51
8/31/21 0:00
Boris Johnson
0.41
0.52
9/1/21 0:00
Boris Johnson
0.42
0.51
9/2/21 0:00
Boris Johnson
0.41
0.52
9/3/21 0:00
Boris Johnson
0.42
0.51
9/4/21 0:00
Boris Johnson
0.42
0.51
9/5/21 0:00
Boris Johnson
0.42
0.51
9/6/21 0:00
Boris Johnson
0.42
0.51
9/7/21 0:00
Boris Johnson
0.42
0.51
9/8/21 0:00
Boris Johnson
0.41
0.52
9/9/21 0:00
Boris Johnson
0.41
0.52
9/10/21 0:00
Boris Johnson
0.41
0.52
9/11/21 0:00
Boris Johnson
0.40
0.53
9/12/21 0:00
Boris Johnson
0.40
0.53
9/13/21 0:00
Boris Johnson
0.40
0.52
9/14/21 0:00
Boris Johnson
0.41
0.53
9/15/21 0:00
Boris Johnson
0.40
0.53
9/16/21 0:00
Boris Johnson
0.40
0.53
9/17/21 0:00
Boris Johnson
0.40
0.53
9/18/21 0:00
Boris Johnson
0.40
0.54
9/19/21 0:00
Boris Johnson
0.40
0.53
9/20/21 0:00
Boris Johnson
0.40
0.54
9/21/21 0:00
Boris Johnson
0.40
0.54
9/22/21 0:00
Boris Johnson
0.41
0.53
9/23/21 0:00
Boris Johnson
0.41
0.52
9/24/21 0:00
Boris Johnson
0.41
0.52
9/25/21 0:00
Boris Johnson
0.41
0.52
9/26/21 0:00
Boris Johnson
0.40
0.53
9/27/21 0:00
Boris Johnson
0.40
0.53
9/28/21 0:00
Boris Johnson
0.41
0.53
9/29/21 0:00
Boris Johnson
0.40
0.53
9/30/21 0:00
Boris Johnson
0.40
0.54
10/1/21 0:00
Boris Johnson
0.40
0.54
10/2/21 0:00
Boris Johnson
0.40
0.54
10/3/21 0:00
Boris Johnson
0.40
0.54
10/4/21 0:00
Boris Johnson
0.40
0.54
10/5/21 0:00
Boris Johnson
0.39
0.54
10/6/21 0:00
Boris Johnson
0.39
0.54
10/7/21 0:00
Boris Johnson
0.38
0.55
10/8/21 0:00
Boris Johnson
0.37
0.55
10/9/21 0:00
Boris Johnson
0.38
0.55
10/10/21 0:00
Boris Johnson
0.38
0.54
10/11/21 0:00
Boris Johnson
0.38
0.54
10/12/21 0:00
Boris Johnson
0.38
0.54
10/13/21 0:00
Boris Johnson
0.38
0.55
10/14/21 0:00
Boris Johnson
0.38
0.54
10/15/21 0:00
Boris Johnson
0.39
0.54
10/16/21 0:00
Boris Johnson
0.38
0.55
10/17/21 0:00
Boris Johnson
0.38
0.55
10/18/21 0:00
Boris Johnson
0.38
0.55
10/19/21 0:00
Boris Johnson
0.38
0.55
10/20/21 0:00
Boris Johnson
0.39
0.54
10/21/21 0:00
Boris Johnson
0.39
0.54
10/22/21 0:00
Boris Johnson
0.39
0.54
10/23/21 0:00
Boris Johnson
0.39
0.54
10/24/21 0:00
Boris Johnson
0.40
0.54
10/25/21 0:00
Boris Johnson
0.40
0.54
10/26/21 0:00
Boris Johnson
0.39
0.54
10/27/21 0:00
Boris Johnson
0.40
0.54
10/28/21 0:00
Boris Johnson
0.39
0.54
10/29/21 0:00
Boris Johnson
0.39
0.54
10/30/21 0:00
Boris Johnson
0.40
0.53
10/31/21 0:00
Boris Johnson
0.40
0.52
11/1/21 0:00
Boris Johnson
0.41
0.52
11/2/21 0:00
Boris Johnson
0.40
0.52
11/3/21 0:00
Boris Johnson
0.40
0.53
11/4/21 0:00
Boris Johnson
0.40
0.53
11/5/21 0:00
Boris Johnson
0.40
0.54
11/6/21 0:00
Boris Johnson
0.39
0.54
11/7/21 0:00
Boris Johnson
0.39
0.55
11/8/21 0:00
Boris Johnson
0.38
0.55
11/9/21 0:00
Boris Johnson
0.37
0.56
11/10/21 0:00
Boris Johnson
0.37
0.56
11/11/21 0:00
Boris Johnson
0.37
0.56
11/12/21 0:00
Boris Johnson
0.37
0.57
11/13/21 0:00
Boris Johnson
0.36
0.57
11/14/21 0:00
Boris Johnson
0.37
0.56
11/15/21 0:00
Boris Johnson
0.36
0.56
11/16/21 0:00
Boris Johnson
0.37
0.56
11/17/21 0:00
Boris Johnson
0.37
0.55
11/18/21 0:00
Boris Johnson
0.37
0.55
11/19/21 0:00
Boris Johnson
0.37
0.55
11/20/21 0:00
Boris Johnson
0.37
0.55
11/21/21 0:00
Boris Johnson
0.36
0.56
11/22/21 0:00
Boris Johnson
0.37
0.55
11/23/21 0:00
Boris Johnson
0.37
0.56
11/24/21 0:00
Boris Johnson
0.37
0.56
11/25/21 0:00
Boris Johnson
0.37
0.56
11/26/21 0:00
Boris Johnson
0.38
0.56
11/27/21 0:00
Boris Johnson
0.37
0.56
11/28/21 0:00
Boris Johnson
0.38
0.55
11/29/21 0:00
Boris Johnson
0.38
0.56
11/30/21 0:00
Boris Johnson
0.38
0.55
12/1/21 0:00
Boris Johnson
0.38
0.55
12/2/21 0:00
Boris Johnson
0.37
0.56
12/3/21 0:00
Boris Johnson
0.37
0.56
12/4/21 0:00
Boris Johnson
0.37
0.56
12/5/21 0:00
Boris Johnson
0.37
0.57
12/6/21 0:00
Boris Johnson
0.37
0.56
12/7/21 0:00
Boris Johnson
0.37
0.57
12/8/21 0:00
Boris Johnson
0.37
0.57
12/9/21 0:00
Boris Johnson
0.37
0.57
12/10/21 0:00
Boris Johnson
0.36
0.58
12/11/21 0:00
Boris Johnson
0.34
0.60
12/12/21 0:00
Boris Johnson
0.33
0.61
12/13/21 0:00
Boris Johnson
0.32
0.62
12/14/21 0:00
Boris Johnson
0.30
0.64
12/15/21 0:00
Boris Johnson
0.30
0.64
12/16/21 0:00
Boris Johnson
0.30
0.64
12/17/21 0:00
Boris Johnson
0.31
0.62
12/18/21 0:00
Boris Johnson
0.32
0.62
12/19/21 0:00
Boris Johnson
0.31
0.63
12/20/21 0:00
Boris Johnson
0.31
0.63
12/21/21 0:00
Boris Johnson
0.31
0.62
12/22/21 0:00
Boris Johnson
0.31
0.63
12/23/21 0:00
Boris Johnson
0.30
0.63
12/24/21 0:00
Boris Johnson
0.30
0.64
12/25/21 0:00
Boris Johnson
0.30
0.63
12/26/21 0:00
Boris Johnson
0.31
0.62
12/27/21 0:00
Boris Johnson
0.32
0.61
12/28/21 0:00
Boris Johnson
0.32
0.61
12/29/21 0:00
Boris Johnson
0.33
0.60
12/30/21 0:00
Boris Johnson
0.33
0.60
12/31/21 0:00
Boris Johnson
0.33
0.60
1/1/22 0:00
Boris Johnson
0.34
0.60
1/2/22 0:00
Boris Johnson
0.33
0.60
1/3/22 0:00
Boris Johnson
0.32
0.61
1/4/22 0:00
Boris Johnson
0.32
0.61
1/5/22 0:00
Boris Johnson
0.32
0.61
1/6/22 0:00
Boris Johnson
0.33
0.61
1/7/22 0:00
Boris Johnson
0.33
0.61
1/8/22 0:00
Boris Johnson
0.33
0.61
1/9/22 0:00
Boris Johnson
0.33
0.61
1/10/22 0:00
Boris Johnson
0.34
0.60
1/11/22 0:00
Boris Johnson
0.34
0.60
1/12/22 0:00
Boris Johnson
0.32
0.62
1/13/22 0:00
Boris Johnson
0.31
0.63
1/14/22 0:00
Boris Johnson
0.31
0.63
1/15/22 0:00
Boris Johnson
0.29
0.65
1/16/22 0:00
Boris Johnson
0.28
0.67
1/17/22 0:00
Boris Johnson
0.26
0.69
1/18/22 0:00
Boris Johnson
0.26
0.69
1/19/22 0:00
Boris Johnson
0.26
0.68
1/20/22 0:00
Boris Johnson
0.26
0.69
1/21/22 0:00
Boris Johnson
0.26
0.68
1/22/22 0:00
Boris Johnson
0.27
0.67
1/23/22 0:00
Boris Johnson
0.28
0.66
1/24/22 0:00
Boris Johnson
0.29
0.65
1/25/22 0:00
Boris Johnson
0.29
0.66
1/26/22 0:00
Boris Johnson
0.29
0.66
1/27/22 0:00
Boris Johnson
0.30
0.65
1/28/22 0:00
Boris Johnson
0.29
0.65
1/29/22 0:00
Boris Johnson
0.29
0.65
1/30/22 0:00
Boris Johnson
0.30
0.64
1/31/22 0:00
Boris Johnson
0.31
0.64
2/1/22 0:00
Boris Johnson
0.30
0.65
2/2/22 0:00
Boris Johnson
0.30
0.65
2/3/22 0:00
Boris Johnson
0.30
0.65
2/4/22 0:00
Boris Johnson
0.30
0.66
2/5/22 0:00
Boris Johnson
0.29
0.67
2/6/22 0:00
Boris Johnson
0.29
0.67
2/7/22 0:00
Boris Johnson
0.28
0.68
2/8/22 0:00
Boris Johnson
0.29
0.67
2/9/22 0:00
Boris Johnson
0.28
0.67
2/10/22 0:00
Boris Johnson
0.29
0.67
2/11/22 0:00
Boris Johnson
0.29
0.66
2/12/22 0:00
Boris Johnson
0.29
0.65
2/13/22 0:00
Boris Johnson
0.29
0.66
2/14/22 0:00
Boris Johnson
0.29
0.66
2/15/22 0:00
Boris Johnson
0.29
0.65
2/16/22 0:00
Boris Johnson
0.30
0.65
2/17/22 0:00
Boris Johnson
0.30
0.65
2/18/22 0:00
Boris Johnson
0.30
0.65
2/19/22 0:00
Boris Johnson
0.30
0.66
2/20/22 0:00
Boris Johnson
0.30
0.65
2/21/22 0:00
Boris Johnson
0.31
0.65
2/22/22 0:00
Boris Johnson
0.31
0.65
2/23/22 0:00
Boris Johnson
0.30
0.65
2/24/22 0:00
Boris Johnson
0.31
0.64
2/25/22 0:00
Boris Johnson
0.31
0.63
2/26/22 0:00
Boris Johnson
0.32
0.62
2/27/22 0:00
Boris Johnson
0.33
0.62
2/28/22 0:00
Boris Johnson
0.33
0.62
3/1/22 0:00
Boris Johnson
0.34
0.61
3/2/22 0:00
Boris Johnson
0.35
0.60
3/3/22 0:00
Boris Johnson
0.35
0.60
3/4/22 0:00
Boris Johnson
0.35
0.59
3/5/22 0:00
Boris Johnson
0.35
0.59
3/6/22 0:00
Boris Johnson
0.35
0.59
3/7/22 0:00
Boris Johnson
0.35
0.59
3/8/22 0:00
Boris Johnson
0.35
0.59
3/9/22 0:00
Boris Johnson
0.35
0.59
3/10/22 0:00
Boris Johnson
0.35
0.60
3/11/22 0:00
Boris Johnson
0.34
0.60
3/12/22 0:00
Boris Johnson
0.34
0.60
3/13/22 0:00
Boris Johnson
0.34
0.60
3/14/22 0:00
Boris Johnson
0.34
0.61
3/15/22 0:00
Boris Johnson
0.33
0.61
3/16/22 0:00
Boris Johnson
0.34
0.61
3/17/22 0:00
Boris Johnson
0.35
0.60
3/18/22 0:00
Boris Johnson
0.35
0.60
3/19/22 0:00
Boris Johnson
0.35
0.60
3/20/22 0:00
Boris Johnson
0.35
0.59
3/21/22 0:00
Boris Johnson
0.35
0.60
3/22/22 0:00
Boris Johnson
0.35
0.60
3/23/22 0:00
Boris Johnson
0.34
0.60
3/24/22 0:00
Boris Johnson
0.34
0.60
3/25/22 0:00
Boris Johnson
0.34
0.59
3/26/22 0:00
Boris Johnson
0.33
0.60
3/27/22 0:00
Boris Johnson
0.33
0.61
3/28/22 0:00
Boris Johnson
0.33
0.60
3/29/22 0:00
Boris Johnson
0.33
0.60
3/30/22 0:00
Boris Johnson
0.34
0.60
3/31/22 0:00
Boris Johnson
0.33
0.61
4/1/22 0:00
Boris Johnson
0.33
0.61
4/2/22 0:00
Boris Johnson
0.33
0.61
4/3/22 0:00
Boris Johnson
0.34
0.61
4/4/22 0:00
Boris Johnson
0.33
0.61
4/5/22 0:00
Boris Johnson
0.33
0.61
4/6/22 0:00
Boris Johnson
0.32
0.62
4/7/22 0:00
Boris Johnson
0.32
0.62
4/8/22 0:00
Boris Johnson
0.31
0.62
4/9/22 0:00
Boris Johnson
0.31
0.62
4/10/22 0:00
Boris Johnson
0.32
0.62
4/11/22 0:00
Boris Johnson
0.32
0.62
4/12/22 0:00
Boris Johnson
0.32
0.62
4/13/22 0:00
Boris Johnson
0.32
0.61
4/14/22 0:00
Boris Johnson
0.33
0.61
4/15/22 0:00
Boris Johnson
0.33
0.61
4/16/22 0:00
Boris Johnson
0.32
0.62
4/17/22 0:00
Boris Johnson
0.32
0.62
4/18/22 0:00
Boris Johnson
0.32
0.62
4/19/22 0:00
Boris Johnson
0.32
0.62
4/6/22
Micheál Martin
0.50
0.41
4/7/22
Micheál Martin
0.50
0.40
4/8/22
Micheál Martin
0.50
0.41
4/9/22
Micheál Martin
0.50
0.40
4/10/22
Micheál Martin
0.48
0.41
4/11/22
Micheál Martin
0.49
0.41
4/12/22
Micheál Martin
0.49
0.41
4/13/22
Micheál Martin
0.47
0.42
4/14/22
Micheál Martin
0.47
0.42
4/15/22
Micheál Martin
0.48
0.42
4/16/22
Micheál Martin
0.47
0.43
4/17/22
Micheál Martin
0.48
0.42
4/18/22
Micheál Martin
0.49
0.41
4/19/22
Micheál Martin
0.49
0.41
10/7/21 0:00
Fumio Kishida
0.42
0.28
10/8/21 0:00
Fumio Kishida
0.42
0.28
10/9/21 0:00
Fumio Kishida
0.41
0.28
10/10/21 0:00
Fumio Kishida
0.40
0.27
10/11/21 0:00
Fumio Kishida
0.40
0.27
10/12/21 0:00
Fumio Kishida
0.40
0.28
10/13/21 0:00
Fumio Kishida
0.40
0.30
10/14/21 0:00
Fumio Kishida
0.39
0.30
10/15/21 0:00
Fumio Kishida
0.40
0.32
10/16/21 0:00
Fumio Kishida
0.40
0.33
10/17/21 0:00
Fumio Kishida
0.41
0.34
10/18/21 0:00
Fumio Kishida
0.40
0.36
10/19/21 0:00
Fumio Kishida
0.40
0.36
10/20/21 0:00
Fumio Kishida
0.41
0.36
10/21/21 0:00
Fumio Kishida
0.41
0.36
10/22/21 0:00
Fumio Kishida
0.41
0.36
10/23/21 0:00
Fumio Kishida
0.41
0.35
10/24/21 0:00
Fumio Kishida
0.42
0.35
10/25/21 0:00
Fumio Kishida
0.43
0.35
10/26/21 0:00
Fumio Kishida
0.43
0.35
10/27/21 0:00
Fumio Kishida
0.43
0.35
10/28/21 0:00
Fumio Kishida
0.42
0.36
10/29/21 0:00
Fumio Kishida
0.42
0.35
10/30/21 0:00
Fumio Kishida
0.43
0.35
10/31/21 0:00
Fumio Kishida
0.41
0.36
11/1/21 0:00
Fumio Kishida
0.42
0.36
11/2/21 0:00
Fumio Kishida
0.42
0.35
11/3/21 0:00
Fumio Kishida
0.44
0.35
11/4/21 0:00
Fumio Kishida
0.44
0.34
11/5/21 0:00
Fumio Kishida
0.45
0.34
11/6/21 0:00
Fumio Kishida
0.44
0.35
11/7/21 0:00
Fumio Kishida
0.46
0.33
11/8/21 0:00
Fumio Kishida
0.46
0.34
11/9/21 0:00
Fumio Kishida
0.45
0.35
11/10/21 0:00
Fumio Kishida
0.44
0.37
11/11/21 0:00
Fumio Kishida
0.45
0.37
11/12/21 0:00
Fumio Kishida
0.44
0.38
11/13/21 0:00
Fumio Kishida
0.45
0.38
11/14/21 0:00
Fumio Kishida
0.43
0.40
11/15/21 0:00
Fumio Kishida
0.44
0.39
11/16/21 0:00
Fumio Kishida
0.43
0.39
11/17/21 0:00
Fumio Kishida
0.43
0.39
11/18/21 0:00
Fumio Kishida
0.42
0.39
11/19/21 0:00
Fumio Kishida
0.42
0.39
11/20/21 0:00
Fumio Kishida
0.41
0.39
11/21/21 0:00
Fumio Kishida
0.42
0.39
11/22/21 0:00
Fumio Kishida
0.41
0.41
11/23/21 0:00
Fumio Kishida
0.41
0.41
11/24/21 0:00
Fumio Kishida
0.41
0.42
11/25/21 0:00
Fumio Kishida
0.42
0.42
11/26/21 0:00
Fumio Kishida
0.42
0.41
11/27/21 0:00
Fumio Kishida
0.41
0.42
11/28/21 0:00
Fumio Kishida
0.41
0.43
11/29/21 0:00
Fumio Kishida
0.41
0.43
11/30/21 0:00
Fumio Kishida
0.42
0.42
12/1/21 0:00
Fumio Kishida
0.43
0.41
12/2/21 0:00
Fumio Kishida
0.43
0.41
12/3/21 0:00
Fumio Kishida
0.43
0.41
12/4/21 0:00
Fumio Kishida
0.44
0.39
12/5/21 0:00
Fumio Kishida
0.45
0.38
12/6/21 0:00
Fumio Kishida
0.47
0.37
12/7/21 0:00
Fumio Kishida
0.46
0.37
12/8/21 0:00
Fumio Kishida
0.46
0.37
12/9/21 0:00
Fumio Kishida
0.47
0.37
12/10/21 0:00
Fumio Kishida
0.47
0.37
12/11/21 0:00
Fumio Kishida
0.47
0.37
12/12/21 0:00
Fumio Kishida
0.47
0.38
12/13/21 0:00
Fumio Kishida
0.47
0.39
12/14/21 0:00
Fumio Kishida
0.48
0.39
12/15/21 0:00
Fumio Kishida
0.47
0.39
12/16/21 0:00
Fumio Kishida
0.48
0.39
12/17/21 0:00
Fumio Kishida
0.49
0.39
12/18/21 0:00
Fumio Kishida
0.48
0.38
12/19/21 0:00
Fumio Kishida
0.49
0.37
12/20/21 0:00
Fumio Kishida
0.50
0.37
12/21/21 0:00
Fumio Kishida
0.48
0.38
12/22/21 0:00
Fumio Kishida
0.49
0.37
12/23/21 0:00
Fumio Kishida
0.48
0.38
12/24/21 0:00
Fumio Kishida
0.49
0.38
12/25/21 0:00
Fumio Kishida
0.49
0.38
12/26/21 0:00
Fumio Kishida
0.49
0.38
12/27/21 0:00
Fumio Kishida
0.49
0.37
12/28/21 0:00
Fumio Kishida
0.50
0.36
12/29/21 0:00
Fumio Kishida
0.50
0.36
12/30/21 0:00
Fumio Kishida
0.51
0.34
12/31/21 0:00
Fumio Kishida
0.50
0.33
1/1/22 0:00
Fumio Kishida
0.50
0.34
1/2/22 0:00
Fumio Kishida
0.49
0.34
1/3/22 0:00
Fumio Kishida
0.48
0.34
1/4/22 0:00
Fumio Kishida
0.47
0.34
1/5/22 0:00
Fumio Kishida
0.47
0.34
1/6/22 0:00
Fumio Kishida
0.47
0.35
1/7/22 0:00
Fumio Kishida
0.49
0.35
1/8/22 0:00
Fumio Kishida
0.50
0.33
1/9/22 0:00
Fumio Kishida
0.51
0.33
1/10/22 0:00
Fumio Kishida
0.51
0.32
1/11/22 0:00
Fumio Kishida
0.51
0.33
1/12/22 0:00
Fumio Kishida
0.50
0.35
1/13/22 0:00
Fumio Kishida
0.49
0.35
1/14/22 0:00
Fumio Kishida
0.47
0.36
1/15/22 0:00
Fumio Kishida
0.47
0.36
1/16/22 0:00
Fumio Kishida
0.47
0.36
1/17/22 0:00
Fumio Kishida
0.47
0.37
1/18/22 0:00
Fumio Kishida
0.48
0.36
1/19/22 0:00
Fumio Kishida
0.48
0.36
1/20/22 0:00
Fumio Kishida
0.50
0.35
1/21/22 0:00
Fumio Kishida
0.50
0.35
1/22/22 0:00
Fumio Kishida
0.49
0.35
1/23/22 0:00
Fumio Kishida
0.48
0.36
1/24/22 0:00
Fumio Kishida
0.48
0.36
1/25/22 0:00
Fumio Kishida
0.47
0.36
1/26/22 0:00
Fumio Kishida
0.48
0.35
1/27/22 0:00
Fumio Kishida
0.48
0.36
1/28/22 0:00
Fumio Kishida
0.48
0.36
1/29/22 0:00
Fumio Kishida
0.48
0.37
1/30/22 0:00
Fumio Kishida
0.47
0.37
1/31/22 0:00
Fumio Kishida
0.47
0.38
2/1/22 0:00
Fumio Kishida
0.47
0.38
2/2/22 0:00
Fumio Kishida
0.47
0.38
2/3/22 0:00
Fumio Kishida
0.46
0.39
2/4/22 0:00
Fumio Kishida
0.46
0.40
2/5/22 0:00
Fumio Kishida
0.46
0.40
2/6/22 0:00
Fumio Kishida
0.45
0.40
2/7/22 0:00
Fumio Kishida
0.44
0.40
2/8/22 0:00
Fumio Kishida
0.44
0.41
2/9/22 0:00
Fumio Kishida
0.43
0.42
2/10/22 0:00
Fumio Kishida
0.42
0.43
2/11/22 0:00
Fumio Kishida
0.42
0.42
2/12/22 0:00
Fumio Kishida
0.41
0.43
2/13/22 0:00
Fumio Kishida
0.40
0.44
2/14/22 0:00
Fumio Kishida
0.41
0.44
2/15/22 0:00
Fumio Kishida
0.40
0.44
2/16/22 0:00
Fumio Kishida
0.40
0.44
2/17/22 0:00
Fumio Kishida
0.40
0.44
2/18/22 0:00
Fumio Kishida
0.40
0.44
2/19/22 0:00
Fumio Kishida
0.40
0.44
2/20/22 0:00
Fumio Kishida
0.42
0.43
2/21/22 0:00
Fumio Kishida
0.41
0.44
2/22/22 0:00
Fumio Kishida
0.42
0.44
2/23/22 0:00
Fumio Kishida
0.41
0.45
2/24/22 0:00
Fumio Kishida
0.41
0.45
2/25/22 0:00
Fumio Kishida
0.40
0.46
2/26/22 0:00
Fumio Kishida
0.40
0.46
2/27/22 0:00
Fumio Kishida
0.39
0.46
2/28/22 0:00
Fumio Kishida
0.39
0.46
3/1/22 0:00
Fumio Kishida
0.39
0.46
3/2/22 0:00
Fumio Kishida
0.40
0.44
3/3/22 0:00
Fumio Kishida
0.41
0.44
3/4/22 0:00
Fumio Kishida
0.41
0.43
3/5/22 0:00
Fumio Kishida
0.42
0.43
3/6/22 0:00
Fumio Kishida
0.43
0.42
3/7/22 0:00
Fumio Kishida
0.44
0.41
3/8/22 0:00
Fumio Kishida
0.45
0.41
3/9/22 0:00
Fumio Kishida
0.44
0.41
3/10/22 0:00
Fumio Kishida
0.44
0.41
3/11/22 0:00
Fumio Kishida
0.43
0.41
3/12/22 0:00
Fumio Kishida
0.44
0.40
3/13/22 0:00
Fumio Kishida
0.43
0.41
3/14/22 0:00
Fumio Kishida
0.43
0.40
3/15/22 0:00
Fumio Kishida
0.42
0.40
3/16/22 0:00
Fumio Kishida
0.43
0.40
3/17/22 0:00
Fumio Kishida
0.43
0.40
3/18/22 0:00
Fumio Kishida
0.43
0.40
3/19/22 0:00
Fumio Kishida
0.42
0.40
3/20/22 0:00
Fumio Kishida
0.40
0.41
3/21/22 0:00
Fumio Kishida
0.40
0.41
3/22/22 0:00
Fumio Kishida
0.41
0.40
3/23/22 0:00
Fumio Kishida
0.40
0.40
3/24/22 0:00
Fumio Kishida
0.41
0.40
3/25/22 0:00
Fumio Kishida
0.42
0.39
3/26/22 0:00
Fumio Kishida
0.42
0.39
3/27/22 0:00
Fumio Kishida
0.44
0.38
3/28/22 0:00
Fumio Kishida
0.44
0.38
3/29/22 0:00
Fumio Kishida
0.43
0.39
3/30/22 0:00
Fumio Kishida
0.43
0.39
3/31/22 0:00
Fumio Kishida
0.43
0.39
4/1/22 0:00
Fumio Kishida
0.43
0.38
4/2/22 0:00
Fumio Kishida
0.44
0.38
4/3/22 0:00
Fumio Kishida
0.45
0.37
4/4/22 0:00
Fumio Kishida
0.45
0.37
4/5/22 0:00
Fumio Kishida
0.44
0.38
4/6/22 0:00
Fumio Kishida
0.45
0.38
4/7/22 0:00
Fumio Kishida
0.44
0.39
4/8/22 0:00
Fumio Kishida
0.44
0.39
4/9/22 0:00
Fumio Kishida
0.44
0.39
4/10/22 0:00
Fumio Kishida
0.43
0.40
4/11/22 0:00
Fumio Kishida
0.44
0.39
4/12/22 0:00
Fumio Kishida
0.45
0.38
4/13/22 0:00
Fumio Kishida
0.45
0.39
4/14/22 0:00
Fumio Kishida
0.44
0.38
4/15/22 0:00
Fumio Kishida
0.44
0.39
4/16/22 0:00
Fumio Kishida
0.44
0.40
4/17/22 0:00
Fumio Kishida
0.45
0.39
4/18/22 0:00
Fumio Kishida
0.45
0.39
4/19/22 0:00
Fumio Kishida
0.44
0.39
3/6/20 0:00
Andrés Manuel López Obrador
0.61
0.31
3/7/20 0:00
Andrés Manuel López Obrador
0.61
0.31
3/8/20 0:00
Andrés Manuel López Obrador
0.60
0.31
3/9/20 0:00
Andrés Manuel López Obrador
0.60
0.32
3/10/20 0:00
Andrés Manuel López Obrador
0.61
0.31
3/11/20 0:00
Andrés Manuel López Obrador
0.62
0.31
3/12/20 0:00
Andrés Manuel López Obrador
0.61
0.31
3/13/20 0:00
Andrés Manuel López Obrador
0.60
0.31
3/14/20 0:00
Andrés Manuel López Obrador
0.60
0.32
3/15/20 0:00
Andrés Manuel López Obrador
0.62
0.32
3/16/20 0:00
Andrés Manuel López Obrador
0.62
0.31
3/17/20 0:00
Andrés Manuel López Obrador
0.61
0.31
3/18/20 0:00
Andrés Manuel López Obrador
0.61
0.30
3/19/20 0:00
Andrés Manuel López Obrador
0.63
0.30
3/20/20 0:00
Andrés Manuel López Obrador
0.63
0.29
3/21/20 0:00
Andrés Manuel López Obrador
0.64
0.28
3/22/20 0:00
Andrés Manuel López Obrador
0.63
0.27
3/23/20 0:00
Andrés Manuel López Obrador
0.61
0.29
3/24/20 0:00
Andrés Manuel López Obrador
0.61
0.29
3/25/20 0:00
Andrés Manuel López Obrador
0.60
0.30
3/26/20 0:00
Andrés Manuel López Obrador
0.61
0.29
3/27/20 0:00
Andrés Manuel López Obrador
0.60
0.30
3/28/20 0:00
Andrés Manuel López Obrador
0.59
0.31
3/29/20 0:00
Andrés Manuel López Obrador
0.60
0.32
3/30/20 0:00
Andrés Manuel López Obrador
0.61
0.30
3/31/20 0:00
Andrés Manuel López Obrador
0.61
0.31
4/1/20 0:00
Andrés Manuel López Obrador
0.61
0.30
4/2/20 0:00
Andrés Manuel López Obrador
0.60
0.32
4/3/20 0:00
Andrés Manuel López Obrador
0.60
0.31
4/4/20 0:00
Andrés Manuel López Obrador
0.60
0.32
4/5/20 0:00
Andrés Manuel López Obrador
0.60
0.32
4/6/20 0:00
Andrés Manuel López Obrador
0.60
0.32
4/7/20 0:00
Andrés Manuel López Obrador
0.60
0.32
4/8/20 0:00
Andrés Manuel López Obrador
0.60
0.30
4/9/20 0:00
Andrés Manuel López Obrador
0.63
0.29
4/10/20 0:00
Andrés Manuel López Obrador
0.62
0.29
4/11/20 0:00
Andrés Manuel López Obrador
0.62
0.28
4/12/20 0:00
Andrés Manuel López Obrador
0.63
0.28
4/13/20 0:00
Andrés Manuel López Obrador
0.63
0.28
4/14/20 0:00
Andrés Manuel López Obrador
0.64
0.28
4/15/20 0:00
Andrés Manuel López Obrador
0.63
0.30
4/16/20 0:00
Andrés Manuel López Obrador
0.63
0.30
4/17/20 0:00
Andrés Manuel López Obrador
0.63
0.30
4/18/20 0:00
Andrés Manuel López Obrador
0.63
0.30
4/19/20 0:00
Andrés Manuel López Obrador
0.62
0.31
4/20/20 0:00
Andrés Manuel López Obrador
0.61
0.30
4/21/20 0:00
Andrés Manuel López Obrador
0.62
0.30
4/22/20 0:00
Andrés Manuel López Obrador
0.63
0.29
4/23/20 0:00
Andrés Manuel López Obrador
0.64
0.28
4/24/20 0:00
Andrés Manuel López Obrador
0.65
0.27
4/25/20 0:00
Andrés Manuel López Obrador
0.65
0.27
4/26/20 0:00
Andrés Manuel López Obrador
0.66
0.27
4/27/20 0:00
Andrés Manuel López Obrador
0.66
0.27
4/28/20 0:00
Andrés Manuel López Obrador
0.65
0.28
4/29/20 0:00
Andrés Manuel López Obrador
0.65
0.28
4/30/20 0:00
Andrés Manuel López Obrador
0.63
0.30
5/1/20 0:00
Andrés Manuel López Obrador
0.62
0.30
5/2/20 0:00
Andrés Manuel López Obrador
0.61
0.31
5/3/20 0:00
Andrés Manuel López Obrador
0.61
0.30
5/4/20 0:00
Andrés Manuel López Obrador
0.60
0.30
5/5/20 0:00
Andrés Manuel López Obrador
0.60
0.30
5/6/20 0:00
Andrés Manuel López Obrador
0.61
0.29
5/7/20 0:00
Andrés Manuel López Obrador
0.62
0.28
5/8/20 0:00
Andrés Manuel López Obrador
0.63
0.28
5/9/20 0:00
Andrés Manuel López Obrador
0.63
0.28
5/10/20 0:00
Andrés Manuel López Obrador
0.62
0.29
5/11/20 0:00
Andrés Manuel López Obrador
0.61
0.30
5/12/20 0:00
Andrés Manuel López Obrador
0.61
0.30
5/13/20 0:00
Andrés Manuel López Obrador
0.61
0.30
5/14/20 0:00
Andrés Manuel López Obrador
0.60
0.31
5/15/20 0:00
Andrés Manuel López Obrador
0.59
0.31
5/16/20 0:00
Andrés Manuel López Obrador
0.59
0.31
5/17/20 0:00
Andrés Manuel López Obrador
0.60
0.31
5/18/20 0:00
Andrés Manuel López Obrador
0.60
0.31
5/19/20 0:00
Andrés Manuel López Obrador
0.59
0.32
5/20/20 0:00
Andrés Manuel López Obrador
0.59
0.32
5/21/20 0:00
Andrés Manuel López Obrador
0.59
0.32
5/22/20 0:00
Andrés Manuel López Obrador
0.59
0.31
5/23/20 0:00
Andrés Manuel López Obrador
0.59
0.31
5/24/20 0:00
Andrés Manuel López Obrador
0.58
0.33
5/25/20 0:00
Andrés Manuel López Obrador
0.60
0.32
5/26/20 0:00
Andrés Manuel López Obrador
0.59
0.33
5/27/20 0:00
Andrés Manuel López Obrador
0.61
0.32
5/28/20 0:00
Andrés Manuel López Obrador
0.60
0.33
5/29/20 0:00
Andrés Manuel López Obrador
0.60
0.33
5/30/20 0:00
Andrés Manuel López Obrador
0.59
0.34
5/31/20 0:00
Andrés Manuel López Obrador
0.58
0.33
6/1/20 0:00
Andrés Manuel López Obrador
0.58
0.33
6/2/20 0:00
Andrés Manuel López Obrador
0.60
0.32
6/3/20 0:00
Andrés Manuel López Obrador
0.57
0.34
6/4/20 0:00
Andrés Manuel López Obrador
0.56
0.35
6/5/20 0:00
Andrés Manuel López Obrador
0.55
0.35
6/6/20 0:00
Andrés Manuel López Obrador
0.55
0.36
6/7/20 0:00
Andrés Manuel López Obrador
0.55
0.37
6/8/20 0:00
Andrés Manuel López Obrador
0.54
0.37
6/9/20 0:00
Andrés Manuel López Obrador
0.54
0.37
6/10/20 0:00
Andrés Manuel López Obrador
0.54
0.37
6/11/20 0:00
Andrés Manuel López Obrador
0.55
0.37
6/12/20 0:00
Andrés Manuel López Obrador
0.56
0.36
6/13/20 0:00
Andrés Manuel López Obrador
0.58
0.34
6/14/20 0:00
Andrés Manuel López Obrador
0.59
0.33
6/15/20 0:00
Andrés Manuel López Obrador
0.60
0.33
6/16/20 0:00
Andrés Manuel López Obrador
0.59
0.34
6/17/20 0:00
Andrés Manuel López Obrador
0.60
0.33
6/18/20 0:00
Andrés Manuel López Obrador
0.62
0.31
6/19/20 0:00
Andrés Manuel López Obrador
0.62
0.32
6/20/20 0:00
Andrés Manuel López Obrador
0.60
0.34
6/21/20 0:00
Andrés Manuel López Obrador
0.59
0.35
6/22/20 0:00
Andrés Manuel López Obrador
0.59
0.34
6/23/20 0:00
Andrés Manuel López Obrador
0.58
0.34
6/24/20 0:00
Andrés Manuel López Obrador
0.58
0.34
6/25/20 0:00
Andrés Manuel López Obrador
0.55
0.36
6/26/20 0:00
Andrés Manuel López Obrador
0.56
0.36
6/27/20 0:00
Andrés Manuel López Obrador
0.57
0.35
6/28/20 0:00
Andrés Manuel López Obrador
0.56
0.36
6/29/20 0:00
Andrés Manuel López Obrador
0.56
0.36
6/30/20 0:00
Andrés Manuel López Obrador
0.58
0.35
7/1/20 0:00
Andrés Manuel López Obrador
0.57
0.35
7/2/20 0:00
Andrés Manuel López Obrador
0.59
0.34
7/3/20 0:00
Andrés Manuel López Obrador
0.58
0.34
7/4/20 0:00
Andrés Manuel López Obrador
0.57
0.34
7/5/20 0:00
Andrés Manuel López Obrador
0.59
0.32
7/6/20 0:00
Andrés Manuel López Obrador
0.59
0.32
7/7/20 0:00
Andrés Manuel López Obrador
0.58
0.33
7/8/20 0:00
Andrés Manuel López Obrador
0.59
0.32
7/9/20 0:00
Andrés Manuel López Obrador
0.59
0.32
7/10/20 0:00
Andrés Manuel López Obrador
0.60
0.32
7/11/20 0:00
Andrés Manuel López Obrador
0.59
0.33
7/12/20 0:00
Andrés Manuel López Obrador
0.59
0.33
7/13/20 0:00
Andrés Manuel López Obrador
0.59
0.33
7/14/20 0:00
Andrés Manuel López Obrador
0.58
0.33
7/15/20 0:00
Andrés Manuel López Obrador
0.59
0.33
7/16/20 0:00
Andrés Manuel López Obrador
0.58
0.35
7/17/20 0:00
Andrés Manuel López Obrador
0.58
0.35
7/18/20 0:00
Andrés Manuel López Obrador
0.59
0.33
7/19/20 0:00
Andrés Manuel López Obrador
0.58
0.33
7/20/20 0:00
Andrés Manuel López Obrador
0.57
0.34
7/21/20 0:00
Andrés Manuel López Obrador
0.59
0.33
7/22/20 0:00
Andrés Manuel López Obrador
0.59
0.33
7/23/20 0:00
Andrés Manuel López Obrador
0.61
0.31
7/24/20 0:00
Andrés Manuel López Obrador
0.60
0.31
7/25/20 0:00
Andrés Manuel López Obrador
0.60
0.32
7/26/20 0:00
Andrés Manuel López Obrador
0.59
0.32
7/27/20 0:00
Andrés Manuel López Obrador
0.60
0.32
7/28/20 0:00
Andrés Manuel López Obrador
0.58
0.34
7/29/20 0:00
Andrés Manuel López Obrador
0.58
0.34
7/30/20 0:00
Andrés Manuel López Obrador
0.57
0.34
7/31/20 0:00
Andrés Manuel López Obrador
0.59
0.33
8/1/20 0:00
Andrés Manuel López Obrador
0.59
0.33
8/2/20 0:00
Andrés Manuel López Obrador
0.60
0.32
8/3/20 0:00
Andrés Manuel López Obrador
0.61
0.31
8/4/20 0:00
Andrés Manuel López Obrador
0.62
0.29
8/5/20 0:00
Andrés Manuel López Obrador
0.61
0.30
8/6/20 0:00
Andrés Manuel López Obrador
0.61
0.31
8/7/20 0:00
Andrés Manuel López Obrador
0.61
0.30
8/8/20 0:00
Andrés Manuel López Obrador
0.61
0.31
8/9/20 0:00
Andrés Manuel López Obrador
0.60
0.31
8/10/20 0:00
Andrés Manuel López Obrador
0.60
0.33
8/11/20 0:00
Andrés Manuel López Obrador
0.59
0.33
8/12/20 0:00
Andrés Manuel López Obrador
0.60
0.33
8/13/20 0:00
Andrés Manuel López Obrador
0.61
0.32
8/14/20 0:00
Andrés Manuel López Obrador
0.59
0.34
8/15/20 0:00
Andrés Manuel López Obrador
0.60
0.33
8/16/20 0:00
Andrés Manuel López Obrador
0.60
0.32
8/17/20 0:00
Andrés Manuel López Obrador
0.61
0.32
8/18/20 0:00
Andrés Manuel López Obrador
0.61
0.31
8/19/20 0:00
Andrés Manuel López Obrador
0.61
0.31
8/20/20 0:00
Andrés Manuel López Obrador
0.60
0.32
8/21/20 0:00
Andrés Manuel López Obrador
0.61
0.31
8/22/20 0:00
Andrés Manuel López Obrador
0.61
0.31
8/23/20 0:00
Andrés Manuel López Obrador
0.60
0.32
8/24/20 0:00
Andrés Manuel López Obrador
0.60
0.33
8/25/20 0:00
Andrés Manuel López Obrador
0.61
0.32
8/26/20 0:00
Andrés Manuel López Obrador
0.60
0.33
8/27/20 0:00
Andrés Manuel López Obrador
0.61
0.32
8/28/20 0:00
Andrés Manuel López Obrador
0.60
0.32
8/29/20 0:00
Andrés Manuel López Obrador
0.60
0.32
8/30/20 0:00
Andrés Manuel López Obrador
0.61
0.31
8/31/20 0:00
Andrés Manuel López Obrador
0.61
0.30
9/1/20 0:00
Andrés Manuel López Obrador
0.62
0.30
9/2/20 0:00
Andrés Manuel López Obrador
0.62
0.29
9/3/20 0:00
Andrés Manuel López Obrador
0.60
0.31
9/4/20 0:00
Andrés Manuel López Obrador
0.61
0.31
9/5/20 0:00
Andrés Manuel López Obrador
0.61
0.32
9/6/20 0:00
Andrés Manuel López Obrador
0.60
0.32
9/7/20 0:00
Andrés Manuel López Obrador
0.59
0.33
9/8/20 0:00
Andrés Manuel López Obrador
0.59
0.34
9/9/20 0:00
Andrés Manuel López Obrador
0.59
0.34
9/10/20 0:00
Andrés Manuel López Obrador
0.59
0.34
9/11/20 0:00
Andrés Manuel López Obrador
0.59
0.34
9/12/20 0:00
Andrés Manuel López Obrador
0.59
0.33
9/13/20 0:00
Andrés Manuel López Obrador
0.60
0.33
9/14/20 0:00
Andrés Manuel López Obrador
0.60
0.32
9/15/20 0:00
Andrés Manuel López Obrador
0.59
0.33
9/16/20 0:00
Andrés Manuel López Obrador
0.59
0.33
9/17/20 0:00
Andrés Manuel López Obrador
0.59
0.33
9/18/20 0:00
Andrés Manuel López Obrador
0.58
0.34
9/19/20 0:00
Andrés Manuel López Obrador
0.57
0.35
9/20/20 0:00
Andrés Manuel López Obrador
0.56
0.35
9/21/20 0:00
Andrés Manuel López Obrador
0.57
0.35
9/22/20 0:00
Andrés Manuel López Obrador
0.59
0.34
9/23/20 0:00
Andrés Manuel López Obrador
0.58
0.34
9/24/20 0:00
Andrés Manuel López Obrador
0.59
0.34
9/25/20 0:00
Andrés Manuel López Obrador
0.60
0.33
9/26/20 0:00
Andrés Manuel López Obrador
0.60
0.33
9/27/20 0:00
Andrés Manuel López Obrador
0.60
0.33
9/28/20 0:00
Andrés Manuel López Obrador
0.59
0.33
9/29/20 0:00
Andrés Manuel López Obrador
0.60
0.33
9/30/20 0:00
Andrés Manuel López Obrador
0.59
0.33
10/1/20 0:00
Andrés Manuel López Obrador
0.59
0.33
10/2/20 0:00
Andrés Manuel López Obrador
0.60
0.33
10/3/20 0:00
Andrés Manuel López Obrador
0.61
0.31
10/4/20 0:00
Andrés Manuel López Obrador
0.62
0.30
10/5/20 0:00
Andrés Manuel López Obrador
0.62
0.29
10/6/20 0:00
Andrés Manuel López Obrador
0.61
0.30
10/7/20 0:00
Andrés Manuel López Obrador
0.61
0.31
10/8/20 0:00
Andrés Manuel López Obrador
0.62
0.30
10/9/20 0:00
Andrés Manuel López Obrador
0.61
0.32
10/10/20 0:00
Andrés Manuel López Obrador
0.60
0.32
10/11/20 0:00
Andrés Manuel López Obrador
0.60
0.32
10/12/20 0:00
Andrés Manuel López Obrador
0.60
0.33
10/13/20 0:00
Andrés Manuel López Obrador
0.61
0.32
10/14/20 0:00
Andrés Manuel López Obrador
0.62
0.32
10/15/20 0:00
Andrés Manuel López Obrador
0.61
0.32
10/16/20 0:00
Andrés Manuel López Obrador
0.61
0.31
10/17/20 0:00
Andrés Manuel López Obrador
0.61
0.31
10/18/20 0:00
Andrés Manuel López Obrador
0.62
0.30
10/19/20 0:00
Andrés Manuel López Obrador
0.62
0.30
10/20/20 0:00
Andrés Manuel López Obrador
0.60
0.31
10/21/20 0:00
Andrés Manuel López Obrador
0.60
0.31
10/22/20 0:00
Andrés Manuel López Obrador
0.61
0.32
10/23/20 0:00
Andrés Manuel López Obrador
0.61
0.31
10/24/20 0:00
Andrés Manuel López Obrador
0.60
0.32
10/25/20 0:00
Andrés Manuel López Obrador
0.59
0.33
10/26/20 0:00
Andrés Manuel López Obrador
0.58
0.34
10/27/20 0:00
Andrés Manuel López Obrador
0.59
0.33
10/28/20 0:00
Andrés Manuel López Obrador
0.59
0.33
10/29/20 0:00
Andrés Manuel López Obrador
0.58
0.33
10/30/20 0:00
Andrés Manuel López Obrador
0.58
0.33
10/31/20 0:00
Andrés Manuel López Obrador
0.58
0.34
11/1/20 0:00
Andrés Manuel López Obrador
0.57
0.34
11/2/20 0:00
Andrés Manuel López Obrador
0.59
0.33
11/3/20 0:00
Andrés Manuel López Obrador
0.58
0.33
11/4/20 0:00
Andrés Manuel López Obrador
0.58
0.34
11/5/20 0:00
Andrés Manuel López Obrador
0.58
0.34
11/6/20 0:00
Andrés Manuel López Obrador
0.58
0.34
11/7/20 0:00
Andrés Manuel López Obrador
0.58
0.33
11/8/20 0:00
Andrés Manuel López Obrador
0.59
0.32
11/9/20 0:00
Andrés Manuel López Obrador
0.60
0.32
11/10/20 0:00
Andrés Manuel López Obrador
0.60
0.32
11/11/20 0:00
Andrés Manuel López Obrador
0.61
0.31
11/12/20 0:00
Andrés Manuel López Obrador
0.61
0.31
11/13/20 0:00
Andrés Manuel López Obrador
0.60
0.31
11/14/20 0:00
Andrés Manuel López Obrador
0.61
0.30
11/15/20 0:00
Andrés Manuel López Obrador
0.61
0.31
11/16/20 0:00
Andrés Manuel López Obrador
0.60
0.31
11/17/20 0:00
Andrés Manuel López Obrador
0.60
0.32
11/18/20 0:00
Andrés Manuel López Obrador
0.61
0.32
11/19/20 0:00
Andrés Manuel López Obrador
0.62
0.30
11/20/20 0:00
Andrés Manuel López Obrador
0.63
0.30
11/21/20 0:00
Andrés Manuel López Obrador
0.63
0.30
11/22/20 0:00
Andrés Manuel López Obrador
0.64
0.29
11/23/20 0:00
Andrés Manuel López Obrador
0.64
0.29
11/24/20 0:00
Andrés Manuel López Obrador
0.64
0.28
11/25/20 0:00
Andrés Manuel López Obrador
0.63
0.27
11/26/20 0:00
Andrés Manuel López Obrador
0.61
0.29
11/27/20 0:00
Andrés Manuel López Obrador
0.61
0.30
11/28/20 0:00
Andrés Manuel López Obrador
0.61
0.29
11/29/20 0:00
Andrés Manuel López Obrador
0.60
0.30
11/30/20 0:00
Andrés Manuel López Obrador
0.60
0.30
12/1/20 0:00
Andrés Manuel López Obrador
0.59
0.30
12/2/20 0:00
Andrés Manuel López Obrador
0.60
0.32
12/3/20 0:00
Andrés Manuel López Obrador
0.61
0.30
12/4/20 0:00
Andrés Manuel López Obrador
0.61
0.30
12/5/20 0:00
Andrés Manuel López Obrador
0.61
0.30
12/6/20 0:00
Andrés Manuel López Obrador
0.62
0.30
12/7/20 0:00
Andrés Manuel López Obrador
0.62
0.29
12/8/20 0:00
Andrés Manuel López Obrador
0.63
0.29
12/9/20 0:00
Andrés Manuel López Obrador
0.64
0.27
12/10/20 0:00
Andrés Manuel López Obrador
0.64
0.28
12/11/20 0:00
Andrés Manuel López Obrador
0.64
0.29
12/12/20 0:00
Andrés Manuel López Obrador
0.63
0.30
12/13/20 0:00
Andrés Manuel López Obrador
0.64
0.30
12/14/20 0:00
Andrés Manuel López Obrador
0.64
0.29
12/15/20 0:00
Andrés Manuel López Obrador
0.64
0.28
12/16/20 0:00
Andrés Manuel López Obrador
0.63
0.30
12/17/20 0:00
Andrés Manuel López Obrador
0.63
0.30
12/18/20 0:00
Andrés Manuel López Obrador
0.63
0.30
12/19/20 0:00
Andrés Manuel López Obrador
0.63
0.30
12/20/20 0:00
Andrés Manuel López Obrador
0.62
0.31
12/21/20 0:00
Andrés Manuel López Obrador
0.61
0.33
12/22/20 0:00
Andrés Manuel López Obrador
0.62
0.33
12/23/20 0:00
Andrés Manuel López Obrador
0.62
0.33
12/24/20 0:00
Andrés Manuel López Obrador
0.63
0.31
12/25/20 0:00
Andrés Manuel López Obrador
0.64
0.29
12/26/20 0:00
Andrés Manuel López Obrador
0.64
0.28
12/27/20 0:00
Andrés Manuel López Obrador
0.64
0.27
12/28/20 0:00
Andrés Manuel López Obrador
0.64
0.26
12/29/20 0:00
Andrés Manuel López Obrador
0.65
0.25
12/30/20 0:00
Andrés Manuel López Obrador
0.64
0.26
12/31/20 0:00
Andrés Manuel López Obrador
0.64
0.27
1/1/21 0:00
Andrés Manuel López Obrador
0.64
0.28
1/2/21 0:00
Andrés Manuel López Obrador
0.63
0.28
1/3/21 0:00
Andrés Manuel López Obrador
0.65
0.27
1/4/21 0:00
Andrés Manuel López Obrador
0.65
0.27
1/5/21 0:00
Andrés Manuel López Obrador
0.64
0.28
1/6/21 0:00
Andrés Manuel López Obrador
0.64
0.28
1/7/21 0:00
Andrés Manuel López Obrador
0.64
0.27
1/8/21 0:00
Andrés Manuel López Obrador
0.63
0.28
1/9/21 0:00
Andrés Manuel López Obrador
0.63
0.28
1/10/21 0:00
Andrés Manuel López Obrador
0.63
0.30
1/11/21 0:00
Andrés Manuel López Obrador
0.62
0.31
1/12/21 0:00
Andrés Manuel López Obrador
0.61
0.31
1/13/21 0:00
Andrés Manuel López Obrador
0.62
0.31
1/14/21 0:00
Andrés Manuel López Obrador
0.61
0.32
1/15/21 0:00
Andrés Manuel López Obrador
0.62
0.31
1/16/21 0:00
Andrés Manuel López Obrador
0.62
0.31
1/17/21 0:00
Andrés Manuel López Obrador
0.62
0.30
1/18/21 0:00
Andrés Manuel López Obrador
0.62
0.30
1/19/21 0:00
Andrés Manuel López Obrador
0.63
0.29
1/20/21 0:00
Andrés Manuel López Obrador
0.64
0.28
1/21/21 0:00
Andrés Manuel López Obrador
0.66
0.27
1/22/21 0:00
Andrés Manuel López Obrador
0.66
0.26
1/23/21 0:00
Andrés Manuel López Obrador
0.66
0.26
1/24/21 0:00
Andrés Manuel López Obrador
0.65
0.27
1/25/21 0:00
Andrés Manuel López Obrador
0.66
0.25
1/26/21 0:00
Andrés Manuel López Obrador
0.67
0.26
1/27/21 0:00
Andrés Manuel López Obrador
0.65
0.27
1/28/21 0:00
Andrés Manuel López Obrador
0.64
0.27
1/29/21 0:00
Andrés Manuel López Obrador
0.62
0.28
1/30/21 0:00
Andrés Manuel López Obrador
0.62
0.28
1/31/21 0:00
Andrés Manuel López Obrador
0.62
0.28
2/1/21 0:00
Andrés Manuel López Obrador
0.61
0.30
2/2/21 0:00
Andrés Manuel López Obrador
0.61
0.30
2/3/21 0:00
Andrés Manuel López Obrador
0.61
0.30
2/4/21 0:00
Andrés Manuel López Obrador
0.61
0.31
2/5/21 0:00
Andrés Manuel López Obrador
0.62
0.31
2/6/21 0:00
Andrés Manuel López Obrador
0.61
0.31
2/7/21 0:00
Andrés Manuel López Obrador
0.62
0.30
2/8/21 0:00
Andrés Manuel López Obrador
0.63
0.28
2/9/21 0:00
Andrés Manuel López Obrador
0.62
0.28
2/10/21 0:00
Andrés Manuel López Obrador
0.63
0.28
2/11/21 0:00
Andrés Manuel López Obrador
0.62
0.28
2/12/21 0:00
Andrés Manuel López Obrador
0.61
0.28
2/13/21 0:00
Andrés Manuel López Obrador
0.62
0.28
2/14/21 0:00
Andrés Manuel López Obrador
0.62
0.28
2/15/21 0:00
Andrés Manuel López Obrador
0.62
0.30
2/16/21 0:00
Andrés Manuel López Obrador
0.61
0.30
2/17/21 0:00
Andrés Manuel López Obrador
0.61
0.30
2/18/21 0:00
Andrés Manuel López Obrador
0.62
0.30
2/19/21 0:00
Andrés Manuel López Obrador
0.64
0.29
2/20/21 0:00
Andrés Manuel López Obrador
0.64
0.29
2/21/21 0:00
Andrés Manuel López Obrador
0.63
0.29
2/22/21 0:00
Andrés Manuel López Obrador
0.63
0.28
2/23/21 0:00
Andrés Manuel López Obrador
0.64
0.28
2/24/21 0:00
Andrés Manuel López Obrador
0.65
0.27
2/25/21 0:00
Andrés Manuel López Obrador
0.63
0.27
2/26/21 0:00
Andrés Manuel López Obrador
0.62
0.28
2/27/21 0:00
Andrés Manuel López Obrador
0.62
0.28
2/28/21 0:00
Andrés Manuel López Obrador
0.62
0.29
3/1/21 0:00
Andrés Manuel López Obrador
0.61
0.29
3/2/21 0:00
Andrés Manuel López Obrador
0.60
0.30
3/3/21 0:00
Andrés Manuel López Obrador
0.58
0.31
3/4/21 0:00
Andrés Manuel López Obrador
0.58
0.31
3/5/21 0:00
Andrés Manuel López Obrador
0.60
0.30
3/6/21 0:00
Andrés Manuel López Obrador
0.60
0.30
3/7/21 0:00
Andrés Manuel López Obrador
0.61
0.29
3/8/21 0:00
Andrés Manuel López Obrador
0.62
0.29
3/9/21 0:00
Andrés Manuel López Obrador
0.64
0.27
3/10/21 0:00
Andrés Manuel López Obrador
0.65
0.27
3/11/21 0:00
Andrés Manuel López Obrador
0.66
0.27
3/12/21 0:00
Andrés Manuel López Obrador
0.64
0.28
3/13/21 0:00
Andrés Manuel López Obrador
0.64
0.28
3/14/21 0:00
Andrés Manuel López Obrador
0.63
0.28
3/15/21 0:00
Andrés Manuel López Obrador
0.62
0.29
3/16/21 0:00
Andrés Manuel López Obrador
0.61
0.30
3/17/21 0:00
Andrés Manuel López Obrador
0.61
0.30
3/18/21 0:00
Andrés Manuel López Obrador
0.59
0.31
3/19/21 0:00
Andrés Manuel López Obrador
0.59
0.31
3/20/21 0:00
Andrés Manuel López Obrador
0.60
0.30
3/21/21 0:00
Andrés Manuel López Obrador
0.59
0.30
3/22/21 0:00
Andrés Manuel López Obrador
0.59
0.29
3/23/21 0:00
Andrés Manuel López Obrador
0.58
0.30
3/24/21 0:00
Andrés Manuel López Obrador
0.58
0.30
3/25/21 0:00
Andrés Manuel López Obrador
0.59
0.29
3/26/21 0:00
Andrés Manuel López Obrador
0.59
0.29
3/27/21 0:00
Andrés Manuel López Obrador
0.59
0.30
3/28/21 0:00
Andrés Manuel López Obrador
0.58
0.30
3/29/21 0:00
Andrés Manuel López Obrador
0.58
0.31
3/30/21 0:00
Andrés Manuel López Obrador
0.59
0.31
3/31/21 0:00
Andrés Manuel López Obrador
0.58
0.31
4/1/21 0:00
Andrés Manuel López Obrador
0.59
0.30
4/2/21 0:00
Andrés Manuel López Obrador
0.59
0.30
4/3/21 0:00
Andrés Manuel López Obrador
0.60
0.30
4/4/21 0:00
Andrés Manuel López Obrador
0.61
0.29
4/5/21 0:00
Andrés Manuel López Obrador
0.61
0.29
4/6/21 0:00
Andrés Manuel López Obrador
0.61
0.28
4/7/21 0:00
Andrés Manuel López Obrador
0.63
0.28
4/8/21 0:00
Andrés Manuel López Obrador
0.60
0.30
4/9/21 0:00
Andrés Manuel López Obrador
0.60
0.30
4/10/21 0:00
Andrés Manuel López Obrador
0.61
0.29
4/11/21 0:00
Andrés Manuel López Obrador
0.59
0.31
4/12/21 0:00
Andrés Manuel López Obrador
0.59
0.31
4/13/21 0:00
Andrés Manuel López Obrador
0.59
0.31
4/14/21 0:00
Andrés Manuel López Obrador
0.60
0.31
4/15/21 0:00
Andrés Manuel López Obrador
0.61
0.30
4/16/21 0:00
Andrés Manuel López Obrador
0.62
0.30
4/17/21 0:00
Andrés Manuel López Obrador
0.60
0.31
4/18/21 0:00
Andrés Manuel López Obrador
0.61
0.30
4/19/21 0:00
Andrés Manuel López Obrador
0.62
0.29
4/20/21 0:00
Andrés Manuel López Obrador
0.62
0.30
4/21/21 0:00
Andrés Manuel López Obrador
0.61
0.31
4/22/21 0:00
Andrés Manuel López Obrador
0.61
0.32
4/23/21 0:00
Andrés Manuel López Obrador
0.61
0.31
4/24/21 0:00
Andrés Manuel López Obrador
0.61
0.31
4/25/21 0:00
Andrés Manuel López Obrador
0.61
0.31
4/26/21 0:00
Andrés Manuel López Obrador
0.60
0.32
4/27/21 0:00
Andrés Manuel López Obrador
0.59
0.32
4/28/21 0:00
Andrés Manuel López Obrador
0.60
0.31
4/29/21 0:00
Andrés Manuel López Obrador
0.60
0.30
4/30/21 0:00
Andrés Manuel López Obrador
0.60
0.31
5/1/21 0:00
Andrés Manuel López Obrador
0.62
0.30
5/2/21 0:00
Andrés Manuel López Obrador
0.62
0.30
5/3/21 0:00
Andrés Manuel López Obrador
0.62
0.30
5/4/21 0:00
Andrés Manuel López Obrador
0.64
0.29
5/5/21 0:00
Andrés Manuel López Obrador
0.63
0.30
5/6/21 0:00
Andrés Manuel López Obrador
0.63
0.30
5/7/21 0:00
Andrés Manuel López Obrador
0.63
0.30
5/8/21 0:00
Andrés Manuel López Obrador
0.62
0.30
5/9/21 0:00
Andrés Manuel López Obrador
0.62
0.30
5/10/21 0:00
Andrés Manuel López Obrador
0.62
0.29
5/11/21 0:00
Andrés Manuel López Obrador
0.60
0.30
5/12/21 0:00
Andrés Manuel López Obrador
0.60
0.31
5/13/21 0:00
Andrés Manuel López Obrador
0.59
0.31
5/14/21 0:00
Andrés Manuel López Obrador
0.57
0.33
5/15/21 0:00
Andrés Manuel López Obrador
0.57
0.33
5/16/21 0:00
Andrés Manuel López Obrador
0.57
0.34
5/17/21 0:00
Andrés Manuel López Obrador
0.56
0.34
5/18/21 0:00
Andrés Manuel López Obrador
0.57
0.33
5/19/21 0:00
Andrés Manuel López Obrador
0.58
0.33
5/20/21 0:00
Andrés Manuel López Obrador
0.59
0.33
5/21/21 0:00
Andrés Manuel López Obrador
0.60
0.30
5/22/21 0:00
Andrés Manuel López Obrador
0.61
0.30
5/23/21 0:00
Andrés Manuel López Obrador
0.61
0.28
5/24/21 0:00
Andrés Manuel López Obrador
0.63
0.28
5/25/21 0:00
Andrés Manuel López Obrador
0.62
0.27
5/26/21 0:00
Andrés Manuel López Obrador
0.61
0.28
5/27/21 0:00
Andrés Manuel López Obrador
0.62
0.27
5/28/21 0:00
Andrés Manuel López Obrador
0.62
0.28
5/29/21 0:00
Andrés Manuel López Obrador
0.61
0.29
5/30/21 0:00
Andrés Manuel López Obrador
0.62
0.29
5/31/21 0:00
Andrés Manuel López Obrador
0.60
0.30
6/1/21 0:00
Andrés Manuel López Obrador
0.62
0.30
6/2/21 0:00
Andrés Manuel López Obrador
0.63
0.30
6/3/21 0:00
Andrés Manuel López Obrador
0.63
0.30
6/4/21 0:00
Andrés Manuel López Obrador
0.63
0.30
6/5/21 0:00
Andrés Manuel López Obrador
0.63
0.31
6/6/21 0:00
Andrés Manuel López Obrador
0.62
0.31
6/7/21 0:00
Andrés Manuel López Obrador
0.63
0.30
6/8/21 0:00
Andrés Manuel López Obrador
0.62
0.30
6/9/21 0:00
Andrés Manuel López Obrador
0.62
0.29
6/10/21 0:00
Andrés Manuel López Obrador
0.62
0.29
6/11/21 0:00
Andrés Manuel López Obrador
0.63
0.28
6/12/21 0:00
Andrés Manuel López Obrador
0.63
0.27
6/13/21 0:00
Andrés Manuel López Obrador
0.63
0.26
6/14/21 0:00
Andrés Manuel López Obrador
0.63
0.26
6/15/21 0:00
Andrés Manuel López Obrador
0.63
0.27
6/16/21 0:00
Andrés Manuel López Obrador
0.62
0.27
6/17/21 0:00
Andrés Manuel López Obrador
0.62
0.27
6/18/21 0:00
Andrés Manuel López Obrador
0.62
0.27
6/19/21 0:00
Andrés Manuel López Obrador
0.63
0.27
6/20/21 0:00
Andrés Manuel López Obrador
0.63
0.27
6/21/21 0:00
Andrés Manuel López Obrador
0.63
0.27
6/22/21 0:00
Andrés Manuel López Obrador
0.64
0.27
6/23/21 0:00
Andrés Manuel López Obrador
0.64
0.27
6/24/21 0:00
Andrés Manuel López Obrador
0.63
0.27
6/25/21 0:00
Andrés Manuel López Obrador
0.64
0.26
6/26/21 0:00
Andrés Manuel López Obrador
0.64
0.26
6/27/21 0:00
Andrés Manuel López Obrador
0.66
0.25
6/28/21 0:00
Andrés Manuel López Obrador
0.66
0.26
6/29/21 0:00
Andrés Manuel López Obrador
0.66
0.26
6/30/21 0:00
Andrés Manuel López Obrador
0.66
0.25
7/1/21 0:00
Andrés Manuel López Obrador
0.67
0.25
7/2/21 0:00
Andrés Manuel López Obrador
0.66
0.26
7/3/21 0:00
Andrés Manuel López Obrador
0.66
0.26
7/4/21 0:00
Andrés Manuel López Obrador
0.66
0.26
7/5/21 0:00
Andrés Manuel López Obrador
0.67
0.26
7/6/21 0:00
Andrés Manuel López Obrador
0.66
0.26
7/7/21 0:00
Andrés Manuel López Obrador
0.66
0.26
7/8/21 0:00
Andrés Manuel López Obrador
0.66
0.27
7/9/21 0:00
Andrés Manuel López Obrador
0.66
0.27
7/10/21 0:00
Andrés Manuel López Obrador
0.66
0.26
7/11/21 0:00
Andrés Manuel López Obrador
0.65
0.26
7/12/21 0:00
Andrés Manuel López Obrador
0.64
0.27
7/13/21 0:00
Andrés Manuel López Obrador
0.64
0.27
7/14/21 0:00
Andrés Manuel López Obrador
0.64
0.26
7/15/21 0:00
Andrés Manuel López Obrador
0.63
0.26
7/16/21 0:00
Andrés Manuel López Obrador
0.63
0.26
7/17/21 0:00
Andrés Manuel López Obrador
0.63
0.27
7/18/21 0:00
Andrés Manuel López Obrador
0.62
0.27
7/19/21 0:00
Andrés Manuel López Obrador
0.64
0.27
7/20/21 0:00
Andrés Manuel López Obrador
0.65
0.27
7/21/21 0:00
Andrés Manuel López Obrador
0.65
0.26
7/22/21 0:00
Andrés Manuel López Obrador
0.66
0.27
7/23/21 0:00
Andrés Manuel López Obrador
0.66
0.27
7/24/21 0:00
Andrés Manuel López Obrador
0.66
0.27
7/25/21 0:00
Andrés Manuel López Obrador
0.66
0.27
7/26/21 0:00
Andrés Manuel López Obrador
0.66
0.27
7/27/21 0:00
Andrés Manuel López Obrador
0.65
0.27
7/28/21 0:00
Andrés Manuel López Obrador
0.63
0.28
7/29/21 0:00
Andrés Manuel López Obrador
0.64
0.27
7/30/21 0:00
Andrés Manuel López Obrador
0.64
0.27
7/31/21 0:00
Andrés Manuel López Obrador
0.63
0.28
8/1/21 0:00
Andrés Manuel López Obrador
0.64
0.28
8/2/21 0:00
Andrés Manuel López Obrador
0.63
0.28
8/3/21 0:00
Andrés Manuel López Obrador
0.64
0.28
8/4/21 0:00
Andrés Manuel López Obrador
0.65
0.26
8/5/21 0:00
Andrés Manuel López Obrador
0.65
0.27
8/6/21 0:00
Andrés Manuel López Obrador
0.66
0.26
8/7/21 0:00
Andrés Manuel López Obrador
0.66
0.27
8/8/21 0:00
Andrés Manuel López Obrador
0.65
0.27
8/9/21 0:00
Andrés Manuel López Obrador
0.66
0.26
8/10/21 0:00
Andrés Manuel López Obrador
0.65
0.27
8/11/21 0:00
Andrés Manuel López Obrador
0.65
0.28
8/12/21 0:00
Andrés Manuel López Obrador
0.65
0.28
8/13/21 0:00
Andrés Manuel López Obrador
0.64
0.29
8/14/21 0:00
Andrés Manuel López Obrador
0.63
0.28
8/15/21 0:00
Andrés Manuel López Obrador
0.63
0.29
8/16/21 0:00
Andrés Manuel López Obrador
0.62
0.30
8/17/21 0:00
Andrés Manuel López Obrador
0.62
0.29
8/18/21 0:00
Andrés Manuel López Obrador
0.60
0.30
8/19/21 0:00
Andrés Manuel López Obrador
0.60
0.31
8/20/21 0:00
Andrés Manuel López Obrador
0.61
0.30
8/21/21 0:00
Andrés Manuel López Obrador
0.62
0.29
8/22/21 0:00
Andrés Manuel López Obrador
0.62
0.28
8/23/21 0:00
Andrés Manuel López Obrador
0.62
0.29
8/24/21 0:00
Andrés Manuel López Obrador
0.62
0.29
8/25/21 0:00
Andrés Manuel López Obrador
0.63
0.27
8/26/21 0:00
Andrés Manuel López Obrador
0.64
0.27
8/27/21 0:00
Andrés Manuel López Obrador
0.64
0.28
8/28/21 0:00
Andrés Manuel López Obrador
0.65
0.27
8/29/21 0:00
Andrés Manuel López Obrador
0.65
0.27
8/30/21 0:00
Andrés Manuel López Obrador
0.65
0.27
8/31/21 0:00
Andrés Manuel López Obrador
0.64
0.27
9/1/21 0:00
Andrés Manuel López Obrador
0.64
0.28
9/2/21 0:00
Andrés Manuel López Obrador
0.63
0.28
9/3/21 0:00
Andrés Manuel López Obrador
0.63
0.27
9/4/21 0:00
Andrés Manuel López Obrador
0.63
0.28
9/5/21 0:00
Andrés Manuel López Obrador
0.63
0.28
9/6/21 0:00
Andrés Manuel López Obrador
0.65
0.27
9/7/21 0:00
Andrés Manuel López Obrador
0.65
0.26
9/8/21 0:00
Andrés Manuel López Obrador
0.66
0.26
9/9/21 0:00
Andrés Manuel López Obrador
0.66
0.27
9/10/21 0:00
Andrés Manuel López Obrador
0.67
0.26
9/11/21 0:00
Andrés Manuel López Obrador
0.65
0.26
9/12/21 0:00
Andrés Manuel López Obrador
0.65
0.27
9/13/21 0:00
Andrés Manuel López Obrador
0.65
0.27
9/14/21 0:00
Andrés Manuel López Obrador
0.65
0.28
9/15/21 0:00
Andrés Manuel López Obrador
0.65
0.29
9/16/21 0:00
Andrés Manuel López Obrador
0.65
0.28
9/17/21 0:00
Andrés Manuel López Obrador
0.65
0.29
9/18/21 0:00
Andrés Manuel López Obrador
0.65
0.29
9/19/21 0:00
Andrés Manuel López Obrador
0.65
0.29
9/20/21 0:00
Andrés Manuel López Obrador
0.66
0.28
9/21/21 0:00
Andrés Manuel López Obrador
0.65
0.28
9/22/21 0:00
Andrés Manuel López Obrador
0.66
0.27
9/23/21 0:00
Andrés Manuel López Obrador
0.64
0.28
9/24/21 0:00
Andrés Manuel López Obrador
0.63
0.29
9/25/21 0:00
Andrés Manuel López Obrador
0.63
0.28
9/26/21 0:00
Andrés Manuel López Obrador
0.62
0.28
9/27/21 0:00
Andrés Manuel López Obrador
0.61
0.29
9/28/21 0:00
Andrés Manuel López Obrador
0.62
0.30
9/29/21 0:00
Andrés Manuel López Obrador
0.61
0.30
9/30/21 0:00
Andrés Manuel López Obrador
0.63
0.29
10/1/21 0:00
Andrés Manuel López Obrador
0.64
0.29
10/2/21 0:00
Andrés Manuel López Obrador
0.65
0.29
10/3/21 0:00
Andrés Manuel López Obrador
0.65
0.29
10/4/21 0:00
Andrés Manuel López Obrador
0.66
0.27
10/5/21 0:00
Andrés Manuel López Obrador
0.67
0.27
10/6/21 0:00
Andrés Manuel López Obrador
0.67
0.26
10/7/21 0:00
Andrés Manuel López Obrador
0.65
0.28
10/8/21 0:00
Andrés Manuel López Obrador
0.65
0.27
10/9/21 0:00
Andrés Manuel López Obrador
0.64
0.28
10/10/21 0:00
Andrés Manuel López Obrador
0.64
0.28
10/11/21 0:00
Andrés Manuel López Obrador
0.63
0.29
10/12/21 0:00
Andrés Manuel López Obrador
0.63
0.28
10/13/21 0:00
Andrés Manuel López Obrador
0.63
0.28
10/14/21 0:00
Andrés Manuel López Obrador
0.64
0.27
10/15/21 0:00
Andrés Manuel López Obrador
0.65
0.27
10/16/21 0:00
Andrés Manuel López Obrador
0.65
0.27
10/17/21 0:00
Andrés Manuel López Obrador
0.65
0.26
10/18/21 0:00
Andrés Manuel López Obrador
0.65
0.26
10/19/21 0:00
Andrés Manuel López Obrador
0.65
0.26
10/20/21 0:00
Andrés Manuel López Obrador
0.65
0.27
10/21/21 0:00
Andrés Manuel López Obrador
0.66
0.27
10/22/21 0:00
Andrés Manuel López Obrador
0.66
0.26
10/23/21 0:00
Andrés Manuel López Obrador
0.67
0.25
10/24/21 0:00
Andrés Manuel López Obrador
0.66
0.26
10/25/21 0:00
Andrés Manuel López Obrador
0.67
0.25
10/26/21 0:00
Andrés Manuel López Obrador
0.67
0.25
10/27/21 0:00
Andrés Manuel López Obrador
0.68
0.24
10/28/21 0:00
Andrés Manuel López Obrador
0.67
0.25
10/29/21 0:00
Andrés Manuel López Obrador
0.66
0.26
10/30/21 0:00
Andrés Manuel López Obrador
0.66
0.25
10/31/21 0:00
Andrés Manuel López Obrador
0.67
0.26
11/1/21 0:00
Andrés Manuel López Obrador
0.68
0.25
11/2/21 0:00
Andrés Manuel López Obrador
0.66
0.25
11/3/21 0:00
Andrés Manuel López Obrador
0.64
0.26
11/4/21 0:00
Andrés Manuel López Obrador
0.65
0.26
11/5/21 0:00
Andrés Manuel López Obrador
0.66
0.26
11/6/21 0:00
Andrés Manuel López Obrador
0.65
0.26
11/7/21 0:00
Andrés Manuel López Obrador
0.65
0.26
11/8/21 0:00
Andrés Manuel López Obrador
0.63
0.27
11/9/21 0:00
Andrés Manuel López Obrador
0.65
0.26
11/10/21 0:00
Andrés Manuel López Obrador
0.65
0.25
11/11/21 0:00
Andrés Manuel López Obrador
0.65
0.26
11/12/21 0:00
Andrés Manuel López Obrador
0.65
0.26
11/13/21 0:00
Andrés Manuel López Obrador
0.65
0.26
11/14/21 0:00
Andrés Manuel López Obrador
0.66
0.25
11/15/21 0:00
Andrés Manuel López Obrador
0.67
0.25
11/16/21 0:00
Andrés Manuel López Obrador
0.67
0.25
11/17/21 0:00
Andrés Manuel López Obrador
0.67
0.25
11/18/21 0:00
Andrés Manuel López Obrador
0.68
0.24
11/19/21 0:00
Andrés Manuel López Obrador
0.68
0.24
11/20/21 0:00
Andrés Manuel López Obrador
0.69
0.24
11/21/21 0:00
Andrés Manuel López Obrador
0.69
0.24
11/22/21 0:00
Andrés Manuel López Obrador
0.68
0.24
11/23/21 0:00
Andrés Manuel López Obrador
0.68
0.25
11/24/21 0:00
Andrés Manuel López Obrador
0.67
0.25
11/25/21 0:00
Andrés Manuel López Obrador
0.67
0.26
11/26/21 0:00
Andrés Manuel López Obrador
0.66
0.26
11/27/21 0:00
Andrés Manuel López Obrador
0.66
0.26
11/28/21 0:00
Andrés Manuel López Obrador
0.67
0.25
11/29/21 0:00
Andrés Manuel López Obrador
0.66
0.26
11/30/21 0:00
Andrés Manuel López Obrador
0.67
0.25
12/1/21 0:00
Andrés Manuel López Obrador
0.66
0.25
12/2/21 0:00
Andrés Manuel López Obrador
0.66
0.25
12/3/21 0:00
Andrés Manuel López Obrador
0.67
0.25
12/4/21 0:00
Andrés Manuel López Obrador
0.66
0.25
12/5/21 0:00
Andrés Manuel López Obrador
0.66
0.25
12/6/21 0:00
Andrés Manuel López Obrador
0.67
0.26
12/7/21 0:00
Andrés Manuel López Obrador
0.66
0.26
12/8/21 0:00
Andrés Manuel López Obrador
0.66
0.26
12/9/21 0:00
Andrés Manuel López Obrador
0.68
0.25
12/10/21 0:00
Andrés Manuel López Obrador
0.68
0.25
12/11/21 0:00
Andrés Manuel López Obrador
0.68
0.25
12/12/21 0:00
Andrés Manuel López Obrador
0.67
0.26
12/13/21 0:00
Andrés Manuel López Obrador
0.68
0.25
12/14/21 0:00
Andrés Manuel López Obrador
0.69
0.24
12/15/21 0:00
Andrés Manuel López Obrador
0.69
0.24
12/16/21 0:00
Andrés Manuel López Obrador
0.68
0.25
12/17/21 0:00
Andrés Manuel López Obrador
0.67
0.25
12/18/21 0:00
Andrés Manuel López Obrador
0.68
0.25
12/19/21 0:00
Andrés Manuel López Obrador
0.68
0.24
12/20/21 0:00
Andrés Manuel López Obrador
0.67
0.25
12/21/21 0:00
Andrés Manuel López Obrador
0.67
0.25
12/22/21 0:00
Andrés Manuel López Obrador
0.67
0.25
12/23/21 0:00
Andrés Manuel López Obrador
0.68
0.25
12/24/21 0:00
Andrés Manuel López Obrador
0.67
0.25
12/25/21 0:00
Andrés Manuel López Obrador
0.67
0.25
12/26/21 0:00
Andrés Manuel López Obrador
0.67
0.25
12/27/21 0:00
Andrés Manuel López Obrador
0.67
0.25
12/28/21 0:00
Andrés Manuel López Obrador
0.68
0.25
12/29/21 0:00
Andrés Manuel López Obrador
0.67
0.25
12/30/21 0:00
Andrés Manuel López Obrador
0.66
0.26
12/31/21 0:00
Andrés Manuel López Obrador
0.67
0.25
1/1/22 0:00
Andrés Manuel López Obrador
0.68
0.24
1/2/22 0:00
Andrés Manuel López Obrador
0.68
0.24
1/3/22 0:00
Andrés Manuel López Obrador
0.67
0.26
1/4/22 0:00
Andrés Manuel López Obrador
0.66
0.26
1/5/22 0:00
Andrés Manuel López Obrador
0.66
0.26
1/6/22 0:00
Andrés Manuel López Obrador
0.66
0.26
1/7/22 0:00
Andrés Manuel López Obrador
0.65
0.27
1/8/22 0:00
Andrés Manuel López Obrador
0.65
0.28
1/9/22 0:00
Andrés Manuel López Obrador
0.65
0.27
1/10/22 0:00
Andrés Manuel López Obrador
0.67
0.26
1/11/22 0:00
Andrés Manuel López Obrador
0.67
0.26
1/12/22 0:00
Andrés Manuel López Obrador
0.67
0.26
1/13/22 0:00
Andrés Manuel López Obrador
0.66
0.26
1/14/22 0:00
Andrés Manuel López Obrador
0.67
0.26
1/15/22 0:00
Andrés Manuel López Obrador
0.66
0.26
1/16/22 0:00
Andrés Manuel López Obrador
0.65
0.26
1/17/22 0:00
Andrés Manuel López Obrador
0.65
0.26
1/18/22 0:00
Andrés Manuel López Obrador
0.66
0.26
1/19/22 0:00
Andrés Manuel López Obrador
0.66
0.26
1/20/22 0:00
Andrés Manuel López Obrador
0.66
0.25
1/21/22 0:00
Andrés Manuel López Obrador
0.66
0.25
1/22/22 0:00
Andrés Manuel López Obrador
0.67
0.24
1/23/22 0:00
Andrés Manuel López Obrador
0.68
0.24
1/24/22 0:00
Andrés Manuel López Obrador
0.68
0.24
1/25/22 0:00
Andrés Manuel López Obrador
0.68
0.24
1/26/22 0:00
Andrés Manuel López Obrador
0.69
0.24
1/27/22 0:00
Andrés Manuel López Obrador
0.69
0.24
1/28/22 0:00
Andrés Manuel López Obrador
0.68
0.24
1/29/22 0:00
Andrés Manuel López Obrador
0.67
0.25
1/30/22 0:00
Andrés Manuel López Obrador
0.67
0.24
1/31/22 0:00
Andrés Manuel López Obrador
0.66
0.25
2/1/22 0:00
Andrés Manuel López Obrador
0.64
0.26
2/2/22 0:00
Andrés Manuel López Obrador
0.65
0.26
2/3/22 0:00
Andrés Manuel López Obrador
0.65
0.26
2/4/22 0:00
Andrés Manuel López Obrador
0.65
0.25
2/5/22 0:00
Andrés Manuel López Obrador
0.65
0.25
2/6/22 0:00
Andrés Manuel López Obrador
0.65
0.26
2/7/22 0:00
Andrés Manuel López Obrador
0.66
0.26
2/8/22 0:00
Andrés Manuel López Obrador
0.67
0.25
2/9/22 0:00
Andrés Manuel López Obrador
0.67
0.25
2/10/22 0:00
Andrés Manuel López Obrador
0.66
0.26
2/11/22 0:00
Andrés Manuel López Obrador
0.66
0.27
2/12/22 0:00
Andrés Manuel López Obrador
0.66
0.27
2/13/22 0:00
Andrés Manuel López Obrador
0.66
0.27
2/14/22 0:00
Andrés Manuel López Obrador
0.65
0.26
2/15/22 0:00
Andrés Manuel López Obrador
0.65
0.27
2/16/22 0:00
Andrés Manuel López Obrador
0.64
0.28
2/17/22 0:00
Andrés Manuel López Obrador
0.64
0.27
2/18/22 0:00
Andrés Manuel López Obrador
0.64
0.27
2/19/22 0:00
Andrés Manuel López Obrador
0.65
0.27
2/20/22 0:00
Andrés Manuel López Obrador
0.64
0.27
2/21/22 0:00
Andrés Manuel López Obrador
0.64
0.28
2/22/22 0:00
Andrés Manuel López Obrador
0.65
0.28
2/23/22 0:00
Andrés Manuel López Obrador
0.64
0.28
2/24/22 0:00
Andrés Manuel López Obrador
0.64
0.27
2/25/22 0:00
Andrés Manuel López Obrador
0.63
0.28
2/26/22 0:00
Andrés Manuel López Obrador
0.62
0.28
2/27/22 0:00
Andrés Manuel López Obrador
0.63
0.27
2/28/22 0:00
Andrés Manuel López Obrador
0.63
0.26
3/1/22 0:00
Andrés Manuel López Obrador
0.63
0.26
3/2/22 0:00
Andrés Manuel López Obrador
0.63
0.27
3/3/22 0:00
Andrés Manuel López Obrador
0.62
0.28
3/4/22 0:00
Andrés Manuel López Obrador
0.64
0.27
3/5/22 0:00
Andrés Manuel López Obrador
0.65
0.27
3/6/22 0:00
Andrés Manuel López Obrador
0.65
0.29
3/7/22 0:00
Andrés Manuel López Obrador
0.65
0.28
3/8/22 0:00
Andrés Manuel López Obrador
0.66
0.27
3/9/22 0:00
Andrés Manuel López Obrador
0.67
0.27
3/10/22 0:00
Andrés Manuel López Obrador
0.67
0.27
3/11/22 0:00
Andrés Manuel López Obrador
0.66
0.28
3/12/22 0:00
Andrés Manuel López Obrador
0.65
0.28
3/13/22 0:00
Andrés Manuel López Obrador
0.66
0.27
3/14/22 0:00
Andrés Manuel López Obrador
0.65
0.28
3/15/22 0:00
Andrés Manuel López Obrador
0.63
0.29
3/16/22 0:00
Andrés Manuel López Obrador
0.63
0.29
3/17/22 0:00
Andrés Manuel López Obrador
0.64
0.29
3/18/22 0:00
Andrés Manuel López Obrador
0.64
0.28
3/19/22 0:00
Andrés Manuel López Obrador
0.64
0.27
3/20/22 0:00
Andrés Manuel López Obrador
0.64
0.28
3/21/22 0:00
Andrés Manuel López Obrador
0.64
0.28
3/22/22 0:00
Andrés Manuel López Obrador
0.65
0.28
3/23/22 0:00
Andrés Manuel López Obrador
0.65
0.28
3/24/22 0:00
Andrés Manuel López Obrador
0.66
0.26
3/25/22 0:00
Andrés Manuel López Obrador
0.65
0.26
3/26/22 0:00
Andrés Manuel López Obrador
0.67
0.26
3/27/22 0:00
Andrés Manuel López Obrador
0.68
0.24
3/28/22 0:00
Andrés Manuel López Obrador
0.69
0.24
3/29/22 0:00
Andrés Manuel López Obrador
0.68
0.24
3/30/22 0:00
Andrés Manuel López Obrador
0.69
0.24
3/31/22 0:00
Andrés Manuel López Obrador
0.67
0.25
4/1/22 0:00
Andrés Manuel López Obrador
0.68
0.25
4/2/22 0:00
Andrés Manuel López Obrador
0.67
0.26
4/3/22 0:00
Andrés Manuel López Obrador
0.66
0.26
4/4/22 0:00
Andrés Manuel López Obrador
0.66
0.27
4/5/22 0:00
Andrés Manuel López Obrador
0.66
0.27
4/6/22 0:00
Andrés Manuel López Obrador
0.66
0.27
4/7/22 0:00
Andrés Manuel López Obrador
0.66
0.27
4/8/22 0:00
Andrés Manuel López Obrador
0.66
0.27
4/9/22 0:00
Andrés Manuel López Obrador
0.65
0.27
4/10/22 0:00
Andrés Manuel López Obrador
0.65
0.27
4/11/22 0:00
Andrés Manuel López Obrador
0.66
0.26
4/12/22 0:00
Andrés Manuel López Obrador
0.67
0.26
4/13/22 0:00
Andrés Manuel López Obrador
0.67
0.25
4/14/22 0:00
Andrés Manuel López Obrador
0.69
0.24
4/15/22 0:00
Andrés Manuel López Obrador
0.69
0.23
4/16/22 0:00
Andrés Manuel López Obrador
0.71
0.22
4/17/22 0:00
Andrés Manuel López Obrador
0.71
0.21
4/18/22 0:00
Andrés Manuel López Obrador
0.71
0.21
4/19/22 0:00
Andrés Manuel López Obrador
0.71
0.22
12/8/21 0:00
Olaf Scholz
0.41
0.29
12/9/21 0:00
Olaf Scholz
0.42
0.25
12/10/21 0:00
Olaf Scholz
0.41
0.27
12/11/21 0:00
Olaf Scholz
0.41
0.28
12/12/21 0:00
Olaf Scholz
0.42
0.29
12/13/21 0:00
Olaf Scholz
0.42
0.29
12/14/21 0:00
Olaf Scholz
0.42
0.30
12/15/21 0:00
Olaf Scholz
0.42
0.30
12/16/21 0:00
Olaf Scholz
0.43
0.31
12/17/21 0:00
Olaf Scholz
0.44
0.31
12/18/21 0:00
Olaf Scholz
0.44
0.31
12/19/21 0:00
Olaf Scholz
0.45
0.31
12/20/21 0:00
Olaf Scholz
0.45
0.31
12/21/21 0:00
Olaf Scholz
0.46
0.32
12/22/21 0:00
Olaf Scholz
0.46
0.32
12/23/21 0:00
Olaf Scholz
0.46
0.33
12/24/21 0:00
Olaf Scholz
0.45
0.34
12/25/21 0:00
Olaf Scholz
0.45
0.34
12/26/21 0:00
Olaf Scholz
0.45
0.34
12/27/21 0:00
Olaf Scholz
0.45
0.35
12/28/21 0:00
Olaf Scholz
0.45
0.34
12/29/21 0:00
Olaf Scholz
0.46
0.34
12/30/21 0:00
Olaf Scholz
0.46
0.34
12/31/21 0:00
Olaf Scholz
0.46
0.34
1/1/22 0:00
Olaf Scholz
0.46
0.34
1/2/22 0:00
Olaf Scholz
0.46
0.34
1/3/22 0:00
Olaf Scholz
0.47
0.34
1/4/22 0:00
Olaf Scholz
0.46
0.35
1/5/22 0:00
Olaf Scholz
0.46
0.35
1/6/22 0:00
Olaf Scholz
0.46
0.35
1/7/22 0:00
Olaf Scholz
0.47
0.35
1/8/22 0:00
Olaf Scholz
0.47
0.35
1/9/22 0:00
Olaf Scholz
0.47
0.36
1/10/22 0:00
Olaf Scholz
0.46
0.36
1/11/22 0:00
Olaf Scholz
0.47
0.36
1/12/22 0:00
Olaf Scholz
0.46
0.38
1/13/22 0:00
Olaf Scholz
0.46
0.38
1/14/22 0:00
Olaf Scholz
0.45
0.39
1/15/22 0:00
Olaf Scholz
0.45
0.40
1/16/22 0:00
Olaf Scholz
0.44
0.40
1/17/22 0:00
Olaf Scholz
0.45
0.40
1/18/22 0:00
Olaf Scholz
0.44
0.40
1/19/22 0:00
Olaf Scholz
0.44
0.40
1/20/22 0:00
Olaf Scholz
0.45
0.40
1/21/22 0:00
Olaf Scholz
0.44
0.41
1/22/22 0:00
Olaf Scholz
0.44
0.41
1/23/22 0:00
Olaf Scholz
0.44
0.42
1/24/22 0:00
Olaf Scholz
0.44
0.42
1/25/22 0:00
Olaf Scholz
0.44
0.43
1/26/22 0:00
Olaf Scholz
0.44
0.43
1/27/22 0:00
Olaf Scholz
0.43
0.44
1/28/22 0:00
Olaf Scholz
0.43
0.45
1/29/22 0:00
Olaf Scholz
0.43
0.46
1/30/22 0:00
Olaf Scholz
0.42
0.46
1/31/22 0:00
Olaf Scholz
0.42
0.46
2/1/22 0:00
Olaf Scholz
0.42
0.46
2/2/22 0:00
Olaf Scholz
0.42
0.47
2/3/22 0:00
Olaf Scholz
0.42
0.47
2/4/22 0:00
Olaf Scholz
0.41
0.47
2/5/22 0:00
Olaf Scholz
0.41
0.48
2/6/22 0:00
Olaf Scholz
0.40
0.48
2/7/22 0:00
Olaf Scholz
0.39
0.49
2/8/22 0:00
Olaf Scholz
0.38
0.50
2/9/22 0:00
Olaf Scholz
0.38
0.50
2/10/22 0:00
Olaf Scholz
0.38
0.51
2/11/22 0:00
Olaf Scholz
0.37
0.51
2/12/22 0:00
Olaf Scholz
0.38
0.51
2/13/22 0:00
Olaf Scholz
0.38
0.51
2/14/22 0:00
Olaf Scholz
0.38
0.51
2/15/22 0:00
Olaf Scholz
0.39
0.50
2/16/22 0:00
Olaf Scholz
0.40
0.49
2/17/22 0:00
Olaf Scholz
0.41
0.48
2/18/22 0:00
Olaf Scholz
0.41
0.48
2/19/22 0:00
Olaf Scholz
0.42
0.47
2/20/22 0:00
Olaf Scholz
0.43
0.46
2/21/22 0:00
Olaf Scholz
0.43
0.46
2/22/22 0:00
Olaf Scholz
0.43
0.46
2/23/22 0:00
Olaf Scholz
0.43
0.46
2/24/22 0:00
Olaf Scholz
0.43
0.47
2/25/22 0:00
Olaf Scholz
0.43
0.47
2/26/22 0:00
Olaf Scholz
0.43
0.47
2/27/22 0:00
Olaf Scholz
0.44
0.46
2/28/22 0:00
Olaf Scholz
0.44
0.47
3/1/22 0:00
Olaf Scholz
0.45
0.46
3/2/22 0:00
Olaf Scholz
0.46
0.45
3/3/22 0:00
Olaf Scholz
0.47
0.44
3/4/22 0:00
Olaf Scholz
0.48
0.43
3/5/22 0:00
Olaf Scholz
0.49
0.42
3/6/22 0:00
Olaf Scholz
0.49
0.41
3/7/22 0:00
Olaf Scholz
0.50
0.41
3/8/22 0:00
Olaf Scholz
0.49
0.42
3/9/22 0:00
Olaf Scholz
0.49
0.43
3/10/22 0:00
Olaf Scholz
0.48
0.44
3/11/22 0:00
Olaf Scholz
0.47
0.45
3/12/22 0:00
Olaf Scholz
0.46
0.46
3/13/22 0:00
Olaf Scholz
0.45
0.46
3/14/22 0:00
Olaf Scholz
0.45
0.47
3/15/22 0:00
Olaf Scholz
0.45
0.47
3/16/22 0:00
Olaf Scholz
0.45
0.46
3/17/22 0:00
Olaf Scholz
0.45
0.47
3/18/22 0:00
Olaf Scholz
0.45
0.47
3/19/22 0:00
Olaf Scholz
0.45
0.47
3/20/22 0:00
Olaf Scholz
0.45
0.47
3/21/22 0:00
Olaf Scholz
0.45
0.47
3/22/22 0:00
Olaf Scholz
0.44
0.47
3/23/22 0:00
Olaf Scholz
0.44
0.48
3/24/22 0:00
Olaf Scholz
0.44
0.48
3/25/22 0:00
Olaf Scholz
0.44
0.47
3/26/22 0:00
Olaf Scholz
0.45
0.47
3/27/22 0:00
Olaf Scholz
0.44
0.47
3/28/22 0:00
Olaf Scholz
0.44
0.47
3/29/22 0:00
Olaf Scholz
0.45
0.47
3/30/22 0:00
Olaf Scholz
0.45
0.47
3/31/22 0:00
Olaf Scholz
0.46
0.47
4/1/22 0:00
Olaf Scholz
0.45
0.47
4/2/22 0:00
Olaf Scholz
0.44
0.48
4/3/22 0:00
Olaf Scholz
0.45
0.48
4/4/22 0:00
Olaf Scholz
0.44
0.48
4/5/22 0:00
Olaf Scholz
0.44
0.48
4/6/22 0:00
Olaf Scholz
0.44
0.48
4/7/22 0:00
Olaf Scholz
0.44
0.48
4/8/22 0:00
Olaf Scholz
0.44
0.49
4/9/22 0:00
Olaf Scholz
0.43
0.49
4/10/22 0:00
Olaf Scholz
0.42
0.50
4/11/22 0:00
Olaf Scholz
0.41
0.50
4/12/22 0:00
Olaf Scholz
0.41
0.51
4/13/22 0:00
Olaf Scholz
0.41
0.51
4/14/22 0:00
Olaf Scholz
0.41
0.51
4/15/22 0:00
Olaf Scholz
0.41
0.51
4/16/22 0:00
Olaf Scholz
0.42
0.51
4/17/22 0:00
Olaf Scholz
0.41
0.51
4/18/22 0:00
Olaf Scholz
0.41
0.51
4/19/22 0:00
Olaf Scholz
0.40
0.52
3/6/20 0:00
Emmanuel Macron
0.24
0.68
3/7/20 0:00
Emmanuel Macron
0.24
0.68
3/8/20 0:00
Emmanuel Macron
0.25
0.68
3/9/20 0:00
Emmanuel Macron
0.25
0.67
3/10/20 0:00
Emmanuel Macron
0.25
0.67
3/11/20 0:00
Emmanuel Macron
0.26
0.66
3/12/20 0:00
Emmanuel Macron
0.26
0.66
3/13/20 0:00
Emmanuel Macron
0.26
0.66
3/14/20 0:00
Emmanuel Macron
0.28
0.65
3/15/20 0:00
Emmanuel Macron
0.28
0.65
3/16/20 0:00
Emmanuel Macron
0.28
0.64
3/17/20 0:00
Emmanuel Macron
0.29
0.63
3/18/20 0:00
Emmanuel Macron
0.31
0.62
3/19/20 0:00
Emmanuel Macron
0.32
0.60
3/20/20 0:00
Emmanuel Macron
0.33
0.59
3/21/20 0:00
Emmanuel Macron
0.34
0.58
3/22/20 0:00
Emmanuel Macron
0.35
0.58
3/23/20 0:00
Emmanuel Macron
0.35
0.57
3/24/20 0:00
Emmanuel Macron
0.35
0.57
3/25/20 0:00
Emmanuel Macron
0.35
0.58
3/26/20 0:00
Emmanuel Macron
0.35
0.58
3/27/20 0:00
Emmanuel Macron
0.34
0.59
3/28/20 0:00
Emmanuel Macron
0.33
0.60
3/29/20 0:00
Emmanuel Macron
0.33
0.60
3/30/20 0:00
Emmanuel Macron
0.33
0.59
3/31/20 0:00
Emmanuel Macron
0.33
0.58
4/1/20 0:00
Emmanuel Macron
0.34
0.57
4/2/20 0:00
Emmanuel Macron
0.34
0.56
4/3/20 0:00
Emmanuel Macron
0.34
0.55
4/4/20 0:00
Emmanuel Macron
0.35
0.54
4/5/20 0:00
Emmanuel Macron
0.36
0.54
4/6/20 0:00
Emmanuel Macron
0.36
0.54
4/7/20 0:00
Emmanuel Macron
0.36
0.55
4/8/20 0:00
Emmanuel Macron
0.36
0.56
4/9/20 0:00
Emmanuel Macron
0.36
0.56
4/10/20 0:00
Emmanuel Macron
0.36
0.56
4/11/20 0:00
Emmanuel Macron
0.35
0.57
4/12/20 0:00
Emmanuel Macron
0.34
0.58
4/13/20 0:00
Emmanuel Macron
0.35
0.58
4/14/20 0:00
Emmanuel Macron
0.36
0.57
4/15/20 0:00
Emmanuel Macron
0.36
0.57
4/16/20 0:00
Emmanuel Macron
0.36
0.57
4/17/20 0:00
Emmanuel Macron
0.36
0.57
4/18/20 0:00
Emmanuel Macron
0.36
0.57
4/19/20 0:00
Emmanuel Macron
0.37
0.56
4/20/20 0:00
Emmanuel Macron
0.37
0.56
4/21/20 0:00
Emmanuel Macron
0.35
0.58
4/22/20 0:00
Emmanuel Macron
0.35
0.58
4/23/20 0:00
Emmanuel Macron
0.34
0.58
4/24/20 0:00
Emmanuel Macron
0.34
0.58
4/25/20 0:00
Emmanuel Macron
0.34
0.57
4/26/20 0:00
Emmanuel Macron
0.34
0.58
4/27/20 0:00
Emmanuel Macron
0.33
0.59
4/28/20 0:00
Emmanuel Macron
0.34
0.59
4/29/20 0:00
Emmanuel Macron
0.33
0.59
4/30/20 0:00
Emmanuel Macron
0.34
0.59
5/1/20 0:00
Emmanuel Macron
0.34
0.60
5/2/20 0:00
Emmanuel Macron
0.34
0.60
5/3/20 0:00
Emmanuel Macron
0.34
0.60
5/4/20 0:00
Emmanuel Macron
0.34
0.60
5/5/20 0:00
Emmanuel Macron
0.34
0.60
5/6/20 0:00
Emmanuel Macron
0.35
0.59
5/7/20 0:00
Emmanuel Macron
0.35
0.58
5/8/20 0:00
Emmanuel Macron
0.35
0.58
5/9/20 0:00
Emmanuel Macron
0.35
0.58
5/10/20 0:00
Emmanuel Macron
0.35
0.57
5/11/20 0:00
Emmanuel Macron
0.35
0.57
5/12/20 0:00
Emmanuel Macron
0.35
0.57
5/13/20 0:00
Emmanuel Macron
0.34
0.58
5/14/20 0:00
Emmanuel Macron
0.33
0.58
5/15/20 0:00
Emmanuel Macron
0.34
0.58
5/16/20 0:00
Emmanuel Macron
0.32
0.60
5/17/20 0:00
Emmanuel Macron
0.32
0.59
5/18/20 0:00
Emmanuel Macron
0.33
0.59
5/19/20 0:00
Emmanuel Macron
0.33
0.58
5/20/20 0:00
Emmanuel Macron
0.33
0.58
5/21/20 0:00
Emmanuel Macron
0.33
0.59
5/22/20 0:00
Emmanuel Macron
0.33
0.59
5/23/20 0:00
Emmanuel Macron
0.34
0.58
5/24/20 0:00
Emmanuel Macron
0.34
0.58
5/25/20 0:00
Emmanuel Macron
0.34
0.58
5/26/20 0:00
Emmanuel Macron
0.33
0.59
5/27/20 0:00
Emmanuel Macron
0.33
0.59
5/28/20 0:00
Emmanuel Macron
0.33
0.58
5/29/20 0:00
Emmanuel Macron
0.34
0.58
5/30/20 0:00
Emmanuel Macron
0.34
0.58
5/31/20 0:00
Emmanuel Macron
0.34
0.58
6/1/20 0:00
Emmanuel Macron
0.34
0.59
6/2/20 0:00
Emmanuel Macron
0.34
0.59
6/3/20 0:00
Emmanuel Macron
0.34
0.59
6/4/20 0:00
Emmanuel Macron
0.33
0.59
6/5/20 0:00
Emmanuel Macron
0.33
0.59
6/6/20 0:00
Emmanuel Macron
0.33
0.60
6/7/20 0:00
Emmanuel Macron
0.33
0.60
6/8/20 0:00
Emmanuel Macron
0.32
0.60
6/9/20 0:00
Emmanuel Macron
0.32
0.60
6/10/20 0:00
Emmanuel Macron
0.32
0.60
6/11/20 0:00
Emmanuel Macron
0.32
0.60
6/12/20 0:00
Emmanuel Macron
0.31
0.60
6/13/20 0:00
Emmanuel Macron
0.31
0.60
6/14/20 0:00
Emmanuel Macron
0.31
0.60
6/15/20 0:00
Emmanuel Macron
0.32
0.60
6/16/20 0:00
Emmanuel Macron
0.31
0.61
6/17/20 0:00
Emmanuel Macron
0.31
0.61
6/18/20 0:00
Emmanuel Macron
0.31
0.61
6/19/20 0:00
Emmanuel Macron
0.31
0.61
6/20/20 0:00
Emmanuel Macron
0.32
0.60
6/21/20 0:00
Emmanuel Macron
0.32
0.61
6/22/20 0:00
Emmanuel Macron
0.31
0.61
6/23/20 0:00
Emmanuel Macron
0.32
0.60
6/24/20 0:00
Emmanuel Macron
0.32
0.60
6/25/20 0:00
Emmanuel Macron
0.32
0.60
6/26/20 0:00
Emmanuel Macron
0.32
0.60
6/27/20 0:00
Emmanuel Macron
0.31
0.61
6/28/20 0:00
Emmanuel Macron
0.31
0.61
6/29/20 0:00
Emmanuel Macron
0.31
0.61
6/30/20 0:00
Emmanuel Macron
0.30
0.61
7/1/20 0:00
Emmanuel Macron
0.30
0.62
7/2/20 0:00
Emmanuel Macron
0.30
0.62
7/3/20 0:00
Emmanuel Macron
0.30
0.62
7/4/20 0:00
Emmanuel Macron
0.31
0.61
7/5/20 0:00
Emmanuel Macron
0.31
0.61
7/6/20 0:00
Emmanuel Macron
0.31
0.61
7/7/20 0:00
Emmanuel Macron
0.31
0.61
7/8/20 0:00
Emmanuel Macron
0.31
0.61
7/9/20 0:00
Emmanuel Macron
0.31
0.61
7/10/20 0:00
Emmanuel Macron
0.30
0.63
7/11/20 0:00
Emmanuel Macron
0.30
0.63
7/12/20 0:00
Emmanuel Macron
0.30
0.63
7/13/20 0:00
Emmanuel Macron
0.30
0.63
7/14/20 0:00
Emmanuel Macron
0.30
0.63
7/15/20 0:00
Emmanuel Macron
0.31
0.62
7/16/20 0:00
Emmanuel Macron
0.32
0.61
7/17/20 0:00
Emmanuel Macron
0.33
0.60
7/18/20 0:00
Emmanuel Macron
0.33
0.60
7/19/20 0:00
Emmanuel Macron
0.33
0.60
7/20/20 0:00
Emmanuel Macron
0.32
0.60
7/21/20 0:00
Emmanuel Macron
0.33
0.60
7/22/20 0:00
Emmanuel Macron
0.32
0.60
7/23/20 0:00
Emmanuel Macron
0.32
0.60
7/24/20 0:00
Emmanuel Macron
0.32
0.60
7/25/20 0:00
Emmanuel Macron
0.31
0.60
7/26/20 0:00
Emmanuel Macron
0.32
0.60
7/27/20 0:00
Emmanuel Macron
0.33
0.59
7/28/20 0:00
Emmanuel Macron
0.32
0.59
7/29/20 0:00
Emmanuel Macron
0.32
0.59
7/30/20 0:00
Emmanuel Macron
0.33
0.59
7/31/20 0:00
Emmanuel Macron
0.32
0.60
8/1/20 0:00
Emmanuel Macron
0.33
0.59
8/2/20 0:00
Emmanuel Macron
0.32
0.60
8/3/20 0:00
Emmanuel Macron
0.32
0.60
8/4/20 0:00
Emmanuel Macron
0.33
0.59
8/5/20 0:00
Emmanuel Macron
0.33
0.59
8/6/20 0:00
Emmanuel Macron
0.32
0.59
8/7/20 0:00
Emmanuel Macron
0.33
0.59
8/8/20 0:00
Emmanuel Macron
0.33
0.59
8/9/20 0:00
Emmanuel Macron
0.33
0.59
8/10/20 0:00
Emmanuel Macron
0.33
0.58
8/11/20 0:00
Emmanuel Macron
0.33
0.59
8/12/20 0:00
Emmanuel Macron
0.33
0.59
8/13/20 0:00
Emmanuel Macron
0.33
0.59
8/14/20 0:00
Emmanuel Macron
0.33
0.59
8/15/20 0:00
Emmanuel Macron
0.33
0.59
8/16/20 0:00
Emmanuel Macron
0.33
0.59
8/17/20 0:00
Emmanuel Macron
0.32
0.60
8/18/20 0:00
Emmanuel Macron
0.33
0.59
8/19/20 0:00
Emmanuel Macron
0.33
0.59
8/20/20 0:00
Emmanuel Macron
0.34
0.58
8/21/20 0:00
Emmanuel Macron
0.34
0.58
8/22/20 0:00
Emmanuel Macron
0.34
0.58
8/23/20 0:00
Emmanuel Macron
0.34
0.58
8/24/20 0:00
Emmanuel Macron
0.34
0.58
8/25/20 0:00
Emmanuel Macron
0.34
0.58
8/26/20 0:00
Emmanuel Macron
0.33
0.59
8/27/20 0:00
Emmanuel Macron
0.33
0.59
8/28/20 0:00
Emmanuel Macron
0.32
0.59
8/29/20 0:00
Emmanuel Macron
0.32
0.59
8/30/20 0:00
Emmanuel Macron
0.32
0.59
8/31/20 0:00
Emmanuel Macron
0.32
0.59
9/1/20 0:00
Emmanuel Macron
0.32
0.59
9/2/20 0:00
Emmanuel Macron
0.32
0.60
9/3/20 0:00
Emmanuel Macron
0.31
0.61
9/4/20 0:00
Emmanuel Macron
0.31
0.61
9/5/20 0:00
Emmanuel Macron
0.31
0.61
9/6/20 0:00
Emmanuel Macron
0.31
0.61
9/7/20 0:00
Emmanuel Macron
0.31
0.61
9/8/20 0:00
Emmanuel Macron
0.31
0.60
9/9/20 0:00
Emmanuel Macron
0.31
0.59
9/10/20 0:00
Emmanuel Macron
0.32
0.59
9/11/20 0:00
Emmanuel Macron
0.32
0.59
9/12/20 0:00
Emmanuel Macron
0.32
0.59
9/13/20 0:00
Emmanuel Macron
0.32
0.59
9/14/20 0:00
Emmanuel Macron
0.31
0.59
9/15/20 0:00
Emmanuel Macron
0.31
0.59
9/16/20 0:00
Emmanuel Macron
0.31
0.59
9/17/20 0:00
Emmanuel Macron
0.31
0.59
9/18/20 0:00
Emmanuel Macron
0.30
0.59
9/19/20 0:00
Emmanuel Macron
0.30
0.59
9/20/20 0:00
Emmanuel Macron
0.31
0.58
9/21/20 0:00
Emmanuel Macron
0.31
0.58
9/22/20 0:00
Emmanuel Macron
0.31
0.59
9/23/20 0:00
Emmanuel Macron
0.31
0.59
9/24/20 0:00
Emmanuel Macron
0.31
0.60
9/25/20 0:00
Emmanuel Macron
0.31
0.60
9/26/20 0:00
Emmanuel Macron
0.31
0.60
9/27/20 0:00
Emmanuel Macron
0.31
0.60
9/28/20 0:00
Emmanuel Macron
0.30
0.61
9/29/20 0:00
Emmanuel Macron
0.30
0.61
9/30/20 0:00
Emmanuel Macron
0.30
0.61
10/1/20 0:00
Emmanuel Macron
0.30
0.61
10/2/20 0:00
Emmanuel Macron
0.30
0.61
10/3/20 0:00
Emmanuel Macron
0.30
0.62
10/4/20 0:00
Emmanuel Macron
0.29
0.62
10/5/20 0:00
Emmanuel Macron
0.29
0.62
10/6/20 0:00
Emmanuel Macron
0.29
0.62
10/7/20 0:00
Emmanuel Macron
0.29
0.62
10/8/20 0:00
Emmanuel Macron
0.29
0.62
10/9/20 0:00
Emmanuel Macron
0.29
0.62
10/10/20 0:00
Emmanuel Macron
0.29
0.61
10/11/20 0:00
Emmanuel Macron
0.30
0.61
10/12/20 0:00
Emmanuel Macron
0.30
0.61
10/13/20 0:00
Emmanuel Macron
0.30
0.61
10/14/20 0:00
Emmanuel Macron
0.30
0.61
10/15/20 0:00
Emmanuel Macron
0.30
0.61
10/16/20 0:00
Emmanuel Macron
0.31
0.60
10/17/20 0:00
Emmanuel Macron
0.31
0.60
10/18/20 0:00
Emmanuel Macron
0.32
0.60
10/19/20 0:00
Emmanuel Macron
0.32
0.60
10/20/20 0:00
Emmanuel Macron
0.32
0.60
10/21/20 0:00
Emmanuel Macron
0.32
0.59
10/22/20 0:00
Emmanuel Macron
0.32
0.59
10/23/20 0:00
Emmanuel Macron
0.31
0.60
10/24/20 0:00
Emmanuel Macron
0.32
0.60
10/25/20 0:00
Emmanuel Macron
0.31
0.60
10/26/20 0:00
Emmanuel Macron
0.31
0.60
10/27/20 0:00
Emmanuel Macron
0.32
0.60
10/28/20 0:00
Emmanuel Macron
0.32
0.60
10/29/20 0:00
Emmanuel Macron
0.33
0.59
10/30/20 0:00
Emmanuel Macron
0.33
0.59
10/31/20 0:00
Emmanuel Macron
0.33
0.59
11/1/20 0:00
Emmanuel Macron
0.33
0.58
11/2/20 0:00
Emmanuel Macron
0.33
0.58
11/3/20 0:00
Emmanuel Macron
0.33
0.58
11/4/20 0:00
Emmanuel Macron
0.33
0.58
11/5/20 0:00
Emmanuel Macron
0.32
0.59
11/6/20 0:00
Emmanuel Macron
0.32
0.59
11/7/20 0:00
Emmanuel Macron
0.32
0.59
11/8/20 0:00
Emmanuel Macron
0.32
0.59
11/9/20 0:00
Emmanuel Macron
0.32
0.59
11/10/20 0:00
Emmanuel Macron
0.32
0.59
11/11/20 0:00
Emmanuel Macron
0.33
0.58
11/12/20 0:00
Emmanuel Macron
0.34
0.57
11/13/20 0:00
Emmanuel Macron
0.34
0.57
11/14/20 0:00
Emmanuel Macron
0.34
0.58
11/15/20 0:00
Emmanuel Macron
0.34
0.57
11/16/20 0:00
Emmanuel Macron
0.35
0.57
11/17/20 0:00
Emmanuel Macron
0.35
0.57
11/18/20 0:00
Emmanuel Macron
0.34
0.58
11/19/20 0:00
Emmanuel Macron
0.33
0.59
11/20/20 0:00
Emmanuel Macron
0.34
0.58
11/21/20 0:00
Emmanuel Macron
0.34
0.58
11/22/20 0:00
Emmanuel Macron
0.33
0.59
11/23/20 0:00
Emmanuel Macron
0.32
0.60
11/24/20 0:00
Emmanuel Macron
0.31
0.60
11/25/20 0:00
Emmanuel Macron
0.32
0.60
11/26/20 0:00
Emmanuel Macron
0.31
0.60
11/27/20 0:00
Emmanuel Macron
0.31
0.60
11/28/20 0:00
Emmanuel Macron
0.31
0.60
11/29/20 0:00
Emmanuel Macron
0.31
0.60
11/30/20 0:00
Emmanuel Macron
0.31
0.59
12/1/20 0:00
Emmanuel Macron
0.32
0.58
12/2/20 0:00
Emmanuel Macron
0.32
0.59
12/3/20 0:00
Emmanuel Macron
0.32
0.59
12/4/20 0:00
Emmanuel Macron
0.33
0.59
12/5/20 0:00
Emmanuel Macron
0.33
0.58
12/6/20 0:00
Emmanuel Macron
0.33
0.58
12/7/20 0:00
Emmanuel Macron
0.33
0.58
12/8/20 0:00
Emmanuel Macron
0.33
0.59
12/9/20 0:00
Emmanuel Macron
0.33
0.59
12/10/20 0:00
Emmanuel Macron
0.33
0.59
12/11/20 0:00
Emmanuel Macron
0.32
0.60
12/12/20 0:00
Emmanuel Macron
0.31
0.61
12/13/20 0:00
Emmanuel Macron
0.32
0.61
12/14/20 0:00
Emmanuel Macron
0.32
0.61
12/15/20 0:00
Emmanuel Macron
0.31
0.61
12/16/20 0:00
Emmanuel Macron
0.31
0.62
12/17/20 0:00
Emmanuel Macron
0.31
0.61
12/18/20 0:00
Emmanuel Macron
0.32
0.60
12/19/20 0:00
Emmanuel Macron
0.32
0.60
12/20/20 0:00
Emmanuel Macron
0.32
0.59
12/21/20 0:00
Emmanuel Macron
0.33
0.59
12/22/20 0:00
Emmanuel Macron
0.33
0.58
12/23/20 0:00
Emmanuel Macron
0.33
0.58
12/24/20 0:00
Emmanuel Macron
0.33
0.58
12/25/20 0:00
Emmanuel Macron
0.33
0.58
12/26/20 0:00
Emmanuel Macron
0.33
0.57
12/27/20 0:00
Emmanuel Macron
0.33
0.58
12/28/20 0:00
Emmanuel Macron
0.33
0.57
12/29/20 0:00
Emmanuel Macron
0.33
0.56
12/30/20 0:00
Emmanuel Macron
0.34
0.56
12/31/20 0:00
Emmanuel Macron
0.34
0.56
1/1/21 0:00
Emmanuel Macron
0.35
0.56
1/2/21 0:00
Emmanuel Macron
0.35
0.55
1/3/21 0:00
Emmanuel Macron
0.36
0.55
1/4/21 0:00
Emmanuel Macron
0.35
0.56
1/5/21 0:00
Emmanuel Macron
0.34
0.57
1/6/21 0:00
Emmanuel Macron
0.34
0.57
1/7/21 0:00
Emmanuel Macron
0.34
0.57
1/8/21 0:00
Emmanuel Macron
0.33
0.58
1/9/21 0:00
Emmanuel Macron
0.33
0.58
1/10/21 0:00
Emmanuel Macron
0.32
0.58
1/11/21 0:00
Emmanuel Macron
0.32
0.58
1/12/21 0:00
Emmanuel Macron
0.33
0.58
1/13/21 0:00
Emmanuel Macron
0.32
0.58
1/14/21 0:00
Emmanuel Macron
0.32
0.58
1/15/21 0:00
Emmanuel Macron
0.33
0.58
1/16/21 0:00
Emmanuel Macron
0.32
0.59
1/17/21 0:00
Emmanuel Macron
0.32
0.60
1/18/21 0:00
Emmanuel Macron
0.33
0.59
1/19/21 0:00
Emmanuel Macron
0.33
0.59
1/20/21 0:00
Emmanuel Macron
0.33
0.59
1/21/21 0:00
Emmanuel Macron
0.33
0.59
1/22/21 0:00
Emmanuel Macron
0.34
0.58
1/23/21 0:00
Emmanuel Macron
0.34
0.57
1/24/21 0:00
Emmanuel Macron
0.33
0.57
1/25/21 0:00
Emmanuel Macron
0.33
0.57
1/26/21 0:00
Emmanuel Macron
0.34
0.56
1/27/21 0:00
Emmanuel Macron
0.33
0.57
1/28/21 0:00
Emmanuel Macron
0.33
0.57
1/29/21 0:00
Emmanuel Macron
0.33
0.57
1/30/21 0:00
Emmanuel Macron
0.33
0.58
1/31/21 0:00
Emmanuel Macron
0.34
0.57
2/1/21 0:00
Emmanuel Macron
0.34
0.57
2/2/21 0:00
Emmanuel Macron
0.34
0.58
2/3/21 0:00
Emmanuel Macron
0.34
0.58
2/4/21 0:00
Emmanuel Macron
0.33
0.58
2/5/21 0:00
Emmanuel Macron
0.33
0.58
2/6/21 0:00
Emmanuel Macron
0.33
0.58
2/7/21 0:00
Emmanuel Macron
0.32
0.59
2/8/21 0:00
Emmanuel Macron
0.32
0.59
2/9/21 0:00
Emmanuel Macron
0.33
0.58
2/10/21 0:00
Emmanuel Macron
0.33
0.58
2/11/21 0:00
Emmanuel Macron
0.34
0.56
2/12/21 0:00
Emmanuel Macron
0.34
0.56
2/13/21 0:00
Emmanuel Macron
0.34
0.56
2/14/21 0:00
Emmanuel Macron
0.35
0.55
2/15/21 0:00
Emmanuel Macron
0.35
0.55
2/16/21 0:00
Emmanuel Macron
0.35
0.56
2/17/21 0:00
Emmanuel Macron
0.35
0.56
2/18/21 0:00
Emmanuel Macron
0.34
0.57
2/19/21 0:00
Emmanuel Macron
0.34
0.56
2/20/21 0:00
Emmanuel Macron
0.34
0.56
2/21/21 0:00
Emmanuel Macron
0.34
0.57
2/22/21 0:00
Emmanuel Macron
0.34
0.57
2/23/21 0:00
Emmanuel Macron
0.34
0.56
2/24/21 0:00
Emmanuel Macron
0.34
0.56
2/25/21 0:00
Emmanuel Macron
0.35
0.55
2/26/21 0:00
Emmanuel Macron
0.34
0.56
2/27/21 0:00
Emmanuel Macron
0.34
0.57
2/28/21 0:00
Emmanuel Macron
0.34
0.56
3/1/21 0:00
Emmanuel Macron
0.34
0.56
3/2/21 0:00
Emmanuel Macron
0.34
0.56
3/3/21 0:00
Emmanuel Macron
0.34
0.56
3/4/21 0:00
Emmanuel Macron
0.33
0.57
3/5/21 0:00
Emmanuel Macron
0.34
0.57
3/6/21 0:00
Emmanuel Macron
0.34
0.56
3/7/21 0:00
Emmanuel Macron
0.35
0.56
3/8/21 0:00
Emmanuel Macron
0.34
0.56
3/9/21 0:00
Emmanuel Macron
0.34
0.57
3/10/21 0:00
Emmanuel Macron
0.33
0.57
3/11/21 0:00
Emmanuel Macron
0.34
0.57
3/12/21 0:00
Emmanuel Macron
0.34
0.57
3/13/21 0:00
Emmanuel Macron
0.33
0.57
3/14/21 0:00
Emmanuel Macron
0.33
0.58
3/15/21 0:00
Emmanuel Macron
0.33
0.57
3/16/21 0:00
Emmanuel Macron
0.33
0.58
3/17/21 0:00
Emmanuel Macron
0.34
0.57
3/18/21 0:00
Emmanuel Macron
0.34
0.57
3/19/21 0:00
Emmanuel Macron
0.34
0.58
3/20/21 0:00
Emmanuel Macron
0.34
0.58
3/21/21 0:00
Emmanuel Macron
0.33
0.58
3/22/21 0:00
Emmanuel Macron
0.32
0.60
3/23/21 0:00
Emmanuel Macron
0.33
0.59
3/24/21 0:00
Emmanuel Macron
0.32
0.60
3/25/21 0:00
Emmanuel Macron
0.31
0.60
3/26/21 0:00
Emmanuel Macron
0.31
0.61
3/27/21 0:00
Emmanuel Macron
0.32
0.60
3/28/21 0:00
Emmanuel Macron
0.32
0.60
3/29/21 0:00
Emmanuel Macron
0.32
0.59
3/30/21 0:00
Emmanuel Macron
0.32
0.59
3/31/21 0:00
Emmanuel Macron
0.32
0.59
4/1/21 0:00
Emmanuel Macron
0.31
0.60
4/2/21 0:00
Emmanuel Macron
0.31
0.59
4/3/21 0:00
Emmanuel Macron
0.32
0.59
4/4/21 0:00
Emmanuel Macron
0.32
0.58
4/5/21 0:00
Emmanuel Macron
0.32
0.59
4/6/21 0:00
Emmanuel Macron
0.32
0.59
4/7/21 0:00
Emmanuel Macron
0.33
0.59
4/8/21 0:00
Emmanuel Macron
0.33
0.59
4/9/21 0:00
Emmanuel Macron
0.33
0.59
4/10/21 0:00
Emmanuel Macron
0.33
0.60
4/11/21 0:00
Emmanuel Macron
0.32
0.60
4/12/21 0:00
Emmanuel Macron
0.33
0.59
4/13/21 0:00
Emmanuel Macron
0.33
0.59
4/14/21 0:00
Emmanuel Macron
0.34
0.58
4/15/21 0:00
Emmanuel Macron
0.34
0.58
4/16/21 0:00
Emmanuel Macron
0.34
0.58
4/17/21 0:00
Emmanuel Macron
0.34
0.57
4/18/21 0:00
Emmanuel Macron
0.34
0.57
4/19/21 0:00
Emmanuel Macron
0.33
0.58
4/20/21 0:00
Emmanuel Macron
0.34
0.58
4/21/21 0:00
Emmanuel Macron
0.33
0.58
4/22/21 0:00
Emmanuel Macron
0.34
0.58
4/23/21 0:00
Emmanuel Macron
0.33
0.58
4/24/21 0:00
Emmanuel Macron
0.33
0.59
4/25/21 0:00
Emmanuel Macron
0.33
0.59
4/26/21 0:00
Emmanuel Macron
0.34
0.58
4/27/21 0:00
Emmanuel Macron
0.33
0.58
4/28/21 0:00
Emmanuel Macron
0.34
0.58
4/29/21 0:00
Emmanuel Macron
0.33
0.59
4/30/21 0:00
Emmanuel Macron
0.33
0.58
5/1/21 0:00
Emmanuel Macron
0.34
0.58
5/2/21 0:00
Emmanuel Macron
0.34
0.58
5/3/21 0:00
Emmanuel Macron
0.34
0.58
5/4/21 0:00
Emmanuel Macron
0.34
0.58
5/5/21 0:00
Emmanuel Macron
0.34
0.58
5/6/21 0:00
Emmanuel Macron
0.35
0.57
5/7/21 0:00
Emmanuel Macron
0.35
0.57
5/8/21 0:00
Emmanuel Macron
0.35
0.57
5/9/21 0:00
Emmanuel Macron
0.34
0.58
5/10/21 0:00
Emmanuel Macron
0.34
0.57
5/11/21 0:00
Emmanuel Macron
0.34
0.58
5/12/21 0:00
Emmanuel Macron
0.34
0.57
5/13/21 0:00
Emmanuel Macron
0.34
0.57
5/14/21 0:00
Emmanuel Macron
0.34
0.58
5/15/21 0:00
Emmanuel Macron
0.33
0.59
5/16/21 0:00
Emmanuel Macron
0.34
0.59
5/17/21 0:00
Emmanuel Macron
0.34
0.59
5/18/21 0:00
Emmanuel Macron
0.34
0.59
5/19/21 0:00
Emmanuel Macron
0.33
0.59
5/20/21 0:00
Emmanuel Macron
0.34
0.59
5/21/21 0:00
Emmanuel Macron
0.34
0.59
5/22/21 0:00
Emmanuel Macron
0.34
0.59
5/23/21 0:00
Emmanuel Macron
0.35
0.58
5/24/21 0:00
Emmanuel Macron
0.35
0.57
5/25/21 0:00
Emmanuel Macron
0.35
0.57
5/26/21 0:00
Emmanuel Macron
0.36
0.56
5/27/21 0:00
Emmanuel Macron
0.36
0.56
5/28/21 0:00
Emmanuel Macron
0.36
0.55
5/29/21 0:00
Emmanuel Macron
0.36
0.55
5/30/21 0:00
Emmanuel Macron
0.36
0.55
5/31/21 0:00
Emmanuel Macron
0.36
0.56
6/1/21 0:00
Emmanuel Macron
0.35
0.57
6/2/21 0:00
Emmanuel Macron
0.35
0.57
6/3/21 0:00
Emmanuel Macron
0.34
0.57
6/4/21 0:00
Emmanuel Macron
0.35
0.57
6/5/21 0:00
Emmanuel Macron
0.35
0.56
6/6/21 0:00
Emmanuel Macron
0.35
0.56
6/7/21 0:00
Emmanuel Macron
0.35
0.56
6/8/21 0:00
Emmanuel Macron
0.35
0.56
6/9/21 0:00
Emmanuel Macron
0.35
0.55
6/10/21 0:00
Emmanuel Macron
0.35
0.55
6/11/21 0:00
Emmanuel Macron
0.35
0.55
6/12/21 0:00
Emmanuel Macron
0.35
0.55
6/13/21 0:00
Emmanuel Macron
0.35
0.56
6/14/21 0:00
Emmanuel Macron
0.35
0.55
6/15/21 0:00
Emmanuel Macron
0.35
0.55
6/16/21 0:00
Emmanuel Macron
0.35
0.55
6/17/21 0:00
Emmanuel Macron
0.35
0.55
6/18/21 0:00
Emmanuel Macron
0.34
0.56
6/19/21 0:00
Emmanuel Macron
0.34
0.56
6/20/21 0:00
Emmanuel Macron
0.34
0.56
6/21/21 0:00
Emmanuel Macron
0.35
0.56
6/22/21 0:00
Emmanuel Macron
0.35
0.55
6/23/21 0:00
Emmanuel Macron
0.35
0.55
6/24/21 0:00
Emmanuel Macron
0.35
0.56
6/25/21 0:00
Emmanuel Macron
0.35
0.56
6/26/21 0:00
Emmanuel Macron
0.35
0.56
6/27/21 0:00
Emmanuel Macron
0.35
0.56
6/28/21 0:00
Emmanuel Macron
0.35
0.56
6/29/21 0:00
Emmanuel Macron
0.35
0.56
6/30/21 0:00
Emmanuel Macron
0.34
0.57
7/1/21 0:00
Emmanuel Macron
0.34
0.56
7/2/21 0:00
Emmanuel Macron
0.35
0.56
7/3/21 0:00
Emmanuel Macron
0.35
0.56
7/4/21 0:00
Emmanuel Macron
0.35
0.56
7/5/21 0:00
Emmanuel Macron
0.34
0.56
7/6/21 0:00
Emmanuel Macron
0.35
0.56
7/7/21 0:00
Emmanuel Macron
0.36
0.55
7/8/21 0:00
Emmanuel Macron
0.36
0.56
7/9/21 0:00
Emmanuel Macron
0.35
0.55
7/10/21 0:00
Emmanuel Macron
0.35
0.56
7/11/21 0:00
Emmanuel Macron
0.35
0.56
7/12/21 0:00
Emmanuel Macron
0.36
0.55
7/13/21 0:00
Emmanuel Macron
0.36
0.55
7/14/21 0:00
Emmanuel Macron
0.36
0.55
7/15/21 0:00
Emmanuel Macron
0.36
0.56
7/16/21 0:00
Emmanuel Macron
0.35
0.57
7/17/21 0:00
Emmanuel Macron
0.35
0.57
7/18/21 0:00
Emmanuel Macron
0.34
0.57
7/19/21 0:00
Emmanuel Macron
0.34
0.59
7/20/21 0:00
Emmanuel Macron
0.33
0.59
7/21/21 0:00
Emmanuel Macron
0.33
0.60
7/22/21 0:00
Emmanuel Macron
0.33
0.59
7/23/21 0:00
Emmanuel Macron
0.34
0.59
7/24/21 0:00
Emmanuel Macron
0.33
0.59
7/25/21 0:00
Emmanuel Macron
0.33
0.60
7/26/21 0:00
Emmanuel Macron
0.33
0.59
7/27/21 0:00
Emmanuel Macron
0.33
0.59
7/28/21 0:00
Emmanuel Macron
0.33
0.60
7/29/21 0:00
Emmanuel Macron
0.32
0.60
7/30/21 0:00
Emmanuel Macron
0.32
0.60
7/31/21 0:00
Emmanuel Macron
0.33
0.59
8/1/21 0:00
Emmanuel Macron
0.33
0.58
8/2/21 0:00
Emmanuel Macron
0.33
0.59
8/3/21 0:00
Emmanuel Macron
0.33
0.58
8/4/21 0:00
Emmanuel Macron
0.33
0.58
8/5/21 0:00
Emmanuel Macron
0.34
0.58
8/6/21 0:00
Emmanuel Macron
0.34
0.58
8/7/21 0:00
Emmanuel Macron
0.33
0.58
8/8/21 0:00
Emmanuel Macron
0.33
0.58
8/9/21 0:00
Emmanuel Macron
0.34
0.57
8/10/21 0:00
Emmanuel Macron
0.34
0.58
8/11/21 0:00
Emmanuel Macron
0.35
0.57
8/12/21 0:00
Emmanuel Macron
0.35
0.58
8/13/21 0:00
Emmanuel Macron
0.35
0.58
8/14/21 0:00
Emmanuel Macron
0.34
0.58
8/15/21 0:00
Emmanuel Macron
0.34
0.58
8/16/21 0:00
Emmanuel Macron
0.34
0.58
8/17/21 0:00
Emmanuel Macron
0.35
0.57
8/18/21 0:00
Emmanuel Macron
0.35
0.57
8/19/21 0:00
Emmanuel Macron
0.34
0.57
8/20/21 0:00
Emmanuel Macron
0.35
0.57
8/21/21 0:00
Emmanuel Macron
0.34
0.57
8/22/21 0:00
Emmanuel Macron
0.34
0.58
8/23/21 0:00
Emmanuel Macron
0.34
0.58
8/24/21 0:00
Emmanuel Macron
0.33
0.59
8/25/21 0:00
Emmanuel Macron
0.33
0.59
8/26/21 0:00
Emmanuel Macron
0.33
0.58
8/27/21 0:00
Emmanuel Macron
0.34
0.57
8/28/21 0:00
Emmanuel Macron
0.34
0.57
8/29/21 0:00
Emmanuel Macron
0.35
0.57
8/30/21 0:00
Emmanuel Macron
0.35
0.56
8/31/21 0:00
Emmanuel Macron
0.34
0.57
9/1/21 0:00
Emmanuel Macron
0.35
0.57
9/2/21 0:00
Emmanuel Macron
0.35
0.57
9/3/21 0:00
Emmanuel Macron
0.34
0.57
9/4/21 0:00
Emmanuel Macron
0.34
0.57
9/5/21 0:00
Emmanuel Macron
0.35
0.57
9/6/21 0:00
Emmanuel Macron
0.35
0.57
9/7/21 0:00
Emmanuel Macron
0.35
0.56
9/8/21 0:00
Emmanuel Macron
0.35
0.56
9/9/21 0:00
Emmanuel Macron
0.35
0.56
9/10/21 0:00
Emmanuel Macron
0.35
0.57
9/11/21 0:00
Emmanuel Macron
0.35
0.57
9/12/21 0:00
Emmanuel Macron
0.34
0.58
9/13/21 0:00
Emmanuel Macron
0.34
0.58
9/14/21 0:00
Emmanuel Macron
0.34
0.58
9/15/21 0:00
Emmanuel Macron
0.34
0.58
9/16/21 0:00
Emmanuel Macron
0.34
0.58
9/17/21 0:00
Emmanuel Macron
0.34
0.57
9/18/21 0:00
Emmanuel Macron
0.35
0.56
9/19/21 0:00
Emmanuel Macron
0.35
0.56
9/20/21 0:00
Emmanuel Macron
0.35
0.56
9/21/21 0:00
Emmanuel Macron
0.35
0.57
9/22/21 0:00
Emmanuel Macron
0.35
0.58
9/23/21 0:00
Emmanuel Macron
0.35
0.58
9/24/21 0:00
Emmanuel Macron
0.34
0.58
9/25/21 0:00
Emmanuel Macron
0.34
0.59
9/26/21 0:00
Emmanuel Macron
0.35
0.58
9/27/21 0:00
Emmanuel Macron
0.35
0.58
9/28/21 0:00
Emmanuel Macron
0.35
0.57
9/29/21 0:00
Emmanuel Macron
0.36
0.56
9/30/21 0:00
Emmanuel Macron
0.35
0.57
10/1/21 0:00
Emmanuel Macron
0.35
0.56
10/2/21 0:00
Emmanuel Macron
0.36
0.55
10/3/21 0:00
Emmanuel Macron
0.36
0.54
10/4/21 0:00
Emmanuel Macron
0.36
0.54
10/5/21 0:00
Emmanuel Macron
0.36
0.54
10/6/21 0:00
Emmanuel Macron
0.36
0.54
10/7/21 0:00
Emmanuel Macron
0.37
0.54
10/8/21 0:00
Emmanuel Macron
0.36
0.54
10/9/21 0:00
Emmanuel Macron
0.35
0.55
10/10/21 0:00
Emmanuel Macron
0.35
0.56
10/11/21 0:00
Emmanuel Macron
0.36
0.55
10/12/21 0:00
Emmanuel Macron
0.36
0.55
10/13/21 0:00
Emmanuel Macron
0.36
0.56
10/14/21 0:00
Emmanuel Macron
0.35
0.56
10/15/21 0:00
Emmanuel Macron
0.35
0.56
10/16/21 0:00
Emmanuel Macron
0.35
0.56
10/17/21 0:00
Emmanuel Macron
0.35
0.55
10/18/21 0:00
Emmanuel Macron
0.35
0.55
10/19/21 0:00
Emmanuel Macron
0.35
0.55
10/20/21 0:00
Emmanuel Macron
0.36
0.55
10/21/21 0:00
Emmanuel Macron
0.36
0.55
10/22/21 0:00
Emmanuel Macron
0.36
0.55
10/23/21 0:00
Emmanuel Macron
0.36
0.55
10/24/21 0:00
Emmanuel Macron
0.35
0.57
10/25/21 0:00
Emmanuel Macron
0.35
0.57
10/26/21 0:00
Emmanuel Macron
0.35
0.57
10/27/21 0:00
Emmanuel Macron
0.35
0.57
10/28/21 0:00
Emmanuel Macron
0.35
0.57
10/29/21 0:00
Emmanuel Macron
0.35
0.56
10/30/21 0:00
Emmanuel Macron
0.35
0.56
10/31/21 0:00
Emmanuel Macron
0.36
0.55
11/1/21 0:00
Emmanuel Macron
0.36
0.55
11/2/21 0:00
Emmanuel Macron
0.36
0.55
11/3/21 0:00
Emmanuel Macron
0.36
0.55
11/4/21 0:00
Emmanuel Macron
0.37
0.55
11/5/21 0:00
Emmanuel Macron
0.37
0.55
11/6/21 0:00
Emmanuel Macron
0.37
0.56
11/7/21 0:00
Emmanuel Macron
0.36
0.57
11/8/21 0:00
Emmanuel Macron
0.37
0.56
11/9/21 0:00
Emmanuel Macron
0.36
0.56
11/10/21 0:00
Emmanuel Macron
0.36
0.57
11/11/21 0:00
Emmanuel Macron
0.36
0.57
11/12/21 0:00
Emmanuel Macron
0.36
0.56
11/13/21 0:00
Emmanuel Macron
0.36
0.56
11/14/21 0:00
Emmanuel Macron
0.37
0.55
11/15/21 0:00
Emmanuel Macron
0.37
0.55
11/16/21 0:00
Emmanuel Macron
0.37
0.55
11/17/21 0:00
Emmanuel Macron
0.37
0.55
11/18/21 0:00
Emmanuel Macron
0.37
0.55
11/19/21 0:00
Emmanuel Macron
0.36
0.56
11/20/21 0:00
Emmanuel Macron
0.36
0.56
11/21/21 0:00
Emmanuel Macron
0.36
0.57
11/22/21 0:00
Emmanuel Macron
0.36
0.56
11/23/21 0:00
Emmanuel Macron
0.37
0.56
11/24/21 0:00
Emmanuel Macron
0.37
0.56
11/25/21 0:00
Emmanuel Macron
0.37
0.56
11/26/21 0:00
Emmanuel Macron
0.37
0.55
11/27/21 0:00
Emmanuel Macron
0.37
0.55
11/28/21 0:00
Emmanuel Macron
0.37
0.56
11/29/21 0:00
Emmanuel Macron
0.36
0.56
11/30/21 0:00
Emmanuel Macron
0.36
0.56
12/1/21 0:00
Emmanuel Macron
0.36
0.56
12/2/21 0:00
Emmanuel Macron
0.36
0.57
12/3/21 0:00
Emmanuel Macron
0.37
0.57
12/4/21 0:00
Emmanuel Macron
0.37
0.57
12/5/21 0:00
Emmanuel Macron
0.37
0.56
12/6/21 0:00
Emmanuel Macron
0.37
0.56
12/7/21 0:00
Emmanuel Macron
0.36
0.56
12/8/21 0:00
Emmanuel Macron
0.36
0.56
12/9/21 0:00
Emmanuel Macron
0.37
0.55
12/10/21 0:00
Emmanuel Macron
0.36
0.55
12/11/21 0:00
Emmanuel Macron
0.36
0.55
12/12/21 0:00
Emmanuel Macron
0.37
0.55
12/13/21 0:00
Emmanuel Macron
0.37
0.54
12/14/21 0:00
Emmanuel Macron
0.38
0.54
12/15/21 0:00
Emmanuel Macron
0.38
0.54
12/16/21 0:00
Emmanuel Macron
0.39
0.53
12/17/21 0:00
Emmanuel Macron
0.39
0.53
12/18/21 0:00
Emmanuel Macron
0.39
0.54
12/19/21 0:00
Emmanuel Macron
0.39
0.54
12/20/21 0:00
Emmanuel Macron
0.39
0.54
12/21/21 0:00
Emmanuel Macron
0.39
0.54
12/22/21 0:00
Emmanuel Macron
0.38
0.55
12/23/21 0:00
Emmanuel Macron
0.38
0.55
12/24/21 0:00
Emmanuel Macron
0.38
0.55
12/25/21 0:00
Emmanuel Macron
0.38
0.55
12/26/21 0:00
Emmanuel Macron
0.37
0.55
12/27/21 0:00
Emmanuel Macron
0.38
0.54
12/28/21 0:00
Emmanuel Macron
0.38
0.54
12/29/21 0:00
Emmanuel Macron
0.38
0.54
12/30/21 0:00
Emmanuel Macron
0.38
0.55
12/31/21 0:00
Emmanuel Macron
0.38
0.55
1/1/22 0:00
Emmanuel Macron
0.38
0.55
1/2/22 0:00
Emmanuel Macron
0.38
0.54
1/3/22 0:00
Emmanuel Macron
0.38
0.55
1/4/22 0:00
Emmanuel Macron
0.37
0.55
1/5/22 0:00
Emmanuel Macron
0.37
0.55
1/6/22 0:00
Emmanuel Macron
0.37
0.55
1/7/22 0:00
Emmanuel Macron
0.37
0.55
1/8/22 0:00
Emmanuel Macron
0.37
0.55
1/9/22 0:00
Emmanuel Macron
0.36
0.56
1/10/22 0:00
Emmanuel Macron
0.36
0.57
1/11/22 0:00
Emmanuel Macron
0.35
0.57
1/12/22 0:00
Emmanuel Macron
0.36
0.57
1/13/22 0:00
Emmanuel Macron
0.36
0.57
1/14/22 0:00
Emmanuel Macron
0.36
0.57
1/15/22 0:00
Emmanuel Macron
0.35
0.58
1/16/22 0:00
Emmanuel Macron
0.35
0.58
1/17/22 0:00
Emmanuel Macron
0.35
0.58
1/18/22 0:00
Emmanuel Macron
0.34
0.59
1/19/22 0:00
Emmanuel Macron
0.34
0.59
1/20/22 0:00
Emmanuel Macron
0.33
0.59
1/21/22 0:00
Emmanuel Macron
0.33
0.59
1/22/22 0:00
Emmanuel Macron
0.34
0.58
1/23/22 0:00
Emmanuel Macron
0.35
0.58
1/24/22 0:00
Emmanuel Macron
0.35
0.57
1/25/22 0:00
Emmanuel Macron
0.36
0.56
1/26/22 0:00
Emmanuel Macron
0.36
0.57
1/27/22 0:00
Emmanuel Macron
0.35
0.57
1/28/22 0:00
Emmanuel Macron
0.35
0.57
1/29/22 0:00
Emmanuel Macron
0.36
0.57
1/30/22 0:00
Emmanuel Macron
0.35
0.57
1/31/22 0:00
Emmanuel Macron
0.35
0.58
2/1/22 0:00
Emmanuel Macron
0.35
0.58
2/2/22 0:00
Emmanuel Macron
0.36
0.58
2/3/22 0:00
Emmanuel Macron
0.36
0.57
2/4/22 0:00
Emmanuel Macron
0.36
0.57
2/5/22 0:00
Emmanuel Macron
0.36
0.57
2/6/22 0:00
Emmanuel Macron
0.35
0.58
2/7/22 0:00
Emmanuel Macron
0.36
0.58
2/8/22 0:00
Emmanuel Macron
0.36
0.57
2/9/22 0:00
Emmanuel Macron
0.36
0.57
2/10/22 0:00
Emmanuel Macron
0.36
0.57
2/11/22 0:00
Emmanuel Macron
0.36
0.57
2/12/22 0:00
Emmanuel Macron
0.37
0.56
2/13/22 0:00
Emmanuel Macron
0.37
0.56
2/14/22 0:00
Emmanuel Macron
0.37
0.56
2/15/22 0:00
Emmanuel Macron
0.37
0.56
2/16/22 0:00
Emmanuel Macron
0.37
0.56
2/17/22 0:00
Emmanuel Macron
0.36
0.56
2/18/22 0:00
Emmanuel Macron
0.36
0.57
2/19/22 0:00
Emmanuel Macron
0.35
0.57
2/20/22 0:00
Emmanuel Macron
0.36
0.58
2/21/22 0:00
Emmanuel Macron
0.37
0.56
2/22/22 0:00
Emmanuel Macron
0.36
0.56
2/23/22 0:00
Emmanuel Macron
0.36
0.57
2/24/22 0:00
Emmanuel Macron
0.36
0.57
2/25/22 0:00
Emmanuel Macron
0.37
0.56
2/26/22 0:00
Emmanuel Macron
0.37
0.56
2/27/22 0:00
Emmanuel Macron
0.37
0.55
2/28/22 0:00
Emmanuel Macron
0.37
0.56
3/1/22 0:00
Emmanuel Macron
0.37
0.55
3/2/22 0:00
Emmanuel Macron
0.38
0.54
3/3/22 0:00
Emmanuel Macron
0.40
0.52
3/4/22 0:00
Emmanuel Macron
0.40
0.53
3/5/22 0:00
Emmanuel Macron
0.40
0.52
3/6/22 0:00
Emmanuel Macron
0.41
0.52
3/7/22 0:00
Emmanuel Macron
0.41
0.51
3/8/22 0:00
Emmanuel Macron
0.41
0.51
3/9/22 0:00
Emmanuel Macron
0.42
0.51
3/10/22 0:00
Emmanuel Macron
0.40
0.52
3/11/22 0:00
Emmanuel Macron
0.41
0.52
3/12/22 0:00
Emmanuel Macron
0.41
0.52
3/13/22 0:00
Emmanuel Macron
0.41
0.53
3/14/22 0:00
Emmanuel Macron
0.41
0.52
3/15/22 0:00
Emmanuel Macron
0.41
0.52
3/16/22 0:00
Emmanuel Macron
0.41
0.53
3/17/22 0:00
Emmanuel Macron
0.40
0.54
3/18/22 0:00
Emmanuel Macron
0.40
0.54
3/19/22 0:00
Emmanuel Macron
0.40
0.54
3/20/22 0:00
Emmanuel Macron
0.40
0.54
3/21/22 0:00
Emmanuel Macron
0.39
0.54
3/22/22 0:00
Emmanuel Macron
0.40
0.54
3/23/22 0:00
Emmanuel Macron
0.40
0.54
3/24/22 0:00
Emmanuel Macron
0.40
0.53
3/25/22 0:00
Emmanuel Macron
0.40
0.54
3/26/22 0:00
Emmanuel Macron
0.40
0.53
3/27/22 0:00
Emmanuel Macron
0.40
0.54
3/28/22 0:00
Emmanuel Macron
0.40
0.54
3/29/22 0:00
Emmanuel Macron
0.40
0.54
3/30/22 0:00
Emmanuel Macron
0.40
0.54
3/31/22 0:00
Emmanuel Macron
0.40
0.54
4/1/22 0:00
Emmanuel Macron
0.40
0.54
4/2/22 0:00
Emmanuel Macron
0.40
0.54
4/3/22 0:00
Emmanuel Macron
0.40
0.54
4/4/22 0:00
Emmanuel Macron
0.40
0.55
4/5/22 0:00
Emmanuel Macron
0.39
0.56
4/6/22 0:00
Emmanuel Macron
0.39
0.56
4/7/22 0:00
Emmanuel Macron
0.38
0.56
4/8/22 0:00
Emmanuel Macron
0.37
0.57
4/9/22 0:00
Emmanuel Macron
0.37
0.57
4/10/22 0:00
Emmanuel Macron
0.38
0.56
4/11/22 0:00
Emmanuel Macron
0.38
0.56
4/12/22 0:00
Emmanuel Macron
0.38
0.56
4/13/22 0:00
Emmanuel Macron
0.38
0.56
4/14/22 0:00
Emmanuel Macron
0.38
0.56
4/15/22 0:00
Emmanuel Macron
0.39
0.56
4/16/22 0:00
Emmanuel Macron
0.37
0.57
4/17/22 0:00
Emmanuel Macron
0.37
0.58
4/18/22 0:00
Emmanuel Macron
0.36
0.58
4/19/22 0:00
Emmanuel Macron
0.36
0.59
3/6/20 0:00
Narendra Modi
0.71
0.23
3/7/20 0:00
Narendra Modi
0.71
0.22
3/8/20 0:00
Narendra Modi
0.71
0.23
3/9/20 0:00
Narendra Modi
0.70
0.23
3/10/20 0:00
Narendra Modi
0.70
0.23
3/11/20 0:00
Narendra Modi
0.70
0.23
3/12/20 0:00
Narendra Modi
0.72
0.23
3/13/20 0:00
Narendra Modi
0.72
0.22
3/14/20 0:00
Narendra Modi
0.73
0.21
3/15/20 0:00
Narendra Modi
0.74
0.20
3/16/20 0:00
Narendra Modi
0.75
0.20
3/17/20 0:00
Narendra Modi
0.74
0.21
3/18/20 0:00
Narendra Modi
0.73
0.21
3/19/20 0:00
Narendra Modi
0.73
0.21
3/20/20 0:00
Narendra Modi
0.73
0.21
3/21/20 0:00
Narendra Modi
0.73
0.21
3/22/20 0:00
Narendra Modi
0.74
0.21
3/23/20 0:00
Narendra Modi
0.75
0.21
3/24/20 0:00
Narendra Modi
0.76
0.19
3/25/20 0:00
Narendra Modi
0.78
0.18
3/26/20 0:00
Narendra Modi
0.78
0.18
3/27/20 0:00
Narendra Modi
0.79
0.16
3/28/20 0:00
Narendra Modi
0.80
0.16
3/29/20 0:00
Narendra Modi
0.81
0.15
3/30/20 0:00
Narendra Modi
0.82
0.14
3/31/20 0:00
Narendra Modi
0.82
0.15
4/1/20 0:00
Narendra Modi
0.81
0.15
4/2/20 0:00
Narendra Modi
0.81
0.15
4/3/20 0:00
Narendra Modi
0.81
0.15
4/4/20 0:00
Narendra Modi
0.81
0.15
4/5/20 0:00
Narendra Modi
0.80
0.15
4/6/20 0:00
Narendra Modi
0.80
0.16
4/7/20 0:00
Narendra Modi
0.80
0.15
4/8/20 0:00
Narendra Modi
0.80
0.16
4/9/20 0:00
Narendra Modi
0.80
0.15
4/10/20 0:00
Narendra Modi
0.79
0.17
4/11/20 0:00
Narendra Modi
0.79
0.16
4/12/20 0:00
Narendra Modi
0.79
0.17
4/13/20 0:00
Narendra Modi
0.80
0.16
4/14/20 0:00
Narendra Modi
0.81
0.16
4/15/20 0:00
Narendra Modi
0.81
0.15
4/16/20 0:00
Narendra Modi
0.82
0.14
4/17/20 0:00
Narendra Modi
0.82
0.14
4/18/20 0:00
Narendra Modi
0.83
0.14
4/19/20 0:00
Narendra Modi
0.83
0.14
4/20/20 0:00
Narendra Modi
0.83
0.14
4/21/20 0:00
Narendra Modi
0.83
0.14
4/22/20 0:00
Narendra Modi
0.83
0.14
4/23/20 0:00
Narendra Modi
0.82
0.15
4/24/20 0:00
Narendra Modi
0.82
0.15
4/25/20 0:00
Narendra Modi
0.81
0.15
4/26/20 0:00
Narendra Modi
0.81
0.15
4/27/20 0:00
Narendra Modi
0.82
0.14
4/28/20 0:00
Narendra Modi
0.82
0.14
4/29/20 0:00
Narendra Modi
0.82
0.14
4/30/20 0:00
Narendra Modi
0.83
0.13
5/1/20 0:00
Narendra Modi
0.83
0.13
5/2/20 0:00
Narendra Modi
0.84
0.12
5/3/20 0:00
Narendra Modi
0.84
0.12
5/4/20 0:00
Narendra Modi
0.83
0.13
5/5/20 0:00
Narendra Modi
0.82
0.13
5/6/20 0:00
Narendra Modi
0.81
0.14
5/7/20 0:00
Narendra Modi
0.80
0.15
5/8/20 0:00
Narendra Modi
0.81
0.15
5/9/20 0:00
Narendra Modi
0.80
0.15
5/10/20 0:00
Narendra Modi
0.80
0.15
5/11/20 0:00
Narendra Modi
0.80
0.15
5/12/20 0:00
Narendra Modi
0.80
0.15
5/13/20 0:00
Narendra Modi
0.81
0.15
5/14/20 0:00
Narendra Modi
0.81
0.15
5/15/20 0:00
Narendra Modi
0.81
0.15
5/16/20 0:00
Narendra Modi
0.81
0.15
5/17/20 0:00
Narendra Modi
0.81
0.16
5/18/20 0:00
Narendra Modi
0.81
0.15
5/19/20 0:00
Narendra Modi
0.82
0.15
5/20/20 0:00
Narendra Modi
0.81
0.15
5/21/20 0:00
Narendra Modi
0.81
0.15
5/22/20 0:00
Narendra Modi
0.82
0.15
5/23/20 0:00
Narendra Modi
0.81
0.15
5/24/20 0:00
Narendra Modi
0.82
0.15
5/25/20 0:00
Narendra Modi
0.81
0.15
5/26/20 0:00
Narendra Modi
0.81
0.15
5/27/20 0:00
Narendra Modi
0.81
0.15
5/28/20 0:00
Narendra Modi
0.80
0.16
5/29/20 0:00
Narendra Modi
0.79
0.16
5/30/20 0:00
Narendra Modi
0.79
0.16
5/31/20 0:00
Narendra Modi
0.79
0.17
6/1/20 0:00
Narendra Modi
0.78
0.17
6/2/20 0:00
Narendra Modi
0.78
0.18
6/3/20 0:00
Narendra Modi
0.77
0.18
6/4/20 0:00
Narendra Modi
0.78
0.18
6/5/20 0:00
Narendra Modi
0.77
0.19
6/6/20 0:00
Narendra Modi
0.76
0.19
6/7/20 0:00
Narendra Modi
0.76
0.20
6/8/20 0:00
Narendra Modi
0.76
0.19
6/9/20 0:00
Narendra Modi
0.75
0.19
6/10/20 0:00
Narendra Modi
0.75
0.20
6/11/20 0:00
Narendra Modi
0.75
0.19
6/12/20 0:00
Narendra Modi
0.75
0.19
6/13/20 0:00
Narendra Modi
0.75
0.20
6/14/20 0:00
Narendra Modi
0.75
0.20
6/15/20 0:00
Narendra Modi
0.75
0.21
6/16/20 0:00
Narendra Modi
0.75
0.21
6/17/20 0:00
Narendra Modi
0.75
0.20
6/18/20 0:00
Narendra Modi
0.75
0.20
6/19/20 0:00
Narendra Modi
0.75
0.20
6/20/20 0:00
Narendra Modi
0.76
0.20
6/21/20 0:00
Narendra Modi
0.76
0.19
6/22/20 0:00
Narendra Modi
0.76
0.19
6/23/20 0:00
Narendra Modi
0.77
0.19
6/24/20 0:00
Narendra Modi
0.76
0.19
6/25/20 0:00
Narendra Modi
0.76
0.20
6/26/20 0:00
Narendra Modi
0.75
0.20
6/27/20 0:00
Narendra Modi
0.76
0.20
6/28/20 0:00
Narendra Modi
0.75
0.21
6/29/20 0:00
Narendra Modi
0.74
0.21
6/30/20 0:00
Narendra Modi
0.74
0.21
7/1/20 0:00
Narendra Modi
0.75
0.20
7/2/20 0:00
Narendra Modi
0.74
0.21
7/3/20 0:00
Narendra Modi
0.76
0.19
7/4/20 0:00
Narendra Modi
0.76
0.19
7/5/20 0:00
Narendra Modi
0.77
0.18
7/6/20 0:00
Narendra Modi
0.78
0.17
7/7/20 0:00
Narendra Modi
0.77
0.18
7/8/20 0:00
Narendra Modi
0.77
0.18
7/9/20 0:00
Narendra Modi
0.78
0.18
7/10/20 0:00
Narendra Modi
0.78
0.18
7/11/20 0:00
Narendra Modi
0.77
0.18
7/12/20 0:00
Narendra Modi
0.76
0.18
7/13/20 0:00
Narendra Modi
0.77
0.17
7/14/20 0:00
Narendra Modi
0.76
0.18
7/15/20 0:00
Narendra Modi
0.76
0.18
7/16/20 0:00
Narendra Modi
0.77
0.17
7/17/20 0:00
Narendra Modi
0.76
0.18
7/18/20 0:00
Narendra Modi
0.76
0.18
7/19/20 0:00
Narendra Modi
0.77
0.18
7/20/20 0:00
Narendra Modi
0.76
0.19
7/21/20 0:00
Narendra Modi
0.77
0.18
7/22/20 0:00
Narendra Modi
0.77
0.17
7/23/20 0:00
Narendra Modi
0.77
0.18
7/24/20 0:00
Narendra Modi
0.77
0.18
7/25/20 0:00
Narendra Modi
0.78
0.17
7/26/20 0:00
Narendra Modi
0.77
0.18
7/27/20 0:00
Narendra Modi
0.78
0.18
7/28/20 0:00
Narendra Modi
0.77
0.19
7/29/20 0:00
Narendra Modi
0.77
0.19
7/30/20 0:00
Narendra Modi
0.76
0.20
7/31/20 0:00
Narendra Modi
0.76
0.19
8/1/20 0:00
Narendra Modi
0.76
0.19
8/2/20 0:00
Narendra Modi
0.76
0.20
8/3/20 0:00
Narendra Modi
0.75
0.20
8/4/20 0:00
Narendra Modi
0.75
0.19
8/5/20 0:00
Narendra Modi
0.76
0.19
8/6/20 0:00
Narendra Modi
0.76
0.19
8/7/20 0:00
Narendra Modi
0.76
0.19
8/8/20 0:00
Narendra Modi
0.76
0.19
8/9/20 0:00
Narendra Modi
0.77
0.18
8/10/20 0:00
Narendra Modi
0.78
0.18
8/11/20 0:00
Narendra Modi
0.78
0.18
8/12/20 0:00
Narendra Modi
0.78
0.18
8/13/20 0:00
Narendra Modi
0.78
0.18
8/14/20 0:00
Narendra Modi
0.78
0.18
8/15/20 0:00
Narendra Modi
0.78
0.18
8/16/20 0:00
Narendra Modi
0.77
0.19
8/17/20 0:00
Narendra Modi
0.77
0.19
8/18/20 0:00
Narendra Modi
0.76
0.19
8/19/20 0:00
Narendra Modi
0.76
0.20
8/20/20 0:00
Narendra Modi
0.76
0.20
8/21/20 0:00
Narendra Modi
0.76
0.19
8/22/20 0:00
Narendra Modi
0.76
0.19
8/23/20 0:00
Narendra Modi
0.76
0.19
8/24/20 0:00
Narendra Modi
0.76
0.19
8/25/20 0:00
Narendra Modi
0.77
0.18
8/26/20 0:00
Narendra Modi
0.77
0.18
8/27/20 0:00
Narendra Modi
0.78
0.18
8/28/20 0:00
Narendra Modi
0.77
0.18
8/29/20 0:00
Narendra Modi
0.76
0.19
8/30/20 0:00
Narendra Modi
0.76
0.19
8/31/20 0:00
Narendra Modi
0.75
0.19
9/1/20 0:00
Narendra Modi
0.75
0.20
9/2/20 0:00
Narendra Modi
0.75
0.20
9/3/20 0:00
Narendra Modi
0.75
0.20
9/4/20 0:00
Narendra Modi
0.74
0.20
9/5/20 0:00
Narendra Modi
0.75
0.20
9/6/20 0:00
Narendra Modi
0.74
0.20
9/7/20 0:00
Narendra Modi
0.74
0.21
9/8/20 0:00
Narendra Modi
0.74
0.22
9/9/20 0:00
Narendra Modi
0.73
0.22
9/10/20 0:00
Narendra Modi
0.73
0.22
9/11/20 0:00
Narendra Modi
0.73
0.22
9/12/20 0:00
Narendra Modi
0.73
0.22
9/13/20 0:00
Narendra Modi
0.73
0.22
9/14/20 0:00
Narendra Modi
0.73
0.22
9/15/20 0:00
Narendra Modi
0.73
0.22
9/16/20 0:00
Narendra Modi
0.74
0.21
9/17/20 0:00
Narendra Modi
0.74
0.21
9/18/20 0:00
Narendra Modi
0.74
0.20
9/19/20 0:00
Narendra Modi
0.75
0.20
9/20/20 0:00
Narendra Modi
0.75
0.20
9/21/20 0:00
Narendra Modi
0.75
0.20
9/22/20 0:00
Narendra Modi
0.75
0.20
9/23/20 0:00
Narendra Modi
0.74
0.22
9/24/20 0:00
Narendra Modi
0.73
0.22
9/25/20 0:00
Narendra Modi
0.73
0.22
9/26/20 0:00
Narendra Modi
0.73
0.22
9/27/20 0:00
Narendra Modi
0.73
0.22
9/28/20 0:00
Narendra Modi
0.73
0.23
9/29/20 0:00
Narendra Modi
0.74
0.22
9/30/20 0:00
Narendra Modi
0.73
0.22
10/1/20 0:00
Narendra Modi
0.73
0.22
10/2/20 0:00
Narendra Modi
0.73
0.22
10/3/20 0:00
Narendra Modi
0.73
0.22
10/4/20 0:00
Narendra Modi
0.72
0.23
10/5/20 0:00
Narendra Modi
0.72
0.23
10/6/20 0:00
Narendra Modi
0.71
0.24
10/7/20 0:00
Narendra Modi
0.71
0.24
10/8/20 0:00
Narendra Modi
0.71
0.23
10/9/20 0:00
Narendra Modi
0.71
0.24
10/10/20 0:00
Narendra Modi
0.71
0.24
10/11/20 0:00
Narendra Modi
0.72
0.23
10/12/20 0:00
Narendra Modi
0.73
0.23
10/13/20 0:00
Narendra Modi
0.73
0.22
10/14/20 0:00
Narendra Modi
0.74
0.21
10/15/20 0:00
Narendra Modi
0.74
0.21
10/16/20 0:00
Narendra Modi
0.74
0.21
10/17/20 0:00
Narendra Modi
0.74
0.21
10/18/20 0:00
Narendra Modi
0.74
0.21
10/19/20 0:00
Narendra Modi
0.74
0.21
10/20/20 0:00
Narendra Modi
0.73
0.21
10/21/20 0:00
Narendra Modi
0.73
0.21
10/22/20 0:00
Narendra Modi
0.73
0.21
10/23/20 0:00
Narendra Modi
0.73
0.21
10/24/20 0:00
Narendra Modi
0.73
0.21
10/25/20 0:00
Narendra Modi
0.73
0.21
10/26/20 0:00
Narendra Modi
0.73
0.22
10/27/20 0:00
Narendra Modi
0.73
0.21
10/28/20 0:00
Narendra Modi
0.73
0.21
10/29/20 0:00
Narendra Modi
0.74
0.21
10/30/20 0:00
Narendra Modi
0.74
0.21
10/31/20 0:00
Narendra Modi
0.74
0.21
11/1/20 0:00
Narendra Modi
0.74
0.21
11/2/20 0:00
Narendra Modi
0.74
0.20
11/3/20 0:00
Narendra Modi
0.74
0.21
11/4/20 0:00
Narendra Modi
0.74
0.20
11/5/20 0:00
Narendra Modi
0.74
0.20
11/6/20 0:00
Narendra Modi
0.75
0.20
11/7/20 0:00
Narendra Modi
0.74
0.20
11/8/20 0:00
Narendra Modi
0.74
0.21
11/9/20 0:00
Narendra Modi
0.74
0.21
11/10/20 0:00
Narendra Modi
0.74
0.21
11/11/20 0:00
Narendra Modi
0.74
0.21
11/12/20 0:00
Narendra Modi
0.73
0.22
11/13/20 0:00
Narendra Modi
0.73
0.21
11/14/20 0:00
Narendra Modi
0.73
0.22
11/15/20 0:00
Narendra Modi
0.73
0.22
11/16/20 0:00
Narendra Modi
0.74
0.21
11/17/20 0:00
Narendra Modi
0.74
0.21
11/18/20 0:00
Narendra Modi
0.75
0.21
11/19/20 0:00
Narendra Modi
0.75
0.20
11/20/20 0:00
Narendra Modi
0.75
0.21
11/21/20 0:00
Narendra Modi
0.75
0.21
11/22/20 0:00
Narendra Modi
0.75
0.21
11/23/20 0:00
Narendra Modi
0.75
0.21
11/24/20 0:00
Narendra Modi
0.75
0.20
11/25/20 0:00
Narendra Modi
0.75
0.20
11/26/20 0:00
Narendra Modi
0.74
0.20
11/27/20 0:00
Narendra Modi
0.74
0.20
11/28/20 0:00
Narendra Modi
0.74
0.21
11/29/20 0:00
Narendra Modi
0.73
0.21
11/30/20 0:00
Narendra Modi
0.74
0.21
12/1/20 0:00
Narendra Modi
0.73
0.22
12/2/20 0:00
Narendra Modi
0.74
0.21
12/3/20 0:00
Narendra Modi
0.74
0.21
12/4/20 0:00
Narendra Modi
0.74
0.21
12/5/20 0:00
Narendra Modi
0.75
0.21
12/6/20 0:00
Narendra Modi
0.75
0.21
12/7/20 0:00
Narendra Modi
0.75
0.20
12/8/20 0:00
Narendra Modi
0.74
0.21
12/9/20 0:00
Narendra Modi
0.73
0.21
12/10/20 0:00
Narendra Modi
0.74
0.21
12/11/20 0:00
Narendra Modi
0.74
0.21
12/12/20 0:00
Narendra Modi
0.74
0.20
12/13/20 0:00
Narendra Modi
0.74
0.20
12/14/20 0:00
Narendra Modi
0.74
0.21
12/15/20 0:00
Narendra Modi
0.75
0.20
12/16/20 0:00
Narendra Modi
0.76
0.20
12/17/20 0:00
Narendra Modi
0.75
0.20
12/18/20 0:00
Narendra Modi
0.75
0.21
12/19/20 0:00
Narendra Modi
0.74
0.21
12/20/20 0:00
Narendra Modi
0.75
0.20
12/21/20 0:00
Narendra Modi
0.75
0.20
12/22/20 0:00
Narendra Modi
0.75
0.20
12/23/20 0:00
Narendra Modi
0.74
0.21
12/24/20 0:00
Narendra Modi
0.74
0.21
12/25/20 0:00
Narendra Modi
0.74
0.21
12/26/20 0:00
Narendra Modi
0.75
0.20
12/27/20 0:00
Narendra Modi
0.75
0.20
12/28/20 0:00
Narendra Modi
0.75
0.20
12/29/20 0:00
Narendra Modi
0.75
0.20
12/30/20 0:00
Narendra Modi
0.76
0.20
12/31/20 0:00
Narendra Modi
0.75
0.20
1/1/21 0:00
Narendra Modi
0.76
0.19
1/2/21 0:00
Narendra Modi
0.76
0.19
1/3/21 0:00
Narendra Modi
0.76
0.19
1/4/21 0:00
Narendra Modi
0.76
0.19
1/5/21 0:00
Narendra Modi
0.77
0.19
1/6/21 0:00
Narendra Modi
0.76
0.19
1/7/21 0:00
Narendra Modi
0.77
0.19
1/8/21 0:00
Narendra Modi
0.77
0.19
1/9/21 0:00
Narendra Modi
0.76
0.19
1/10/21 0:00
Narendra Modi
0.77
0.18
1/11/21 0:00
Narendra Modi
0.77
0.19
1/12/21 0:00
Narendra Modi
0.76
0.19
1/13/21 0:00
Narendra Modi
0.77
0.18
1/14/21 0:00
Narendra Modi
0.77
0.18
1/15/21 0:00
Narendra Modi
0.77
0.18
1/16/21 0:00
Narendra Modi
0.77
0.18
1/17/21 0:00
Narendra Modi
0.76
0.19
1/18/21 0:00
Narendra Modi
0.76
0.19
1/19/21 0:00
Narendra Modi
0.76
0.19
1/20/21 0:00
Narendra Modi
0.75
0.20
1/21/21 0:00
Narendra Modi
0.76
0.20
1/22/21 0:00
Narendra Modi
0.76
0.20
1/23/21 0:00
Narendra Modi
0.76
0.19
1/24/21 0:00
Narendra Modi
0.76
0.19
1/25/21 0:00
Narendra Modi
0.77
0.18
1/26/21 0:00
Narendra Modi
0.76
0.18
1/27/21 0:00
Narendra Modi
0.77
0.18
1/28/21 0:00
Narendra Modi
0.77
0.18
1/29/21 0:00
Narendra Modi
0.77
0.18
1/30/21 0:00
Narendra Modi
0.76
0.19
1/31/21 0:00
Narendra Modi
0.75
0.20
2/1/21 0:00
Narendra Modi
0.75
0.20
2/2/21 0:00
Narendra Modi
0.75
0.20
2/3/21 0:00
Narendra Modi
0.75
0.20
2/4/21 0:00
Narendra Modi
0.76
0.19
2/5/21 0:00
Narendra Modi
0.75
0.20
2/6/21 0:00
Narendra Modi
0.76
0.20
2/7/21 0:00
Narendra Modi
0.76
0.19
2/8/21 0:00
Narendra Modi
0.76
0.20
2/9/21 0:00
Narendra Modi
0.76
0.20
2/10/21 0:00
Narendra Modi
0.76
0.20
2/11/21 0:00
Narendra Modi
0.75
0.21
2/12/21 0:00
Narendra Modi
0.76
0.20
2/13/21 0:00
Narendra Modi
0.75
0.21
2/14/21 0:00
Narendra Modi
0.76
0.20
2/15/21 0:00
Narendra Modi
0.76
0.20
2/16/21 0:00
Narendra Modi
0.76
0.20
2/17/21 0:00
Narendra Modi
0.75
0.20
2/18/21 0:00
Narendra Modi
0.75
0.20
2/19/21 0:00
Narendra Modi
0.75
0.20
2/20/21 0:00
Narendra Modi
0.75
0.20
2/21/21 0:00
Narendra Modi
0.75
0.20
2/22/21 0:00
Narendra Modi
0.74
0.20
2/23/21 0:00
Narendra Modi
0.75
0.20
2/24/21 0:00
Narendra Modi
0.74
0.20
2/25/21 0:00
Narendra Modi
0.74
0.20
2/26/21 0:00
Narendra Modi
0.75
0.20
2/27/21 0:00
Narendra Modi
0.74
0.20
2/28/21 0:00
Narendra Modi
0.74
0.21
3/1/21 0:00
Narendra Modi
0.74
0.21
3/2/21 0:00
Narendra Modi
0.73
0.22
3/3/21 0:00
Narendra Modi
0.74
0.21
3/4/21 0:00
Narendra Modi
0.74
0.22
3/5/21 0:00
Narendra Modi
0.72
0.23
3/6/21 0:00
Narendra Modi
0.72
0.23
3/7/21 0:00
Narendra Modi
0.71
0.23
3/8/21 0:00
Narendra Modi
0.70
0.24
3/9/21 0:00
Narendra Modi
0.71
0.24
3/10/21 0:00
Narendra Modi
0.70
0.24
3/11/21 0:00
Narendra Modi
0.71
0.24
3/12/21 0:00
Narendra Modi
0.71
0.24
3/13/21 0:00
Narendra Modi
0.71
0.24
3/14/21 0:00
Narendra Modi
0.72
0.23
3/15/21 0:00
Narendra Modi
0.73
0.22
3/16/21 0:00
Narendra Modi
0.71
0.23
3/17/21 0:00
Narendra Modi
0.72
0.22
3/18/21 0:00
Narendra Modi
0.71
0.23
3/19/21 0:00
Narendra Modi
0.71
0.23
3/20/21 0:00
Narendra Modi
0.72
0.22
3/21/21 0:00
Narendra Modi
0.72
0.22
3/22/21 0:00
Narendra Modi
0.71
0.23
3/23/21 0:00
Narendra Modi
0.72
0.22
3/24/21 0:00
Narendra Modi
0.72
0.22
3/25/21 0:00
Narendra Modi
0.73
0.22
3/26/21 0:00
Narendra Modi
0.73
0.21
3/27/21 0:00
Narendra Modi
0.74
0.21
3/28/21 0:00
Narendra Modi
0.73
0.21
3/29/21 0:00
Narendra Modi
0.74
0.20
3/30/21 0:00
Narendra Modi
0.74
0.21
3/31/21 0:00
Narendra Modi
0.74
0.20
4/1/21 0:00
Narendra Modi
0.73
0.21
4/2/21 0:00
Narendra Modi
0.73
0.20
4/3/21 0:00
Narendra Modi
0.73
0.21
4/4/21 0:00
Narendra Modi
0.72
0.21
4/5/21 0:00
Narendra Modi
0.73
0.21
4/6/21 0:00
Narendra Modi
0.73
0.21
4/7/21 0:00
Narendra Modi
0.72
0.22
4/8/21 0:00
Narendra Modi
0.72
0.22
4/9/21 0:00
Narendra Modi
0.72
0.22
4/10/21 0:00
Narendra Modi
0.72
0.21
4/11/21 0:00
Narendra Modi
0.72
0.22
4/12/21 0:00
Narendra Modi
0.72
0.22
4/13/21 0:00
Narendra Modi
0.72
0.22
4/14/21 0:00
Narendra Modi
0.71
0.22
4/15/21 0:00
Narendra Modi
0.71
0.22
4/16/21 0:00
Narendra Modi
0.71
0.23
4/17/21 0:00
Narendra Modi
0.71
0.24
4/18/21 0:00
Narendra Modi
0.71
0.23
4/19/21 0:00
Narendra Modi
0.70
0.24
4/20/21 0:00
Narendra Modi
0.70
0.25
4/21/21 0:00
Narendra Modi
0.69
0.25
4/22/21 0:00
Narendra Modi
0.69
0.26
4/23/21 0:00
Narendra Modi
0.68
0.26
4/24/21 0:00
Narendra Modi
0.68
0.27
4/25/21 0:00
Narendra Modi
0.68
0.27
4/26/21 0:00
Narendra Modi
0.67
0.27
4/27/21 0:00
Narendra Modi
0.67
0.28
4/28/21 0:00
Narendra Modi
0.67
0.27
4/29/21 0:00
Narendra Modi
0.67
0.28
4/30/21 0:00
Narendra Modi
0.67
0.28
5/1/21 0:00
Narendra Modi
0.66
0.28
5/2/21 0:00
Narendra Modi
0.66
0.29
5/3/21 0:00
Narendra Modi
0.66
0.29
5/4/21 0:00
Narendra Modi
0.65
0.29
5/5/21 0:00
Narendra Modi
0.64
0.30
5/6/21 0:00
Narendra Modi
0.64
0.31
5/7/21 0:00
Narendra Modi
0.63
0.31
5/8/21 0:00
Narendra Modi
0.63
0.32
5/9/21 0:00
Narendra Modi
0.63
0.31
5/10/21 0:00
Narendra Modi
0.63
0.32
5/11/21 0:00
<