Haley Says She Doesn't Trust Russia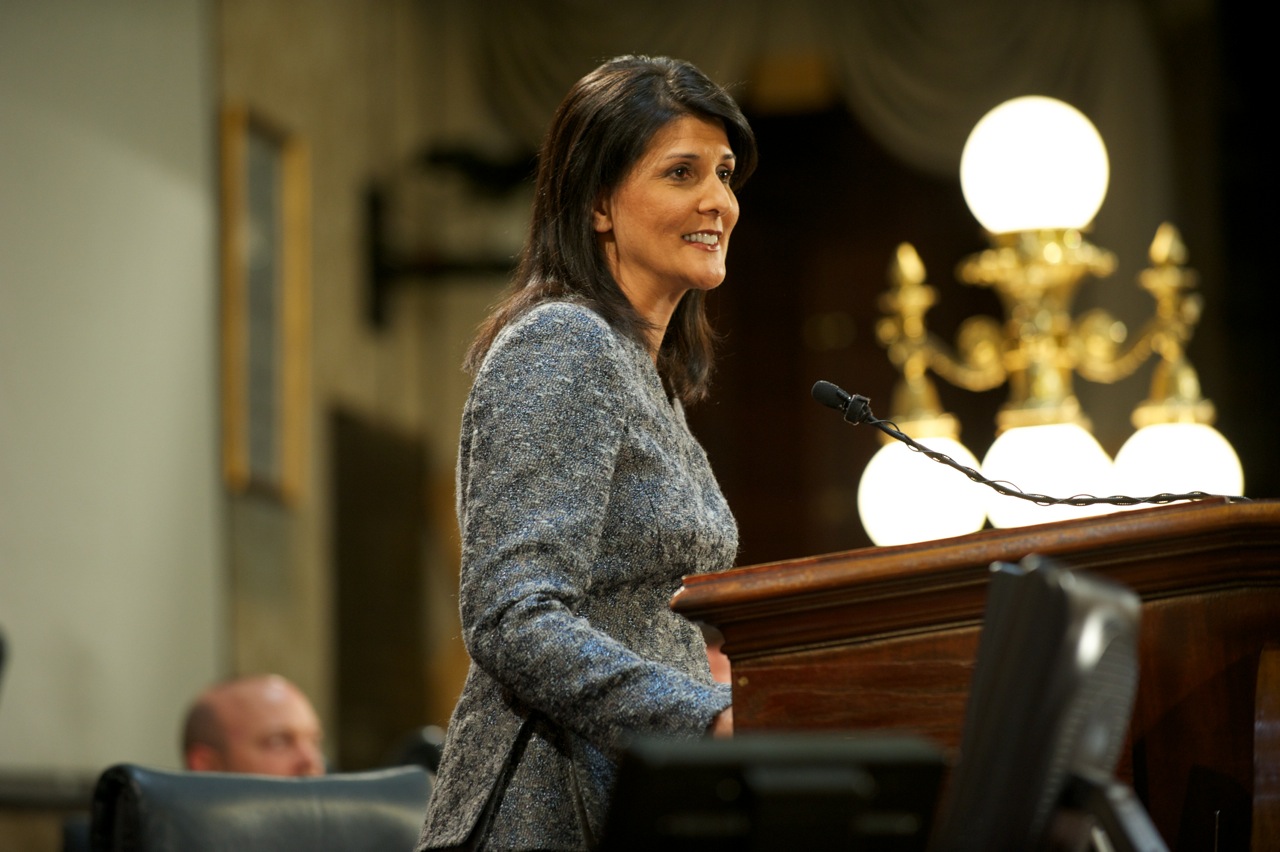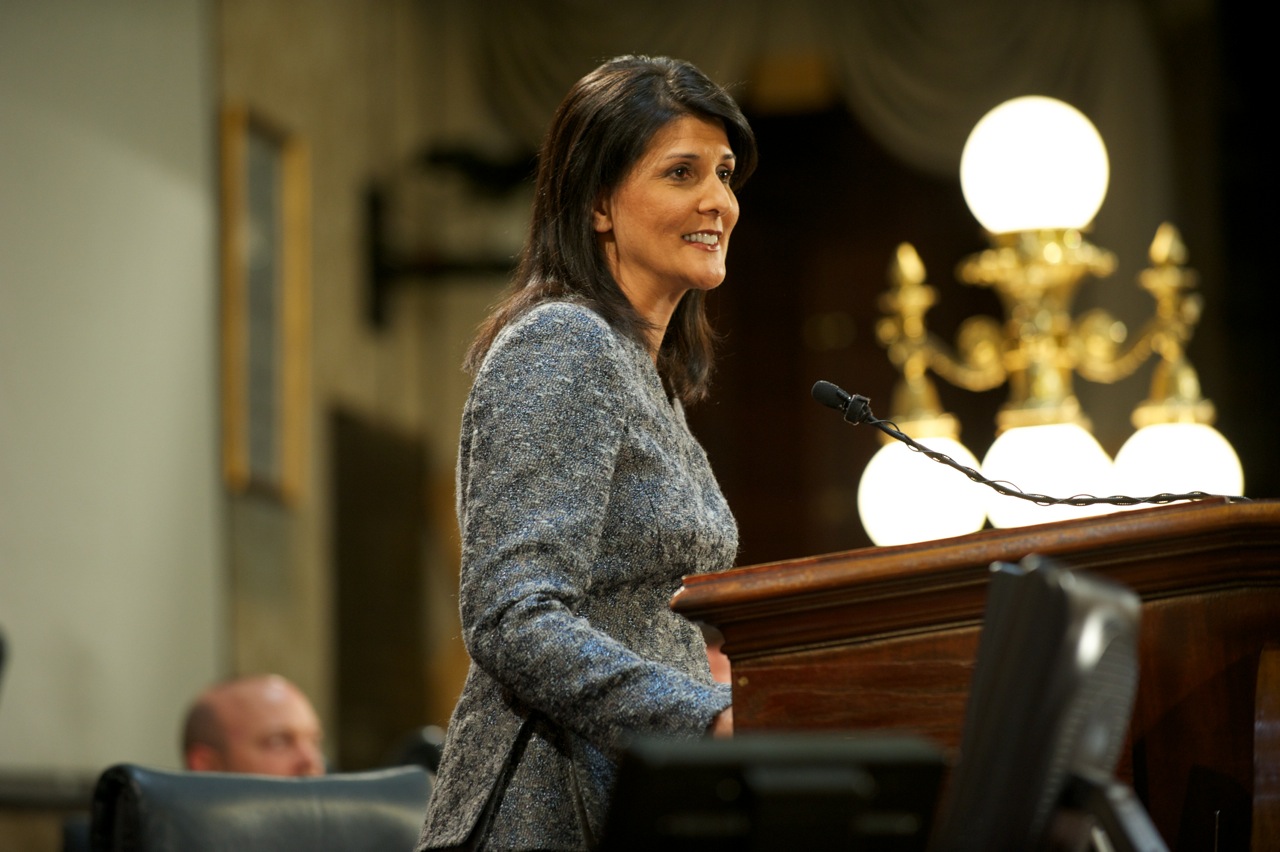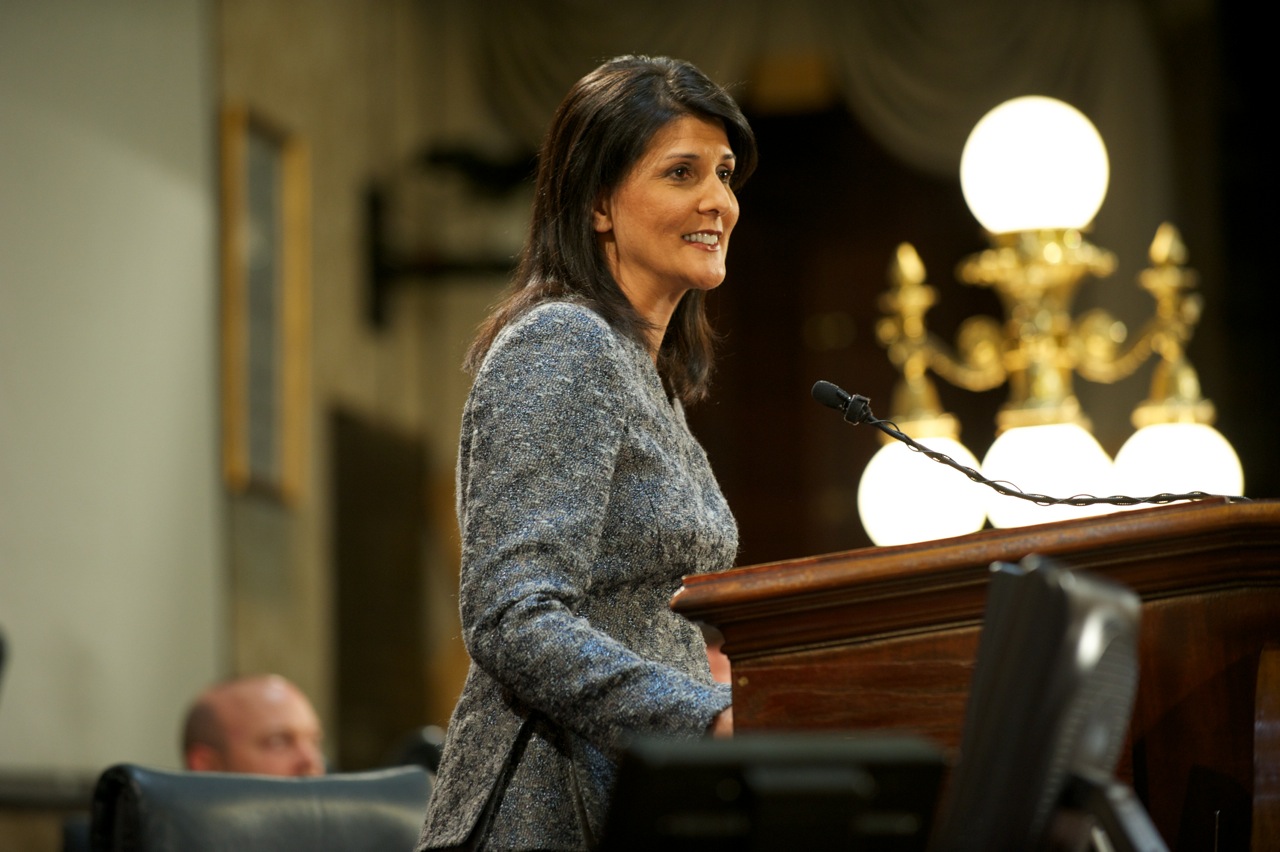 South Carolina Gov. Nikki Haley, Donald Trump's choice to serve as the next United Nations ambassador, broke with the president-elect on Russia at her confirmation hearing Wednesday and took a hard-line stance in defending Israel.
Contrary to Trump, who has so far been reluctant to criticize President Vladimir Putin, Haley said of Russia: "I don't think that we can trust them." Haley, who testified before the Senate Foreign Relations Committee, made clear she backs maintaining economic sanctions imposed by the Obama administration in retaliation to Russia's attempt to influence the 2016 presidential election. She also wouldn't rule out the Trump administration imposing additional sanctions in the event of future action against the United States.
"I certainly think they should be preserved, and I don't think they should be lifted unless we've seen a strong change from the Russian government," Haley said.
Haley also vowed to be a staunch defender of Israel. She rebuked the historic December move by the U.N. Security Council to condemn Israeli settlement activity on occupied territory.
"Today, over 40 years later, more and more Americans are becoming convinced by actions like the passage of Resolution 2334 that the United Nations does more harm than good," she said in her opening statement. 
While several Democrats were concerned about Haley's statements on the Iran nuclear deal, her nomination is expected to be confirmed with some bipartisan support.
Other notable moments during the hearing:
The tensest exchange during the hearing focused on the Iran deal, when Haley claimed the agreement does not subject Iran to "any sort of prohibitions on building nuclear weapons." Sen. Tim Kaine (D-Va.) said her statement was incorrect. "I would encourage you to read the agreement because what you just stated about the agreement is quite inaccurate," he said. "There are many, many restrictions in the agreement after 10 years." Haley also said she wasn't ready to take a position on the 2015 agreement, but voiced alarm that Russia and China are signatories.
If confirmed, Haley said she plans to push for reforms within the U.N., and supports evaluating U.S. funding for the body and its peacekeeping missions. As an example, she questioned whether China and Cuba, both communist countries, should have seats on the human rights commission.
Haley asserted that Russia's annexation of Crimea violated international order. Trump hasn't clearly stated how he feels about the annexation. She also said Russia committed war crimes in its bombing of Aleppo, Syria, that killed civilians. (Trump's pick for secretary of State, Rex Tillerson, refused to brand Putin a war criminal in his testimony before the panel last week.)
Haley said she sees Philippines President Rodrigo Duterte's war on drugs, in which thousands of drug suspects have reportedly been killed, as a violation of human rights. Trump, according to Duterte, told the Philippines president in December that he was cracking down on drugs "the right way."
While Haley said she supports a two-state solution to solve the Israeli-Palestinian conflict, she backs moving the U.S. embassy in Israel from Tel Aviv to Jerusalem. Haley also said she supports the long-term U.S. policy that opposes Israeli settlement building.
Haley, who was elected governor in 2010 and lacks significant foreign policy experience, argued that was an asset in her opening statement. "Like most government agencies, the United Nations could benefit from a fresh set of eyes," she said. "I will take an outsider's look at the institution."
Haley said she does not support a registry for Muslims, contrary to Trump's pledge on the campaign trail.
Correction: An earlier version of this story misquoted one of Haley's remarks about Russia.