Senate GOP Leaders Rush Toward Health Care Vote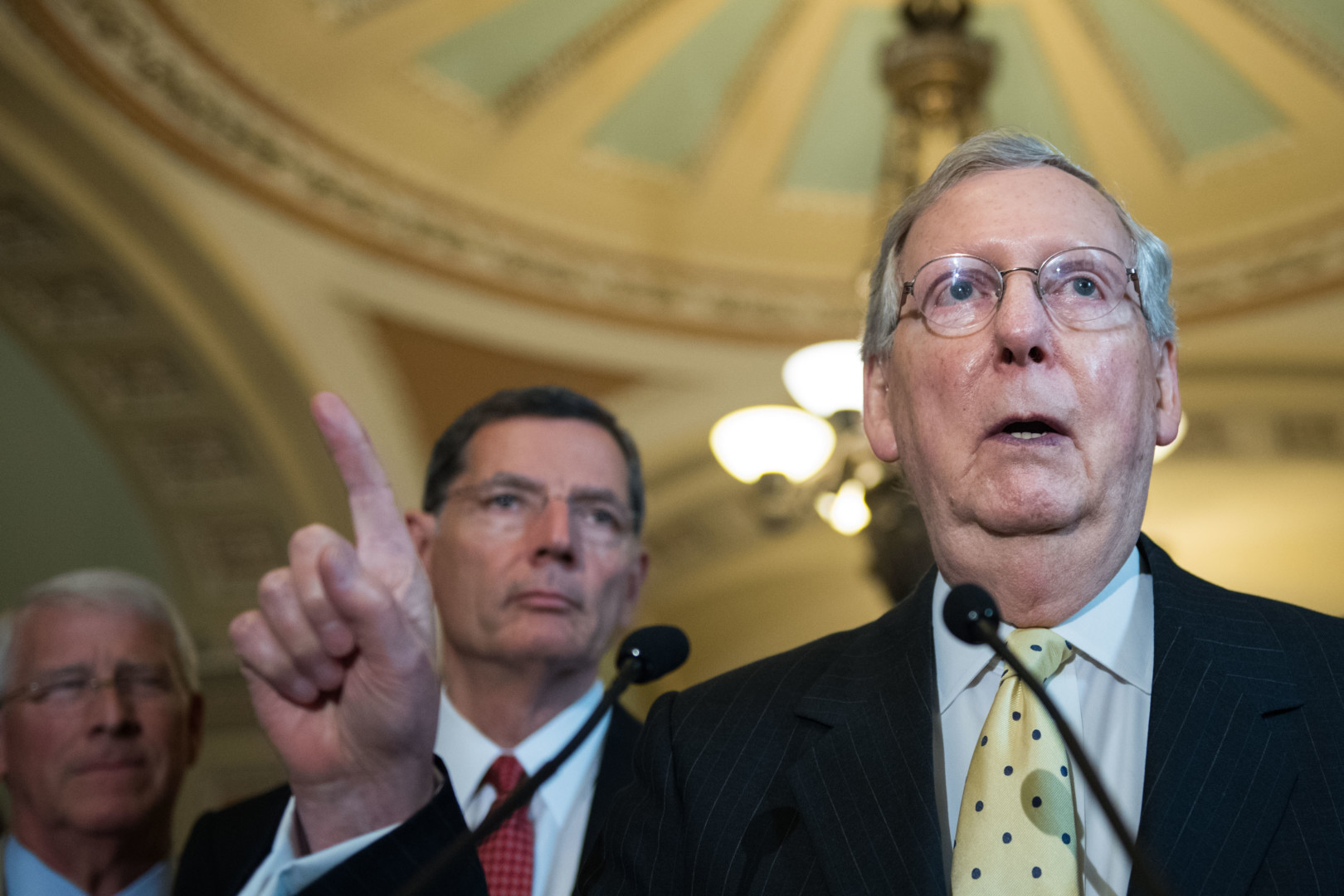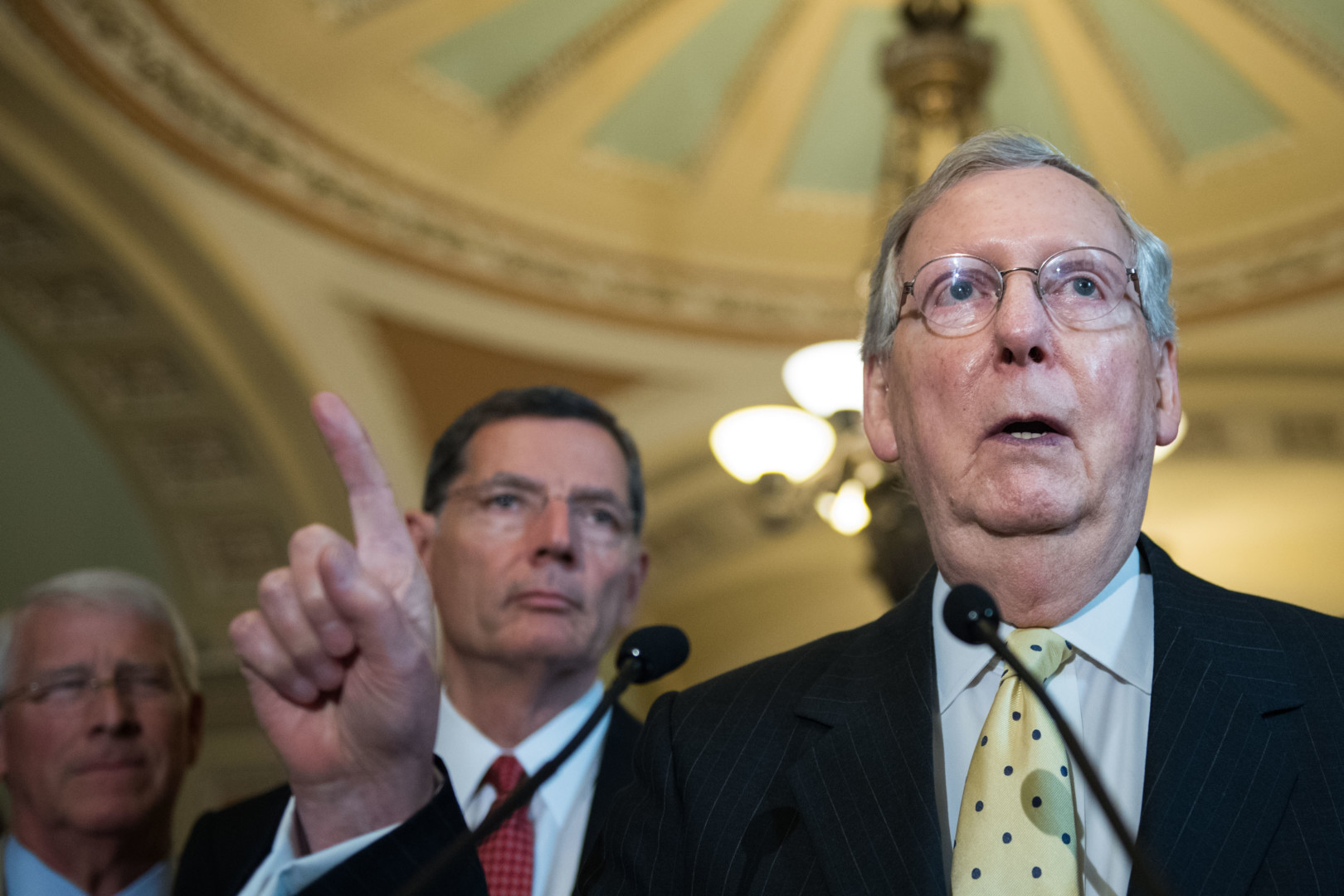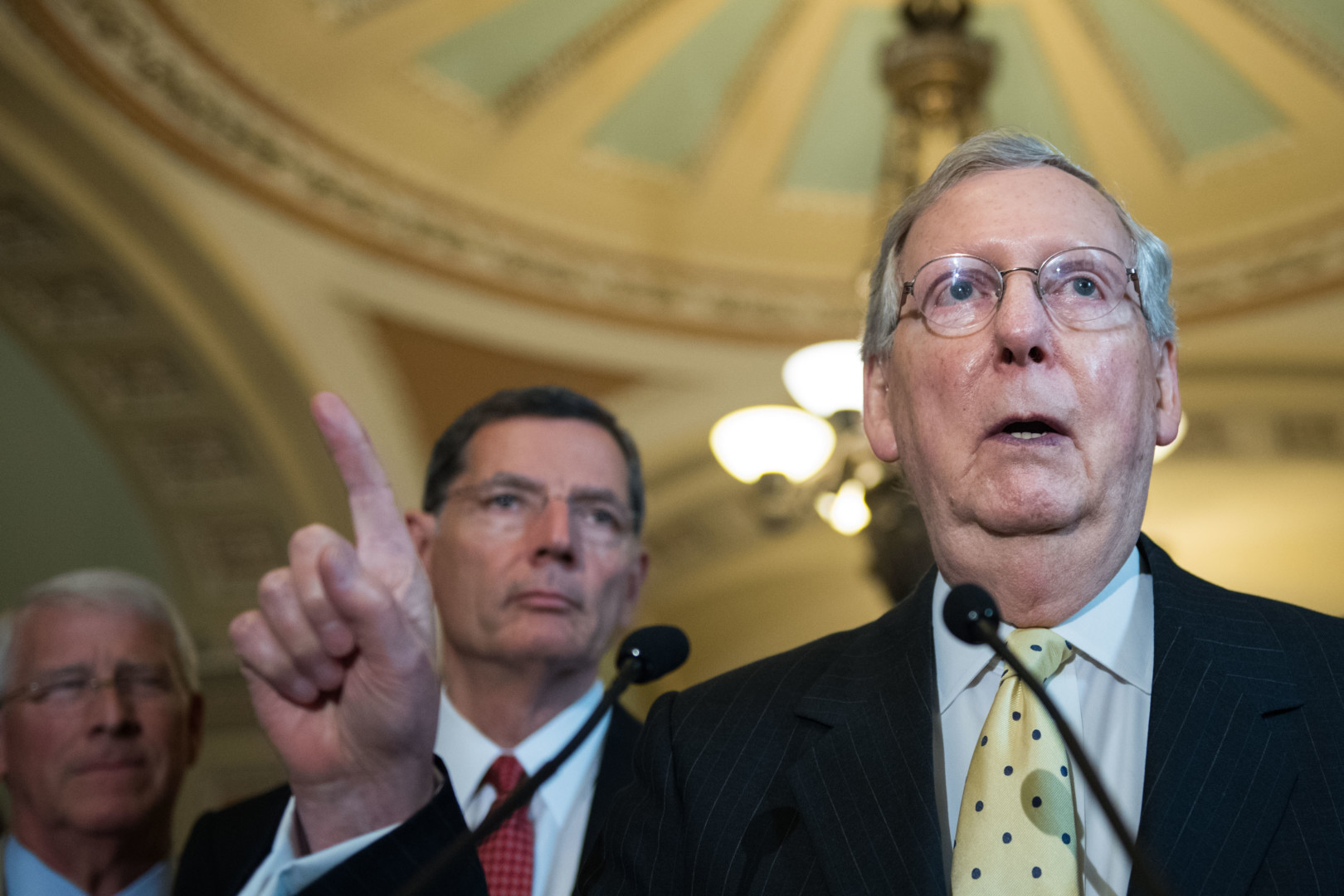 Senate GOP leaders on Thursday plan to release a draft text of their bill that would repeal and replace the Affordable Care Act, with the goal of bringing it to the floor for a vote next week, Majority Leader Mitch McConnell told reporters on Tuesday.
Leaders are rushing the Senate toward a vote to overhaul the U.S. health care system before the end of June, even though no rank-and-file Republican senators say they have seen draft text of the legislation.
GOP leaders have been sharing their policy options with the Congressional Budget Office, and are optimistic that the nonpartisan analysts will be able to complete a cost estimate by early next week, Sen. Bob Corker (R-Tenn.) told reporters after Tuesday's conference meeting. Health and Human Services Secretary Tom Price delivered a presentation at the lunch meeting, which Vice President Mike Pence also attended.
Corker said it remains unclear whether the legislation will have the support of at least 50 of the 52 Republican members of the Senate. Fifty GOP senators need to vote for the bill in order for it to pass without any Democrats on board.
"I mean none of us know what the bill is, so there would be no way to determine whether there's 50 votes or not," the Tennessee Republican told reporters.
There are lingering disagreements among Senate Republicans on major issues such as Medicaid. Republicans haven't agreed on the time period for phasing out the ACA's Medicaid expansion, and whether federal spending for the entitlement program should be decreased to a lower rate than what is in the House-passed bill, the American Health Care Act.
"If in fact that is what the Senate bill does I'm not fine with that at all," Sen. Susan Collins (R-Maine), a moderate, said in a brief interview about deeper cuts to Medicaid. "But I don't know what the Senate will do specifically because I haven't seen the language."
Other disagreements center on whether to repeal all of Obamacare's taxes and the size of tax credits that help Americans buy health insurance.
"There is significant disagreement, but I hope we are coming towards common ground," Sen. Ted Cruz (R-Texas), a leading negotiator for conservatives on health care, told reporters.
McConnell sought to distance the Senate measure from the version passed by House lawmakers last month.
"I wouldn't want to compare it to the House bill," the Kentucky Republican said. "It will be different."
But McConnell risks alienating House conservatives if the Senate bill diverges too much from the House version. The Republican Study Committee is demanding that the Senate's legislation include certain policies that were central to House Republicans reaching a compromise on their bill.
Adding to Republicans' urgency on health care is the fact that most health insurers face a Wednesday deadline to submit their rates for Obamacare plans next year. Uncertainty over the future of health care law prompted many companies to request rate increases or drop out of state exchanges entirely. The GOP must also decide on whether to continue to make payments owed to insurers under Obamacare that help the companies subsidize costs for insuring low-income Americans.
"We need to get something done soon because we know the insurance companies are going to the states to get their 2018 rates approved," Sen. John Cornyn (R-Texas), the chamber's No. 2 Republican, told reporters.
The Senate's 13-man working group on health care also met on Tuesday, but it failed to yield much progress, Senate Finance Committee Chairman Orrin Hatch (R-Utah) told reporters as he left the meeting.
"There's still a lot of different points of view and there's no simple answers to these problems," the Utah Republican said.
Eli Yokley contributed.