Republican Voters Largely Back Trump for Knocking McConnell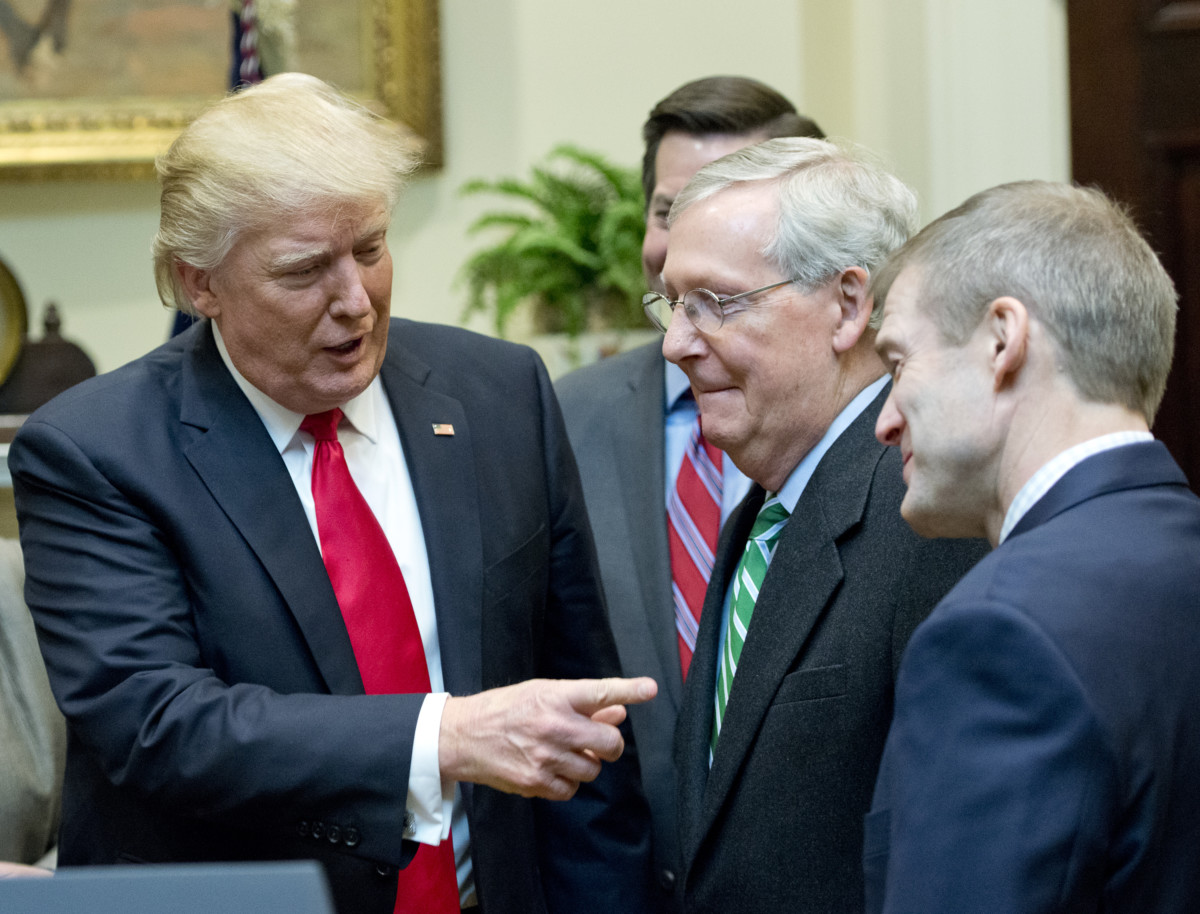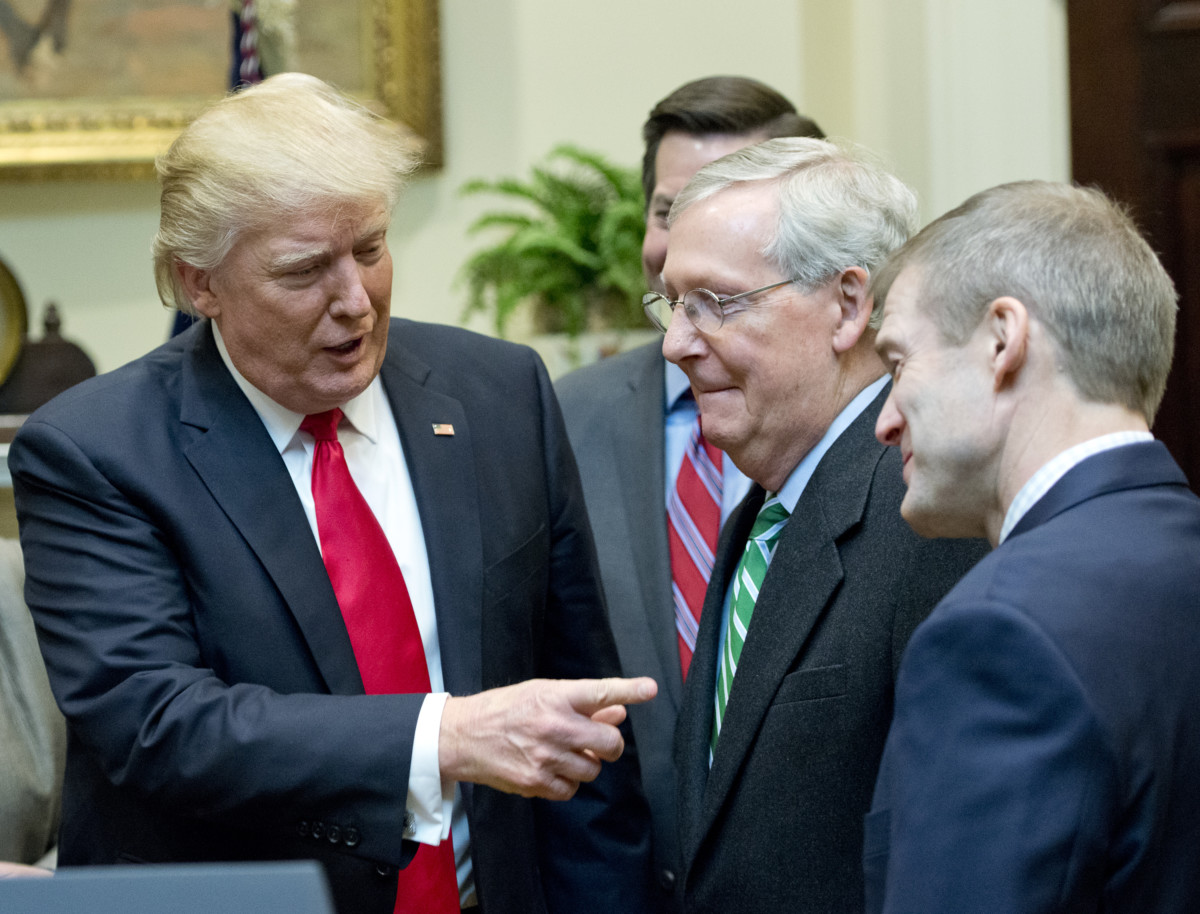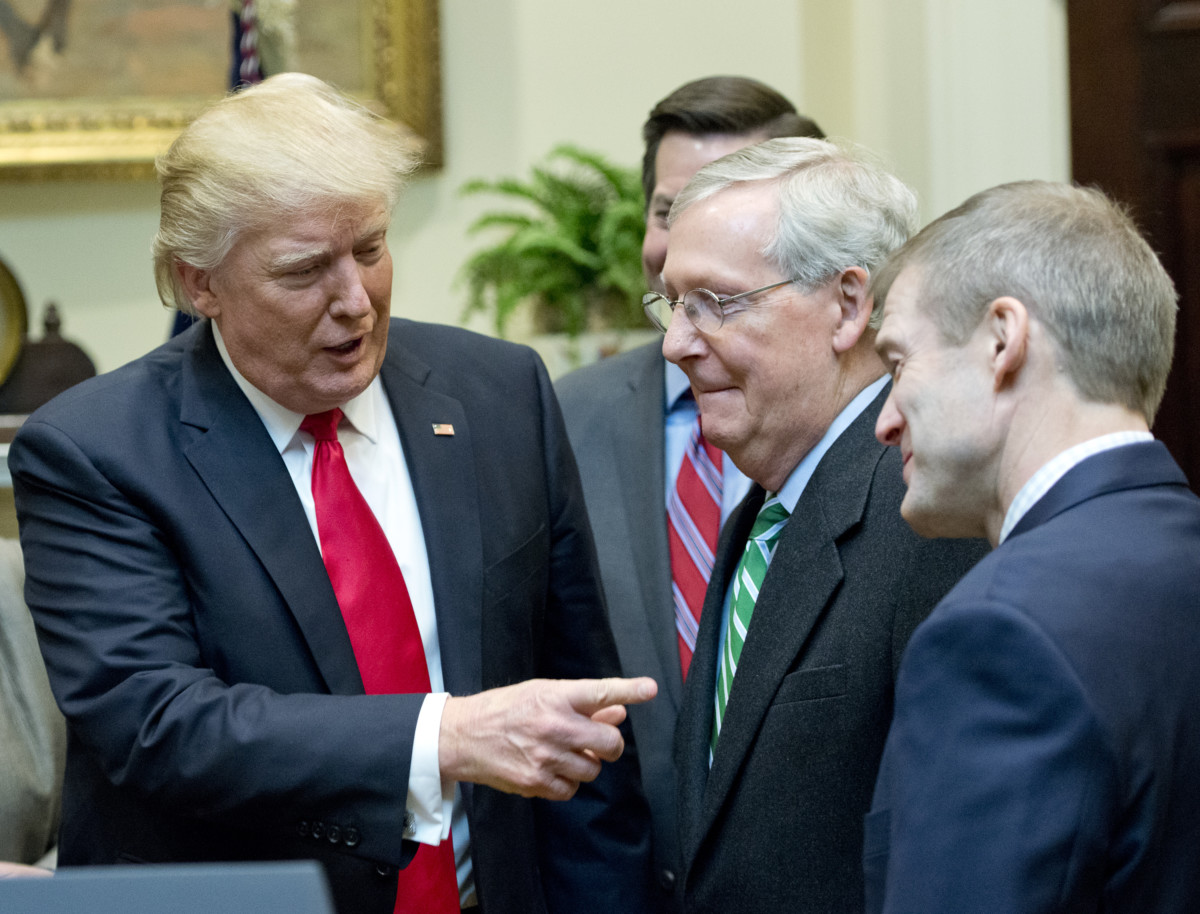 President Donald Trump's repeated criticism last week of Senate Majority Leader Mitch McConnell (R-Ky.) prompted a fresh round of hand-wringing among Republicans in Washington, but a new Morning Consult/POLITICO poll shows half of GOP voters were OK with the broadsides.
In the Aug. 10-14 survey, conducted after the president spent days chiding the top Senate Republican for failing to secure the necessary votes to repeal and replace Obamacare, 50 percent of Republicans said Trump's rebukes were appropriate, compared with 32 percent who said they were inappropriate and 19 percent who didn't know or had no opinion.
The president also saw his approval rating among Republicans inch up, from 76 percent last week to 81 percent in the new survey, while the share of GOP voters who strongly approve of him also increased, from 40 percent to 46 percent. Among all voters, 44 percent of respondents voiced approval for his job performance and 52 percent disapproved.
The responses indicate that much of the Republican base is still angry about the party's failure to deliver on its long-promised goal of axing former President Barack Obama's 2010 signature health care law. Trump has publicly fumed over Republicans' inability to make that goal a reality and holds Congress responsible, something that appears to resonate with GOP voters. Three in 5 respondents said they blamed Republicans in Congress for failing to repeal and replace the health law, compared with 18 percent who said it was the president's fault.
The stalling of the health care effort has also taken a toll on the majority leader's popularity among Republicans. Since the Senate bill failed in late July, the share of those voters who view McConnell favorably decreased by 6 points (from 39 percent to 33 percent) and the share of voters who view him favorably increased by 5 points (from 29 percent to 34 percent).
Despite the significant amount of support among the GOP base for Trump's interactions with McConnell, some Republicans fear airing dirty laundry could worsen intraparty relations, imperiling its agenda going forward and leading to depressed turnout in the 2018 midterm elections.
"GOP voters are pointing the finger at Congress, often at the urging of a President willing to further divide the party despite that act making it harder to enact his agenda," Doug Heye, a former Republican National Committee spokesman and aide to former House Majority Leader Eric Cantor, said Tuesday via email. "It's self-fulfilling."
Michael Steel, who served as spokesman for former House Speaker John Boehner (R-Ohio), called Trump's blame game with Congress' GOP majority "stupid and counter-productive," saying that "Republicans at both ends of Pennsylvania Avenue need to work together to deliver."
Some Republican voters (35 percent) shared concerns about how internecine squabbling could lead to more policy failures for the party, but a plurality (39 percent) was unsure, and a quarter (26 percent) said they thought Trump's comments on McConnell could help the situation going forward.
While some GOP lawmakers have become somewhat more forthright in their critiques of the president on certain issues, many are loath to speak out and prompt retribution. Most are likely to notice that Trump's diatribes against McConnell followed the Kentucky Republican's Aug. 7 remarks aimed at the president's "excessive expectations," reported by ABC News. The survey underscores the political problems posed by clashes with Trump, showing sentiment is largely behind the president.
Three in 5 Republican respondents said Trump is more in touch with GOP voters, compared with 16 percent who opted for McConnell. Fifty-two percent said Trump was more concerned about looking out for Republicans' best interests, double the quarter of GOP respondents who said McConnell. (To be fair, Trump, with 82 percent, is also viewed much more favorably by GOP voters than the majority leader. The Kentucky senator also ranks as the country's least popular among his own constituents.)
McConnell's comments in front of Kentucky voters last week painted Trump as something of a political novice. While they earned Trump's ire, Republican voters were more likely to give the Senate veteran credit for knowing the legislative process and policy issues. Almost half (47 percent) of GOP respondents gave McConnell an edge over Trump (29 percent) when it came to knowledge of the legislative process. And while a plurality (41 percent) said Trump was more knowledgeable about policy issues, 34 percent opted for McConnell.
While Trump may never become a "detail-oriented person when it comes to policy," Steel said, "his lack of focus on the nitty-gritty legislative details isn't the problem. The biggest help would be delivering a steady, disciplined and consistent message in favor of Republican policy priorities — which he simply hasn't done yet."
A more consistent message from Trump could help in September, when Republicans return to Washington with looming deadlines on a long list of must-pass items, including legislation addressing the debt ceiling, government funding and a reauthorization of the Federal Aviation Administration.
Correction: A previous version of this story misstated when McConnell referred to Trump's "excessive expectations."