Trump's DACA Move Comes as Most Voters Back Citizenship for 'Dreamers'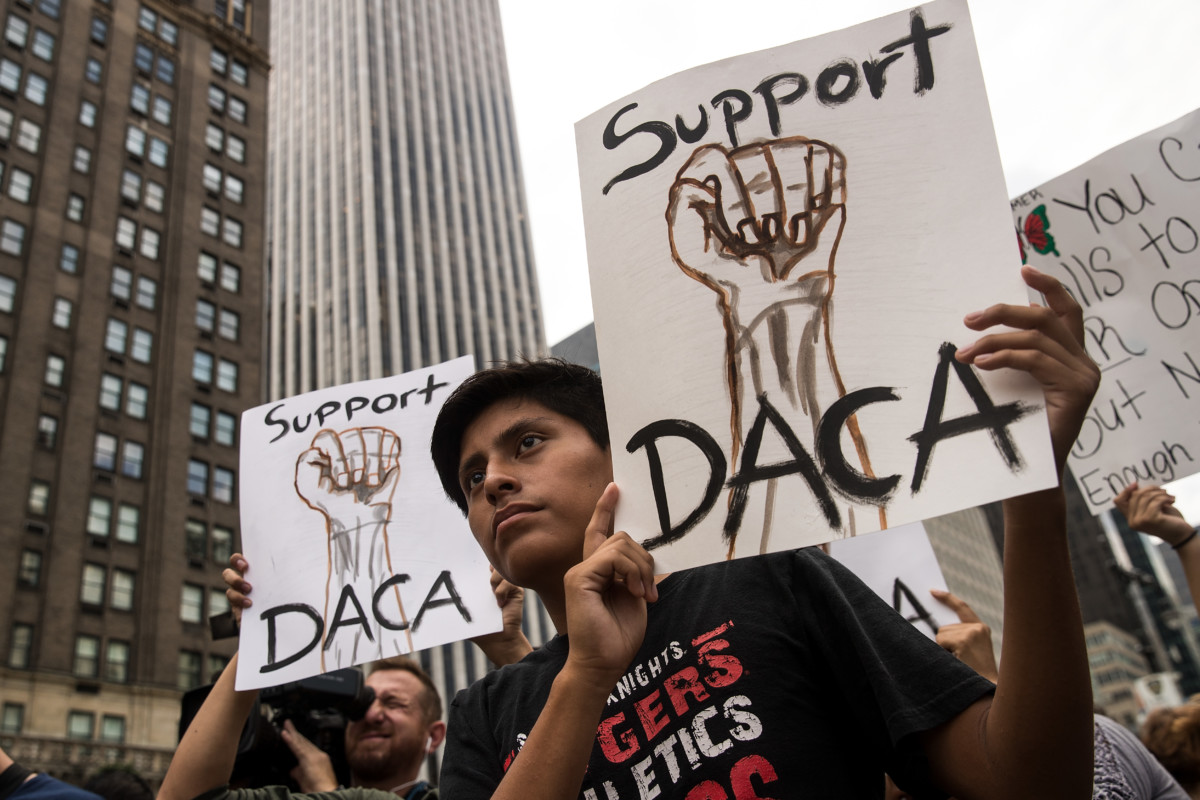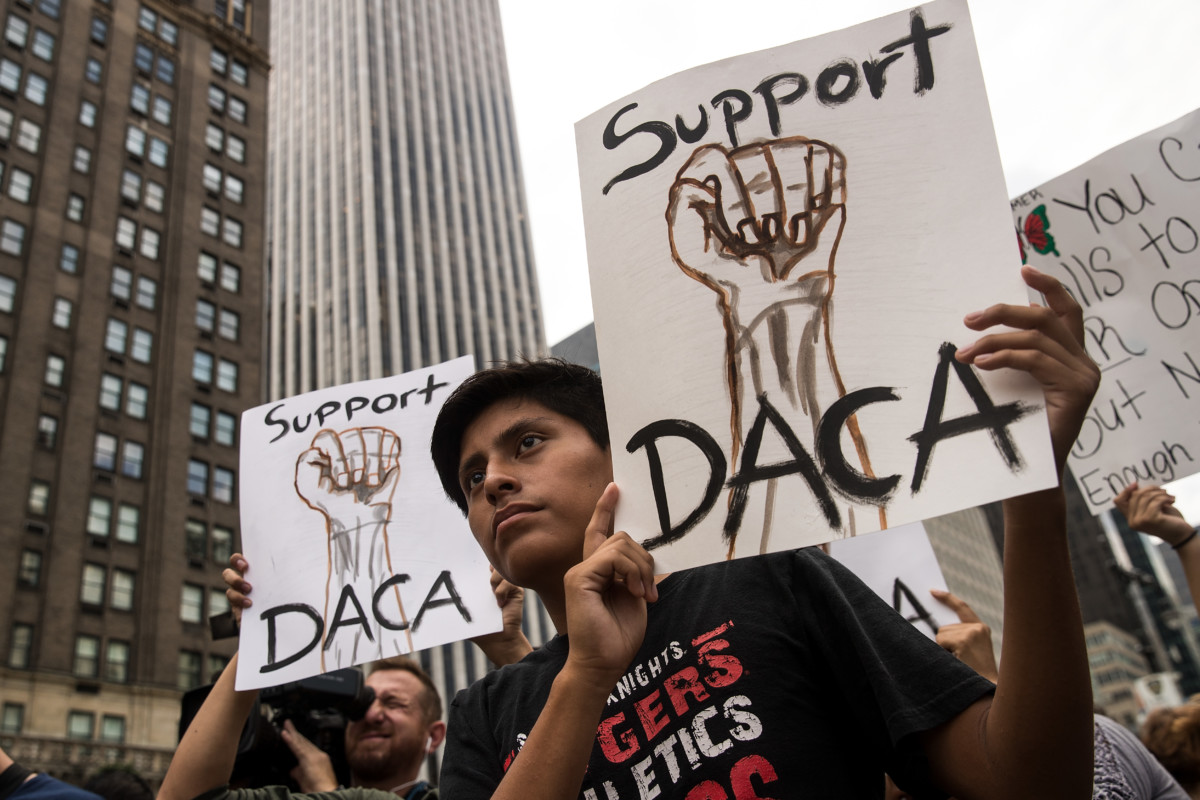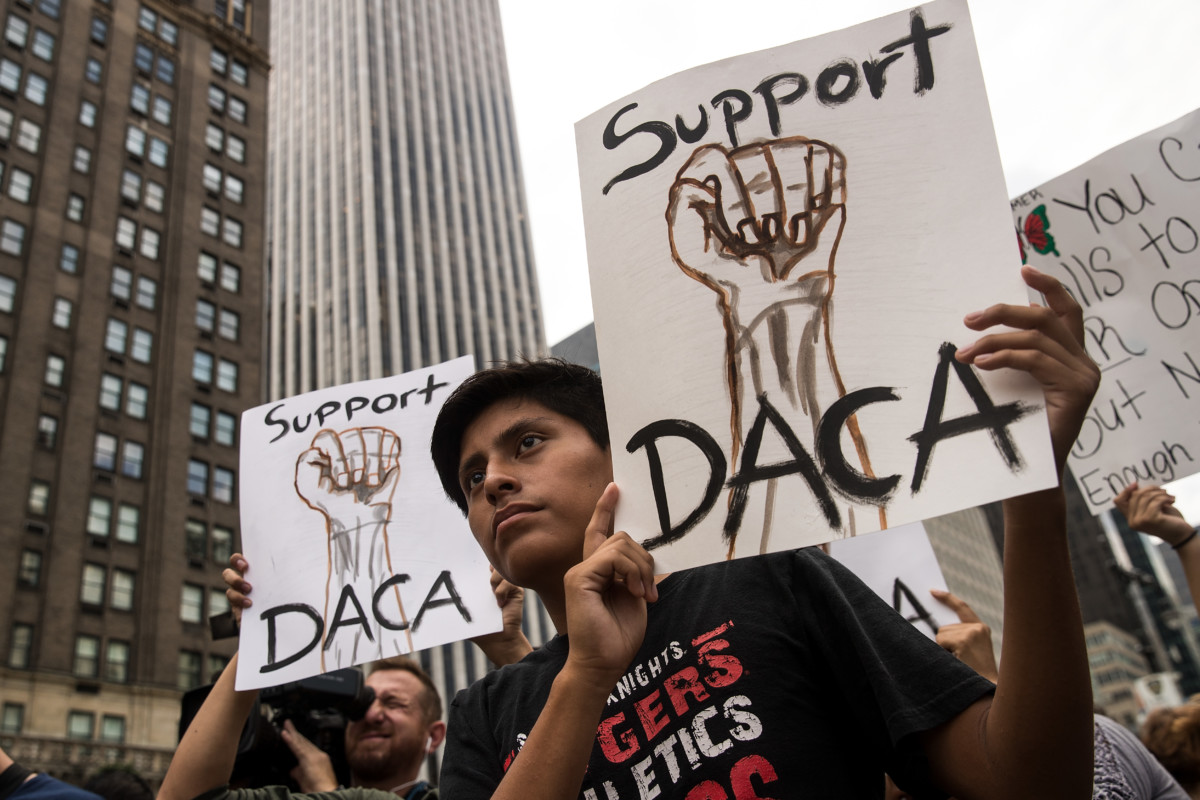 Despite the Trump administration's announcement on Tuesday that it will rescind the Deferred Action for Childhood Arrivals program by phasing it out over the next six months, registered voters tend to have a sympathetic view of the almost 800,000 so-called Dreamers who were brought to the U.S. illegally as children.
Fifty-eight percent of Americans said Dreamers should be allowed to stay in the country and become citizens if they meet certain requirements, according to a Morning Consult/POLITICO poll conducted Aug. 31 through Sept. 3. Eighteen percent said they should be allowed to remain and later become legal residents, but not citizens, if they meet certain requirements, while 15 percent of respondents favor deportation, according to the national sample of 1,993 registered voters.
Seventy-one percent of Democrats and 56 percent of independents, as well as a 46 percent plurality of Republicans, said DACA recipients should be permitted to continue residing in the United States and become citizens if they meet certain conditions.
Voters in the 2016 election showed they were open to supporting Dreamers, regardless of which candidate backed in November.
Seventy-three percent of respondents who voted for Hillary Clinton in the 2016 presidential election said Dreamers should be allowed to stay and become citizens, while a 44 percent plurality of Trump voters said the same thing.
Sixty-eight percent of respondents said Dreamers should be granted work permits, compared with 18 percent who said they shouldn't.
The 2012 program — enacted by then-President Barack Obama through executive action — shields young undocumented immigrants from deportation.
Politicians and officials from all stripes weighed in on the issue following the announcement.
"President Trump continues to prioritize our nation's security and I applaud this latest decision to uphold the rule of law our country was founded upon," Rep. Marsha Blackburn (R-Tenn.) said in a statement. "Executive Orders, such as DACA, offer the false hope of amnesty that led to a surge of illegal immigration and stole jobs from American citizens by giving illegal aliens work permits."
The six-month policy wind-down is an effort by the administration to "create a time period for Congress to act — should it so choose," Attorney General Jeff Sessions said when he announced on Tuesday that the policy would be rescinded.
Obama, in a statement posted on Facebook, lambasted Trump's move.
"It is self-defeating – because they want to start new businesses, staff our labs, serve in our military, and otherwise contribute to the country we love," Obama said. "And it is cruel."
Voters are uncertain about which political party is best suited to deal with immigration issues, according to the polling data. Recent attempts at comprehensive immigration reform have failed to make it through Congress.
Survey respondents were divided — 40 percent to 40 percent — over whether they trust Democrats or Republicans more to handle immigration issues. A Morning Consult/POLITICO poll from March found that voters trusted congressional Republicans (49 percent) over Democrats on Capitol Hill (34 percent) when it came to immigration issues.
"Over the years, the DREAMers have shown us their true character — working hard to become this nation's next generation of students, entrepreneurs, and military men and women," Sen. Mark Warner (D-Va.) said in a statement. "And while Congress has a responsibility to enact comprehensive immigration reform that provides them with a fair path to citizenship, which the Senate passed in 2013, we cannot let the Trump Administration's disgraceful anti-immigrant policies leave nearly 800,000 DREAMers in limbo."
Voters remain split over the larger question of how to handle the estimated 11 million undocumented immigrants illegally residing in the United States. A 49 percent plurality said undocumented immigrants should be allowed to stay and become citizens if they meet certain requirements. Twenty-one percent said undocumented immigrants should be allowed to stay and become legal residents, but not citizens, if they meet certain conditions, and 22 percent said they should be deported.
While Republican leaders in Congress have been coy about plans, a bipartisan pair of senators has been promoting a plan to move forward with legislation that would protect Dreamers before the six-month window expires.
Sens. Dick Durbin (D-Ill.) and Lindsey Graham (R-S.C.) in July introduced a new version of the DREAM Act, legislation that would provide a pathway to citizenship for young adults brought to the United States illegally, and after today's DACA announcement from the administration the two senators held a joint news conference stressing the need to act on a legislative solution.
"Now we have a compelling reason, a timely reason," Durbin told reporters on Capitol Hill. "DACA is about to expire. We need to act on this or we know the consequences — a countdown clock to deportation for 780,000 of the best and brightest young people in our country. So we have a timetable."