Roy Moore's Populist Image Helpful in Alabama Senate Fight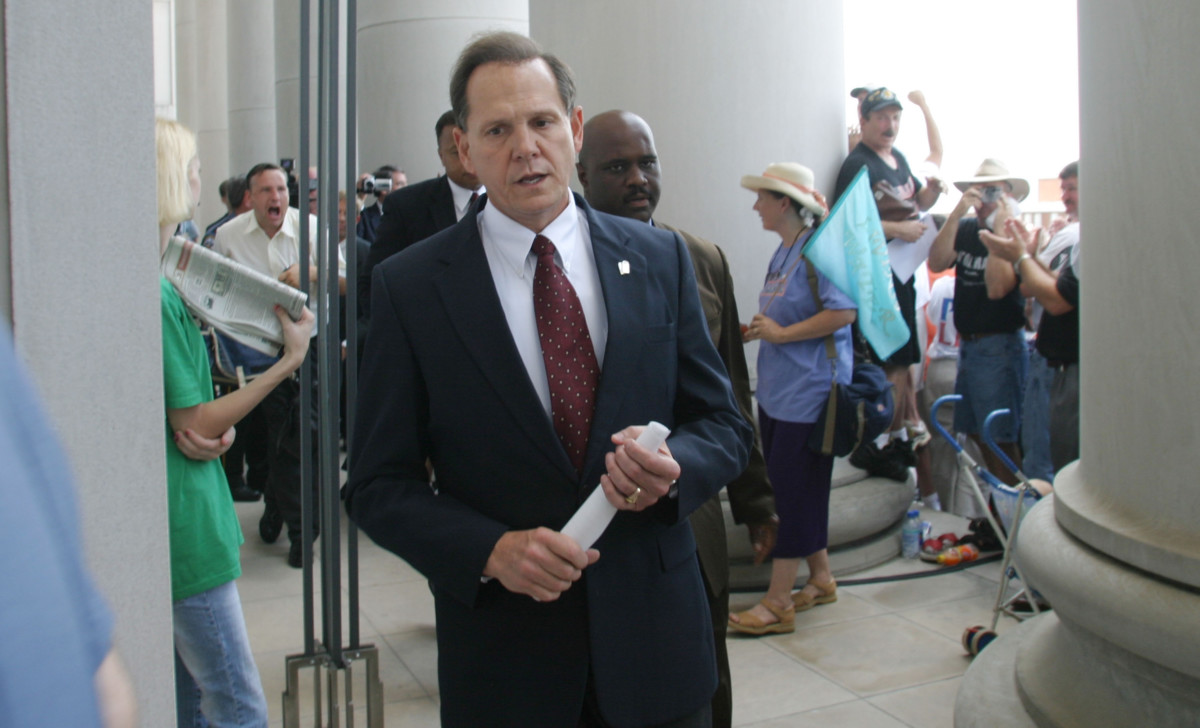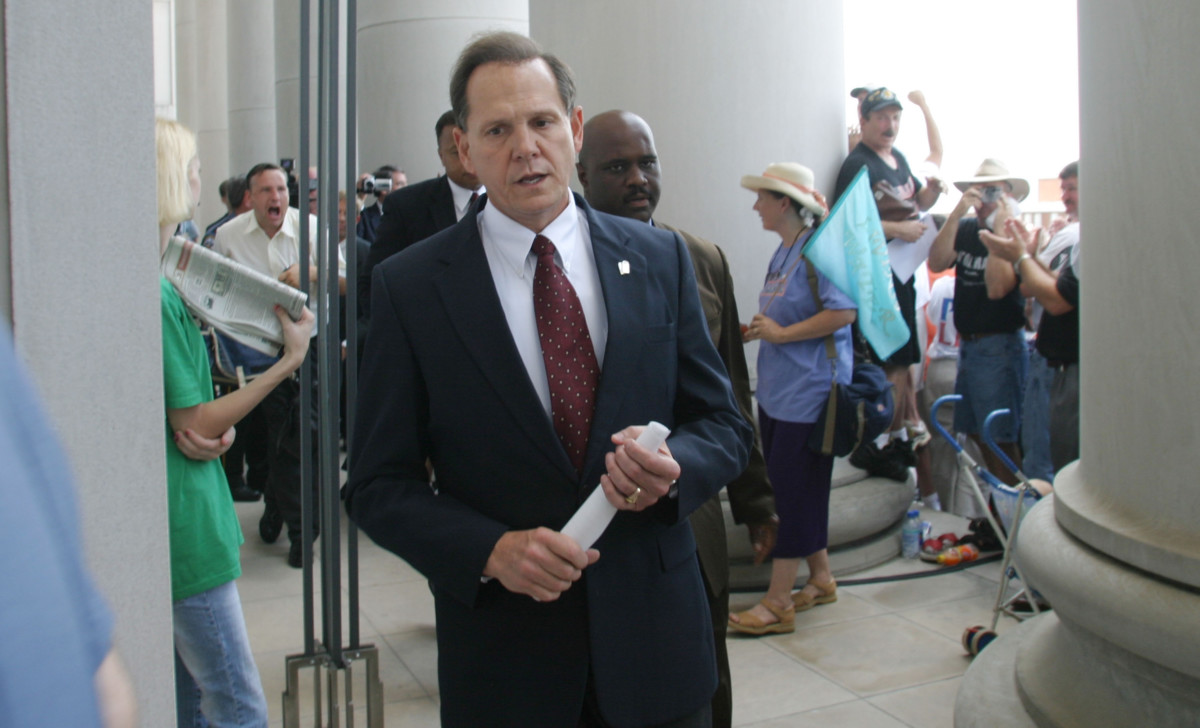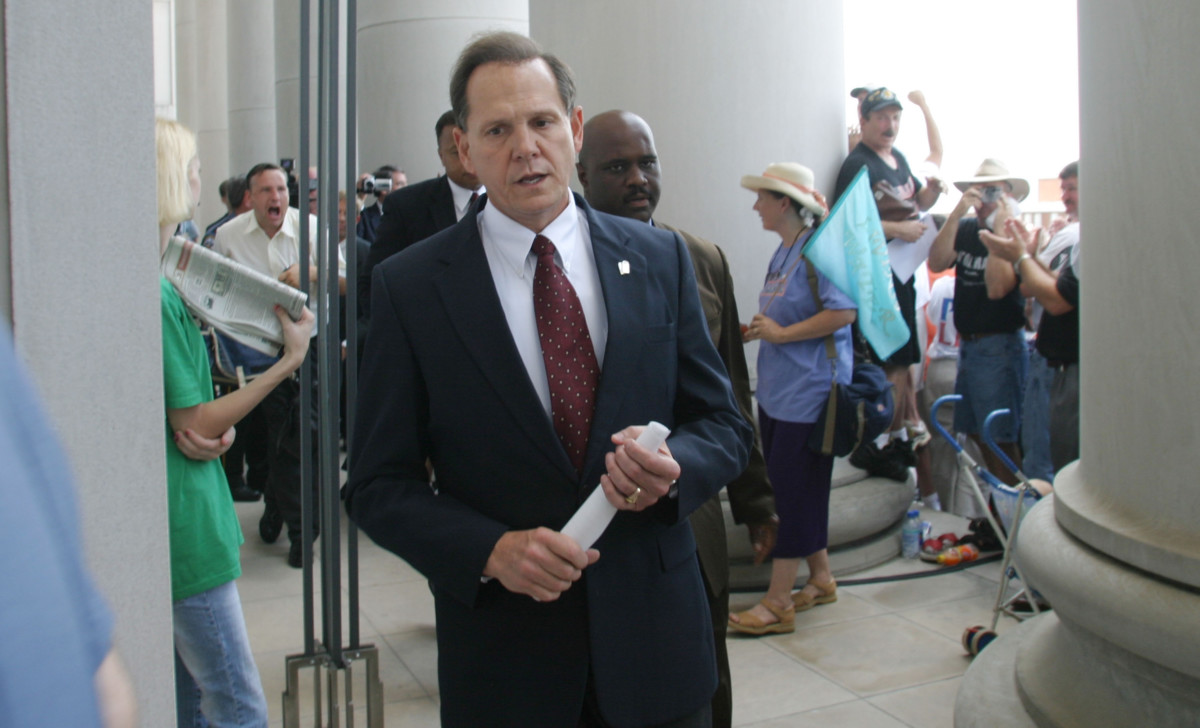 Alabama Republican Senate candidate Roy Moore is an outsized personality and a commanding brand in his home state — with a distinctly populist tinge. In the Trump era, that's proving to be a potent factor.
The former state Supreme Court chief justice faces an establishment-backed appointed incumbent, Sen. Luther Strange, in the Sept. 26 GOP runoff. Moore led in the initial round of voting in mid-August, after years of high-profile clashes laced with religious overtones. One, over his refusal to remove a Ten Commandments monument from the state judicial building in 2003, led to his ouster from the bench. More recently, Moore was suspended in 2016 after directing probate judges to refuse to issue marriage licenses to same-sex couples in defiance of the Supreme Court's 2015 Obergefell v. Hodges decision, which made same-sex marriage legal nationwide.
But there's another, lesser-known aspect of Moore's populist appeal: his judicial record going back to his early legal career, when he served on the 16th Circuit Court in blue-collar Etowah County. That role helped prove Moore's bona fides to the working class, said former state Supreme Court Justice Mark Kennedy, who served on Alabama's highest bench from 1988 to 1999, in an Aug. 28 phone interview. Kennedy chaired the Alabama Democratic Party from 2011 to 2013.
"People see Roy Moore as a populist, they see him as a man with a cause," Kennedy said.
"He did have a reputation for being fair in the courtroom, and he did have the reputation — if judges have a particular penchant toward one way or the other — he was primarily known as a plaintiffs' judge," Kennedy added, referring to Moore's inclination to side with everyday Alabamians over big business.
That dynamic's lasting effect became more evident Aug. 30, when Alabama.com published leaked emails from Jere Beasley, founder of Beasley Allen Law Firm — based in Montgomery and one of the biggest plaintiff's firms in the South — showing Beasley, the former Alabama lieutenant governor and longtime Democrat, urging his employees to back Moore in the race. The next day, Strange's campaign touted endorsements from an array of business groups in the state, including the Business Council of Alabama, an affiliate of the U.S. Chamber of Commerce and the National Association of Manufacturers.
Moore has consistently framed himself as an underdog in the race and a voice for the people, even after a 6-point win in the Aug. 15 primary and a number of polls that have shown him with varying leads, from commanding ones to those right around the margin of error.
"The people of Alabama will have a clear choice on Sept. 26," Moore said in his Aug. 15 victory speech after heading to the polls earlier that day on horseback. "Will they choose a voice for Alabama or a voice for the Washington elite?"
It's a message that resonates, according to longtime political observers in the state — especially in light of the circumstances regarding the February appointment of Strange by then-Gov. Robert Bentley (R). At the time, Strange, as state attorney general, was tasked with investigating Bentley for campaign finance violations related to fallout from a sex scandal.
"I think probably that Luther Strange's biggest mistake was to seek the appointment as a United States senator from the very man that his office was investigating," said Kennedy. "The politics of 'He's one of us' is still very important in the state. Sen. Strange is viewed as an elitist, Birmingham, wealthy lawyer. And Roy Moore is like Don Quixote, who has a strong belief and certain values, and no matter what the law is and what the law requires, he gets a bye with people."
The Moore and Strange campaigns did not respond to requests for comment.
The depiction of Strange as a wealthy elitist isn't new in the state, and it's worked against him before. In 2006, when former Democratic Gov. Jim Folsom Jr. looked to return to politics with a run for lieutenant governor, Strange was his opponent.
"Luther was from Mountain Brook, which is widely considered the wealthiest and most posh community in Alabama. Moreover, he was a Washington lobbyist and had attended Tulane University in New Orleans for undergraduate school and law school," Wilson Blount, a former Folsom campaign staffer, said in a phone interview Aug. 30. "The campaign saw all of this as an opportunity to portray Strange as a privileged D.C. insider, who was out of touch with everyday Alabama folks."
That narrative culminated in an ad depicting Folsom showing off his shotguns and hunting dogs, quipping that he had "never played tennis at the Mountain Brook Club." The Democrat narrowly defeated Strange in the general election that year.
While it appears Strange is trailing Moore ahead of the runoff, he could benefit greatly from a stronger embrace by President Donald Trump. The president endorsed the incumbent ahead of the Aug. 15 primary, but appeared to distance himself somewhat in the wake of Moore's victory, congratulating both top-two finishers on Twitter.
A Morning Consult survey of 1,000 registered Republican voters in Alabama conducted from April 1 through June 18 found 86 percent of respondents approved of Trump's job performance, with more than half (56 percent) strongly approving. Meanwhile, 58 percent of respondents said they approved of Strange's job performance (22 percent strongly approved), and 24 percent said they didn't know or had no opinion.
As tensions between Trump and Senate Majority Leader Mitch McConnell (R-Ky.) — whose allies have deployed considerable resources to boost Strange in the race — have heightened in recent weeks, some Republicans are nervous about the president's commitment, according to an Aug. 25 Washington Post story.
While Kennedy said a Trump visit to the state on Strange's behalf could make a big difference against Moore, especially in a low-turnout race, the Strange campaign would not say whether talks were underway to make that happen.
Whoever wins on Sept. 26 will face Doug Jones in the general election. Democrats concede it's a long-shot opportunity for the former U.S. attorney, who prosecuted two of the 1963 Birmingham church bombers.