Poll: Most GOP Voters Trust Trump Over Party Leaders on Bipartisan Dealmaking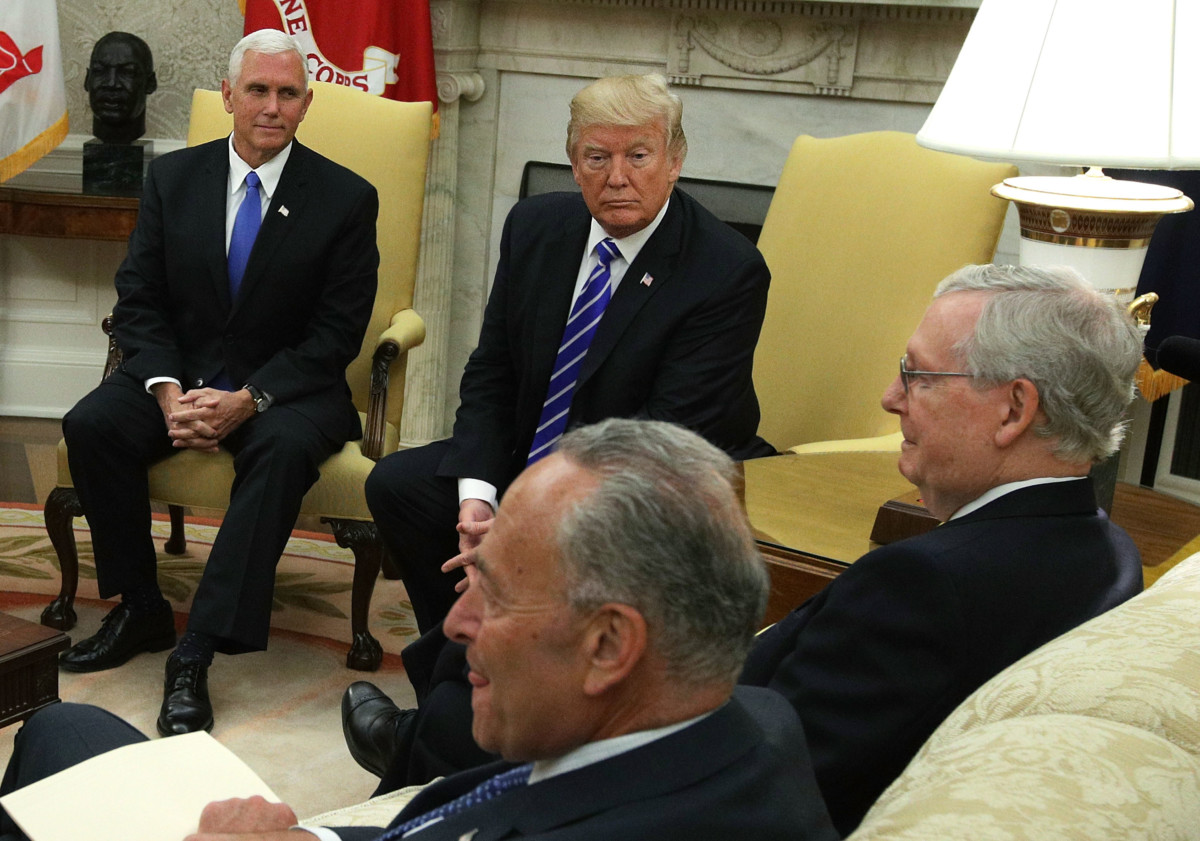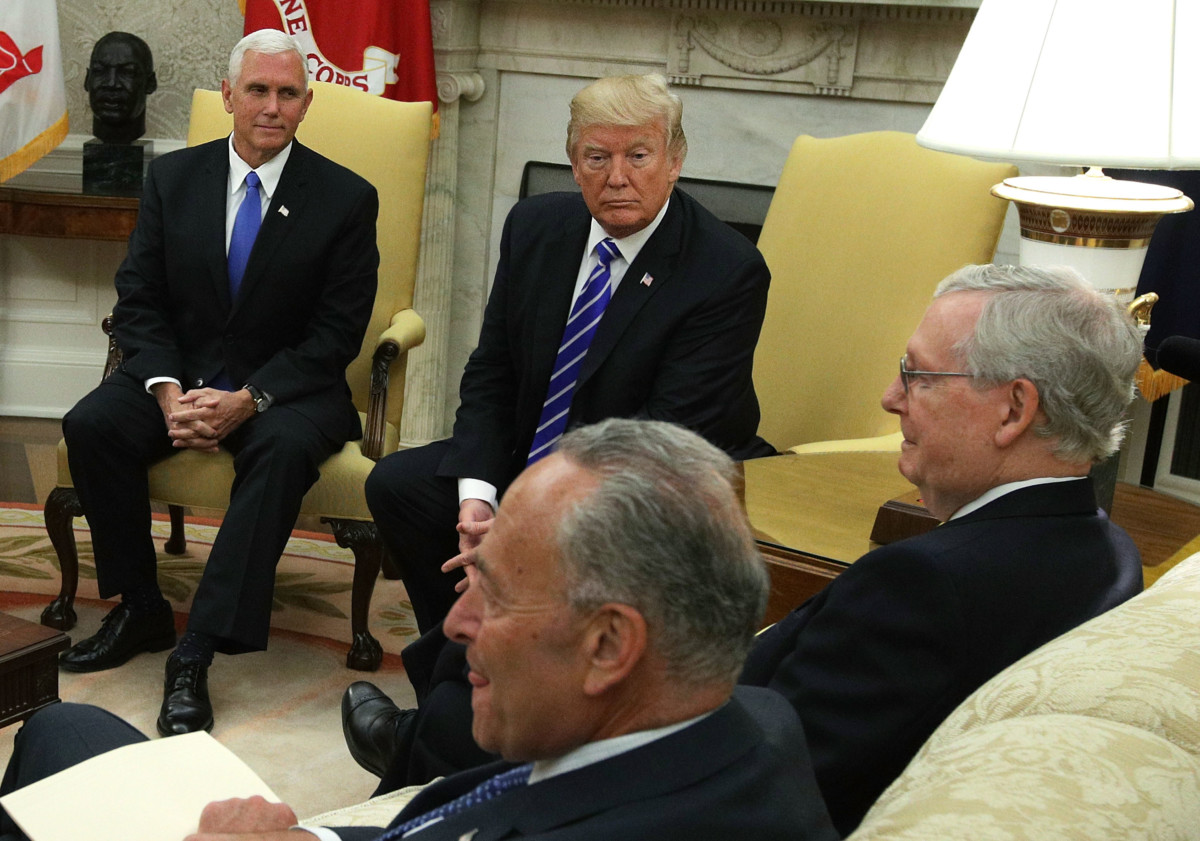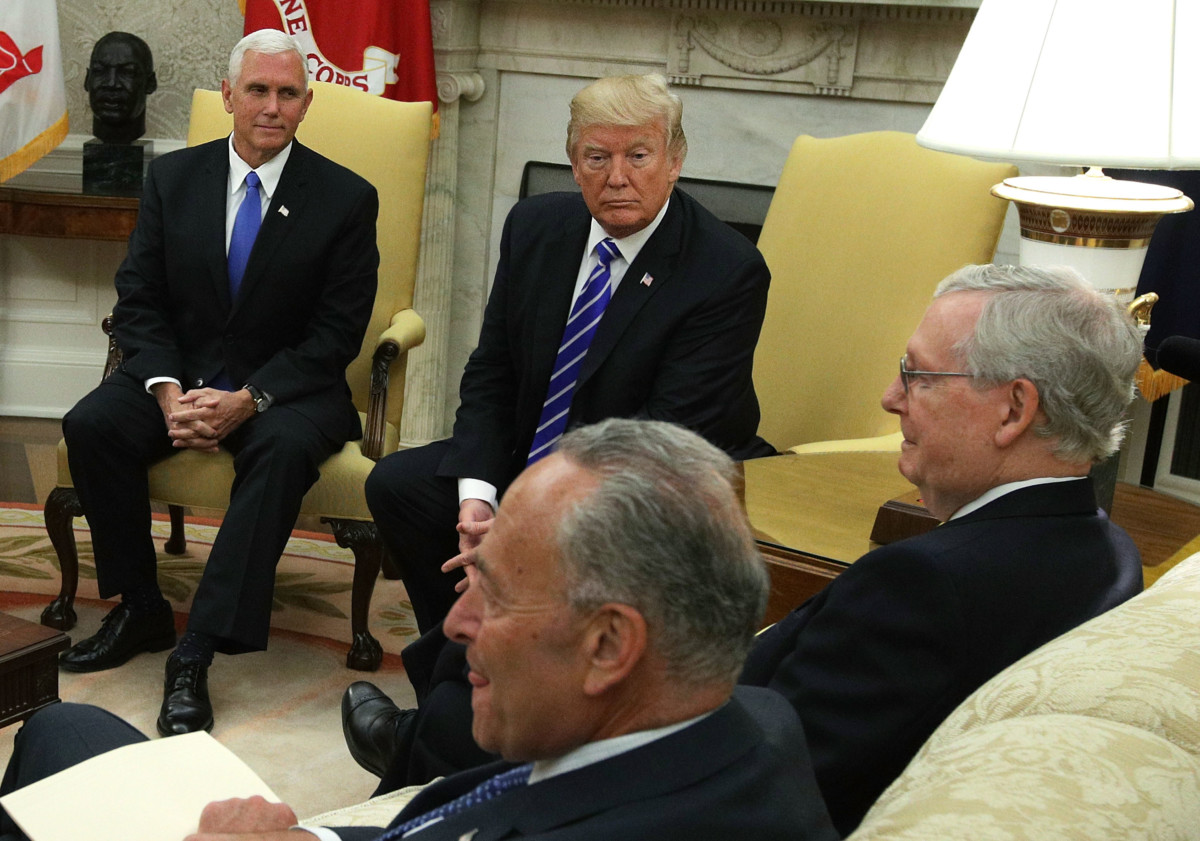 President Donald Trump's recent deal with congressional Democrats on a short-term extension of the debt limit gave a lot of Hill Republicans heartburn, but a Morning Consult/POLITICO survey indicates that their frustration with the president doesn't appear to have trickled down to most GOP voters.
By a 2-to-1 margin in the poll of 1,976 registered voters conducted from Sept. 7 through Sept. 11, Republicans said they trust Trump (56 percent) more than they trust Republican leaders (28 percent) to work with Democrats in Congress to achieve certain policy outcomes.
"I think if we can reach across the aisle, we can get things done and not be held hostage by 30 or 40 people," Rep. Peter King (R-N.Y.) told reporters Friday.
The national survey also showed a strong preference among GOP voters for Trump to work in a bipartisan fashion as he pushes forward with his agenda. Fifty-seven percent of Republican voters said they prefer Trump to work with both Republicans and Democrats on Capitol Hill to achieve policy outcomes, compared with 31 percent who said they'd like him to work primarily with Republicans and 8 percent who want him to work primarily with Democrats.
Respondents who said they voted for Trump in 2016 (64 percent) voiced an even stronger preference for bipartisan work on the agenda.
The deal for aid to Hurricane Harvey victims, which included a short-term lifting of the debt ceiling and stopgap funding for government operations through Dec. 8, was a bitter pill to swallow for many House conservatives, who had pushed to attach spending cuts to any increase in the government's federal borrowing limit.
Some of those lawmakers aired their grievances to Treasury Secretary Steven Mnuchin and Mick Mulvaney, director of the Office of Management and Budget, during a closed-door House Republican Conference meeting before the vote on Friday.
"I do know that there's a lot of frustration with the deal that was cut by the president," Rep. Ryan Costello (R-Pa.) told reporters after the meeting. He also said lawmakers' ire was aimed mainly at members of the administration and that most members aren't blaming GOP leaders.
"I think the leadership is doing the best they possibly can in a very unpredictable environment," he said.
However, in a Fox News interview on Sunday, former House Freedom Caucus Chairman Jim Jordan (R-Ohio), a consistent critic of GOP leadership, said House and Senate Republican leaders put the president in a tough spot in the negotiations by failing to work through the August recess to craft a plan on the debt ceiling and an outline of a tax reform proposal.
"Frankly, what options did the president have in front of him?" he said.
The House passed the bill, 316-90, on Friday, and all 90 lawmakers who opposed it were Republicans.
While many Republicans were steamed about the deal, Trump was said to be in high spirits over the news reports about the agreement, which was struck Sept. 6. According to The New York Times, Trump called House Minority Leader Nancy Pelosi (D-Calif.) the next day to say that news coverage "has been incredible."
And in the short term, the deal with the Democrats hasn't dented the president's support among the base: 78 percent of Republicans in the new survey said they either strongly approved or somewhat approved of Trump's job performance, down 1 point from the previous week but within the survey's 2-point margin of error.