The death of Playboy Enterprises Inc. founder Hugh Hefner on Sept. 27 raised questions about whether it also meant the death of the media and lifestyle brand he built from the first publication of Playboy magazine in 1953.
The Playboy brand, with its iconic rabbit logo, has been struggling in the age of the internet, which disrupted the business model for all print-based publications and made free porn easily available. Circulation of Playboy magazine has dropped to about 474,000 as of June 30 from 5.7 million on average in 1975, according to the Alliance for Audited Media.
Last year, the Playboy Mansion was sold for $100 million and Playboy Chief Executive Scott Flanders, who led the company through a time of changing focus, stepped down. Playboy has yet to name a permanent chief executive.
A new Morning Consult survey of 2,201 U.S. adults found the public is largely divided on the relevance of the flagship magazine. Nearly half (47 percent) of the respondents in the survey, conducted Sept. 29-Oct. 1, say the publication is relevant to the world as a whole while 41 percent say it is not. The poll has a margin of error of plus or minus 2 percentage points. 
When it comes to naming the generation to which Playboy is most relevant, respondents are more likely to identify older age groups rather than their own.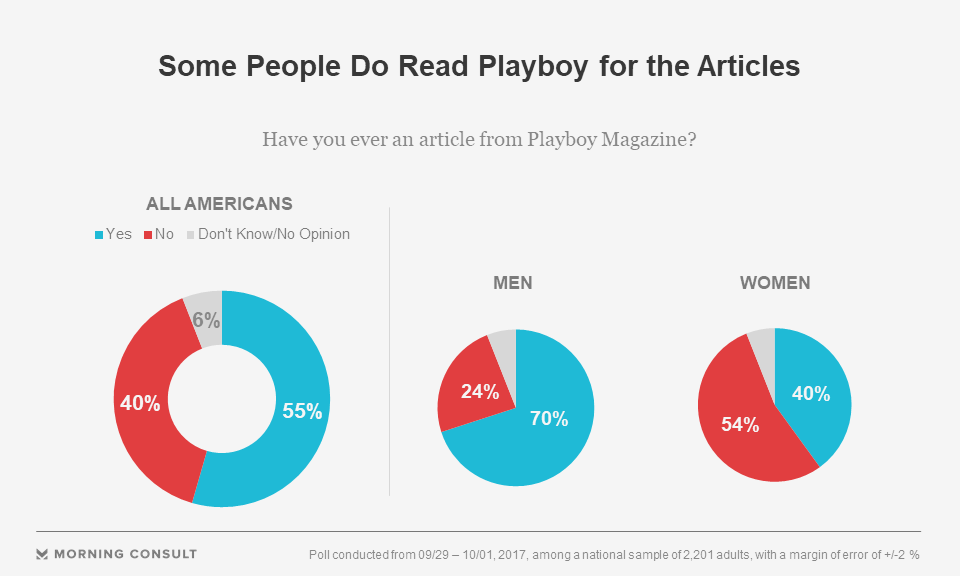 More than half of U.S. adults, or 53 percent, believe Playboy Magazine is relevant to their parents' generation, while 46 percent believe it's relevant to their own. And adults of almost every age group are more likely to say Playboy is relevant to their parents' generation rather than to their own, with the notable exception of members of the Silent Generation, aged 65 and older, who didn't see it relevant to either them or their parents.
Adults aged 55-64, roughly the Baby Boomers, are the only age group in which a majority (53 percent) says Playboy is relevant to their own generation. Half of adults from 30-44 years old say Playboy is relevant to their generation as well.
These views are reflected in impressions about the brand itself: While 40 percent of adults have a favorable impression of Playboy in Morning Consult Brand Intelligence, above the news media's average favorability of 24 percent, another 28 percent hold unfavorable views.
"Clearly, Playboy is less relevant than it was 20, 30, or 40 years ago, but there are a lot of things that could be done to make it relevant again," said Jonathan Boyar, a principal at the Boyar Value Group, which was a shareholder in Playboy Enterprises when it was a publicly traded entity. Hefner took the company private in 2011 in a deal that valued Playboy at $207 million at the time.
"Playboy is an iconic brand. They can be tarnished, but never really die. And with the right stewardship and the right people leading the company, it can become relevant again," he added.
Playboy did not respond to requests for comment.
In an attempt to refresh the brand, Playboy announced in 2015 it would no longer feature full nudity in its centerfolds, but it reversed that decision earlier this year. But the brief hiatus of nude photos refueled a longstanding joke in American culture: Who reads Playboy for the articles?
It turns out a majority of U.S. adults say they do. Fifty-five percent of U.S. adults say they have read a Playboy article, while 40 percent say they have not.
Playboy is past its prime, but in its early days was genius.
Zoë Chance, an assistant professor at the Yale School of Management
Given the male-dominated readership, it is not surprising that men are much more likely than women to say they have read the words in Playboy: 70 percent versus 40 percent, respectively. Nearly half (47 percent) of the female respondents say they have not read any Playboy pieces.
People may actually be reading more Playboy articles as porn becomes more readily available online, said Zoë Chance, an assistant professor at the Yale School of Management and author of a book chapter titled " 'I Read Playboy for the Articles': Justifying and Rationalizing Questionable Preferences."
"As porn consumption becomes increasingly normalized, it's also less necessary to justify enjoying it," Chance said.
The brand is "more quaint than edgy," she said.  "Playboy is past its prime, but in its early days was genius."
Playboy's future may lie in licensing and partnerships, not publishing. The division of Playboy Enterprises that licenses its name, rabbit head logo and other trademarks was the firm's most profitable area, according to a Securities and Exchange Commission filing on Nov. 9, 2010, before the company went private.
Correction: An earlier version of this piece misstated the peak circulation dates of Playboy magazine.