U.S. Adults Warming to Twitter's 280-Character Expansion
But some say it's bad news for President Donald Trump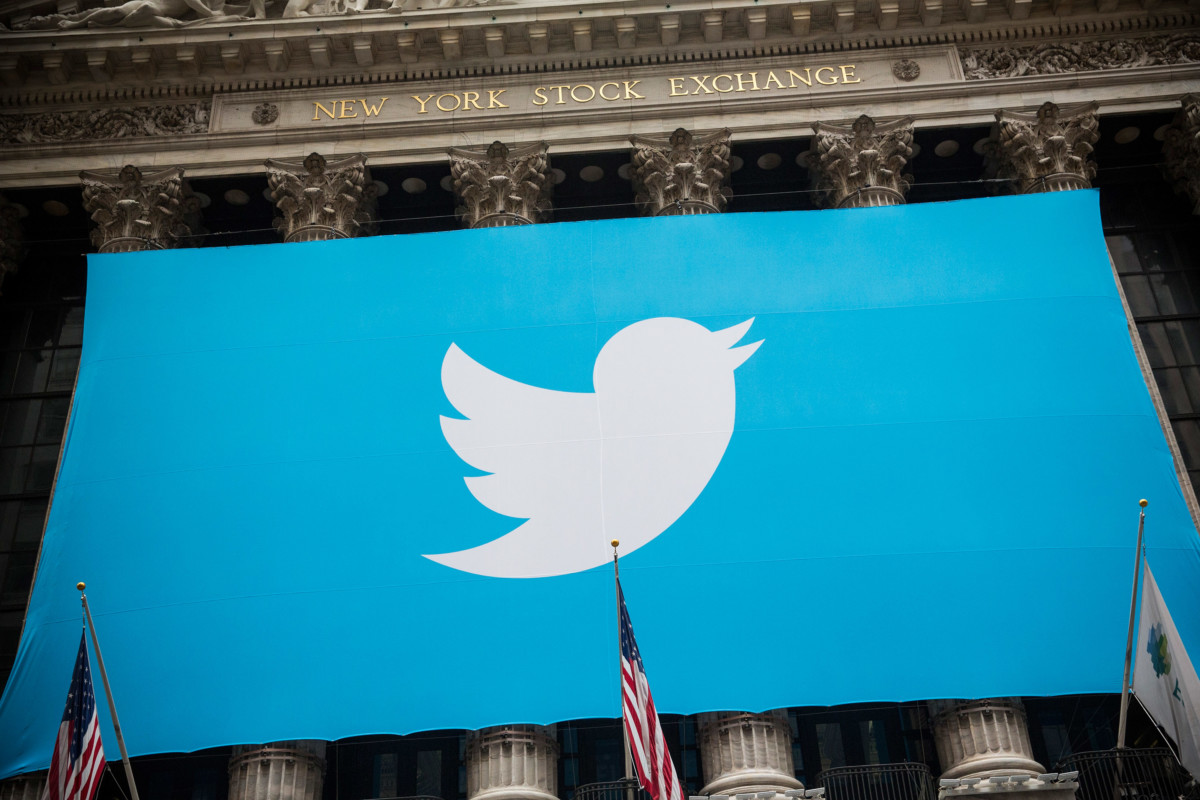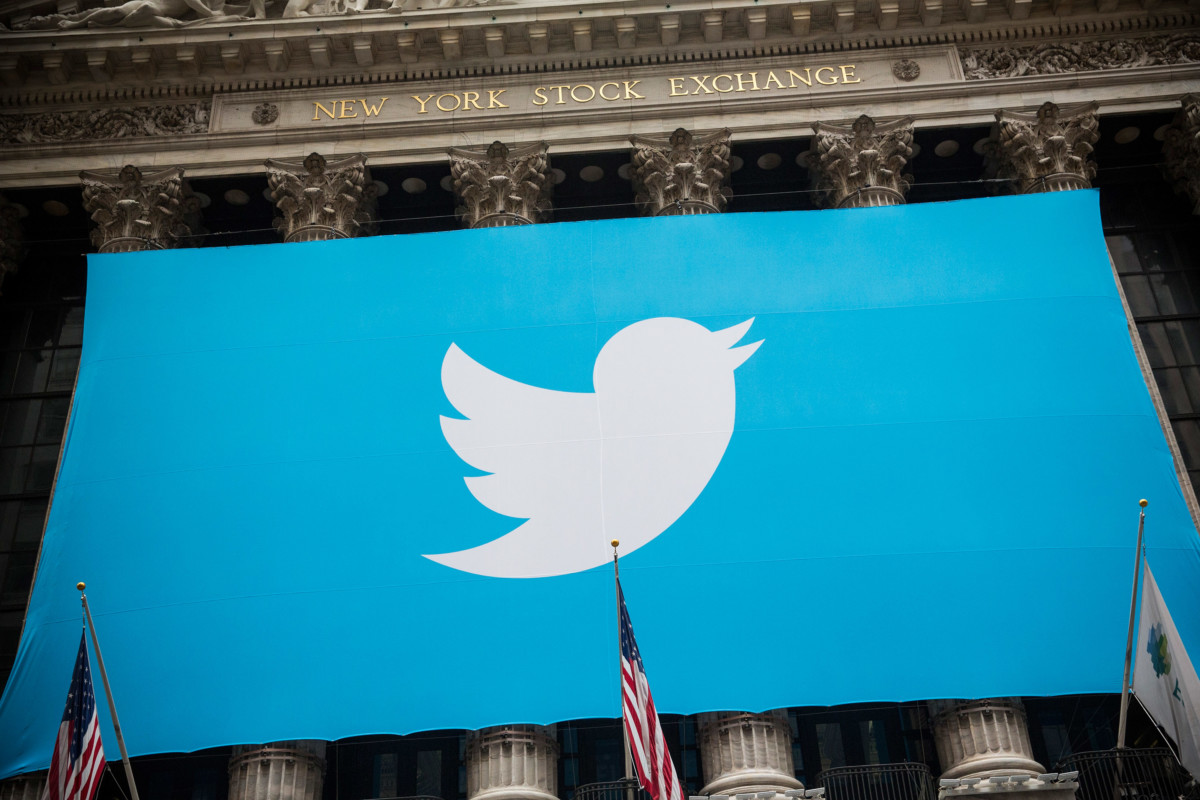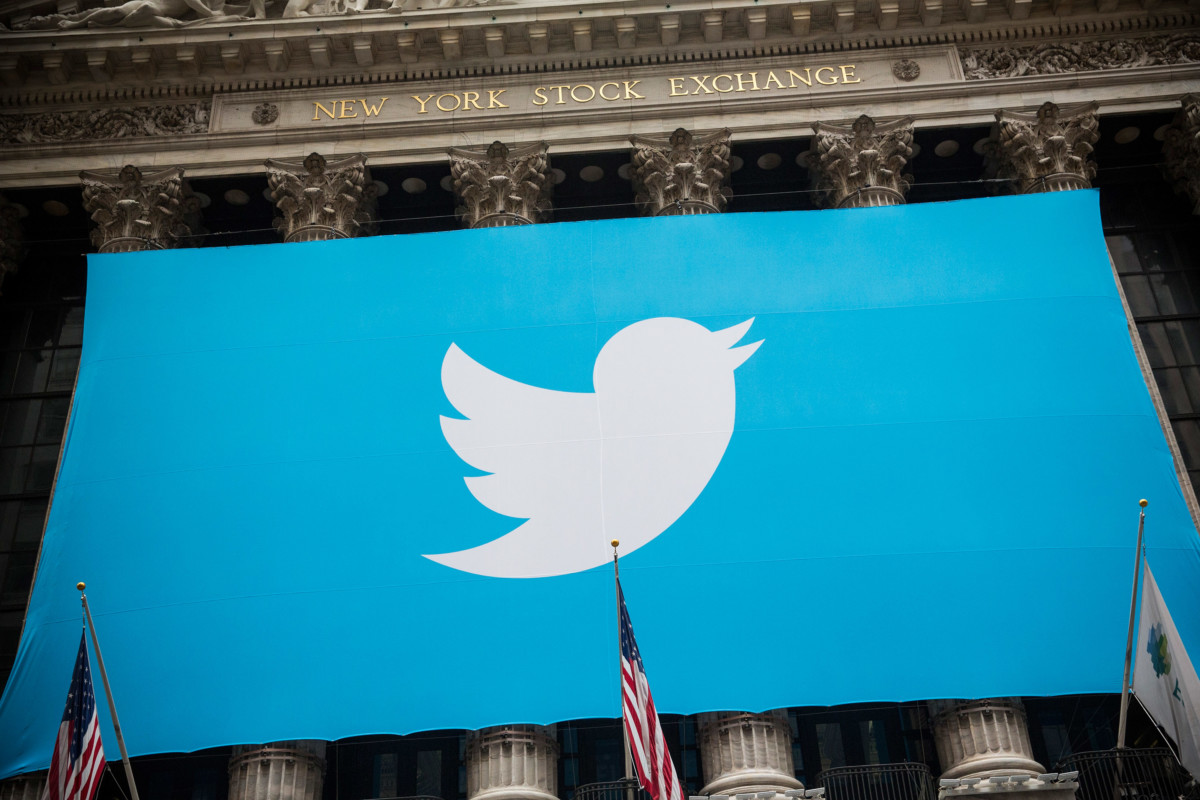 Twitter Inc. users may soon become more verbose — something a number of Americans appear to favor, a new survey shows.
Twitter recently announced it would be testing 280-character tweets, double the length of its current 140-character limit. Twitter says the potential move is meant to even the playing field for less-dense languages, including English, which cannot express as much content in as little space as denser languages such as Japanese, Chinese or Korean.
"We understand since many of you have been Tweeting for years, there may be an emotional attachment to 140 characters," Twitter said in a Sept. 26 blog post announcing the expansion, noting in a tweet that 140 characters was an "arbitrary choice" based on text messages' original 160-character limit.
This is a small change, but a big move for us. 140 was an arbitrary choice based on the 160 character SMS limit. Proud of how thoughtful the team has been in solving a real problem people have when trying to tweet. And at the same time maintaining our brevity, speed, and essence! https://t.co/TuHj51MsTu

— jack (@jack) September 26, 2017
The emotional fallout was intense.
Some Twitter posts reflected a flurry of rage over the news, with users castigating the decision in 140 characters or less. One Twitter user pointed out that the 280-character tweet Twitter CEO Jack Dorsey published could easily be dwindled down to meet the 140-character requirement:
139 characters pic.twitter.com/WkfdXL8oLh

— Caitlin Kelly (@caitlin__kelly) September 26, 2017
But a new Morning Consult poll shows more Americans are in favor of the expansion than opposed to it. A plurality (30 percent) of those surveyed support Twitter's character increase, while 13 percent are opposed. Most (58 percent) of the 2,201 U.S. adults queried in the Oct. 5-9 survey said they did not know or had no opinion on the issue. The poll has a margin of error of plus or minus two percentage points.
The expansion is going to make Twitter "a bit more enjoyable," said Brian Blau, vice president of research for Gartner Inc., an information technology advisory firm, in a Thursday phone interview. He added that longer tweets would be easier to read and digest. "It's going to be a better experience for the reader."
"It sounds weird to say, but it has taken some time to get used to having extra room," said Dante Atkins, a communications staffer for a California House Democrat and guinea pig for the 280-character limit, via email Wednesday. "You don't realize how conditioned you are to shaping thoughts into 140 characters for public consumption until you no longer have to do it anymore."
But, as displayed on Twitter the day of the announcement, not everyone is on board. When asked about the possibility of 280-character tweets, Twitter's darth:™ (@darth), a parody account that according to The Washington Post is considered "a national treasure," tweeted Tuesday: "i cannot even use 140 characters correctly."
You don't realize how conditioned you are to shaping thoughts into 140 characters for public consumption until you no longer have to do it anymore.
Dante Atkins, 280-character limit tester
News of longer tweets could lead many to think of one of Twitter's most prolific users: President Donald Trump. In the Morning Consult poll, 61 percent of U.S. adults, including 82 percent of Democrats and 59 percent of independents, said the president's use of Twitter is a bad thing for the country. Republicans were split, 41 percent to 41 percent, on whether Trump's tweets were a good thing or a bad thing.
That conforms to Morning Consult polling conducted earlier this year, which showed similarly negative views of Trump's Twitter habits among all registered voters, and increasingly negative views among Republicans. In June, registered Republican voters who said Trump's use of Twitter was a bad thing had risen 8 percentage points from December 2016 to 37 percent — though a plurality (41 percent) of Republicans in June still said it was a good thing.
When considering Trump's tweeting habits, 46 percent of those surveyed in the most recent poll said Twitter's proposed character increase would be a negative development, while 20 percent said it would be a positive one. Thirty-four percent did not know or had no opinion.
Opinions vary across the political spectrum. Sixty-four percent of Democrats said Twitter's increase of the character limit to 280 characters was a negative development when considering the president's tweeting. Forty-one percent of independents said it was a negative move, while 41 percent did not know or had no opinion. And Republicans were almost equally torn: Thirty-three percent said it is a positive development, 28 percent said it's negative, and 39 percent didn't know or had no opinion.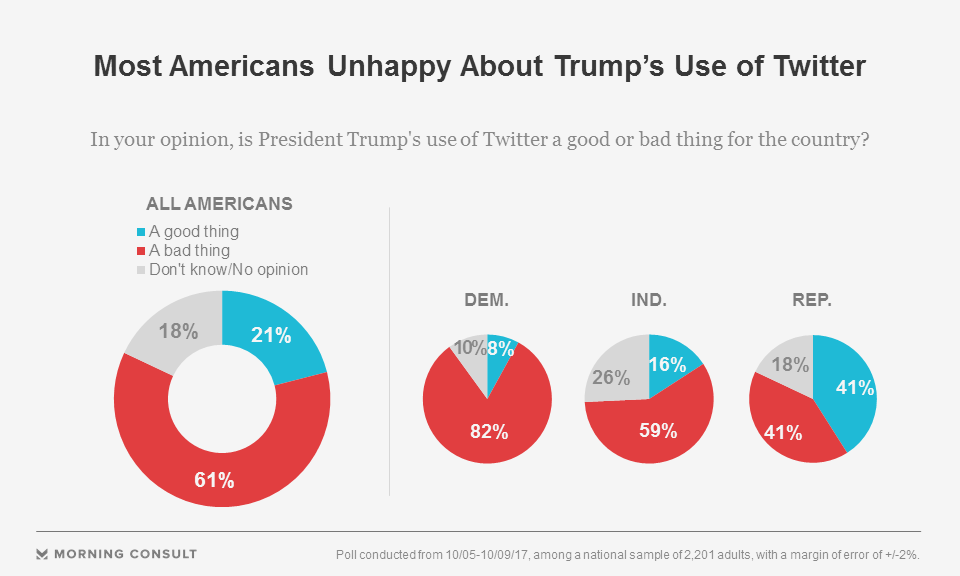 "I don't have any complaints about Twitter and don't mind abbreviating, but more characters would be fine with me too," Sen. Chuck Grassley (R-Iowa) told Morning Consult in an email Wednesday. The senator, who has more than 140,000 followers and is celebrating nearly 10 years on the social media platform, said Twitter is a good way "try to influence the political debate."
Grassley declined to comment on a question regarding the president's tweeting habits.
As for what this means for Twitter as a company, Blau, from the Gartner firm, said fully implementing the character expansion will have almost no impact — though he noted if the medium were more easily consumable, there could be a small uptick in users. Blau suggested this could be the beginning of a number of changes from Twitter.
Public perceptions of Twitter have taken a bit of a hit this year. According to Morning Consult Brand Intelligence, Twitter usually has a favorability rating somewhere in range of 40-50 percent. That's dropped in the past two months to the mid-30s. As of Thursday, 36 percent of U.S. adults viewed the brand favorably, according to a seven-day moving average.
The possible character increase has drawn attention — but it's far from Twitter's only headline news. The social media platform continues to struggle with handling online harassment and censorship.
"I'm totally fine with giving users more room to express their thoughts, but there are other things Twitter needs to take on more urgently, especially race- and gender-based abuse and harassment," said Atkins, the California communications staffer. "I hope they get on that."
Twitter declined to comment for this story.