How Voters View 2018's Most Vulnerable Senators a Year Out
3 Democrats facing re-election in red states are above 50 percent approval, bucking larger trend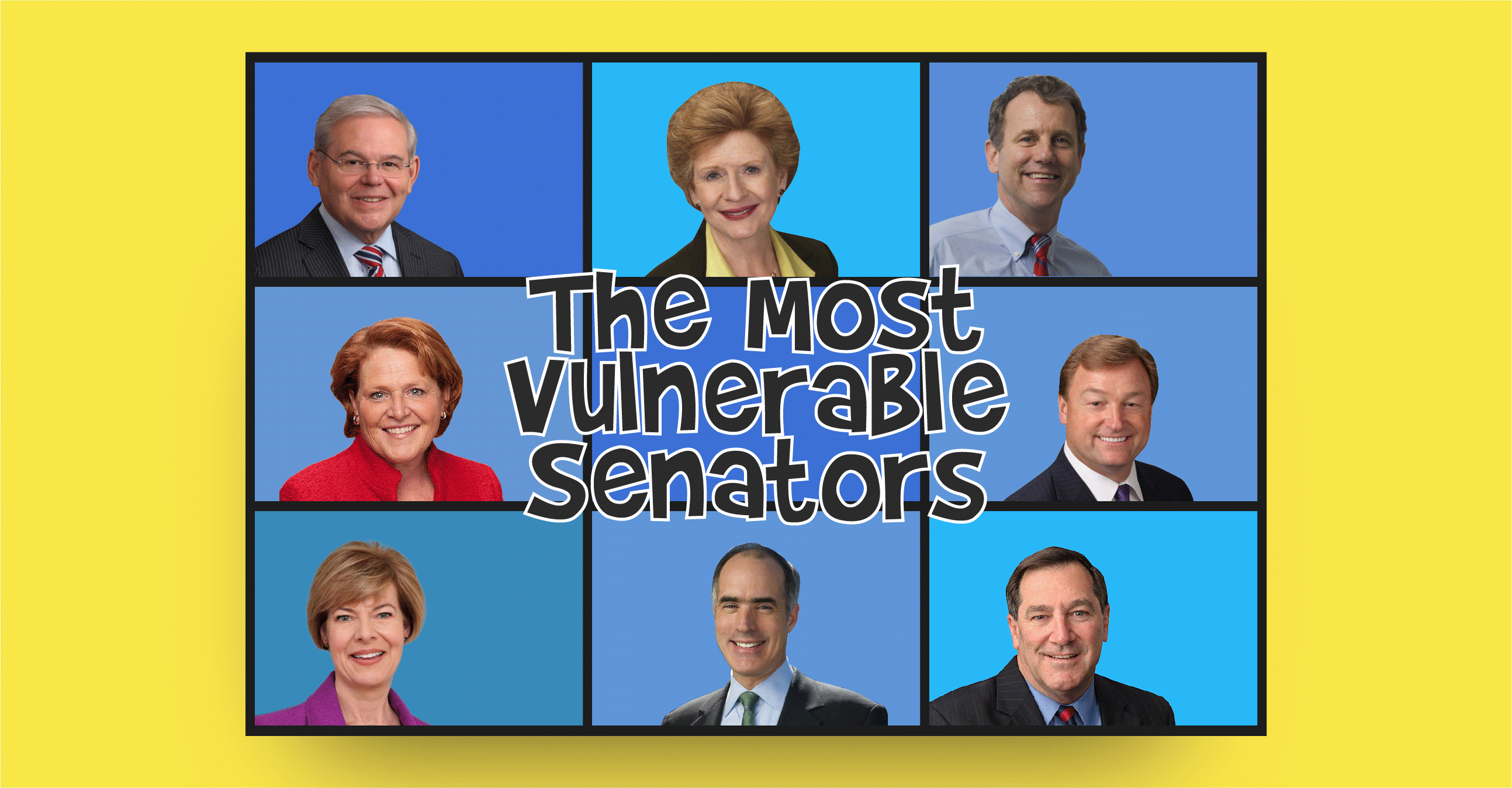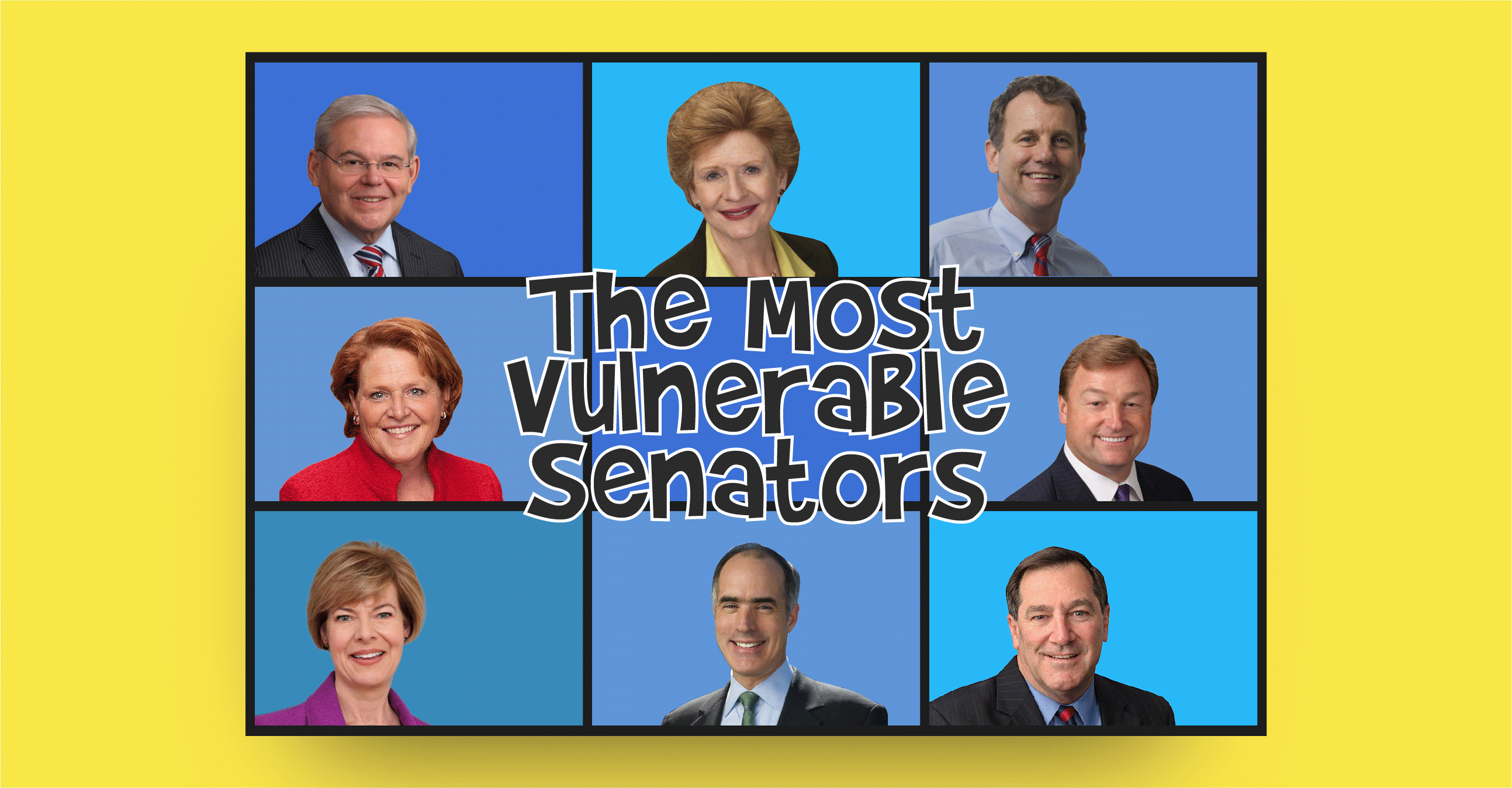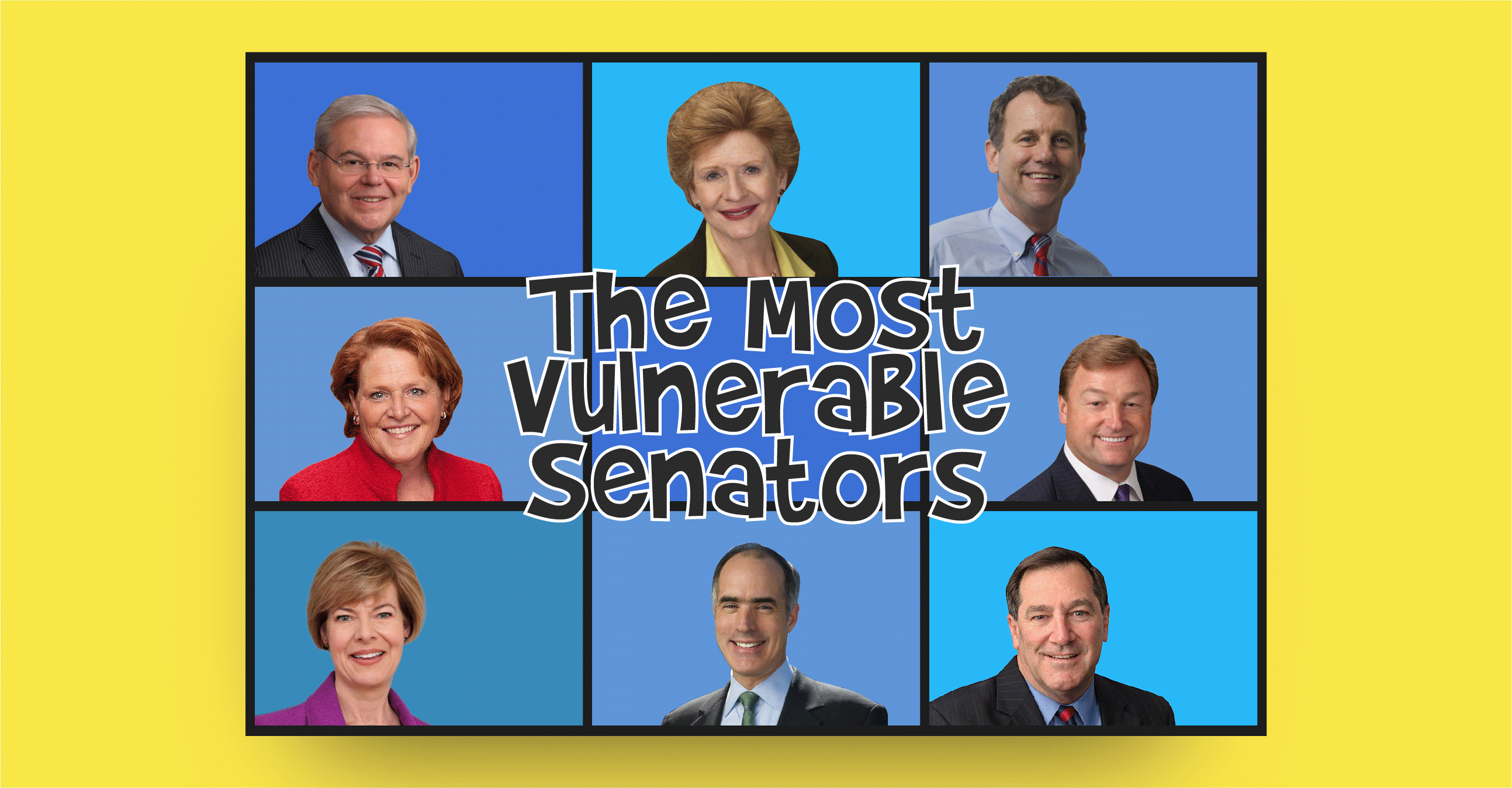 Three Democrats viewed as vulnerable to re-election challenges next year have managed to climb above 50 percent approval in their home states, according to the latest Morning Consult Senator Approval Rankings — bucking the larger trend in the Senate, where 65 members ended the third quarter at or below 50 percent.
The three senators – Heidi Heitkamp of North Dakota, Joe Manchin of West Virginia and Jon Tester of Montana – hail from states President Donald Trump won in 2016, just like the other Democratic senators seen as vulnerable.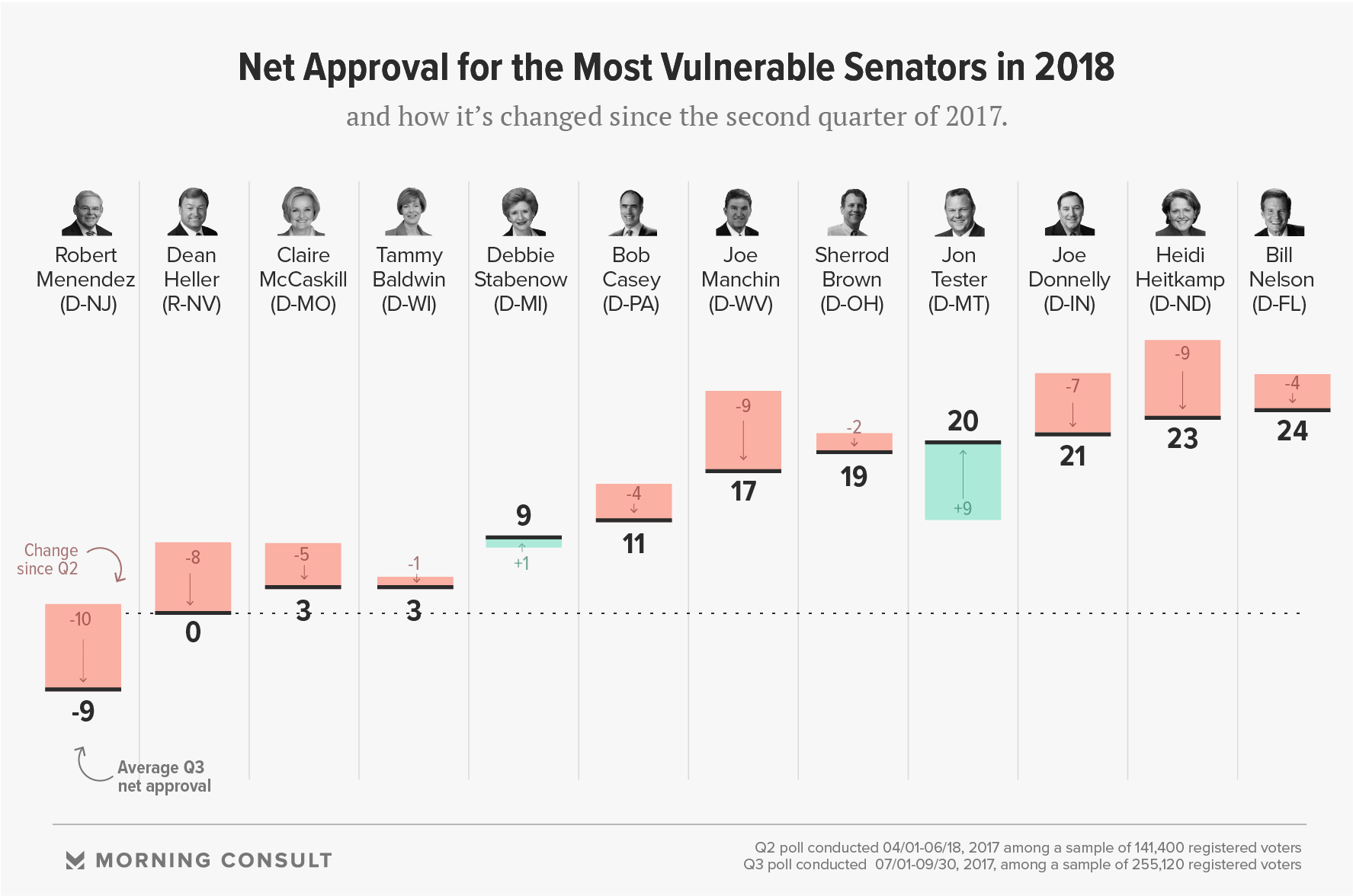 In the West Virginia survey, which has a margin of error of plus or minus 2 percentage points, 53 percent of voters approve of Manchin, while 36 percent disapprove. In the North Dakota poll, which has a margin of error of plus or minus 4 points, 55 percent of voters approve of Heitkamp, while 32 percent disapprove. The Morning Consult survey of registered voters across the nation was conducted online from July 1 through Sept. 30.
Despite their standing overall, Heitkamp and Manchin saw a 9-percentage point slide in their net approval – the difference in their approval and disapproval percentages – since the second quarter, the biggest drop in the Senate.
One of the mental realities for Republicans on the offense is they're running into Democratic senators who by and large are popular.
Democratic strategist Jesse Ferguson
Brian Walsh, a Republican consultant and the former communications director for the National Republican Senatorial Committee, suggested a decline in popularity ratings is the price of doing business in a divided Washington — whether or not a lawmaker is facing a re-election battle.
"When you factor in the ideological divisions of this country and add the general sense of unease with the gridlock of the last eight to 10 years, I don't think anyone expects to be exceedingly popular," he said in an Oct. 19 phone interview.
Tester was the only vulnerable senator to see an increase in net approval, ending the third quarter 9 percentage points better off than he was in the second quarter. A third of voters in Montana said they disapprove of Tester – down 6 percentage points from the second quarter – while 53 percent said they approve of him, up 3 points. The Montana poll has a margin of error of plus or minus 4 points.
Despite his own drops in net approval since taking office, Trump has significant voter support in all three states, according to Morning Consult polling — especially West Virginia, where almost six in 10 voters approved of his job performance in September. At the same time, in North Dakota, 51 percent of voters approved of Trump, while half of the voters approved of him in Montana.
"You can't just look at the Trump numbers," Walsh said. "Manchin, Heitkamp and Tester are just really well-known in their states."
Jesse Ferguson, a Democratic strategist and former director of the Democratic Congressional Campaign Committee's independent expenditure arm, echoed that point during an Oct. 24 interview.
"One of the mental realities for Republicans on the offense is they're running into Democratic senators who by and large are popular," said Ferguson, who was a spokesman for Hillary Clinton's 2016 presidential campaign. "Voters may want to throw the bums out, but they like these bums."
But in Missouri, Democrat Sen. Claire McCaskill is edging closer to an underwater approval rating. Forty-two percent of voters there approve of McCaskill, while 39 percent disapprove, with a 1-point margin of error. The shift moved her net approval rating down 5 percentage points in the third quarter from the second quarter.
Adrianne Marsh, a Democratic consultant who led McCaskill's 2012 re-election campaign, said in an Oct. 19 phone interview that the vulnerable Democratic senators have already faced attacks on television, which could be chipping away at their approval rankings.
Marsh cautioned against making broad assumptions about the 2018 prospects for vulnerable senators based on their current approval ratings, saying that the level of competition each Democratic senator faces will depend on the strength of their Republican rival and whether the GOP primary will be a hotly contested one.
Ferguson said the back-and-forth in Washington rubs off on all incumbents the further voters get from the last election.
"Favorability matters big time, but favorability matters as a comparative," he said. "It's the favorability of an incumbent versus whoever the challenger is. To the extent that voters see Republicans as owning Washington, a Democratic incumbent is better off."
Sen. Bill Nelson (D-Fla.) is the senator with the highest net approval rating who could face a tough re-election campaign next year. While half of Florida voters said they approve of him, Gov. Rick Scott (R), who is seen as a possible contender for the Republican Senate nomination, has a 54-percent approval rating, according to Morning Consult's latest governor rankings.
Two Senate seats currently held by Republicans in Nevada and Arizona are viewed as possible pickups for Democrats next year. Arizona Sen. Jeff Flake, who was perceived as vulnerable to a Republican primary challenge, announced last week that he would not seek re-election in 2018. Whether this will serve as a boon or a bane to Democratic candidates remains to be seen.
Walsh, the Republican consultant, said Sen. Dean Heller of Nevada faces a unique challenge: criticism from Trump over what he sees as a lack of legislative success.
"You have a president who has not been hesitant to use his platform to point fingers and attack his own party," he said.
Trump lost Nevada in 2016, and that gives Democrats an opening to tie Heller to a president who is 8 points underwater in his net approval rating in the state.
When asked if they approve or disapprove of Heller, who is facing a potentially tough primary, Nevada voters were split, 39 percent to 39 percent. That represents an 8-percentage point drop in his net approval, much of which came from a 6-point rise in his disapproval rating in the state poll, which has a margin of error of plus or minus 2 points.