West Virginia Governor's Switch to GOP Yet to Pay Political Dividends
State budget battle, change of political affiliation take toll on Gov. Jim Justice's approval ratings
As a bruising budget standoff over the first six months of 2017 dented West Virginia Gov. Jim Justice's popularity, his decision to leave the Democratic Party did little to help the situation, according to the most recent Governor Approval Rankings from Morning Consult.
Justice, who announced at an Aug. 3 rally with President Donald Trump that he was returning to the Republican Party, posted the largest net slide (minus 22 percentage points) in approval rating of any U.S. governor from the second quarter to the third quarter of 2017.
Justice left the GOP in February 2015 ahead of his 2016 gubernatorial run.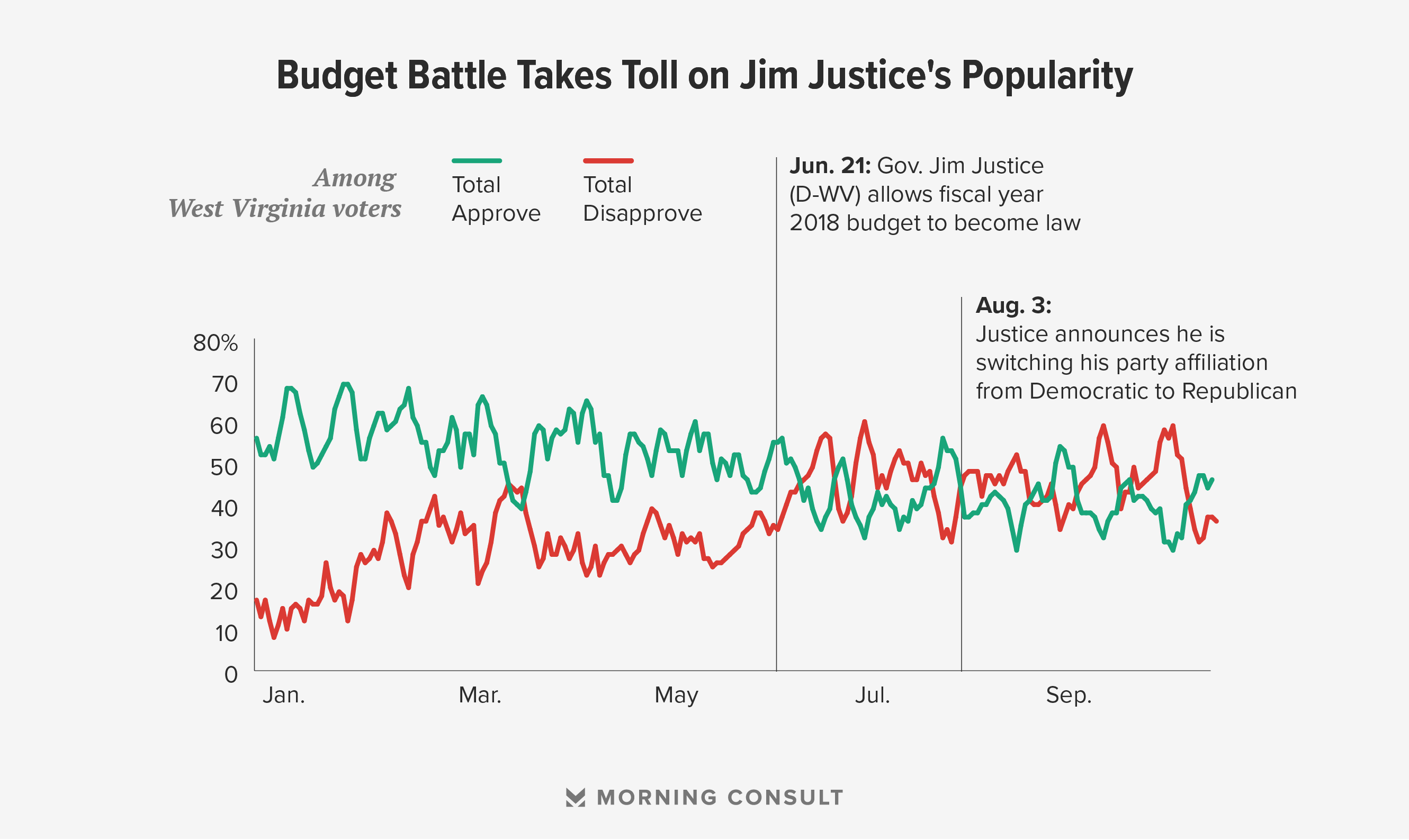 While 51 percent of West Virginia voters approved of Justice in the second quarter of the year, that dropped to 41 percent during the following three-month period while his disapproval rating rose from 34 percent to 46 percent, putting him 5 points underwater in the survey conducted July 1 through Sept. 30 among 2,064 registered voters in the state. The poll has a margin of error of plus or minus 2 percentage points.
Justice's declining fortune among Mountain Staters was strongest among Democrats (minus 26 net points) and independents (minus 23 net points). He also suffered a loss of 12 net points among Republican voters during the third quarter following a fractious debate on government spending with GOP lawmakers, some of whom he derided as "knuckleheads."
After facing substantial pushback from Republican lawmakers in June over his proposed tax hikes, Justice allowed a budget agreement for the 2018 fiscal year to become law without his signature. The measure included spending cuts to health and education programs, but no tax hikes.
In a lot of ways, he was pretty much a Republican beforehand. He was anti-environment, pro-coal, pro-jobs, pro-Trump.
Simon Haeder, an assistant professor of political science at West Virginia University
"For Democrats and independents, there's a feeling of betrayal and disappointment," Simon Haeder, an assistant professor of political science at West Virginia University, said in an Oct. 19 phone interview. "For Republicans, there are also concerns about trustworthiness."
Haeder said Justice's party switch was likely a calculation based on general trends in the state, which has grown increasingly Republican over the past several years as coal jobs continue to disappear.
"In a lot of ways, he was pretty much a Republican beforehand," Haeder said. "He was anti-environment, pro-coal, pro-jobs, pro-Trump."
Justice's office did not respond to a request for comment.
Justice has touted his personal relationship with the Trump family, including a press release detailing the governor's hunting trip with Donald Trump Jr. in May — something former Rep. Nick Rahall (D-W.Va.) said would only help West Virginia's relationship with the Trump administration. That, in turn, could shore up Justice's standing with his constituents. Trump carried the state by 42 points in last year's presidential election.
"Every breath he takes is in West Virginia's best interest," Rahall, who was elected to Congress in 1977 and lost a re-election bid in November 2014 to another party switcher, Rep. Evan Jenkins (R), said in an Oct. 19 interview. "And I think people see that, and they will become more and more likely to let that attitude and feeling toward the governor far outweigh any political party considerations."
That sentiment was echoed by Sen. Joe Manchin (D-W.Va.), who said in an Oct. 19 interview at the U.S. Capitol that "Jim's just going to be Jim."
"Jim's going to do what he's doing and what he thinks is right," said Manchin, a former governor who suggested that the party switch hadn't done anything to alter his long relationship with Justice. "We talk and I give him my opinion on things, and he'll make a decision and go from there."
While Haeder said it would take some time to "heal the wounds" between Justice and Republican leadership in the state, he and Rahall agreed that there are reasons for Justice to be optimistic about the future. Earlier this month, the governor recorded wins in a special legislative session that followed a successful referendum in which West Virginia voters overwhelmingly approved of Justice's road bond plan to fund construction projects.
"I think he's been buoyed a great deal by the road bond passage," said Rahall, who's now a senior adviser at Cassidy and Associates, a Washington-based government relations firm. "And I think it proves that infrastructure is truly a bipartisan issue and can bring people together and produce jobs."
Haeder said another looming battle on spending will test Justice's relationship with Republicans and clarify his stance on policy issues after jettisoning Democratic staffers and bringing in Republicans.
"The prognostics for the budget are not really good again this year," he said. "Will he advocate for taxes or is he going to push for more cuts?"