Voters Soured on Key GOP Senators During Height of ACA Repeal Push
GOP voters are increasingly unhappy with elected Republicans' failure to fulfill campaign promises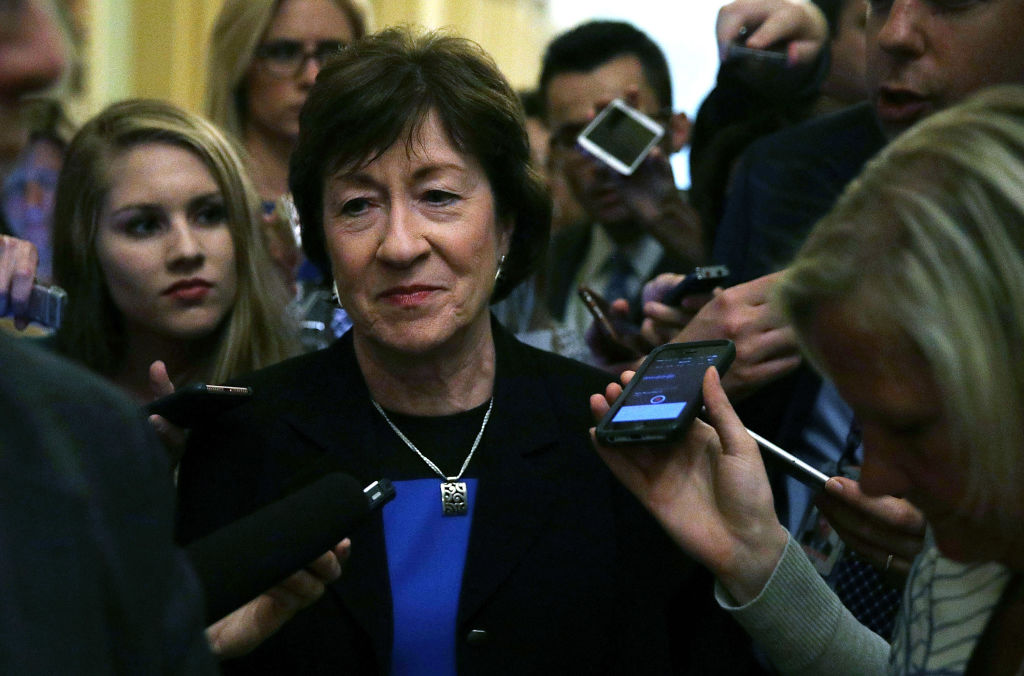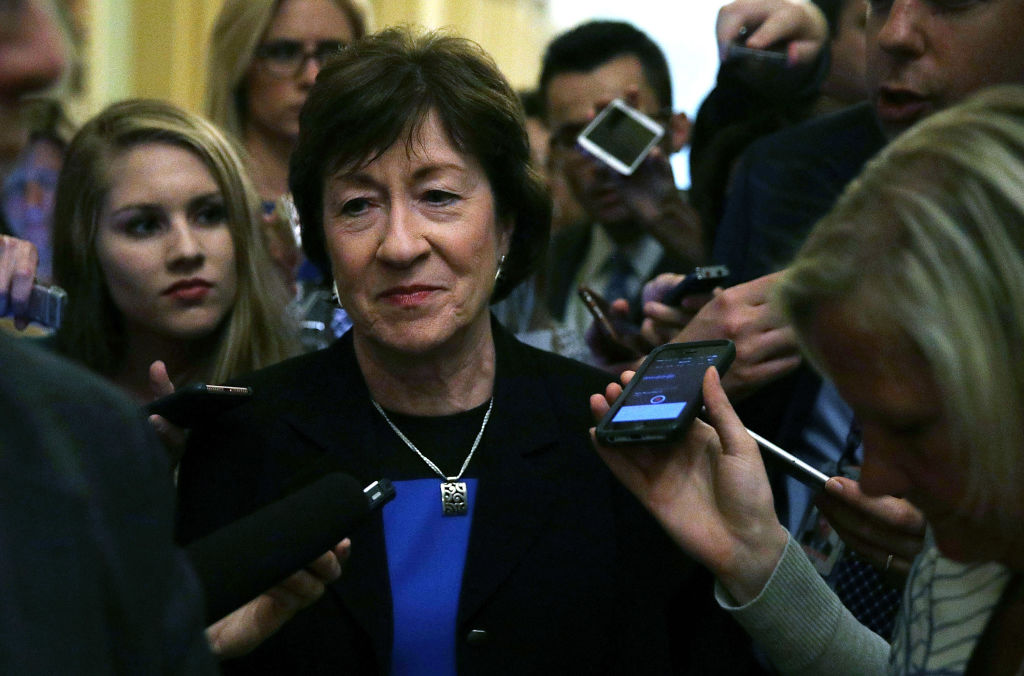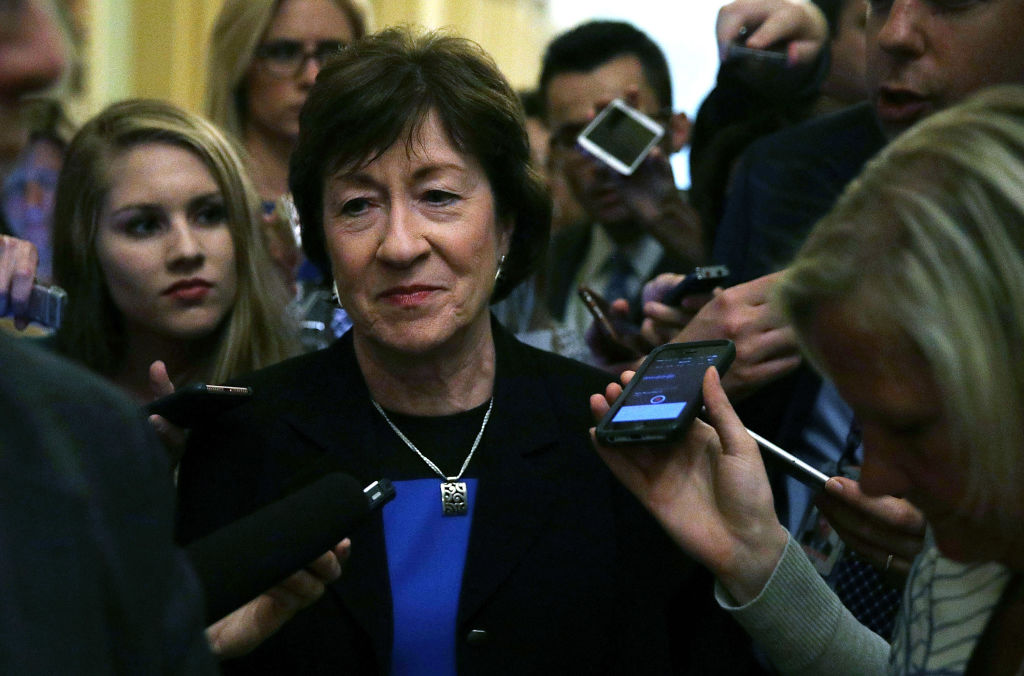 Three Republican senators who cast deciding votes against repealing the Affordable Care Act in July saw a decline in support among GOP voters in the third quarter, according to Morning Consult's latest Senator Approval Rankings.
But the health care vote is likely just one piece of a broader trend that is driving negative swings against GOP Sens. Susan Collins (Maine), Lisa Murkowski (Alaska) and John McCain (Ariz.), according to several Republican political experts.
At the heart of the downturn, they say, is growing dissatisfaction with elected Republicans' failure to fulfill their campaign promises this year, despite the party being in control of the White House and both chambers of Congress.
"You had Republicans and conservatives that were upset that the Senate wasn't able to follow through on its promise," Brian Walsh, a GOP political strategist at public affairs firm Rokk Solutions, said in a Tuesday phone interview. "I definitely think that Obamacare is part of it, but to me there's just a broader voter unhappiness with the state of affairs in Washington."
Twenty-two of the 52 GOP senators saw double-digit declines among Republican voters between the second and third quarters of this year. That compares to five of 48 Democratic senators who dropped 10 percentage points or more among Democratic voters.
Many Republican voters prioritize repealing or reforming the ACA, according to recent Morning Consult/Politico polls. Sixty-seven percent of GOP voters said passing a health care reform bill should be a top priority for the Republican-controlled Congress, according to an Oct. 26-30 poll, compared to 44 percent of Democratic voters who said the same. And 78 percent of Republican voters said Obamacare should be partially or completely repealed, according to a survey conducted from Oct. 19-23.
Of the three senators to buck their party on health care in July, Collins' approval among Republican voters declined the most, from 65 percent in the second quarter to 46 percent by the end of September, and her disapproval numbers increased — a negative swing in net approval of 40 points.
Murkowski's approval among GOP voters also declined, from 63 percent in the second quarter to 45 percent in the third quarter. Murkowski's disapproval among Alaska Republicans also rose from 30 percent to 43 percent during that time period.
McCain's disapproval among Arizona Republicans, already at 49 percent in the second quarter, rose to 51 percent in the third quarter, just above the 1 percentage point margin of error. His approval rating declined 1 percentage point to 44 percent.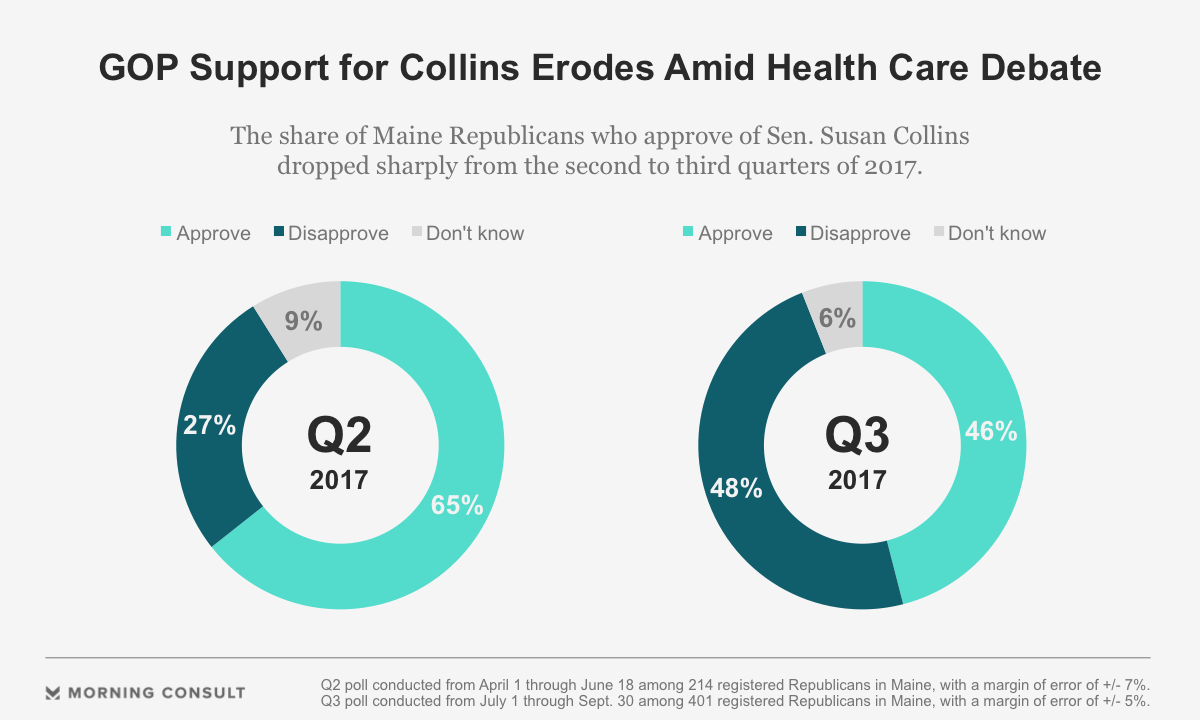 One Maine political expert – former state Sen. Phil Harriman – said Collins' opposition to several GOP plans to repeal Obamacare reflects conservatives' longtime frustration with her moderate voting record.
"It's the icing on the cake of why support by Republicans has dropped so significantly," Harriman said in a Thursday phone interview.
Another factor in Collins' case could be negative rhetoric against her from the state's Gov. Paul LePage (R), a hard-liner and ally of President Donald Trump. LePage's attacks came while Collins considered — but ultimately opted against — running for governor. LePage, who is term-limited, is the nation's seventh-most unpopular governor — but is more popular than Collins among Maine Republicans, with 73 percent approval.
Michael Leavitt, former executive director of the Maine Republican Party, said Collins' approval among Republicans will recover. He noted Maine Republicans have long backed the senator, despite her voting record. Collins has also never faced a serious primary challenge from the right since first being elected to the Senate in 1996.
Particular issues like health care "may momentarily affect polling up or down, but overall I think that Susan Collins is extremely well-respected by Republicans, Democrats and independents alike," Leavitt, a co-founder of campaign firm Red Maverick Media, said in a phone interview Wednesday.
While Collins, Murkwoski and McCain's votes against Obamacare may have cost them GOP support, they did play well with other parts of the electorate.
For instance, Collins has the fourth-highest approval rating in the Senate, and the 16th-highest approval rating among Democratic voters (75 percent). McCain's overall net approval rating increased by 6 percentage points between the second and third quarters. And Murkowski's overall approval rating of 49 percent is tied with that of her Alaska colleague Sen. Dan Sullivan (R), who supported the repeal bills.
Cameron Easley contributed.