Montana's Tester Sports Strong Approval Ratings Ahead of Red State Re-election Bid
He's among four Senate Democrats with strong numbers at home in states Trump won big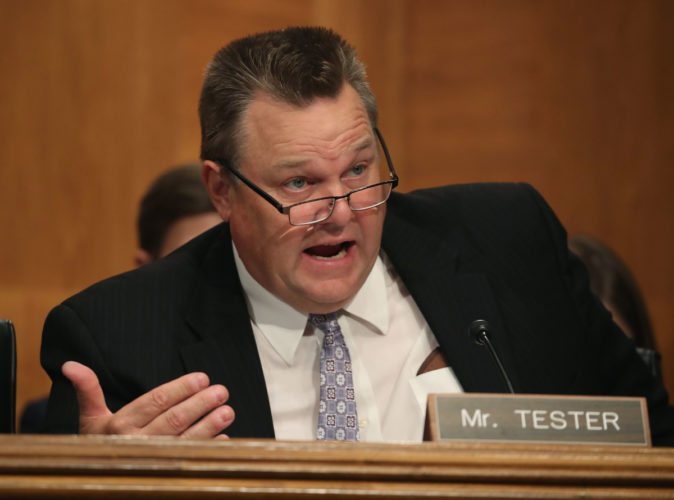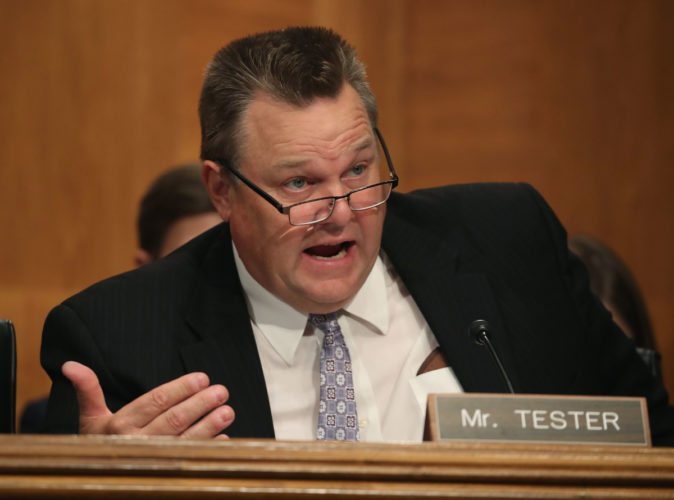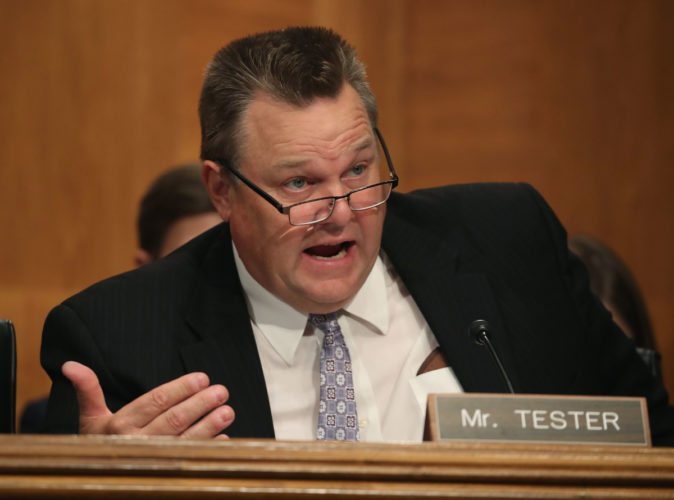 53 percent of Montana voters approve of Democratic Sen. Jon Tester's job performance, while a third disapprove.

The Republican primary field to challenge Tester is now taking shape.
Like three other vulnerable Senate Democrats seeking re-election next year in states where President Donald Trump won, Sen. Jon Tester in Montana sports strong job approval ratings at home.
But Tester has an additional edge compared to Democratic Sens. Joe Donnelly in Indiana, Heidi Heitkamp of North Dakota, and Joe Manchin from West Virginia, according to Morning Consult polling.
Tester is tied with Sen. Tom Cotton (R-Ark.) – who is not up for re-election in 2018 – for the largest approval increase in job performance among other senators, according to Morning Consult's latest Senator Approval Rankings. Tester was the only senator up for re-election to experience a significant rise in approval in the third quarter.
Over half of Montana voters (53 percent) approve of Tester, while a third disapprove. He outpaces his fellow senator from Montana, Republican Steve Daines, who has a 49-percent job approval rating from Montanans. Tester trails Democratic Gov. Steve Bullock, who is has a 57-percent approval rating from Montana voters.
The 2018 race could be a major challenge for Tester, who was first elected in the 2006 Democratic wave. The Republican primary field to challenge him is taking shape in a state where the GOP starts out with a partisan advantage. In the 2016 presidential contest, Trump beat Democratic rival Hillary Clinton approximately 56 percent to 35 percent, with Libertarian nominee Gary Johnson picking up nearly 6 percent.
People know their elected officials in Montana ... People run into Steve Daines at Costco. People run into Tester in Great Falls.
Republican operative Brock Lowrance
"In any sort of competitive race, a Democrat, even a very well-liked Democrat, has a winning coalition that, on the best of days, gets them just to 50 percent," said Jason Thielman, a Montana native who serves as Daines' chief of staff, during a Monday phone interview. "It's a narrow path. You don't have lot of room for missteps and environmental problems to win with 50 percent of the vote."
In a phone interview Tuesday, Brock Lowrance, a Republican operative from Montana and a managing director at FP1 Strategies, previewed a line of attack against Tester likely to amplify over the next year.
"I'm not going to deny your numbers – he's not unpopular," Lowrance said. "But at the same time, there is concern he has 'gone Washington.' He has this persona in D.C., and a different persona at home."
Christie Roberts, Tester's campaign manager, pushed back at the attempts to paint the senator as a creature of Washington — messages that were repeated by the top Republican campaigns against the former Democratic Senatorial Campaign Committee chairman in separate interviews.
"Whoever made that argument was probably sleeping at 5 a.m. last Friday when Jon woke up at his farm in Big Sandy to load wheat from his farm into the semi-truck for a shipment before heading down to Great Falls to talk to 100 folks at a county dinner," she said in an email Wednesday. "It also falls flat when you realize Jon has sent more bills to Donald Trump's desk than he can count on his own fingers."
Tester won in 2012 with 49 percent of the vote against then-Rep. Denny Rehberg (R), who received 45 percent of the vote. It is unclear who will carry the Republican torch against Tester next year.
According to Democratic and Republican strategists interviewed over the past week, three candidates are seen as being in the top tier in a seven-way race — all of whom will be fighting for the plurality of voters needed to secure the nomination in the June 5 primary.
State Auditor Matt Rosendale (R) is considered the front-runner, according to several political strategists with knowledge of the dynamics of the race, but he is not alone. Former Judge Russell Fagg (R), who hails from populous Yellowstone County, is running, as is businessman Troy Downing, who has already loaned $350,000 to his own campaign.
Rosendale has the backing of some in the party's insurgent wing, prodded along by former Trump chief strategist Steve Bannon, whose aligned Great America PAC is supporting him. Rosendale's campaign also noted having county campaign chairmen in all 56 counties.
Fagg is going a different route, armed with support from the state's old-guard establishment — former governors and congressmen. He spoke positively about Senate Majority Leader Mitch McConnell, a rarity among Republicans running in competitive primaries this year.
"I think he's in a very difficult spot with a slim majority. I think he's tried to build consensus. He's a builder, not a destroyer," Fagg said of McConnell in an interview Tuesday. Asked of the Great America PAC backing his primary rival, he pointed to his own endorsers, saying, "I'd much rather have that support than folks like Steve Bannon."
The top Republican campaigns described some electoral fatigue among GOP voters after a gubernatorial contest last year and this year's special election for Interior Secretary Ryan Zinke's old House seat.
Lowrance said he expects the campaign to heat up after the first of the year.
"People know their elected officials in Montana. It's on the Republican side and the Democratic side. People run into Steve Daines at Costco. People run into Tester in Great Falls," he said. "When you're stumping for office in the Republican primary, you're going to Lincoln Day dinners talking to activists and people expect their candidates to be seen."